Boating Outfit Ideas – Many folks already plan to hit the dock with summer just around the corner. Because who doesn't love a nice breeze and a good day out on the water?
With activities, food, and friends taken care of, you might wonder what you will wear?! Whether it is a party or a casual trip out on the water, you will want to look your best in something stylish and comfortable.
Here's everything I'll cover today: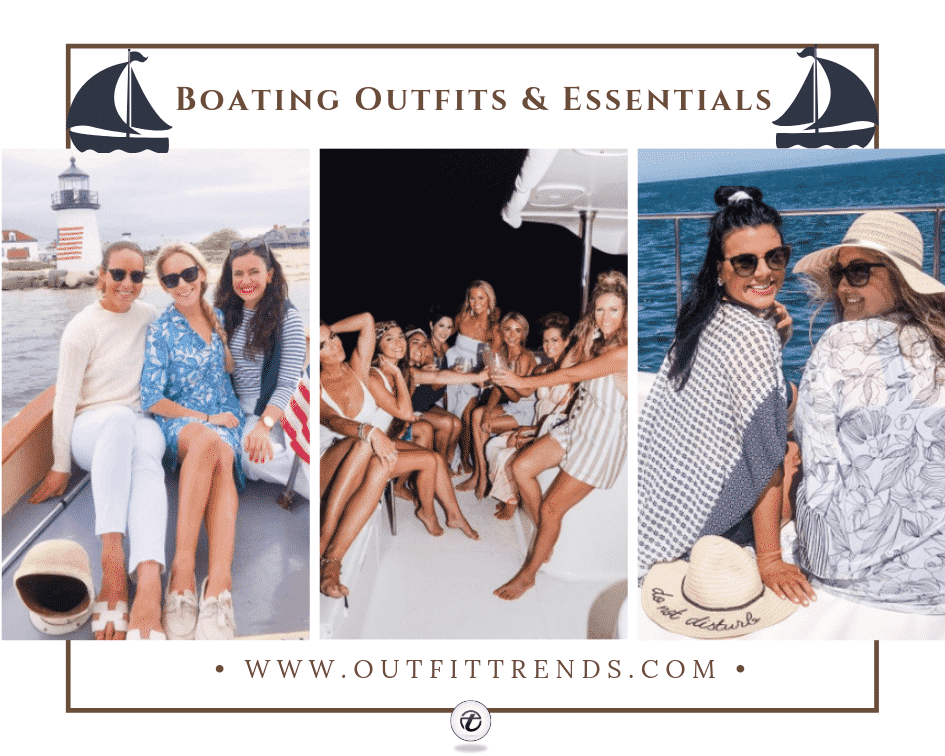 What to Wear on a Boat? (Styling Tips)
When choosing your boating outfit, we wanted to give you an extensive list to inspire and excite you for your nautical adventures!
We'll be sharing some amazing ideas to take your boating style up a notch for every occasion. But first, some expert tips to help you make the most out of your boating day:
If you plan on taking lots of pictures for the gram, you need to be dressed for it. And for doing that, nautical colors like blue and white will be your best bet.
Remember that your sunglasses, hat, and sunscreen are as important as your outfits, or perhaps even more.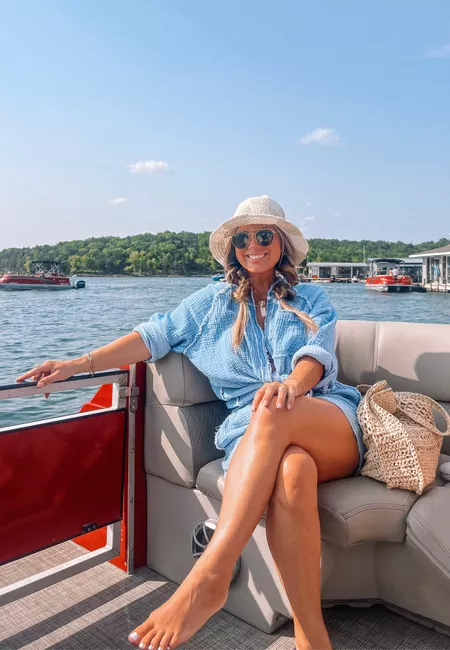 If you suspect that the weather might get rough, which it usually does on boats, keep a windbreaker with you.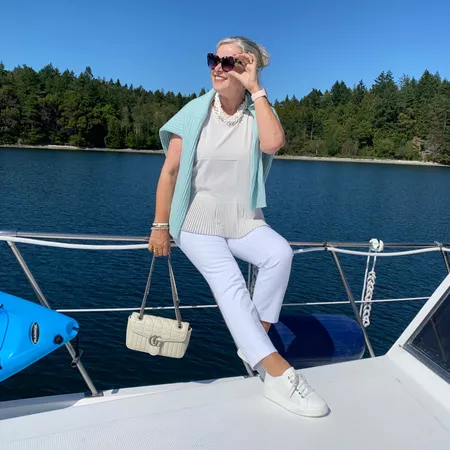 Avoid wearing shoes with black soles on the boat as most people frown upon them.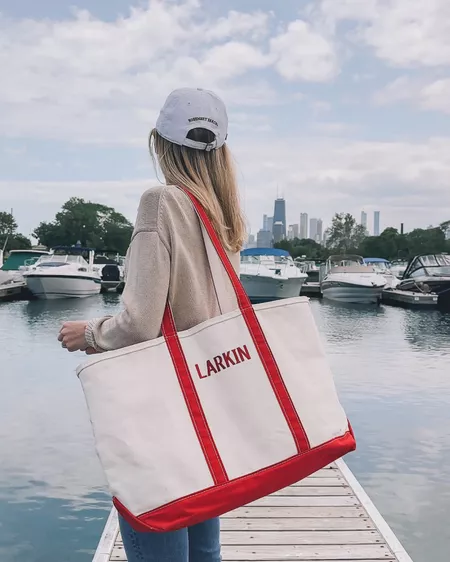 Boat shoes are the perfect casual wear for such occasions, even if you've never worn them before. Be it a casual boating day or a boat party, boat shoes, Toms, Converse, and a nice pair of sandals are perfect for boating. Here's our detailed guide on styling boat shoes.
No matter what you decide to wear, keep it simple. Avoid your high-end handbags or dresses because you wouldn't want to see them ruined. Denim and linen are the best fabrics that you might want to consider.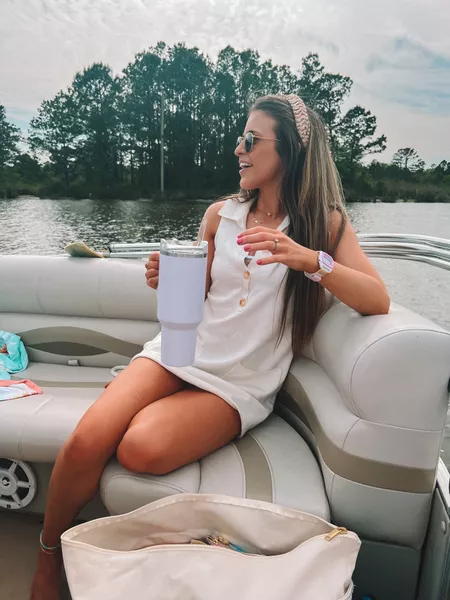 Consider all weather conditions. Make sure you are prepared if it rains or it gets very hot so dress accordingly.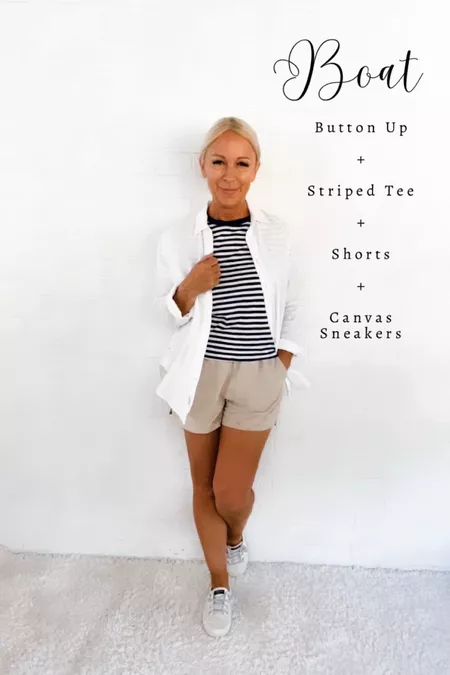 Be careful with hats or scarves. They may blow off in the wind!
Only wear long skirts or dresses (but well-fitted) as smaller ones may be difficult to control while sailing. You should also consider wearing a belt if you're going on a speed boat as it'll make managing your outfit easier.
Wear shoes that can slip on and off.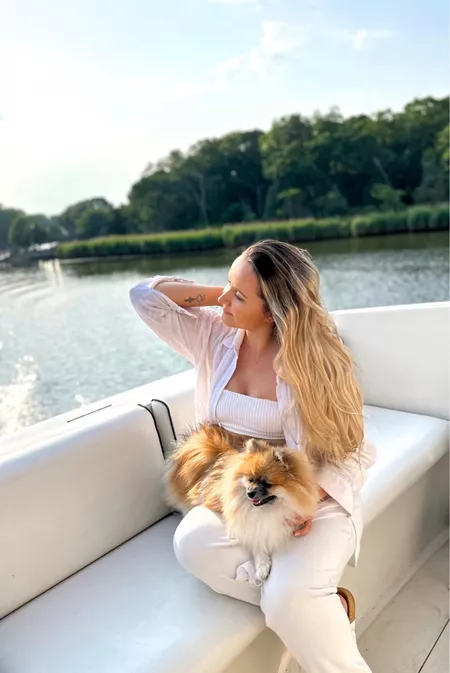 Don't wear anything you wouldn't mind getting wet. This includes shoes as well.
Bring extra sunglasses.
Bring extra outfits. Remember, being prepared is better than being underprepared!
Tie a scarf around your hair to keep it tidy. Be sure to double-knot it though, so it doesn't blow away.

Spring & Summer Outfits
23 – Sweatshirt with Jeans Shorts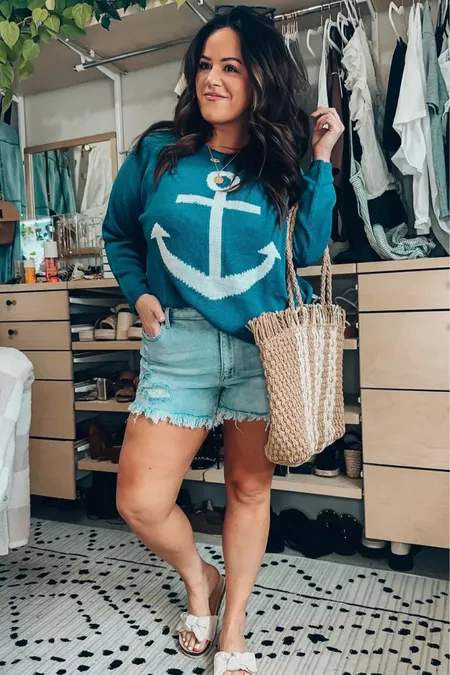 22 – Off-the-Shoulder Dress
Off-the-shoulder dresses are perfect for a casual afternoon boat trip. Play around with pastel hues to get the chic yet comfortable outfit with a dainty pair of hoops to finish it off.
21 – How to Style a Maxi Dress
Beat the heat with a flowy maxi dress for your boat trip. Best for both spring and summers, maxi dresses are stylish yet comfortable for a nice evening on the waters.
Accessorize your outfit with a beach hat and a pair of sandals and give your boat style a twist. A belt around the middle will cinch your waist and pull the look together.
Check out these Stylish And Trendy Maxi Skirts For Women.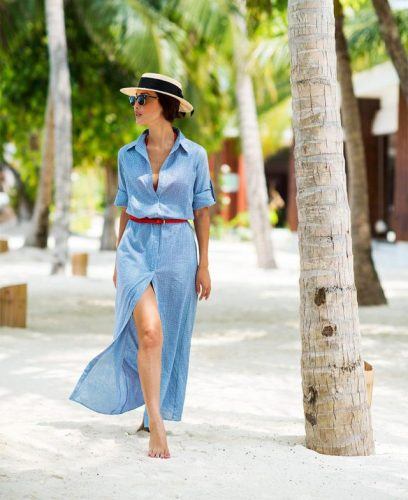 20 – French Girl Style
Nothing beats a summer dress or a flowy skirt when worn on a warm summer evening out on the water.
Channel your inner French girl with an ocean-colored summer dress and bracelets. Sandals or flip-flops will round off this chic boating look.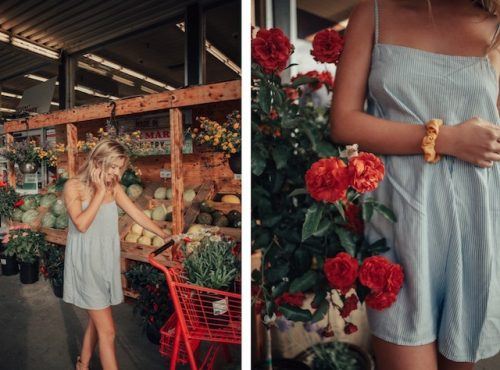 19 – Perfect Summer Beach or Lake Outfit for Boating
With the start of summer, if you're lucky enough to get invited for a boating trip – take it! It's a once in a lifetime experience so make the most of it!
We love this fresh and stylish look featuring nautical stripes, white sunglasses, a bright yellow tote, and white capris. Some wedge sandals are the perfect footwear of choice. You will feel so cute and boat-ready in this look!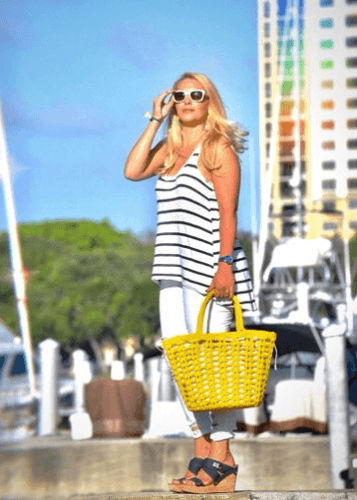 Tommy Hilfiger Women's Mili Wedge Sandal
18 – Keep It Casual
If you are opting for a comfortable yet chic outfit, don a pair of cotton shorts or pants with a light-weight shirt, and a pair of flip-flops for a hassle-free weekend boat trip.
This is a cute nautical-themed outfit you can wear again and again! Plus, here are 18 Cute Casual Friday Outfits For Women.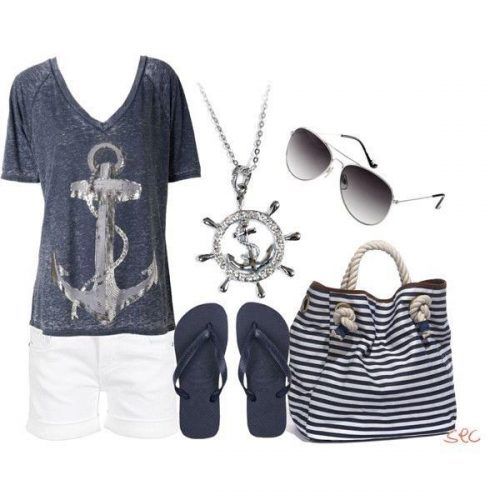 17 – Linen Pants to the Rescue
We can't think of a better boating outfit than this one right here!
Cute and simple, these linen pants are so great for boating in summer. Light and breathable, they're also super stylish! Pair with a cropped tank and slip-on shoes for a look as versatile as it is chic. Accessorize with oversized sunglasses, hoop earrings, and layered necklaces.
This is one look you will want to wear again and again!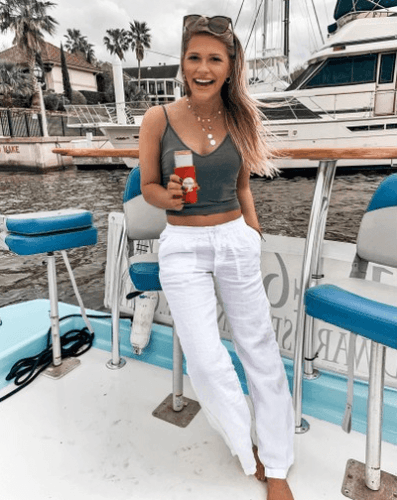 Nordstrom Round Sunglasses $129
16 – Add a Denim Jacket
So you're headed out to a party on the lake or for a sail around your favorite beach! What do you wear?!
This is a chic look perfect for a warm spring day or a cool summer evening. We love the floral detail on this black skirt as well as this light wash denim jacket.
A white ribbed cami top is tucked into the high waist and perfectly matches with some white, detailed slip-on mules. Accessorize with round sunglasses and a clavicle necklace.
For an added bonus, twist your hair around a thick-barreled curling iron and spritz some sea salt spray into your hair to achieve the perfect beach waves!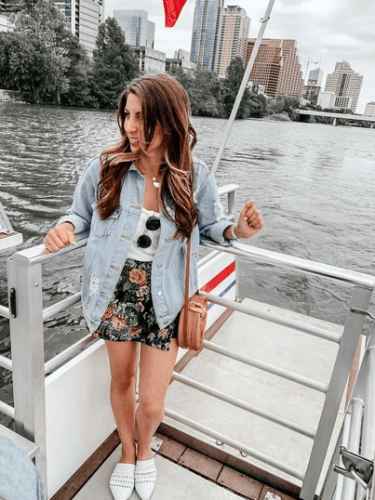 Topshop Ripped Denim Jacket $95
Sam Edelman Natalya Mule $89.95
15 – Perfect Boating Outfit
What's better than tees or sundresses? Rompers. With a variety of styles available, rompers are the perfect to-go outfit.
Style a romper the way you like it, be it chic, boho or a classic pastel-toned romper nicely paired with some sandals. Rompers make a great cover-up for bathing suits as well!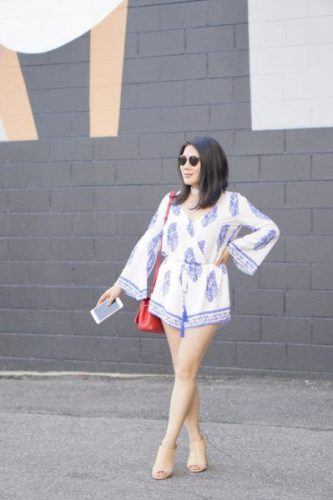 14 – Party Ready
Summer calls for boat and yacht parties. There are so many ways to style a sophisticated summer party outfit. Flowy dresses are one of the A-listers first choices for summer parties. You can also add extra pizzazz to your summer party style with an off-the-shoulder blouse or crop top, paired with light-hued pants and a pair of dainty earing for your breezy night out. Also, see these 16 Best Beach Party Outfit Ideas for Women.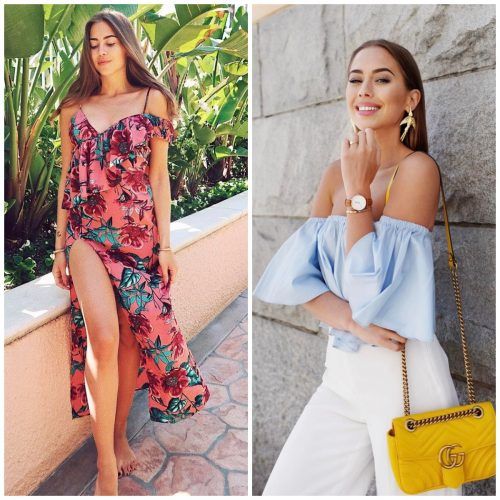 Fall & Winter Looks
13 – Cute and Classic
When it comes to Fall looks, you can't go wrong with a jumper or romper like this one!
With pockets and buttons like these, you won't need to over-accessorize. Pop on an olive green cardigan or sweater for warmth, especially for evening time when the weather cools, and opt for a cool and trendy pair of slip-on shoes like these.
A statement bag like this steals the show. Tie your favorite scarf to the handle for an added touch to bring the look together. Accessorize with sunglasses and spritz your hair with sea salt spray to achieve the perfect beach waves!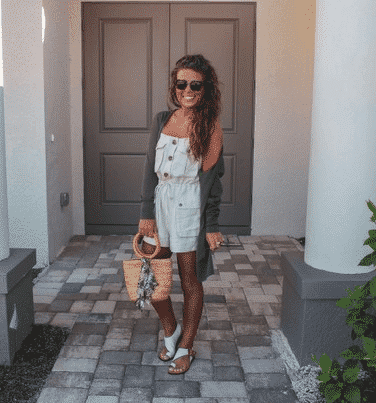 Shona Joy Aluaro Safari Playsuit
12 – Cute Button-down Top and Pants
Take your boating style up a notch by pairing a breezy toned button-down shirt with your favorite pairs of cotton pants and a pair of comfy sandals to hit the waves. Accessorize with simple gold jewelry.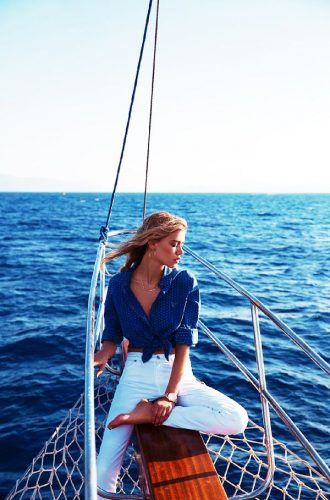 11 – Cute and Casual Boating Outfit
Overalls are one of the most comfortable outfits to wear.
Make your boating trip a lot less complicated by pairing some overalls with a plaid shirt or white shirt, a comfy pair of TOMS, and a cap to keep your hair neat and tamed while out sailing in the wind!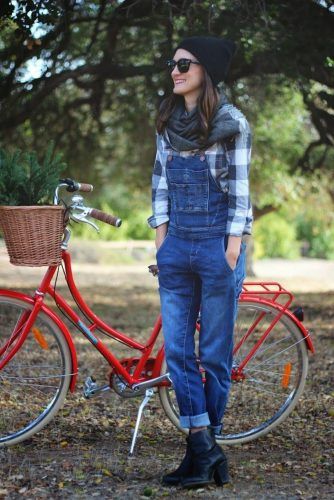 10 – Stylish in Stripes
There is something very nautical about stripes, so when in doubt, opt for a striped top with linen or cotton pants. It's a classic look and especially stylish when worn with gold earrings and/or simple accessories.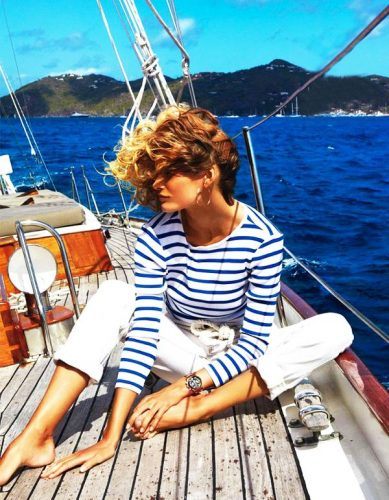 9 – What to Wear at Night on a Boat
Light cardigans are your way to go for a comfy night on the boat. Make your night-time boating a little more easy handling by pairing a wrap with a tank top or even a sundress.
TOMS or Vans are the perfect footwear for a summers' night out.
Check out this outfit board for inspiration!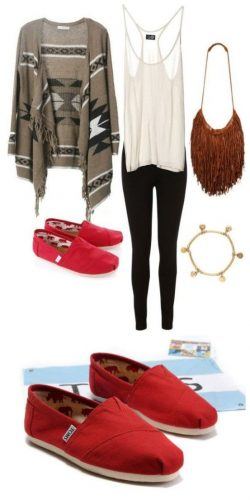 8 – Outfit for a Chilly Day
Who said you can't go boating in the fall? Add a nice vest jacket to your casual boating outfit and enjoy a perfectly cozy boating trip.
We love these cute flats paired with skinny jeans, a striped long-sleeved shirt, and a cute beanie.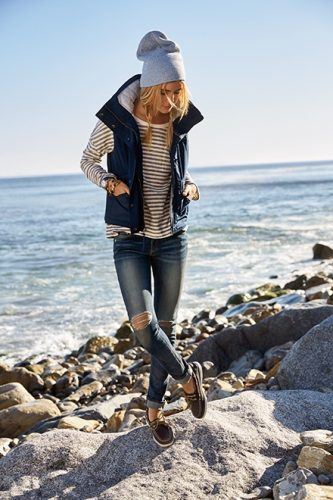 7 – Nautical Boating Attire
I think we can all agree that hoodies can make anything and everything better. Pair your favorite hoodie with a button-down or a casual tee-shirt and denim.
To finish it off, match your outfit up with a pair of converse or boat shoes. Here are the 27 Best Winter Travel Outfits for Women Trending these Days.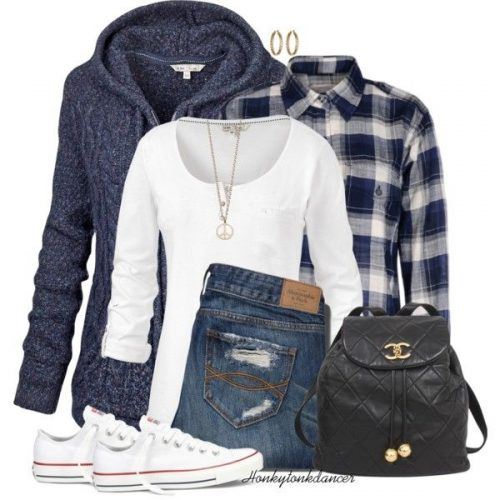 6 – Stay Warm & Comfy
Don't want those chilly nights to stop you from having fun? Oversized sweaters are your best friends.
With so many ways of wearing an oversized sweater, be it tucked in, worn with a pair of worn-out denim, shorts or comfy tights, it offers a range of outfit ideas to experiment with.
For this look, simply pair your sweater with some skinny jeans and some slip-on sneakers. Add a coat or light jacket for added warmth.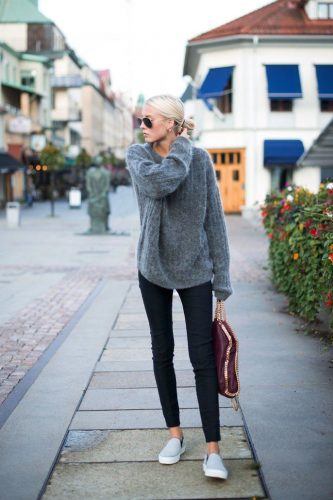 5 – Layers for Cold Evenings
Puffy windbreakers have made a comeback. Nothing is better than to go boating in fall in a more stylish way than donning a puffy jacket with a pair of jeggings or tights.
There is your comfy outfit for a chilly evening.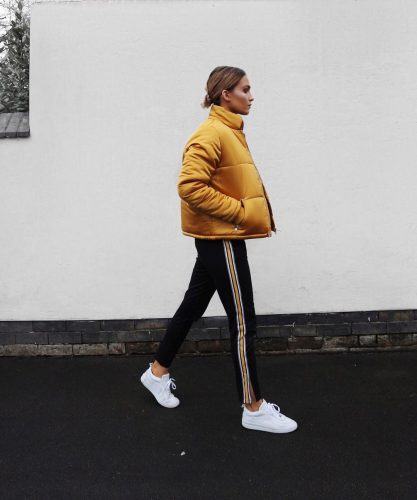 4 – Semi-Formal Attire
It might be a little trickier deciding what to wear when it comes to a fall or winter boating party. We recommend opting for a more sophisticated look.
We love this warm and stylish ensemble starring a thick woolly black dress, a classy coat, and knee-high or over-the-knee boots. Accessorize with long earrings, rings, and understated makeup.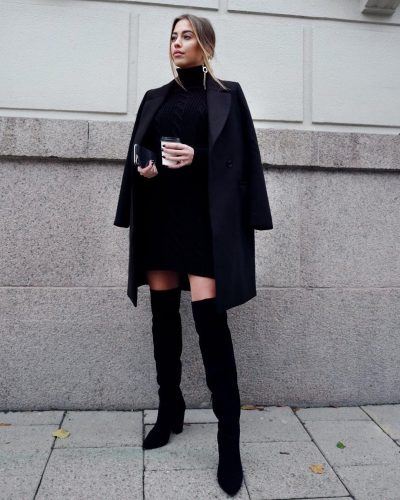 3 – Formal
Cut a stylish figure with a long-sleeve ankle-length dress for your perfect winter yacht/boat party ensemble. I love this partly floral, partly black mesh dress with heels and purse.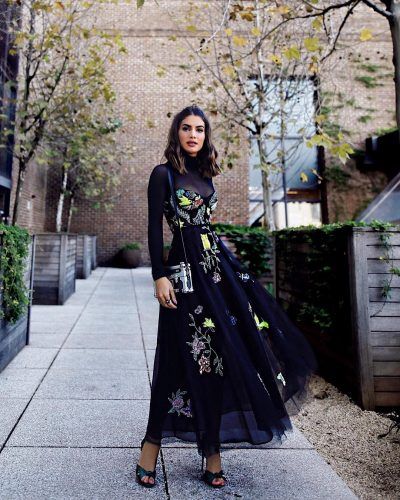 2 – Stylish Jumpsuit and Hat
Jumpsuits can be worn for both fall and summer boating trips. Accessorize your look with a hat or a cardigan, and you will have a comfortably chic outfit.
Don't forget to check out 16 Cutest Jumpsuits Outfits.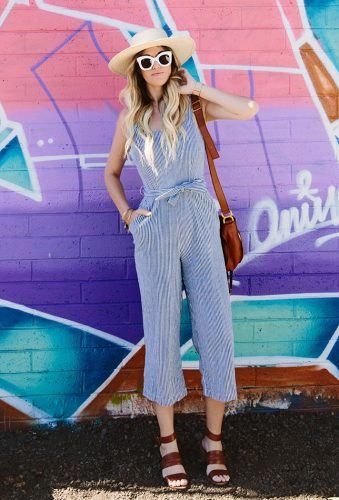 1 – Casual Look with Cardigan
Don't want to overdo a casual look? Tuck a cute tank into a pair of jeans belted at the waist. Throw on a thick cardigan and accessorize with earrings and sunglasses.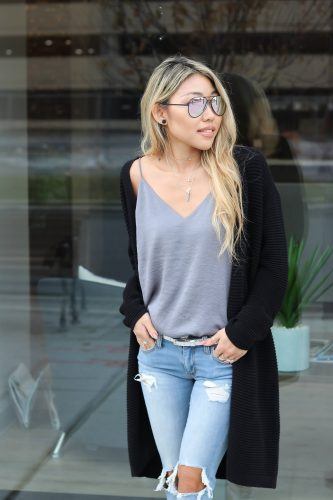 Hairstyles for Boating
A loose ponytail or a messy bun is a casually stylish hairstyle for a day on the water. Accessorize your hairstyle with a bandana and voila!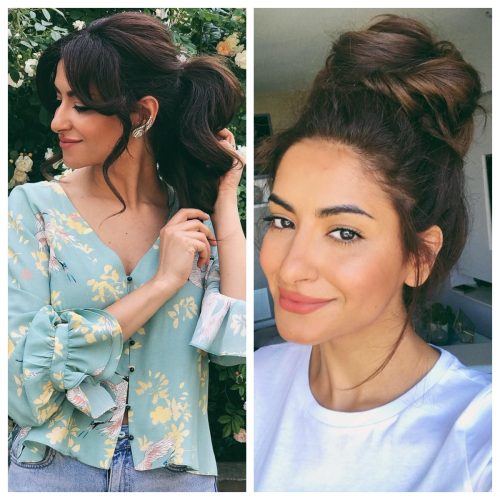 A party on the water is all about those beautiful beach waves. If you are opting for a more formal look, a classic, sophisticated bun is what you are looking for.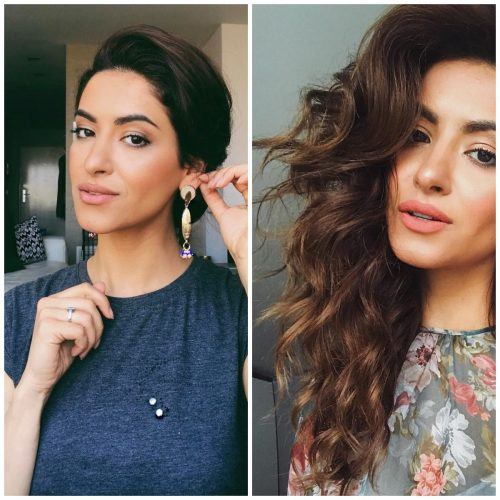 Nautical-Themed Accessories
Add extra charm to your outfits with dainty bracelets, hoops, floppy hats, or a couple of midi-rings.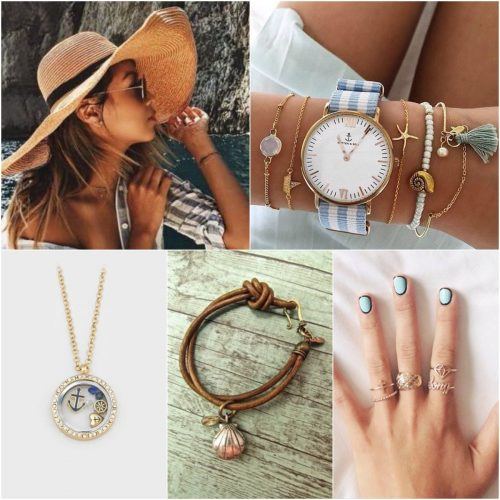 Boat Party Makeup Tips
Keep your daytime makeup as minimal as possible. Fill in your eyebrows for a naturally gorgeous look, add some tint to your cheeks, highlighter to your cheekbones, and a dab of coral lipstick for your lips. This is a natural, fresh-faced look to keep you feeling beautiful the whole day through!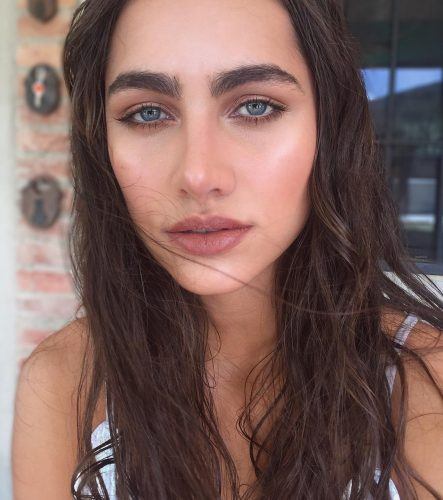 Nightlife on a boat is all about sultry, earth-toned looks. Opt for a smoky eye, a nude or caramel-hued lip gloss, and layer on the mascara. Add a pair of dainty earrings to round off the look. Loose curls will easily soften to long beach waves as the evening goes on!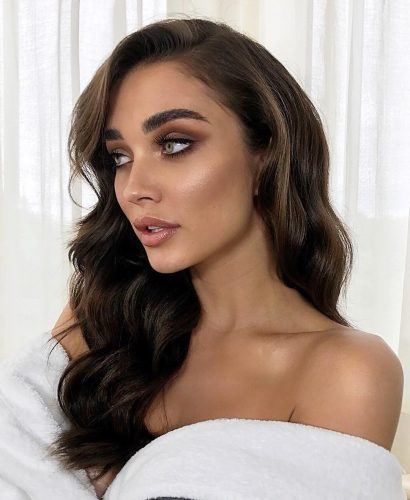 Boating Essentials That You Must Pack
When going out on the water, make sure you bring these essentials along with you:
Sunglasses
Hat or cap
Sunscreen
Flip flops
Optional: a camera for taking pictures, extra makeup to touch up, and chapstick for dry lips!