Patchwork Outfits. Patchwork clothing has been popping up in the fashion pages of glossy magazines for a while now. Whether it's the increased awareness of sustainability in the fashion industry, or just a passing trend aimed to capture the nostalgia of past eras. Any pattern goes, whether it's checks, animal prints, colour blocks, stripes or embroidery. Get beyond the usual patched jeans or sleeves and mismatch or co-ordinate, mix or contrast, add to clothes, footwear, bags, beanies…
Some amazing patchwork ideas are at your disposal this year to redecorate your fashion plans for the coming seasons once again.Get your hands on some of the most fantastic types of patchwork Dressing ideas including denim patchwork dresses, lace patchwork styles, hipster patchwork looks and much more.
These 22 awesome patchwork outfits will give you the fashion identity you direly need. Have a look and fill your wardrobe with colors and swag. And at the end, we share some amazing patchwork outfits of the most stylish celebrities so don't miss them out!
How to wear Patchwork Outfits
So why exactly do you need a patchwork outfit in your wardrobe? For starters, they give off such wonderful vintage 70s vibes that no one can help but fall in love with them. Secondly, if you're the sort of person who likes to make a style statement then these outfits are what you need. And last but not the least, they form wonderful outfits for a casual daytime look as well as a formal evening gown.
They are not just great to look at but also trending these days which gives you just one more reason to go buy it. This is one trend which looks equally amazing on celebrities as well as the common people.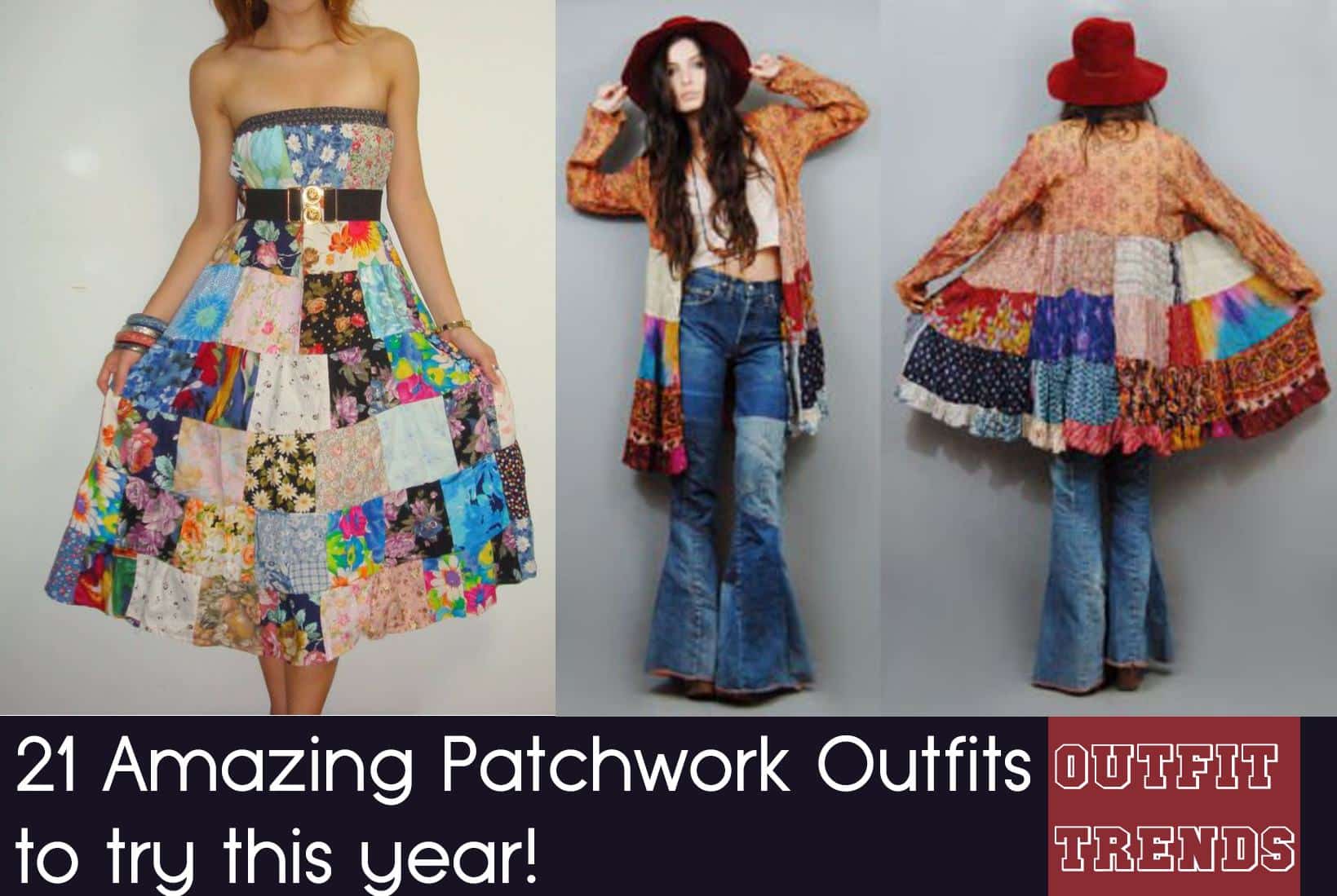 22 – Patchwork Overalls
An overall is a versatile fashion outfit that you can style with almost everything and for every season. For instance, for a winter look, you can style this patchwork overall with a turtleneck sweater or a plain full sleeve tee and a pair of ankle boots to complement the look. In addition, style your hair in a middle partition beachy waves with minimal makeup to complement the look. Moreover, wear a cute pair of earrings and a nice bag to enhance the look more.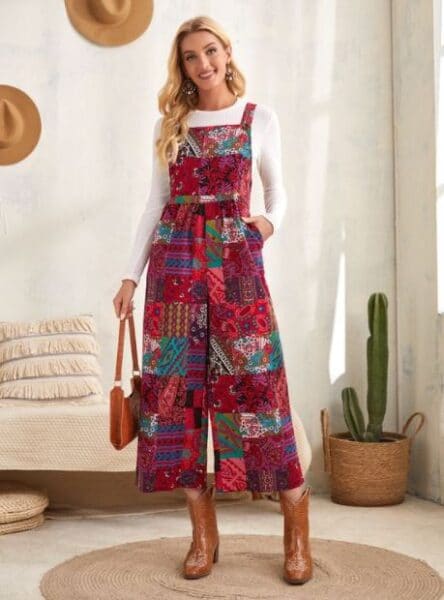 21 – Patchwork dress
This one-of-a-kind vintage dress made from a patchwork is stunning! The red lining and binding really makes the patchwork pattern pop. Boots will take any mini from summer to fall—throw on tights to take it into winter, too. Moreover, wear your hair open casually with soft makeup to compliment the entire outfit. In addition, style yourself in a pair of sunglasses and wear some suitable accessories to go along well with the overall look.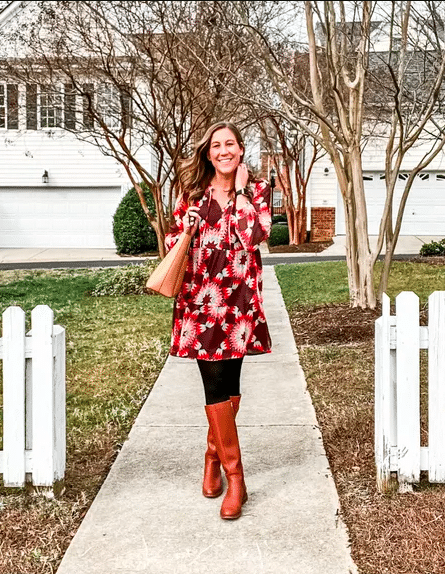 20 – Casual Wear Patchwork Outfits
Have a look at the top model Cara Delevinge, wearing patchwork trousers for a casual laid back look at the airport. Her outfit is all about comfort but without compromising her bold and wacky personality.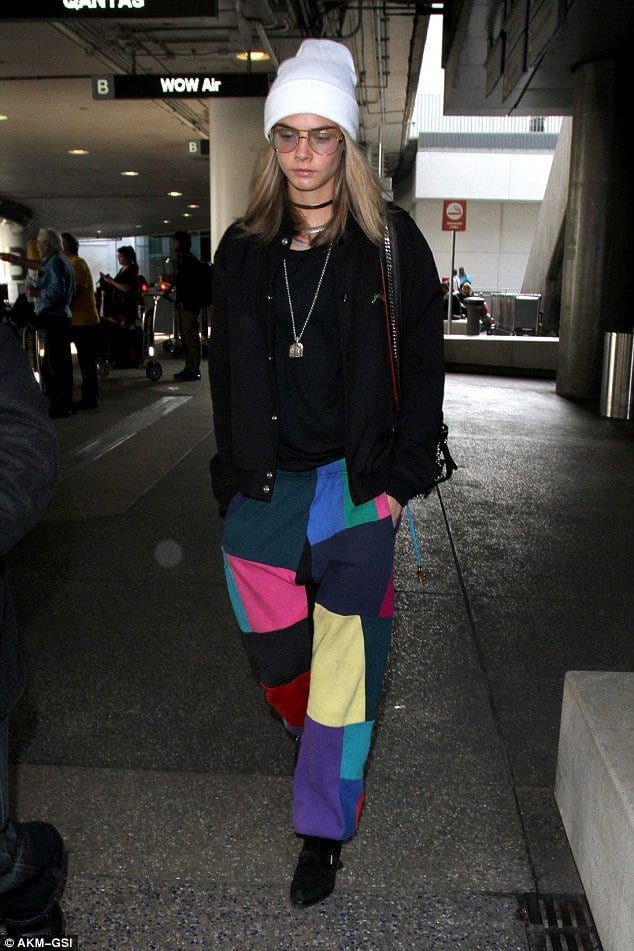 19 – Patchwork Chiffon Denim Midi Skirt
Be still my beating heart! This vintage patchwork denim chiffon midi skirt ticks all my vintage clothing boxes. The colour and style looks super refreshing and summery. Team this skirt with a white round neck tee and you are all set. This outfit has both modern and vintage touch in it which makes it look even more ravishing.
18 – Denim Patchwork Dress
An immensely classy and attractive patchwork dress made out of heart-warming denim. Must pick a cute pair of sneakers to go with this.  The age old denim on denim can often get boring so bring a twist to it by adding some patches, and flaunt this breezy denim patchwork dress on a day out with your friends.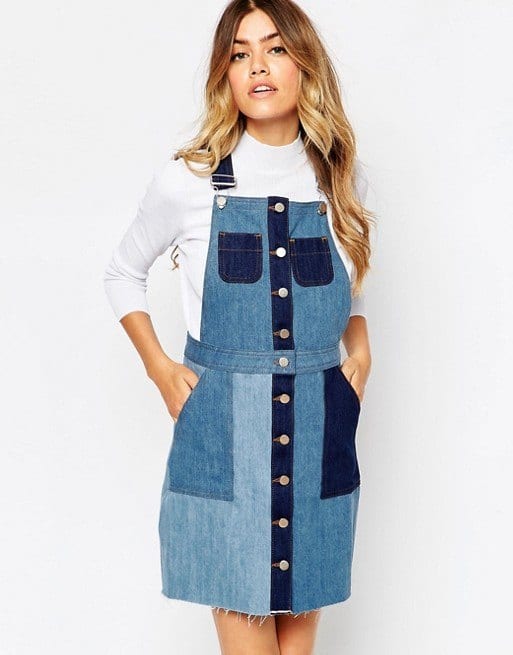 17 – Denim Patchwork Skirt
Whether you want to feel especially put-together in denim or are looking for a skirt that plays well with casual pieces, the denim patchwork skirt  is the best of both worlds. Would look great in a classic white top and fashion-forward boots. This outfit is perfect when you don't want to try too hard but still want to look cute and presentable.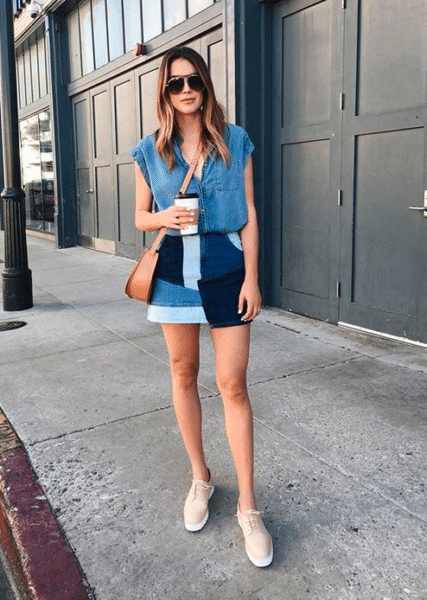 16 – Summer Patchwork Street Style
Something for your impressive summer wardrobe? Get a classic patchwork street outfit for your best comfort in summers and making your outdoor activities as best as we can. The sandals and shoulder knots are just the right additions, along with the minimal accesories to tie the entire look together. I love that the make-up and accessories have been kept to a minimum, allowing the entire look to tie together in all its simplicity.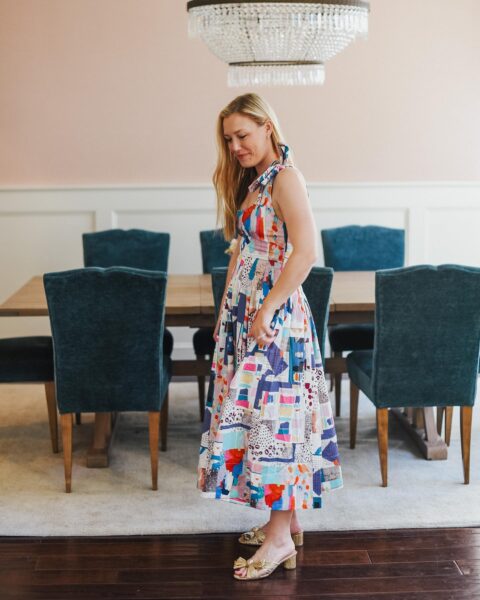 15 – Bohemian Patchwork Maxy Dress
A colour explosion! This wax print fabric patchwork dress brings a huge smile to my face. Gigi Hadid wearing a beautiful boho patchwork maxi dress. Patchwork has become runway favorite for the past few years. Next, the crochet top is to die for; it is bright, sext and oh-so-trendy! The belted waist adds shape to the outfit and compliments the top splendidly. Keep it minimal with the accessories because the dress itself is very bright you dont wanna overdo it. This dress is a real show-stopper!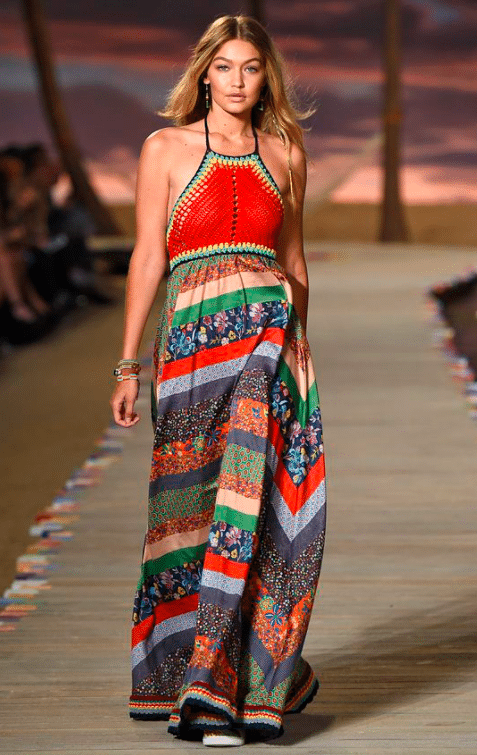 14 – Patchwork Jacket
Get a fantastic look of your swag with a catchy patchwork coat style over jeans and a tank top. Wearing a hat will surely be a bonus fashion tip to your swag. A true wearable work of art. Here's our guide on Trench Coat Outfits Styles-16 Chic Ways to Wear Trench Coat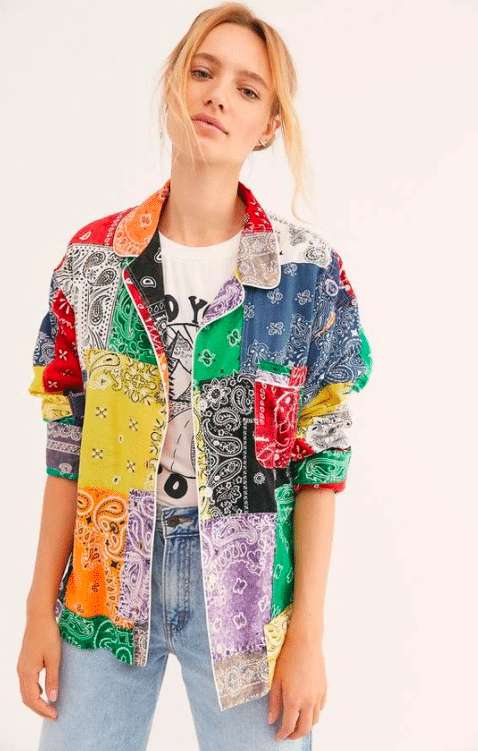 13 – Mixed-floral Patchwork Dress
Mixed-floral Patchwork Printed Button-down Maxi dress for a happy day at the beach on a cool and comfy summer day. Flowery prints make for the best choice in the summertime. It will give you the ultimate swag of owning summer style to your best potential.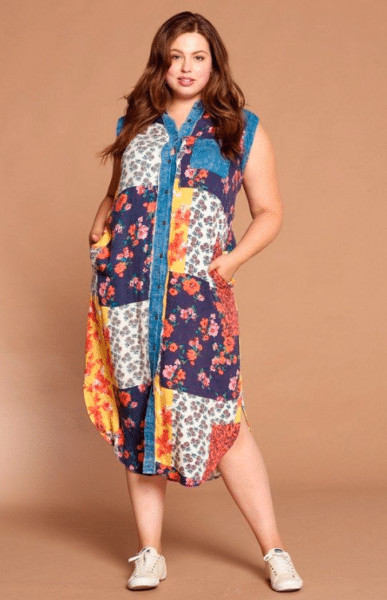 12 – Effortlessly Trendy
This brown denim patchwork jeans is to die for!This is the type of outfit I would reach for when I want to look super cute without leaving my comfort zone or making any conscious effort. This outfit look super cute, extremely comfortable and trendy! The white sneakers and brown jacket are just the right additions to balance this fantastic look!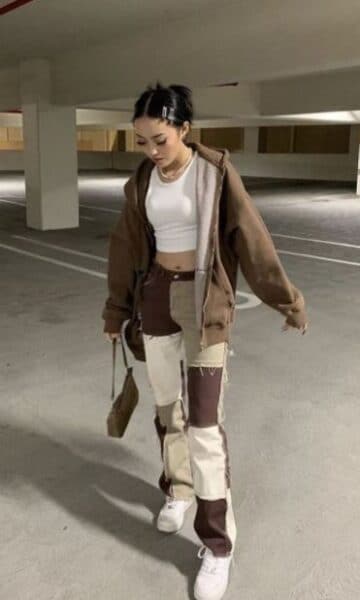 11 – Retro Patchwork Skirt
Skirts have always been timelessly trendy. This look is one of my favorite looks executed in patchwork skirts. It is an absolute hit from top to bottom. The sleek top knot hairstyle adds an effortlessly chic vibe to the entire look. The over the knee boots bring the whole look together for the rockstar style ensemble.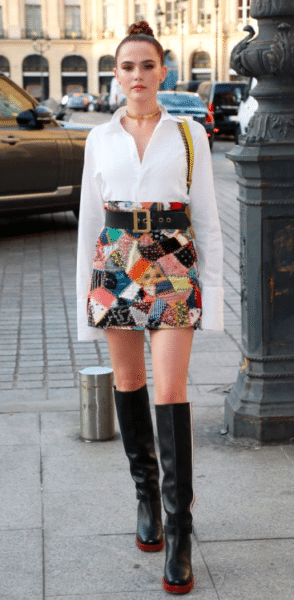 10 – Sexy Date Patchwork Clothing
Sensual and classy maxi style patchwork outfit will be simplistic yet utterly suitable for a party or other informal gatherings. Asymmetrical patchwork dress. Combine it with a gorgeous red belt for a pop of color. Try long boots for the best look with this.Accessorize it with minimal jewelry. In this gorgeous attire, you would indeed be a vision to behold.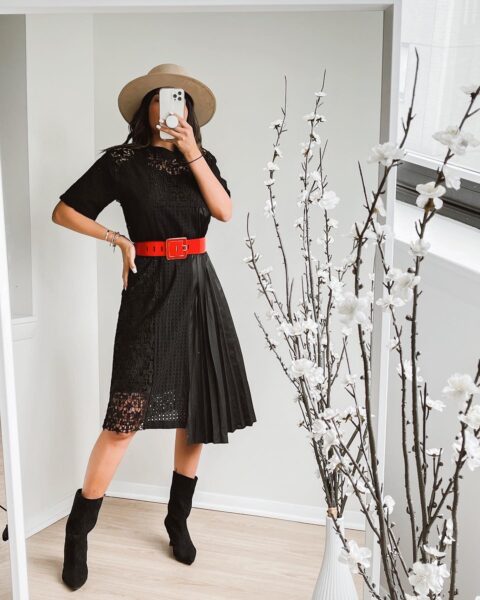 9 – Patchwork Abaya for Modest Style
Modest fashion does not mean one is not allowed to have fun and experiment with their looks. This patchwork abaya is just what you need when you feel like elevating your everyday style. It can be worn to a friend's day out or a formal party with just the right kind of accessories for a fancier look.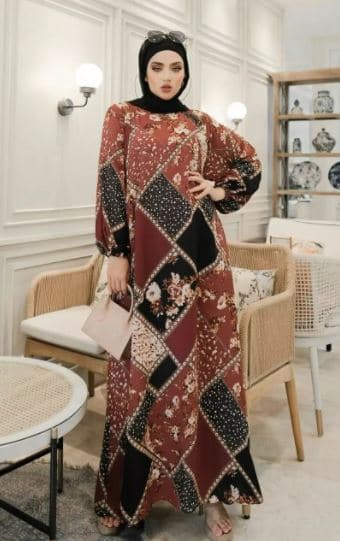 8 – Bandana inspired Patchwork pants
A mix of bandanna inspired printed denim and vintage washed denim quilted into an amazing fitting wide leg jeans. Just pair it with a crop top or a cropped hoodie for a day-to-day causal look. Keeping it casual yet fab is the way to do it on Sundays. The entire colour palette of this ensemble screams cool and fresh! Complete your look with a pair of white sneakers and you're good to go!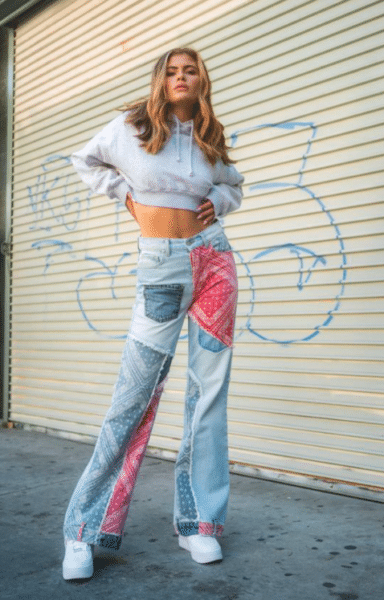 7 – Fall Outfit
Patchwork outfits with a comparatively warmer material to be worn in fall or a mildly colder weather. Stand out from the crowd in this beautifully unique Lucky Lulu Terracotta Patchwork Maxi Dress. Bohemian vibes will be radiating with the patchwork detailing of beautiful, earthy designs. Get your mufflers all intact and boots all classy. Do check out these 25 Celebrities All Black outfits Styles for Fall to Copy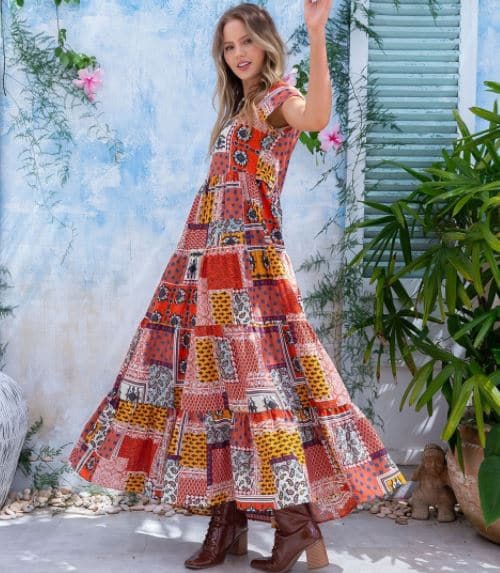 6 – Party Wear
For parties, that demand your craziest. Go for a mesmerizingly colorful patched patchwork style dress and make it phenomenally attractive. Tie your hair in a messy low bun and wear matching earings. This outfit is bound to make a statement in the best way possible. Oh, and don't be surprised if you turn a few heads on your way.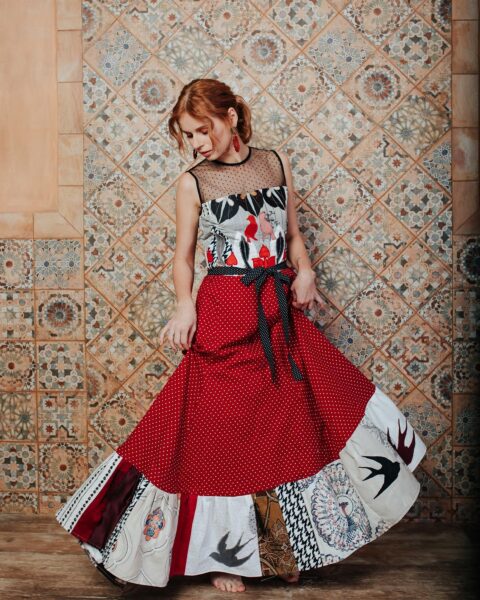 5 – Gorgeous Silk Dress
A gorgeous silk patchwork dress with a nice pair of heels can be worn whenever you feel your best. Try glossy makeup with it. This is the kind of Party outfit we all dream of. The highlight of the entire look is the bob cut that perfectly complements the entire look.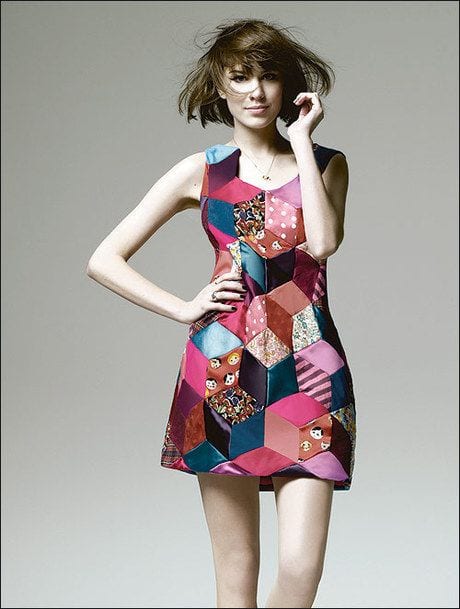 4 – Pixie Patchwork Frock Style
Pixie patchwork frock style for a look you want others around you to remember or even be inspired by!The chunky boots will look sexy with the outfit. Moreover, these boots have lately been super trendy making you right on track with the latest fashions! Also, you just can not go wrong with black… like ever!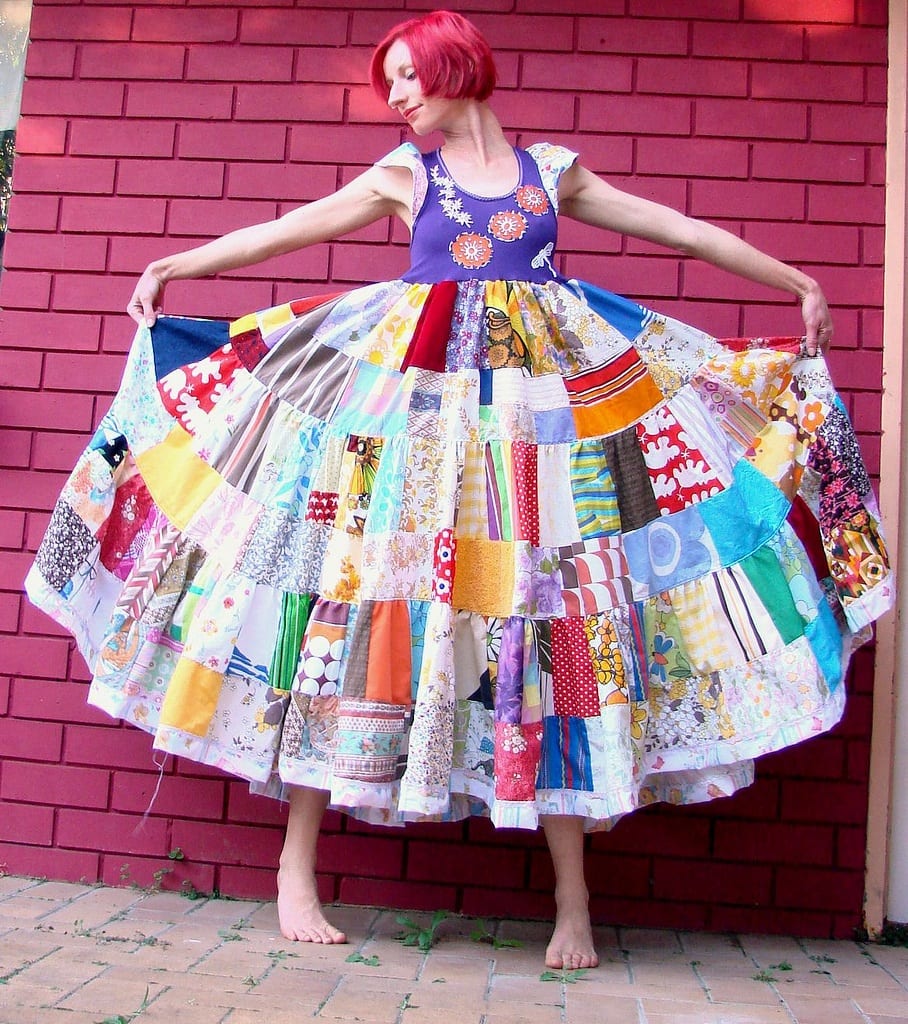 3 – Patchwork Pants
Do you desire a comfortable but trendy look? Here's the answer to your question. Just look at how resplendent yet comfortable this looks. Tank top + Black pumps + patchwork pants = no-fail outfit combo. This one's clearly fit for summer, in a few steps (ditch the crop and sandals for winter-friendly options) and you'll have a low temperature-appropriate look in minutes.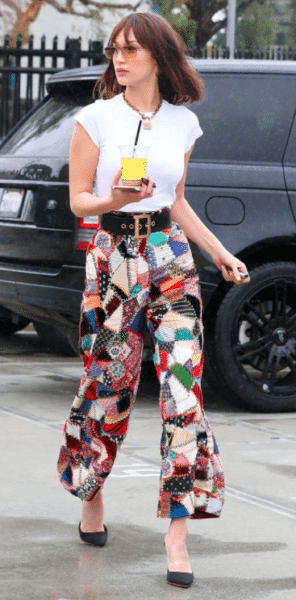 2 – Slimline Patch Dress
Slimline patch dress looking fabulous. I adore how simple yet elegant this outfit is! The A-line shape of the dress is unique and brings attention to the curves. Whether you are hanging with your friends or simply out running errands, this outfit is bound to make a statement in the best way possible.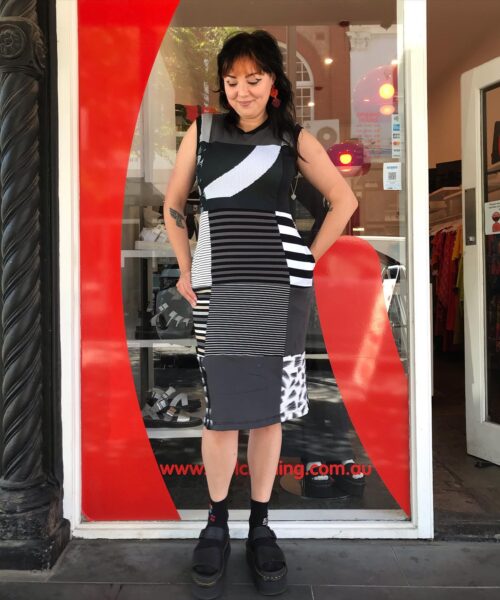 1 – Celebrity Style Patchwork Outfit
Patchwork outfits don't necessarily have to be vintage but they can also be chic and rocker style. Here we have Katy Perry, wearing an eye-catching patchwork blazer. This is exactly the kind of funky statement-making blazer that a girl needs in her closet in Winters.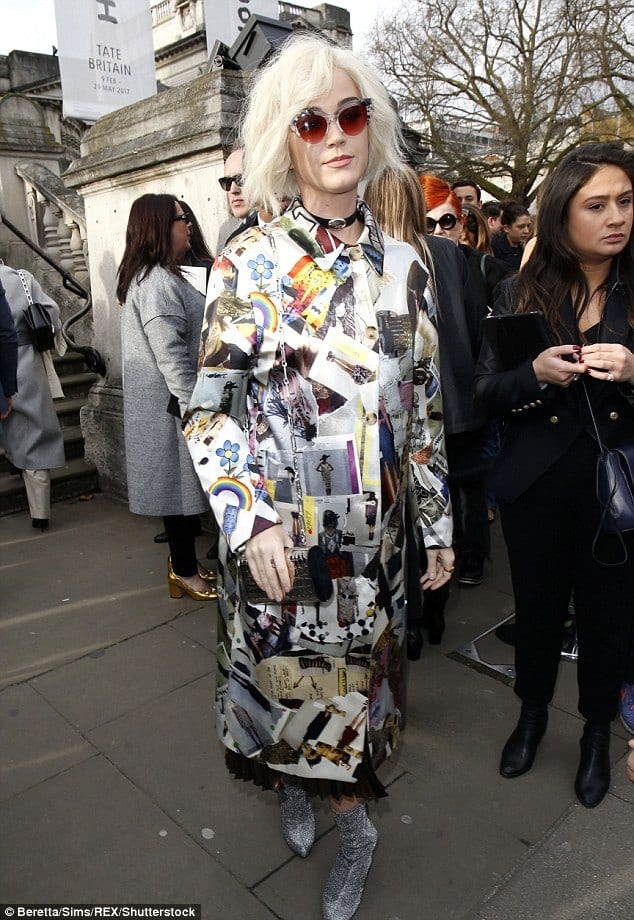 FREQUENTLY ASKED QUESTIONS
Is patchwork the same as quilting?
No. However, both methods are employed in what is typically (especially in North America) called "a quilt".
Patchwork is the piecing together of smaller pieces of fabric to make a much larger one. Quilting is when layers of fabric, often with an insulating layer, like batting or wadding — historically: lambswool, or raw cotton — are held together with vertical stitches, connecting all layers. For instance: a whole-cloth quilt (popular in Colonial America) is still a quilt, even without any piece -or: patchwork. Conversely, a pieced, bound blanket is not a quilt without vertical stitches holding several layers of fabric together.
Q. How do you make a patchwork skirt boho?
Skirts have always been timelessly trendy. I would advise opting for a midi or ankle-length skirt to execute that boho-chic vibe effortlessly. Match your long flowy skirt to a crochet top or a solid-colored cami top. However, I would advise opting for an oversized top with a french tuck for a fitted, short, patchwork skirt. Style your outfit with wedges or boots and accessorize with wooden jewelry. And finally, grab a fringes kimono to keep yourself warm!
Q. Can I wear patchwork skirts in winters?
Yes, you absolutely can wear patchwork skirts in winter! Here are a few tips to help you stay warm while wearing your favorite patchwork skirt:
Tights to keep your legs warm! An excellent way to keep your legs warm with a short skirt is to wear thicker, opaque tights. Complete the look with these shoes to wear with tights.
Opt for a longer-length patchwork skirt. And don't forget to wear leg warmers beneath the longer-length skirts!
Shirt skirts paired with long boots or thigh-high boots are the way to go!
Layering is vital when dressing up to stay warm in winters, and this applies to both your upper and lower body.
Warm socks might be your best friend for the season!