Dubai Street Style Fashion: All the girls who want to stay trendy and up-to-date with the latest fashion in Dubai get inspiration from Dubai's street style! This country is an influential tourist spot and attracts people from all around the world. Thus, it is pretty common to find all kinds of clothing here, including skirts, shorts, dresses, and tank tops. As long as the dressing is handled tastefully and worn according to the occasion, you can get away with pulling off your favorite outfits!
Since it is a Muslim majority country, you would expect to find modest Muslim clothing predominantly, including hijabs, abayas, and burqas. However, modest clothing is now being made street appropriate by accessorizing and playing with various styles. So it is safe to say that one of the best ways to dress in Dubai is through streetwear to keep you comfortable and on your toes all day long to explore and get the best out of the experience!
How to Style Streetwear Outfits in Dubai?
We have browsed and gathered all the best ways you can style streetwear in Dubai. This collection has some great day-to-day casual outfit fashion as well as formal outfits for women. You can also get a lot of ideas to be inspired and get you going. I have covered most of your queries inlucing the latest fashion trend in Dubai and how to get a Dubai street style look in this article. Therefore, keep scrolling to catch the best casual outfit ideas, and much more. Take a look at the street style looks with hijab as well!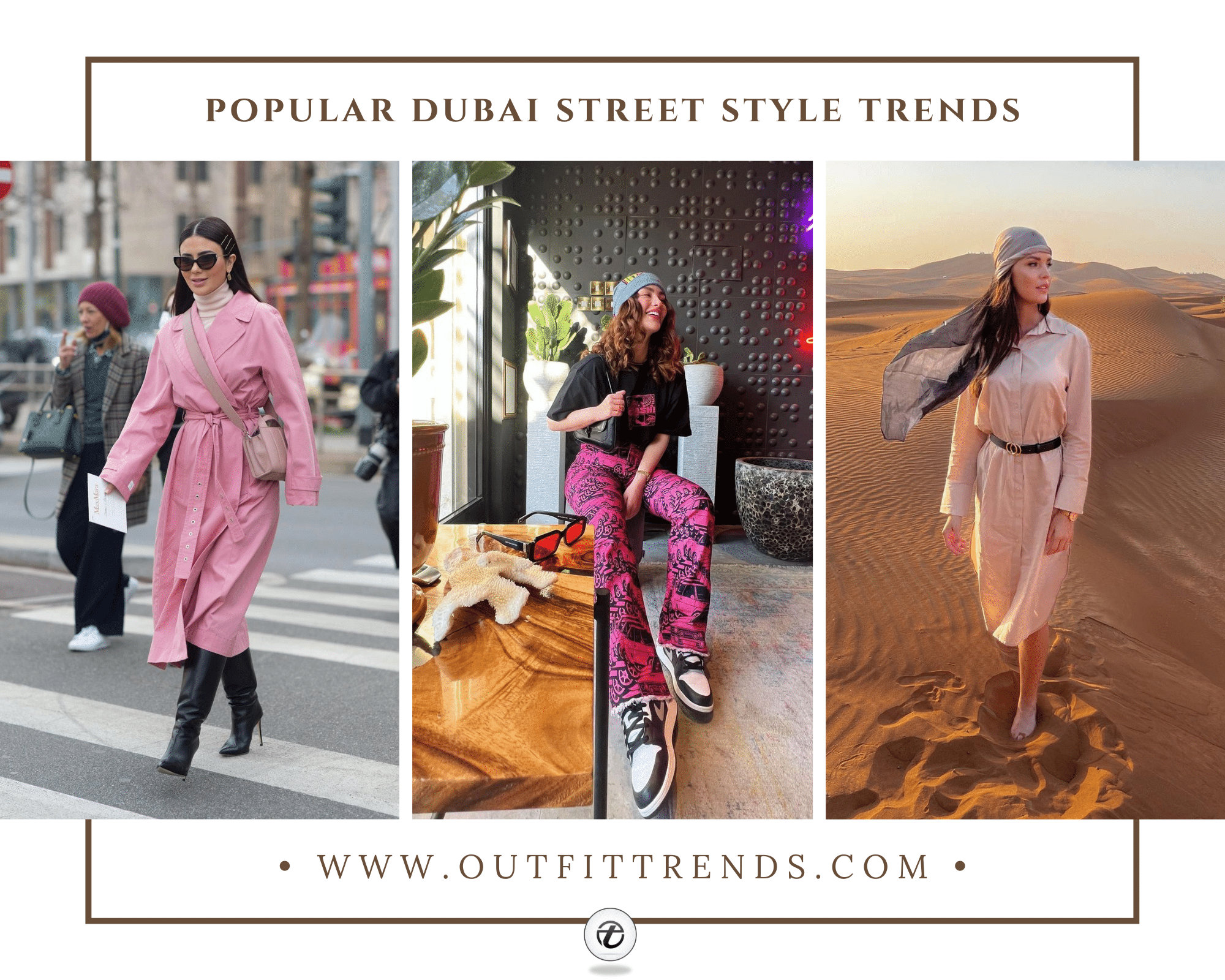 Popular Street Style Trends to Follow in Dubai:
Loose and flowy fabrics: The hot & humid weather calls for breathable fabrics that make streetwear appropriate.
Turban Hijab: This style of wearing the hijab is ideal for sunny weather and street outfits!
Bright Shoes: I am talking green, pink, yellow, and any bold color to make a statement.
Sunglasses: This handy accessory is a must against the harsh sun of the region.
Oversized Trench Coats: Perfect for providing cover and look extremely fashionable too!
Chunky Platform Shoes: Lately, the bigger the sole, the better the outfit! And the best part is, you will find these types of shoes in the form of boots, heels, sneakers and any kind you can think of!
If you're traveling to Dubai for the first time, do check out these ideas on What To Wear In Dubai In Winters. Now, I bring you the trendiest streetwear looks to inspire you and perfect that street fit!
30- Go with Dresses for the Daytime
Don't forget to pack your favorite dresses and tunics as you surely want to stay relaxed and comfortable during your trip. Breezy outfits are a must, especially considering the hot and humid temperature of Dubai!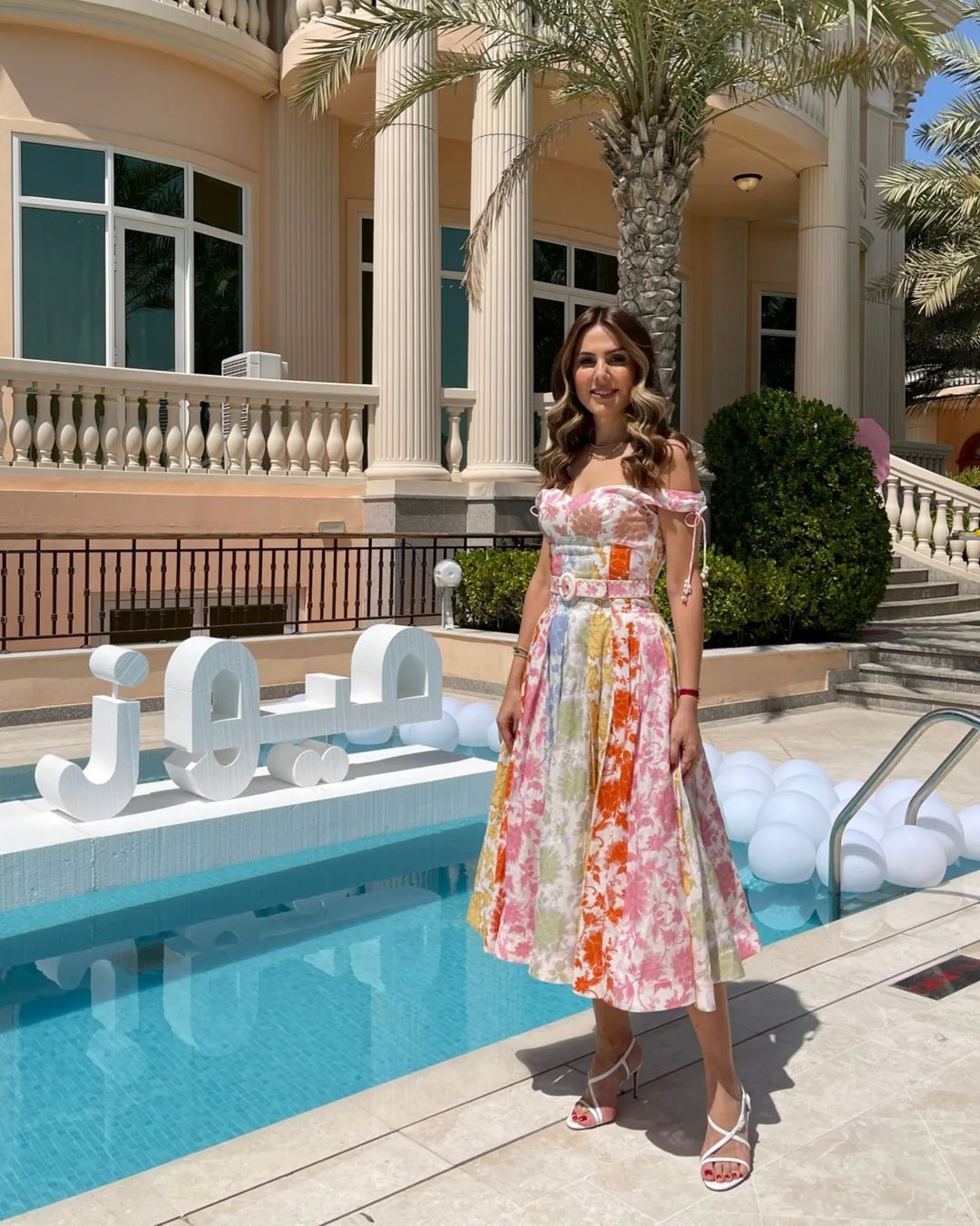 Shop similar dresses below:
Zimmermann Midi Dress $1600.00
29- Blend in with Beautiful Emirati Women's Style in the Streets!
It's always fun to become a part of a country's local customs and adapt to them. Women always have fun enjoying the local dresses of Dubai, be it abayas or long gowns. So you too can surely give them a try and experience the real life of Dubai.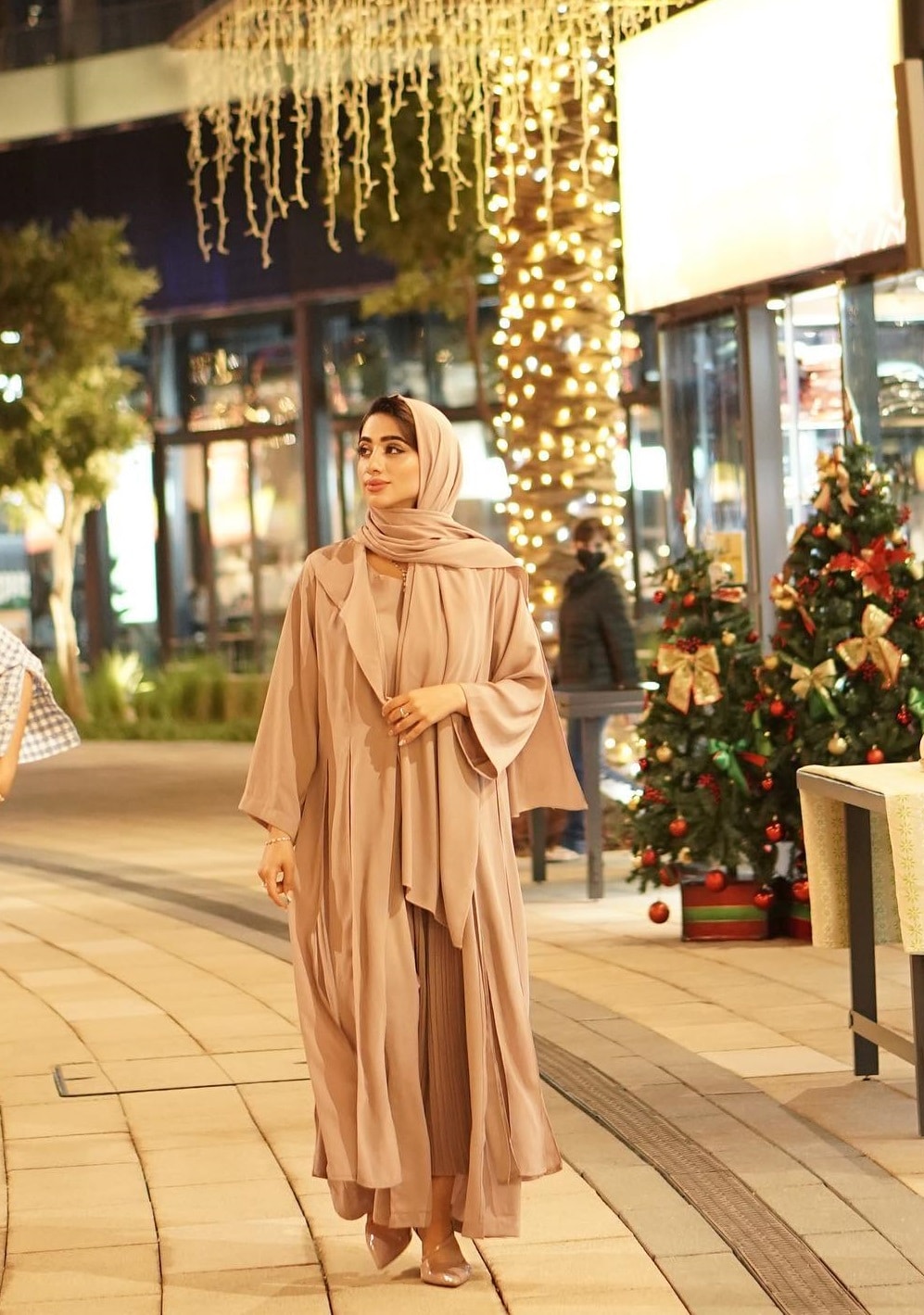 28- Go for Classy to Experience Dubai's Nightlife
The nightlife of Dubai is exciting, and it's also a favorite party spot for celebrities from around the world. So do keep a bunch of your prettiest party outfits with you. Who knows which celebrity you might run into during your Dubai trip?!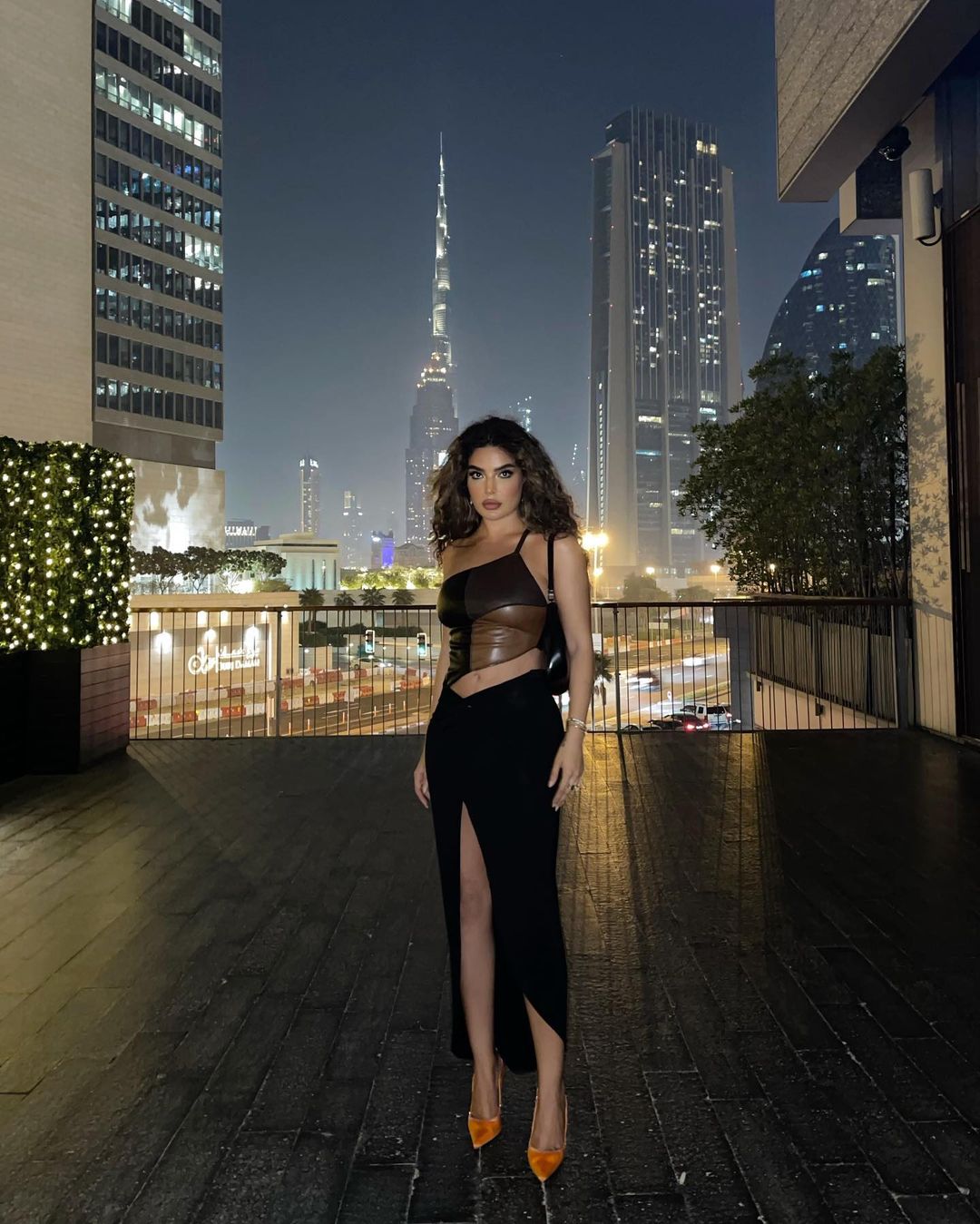 27- Loose and Flowy Fabrics Keep you Cool in the Harsh Sun
For most of the year, the temperature in Dubai is pretty hot. So wearing flowy and loose fabrics will help you stay comfortable. And sunscreen is a must, of course.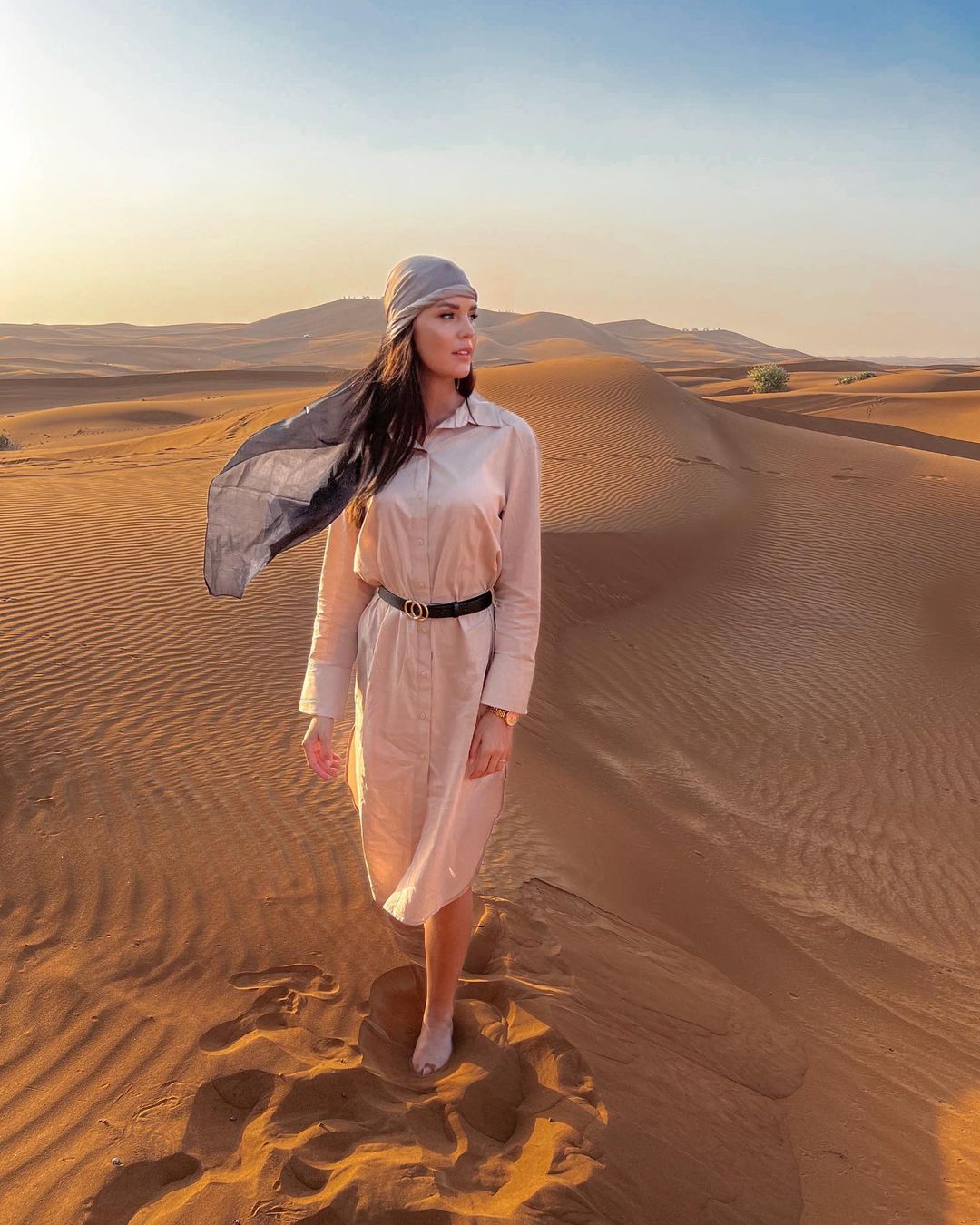 26- Pair Flashy Handbags and Shoes with a Solid-Colored Outfit
Did you know that the world's largest shoe store is in Dubai? In all malls of this country, you can find shoes and bags of the best brands. So the Dubai street style includes these handbags and shoes of the classiest style. If you don't feel like spending too much on this stuff, you can find fantastic deals and replicas of these handbags in the region's souk markets.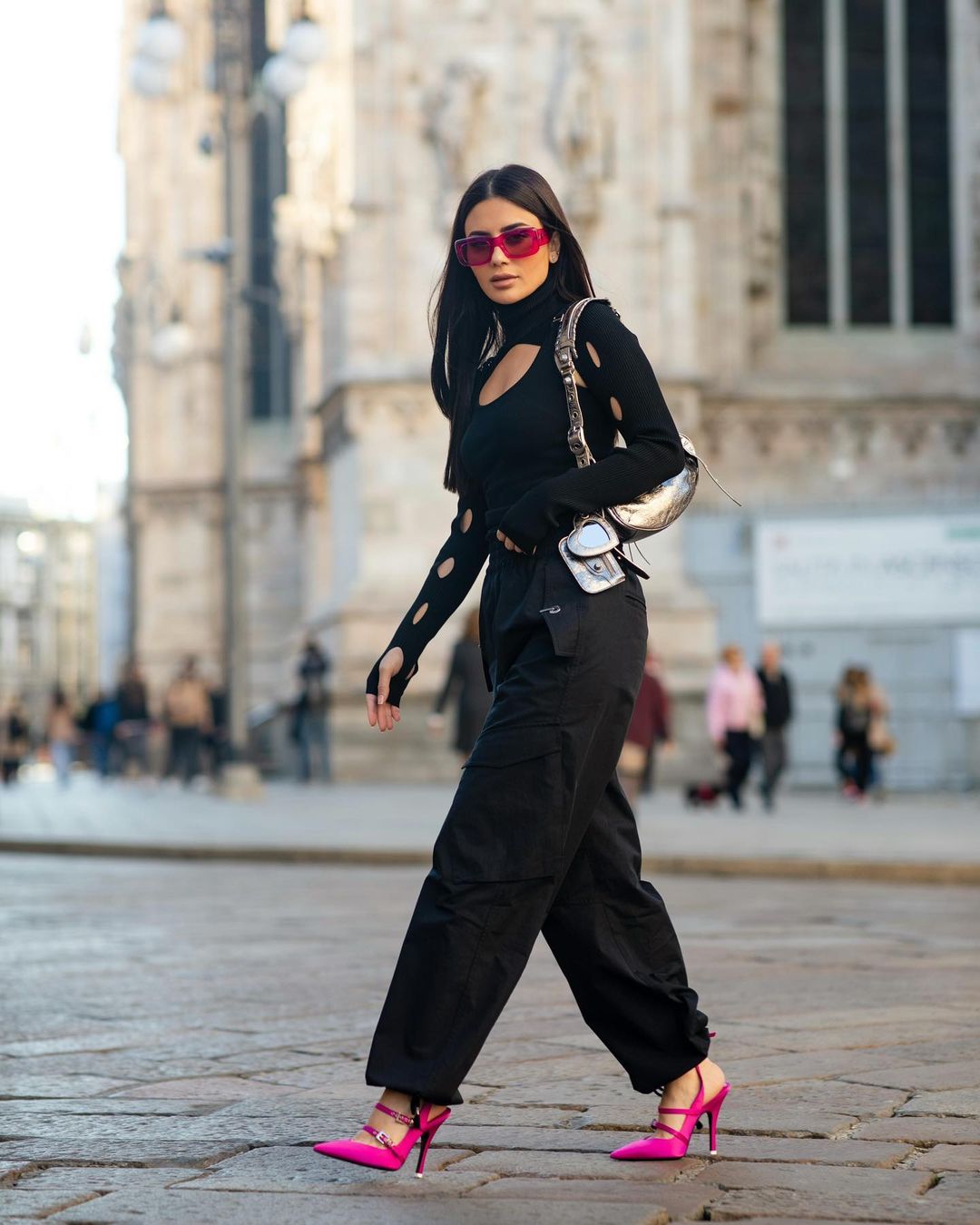 Grab the shoes and handbag right here:
Balenciaga Shoulder Bag $2100.00
25- How to Style the Hijab for Street Fashion?
Hijabs are not just a great way of enjoying Dubai's local customs, but they also keep you comfortable while protecting you from the scorching heat. All you need to do is choose the appropriate fabric and style of hijab for a fun day out. Similarly, style your outfit to the image below, and you are all set!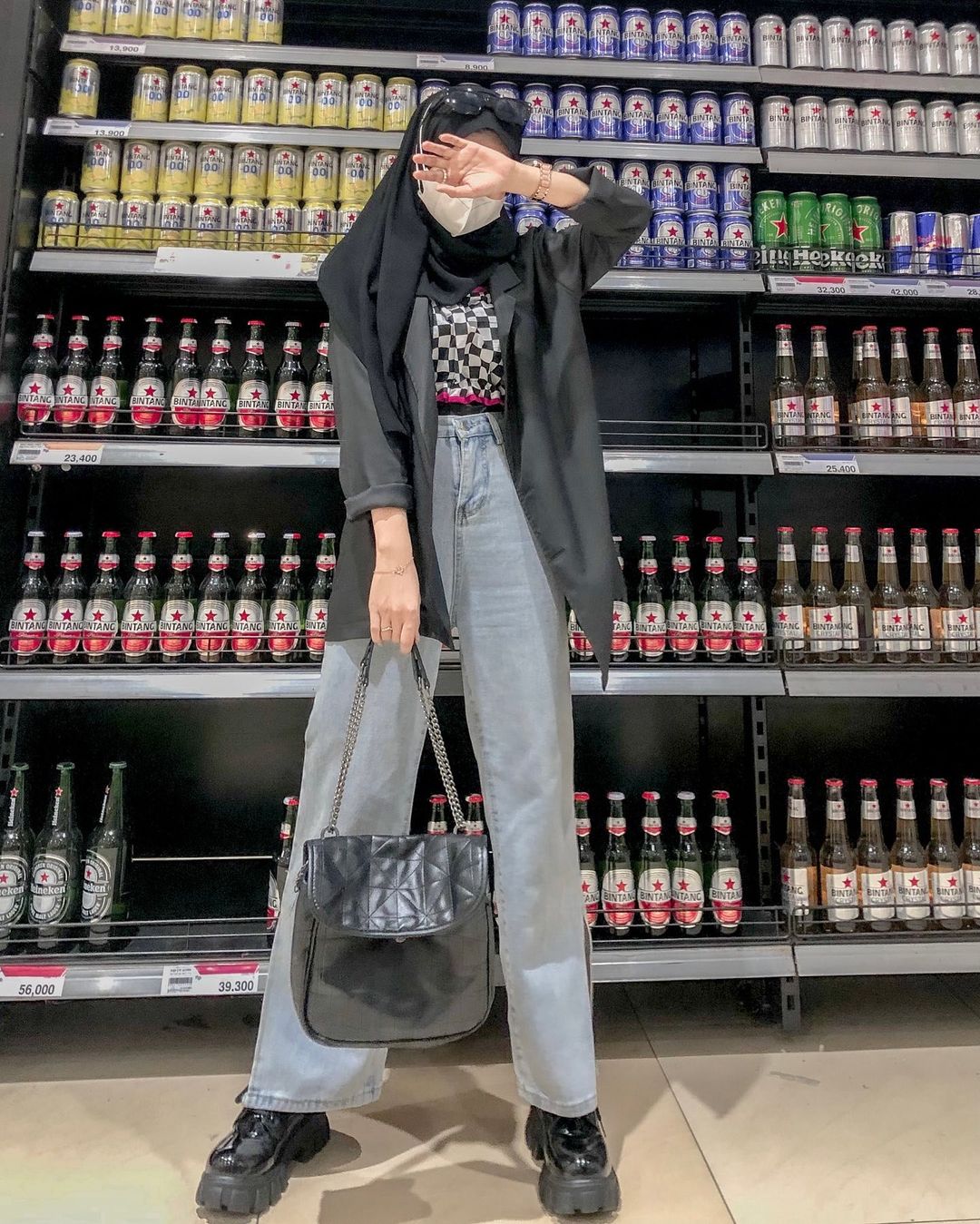 For some amazing ideas, check out summer outfits to wear with hijab.
24 – Opt for a Sporty Girl's Style for Maximum Touristing!
If you want to pull off this look, you need to wear neon and bold colors. For example, you can go with a bright yellow shirt and pair it with tight grey shorts. For a bag, you can wear a bright yellow bag as well. If you feel like the shirt is too revealing, go for a grey striped jacket on top of the shirt for a little more coverage.
Get your hands on the look below:
23- Formal and Classy Outfit Go Hand-in-Hand for Every Occasion!
Classy outfits always win hearts. These outfits are perfect for work or a day out with friends. For this look, go for formal printed palazzo pants or normal sweat pants. Pair these cool-looking trousers with a plain button or crop top and tuck them inside the trousers to give a more formal look. This outfit idea is not only for formal occasions but also for casual occasions. For accessories, you should keep it simple and go for nude-colored accessories.
22- Partywear Perfect for Even When Not Partying!
You can wear whatever you want to the parties without getting judged. For example, for a funkier street style look, wear leather shorts and pair them with a gorgeous bristol blouse. Or if you want to go for a more edgy look, wear a cool-colored knee-length dress. You can wear a purple-colored piece with black and gold accessories.
21- All Black Looks for Any Occasion!
Girls of all colors, shapes, and sizes can rock an all-black outfit. It is an excellent choice for nighttime events in Dubai. Studded detail black body-con dress teamed with nude heels to elongate the limbs. Moreover, it is also a great outfit choice for shorter girls.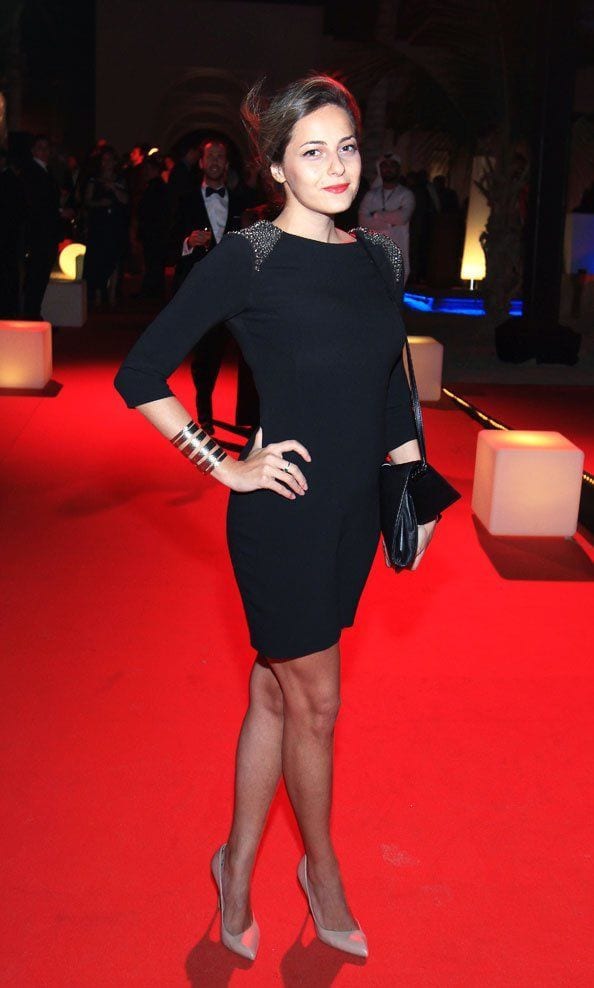 20- Jeans with Converse are the Go-To Fit to Stay on your Toes All Day!
Jeans with converse are the most worn outfit in the streets of Dubai. You will find several girls and women wearing this outfit. It is as simple as it looks. Go for your best pair of jeans and wear a tee or crop top with them. Don't forget to finish the look by wearing your favorite pair of converse or any other pair of sneakers. You can also wear a front-open plaid shirt on top, and instead of wearing it, you can tie it around your waist. Get further inspiration from these Stylish Ways to Wear Converse Shoes.
19- Go Bold with a Bright Lip to Match the All Black Outfit
Chic style Dubai street style fashion usually involves bold makeup. However, I would advise keeping it light due to Dubai's weather; wearing too much makeup can ruin your face within hours. Although, you can carry some bold lip colors and eye shades for a quick makeover. Otherwise, keep the heavy makeup looks for the nighttime events!
18- Pair Skinny Jeans with Oversized Cropped Tee!
The street style looks with skinny jeans, and high heel boots are a classic. To create this look, go for skinny jeans, and wear a plain loose white t-shirt french tucked at the front. Opt for brown or black colored light heel boots and match them with brown accessories.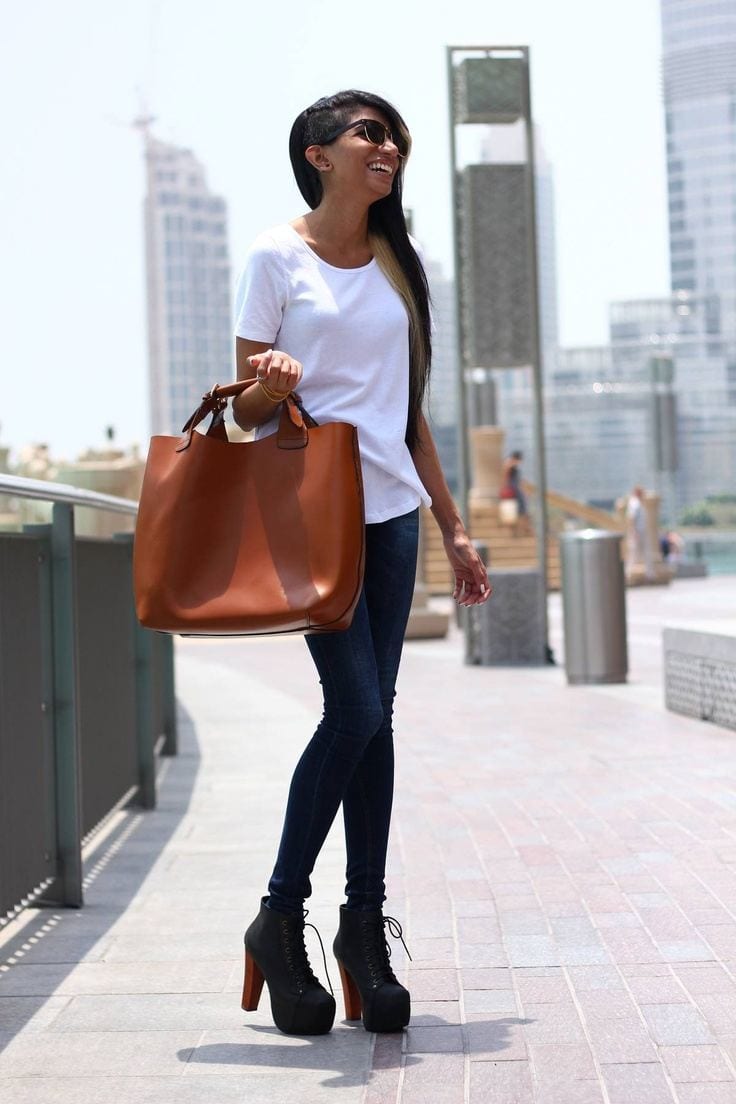 17- Throw on a Trench Coat to Elevate Your Street Outfit!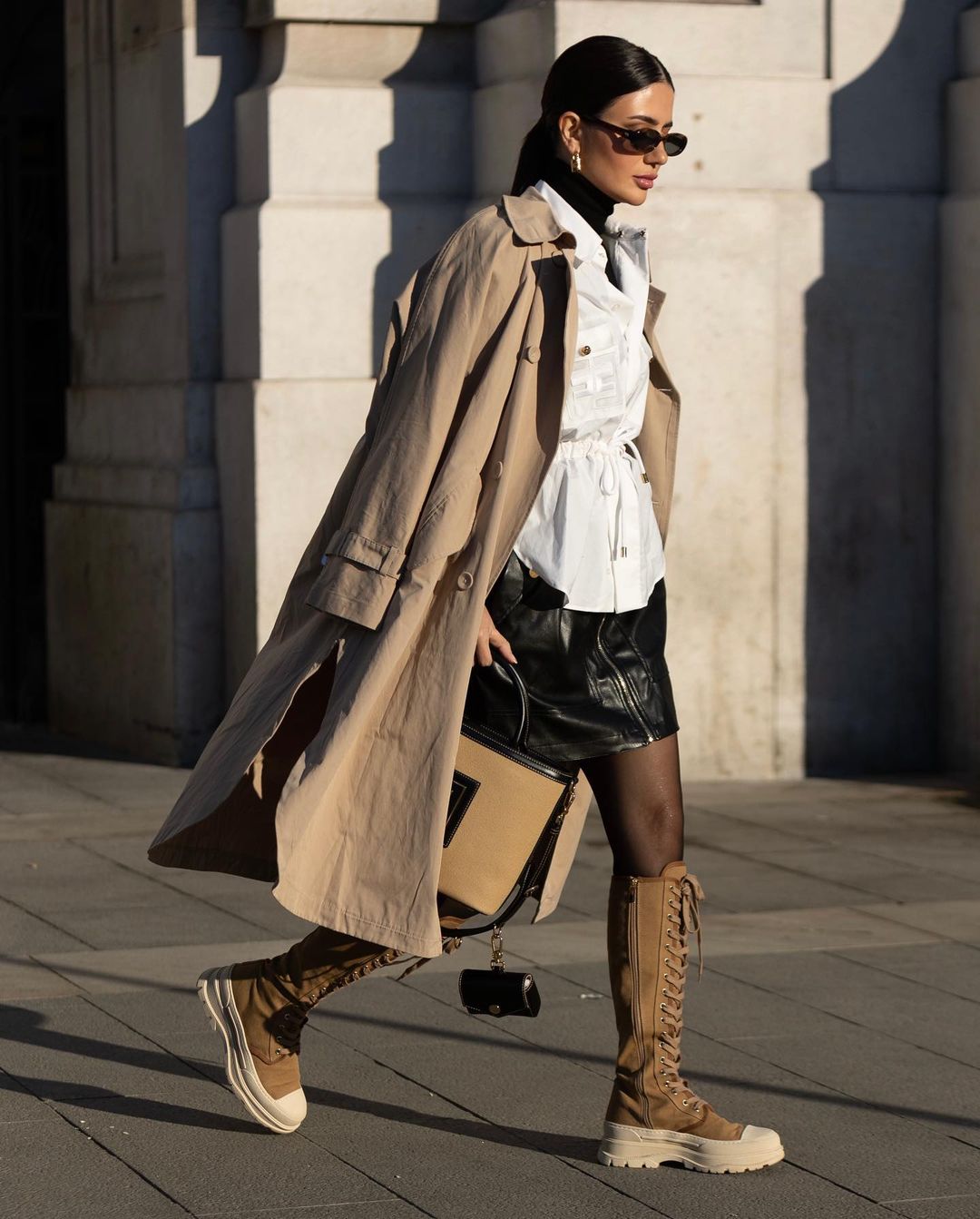 16- Go with Print-on-Print for Women Over 40 Style
People immediately associated dull colors and plain patterns when styling women over 40. However, this chic outfit is proof of declaring age as just a number and wearing whatever you want!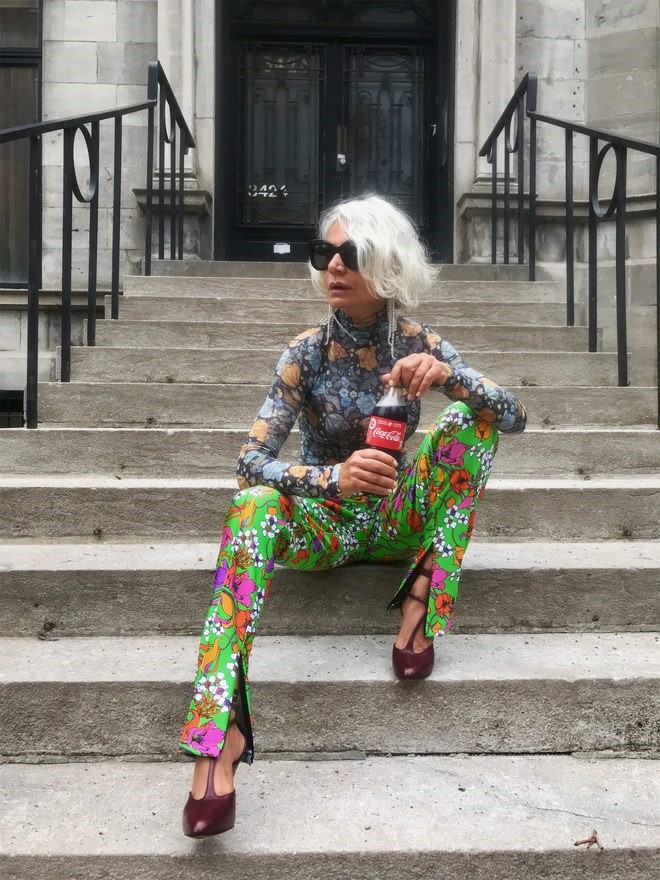 15- For a Traditional Look, Opt for Abayas
Blend right into the crowd in this gorgeous outfit which is also the national dress of Dubai!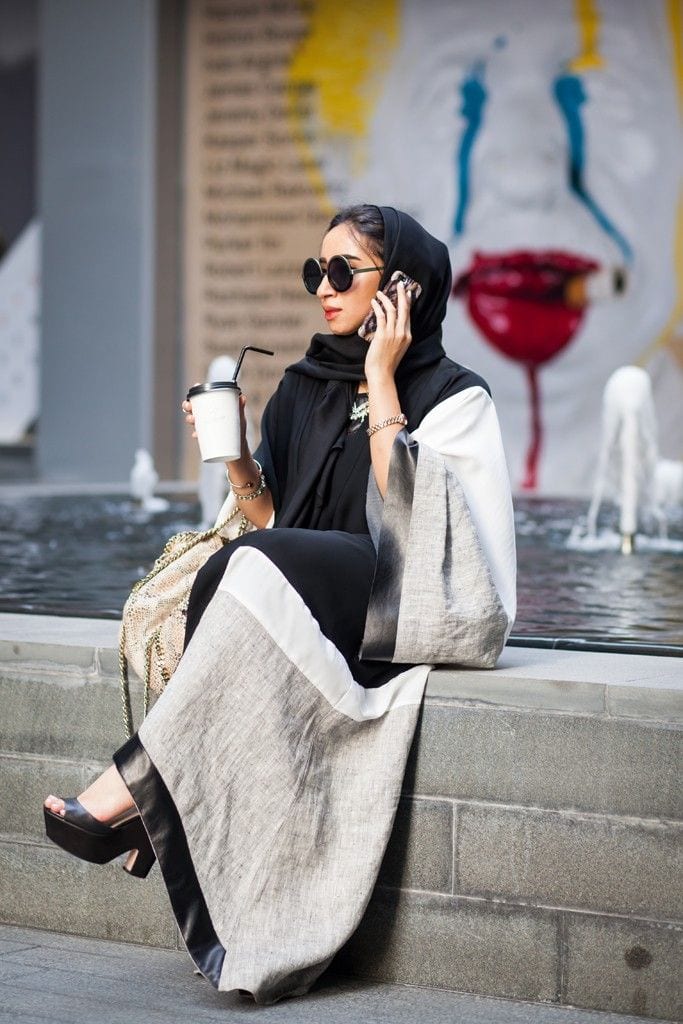 14- Go With White Boots & Leather Jacket to Make your Look Edgy!
Make this pretty outfit more street by opting for a leather jacket, boots, and pulling your hair up in a messy ponytail!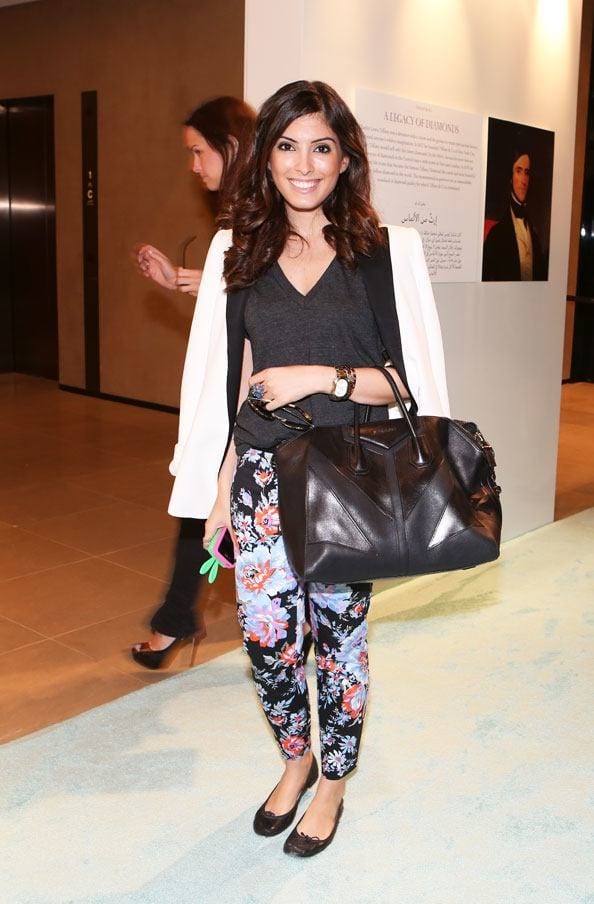 13- Maximum Impact with a Printed Maxi
Street style looks with maxi skirts are easy to style and look phenomenal!
12- Style Your Hair in a Half-Up Half-Down Style To Compliment the Outfit
A printed tee and leather skirt combo matched with a studded clutch is the way to go for an effortlessly chic look!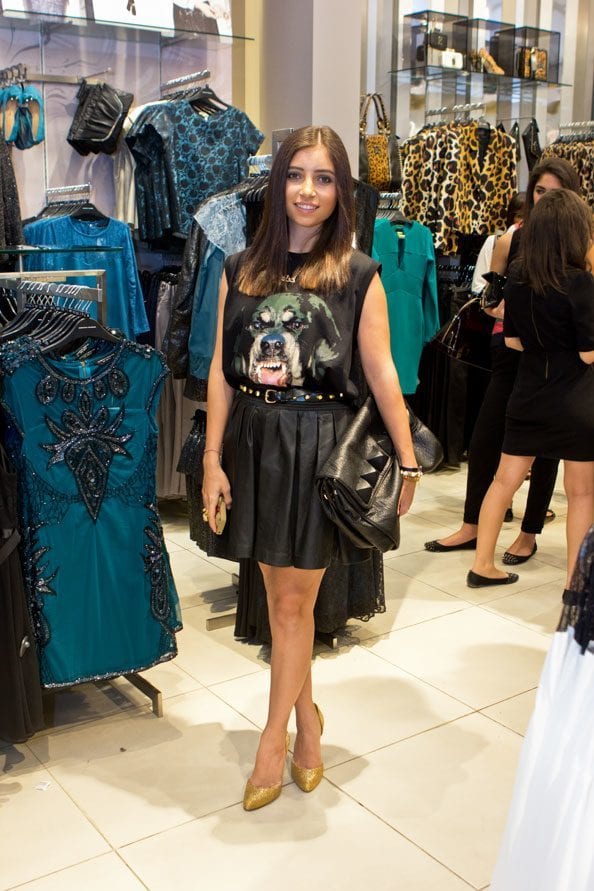 11- Statement Jewelry Hits Right on Target to Complete this Look!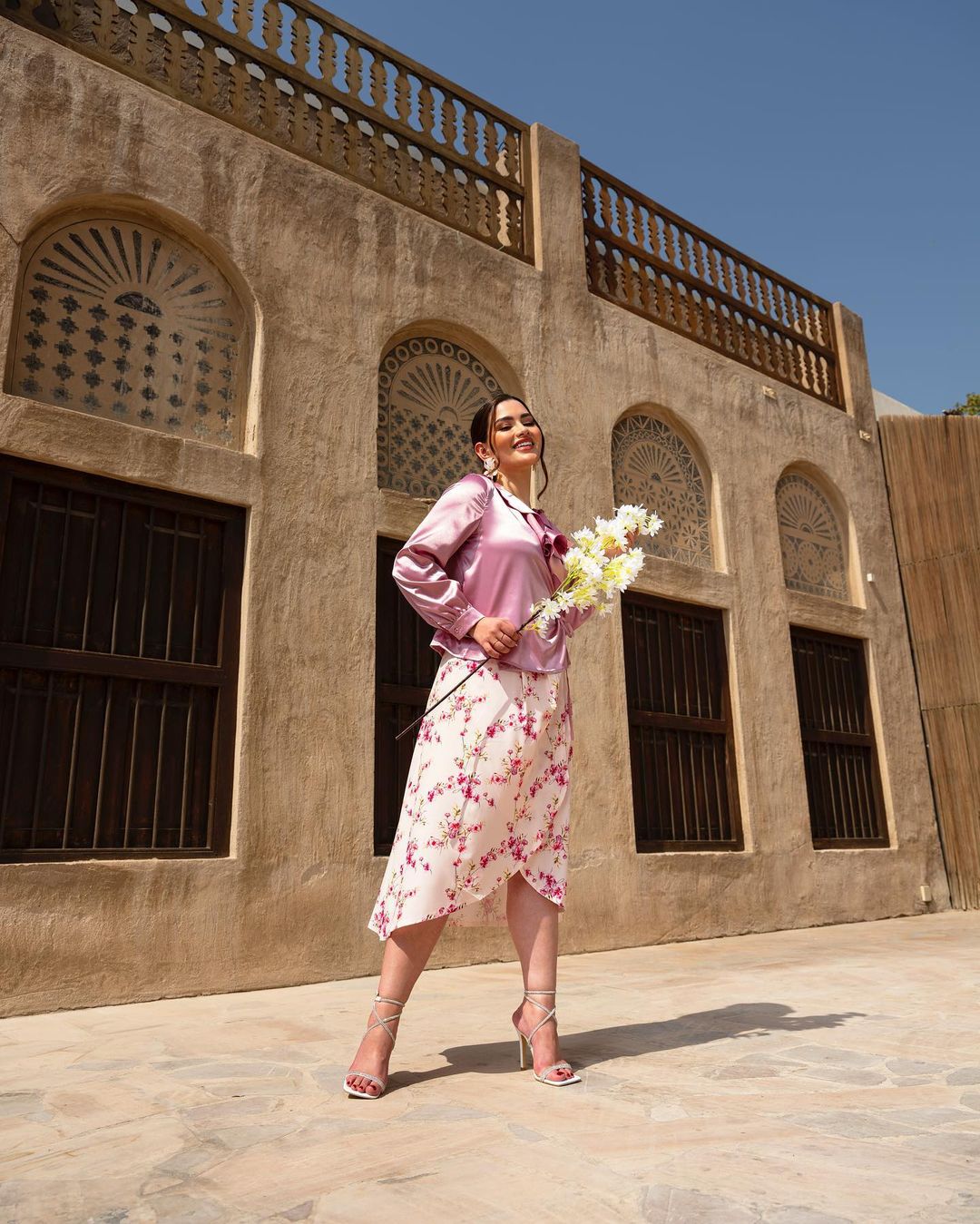 10- Pair Your Ripped Jeans with Fishnets or Stockings
Dubai street style looks with ripped jeans are super comfortable and look fabulous!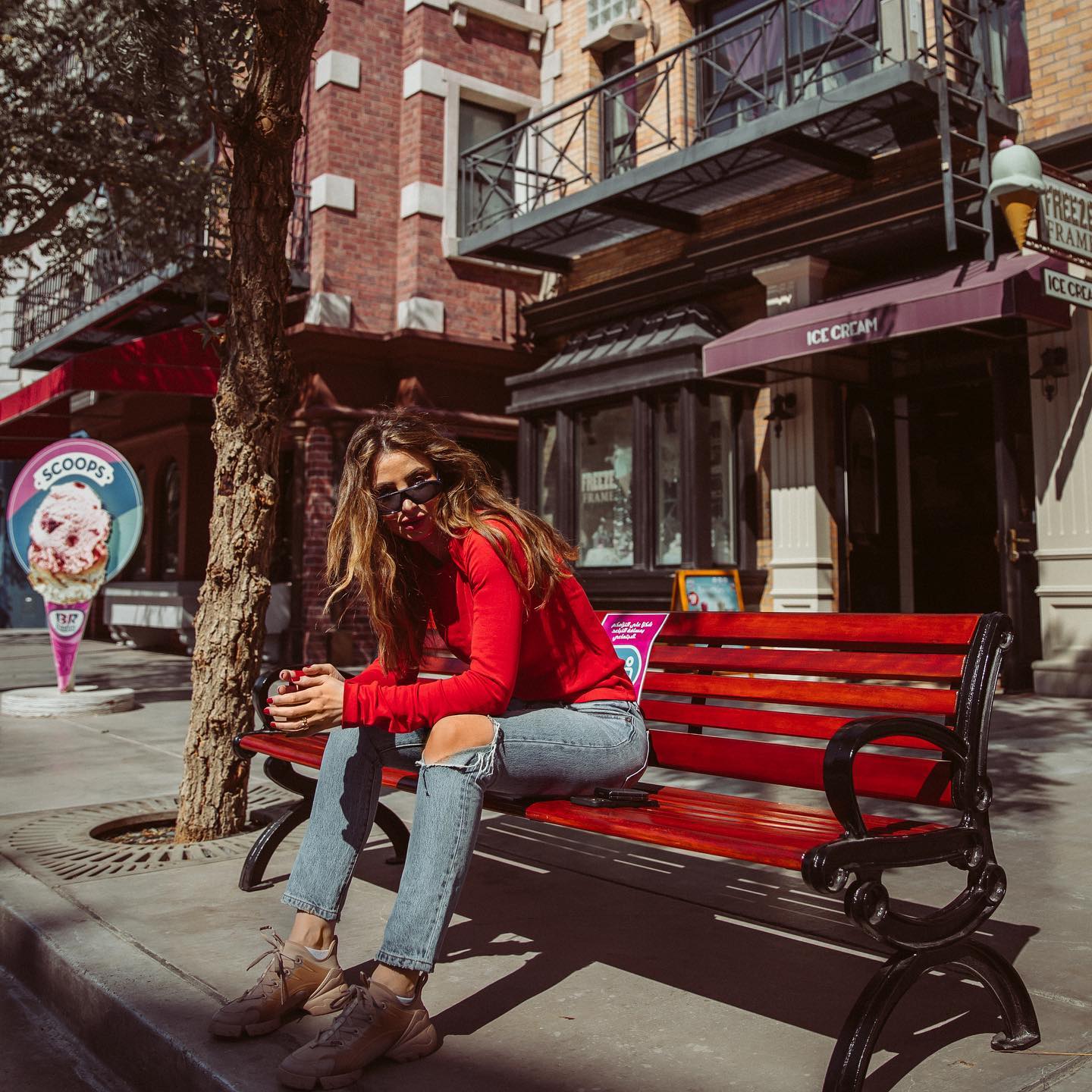 9- Pair a Beanie To Make your Outfit Super Street Style!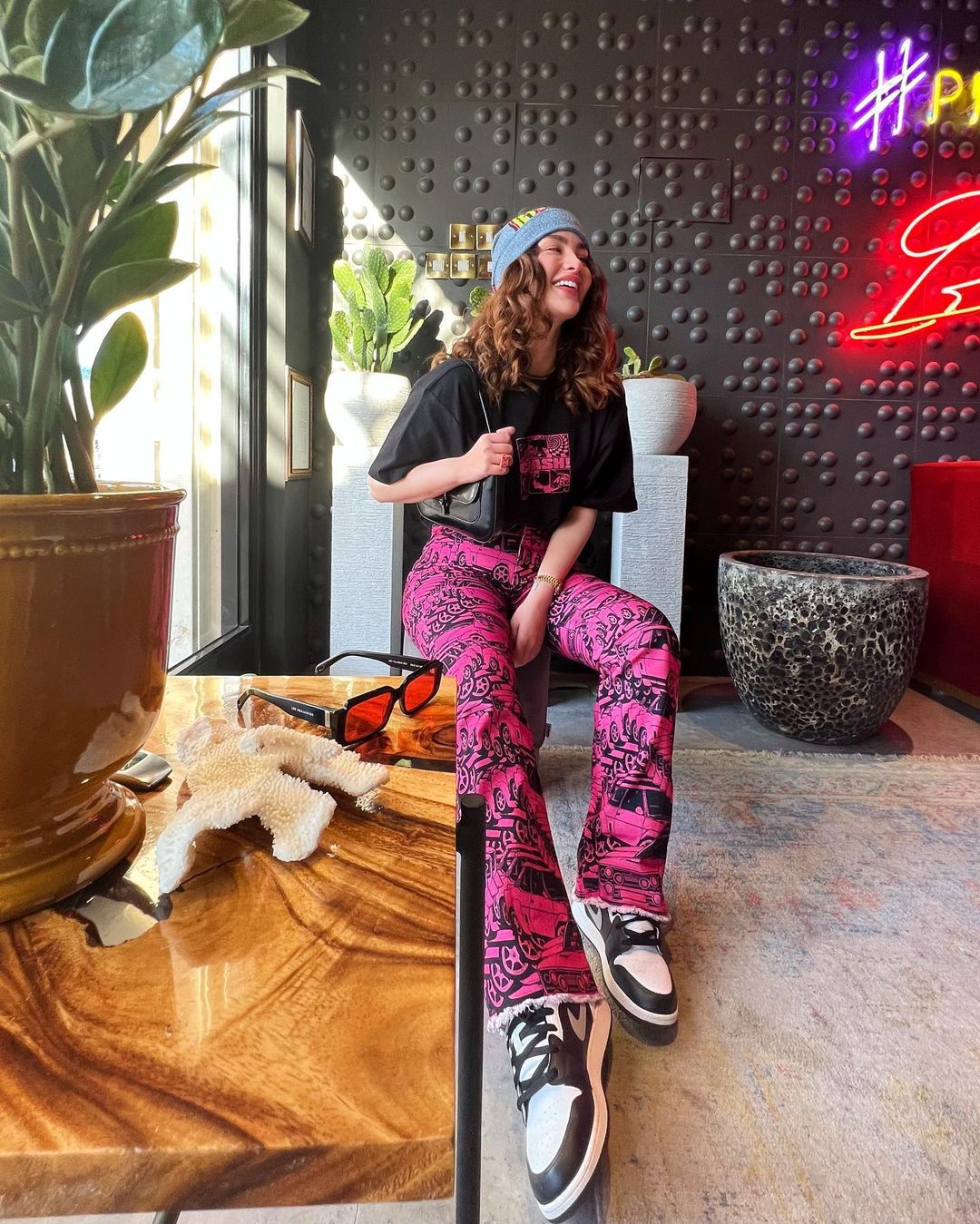 8- Go with Jumpsuits for a Professional Look
Street style looks for working women.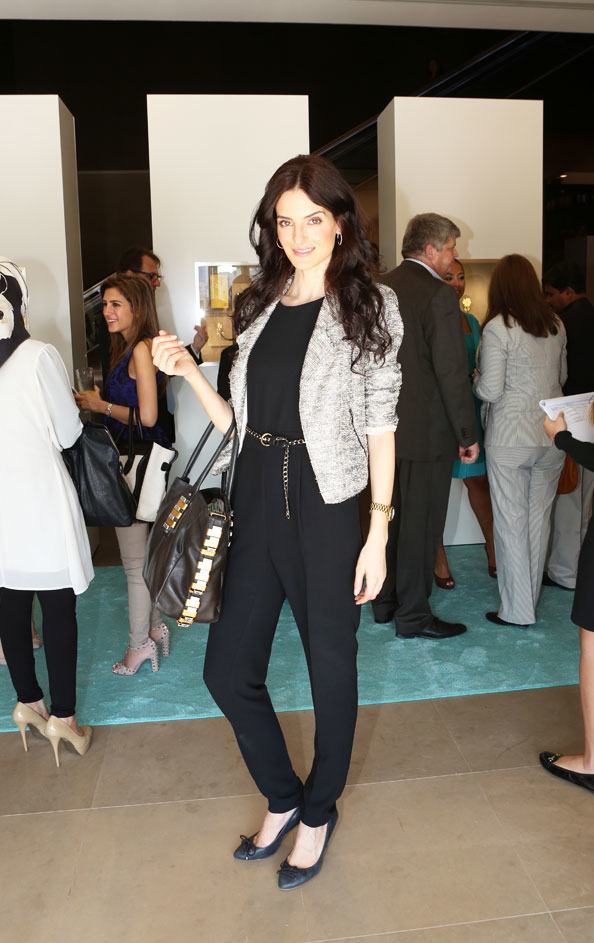 7- Make Your Outfit Hot & Casual with Trench Coats
An immediate and effortless way to elevate your casual outfit is by throwing on a bright trench coat!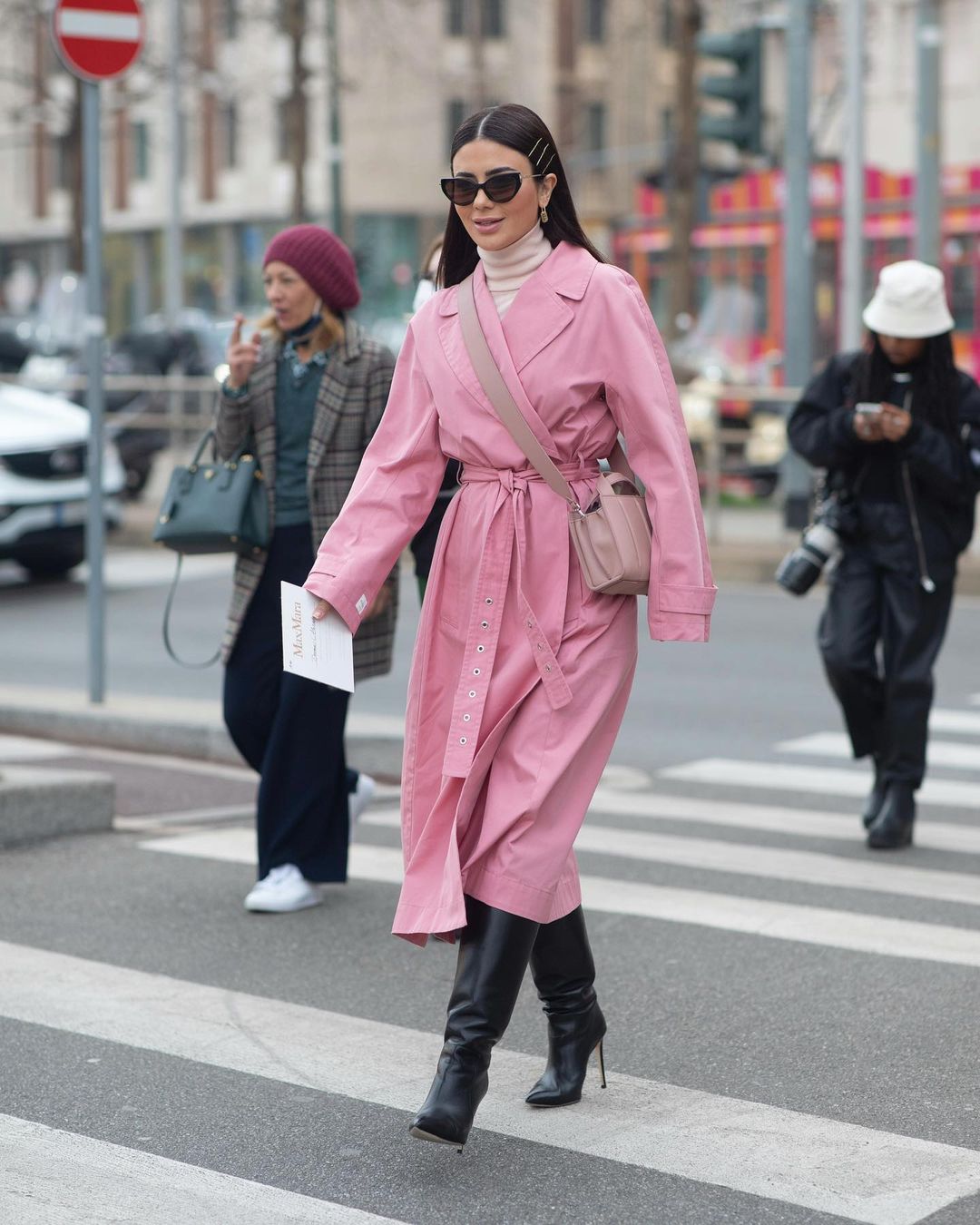 Grab this beautiful coat below:
6- Color Block your Outfit to Compliment All the Pieces!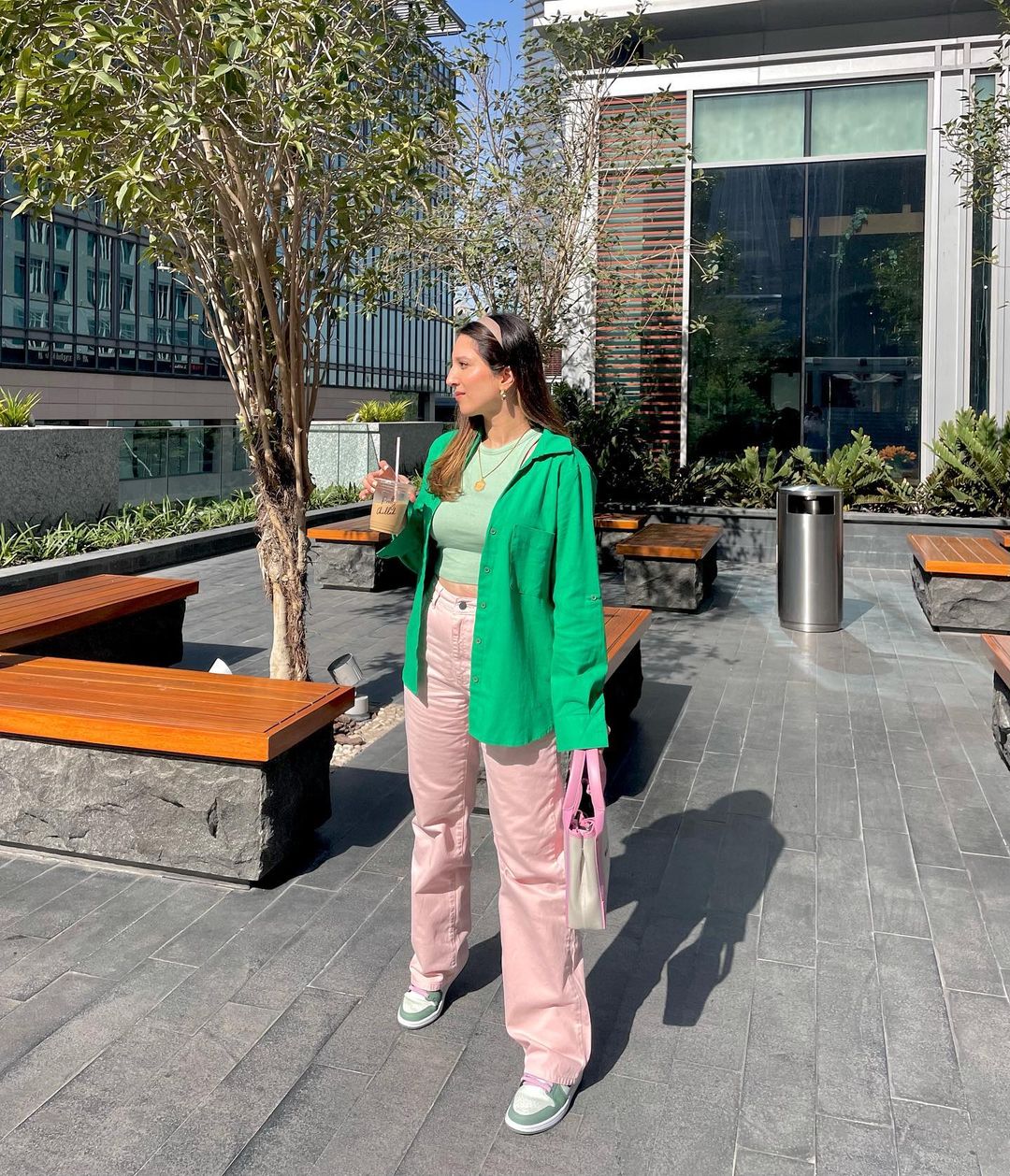 5- Match Your Bright Outfit with Similar Sneakers for a Snazzy Look!
Talk about a bright and comfortable look!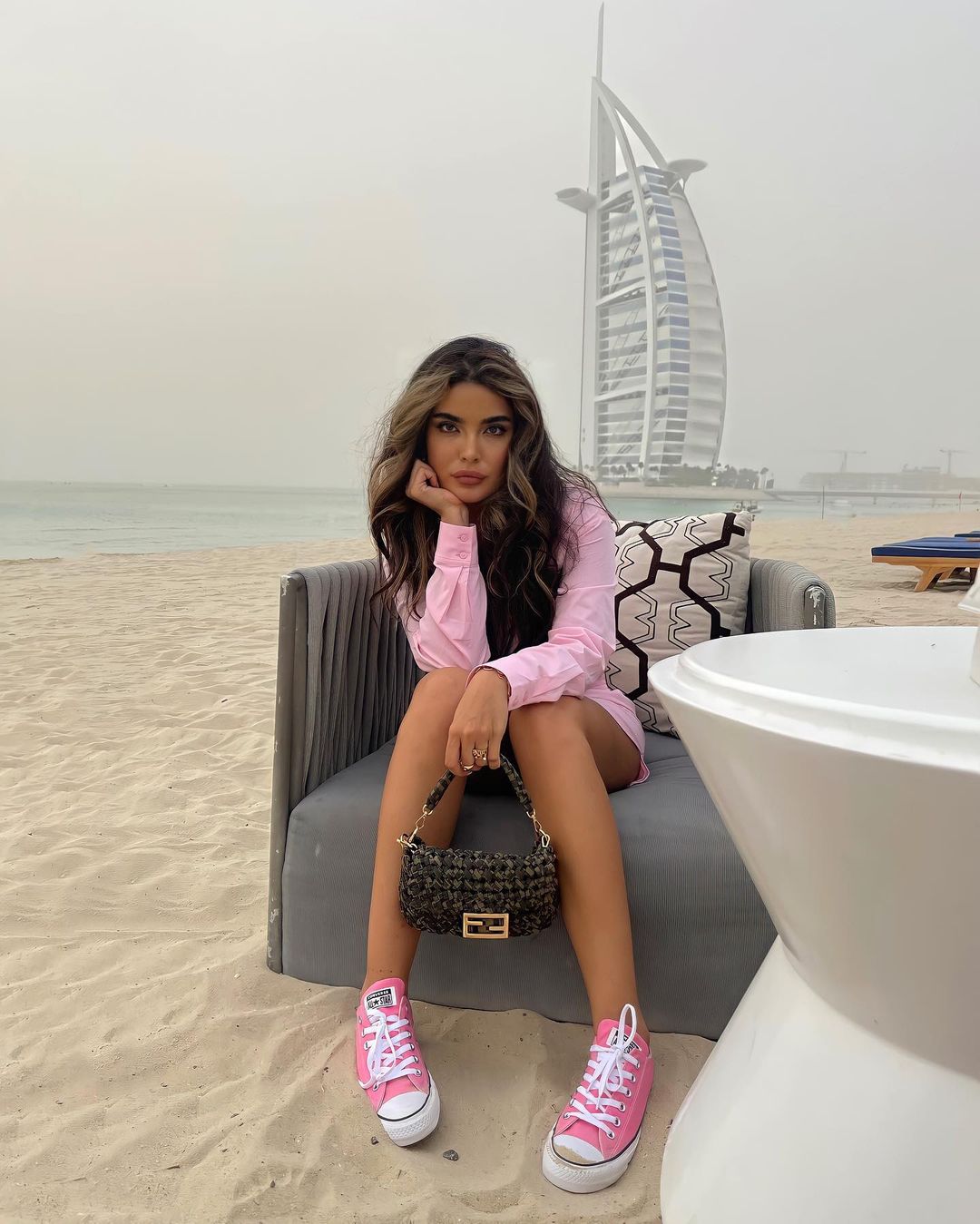 4- Sleeveless Shirts are Perfect for the Spring & Summer Seasons
I suggest keeping it simple by wearing sleeveless tees with your favorite jeans. And if you think it is cold outside, you can add a matching hoodie on top. For this type of look, sneakers are the best choice.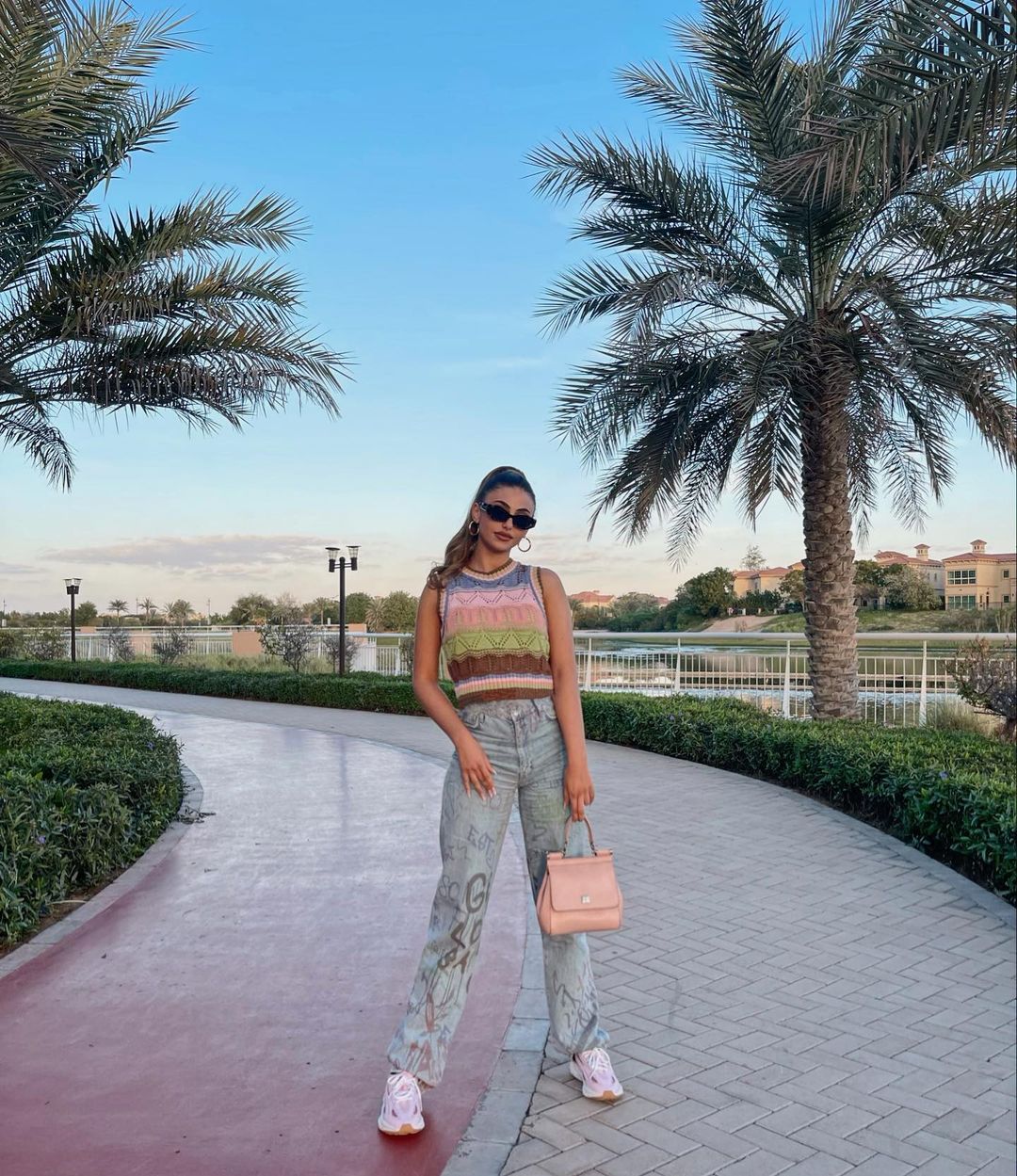 3- Sunglasses are a Must Against the Harsh Dubai Sun!
Dubai street fashion is incomplete without sunglasses regardless of where you are going and what you are wearing. If you are going for a black jumpsuit with red lipstick, don't forget to wear cool Gucci sunglasses. Dubai is also the ideal spot for sunglasses as you can find a vast range of the latest sunglasses of all brands, and you can also get some pretty good deals when buying them.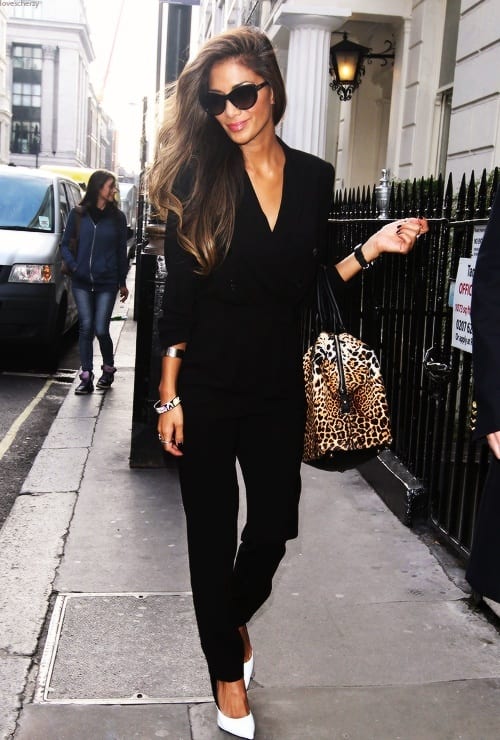 2- Simplicity at its Best in Sunny Yellow!
Wearing skirts is a fabulous idea for you if you are too lazy to wear tights or skin-tight jeans. And it will work every time you wear them. You can go for a yellow or any bright-colored long skirt and pair it with a skinny tank top or blouse. For accessories, you can wear gold sneakers and a Louis Vuitton handbag.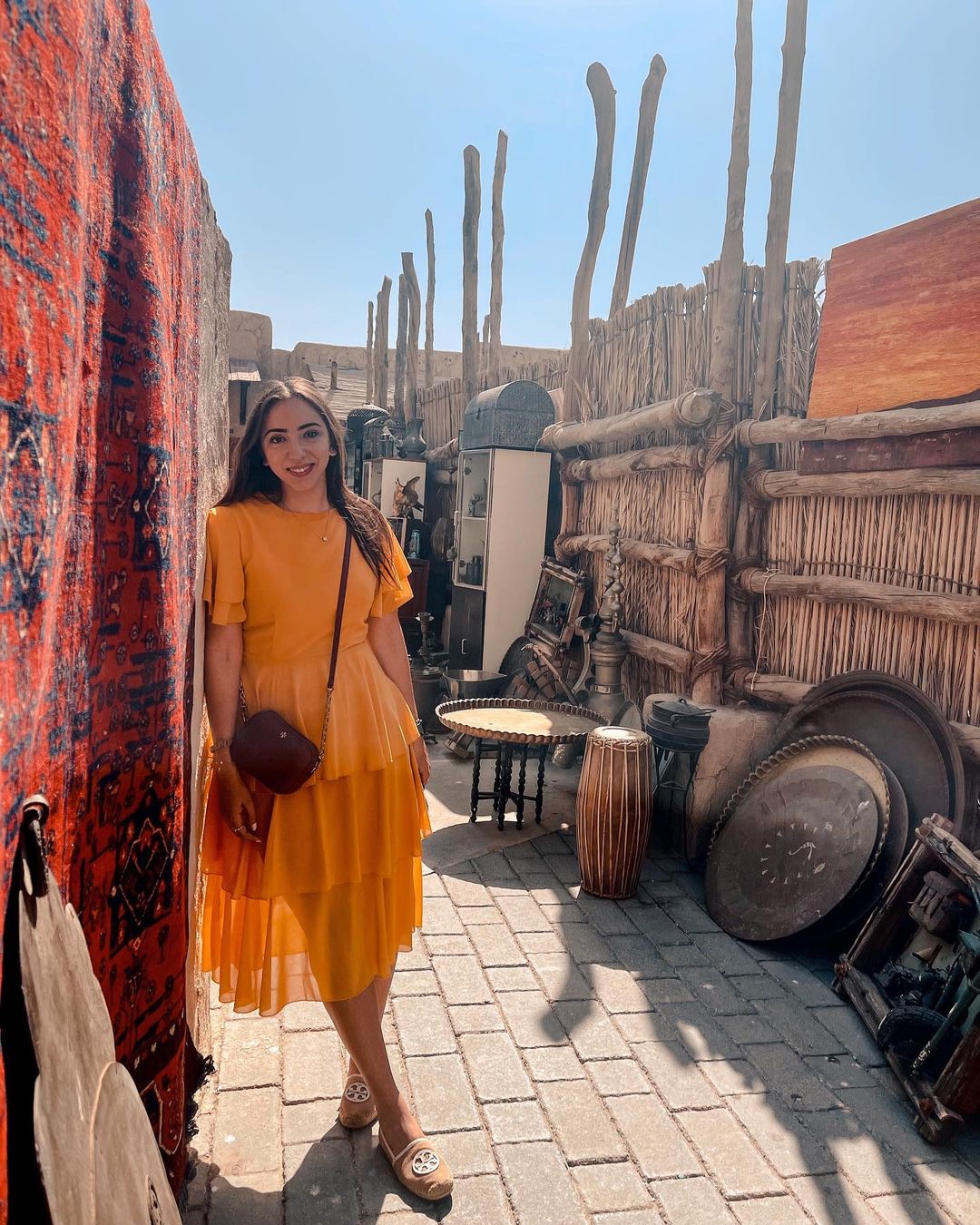 1- Clutches and Purses are a Handy Accessory when Exploring All Day!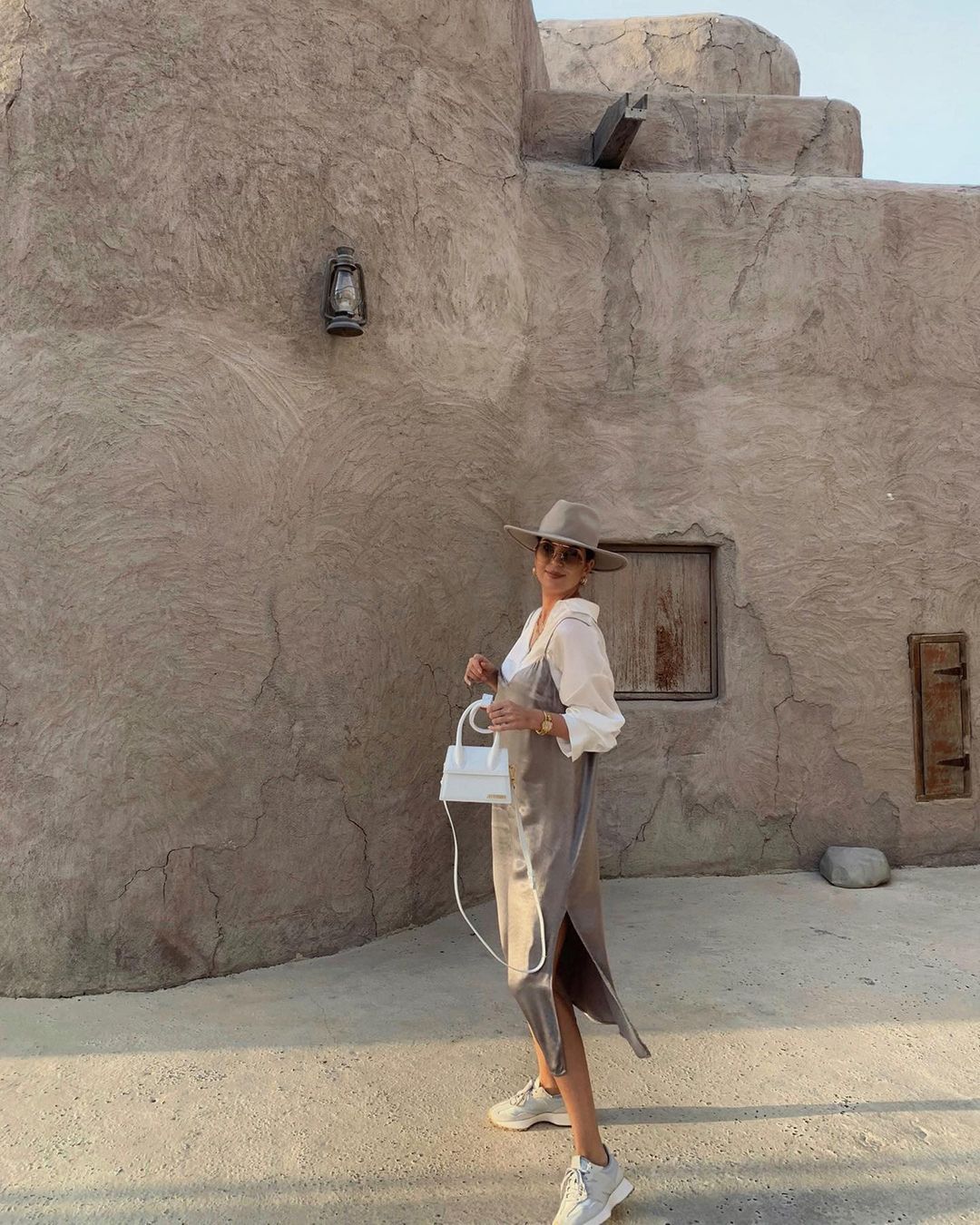 Frequently Asked Questions
Q. How can I look stylish in Dubai?
The best way to make your outfit chic and trendy is by adding on the right accessories and shoes. I firmly believe that accessories can make or break your look, even if you find your outfit a bit tedious. Add a pair of trendy sunglasses, a bandanna hair scarf, and the right jewelry to make your outfit chic and trendy. Moreover, bold & brightly colored accessories with muted attire would amp your look and make you look extra stylish! Plus, you can layer with a kimono to fit right in.
Q. What street style outfits can I wear in Dubai?
Wearing a flashy party dress for visiting the market during the day would prompt awkward glances, wouldn't it? However, this type of dress would look phenomenal for a night out in the city light. Thus, you can get away with wearing any outfit you want as long as you wear it for the right occasion at the right time, whether it be jeans, shorts, skirts, blouses, or dresses. You can even go for stockings with skirts and dresses!
Q. Do tourists have to wear hijab in Dubai?
No, tourists are not required to wear the hijab in the country. The country does not have any laws enforcing the compulsion of hijab on Muslims – let alone tourists! However, it is compulsory to wear one when visiting mosques. And that too is purely to pay respect to Muslims and their religion.
Q. Can I wear ripped jeans in Dubai?
Yes! You can wear ripped jeans for various events and plans. I would suggest leaving behind the ripped jeans if you plan on visiting a place that requires more modest dressing. However, if you insist, you could wear opaque tights beneath the jeans to cover up and pay your respect!