Simple Tips to Make Outfits Look Expensive. All girls have faced this dilemma at one point in their lives. We want to appear well-groomed and quality-conscious without having to spend hundreds or thousands of dollars. And because every girl deserves to look good and feel fabulous irrespective of her financial status, we have created the ultimate cheat sheet and compilation of tips to get you looking like a million bucks without spending a bunch of cash!
Tips & Tricks to Make Your Clothing Look More Expensive
Before we get started, here is a short list of really simple but handy tips to keep in mind if you want to make your outfits or clothing seem more expensive than they actually are!
Choose Dark Fabrics Over Light Ones. When you are heading in to update your fall wardrobe or overhauling your spring one, something you might consider is opting for darker colors over light ones. Why? Because with darker colors, you can't really tell the quality of fabric as well as if you were wearing a lighter colored counterpart. Dark colors disguise how expensive (or inexpensive) the material is, instantly bumping your wardrobe up a peg or two on the how-expensive-does-this-look chart! (That's a totally real chart that we didn't just make that up, okay.)
Switch Out Cheap Zippers or Buttons. Doing a Romwe or Shein clothing haul? If so, here's a really neat trick to instantly make your clothes look more expensive! This takes a little bit of skill, but pop onto Youtube and you'll figure it out in no time. Replacing cheap zippers with real ones or plastic buttons for glass or metal ones is a really simple trick that will instantly make your outfit look higher quality!
Get Your Clothing Tailored. Buy cheap and spend the extra money you save in tailoring your clothes! A good fit is worth more than a brand name, so if you can afford it, this is one tip you are definitely going to want to try.
Play Up the Accessories. Some ladies choose to invest their cash in jewelry. This is great if your wardrobe leaves a little to be desired in the quality department. Accessorizing your outfits is another way to instantly bump up how expensive your clothing looks. It doesn't always have to be jewelry though. Add a belt, a statement handbag, a gorgeous pair of sunglasses, or even a hat to make your outfit look more expensive.
Shine Your Shoes & Iron & Steam Your Clothes. These are quickly fading practices that served our grandparents well. So why don't we do this more often today?! Giving your shoes a good shine or heating up the iron for a little once-over can do wonders to making your outfits look instantly better. Got wrinkles? Get out the steamer! Taking care of your clothing is a must if you want to look like you have invested more in your wardrobe than you actually have!
Ditch Stained, Torn or Worn Out Clothing. This should go without saying, but cheaper clothing shows wear and tear a lot quicker than higher quality items. You may be tempted to treat your cheaper pieces a little more flippantly than you would if you had invested big bucks into them, but resist the urge! Taking care of your cheap clothes like they were brand-name quality is where the real magic happens. But if it's beyond repair or just too worn out to keep wearing, then ditch it, honey! Or donate it. Nothing says cheap or ill-groomed like a stained top or a ripped skirt.
Lint-Roll and De-Pill. This tip is in line with our previous tip on clothing care. If your sweater is covered in pills but it's still in good enough shape for a few more months of wear, then get yourself a fabric shaver and go to town! Use a lint roller on your dark jeans and coats to get rid of lint and animal hair. Nothing says sloppy and ill-kempt like a lint-covered coat or a pilly sweater.
Opt for Crisp & Clean Over Embellished. Embellished clothing pieces will show their quality a little too easily. So when shopping (whether for new clothes or your own closet) try and avoid embellished items. Classic, crisp pieces are way easier to work with and won't give away their quality – or lack thereof.
How to Make Your Cheap Clothes Look Expensive
Now let's look at some easy ways to work with a lower quality wardrobe!
↓ 1. Minimal & Chic – Less is More!
A good way to appear posh is by sticking to the mantra 'less is more'. For example, consider this look as worn by Gigi Hadid. A well-tailored sweater dress and some black boots is an example of a simple outfit that can look quite expensive. No distracting embellishments here. The look is sophisticated and polished primarily because it's simple. A few well-chosen accessories help further elevate the look. Here are 14 Minimalist Outfits For Summer.
This simple knitted dress is by Cotton: On and it only cost about $25.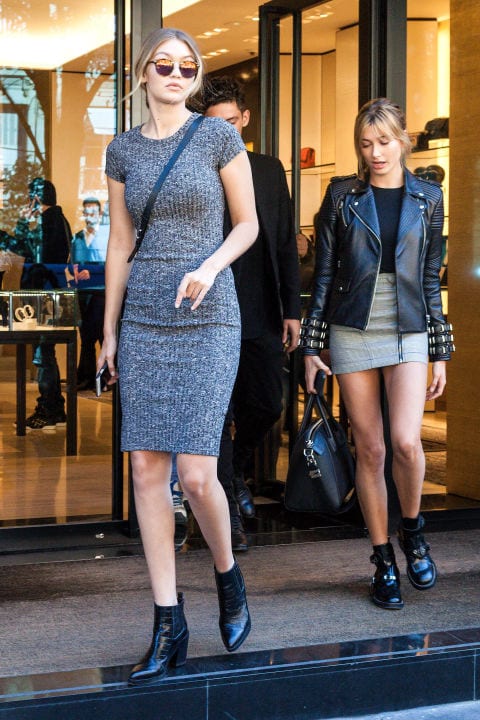 ↓ 2. The Classic Look – Black and White
Wearing black and white (or one or the other) is a very easy way to look instantly more sophisticated. Shades are very streamlined and when done right, can look like you have invested serious bucks to put it together. For this look, all you need are some white pants or trousers (check for stains!) and a black tee. Tuck the tee into the pants and add a coat if this is a winter look. Accessorize with sunglasses and you're good to go! Also have a look at 18 ideal girls outfits with white shirts for a glamorous look.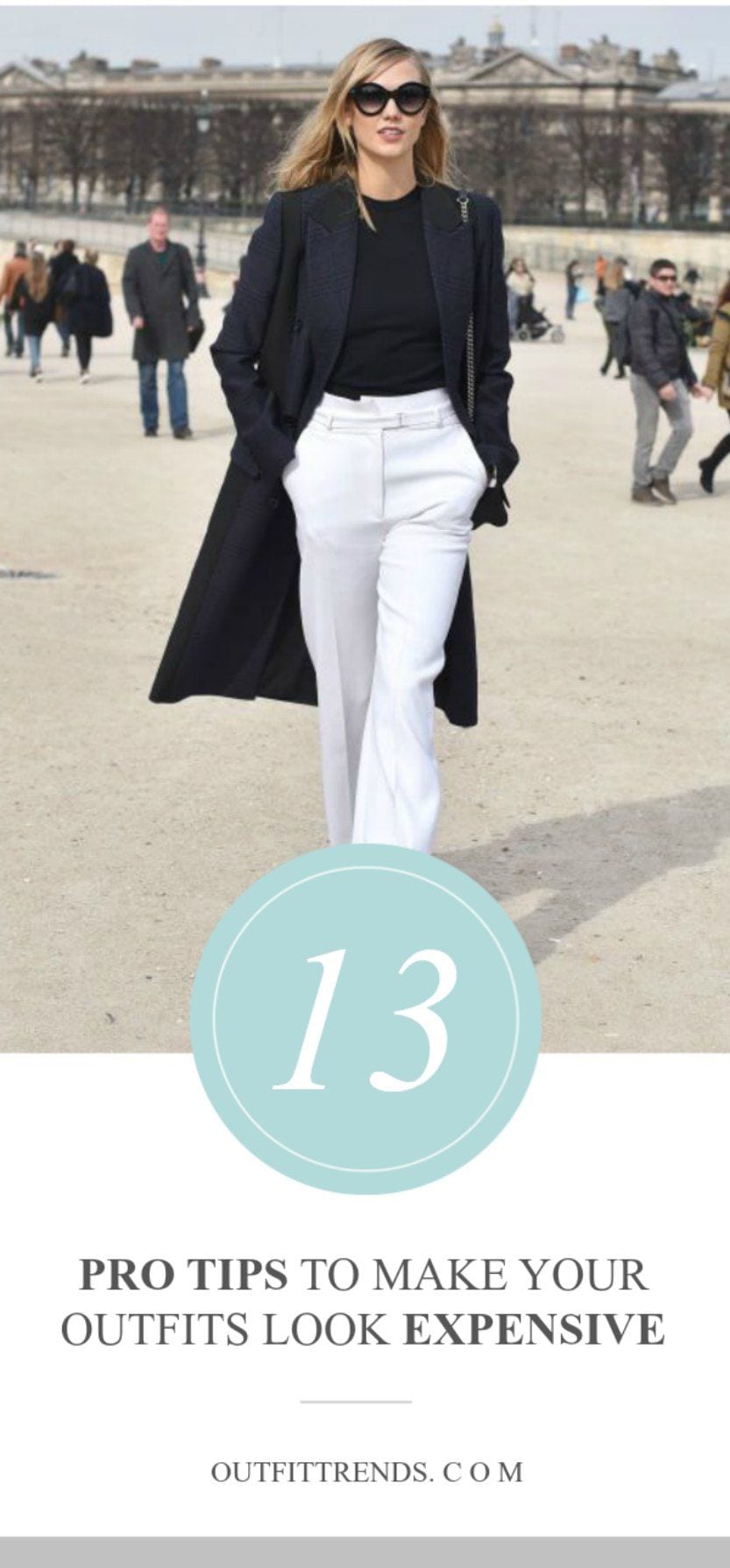 ↓ 3. Get a Stylish Trench Coat
Whether or not you invest money in a quality coat, a trench coat will always make your outfit seem more expensive. Especially if you choose a nude, taupe, or beige one. This will make any inexpensive outfit look immediately chic and will save you a lot of money in the long run. Safe colors such as black, white and camel brown will match anything as well, so keep this in mind next time you're on the lookout for a good coat. Check out these 19 Ways to Wear Trench Coats this Winter.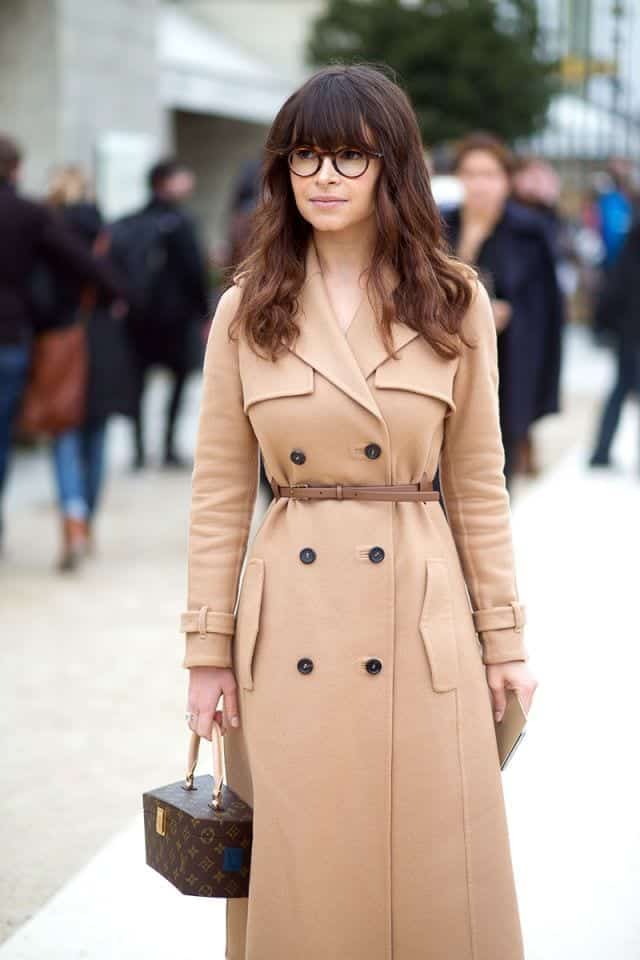 Even the simplest trench, when styled properly, can make you look amazing. Take a page from Blake Lively's book. Here we see her wearing a black trench coat by Jason Wu from Target, which can be purchased at eBay for the average price of $55. This trench coat has everything: floral detailing, a flared shape, and a nice color. These details make it look like an expensive designer outfit.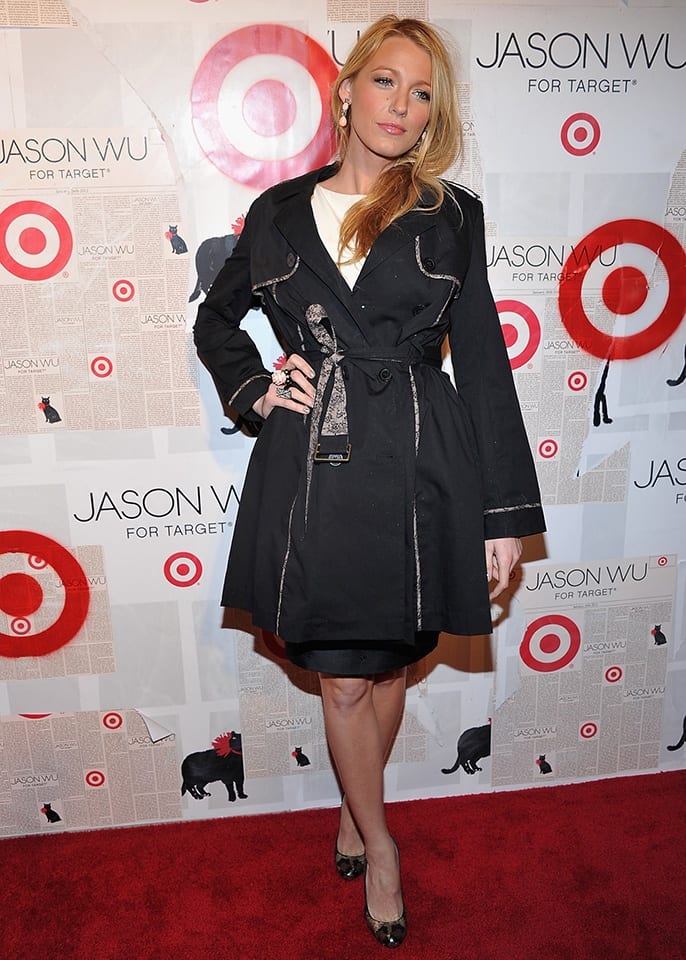 ↓ 4. Work and Party Look Jacket
In order to save cash, get yourself one good tweed or textured jacket and add it to all your work or dressier event outfits. A textured jacket or blazer is an item that seems more expensive than it is.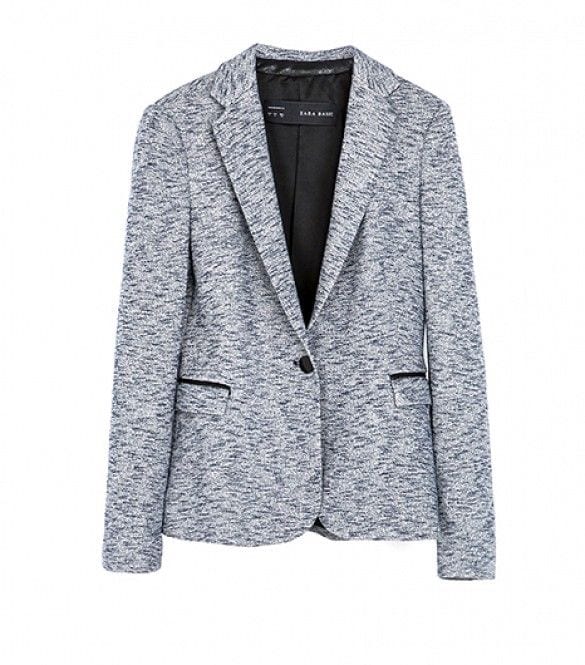 VIA
↓ 5. Make a Statement!
A good way to transform any outfit is by adding a statement necklace to it. This does an excellent job of making you appear glam and fabulous. Avoid gaudy or fake looking gold, however, as this will create the opposite effect!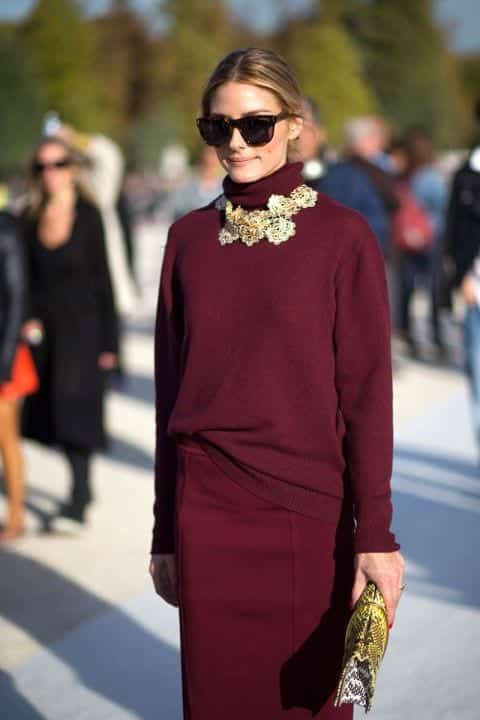 Instead of a simple shirt, you can also opt for statement cuts and styles like ruffles or frilled sleeves. Have a look at this gorgeous top worn by the fashionable shopper and iconic actress Vanessa Hudgens. She's wearing a Wayf top that's worth just $69 and yet she looks like she's wearing some high-end designer wear, mainly because of the statement bell sleeves. Don't miss out these Celebrity Work Outfits for Women.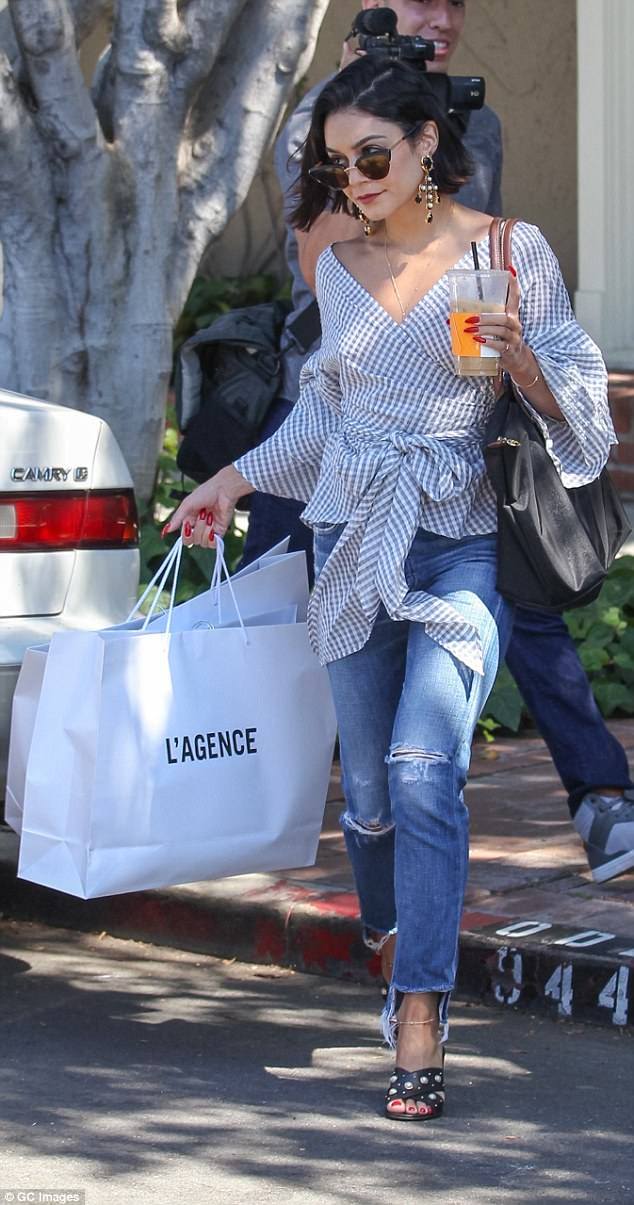 ↓ 6. Keep It Polished
A well-maintained handbag or good looking sunglasses can add the 'oomph' factor to any outfit, making it look more expensive. Use unscented lotion or Windex to clean leather or patent leather handbags in order to keep them looking shiny. For more ideas, have a look at stylish handbags for girls.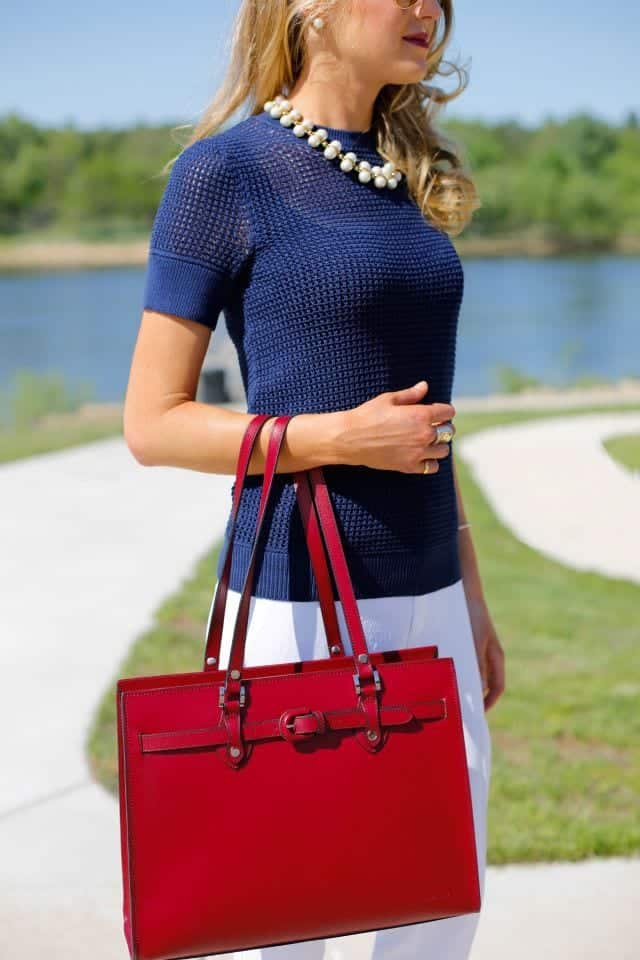 via
Your sunglasses can be cheap ones but you have to make sure that they look great on your face shape and are not an outdated style. Recently, we saw a number of celebrities, including Blake Lively, Lily Collins and Cara Delevinge, rocking sunglasses worth $29.95 only by Privé Revaux. Their sunglasses are not just really affordable but also look very stylish. They're available in a number of styles (more than 100!) and they are polarised, which means you get more value for your money. Here's a picture of Hailee Steinfeld in these amazing sunglasses.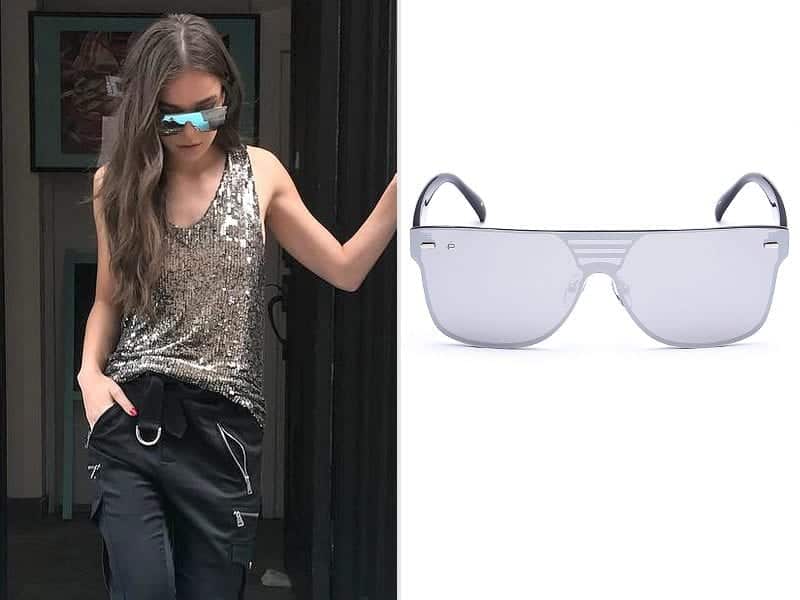 ↓ 7. Gold Accessories
Gold accessories always look glamorous, especially chunky statement necklaces or bracelets and bangles. Again, avoid very cheap looking gold and make sure all your jewelry is clean and well-polished. Dull or dirty jewelry will make you look ill-kempt, which detracts from the quality of your outfit. Here are 18 Ideal Girls Outfits with White Shirts for Glamorous look.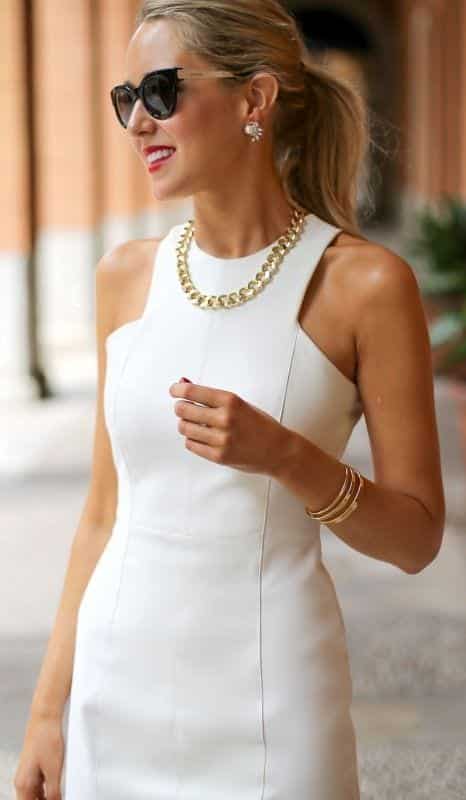 ↓ 8. Crisp and Tailored
Well-tailored trousers can be worn again and again and paired with all kinds of tops or tee shirts. Tailoring is not that expensive and gives your clothing the edge and upgrade it needs to look expensive and quality-rich.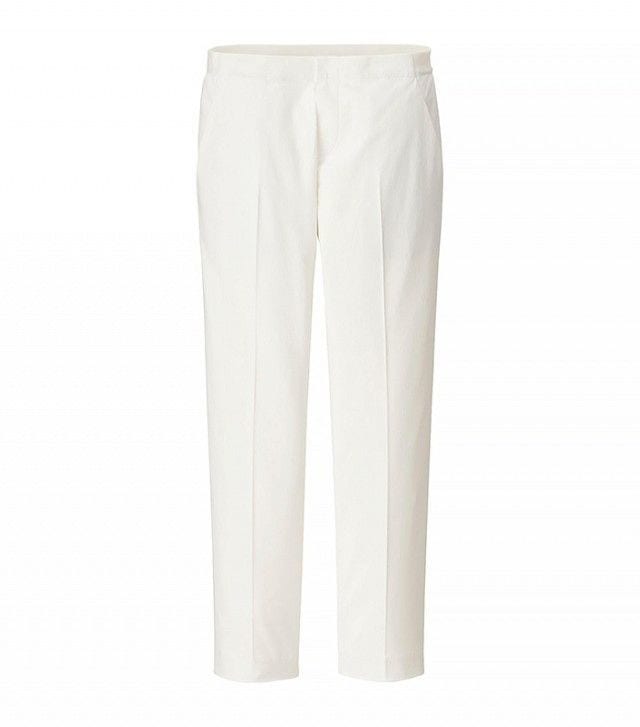 via
↓ 9. Make it Pop!
A brightly colored piece of clothing, such as a skirt or a pair of shoes, will make any outfit appear instantly better. Red is a safe color to vouch for, as it goes with all other outfits. Same can be said for a great lipstick! Here are the most Stylish Women Outfits under $100.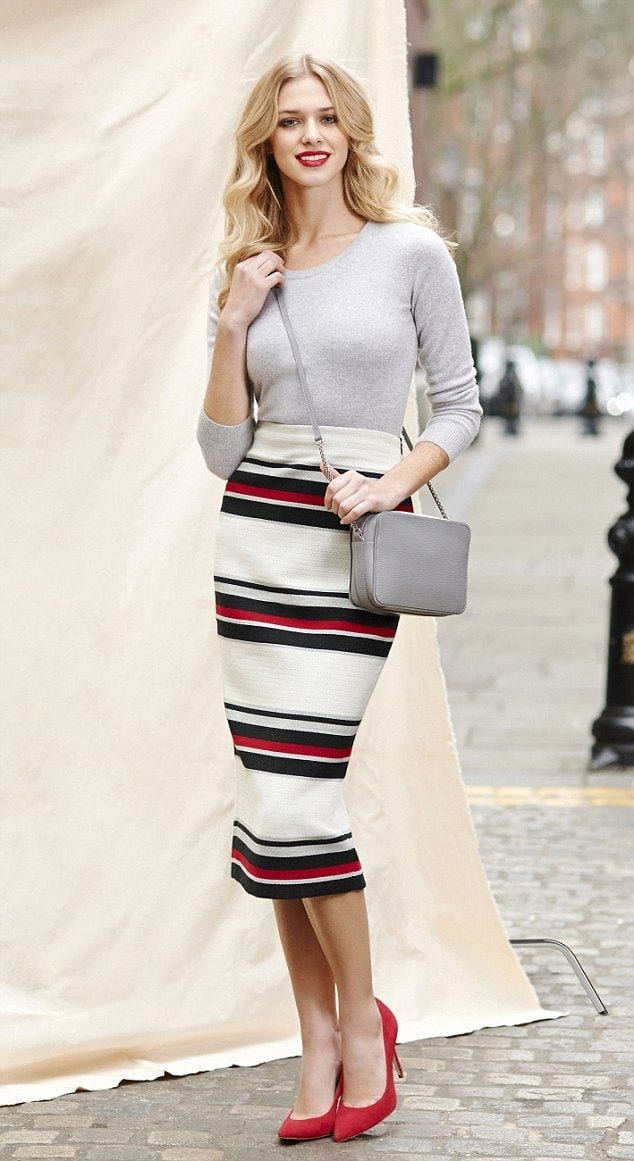 ↓ 10. Color Co-Ordinate It
A well-planned outfit does wonders when you want to up the quality factor of your attire. Make sure your colors coordinate and match, and stick to shades that complement each other. Muted colors and select prints or patterns can look very expensive.

↓ 11. How to Make Your Shoes Look Expensive
The cheapest shoes can look more expensive, simply by adopting a few well-established tricks: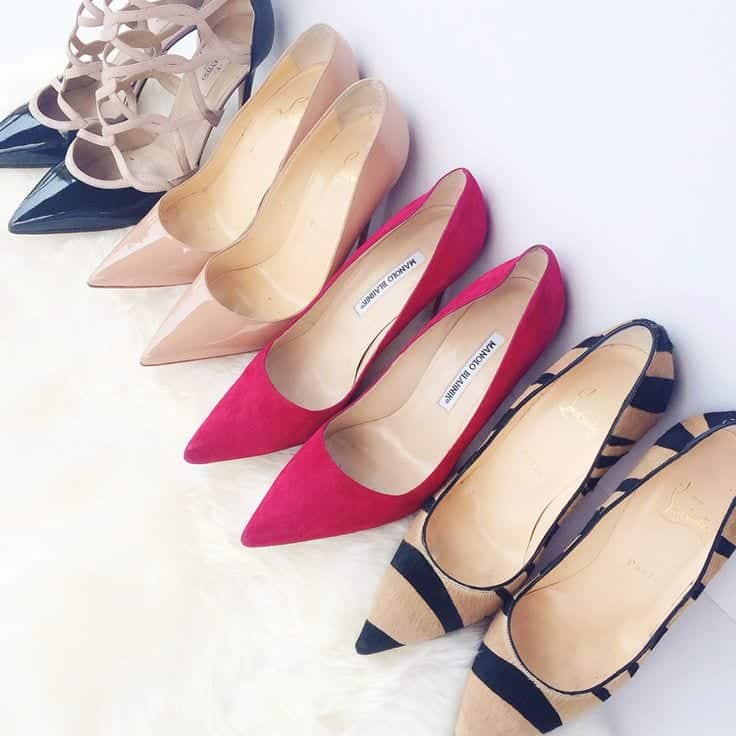 Go for luxurious looking textures like suede and leather as they can give a polished look to any outfit. For instance, here we see Gigi Hadid wearing Reebok Lifestyle classic leather pastels with her pastel pants. These shoes are worth $79.99.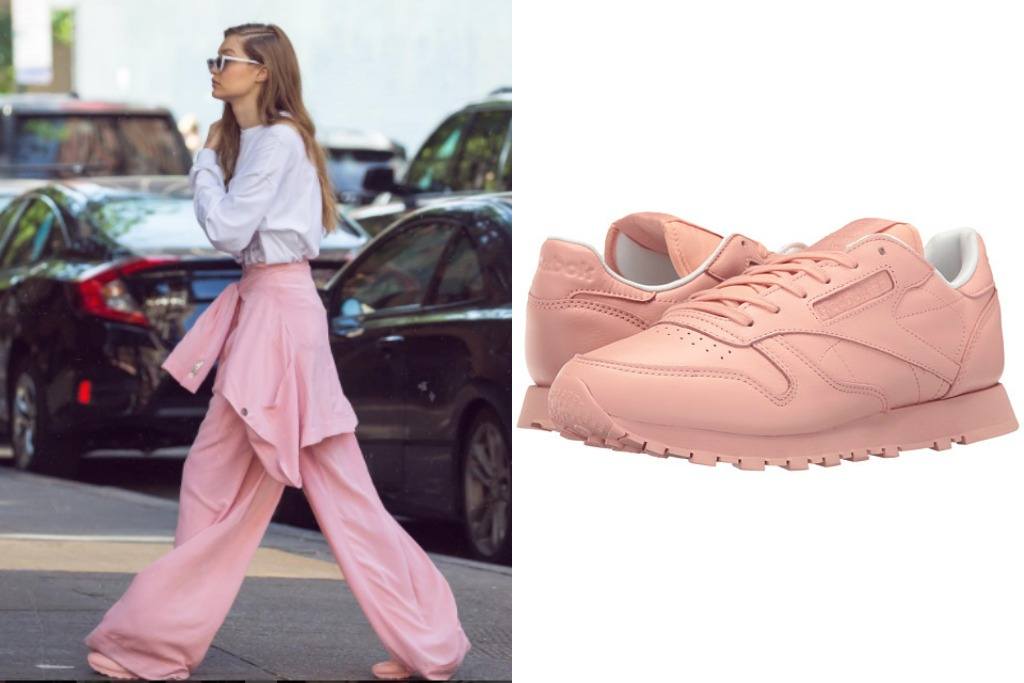 Choose colors that complement your outfit.
Don't go overboard. Instead, look for classic styles and patterns because they never go out of fashion. It's always best to invest in a few good quality, good looking and comfortable shoes instead of a number of cheap ones that you won't even be able to wear next year.

Have at least one pair of matte heels, as well as ones with sheen and ones with a metallic accent. Having these three staples will mean that you always have the right footwear no matter the outfit. Choose solid tones and avoid gaudy patterns.
When buying animal print shoes, go for ones with animal print all over them instead of ones that mix different styles. Avoid ones that appear overly synthetic or plastic.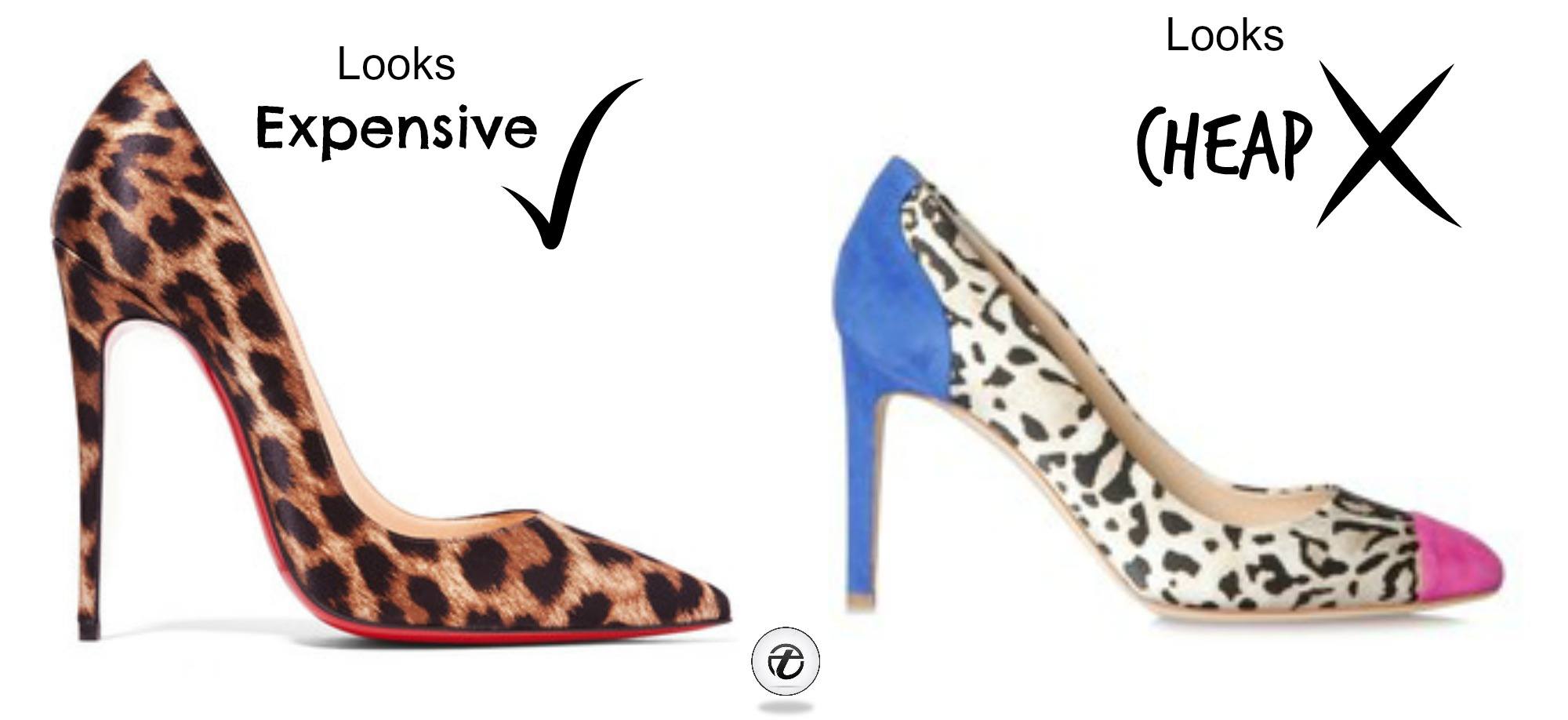 Ultra-high platforms lack sophistication. Smaller heels are more appropriate and elegant.
The most important thing is that you should be able to walk comfortably in the shoes which is why it's always preferable to try on the shoes before buying them. Moreover, an ill-fitted shoe would never look like an expensive one.
Remember to shine and buff your shoes if necessary. Scuffy heels look cheap. If they can't be cleaned or fixed, ditch them! And don't miss out these Stylish Women Outfits under $50,
↓ 12. Monotoned Handbag
Having one nice monotone handbag is such a great item to add to your wardrobe. Works well with a variety of outfits and looks more expensive than it actually is. Look in the clearance sections of your favorite stores or brands when purchasing to save money and get more bang for your buck!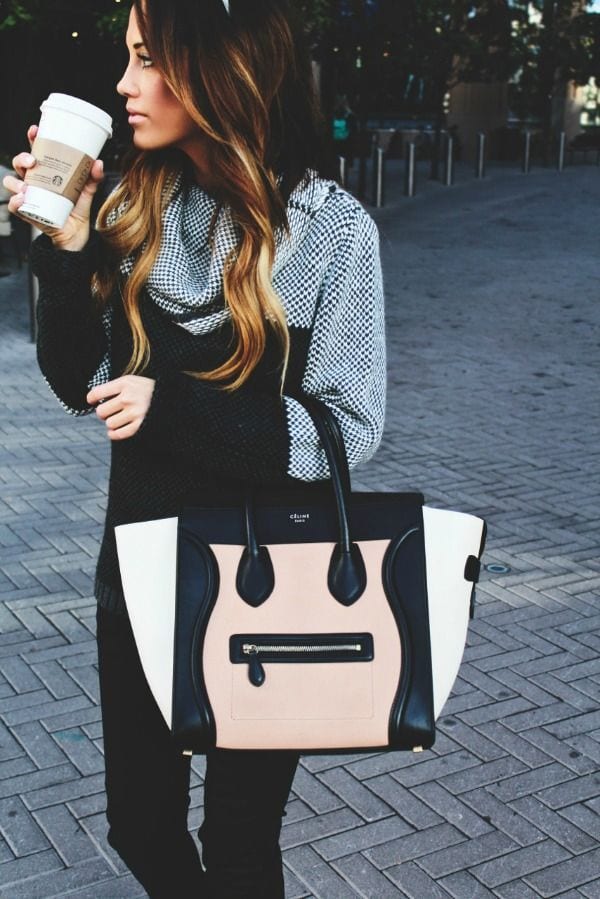 ↓ 13. Belted and Refined
Adding a belt to your outfit can make it look instantly more chic and sophisticated. Especially if it's an expensive-looking belt. Notice we said expensive looking. You don't need to pour a ton of money into getting brand name or high-end belt. A simple, classic looking belt is all that's necessary to bring any outfit to the next level.