Cute Outfits For Plus Size Women Over 50 – If you are a middle-aged female and on the heavier side, then, first of all, you need to embrace your age and shape because you are more beautiful than you think of yourself.
By embracing your figure, age, and accepting the change in your body, you need to dress accordingly. Say goodbye to your old wardrobe and create a new classic one — time to enter a new era of fashion and trends.
Want to appear charismatic than ever before? If yes, then the key is to make yourself look well-toned, by wrapping the right prints like stripes or opting for the right colors. You should try to focus on the outfit and your best features that complement your physique.
We have made a comprehensive list of clothing tips for all functions and events for the women who have lived half a century, I didn't say it make you feel older, but to tell you how many fashion epochs you've seen.
This article will help you in choosing what to wear for parties, lunches, dinners, pool parties, etc. Follow these tips, and you will never feel conscious about yourself again. Plus-sized women are either 'pear-shaped' or 'apple-shaped'. So what are the latest fashion trends for curvy adult women? What to wear being plus size and mature? This article will be your perfect guide to stay in style, no matter how old you get.
How to Dress If Over 50 and Overweight
Read on for some simple yet highly effective tips that you need to incorporate in your life now.
Go for darker shades of jeans if you don't want to highlight your heavy body parts like thighs.
Whatever outfit you opt for, make sure your waist is well defined. For that purpose, wear a beaded belt that is not too wide.
With a plus size figure, you can carry wrap dresses, tunics, tailored outfits, maxi, and hugging pencil skirts very well.
Invest in printed and contrasting outfits as they have the concealing property.
Don't wear outfits that are too loose or too tight. Wear well fitted, tailored outfits.
Don't wear outfits with fur and fringes as they add more volume to outfit.
Go for outfits with deep necks and say no to round necks as they make one look bulky.
If you dont have time to go through the complete article, just watch this short video summary:
https://youtu.be/eg7yg8zaQzQ
↓ 25 –  Makeup Tips For Women Over Fifty
Makeup is something that every woman loves. It makes a person look better along with making one feel better. So if you are over 50 and plus-sized you need to incorporate the following things into your makeup routine to stay a little more every day.
Make sure that you keep your skin well moisturized and nourished by giving yourself a cleansing massage before you go to bed every night. This, of course, means that you should never go to bed without taking off your makeup.
Your makeup should not look like a teenage girl, applying everything once and for all. Do your makeup in an elegant way and to look fresh
 Contouring is essential to enhance your features. Always contour your cheekbone and nose. Use a dark colour at the sides of your face to make it look slimmer when contouring.
Don't use the same foundation that you used ten years ago, being 50 means that you need the right foundation for mature skin as your skin is not probably that tight now and wrinkles may also be a little visible. Also, the way you apply your foundation matters alot. Hence use a brush or sponge to do so.
As you age, lips tend to get thin, which is why lip plumming glosses would be the best thing to buy now.
Always remember to fill in your eyebrows as they are in fashion. Also, thin eyebrows can make you look older than you are.
Apply the highlighter down the center of your face to make the broader areas of your face less prominent.
Cover up any dark circles and enhance your eyes by using mascara and flattering eyeshadow colors.
You can still apply darker lipsticks. Being fifty doesn't mean that you can't add a pop of colors sometime.
If you have a double chin, use a bronzer to contour it, but make sure that you blend it well. Here are 8 Basic Makeup Products Every Girl Must Carry all the Time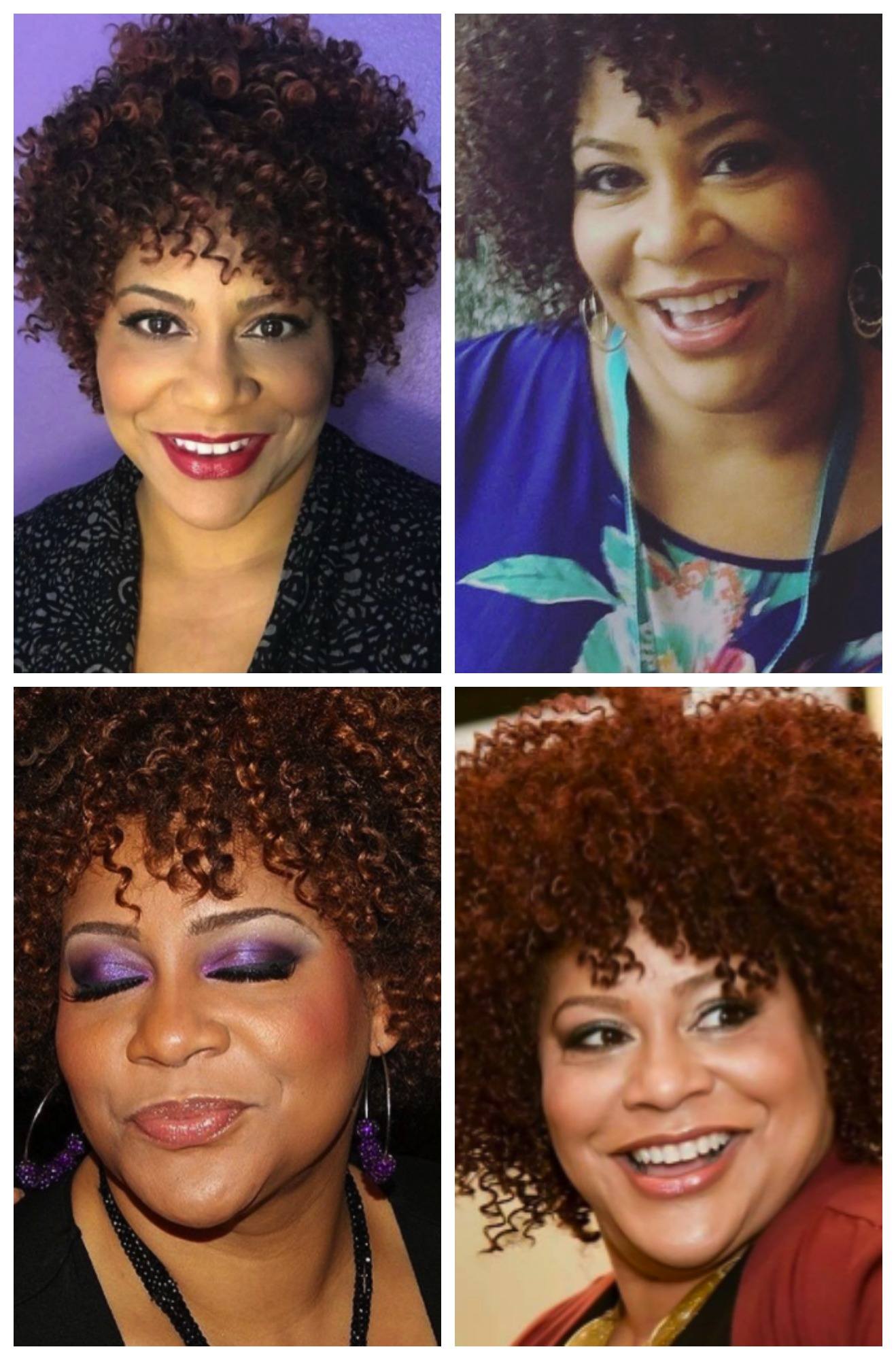 ↓ 24 – Accessorise 
When you've crossed 50, your accessories choice must be as elegant as you want to look. Funky jewelry will not look good anymore; instead, go for pure gold, silver, diamond, pearl, or rose-gold jewelry. Vintage is also a reliable choice. The accessories should also either be medium in size, as extremely small or even large jewelry does not look very good on curvy women. The same rule applies to the rest of your accessories, such as sunglasses or handbags.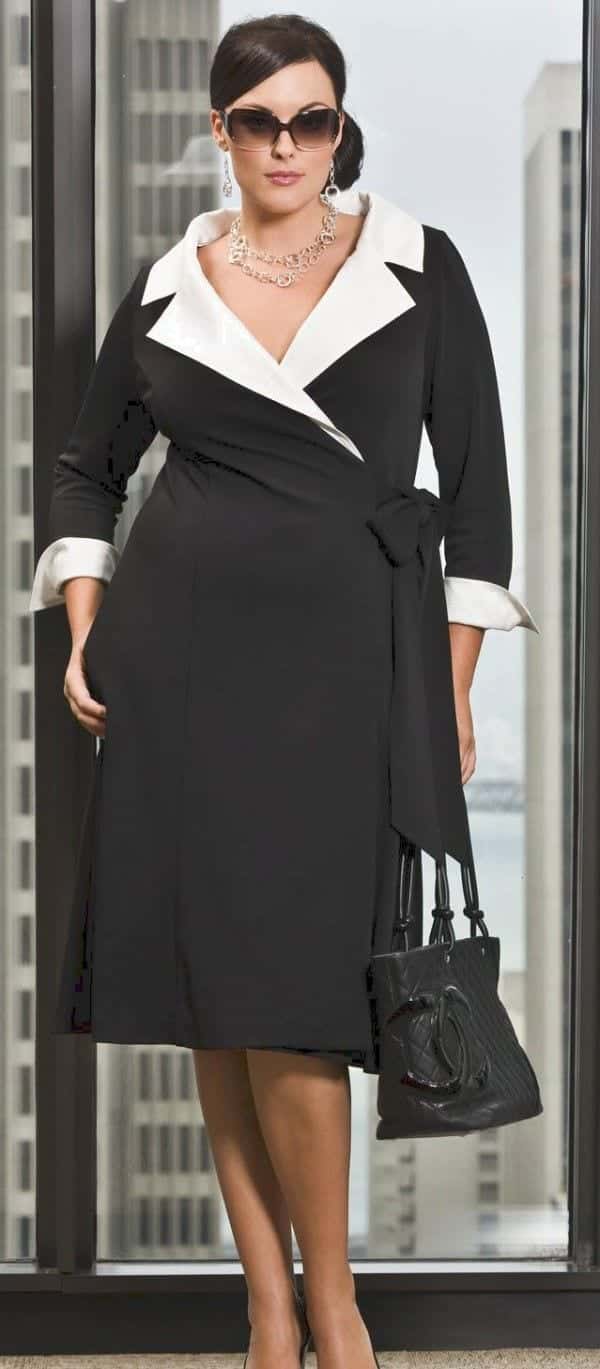 ↓ 23 – Best Colors And Prints 
Let us begin by guiding you about the best color picks if you want to look slimmer. Black is the ultimate slenderizing shade that you can go for irrespective of your outfit type. It's not just black but all dark tones like navy blue, maroon, and brown that can provide you with a slimming effect.
Printed dresses can usually help you create a slimmer illusion as compared to plain outfits. We know that you think that a one-piece black outfit will look more good, but that's all just in your mind. Step out of it and see how for yourself how great floral prints, stripes, and plaid will look on you.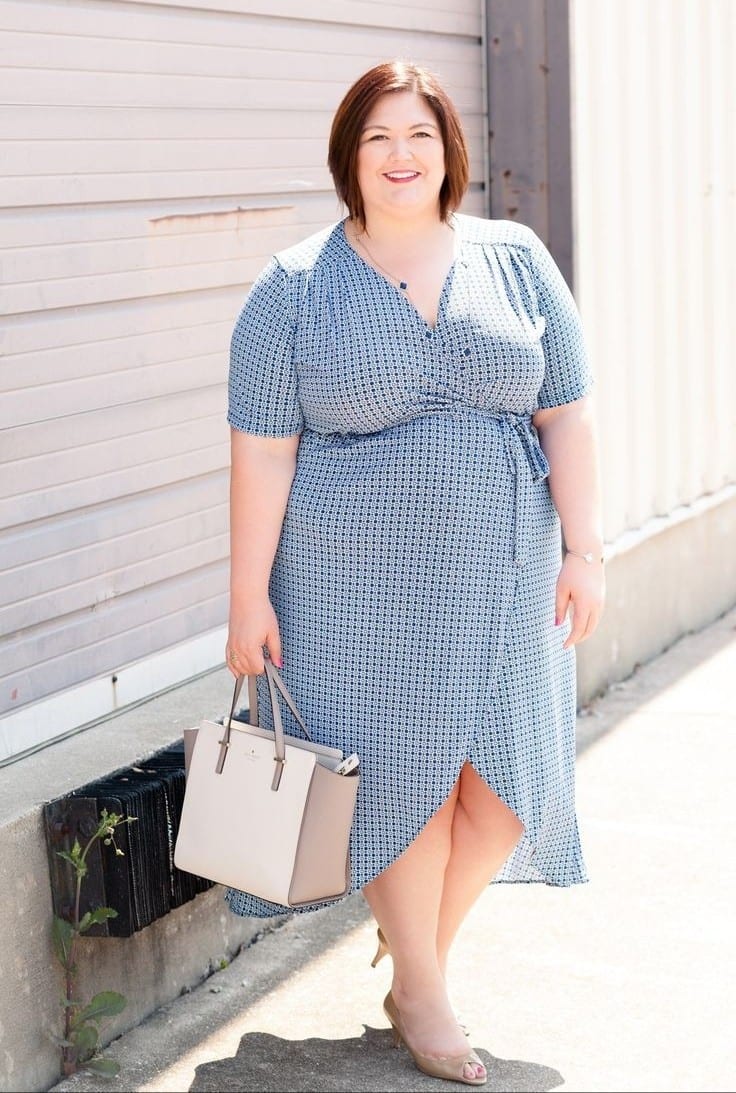 ↓ 22 – Formal Wear
Wearing an outfit is not just about wrapping a piece of cloth around your body. It doesn't even matter if you are fifty or plus size. It is noticed that many women lose their interest in fashion in their fifties because they think they are no longer young and don't need to style up.
Stop thinking this, you all women are pretty even if someone criticizes your body shape or your friends and colleagues still has maintained a great figure. Get up and dress up! Set your new wardrobe. You have so many events and even meetings to attend. You must look your best.
Here are two gears giving you astonishing ideas of how you can style up embracing your age and shape. These are the best possible choices for you if you are going to make a speech at a seminar, attend a gathering, or host a birthday party for your family member.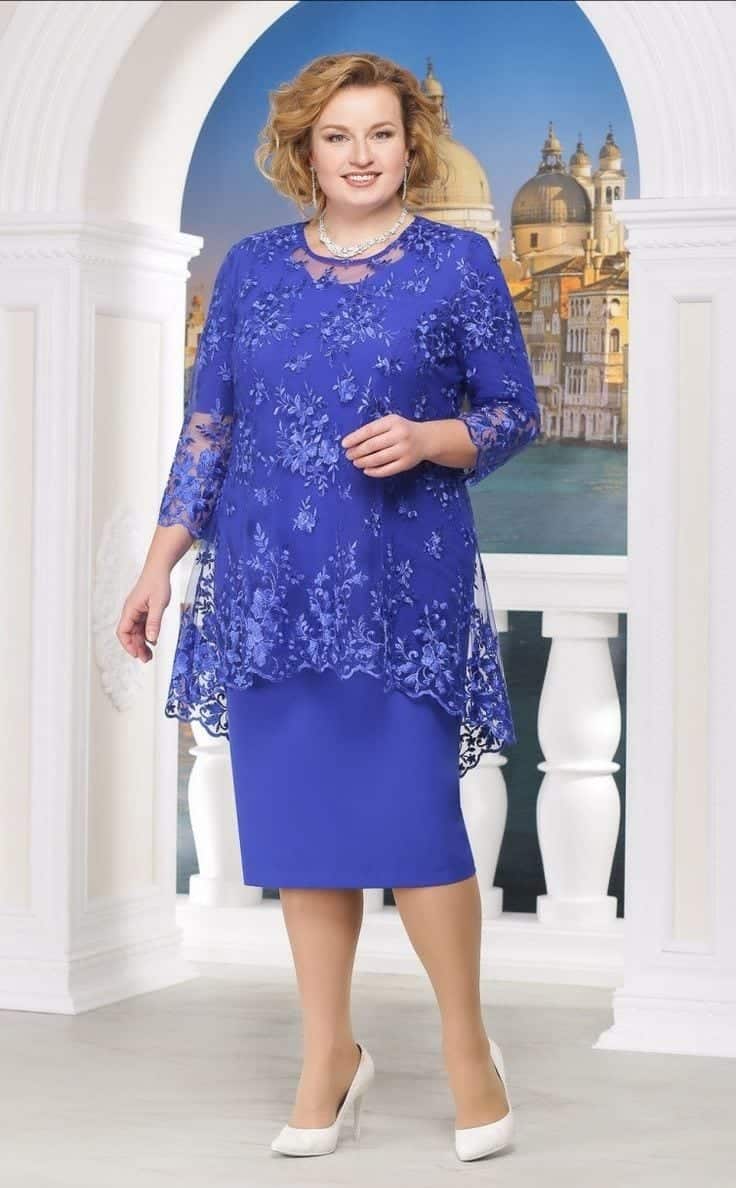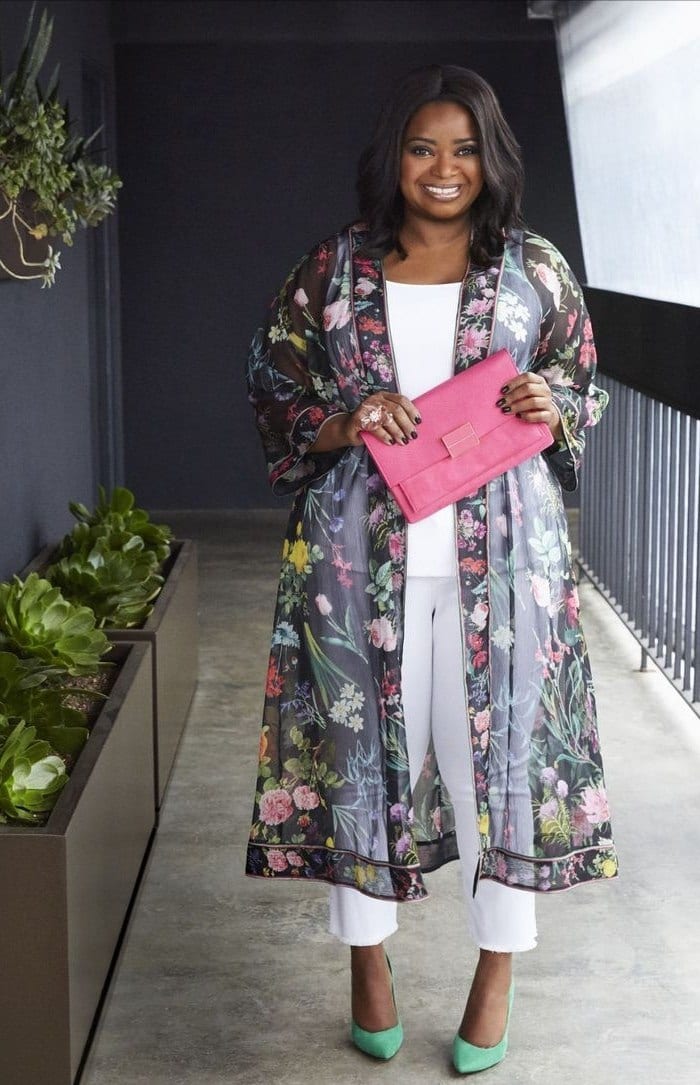 ↓ 21 – Office Wear
Deciding what to wear to the office can get pretty exhausting at times. You probably might spend at least 2-3 minutes at night thinking about what you are going to wear at work tomorrow. Here we have an idea for you. Go with a plain top, plaid wrap, and dark denim.
It's good not to wear skin-tight pants at work; straight pants and bell bottoms will add grace and comfort to your look. Polish off the look with a bracelet and studs. Moreover, don't forget to wear your favourite lip color.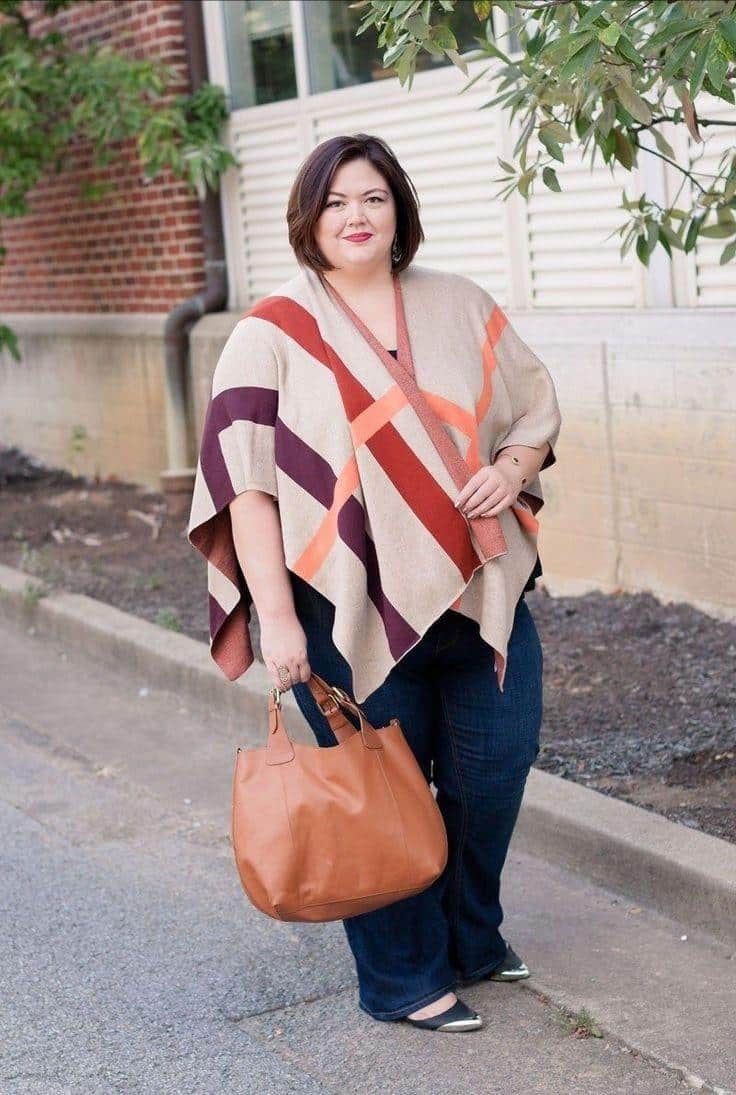 Buy similar items here
Denim, Melissa McCarthy Seven7
Plaid Wrap
↓ 20 – Plaid Midi Dress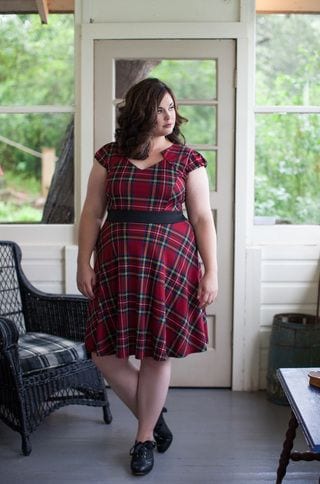 ↓ 19 – Party Wear
There are parties happening all the time even in your fifties. And it's your responsibility to attend them to make your friends and family happy. Not just this, but its really healthy for you as well. For the party wear, Chiffon midi dresses are exceptional choices.
Go with midi dresses or frocks that define your waist. A full sleeve dress might not be a great choice hence go with half sleeves and three-quarter sleeves. Put on your most comfortable pair of heels and matching accessories.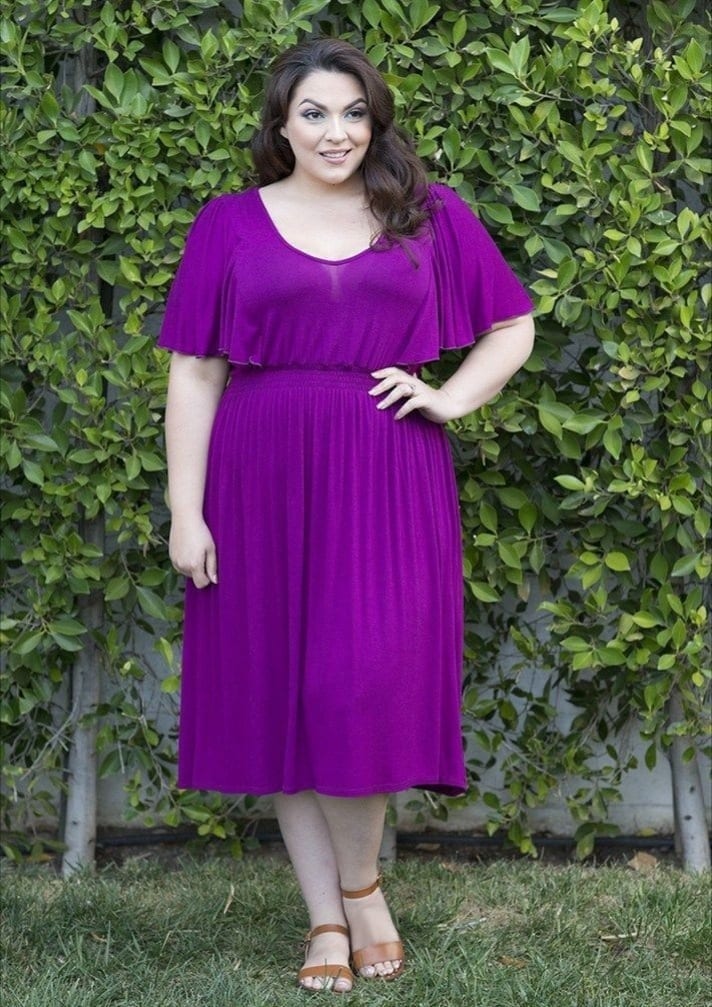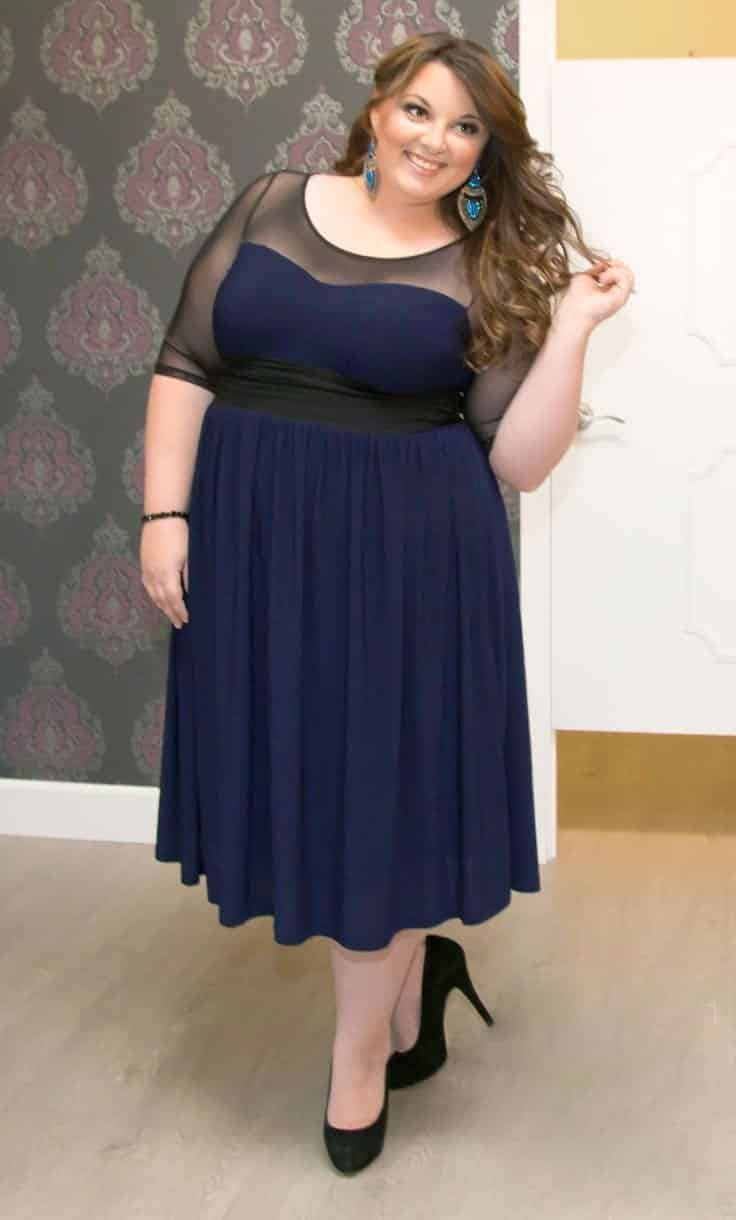 ↓ 18 – Skirt Oufit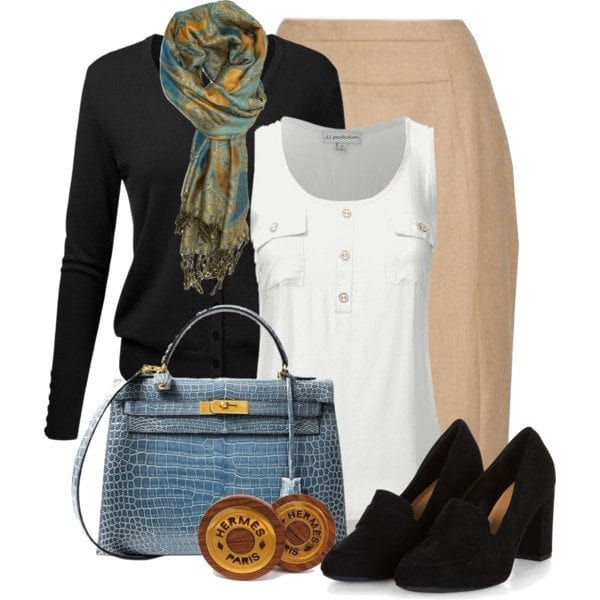 ↓ 17 – Office Attire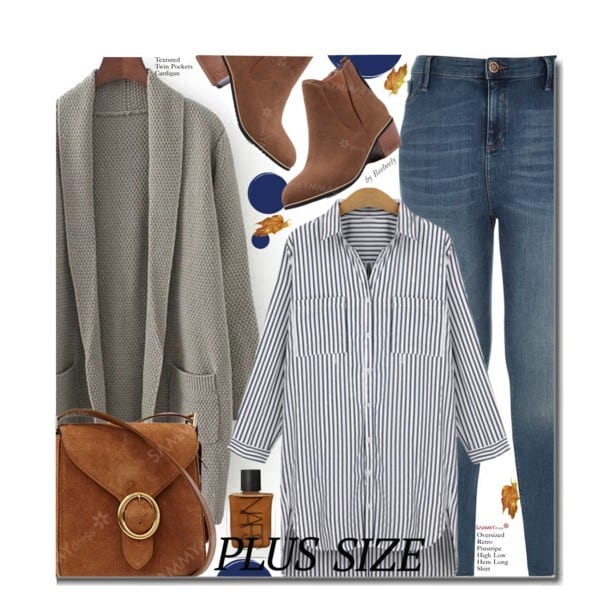 ↓ 16 – Formal Look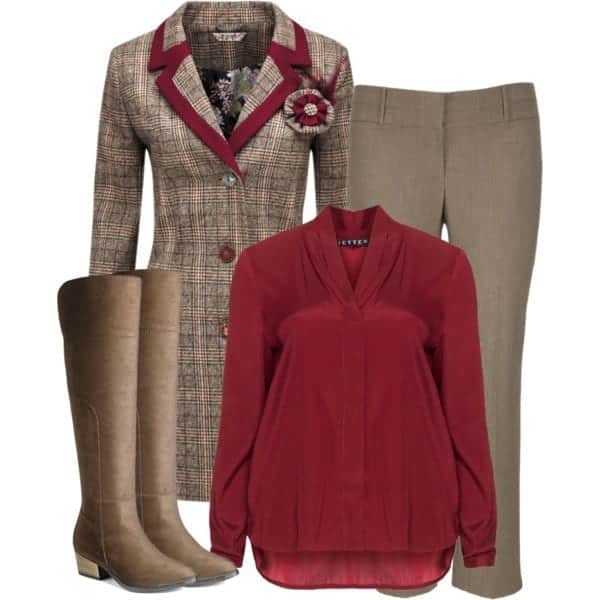 ↓ 15 – Buy Tees And Tops For Casual Wear
None of us is giving up on tees and tops, no matter how much we grow up. Isn't it so? Tees and tops are best when all you want is to stay at home and relax. Invest in tee shirts with stripes and small prints and pair them up with sweat pants or Plazo.  If you have to go out, just swap your pants with capri pants and add a blazer.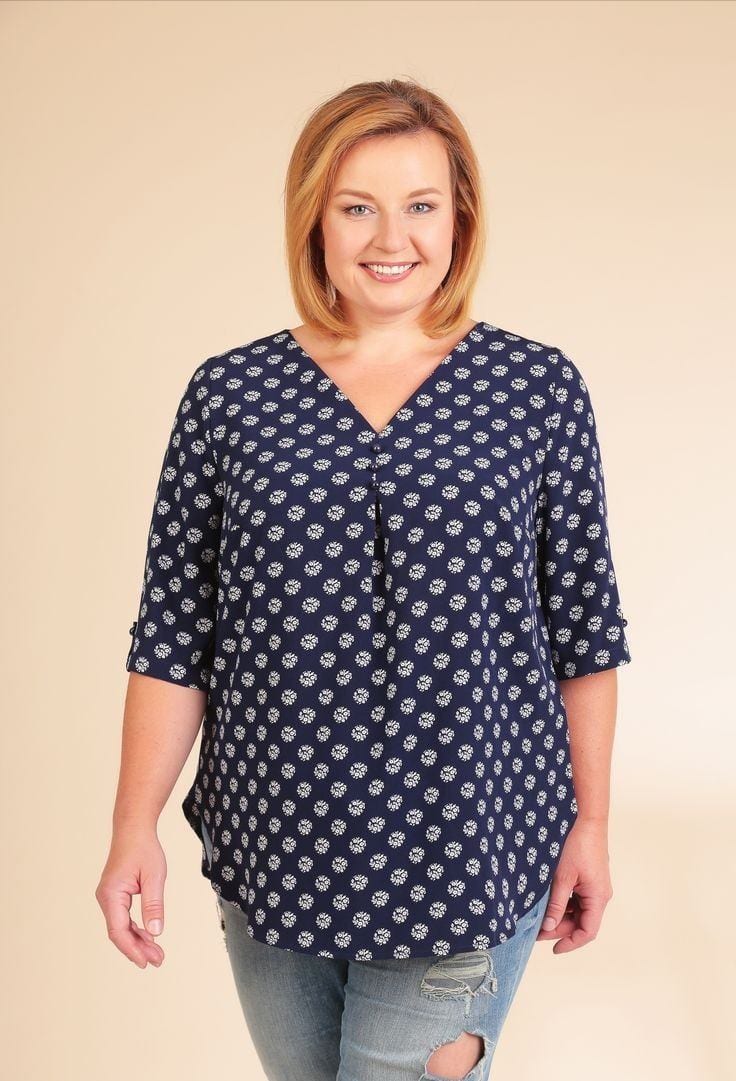 Blue and white plus size top $31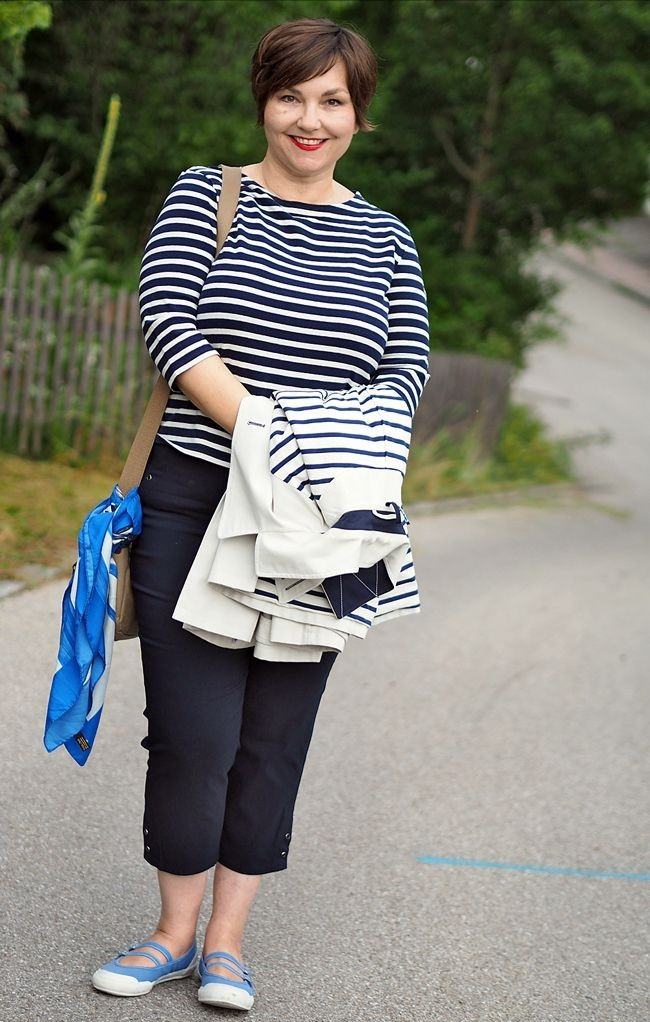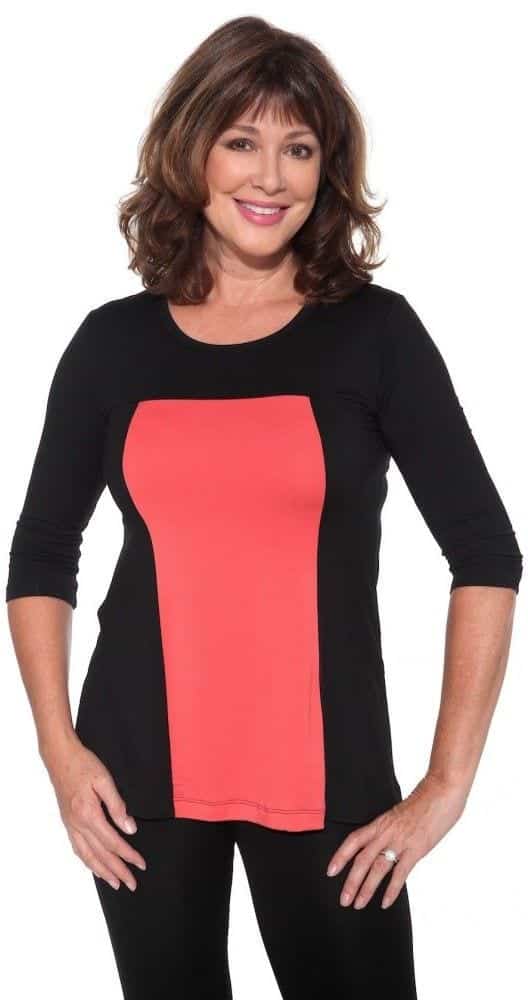 ↓ 14 – Beach Wear
If you are shy about wearing a swimsuit to a pool or beach party – follow our tips!
Go for a grey, back, or blue bikini that accentuates your breasts. You can even go with a little longer outfit like the one in the picture below.
 This will hide your stomach or back fat while making you feel confident. Never ever wear something that you don't feel comfortable in. Many women prefer wearing black because of its slimming effects, but it alone might not be the only choice, especially if you're on vacation.
Add liveliness and energetic vibes to your outfit by wearing a multicolored cardigan. Blue and Grey can have similar slimming effects as black while looking great at the beach.
Also, look at these 18 Dressing styles for Women Over 50.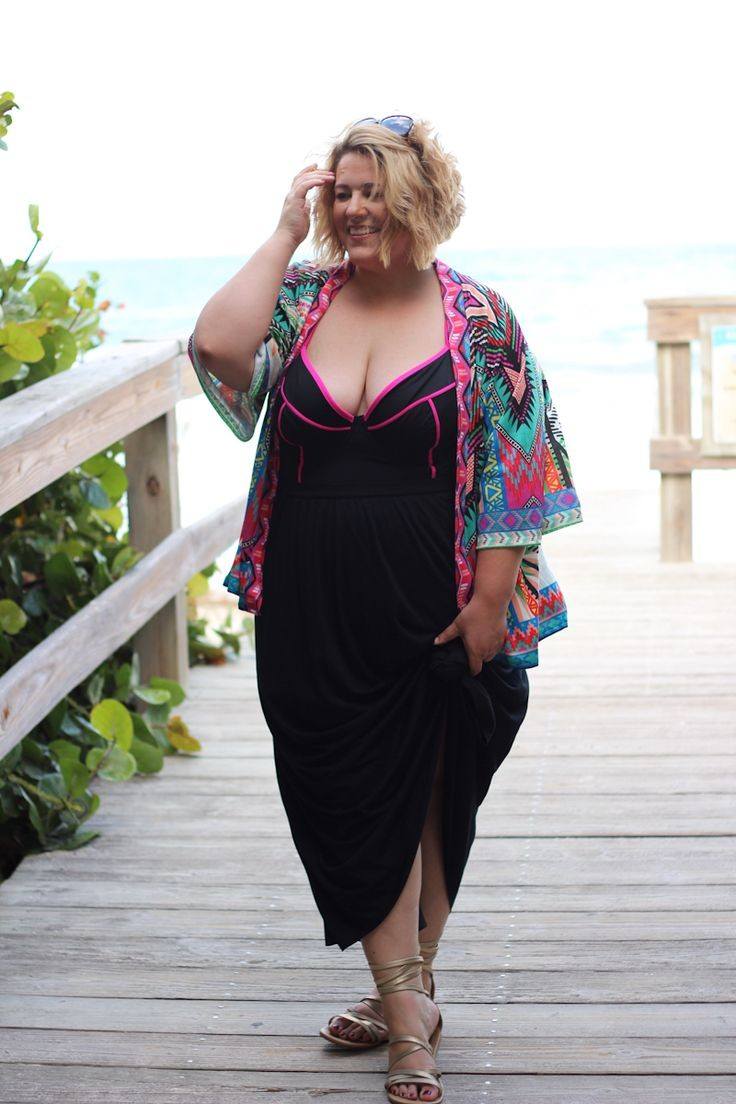 ↓ 13 – Wear Tailored Fit Outfits
If you are a working woman, then the most practical outfit is a blouse and dark pants. Keep the blouse loose and opt for a dark shade, and the sleeves should be three-quarter length or full sleeves. It's also essential to go for tailored fit outfits because they gently flow over your curves, being neither too tight nor too loose, hence making you look fabulous.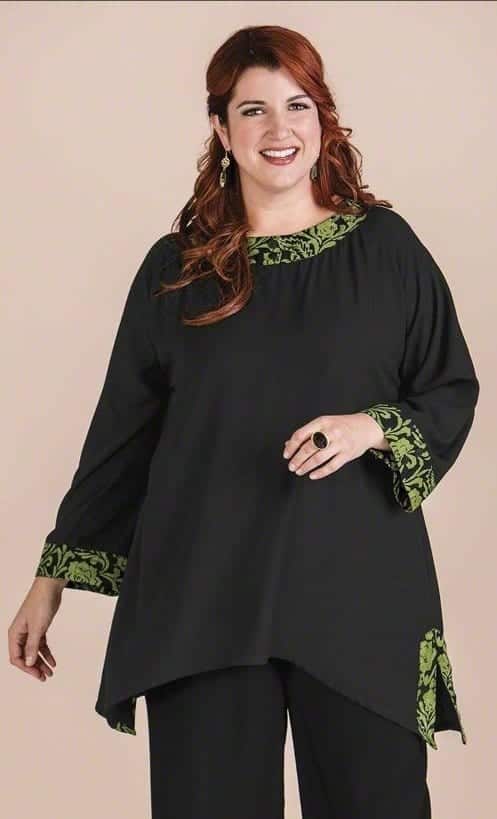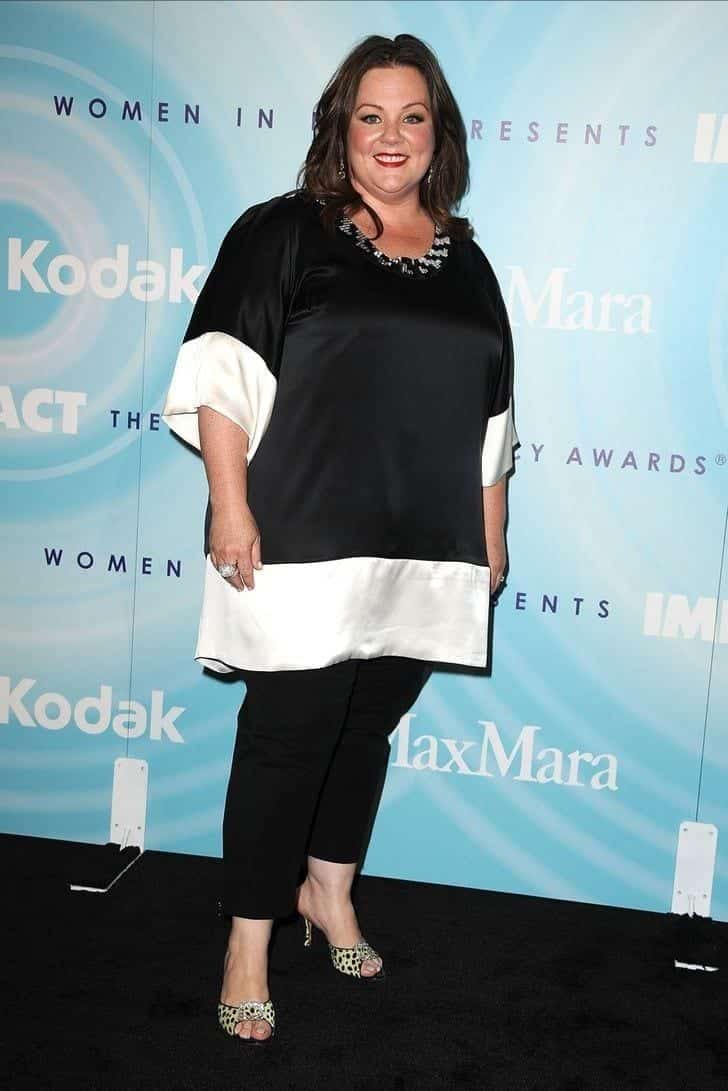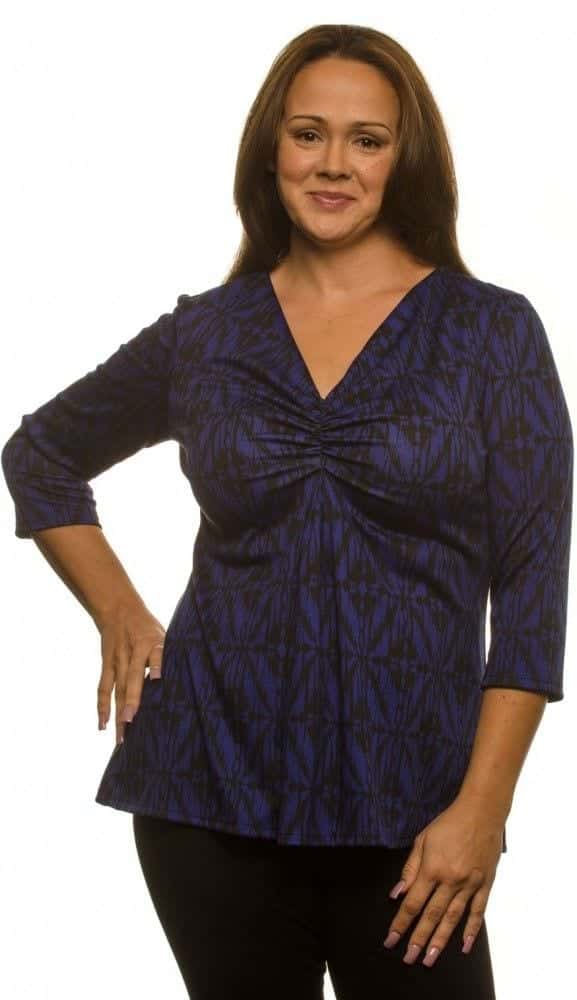 ↓ 12 – Wear Dark Colors On Heavier Areas
It's always a smart technique to wear dark colors on heavier body parts to make them appear smaller. Check out this fantastic guide on Office Style For Women Over 50.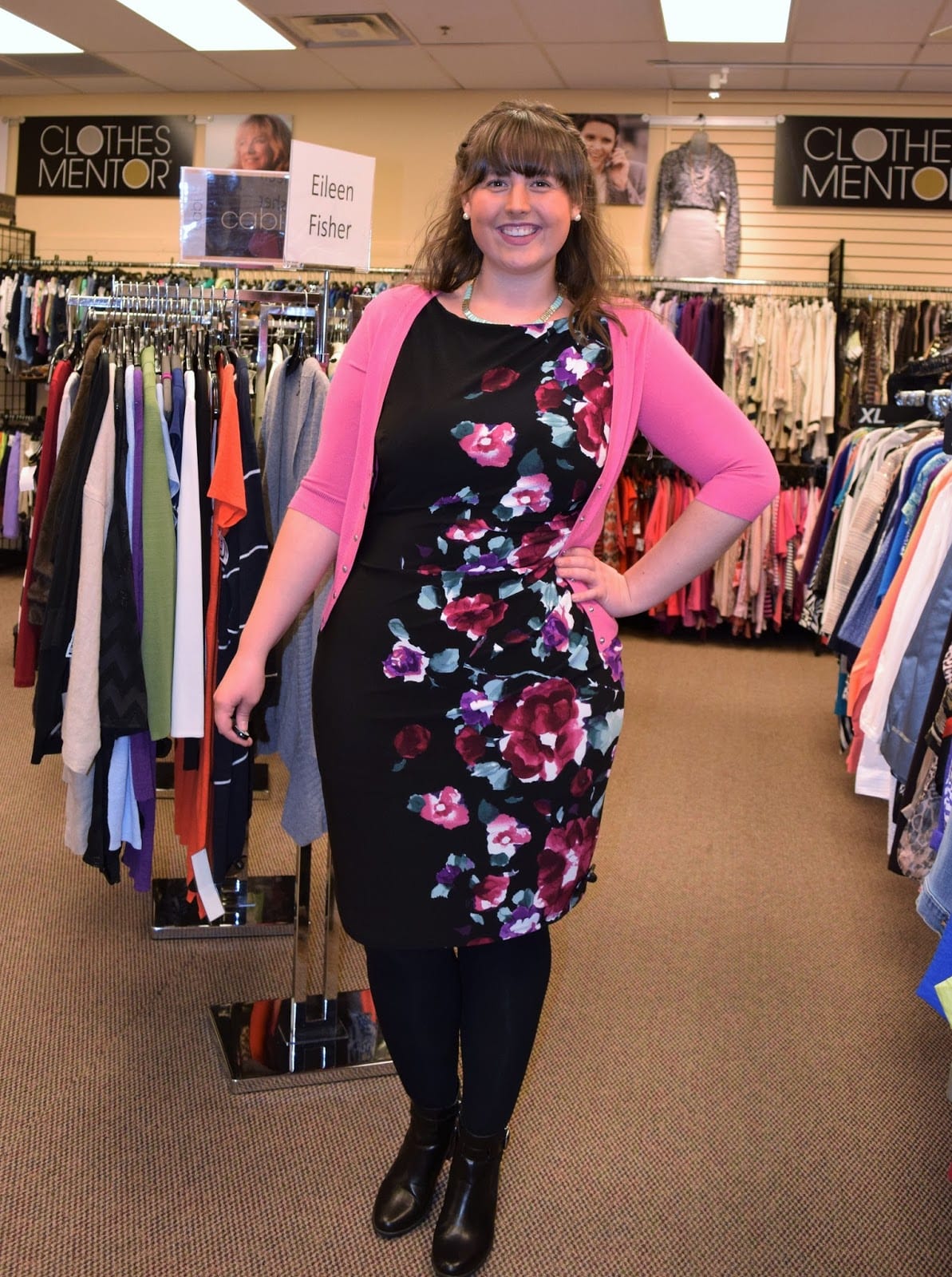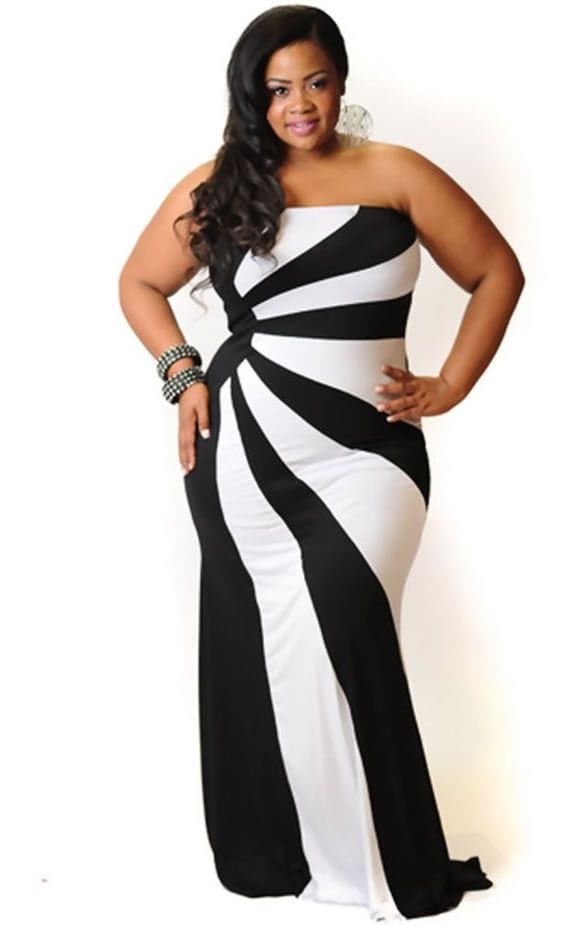 ↓ 11 – How To Wear Tunics In Your Fifties
You should wear something in which you feel content because you really don't want to stress yourself out. Tunics are an excellent option if you are staying at home, going out for groceries, or even to work. The best casual wear you can think of in your fifties is undoubtedly tunics; they are trendy, classic, and comfortable.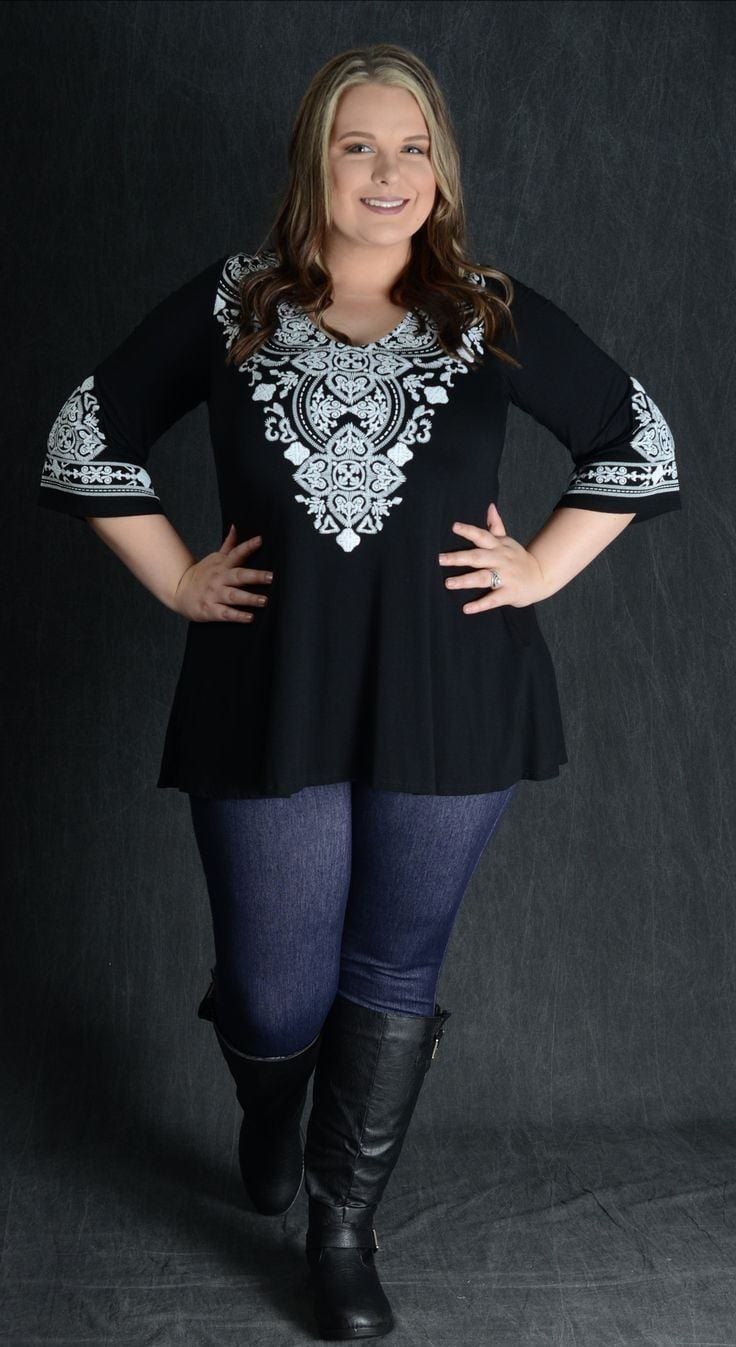 Black Border Print Top USD 32.99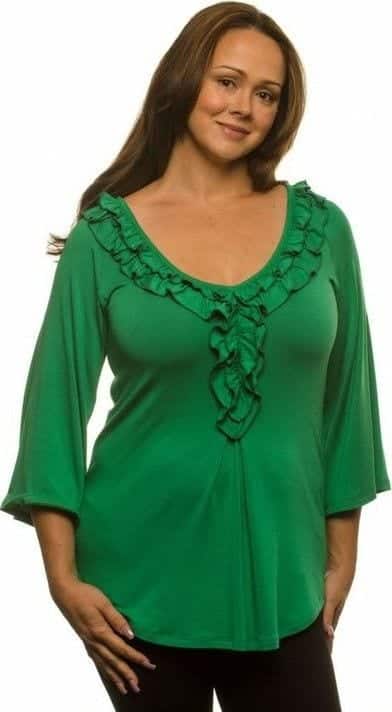 ↓ 10 – Choose Floral Prints
Gone are the days when plus-size women were told to avoid bright colors and prints. Since there are no rules, experiment with different types of prints to find out what works best for your shape and complexion. During the summers, you might need clothes for a pool or beach party. During those times, wear a full-length, loose dress that has a sweet, fresh, bright, floral pattern. Here are 20 Ways to Wear Legging when Above 40.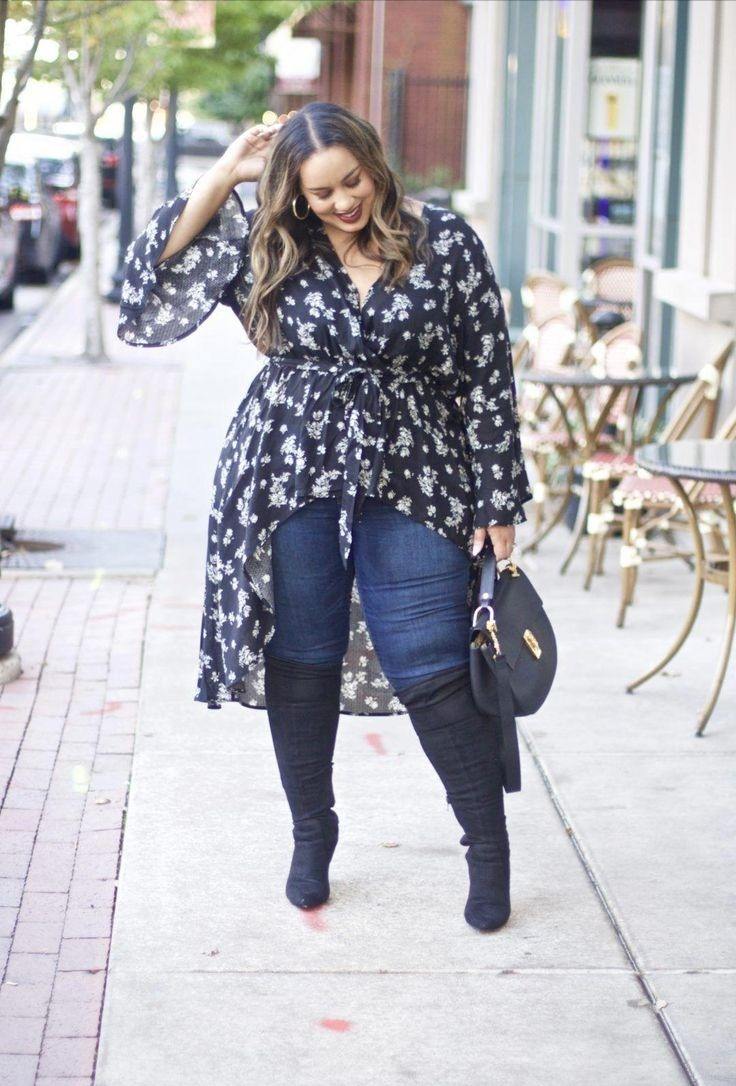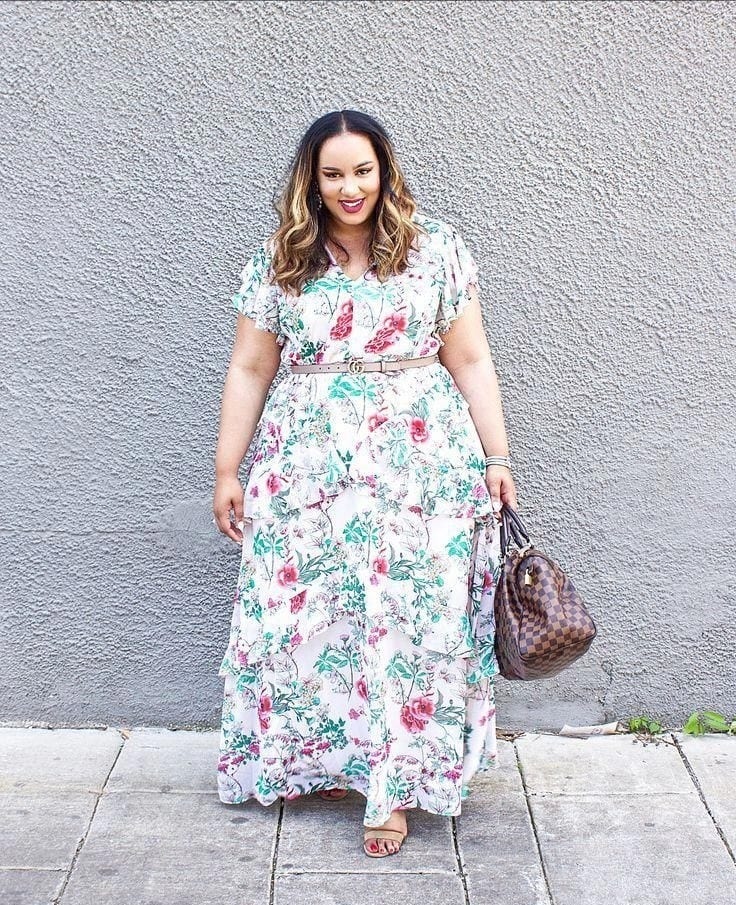 ↓ 9 – Wear White Pants
Pick white pants in a nice and comfortable material like cotton as it can provide excellent support for your legs. Wear these pants with silky and colorful tops for a vibrant look. This can also make for a lovely and stylish traveling dress. Here are 10 Outfit Ideas with White Pants.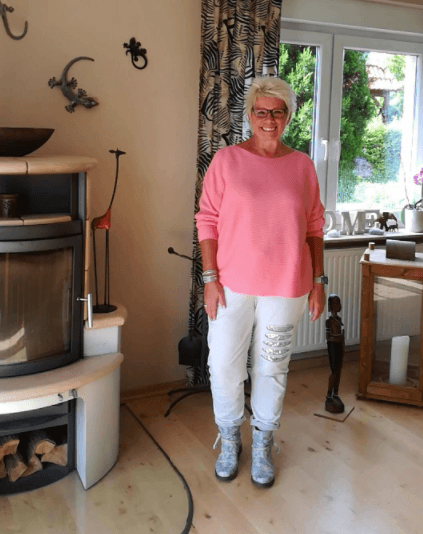 ↓ 8 – Use Stripes For Layering On Top
In case you need to head out, but still want to look young – opt for a striped blazer and a Celine handbag. This brightens up one's skin and makes them appear thinner and more youthful. Check out these Casual Outfit Ideas for Women Over 60.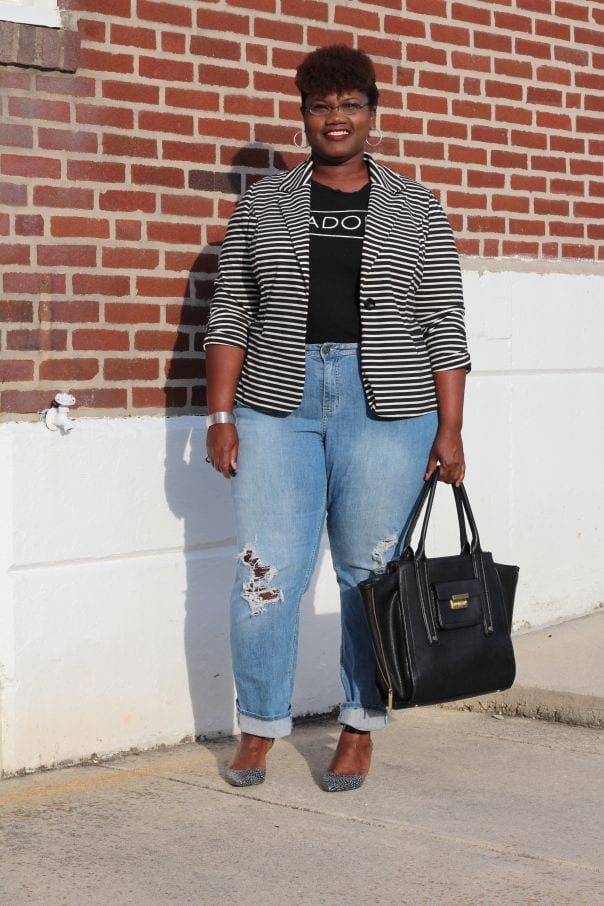 ↓ 7 – How To Wear Embellished Tops
The embellishments on your fancy shirts should be at the top part if you are heavier at the bottom. If you're heavier at the top, choose shirts with embellishments on the bottom.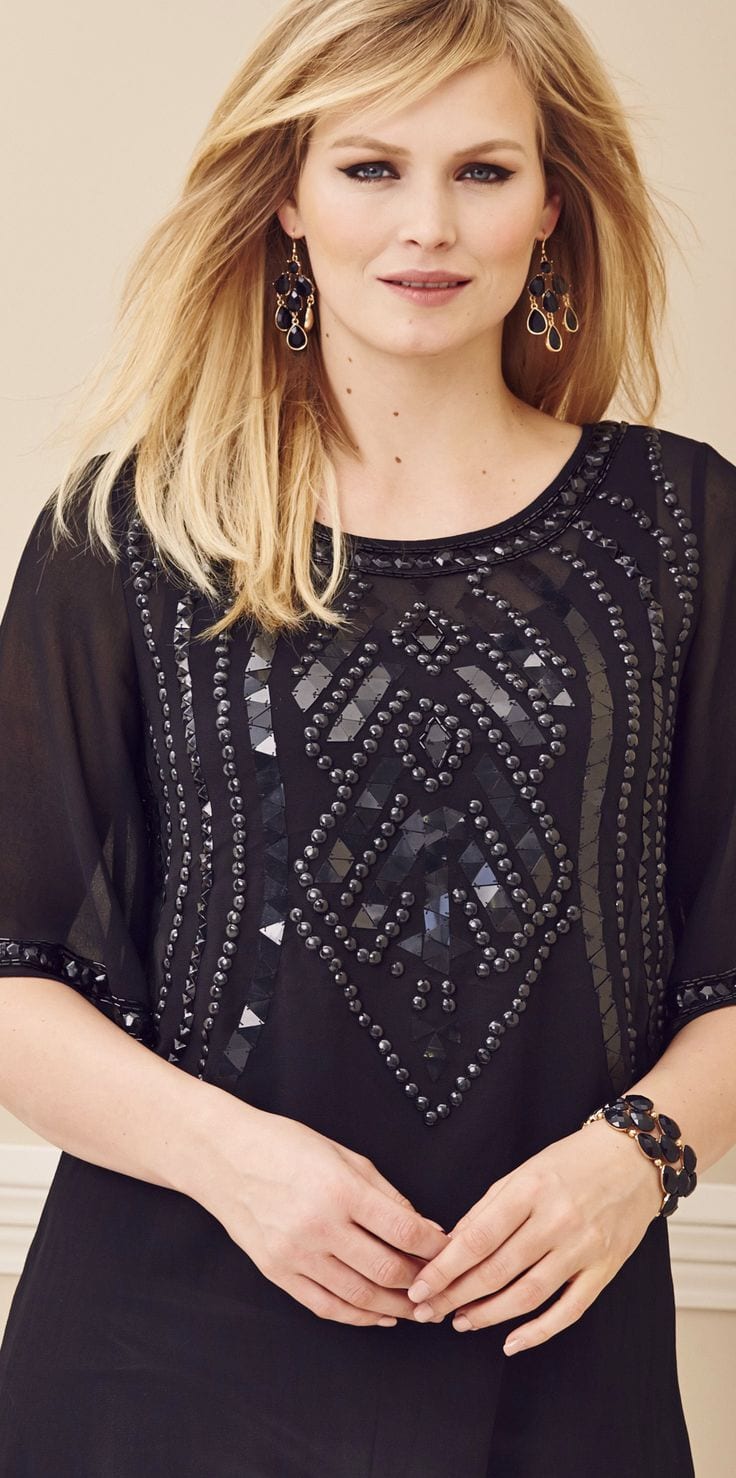 ↓ 6 – Choose The Right Shoes And Handbags
For handbags and footwear, leather material and neutral shades are a good choice. Avoid popping colors and add elegance and grace to your look.
Have a look at these 22 Stylish Outfits to Wear with Long Boots This Season.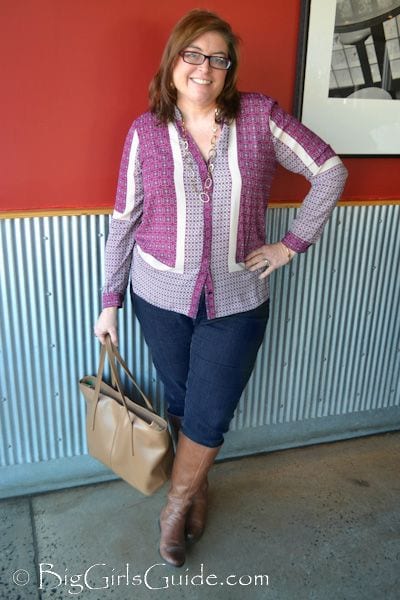 ↓ 5 – What Brands To Shop At?
Most designers and brands now have a plus size range to cater to curvy women, one good example is H&M, which provides good quality and stylish outfits for curvy women of all ages and that too at really affordable rates. FiftyPlus is another great brand worth checking out since it focuses mainly on curvy women of all sizes and shapes.
↓ 4 – Buy A Denim Jacket
A denim or jeans jacket can be the most versatile piece in your wardrobe. It can be nothing less than a blessing in the Fall or Spring season. You can use it to layer over your tees, dresses, skirts, or even maxis. Look for jackets that are stretchable so that you can stay comfortable. Also, have a look at these 20 Best Ways to Wear skirts as plus size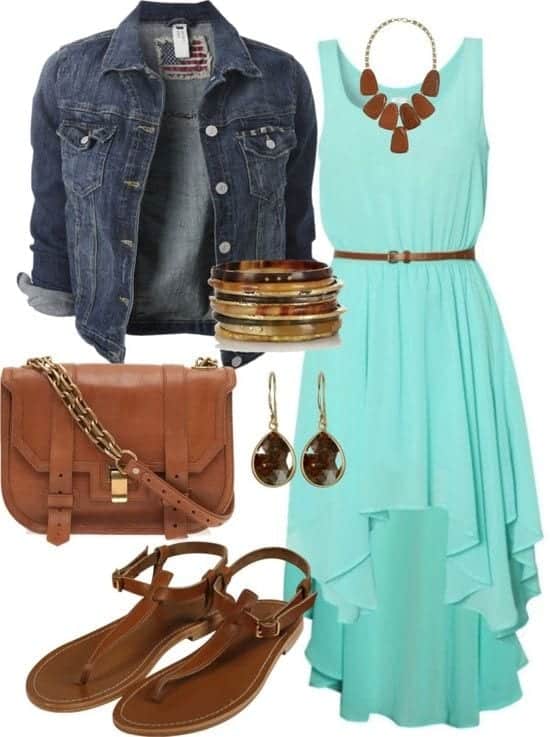 ↓ 3 – Winter Style
Remember, fashion has no age or size limit, so keep on rocking with your incredible style.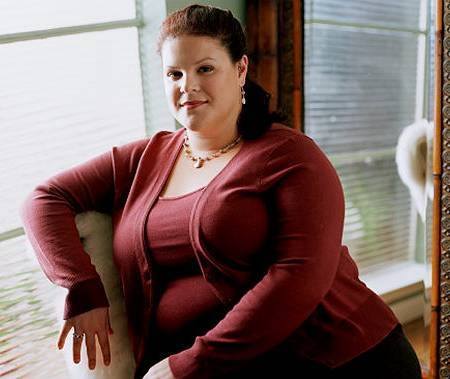 ↓ 2 – Black Dress
The perfect and comfortable outfit for shopping is a black dress with a solid, vertical stripe. This will give the illusion of being taller and slimmer than you actually are.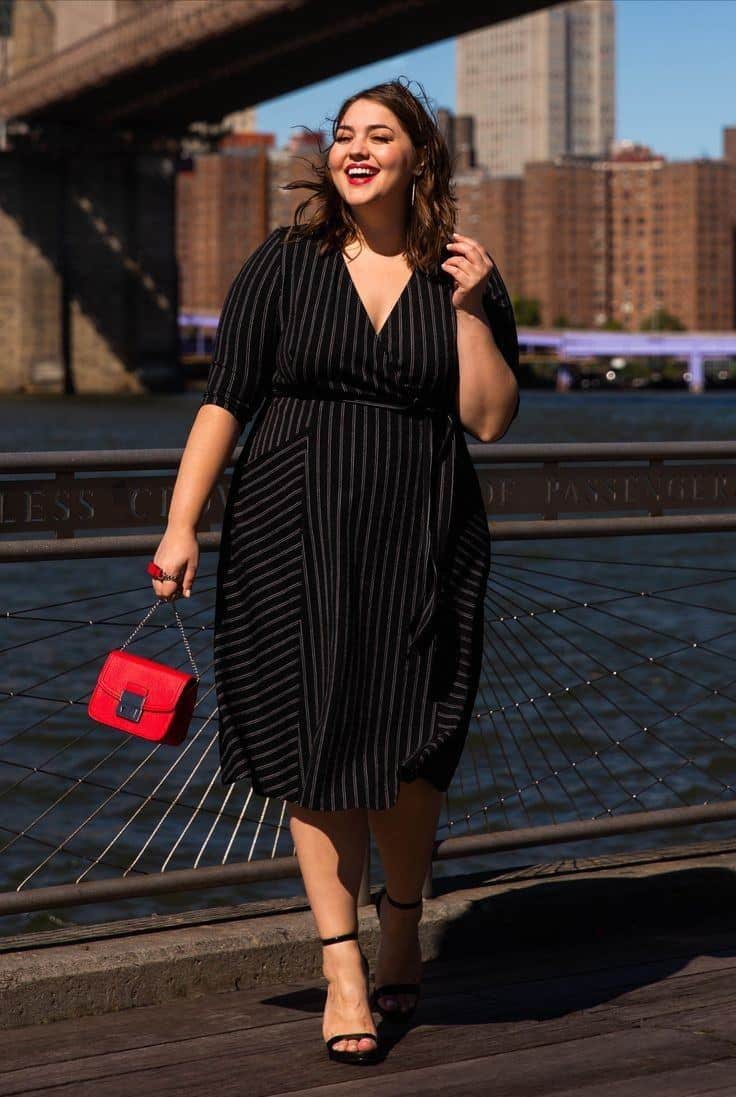 Buy a similar dress
Harmony Faux Wrap Dress – Sale! US $118.00 US $59.00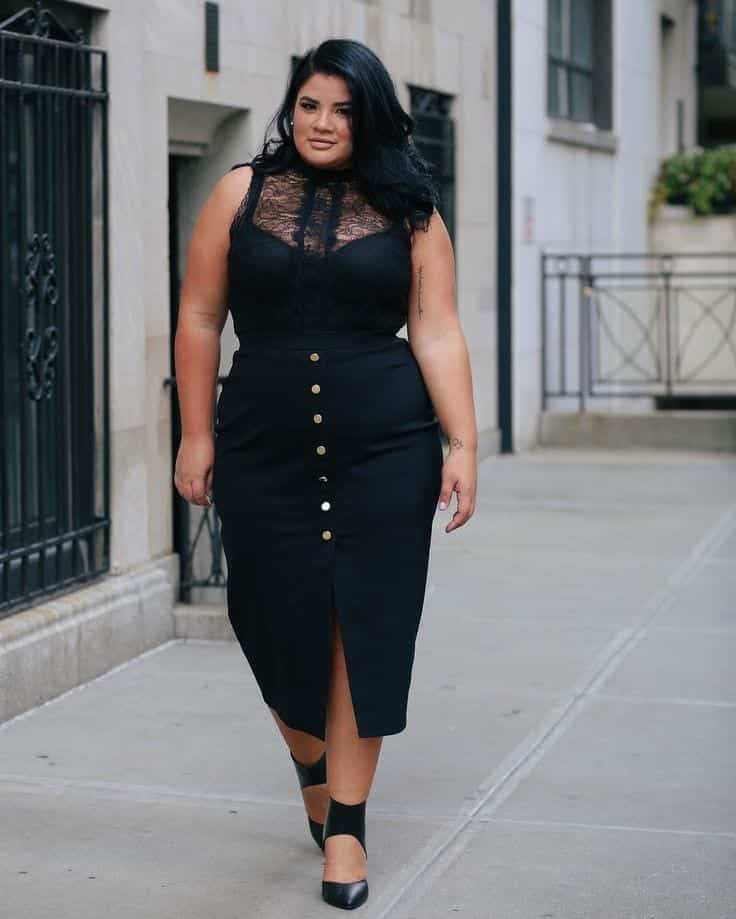 ↓ 1 – Some More Ideas / Celebrities over 50 Look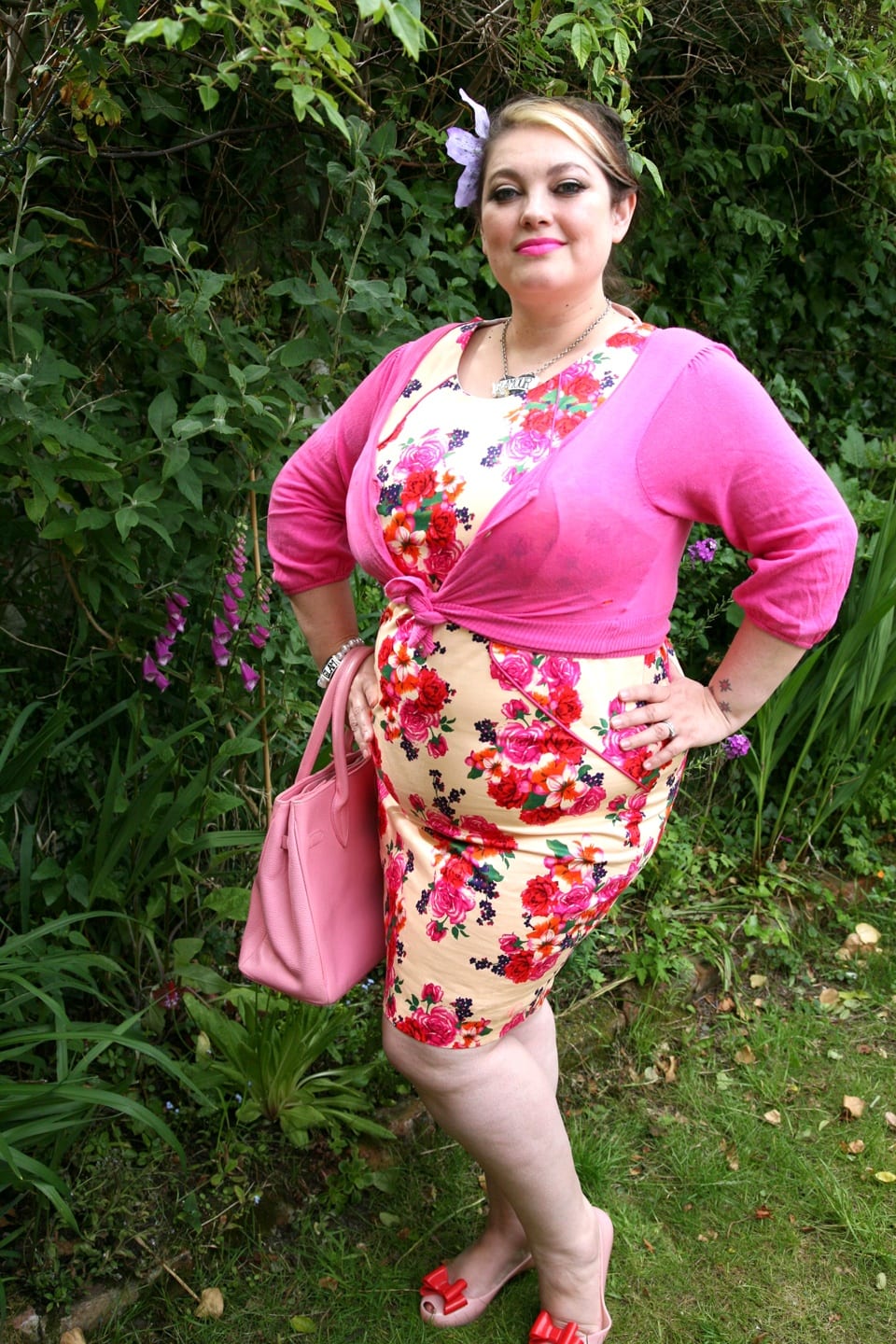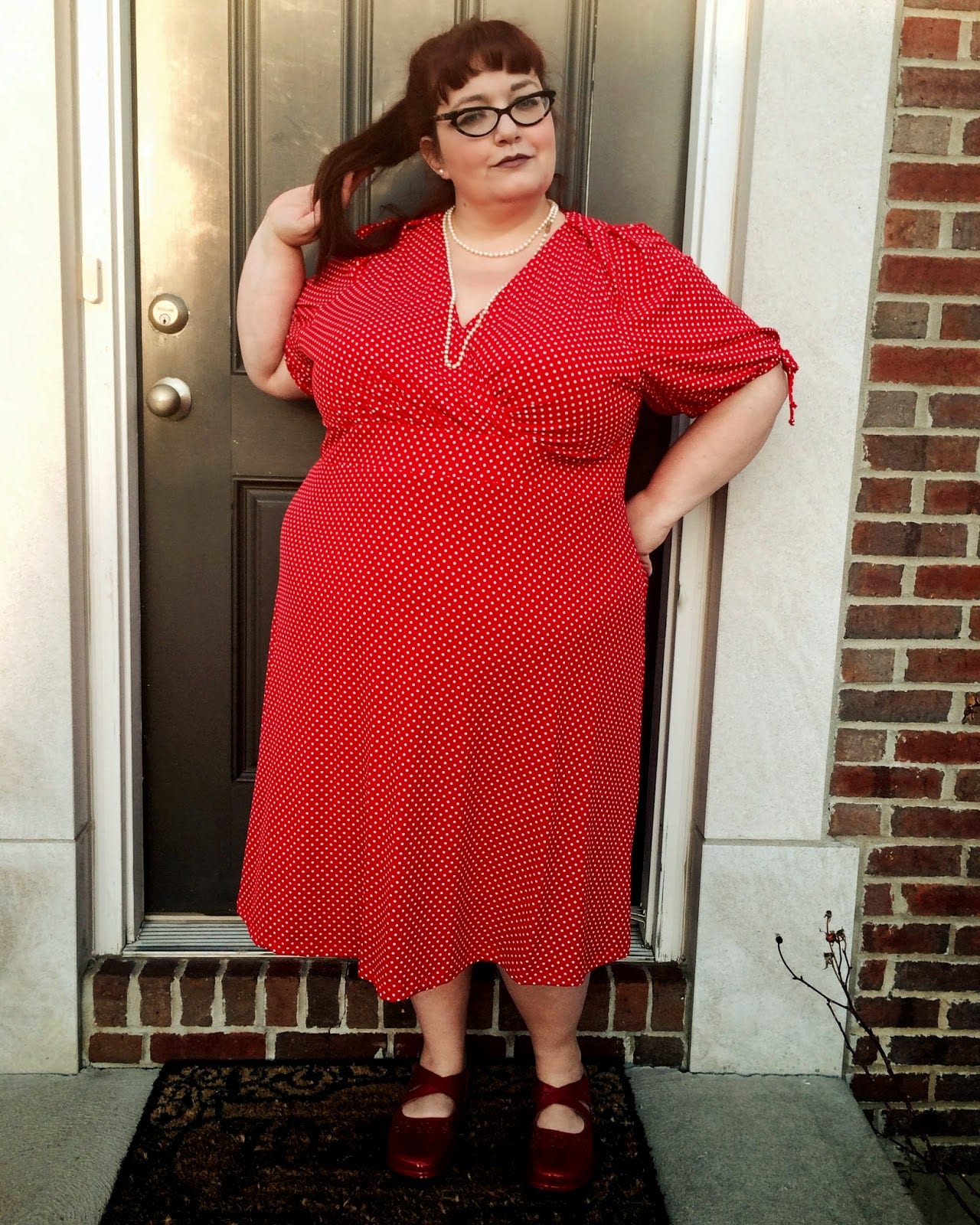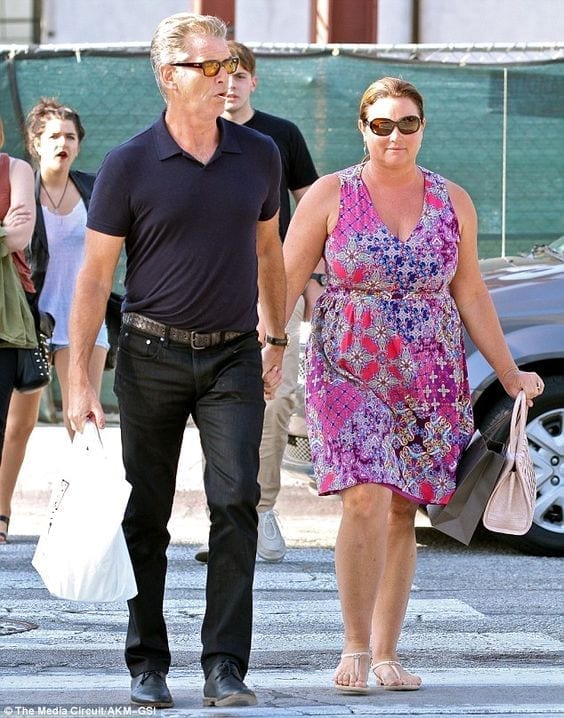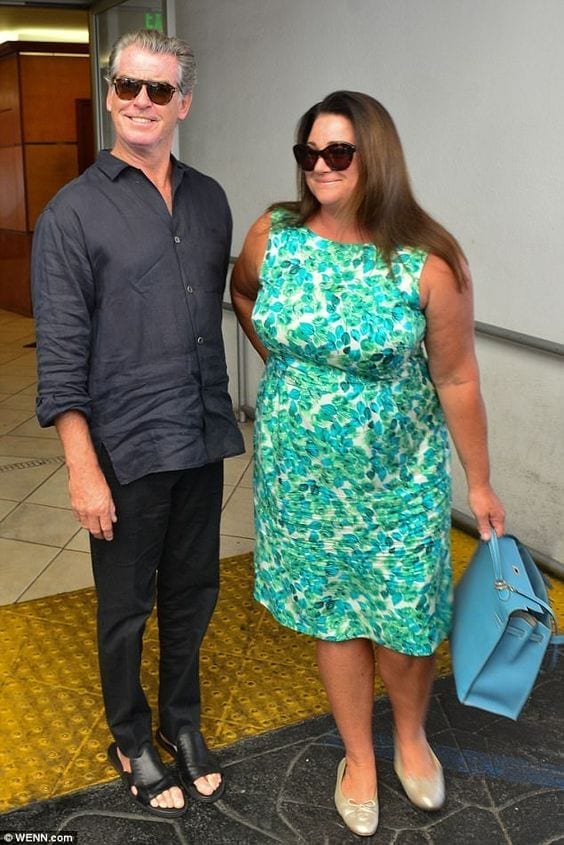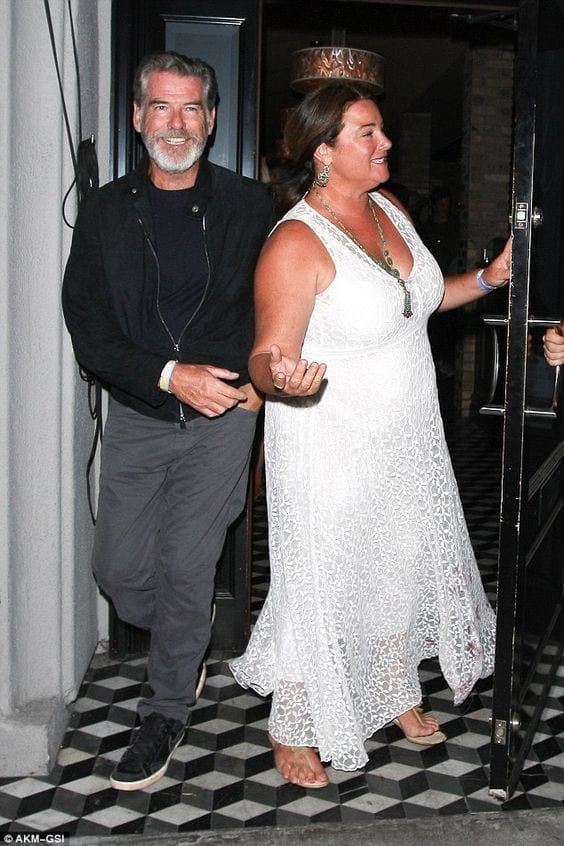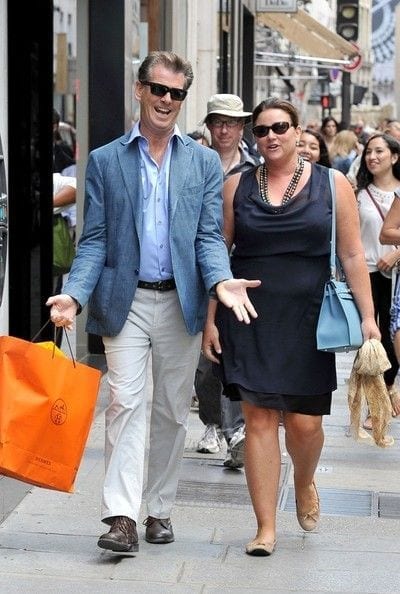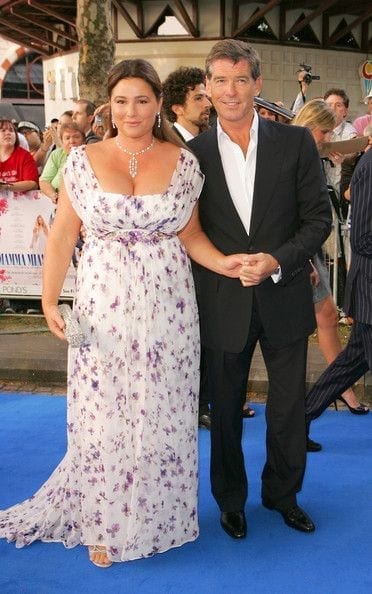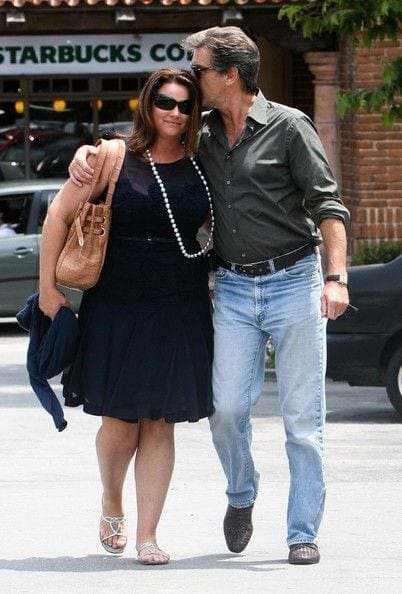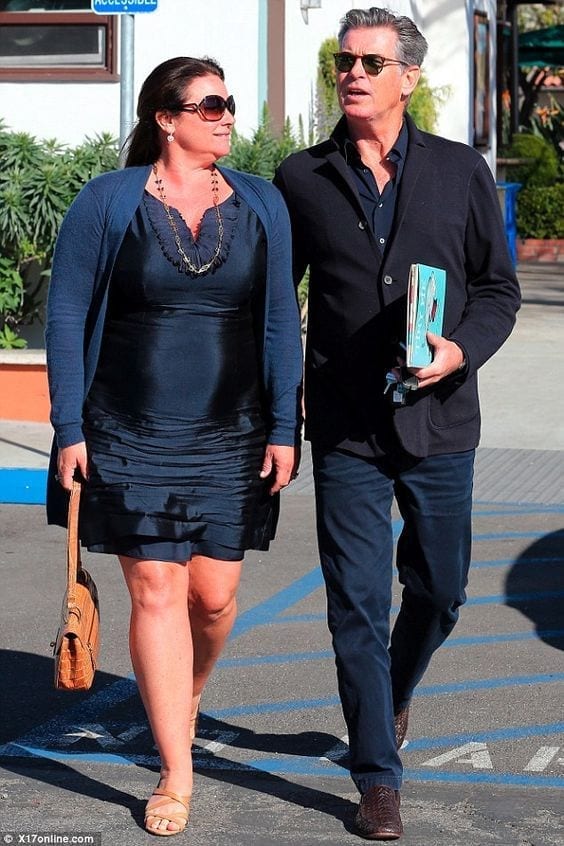 Frequently Asked Questions
Q. What to wear if you're plus size and 50?
A. The rule of thumb that everybody suggests to plus-size women is that they need to avoid tight-fitting clothes, right? People say that so that people with plus-size figures can be less visible, in a way. We don't think there is anything wrong with being plus size and neither should you. If plus-size women feel sexy in tight-fitting clothes then they should wear them. People also say that women that are plus size should avoid wearing clothes without prints and also avoid wearing brighter colors. It is all so wrong, why do we assume plus-size people don't want to wear bright colors? It is everybody's own choice to wear what they like, you should be proud of your body and wear what you like.
Q. What are the best slimming outfits ?
A. There are no exact slimming outfits for women however there are some ways to create an illusion of a slimmer body. Wearing prints such as stripes, plaid, and florals helps. You can wear floral dresses with sandals. You can wear striped collared shirts or blazers with mom jeans or pencil skirts. Bright colors should apparently be avoided because they attract more attention and if you don't want that then stick to the basic colors usually darker ones. At the end of the day, what matters more is what you are comfortable in and not what makes you look slim or thicker.
Q. Where to shop plus size outfits ?
A. There are lots of places from where you can shop plus-size outfits. Some of them are listed below:
Longer length tops at Dorothy Perkins
Jeans M&S
Tailored fits and pencil skirts JD Williams