Cute Beach Outfits for Black Girls. The summer never ends. Yes! It's beach time and i want to have the perfect summer look for my dark complexion. Usually girls like me who have dark complexion have to go through major problem of selecting what colors to wear and how to dress up. And when it comes to beach outing, usually summer is brighten up by picking bright colours for the beach outfit.
What to Wear on the Beach
So, I have come up with 18 perfect beach outfit for black girls this summer that are worth buying and completely wearable outfits for black women.
 One must have floral shirts, maxis, skirts in their closet because you will definitely need them in summers for beach. Before you scroll down to have a glance at beach outfit, I would like you to have a bit of preparation regarding which stuff to carry along with you.
 Here are the tips for beach preparation
always wear a sunscreen
get a beach bag and carry all the relevant stuff (sunglasses, water bottle, hat, towel, sunscreen)
kindly, abstain from overloading with jewelry
wear flipflops or sandal; say no to high heels
apply transparent mascara
have a glamorous look by applying lip color that suits your complexion the most.
keep your hair simple and natural or just make a high pony or simple braid, rather going for complex hairdos.
 From the pictures given below you can select the best beach outfit for yourself.
#18. Beach Bikini
Rihanna carries it pretty well. Clear see through white swimwear paired with two piece beach bikini and a scarf tied up.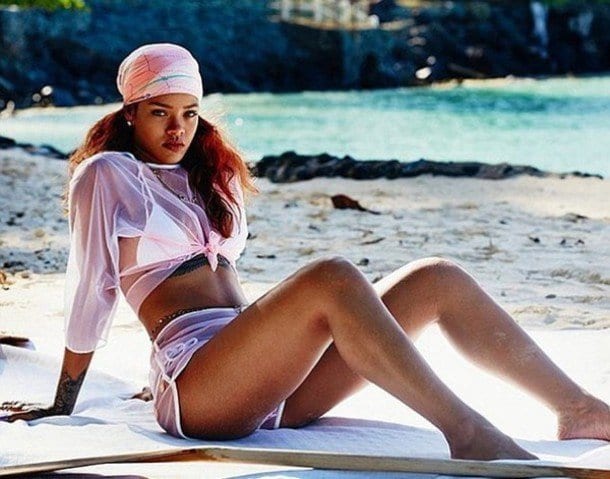 #17. Strapless Ruffle Top
Have a classy look by wearing a strapless ruffle top and accessorize it with handmade bangles.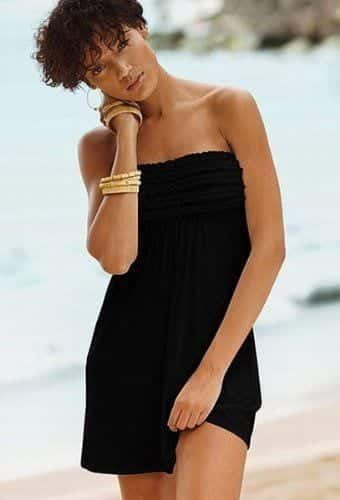 #16. Sexy & Trendy Beach Dress
Bikini styled mini dress sets a sexy beach look; styled with earrings and a small pendent.