Men Timberland Outfits – Timberland shoes are a great way for men to dress up, due to many reasons. Firstly, they are comfortable and waterproof so you can wear them in all weathers. Secondly, the suede on them does not wear out, so they are easy to manage. Thirdly, they are practical yet stylish so they make any outfit very stylish for men.
Women love men with timberland shoes, and so we have compiled a list of the 14 ideal ways how to wear timberland shoes for swag look. This will make choosing an outfit very easy for all stylish men. Black, white, Asian men all love timberland shoes and they should pair them with appropriate outfits. Let's check out these looks one by one.
Guys Outfits combinations with Timberland Shoes
#1 – Swag Look with Timberlands
Well, we have already talked about 20 dressing ideas on how to have a swag look guy. If you haven't read it, make sure you do now. Mix and match your favorite outfit pieces with timberland shoes. Anything and everything matches well with timberland shoes, as they are so versatile. A leather cap, checkered shirt, plain t-shirt and cargo pants with timberland shoes is loved by all women on their men. What are you waiting for? Go for it!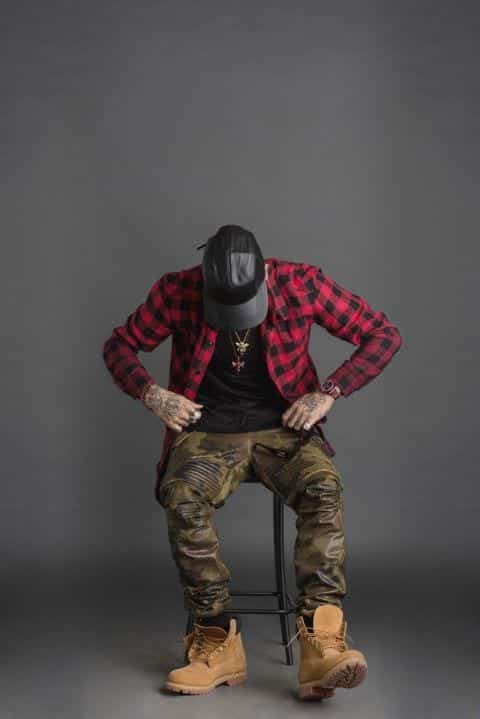 # 2 – Street Style with Timberland Shoes
Classic and crisp is the way to go with timberlands. Match your brown jacket with brown timberland shoes, and you will look better than all the other guys.
This is the kind of the artistic outfit idea that all the artists and creative people will want to try as soon as possible. For this outfit idea, you need to wear a white dress shirt and wear blue jeans with it. For jacket and timberlands, you can wear them in same colors and voila!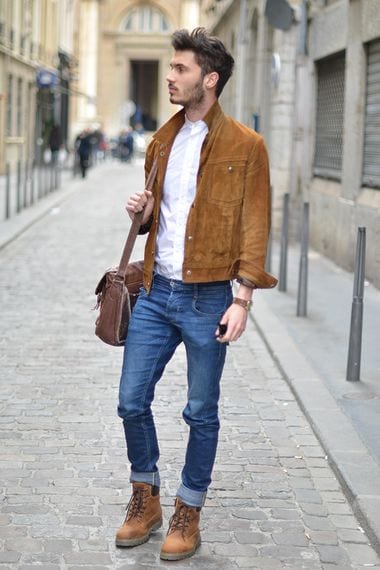 #3 – Casual Wear
All you city boys out there, fret no more! Timberlands will look sexy even on the streets with denim. For winter casual wear, check out Men Blazer Styles -18 Latest Men Casual Outfit with Blazer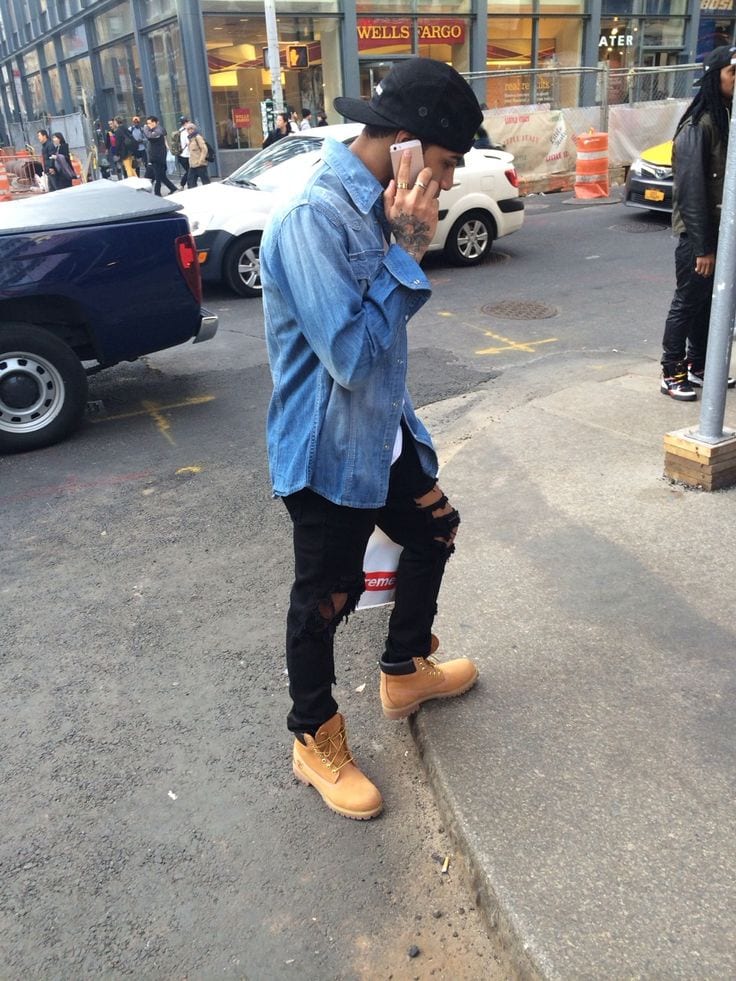 #4 – Black Guy Style
Casual outfits look great with timberland shoes, especially bright red and white hoodies. Do check out 14 perfect casual outfit ideas for black men.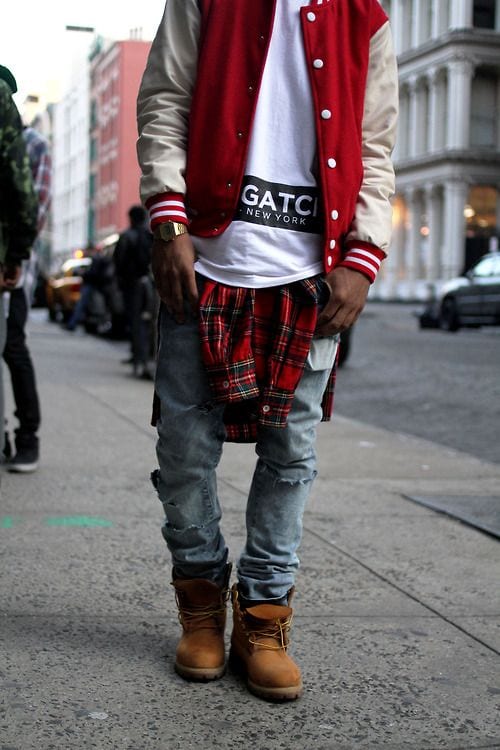 #5 – Spring Wear
Hobo outfits can match with timberland shoes, particularly beanie hats, and jackets.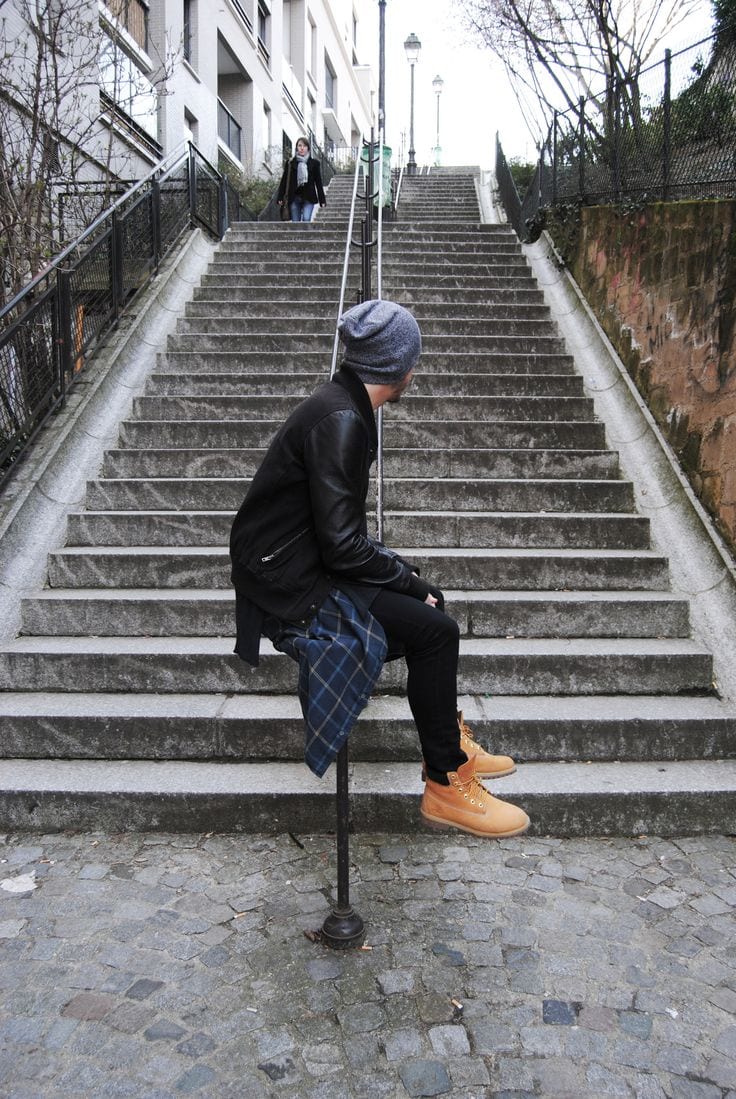 #6 – Winter Wear
Winter outfits look the best with timberlands! Layer up with warm-toned outfits, and pair them with brown timberlands. These brown timberlands are perfect to be worn in winters. They look amazing on college going guys as they have a perfect mixture of elegance and casualness into them. If you are looking for new ways to try to wear timberlands in winter then you are in the right place. You can go for a sweater and wear a long coat in black over it, wear an opposite colored scarf and wear brown timberlands to complete the look. Here are 18 Winter Travel Outfit Ideas For Men; Travel Style Tips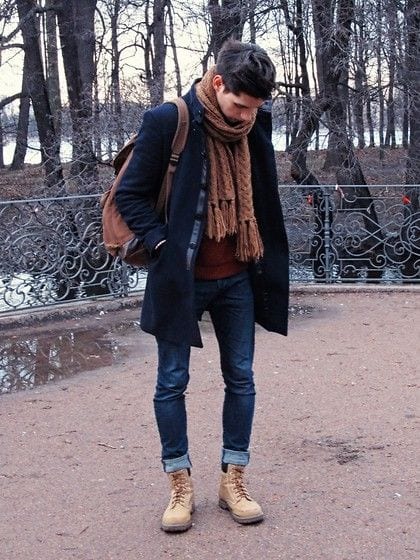 Video Outfit of the Day with Timberlands Men
#7 – Skinny Guy Style
Skinny guys know how to have fun with these boots . That's why they always wear all-black outfit with light brown timberland shoes.If you are a skinny guy and look for more ideas then check out 19 best skinny guys fashion Ideas.

#8 – Military Look
One of the best look you can get with these boots is military style look. Style them with camouflage trouser for a perfect look. Camouflage trousers are the top trends. Almost everyone owns at least two to three pairs of camouflage trousers in different colors and different styles.