Best Beach Party Outfit Ideas for Women: Summers are just around the corner that indicates holidays and vacationing and playing dress up for different parties that you will be invited to. Summers mean heat and heat ultimately leads us to find ways to cool off and beaches are the best place to do just that as water is a great heat repellent.Have you been invited to a beach party recently and can't figure out what to wear on beach party or you just want to organize a summer party on the beach this article will surely give a lot of ideas on the dressing part of the party. Always prepare a checklist as to what can be required. For instance if you are invited someplace. For the beach party you will be requiring towels, sun tan lotion or a sun screen lotion depending on your skin and background, make up, sandals for the sand and a proper dress/outfit to later on change into, a proper bathing suit and sunglasses. If you have organized the whole party then you need to make sure that there is a fresh supply of water for the guests, changing rooms are properly stocked and there is plenty of food and wine available for the entertainment. You can also have a bar-beque at the beach which is an awesome idea.
 It's not surprising that you may not have no clue as to the dressing part because dressing up for a beach party can be really tricky. Take advantage of the leisure and relaxed mood at the beach and dress accordingly. Boho chic is the favorite as everyone like flowy maxi and dresses but summer dresses and floral frocks can look pretty as well. Put on your sunglasses and accessorize with bracelets. We have collected together some of the best outfit ideas for party at beach from which you can choose and look absolutely amazing. The ideas we present will surely make your party outfit a fun and comfortable one.If you are planning for bonfire at beach then you must check out these 18 perfect dressing ideas for bonfire party.
Sexy Outfits to wear on a Beach party
Though there are a number of options to choose from, there are certain thumb rules you must remember when shopping for a beach party outfit. firstly, always choose sun friendly outfits and fabrics, avoid dark colours since they absorb the sun's energy. light weight and breathable or flowy fabrics are usually the best preference. Secondly, accessories look great but try to keep it simple for beach parties. When it comes to shoes, avoid heels and instead choose easy to manage and comfortable shoes like flip flops or sandals.
#16 Denim Shorts with Embroidered Jacket
Beyonce's outfit and shoes seem ideal for any beach party.  Platforms are a great example to wear on sand with denim shorts and a sleeveless jacket with a classic white top. Keep the hair simple and tie in a side ways pony tail. The look is neither too casual nor too formal making it perfect. A simple necklace and sunglasses were all the accessories she needed to complete the sexy look.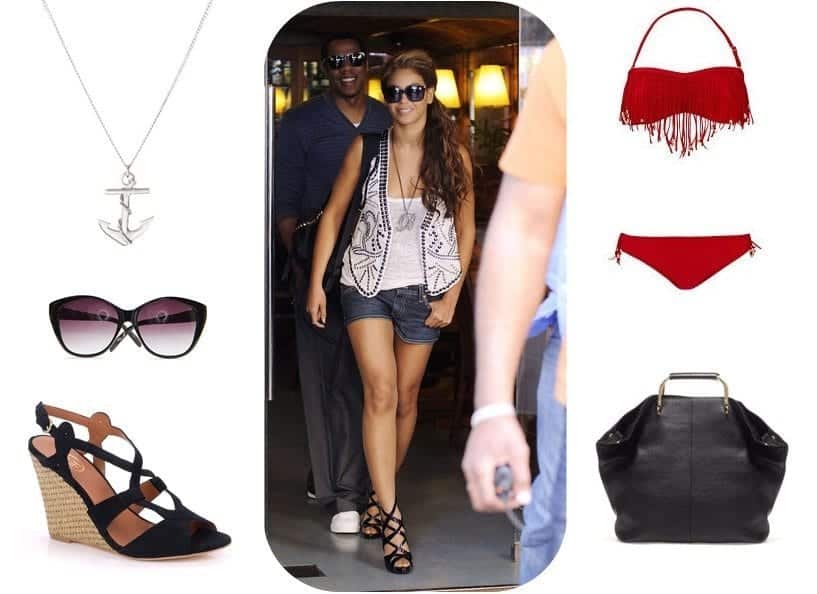 #15 Denim Shorts with Cropped Top
Here is another gorgeous outfit. A simple white lace cropped top and lace denim shorts. Put on your flip flops and shades to be both comfortable and sexy! although a lot of sun tan lotion will be required.