Leggings for Women Over 40. Leggings are some of the most comfortable articles of clothing. They are amazingly versatile as you can wear them casually as well as formally. Women of all ages love wearing them, so much so that you can often see these trendy bottoms just about everywhere you look. At the office, at get-togethers with colleagues and friends, formal events, and more – these are just a few of the places you'll see ladies wearing them!
However, you might be wondering, can women even wear leggings after 40? Should older ladies wear leggings after a certain age? And if so, how do you do it?! Leggings highlight each and every curve of your leg which can be a little daunting, to say the least. But don't let this stop you! There are so many ways in which you can wear your leggings; so many options to mix and match and try out new styles. Even if you are thicker around the waist or have curvy legs, pairing your leggings with the right tops can help you feel comfortable wearing leggings with style.
How to Wear Leggings In Your 40s, 50s, and 60s+
So in this article, we are going to give you some tips on how to wear leggings when you are 40 or older. Let's get started!
• Avoid wearing leggings in the summer time, as much as everyone would love to wear them all year round, avoid them in warmer temperatures because they could cause you to feel sick.
• Avoid wearing leggings for longer hours because of the fact that they are skin tight, they dont promost proper blood flow. So wear them out for a few hours but dont spend an entire day in them.
• Leggings look best paired with boots so whenever you get the chance, pair boots with leggings.
• Dont be scared of how you'll look in leggings, leggings are comfortable and shape your body so rock them whenever you want!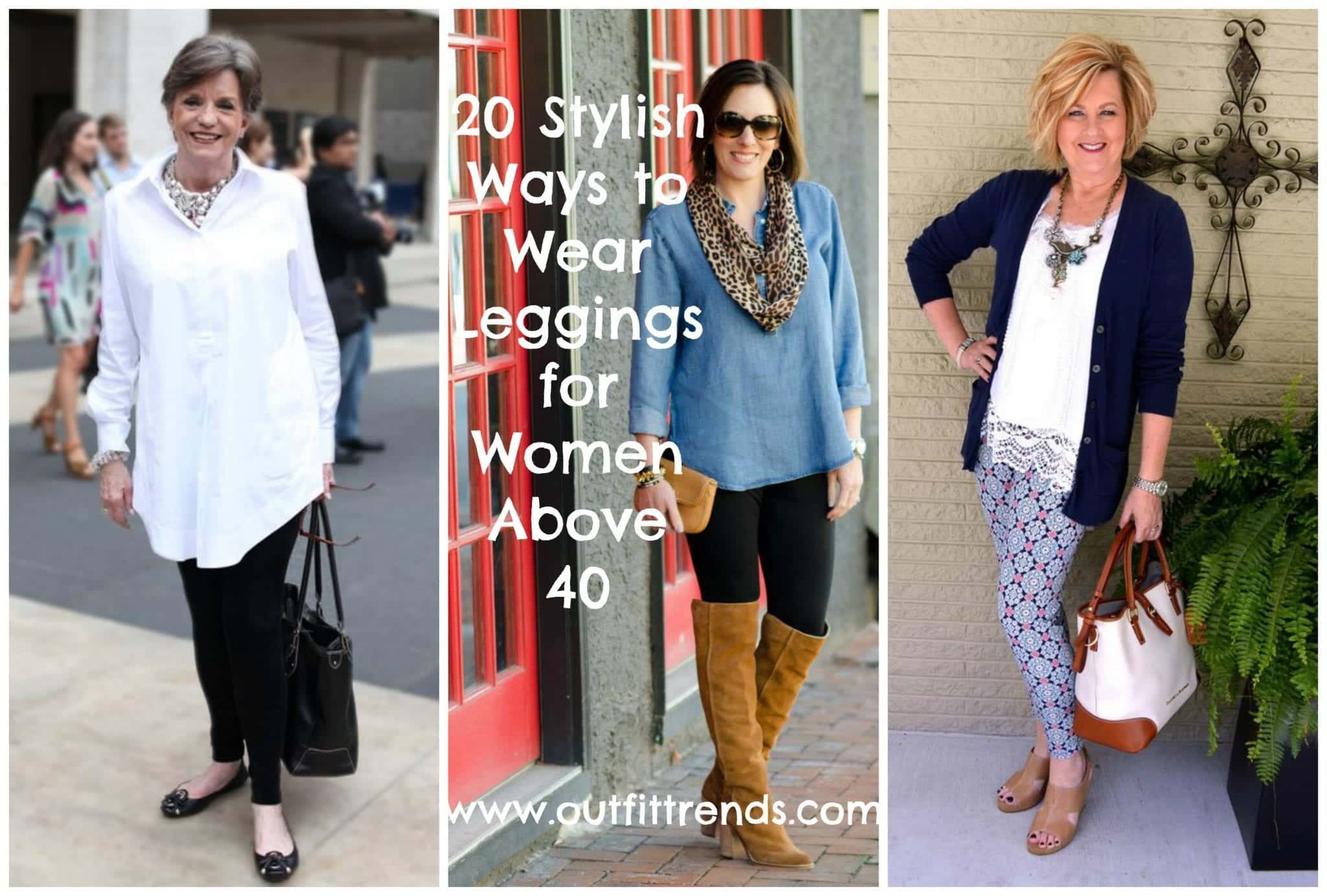 ↓ 20 – With a Dress 
Did you have any idea you could wear leggings to an event like a fancy dinner or a charity function? Well, guess what? You totally can!
When paired with the right dress or top, leggings are a totally viable and super fun option to crank up the comfort level of any outfit, as well as its cuteness factor! With the right accessories, you don't have to worry about looking too casual or underdressed. Make sure you wear a standout necklace or cuff bracelet as well as dressy shoes like a pair of strappy heels.
Here are several different styles of dress you can wear with a pair of plain leggings.
Note: If you are wearing white leggings, make sure you do a test run to make sure they aren't too thin or see-through. You want a good, sturdy pair that will keep you covered up. Do have a look at these outfits for Women over 40.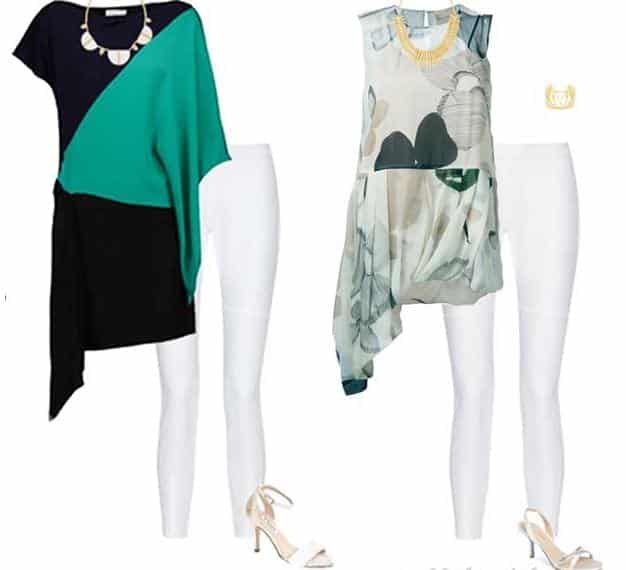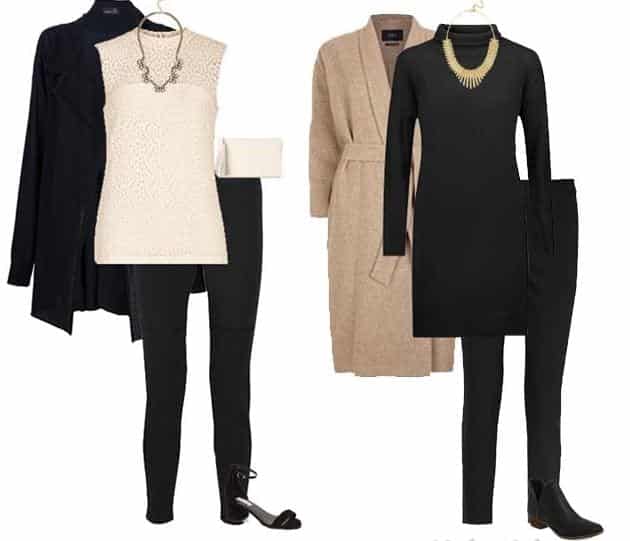 ↓ 19. To Work – Everyday Office Look 
Choosing the right outfit every day for the office can sometimes feel like a job in itself!
So why not take a load off your mind and try out these super simple but very professional workplace outfits, including – you guessed it – a trusty pair of leggings.
Opt for a longer top or a knee-length dress. They should at least cover your upper thighs to keep the look classy and sophisticated. Accessorize with a scarf, a stack of necklaces, or perhaps a bracelet or two. The right shoes will make all the difference, so if you are wearing a dress with leggings, opt for heels. If you have gone with full-length leggings and a long top, you might want to try boots.
These outfits can work for you no matter your age so go ahead and give it a shot.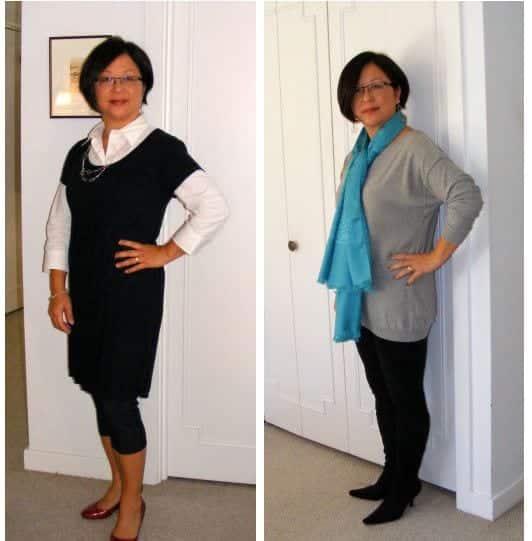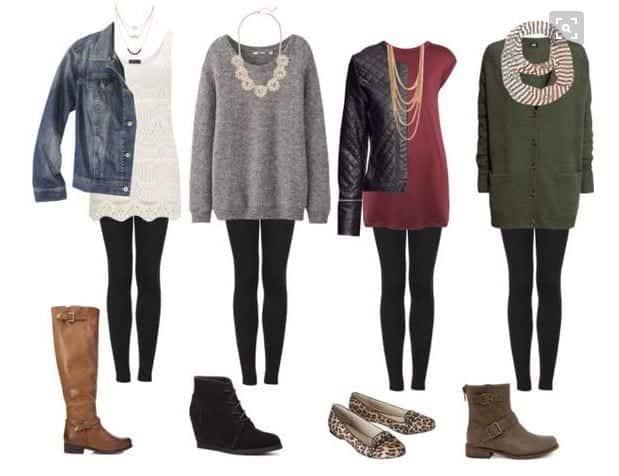 ↓ 18 – Color Combos
Jeggings are a whole 'nother set of Pattersons. Give them a whirl if you aren't quite sure you want to fully commit to regular leggings.
Opt for very dark blue or black if you go the jeggings route. Anything lighter may look tacky.
For these looks, it's all about sophistication. Black and white can be very elegant, especially when worn with the right accessories. A statement necklace or bold-colored purse may be all you need to kick your outfit up to the next level.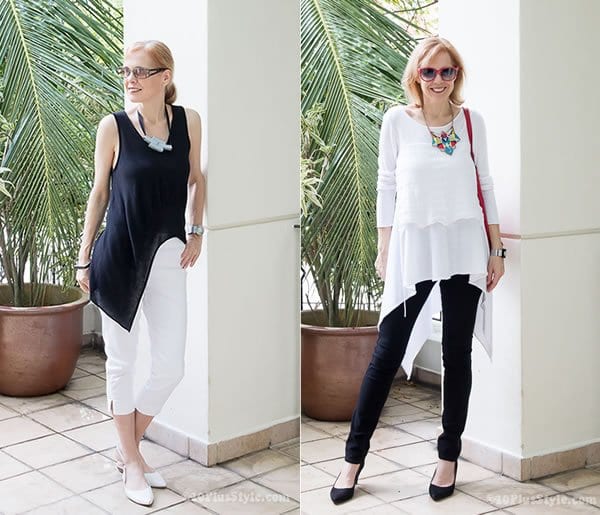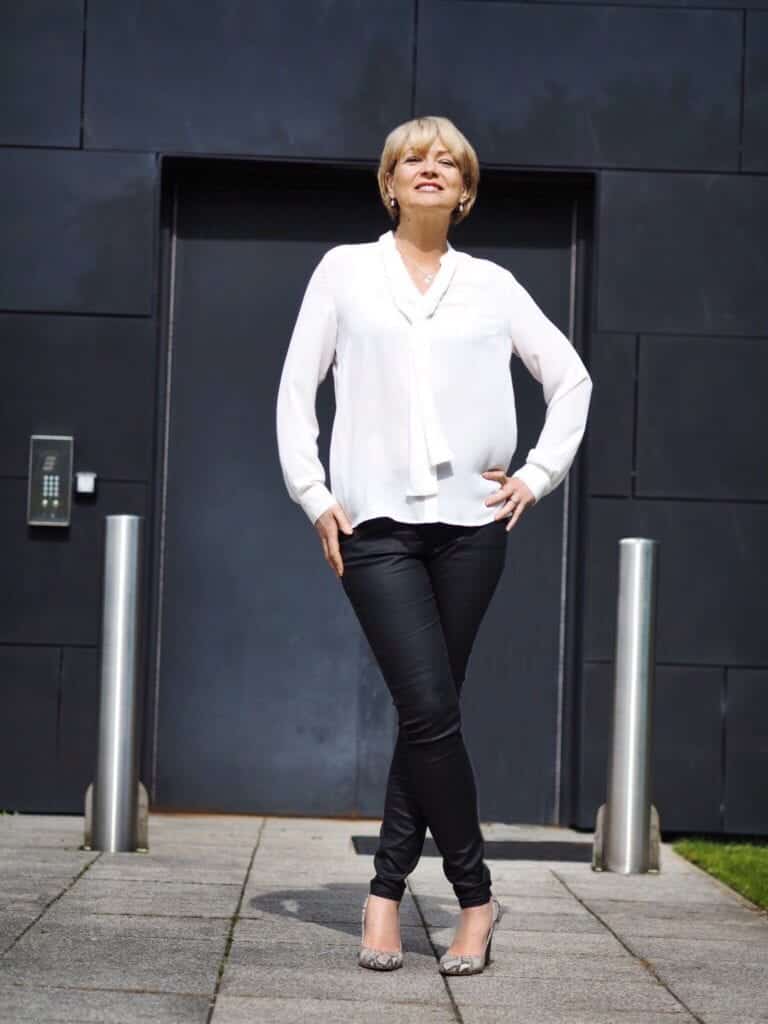 ↓ 17 – Printed Leggings
Wearing a bold pattern or print on your leggings can seem super risky. Just how do you do it? And what do you wear with them? Here we have a few pointers and tips for you to keep in mind.
Firstly, be mindful when and where you wear them. You can definitely assume it's a safe bet that printed leggings won't be appropriate for a work event or anything too formal. In fact, unless done right, you might not want to risk them other than midnight runs to Target.
However, it can easily boil down to the right print. Blue with bold flowers? Paired with a structured jacket and heels, you might just be able to pull them off! This would be a good outfit for a fun get-together with your girlfriends, grabbing brunch with your hubby, or sitting down for a chat with a colleague.
Printed leggings are also a great option for holiday events. With the right colored pair, you can easily pull together a very nice look for Christmas dinner, thanksgiving with the kids, or a casual get-together with friends. Check out the outfits below for inspiration. Be sure to have a look at our earlier post on Office Style For Women Over 50.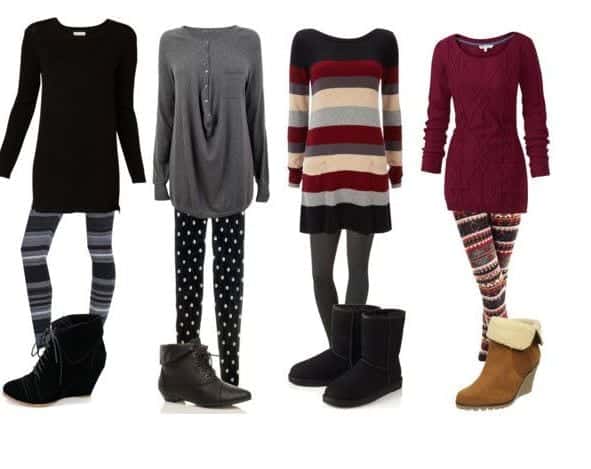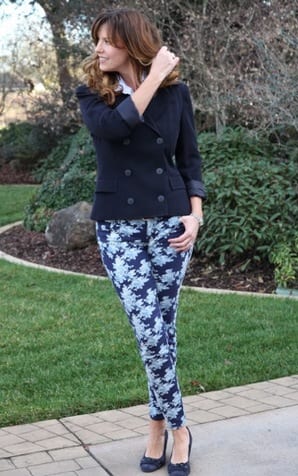 ↓ 16 – Leather or Vinyl Leggings
To kick up your legging game to the next level, why not try leather or vinyl leggings? When done right, these fashion-forward bottoms can be a great option for a party or dinner. And like most things, trends come and go, but this one seems to stick around.
They are also a fantastic option during the colder seasons.
To get this look for yourself, start with a sweater dress. We love this black cowl-necked one. It is elegant, smart, and sophisticated. Pair with the leather or vinyl leggings of your choice and accessorize with dressy drop earrings.
Check out 18 Outfits for Women Over 60.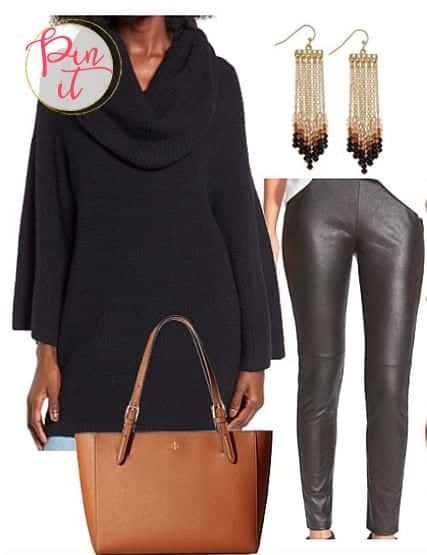 ↓ 15 –Tunic Style Dresses Paired With Leggings
A great option for tunic-style dresses is to pair them up with leggings.
If you are wearing a darker-colored tunic, try a pair of lighter-colored leggings like white, gray, or off-white. If you are wearing a very boldly patterned or printed tunic, then opt for black. (Black and white are safe bets when it comes to leggings.)
Don't forget your accessories. The right ones can make or break an outfit! A loosely tied scarf is an excellent option or a bold necklace. Be mindful of your footwear. Shorter leggings should be paired with flats or heels; longer ones can be worn with boots.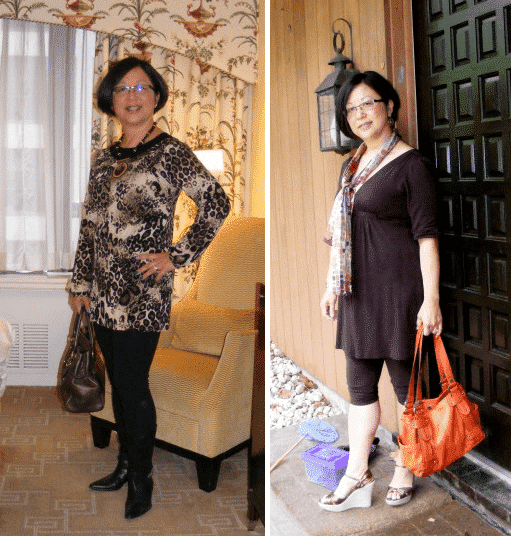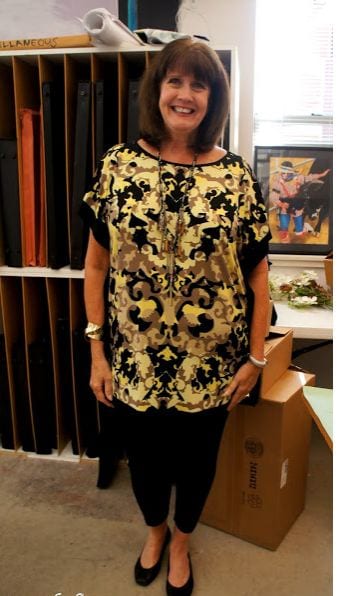 ↓ 14 – What Tops To Wear With Leggings
When it boils down to it, leggings aren't viable unless worn with a good top. And you may quickly find that its all about length.
In this case, a safe bet is a longer top. This can mean a dress, a sweater, or just a long shirt. A top with an asymmetrical hem could be a fun way to mix things up.
Other options include a shorter top with a long jacket or coat, a mini-dress, or a skirt.
As leggings are usually tight and hug the body, it's a good rule of thumb to pair them with flowy, loose tops.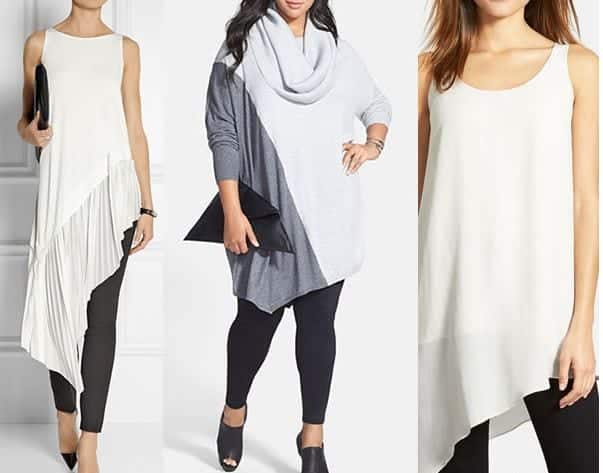 ↓ 13 – With a Cardigan or Jacket
Here is an excellent example of printed leggings done right!
In the case of our first example, a white blouse, statement necklace, and deep blue cardigan bring these printed leggings up to par. Heels and a classy purse tie the look together and bring it home.
Be mindful of the length of your cardigan. We think this length is perfect, falling just below the hips and reading not quite mid-thigh.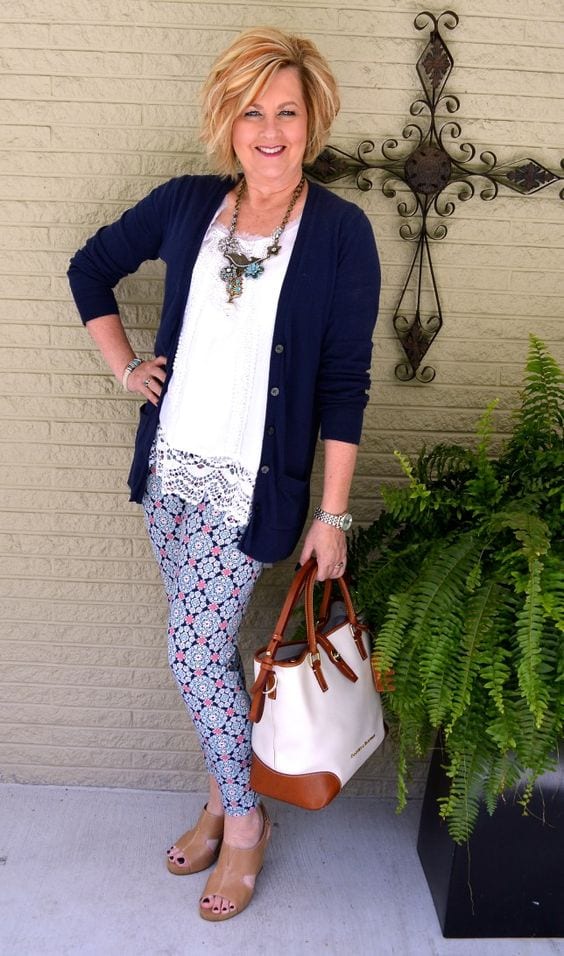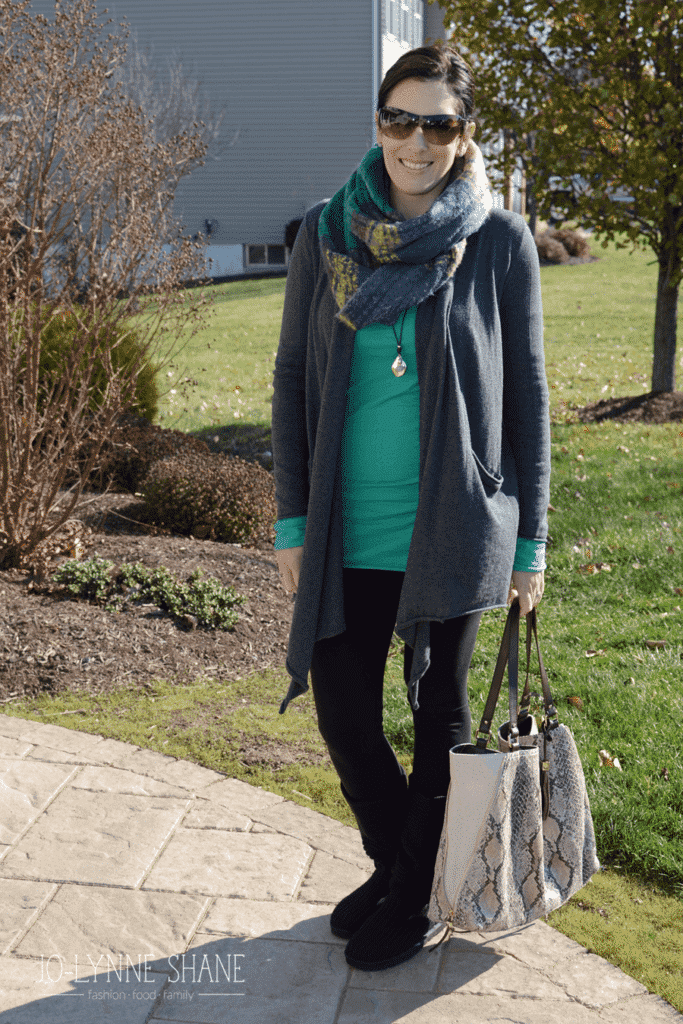 ↓ 12 – Accessorize
A scarf can look so cute when paired with leggings and a cardigan or jacket.
Necklaces can also really dress up leggings and take them from casual to dressy in the snap of a clasp! Statement necklaces are great for this too.
Earrings, purses, and bracelets are other great options to take your leggings outfit to the next level.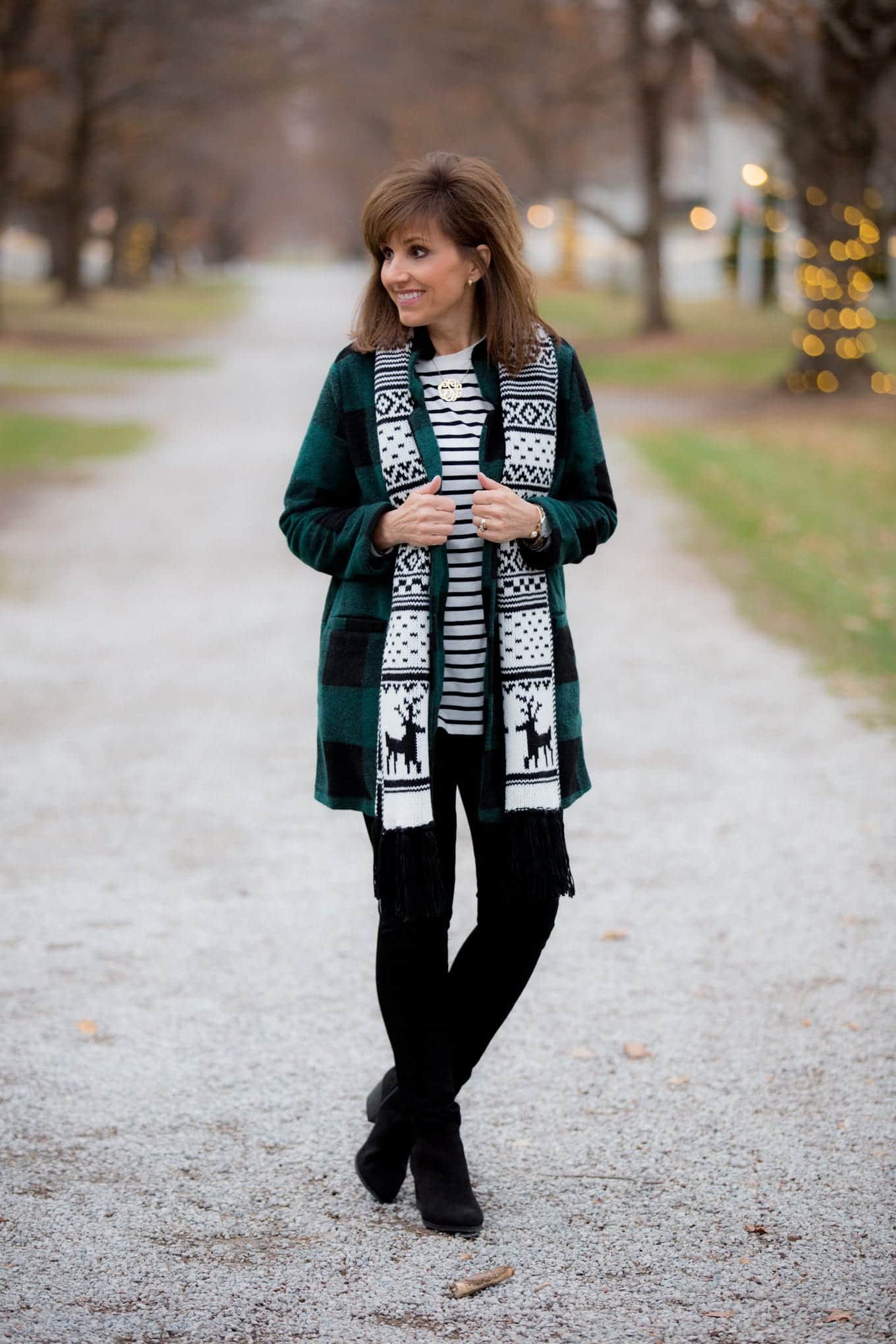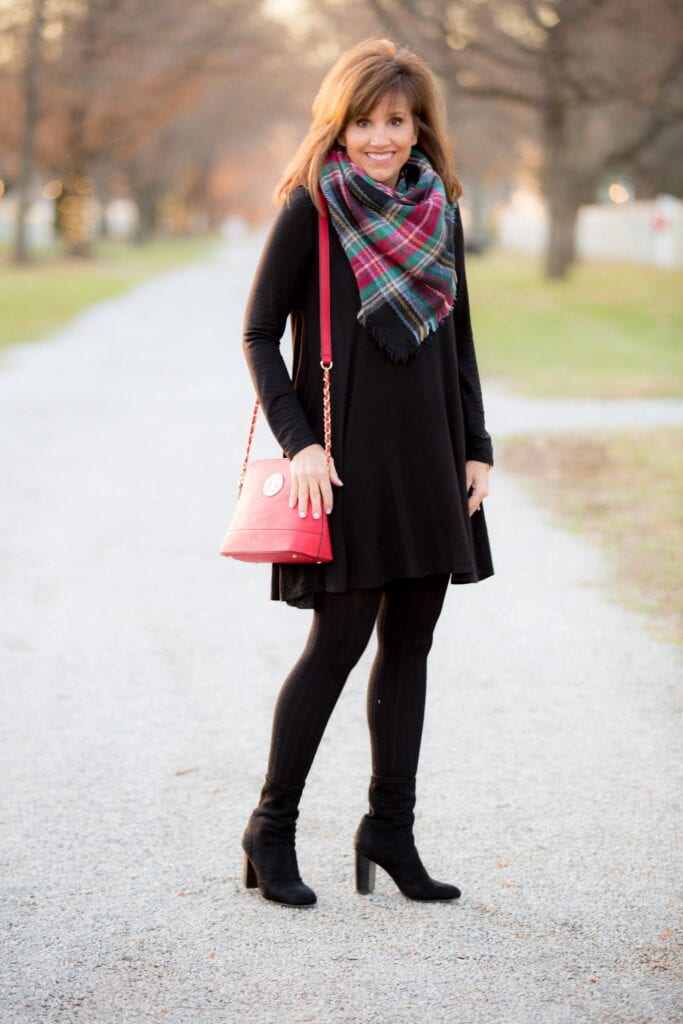 ↓ 11 – What Shoes to Wear with Leggings
There are really no hard and fast rules when it comes to the shoes you pair with your leggings. It depends on the occasion, the rest of your outfit, and even the weather. However, there are a couple of things you should keep in mind.
Avoid pairing flip-flops with your leggings unless you are headed to the spa, to get a pedicure, or need to make a Target run. Any other time, it's probably not a good idea.
Sneakers with leggings are sporty and cute and great for the gym, walking, or taking a hike.
Tall boots with leggings are a great middle-ground if you like the extra cover-up. They also add a chic factor that makes leggings with boots a great option for a work event, dinner with the family, or heading out to run errands.
Heels will always dress up any look. Wear them if you are wearing shorter leggings.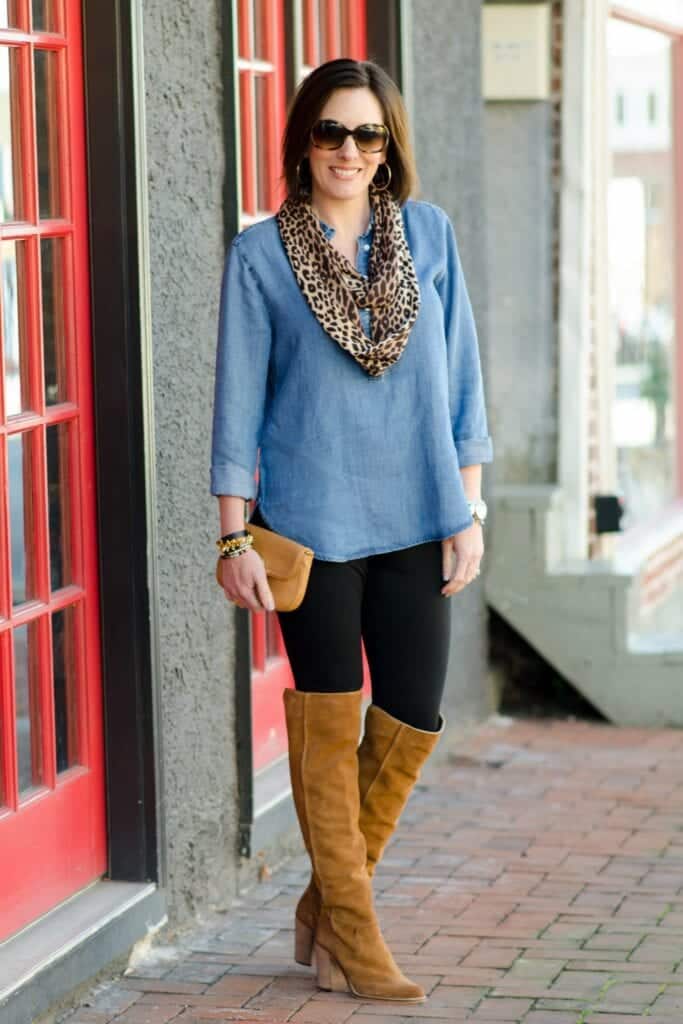 ↓ 10 – Plus-Size Women
A few extra curves shouldn't hold you back from wearing leggings, friend.
Leggings, especially dark ones, can actually be very slimming! If you get shaper leggings or compression ones, you may actually find yourself feeling extra confident, shaped and curvy in all the right ways.
Sometimes it may be tempting to cover up our curves in extra layers of fabric. However, popping on a pair of leggings might give you a different perspective. Baggy clothes add volume to your figure, while body-hugging pieces (like leggings) eliminate the extra material and showcase your figure in a flattering way.
Here are some lovely options for you plus-size ladies!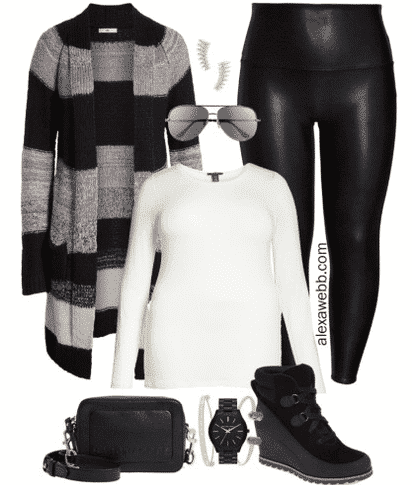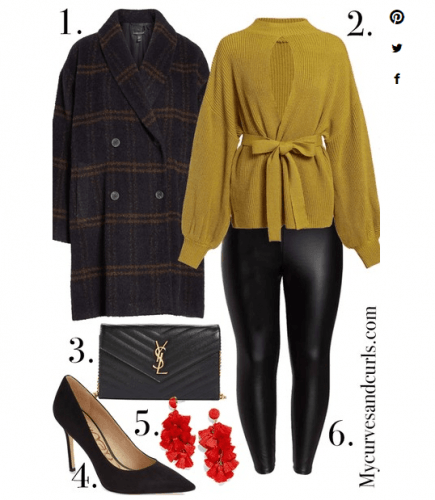 ↓ 9 – With Off-the-Shoulder Tops
Some absolutely gorgeous outfit inspiration for the ladies that love showing off some great collarbones!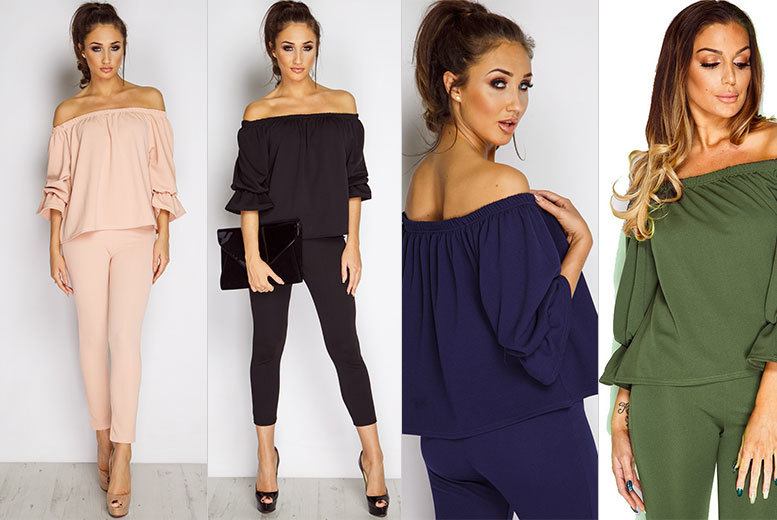 ↓ 8 – Capri Leggings
Capri leggings can be super stylish when worn right. When paired with a flowy, lighter-colored top, they can look very elegant on mature women.
We recommend opting for lighter shades with these. Pair with heels or flats and accessorize with a coordinating clutch, sunglasses, and simple jewelry.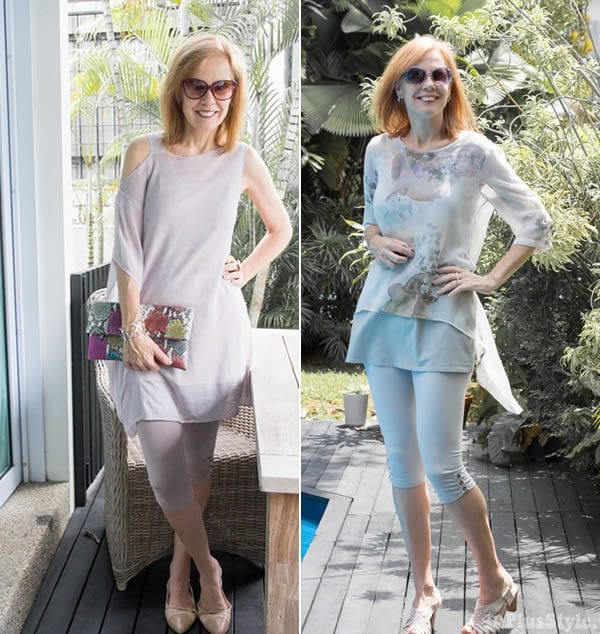 ↓ 7 – Striped Leggings
Striped leggings are another daring look, but when done right, they can look super chic and stylish.
When going bold on the bottom, make sure you keep your top simple and neutral-colored. We love the pairing of these black and white leggings with a white embroidery-style blouse.
Don't over-accessorize and opt for flats. There's a lot going on with these stripes so you don't want to overwhelm them with too many add-ons!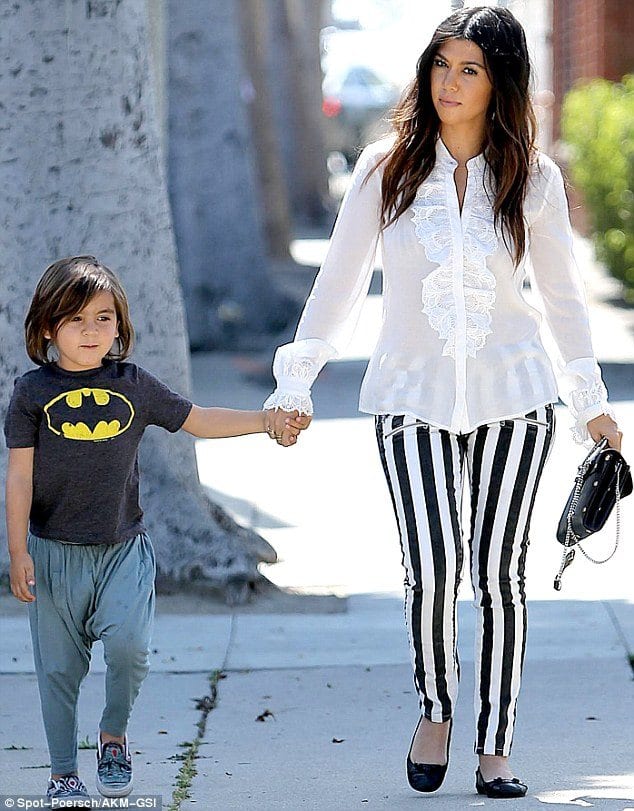 ↓ 6 – With High Heels
Now, this is how you show off shapely gams!
This is a dressy look that can work for a party, a fancy dinner or a date on the town.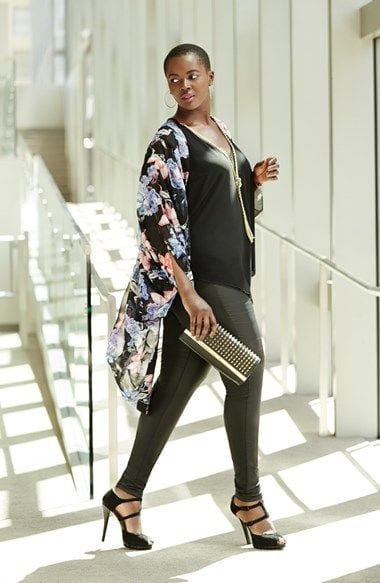 ↓ 5 – Winter Outfit
Leggings are great for winter because they are an extra layer your legs will thank you for!
You can add a sweater and muffler to stay warm and comfortable all day long. Here are 20 Cute Outfits To Wear With White Tights/Leggings This Season.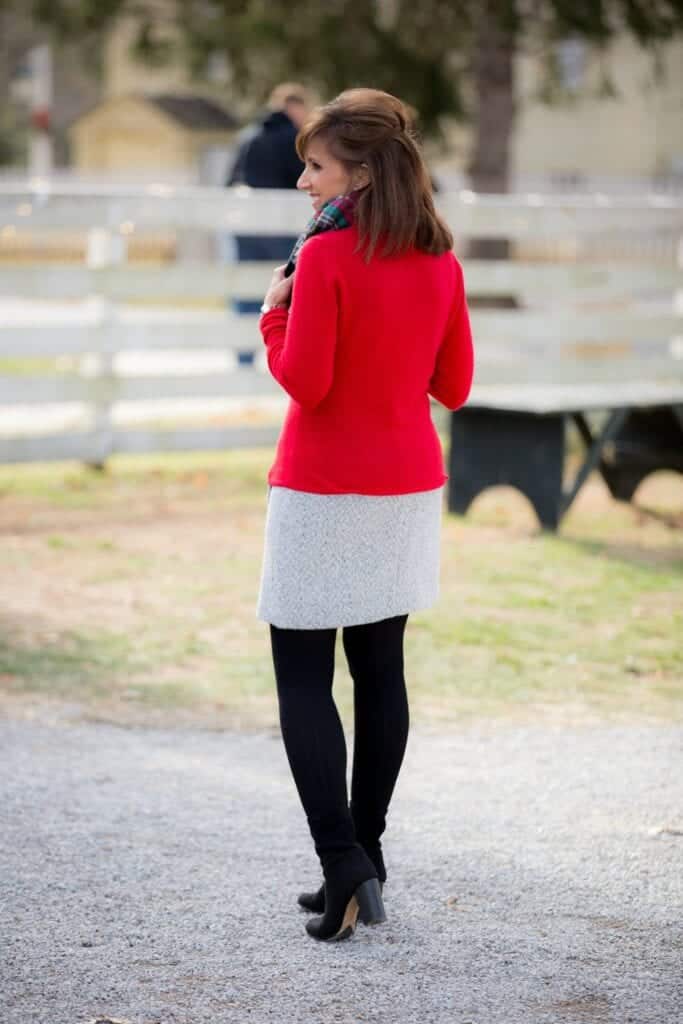 ↓ 4 – Leather Leggings
Here are five ways to wear leather leggings. Go ahead and try them out!

↓ 3 – Bold Top and Black Leggings 
This is a great look for the church or an outdoor event on a cool night.
Simply pair a boldly printed, slightly longer top with black leggings, heels, and a necklace.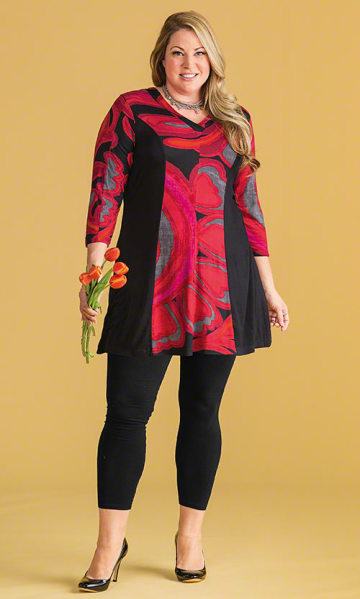 ↓ 2 – Bold Colors
When opting for brightly colored leggings, keep it simple everywhere else! They are a bold move to begin with and you don't want to overwhelm your outfit with too many colors, prints, or patterns.
A plain white top is a good move if you are just out running errands or hitting up your local track.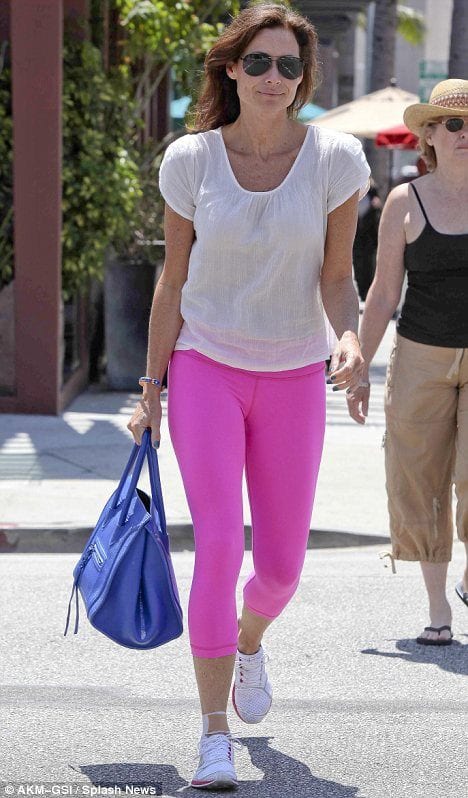 ↓ 1 – Short Sundresses 
All the ways you can wear a sundress with leggings! And yes, you can totally wear them to work!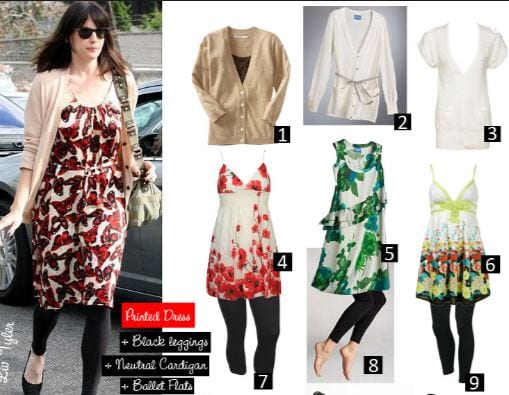 Frequently Asked Questions
Q. What should you not wear with leggings?
A. While wearing might be an easier option and most people feel comfortable in them, still avoid wearing them with leggings. They will look awkward and not the best at all. Instead, try to wear shirts and wrap a jacket around your waist so you don't feel insecure. You should also avoid wearing formal shirts and blazers with leggings unless you are wearing leather leggings. All other leggings give off a very casual vibe and it won't look good with formal shirts and blazers. Don't wear your house slippers such as flip flops with leggings. They won't look good so try to wear nicer shoes like sneakers, slides or boots with leggings.
Q. Are leggings still in style for 2021?
A. Yes, leggings are back in style for 2021. There are lots of new ways to wear leggings now. They come in tons of colors and designs and long gone are the plain black leggings of the old days. Stripes, plaid, and every other print you can think of are now available in leggings. That is what makes them so cool, you can wear them with plain or printed shirts. Long or short boots and experiment with them all you want!
Q. Whats the best way to style leggings for a woman over 40?
A. The best way for women over 40 to style leggings would be to wear leggings with a shirt, scarf, and overcoat. This is one outfit that never goes out of style and everyone loves it. it would be best to wear over-the-knee boots as they look the best with leggings. This outfit would be a winter staple so you don't want to miss out on it. Switch it up by maybe wearing a jacket instead of an overcoat.