Matching Workout Sets – Activewear outfits have significantly increased in popularity. Matching workout clothes can help women boost their confidence and self-image. Workout sets are the essential clothing you need for your daily routine if you are a fitness freak, as they help you change the dynamics of your training sessions.
That's why so many women have taken up working out to help them get into better shape while also learning how to improve their health overall. The best women's matching workout sets have always emanated a sense of togetherness. When you choose matching workout sets that complement each other, it can make you feel great about your body and motivate you to continue your daily routine as you work towards your goals!
How To Style Matching Workout Sets?
Many people find it beneficial to coordinate their cute workout sets with their fitness plans. So, they can look chic and exercise regularly with assistance. The most crucial factor to consider when purchasing workout clothes is how you want to use them. If you enjoy aerobics, you'll undoubtedly want something that allows you to move freely and wicks perspiration away.
You need shorts that will stay in place if you ride a bicycle. Perhaps you're drawn to low-intensity exercises like Yoga or Pilates. In that situation, you should wear a tight-fitting tank top with non-slip leggings. So, what are you waiting for? Get ready to sweat in style! The 20 best matching workout sets you can buy are listed below.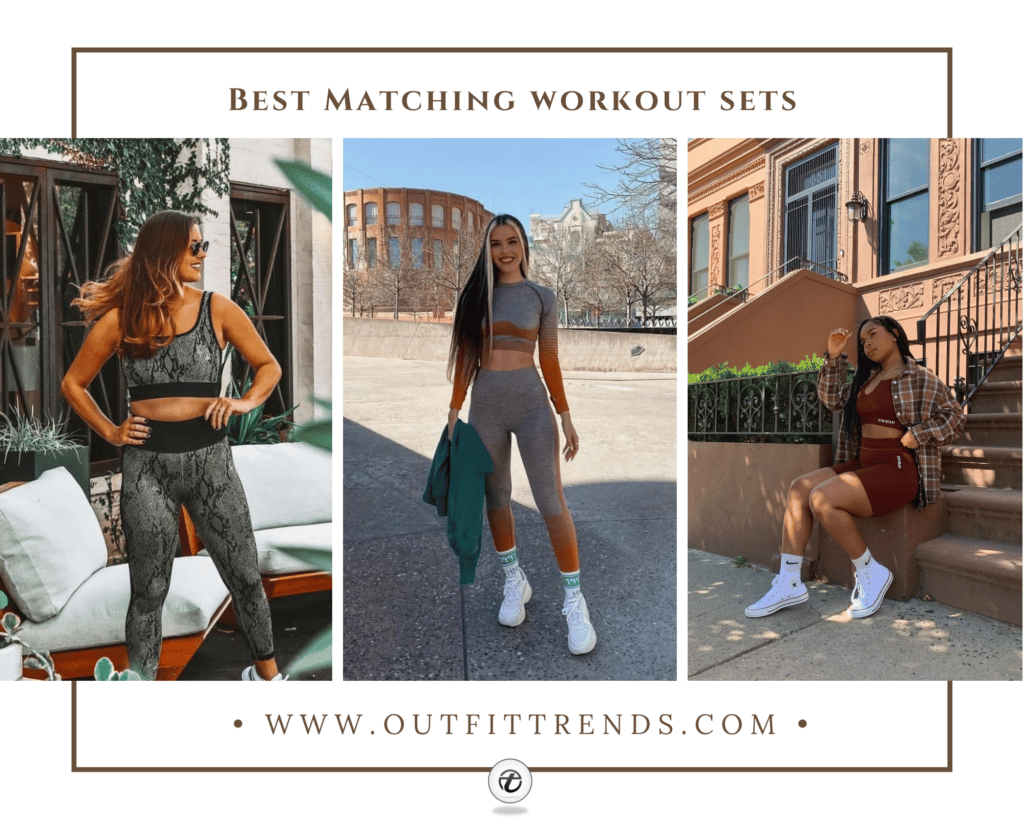 Tips
Matching your sets and exercises correctly is one of the best ways to maximize your confidence and style. That's why it's essential to understand the right way to do this, as you don't want to be wasting time or going too easy on yourself!
The following tips will teach you everything you need to know about matching workout clothes!
Weightlifting and hiking: The Athleta longline bra is appropriate for weightlifting and trekking when paired with long leggings. Wear softer materials, mostly during hiking and weightlifting.
Yoga class: Yoga classes are best attended in a ribbed sports bra and high-rise leggings. The sports bra also looks excellent with biker shorts. Try to wear attire that is flexible to make movement easier.
HIIT and strength training: Grab the co-ord trend, which is famous for anything from HIIT, cycling, and strength training to mountain hiking. The shorts are cozy enough to wear while lounging, but the set is durable enough to withstand strenuous workouts.
Lounging: For days when you're spending the day at home, go in your sports bra and biker shorts! Put on a loose-fitting, cozy sweater in a neutral hue, and you're ready to go.
Swimming and skiing: For activities like swimming and skiing, pair a stretchy camisole with a zip-up porous sports bra that allows water to pass through easily.
Colors Impact: The ideal colors for gym goers who like continuous, steady workouts are blue, nude, and black. They have a soothing impact that improves focus and productivity.
20 – Trendy White Cropped Top With Biker Shorts
If you're an avid runner or cyclist, include a stylish white cropped top and biker shorts at the top of your gym wear list. The cropped top is light and airy, keeping you cool throughout the spring. Also, the shorts have a higher rise for greater stride flexibility.
Add chic sunglasses and minimal jewelry to complete your look.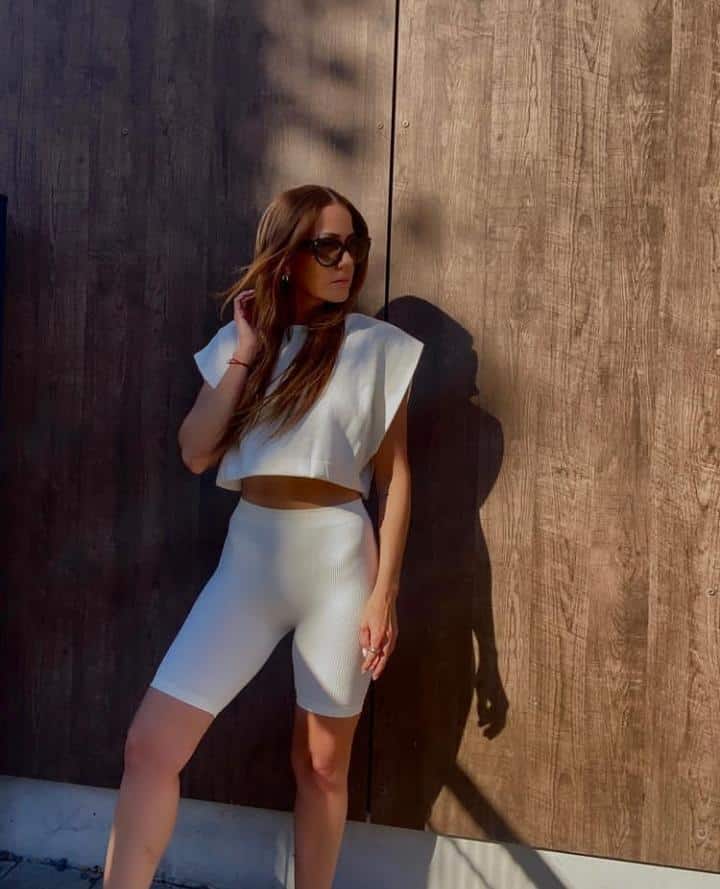 19. Single-Colored Pocket Hoodie And Shorts
There will be a lot of start-and-stop action if you're playing tennis, trekking, or cycling on a windy day. These three-inch shorts and one-color pocket hoodie will keep you warm while allowing you to flex freely because of the lightweight recycled fleece material and oversized style.
Choose a pair of white socks and trendy white joggers as your footwear.
18. Mint Two-Piece Workout Set With White Socks
Simple yet attractive on all body types, combine a mint two-piece workout outfit with white socks. The sophisticated design is nevertheless comfortable for HIIT workouts and can be quickly spiced up with a lovely puffer when you are out and about.
Pick a pair of white joggers that go great with your combination, and finish off your appearance with a cross-body bag.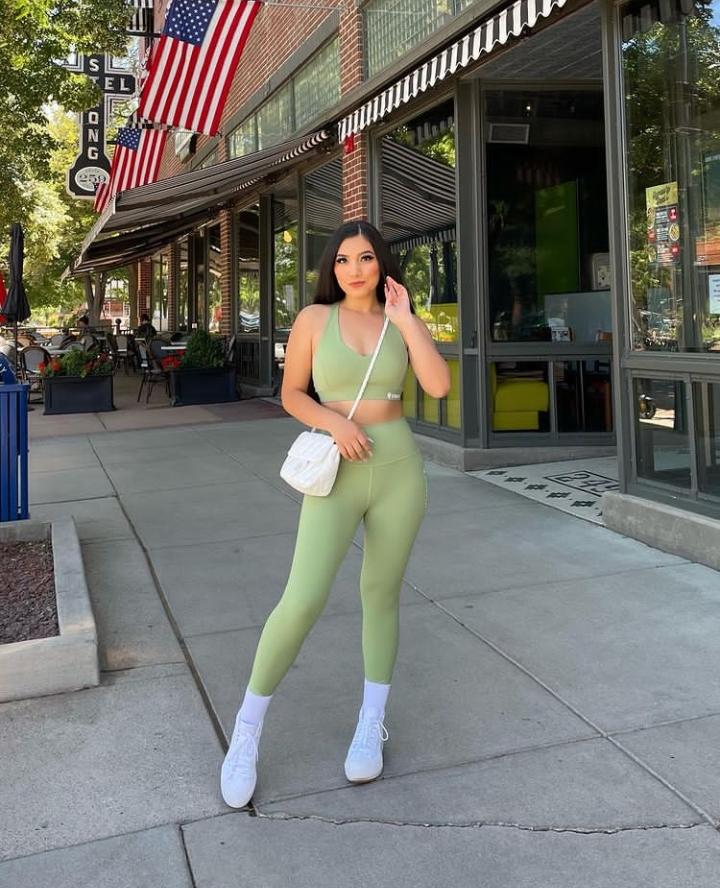 17. Full Sleeves Grey And Rust Workout Set With Green Zipper Jacket
When choosing a seamless garment, comfort should always come first. Pair a cropped top with high rise matching bottom. The long-sleeve top has a raglan sleeve that flows with you no matter how many dips you perform, and the wide waistband of the leggings prevents them from cutting into your abdomen.
The best part is that everything has an attractive gray and rust color pattern. Furthermore, put on a pair of grip socks with high sole white joggers.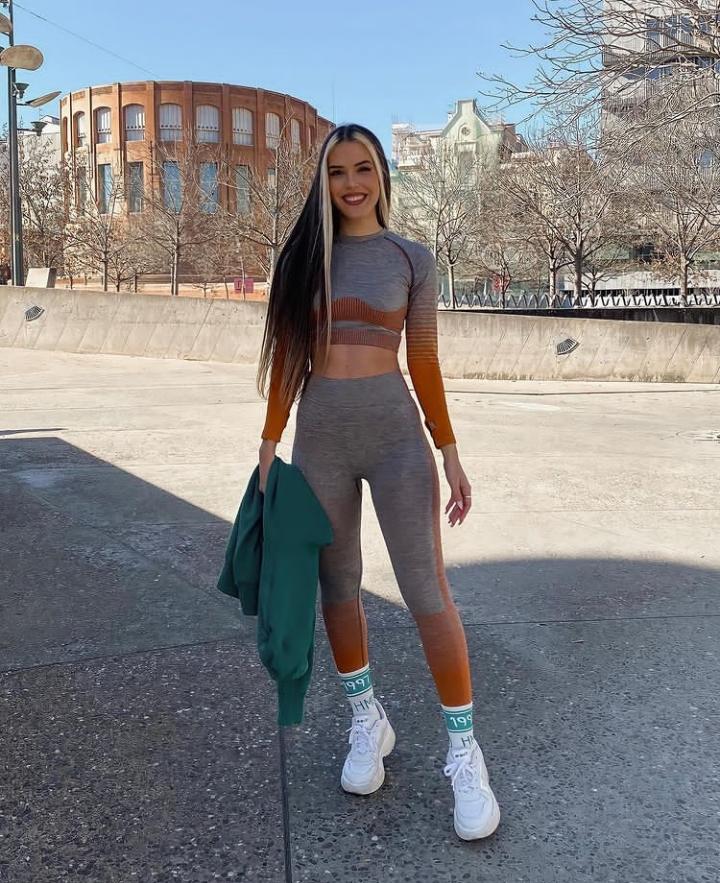 16. Chocolate Brown Sports Bra With Matching Leggings
I adore the trendy color of chocolate brown, particularly when workout sets are included. You can pair a chocolate-colored ribbed sports bra and high-waisted leggings with white socks and off-white comfy joggers.
It is ideal for high-intensity workouts, such as brisk walks while listening to a new audiobook. Wear a stylish shoulder bag and an embroidered p-cap when heading out.
Printed Matching Workout Sets
Whether you're visiting the gym or checking off a long list of errands, there's nothing quite like printed workout clothing to motivate you to get moving. I searched everywhere for the best and trendiest gym clothes, from playful floral sets to enticing snake-printed sets, and here are my top options for you!
15. Brown Zebra Print V-Neck Sports Bra With Pants
The zebra print is a popular trend right now. Pair a brown zebra printed V-neck sports bra, and matching yoga pants with trendy nude-colored sneakers. This outfit is ideal for everything, including your morning yoga or workout.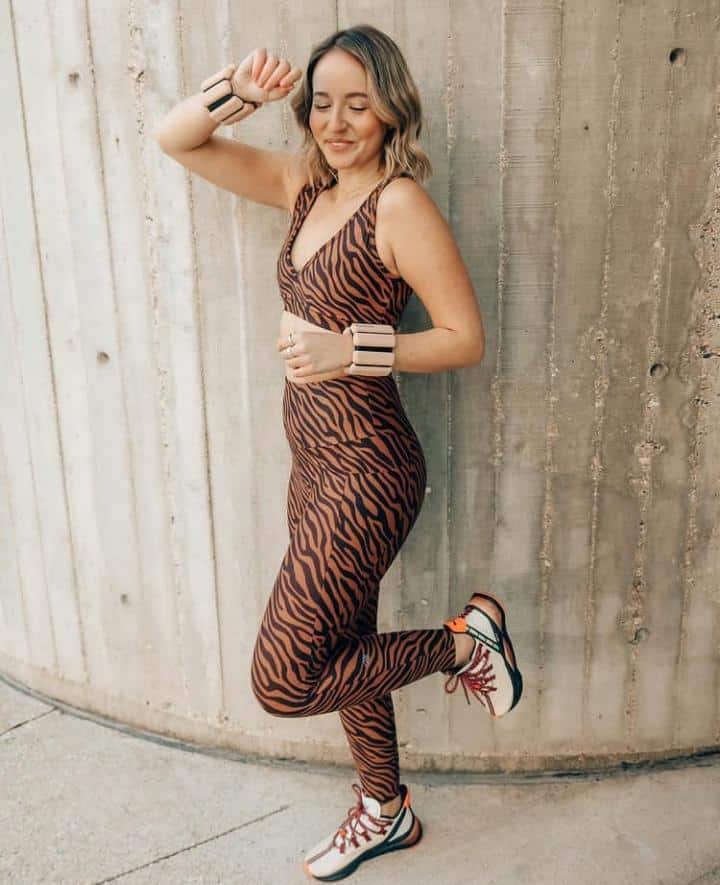 14. Grey Snakeskin Bra With Matching Bottom
In terms of workout clothes, snakeskin print is stylish. Wear a gray-colored snakeskin line-up bra with a matching bottom. This set is perfect for sports, running, themed workouts, cosplaying, or casual and comfy clothing. You can also add stylish sunglasses to complete your look.
13. Floral Sports Bra With Full-Length Legging Set
Pair your candy-coated floral sports bra with high-waisted matching leggings and a hot pink shirt over your shoulders. They're appropriate for daily wear. Whether you are dancing, twerking, jogging, yoga, stretching, or going to the gym, this set is perfect for any activity. Add classic sunglasses as an accessory to elevate your confidence.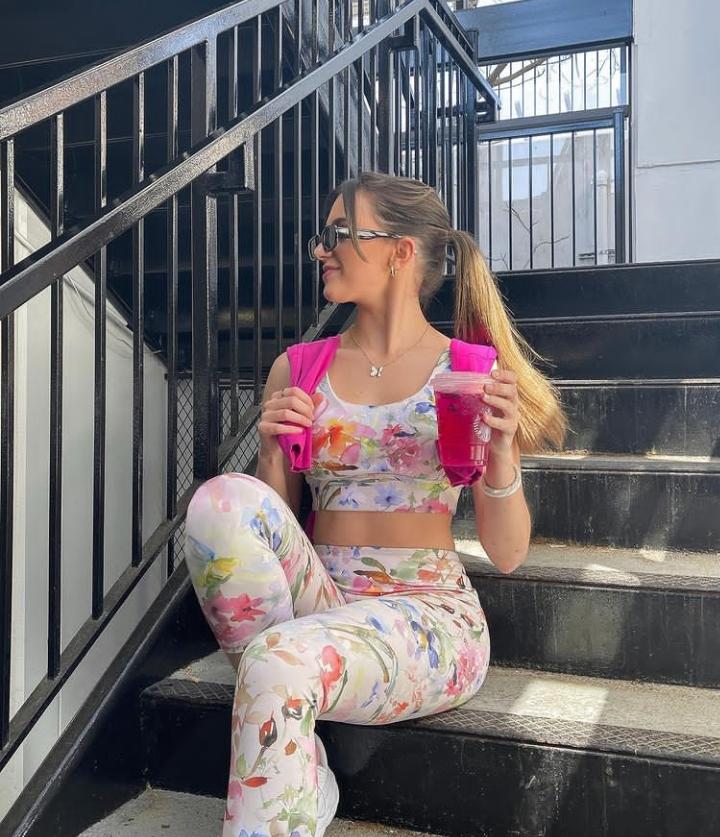 12. Floral Seamless Sports Bra With Workout Shorts
Floral printed yoga sets are an essential addition to any activewear collection. Combine a rust-floral seamless sports bra with your matching workout shorts and classy white joggers. This look is ideal for outdoor fitness activities.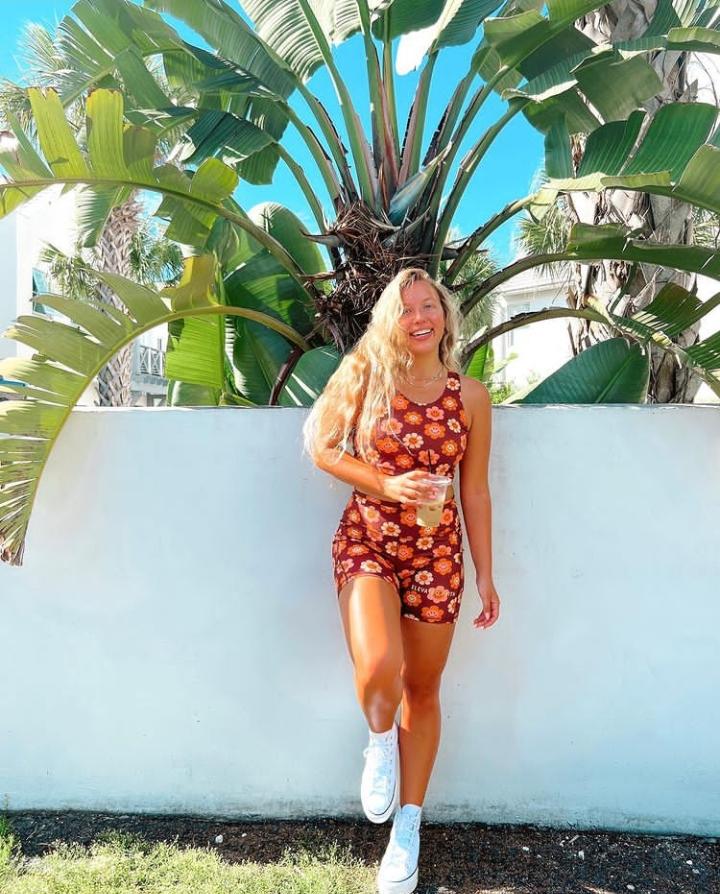 Workout Sets For Curvy Women
Your squats are flawless, and your weights are heavy, but your plus-size matching workout sets aren't exactly on point.
Don't Worry! I did a lot of research to compile a list of the best workout sets for curvy women so you ladies may find supportive and comfortable workout clothing. Continue reading to get one step closer to your fitness goal.
11. Pink Keyhole Zipper Sports Bra With Ribbed Leggings
Wear a pink keyhole zipper sports bra with full-length ribbed leggings to make your gym or yoga class look stylish. This ribbed fabric and waistband flawlessly contour the body. Additionally, this combination provides complete comfort coverage.
10. Light Orange Cropped Sports Top With Yoga Pants
Wear the light orange transcend high-waisted pants and a crooked sports top with classy white joggers on days when you head outdoors early to hit the tennis court or the hiking trails. This set is made of a more durable material and is ideal for more training-style exercises.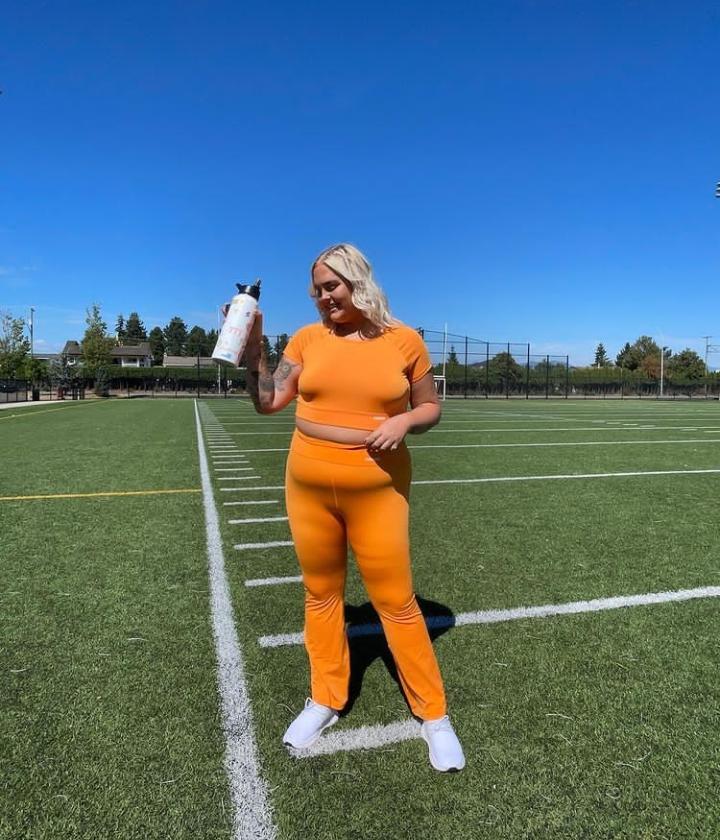 09. Hot Pink Strappy Sports Bra With High-Rise Shorts
Wear a hot pink strappy sports bra with high-rise shorts and white joggers. This set is ideal for curvy women and every activity, from yoga to Pilates, running, and skiing. Add a nude-colored P cap to elevate your outdoor workout look, and carry a gym bottle to hydrate yourself.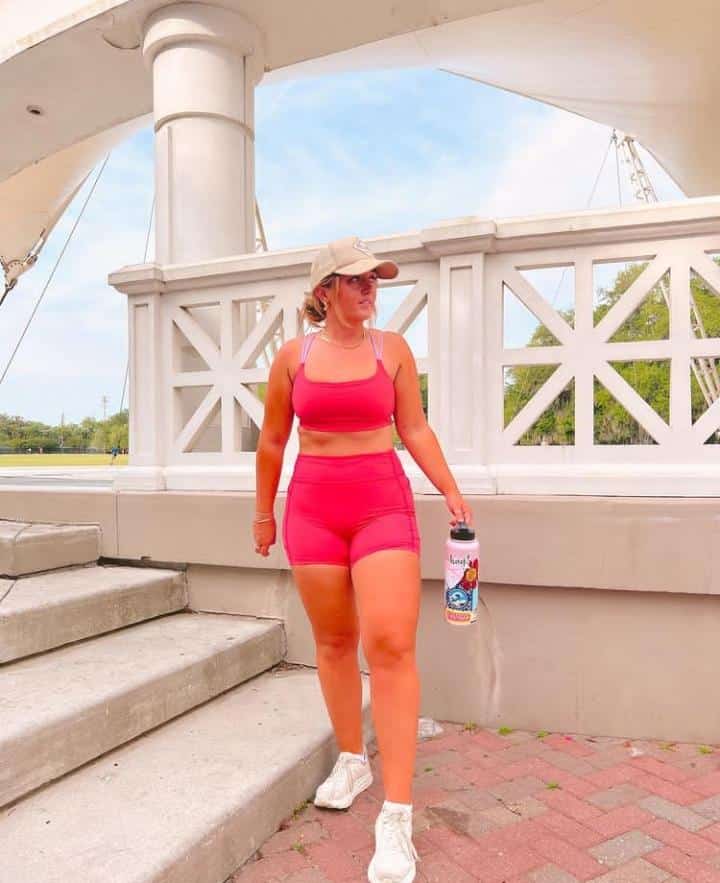 08. Jungle Green Tie & Dye Workout Set
This jungle green tie-dye workout set is an attractive option if you want to stand out and have a solid reason to rock. Pair a jungle green tie and dye sports bra with matching high-rise leggings. Put on a pair of classy white joggers as footwear.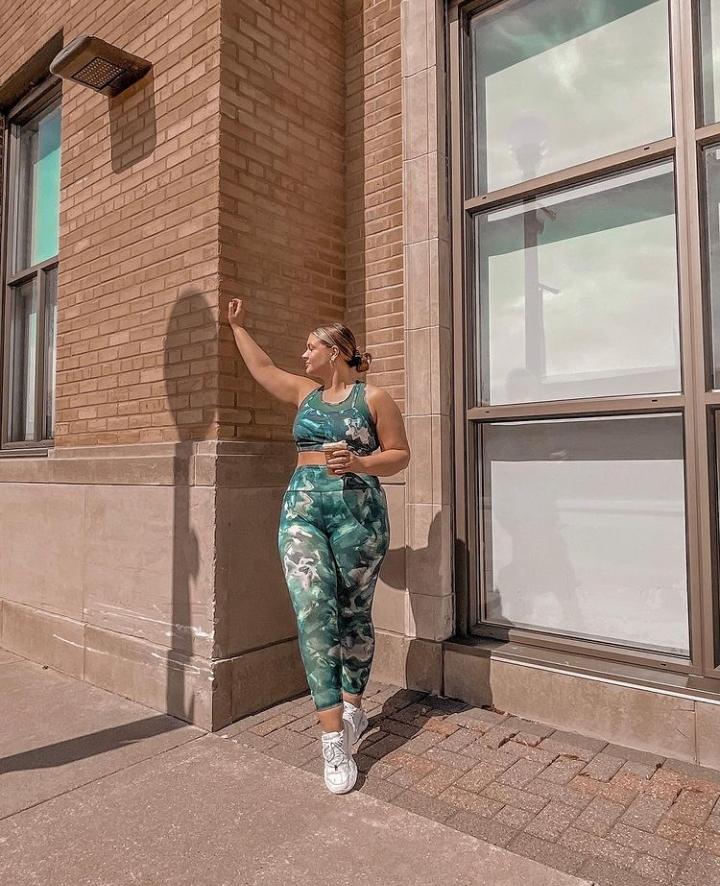 What To Wear With Workout Sets?
When deciding on your next workout, you may consider how your body feels that day, the type of outcome you desire, and what to wear stylishly with workout clothes. If you are bored with your current fitness attire, try new looks and stylishly match them with a workout outfit.
The following gym outfit selection includes options you can pair chicly with items like button-down shirts, puffer jackets, and denim jackets.
07. Purple Sports Bra With Baby Pink Lined Flannel
Wear a purple strappy sports bra and matching biker shorts. Add a light pink lined flannel to elevate your outdoor workout look stylishly. Also, put on a pair of white grip socks and white sneakers as footwear and add trendy sunglasses as an accessory.
06. Nude Matching Workout Set With Blue Denim Jacket
Nude-matching workout sets are increasingly fashionable these days. Wear a nude stretchable sports bra with matching bottoms and off-white joggers. Add a blue denim jacket and a nude p-cap to complete the look with this matching workout set. You can wear this style while out and about in your workout gear.
You can also pair a light grey denim jacket with a printed camo set.
05. Green Paloma Bra And Biker Shorts With A White Basic Button-Down Shirt
Biker shorts and a Paloma bra are stylish enough to pass for daywear when paired with a baggy white button-down shirt. Also, wear white joggers and sunglasses to up your style. Remember to keep your water bottle upright to avoid dehydration.
04. Rust V-Neck Push-Up Sports Bra With Brown Flannel
Shirts with check patterns are trendy. So, wear a rust V-neck push-up sports bra, matching high-rise shorts, and a brown checkered flannel. This look is perfect for outdoor workout activities like hiking, aerobic exercises, and squats. Also, wear a pair of Nike socks and classy white sneakers.
03. Grey Zipper Sports Bra And High Rise Jogger Shorts With Black Fleece Jacket
Wear a grey zipper sports bra, high-rise jogger shorts, and a black fleece jacket. This look is perfect for outdoor activities. If you do not want to wear this black fleece jacket, you can tie it around your neck.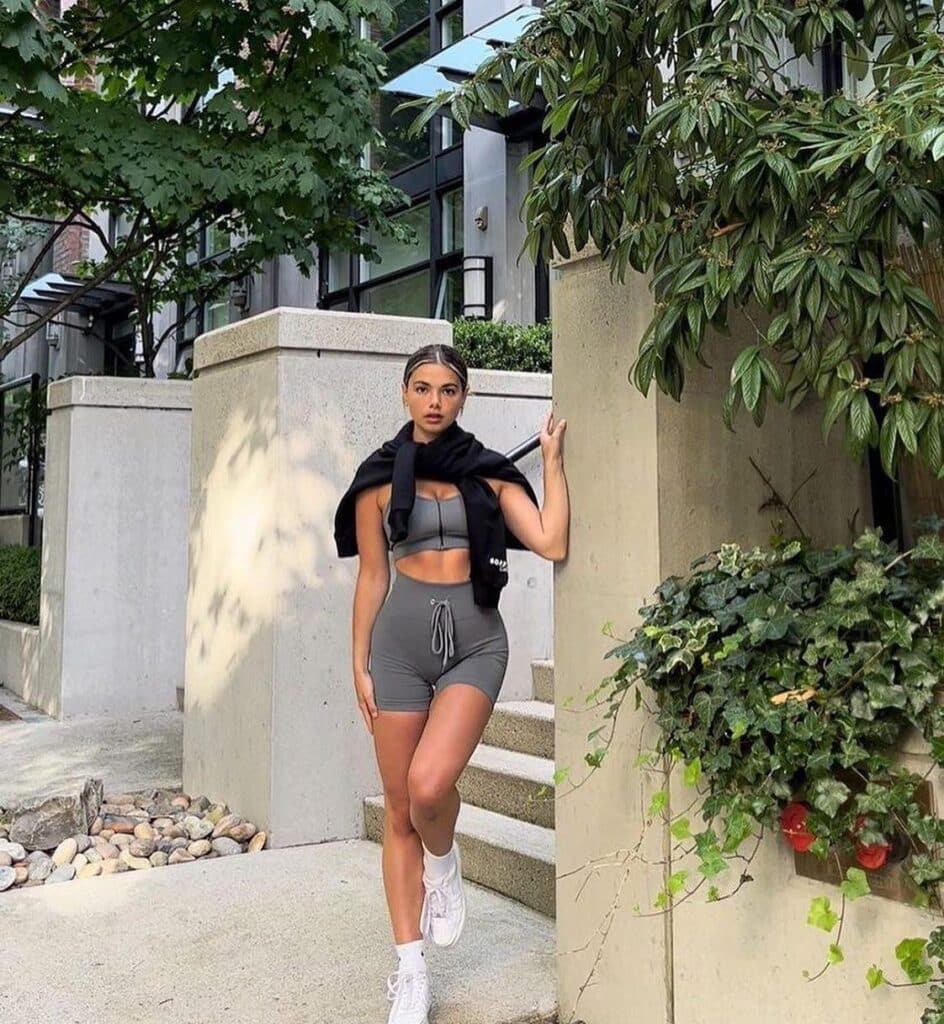 Another way to style the jacket is to pair it with a floral matching workout set. The tangerine corduroy jacket will go flawlessly with floral prints,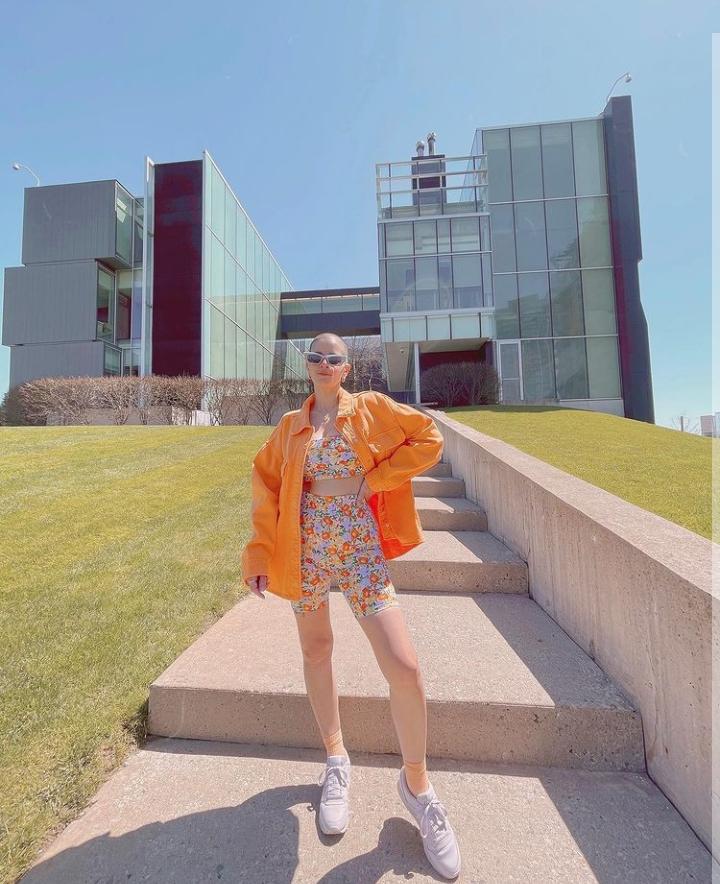 02. Turquoise Ribbed One-Shoulder Bra With White Dress Coat
Always say yes to a matching 2-piece workout set! Wear a turquoise ribbed one-shoulder exercise outfit with a white blazer. The one-shoulder top steals the spotlight, and the close-to-the-body fit also hugs in all the right places. Also, add chic sunglasses as an accessory.
01. Light Blue Yoga Set With Black Puffer Jacket
Wear a light blue sports bra and matching high-rise leggings. Pair them with a black puffer jacket to complete the outfit. This look will get you through your light exercises and looks excellent with your favorite slip-on sneakers. Also, add a basic white p-cap to avoid direct sunlight.
Frequently Asked Questions
Q: What company has the best workout clothes?
Ans: Wearing nice workout clothing will motivate you to keep exercising, training, and even completing a list of house chores. Choosing the best workout clothes from the best brand is essential to level your productivity and confidence.
Gymshark is a brand that specializes in fitness-related clothing and accessories. It has grown to be a significant force in the workout clothing market for both men and women.
Q: How do I choose Gym wear?
Ans: The most crucial step in selecting your workout clothes is to try them on. You should dress in comfortable, loose-fitting clothing. However, avoid wide-leg or baggy jeans that could entangle your feet or pedals if you're cycling or running.
Stretchy, fitting materials that drain away sweat are a fantastic choice for exercises like yoga or Pilates.
Q: How many workout outfits should I have?
Ans: Most individuals only need three to five pairs of tops, bottoms, and sports bras in addition to five to seven pairs of socks and a few pairs of sneakers. You may require more or less depending on your exercise routine and laundry schedule. It's necessary to limit the amount of exercise attire in your closet.
Q: Should you wash your workout clothes after every use?
Ans: Since bacteria prefer a damp environment to flourish in, sweating clothes serves as the perfect incubator. Although you may not stay in your workout attire for long, you should wash it after each use if you are sweating.