How to wear saree tutorial – Saree is considered as one of the most influential Asian dress. India and Bengal are among the countries which have a rich culture of wearing Saree, and it is deemed necessary to have it in their closet. With the revival of Indian culture and how they are depicting their traditions worldwide, Saree is now one of the most purchased items by the tourist when they visit Asia, especially India.
As the trends and fashion keep on changing in the same way, we have amazing new styles, designs, and materials available in the market. When it comes to planning a saree, it's always important to be comfortable in it. If someone isn't comfortable in what he/she wears, it's not possible to feel good about it. If you are a petite size than a short blouse, a sleek cut will suit you, but that cannot be the case with someone who has curves. If you are planning to buy a saree or getting it tailored made then this post is for you. Let me explain to you what it takes to look chic and pull it off well.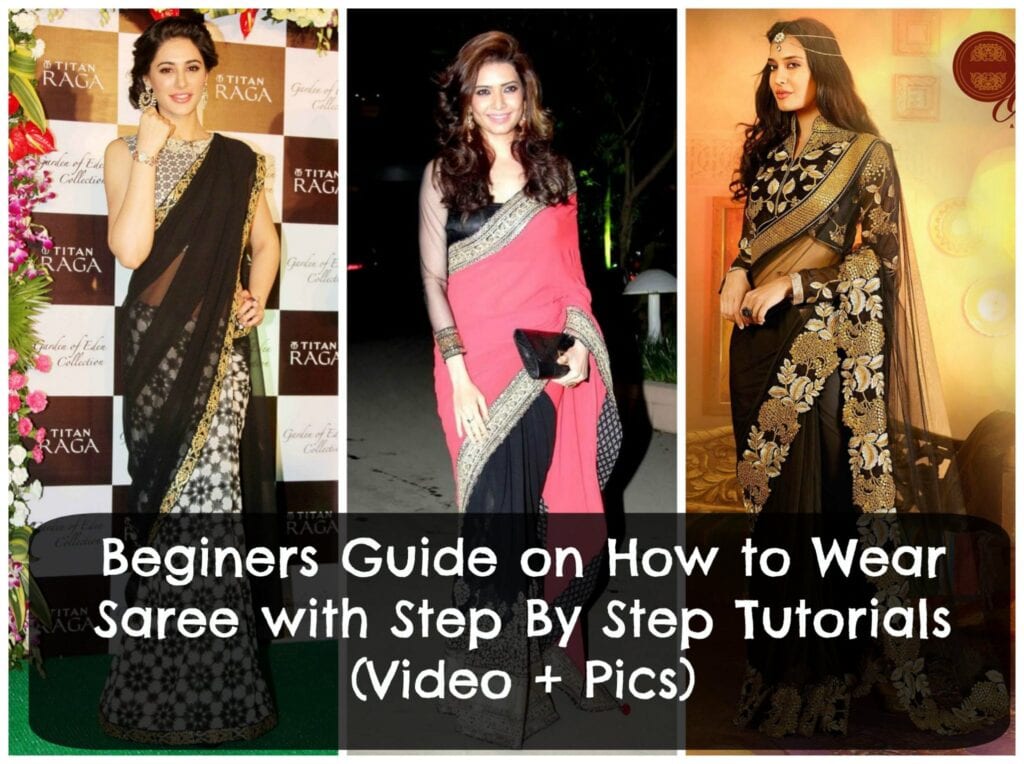 What All to Wear with Saree?
Saree has three pieces, which makes it a whole dress. The first main focus is on the blouse,(see 17 latest saree blouse designs) then it comes to a petticoat and then it's a drape (Saree). The petticoat comes underneath the drapes that help the saree to stay tucked in. You can make it from every sort of material, from cotton, net, satin to organza or jamawar.
Here is how a Blouse Looks Like.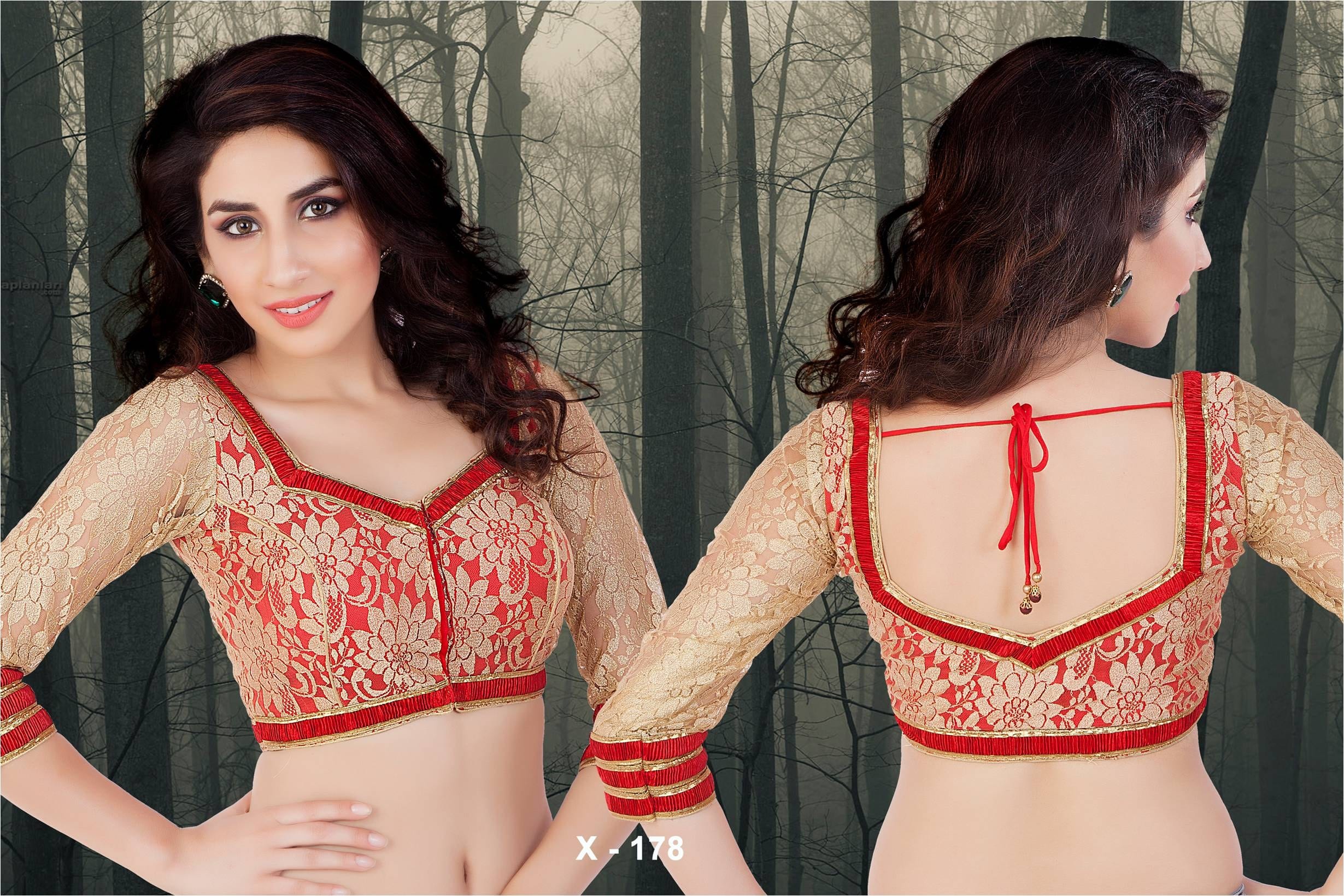 Here is how Petticoat Looks Like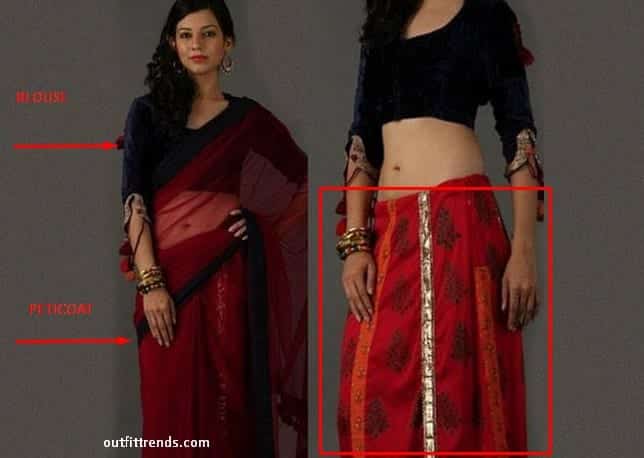 Standard Length of Saree – What is the Right Size of Saree as per Body Figure?
While buying a saree, one common question a novice user come across is what the right size is for me? Mostly the saree is of 4-5 meter long as it has to wrap around your waist to create a drape. Saree has two ends one end is simple that get inside the turns, the other end is fancy, which is called Pallu. So if you are buying saree online, you have to tell the blouse size, which is generally more or less like your bra size. Most online sites will send you unstitched blouse piece. But you can always ask them to custom design that as per your blouse size. They take a nominal price for that.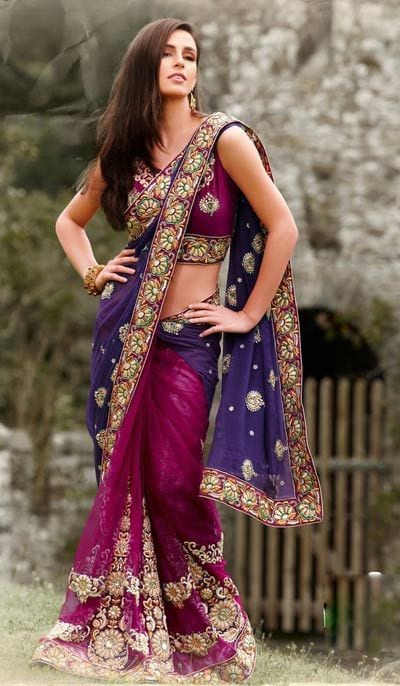 Simple Steps Tutorial How to Wear Saree (Pictorial)
The first step is to wear your matching blouse and petticoat that goes with the saree.
Start lifting by the corner of your saree, till the lower hem is about an inch above the ground and tuck it into your petticoat. as shown in the figure
Now turn around and wrap it up across your waist and keep on tucking in.
As you complete on roundup, hold your saree at one arm length away from your waist to create pleats.
Create the pleats of about 4-5 inches each on the front side to create a drape effect
Make 5-7 pleats according to the requirement
Tuck those pleats into your petticoat and fix it with a safety pin so that the pleats stay there attached to the petticoat.
Keep it in mind that while wrapping around the saree and tucking in, the height of the saree's drape from the floor should stay the same.
Now you have a front fall or drape that gives your saree a flow and ease to walk in it.
Now hold the remaining saree in your right hand and pass it on to the left one.
Make sure your right hand is not under the folds of your saree; it should be free.
The left arm and shoulder have to hold the pallu and make it stay.
Now the pallu should stay free and probably it will touch the ground across your left arm
Bring the pallu towards the right side from behind and hold it in your hand or leave it to fall on the ground.
Just manage it smartly to create an overall look. Pics courtesy  www.wikihow.com

Step by step Video Tutorials for beginners
Following is the video that will help you out to wear a saree properly.
Following video has a perfect description of wearing a formal party wear saree
As the fashion trends change on the ramps, they bring a change in real life as well. People get inspired by the latest designer collections and create their versions of them. Saree is the only kind of dress that can be worn on weddings, parties, at home or in any public gatherings.
Latest Saree Fashion Trends:
Regarding the occasions, we can customise and embellish them as much as we want, by choosing the right kind of material and combinations. If we talk about the saree to be made for the weddings, then it should be a blouse full of embellishments and Zari work with a plain contrast of saree simple yet elegant. Utilizing the borders of the saree and making them more elegant by putting gold or silver details.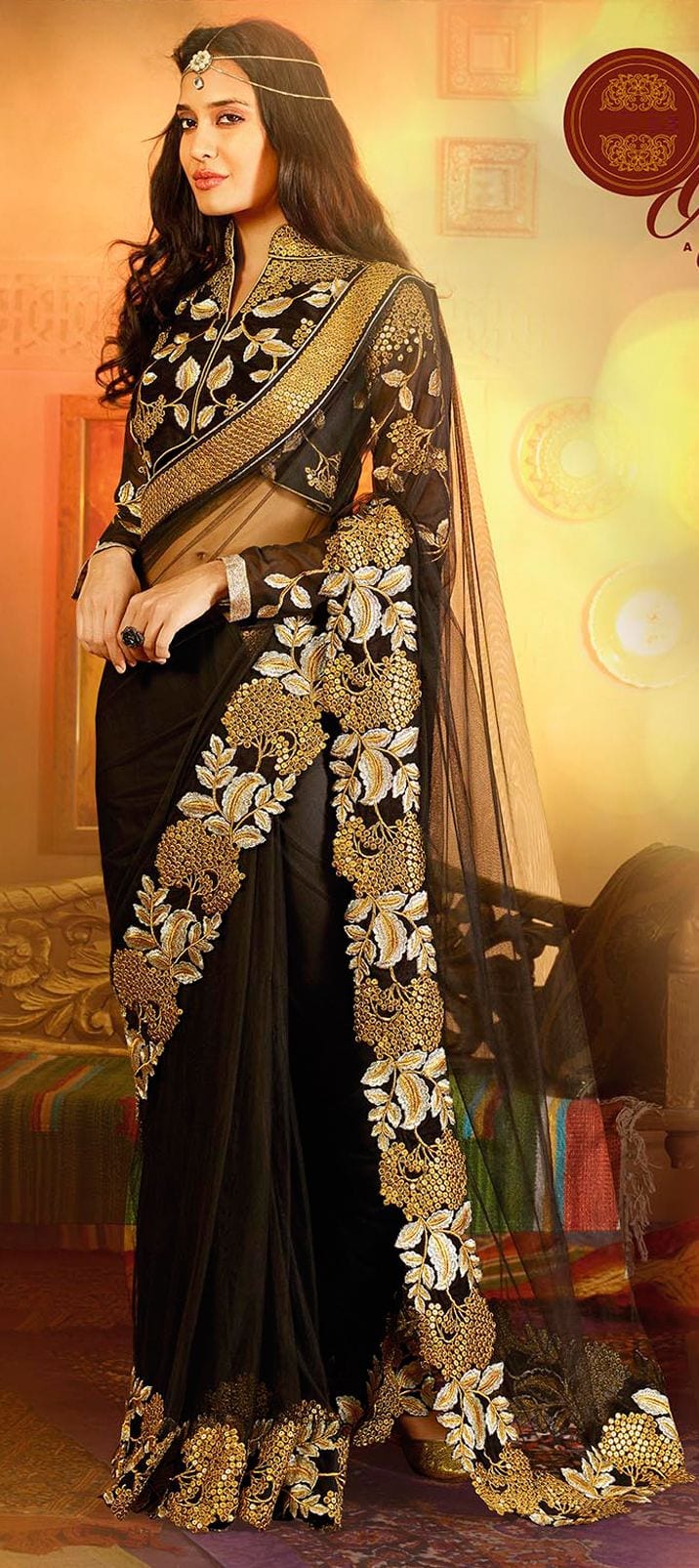 We all know that European style vintage floral prints are in the limelight. Renowned designers are bringing floral prints in their collections and obviously, sarees cannot be neglected. Either you can have a printed blouse with a simple monotone saree, or you can have a printed saree with a plain coloured blouse. If you get prints on the blouse and the saree both, then it will make it too much. Our focus should be to make it elegant rather than noisy or messy.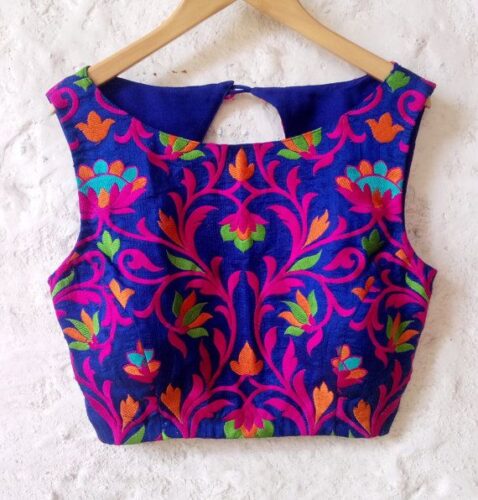 For the blouse design, we always have to keep one thing in our mind "The more, the merrier." People who need to have amazing sarees they should invest their time in designing an amazing blouse. A lot of embroidery, pearls, golds designs, and thread a wise combination of all these can bring a perfect look. Either you can get a thread embroidery, a zarri embellishment, gotta or mixtures of all these with pearls and expensive beads.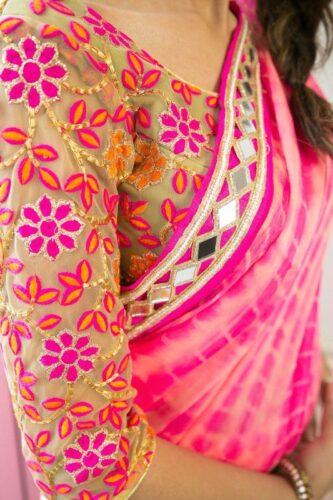 Colours and style of the saree depend on your body shape. There are people who can pull off saree well. The confidence while wearing this outfit always depends on the style you are carrying. When you hear people calling someone a saree figure, they are meant to call them lean with long legs. If you are wearing a small blouse, then you should be careful that your diagram is sleek and you do not have a layered stomach. This makes you look more chic and confident.
It's always the charisma of one's figure, choice of bright colours and right style that makes a perfect Saree look. By using different color spectrum and palettes, you can create your fashion drama. If you are in love with neons, then we have curated the following neon combinations that can make a saree look more structured.
Let's see some of the top Indian Actresses Styling Saree
Sonam Kapoor our fashion icon wore this neon greenheart gold blouse with bright orange and beige saree. This saree was by Manish Malhotra, and she was wearing it for a media event for the promotions her movie.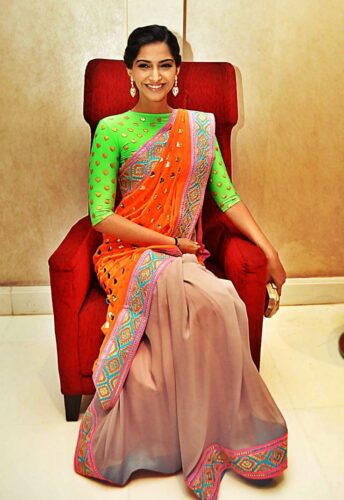 This is another combination of a saree that can be used as wedding wear. Especially on a Mehndi. This saree includes mirror work with gotta. Even neons with neons bring an amazing combination.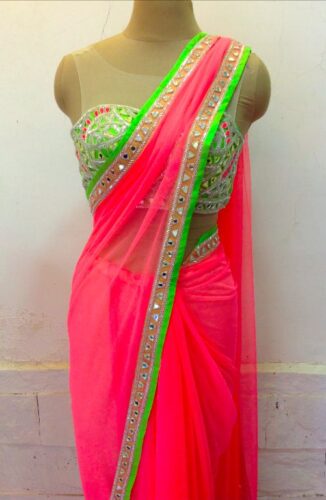 Deepika Padukone
If we talk about the right Physique to wear a saree probably, Deepika Padukone has got that. Her lean figure and long diaphragm bring a more structured look. In this above image, Deepika is wearing a saree that has a mirror and gotta work. This neon pink and yellow and simple makeup with high updo hair makes the look quirky and complete.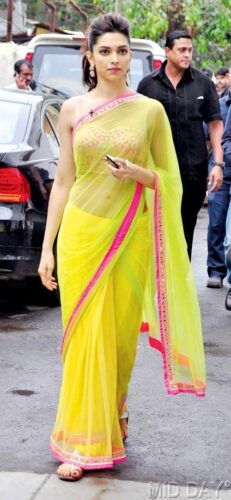 Priyanka Chopra
Priyanka Chopra wore this neon combination with the grey base at LAKME fashion week 2014. Grey blouse or any light or neutral coloured blouse overpowers the neon effect. This makes this whole attire shifts towards a sober and classy effect.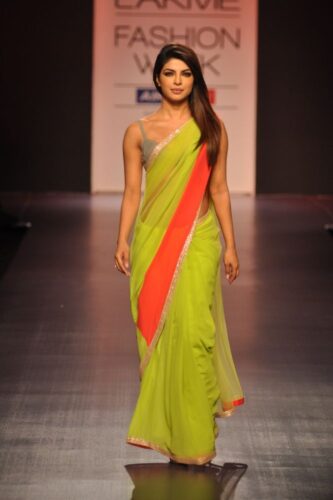 Madhuri
Madhuri is considered to be the saree DIVA. From her movies till the red carpet appearances, she is consistently stunning every look in a saree. No one can look that classy ever. Even though her figure is not that petite but still it seems like saree is meant for her. On the sets of her show Jhalak Dikhla Ja, we have always seen her wearing amazing saree designs this neon and black combination is one of them. A hair bun with saree is a trademark to look amazing.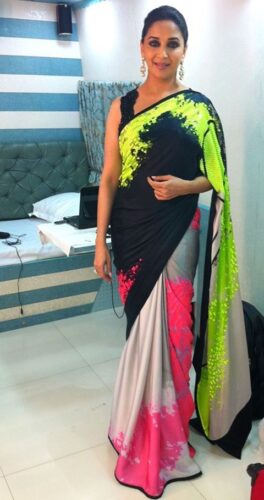 Karishma Tanna Black And Red Saree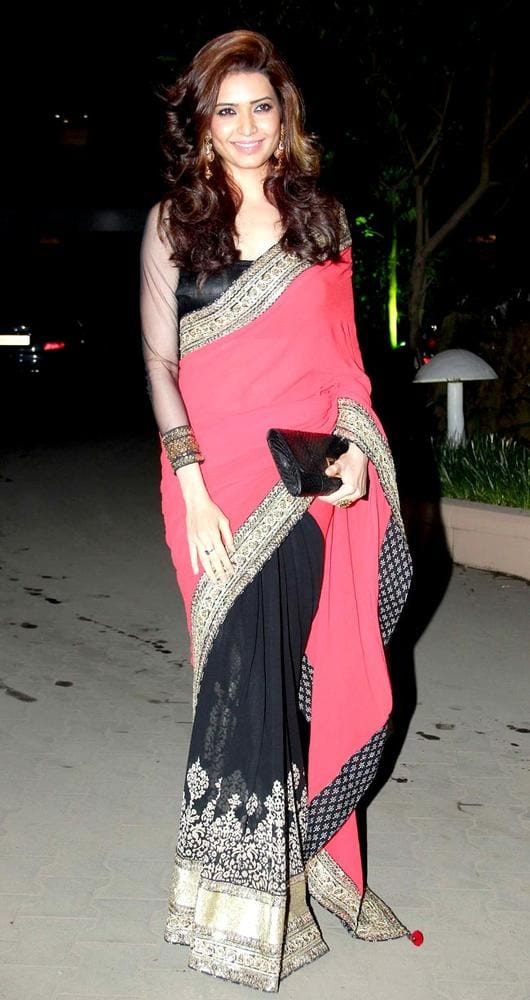 Nargis Fakhri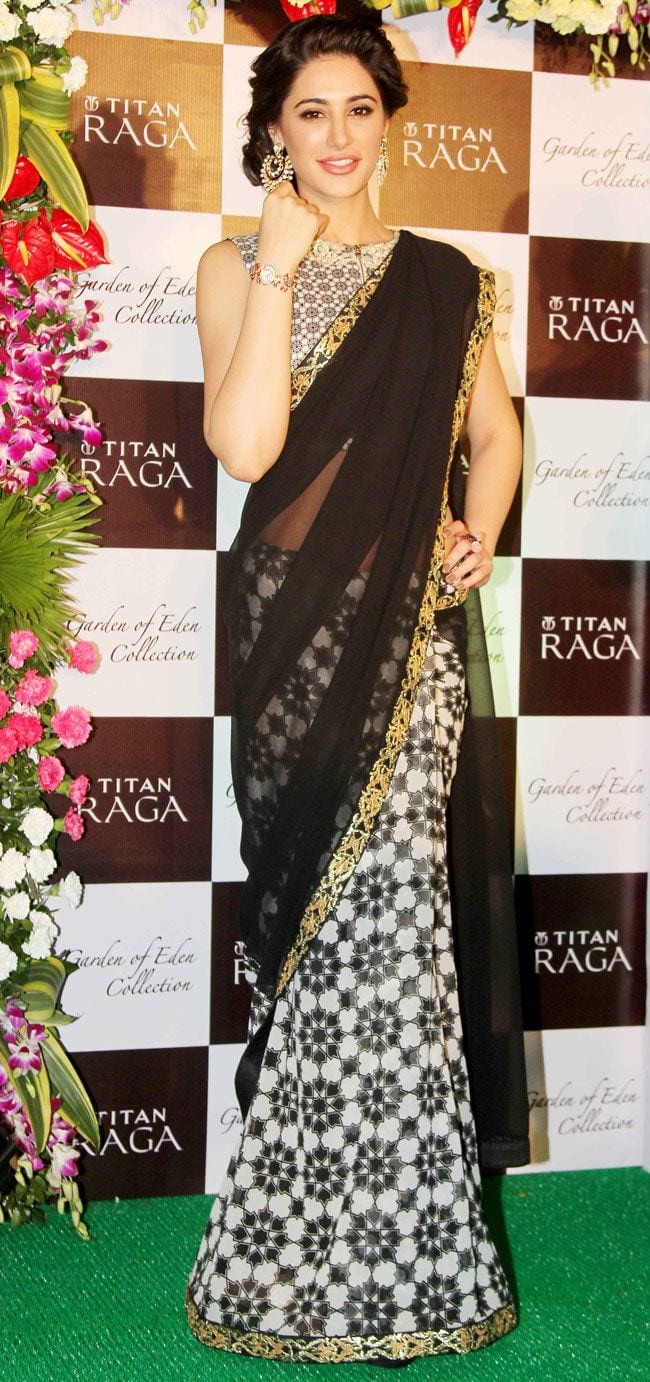 Lisa Hayden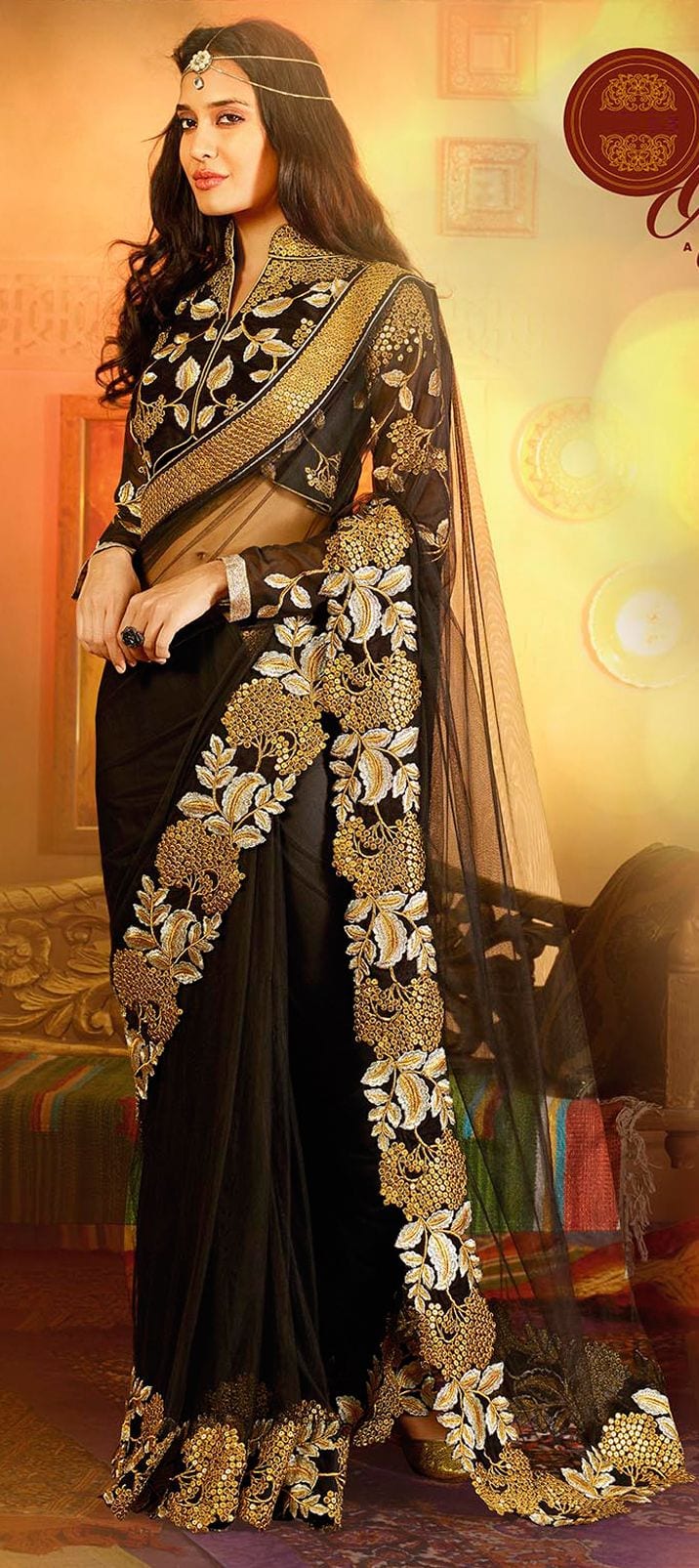 Recently a Kolkatta based designer Kiran Uttam Gosh redefined sari and its styles. Kiran is on a mission to make people understand clothes and be more creative with them rather than just buying them off the rack. They want people to understand that many dresses do not need hangers to stay on. But they make the real difference when they are draped on. Same goes with the sari. She modified basic sari and made them look more classy and Victorian.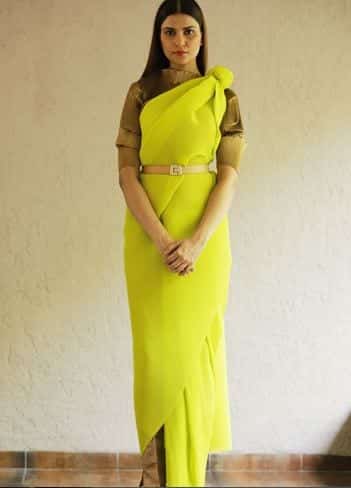 With this neon yellow, Kiran made this sari, not a typical pallu; rather she brought the vintage English effect to it. If women drape saree well as per their body type only in that way they can carry it with panache. Following is the suitable guide to choosing the sari as per your body type
Saree for Plus size Women: How to wear a Saree if you are fat
If you are suffering from serious weight issues and considered plus size, then do not think that saree is not your option while dressing up. You can wear saree with dark colors and fewer prints or small prints on them. Hand loomed sarees are meant for you. Do not add a lot of colours in your saree that can make them look very noisy.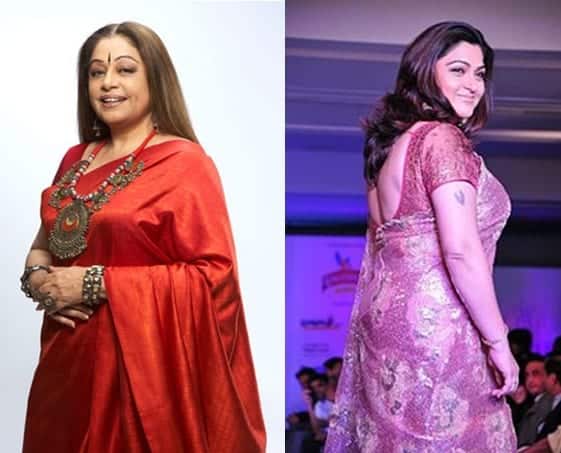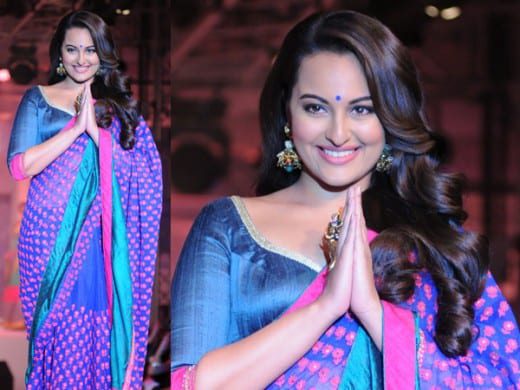 Pear-shaped Body: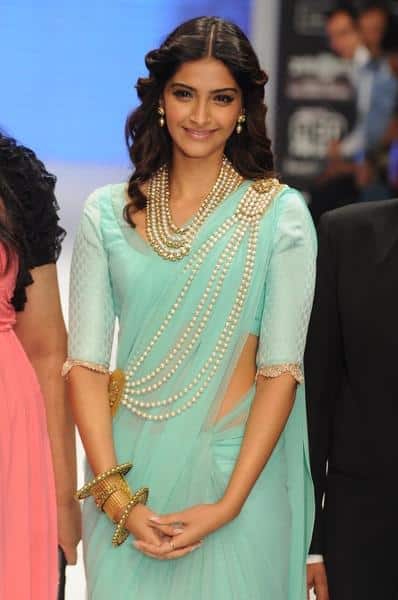 Women who have a heavier lower body as compared to their upper body are called pear-shaped. These type of women have to balance their upper and lower part for which fabrics like georgette and chiffon works the best. Bright colors make you feel comfortable. To make your body look proportionate, use the seedha pallu style while draping the saree. Sarees with small prints and embroidery works would make you look beautiful.
Plump Figure: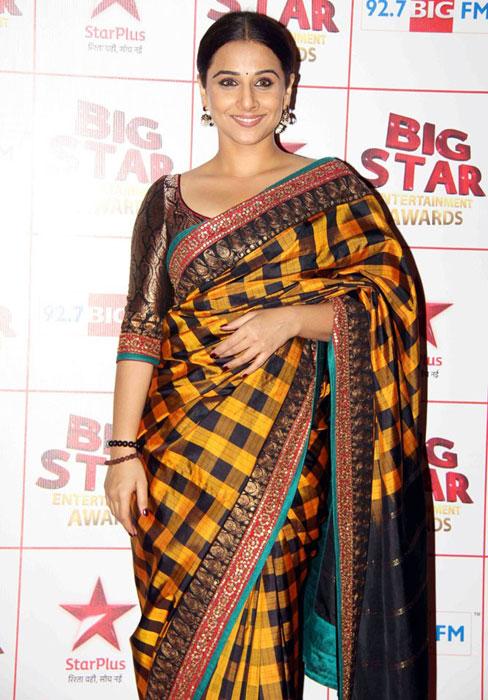 Women with voluptuous physique should not wear a material that's heavy or too organized; this will make you look little broad. Georgette, chiffon and net fabrics will suit such physiques the best. These materials will snugly wrap around your body, highlighting the curves. Such women should opt for dark colors while buying a saree.
Slim Figure:
If you are slim figured, then well-shaped blouses, bright colours, heavy embellishments are for your body type. Jamawar, Cotton, Silk, Organza, or brocade. Sleeveless, full sleeves, boat necks, round or halter necks anything suits slim figure.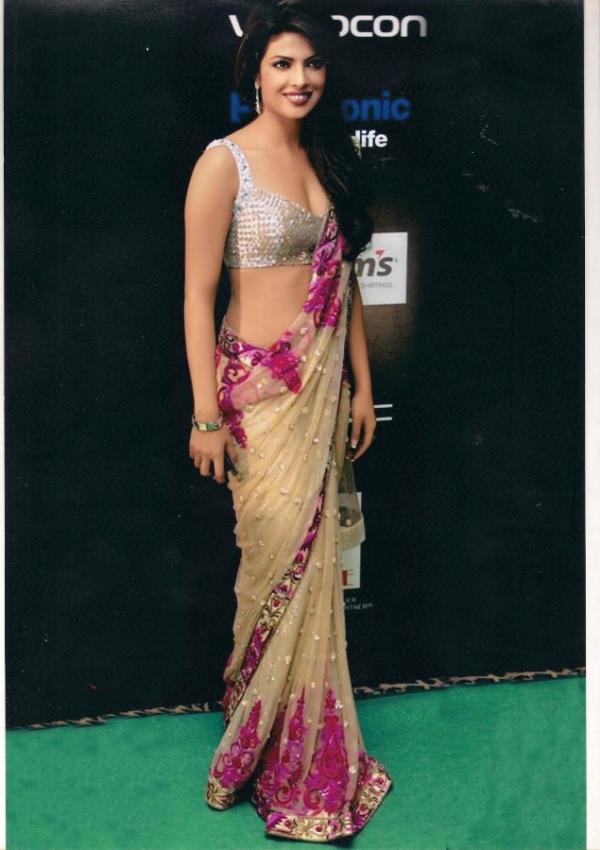 Light colored sarees and dark colored blouse will make you look more beautiful. As dark colored blouse will highlight your frame and sari will make you look taller.
Short Women: How to wear a Saree if you are Short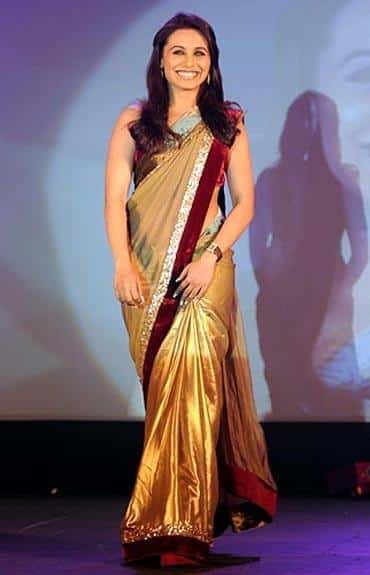 For short women, Dark colors and big prints are not the options. They should avoid broad borders and heavy embroidery. Always pay attention to the pleats more pleats will make you look huge. If you are slim, then show more skin, for example, backless blouse, round necks, sleeveless and sorted blouse cuts.
Apple Shaped Figure: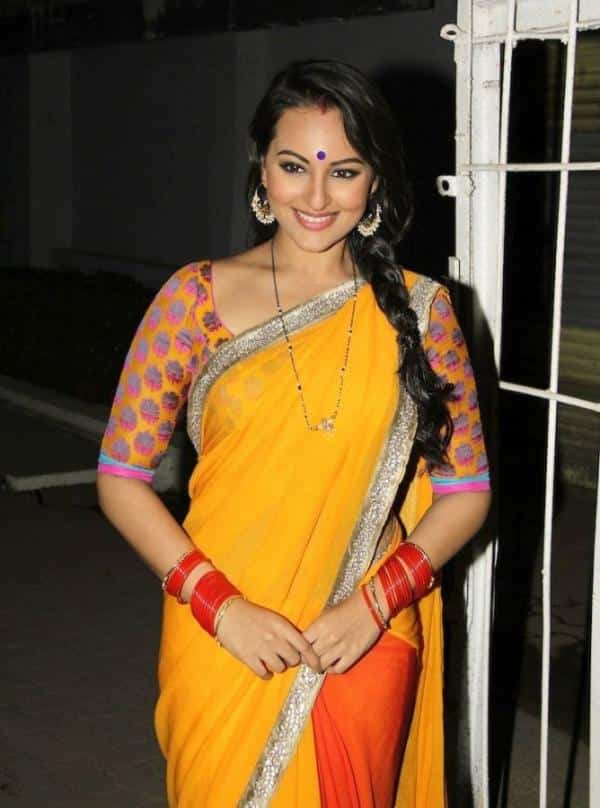 Apple shaped figures are the ones having a heavy bust and layered stomach. This is one of the reasons that you need to wear a full-length blouse. Wear a soft material petticoat so that your waist isn't puffed. The material of the saree should be delicate and smooth so that it drapes down smoothly. Avoid stiff material over the pallu; this will help you to look more in shape. You can also opt for blouses whose colors contrast with your saree to create a dramatic effect.
Skin Tone and Color that you should Wear:
These guidelines mentioned above were for the people who are worried about their body shape. For all those who are concerned about what colors they should wear that suits their complexion then the following guide is for them
You need to check the skin tone of yours by going through the following steps
You need to find out your skin tone by Checking your Veins
Push your sleeves up right now and look at the veins on the inside of your wrist.
Are they blue or green? If they look bluer, you likely have cool undertones.
If the veins look greenish, you're warm.
Or if that comes with the  mixture of both, you are neutral
Choosing the right Color
When you got to know about your skin tone, then this is the time to decide your colours. Keeping in mind that black and white can be used with all these colours.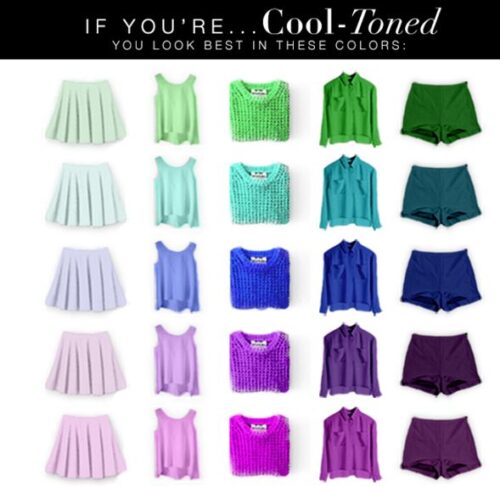 If you have a cool undertone, then you go with bluish pinkish colors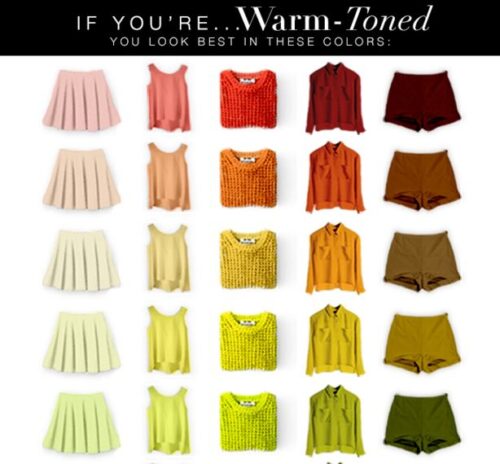 For warm skin tones, you always go with peachy yellowish color tones.
Cool (pink, red or bluish undertones)
Warm (yellow, peachy, golden undertones)
Neutral (a mix of warm and cool undertones)
How to wear Saree with Modesty being Muslim girl?
I saw this question on many forums where Muslim women are looking for ideas on how they can wear it with modesty. So we have an answer here for you. See 8 Best Saree Styles for Muslims-Stylish Hijab with Saree Ideas
Which Hairstyles go with Saree?
Well by now, you know everything about saree. But for a complete look, you need a right hairstyle that should compliment your look. I have an answer for you here. See 20 Cute Celebrities Inspired Hairstyles for Saree.
I hope these details have helped you a lot to decide and plan your upcoming saree project. Let us know how much this helped you in fashioning your creation.