How to look slim in skirts? It can be an everyday hustle to put up an appropriate outfit, according to work, school, an event or just running everyday errands. The new trend dominating the fashion world by storm is skirts. Skirts can bring the WOW factor back to your wardrobe and make you look and feel great, slim, and sexy from the moment you put them on.
For some people, skirts are the hardest fashion category to shop for simply because sizes vary wildly across retailers, plus the perfect fit is hard to come by. Some may prefer miniskirts to show off their legs or high-waist bottoms to feel more supported, while others gravitate towards midi skirts for their more office-ready silhouette.
The good news is, there is a skirt for every style, occasion, and body type. You just got to make sure that you are comfortable in whatever you wear no matter what size you are.
Type of Skirt Outfits that can make you look Thinner
From A-line to pencil and hourglass to pear, there are quite a few skirt styles and as many body types. And while we think when it comes to fashion, the number one rule is to wear what you like best, it can never hurt to know which options work best for you when you're getting ready.
Belly fat is completely normal and something that a lot of women have but is often the cause of insecurities. If you are a little self-conscious of your belly bulge but still want to feel sexy and confident in your clothes, then you've come to the right place!
We've rounded up some of the best skirts that will help you hide your belly.
For the best tips on styling skirts for curvy ladies, check out these Stunning Skirt Outfits for Plus Size Ladies.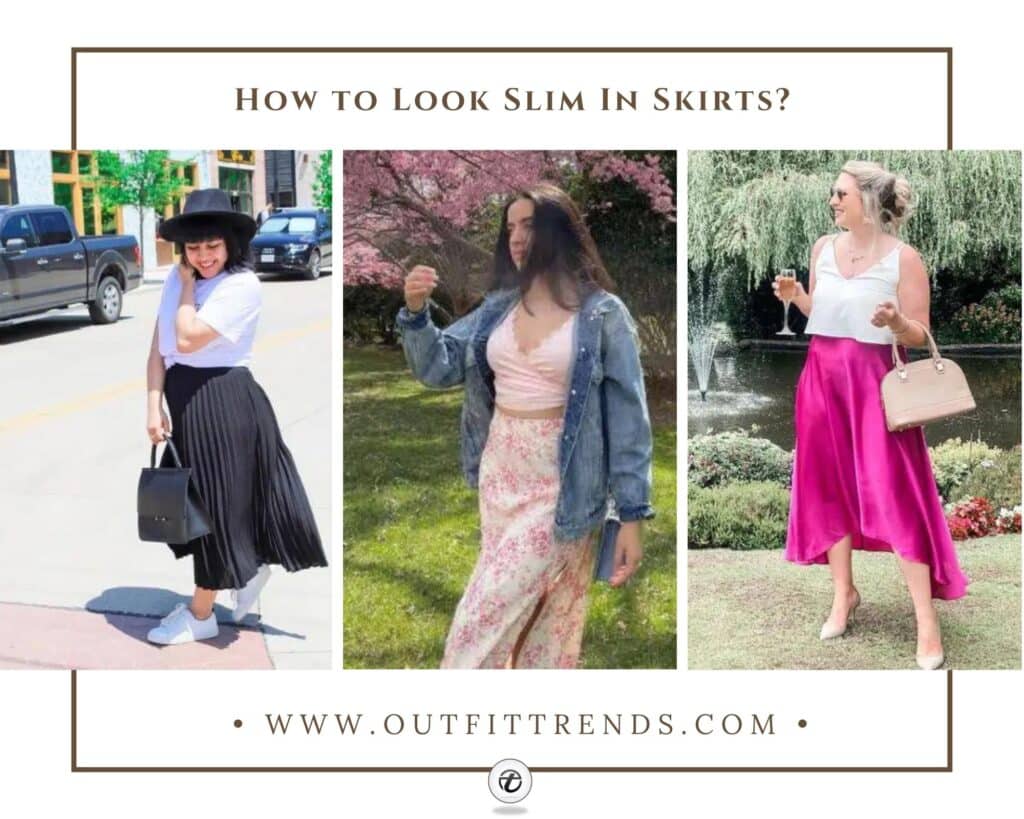 Now let's look at some outfits. Here at Outfit Trends, we have rounded up 19 gorgeous outfits, showing you how you can rock the skirt look. Keep reading for our breakdown of which skirt styles look best with each body type and why. Be sure to let us know your favorite look in the comments below. Let's get started!
19 – Fashionista Style
Fashion is what you buy. Style is what you do with it. Unveil your inner diva and boast your style with this bohemian outfit. If you are a party girl and like to be upbeat in fashion also this is the right kind of dress for you. Nowadays asymmetrical skirts are extremely popular and perfect to cover the tummy giving you a slim look.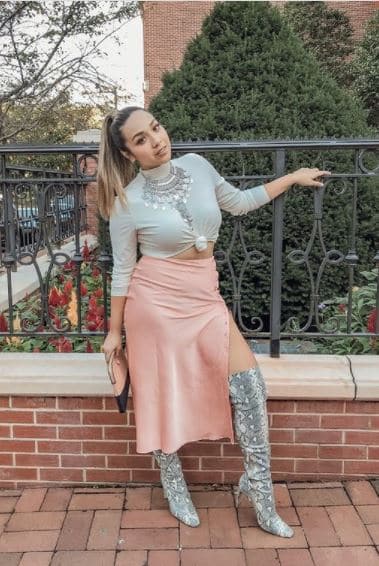 18 – Dressy in Denim
Keeping it casual yet fab is the way to do it on Sundays. Everyone has a denim skirt laying in their wardrobe. Carrying a denim skirt can help you create an illusion of a slimmer and taller look. Going for a similar fabric and shade would help in making you look taller and slimmer. Finding a denim skirt that's the perfect length & not distressed is hard to do but this one right here looks chic and dressy. Feel fabulous in this outfit and you're good to go.
17 – Elegant and Classy
This skirt is amazingly hugging your figure in all the right places and giving you a slimmer look. You'll feel slim and sexy and confident straight away. Carry the totally fierce Wanda Skirt in Blue and Black Denim!. A classic 1950s meets western, button-up wiggle skirt, the Wanda Skirt is made for some attitude! Throw on a t-shirt and trainers or go for a blouse and heels. This chic skirt works whatever the style.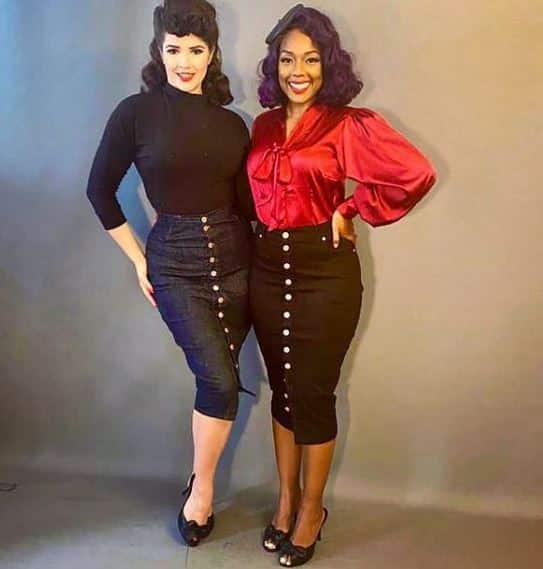 16 – Hijabi Style
Being a hijabi is not so easy as it seems, just to wrap a scarf around your head is not what it seems to be. Hijabis need to figure out a lot of things to make an outfit modest and very appealing at the same time. Dresses and Long Skirts have been a true friend of hijabis for a long time now. A pleated skirt dress with a jacket is all 10 on 10 to look slimmer. Go for a one-piece with a good fabric, not thin and tight ones that only highlight the flaws. A long skirt, with a nice shirt and a vibrant scarf, not only looks modest but chic as well. Take a look!.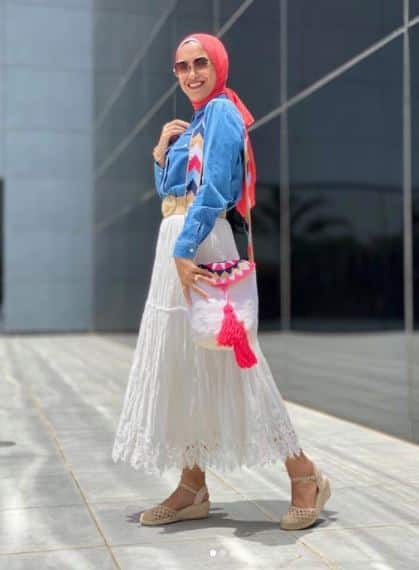 15 – Bold and Elegant
Are you looking forward to creating an utterly classy and sassy look? If yes, then look no further. Because here is the perfect inspiration outfit for you. Leaving a smoother, slimmer appearance and giving you the chance to finally show off those curves of yours in their best light. Always go for a high-rise skirt if you are conscious about your legs. Also, high-rise jeans give you a taller and slimmer appearance. Don't be shy when opting for a skirt with a slit. Wear it with confidence and sunglasses for a day out in town.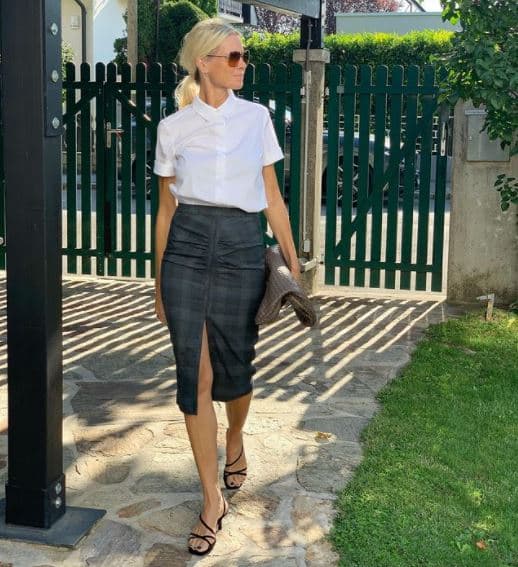 14 – Wedding Guest Look
For the ultimate classy look, a hot pink flowy skirt paired with an off-white or cream-colored blouse will be the ideal outfit for guests in this wedding season. V neck creates the illusion of height and slims down a larger frame while also creating the illusion of a slimmer neckline, especially if you have a double chin. Wearing a V-neck draws attention to your chest instead of to your neck. Hot pink skirts make for the trendiest outfits you can rock anywhere anytime. Throw on some pretty accessories to jazz up the look.
13 – Summer Style
Summers are all about flowy and refreshing style. If you want to look hot in summer while keeping up with your style game then a pleated skirt is the best for a day out. When choosing a skirt for yourself, make sure you get the right length. Don't go for a length that is too short as it will draw attention to your legs. pair it with a black top and nice heels. Accessorize with a chunky bracelet and a chunky ring. Let your hair tied in a bun and there you go.
12 – Beachy Vibes
When you have a larger frame outfits with vertical lines or patterns are your best friend as they help to create the optical illusion of continuity to elongate your look. Make sure your vertical pattern is not too bold, as bold patterns will only draw unnecessary attention to the larger parts of your body. This modern boho style maxi skirt is so beautiful with its vertical layers of crepe and lace, pair it with a crop top, tee, or bodysuit to have a comfy spirited style.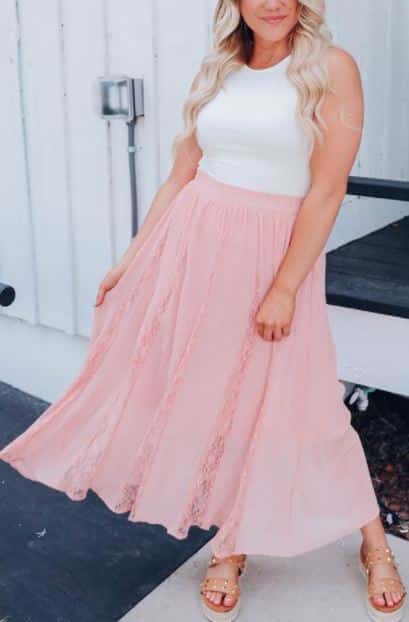 11 – Longer Skirt for Chiller Days.
You can conveniently wear a hijab with a western skirt. Whether it is a formal event or a casual outdoorsy look. This long pencil skirt would look great in a classic white top and fashion-forward nude heels. For formal events, go for a top with a high-waisted knee-length pencil skirt to cover belly fat. This outfit is perfect when you don't want to try too hard but still want to look cute and presentable.
10 – Trendy Look
This is the best skirt for a curvy figure. It's always in fashion and its ability to totally conceal plunging tummy is fascinating. A tight mini skirt with a high waist will show your slim legs, make curves seductive. The outfit will look adorable and sexy and show tempting buttocks, seductive curves, beautiful calves, and slim ankles. Wear a matching bag and comfortable shoes to complete your smart look.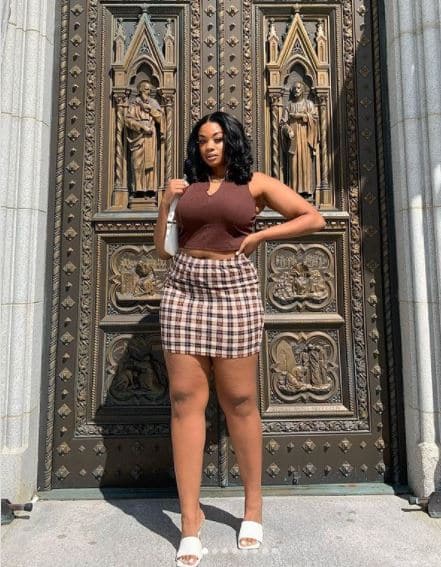 9 – Vacation Mode
When you want to stand out with your unique taste and style, then nothing beats a bright outfit. Blue is a neutral color, neither too showy nor too formal. It manages to maintain a balance. Skirts of this shade make you look prominent without overdoing your look. When in doubt, pair the blue skirt with a matching top and top it off with a beautiful shoulder bag and boots. It will create an elegant look for women with ample curves and a slim waist.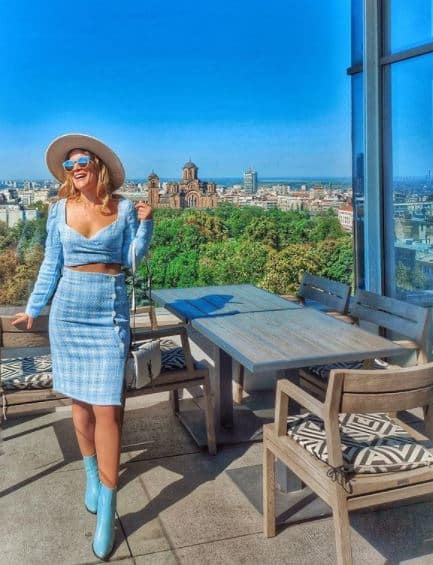 8 – Winter Style
No season should be able to stop a woman from wearing a skirt. Don a leather skirt in winter. Try the look with confidence. Black leggings with a mini leather skirt. Black tights and mini skirts are the charmers. Perfect wavy hair while wearing a cardigan over your shirt can always help to cover that extra fat. Choosing colors that are closest to your skin color makes you look slimmer by making your legs appear longer.
7 – Minis for the shorties out there
If you're tiny, avoid long hemlines or fit-and-flare skirts that overwhelm your small frame. Instead, look for shorter skirts to show off your legs. Minis are your best friends, whether you prefer a good old denim skirt or something fresh and trendy.
6 – Spring Time
Everyone loves spring. I mean it is the most delightful season. Another gorgeous skirt outfit is a floral skirt paired up with a gorgeous crop top and a pair of cute sneakers. If you have heavy butts and thighs then we can understand your struggle. It can get difficult to camouflage them at times but here is the trick. Wearing a long jacket or coat over your tee or shirt can always help. It helps in covering up the areas you wish to hide. Carry a shoulder chain bag and look absolutely stunning.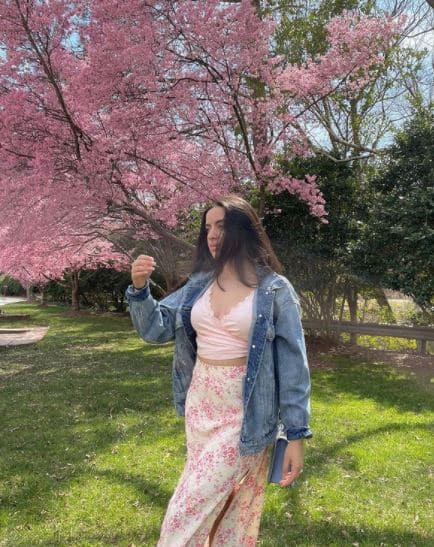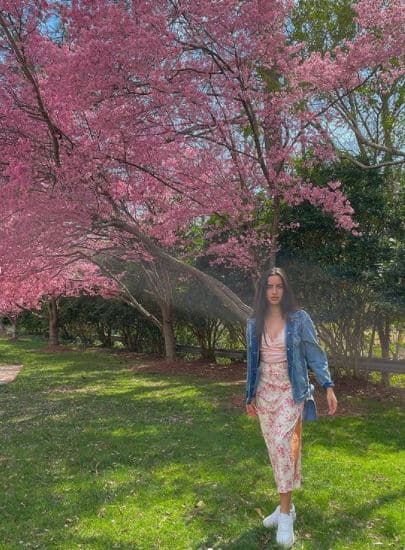 5 – Black never goes out of style
Choosing skirts for women in a darker color will also help to slim your hips and thighs. Black is a slimming color. instantly slim your physique to make you look 10 pounds thinner. It's always been true and always will be true. A black, monochrome look will always work. We all need one skirt in black. Seriously though if you don't have one what are you waiting for! You're missing out on so many cute outfits! Here are some of our favorite Black Midi Skirt Outfits.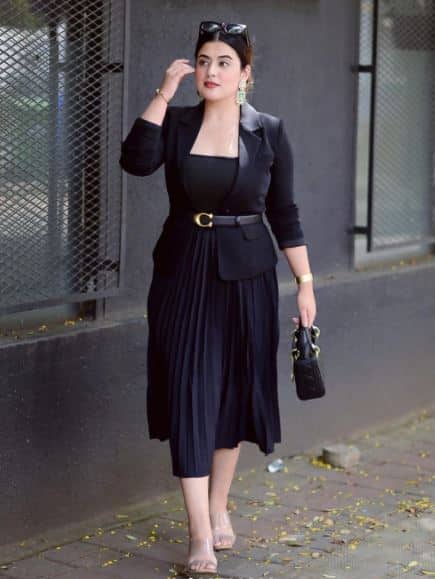 4 – Sisters before Misters
Are you looking for a charmingly beautiful outfit to rock with your sister? Here we have a very classy outfit that you can easily pull off as well. Grab your favorite skirt and pair it up with a cute top and classic boots for a Fall weather look. This skirt will create an elegant look for women with ample curves and a slim waist. You can accessorize with a pair of hoops and retro shades.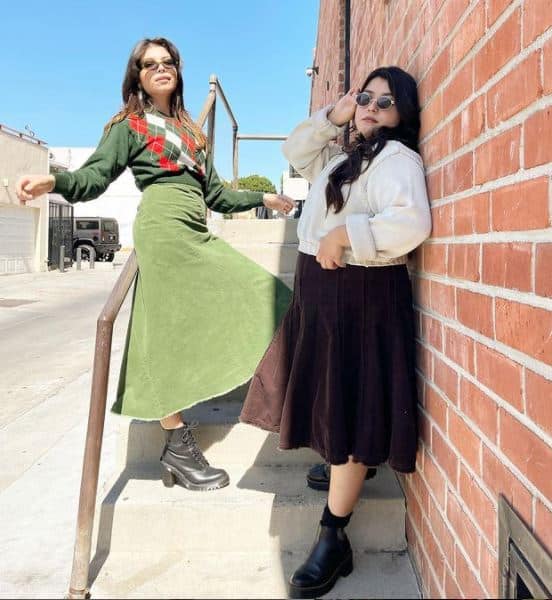 3 – Celebrity Style
Hollywood Skirts will make you look slimmer, smoother, and sexier with legs to die for and an hourglass waist you'll want to show off!. Skirt suits have become quite the celebrity favorite. It's mainly because skirt suits can be worn just about anywhere, from formal events to more casual outings. Take inspiration from PC's style. How effortlessly chic does she look.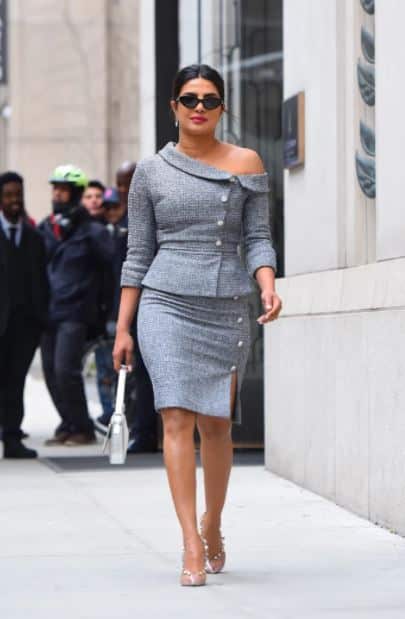 2 – Street Style
For a casual and sexy street style, you can always wear a cool top with a pencil skirt. For a slimmer and taller look, carry your skirt with a trendy black top. Black always works when you want that slim look. This outfit is perfect, as we have a grey skirt paired with a casual black tee, a jacket, a crossbody bag, and a pair of long boots. For a more beautiful look keep your hair open and put on a vibrant chain or bracelets.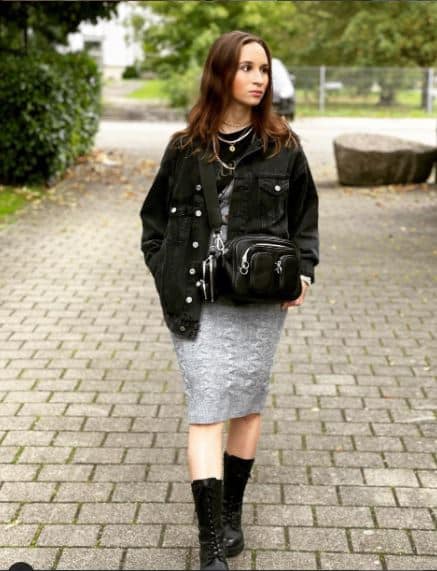 1 – Glam Date
An outfit like this is perfect for spring. This outfit is great for traveling, touring new cities, visiting with your besties, or on a lunch date with your boyfriend. We love a cute wrap skirt for a day out. It's a great way to stay fresh and cool while looking stylish. This type of skirt emphasizes your curves and the short hemline show off your legs giving you a slim and sexy look. Girls get ready for all the compliments because you are going to get a lot with this gorgeous look.
We hope that you all enjoyed reading our post. You must try out these ideas with your outfits. Stay confident and carry a smile on yourself wherever you go. You all look beautiful no matter what size you are !!!
Frequently Asked Questions
Q. What top looks best with a skirt?
Properly fitted tops should always be your first pick whenever it comes to what top to wear with a skirt. Prefer wearing tees or plain tops for casual occasions and statement tops or dress shirts for formal occasions. Leather jackets and matching blazers look great with them as well when worn with a plain blouse. You can get more ideas on this from our post on How to Wear a Belt with Skirts.
Q. What type of skirt you should wear to look slimmer ?
In terms of skirts, a knee-length pencil skirt is the most universally flattering silhouette, as are fitted A-line skirts that hit right above the knee. To look leaner, it's crucial that every item in your closet fits you properly. With blazers and jackets, always make sure the seams sit perfectly at the bony tops of your shoulders, and that the sleeves hit exactly at your wrist.
Q. What is the best style for slimming skirts?
Almost all the skirt types are flattering in their own way, and each one is designed for different body shapes. For girls who are skinny, pencils skirts and mini skirts are great choices. On the other hand, flowy and pleated skirts look alluring on curvy women who want a slimming look.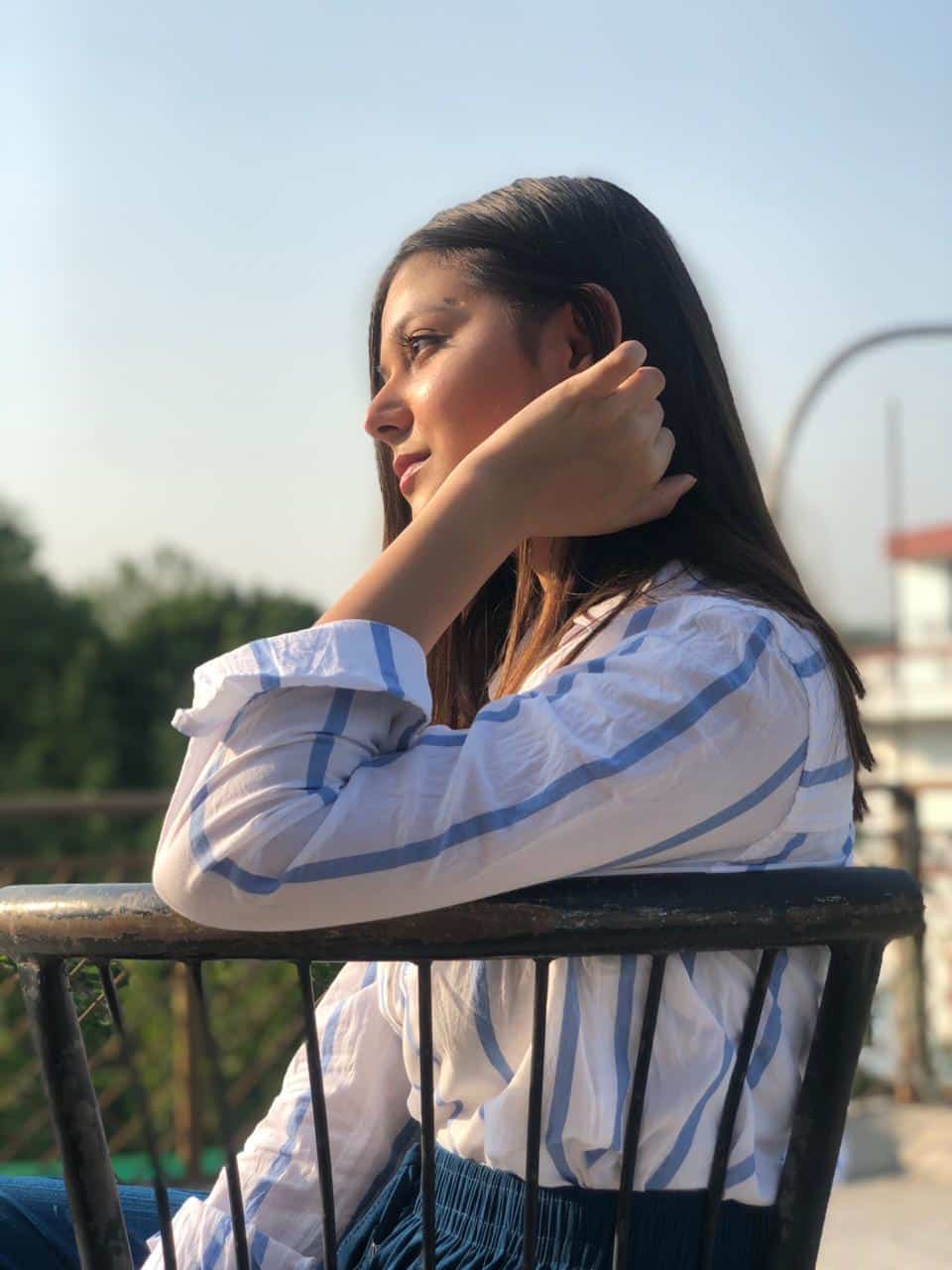 Maria is a 21 years old, skilled, and amazing writer. She loves to write and spread positivity through her eloquent writing. She believes that writing is an art through which one can narrate a complex idea, thinking, and project in an easy and simplified way. She is passionate about fashion, style, and beauty. She is here to write about styling tips, trends, and ways how to dress for various circumstances. Hope you gonna love her posts.