Cute Fall Polyvore Outfits – Our favourite season to shop and dress up is here – that's right, it's fall! It is time to say goodbye to all your summer outfits and start following the latest and hottest trends of Autumn. If you're confused about what look to go for this Fall, we're here to help. The key to creating a perfect outfit as the chilly weather approaches is to use your own imagination and experiment with different fabrics and layers of clothing.
 Our best tip is to make sure to include autumn colours and you are good to go. To help you with that, we have rounded up an amazing collection of the top 28 Polyvore combinations for fall that are followed by all the famous celebrities and fashionistas. Here you will find the cutest and trendiest fall outfits suitable for every figure. You can get the trending ideas as what to wear in fall. Whether you are going to a huge party or just running errands, we have tips on how to pull off fall's biggest trends to make sure you look chic and fabulous all season. Have a look!
Also see: Polyvore Alternatives-20 Sites and Apps like Polyvore to Use
50 Best Polyvore Outfits with Adidas Superstars for Girls to Copy
10 Best Polyvore Spring Outfits for Girls to Try This Year
12 Cute Polyvore Outfits with Pencil Skirts for Teenagers
Fall Season Outfits Combinations from Polyvore
Here are the fall season outfit tips from Polyvore picture boards:
 Boots are being highly favoured by everyone because they really accentuate and go well with each outfit.
Go with the traditional colours like brown, red, orange and burgundy and flaunt them as autumn begins.
Stripes and tribal prints are making a huge comeback and it is only apt to add them in your wardrobe.
Bright lipsticks and dull blush is the call for this season.
Also see: 28 Most Viral Polyvore Winter Combinations on Pinterest
#28 – Casual Outfit For Fall
Most of us are fretting over the perfect casual looks for fall that won't look too dressier or too shabby. So what is the perfect fall casual outfit? It features a striped shirt with high rise jeans skinny jeans because strips will never be out of style. The Breton stripes that were worn as military uniform have taken up quite a spotlight in the fashion world. You can flaunt them in any season and in variant styles. We would recommend you complete the outfit with a nice fall color cardigan like mustard or dark orange for that truly modern French vibe. Go with white sneakers to seal the deal.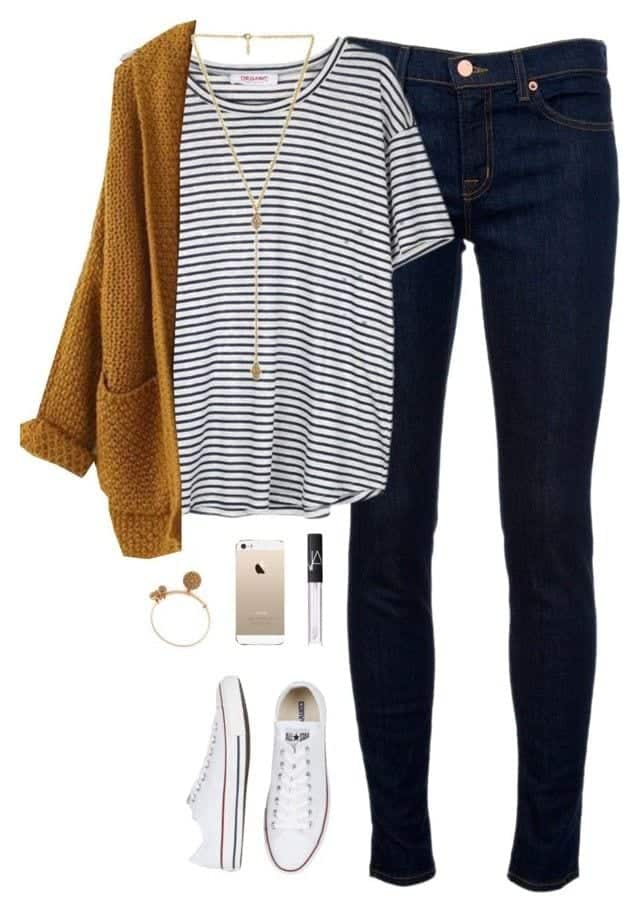 Get the Look:
Mustard Front open Sweater $ 20
Black Stripe Tee $ 44
#27 – For Teenage Girls
For a teenage girl, dressing up the right way is no easy deal because, to be honest, there is always a clash between our personality and the current fashion trends? We suggest you another great look with stripes. Ditch the shirt this time around and go for pastel strips sweater. Not only is this sweater epicly modern but you can pair it with light blue jeans to create an easy ensemble. What about the accessories? We recommend a soft pink or blush pashmina scarf to keep you warm and a woollen hat to add that general look of cuteness.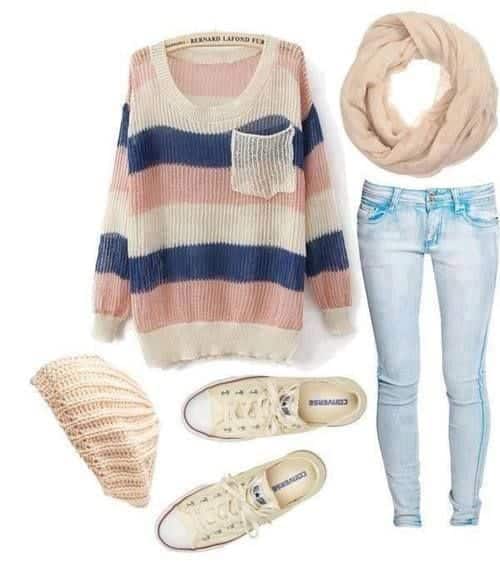 #26 – Fancy Dress With Shrug And Boots
What are your dressing up options for semi-formal events? When going to any semi-formal event, you can wear a nice dress with a shrug and boots. Are you feeling meh about your red or burgundy dress option? Well, then it is time to redefine your approach. For a sophisticated look, take up a beige or brown shrug or cape to go with this typical fall choice and brown boots. Don't forget to add jewellery that goes with the look. You need to get your hands on this trendy golden circle chain or opt for a more youthful style that goes with charm chokers these days.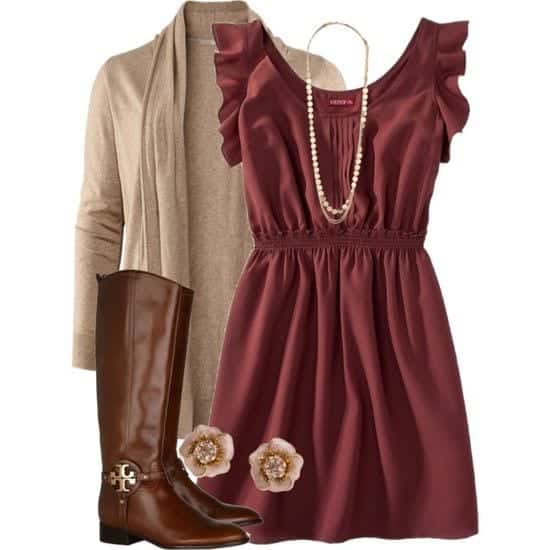 #25 – Prints And Patterns
Go for a timeless look with tribal pattern. Not only is this perfect for fall but it can be worn in diverse ways for different occasions. You can rock the traditional black patterned cardigan or tee with black skinnies and beautiful feather earrings. Go with tribal jackets for a more edgy look with a plain white blouse and dark coloured skirt. Go hippie with tribal palazzo pants and a bright orange jumper for a more laid back style.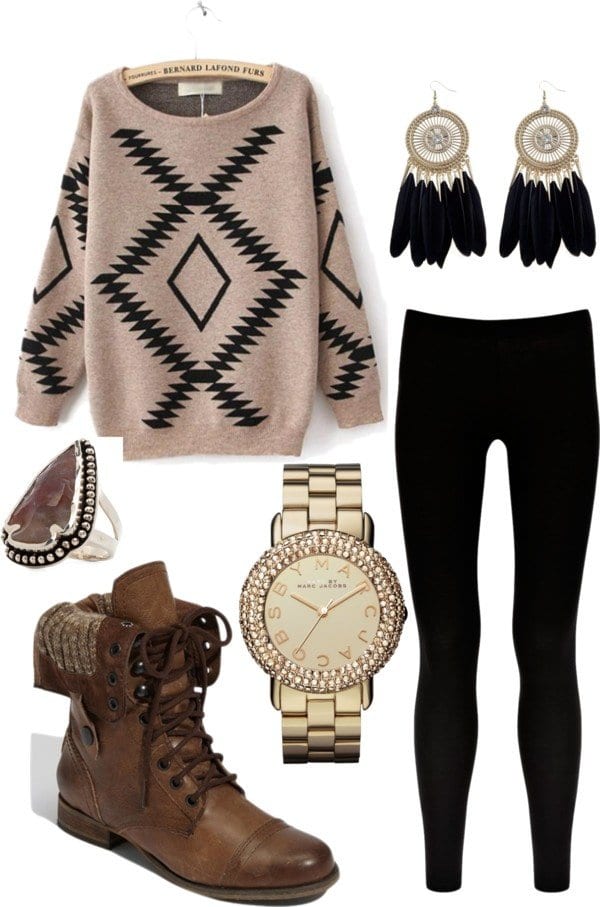 Recommended: 22 Ideas On How to Wear Leg Warmers This Winter
#24 – For Formal Look
We say you put on a modern twist to the formal outfit. Start off with a nice blue or white oxford shirt and wear a square pattern padded leather jacket with it along with white, dark blue or black jeans. You can opt for boots depending upon your mood and style preference. For footwear, you can go with brown chukka boots, black ankle boots or jodhpur boots.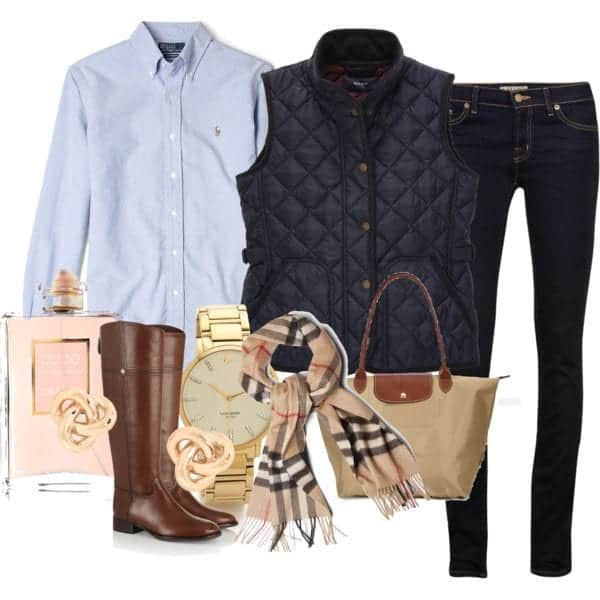 #23 – All Autumn Colours
For a unique and interesting look this fall, you can create an outfit with all the seasonal colors especially brown and orange. It will not only look cute but will also attract a lot of attention your way. Moreover, you can also use matching accessories to enhance your look. Wrap an orange shade scarf with brown boots and a brown handbag.
#22 – For Outdoor Parties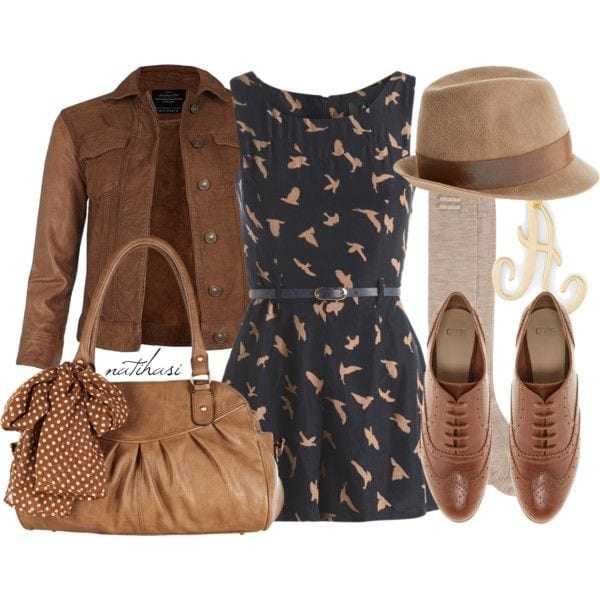 #21 – Brown Is The Colour Of Fall
Welcome fall by adding all those beloved colours into your life. Mustard, burgundy and brown are just the right shades you need to embrace again this year because this trend will never be old. Brown teddy coat or cable knit cardigan is essential for when the cold weather starts to take over as layering with these classic pieces is quite easy and convenient.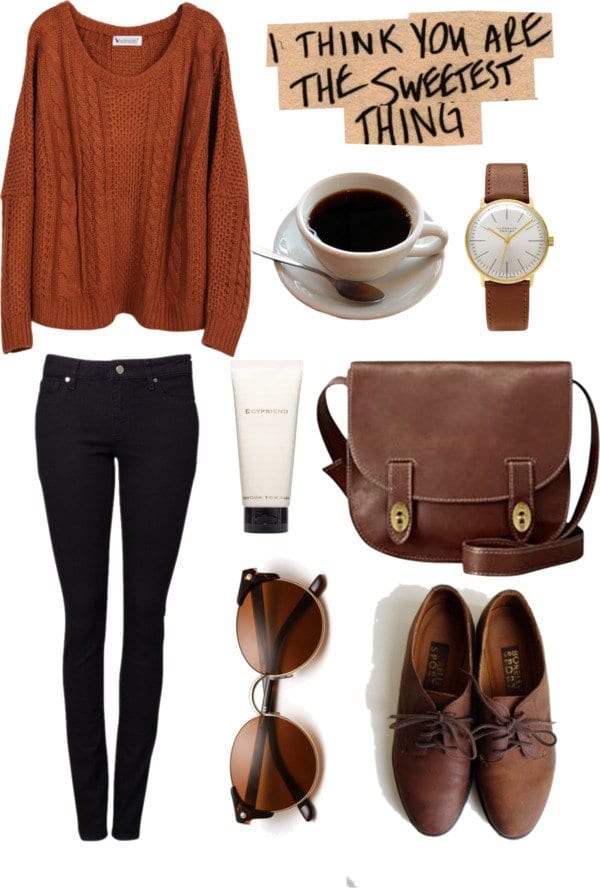 #20 – For Classy Look
#19 – Add A Cardigan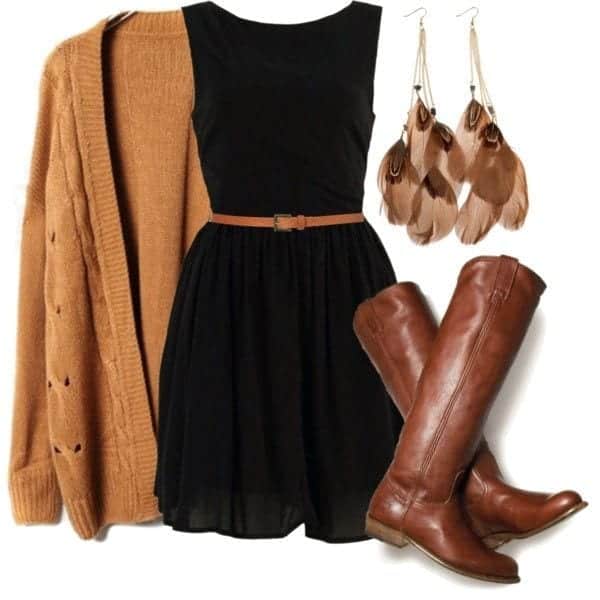 #18 – Leafy Prints
Leafy and flowery prints are in trend this fall! So what are you waiting for? Grab one of these printed shirts or dresses and flaunt that autumn look.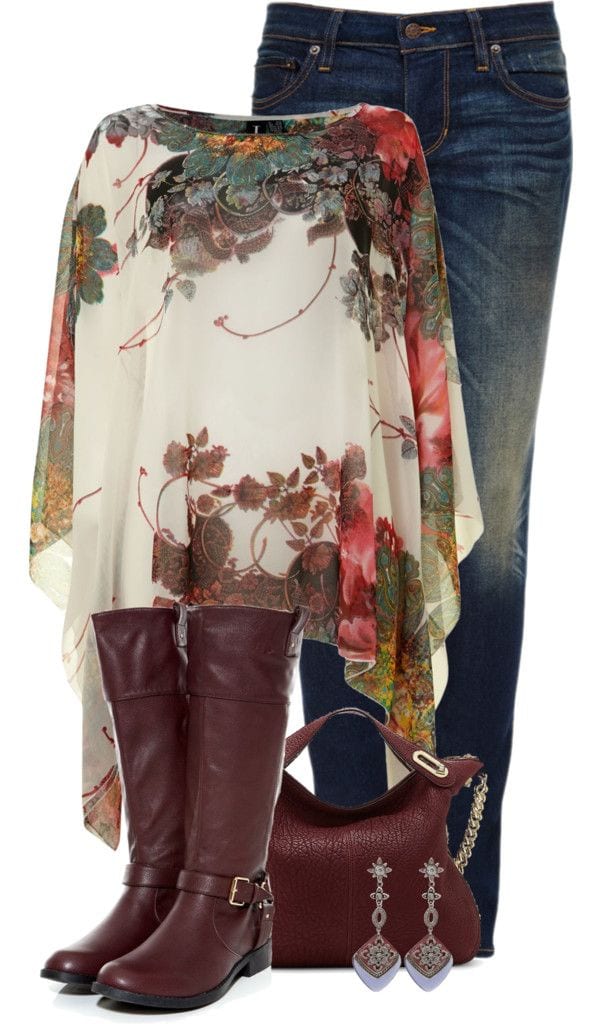 #17 – Embrace the Florals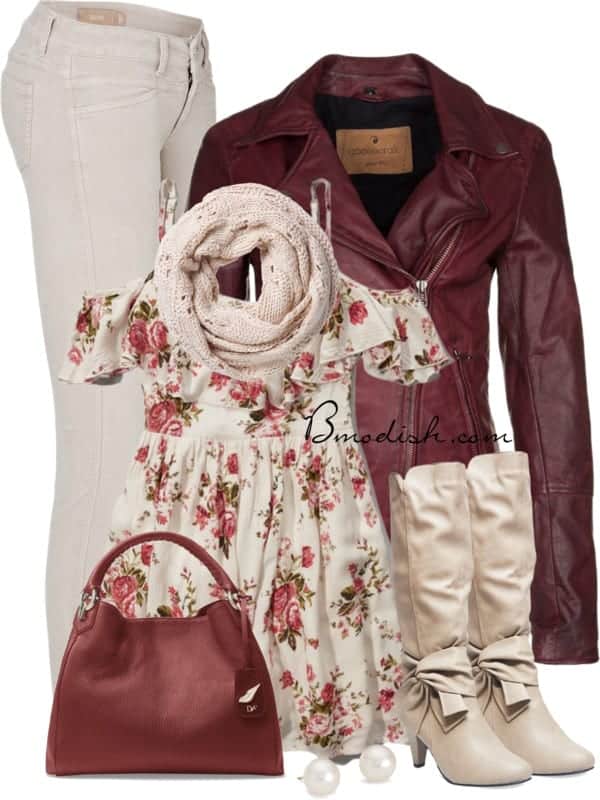 #16 – For Simple And Chic Look
You can pull off an amazing look without much effort. All you need to do is simply pair any tank top with a cardigan and wear it with funky accessories to look chic and fabulous.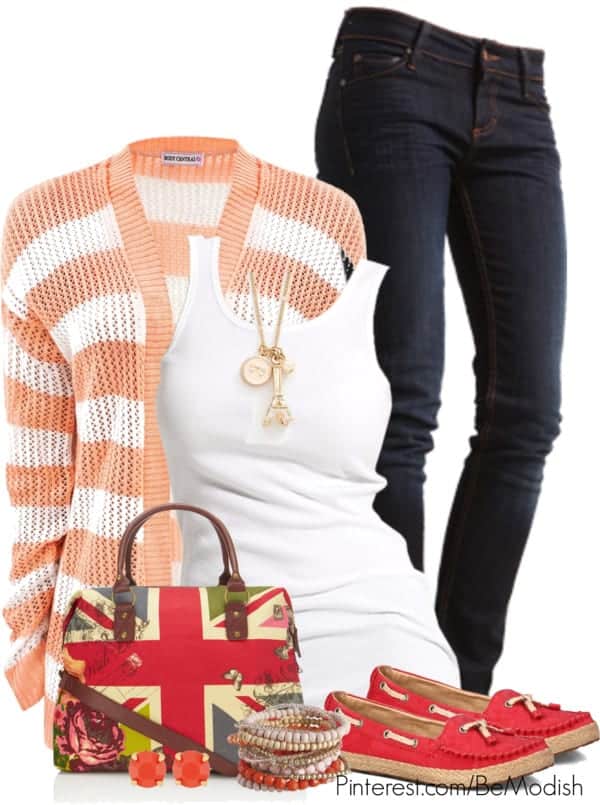 #15 – Perfect Date Outfit
If you are not such a fan of fall colours, a great date outfit will be going for pastels. Mint green is the color in vogue and rock it with opting for white or beige pieces.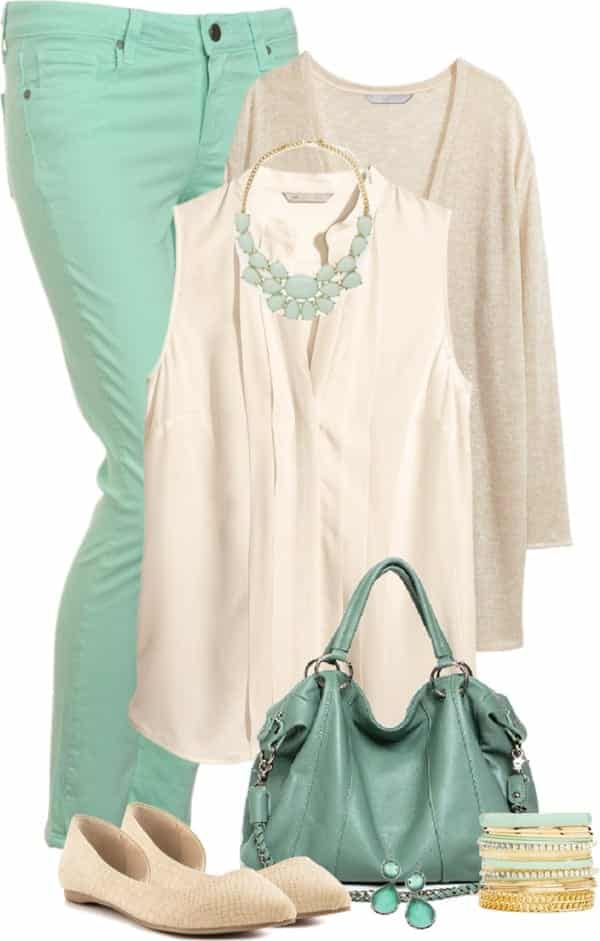 #14 – Lacy Dress With Cardigan
Go boho chic with white outfits because this never fails to do the job when you feel overwhelmed with what to wear for the day. So, don't hesitate to wear lace dresses or shirts this season. You can pair it with a cute cardigan specifically something with an edgy pattern like tribal print, floral print or stripes that will complement your look and add that extra style to your outfit that you need. You can go with wedges or boots depending on the cold weather and your personal preference.

#13 – Stripes And Skirt
You don't want to miss wearing cropped black leather top this year with stripes because this combo is sensational together. Whether you opt for a feminine skirt and black leggings combo or decide to go with jeans/trouser, you know you are in a safe zone.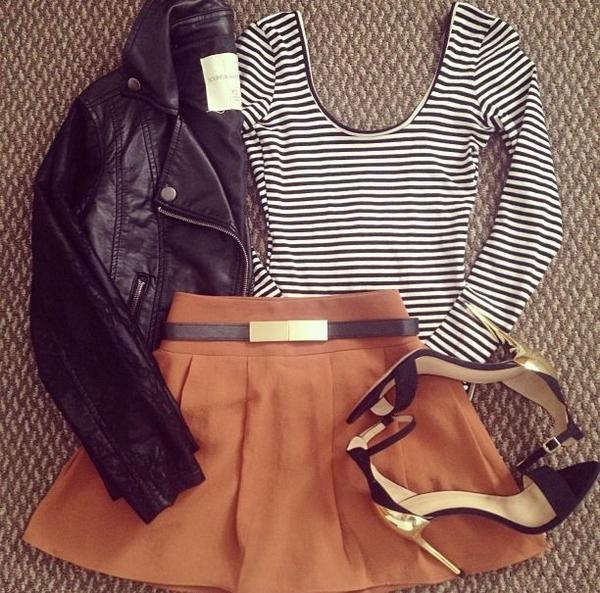 #12 – For Glamorous Look
Tried of old boring shirts? Add in some ruched tops to your wardrobe this season. Turning up glamorous and feminine is no big deal with these tops and dresses. Put on a brown leather jacket to add in a slightly grungy look and favour delicate jewellery like teardrop earrings and a beaded necklace to go with the outfit.
#11 – Fall Outfit For School
You don't want to look too overdressed or underdressed in school, and for that, we have chosen a suitable outfit for you to wear to school and college. This simple top with a printed scarf and boots will keep you warm and also make you look cute and chic.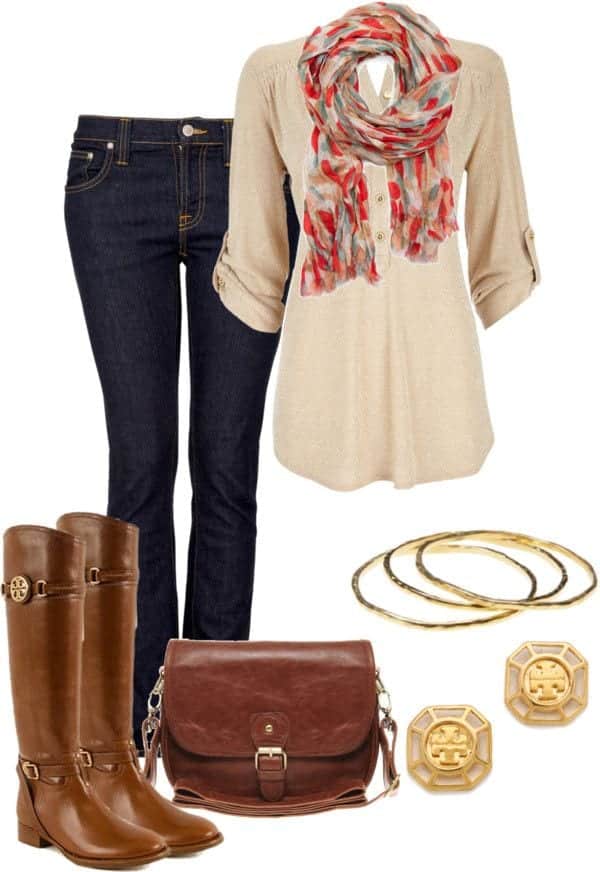 #10 – You Can Never Go Wrong With Checks
The checkered print has a long history that got more popularity following Cher's look in Clueless.  Checkered shirts are one of those classics that never go out of fashion. They are fit for casual wear and give that perfect street style look. To add extra style to your outfit, you can wear a leather jacket and jewellery with it.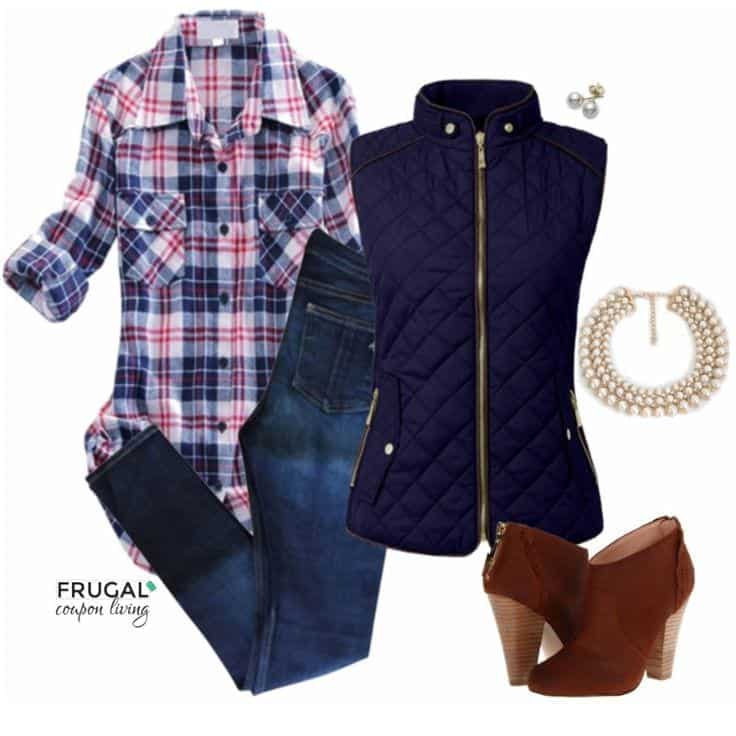 #9 – For Smart Chambray Look
Are you going to casually hang out with your friends or running errands? Need something cosy and comfortable to wear? This look is exactly what you need. Pair a chambray shirt with pants, boots and animal print scarf and stay comfortable all day. Oh and don't forget your coffee!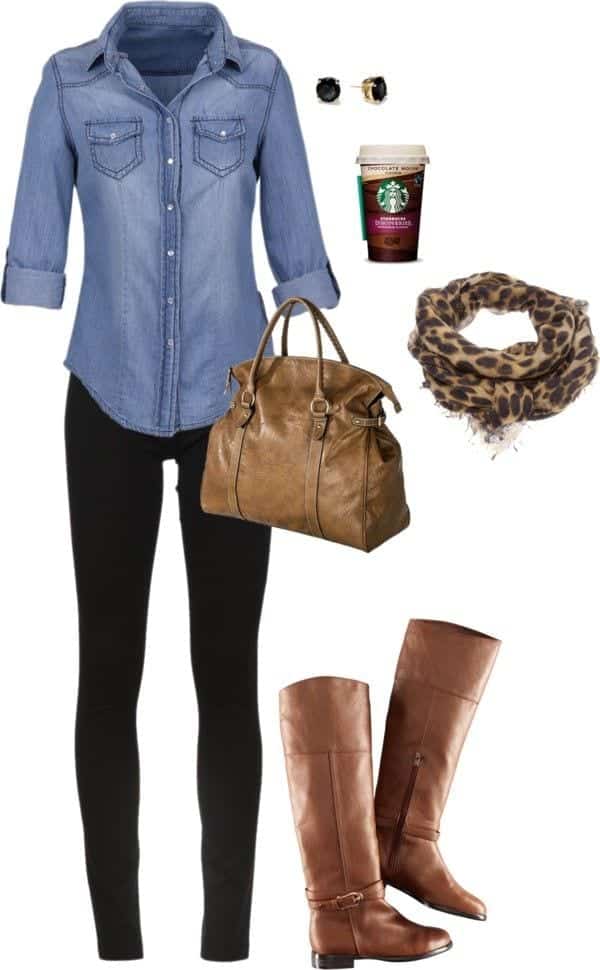 #8 – Fall Outfit For Work
When going to work or an important meeting, you can choose a formal dress and wear a contrasting blazer over it with matching handbag and pointed heels. This outfit will surely make you look exceptionally elegant and classy.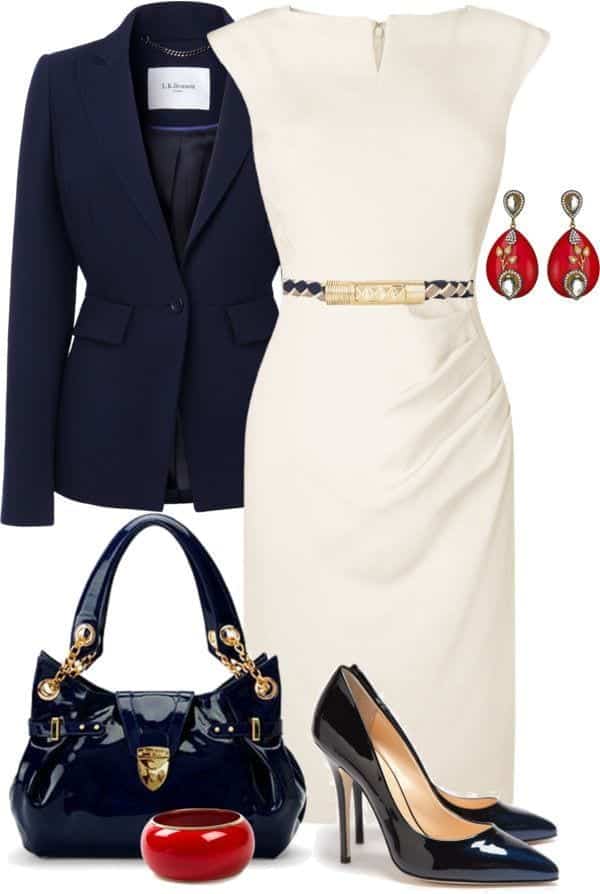 #7 – Fall Outfit For Plus Sized Girls
Having a plus size figure should not stop you from dressing in a certain way and following the recent trends. If you are conscious about your figure, this look is for you. You can simply wear a long coat over any sweater to hide your curves, with matching shoes and handbag and rock that look. Another great option is to go for a high waisted skirt with a woollen shirt and boots.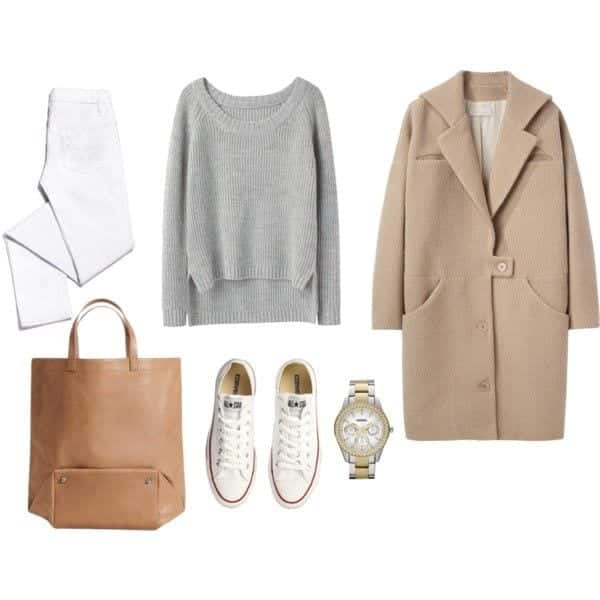 #6 – For Clubs And Parties
When it's too cold to wear dresses to a party, don't worry. You can still look chic by wearing any sparkly formal top with a classy white blazer and jeans. Pair it with matching heels and clutch and you are good to go.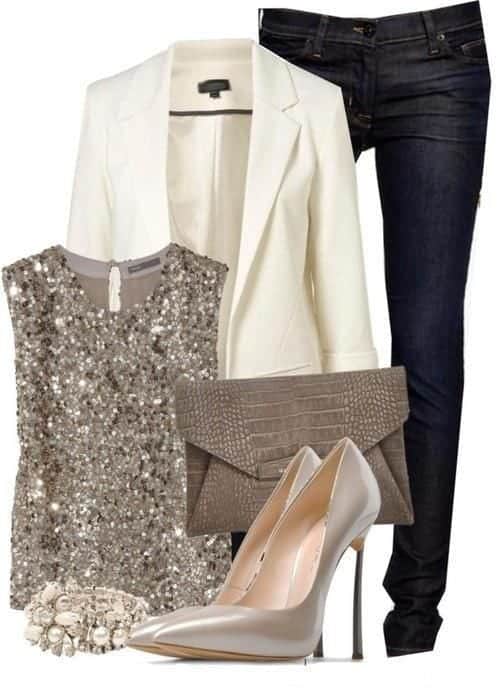 #5 – For Sophisticated Look
If you want to look sophisticated and classy, this outfit is for you. Any simple dress or top worn with a long overcoat and boots in neutral colours will give you your desired formal look. Add a smart handbag and necklace to complete your look. Add an appropriate touch of color with an emerald-coloured pendant, chunky green bracelet, and green nail color.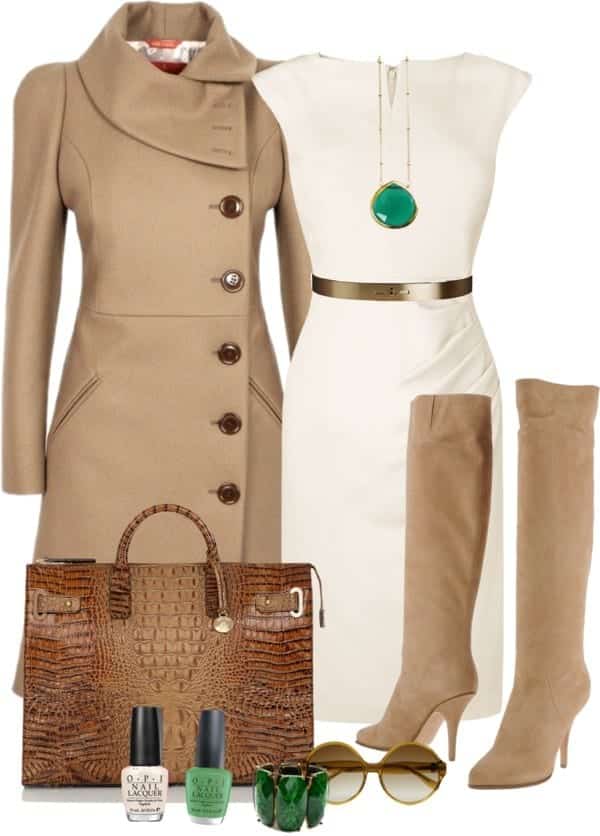 #4 – Sparkles And Glitters
Sparkles scream party and fun! If you are going to any club, night party or cocktail party you definitely need one of these sparkly sweaters. You can also wear any shiny top with a blazer to give that look and stand out from the rest of the crowd.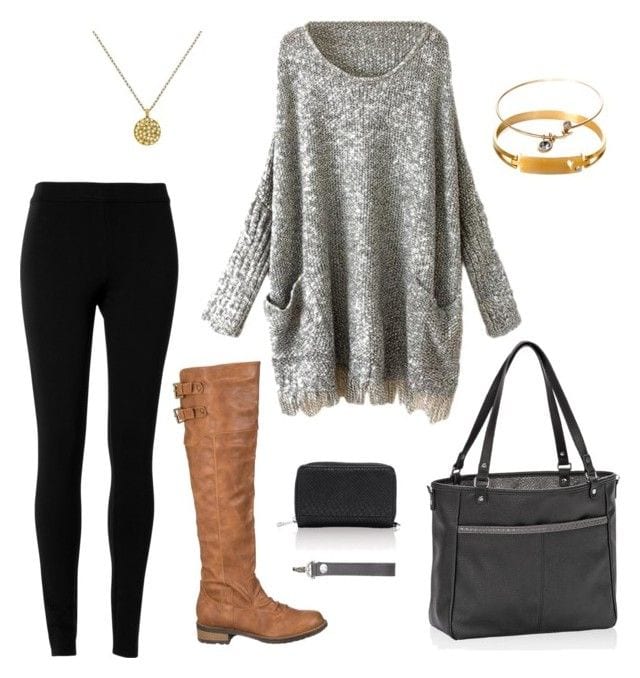 #3 – Denim For Everyday Look
Denim never goes out of fashion! Not only that, but it also keeps you warm and is perfect for a casual look. You can wear a denim jacket over any shirt or dress and pair it with just any kind of shoes like converse, boots or even heels.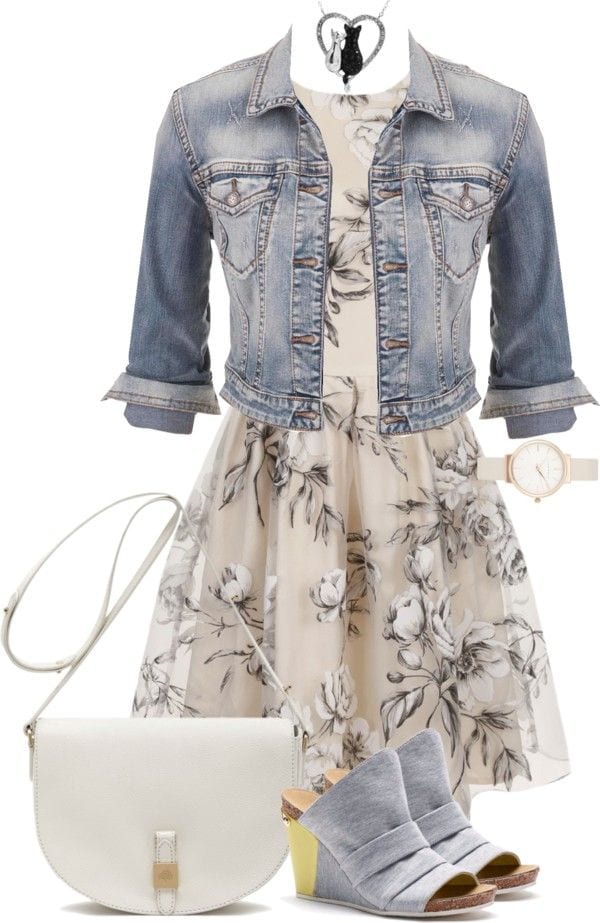 #2 – Evening Wear
When going to an evening hangout, you can simply don a light coloured shirt. You don't have to do away with your favourite summer sleeveless shirt as you can pair it with a darker cardigan. Instead, Wear it over skinny jeans and heels. Add a statement necklace to further enhance your look. Make the overall look edgy with animal print pumps for the evening.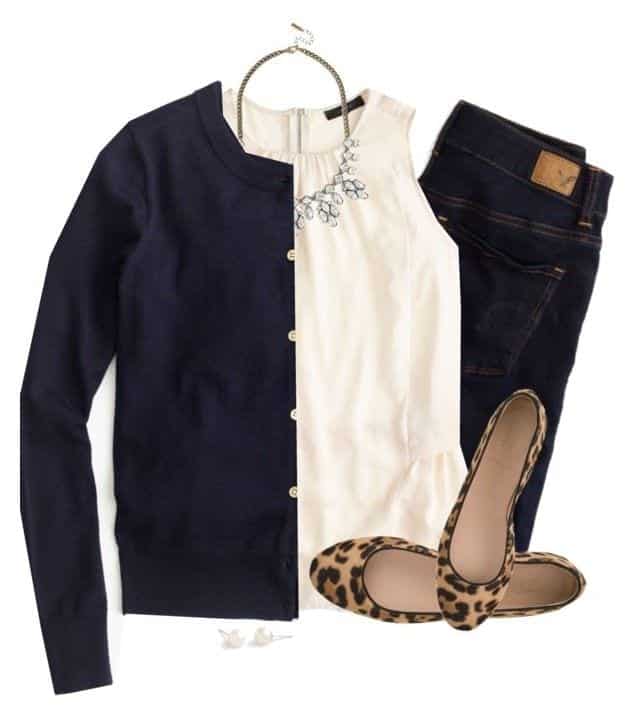 #1 – Layer Smartly
To stay cosy, layer your clothes smartly without making yourself look shapeless. The best way to do it this fall is by starting off with a denim shirt. You can wear a sweater over a collared denim shirt to give a sexy look, paired with skinny pants, long boots, and a stylish chain bag. Want to turn over this simple look into chic style? Red is the color of autumn so it is time to get your red clutch out and wear pearl earrings along with a silver watch. Don't forget to take out your shades while leaving home.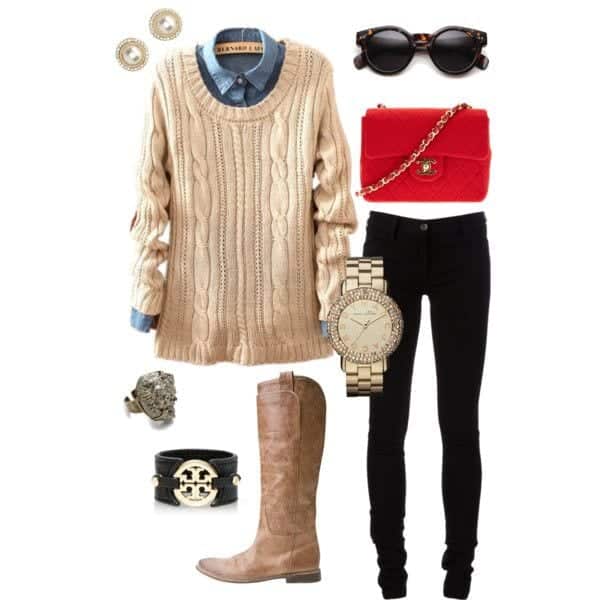 We hope these simple ideas and tips will help you style some of the best outfits this season. Take inspiration from these top combinations for fall outfits and incorporate them into your wardrobe. Most importantly carry your outfit with confidence and we guarantee you a perfect look and lots of attention your way. Let us know which one of these is your favourite in the comments!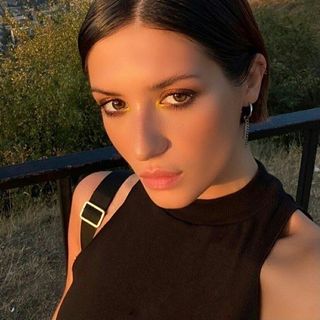 Avid reader and Fashionista. London Based freelance lifestyle editor