Winter outfits for Teens – Winter wear can be super boring, especially if you are on the go and need something new daily. One way to repeat any outfit is to style it in different ways. Add a scarf around the neck, over your jacket, or a woolen shirt.
You can also wear a blazer over a top, styling it with a statement necklace. You may add any trendy piece of accessory to match the outfit and give it a new appearance. It will completely change the look and make you seem more charming. We know how many girls love sneakers and how they can be worn with most outfits. You can also check out this great collection of Sneakers For Teenage Girls.
Winter Fashion for Ideas For Teens
With a wide variety of options, finding some stylish pieces for Winter won't be so difficult. Here are some simple and easy tips and tricks to follow to take the outfit up a notch:
Leather jackets and hoodies are most preferred in winter. There are available in several colors and styles.
Jackets can be worn to cover but also work as a style statement.
Stay updated with the latest cuts and designs.
Make sure to have matching makeup and hairstyles that go well with your outfit for a chic look. For example, if you are going for funky outfits, you need to have a cool hairstyle with it too. Check out our vast collection of the latest funky hairstyles for teenage girls only.
Woolen sweaters have been trending lately. Wear them with distressed jeans for a casual style.
Cashmere Sweaters and Blazers are also an excellent choice for the Winter season. You can wear them with printed trousers or embellished jeans for a unique look.
Nothing looks better than a printed or a knitted scarf. Use this opportunity to stock up on some of the latest styles.
Another great option is to wear a blazer or leather jacket over a peplum top

. Y

ou can get many

ideas on

How to Style Peplum Tops in winter

.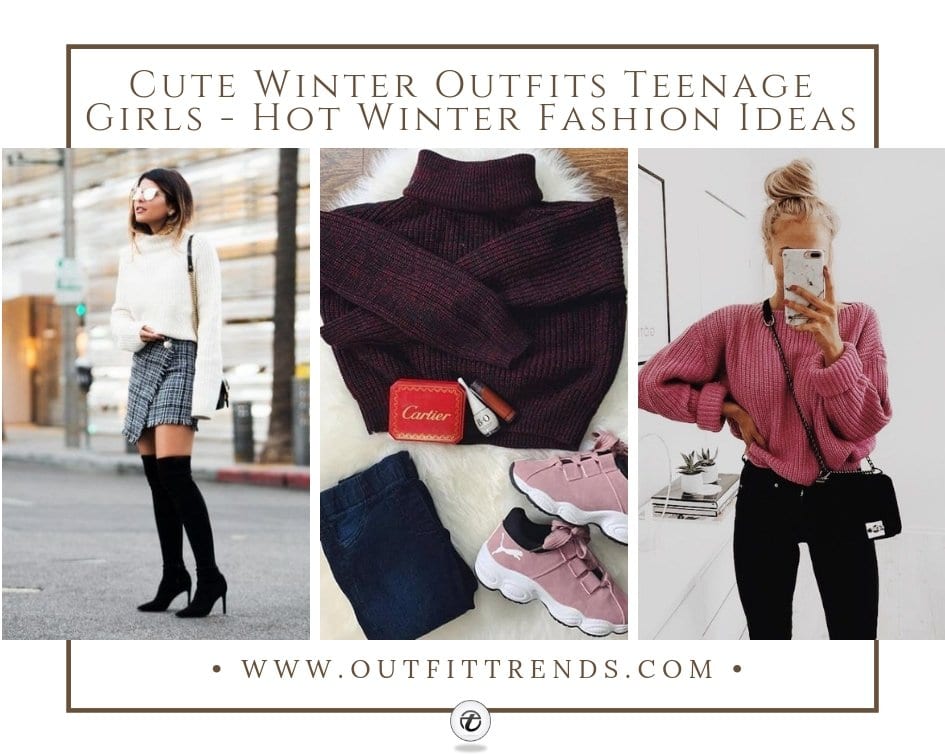 ↓ 17. Neutral Tones
Here is a must-have for all girls in winter. Find a comfortable knitted sweater, or get your grandma to knit you one. Sweaters are great at helping you keep warm and can make any outfit look desirable. It can be matched with anything in your wardrobe, but we want you to look your best with blue denim jeans and a grey infinity scarf. Always remember that you may look chubby with heavy clothing in winter, so to avoid that, always wear skinny jeans. Wear them with statement shoes like these classic Uggs, and add a shoulder bag in matching tones. Some studs and a bracelet will look great with the look.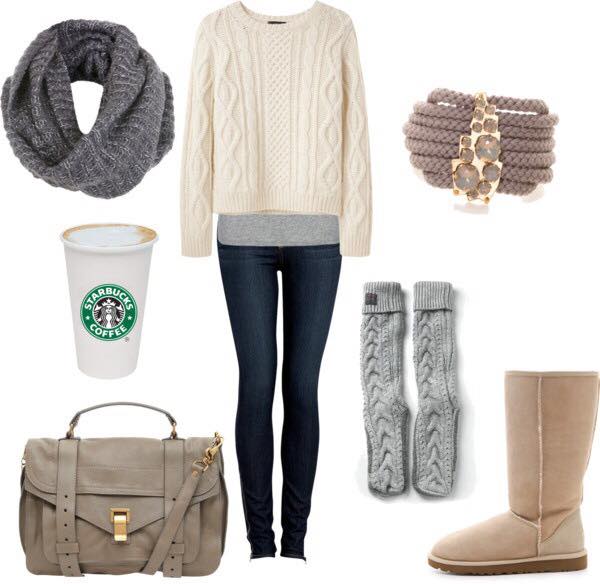 ↓ 16. Striped Sweater
Here is an outfit you could wear in the middle of the week when you feel like chilling out but still want to give out mod vibes to your fellow peers. A striped sweater in lighter hues looks pretty awesome when worn with black or blue jeans, a scarf, and a pair of studs. A great idea would be to wear plimsols with this ensemble.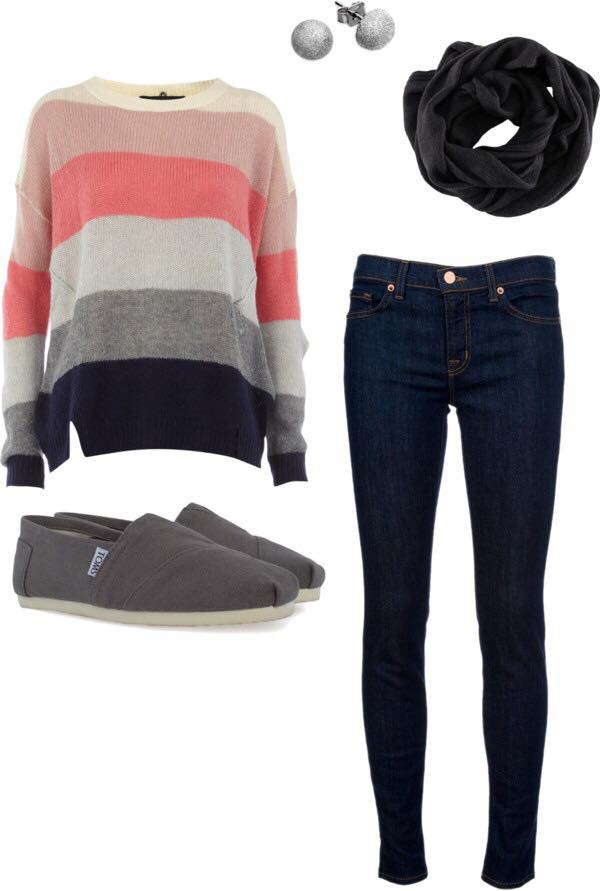 ↓ 15. Sporty Style
Ah, the last day of the week when you feel tired of dressing up and want a laid-back style. A hoodie with a grey beanie and white sneakers seems perfect. Put on some eyeliner with this outfit to ward off the slumber look.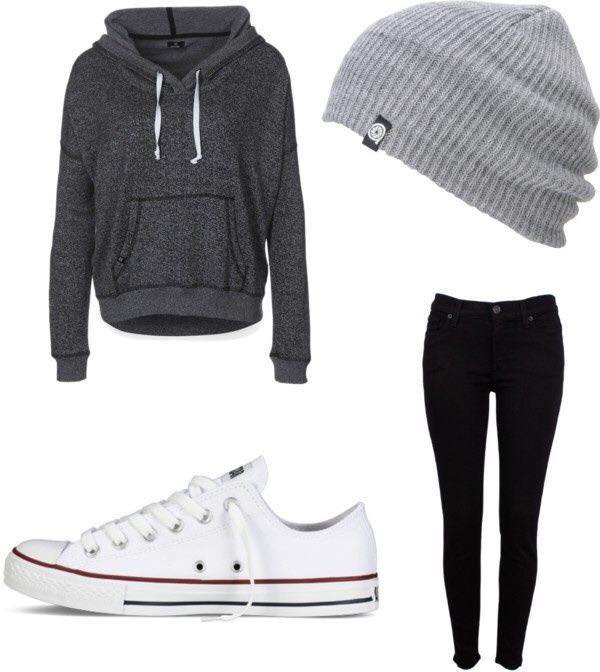 ↓ 14. Street Style
Hand-knitted scarves look highly fashionable with almost any outfit. You can style them with a peplum or wear them over a sweater. You could also knit one for yourself in a matter of days or just grab one from the market. Long vintage cardigans look pretty awesome with lovely black tights and shearling brown wedge boots to match them with. When going out, I always prefer a high bun, which is easier to handle with all the clothes.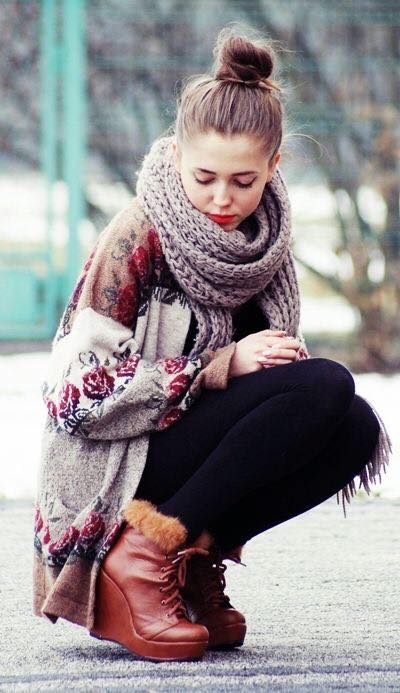 ↓ 13. How To Wear Ugg Boots
Being sporty doesn't mean that you can't look good. Look at the following styling idea and get a noticeable fashion look. The color choice is up to you, but going for greys and blacks is excellent because they are risk-free. Pair a white tank top with a hoodie and a scarf with Uggs. You can go with plain sneakers, but Uggs add the extra edge needed with the outfit.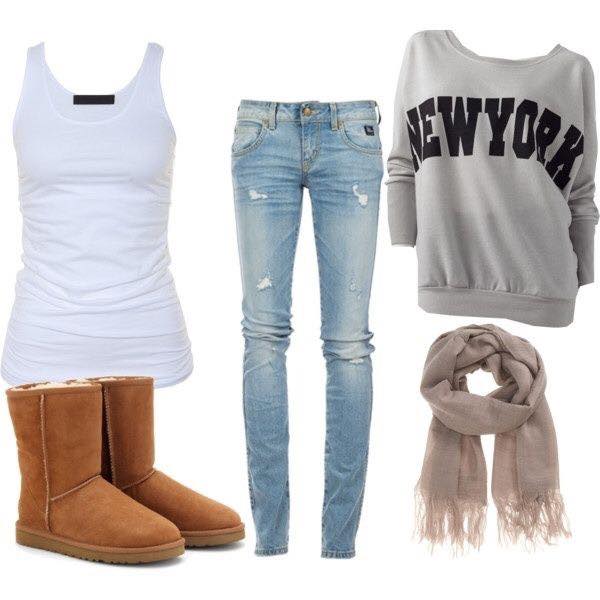 ↓ 12. Pink and Grey
Here is an excellent girly winter color combination you could wear this season. Leave the bold and vibrant colors to wear in Summer! Style any of your winter wardrobe staples is a great way to put together a cute look. Not only do they look great, but they also allow you to re-wear some old pieces. With the holiday season close by, you can wear Christmas-style leggings with an oversized sweater. You can also wear it with a sweatshirt to get the schoolgirl vibe right. We adore this subtle combination and cannot wait to try it on ourselves. To give the outfit much-needed glam, add a pink scarf and a pair of silver or grey studs. We recommend some Ugg boots for the shoes to keep your feet warm and give the outfit a fun twist.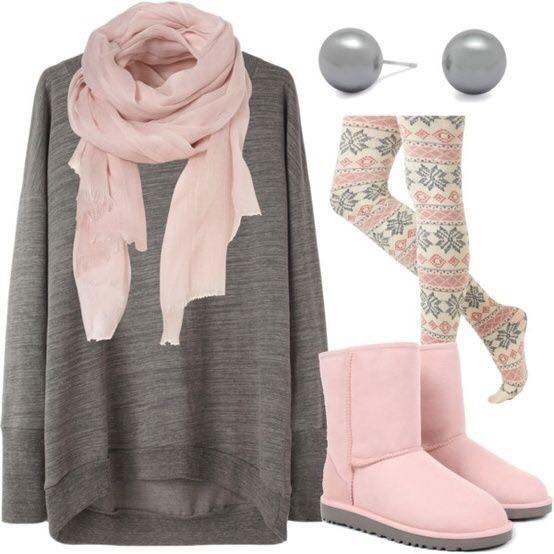 Also see: 20 Trending Urban Outfits for Teenagers
↓ 12. Winter Accessories
Who says that you cannot show skin in Winter? Look ultra trendy in this off-the-shoulder cardigan matched beautifully with turned-up denim and a pair of animal print ballerina pumps. Balance the whole look with a green knit scarf and sunglasses. Chunky earrings or a nice wristwatch is the only other accessory required.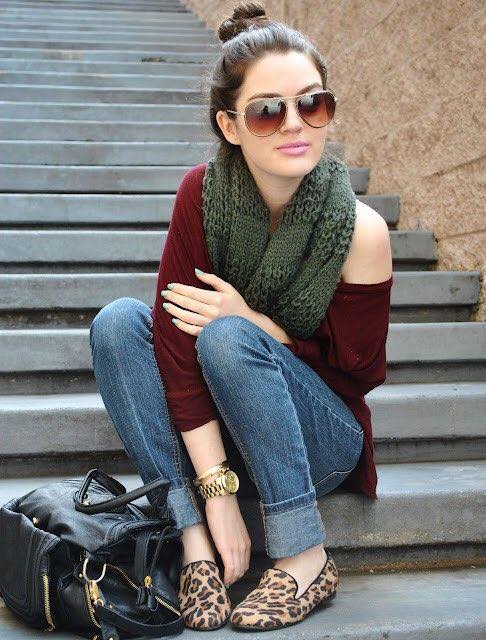 ↓ 11. Ultimate Fall Look
With Fall and Winter so closely situated, here are some pieces you must include in your wardrobe. A creme color sweater can work well with almost any color. You can create a neutral look or add bright-colored pants for a fun, youthful appearance. We love how well the sweater complements the burgundy pants. The two can be put together for a casual look on a day out with friends or at college. A great way to enhance the look is to match some accessories. Go for dull dark nail color and a funky ring. Add a sling bag or a tote to keep it comfortable and chic.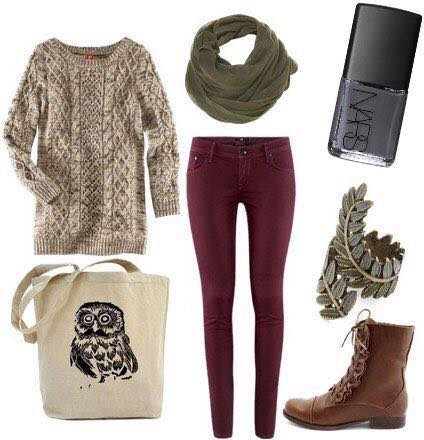 ↓ 10. Distressed Denim Jacket
Here is a geeky look that is perfect for teenage girls. With a loose fit, a Denim bleached jacket gives a retro look. Denim pieces can be worn throughout the year without looking boring or out-of-season. With wide varieties available, we recommend a distressed or embellished jacket to make the perfect style statement. Wear it over a grey sweater shirt and black leggings to make the winter look right. We love how up-to-date and youthful this outfit is; perfect for any casual setting. Complete the look with a pair of Jordan sneakers and some cool eyewear.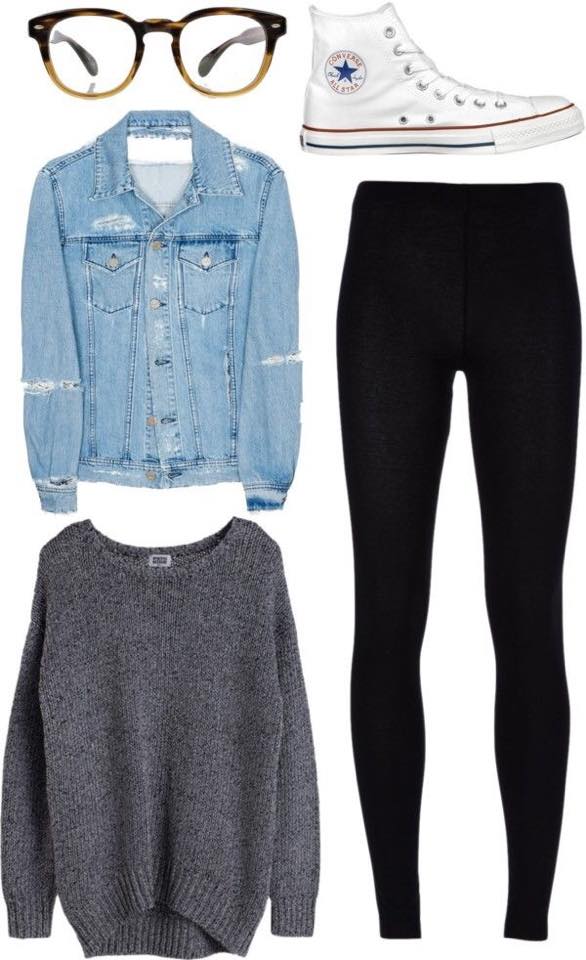 ↓ 9. Trendy and Chic Style
We cannot get enough of this tasteful and elegant style. Young girls tend to undermine the power of pink and usually skip it for other shades. However, this outfit makes us want to fill our wardrobe with pink shirts and sweaters. Here is how to style yours! Pair basic black pants with a girly sweater shirt like this for an intelligent look. A pastel bag and some gold jewels will give you the much-needed shine for the accessories. Wear it with edgy and cool boots, or add the Ugg boots for a cute and youthful appearance.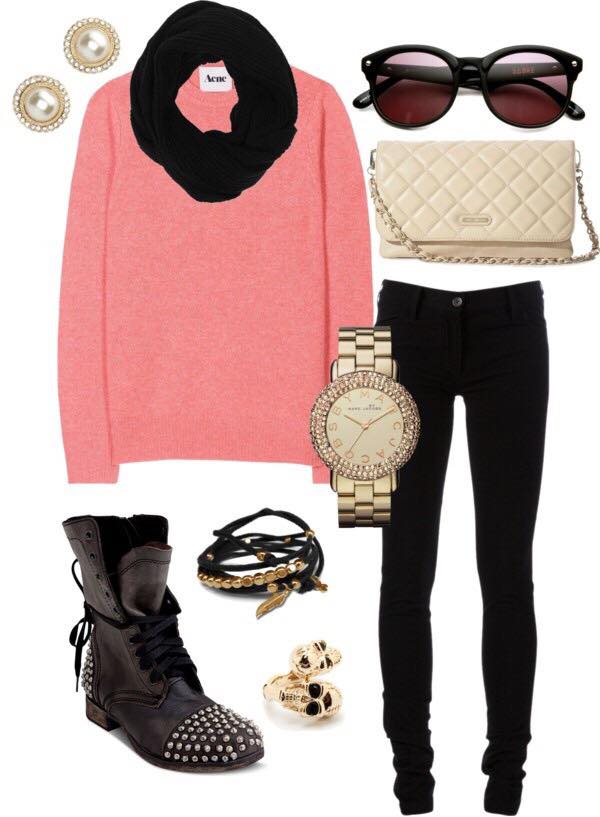 ↓ 8. Puffer Jacket Vest
Get in the ultimate Winter Wonderland spirit by picking out some classic pieces. This outfit sure is tasteful and will win the hearts of many. There are so many things to love about it. The color combination, the long Tory Burch boots, and the classic accessories look lovely together. This look could make for a great travel look for the Aspens. Puffer jackets are anyway a hot trend. They look great with almost every outfit, but this emerald green vest is a must-have for every teen girl.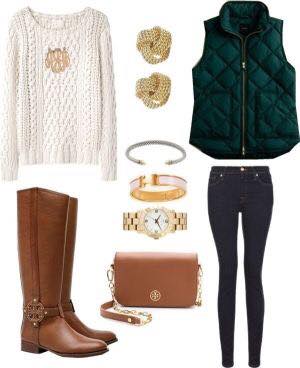 ↓ 7. Schoolgirl Style
Here is an excellent back-to-school look you could wear in Winter or Spring. While we acknowledge that dressing up in the mornings is not a piece of cake, it isn't that bad either. Go the easy way by pairing a nice pair of jeans with a sweater to keep it cool and comfortable. You can choose a colorful, bright sweater or a dull yet beautiful one. You may also add some color with a printed, vibrant scarf. For shoes, you can wear cool sneakers, espadrilles, or a pair of boots for the ultimate Winter style.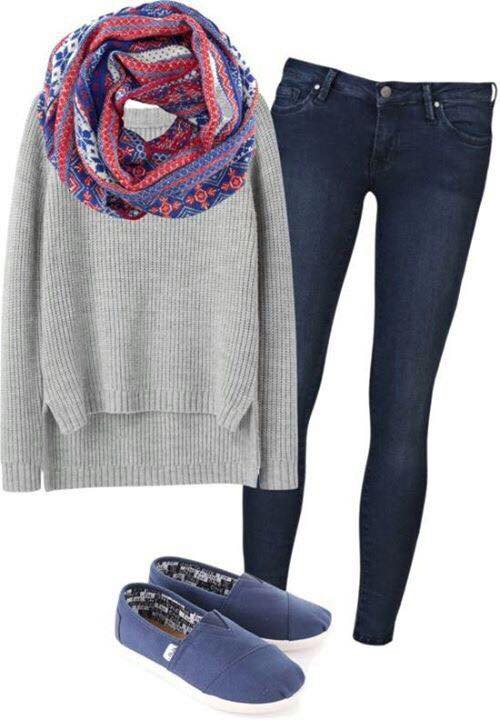 ↓ 6. Casual Sweatshirt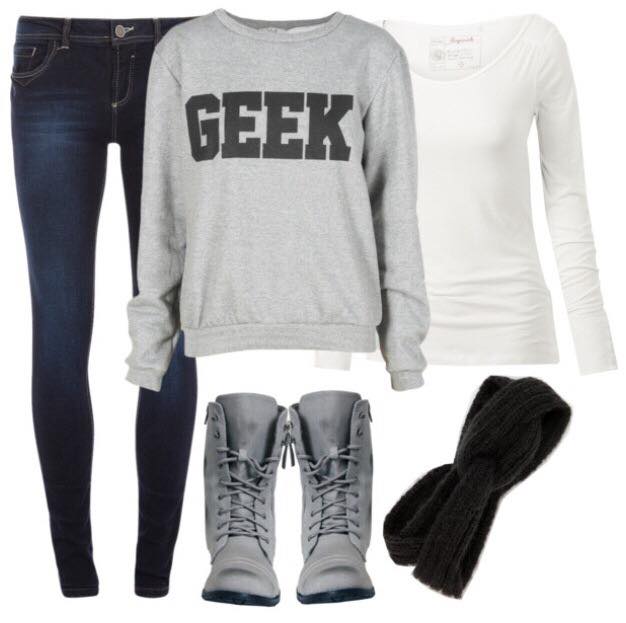 ↓ 5. Woolen Scarf
A knitted scarf is a quintessential winter accessory to stock up on before the season kicks in. Why do we recommend it? Simple. Scarfs can help accessorize almost any outfit. You can wear them over an oversized sweater or a classy winter dress. Day or night, these scarves help you stay cozy and warm. Here is an excellent example of what a woolen scarf can do to your outfit. Without it, this outfit would have been dull. The addition of a simple white scarf just took it to another level.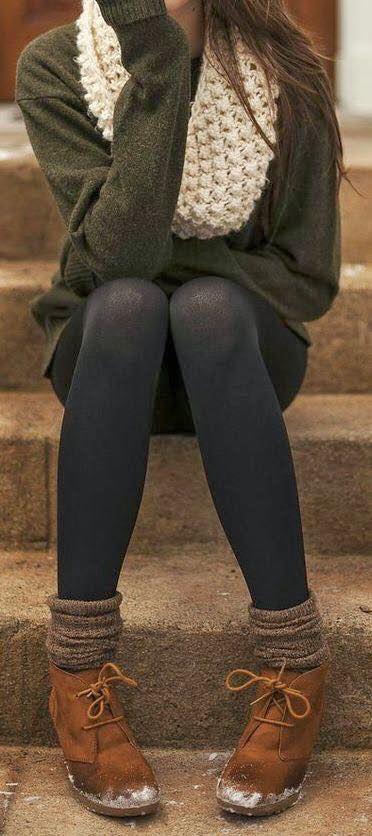 ↓ 4. Hair and Makeup Idea For a Casual Look
Tired of dealing with oily Winter hair? Here is a great solution. Give your hair a much-needed break from excessive shampooing. Tie them up in a bun to give yourself a sleek and smart look. A top-knot goes well with Winter attires and can help add a bit of height to your figure. Try different styles, like a reverse braid or messy bun, or add cute hair accessories for a funky look. For the makeup, warm tones are just what you need. Pick out browns from your Urban Decay Naked palettes and smear some on the eye's crease to add some shadow. A bit of highlight on the corners would instantly brighten up your look.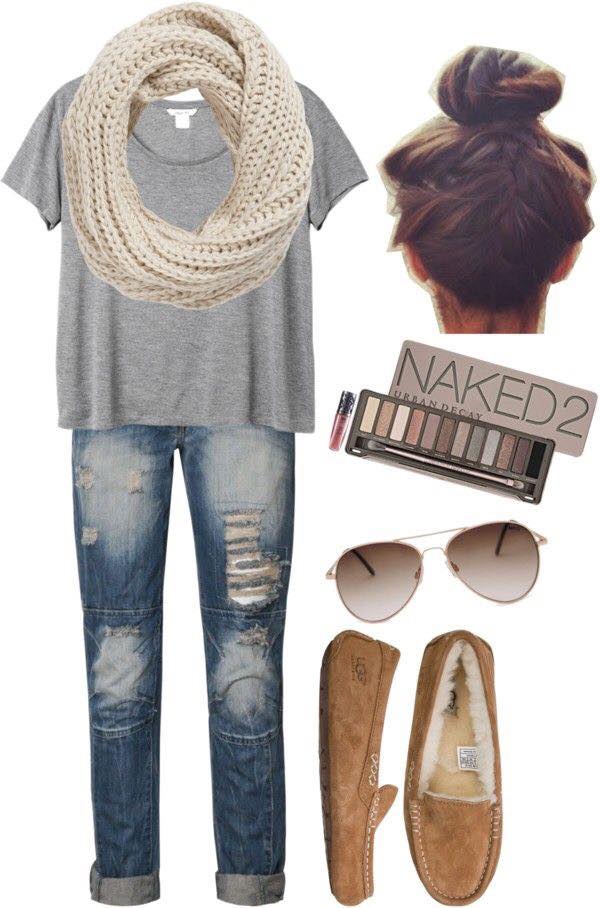 ↓ 3. Grey and Black
Here is a perfectly chic outfit to wear when it is snowing outside. Sophistication is the key, and so we love this minimalistic style. Keep yourself comfortable and warm while looking effortless and cute. Everything about this outfit makes us want to hit the racks immediately! Each piece has been picked to match the combination and looks great. Everyone has an essential pair of black jeans lying in their wardrobes. Get hold and style it with a long woolen sweater shirt. You can throw in classic Raybans and a grey beanie for the accessories.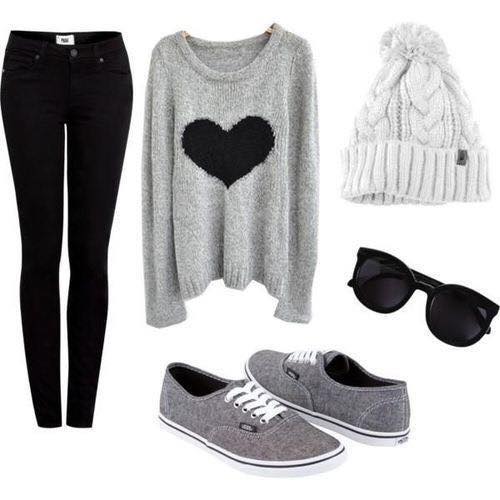 ↓ 2. Edgy Look
Channel out your inner fashionista with this glamorous and edgy style. While most people opt for pastel tones during Winter, you can break the norms and go for an all-black look with a slight pop of color. Here is another excellent way to put your black jeans to use. This super cool sweater can be worn while out with friends or when building snowmen. The outfit has all the C's: Classy, comfortable, and chic. That's not all! Here is more to add.
A basic black outfit sure needs a bit of oomph! Add in some edgy, lace-up boots.
Keep your eyeglasses in check to beat the Winter sun.
A classy, gold watch can never let you down.
Add a scarf around the neck to keep it warm.
Lastly, a friendly, light-colored bag would be great at toning down the look.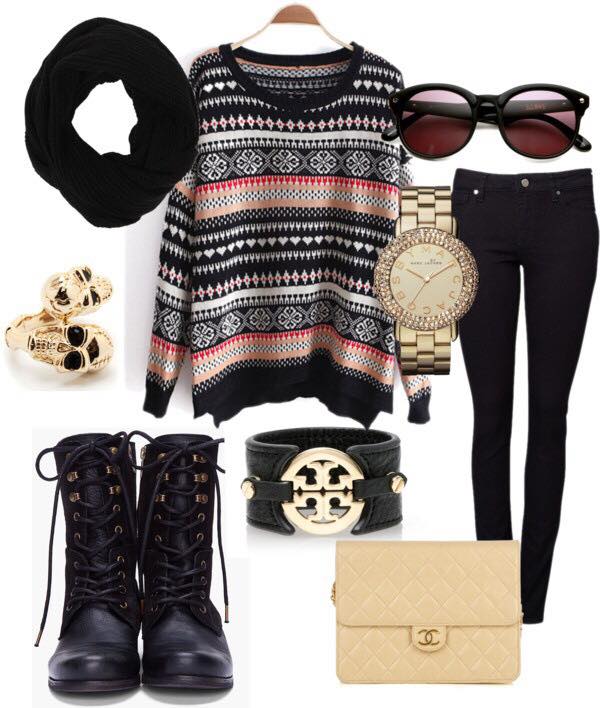 ↓ 1. High-Neck Sweater
After looking at this effortlessly chic outfit idea, we bet you would want to hit the stores. We have discussed the different sweater styles, but here is one that remains a forever classic. A turtle or a high-neck sweater is a must-have for every young or old girl. It is a staple winter clothing you must own. We adore this plum-like sweater that has been paired with denim jeans. Wear it with sneakers or joggers to look simple and minimalistic. We recommend pulling your hair in a loose bun for this attire to highlight your face. This classy and trendy outfit is just what you need for your next coffee date.