What to Wear for Concert – Are you ready to rock out at your next concert, but unsure of what to wear to make a statement and feel comfortable? Choosing the right outfit can enhance your concert experience and make you stand out from the crowd.
Whether you're headed to a wild music festival or a laid-back concert, dressing for the occasion is key. From bold prints and vibrant colors to comfy sneakers and denim jackets, endless options exist to express your style while staying cool and comfortable.
Here's everything that we'll cover today:
Before deciding on an outfit, make sure you ask yourself these questions:
What type of concert is it? (Rock, jazz, hip-hop, symphony, etc.)
What type of venue? (Outdoor, indoor, stadium, a club, etc.)
What will the weather be like? (If the concert is outdoors, make sure you are prepared in case it rains, it's snowing, or it's very hot so you can dress accordingly!)
Will you be standing or sitting? (This will heavily influence your footwear, my friends.)
Does the concert take place at night or in the daytime?
Once you answer these questions for yourself, it's time to get into some of our top tips for planning concert attire!
Styling Tips
Wear flats, sneakers, or other comfortable shoes. This is more pertinent if you are attending a concert where you will be standing or dancing most of the time. Obviously, this may be different for an opera or symphony concert where you are sitting most of the time.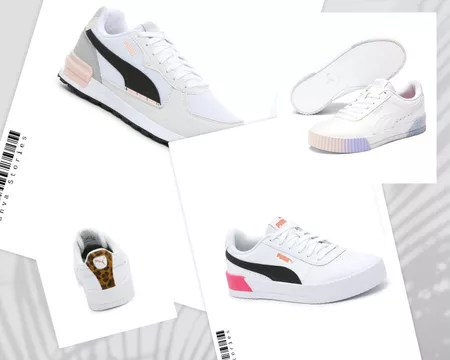 Go easy on the layers. Wear something you can remove and tie around your waist if you get too warm, but think twice before piling on the scarves, hats or other pieces that you couldn't easily stash away if the need demanded it!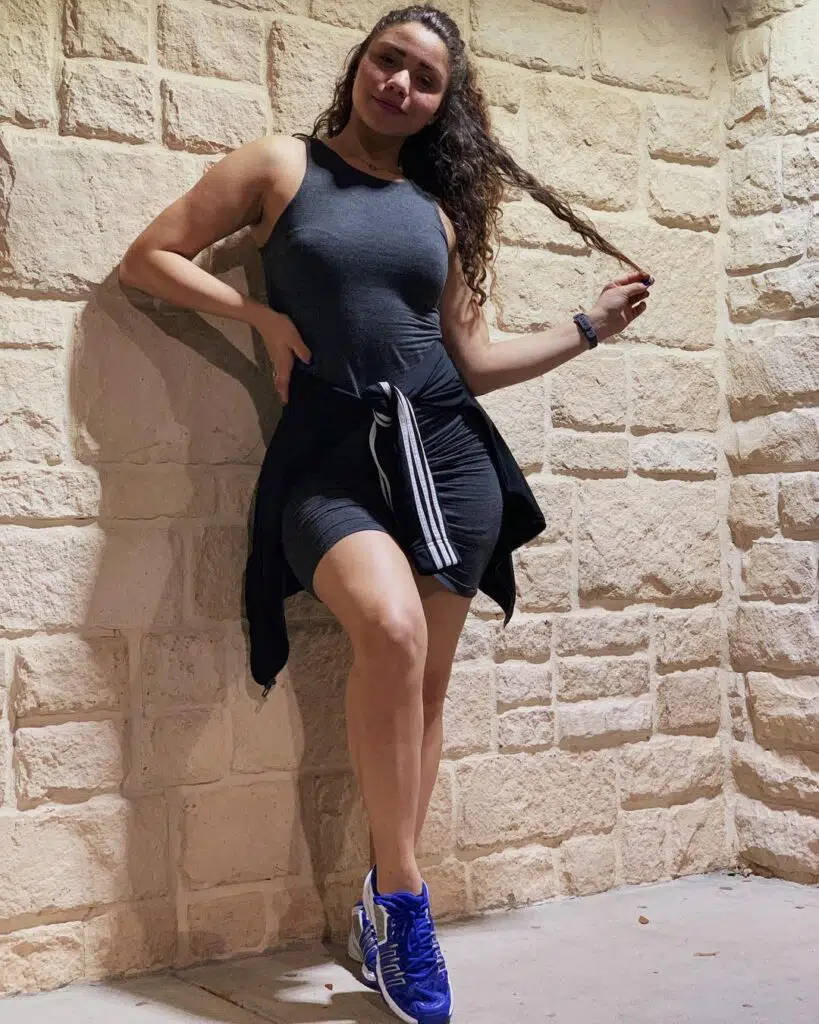 Avoid open-toed shoes. Again, this applies to concerts that require standing. If you plan on rocking out down in the pit, then you are definitely going to have your toes stomped on! Avoid flip-flops or any kind of shoe where your toes are exposed. (Unless it's for a concert on the beach; this is where knowing your venue is important!)
Wear a crossbody purse. This is great for keeping your essentials close on your body so you can jump around, dance, and have fun worry-free!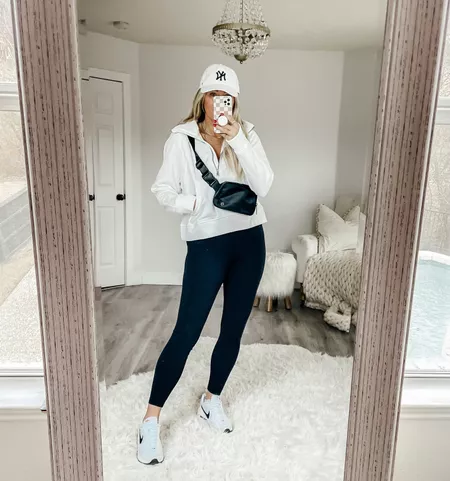 Dress for the weather. It's important to check the weather forecast before choosing your outfit. If it's chilly, bring a jacket or layer up with a scarf. If it's hot and sunny, wear lightweight and breathable fabrics.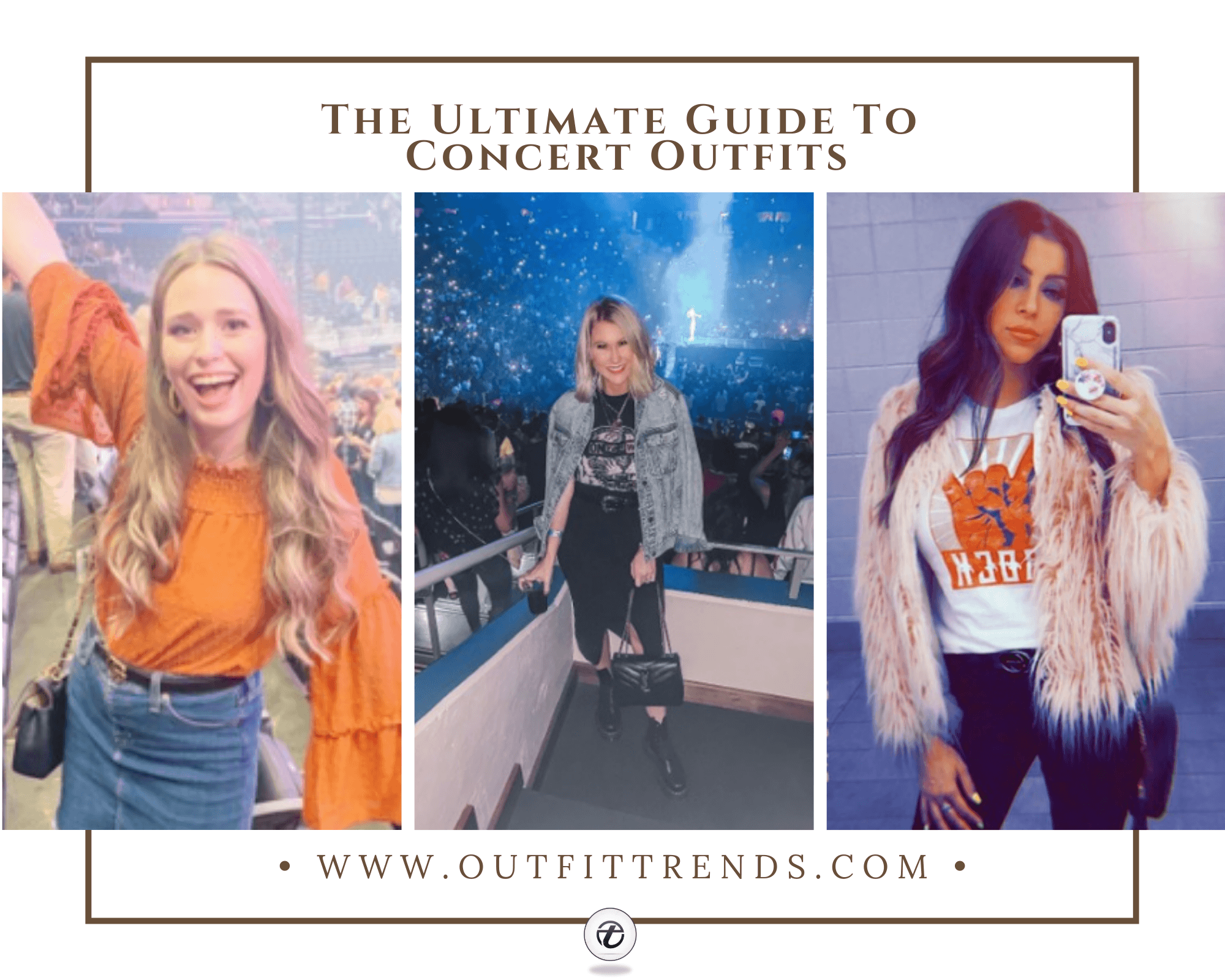 Casual Looks With Jeans And Palazzo Pants
23 – Girly and Feminine Style With Stylish Blouse
If you're a teenager or in your twenties, consider opting for pale pastel shades and classic accessories for a sweet, sophisticated, and elegant look at a jazz concert, which typically calls for dressier attire.
Here we have a smart look for you. Wear a spaghetti-striped blue shirt paired with white skinny jeans and wedges.
Wedge heels can be uncomfortable throughout the event. That's why swipe them with sneakers and enjoy your musical event to the fullest!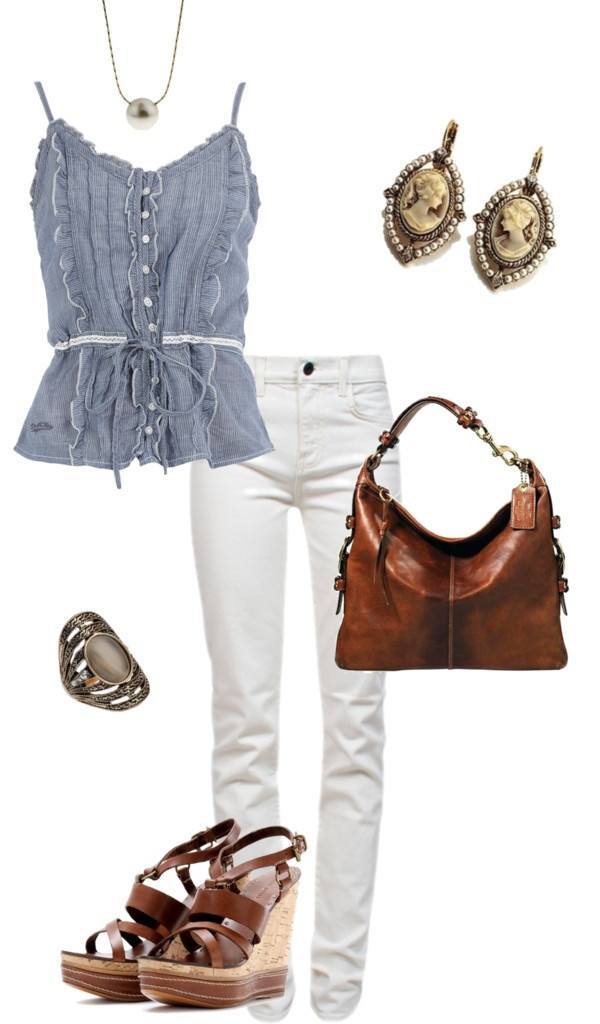 Country music is most popular in the South of the USA, encompassing the sense of that beautiful country region and folk music incorporated in the songs.
So when attending a country music concert, this plaid shirt, cowboy self-patterned shoes, and a cowboy belt are all you need to look the part. Just add a fedora hat or a baseball cap. Wear a checked shirt and embroidered bootleg jeans if you want to dress up according to the Texas cowboy style. Pair these with a basketball cap, buckled belt, and long cowboy boots for a sporty look. Yeehaw!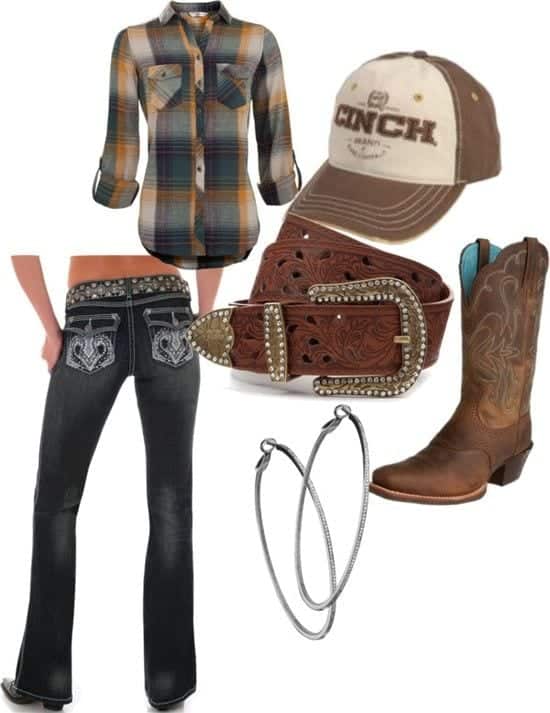 21 – Add A Button Down Shirt Over Tank Top in Summer
Most concerts are held during spring and summer as people like to go on holiday, so if the heat bothers you, dress lightly.
This means wearing a black sleeveless tank top, which can be covered with a shirt at night or in the evening. You can wear a jacket or blazer over it to give a decent yet modern look and mix-match it with bell-bottom jeans and boots.
You can also wear high-heeled pumps if you have combined them with a shirt or a blazer.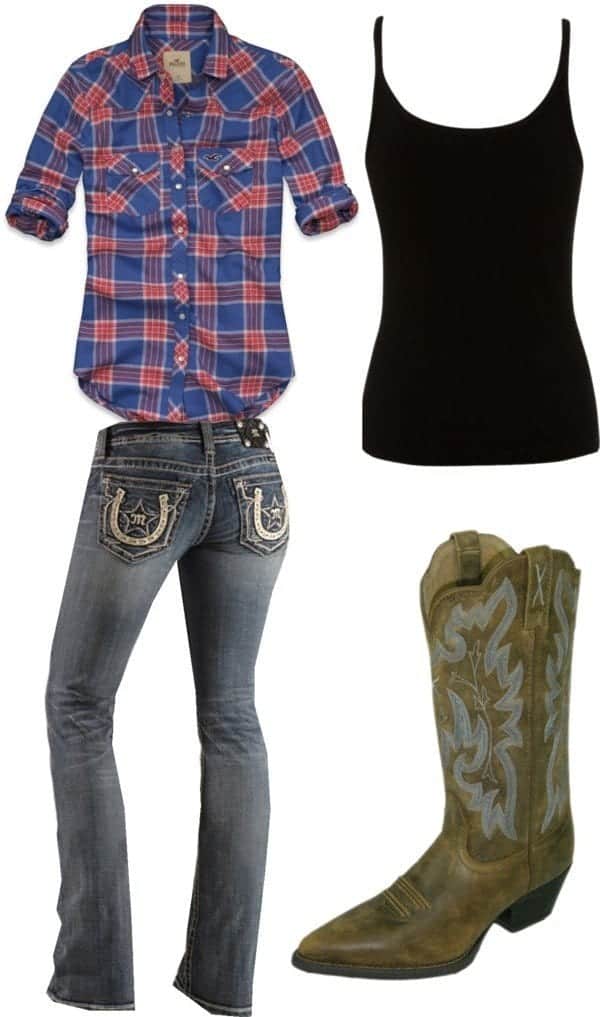 20 – Keep it Casual With a Black T-Shirt
If you are attending an event during the daytime, keep it casual. This means a plain black t-shirt, ripped jeans, and a shirt tied around your waist.
Open-toed boots look stylish this season as they are perfect for music events and complement the jeans you have worn.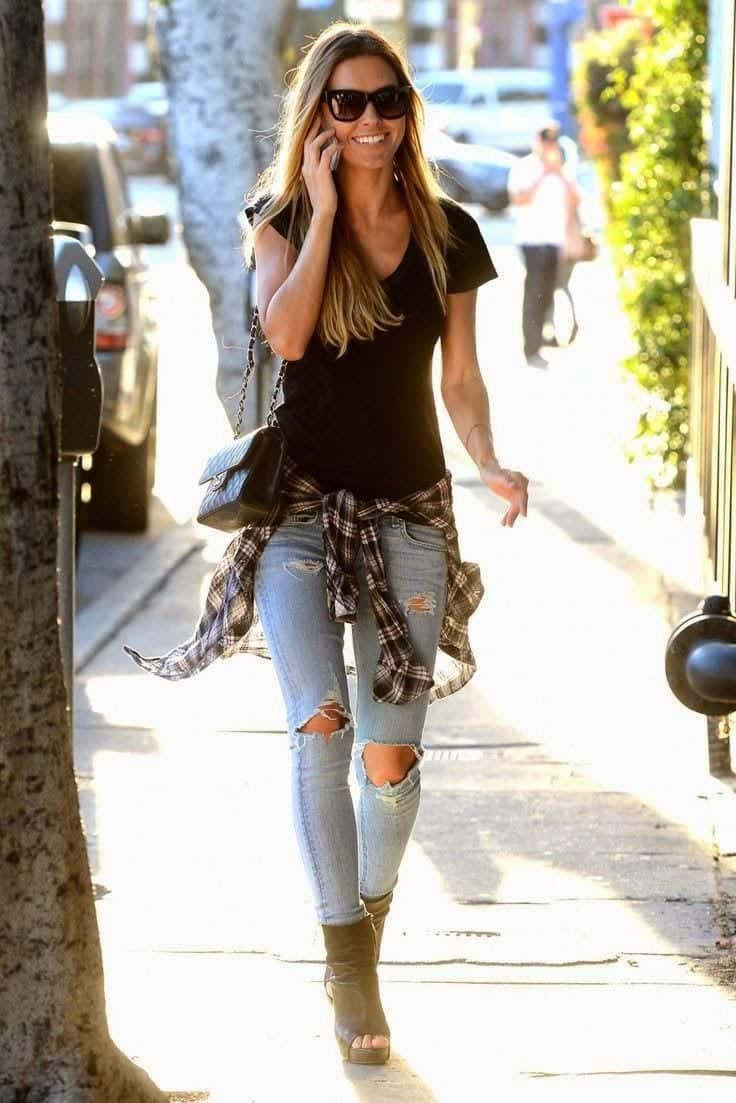 19 – Layer A Blazer to Keep You Warm
When attending concerts, especially at night, it's common to get quite chilly. So make sure you bring a jacket, so you aren't left shivering as the hours go on! This is a great outfit for college-aged girls and older; it is chic, simple, and super stylish.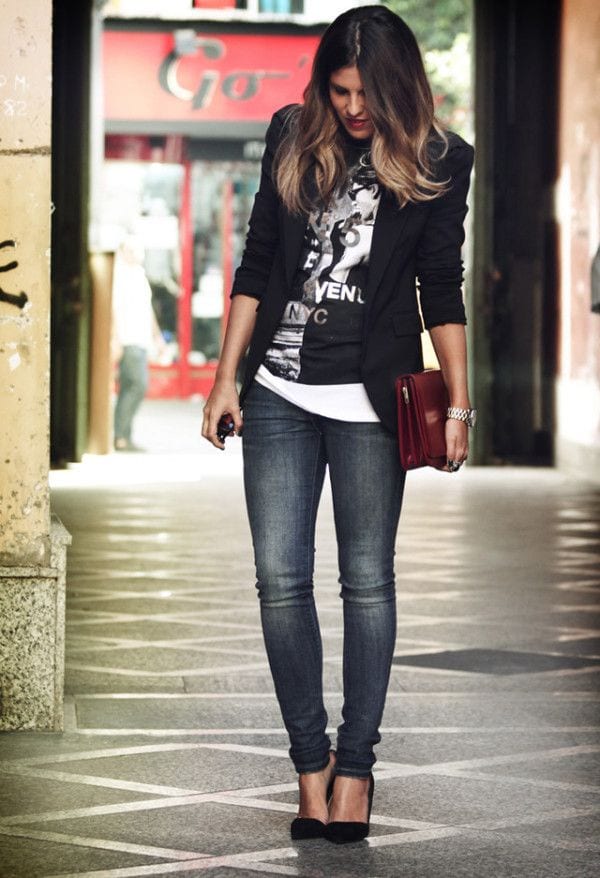 18 – White Tee and Ripped Jeans
A white tee is a cute look, especially when paired with light-wash denim and sandals. Tie a plaid shirt or jacket around your waist if you get chilly, and keep your accessories minimal. A simple pair of aviators will do the trick, as well as a cute, brightly colored purse. (Stick to crossbody if you can and keep your bag small, as no one wants to lug around a giant bag when they are trying to rock out and have a good time!)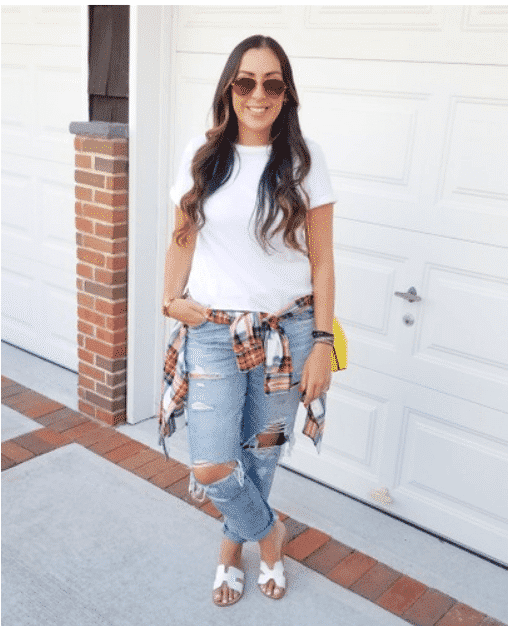 American Eagle Tomgirl Jean $29.99
17 – Ripped Skinnies and Band Tee
High-waisted skinnies are essential and look great when paired with a sleeveless tee and ankle boots. Throw on a print wrap and pair it with a matching cross-body purse.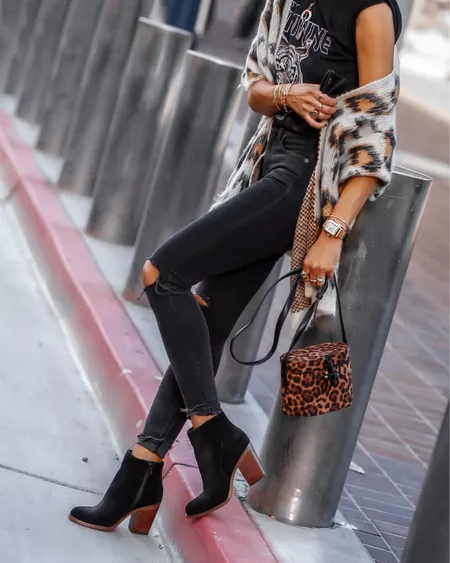 If you are looking for an outfit that is the perfect mix of casual and trendy, consider pairing an off-shoulder pink blouse with cargo pants and sneakers.
The off-shoulder blouse adds a touch of femininity to the otherwise utilitarian cargo pants. Sneakers offer a comfortable option for walking around and dancing at the concert while keeping your feet stylishly covered.
You can complete the look by accessorizing with a trendy handbag and statement jewelry such as hoop earrings. This outfit is perfect for a music festival or any outdoor concert and will make you feel comfortable and confident all day.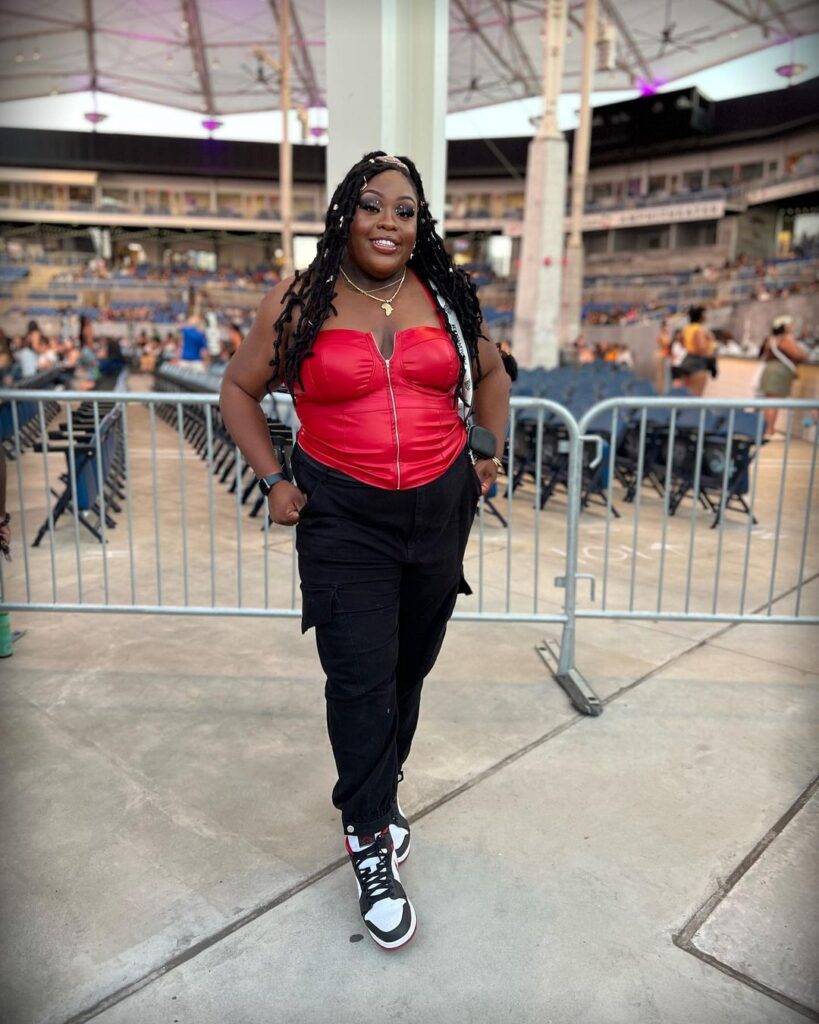 15 – Palazzo Pants Are Always In-Vogue
This gorgeous bohemian look is great for summer concerts, both indoor and outdoor. It's all about the palazzo pants with this look, but they are complemented so nicely by fun matching accessories.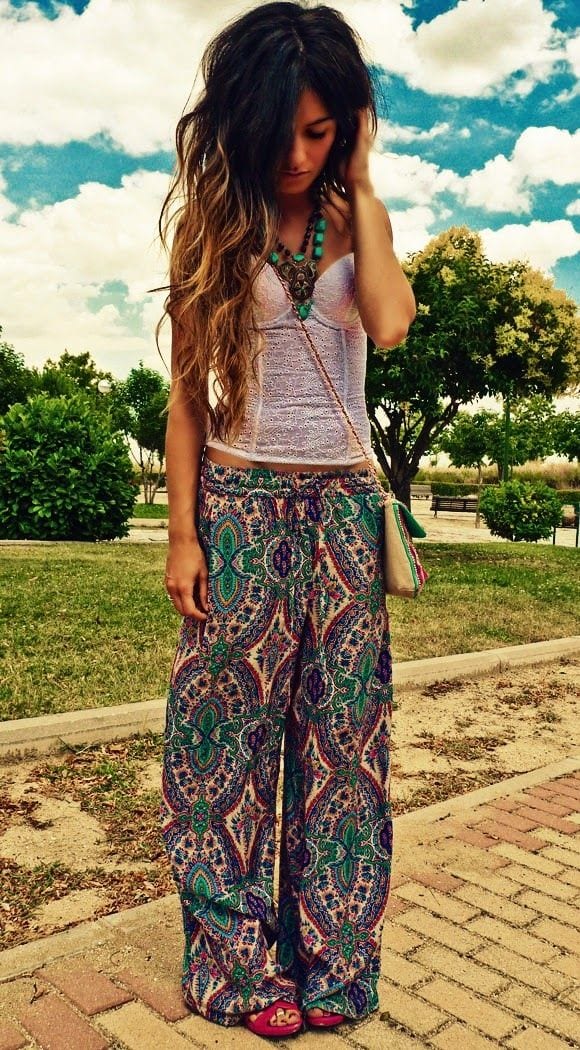 14 – White Crop Top and Palazzo Pants
Looking for a breezy and stylish outfit for a concert? Consider pairing a white crop top with black palazzo pants.
The airy and flowy nature of the palazzo pants combined with the cropped top creates a comfortable and fashionable look. This outfit provides a great way to stay cool during warm outdoor concerts while still looking chic.
This outfit is perfect for various concert types, from indie to pop, and is sure to make you stand out from the crowd.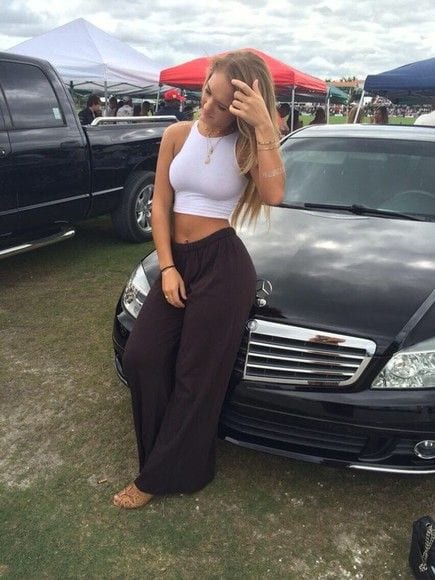 Dresses Can Never Go Wrong!
13 – What to Wear to a Daytime Concert?
In the mood to dance your heart out? Frocks and shift dresses or body cons are the best way to dress up. Wear a bright, funky yellow dress with high but comfortable heels and 1970s white-rimmed sunglasses. Matching hot pink lipstick will help make you stand out. Accessorize with dangling earrings.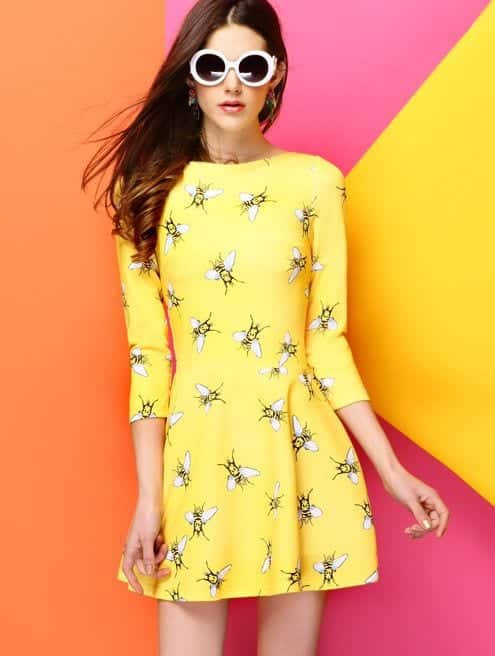 12 – Daring and Retro Funk
If you are attending a hippie concert, keep it funky and retro. Find a cool printed, preferably digital art top and pair it with oversized sunglasses for a bold chic look. Let the dress talk, and keep the rest of your accessories minimal.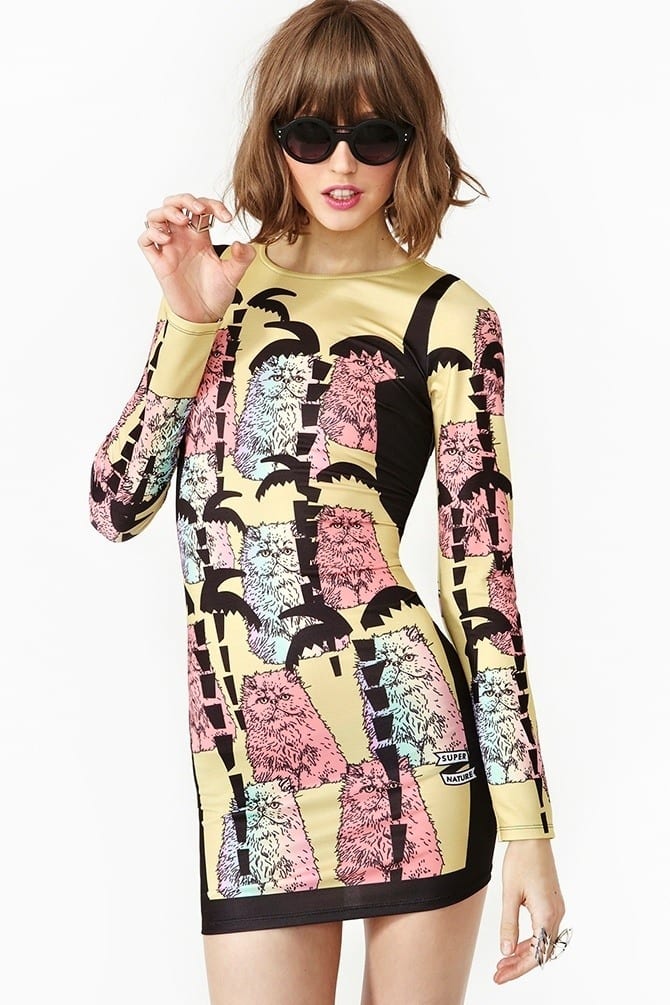 11 – What to Wear to a Country Music Concert
Scarves look too good in any winter concert outfit. You also get many ideas on wearing a scarf with different outfits for a glamorous look at your concert. Shirt dresses with infinity scarves look very stylish. This is a great option for country music concerts.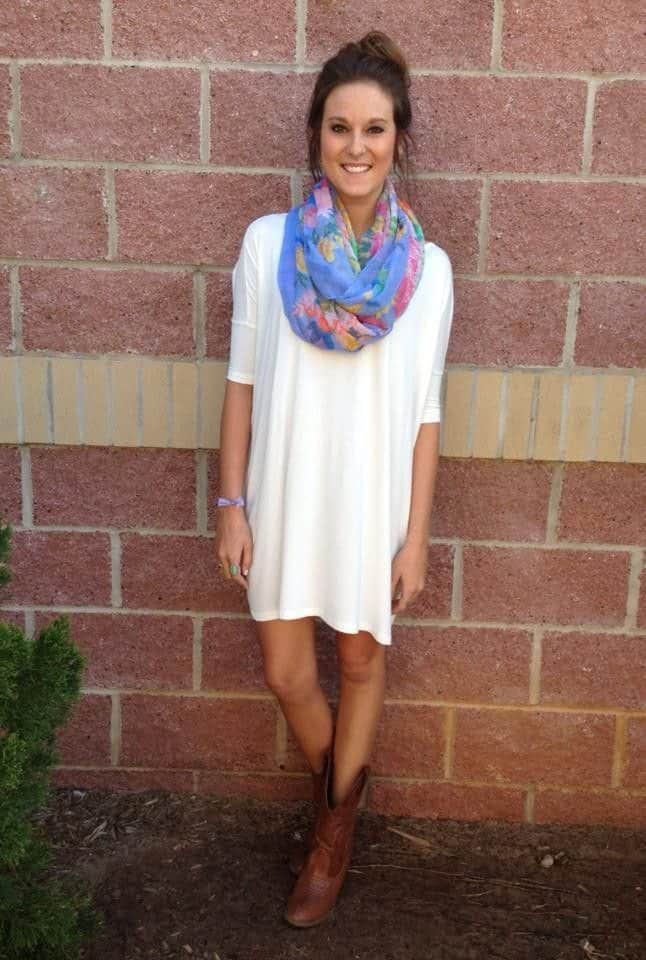 10 – What to Wear to an Indoor Concert?
Events with rock bands tend to get sweaty and last long, but they also make people come out in quite fashionable dresses. So to keep the trend alive, wear a skimpy outfit that allows you to remain cool.
The perfect color is a white, chiffon dress with slinky heels for sophisticated glamor. (Switch out heels for more comfortable footwear if you plan to stand a lot.)

9 – How to Dress Up for Hip Hop Musical Event?
This is a great outfit for younger girls attending an R&B concert. Hip-hop culture promotes an informal style, and this long sporty tunic is perfect with sneakers and socks—Accessorize with a cap and aviators with a gold watch.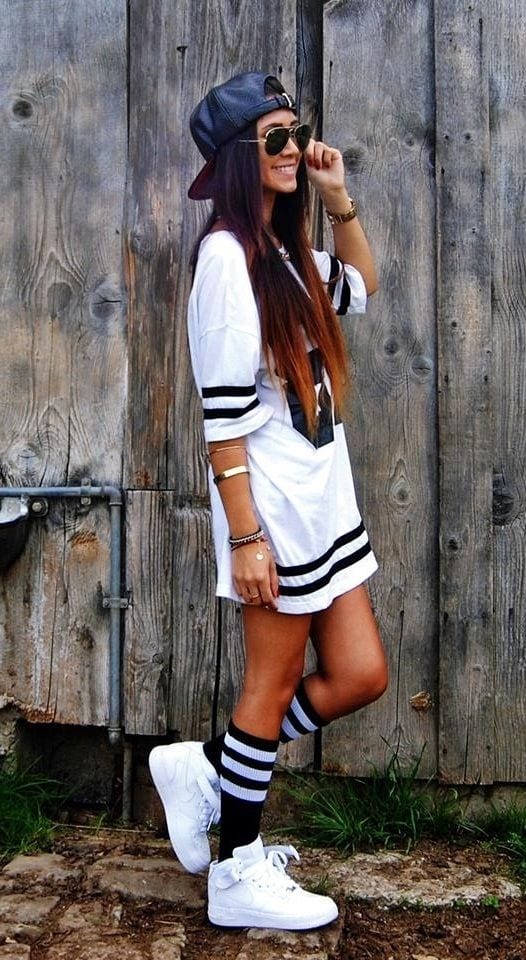 Skirt Outfits
8 – Long Skirt & Graphic Tee
This is a gorgeous option for the gal who likes to mix feminine with tomboyish style. A floor-length skirt looks phenomenal with a tucked-in graphic tee and a long necklace.
Let your hair down, and wear flats or wedges, something that will keep your feet from aching after long hours on the dance floor!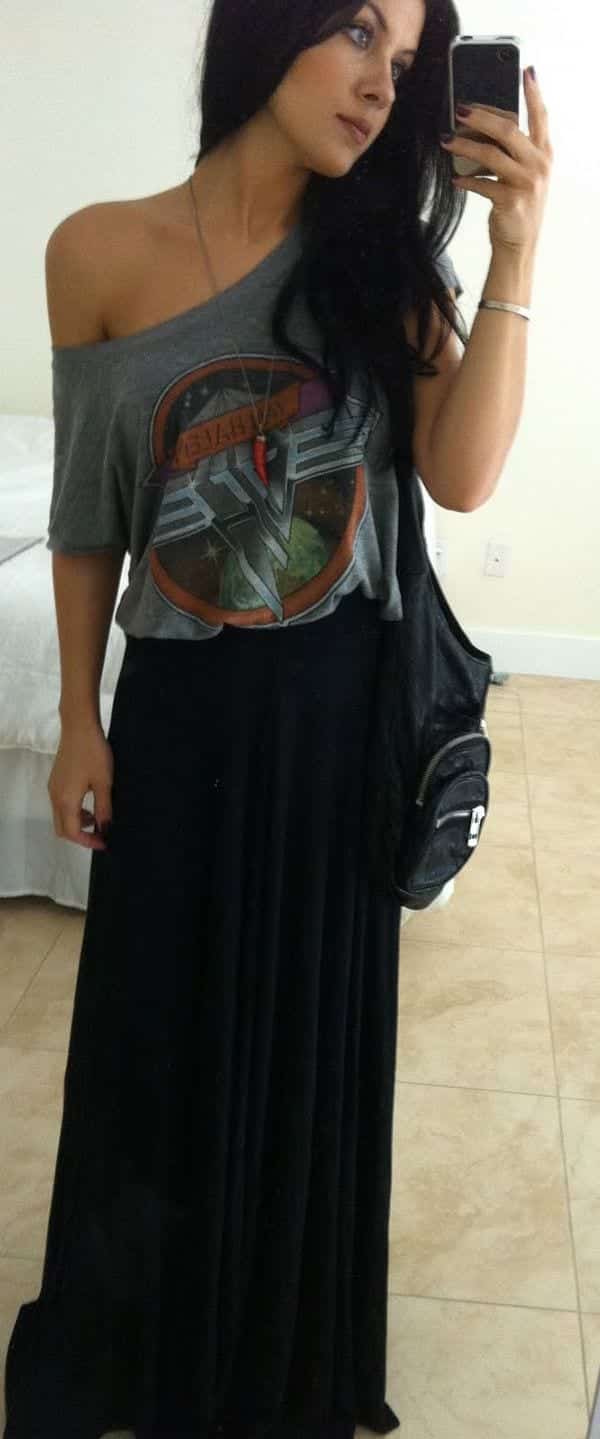 7 – Rock Concert Outfit
Band tees and cheetah-print skirts are what rock dreams are made of. Accessorize yours with a fuchsia purse and suede ankle boots and get ready to scream-sing your heart out.
(Pro tip: wearing a little pair of undershorts is a must as you want to jump around and have fun without worrying about flashing anyone! Another option for this look if you aren't into the skirt is switching it out for leggings or even shorts!). Here are some more Rock Concert Outfits Ideas For You To Try.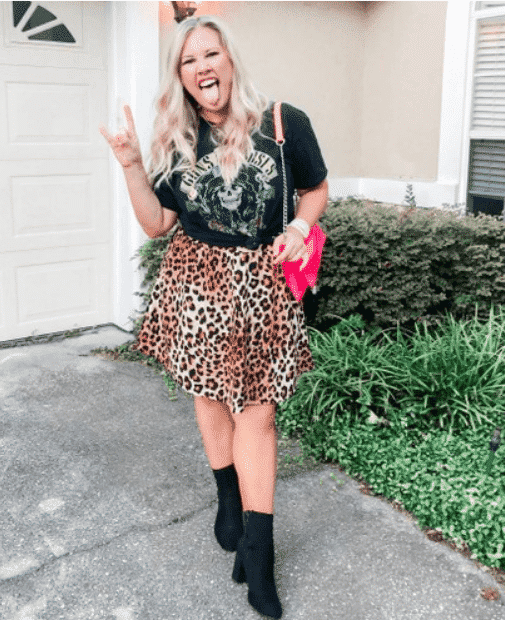 Love the look? Get yours for under $ at the links below:
Hibluco Ruffled Pleated Skirt $17.99
6 – Yellow Skirts for A Brighter Look.
Skirts have made a major comeback in all forms. Try a skirt if you are uncomfortable in short dresses yet want a modern and chic look. This mid-length net skirt is perfectly combined with an off-the-shoulder blouse. Lace-up ballet flats will look stylish and will be comfortable also.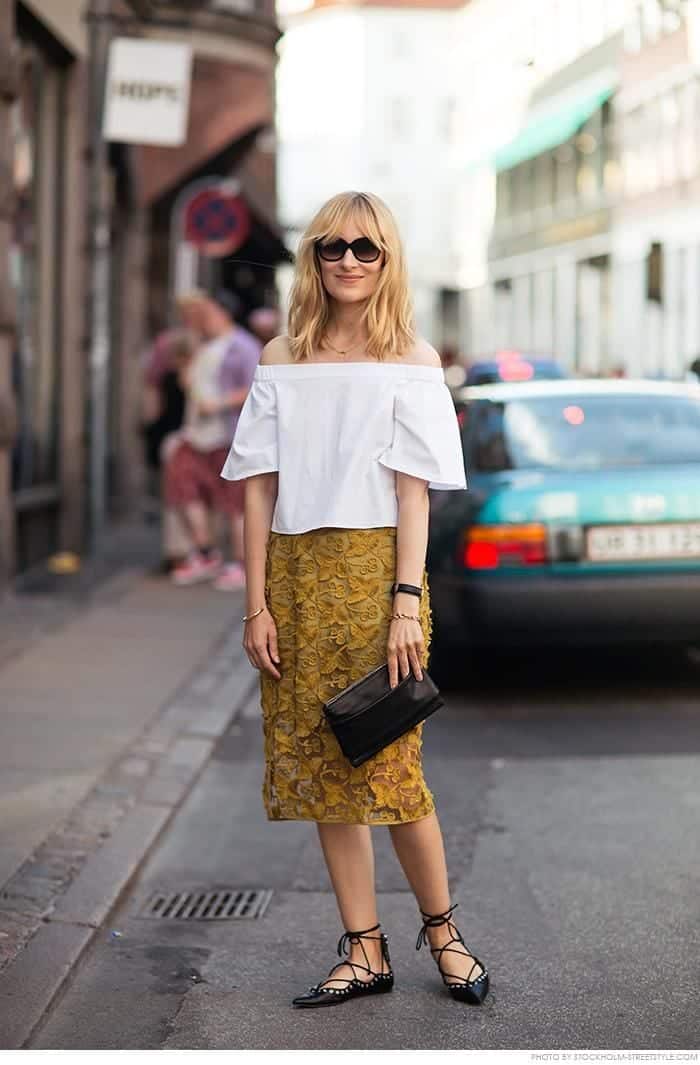 5 – Red Sweater With Blue Skirt
Wear a bright red sweater for a sophisticated and classic look, and pair it with a black miniskirt. Aviators and ankle boots help finish this look off perfectly. Sunglasses look great at any daytime concert. This cute hairstyle for the concert complements the entire look.

Slay in Shorts
Rock concerts or Gothic concerts are perfect for all-black punk looks. Shorts and an embossed band shirt are a perfect way to go about it.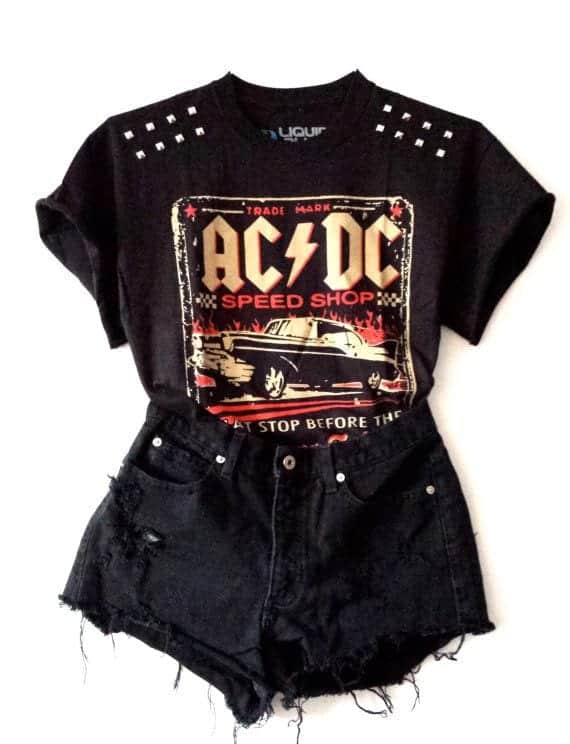 3 – All Black Outfit
A romper with tights is a great option for those attending indoor concerts during the winter. Put a coat over this stylish little ensemble and add a beanie and scarf to keep yourself warm getting to and from the venue.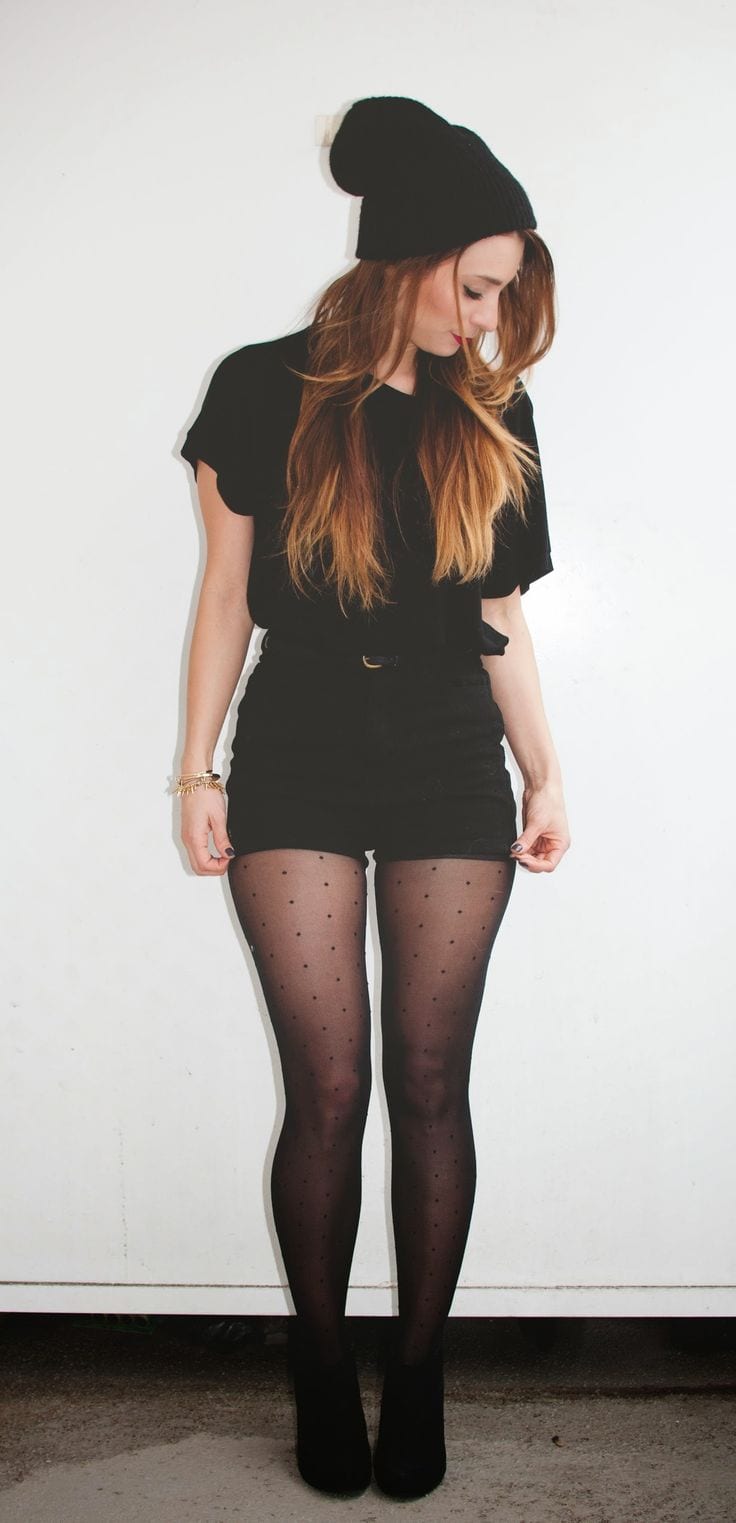 Perfect for winter daytime concerts. Mini pleated skirts with the same colored blouse and a blazer gel perfectly for the cold weather. Add tights to keep your legs warm!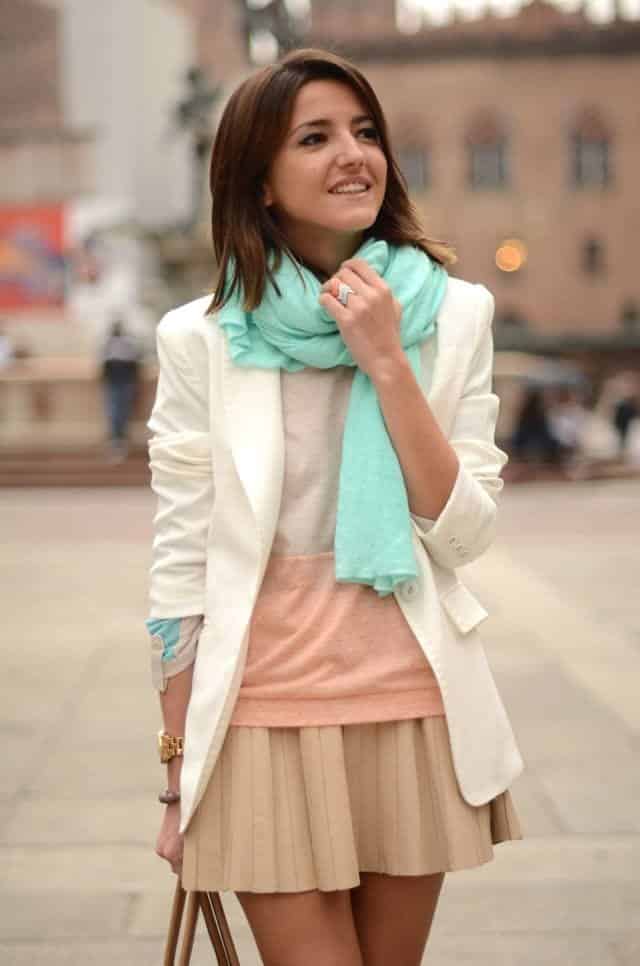 1 – Graphic Tee and Denim Shorts for Concert
For our last outfit, we kept it trusty and simple. A black graphic tee and cutoff shorts are perfect for jumping around and rocking out.
It's great for summer attire as you may be dripping in sweat from all the dancing, and you will be so glad you passed on the leather pants. Accessorize with some sunglasses and get yourself a pair of rocking booties. This studded pair says 'we mean business' loud and clear. This outfit works great with a bumbag to stash your essentials in!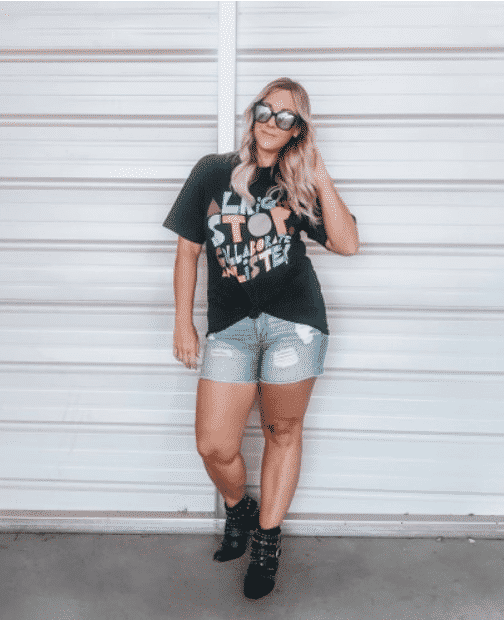 FAQs
Q: Are there any clothing items I should avoid wearing?
Ans: Avoid wearing anything restrictive or uncomfortable, such as high heels or tight-fitting clothing. Additionally, avoid wearing large hats or accessories that could obstruct the view of others.
Q: What kind of shoes should I wear to a concert?
Ans: Choose comfortable shoes that allow you to move freely, such as sneakers or comfortable boots. Avoid wearing high heels or sandals that could make your feet sore or uncomfortable.