Back Dimple Piercing: Body piercing history is deep-rooted in ancient times. Humans have always found unique ways to express their distinctive personalities, and piercing their bodies is one of them. Some people take a safe path and go for conventional styles, while others opt for more complex piercings styles, and back dimple piercing is one of the most popular ones.
Back dimples, also called dimples of the venus. is the area on the back, near the waist, with a slight depression. These indent spaces not only look sexier but also promote efficient circulation around the pelvic.
Back dimple piercing is a type of dermal piercing done on the back dimples and is more like an artificial implant; a permanent piercing style. Women often flaunt their back dimple piercing by styling up with crop tops and low-waist jeans. However, there is a fair chance your dimple piercing may get such in your outfit and gets you in deep trouble. Body piercing is a form of art, and however, to be a living piece of art, there are some crucial risks you need to consider before making the final decision.
The Back Dimple Piercing Process
According to research, in 2006, only among all the people getting pierced only 7% of people got their piercing on body parts other than earlobes. So, if you want to express your unique style, then a back dimple piercing is all you need. Therefore, here is a quick insight for you, how the back piercing process works. Firstly, the surface on your back is sterilized and cleaned with an anti-bacterial liquid. Now, comes the most crucial step, The piercer marks the area for the implant with special sterilized surgical tools. Lastly, a disinfected hollow needle is inserted into the area with a piece of piercing jewelry afterward.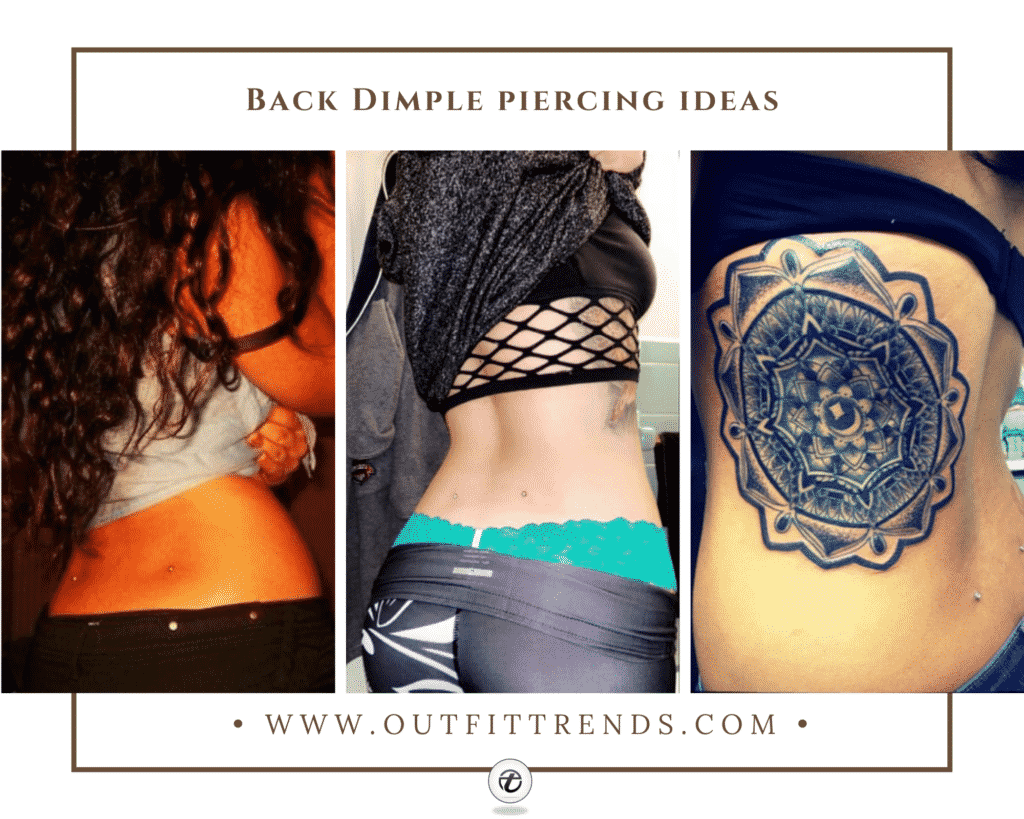 Post Procedure Care
Since the back dimple is a very sensitive area, individuals getting back piercing should be very careful. Try to not sleep on your back for a couple weeks after the procedure, as the pressure will cause the pain to worsen.
Avoid tight clothes, Preffer loose and breathable fabric to avoid any irritantion that may worsen the wound, when it is still healing.
Properly sterlizing your wound is very critical aftercare. It will not only reduce the back dimple piercing pain but also promote fast healing.
Although, you can use a homemade saline solution for cleaning your bacck piercing but it is better to use saline solution from a pharmacy.
Do not use harsh or strongly scented products around your back area when taking a shower.
20 – Back Dimple Piercing With Sweatpants Outfit
Sweatpants are an absolute staple outfit in everyone's wardrobe. They provide ultimate comfort and are easy to roam around freely in and keep your fashion game on point. Styling a back dimple piercing with sweatpants and a crop top is a fashionable outfit. Moreover, You can style it with your casual pair of sneakers to make it chicer. So, next time when you are indecisive about what to wear to flaunt your cute back dimple piercing, sweatpants are there for your rescue.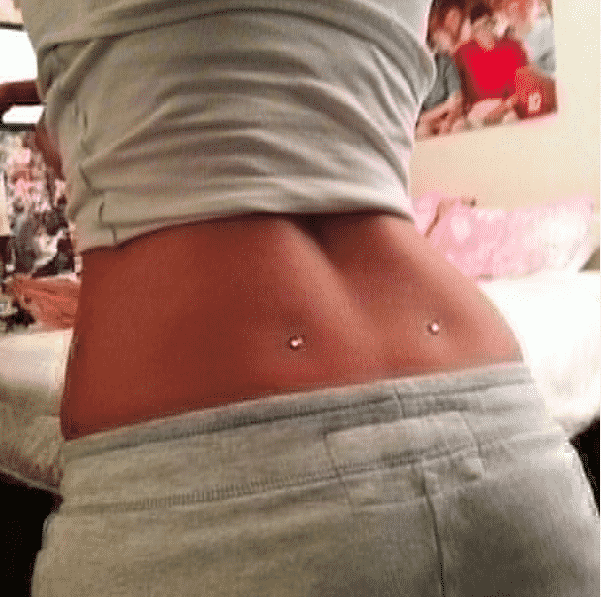 19 – The All Black
This look is the most stylish and yet cute. So, If you want to show off your back dimple piercing in style, just wear a black strapless bikini top with a black bottom; it can be jeans, a mini skirt, or shorts; whatever you like. Moreover, you can enhance this look by wearing statement jewelry pieces and a nice short haircut. You can never go wrong with short hair!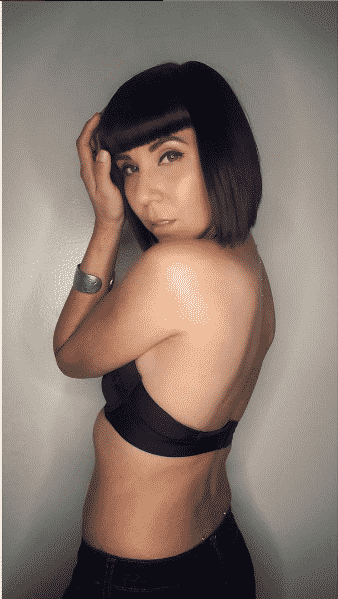 18 – Piercing Styled With A Butterfly Tatoo
Who doesn't love tattoos, especially a cute butterfly tattoo flying on your back with back dimple piercing? Moreover, you can always style this awesome combination with your favourite low waist jeans and a cute crop top. You can slay around and be a head-turner in every event with this charming and stylish combo. Lastly, you can style it with ankle boots or heels.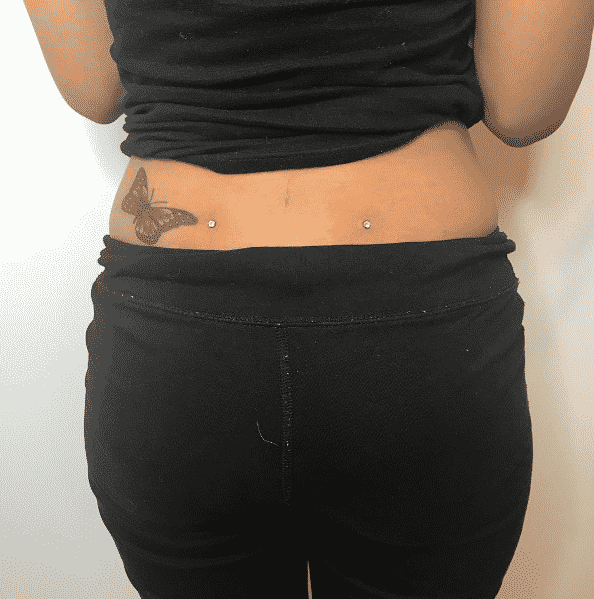 17 – Printed Bottom Outfit
This is a perfect outfit to match your style If you want to be seen with your trendy back dimple piercing in public. In order to highlight your piercing wear a printed bottom with a tight fit and a loose shirt to compliment it. You can always style this outfit with some light pieces of jewelry and makeup. If you want to make it more fun, try experimenting with your hairstyle and slay the day.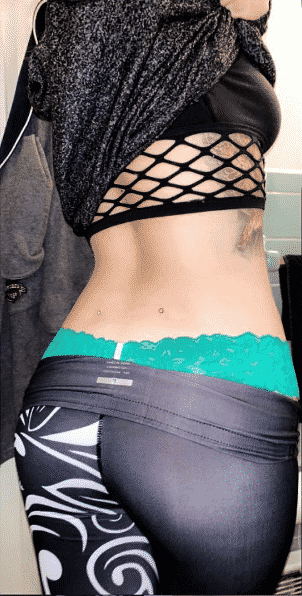 16 – Back Piercing With A Mesh Top
A mesh top is a timeless top every woman surely needs in her wardrobe. You can style it with a mini skirt, shorts, or jeans with your fashion game on point. Therefore, if you want to pull off a look that compliments your back dimple piercing style, then this is the right outfit for you. So, wear a thin strap mesh crop top with a tight pair of jeans and style it with the right types of accessories, and you are good to go.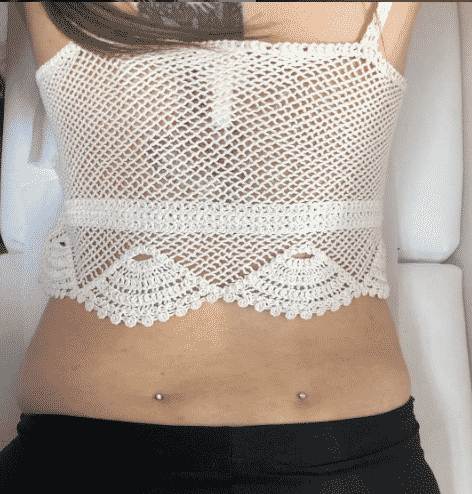 15 – The Hip Hop Style
The hip-hop-style trend is nothing new, it has been around for ages. So, if you want to pull off a hip-hop outfit with your back dimple piercing then this is the style for you. Wear a back sleeveless crop top with low waist jogger pants, and you are ready to slay the day. Moreover, you can complete this look by wearing your favourite pair of athletic footwear with a P cap with some low-hanging pendants to make your unique style statement.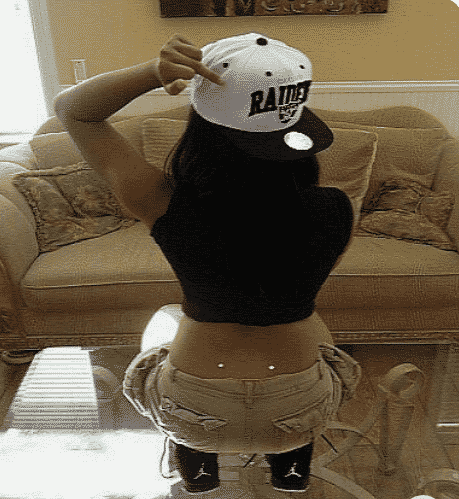 14 – The Casual Everyday Outfit
If you are fond of roaming around casually and want to show off your back dimple piercing in style, then you can wear this look with confidence. You just have to wear casual trousers with a baggy sleeveless crop top. In addition, you can wear some light pieces of jewelry and footwear to make this look even more casual.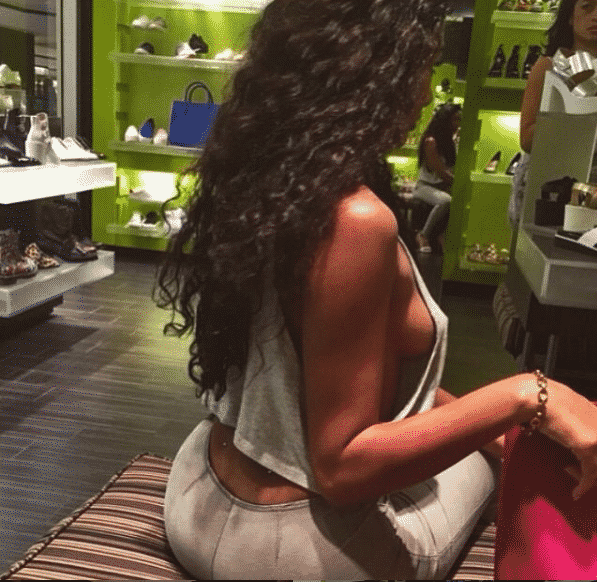 13 – Styling With Denim Shorts
This outfit will be your favourite one for sure as it is comfortable and easy to carry, with full marks for style. In order to create this look, wear a pink sleeveless top and tie it in a bow above the waist to show off your piecing dimples. Now, pair this top with denim shorts to complete the look. Moreover, you can style this outfit with your favourite pair of sneakers and sunglasses.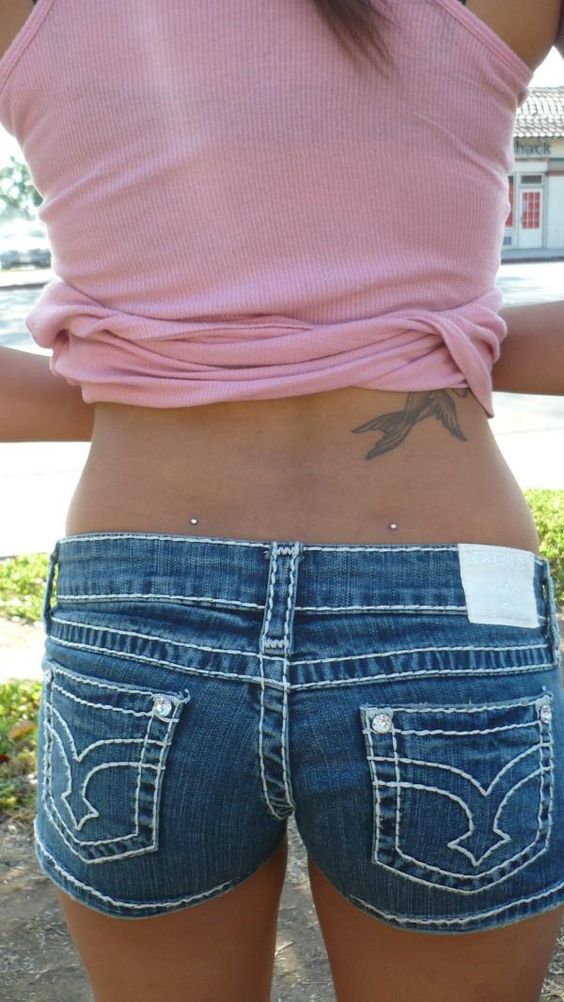 12 – Sexy Back Piercing Look
This is the sexiest back piercing look you will ever see. In order to create this look wear a triangle bikini bra with matching panties. If you want to spice up this look, even more, wear your hair in curls and embrace your eyes with black kohl and lashes. No one would be able to take their eyes off of you with this back dimple-piercing look.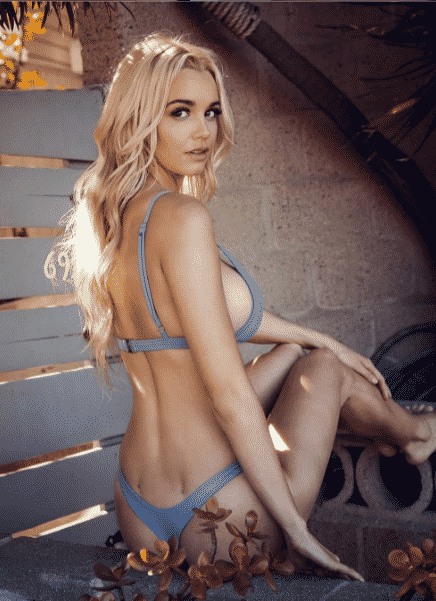 11 – With Curly Hair
This is an outfit you can wear on any casual day to embrace your back dimple piercings. You just have to wear black pants with a grey crop top and style your long hair in curls. Curls will not only add beauty to your overall look. You might want to shorten up your hair length, if you have really long hair, to highlight your back dimple piercings even more.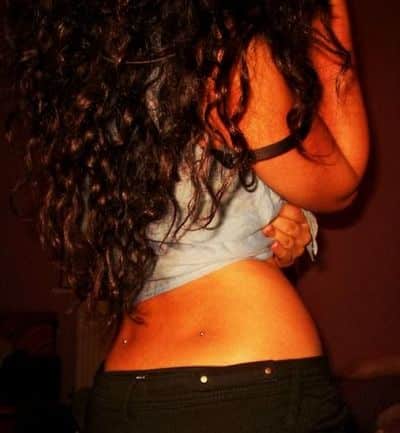 10 –
If you want to style your back dimple piercing in a white panty and have fun between the sheets, then you can try this look for spicing up things even more.
9 – With A Lace Crop Top
A lace crop top is a simple but stylish outfit; every woman must have in their wardrobes. In order to create this beautiful back dimple piercing embracing look, wear a simple pink lace spaghetti strap crop top and pair it up with white pants. Moreover, you can enhance this look by wearing some cute statement pieces of jewelry and your favourite pair of footwear. In addition, you can style your hair in a high ponytail, to make this look even sleeker.
8 – The Gym Look
If you are a gym person and want to show off your back dimple piercing in style to your gym fellows, then this is the outfit for you. You just have to wear leggings with a sports bra and pair it up with a full sleeve crop top. Moreover, do not forget to wear your athletic shoes to complete this look. Finally, try styling your hair bun or a high ponytail for the sake of ease in working out through your gym sessions.
7 – With A Tatoo
You can carry this look if you want to create a style statement and be one in a million. You just need to get a tattoo on the side of your back and show it off with your back dimple piercing by wearing a bra top. Moreover, you can pair this up with a bottom of your choice; it can be jeans, a skirt or whatever you want.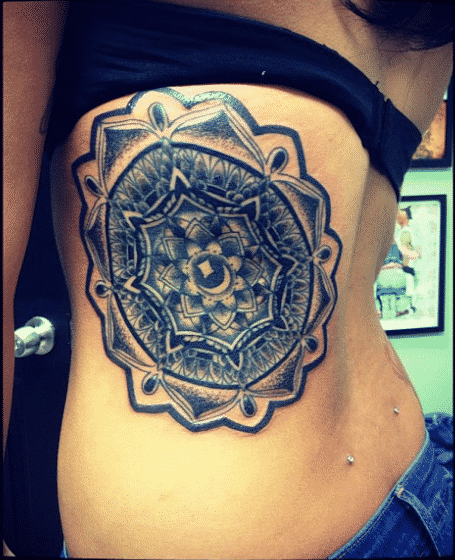 6 – Styling A Summer Outdoor Outfit
You can wear this look for outdoor activities and level up your fashion game every time. You just have to wear blue fitted jeans and pair them with a nice white thin strap crop top. Moreover, to spice up things, go for a braided hairstyle and wear some delicate jewelry pieces. In order to complete this look, wear it with your favourite comfy athletic shoes.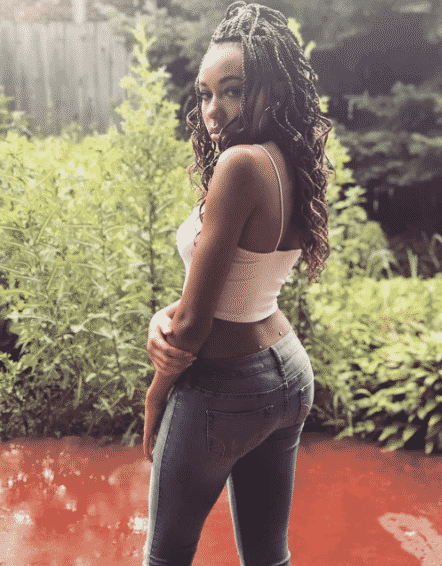 5 – Summer Outdoor Look
Summer is around the corner, and your back dimple piercing is ready to make you stand out in class among your peers. So, this is the perfect summer look for you. In order to recreate this look, you just have to wear a sports bra crop top with the same colour bottom and comfortable footwear. Moreover, you can add some accessories of your choice to enhance this look even more.
4 – The Beach Yoga Outfit
If you are fond of beach yoga and want to do it in a style while embracing your back dimple piercing, this is the look for you.
3 – Classic Crop Top Piercing Style
The crop top is a classic combination with back dimple piercing style. In order to create this look, you just need a black sleeveless crop top and wear it with your favourite bottom to slay it all.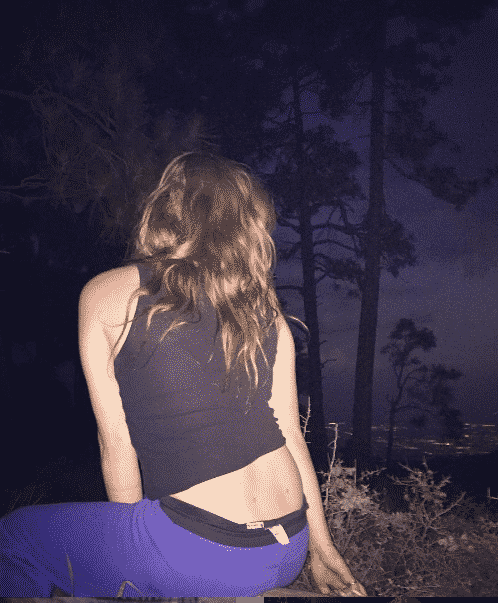 2 – With Fitted Jeans
Blue is the colour that suits everyone and goes well with everything. A blue top is paired with skinny jeans to create a very smart and stylish look in this outfit.
1 – The Ultimate Bikini Look
This is the ultimate bikini look that will embrace your back dimple piercing and will be your best beach outfit. You will surely be a head-turner with this outfit at any of your beach parties.
Frequently Asked Questions
Q: How painful are back dimple piercing?
Ans. A piercing is, of course, a painful experience, and back dimple piercing is also not different. According to a survey getting a back, piercing is a very painful experience, but the pain may only last for a few minutes If your piercer is an expert with good experience. Therefore, choosing a professional expert piercer is very crucial. The usual pain will last only for a few weeks till the wounds are completely healed.
Q: How does a back piercing stay in?
Ans. In the back piercing procedure, the skin is punctured with a hollow needle creating a space for the piercing jewelry to hold in place. Next, the piercing professional will insert the anchor carefully by using the surgical tool. And lastly, piercing jewelry is held in place by exerting light pressure.
Q: What does it mean if you have dimples at the bottom of your back?
Ans. Back dimples are a very common body feature, usually considered a sign of feminine beauty. They are hollow depression caused by the structural alignment between the pelvis and skin tissues, are usually harmless, and have no medical benefits.