Best Arab Hijab Outfits- Wearing a hijab doesn't mean that you have to sacrifice on fashion. Instead of skinny jeans and short skirts, you can opt for modest fashion like culotte pants or shirt dresses. There are many Arab bloggers that you can take inspiration from since both their hijabs and outfits always seem to be on-point. If you think combining modesty with fashion trends is difficult, then we have 20 best Arab hijab outfits that can give you a unique look.
A simple trick to enhance your hijab outfits is to experiment with new hijab styles. By tying your scarf in a different way, you can enhance and uplift your entire look. If you are looking for hijab inspiration, then you can count on the list below to give you a range of unique styling tips.
How to Wear Arab Hijab Outfits?
This article explains how you can pair any hijab with a modest and fashionable outfit. Apart from styling tips, we also have outfit inspiration, accessories, and footwear to go with your hijab outfits. Be it long jackets or high heels, we cover everything you need to know about Arab hijab outfits.
Whether you have a wedding to attend or your own graduation, you will certainly arrive with a modern hijab outfit this time.
Styling Tips
Buy Plain Long-Sleeve Shirts: Having basic, full-sleeve black and white shirts in your closet is always helpful. If you like a sleeveless shirt but want to make it modest, you can wear a plain black or white shirt underneath. 
Layer Your Outfits: Wearing long layers with hijab can add an aesthetic appeal to your look. You can experiment with front-open coats, jackets, and even kimono wraps. 
Purchase Long Skirts: Who said you can't wear skirts with hijab? All you need to do is find ankle-length long skirts that can be paired with any shirt to make a modest Arab hijab outfit. 
Make a Statement with Shoes: Even if your Arab hijab outfit is plain and decent, you can always make a statement with your shoes. Pair a long skirt or dress with wedges to create a fashionable look. 
Follow hijab bloggers to stay updated about the latest hijab trends, here are some of our favorites: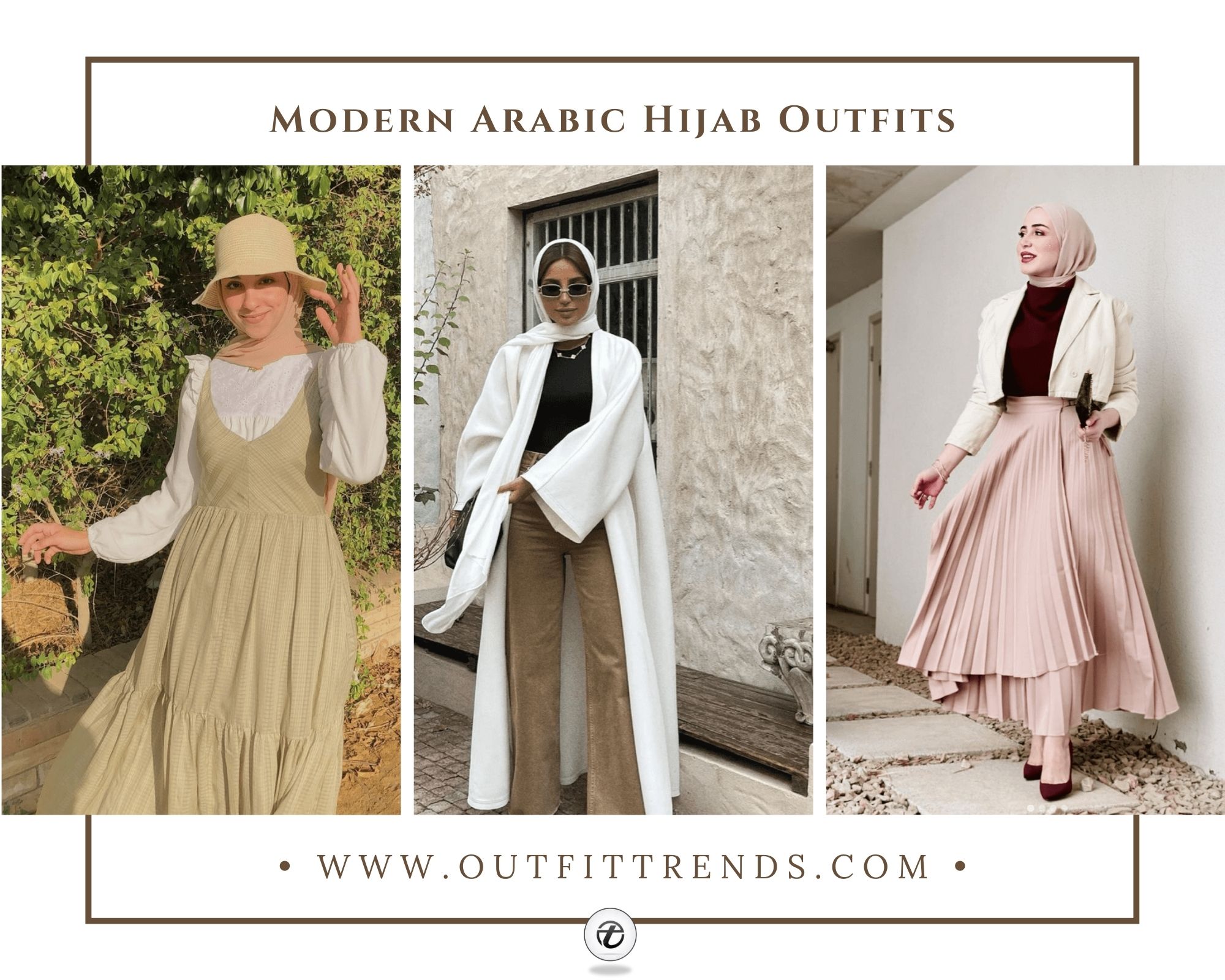 ↓ 20 – Casual
Everyone needs a casual outfit for when you just need to grab a cup of coffee. If you take the hijab, it is impossible to step out in your PJs. In that case, you can opt for a casual Arab hijab outfit with loose sweatpants, a plain tee shirt, and a sweatshirt to cover your back modestly. The best part about this outfit is that you can pair it with any basic coloured hijab – be it black, beige, grey, or nude.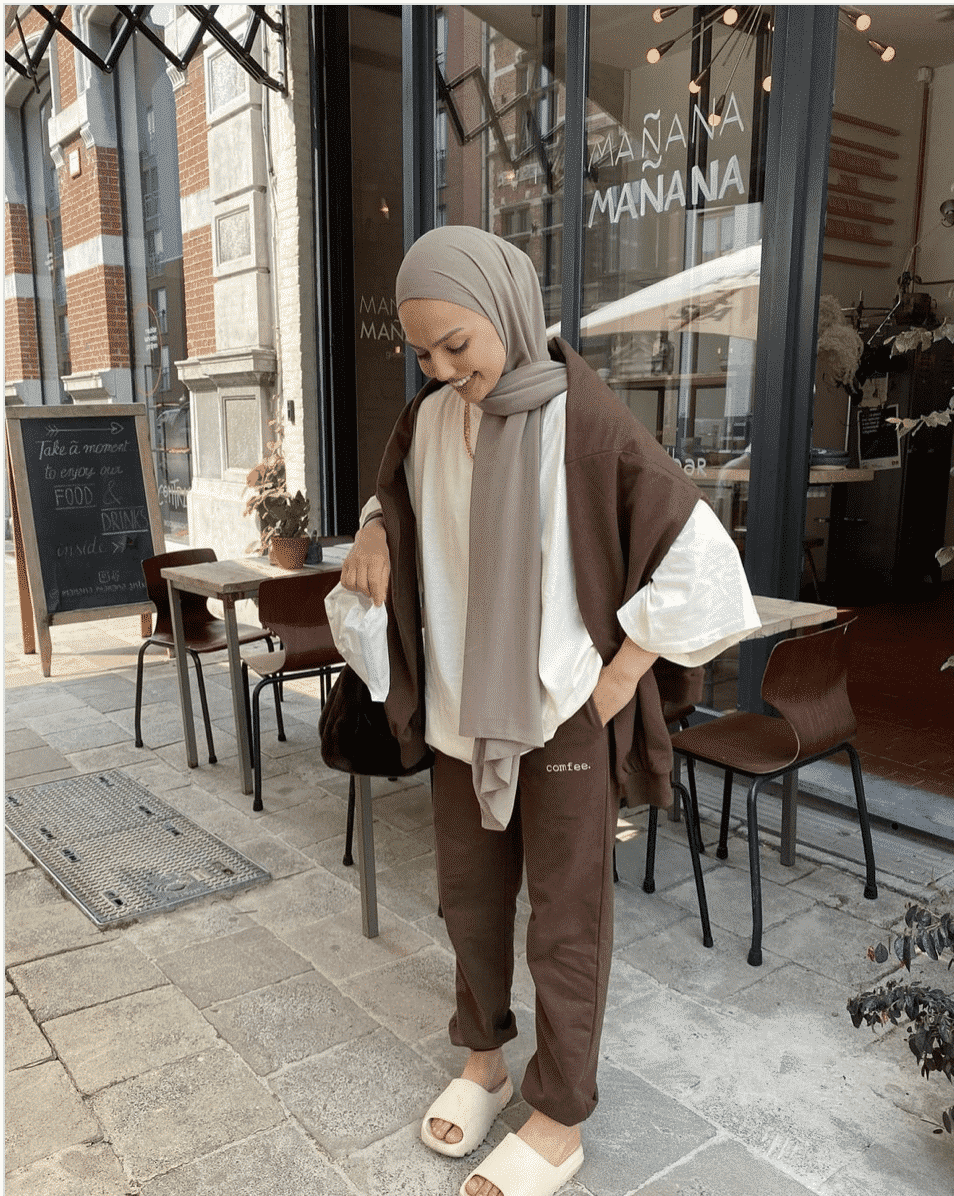 ↓ 19 – Summer Wear
Summer means the blaring sun and humid air. If you like going out in the summer but want to avoid feeling too hot in the hijab, then you can opt for a lightweight and breezy hijab outfit for summer. My suggestion is to pair a long, flowy dress with your favourite beach hat and you are good to go.
↓ 18 – Where to Wear a Fancy Modern Hijab Style?
Some fancy occasions like a friend's birthday dinner or a wedding calls for a fancy hijab. You can experiment with new hijab styles like the turban or open turban (pictured below). This adds more depth to your outfit – especially in case of an important event.
↓ 17 – Travel Wear
You want a light and comfortable outfit to travel in. While others can travel in leggings and crop tops, women who take the hijab have to be more selective with their outfits. The easiest way to relax while you enjoy scenic views from the window is to opt for a long maxi. If you want to add some colour to your look, then we recommend choosing pastel colours and summer prints to make your travel hijab look aesthetic.
Also, have a look at What to Wear As A Hijabi Traveler – A Complete Guide
↓ 16 – For a Day Out with Friends
Going out with friends is a fun time to enjoy. The dilemma begins when you want to dress up and look chic, but also want to keep your outfit simple. You can opt for coloured culotte pants with a plain black tee. Moreover, to keep your look modest, add a long cardigan to cover your back and pair it with a matching scarf.
↓ 15 – Hijab with Jeans
Wearing jeans modestly with an Arab hijab outfit is a difficult task. You want to look modern, but also modest at the same time. Skip the skinny jeans and opt for a baggy boyfriend jeans instead. You can pair it with a basic long-sleeve shirt and your favourite hijab. Don't forget to complete the look with some trendy sneakers. 
Also, have a look at 20 Ways To Wear Hijab With Denim Jackets 
↓ 14 – With Skirt
Skirts should be a staple in your closet. They are long, cover modestly, and look as fashionable as possible. Curating the perfect hijab outfit with skirt is no rocket science. If you are looking for outfit inspiration, then all you need is a long printed skirt, a basic full-sleeve tee shirt, and black boots.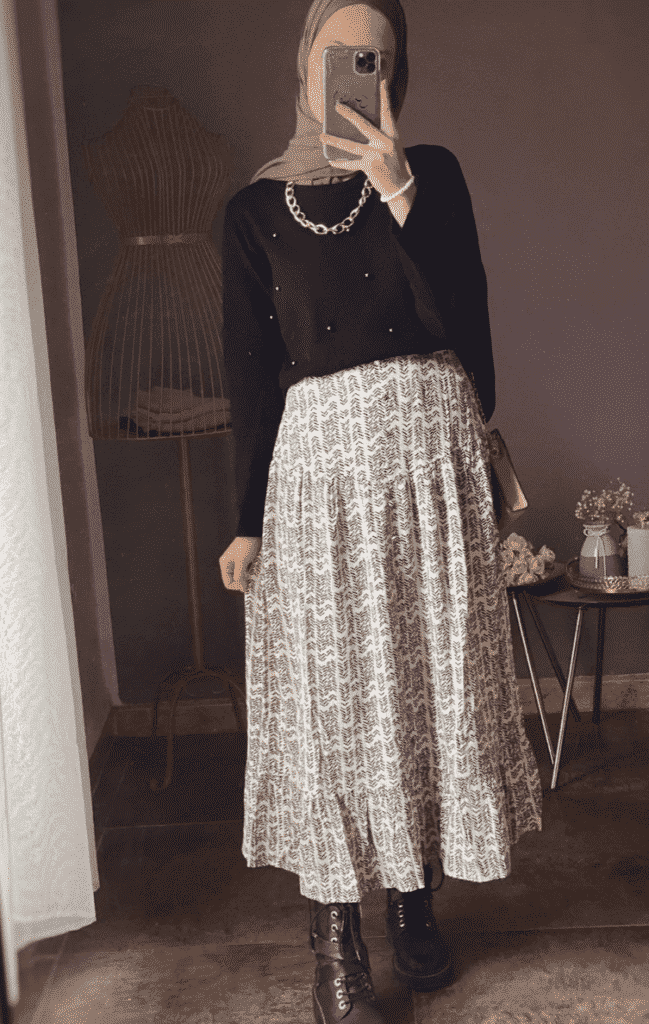 ↓ 13 – Printed Hijab
They add a pop of colour and pattern to your outfit and can be worn to any special occasion. We recommend opting for printed Arab hijabs for dinner parties where you really want to dress up. You can choose floral prints, leopard prints, cheetah prints, or abstract prints. Remember to keep your dress plain to keep the focus on your printed hijab.  Here's some inspiration from an Arab hijab fashion blogger: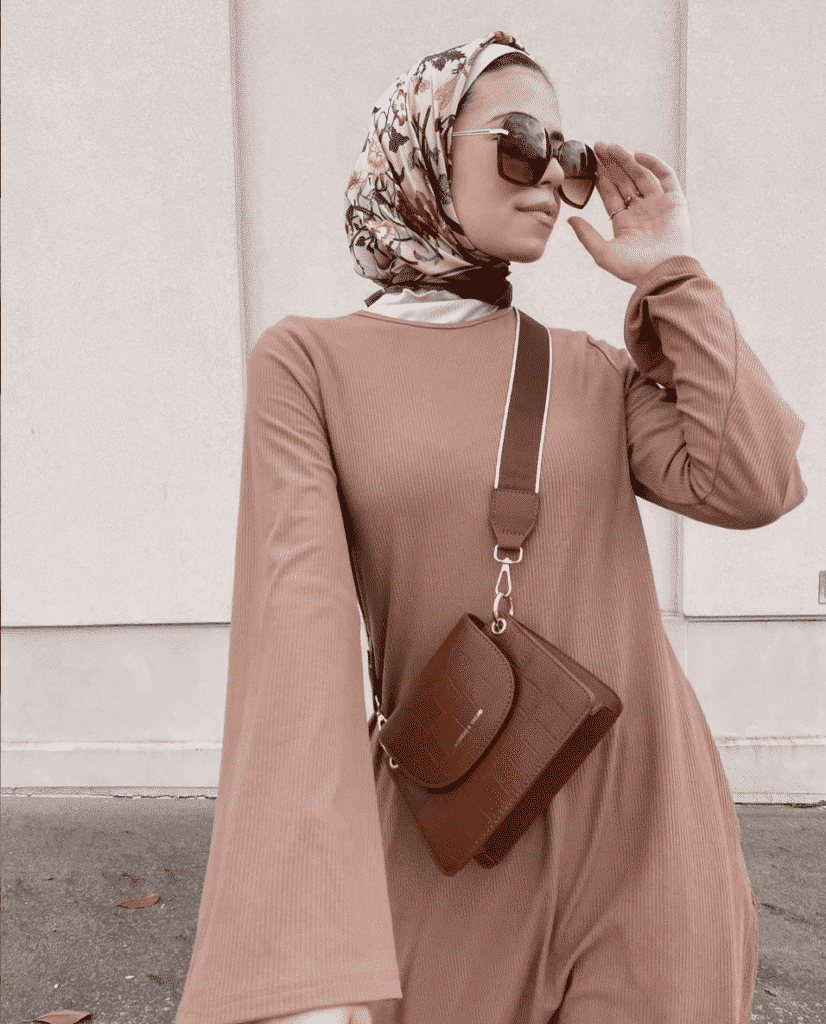 ↓ 12 – Beach
Deciding on a modest Arab hijab outfit for the beach can be exhausting. To your luck, we have the perfect modest outfit inspiration for you. You can relax at the beach with a printed maxi dress. This long, flowy dress will allow you to step onto the beach shore without a single worry. Wrap a loose hijab around your head, and let each end of the hijab cover your front. However, don't forget your beach hat to complete the look!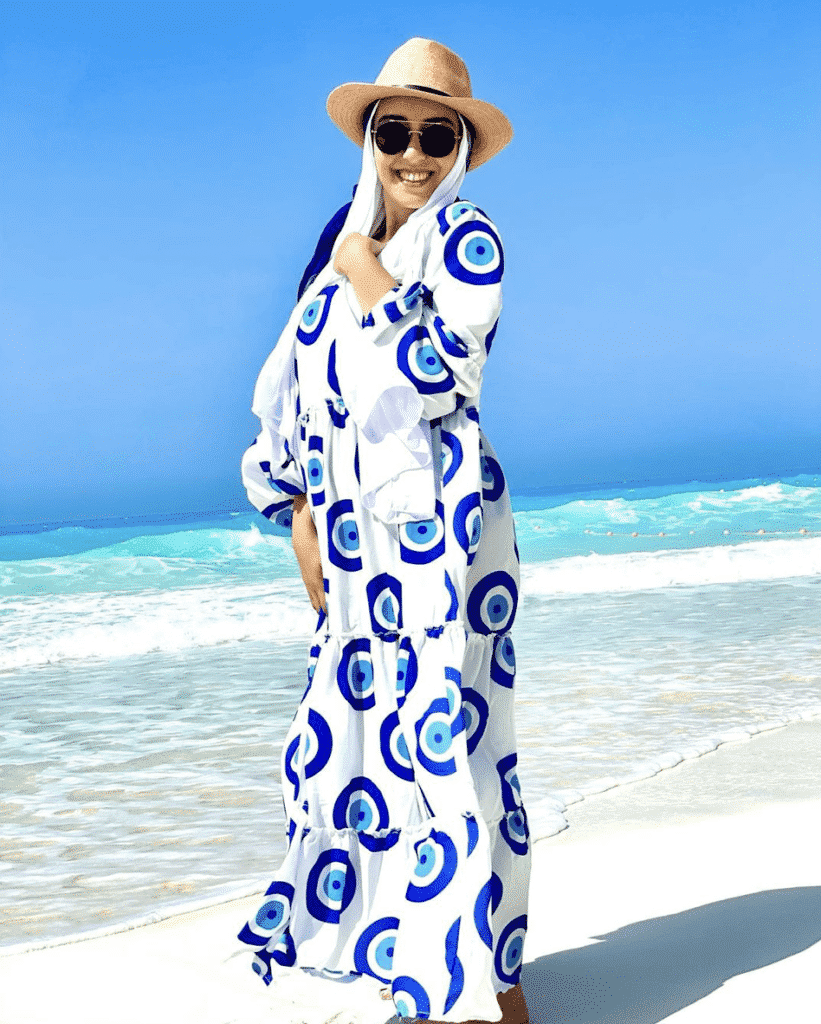 ↓ 11 – For Graduation
It might be difficult to find a modest dress that is formal enough for your graduation day. A formal, wide-leg jumpsuit can be your dream graduation outfit. Opt for a solid coloured jumpsuit as it enhances the formal look, and cover your back with a white blazer cape. Add your favourite pair of court shoe heels as a finishing touch. 
↓ 10 – For School
Keeping the latest trends in mind, your school or college outfits should include some button-downs. A new trend is to wear a loose button-down shirt over a plain tee, and keep your shirt unbuttoned. Paired with some black pants, you can create the right Arab hijab outfit for school.
Also, take a look at 14 Best Summer Hijab Styles & Outfits To Wear For School
↓ 9 – Winter Wear
Winter is the best time to layer up. Wearing sweaters and coats is modest fashion as you keep yourself both warm and covered. Your outfit can be as basic or fancy as you like. If you take our advice, then a printed shirt with a basic loose skirt is a great combination. Tie a tight hijab around your head, and throw on a quilted puffer jacket.
↓ 8 – Holiday
If you are headed on vacation, then you need to pack some holiday hijab outfits. Packing separate shirts and pants for each day can take up a lot of space, so we recommend filling your bag with long maxi dresses. Printed maxi dresses can keep you covered from shoulder to toe. Additionally, you can tie up a modern turban hijab to finish the look.
↓ 7 – For Women Over 50
Women over 50 need to keep their style in check with modern Arab hijab outfits. There is no reason for you to wear simple, plain outfits. Add elegance and grace to your look by opting for nude colour maxis with floral prints. For the perfect tea party look, you can style your maxi with a turban hijab and contrasting court shoe heels.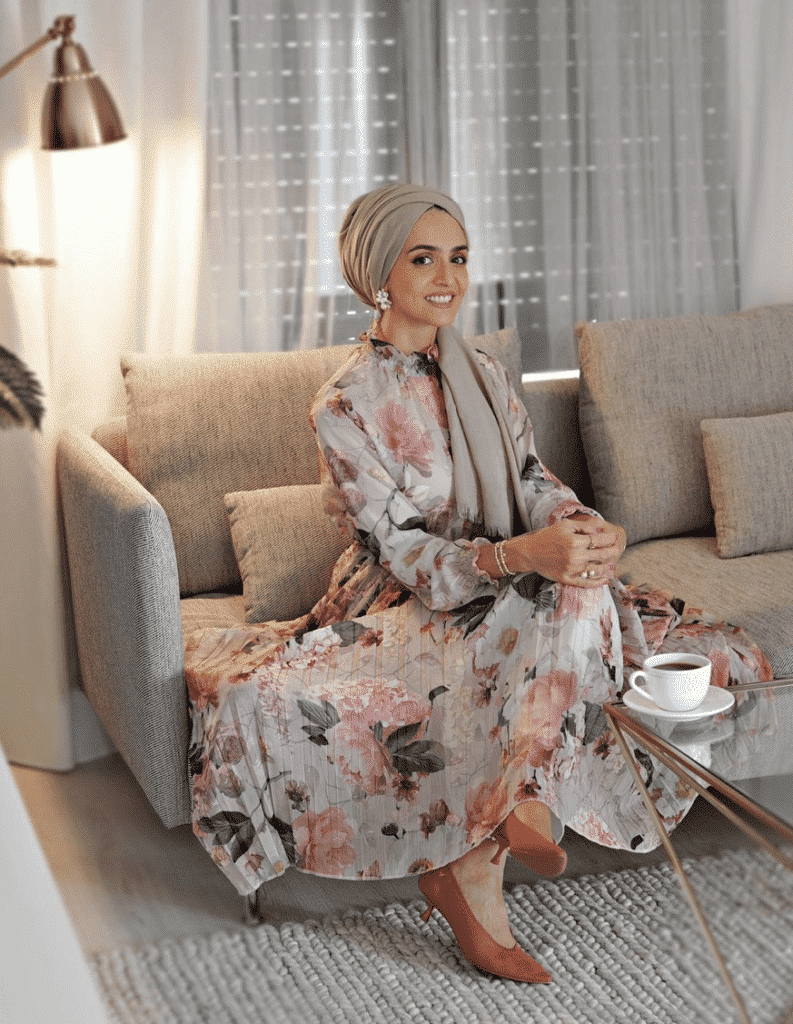 ↓ 6 – For Plus Size Women
Plus size women don't have to miss out on any fashion trends. By opting for pastel colours and patterns, you can easily create a modest outfit for yourself. Instead of a maxi dress, opt for a midi or long skirt. Adding multiple pieces of clothing to your look can give you a slimmer figure. Pair your flowy skirt with any shirt of your choice, and add a patterned jacket to complete the look.
Also, have a look at Top 10 Plus Size Hijabi Fashion Bloggers You Need To Follow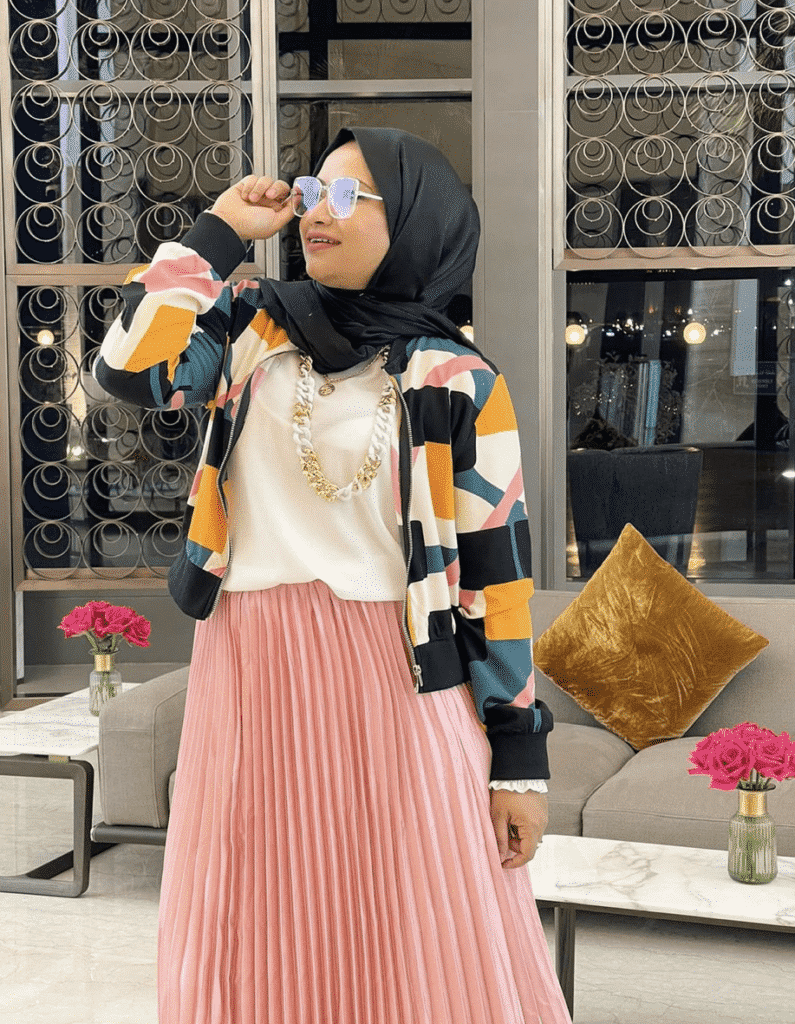 ↓ 5 – For Skinny Women
Skinny women have the freedom to wear anything they want without worry. However, outfits that are too fitted might not be modest enough for a modern Arab hijab outfit. If you want to show off your skinny figure in a modest outfit, then go for a pastel-coloured, pleated midi skirt that is tight around the waist. Pair it with a darker crop shirt and a basic jacket on top.
↓ 4 – For Teenagers
Teenagers just wanna have fun! For hijabi teenagers, modest fashion means stylish coats and printed turban scarves. Get some outfit inspiration from this look with a plain black tee and light blue jeans. To add a pop of colour, all you need is a mustard leather jacket and a modern printed hijab.
↓ 3 – Accessorise It
Who said you can't wear your favourite earrings with hijab? The trick is to cover your head but leave half your neck uncovered to reveal any pair of earrings. You can also add bracelets and rings to further enhance your Arab hijab outfit with accessories. 
Also, take a look at 25 ways to Accessorize Hijab With Jewelry
↓ 2 – Trendy Footwear with Hijab
One piece of footwear that you should always keep in your closet are high heel ankle boots. You can pair them with a casual outfit like our model to instantly uplift your look, or wear them with a long dress for a date night. Footwear with hijab should be your main focus because you have a variety of shoe styles to choose from.
↓ 1 – Where to Buy the Best Hijabs?
You can find hijabs just about anywhere. Chiffon hijabs seem to be the most popular choice as they are comfortable, graceful, and available in various colours and patterns. You can opt for linen or cotton hijabs in the summer to absorb sweat, and you can reserve the most elegant silk hijabs for winter. Purchase the best hijabs at Modesty by Mem or Abaya Mall.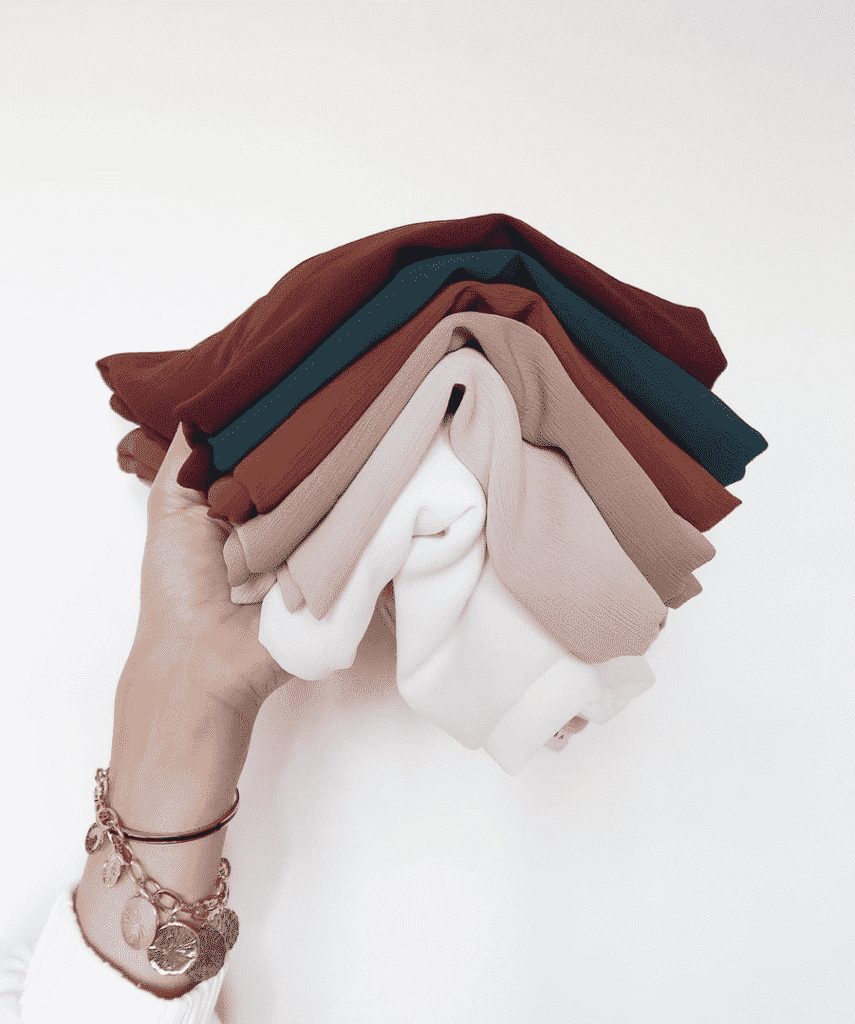 FAQs
Q. What is Modest Fashion?



Ans: Women who want to look fashionable with their hijab often opt for modest fashion. This means that they find clothing that conceals the body, rather than accentuating it. Apart from abayas, modest fashion can include loosely fitted shirts and pants, ankle-length dresses, or even long skirts.
Q. How To be Fashionable with Hijab?
Ans. One of the many ways to look fashionable with hijab is to opt for printed headscarves. This will add a fancy touch to your outfit, and can easily be paired with a solid-coloured dress. You can also be fashionable by adding accessories to your hijab or experimenting with new hijab styles.
Q. Can I Wear Jewellery with Hijab?
Ans. You can definitely add bold accessories to enhance your Arab hijab outfit. Long earrings, choker necklaces, or headbands can be a great way to accessorise your hijab.
Q. What Should I Wear to the Beach in Hijab?
Ans. Breathable outfits in light colours are your best friends at the beach. To avoid getting too hot in your hijab, you can wear flowy pants or a maxi-skirt. Opt for simple, loose-fit tops for the perfect beach look.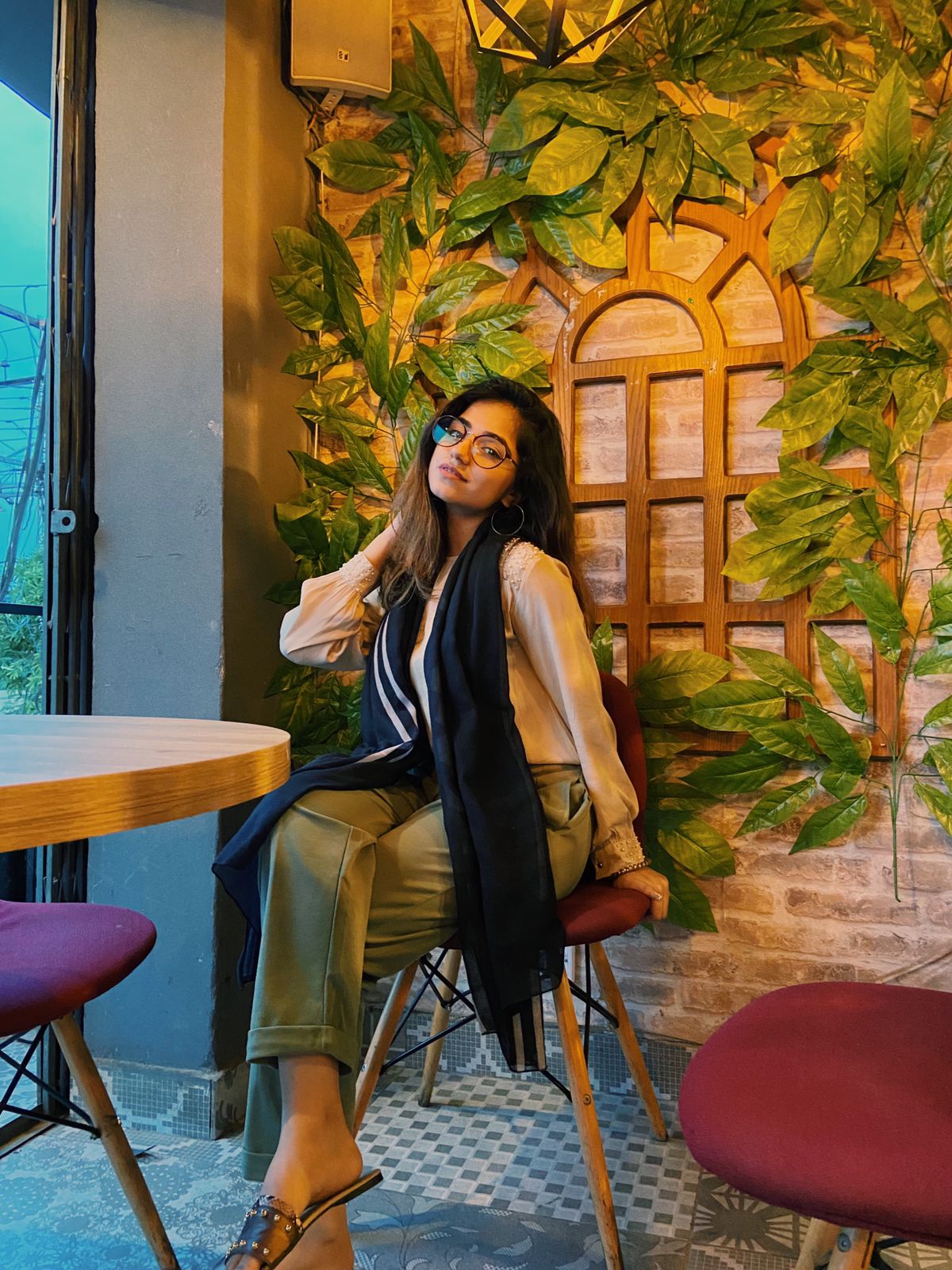 Tehseen is a creative 20-year old with a passion to achieve something remarkable. She feels writing is her strong suit, especially when it comes to her timeless fashion sense. While she may come off as a book-nerd with her round glasses at first, we can assure you that there is more to her than what meets the eye!