Hijab with Saree Outfits for Muslims: A hijab with a saree may sound a little off, but trust me when I say this, it is more common than you think! Our beautiful hijabi ladies have been styling fantastic looks with a saree and rocking the garment modestly. And the best part is that they continue to inspire women to wear what they want without giving up on their beliefs!
A saree is an Indian piece of cloth, and it is styled in several ways — Bengali, Orrisa, Maharashtrian style, etc. But for today the entire article is going to be related to saree styles that make you look modest! Wearing a saree might not be everyone's cup of tea but an increasing number of women want to try out this style for how chic and elegant it looks. Check out these Elegant Saree Designs along with the tips and tricks for you to style your best outfit.
How to Wear Hijab with Saree Modestly?

For any Muslim girl, covering her body is the utmost priority. In that case, you need to make sure that the entire sari covers everything. If we talk about the blouse, you want to measure yourself beforehand to ensure that your midsection, stomach, and back are completely covered. And also that the neckline is high. Styling a saree is not a tough job now as ready-made sarees are readily available in stores. You can also look for some beautiful saree designs online.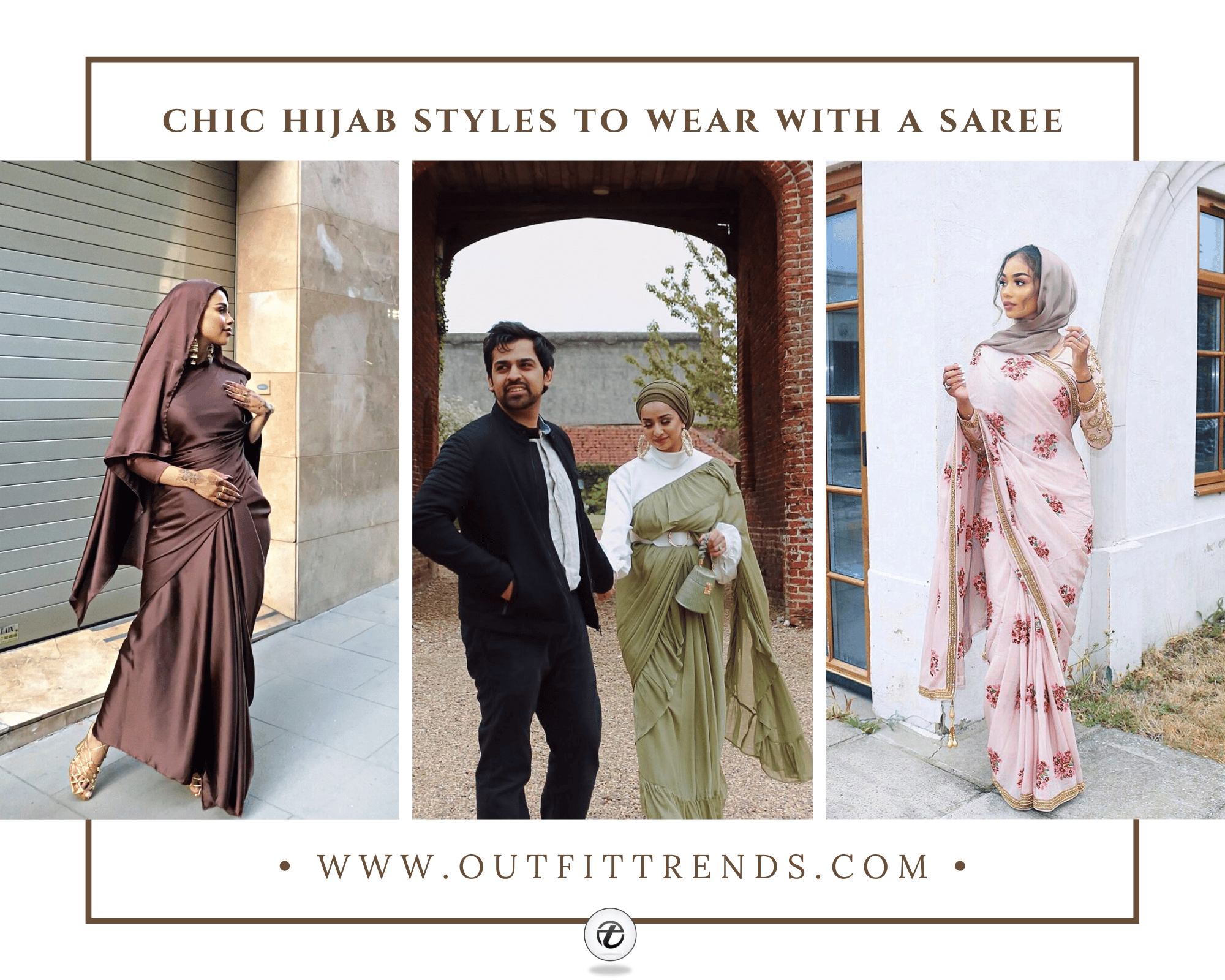 Tips on Styling Hijab with Sarees
A saree can be made more beautiful and elegant with only a few well-placed pleats.
You should go for the best tucking ideas according to your comfort, and please make sure that it is a proper fit.
By wearing a scarf with a saree, there is no point in wearing a dupatta as one can easily do the job without the tension of covering the body.
Make your hijab a style statement for your saree with bold colors and patterns.
You can use lace, ruffles, pearls, brooch, and flowers on top of the hijab to accessorize it.
Saree wears well for casual occasions along with formal events, such as a party or a wedding.
This post is exclusively for all the Muslim girls who like styling saree. We will discuss some ideas for all the girls who prefer wearing a saree that completely covers the body and makes one look elegant. You can style your saree in several ways to look trendy.
The following images are the ideal depiction of everything stated above. You can get a clear idea of how to wear a hijab with a saree and get inspired. Let's see the collection!
↓ 14 – Opt for a Trendy Ruffle Saari & Puff Sleeved Blouse
Who would have imagined saree and ruffles pair this well together?! This outfit is the perfect blend of modern and traditional. The plain white blouse with the puff sleeves can easily be worn as a blouse with jeans and create a classy look.
Moreover, the color palette of this look is right on brand with the current seasons. I love how well this outfit is color-blocked with the matching turban and ruffled saree. The statement waist belt is the perfect match for the blouse. And with these accessories, it seems like this outfit was designed with love, care, and an eye for fashion. Talk about being an icon!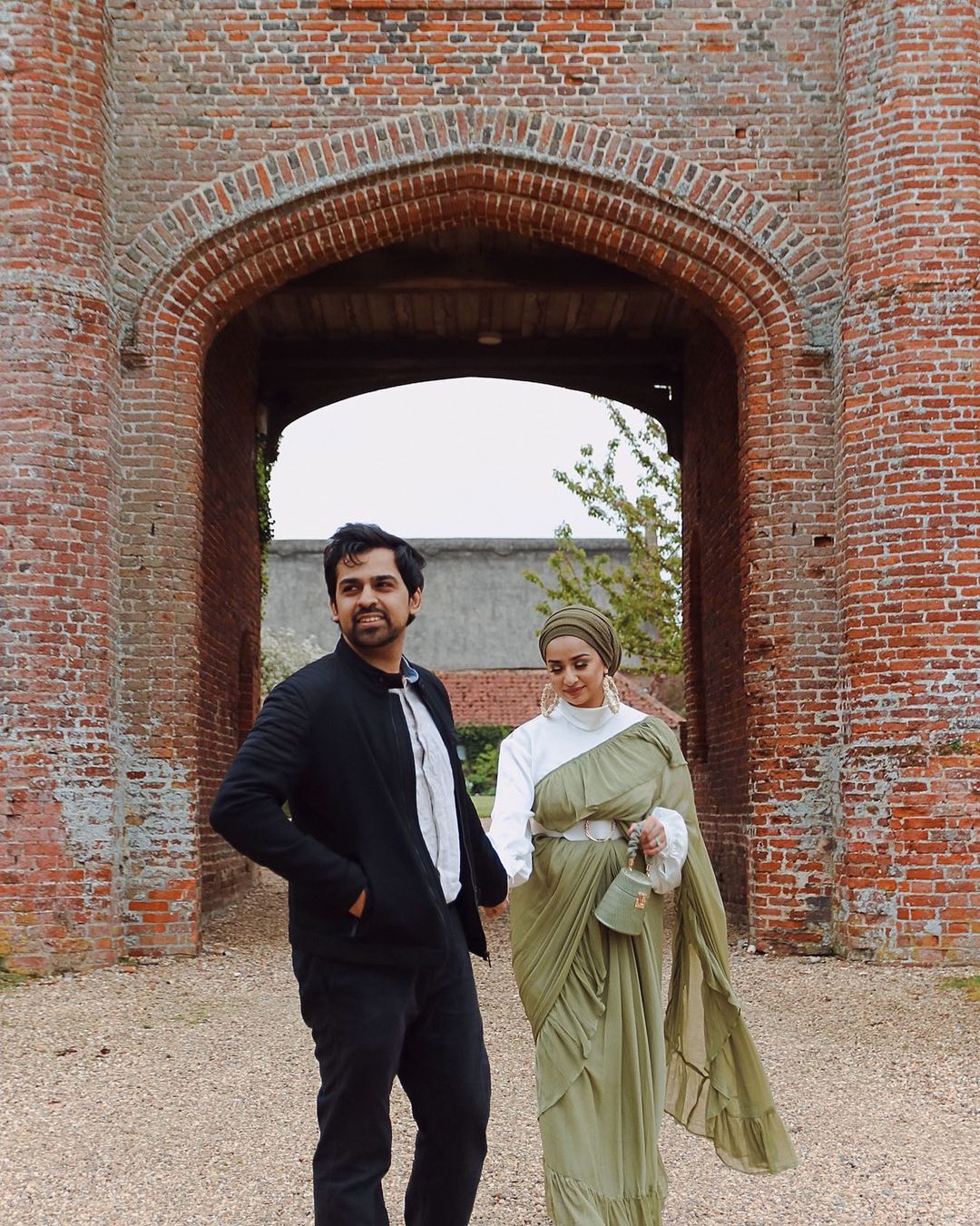 ↓ 13 – Pair a Light Hijab with a Striking Bold Traditional Saree
At one point or the other, every Muslim girl ends up wearing the color red. And what better way to pull off this gorgeous color than a saree? I would advise going for a traditional look with a Rajasthani sari and a nude hijab draped on the back. The nude provides much relief from the sharpness of this look and helps you achieve a soft, feminine look. paired with complementing make-up, this look is an absolute hit!
↓ 12 – Go for a Minimal Look Perfect for a Farewell Outfit
Farewell, are an excuse for all the graduating ladies to show off their gorgeous saree outfits. This outfit is the perfect mix of casual and dressed-up, thus deemed appropriate for a farewell event. The details on this outfit are to die for, including the fringe on the pallu, flowy sleeves, and the refreshing summer colors!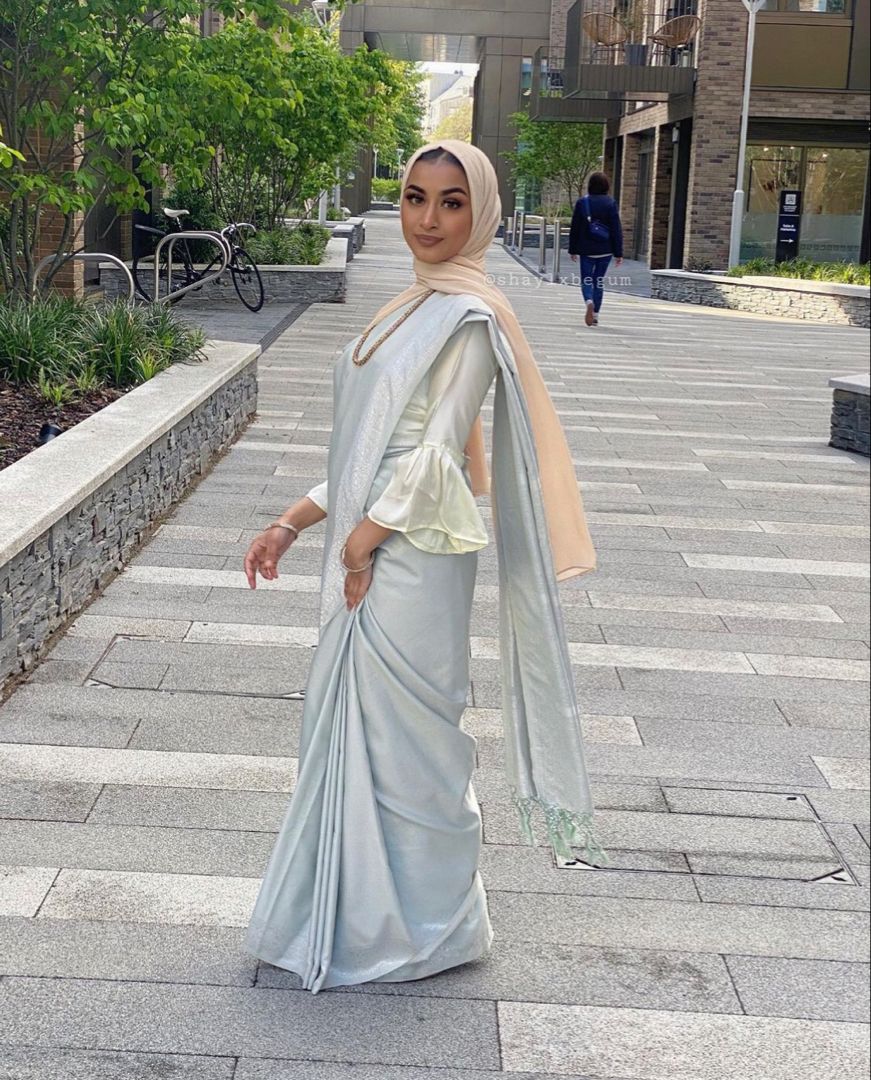 ↓ 11 – Accessorize Fashionably to Make your Outfit Eid Appropriate
And this, ladies, is how to pull off an eid outfit with minimal effort! In fact, if you choose the right colors, you can make this outfit perfect for your pre-wedding events, such as the dholki and mayun. No matter how much I appreciate the attention to detail in this outfit, I always fall short.
The make-up is on-point. The henna is intricate and beautiful and pairs wonderfully with the nails. Moreover, the jewelry appears to be something out of a dream due to how regal it appears. And lastly, the color and style of the saree & hijab do not get any better than this. This woman knocked this outfit right out of the park!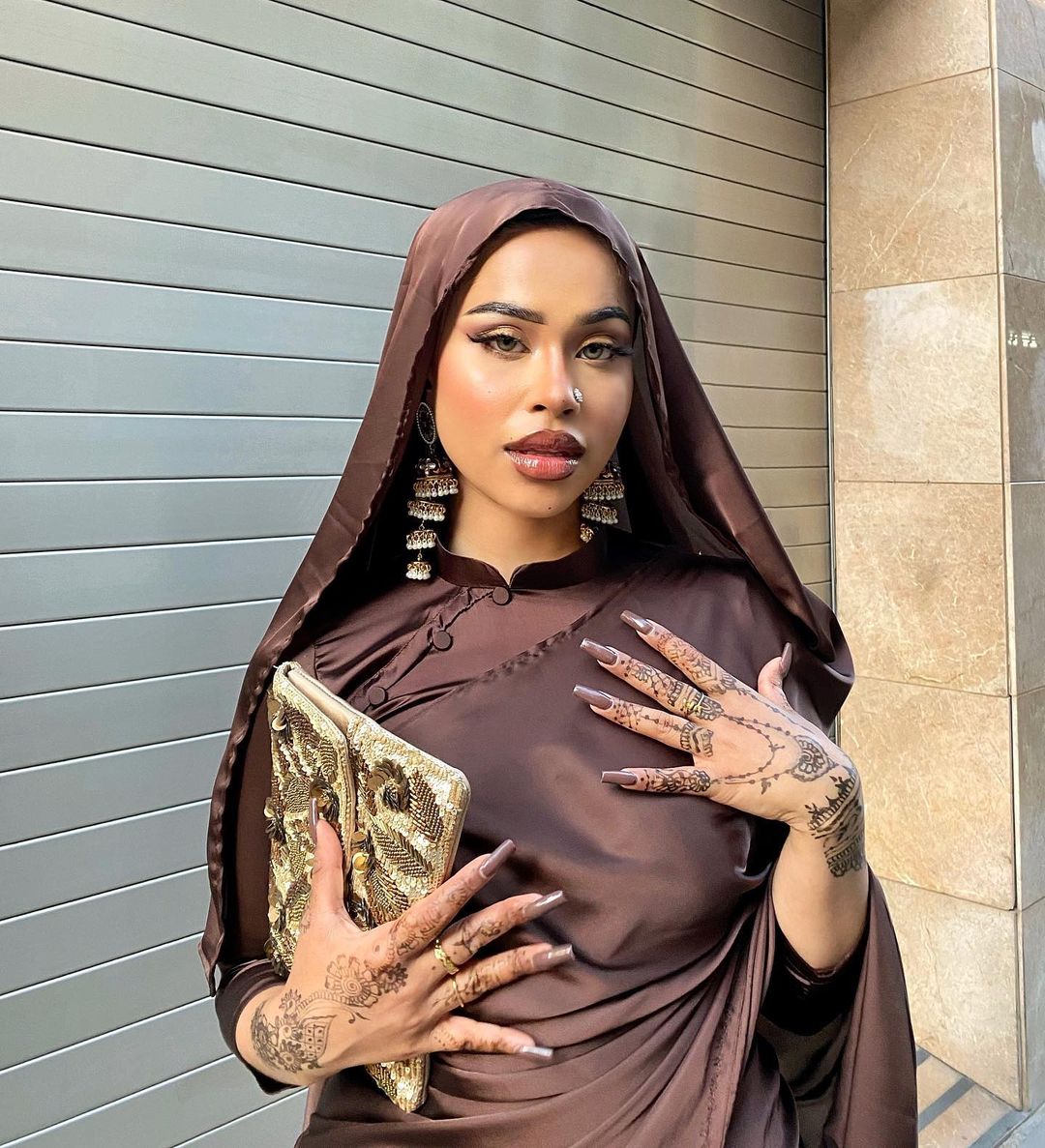 ↓ 10 – Twin with your Girls at your Best Friend's Wedding!
The duo's serving game is strong and will be turning heads their way in admirable glances. The gray silk saree pairs phenomenally with the embroidered blouse. And the addition of the pastel pink hijab was a step in the right direction. Now, you can doll your face in a natural, pinkish nude make-up-look and slay the day (or night)!
With that being said, this could be you and your best friend or sister at your loved one's wedding. Also, check out these 30 latest style hijab wedding dresses this season to play your bridesmaid duties and help a bride out!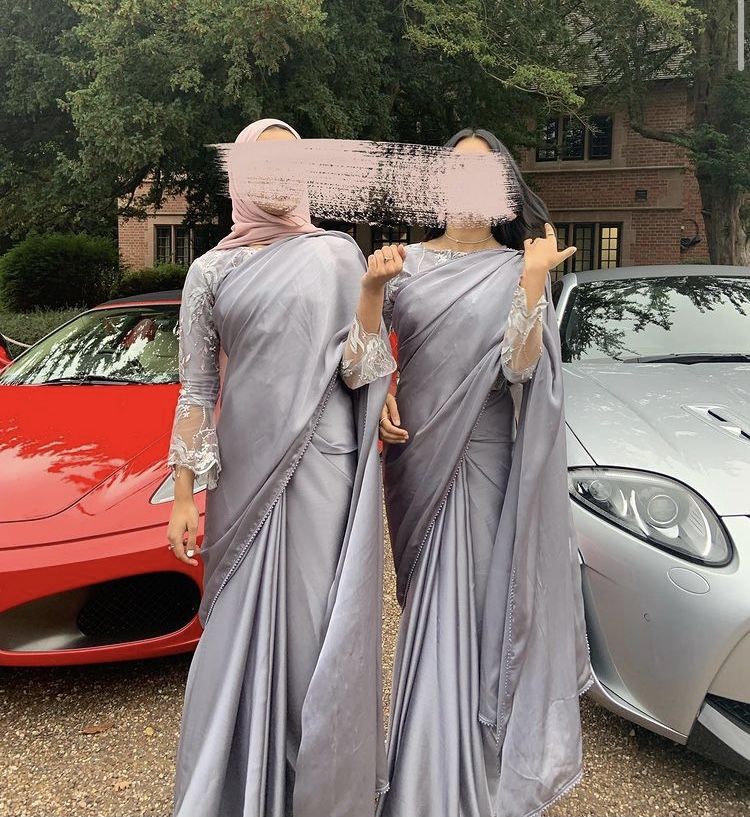 ↓ 9 – Add a Little Contrast with a Darker Hijab
Floral sarees have been making the rounds and gaining popularity increasingly. Especially the printed sarees in organza are becoming the first choice for the majority of women. They are a bit harder to carry, but the pain is worth looking like a regal queen.
Similarly, style your hair and secure it with a short scarf draped over one side of the shoulder. Take a look at the pattern of your saree when you choose the color of the scarf to match your outfit. After that, select a hijab that brings out the unique colors in your gorgeous printed saree and complements it. Put on your bracelets, rings, and earrings, and you are all set!
↓ 8 – Choose a Darker Hijab to match the Details on the Saree
If your brother, sister, or best friend is getting married, a saree in this style is the way to go! Wear a heavily embellished saree with a contrasting scarf in the same color palette and a slightly visible scarf cap that matches your saree. You can also choose the color of the hijab according to the wedding theme or the color of the bride's dress for some extra points and classy pictures.
Accessorize your look with dull gold jewelry and heels to complete your outfit! And please do not forget to secure your hijab and saree with pins to stay relaxed all evening!
↓ 7 – Style your Hijab with Maatha Patti to Elevate your Outfit
You can see how a modest saree covers the Muslim girl from head to toe. She looks beautiful without exposing any part of her body, thus, achieving the goal. A silver Maatha Patti matches the silver embellishments on the saree's pallu and border. Now, this is a great way to wear accessories with your hijab-saree combo, so check out Maang Tikka With Hijab – 17 Ways To Wear Hijab With Maatha Patti.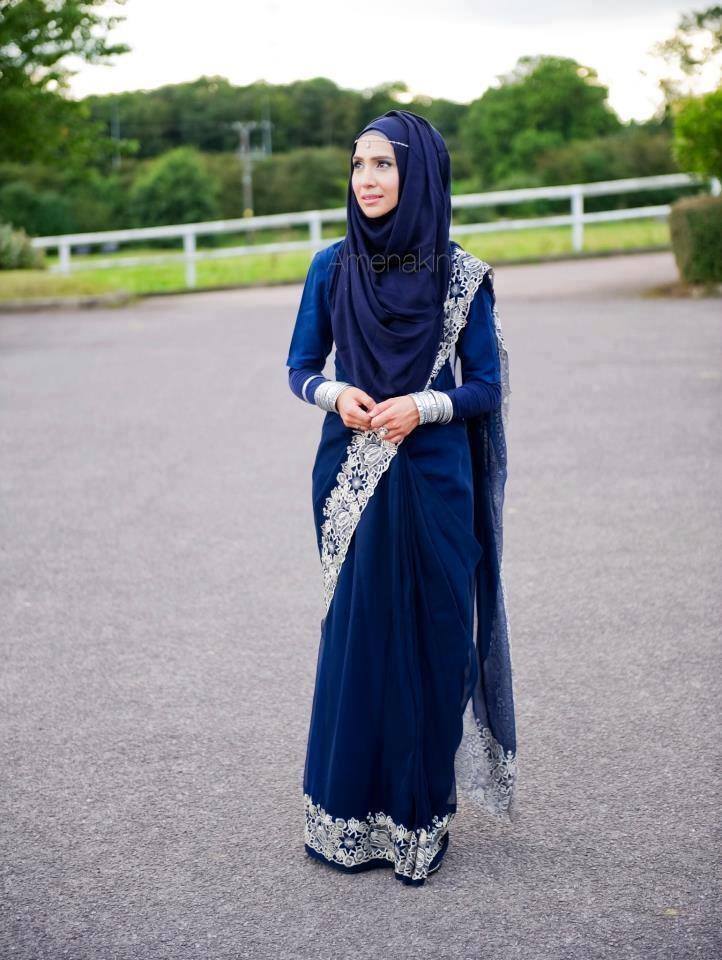 ↓ 6 – Go for a Solid Colored Sari with Matching Hijab
An all solid-colored outfit is one you can not go wrong with styling. And it requires minimal effort for you to put in. Thus, if you are in doubt or stuck with styling, opt for a saree, blouse, and hijab, all in the same color. Accessorize your plain, one-toned outfit with heavy jewelry and make-up to balance your look!
There you go! A look that is perfectly balanced and looks phenomenal too!
↓ 5 – Bridal Wear Saree Perfect for a Muslim Wedding!
A woman can wear a higher neckline covered with a hijab on her special day as a bride wearing a saree. This style is perfect for Muslim brides and Hindu ones as well. It is actually quite simple for a Muslim girl to style a saree! All you need to do is lengthen the saree blouse a little bit and lengthen the sleeves to cover all the exposed areas.
You can even go for a traditional dupatta draped over the head with your saree. The result would be a fantastic look. I hope you will have a fair idea from the pictures as well. You can also see 150 Most Romantic Muslim Couples' Pictures taken during the wedding.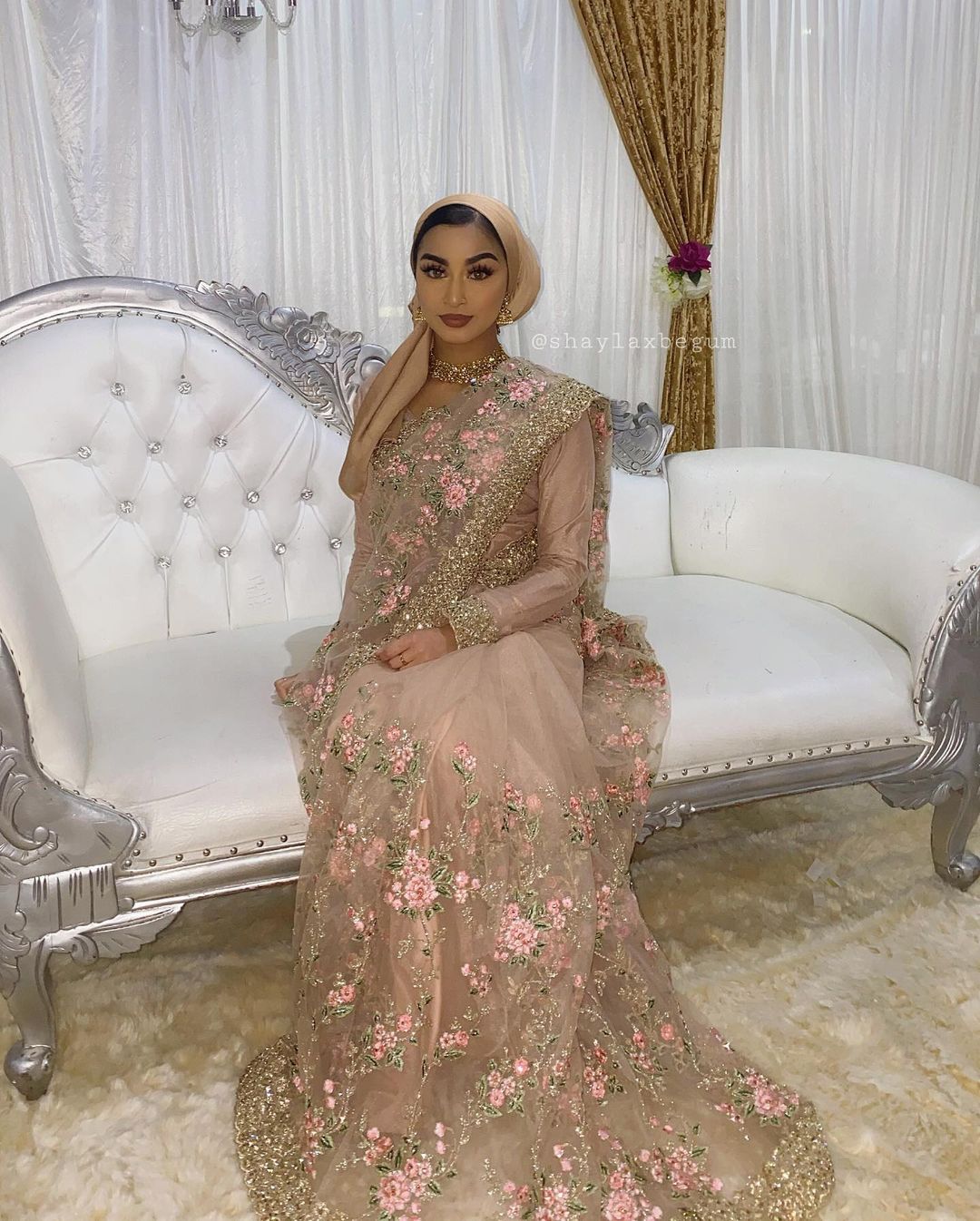 ↓ 4 – Match the Hijab with your Saree Blouse
Go for an embellished blouse and plain saree for a perfectly balanced and minimal chic look. The ice blue color pairs wonderfully with the cream tones of the outfit and are refreshing to look at! Keep your makeup classy with eyeliner-lined eyes and a nude brown, glossy pout!
RECOMMENDED: 12 Great Ideas for Organizing Hijab for Every Day Routines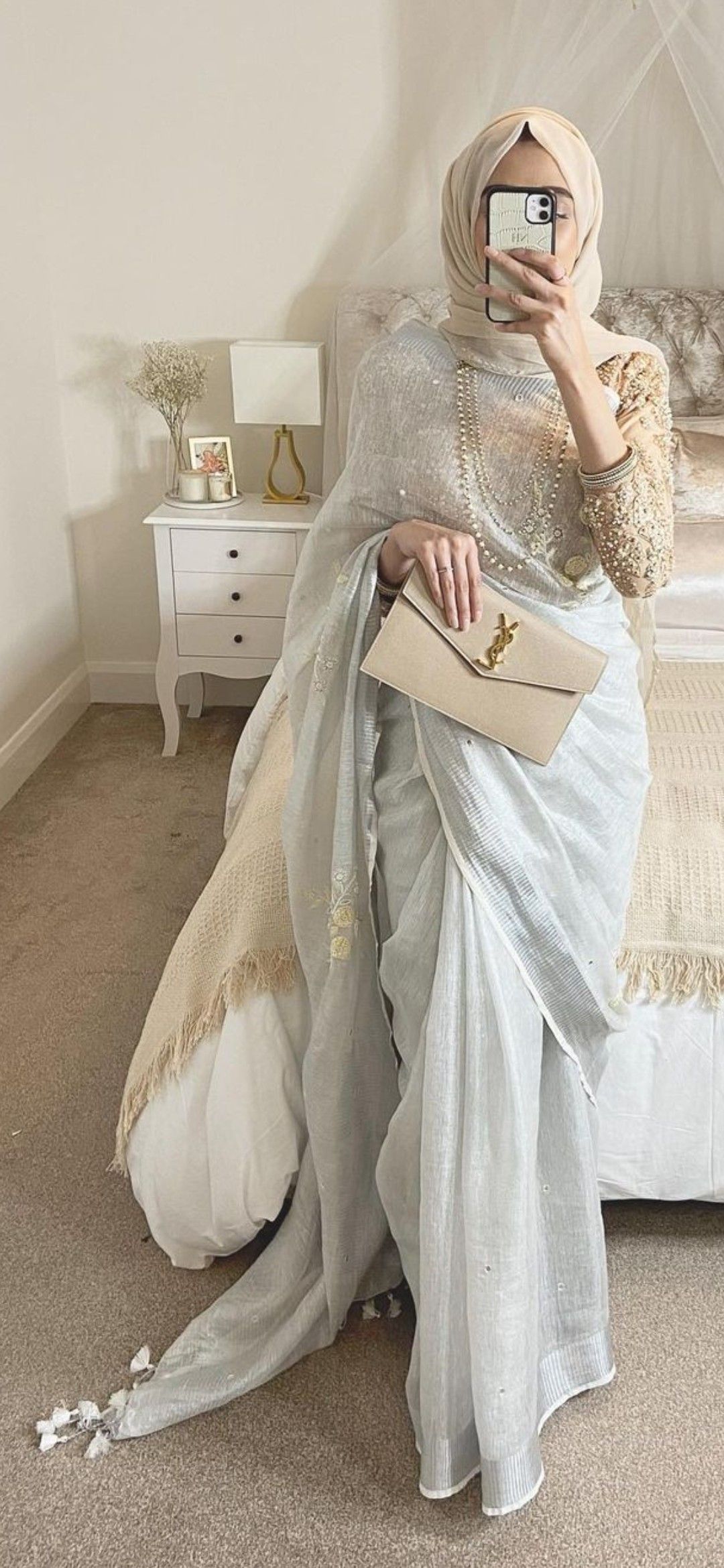 ↓ 3 – Match the Color of the Hijab with the Pleated Part of the Saree
If you want to look taller in your saree, you need to try this style, as it will give the illusion of a slimmer and longer figure. Wear a hijab that matches the color of the saree and wear a blouse of a completely different color. Let the saree pallu be longer and hang at your back.
This gorgeous outfit below is an adorable way of wearing sarees for young girls this season. Many schools and college girls want to wear sarees for their co-curricular activities or attend a function such as their college farewell parties. In such cases, a saree style like this would be highly appropriate.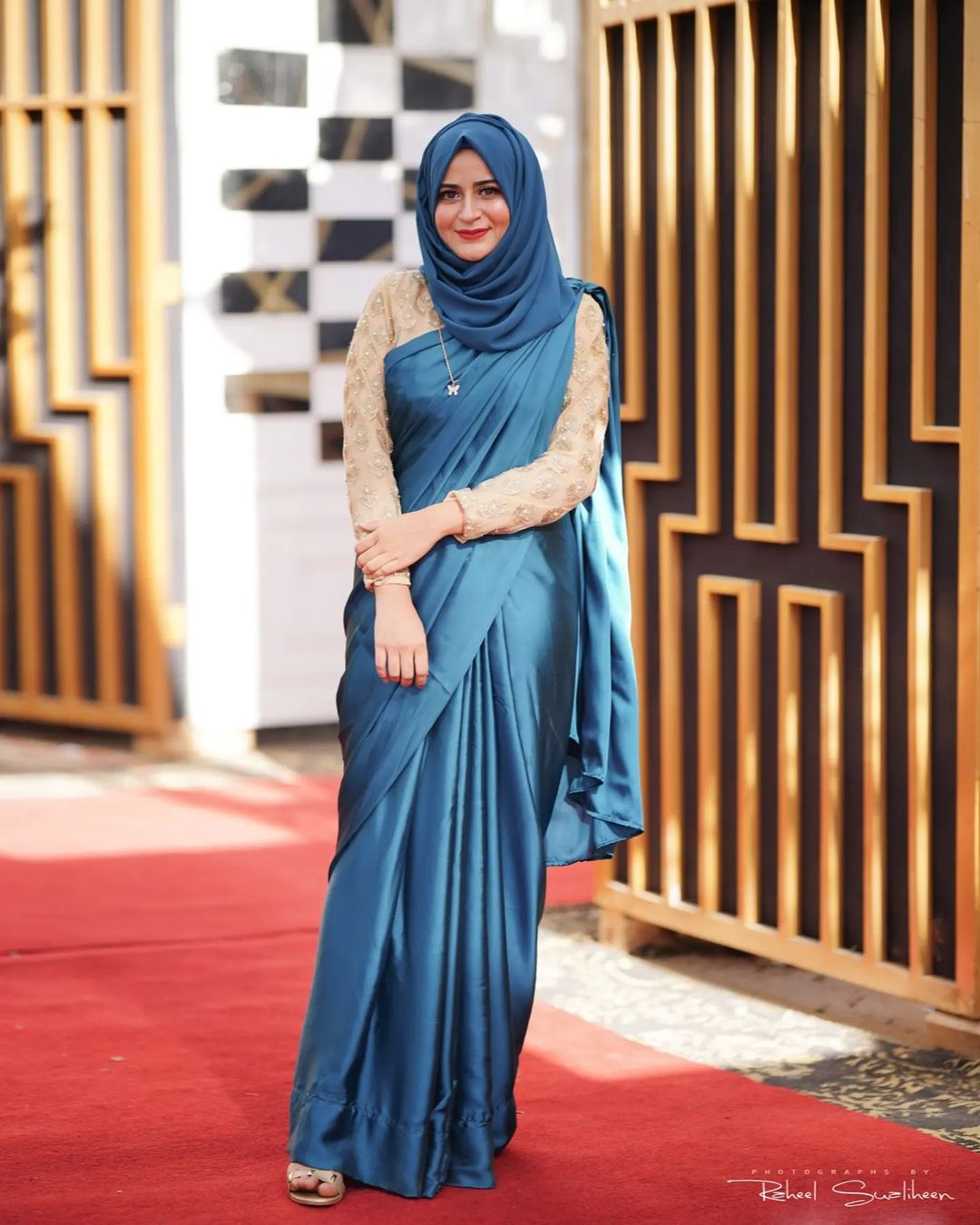 ↓ 2 – Go for a Turban Style Hijab with a Bright Sari!
Opt for a turtle neckline blouse to protect your modesty with a turban-style hijab. Pair it with a striking and bold saree that is loud enough to capture attention. Moreover, you might want to go for trendy jewelry instead of the traditional one for this look. But overall, a praise-worthy outfit for attending the pre-wedding events of a Muslim couple!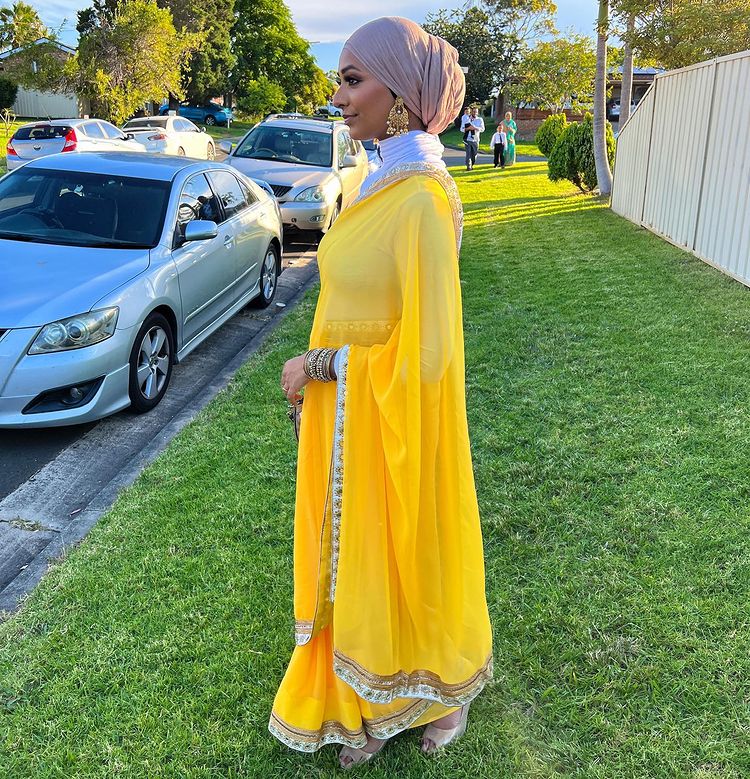 ↓ 1 – Mix Plain Solid Colored Hijab with Printed Saree
Below is the perfect saree type for the spring season because floral prints look great in spring. However, wearing a printed hijab with a printed saree will not have the same effect as the combination shown here. So please keep it simple, minimal, and uncomplicated! Keep your printed hijabs reserved for a plain sari to pair!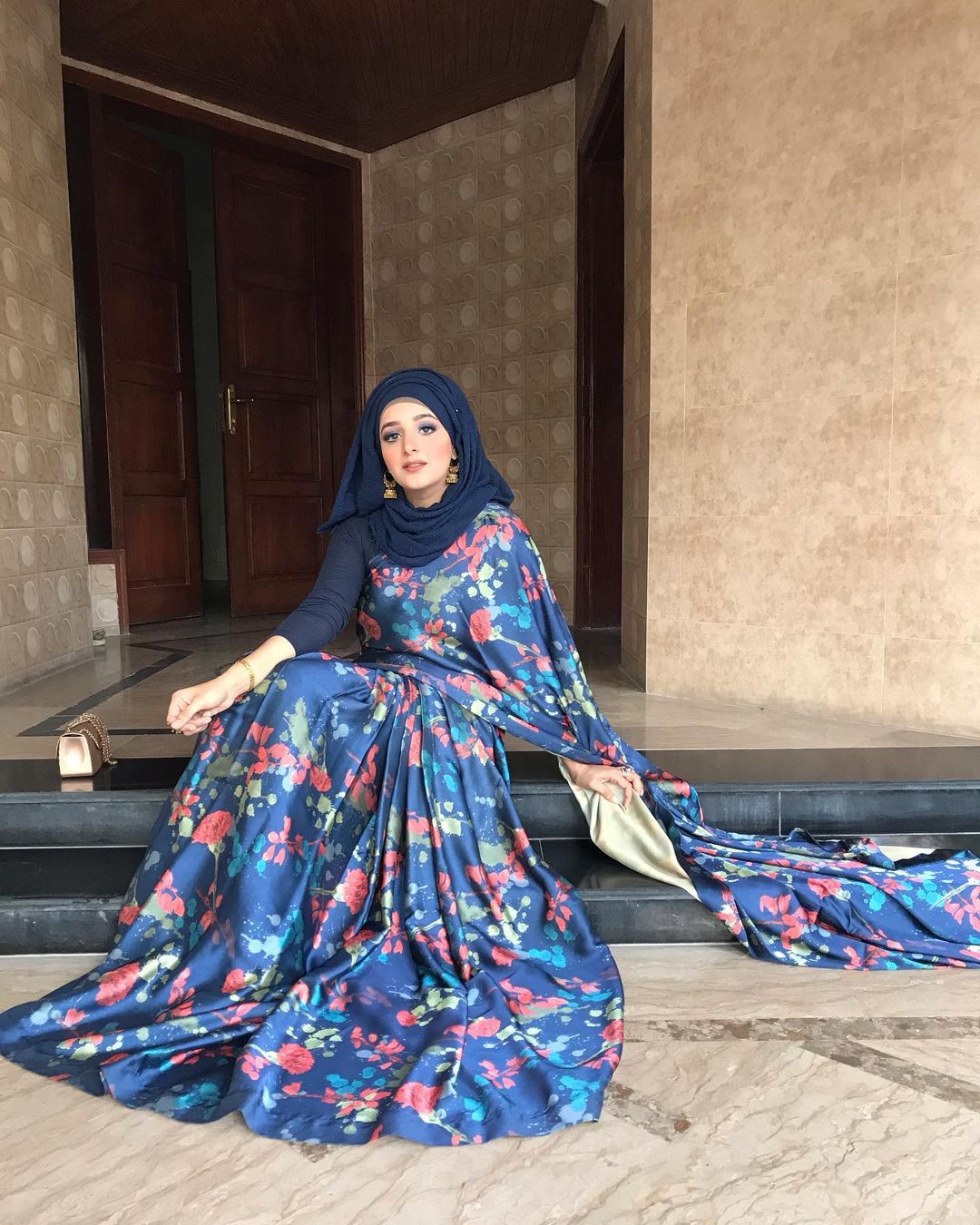 Frequently Asked Questions
Can I wear the hijab stylishly with a saree?
Ladies are usually concerned if they can look chic and elegant at the same time while wearing a covered saree with a hijab. It is perfectly possible to look good while still maintaining the coverage you want! The style you choose to wear your hijab when styling a sari is a personal choice, and it is entirely up to you. You will also see many girls rocking the look in different styles while wearing a sari.
What are some stylish saree designs for Muslim women?
Lately, stylish saree silhouettes have been making rounds amongst the ladies! An increasingly popular one is the sari with a split to let that leg peek through. But do not worry! You will be in fitted trousers stitched to match the fabrics of the sari. Another fashion-forward option for you to try is the ruffle sari, as shown in look 14!
Style your hair scarf in a turban or side knot, or fix your hijab shawl on top of your scarf cap and allow it to drape freely along your back.
How to match your hijab with saree?
The answer to this question depends upon a number of aspects.
Firstly, you need to consider the fabric of your saree. Usually, a satin or chiffon scarf works well with numerous types of clothes.
Next, color block your outfit! Match the color of your scarf with the pleats of the sari or the blouse according to the style you are going for and the accessories at your disposal.
Match your hijab to your saree by opting for matching jewelry that is matha patti, earrings, necklace, and bangles to blend everything!
The style to fasten your hijab affects your outfit tremendously too! Opt for the turban of the side-knot hijab as seen in looks 14 and 5, respectively, for a trendy look. And go traditional with hijab styles 11 and 7!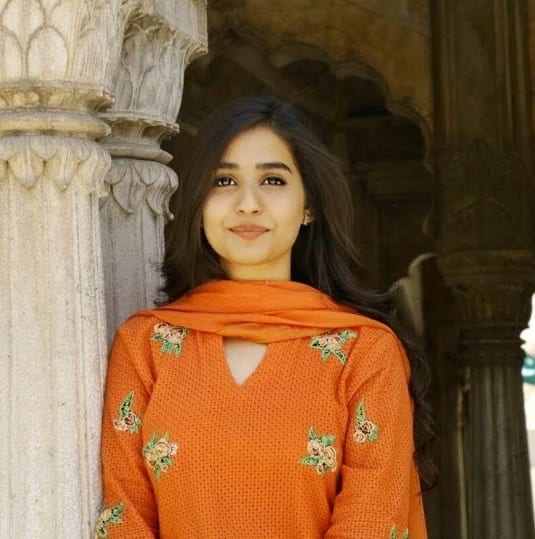 Janeeta Khan loves to write and loses herself in the world of fiction during her free time. You will probably find her curled in the corner with a Harry Potter book and a steaming mug of hot cocoa.