Theatre Outfit for Women: Many women do not understand what to wear when going theater. This is a place where you need to stay traditional and flaunt style while remaining elegant. If there is specific dress code then follow it otherwise stay in nude or lighter tones while dressing up formally for theater night. When getting ready to go to the theater make sure you look fresh and neat, also smell nice. Putting on some lighter and nice perfume can give you a fresh look. Unfortunately, some people skip taking a shower before going to  public events. Don't be that individual at all. Also, avoid other extreme that means no need for perfume overuse, it could cause suffocation to you and to others who are around you.
Stylish Ideas to Dress up for Theatre Night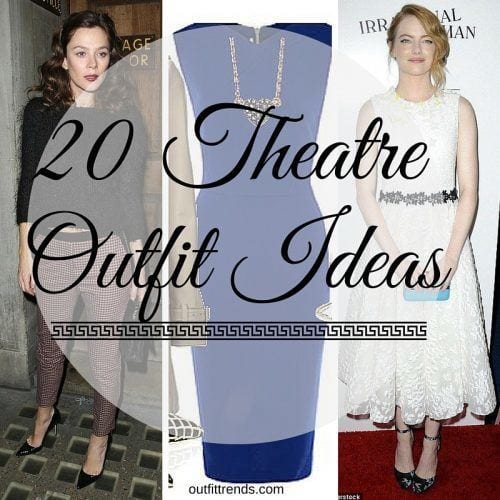 RECOMMENDED: [highlight]Cute Sunday Outfits Ideas – 30 Styles What to Wear on Sunday[/highlight]
We have come up with some ideas to help you out while deciding what would look best to attend theater. Do not forget to reflect your sexy side and some good taste in dressing while going to watch theater or attending a concert. Choosing an outfit consider smart casual dress code as a minimum requirement. No matter how contemporary the performance promises to be, there is no place for flip-flops in the theater. When necessary, you can, of course, go with something more formal than smart casual look. Usually, the formal and semi-formal dress looks best in such events while with some accessories casual dressing could also work to give a perfect attire for the evening.
Here are some basic tips to follow when deciding your dress to spend a wonderful evening.
Casual Attire Do's
mid-length dress – Perfect for women of every age
trousers – If you do not prefer flaunting skin
skirt – Good for summers
jewelry – A must have thing
accessories – For bold and beautiful attire
blazer or cardigan – Good to carry for winter evenings
shawl – Could also work with every dress
clutch bag – Avoid big handbags
shoes – the Fashion statement
ballerina flats – Good to go for a comfortable evening
Things to Avoid:
flip flops – Sound produced by flipflops echo in the hall, avoid wearing them
t-shirt – It is so absurd to wear casual tee without giving it some formal look
slogans or logos on the top – Say no to such shirts
large tote bag – You are not supposed to carry the whole world with you, a clutch looks elegant
evening gown – You are not attending a Ball dance, avoid wearing long big gowns
sportswear – Theater hall is not a playground, no need for sportswear
Don't wear hats and if you came with a friend, don't sit with your heads together. Make sure people behind you can see the scene.
Here are some useful best dressing ideas for women to inspire.
#20- Formal Outfit for Performance Night
A mid length dress with elegant jewelry and a neutral color clutch looks perfect for attending a theater performance. Black is formal and looks elegant but you can choose any pastel color dress as well. Pearl jewelry compliments the look.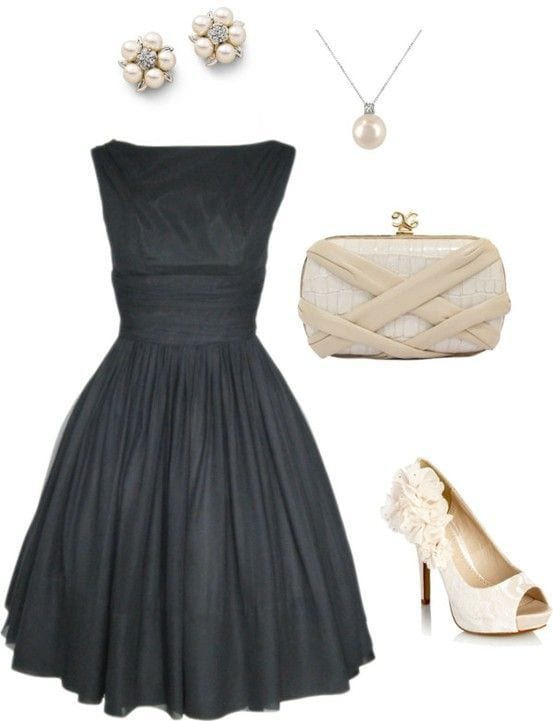 Also check out [highlight]Dinner Party Outfits-18 Ideas What to Wear to a Dinner Party[/highlight]
#19- Leather Dress for Smart Looks
The leather dress can give very elegant attire for sleek women, even curvy women could also choose it, but avoid to be too bright color. Nudes or blacks look smart in the evening. A chained small bag with some statement jewelry is a must add on for perfect ensemble. You can choose from shiny pumps to nudes.