Hipster Outfits– Are you looking for cute women hipster style dress or ideas on how to dress like a hipster girl ? Searching for that perfect hipster make-up? Well , search no further as Outfit Trends is right here to answer these fashion queries.
Modern hipster style derives from the original hippy or 'flower power' era in the 60's. It is about being care free, keeping it bright and bringing back the vintage. Achieving the hipster look is probably one of the easiest to attain with the trend covering everything from neon to paisley. The hipster trend consists of non-brand names and the desire to support the more obscure and local attire so remember the best places to start for hipster attire is local vintage wear stores and even charity shops! It is basically – Anything Goes! Hippie and Gypsy combine to create some wonderful Boho fashion.
Make-Up and Accessories

Well this is an easy one. Hipsters do not really wear make-up if it can be helped. But if it cannot be avoided then the modern hipster will wear the very minimal such as a strike of eyeliner and a touch of lip gloss. Accessories wise it is the opposite, big glasses are a must as are vintage necklaces and bracelets potentially with floral patterns. Bright colours are always seen throughout the hipster subculture so why not incorporate a pink and blue check belt or bright neon nail polish to finish off your look?
One Piece Outfits
The modern hipster girl will have a vast collection of vintage dresses and with have no fear in flaunting them for any occasion. Cute, floral, short sleeve dresses are always a winner. This style of dress need not be fitted as dresses with no shape can always be brought in by that bright and beautiful belt. Not all dresses have to be printed, but floral patterns, paisley and even tartan are great patterns for the hipster dress. Why not get your hipster dress collections going ready to hit the streets in summer? A fantastic time of year when this trend really comes out the woodwork.
Two Piece Outfits
Skinny jeans or jeggings are a favourite addition to any modern hipster's wardrobe. These are acceptable in any colour or fabric as the hipster trend encourages a unique and 'do as you feel' way of life. Combine these with an oversized, open button up shirt revealing a bright tank top. Why not venture further into the carefree side and tie shirts around your waist? Not only does this continue the hipster look, but is also a great and yet simple way to break up any clashing colours between top and trousers.
Hipster Footwear

Hipster footwear can range from flat soled dolly shoes all the way the 5 inch heeled boots. Sandals are thrown into the mix and even cowboy boots. What shoes you wear is dependent on your outfit. For example, cute, simple suede cowboy boots with minimal heel are a great contribution to any vintage dress, adding that sexy zing whilst still looking natural and relaxed. Simple sandals or even a pair of vintage loafers can be the perfect input to match skinny jeans.
Why not check out these images of modern hipster styles and create your own look. Just remember, the modern hipster has no set style to follow, no brands and no limits… So make it yours!From the following collection you can get lot of ideas what has been said above .Lets see the collection.
How to Go Hipster ?
Summer Wear
What we are now witnessing is the rise of the hipster fashion again and by the young generation of the streets because of its natural flow and "do as you feel like" motto. Hipster dressing is all about insider humor and quirkiness. A little ironic dressing sense as you can see in the image below. Shearling shorts are always a risk to wear in summers and requires your openness towards fashion. So try on fitting a nice denim studded short with a denim dual shade jacket and a graphic shirt for emphasis. This head piece is adding the quirkiness to the guests at a beach party. Minimal makeup with the look but maintain your hair as the main accessory.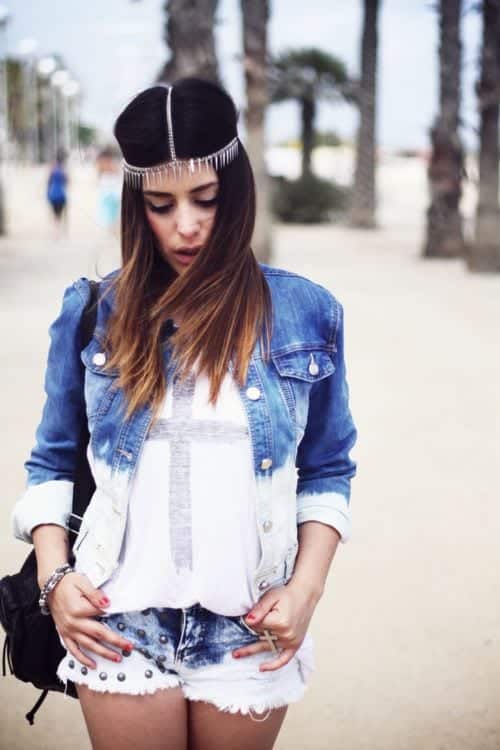 Hispter Street Style
Hippie is all about floral prints and designs and it is a must to have something flowery in your dress for the day. If planning a trip for the outdoors during summers, take up this sense of style with a collared floral printed shirt matched perfectly with  a simple black pleated skirt. Fringed bags are another hippie trademark and to have one with you on a trip is a good thing. Match this attire with nice maroon shoes and big horn rimmed glasses.
 Sleeve Less Top with Wide Legged Pajama
Flowy dresses/ outfits is the key to this genre of dressing and if you associate yourself with hippies then you must definitely own a nice loose graphic t-shirt sleeveless for the summers and jazz it up with a pair of loose white pants in silk or chiffon. Accessorize with a vintage shoulder bag for your beach necessities.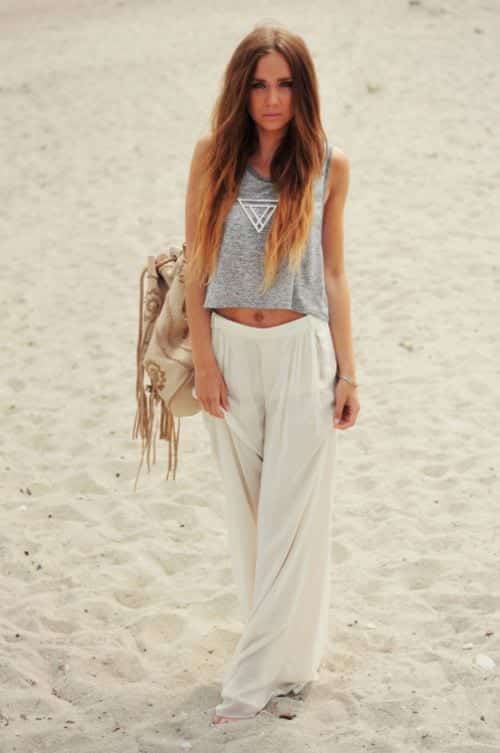 Cropped pants can also be worn with loose vests and jackets. Simple neutral shades in t- shirts or bold colors both can jazz up your look.  Hippie fringed bags and sunglasses are a must thing.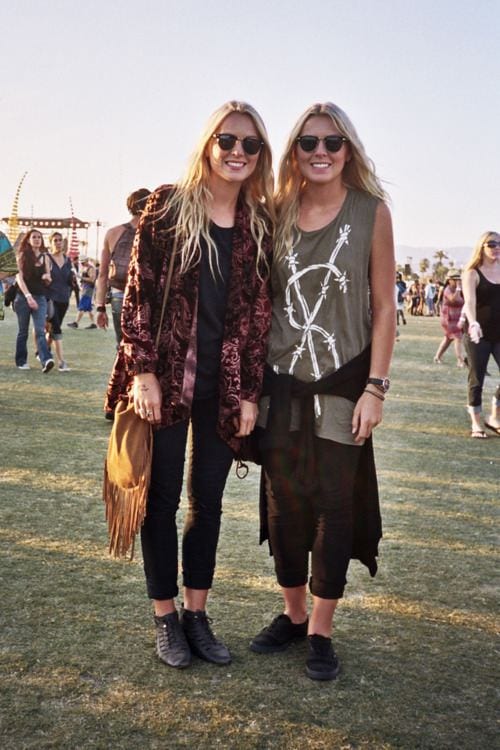 With Skirt.
Midi skirts with t-shirts showing your relaxed sense  with gladiators look nice for a Sunday dress code.
 Spring Outfit.
Vibrant colors as this canary yellow is an absolute hit with the ladies and a little rigged pair of shorts to go with the outfit in spring. Wrap yourself in a black fringed peacock shaded loose jacket. Wear lots of bracelets and chunky rings with oxfords.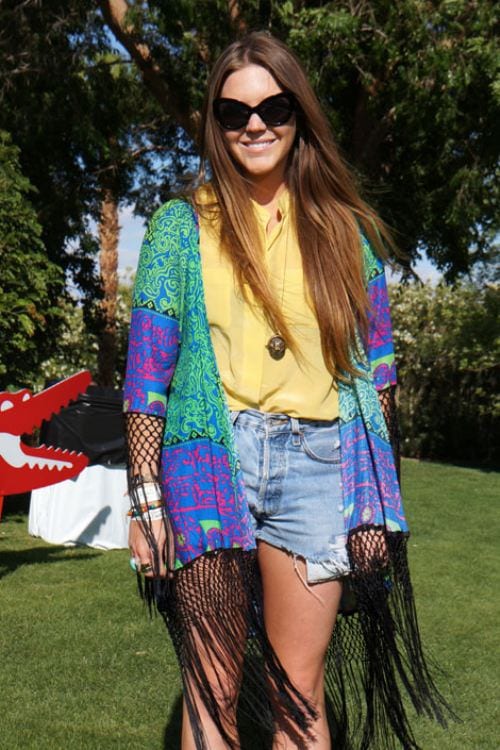 Frocks with quirky prints are also a part of this hippie culture. Skeleton graphic on this skater styled frock is an awesome dress to have in your wardrobe. Highlighted hair and high heeled lace up boots in black will nice with the outfit.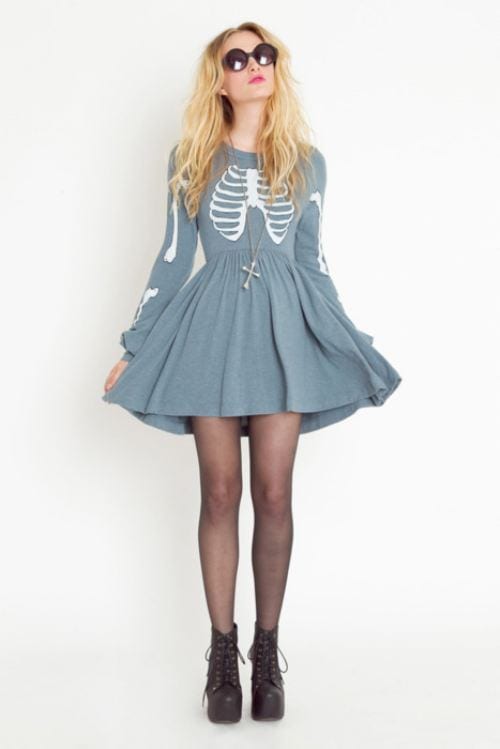 Teenage Girls Hipster Fashion.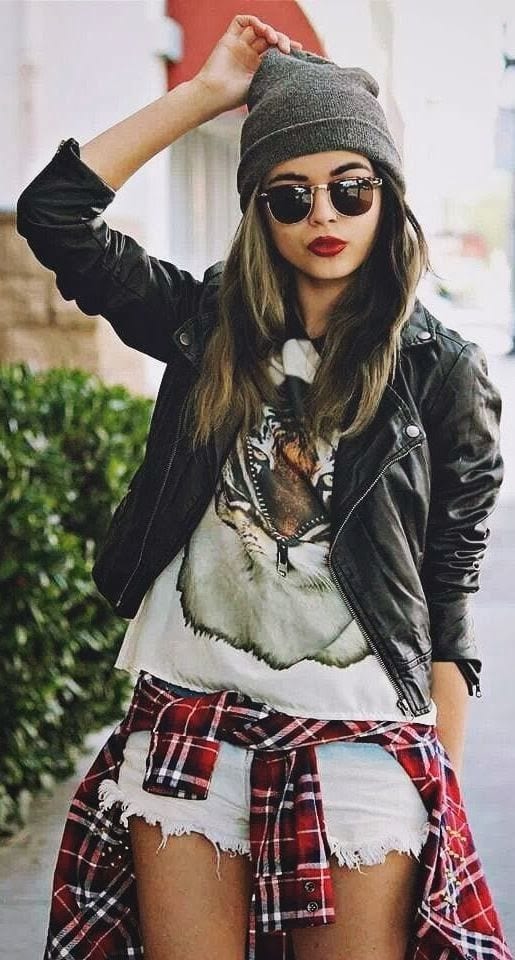 This is what you call an absolutely vintage outfit for the hippies. Gorgeous embroided patterned  jacket and shorts. Keep the shirt underneath plain and simple but in mesh and accessorize with lots of necklaces and braids in your hair to give a complete look.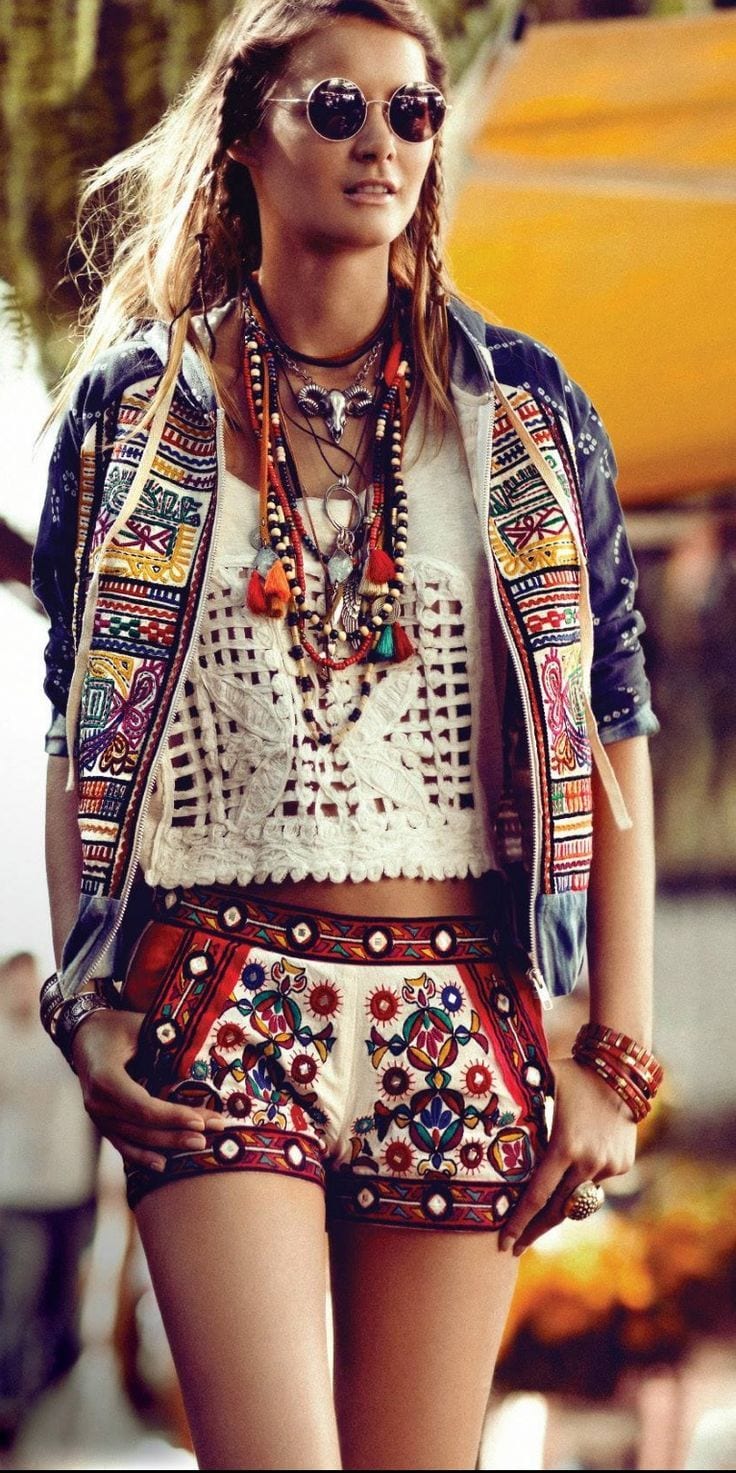 Summer Outfit combo.
You can always go a little away form the floral prints and try new dressing styles like this hip hop sleeveless vest and shorts with metallic embellishments. You can incorporate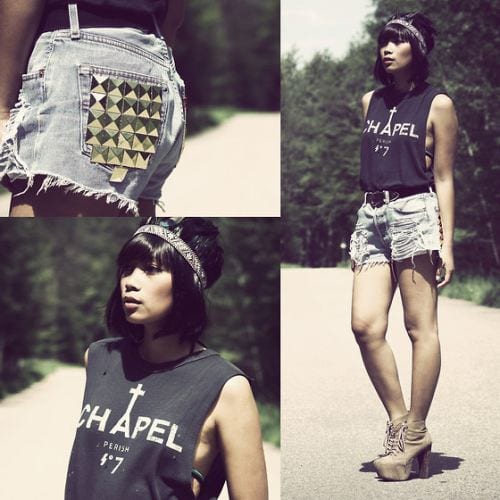 via
University Girl Style
Simple yet elegant for a day in college. Green vest with grey chino pants cropped up with oxfords and a high pony tail will make you instant talk of the day as a fashionista.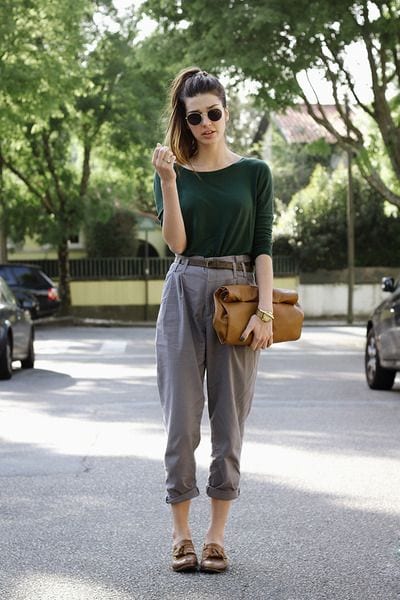 Hipster Hat