Best Holi outfits Ideas: Holi is the most colourful event of the year which brings about joy and happiness of its own. The Hindu Spring Festival is a widely celebrated one, not just in India, but around the World. It is known as the "Festival of colours" as well as the "Festival of love".
It marks the triumph of good over all evil. So, arrange a fun get-together with your friends and family to celebrate this occasion of love. There is just no end to the types of dresses you can wear at Holi, Kurtis, Saari, jeans, tunic, shirts, there is just no limit to experimenting with looks on this day. Since the occasion calls for a play of colours, the go-to colour for it is white. Men and women alike dress up in white, colouring themselves different shades of spring. However, you can break the norms by choosing vibrant colours for the occasion like pink, orange and red. We are bringing you some fun outfit ideas that you can sport this March on the occasion of Holi. These 16 combinations will give you an idea of the kind of makeup, hair, and accessories to go for. You can also check out how to dress up for carnival festival to get some cool ideas.
What To Wear To The Holi Festival 2021?
For a fun occasion like this one, we would surely want to look our best. Here are some tips for you to create a trendy and stylish look:
The Holi Traditions involve spraying powder colour over each other for which typically a white Kurta is worn. However, you can totally go for a Western look as well.
If you are planning on going Western, you may wear a long white dress to get coloured in.
However, for an Ethnic look, you can go the Punjabi way and wear a short Kurta over a shalwar – something like a Lohri Dress.
If you are wearing white, add in a pop of colour by throwing in a vibrant dupatta.
Add in a Kohlapuri and some Jhumkay for an Ethnic Indian style.
If your fun, Holi hangout is planned during the day, do not forget to apply sunscreen and make sure to wear your classy sunglasses.
While playing Holi, make sure to use organic colours that are not too harsh on the skin.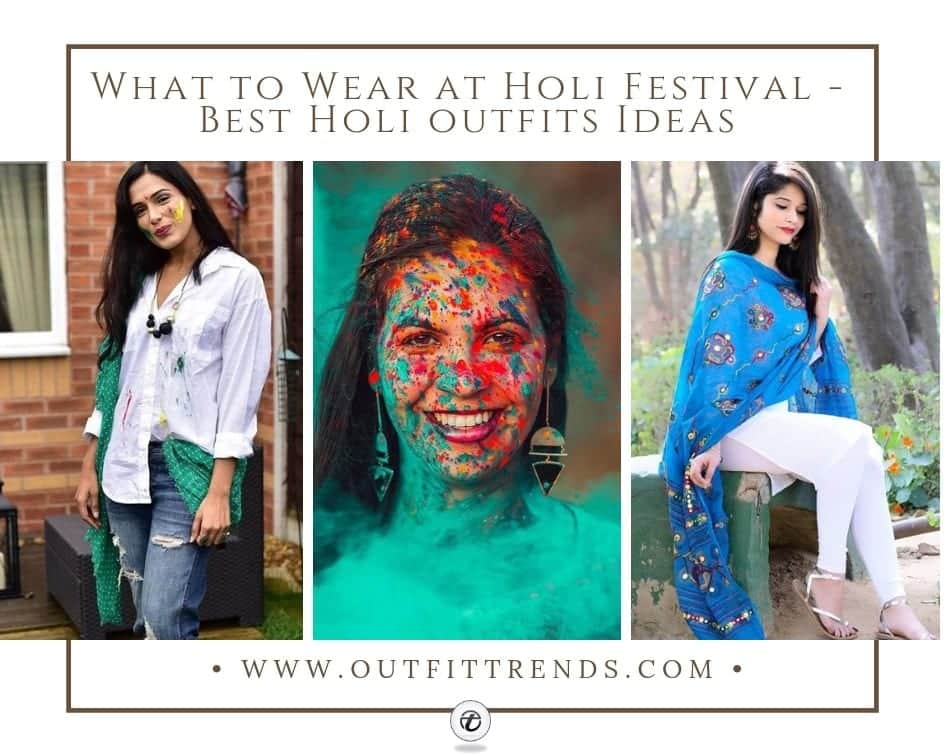 ↓ 16. Off-White Saree To Wear On Holi
No matter the age, the most favourite Indian attire to wear to a traditional festival is the Saree. It can be sported by women of all ages. This particular one in an off-white shade gives you all the reasons to be worn on the day of Holi. It has been paired with a beautiful and vibrant orange blouse with floral detailing over it. This combination of off-white and orange is just what is needed for this Spring festival. You can style this traditional attire with a sleek hair bun adorning it with some fresh flowers. Since most people opt for the pure white shade, this off-white saree can be a refreshing change. Check out some classy Saree Blouse Ideas for Silk Sarees to stand out among the crowd this Holi Festival.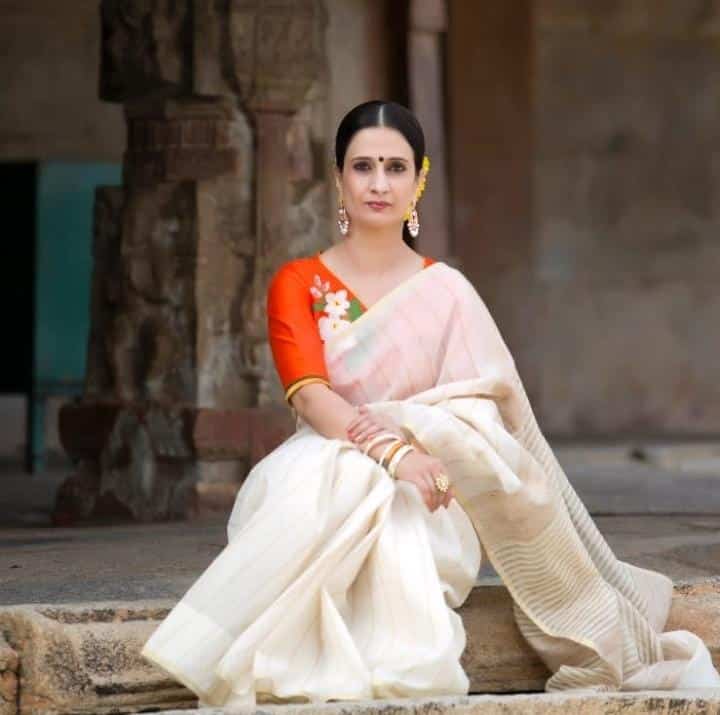 ↓ 15. Lohri Dress
With Holi and Lohri being just two months apart, why not reuse your Lohri dress this Holi? The Punjabi Folk festival is commonly celebrated in January during the Winter season. With Lohri being the festival of North India, many women opt for the traditional Punjabi style consisting of a Short Kurta with a Shalwar. The Punjabi culture is quite rich and includes a variety of colours and embroideries. This yellow outfit with an intricately embroidered Dupatta seems like a great choice for a Colour Party. Holi occurs during March and is a Spring festival, all about smearing colours on each other. Get dressed for this vibrant occasion by replacing white for a bright Spring colour like this one.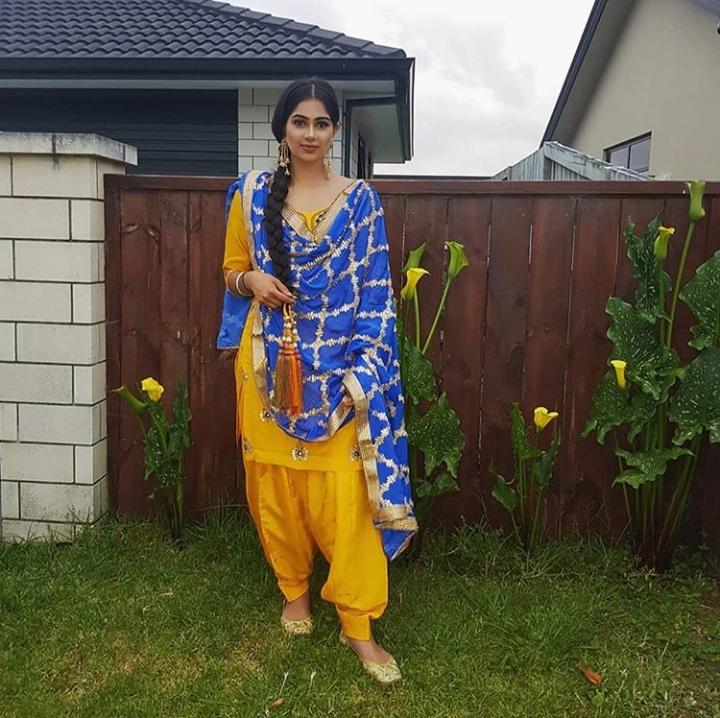 ↓ 14. Western Outfit For The Festival Of Colours
If you are situated in the West and want to have your own Colour moment, worry not as we have something for you as well. The West seems to love Holi just as much as the East does and they have been hosting their own versions of it. The colour festival is big in Brazil and some major USA states. If you are planning on going to one, here is what you can wear. Put on your old pair of denim jeans that you would not mind destroying and wear it with a basic t-shirt. Throw in a light denim wash jacket for a cool style and get ready to be drenched in some vibrant colours. This casual style will help you stay comfortable with zero worries about how to rid your clothes of the colour.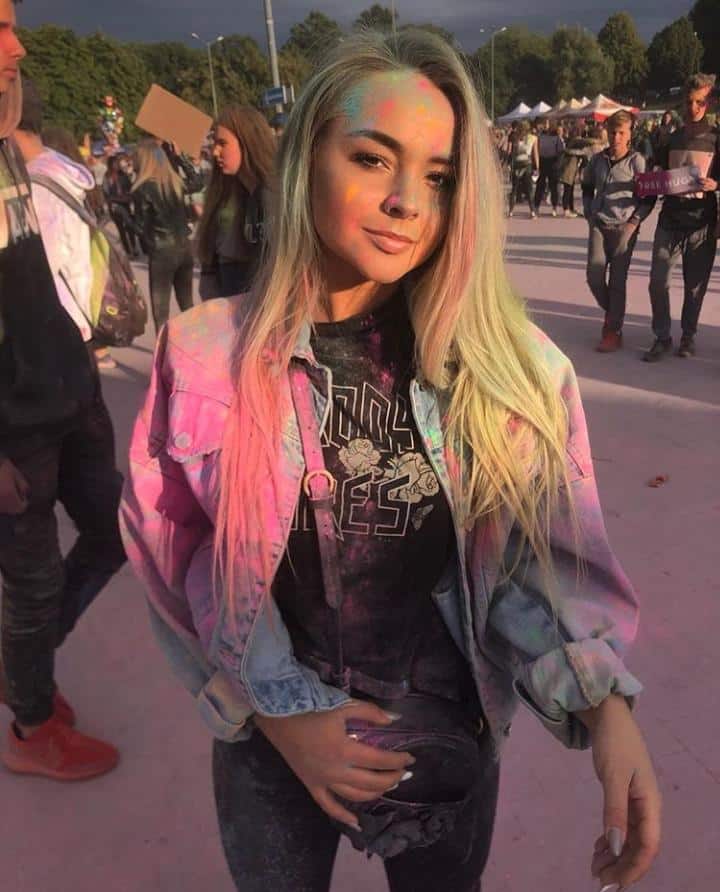 ↓ 13. Formal Holi Attire
Headed to a Daytime Holi Party? Ace the look with a formal outfit like this one. Following the theme of white, we recommend this Cape dress with some stunning detailing on it. The breezy and light look of it makes it easy to sport while under the sun. Rock your favourite shades with an elegant outfit like this one for the ultimate Spring look.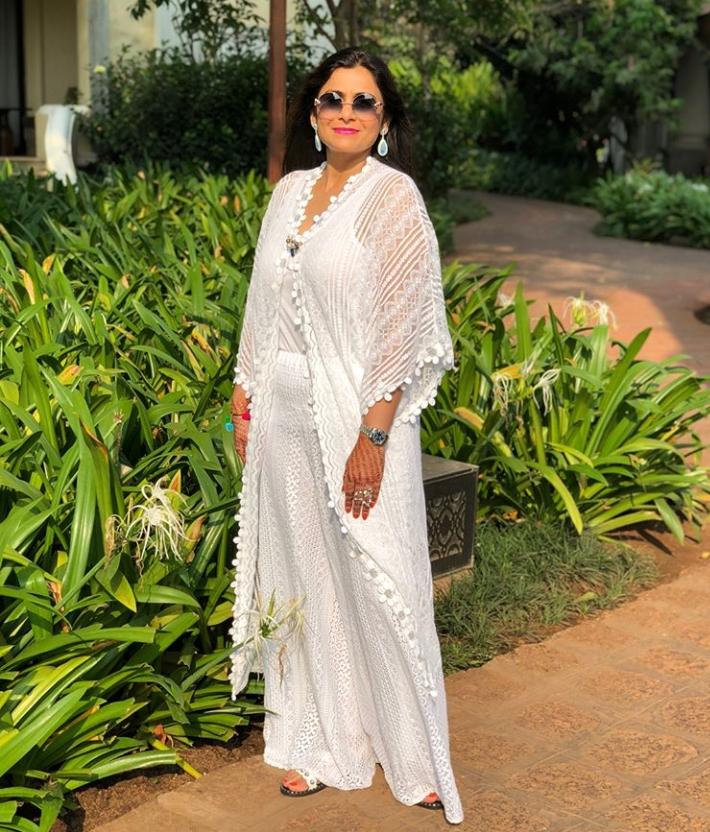 ↓ 12. Modest Fashion For Holi
If you observe the Hijab and want to have fun this Holi Festival, here is how to do it. This Turkish neck wrap style Hijab works well over this collared white shirt. The brown Hijab also adds some subtle colour detailing to a basic white outfit.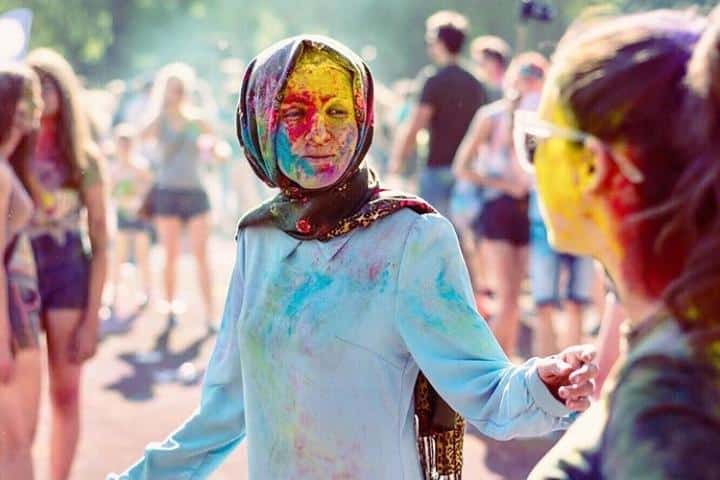 ↓ 11. Tie-Dye Outfit
Get Spring ready with this super chic look. To keep it casual and comfortable while out with friends, you can go for a plain white shirt and pant. Additionally, for just the right amount of colour, you can add in a vibrant and colourful tie-dye cardigan like this one. It looks like it was made specifically for this occasion. The casual slippers and the cross body bag are making so much difference here.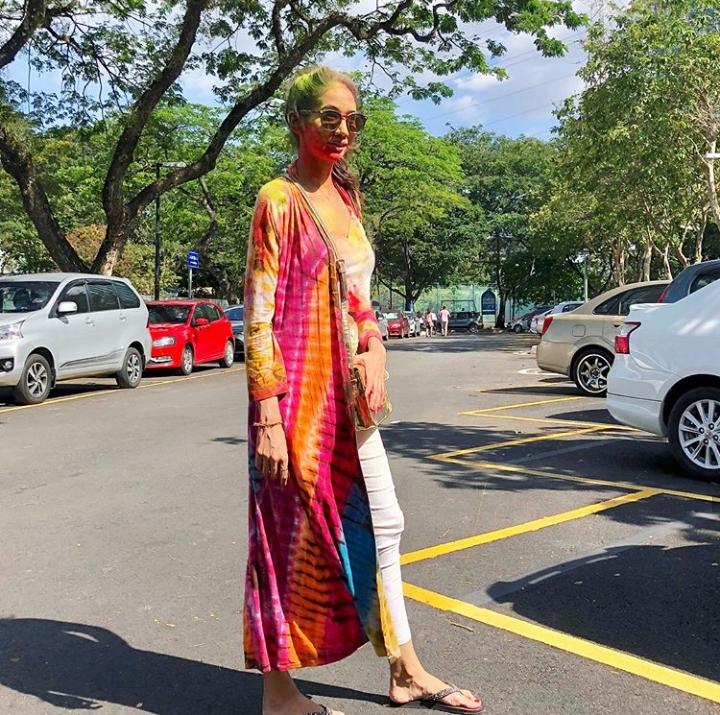 ↓ 10. Holi Footwear Ideas
When putting together an outfit look, it is essential to pay extra attention to the footwear. Since the occasion is a festival, it is absolutely necessary to pick the kind of footwear that helps you stay comfortable all day long. These quirky and vibrant Kohlapuris will surely complement the Indian attire, giving it a fun look. These cute slip-on are available at My Sole Sisters for INR 2,500.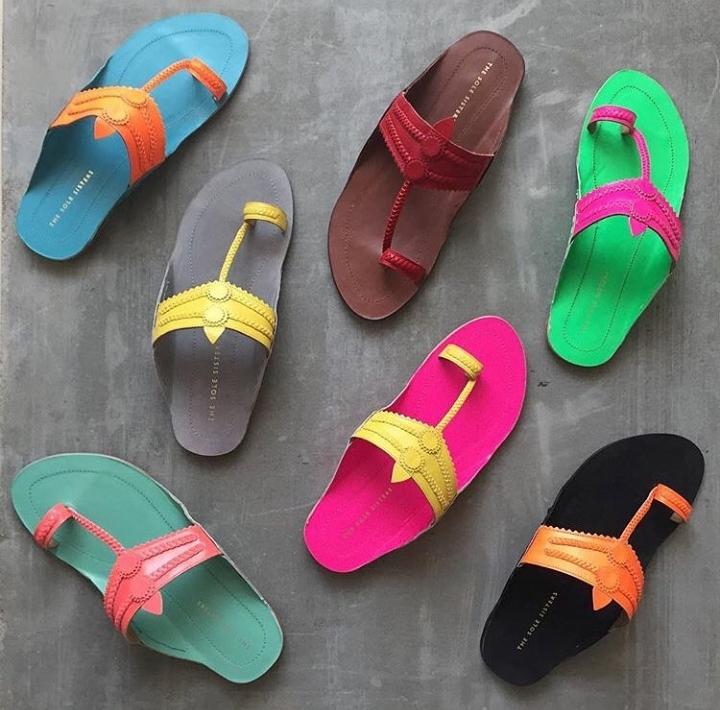 ↓ 9. Printed Tunic With Silver Accessories
Switch your white outfit with a spring-appropriate outfit. This printed tunic in subtle tones seems like a great pick for a daytime look. To glam up for the occasion, you can throw in some chunky jewels. The Indian Culture is big on Silver accessories and they sure look lovely with this tunic. You can add in a funky necklace, a bracelet and some danglers. If you are going to be under the sun for too long, do not forget to carry some cool eyewear along.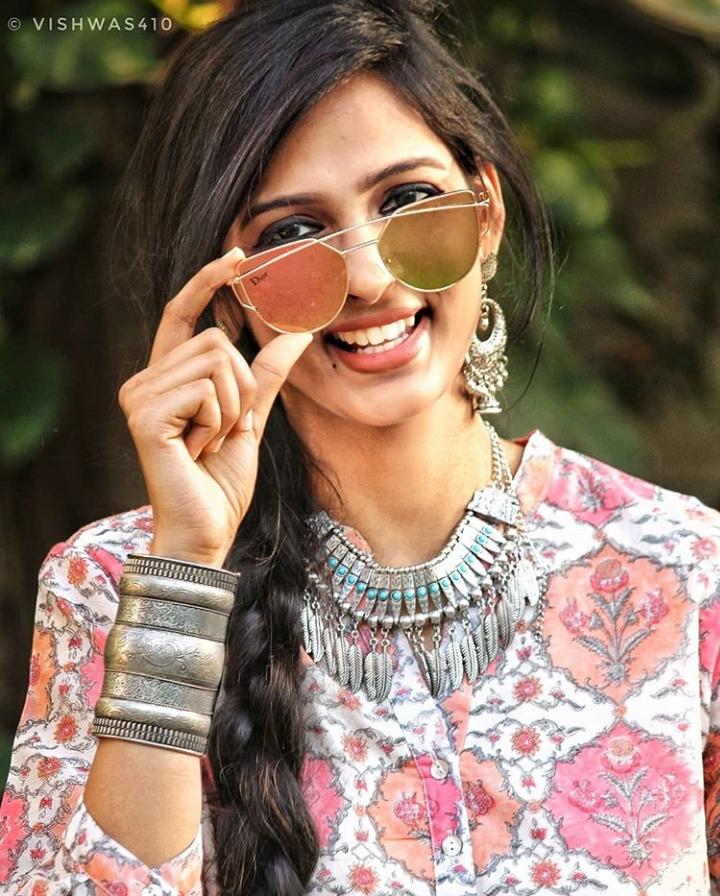 Fun Facts About Holi
The festival of colours is celebrated according to the Nepali calendar, on the full moon of the 11th Month.
There is no limit on the fun as this festival is known to be one of the least religious festivals.
While the festival is celebrated to mark the Indian folklore, it is also celebrated to welcome Spring.
The festival is celebrated for 16 days in a particular region in India.
The festival is not just known for the use of colour but also for the number of delicacies that are cooked up to celebrate the occasion with traditional sweets.
The festival is kicked off with a bonfire the night before the actual celebration.
The festival is also celebrated by Non-Hindus on a cultural basis for the fun of it.
The festival is not just celebrated with dry colour powder but also water. The water, mixed with the colours is sprayed onto individuals with water pistols and guns.
↓ 8. Indo-Western Fusion
Who knew creating an outfit out of some wardrobe staples was this easy? If you have something very intimate and casual planned for Holi this year, here is an easy look that you could sport. All you need is a casual white top, a pair of worn out Jeans and a cute Dupatta. The colour powder is usually quite difficult to get rid off and leaves pretty ugly stains. Save yourself the extra burden by going for something that is old yet classic. The Dupatta adds an Indo-Western fusion making it look super funky. For accessories, the long statement necklace is adding some bling to the basic outfit. Check these ways to reuse an old dupatta in some super stylish ways.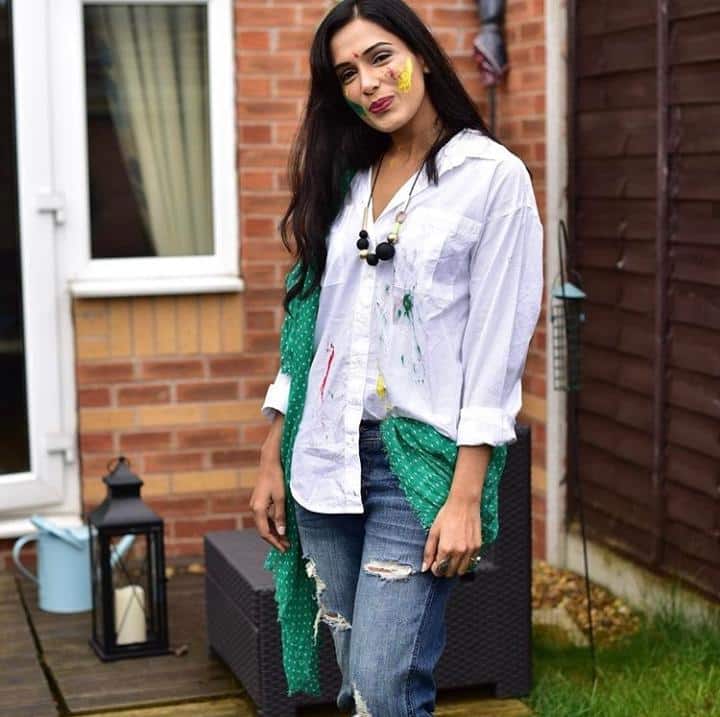 ↓ 7. Ethnic Attire For Indian Festival
Stay loyal to your roots by picking out a beautiful ethnic outfit that looks great for the occasion. This pastel green embroidered Kurta has been worn over a white palazzo. The printed sleeveless cardigan perfectly complements the overall traditional look. This is a great alternative to the basic white look and will surely help you look modern and elegant. The funky earrings are definitely adding some spark to the light-coloured outfit.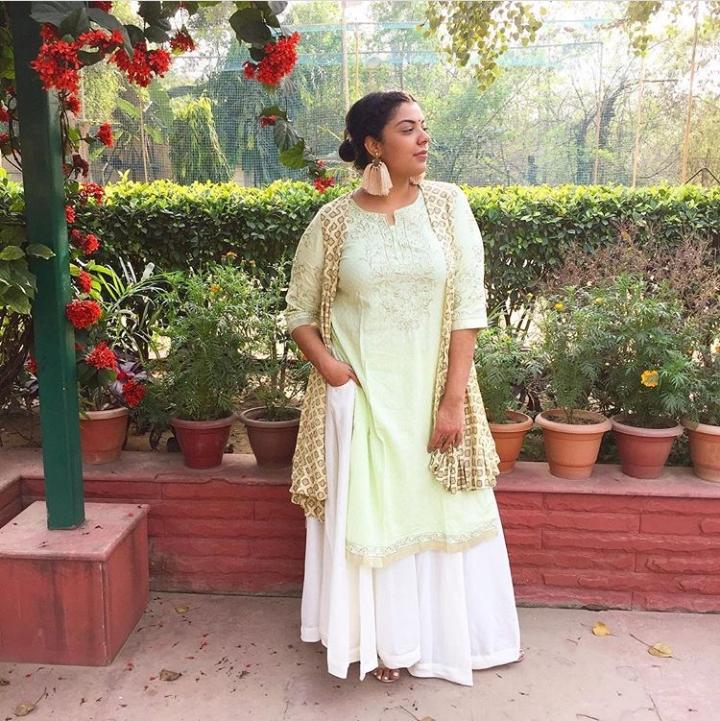 ↓ 6. Indian Chunari
Being the Festival of Love, you will definitely get to catch up with your family and friends. Here is how to make the most of this occasion. Twin with your favourite girls by going for traditional white outfits. Throw in some matching Chunari Dupattas in different colours to up the style game. Do have a look at this collection of Indian Ethnic Wear Sarees In Modern Day fashion.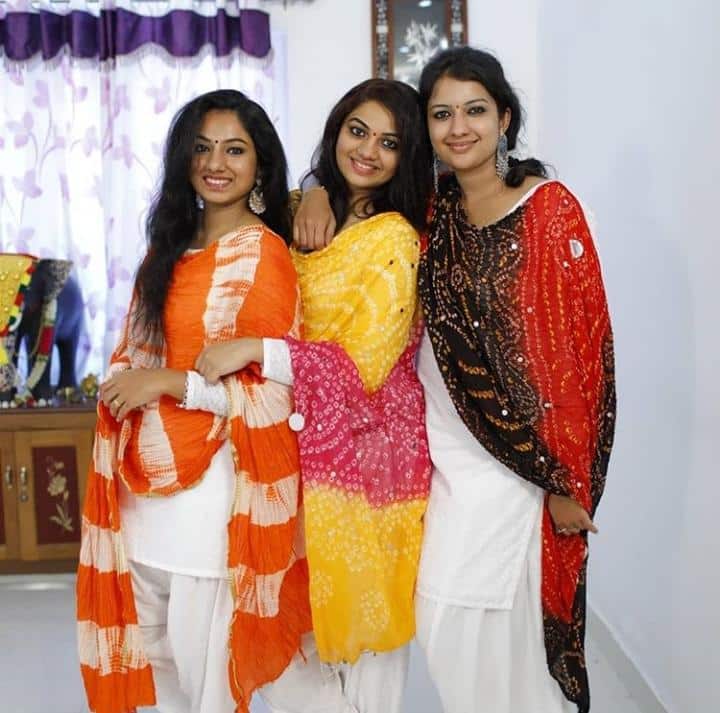 ↓ 5. Accessories To Wear at Colour Festival
While a lot of women focus more on their outfits for the occasion, here are some nitty-gritty details to look at while planning your Holi look. Whether going for an Eastern or a Western attire, add in accessories that can uplift your entire look. These quirky dangling earrings can surely look great on a plain white dress. You may go for the traditional Indian Jhumkay as a substitute for these more Modern ones as they will look great with the traditional Indian attire. Since the Holi Colour Powder usually conceals your entire getup, adding in some accessories can surely stand out on their own.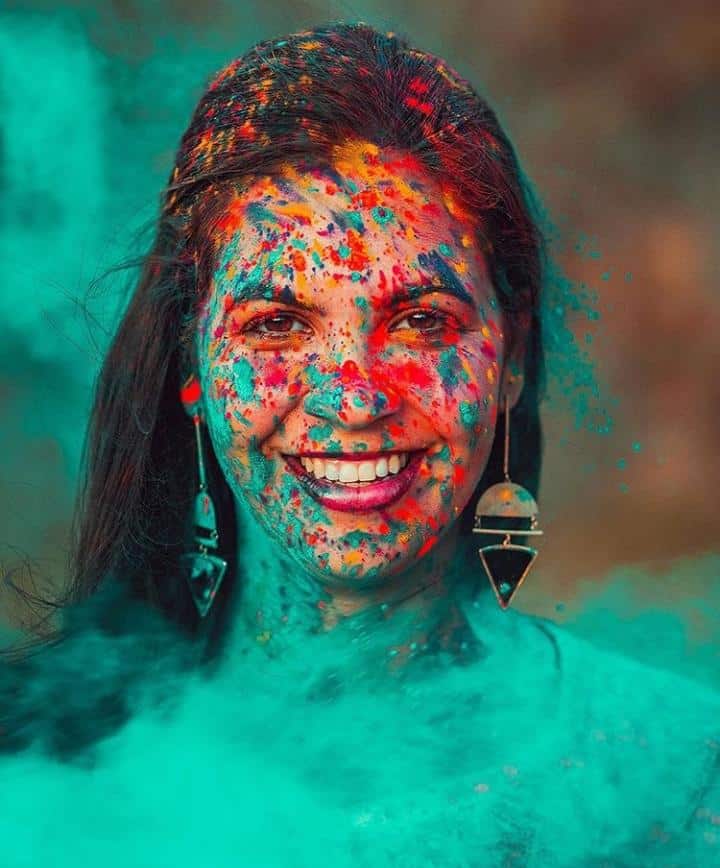 ↓ 4. Holi Festival Traditional Clothing
A white kameez and a churidar is classic Indian wear for all kinds of occasions. You can go to a fancy ensemble for a wedding or a casual one for everyday wear. With white being the most commonly worn colour on Holi, we would totally recommend replicating this look. However, the white outfit looks a bit too casual and surely needs something to look all amped up. For this, what you need is an embroidered traditional dupatta that can help give it a beautiful look. This blue dupatta with multicoloured thread embroidery and mirror detailing looks absolutely breathtaking. We would like to add how well the silver footwear looks for the occasion, adding both style and comfort together.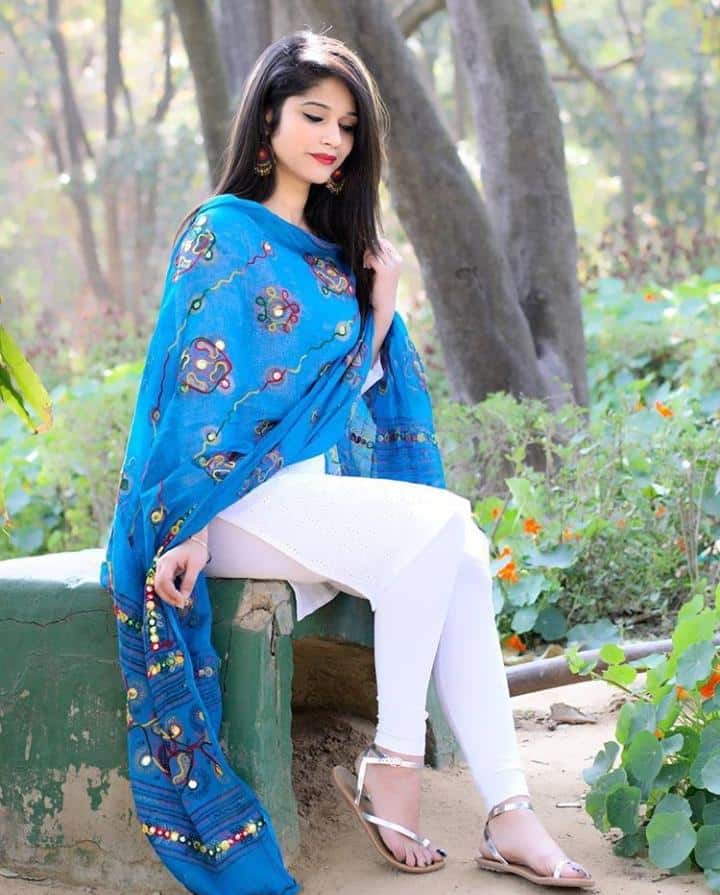 ↓ 3. Celebrity Holi Style
Like most of us, Deepika Padukone seems like a great fan of the Indian festival. She has been seen celebrating the occasion in two of her movies – Yeh Jawani Hai Deewani and Ram Leela. In both of her films, she was spotted in two very different attires. A western look for the former and a traditional Gujarati Ghagra Choli in her latter venture. Here is the beautiful actress getting smeared wearing a traditional Chikankari shirt. This Celebrity inspired look can surely help you dress light and casual for this fun occasion. Don't miss out these Indian Celebrities in Palazzo Pants & 19 Ways to Wear Palazzo Like Them.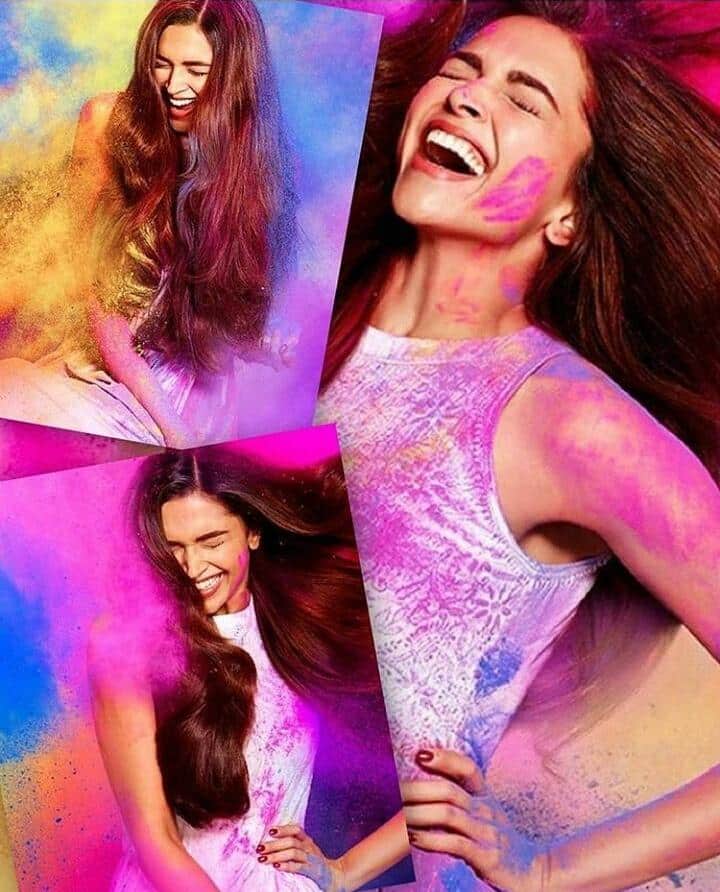 ↓ 2. White Kurta Shalwar
Self-printed and embroidered Kurtas in the same colour as the base fabric look super trendy and unique. This sleeveless ethnic shirt has been paired with a shalwar giving it a beautiful flare. The bicoloured dupatta in blue and purple with pompom detailing looks refreshing and will surely make you look stand out this Holi. This outfit has also been paired with the traditional Kohlapuris for a casual and comfortable appearance.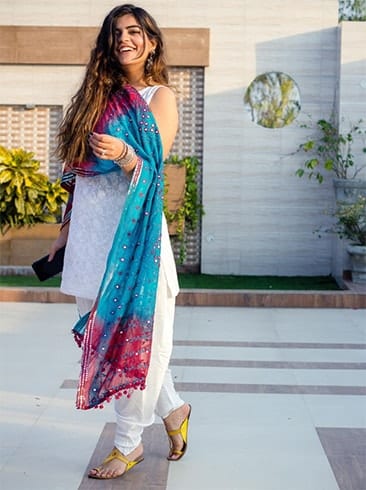 ↓ 1. Spring Look For Holi Festival
If you are planning on dancing the day away this Holi, here is an outfit idea that will not only help you stay in style but will also keep you feeling comfortable. Another traditional Indian attire for this season is the Ghagra Choli, typically resembling a skirt and blouse. This floral print outfit in the cotton fabric is light yet a great option to wear to a daytime gathering. The funky tassels are adding some gorgeous and colourful detailing to the skirt, giving us some Spring vibes. Wear some Kohlapuris or Punjabi Juttis with it to ace your traditional South Asian look. If you do not have time to scan the crowded markets for the right kind of outfit and are looking for a Holi Dress Online, here is how you can steal this look. You can shop for this casual floral print outfit at Gulaal Creations.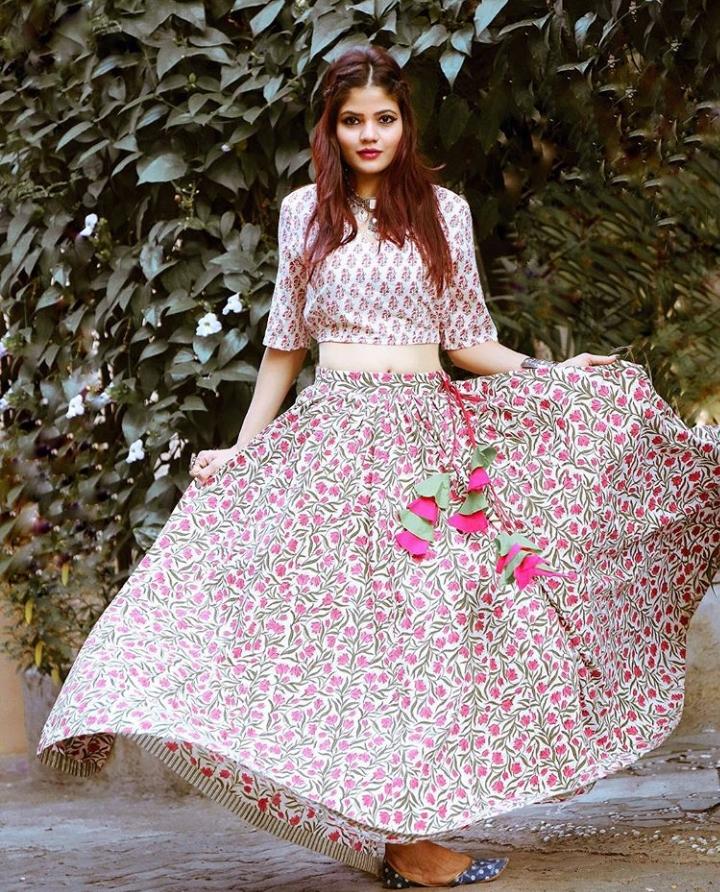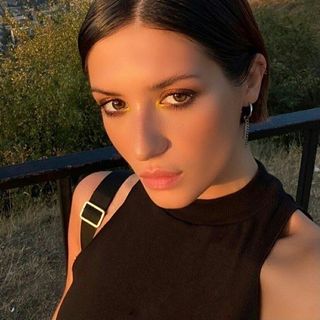 Avid reader and Fashionista. London Based freelance lifestyle editor