Great Summer Outfits for Women Over 50. Aging doesn't mean that you need to retire from having fun and dressing well. There's no reason you should stop looking after yourself. In fact, you should start taking care of yourself even more. Even when it comes to fashion.
Because after a certain age you can't follow all the fashion trends. You have to follow some rules not because society demands that of you but because you would surely look more stunning that way. When talking about outfits for women above 50, some ladies aren't sure of how they should dress at this stage in life. Many feel conscious about whether or not the clothes certain clothes suit them anymore. Here's a guide on this very topic to walk all mature women through how they can style their attires in summer.
What To Wear This Summer for Fifty Plus?
Here are some basic tips for you before we move ahead:
Look for bright, fresh colors. Black and white are great for mix-and-match items but overall, you want to stick to summer colors.
Keep your makeup minimal. Dark makeup isn't for summer. Make elegance your goal and keep it light.
The same goes for accessories. One classic accessory you can include in your jewelry box is a pearl necklace and pearl studs. Do have a look at these fabulous Dressing Styles for Mature women.
Monochrome outfits in bright colors can look very elegant on mature women. Some examples are turquoise, sky blue, yellow, pinks, orange, and white.
Look to streamline your silhouette. Certain pieces and styles may not fit the same as they did before but don't let that discourage you. Spend some time figuring what cuts are most flattering on your body and make your goal a streamlined look that enhances all your best features.
↓ 29 –  Bright Blue Embroidered Top & Jeans
Here is a great example of a flattering summer look for women of all shapes and sizes. Note the cut of the sweater, which hits right at the hips. It fits well without being baggy or even too tight. The embroidery is a flattering touch, bringing even more color to this already summer fresh look, and the flared sleeves bring feminine elegance to the ensemble. Pair with well-fitting white jeans and be sure to accessorize with coordinating earrings. For this outfit, a pair of slip-on flats, sandals, or espadrilles would provide the perfect finishing touch.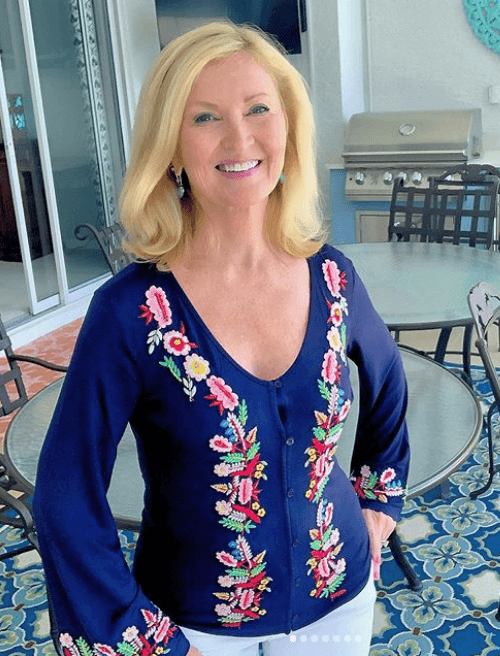 ↓ 28 – Stylish Summer Outfit for 50+ Women
We love this whimsical top in a lovely shade of lavender-blue paired with white wide-legged pants and metallic heels. This lady loves her costume jewelry and we are all for it! Be sure to match your jewelry to your bag and shoes and go for a bold lip to tie the look together. Here are some more Fashion Tips For Plus Size Women Over 50.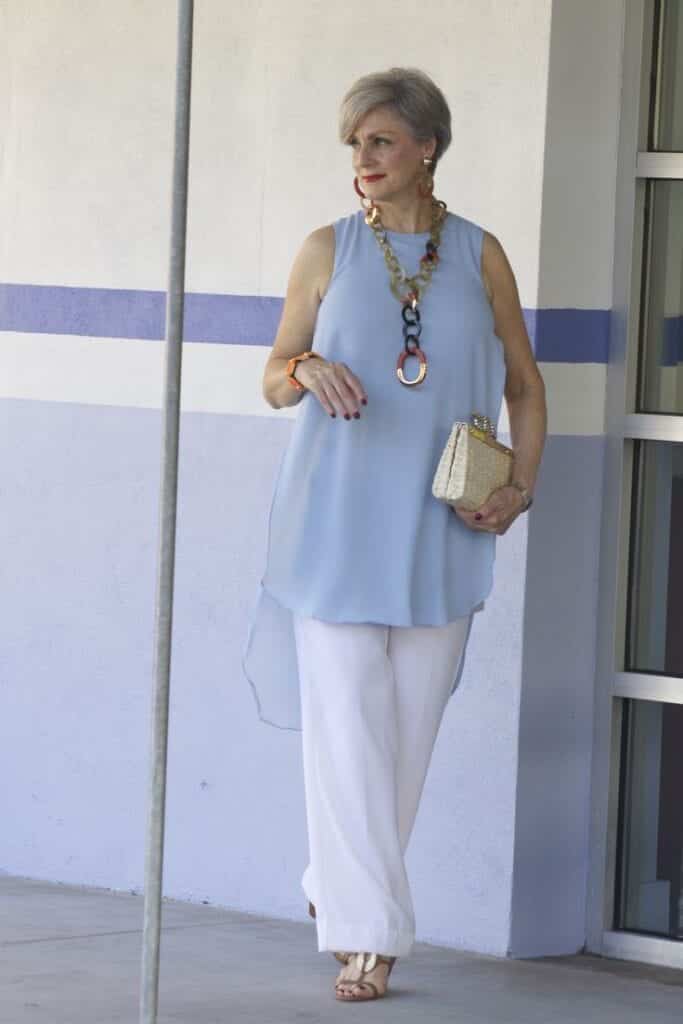 ↓ 27 – How To Dress For A Summer Party?
Summer fashion for this age and up includes white cropped pants and loose elegant shirts. Keep it cool to beat the heat.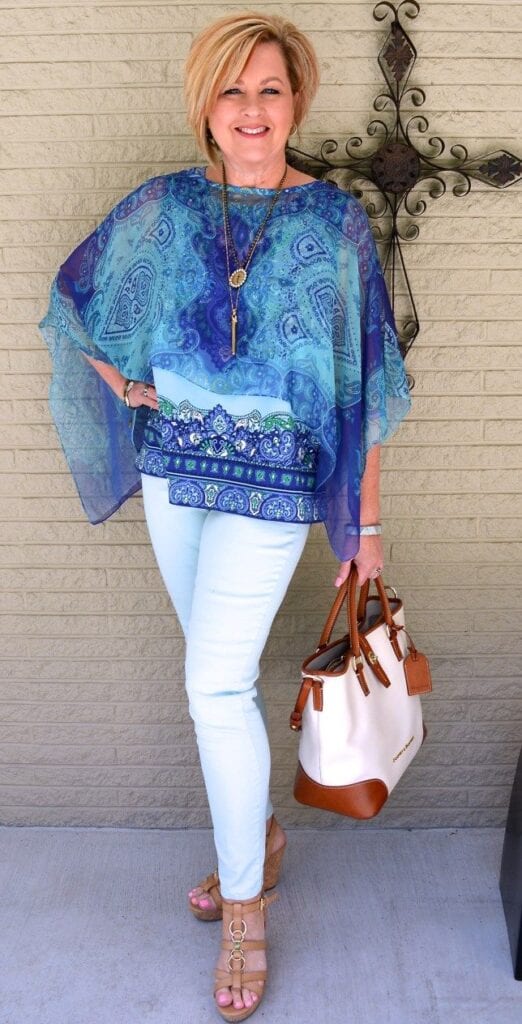 ↓ 26 – Elegant Outfit for Semi-Formal Occasions
We love this well-cut dress that highlights all of this lady's best features. Do check out these Casual Outfit Ideas for Women Over 60.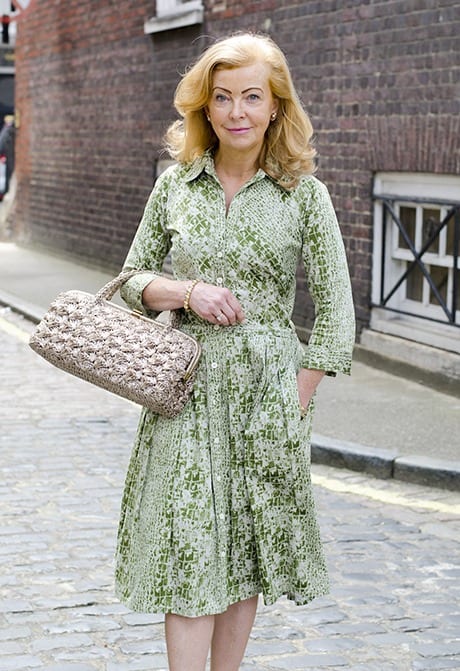 ↓ 25 – Party Outfits for Mature Women
They say age is just a number and you are as young as you feel. Embrace it with this stylish ensemble, perfect for a party.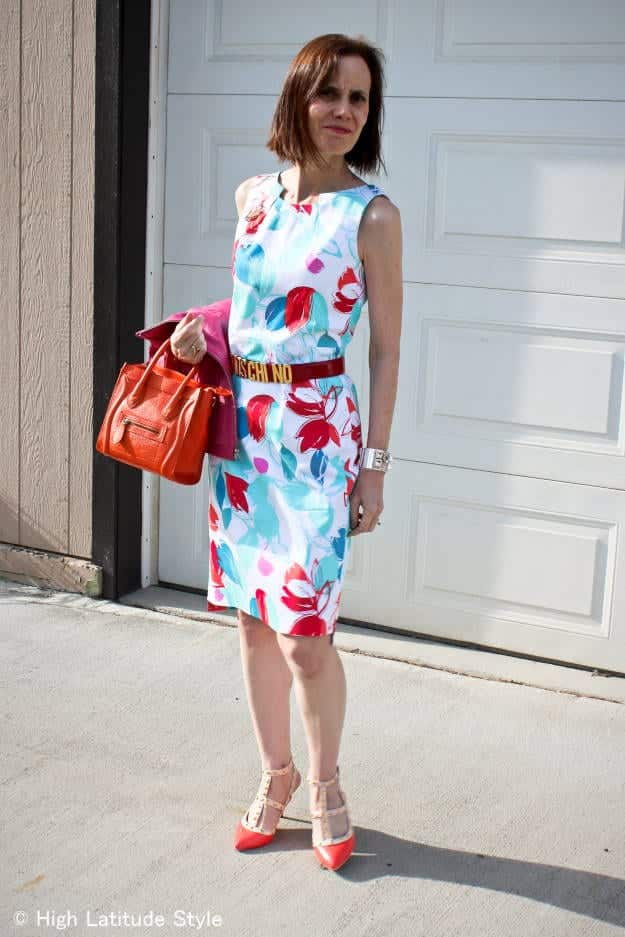 ↓ 24 – Super Chic Work Look
Heading to work? There's a perfect outfit for that too. Keep it chic with a well-cut suit and button-down blouse. Suits, pencil skirts, and jeans with a button-down would be ideal options. You can find some more great office wear ideas from these Elegant Work Wear Outfit Ideas for Women Over 50.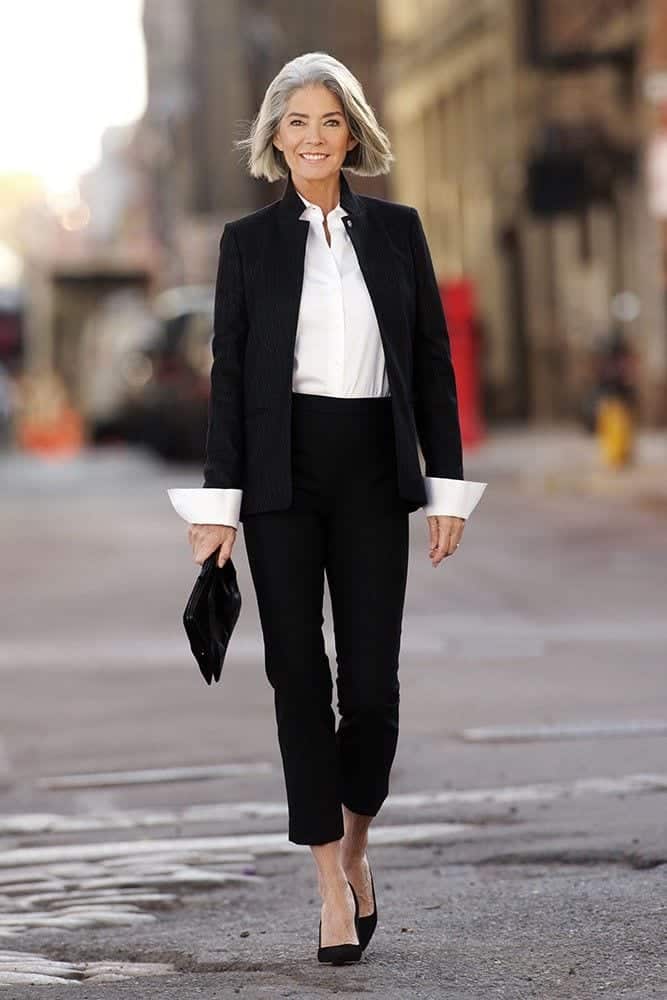 ↓ 23 – White Jeans and Patterned Top
White jeans are often a go-to choice in summer and for good reason. The color is perfect for the season. With a lovely blue and white top, the look is all the more classy.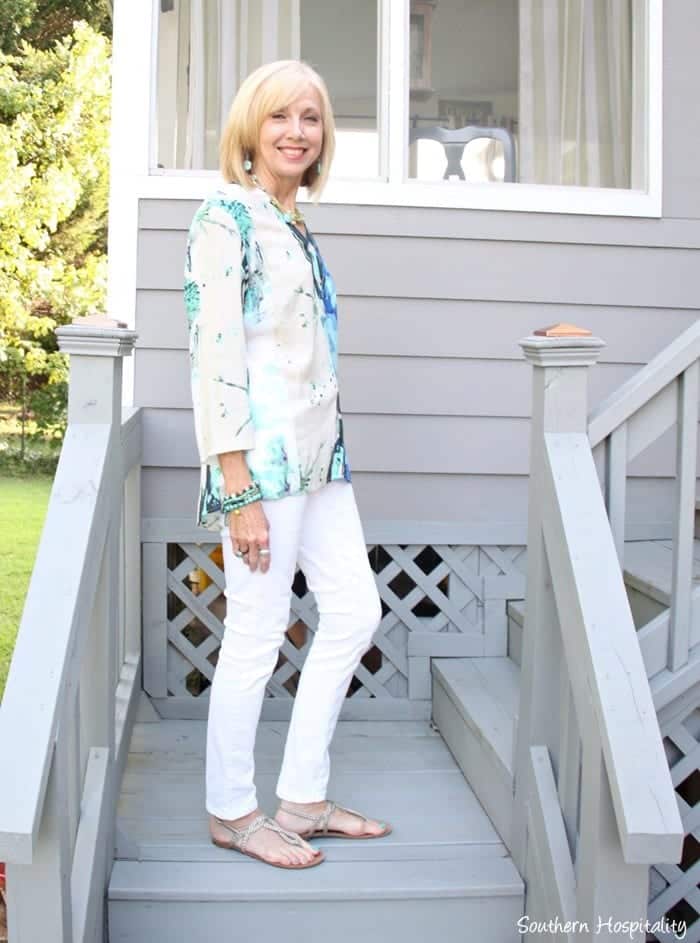 ↓ 22 – Casual Shorts and Top
Fed up of wearing cropped pants and skirts? Wear shorts for a change! It would look very chic if you are heading out with your friends for an outing.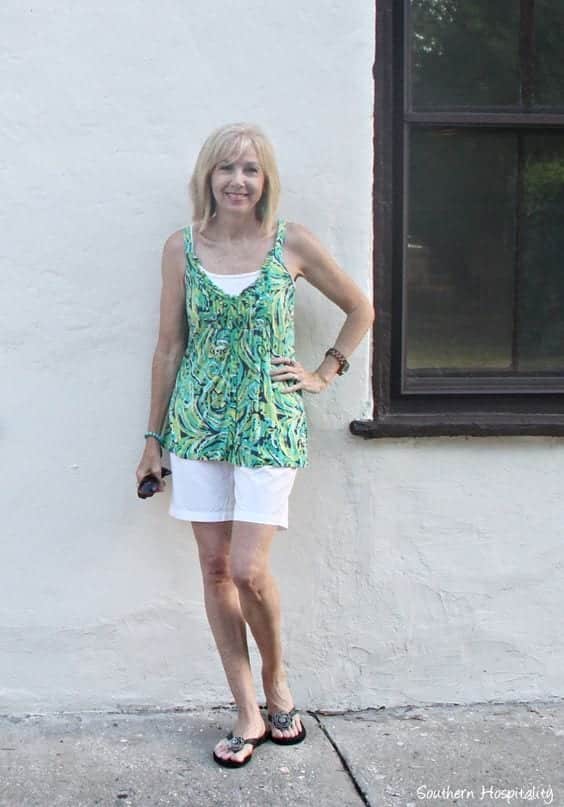 ↓ 21 – Long Shirt and Tights
Want to wear something more modest? Go for a long shirt with tights. The look is very elegant. If you're fond of wearing tights and leggings then don't miss out on these Legging Tips for Women Over 40.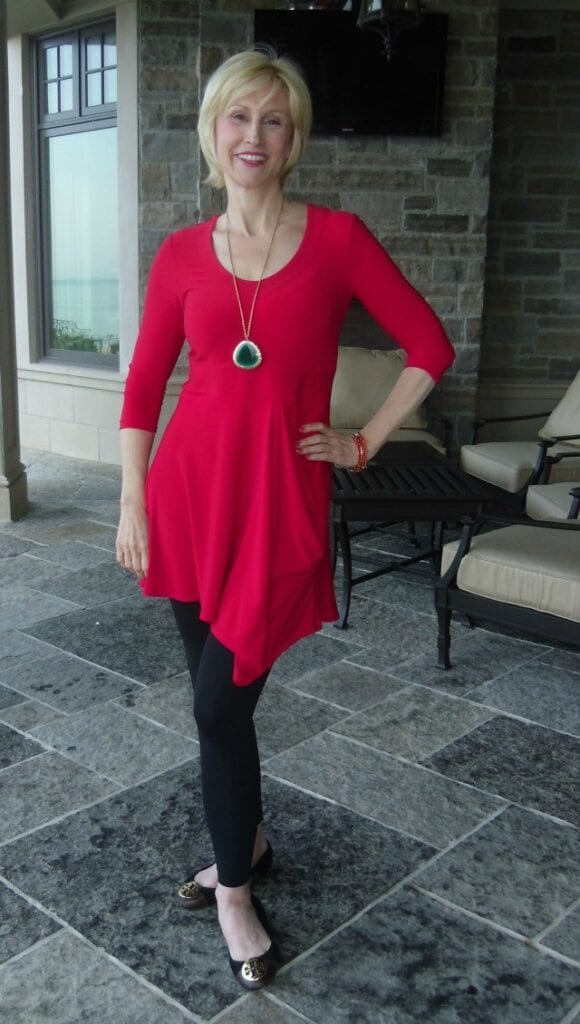 ↓ 20 – Polka Dot Midi Skirt
Midi skirts look chic as well as fun. And the timeless polka dots print enhances the beauty of the outfit. Here is how you can indulge your love of fun prints. Finish off the look with some white pumps.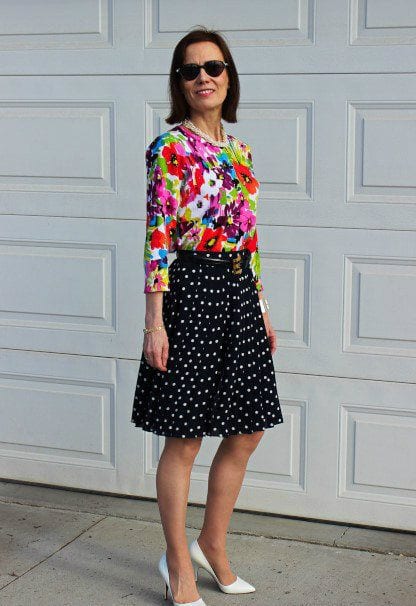 ↓ 19 – Khaki Pants and Top
Combine style and comfort by donning khaki pants with a sleeveless top. Play up your accessories and don't be afraid to add a funky hat.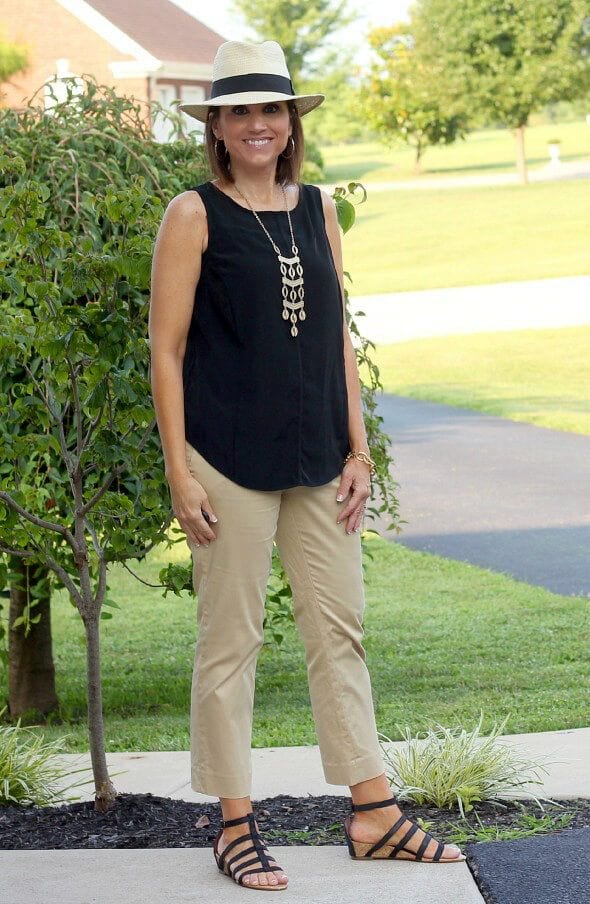 ↓ 18 -Gray Pants and White Top
Gray pants and a white top would look lovely together. Try this look this summer.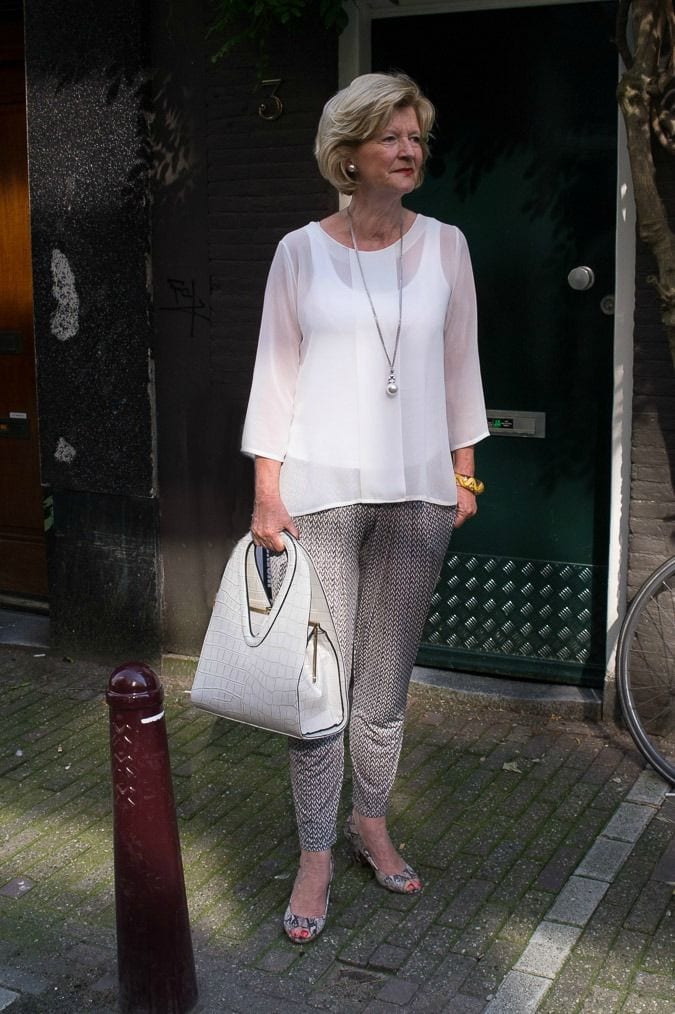 ↓ 17- Animal Print Wrap Top & Cropped Pants
If you are aiming at standing out of the crowd go for an animal print with cropped pants. Keep your accessories minimal, staying with some simple gold earrings and a bracelet or watch. Finish off the look with some slip-on sandals.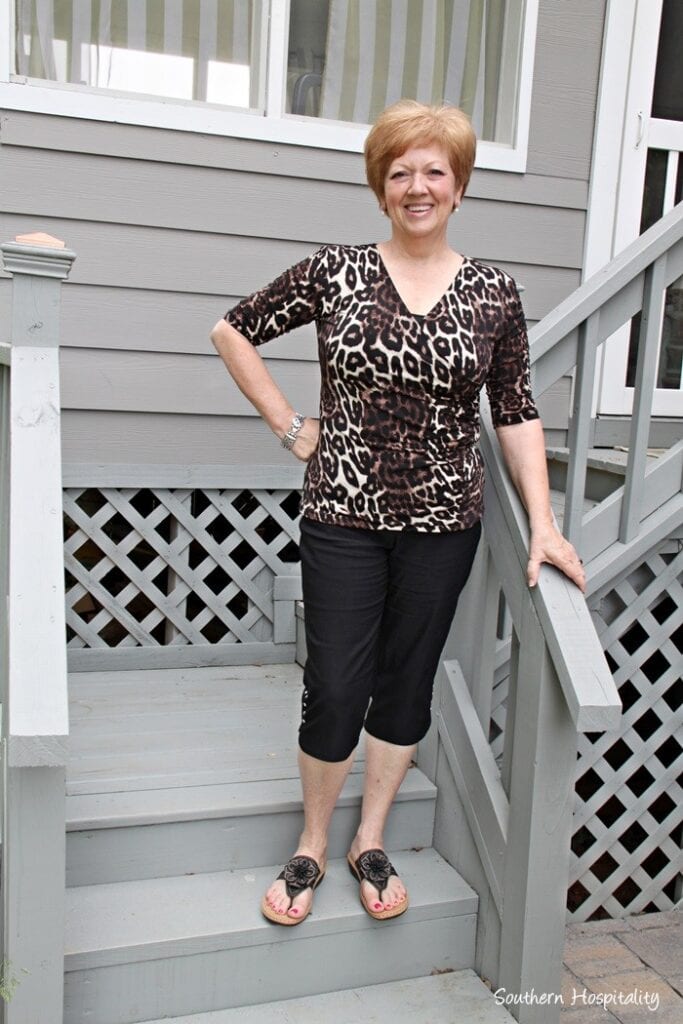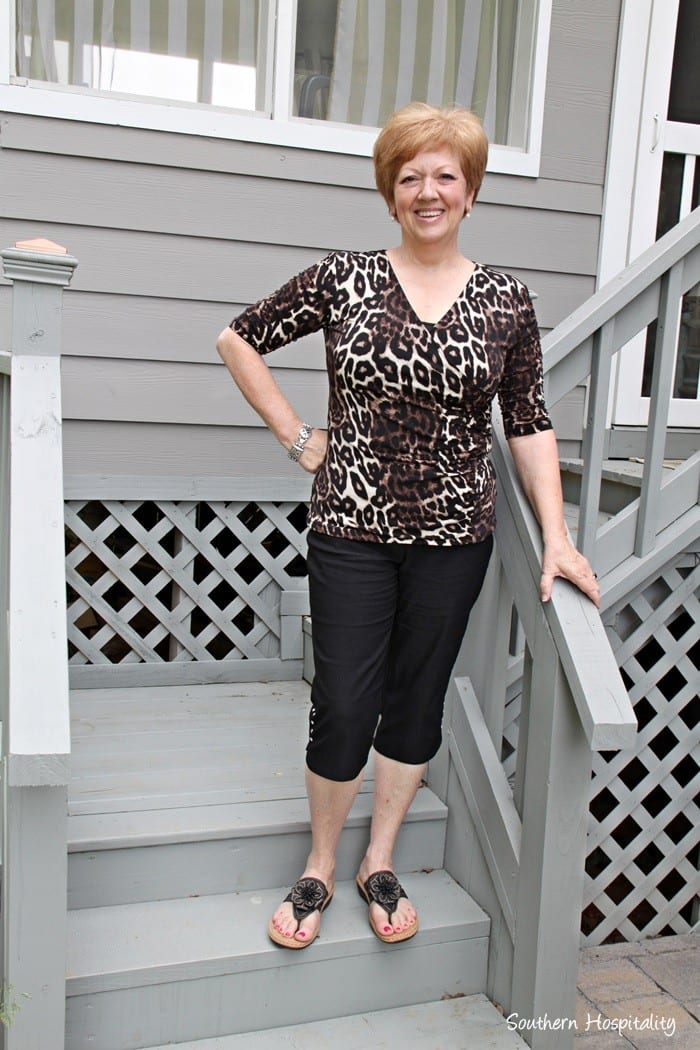 ↓ 16 – Ankle-Length Pants and Top
Go for plain ankle-length pants with a printed top for a trendy look.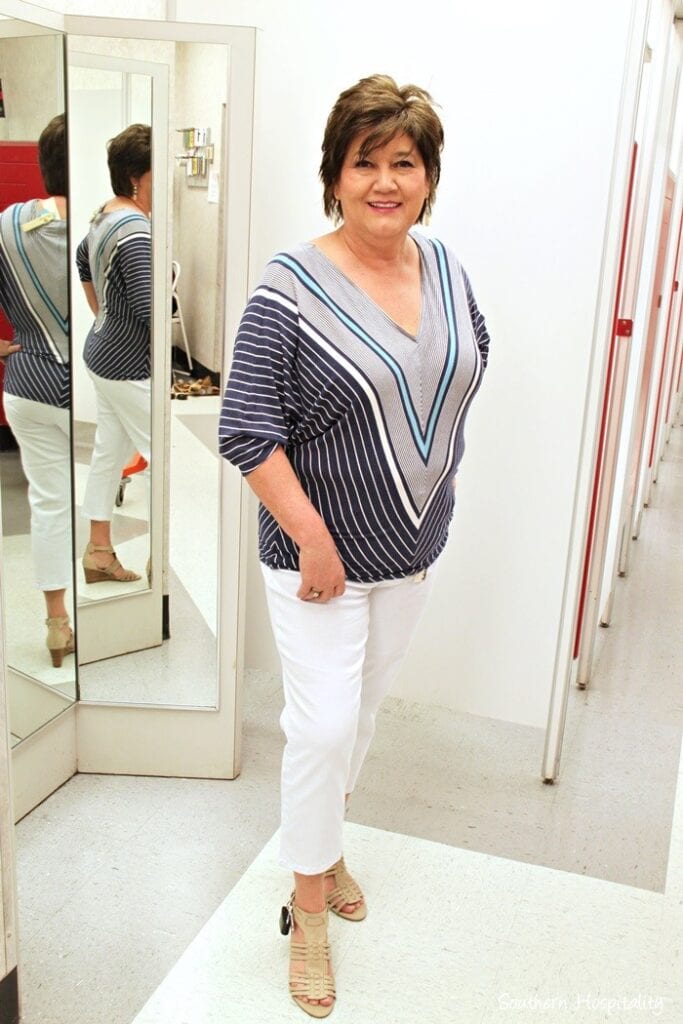 ↓ 15 – Dresses and Booties
It is all about the colors with this one. This sheen material is super flattering and with a shade of navy blue like this, your brown ankle boots will pop.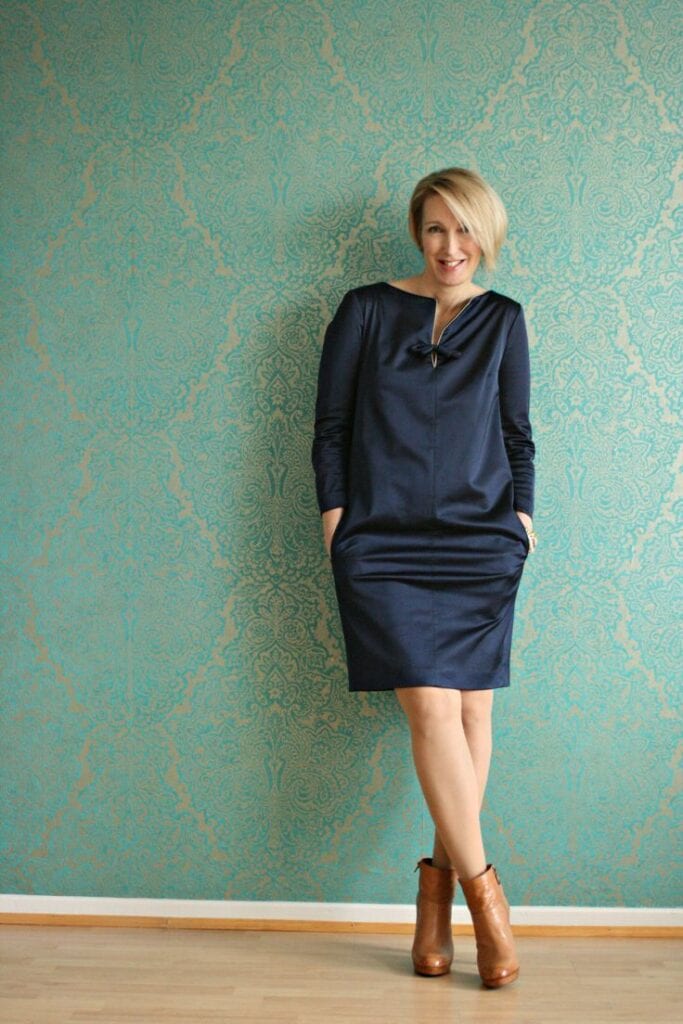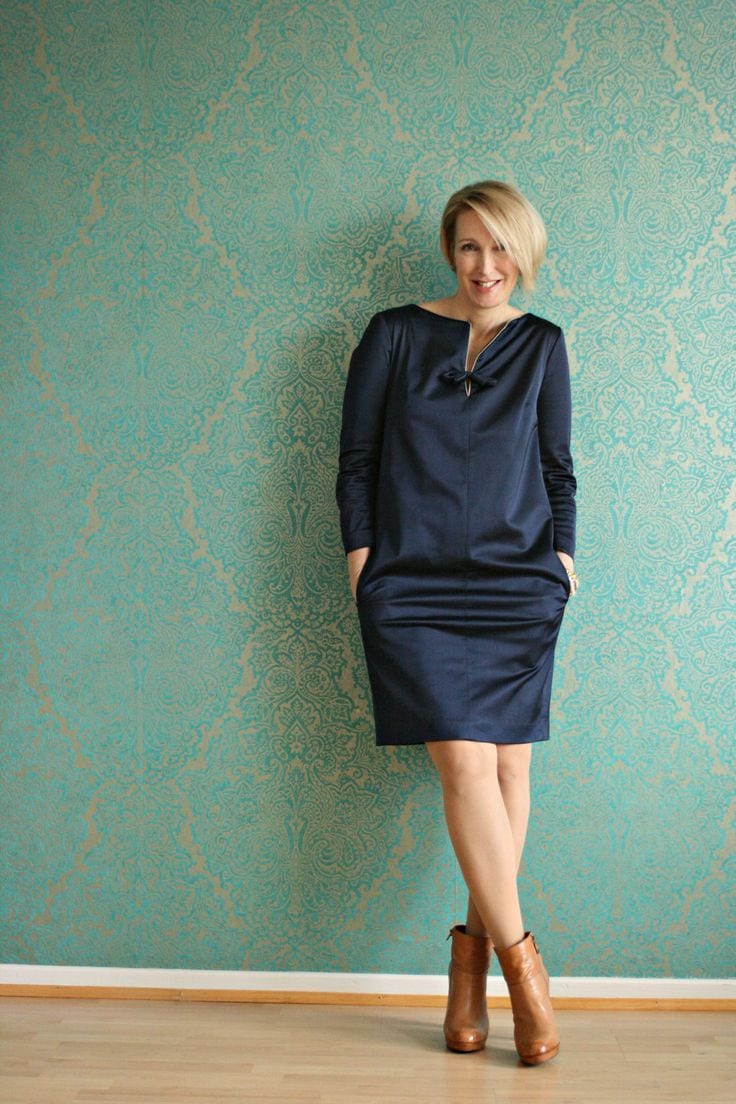 ↓ 14 – Casual Work Style
Stay chic by wearing a pencil skirt with a casual-fit thin sweater. Here are some elegant Outfits for Women Over 60.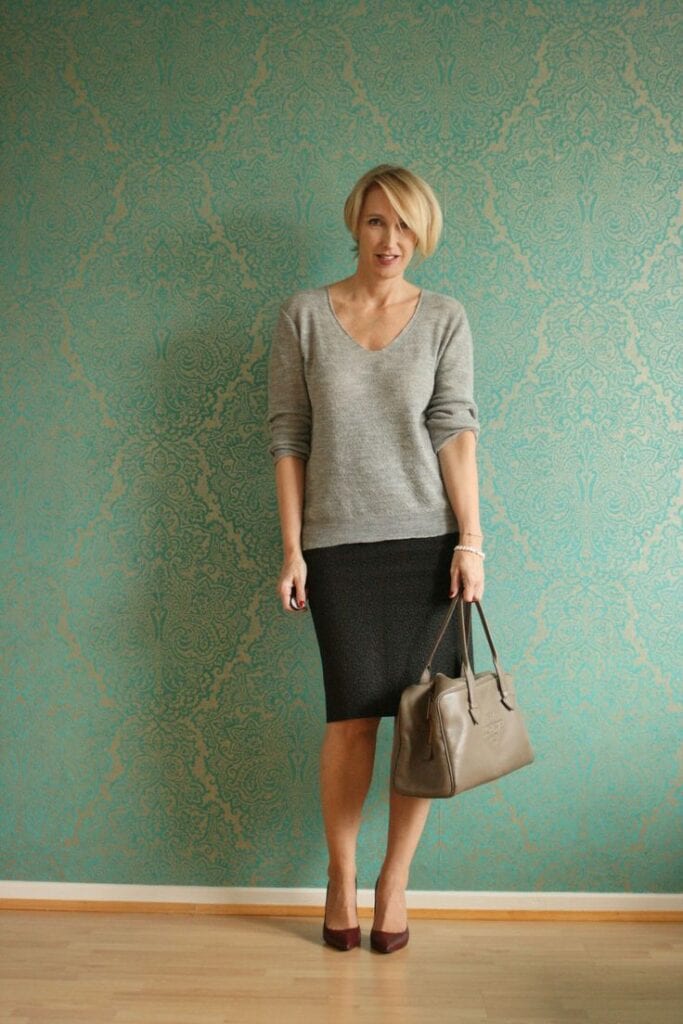 ↓ 13- Pastel Colors Look Great At Formal Event
Here is a lovely, fashionable choice for a formal event such as a wedding.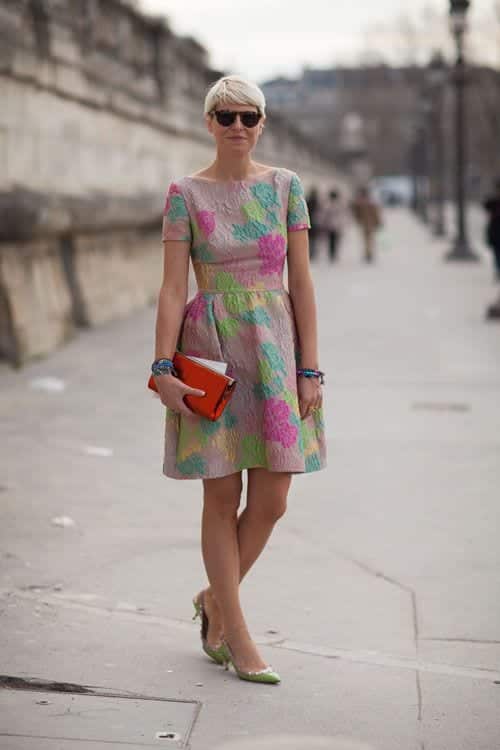 ↓ 12 – Choose Long & Flowy Maxi Dresses
A maxi dress with wedge heels is a beautiful and classy look that you can rock all summer long. Be sure to accessorize with coordinating colored jewelry.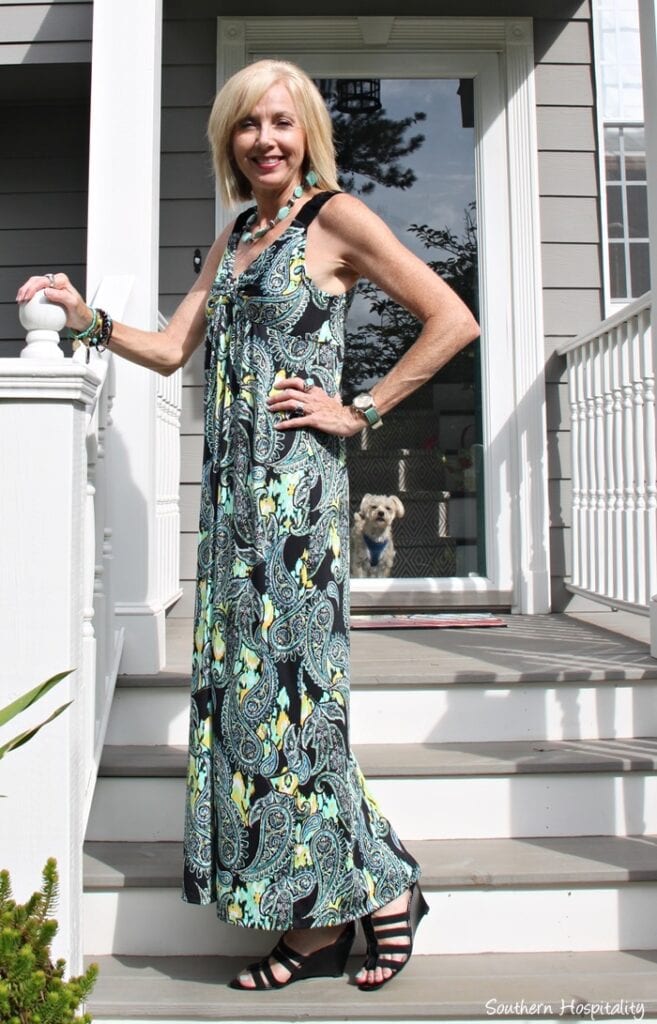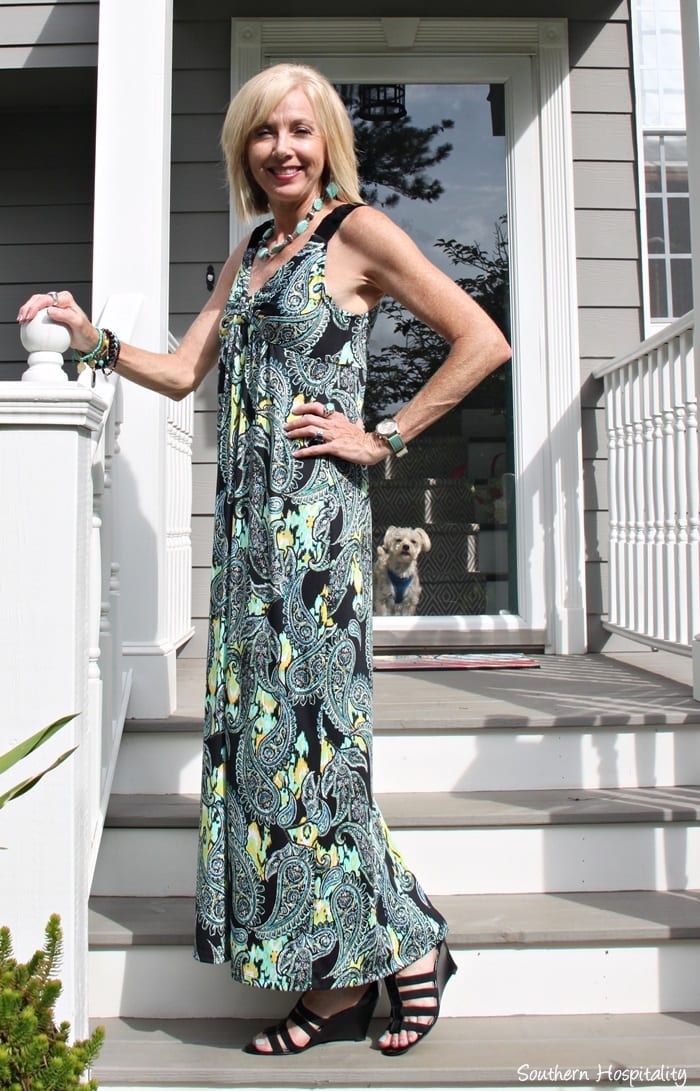 ↓ 11 – Buy Funky Palazzo Pants To Add A Pop Of Color
Palazzo pants are comfy and they look fabulous. There are several types of palazzo pants ranging from pleated ones to cropped ones. They are lightweight for hot weather, making them a perfect choice for summer.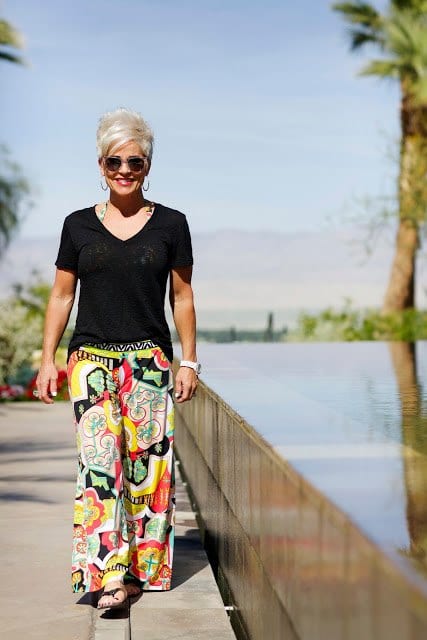 ↓ 10 – No, You're Not Too Old For Jumpsuits
Keep it cool with a white jumpsuit and a denim jacket. For more styling ideas and tips, here are 20 Ideas How to Wear Denim Jackets.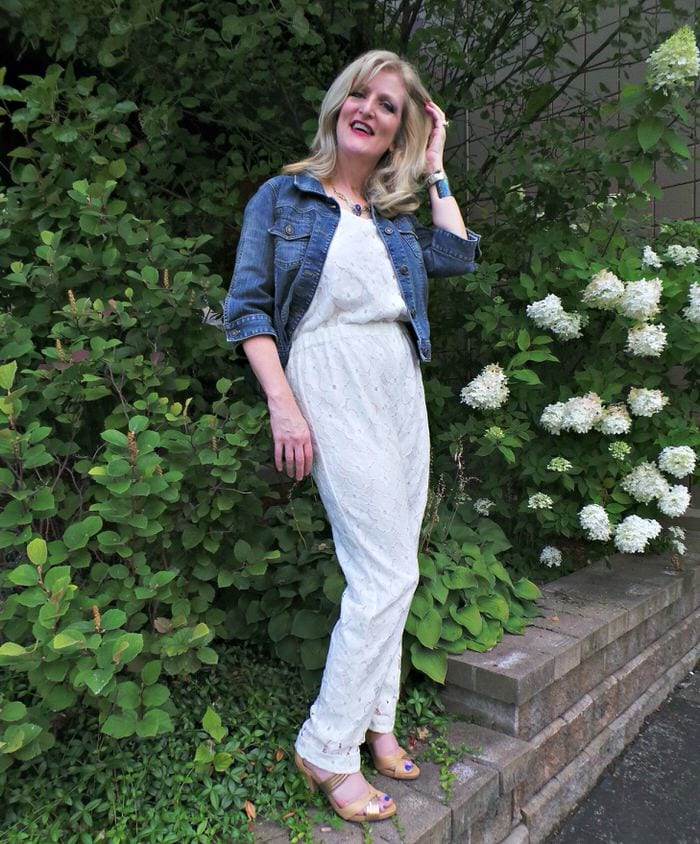 ↓ 9 – Black Tops & Blue Jeans Are Perfect For Casual Wear
Here is an easy look, perfect for running errands or meeting up with your friends for lunch.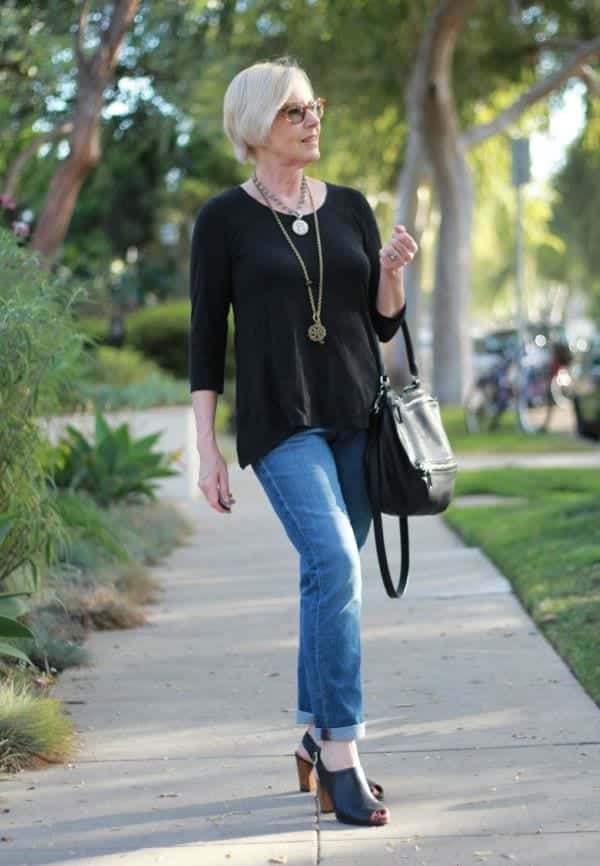 ↓ 8 – Wear Patterned Skirts With Neutral Tops
Here is a beautifully elegant look that is also girlish without being juvenile. Tuck a white tee-shirt into a patterned skirt. We love the cut and length of this skirt which works well on women of all shapes and sizes. Accessorize with a purse that matches your skirt, a darling straw hat, and cute flats.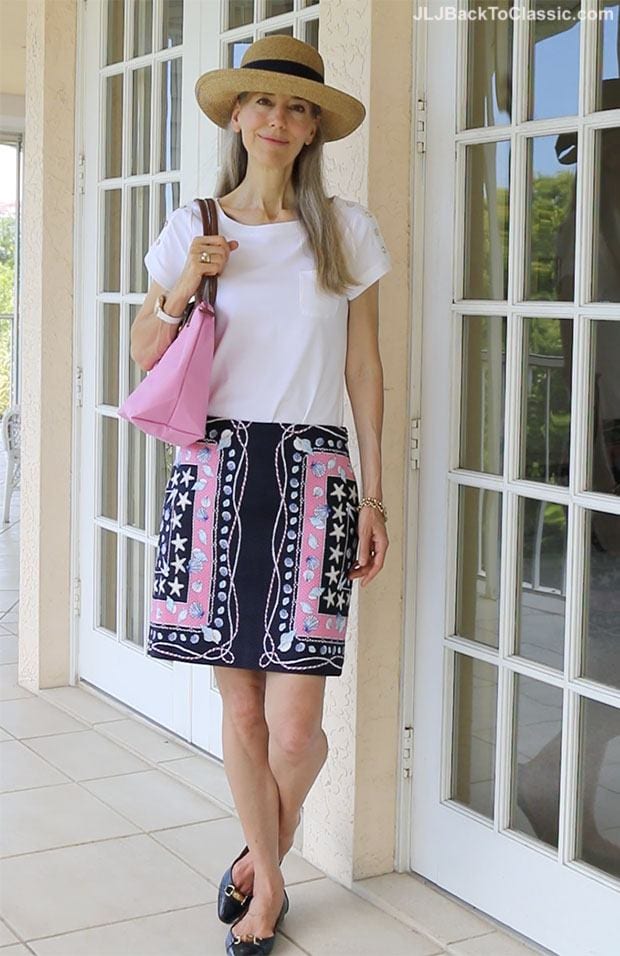 ↓ 7 – You Can Never Have Too Many Floral Outfits
Floral is very much in vogue these days. And it's the perfect print for summers. A flowery printed dress would look fancy on a super sunny day. You should also check out these 22 Cute Floral Print Outfits Combinations for Spring Season.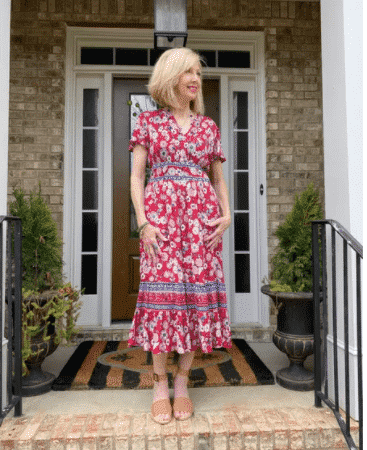 ↓ 6 – White Button-Down Shirt and Blue Jeans
Blue jeans with a white dress shirt is a classic look. When in doubt, go for this outfit.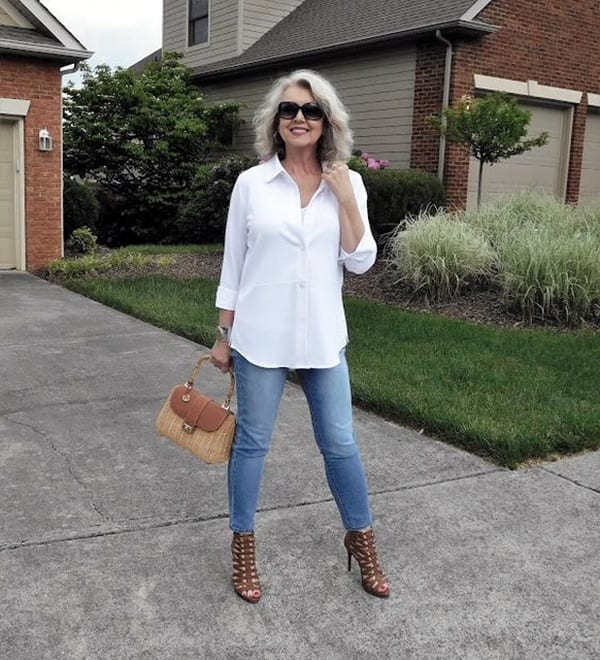 ↓ 5 – It's The Best Time To Wear Stripes
Black and white can never lose their elegance. Rock a striped black and white top with leggings this summer for a casual and comfortable look.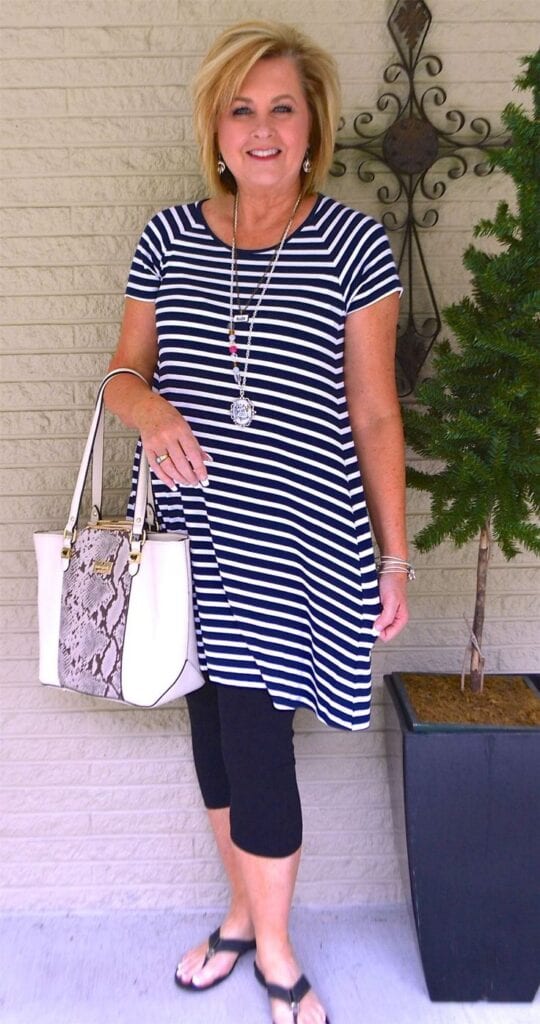 Via
↓ 4 – Choose All-Black Outfits for Formal Events
An all-black outfit would make you look gorgeous. Try the look for an evening party. Every woman looks great in black no matter what her age or size, so here are 25 Celebrities All Black outfits Styles for Fall to Copy.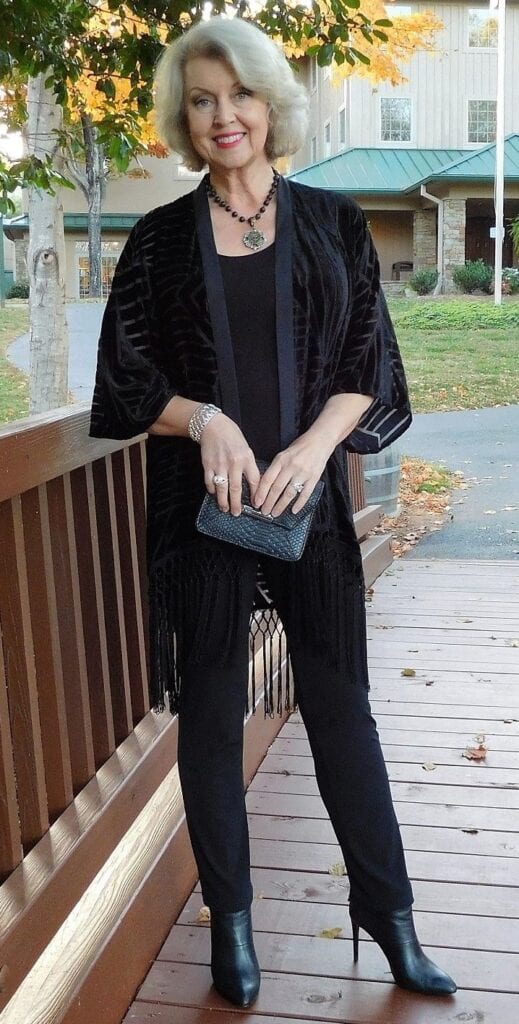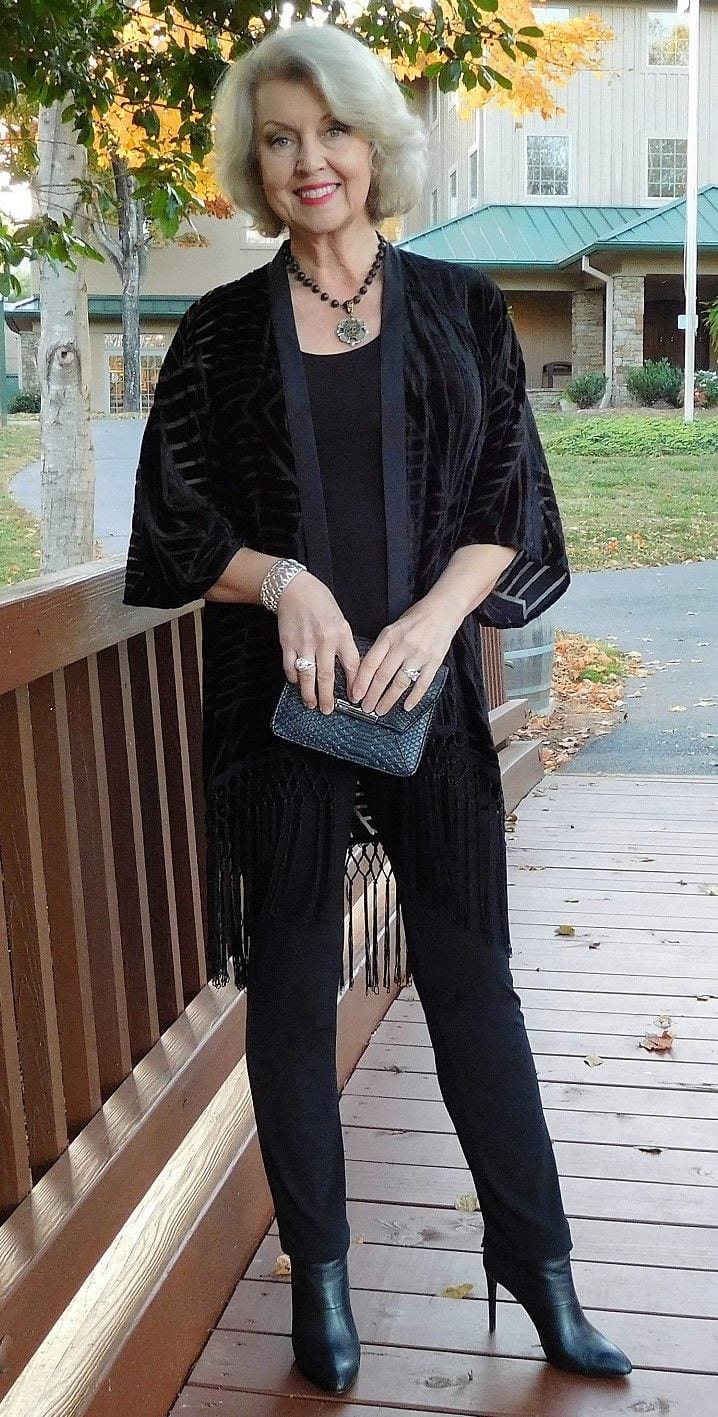 ↓ 3 – All-White Will Always Look Classy
Dial the notch on sophistication up and go for an all-white outfit. Add some fun-colored ballet flats to bring some summer color into your look.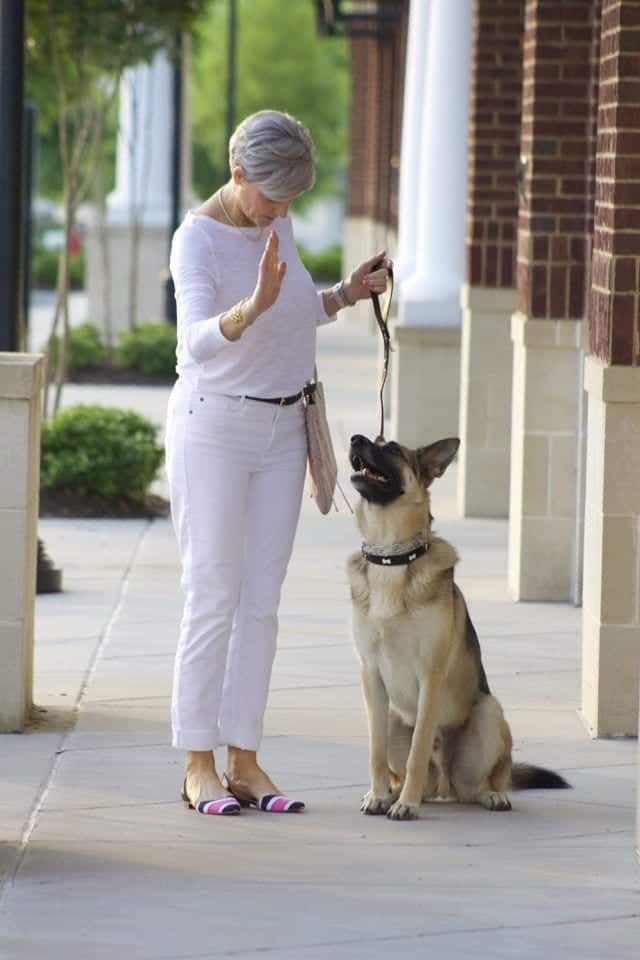 ↓ 2 – Wear Printed Pants With Solid Colored Button-Down
Flip the look for a change and go for printed pants with a navy blue button-down.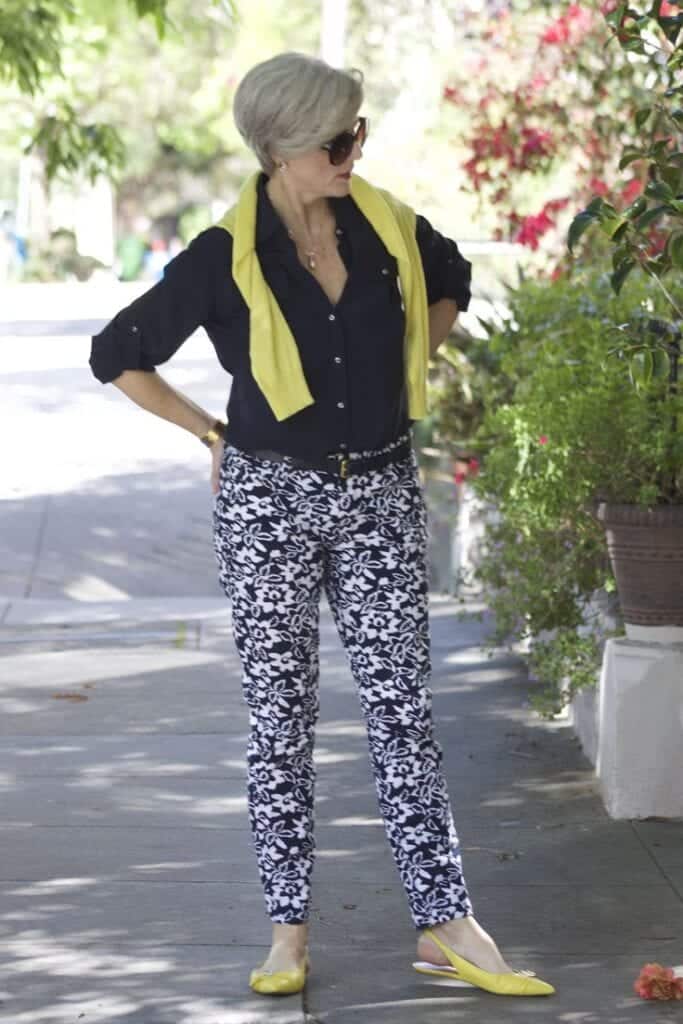 ↓ 1 – Pair Straight Pants With Baggy Tops
This classic, comfy, endlessly chic look throws it back to the '90s with a modern twist.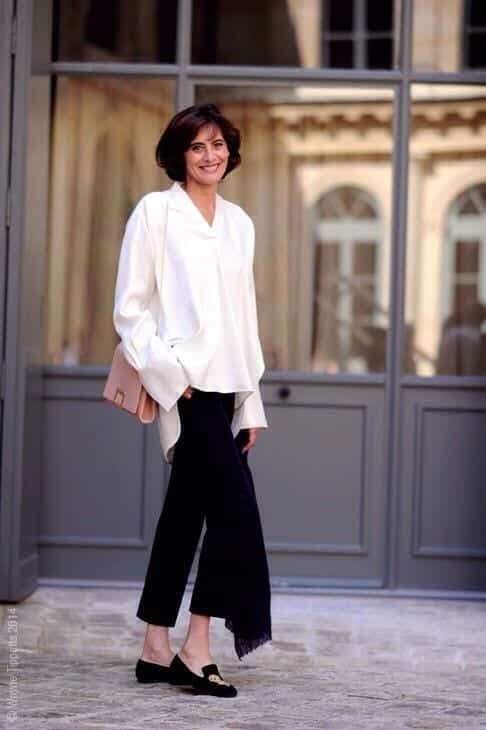 Frequently Asked Questions
Here are some frequently asked questions about fashion for women over 50 and 50+ fashion in summer. If you don't see your question answered below, let us know in the comments!
Q. How to choose swimsuits in your fifties?
A. We could not round off our summer outfit styles for women over 50 without sharing at least one swimsuit look! If you have summer plans of lounging by the pool or visiting the beach then you will definitely want to take note of this ensemble. This swimsuit is super flatter with a square neckline, polka dot print, and streamlining quality. Over the top, this light swimsuit coverup is sheer without being revealing and looks fabulous when paired with a straw hat and cute sunnies.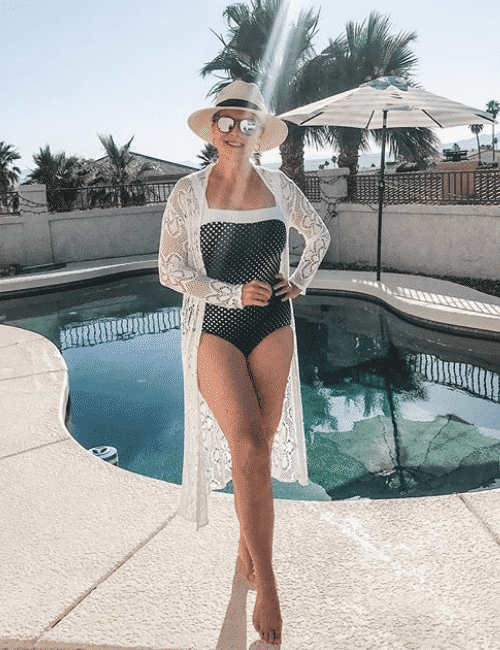 Q. What should I wear after 50?
A. Wear whatever looks best on you. Really. Whether you are just starting to pay attention to fashion or you are an old hand, most of us have some type of an idea of what looks best on our bodies. We know that low-cut jeans don't do our muffin tops any favors. We know that certain colors make our skin look radiant while others make us look gray and sallow. Start there. Pay attention to cuts and fabrics. Opt for quality whenever possible. Avoid fast fashion. Find out if you look better in cool colors or warm colors. These are puzzle pieces that will help you continually refine your fashion choices as a mature woman.
As a hard and fast rule, don't look to what 20-year-olds are wearing. Find icons in the fashion or celebrity world that you can relate to age-wise and take note of their style. Embrace your natural affinities, whether you love chunky costume jewelry or Midwestern styles, and look to incorporate it in your daily attire without going too overboard.
Q. How can I dress over 50 and overweight?
A. Being overweight at any age can be a challenge. Don't let it get you down. The goal doesn't change. Find clothes that flatter your body as it is and highlight your best features. If you want to appear slimmer, solid colors are a safe bet, along with darker colors. But don't feel like you are stuck wearing black, especially in the summertime. Look to enhance your complexion with flattering colors and opt for quality fabrics that skim over your figure and streamline your silhouette.
Avoid baggy clothes, as tempting as they may be. It is better to have a well-fitting outfit than a super baggy tee shirt that we hope makes us look slimmer, but in fact, only adds weight to our silhouette and does nothing for our natural attributes. Take pride in your appearance and invest in yourself and you won't be worried about what people think of you; they'll be too busy asking for fashion advice and styling tips!
You can find more detailed ideas in our earlier post on Fashion Tips For Plus Size Women Over 50.
Q. What should you not wear after 50?
A. While there is no rule that says you can no longer wear certain styles or pieces when you reach a certain age, if you want to feel and look your best, there are obviously some things you may want to say sayonara to. Overly juvenile pieces, skin-tight or very revealing clothing, sloppy attire, too-short shorts… these are all things will take away from an elegant, sophisticated appearance. Kiddie styles and childish prints are an obvious no-no. Crop tops, mini dresses, and other teenage-girl picks are examples of styles you should steer clear of.
Q. How should you wear jeans in your 50s?
A. It is all about fit and cut. Mid-rise jeans with tapered or straight legs are solid choices. Avoid jeans that have rips in them or bedazzlement. Low-cut jeans, skinny jeans, or bootcut jeans are all iffy options that you should be cautious with. Go for solid colors like black or white. If you wear blue denim, it's best to opt for a dark wash.
Got more questions? Let us know in the comments below, and we'll answer!