Outfits for Women Over 60. Sixty, not Frumpy! Are you worried about people's presumption that women over sixty can't wear stylish dresses?
Update your look today to bust all these baseless myths and assumptions. Release the tension because you can make a statement at any age.
Sometimes, the simplest wardrobe changes can have a magical effect on your personality, particularly once you're in your sixties.
So how to dress up for over sixty? What to wear? Let us help you with all these questions. Yes, ladies!
Great style can be revealed even in your 60s because we will tell you the best fashion tips for your age to achieve a fashionable yet comfortable look.
What To Wear In Your Sixties?
Here's a summary of all the fashion tips that we'll be discussing today:
Opt for fun prints and mix them with solids for a balanced look.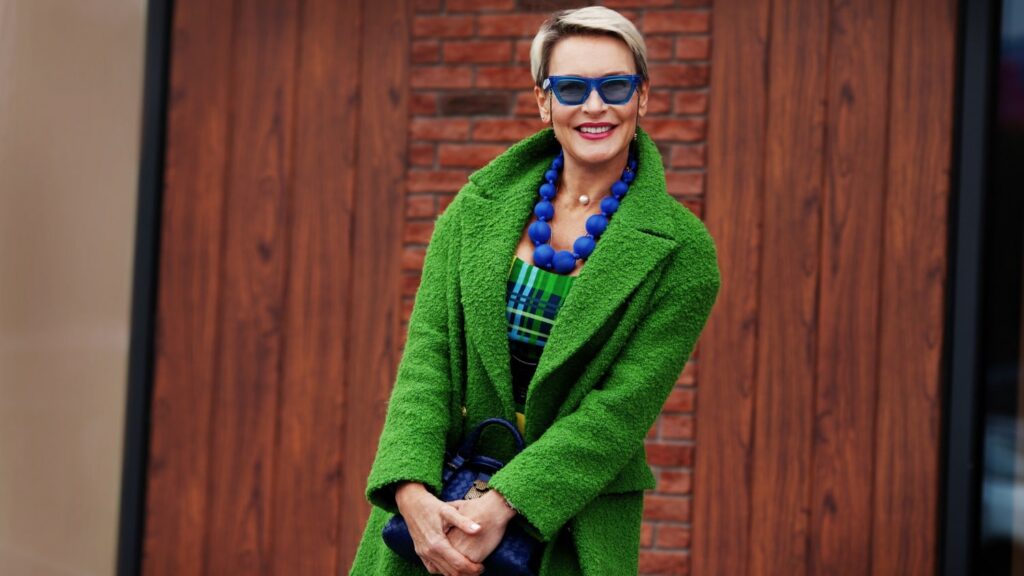 Choose quality outfits over quantity.
Try wearing jeggings for casual wear. Check out these Casual Outfits For Women Over 60 for some inspo.
Invest in a couple of good-quality mom jeans.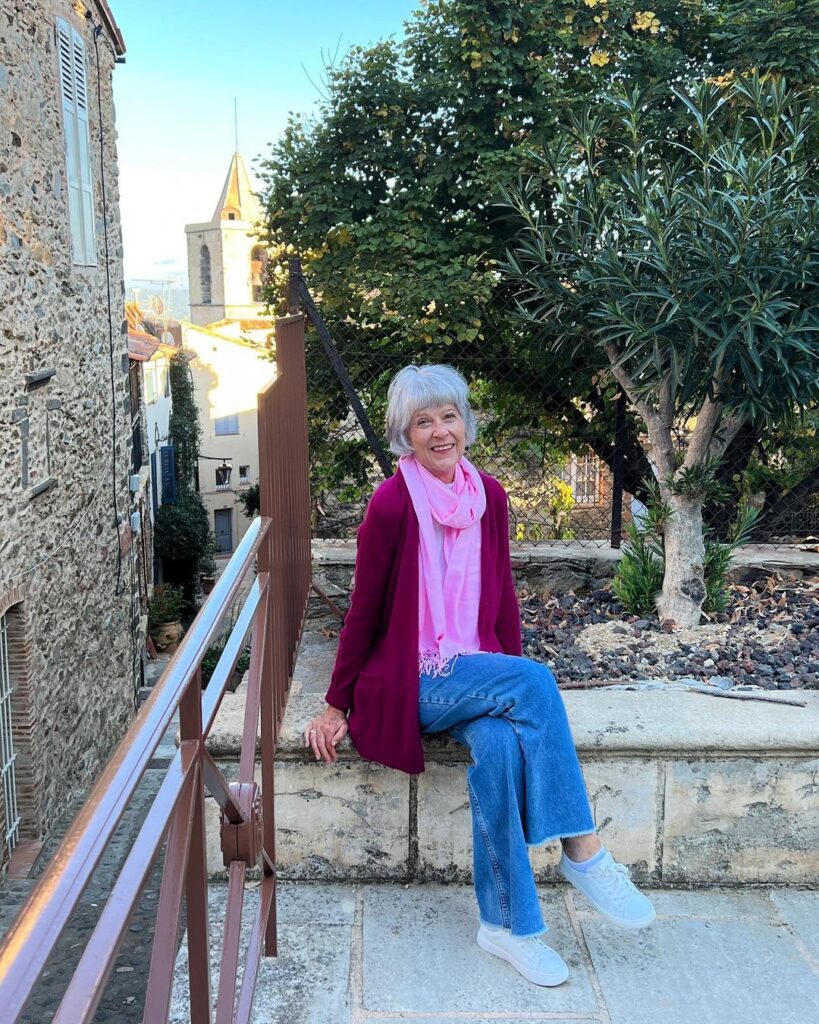 Choose minimalist but statement-making accessories.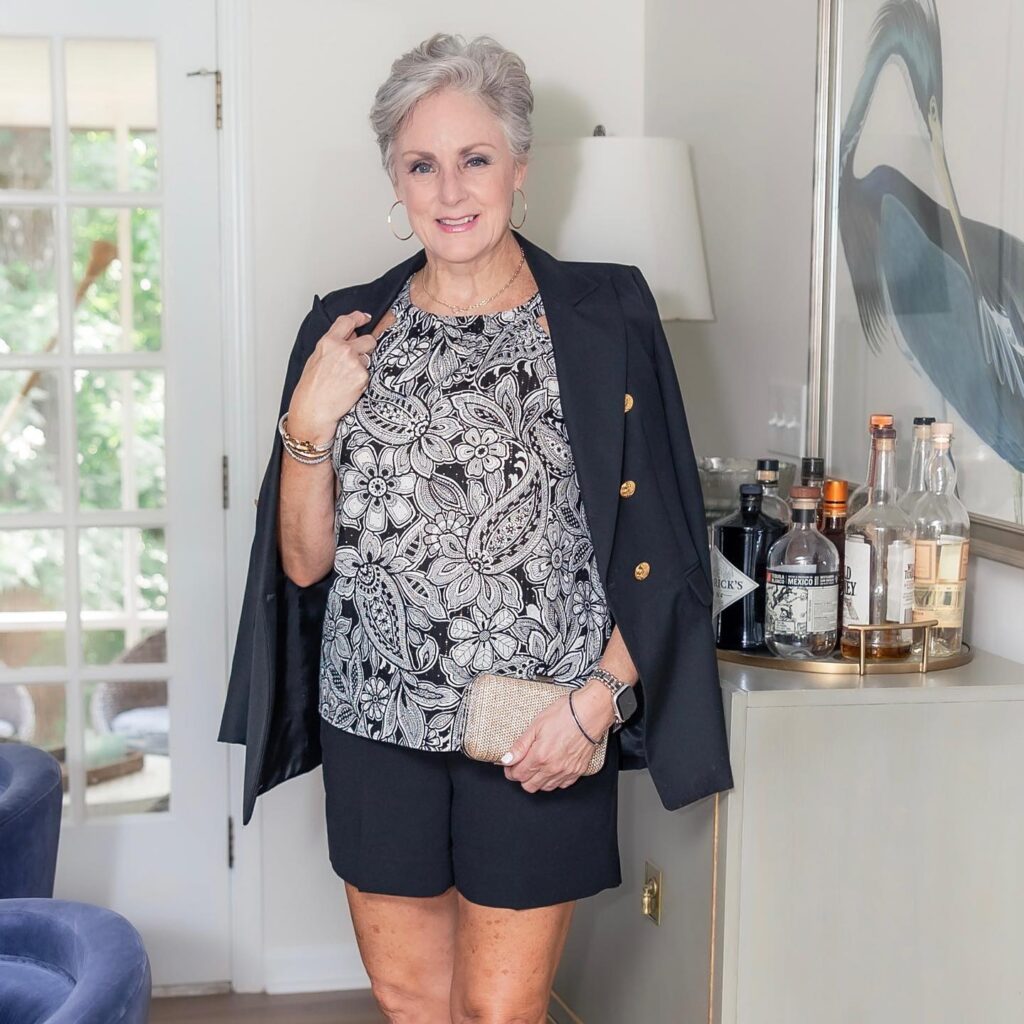 Opt for tunics and dresses that complement your body shape, especially when it comes to semi-formal wear.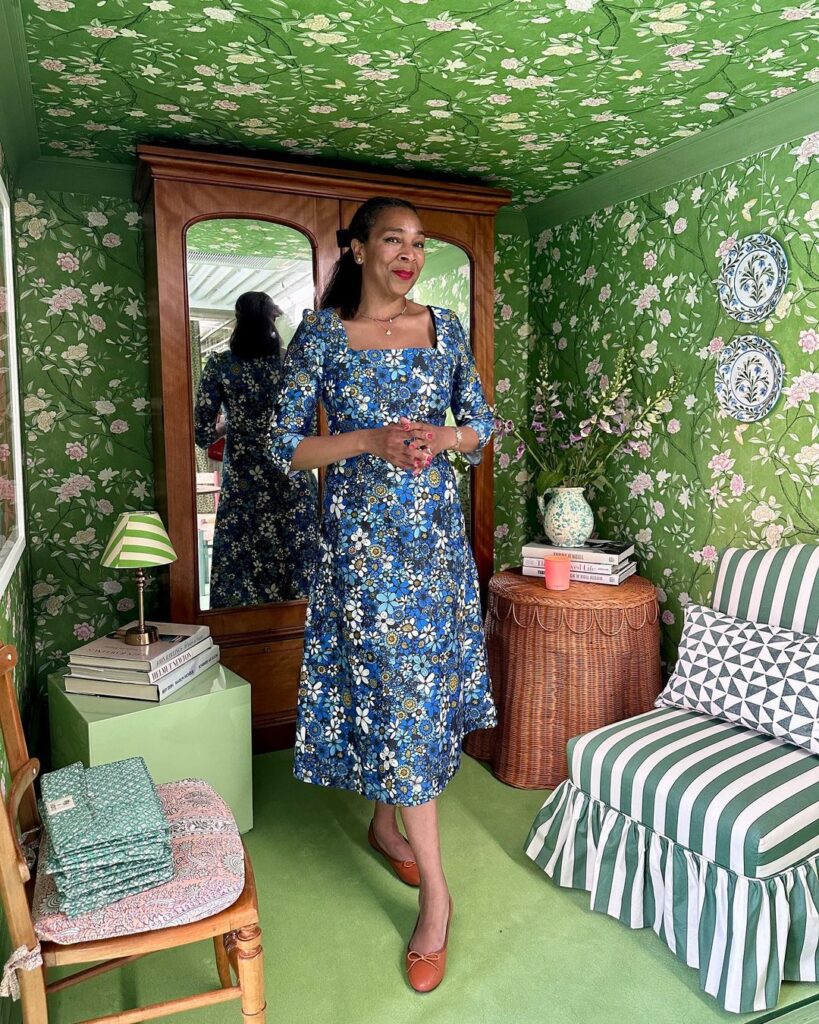 When buying cardigans or similar layering pieces, try going for ones that are longer length.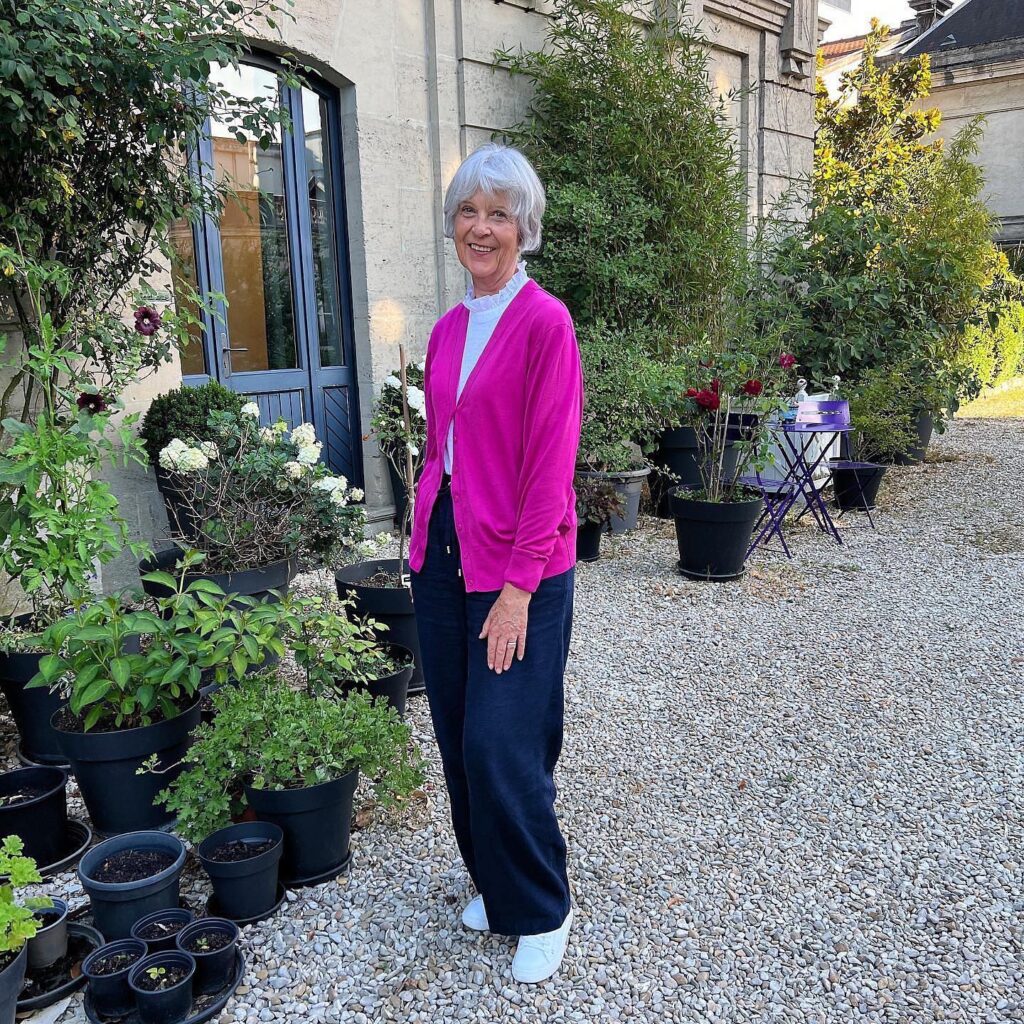 When you can't decide what to wear, go for the simple classic combinations such as black and white, as they'll never disappoint.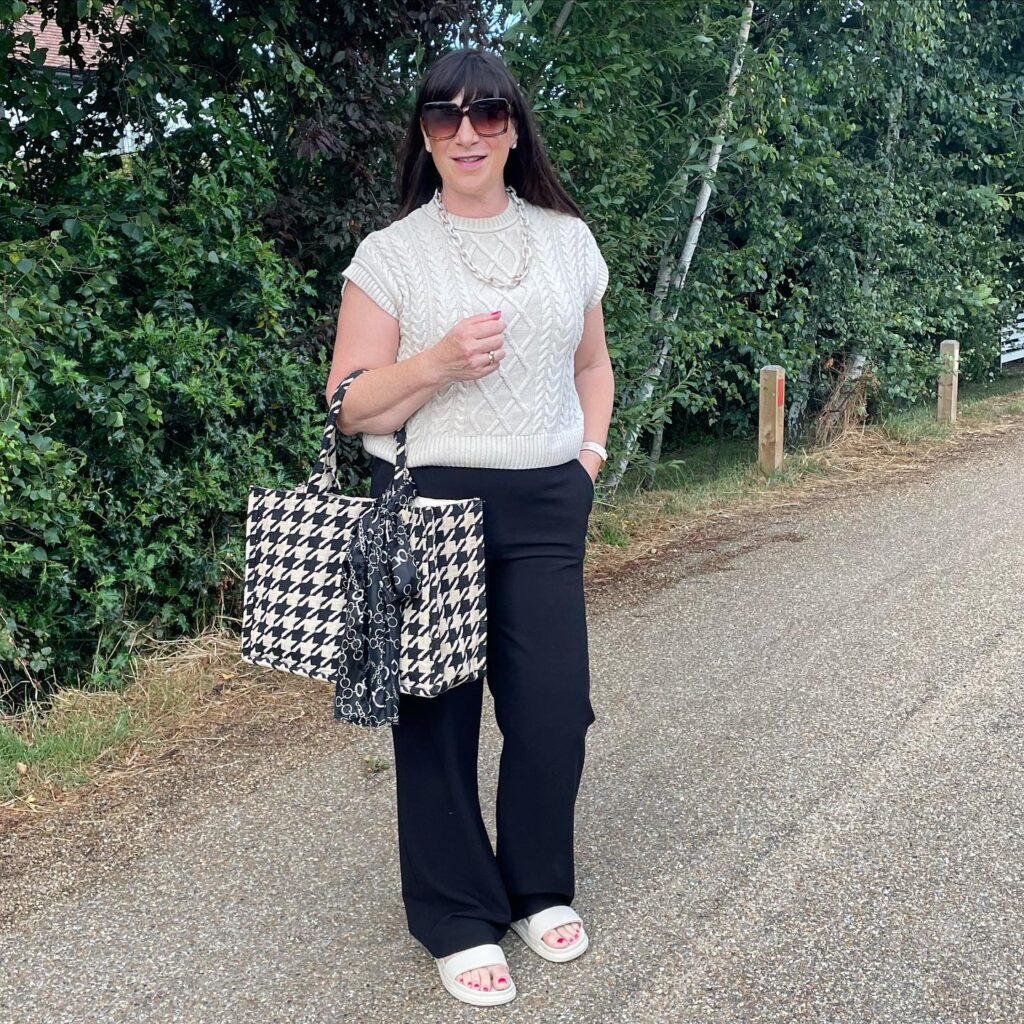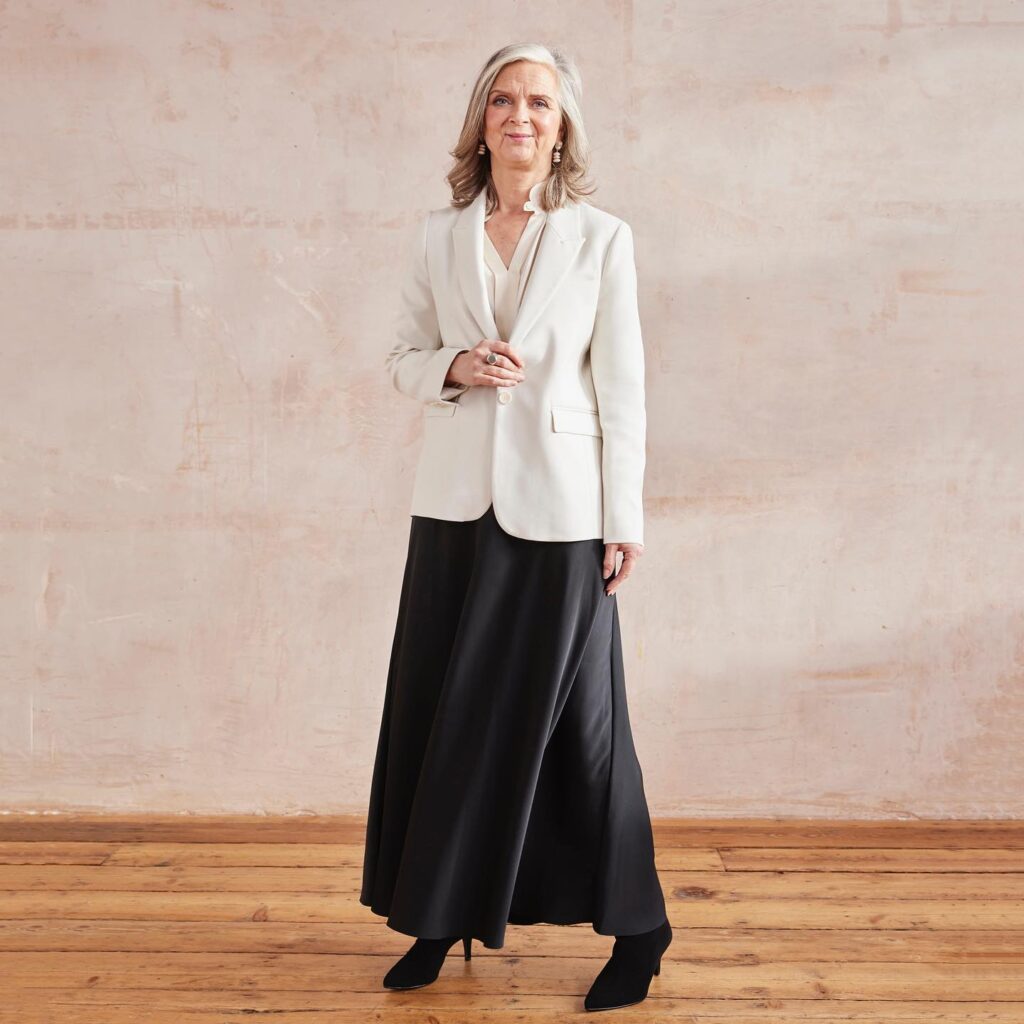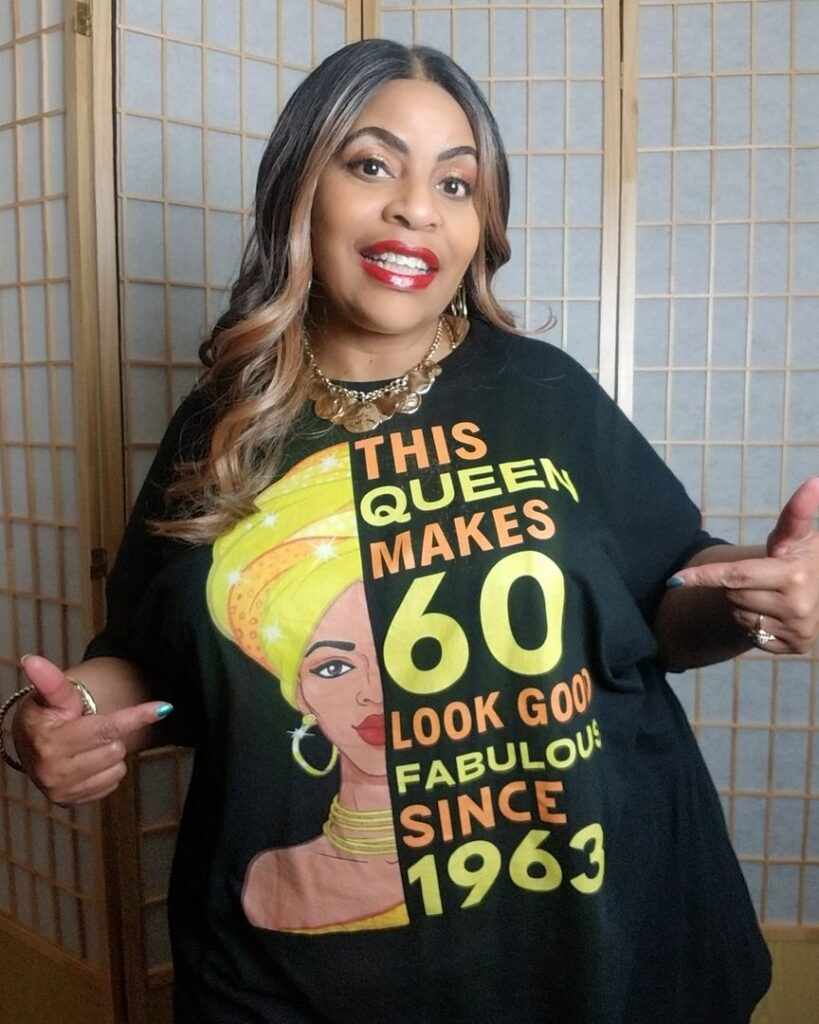 Now, let's have an in-depth look at these, along with some fabulous pictures to give you the inspiration that you need.
↓ 30 – Go Monochrome
One of my favorite looks to go for when I can't think of what to wear is to mix up neutrals to create a monochrome outfit like an all-grey one or an all-brown one while playing with different shades.
It's a classic look, and the use of different shades helps create so much interest, which is probably why I end up buying neutral outfits every time I go shopping.
My point has been proven beautiful here by the inspirational 60+ influencer, journalist, mother, and entrepreneur – Gail Rolfe.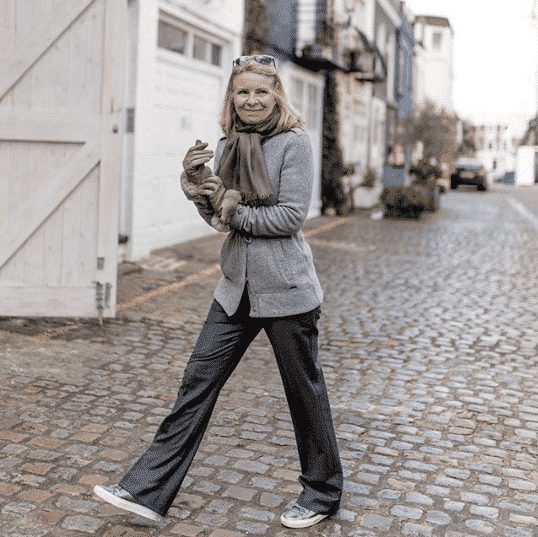 SHOP THE LOOK:
Metallic Grey Sneakers $ 50.46
↓ 29 – Buy Something Bold & Colorful
If you're buying some new outfits this season, I recommend buying at least one item that is bold and colorful.
I'm sure you'll notice that it will have a huge impact on your life, bringing in lots of positivity and good vibes.
It doesn't have to be any particular shade; it can be red, blue, green, yellow, any color that your heart falls for.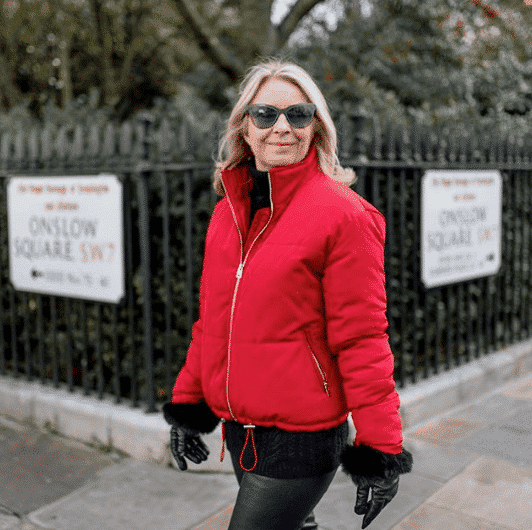 SHOP THE LOOK:
Reversible Bomber Jacket $ 26.90
If you're not sure about this, you can always start with something small, like perhaps an orange handbag.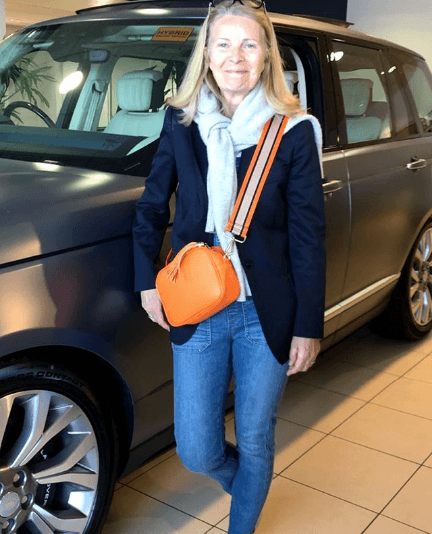 SHOP THE LOOK:
Orange crossbody bag with Tassel $ 23.95
↓ 28 – Add More Floral Prints To Your Wardrobe
I find that floral prints can make a big difference in not just your outfits but also your mood.
They're the best thing for me to wear during day time, and they can brighten any day with their floral charm, especially in the Spring and Summer season.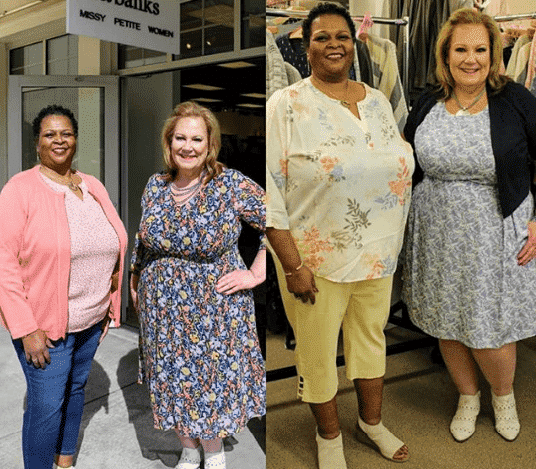 SHOP (SIMILAR) FLORAL DRESS:
Plus-Size Casual Asymmetrical Maxi Dress $3 5.99
↓ 27 – Shoes & Bags Can Make A Big Difference
While this may sound like a very simple thing, it is often overlooked by us. Even the most ordinary outfit can be spiced up if you pair them with nice shoes and a good-looking handbag or clutch. Another question that we often get is regarding the right size of a handbag. Honestly, there are no rules here, so go with what you're comfortable with or what you need to carry, but here are some tips that might be helpful:
For instance, if you're going to attend a party and you'll only be having your mobile in your bag, then go for a clutch instead as it looks classier.
On the other hand, if you're traveling or you're on a work meeting, you might need to carry a lot of stuff in your bag like your makeup, passport, wallet, files, sunglasses, etc., so in such a scenario, you can opt for a bigger handbag.
My personal opinion is that you shouldn't invest in any new oversized handbags anymore unless you really need one.
That's because such bags aren't really in fashion anymore, so try opting for medium-sized ones instead that are more practical, like a crossbody, envelope purse, or a baguette bag.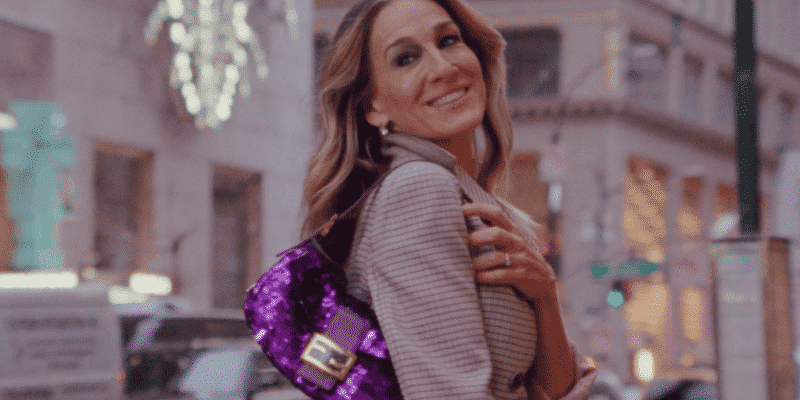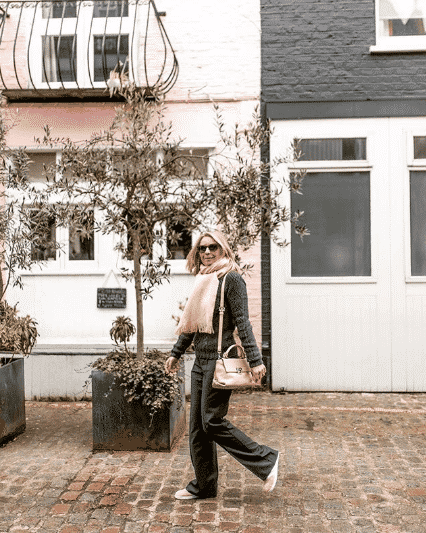 I also recommend that all of us should have at least 2 to 3 good quality, eco-friendly tote bags that we should carry with us whenever we go shopping because, well, saving the planet should always be a priority.
However, brownie points if you can get your hands on a cute printed one that represents your personality.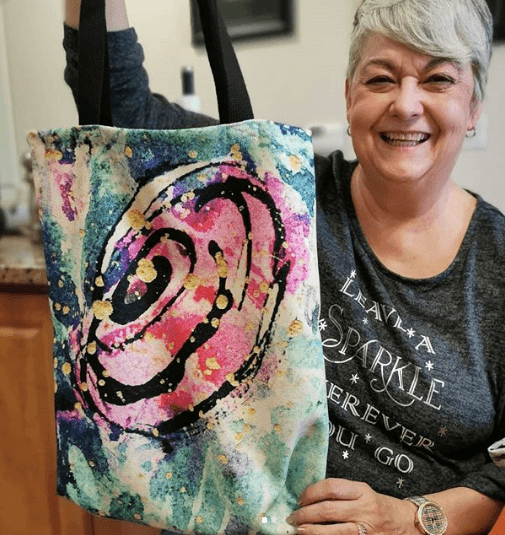 And talking about eco-friendly bags, I also recommend giving the trendy bamboo bags a try. They're not just biodegradable but also look incredibly stylish, which is what allowed them to become the biggest handbag trend of the year.
They're also lightweight, so easy to carry around for both casual and semi-formal wear.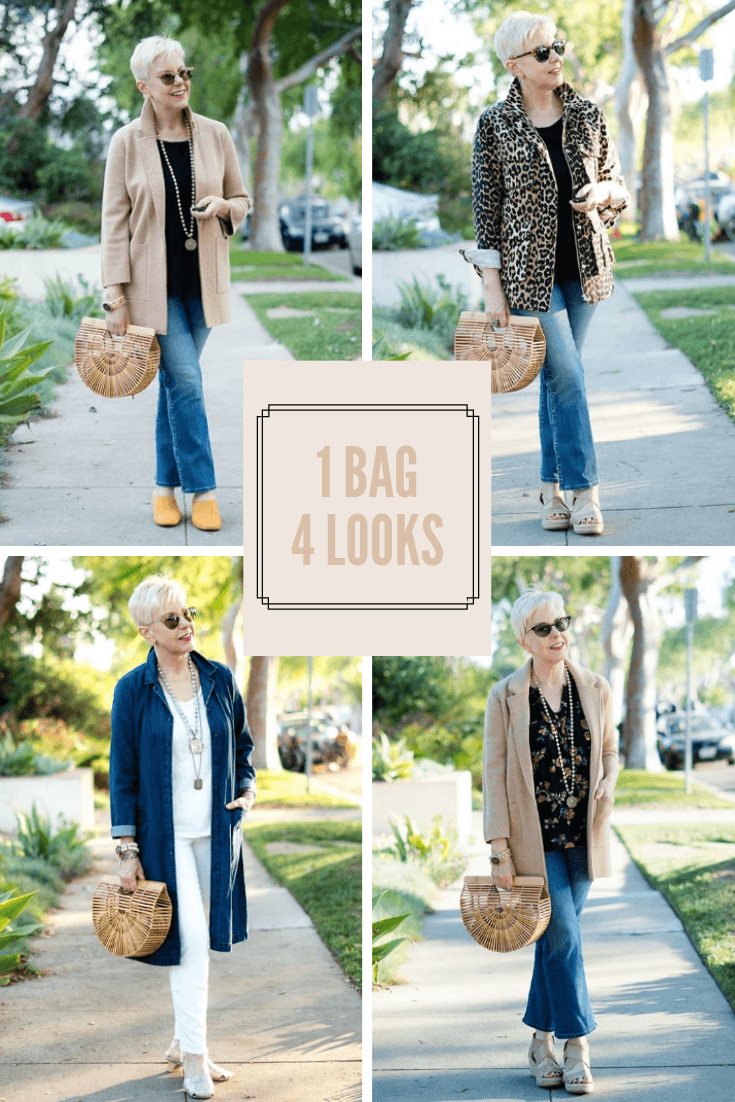 SHOP THE LOOK:
↓ 26 – Add Some Animal Prints
You've probably worn animal prints at some point in your life, and you don't need to stop now. Subtle animal prints look great at our age, particularly when mixed and matched with other solid colors.
If you're new to these prints, then start with small things like a leopard print handbag or a zebra printed scarf, and then move to the main items like shirts or skirts.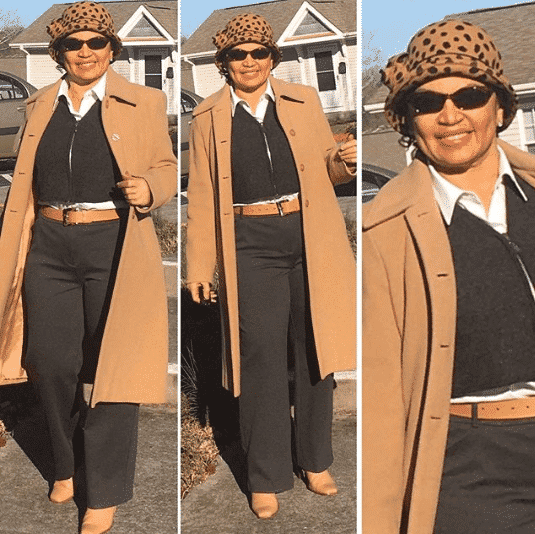 SHOP THE LOOK:
Cheetah Print Bucket Hat $13.97
Calvin Klein Camel coat $ 127.43
Ankle Booties (without heels) $ 139.99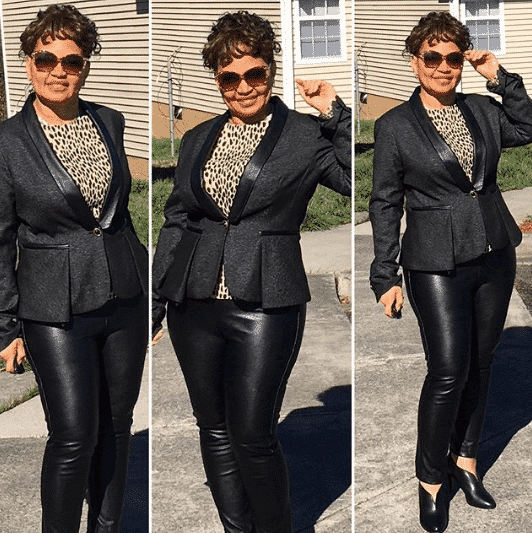 SHOP THE LOOK:
High Waisted Leather Leggings $ 27.99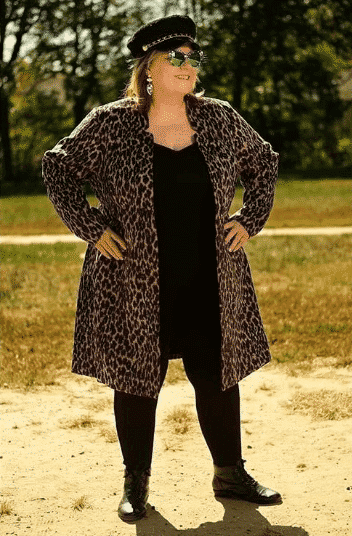 SHOP THE COAT (SIMILAR):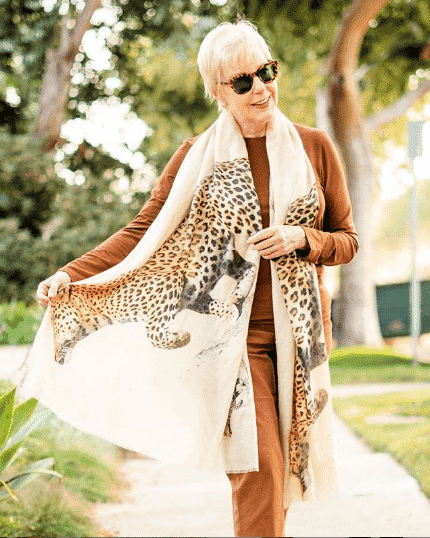 If you need more inspiration on adding animal prints to your everyday outfits, I highly recommend following 60+ fashion blogger Susan: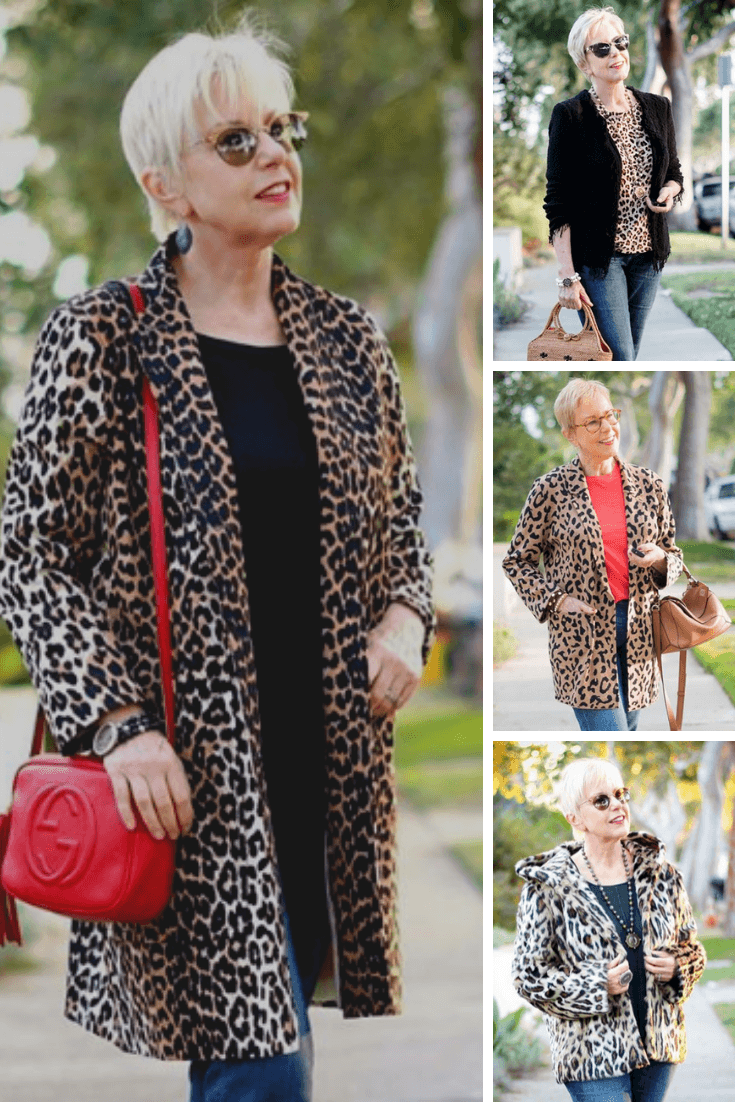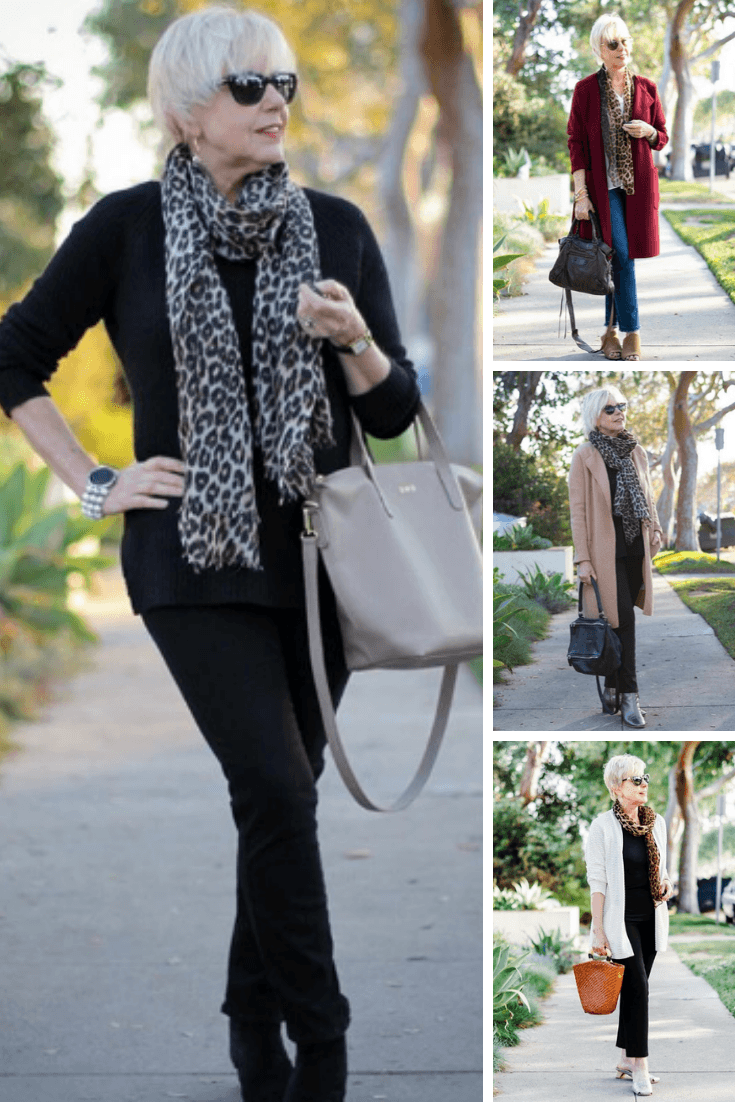 ↓ 25 – Comfort Comes First
This is one of the most important rules to remember whenever you go shopping. And it applies to not just your outfits but, more importantly, to your shoes.
Don't fall for an item just because it looks good but isn't comfortable. Because no, you won't be loving it so much when you spend the whole day waiting to take it off.
And there's no point in wearing those sexy heels if they end up killing your feet. Here are some of my favorite brands to shop for comfortable shoes: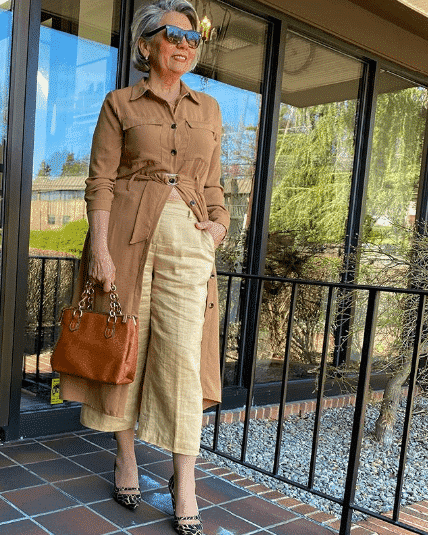 ↓ 24 – Don't Stop Having Fun
This applies to not just life but your outfits too. Being in a certain age group should never stop you from wearing your favorite colors or experimenting with new trends.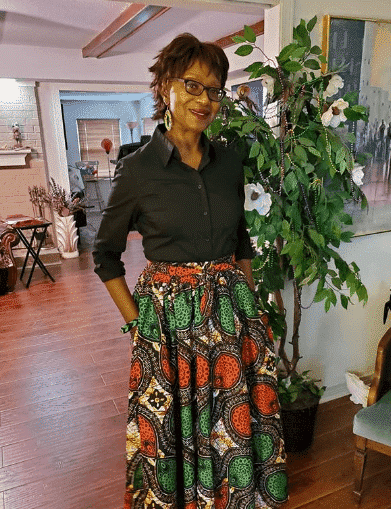 ↓ 23 – For Plus Size Women: Choose Loose Tops Over Tight Ones
How to dress for over 60 and overweight: Since many of our readers wanted a way to look slim in their sixties, one of the easiest ways is to opt for shirts that are not too tight around your waist.
This is one of the oldest tricks to hide tummy fat, and it works pretty well.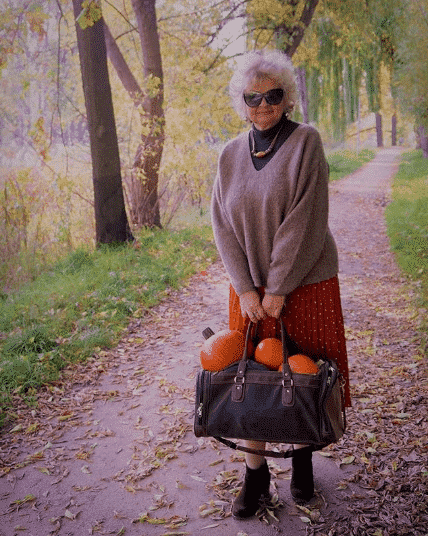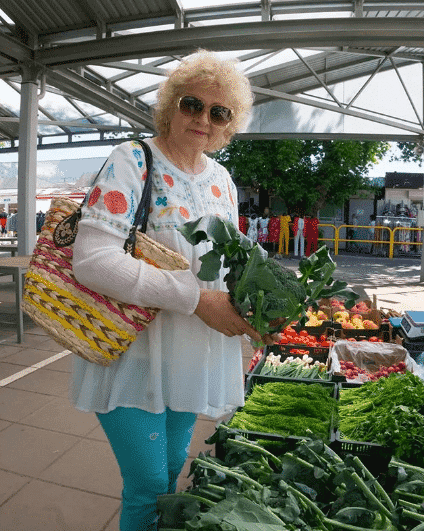 ↓ 22 – Belt It Up
If loose outfits make you feel out of place, then give them a shape with belts. Belts can be a great way to emphasize the slimmer parts of your body while covering up the curvier ones.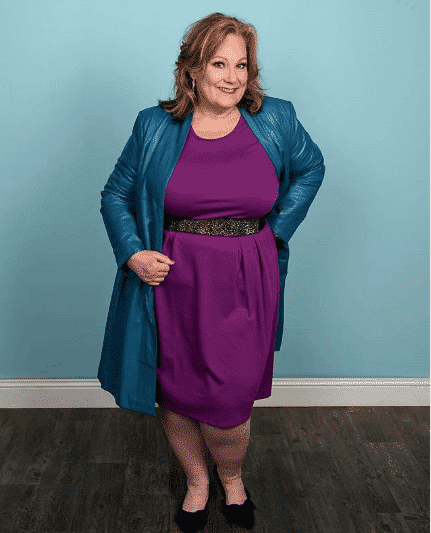 ↓ 21 – Go For Vertical Stripes Instead Of Horizontal
Another helpful tip for those who're looking for a slimming effect, choose vertical stripes. They look great and also balance out your silhouette.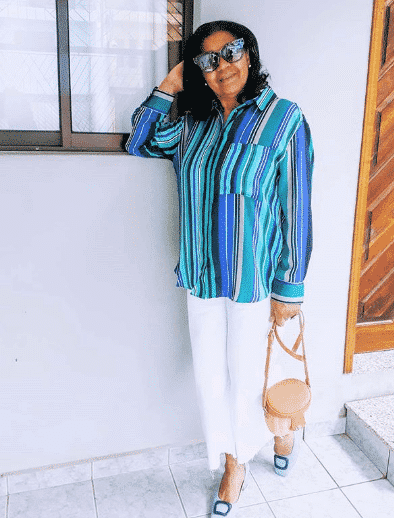 ↓ 20 – Choose Statement Sleeves
Some of us don't have much problem with belly fat, but instead, our fat tends to stick around our arms which makes us look unnecessarily bulky.
If that's the case with you too, I highly recommend wearing statement sleeves like Bishop or puffed ones.
They're not just in fashion these days, but they also look good at our age, and of course, they help us look slimmer. Moreover, they can turn the simplest outfits into statement-making ones.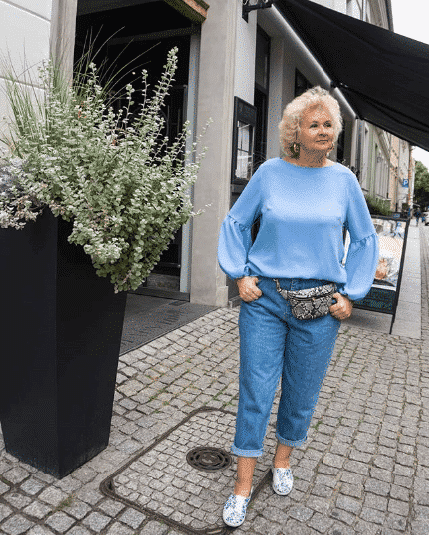 ↓ 19 – Invest In Quality Over Quantity
Once you're in your 60s, the most important thing is to stop focusing on quantity and instead focus on quality.
Buy 1 outfit in a season instead of 4 but make sure that you're buying good quality material.
And this isn't just about the outfits; you also need to invest in having some quality time yourself – go for a bike ride or a yoga class, or buy some new paints and get the creative juices flowing.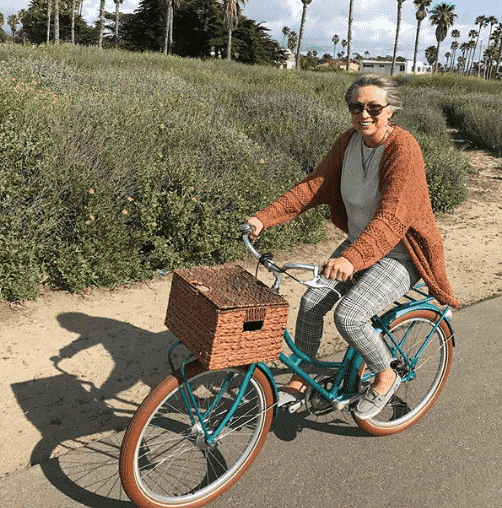 ↓ 18 – Pair Your Casual Outfits With Jeggings
If you feel like leggings are too old school, try to go for jeggings instead, as they can easily be paired with all sorts of outfits, from casual to semi-formal wear.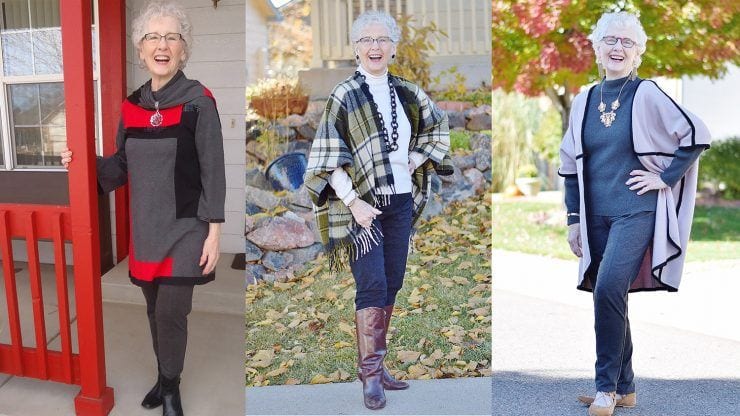 ↓ 17 – Mom Jeans, Ever Favourite
You can always find the right pair of jeans that complement your age and figure. You can choose a style depending on your personality and preference.
With ankle zip jeans and white tunics, you can have a great weekend.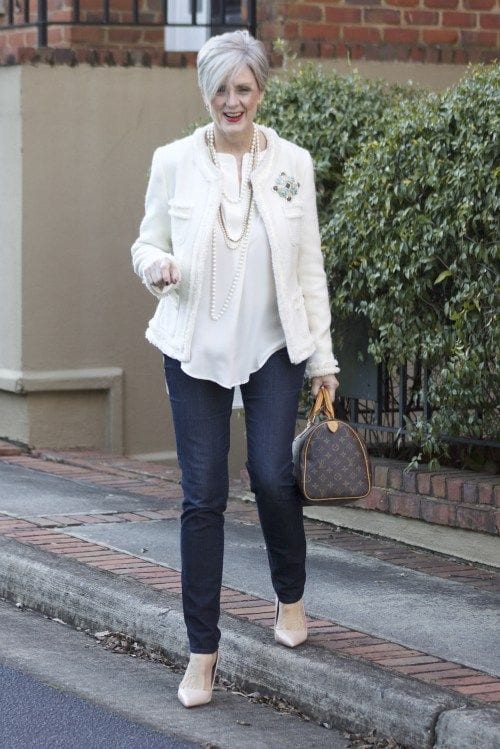 ↓ 16 – Choose Smart, Minimalist Accessories
If it's summer and you have to go out in the sun all day, then black and khaki is the best option with a fedora hat.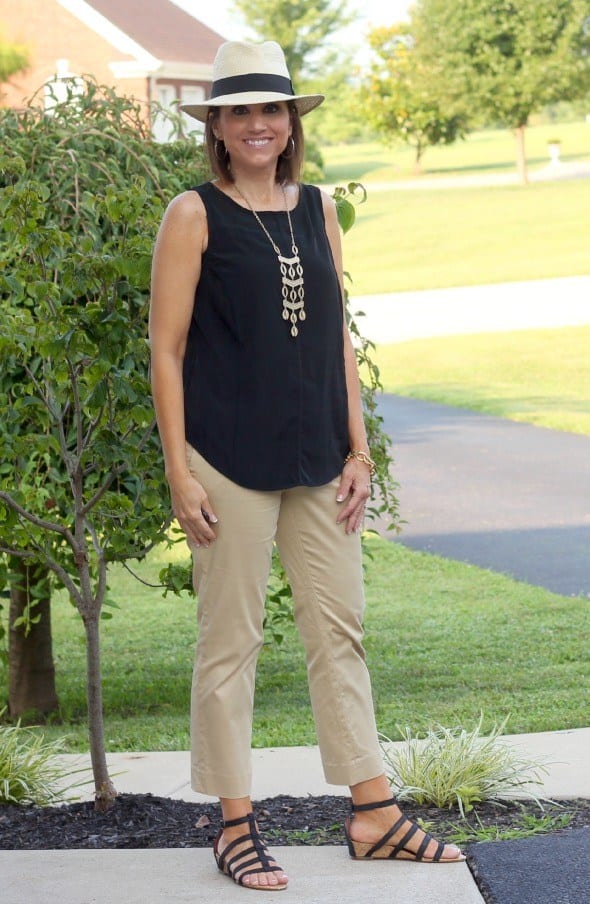 via
↓ 15 – Choose Tunics That Go Perfectly With Your Shape
There are several tunics tops that work best with your body shape. You can wear it with different leggings and stretched jeans.
They go best to hide the belly that women mostly complain about at our age. Don't go for overwhelmingly baggy ones, but slightly A-line ones that look great.
They are very comfortable and make the best summer outfits.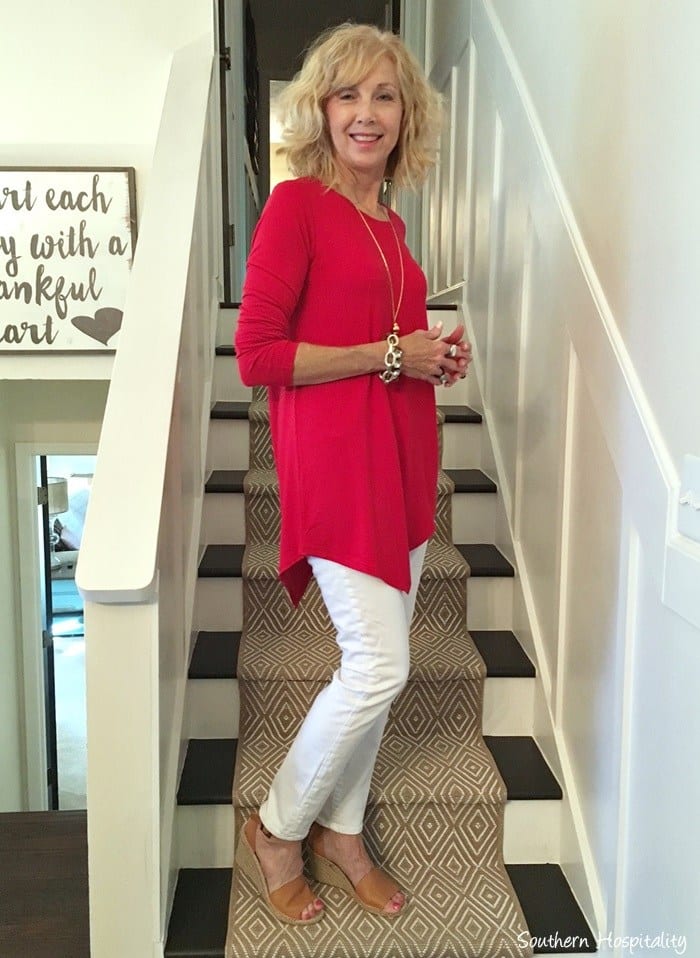 ↓ 14 – Choose Longer Cardigans Over Shorter Ones
The longer cardigans work best with leggings and jeans because they cover much of the lower torso area. A longer cardigan looks amazing and modest with straight-leg jeans or tights.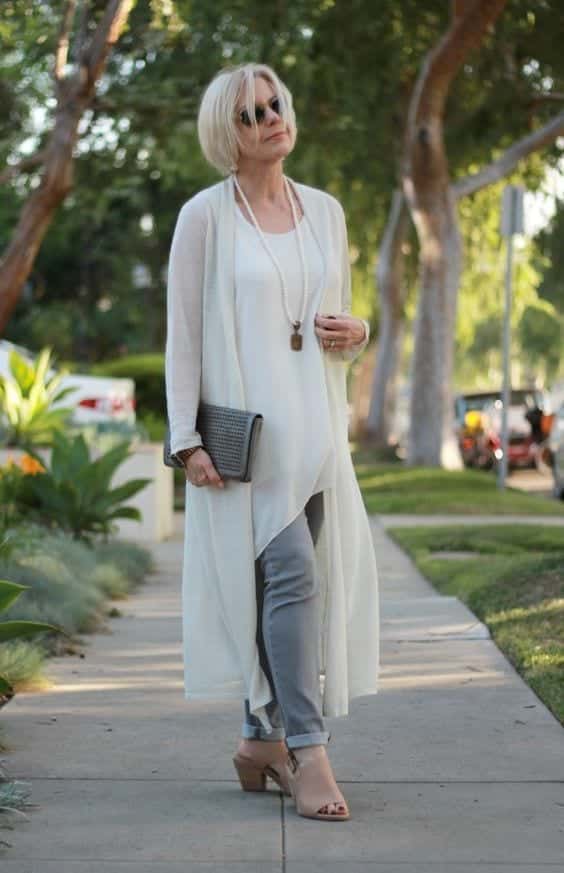 ↓ 13 – Don't Stop Opting For Classic Looks
In your 60s, you can choose classic elegant styles that work for any age. You will look more stylish and decent if you try on technical dressing rather than going for the trends of your favorite magazine.
This is the magic key to mastering fashion for ladies over 60. So be classy and conservative; definitely, you will exude a class.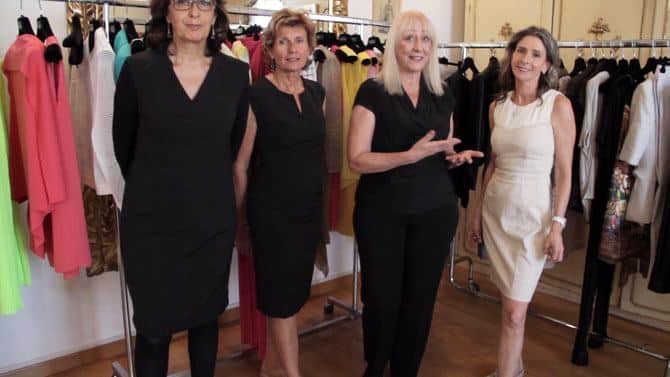 ↓ 12 – Follow The Icons of Style
We can see the fashion icons who are dominating the media even at this age with their impeccable style. Helen Mirren always looks beautiful and fashionable in her well-fitted outfits.
Christie is an iconic style of a generation and still looks fashionable and beautiful at the age of 61. So, enjoy watching the stars and adopt their outfits.
Helen Mirren, Catherine Deneuve, and Sophia Loren have been named among the most beautiful women in the world.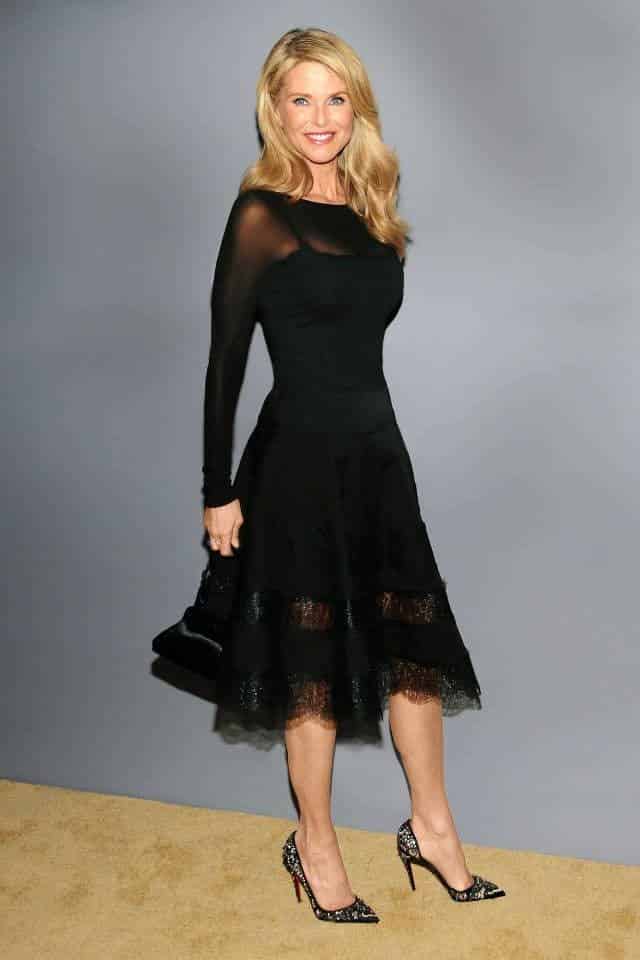 ↓ 11 – You're Never Too Old For Tomboy Chic
Trends come and go, but true style is ageless.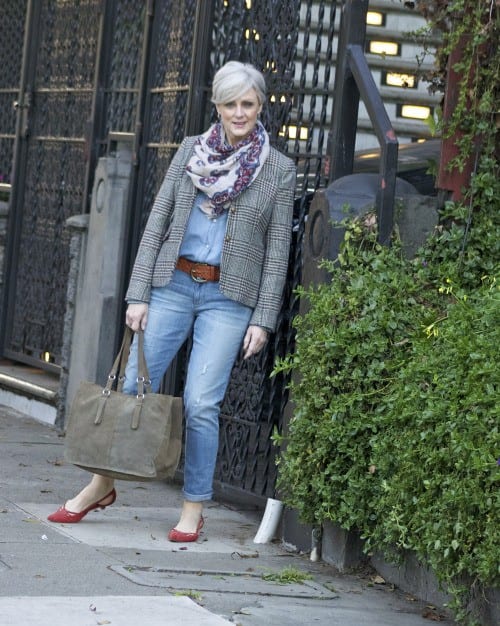 ↓ 10 – Let Your Denim Grow Old With You
A nice pair of denim jeans, straight leg or wide-leg jeans, denim skirts, and jackets look wonderful on mature women.
Try to find a perfect pair; it will be comfy as well as good-looking; you can go for stretchable or soft denim.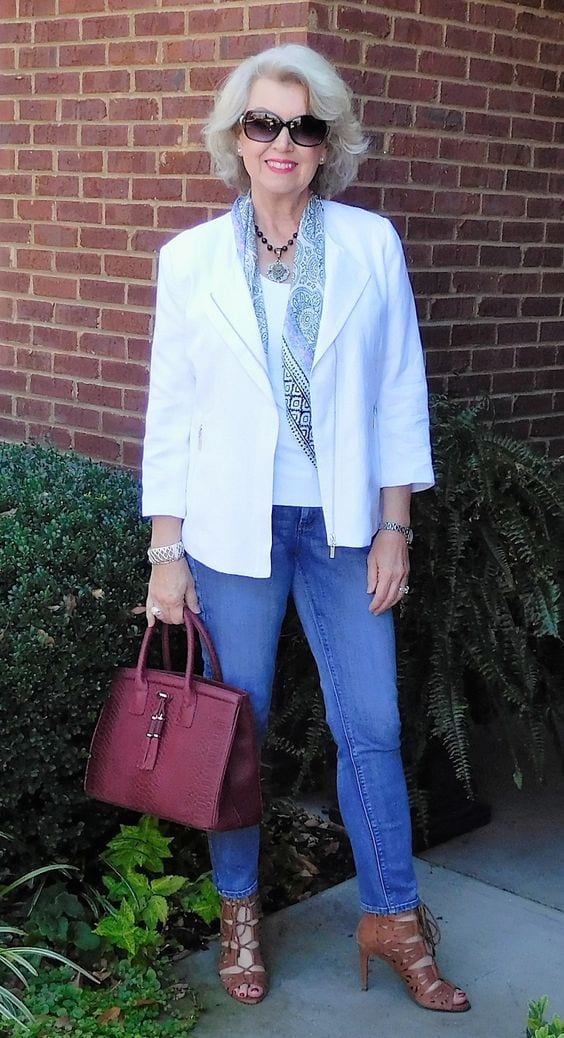 ↓ 9 – Invest In A Good Quality Trench Coat
You can adore a trench coat with a variety of different scarves.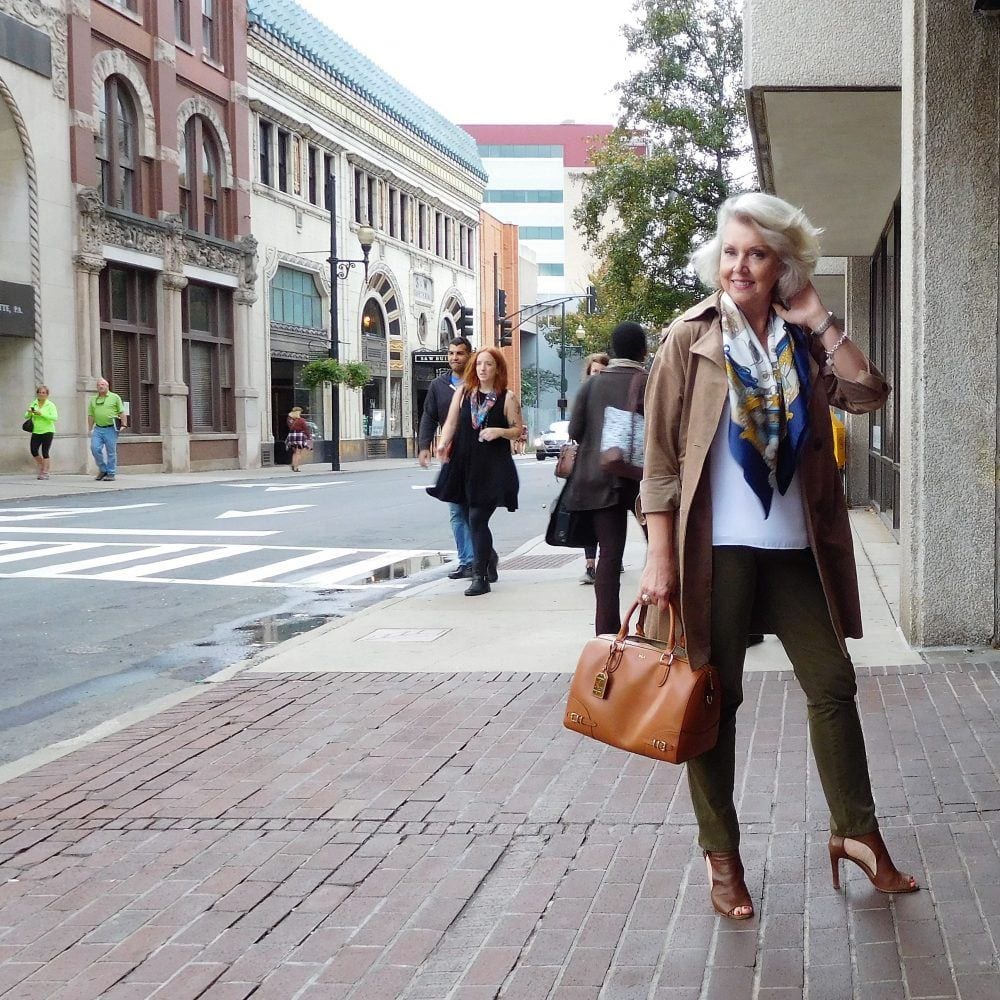 ↓ 8 – White on White Always Works
If you love monochromatic dressing, then you don't have to worry about matching items.
A white dress is a key piece for stylish wardrobes. It makes you feel and look so confident.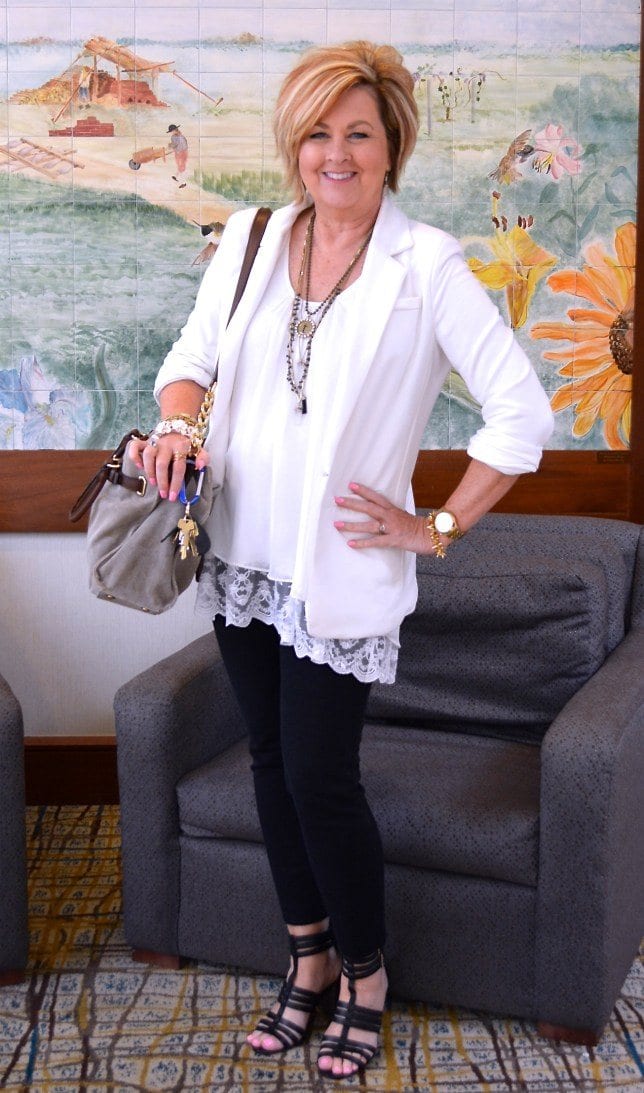 ↓ 7 – Allow Color Harmonies
Your hair color, skin tone, eye colors, and body structure suggest the color patterns and harmonies for an ideal look.
A subtle bright summer coloring can be classic, whereas the voluptuous autumn type is sometimes natural and romantic.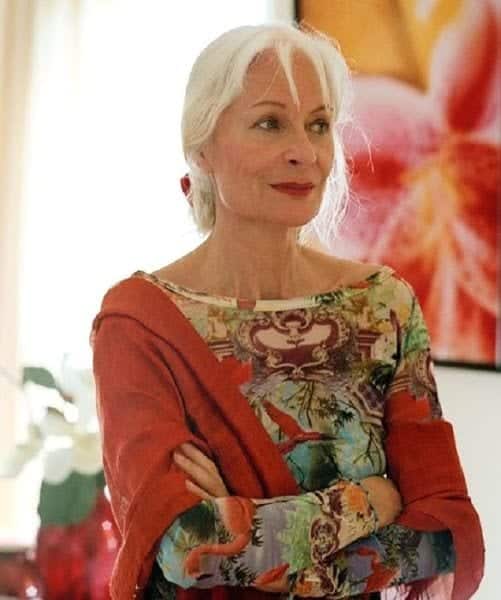 ↓ 6 – It Might Be Time For A New Hairstyle
Yes, some colors can suggest the vibe of the holidays.
For those who celebrate Christmas, it's easy to adore red or green pieces. Metallics always go right when you are getting ready to celebrate a special occasion.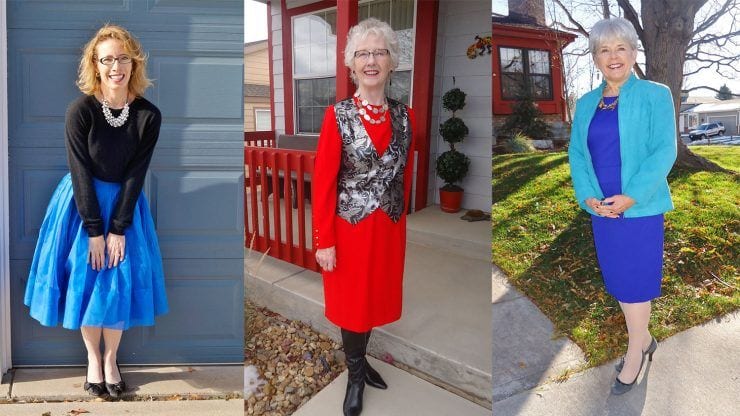 ↓ 5 – There's No Such Thing As Too Many Scarves
Many women have scarves in their accessories drawer but don't often consider wearing them. This is a little motivation for you all to try them out today.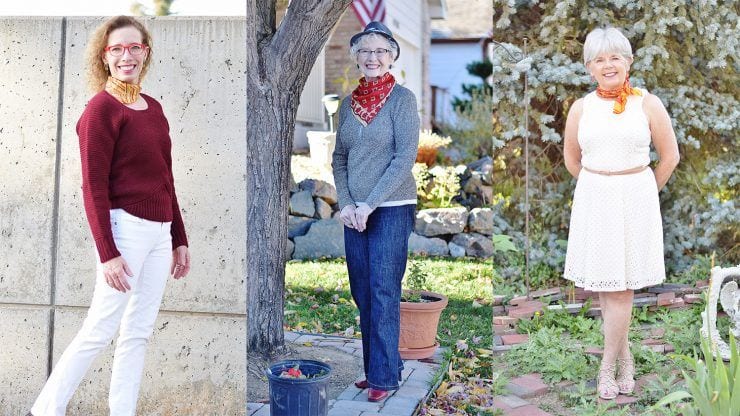 ↓ 4 – Kimonos Can Be The Modest Coverups You're Looking For
Kimono Jackets are the best option for ladies who want a modest and elegant look. Most of them are available in bright colors and vibrant prints.
They are just like beautiful scarves with armholes.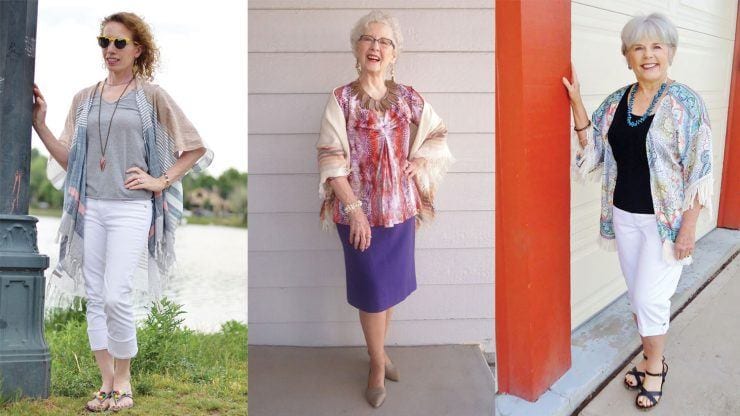 ↓ 3 – Wear Skirts For A Balanced Silhouette
At this stage of age, an A-line skirt can also be a good option.
A skirt below or at the knee balances your figure and looks modest while sitting or walking.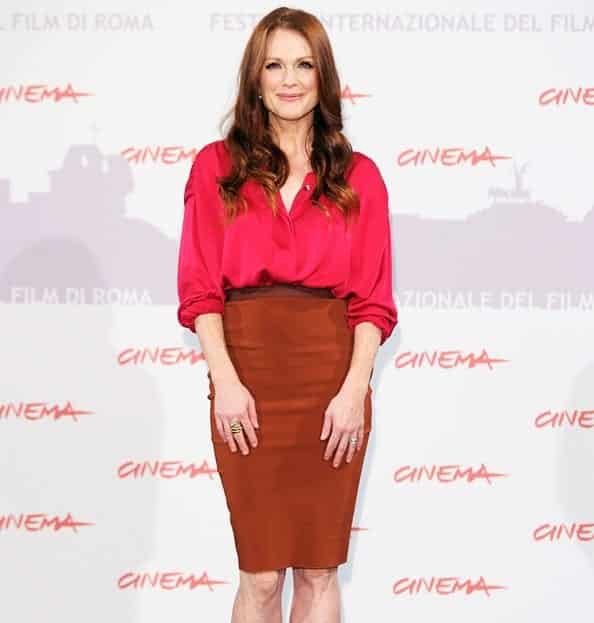 Of course, not all of us can pull off pencil skirts at this age. But if you still want to wear one, I highly recommend a pleated skirt.
Pleated skirts look incredibly beautiful and decent for our age, and they can easily be layered for extra comfort.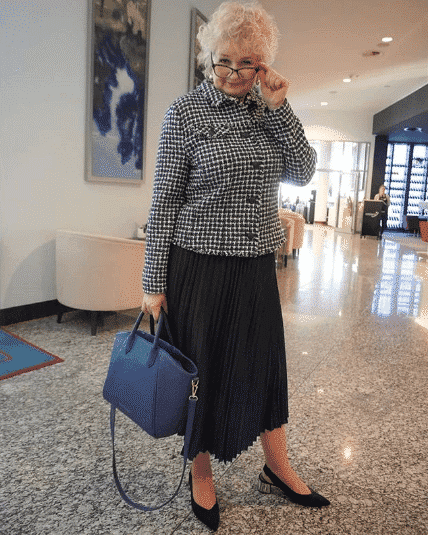 ↓ 2 – Your Smile Is The Prettiest Thing You'll Wear
Everybody loves an event, but choosing what to wear when you are 60 is quite different when you are in your 20 and get invited every month; the best advice is to ignore what's trending and choose a style and shape you like that flatters you and feels worthy of your time.
When you wear an outfit confidently and with a smile, you'll surely look the best.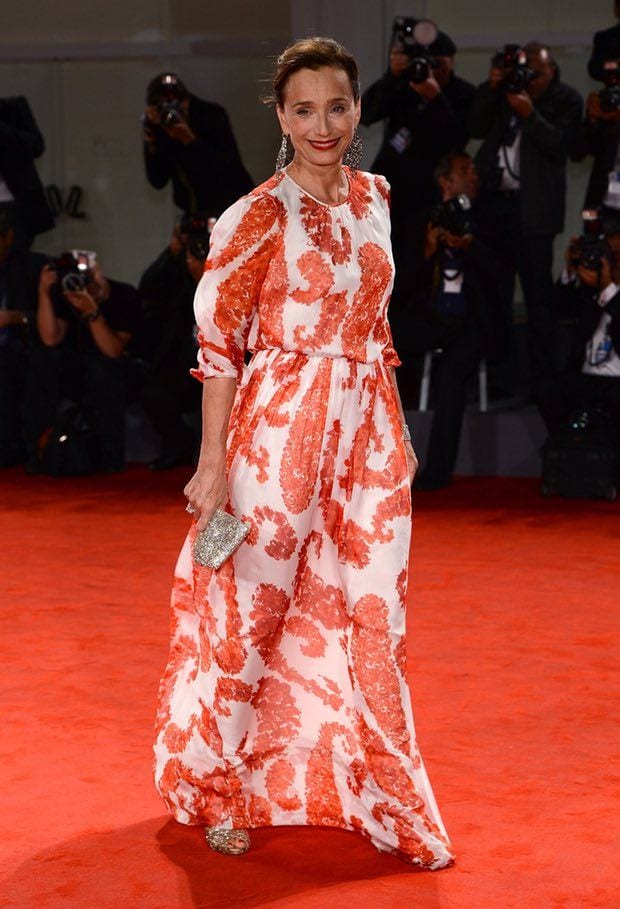 ↓ 1 – Good Nightsuits Are The Key To A Good Day
Transform your bedtime mood with decent and comfortable nightwear. Choose perfect combos, soft fabric, captivating designs, elegant and simple.
This is important because when you have a good night's sleep, you're surely going to wake up to a lovely day.
I also recommend having a good skincare routine that must include a night cream, day cream, and sunscreen.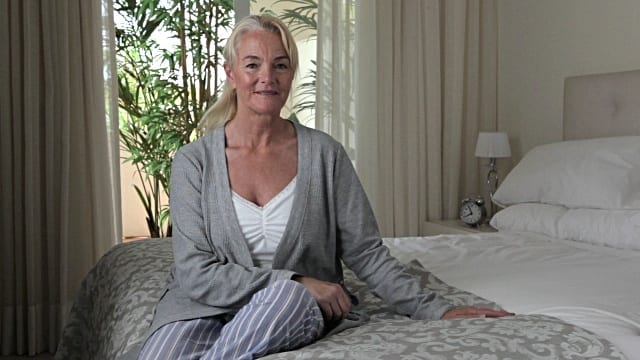 FAQs
Q. How should i dress in my late 60s?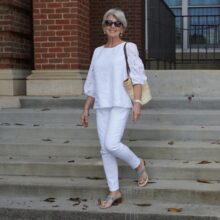 A. Hey, you can dress however you like no matter your age. You can still wear dresses and skirts and pants. However, you will need to be a bit more cautious and make sure that the clothes you wear are comfortable.
You should not compromise on comfort because if an outfit is uncomfortable, chances are you might have to throw it away. Dress like you're 21. Dress like you're 17. Forget how old you are and wear every color you like!
Q. Should a 60 year old woman wear skinny jeans?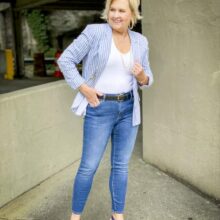 A. In some cases, skinny jeans could be a bit uncomfortable to the blood flow in our age group, but I don't see why we shouldn't rock a pair of sexy skinny jeans every now and then.
Everybody should be allowed to wear what they want, no matter their age. You could wear them for a while, if not the entire day, but yes, definitely go for them!
Q. What should be the basic wardrobe for a 60 year old woman?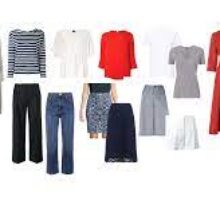 A. First things first, a 60-year-old should have the most seamless and comfortable undergarments. Secondly, you will need to invest in some good jeans, that will keep you comfortable and looking good.
You will also need some classic black dresses, jumpsuits, and blazers. Printed scarfs will be your best friend on a boring outfit day!
Don't forget some fun t-shirts, tops, and cardigans. Last but not least, the most important thing will be your footwear. you will need to invest in the best and most comfortable joggers, house slippers, and formal shoes.
Comfort should be your number one priority because yes you need to look good but also stay healthy and restful.
You may also check 16 Best Over 60 Bloggers & Influencers To Follow In 2021