Stylish Shalwar kameez waistcoat combinations – Are you tired of wearing the same shalwar kameez everywhere? Well, today, we will talk about the latest men fashion ideas and how they can style a waistcoat with shalwar kameez to look more stylish.
So if you are looking for ideas on "how to wear a waistcoat with shalwar kameez" or "the latest and trendy waistcoat shalwar kameez combinations," then stay tuned because there are plenty of great ideas to groove here.
How To Wear Waistcoat With Shalwar Kameez?
Whether it's a wedding day or any other occasion, all the men need to dress up well. Fashion sense is not just important for women but equally crucial for men. I mean, it's not something new, and you've probably heard it many times before, but the fact remains that dressing well gives you so much more confidence. With every passing year, the fashion trends keep evolving for not just women but also men, and this often makes it hard to decide which style to go for.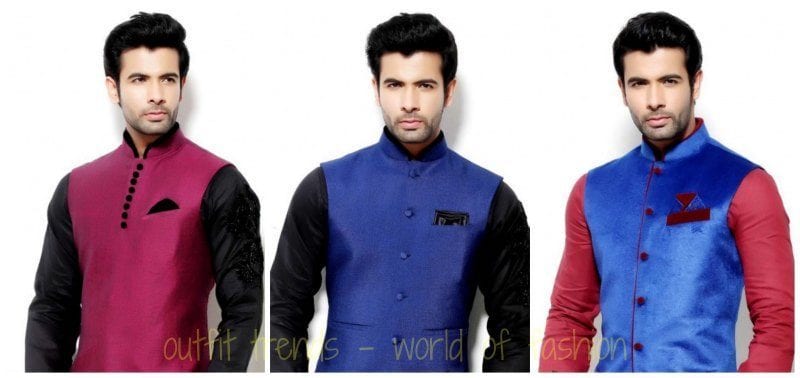 When it comes to shalwar kameez, both Pakistan and India are the top places that people look for the latest designs, trends, and colors. The shirts are embellished with beautiful embroidered work which men usually wear on special occasions and festivities. Waistcoats can also be made from different fabrics and stitched well according to the fitting. Recently, Junaid Jamshed also launched a line of his waistcoat collection, and in his collection, the designer has put together all the current and fashionable cuts. Indian style waistcoats with shalwar kameez fashion are also very popular, and many designers like Sabyasachi are creating the most magnificent and royal looks with waistcoats.
Many celebrities, too, like Shahid Kapoor and Saif Ali Khan, have been spotted elegant waistcoats on different occasions.
Style it for Eid. As eid ul Fitr is almost near so you can wear a waistcoat on this eid to look classy and modest at the same time. Here are 15 latest style men dresses for eid you can check out and make a perfect outfit for eid yourself.
↓ 16 – Latest Trend 2020
Our favorite trend this year has been by the brand Republic by Omar Farooq as we're loving their printed waistcoats. Showcasing beautiful sceneries or abstract prints, these waistcoats will make you stand out in any crowd!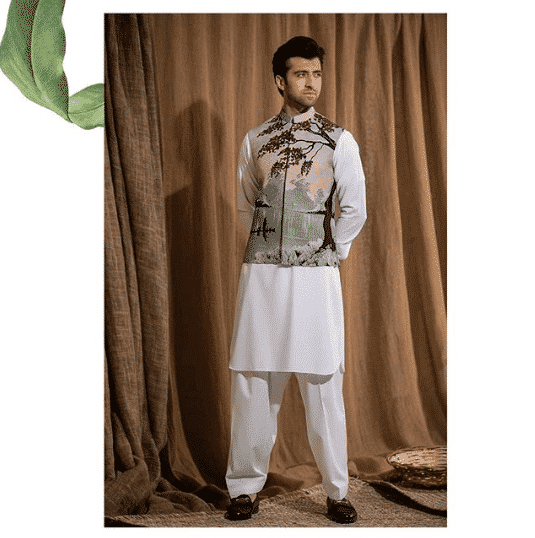 ↓15- How to Style a Velvet Waistcoat
Men wear velvet waistcoat to give an ostentatious visual appeal to their outfits. This versatile and well-known garment creates a casual and elegant style that can also be used as a formal dress. Velvet combines well with almost anything, from denim to elegant scarves. Use only the waistcoat as the main outfit of the outfit or add some texture with some cashmere prints. Velvet waistcoat looks better in dark blue or blue or black or satin tone. Regardless of the waistcoat you wear, you can make adapt it for your needs.
Choose a waistcoat with an outstanding style. Although a standard velvet waistcoat is cute, you can get an amazing factor with a special waistcoat that has unique features. For example, well-marked shoulders, exaggerated flaps, a modern cloth, or a one-hour round waist.
↓ 14 – How To Match Waist Coat with Shalwar Kameez
When you want to buy a waistcoat, start with the base colour of the shalwar kameez that you're wearing. Then, think of what sort of waistcoat you would want to go with that – would you want a matching waistcoat or a contrasting one? Or perhaps you would like to go with the latest trend of colour blocking? Here are some colour combination ideas for waistcoats that can help you make this decision easily: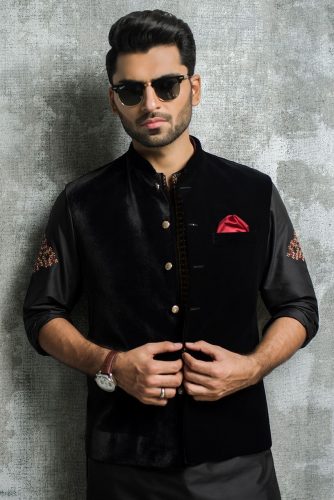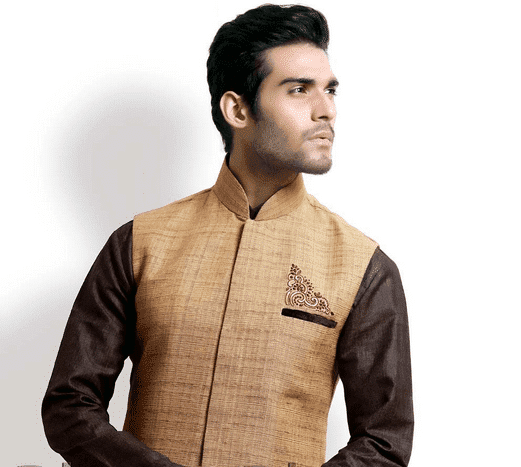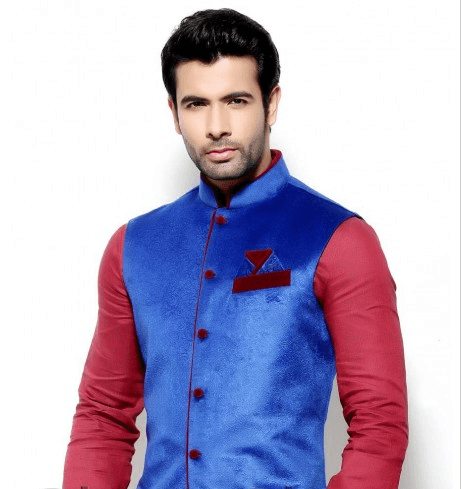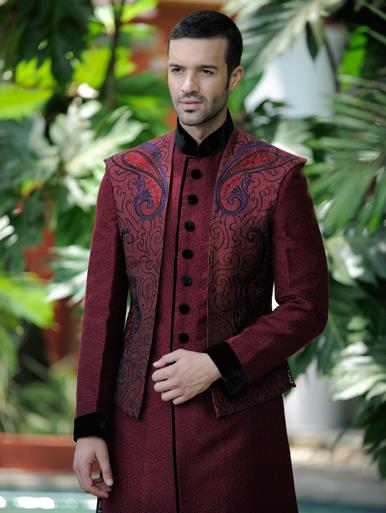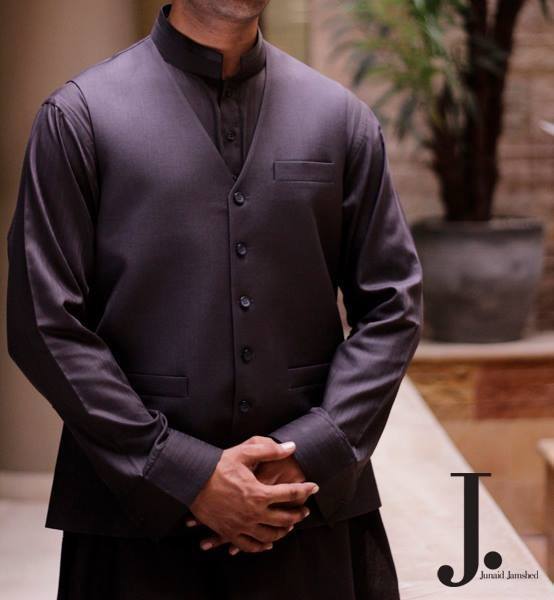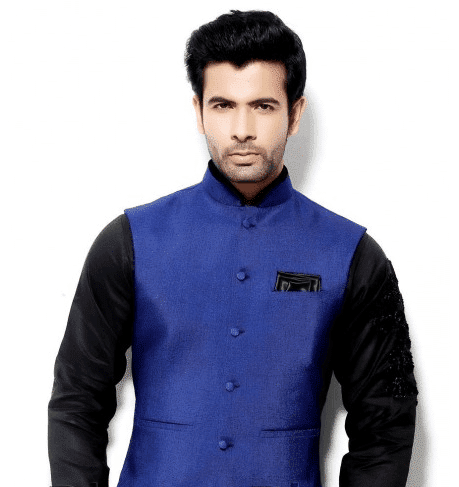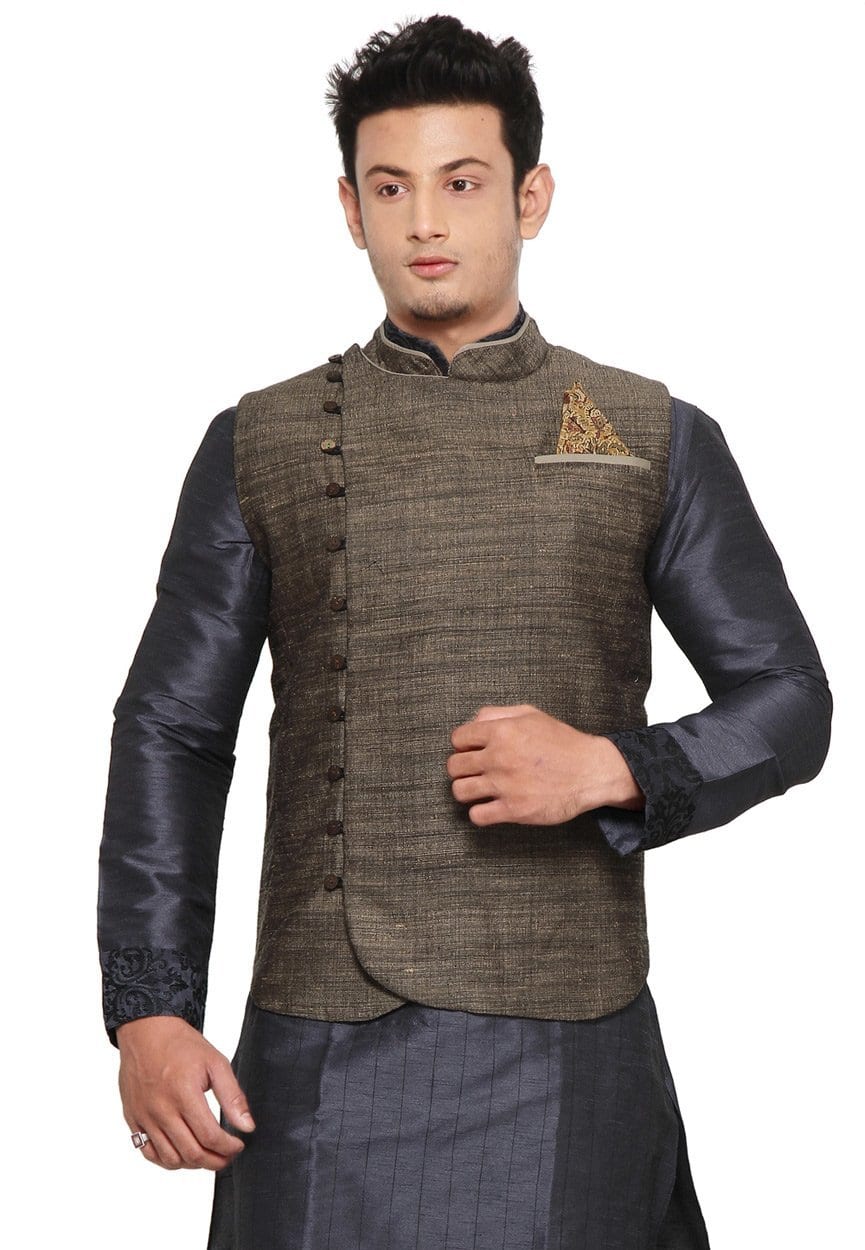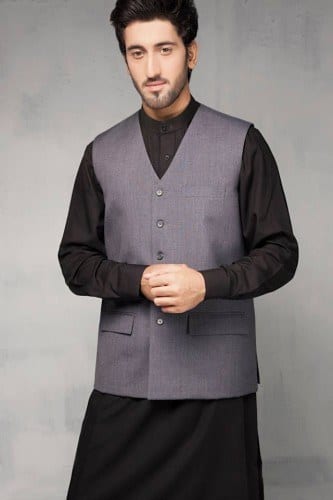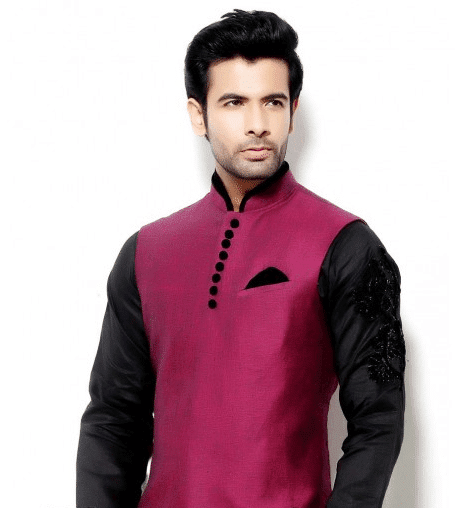 ↓ 13 – What Waistcoat To Wear With White Shalwar Kameez?
White shalwar kameez is a wardrobe staple that every guy has to own. But when every guy on this planet is owning a white shalwar kameez, how do you make yourself stand out? What makes your style unique? The answer to all these questions, of course, lies in the waistcoats! With your waistcoat, you can easily make your white shalwar kameez stand out from the rest. Now the first decision you need to make is if you want to go for a dark-colored waistcoat or a light one. For dark colors, some of the best choices are brown, black, and blue.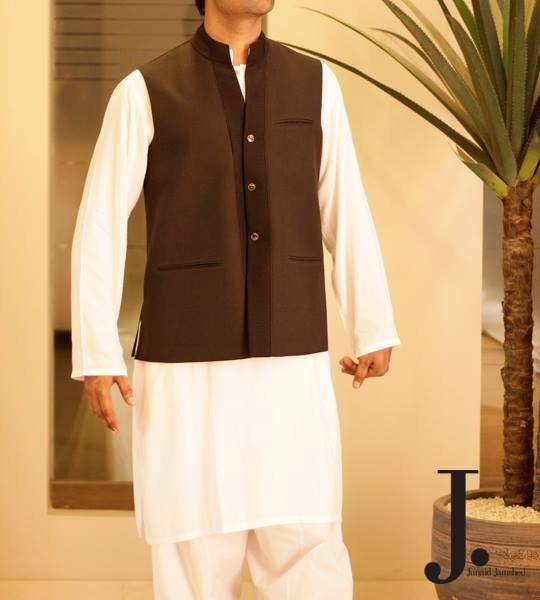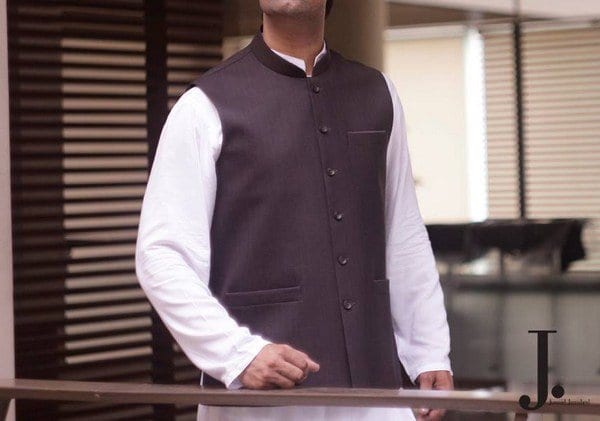 If you think that light colors look better on you then go for a light blue or a pastel pink waistcoat as both look superb in summers. You can see here actor Fawad Khan wearing an offwhite shalwar kameez with an ice-blue waistcoat, the outfit has been designed by his talented wife Sadaf under the label SFKbridals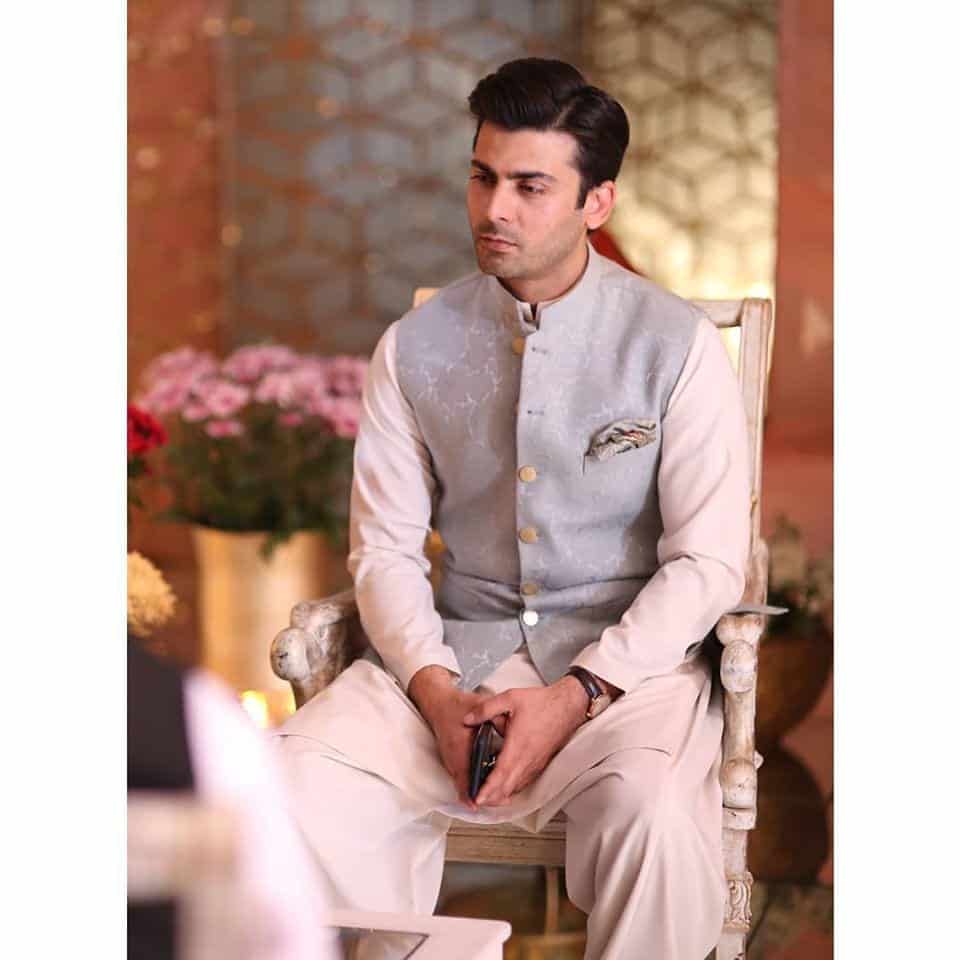 ↓ 12 – Celebrity Style
And since we're talking about different styles of waistcoats combinations with shalwar kameez, how can we miss out our famous Celebrities with  awesome styling. As their style of wearing waistcoats with different shalwar kameez is what sets the trends these days.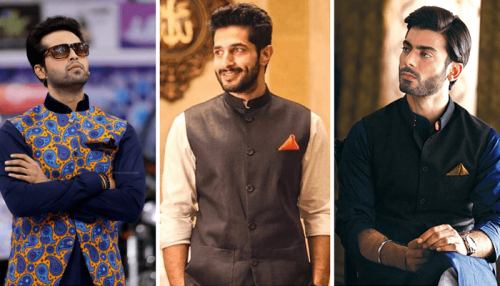 ↓ 11 – Different Types of Waistcoats
There are many different types of waistcoats such as Jamawar Waistcoats, Velvet Waistcoats, Texture Fabric Waistcoats and Embroidered Waistcoats. There are also full-sleeved waistcoats that are usually chosen for Winters and the traditional sleeveless waistcoats for other seasons.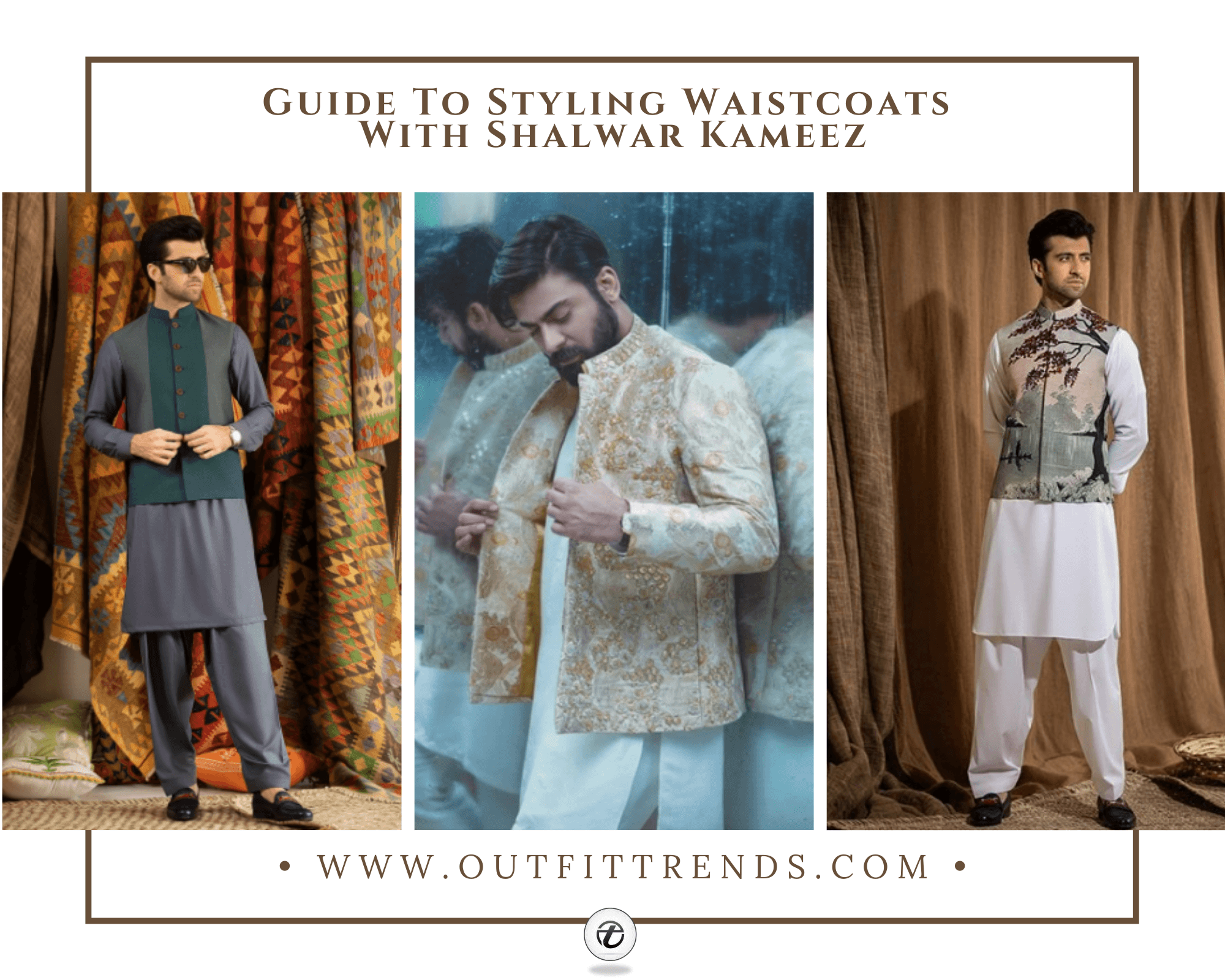 ↓ 10 – How to Wear Embroidered Waistcoats
As designer now a days introducing new trends to market. They have also launched waistcoats with embroidery designs which are getting very popular among the new generation. There are different styles for embroidery in waistcoats and you can further accessorize them with a matching shawl.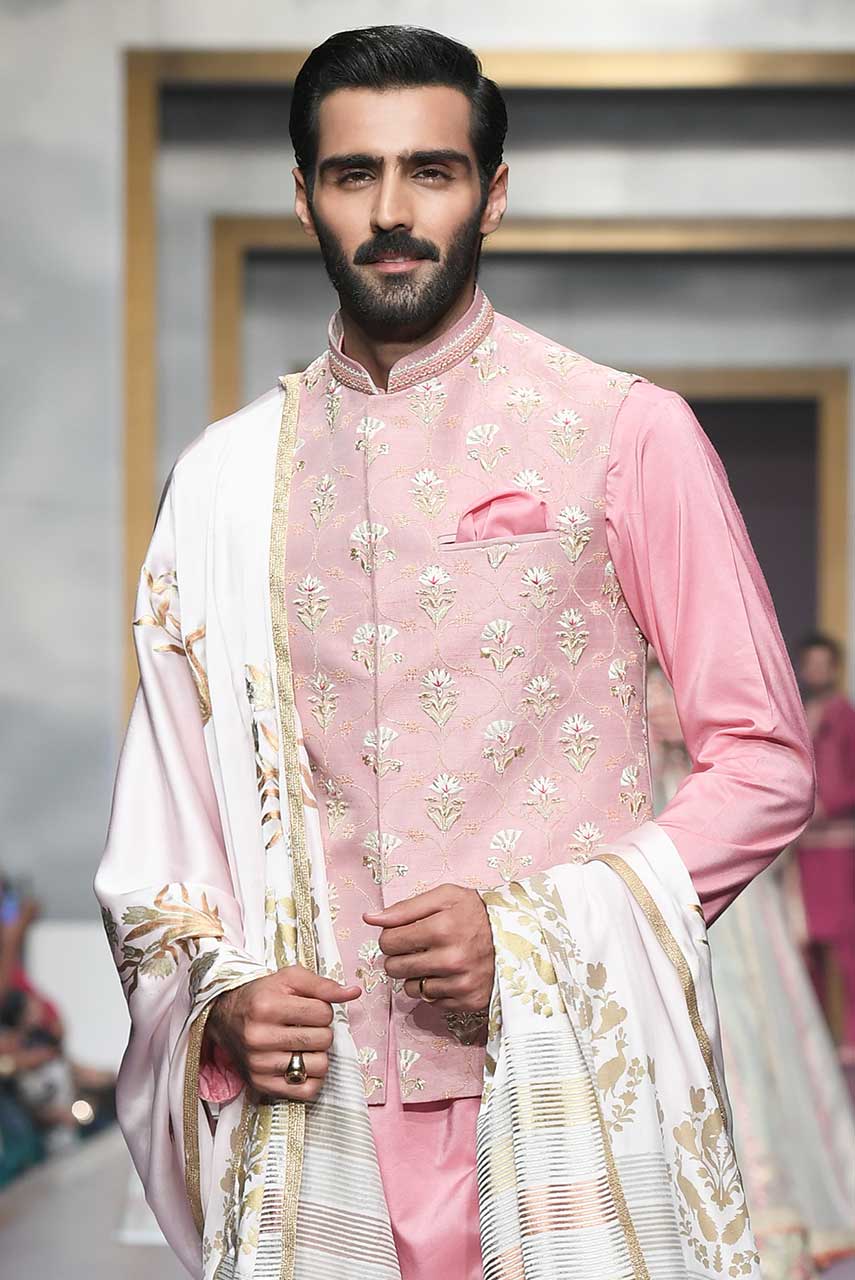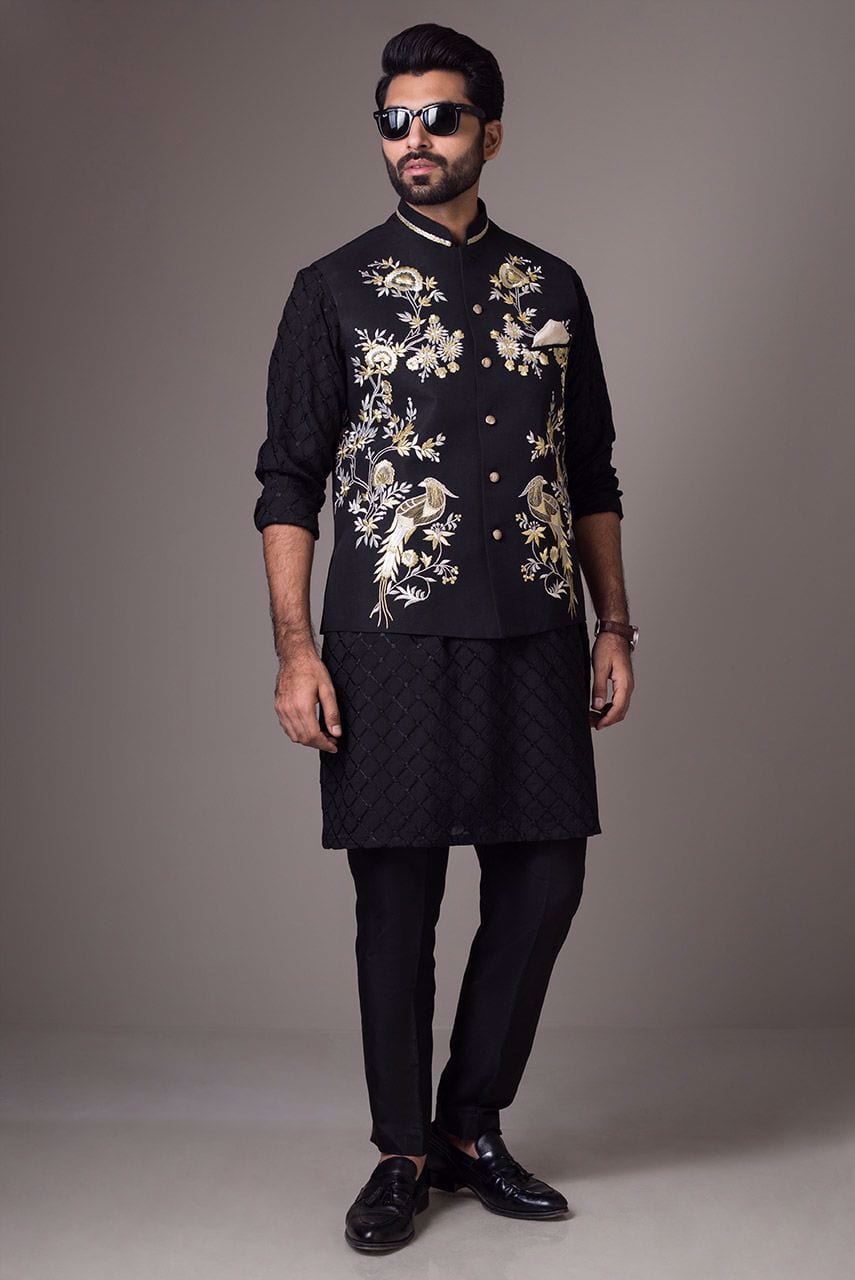 ↓ 9 – Jamawar Fabric's Waistcoat
Jamawar texture is something that you can use on formal events. It will add an extravagant touch to your dress which we believe is an unquestionable requirement for such events.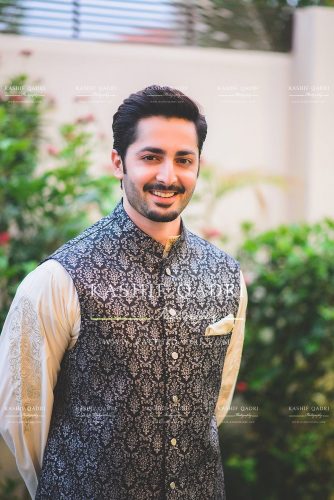 ↓ 8 – Self-Printed Waistcoats
An immaculately Self-printed waistcoats can have a great impact on your regular shalwar kameez. It will assist you with making an exquisite and captivating outfit. There are various methods of styling them, blending and coordinating with Shalwar Kameez.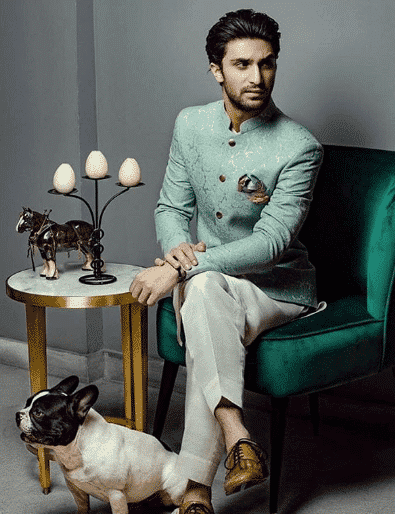 ↓ 7  – Maroon Waistcoats
You can easily create a simple part look by wearing a plain white Shalwar Kameez with Maroon waistcoat.
You can wear a white Pathani Shalwar Kameez and Maroon waistcoat with traditional embroidery. The specialty of this look is that it looks good on every age, height and even on overweight men as it creates a slimming effect.
↓ 6  – How To Wear Blue Colour Waistcoat
Blue waistcoats are a classic favorite for boys and men of all ages. While they're usually worn over white-colored shalwar kameez, we recommend trying something different this year. Try wearing a blue waistcoat, layered over a blue kameez. By playing with different shades of blue or even by going for the same shades you can create a very dramatic and bold look.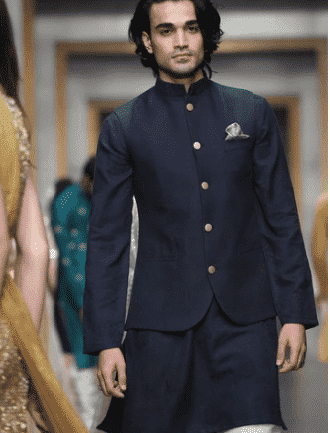 ↓ 5  – Black Waistcoat Trend
Black is a color that is always in trend – so no matter what color your Kameez is, pair it with an embroidered waistcoat and make a style statement. For formal wear or weddings, you can add gold embellishments to your black waistcoat.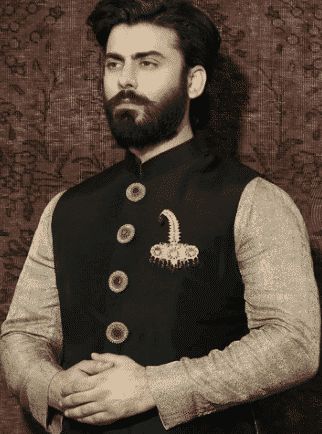 ↓ 4  – Best Brands to Shop for Waistcoats
Here are some of our favorite places to shop for waistcoats in Pakistan and India, most of these brands also ship Internationally if you're based in another country:
Pency is in the market since 1982.  With a great collection of dressing and specially waistcoats it has made its name in the market.
If you're looking for unique cuts and trends in waistcoats, this Indian brand will never disappoint. You can find their products on Myntra and Flipkart.
They offer the latest designs and fashion.  The material used is of good quality and the products are very reasonably priced.
The best brand for budget-friendly waistcoats and nehru jackets, especially in floral and paisley prints.
Established by the famous singer and later Religious Preacher Junaid Jamshed.  Having their outlets in almost all cities of Pakistan. A great choice to get a waistcoat and they also have good combination of it with Shalwar Kameez.
↓ 3  – Waistcoat Ideas For Grooms
Now, the waistcoat is not just a fashion symbol of the old days. You can also look stylish and fashionable by wearing it. Can also be worn everywhere. Not only this, but people also will not be able to stop themselves from praising this look.
In this era of fashion, a lot of experiments have been done with waistcoats. Many of these experiments have turned out to be absolutely unique in terms of style. For instance, we loved it how Indian designer Sabyasachi experimented with floral waistcoats for men. In cultures where floral prints have traditionally been restricted to women's wear, this was a very unique and yet fresh campaign that was loved by everyone.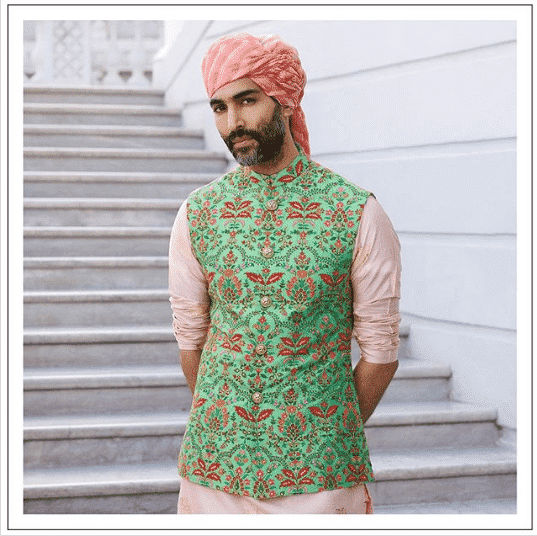 If you're looking for something similar in Pakistan, you can find waistcoats in beautiful floral embroidery at Deepak Perwani.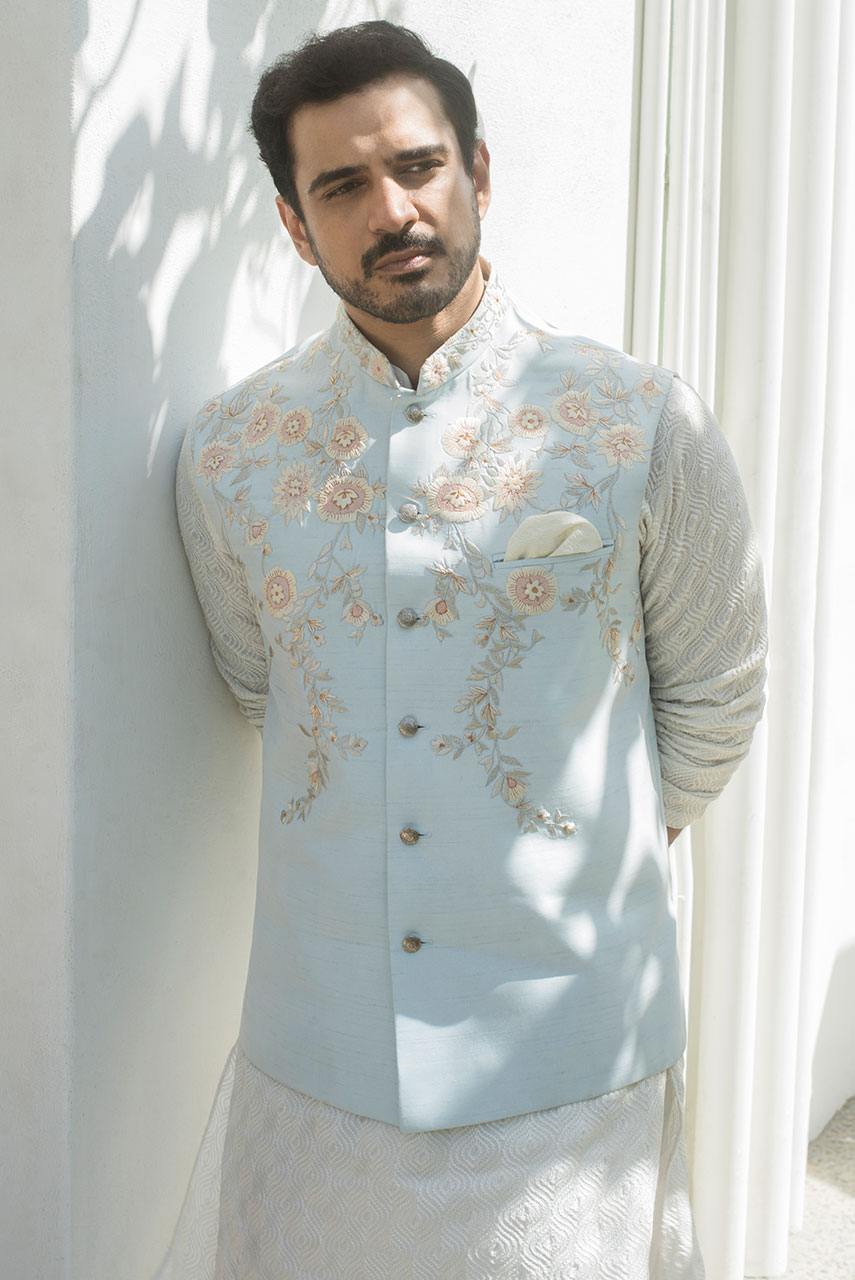 Bring the confidence of wearing these evergreen dresses inside you and then be amazed by how people see you. The Indo-Pak look in the waistcoat is considered to be the most trendy and best. This type of look is preferred by most people. For such a look, traditional waistcoats would be right for Shalwar Kameez. Loafers or cuff boots can be worn with this. This will make you look absolutely perfect. Also, take special care of the fitting of the waistcoat. Do not make any mistake while choosing the color of the waistcoat and as a groom, make sure that you select a color which best complements you. And of course, on your big day, nothing beats the charm of color coordinating your outfit with your significant other: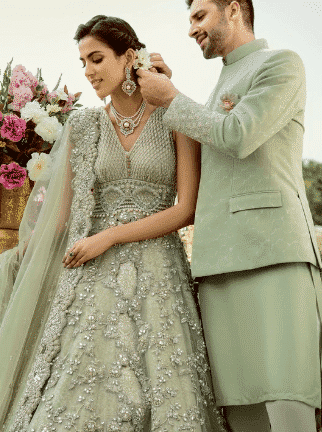 Another popular option these days is of heavily embellished waistcoats. These waistcoats are covered in elegant adds work, stone-work or embroideries and they have a very regal impact. The important thing to consider when wearing such waistcoats is that they shouldn't conflict with the bride's outfit and color scheme. Moreover, the shalwar kameez needs to be completely simple with these waistcoats as they're a style statement on their own.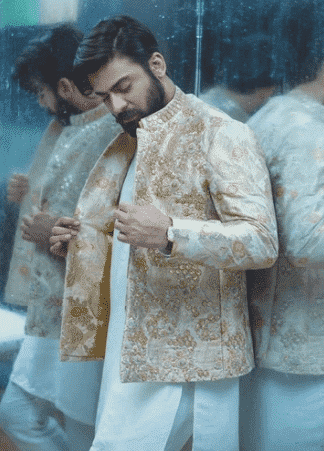 ↓ 2 – Combinations for Mehndi
Nowadays men are selecting different kinds of dresses for their weddings. As for mehndi, it is best to wear shalwar kameez with a waistcoat. There are different types of waistcoats that grooms can use with their shalwar kameez or they can make a contrast with it. And these outfits are not just limited to the grooms, the wedding guests or the groom's friends and cousins too can wear bright and bold colored matching waistcoats.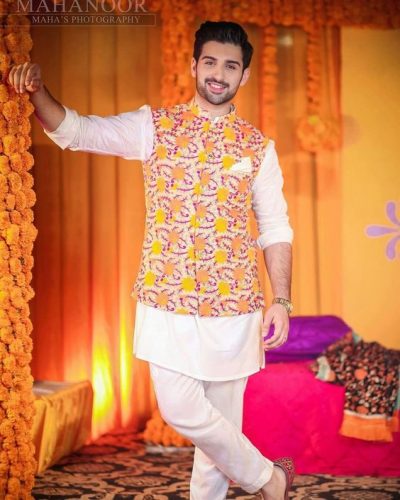 ↓ 1  – Casual Waistcoat
We all like the Waistcoat very much, one because of his timelessness and the other because of the elegance that it receives. Whether it is a typical ethnic dress or a classic western formal, if styled carefully, a different style dimension can be added to your look by teaming up with both Waistcoats. While we all have a different favorite way of wearing this jacket, we are telling you some quick suggestions to style everyone's favorite Waistcoat for casual wear:
When you wear it over a kurta: we recommend that you choose a Waistcoat of contrasting color as it does not always have to match with your kurta.
You can also experiment with your bottoms and easily wear your casual shalwars with waistcoats.
Of course for casual wear we recommend that you don't go for fancy waistcoats, instead, choose solid color ones that go with the weather. For example, white and other light-colored waistcoats are the best choice for casual summer outfits.
Take a contrasting pocket square with your Waistcoat and come out with full elegance.
A new trend is of wearing denim or chambray style fabric waistcoats, these look best with light blue shalwar kameez and they're more suited on younger boys so if you're over 30 it's best to avoid them.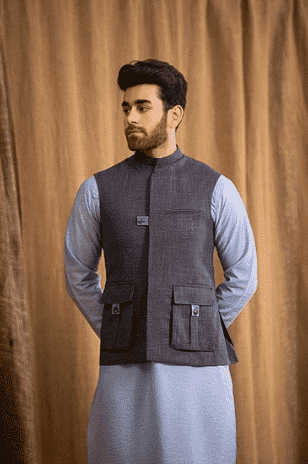 Expert Answers To Your FAQ's
Q.

Can I Iron A Velvet Waistcoat?

A. Do not iron the velvet waistcoat. From time to time, you can press them with steam. Steam them with a steamer or steam iron in your hands. Do not touch the fabric directly with the iron. Velvet wool at a distance of 1 cm (1/2 inch) from the cloth and do this with an evaporator. If you don't have a steam iron then the easiest alternative is to cover the waistcoat with an ironing fabric and then iron over at low heat.
Q.

Would it look good if we wear Waistcoat with pants?

A. A waistcoat is the most adaptable garment in any men's closet. You can wear it for any event, for example, a wedding day, an easygoing informal breakfast, a conference, a party and so on. The waistcoat can be matched with kurta, formal pants, casual pants, and jeans for an incredibly sleek look.
Q. 

What's the difference between Nehru jacket and waistcoat?

A. The two appear very similar and are often considered the same, but there is one significant difference between a Nehru jacket and a waistcoat. While a Nehru jacket always has a collar, waistcoats may or may not have one.