Meghan Markle Casual Outfits: The former Suits actress is a major style icon and has been serving looks throughout her acting career, whether on the red carpet or the streets. Moreover, her fashion evolution over the years has been remarkable! And why would it not be? She had a drastic shift from being an actress to royalty. But I am glad to see that while she had to adjust to such a drastic change, she did not let go of her styling favorites! And it only made sense for her to continue the legacy after marrying Prince Harry and becoming the Duchess of Sussex.
The Duchess is a vision to behold, and her casual style is incredibly chic and laidback. And the primary way she keeps her casual outfits looking stylish and trendy is by hardly giving up on her heels! Whether it be stilettos or wedges, you will find Meghan sporting a pair with most of the outfits that she wears. And thus, she successfully takes her casual outfits to the next level too. In this article, we have listed the very best casual looks by the duchess. So get ready to step out in style!
How to Style Casual Outfits Inspired by Meghan Markle?
One of the things that I appreciate the most about Meghan is that she is bold and fearless and does not hesitate to step out in affordable clothing. It is to the point where all of us can steal some of her best looks without having to leave our budget! We have seen her wearing dresses from affordable brands while looking like an absolute dream. Whether on tour as the duchess or traveling, she has made it a point for her clothing to be easily accessible. And we can find some pretty great dupes for her pricey pieces, which is another win! Keep scrolling to be inspired and get glamorous!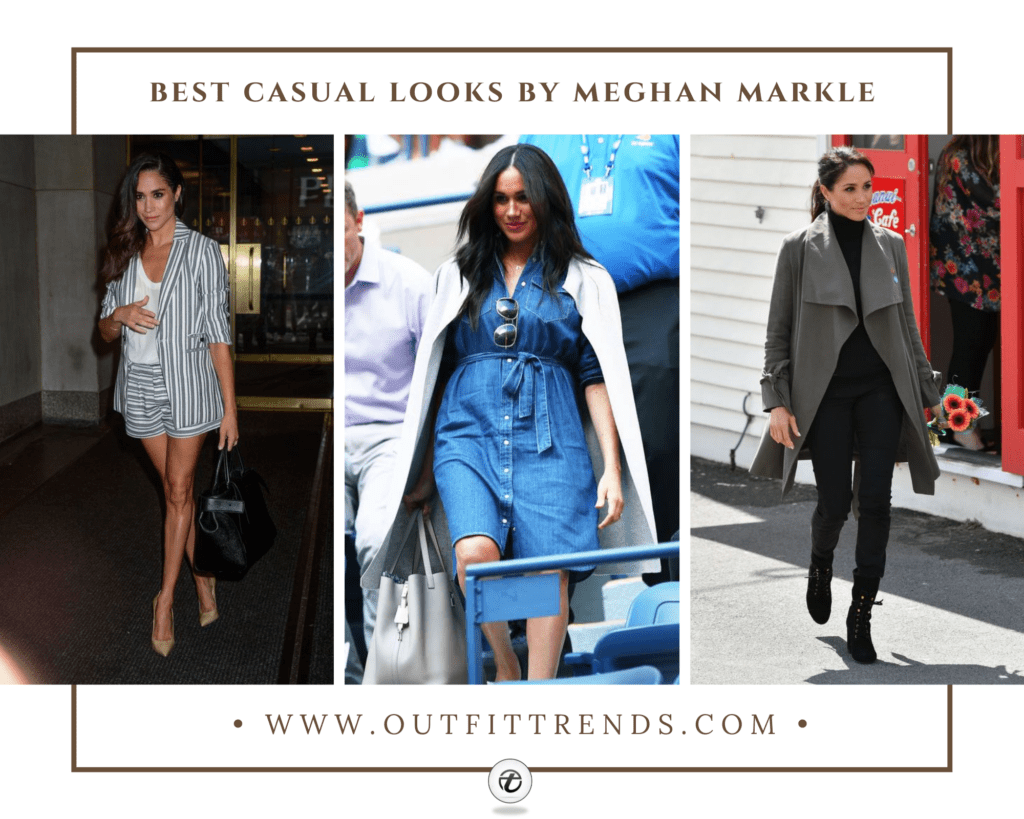 Where to Buy Meghan Markle Inspired Casual Clothes?
Check out all these brands which deliver their promise and enable you to dress like royalty!
Madewell: Get your hands on this favorite casual staple of the Duchess (here)!
H&M: This light weight knit dress in beige (here) is a must-have for all the mommy-to-be's out there! Meghan wore this when she was pregnant with baby Archie.
Zara: I can undoubtedly imagine her wearing this classy-made-casual blazer (here) on a day out.
Missoma: This brand is a go-to for the former Suits actor when it comes to jewelry. We have seen her wearing repeated articles inlcuding this statement ring (here)!
Marks & Spencer: Worn by the Duchess in black, this dress is an elegant option (here) to have in your closet.
Artizia: A perfect pick for the winter season (here)!
↓ 27 – Stripin' Romper Fit!
A simple, unique, and elegant look styled by the Duchess of Sussex! The black romper works exquisitely with the striped black and white shirt and gives her a youthful look. Furthermore, the bright red court heels give this outfit an immediate vibrance. And to match the shoes, we have got that perfect red lip! Overall, An excellent look that is perfect for casual wear! Here are more ideas on different Ways to Wear Striped Shirts.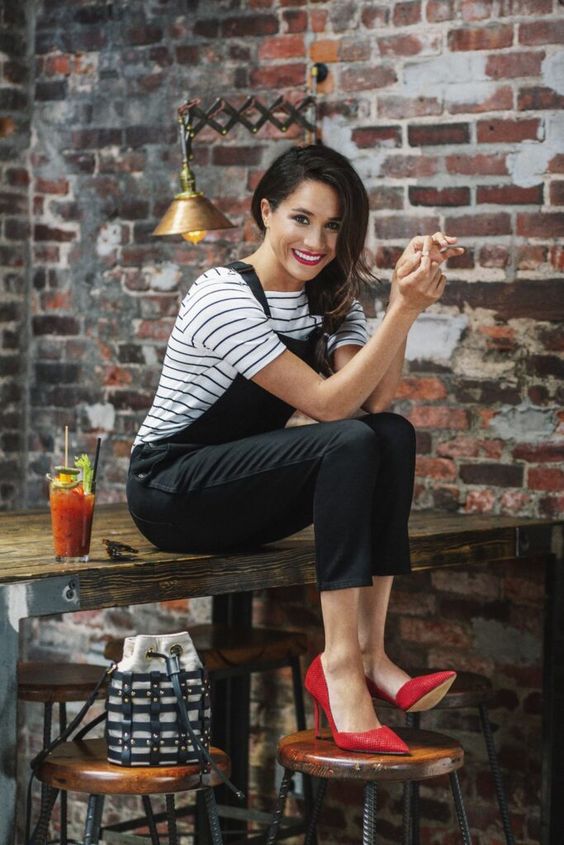 1
. Daily Ritual Jersey Rib Trim Shirt $16.90
↓ 26 – Casual Style by the Duchess of Sussex!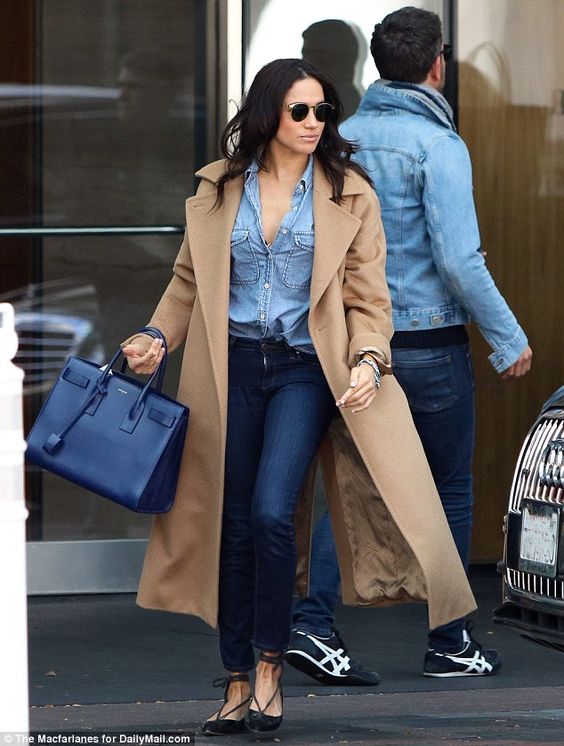 ↓ 25 – Bold & Vibrant in Pleated Skirt
At this point, it is more or less established that Meghan is not afraid of wearing bold colors, which makes you stand out in the crowd. And this outfit is the living proof of that! The pastel pink pleated skirt is a classic pick for the summer season and looks superb when styled correctly. Thus, it is no surprise that the vibrant striped shirt looks phenomenal with the skirt. Also, I love how cleverly this outfit has been styled to make all the pieces complement one another. The glasses to match the skirt, and the top to fit the heels! Do check out our detailed post on styling Pleated Skirts.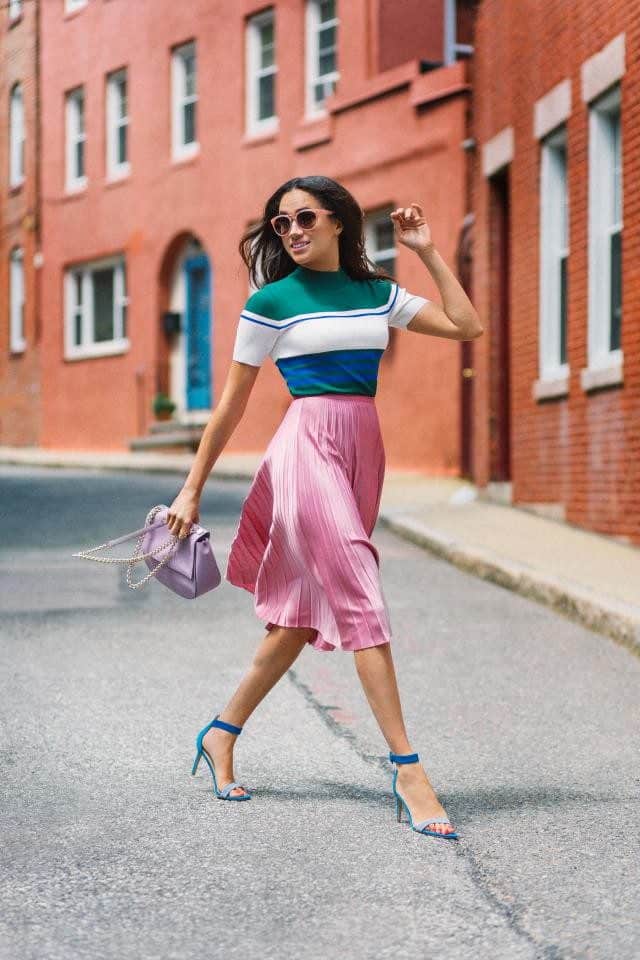 ↓ 24 – How to Wear a Winter Jacket When Dressing Casual?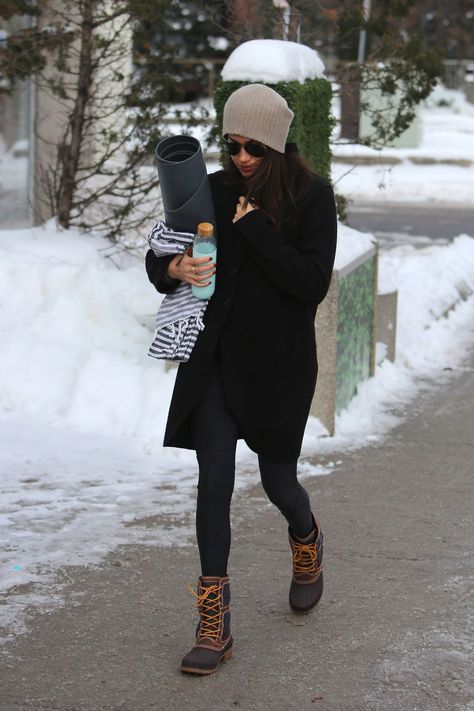 ↓ 23 – Matching Pinstriped Suit Set!
Pinstriped suits are becoming more and more famous for all the right reasons. They are an easy way to dress casually or formally, look incredibly stylish, and add a wow factor to what otherwise would have been a mediocre look. For this outfit, the former Suits actor keeps it lowkey and casual with a blazer and shorts set paired with a basic white U-neck shirt. And of course, we can not forget the signature court stilettos to complete her outfit!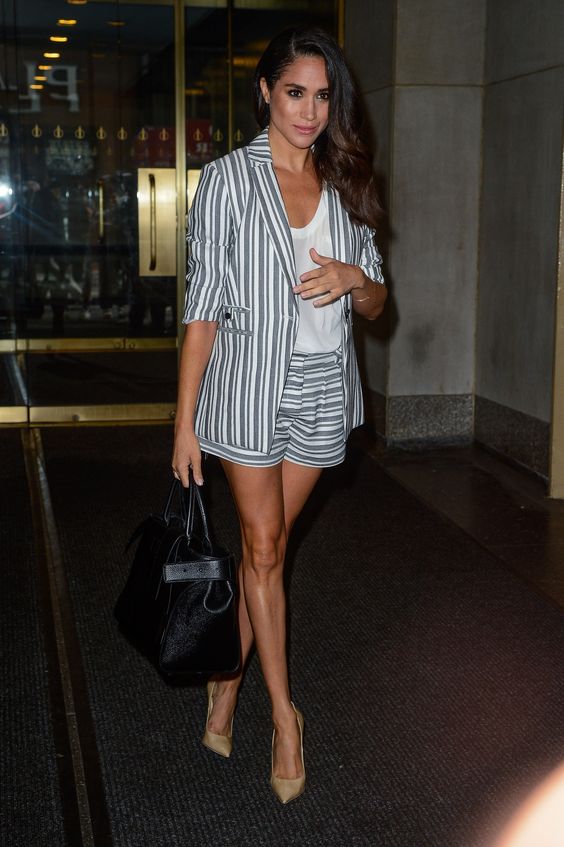 ↓ 22 – Classy Dresses on the Royal Tour!
Prints and ruffles on summer dresses are the ultimate way to dress casual chic! Plus, the vibrancy of this dress looks phenomenal with Meghan's hair and make-up.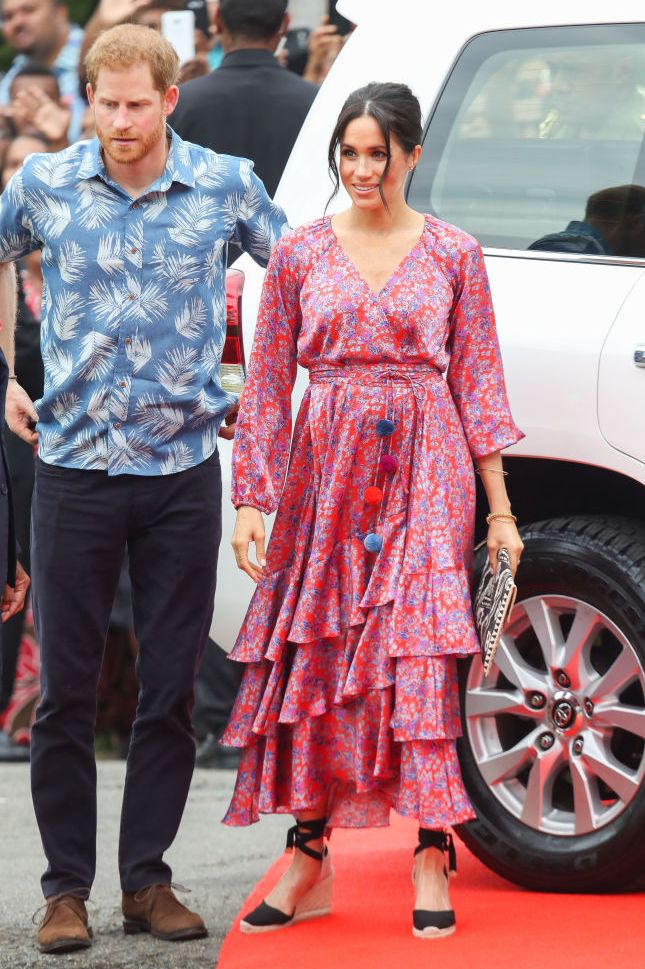 ↓ 21 – Elegance at its Peak!
I believe I speak for all when I saw you can never go wrong with black. Especially when dresses like this! I love how smart and well put together this outfit is. The black turtleneck pair flawlessly with the black denim, and the heeled boots add character and edge to this look. Moreover, the grey wide lapel coat proves to be a refreshing contrast against the black and ties the entire look together. In classic Meghan style, the hair, make-up, and accessories remain minimal with her casual look.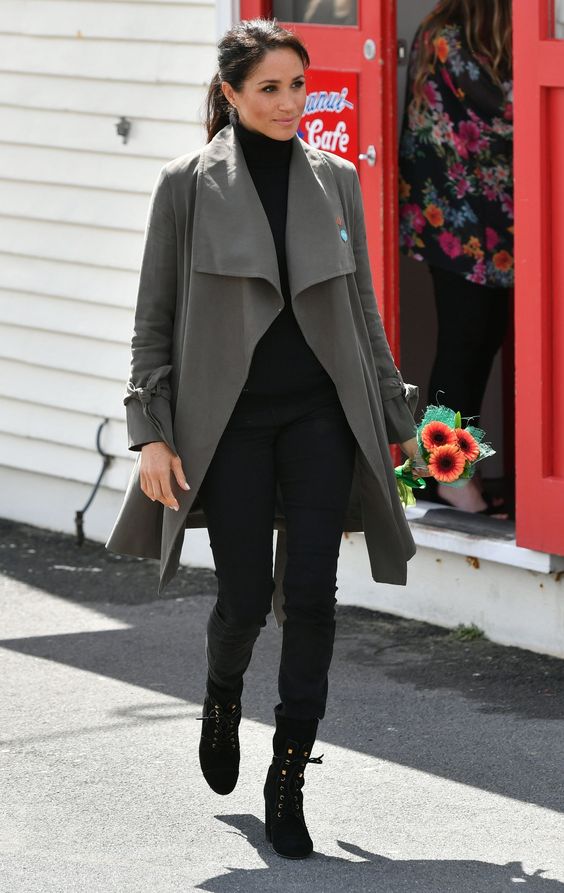 ↓ 20 – What to Wear for a Boat Party?
A striped mini dress is an ideal pick for a boat party! Pair it with an oversized shirt and let your hair down in gorgeous waves. Oh, and do not forget to wear waterproof make-up! Here are some more of our favorite Boat Party Outfits.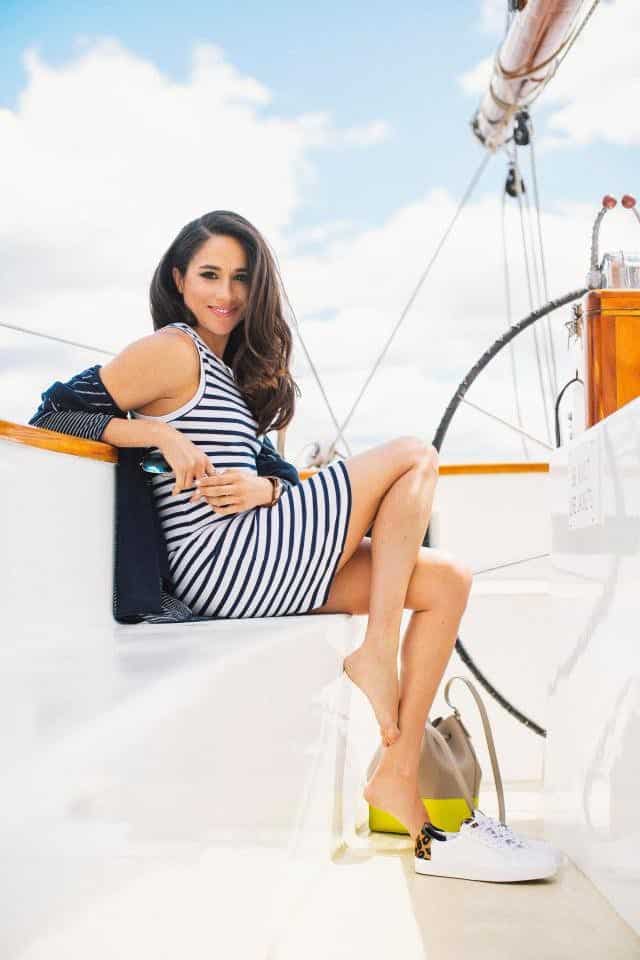 ↓ 19 – Comfy Casual Outfit for Travelling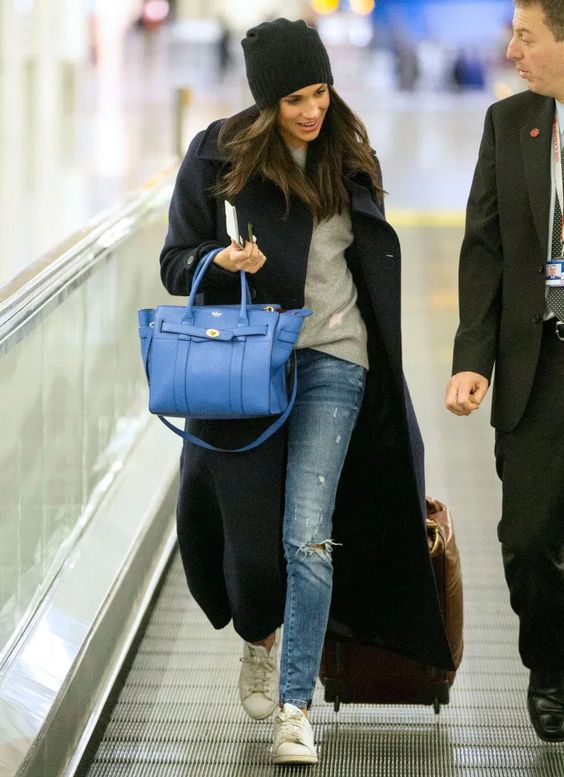 ↓ 18 – When to Wear a Striped Dress?
Striped dresses are a staple for your summer wardrobe if you want to dress like the Duchess! You can wear a dress similar to this when visiting the farmer's market, busy running errands around the town, or make it glamorous for a get-together with friends!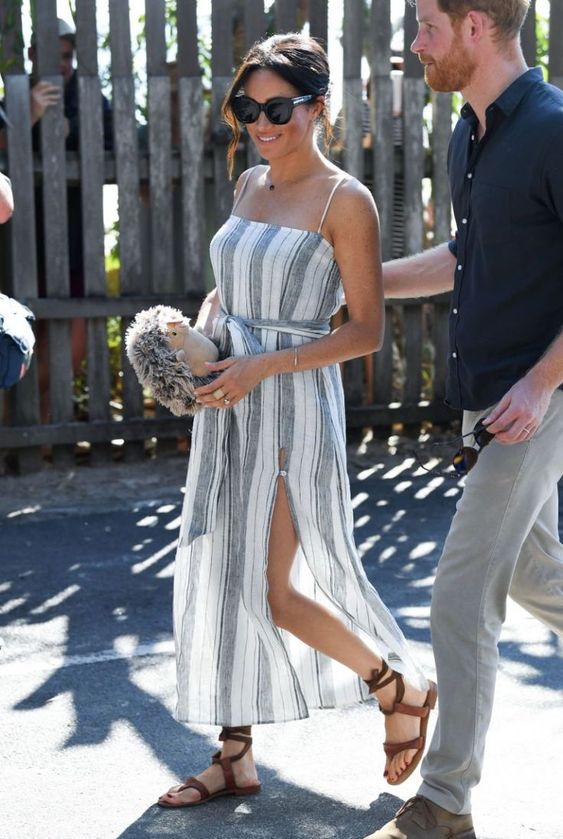 ↓ 17 – Classic in White & Denims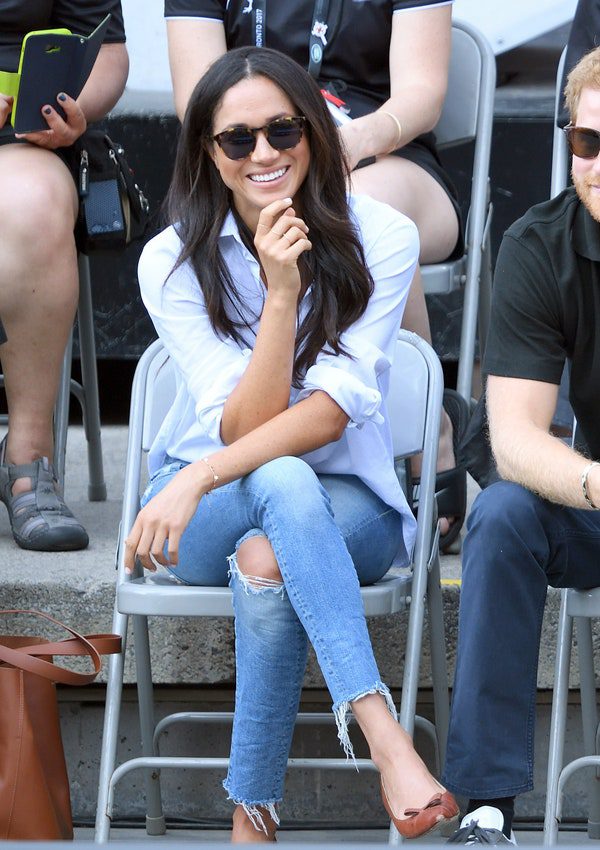 ↓ 16 – How to Style Meghan Markle's Casual Outfits?
How cute and pretty is this look?! This dress is an absolute hit proving to be the perfect mix between dressy and casual! When styling casual outfits inspired by Meghan, make sure to keep your hair simple, either pull it back in a classy ponytail or down in waves. Keep your accessories classy and a minimum with your outfit, and you are all set! Next, a fresh and glowy make-up look is your go-to.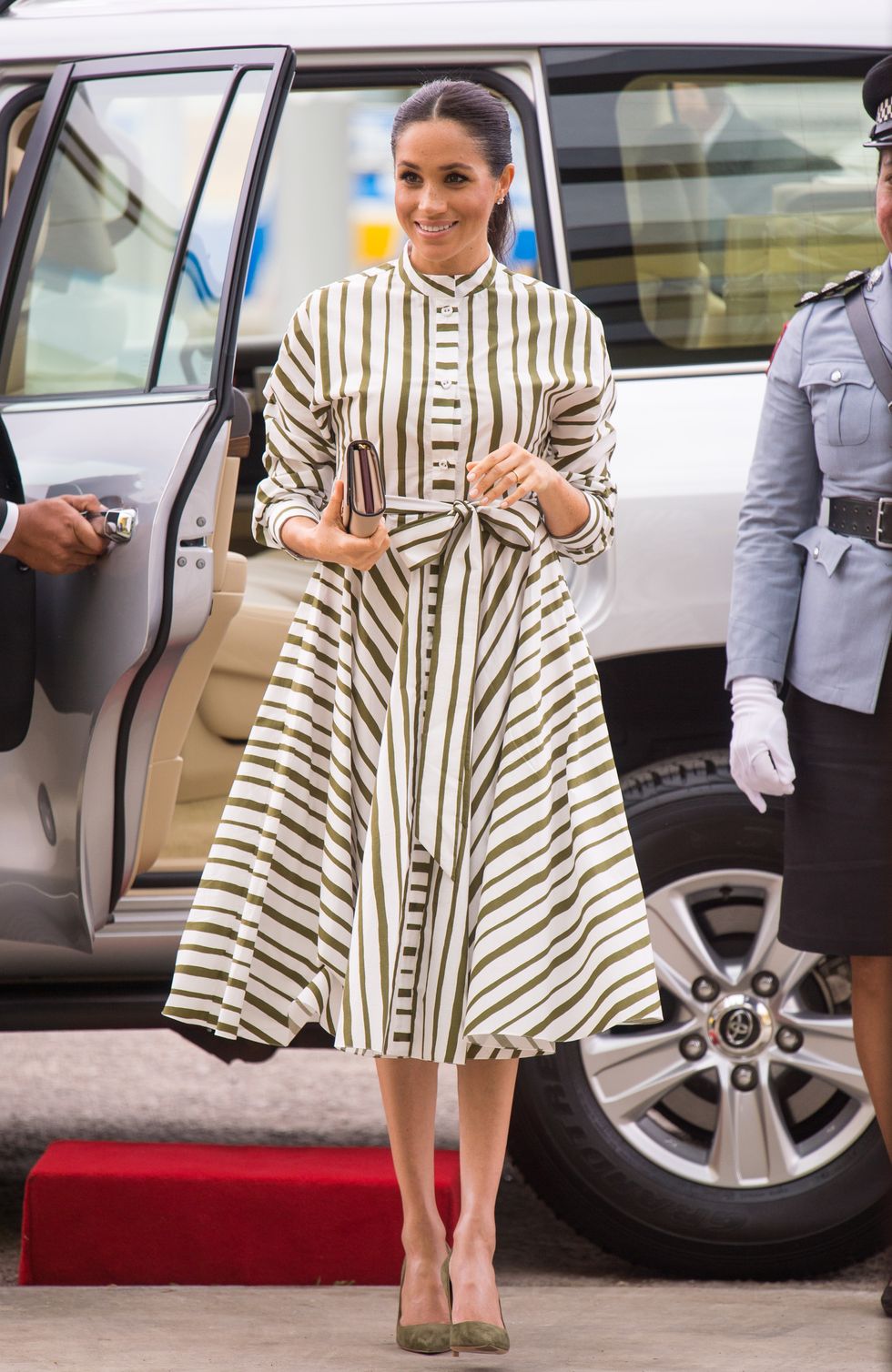 ↓ 15 – Monochrome Loving!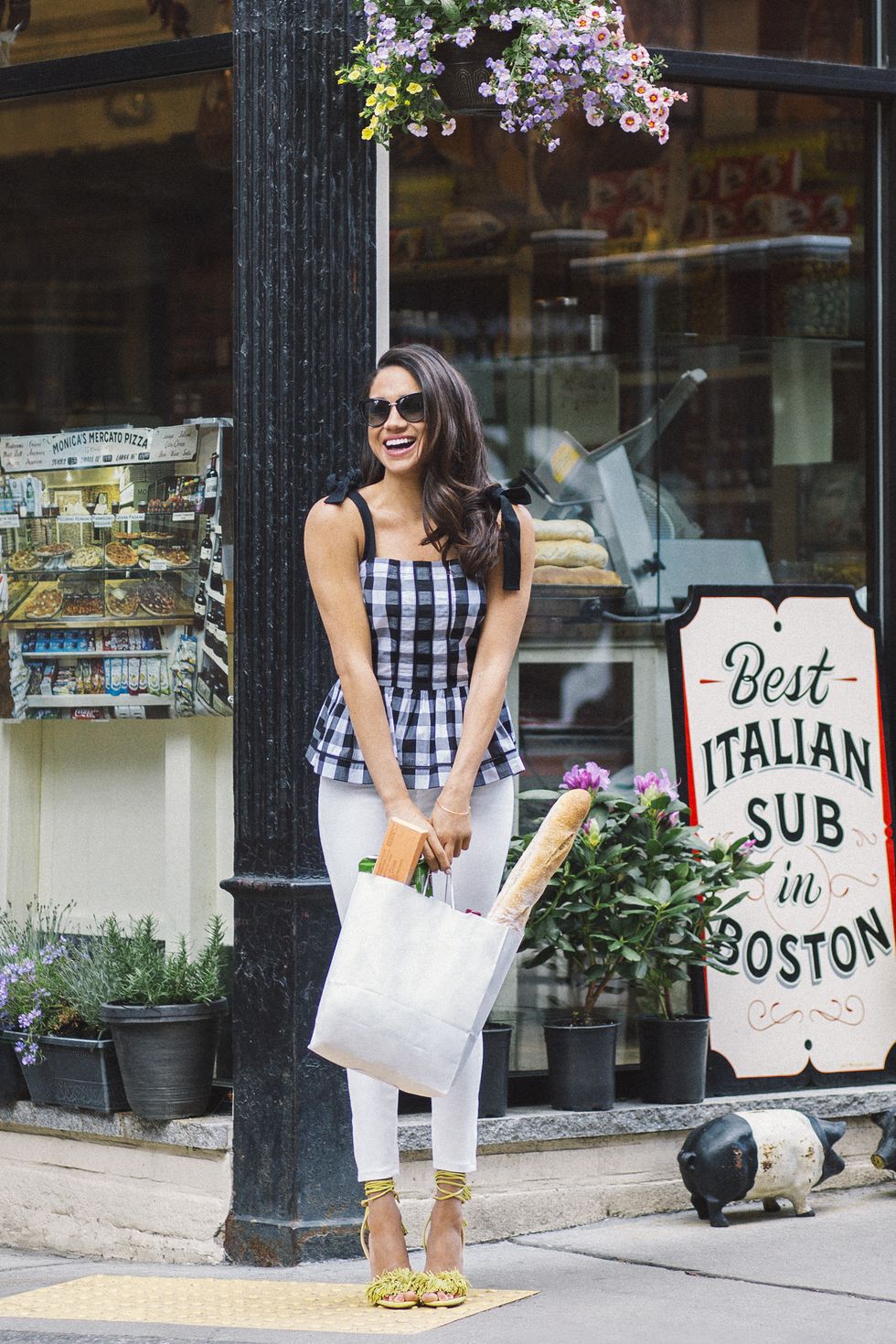 ↓ 14 – Classy Whites to the Rescue!
The crochet pattern is making rounds this season amongst all the fashion bloggers. And we are not complaining at all when it looks this good! The dress is simple, romantic, and oh-so-elegant, and the heels look like a match made in heaven for this gorgeous outfit! This ensemble is the kind that can be the perfect wear for your casual and semi-formal affairs.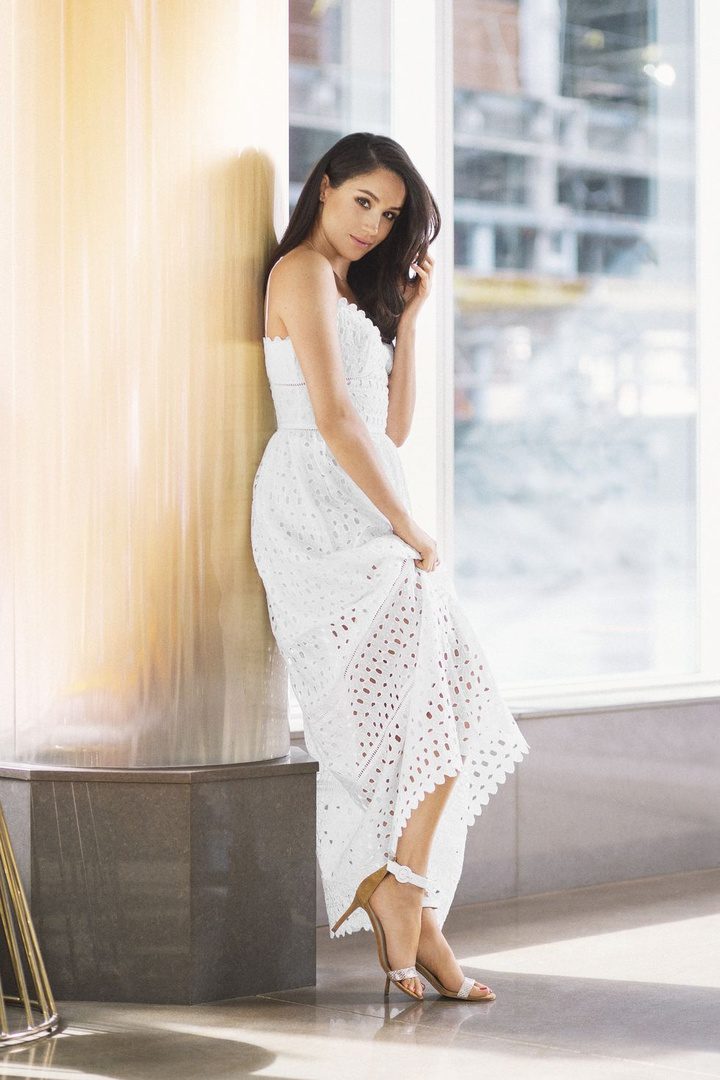 ↓ 13 – Striped Pants Done the Meghan Markle Style!
Are you dressing up for a casual get-together in the garden with your loved ones? Take a look at this chic ensemble! The striped pants add a little texture to an otherwise simplistic outfit. And the strapped heels complement the pants further. Moreover, the summer hat or a pair of glasses are the perfect additions to a stylish look.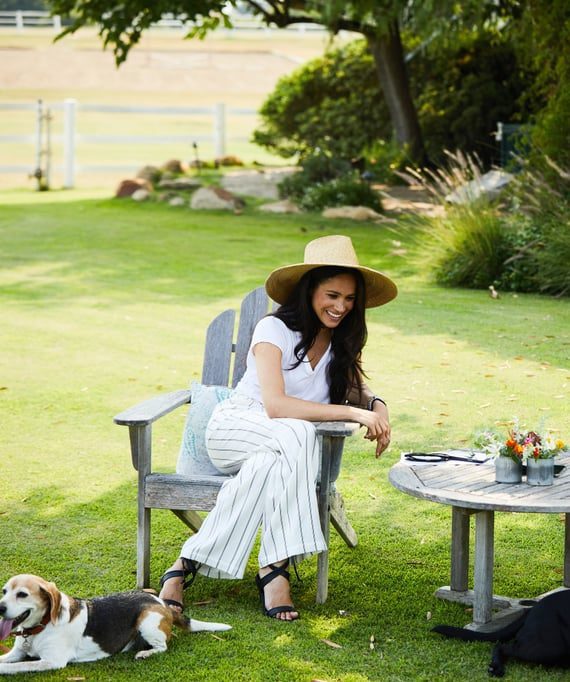 4
. Kenneth Cole New York Brooke Sandal $85.49
↓ 12 – Printed Dresses for a Casual Look!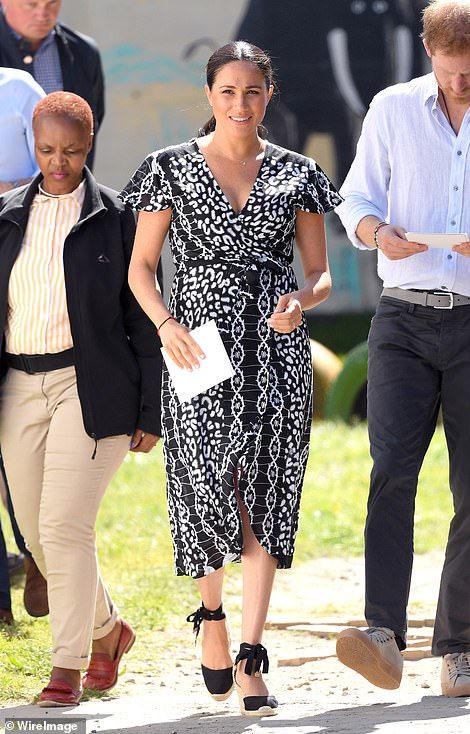 ↓ 11 – Bold in Burgundy!
Stepping out in plain and bold is the ultimate way to dress casually. This outfit can be perfect for dressing for work. Or swap those heels for black combat boots, and you have a flawless look that is casual yet dressy! But first, let us, please take a moment to appreciate how phenomenal this color looks on Meghan! And the matching burgundy coat is simply the cherry on top of a fantastic outfit!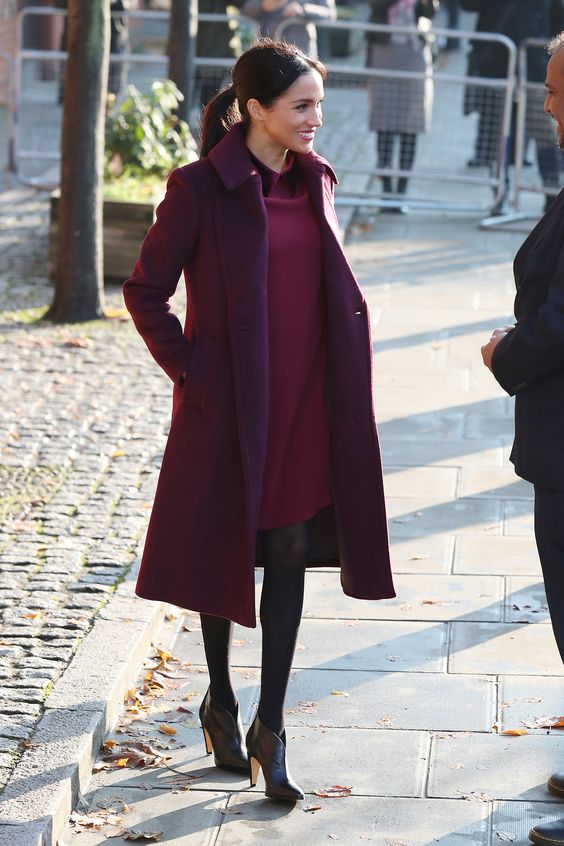 ↓ 10 – Whimsical Whites!
↓ 09 – Casual Podcast Style!
Next time I am dressing up to step out, I am gaining major inspiration from this outfit! The simplicity and class of this look are so mesmerizing and fashionable. The plain printed tee from R.B.G pairs perfectly with denim jeans. The black striped cardigan draped across the shoulders looks impressive, and the black face mask and stiletto heels are the perfect additions. And I am all here for the black accessories.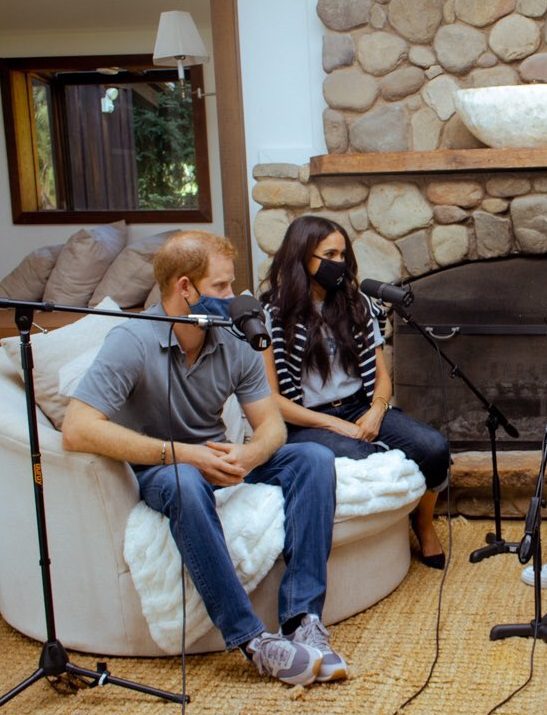 ↓ 08 – Street Style by Meghan Markle!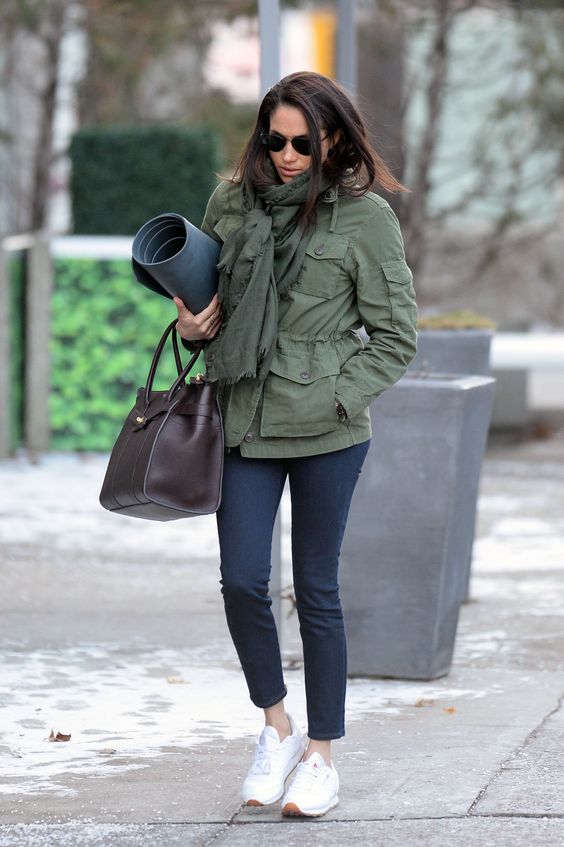 ↓ 07 – Dressy in Denim!
Denim dresses for a casual look? Yes, please! Meghan truly has mastered the art of dressing casual chic, and this outfit is the living proof of that! The white cape and handbag complements the denim dress and gives the dress an immediate vibrance. Pair this outfit with sneakers or a pair of white suede stilettos according to the occasion you are dressing for.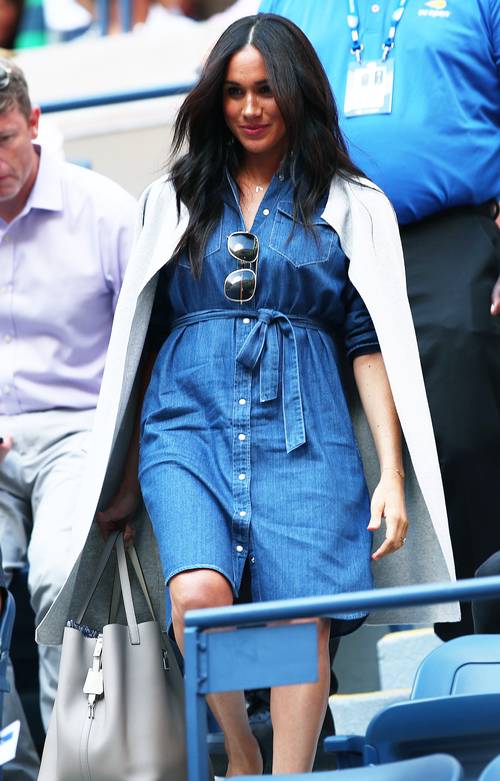 ↓ 06 – Comfortable & Breezy Work From Home Outfit!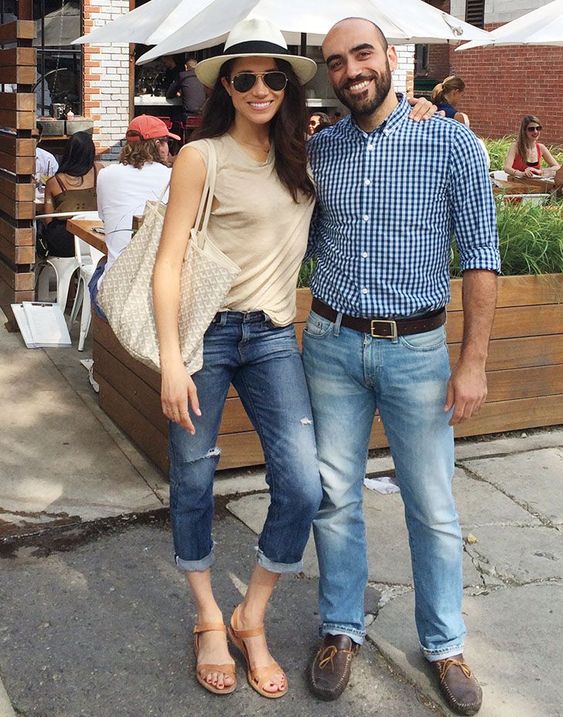 ↓ 05 – Blazer Jacket to Match Your Casual Fit!
Modern, feminine, and elegant are all the first words that pop into my head when I look at this outfit! The black blazer gives this attire a formal look paired with the heels. But if you are looking to dress casual through and through, ditch the blazer and swap it for a cozy cardigan. This L.A. mom truly knows how to serve some significant looks!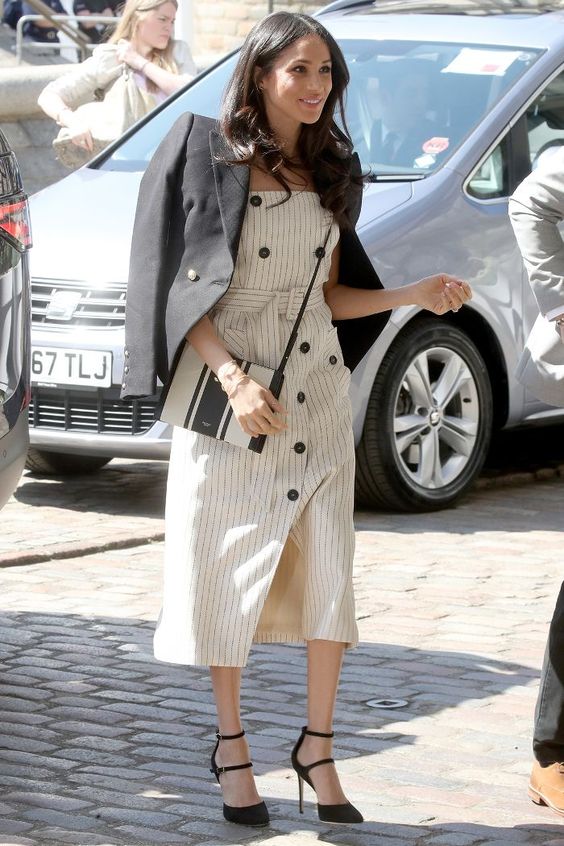 ↓ 04 – Winter Jacket Looks by the Duchess of Sussex!
A perfectly bundled-up look for the winter season! The scarf screams ultimate coziness paired with this black sweater. And the bootcut pants help contribute to adding texture to this phenomenal outfit. Plus, the black shoes match effortlessly. The Duchess threw her hair back in a classy messy bun to tie the entire look together, leaving a few strands out to frame the face, making the ensemble ultimate casual chic!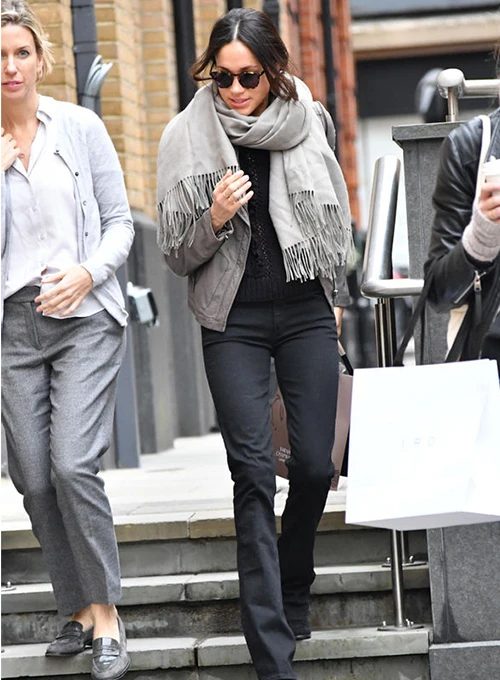 ↓ 03 – Best Casual Outfits From the Royal Tour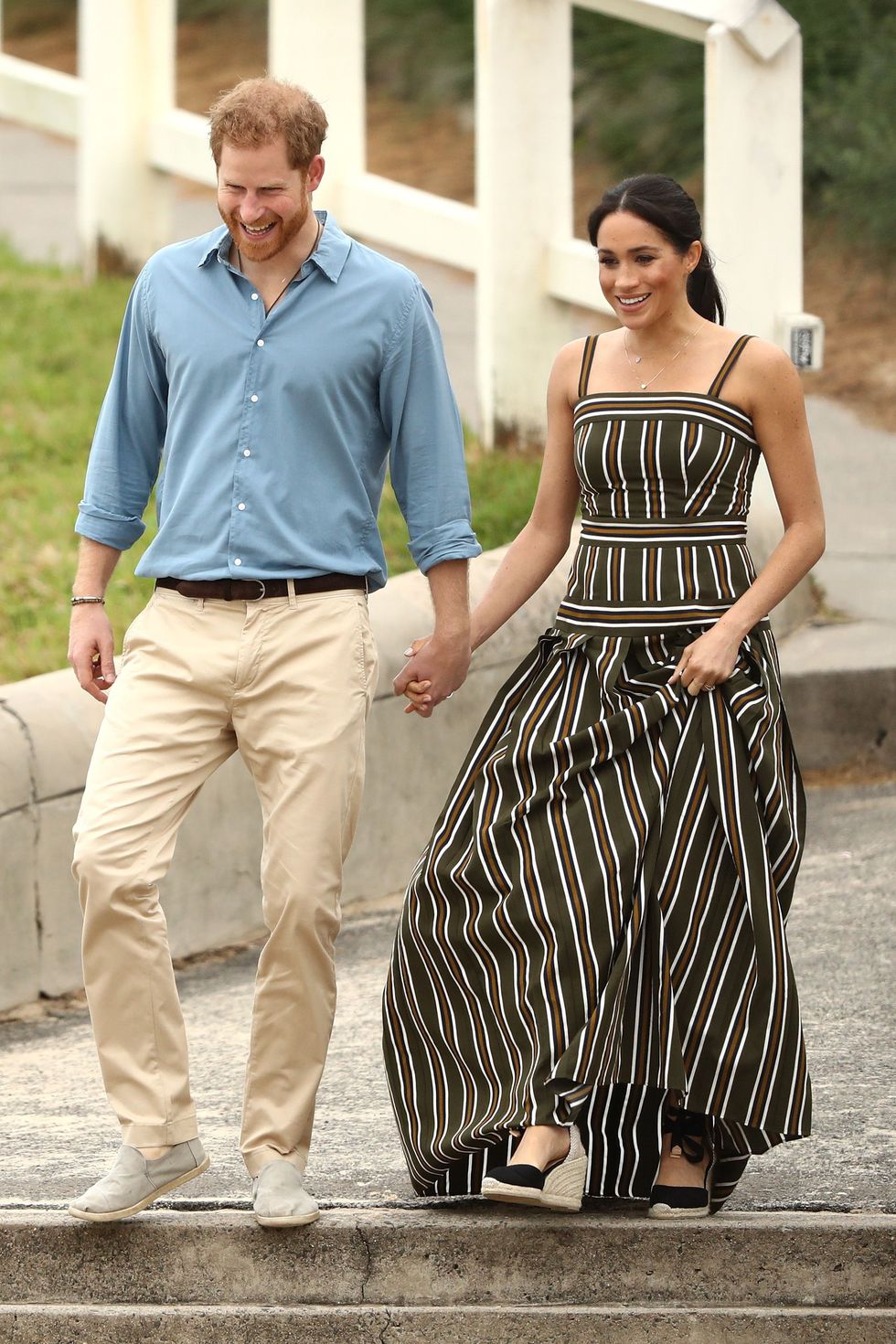 ↓ 02 – Casual Looks With Oversized Jacket!
Are you confused about what to wear when it is pouring hard outside? This outfit is the answer to all your queries!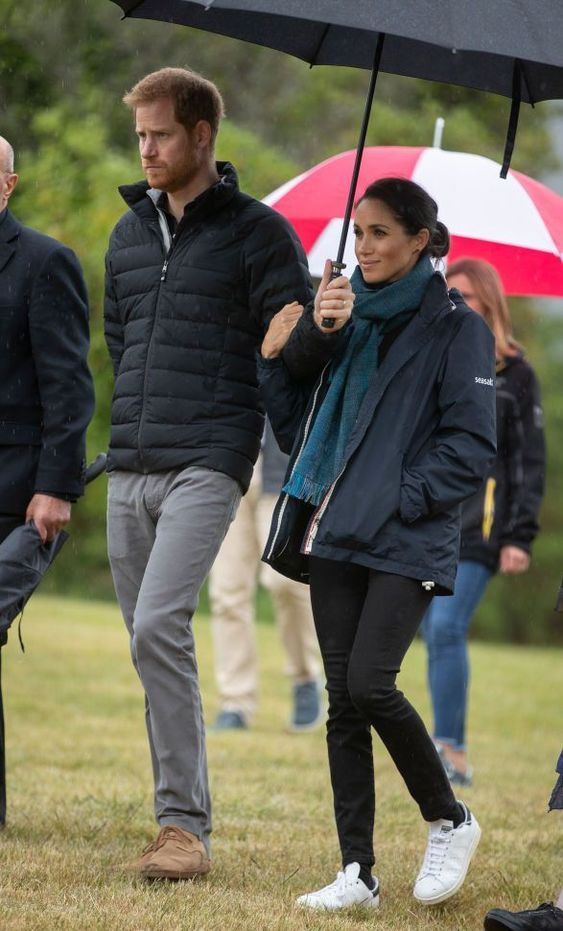 ↓ 01 – Chic for Casual!
A perfectly classy and casual look for a romantic date with your significant other! Make this look more casual by swapping the black heels for ballet lace-up flats, and throw on a cute white denim jacket! If you are looking for a dupe for this gorgeous black dress, then check this option from H&M out, right (here)!
Frequently Asked Questions
Q. How do I dress like Meghan Markle?
A. The key to dressing like Meghan is quite simple.
Firstly, stay true to your roots. You do not have to step out of your comfort zone and wear pieces that are not up your alley.

Keep your outfit minimal, elegant and chic. Ever heard of the phrase "Less is more"? Apply it here because there is no place else it will fit more perfectly.

Play around with bold solid colours. We are talking black, maroon, green, blue and the sorts.

The Duchess loves stripes, so throw in a clothing article adorned with stripes. Do not go overboard with it though!

Confused on what to wear for shoes? Whip out a pair of court stiletto heels and you are all set!
Q. What is the Meghan Markle effect?
A. The Meghan Markle effect is the true mark she leaves on the fashion industry. When she wears a clothing item out in public and the next day, it has sold out! But we are not complaining because we get to have the same outfit that the Duchess of Sussex wore! It is pretty simple and fascinating at the same time to know the power she holds over the general public.
Q. What are some of the must-haves that Meghan Markle has worn?
A. Some of the best outfits you must have in your wardrobe are:
This gorgeous Jackie O Sheath dress in black.

The Sarah Flint Lily Flat is a favorite of the duchess!

In beauty, Charlotte Tilbury's Matted Revolution lipstick in Nude Muted Apricot is her favorite.

And finally, this fitted tee-shirt dress by Victoria Beckham in vivid blue!
Q. How has Meghan's style evolved?
A. Meghan Markle's style has evolved over the years as she drastically changed from being an actress to becoming a royal. And adjusting to this change has affected her fashion too! According to her preference, we would see Meghan in her Suits days dress freely, including wearing jeans to the red carpet. And as she descended into royalty, her choices became a bit more formal and gave us statement looks in bold colors, elegant silhouettes, and loads of hats!
Meghan and Harry have decided to exit royalty, and she can finally dress however she likes, including some of her statement pieces. Of course, being a mother of two is tough, but we are excited to see the looks we will be getting from the very cool mom residing in California!