Meghan Markle travel outfits: The dutchess of Sussex and former actor has been in the news quite a lot since her marriage to Prince Harry. The dutchess is now a mother of two but their style is still immaculate. Markle's style has always been super dope even when she was starring in "Suits" so it's nothing new that they are wearing exquisite outfits now. You will never see Meghan Markle in an outfit that's not good. Whether it be a dress, a jumpsuit, a power suit, or just a casual shirt, the dutchess never fails to rock an outfit.
Recently, Meghan has become even more of a style icon than ever before. Markle has more formal looks than casual ones. This article includes 17 of the best travel looks that Markle wore during the royal tour that you can steal if you have no clue what to wear when traveling. The dutchess has stepped down from being a senior royal but she still looks superb whenever we see her outside of her house in LA. Meghan makes sure to wear all colors and prints and makes sure to never miss out on anything!
Most Beautiful Travel Outfits of Meghan Markle
The first thing that the dutchess never forgets to do is wear heels. We have seen in most of the images that Markle is wearing heels. We believe that is a rule for the dutchess and they never forget to comply to it. The second thing the dutchess never forgets to do is wear jewelry.
You will always see them wearing a bit of jewelry whether it be pearl earrings or a bracelet or a necklace. Jewelry is always good and you can never go wrong with a bit of bling! The last thing to keep in mind is that the dutchess is always confident in what they wear. Whether it be a dress, a suit, a jumpsuit, or just a pair of shorts. We believe that whatever Markle wears is chosen by them which is why all of the outfits are always perfectly matching.
DOS AND DONTS OF CHOOSING A TRAVEL OUTFIT:
• DO pick your favorite outfit and go for it.
• DO have fun with outfits.
• DO wear whatever you like.
• DONT compare yourself to others.
• DONT think you are less than anybody.
• DONT think you cant wear a royals outfit, yes you can you are just as royal.
For more ideas, do go through these Kate Middleton Travel Outfits.
↓ 17 – Striped Jumpsuit
Meghan wore this stunning jumpsuit at the time of their royal tour in Africa. This jumpsuit with brown, green, and white stripes looks extremely comfortable to be worn on a tour, especially when there are tons and tons of people to meet. We cant see what shoes Meghan paired with this outfit but we are assuming they are heels because we all know how much Meghan loves heels. You could wear this jumpsuit with sneakers or heels, whichever you prefer. Here are some expert Tips on How to Style Jumpsuits.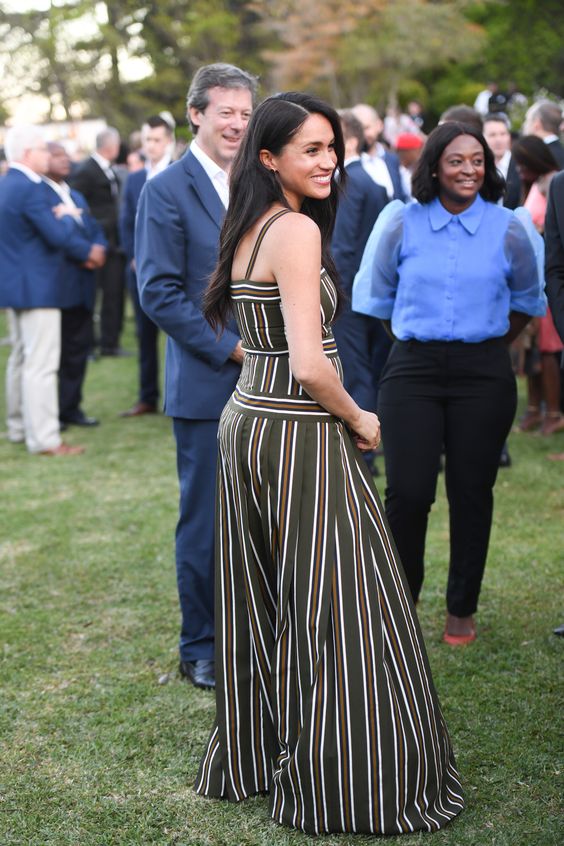 ↓ 16 – Bohoo Outfit
Meghan wore this cute outfit at the time of their royal tour. This outfit looks comfy and traditional so we can say that Meghan wore it perfectly. They paired black heels with this pink dress and carried a traditionally designed clutch too. You can wear this outfit if you want to dress in a different way because it is quite obvious that you will get all the attention because of this dress! You can wear this outfit on a day out with your friends and surprise them with your new style.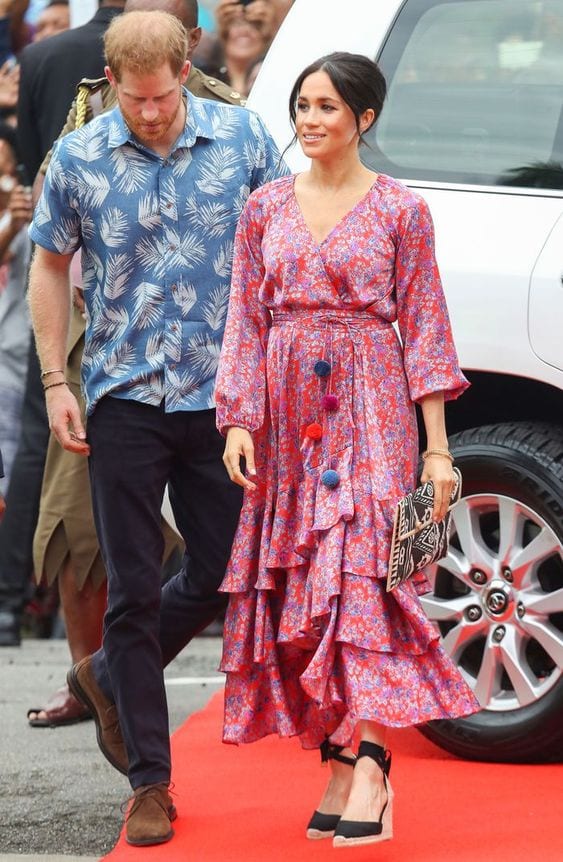 ↓ 15 – Green Dress
This stunning dress that Meghan wore was one of the best. The green color is quite eyecatching. The way Meghan paired this green dress with black heels is great. The fact that Markle wore gold jewelry with this dress tells us that they know quite a bit about jewelry and what to wear with what color. Their golden earrings and bangles go really well with this outfit. This outfit can be worn to a birthday dinner, a wedding, or a date night.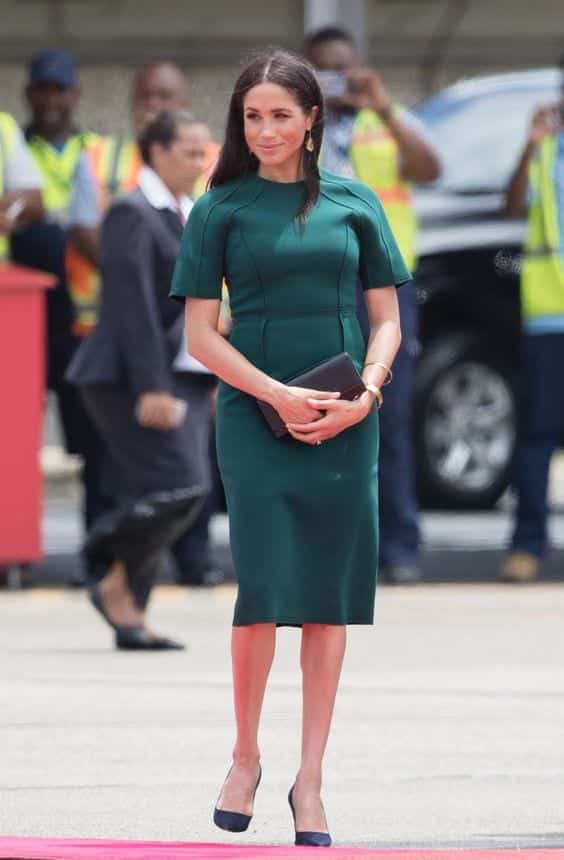 ↓ 14 -White Dress
White dresses are one of the best always. The dutchess of Sussex wore this gorgeous white dress with a black belt to make it look even better. The cover-up that Meghan wore on top really makes this outfit the best. An all-white outfit is the way to go when you are not sure about what to wear. This dress is quite formal but you can dress it down a bit by not wearing the cover-up and then maybe even ditch the heels. This outfit can be worn to birthdays, anniversaries, baby showers, or an engagement too!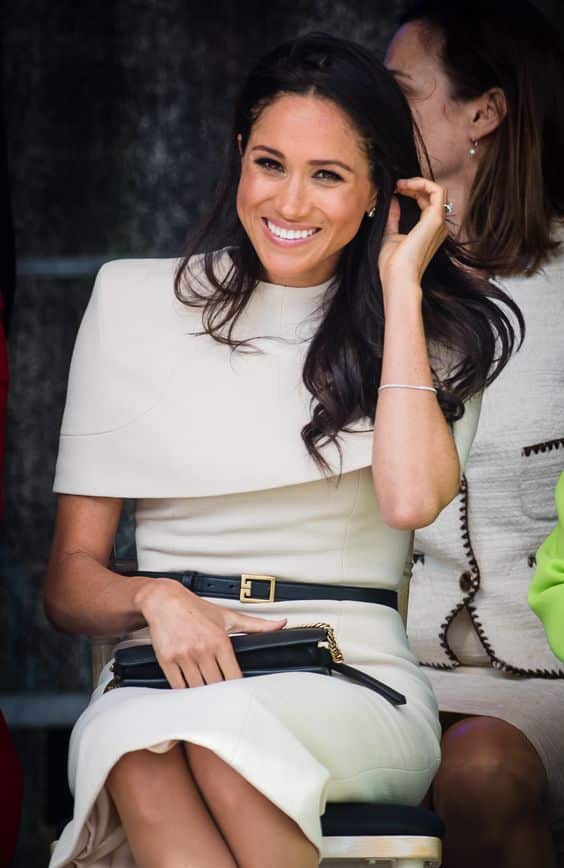 ↓ 13 – Navy blue A-line Dress
A-line dresses seem to be quite the trend again. The dutchess wore this perfect navy blue dress that had buttons all along its front. Instead of wearing black heels, Meghan opted for beige ones. The contrast looks amazing. They also carried a black clutch. This is a cute dress to wear to any semi-formal event. You can wear chunky jewelry with this dress to add a little bling to it and it will look even more stylish!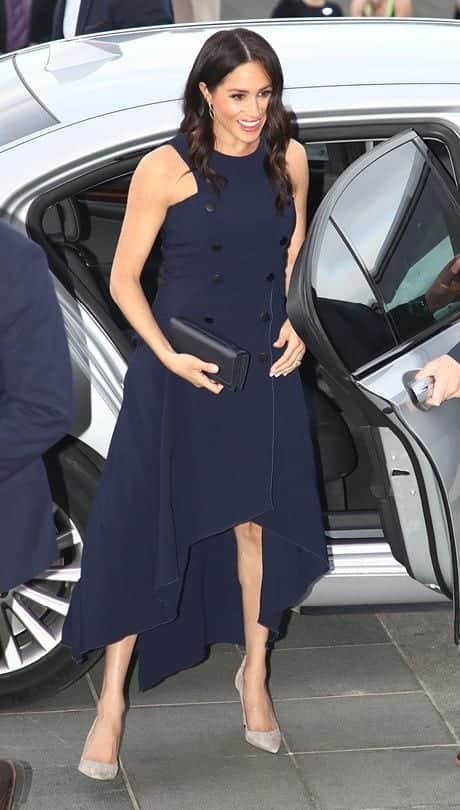 ↓ 12 – How Meghan Styled A Black Jumpsuit
A black jumpsuit is something everyone should own. By wearing this jumpsuit Meghan showed us all how important it is for us all to own one. They paired this black outfit with black pointed heels and golden earrings. This outfit can be worn to the office, a day out with friends, or even your birthday. Meghan didn't make it too formal but you can if you like by either adding more jewelry or wearing a blazer over this jumpsuit.
↓ 11 – White Dress With Overcoat
Overcoats are a must for the colder weather but we must know what to wear them with if we want to stay in style like the dutchess right? Meghan wore this beige overcoat with a white mid-length dress underneath. They kept it simple with the shoes and wore plain black pumps. This outfit can be casual or formal. You can wear it to run errands because it looks comfortable enough for that. If you dress it up a bit, such as wearing heels instead of pumps, then it could be a formal outfit. Here are some of our favorite ways to Style Camel Coats.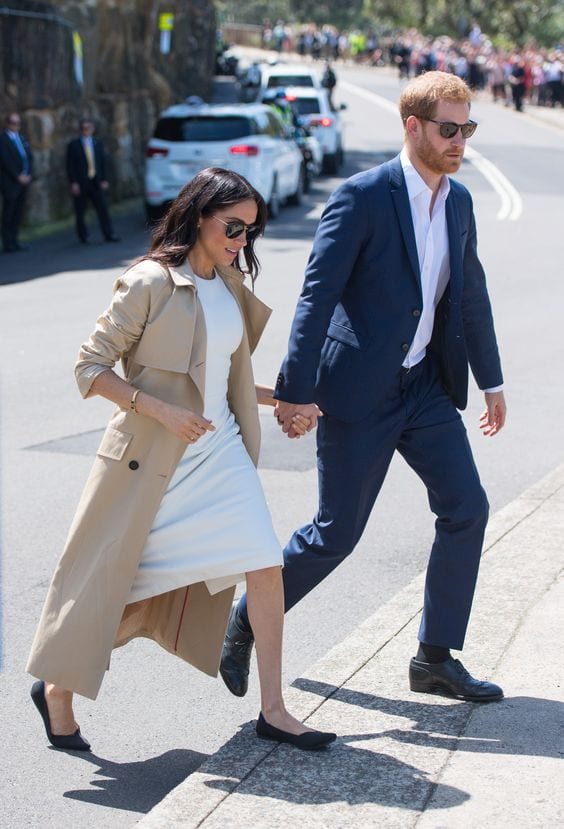 ↓ 10 – White And Grey Striped Sundress
Meghan wore this cute slitted sundress on the royal tour. This white and grey striped sundress was paired by Meghan with gladiator sandals and cat-eye sunglasses. This dress seems quite comfortable and can be worn on most days which is probably why Markle chose it. You can wear this outfit to a garden party, a day at the beach, or at a picnic. This outfit looks cool and comfortable so if you like sundresses then you should definitely check this out.
↓ 9 – Black Dress
This black dress that the dutchess wore is super sexy. The dress itself is stunning but the dutchess makes it look even better than that. The dress has a belt attached to it which makes it look more formal. Pair it up with black heels and you will have yourself a perfect black dress. You can wear this dress to a birthday, dinner, wedding or a meeting. This dress is bound to look amazing on anybody that wears it, it's just that stunning!
via
↓ 8 – Casual Linen Dress
This is another A-line dress that Meghan wore when they were on the royal tour. This dress is a little less formal and seems to be of a lighter material. The dutchess paired this dress with a pair of bright orange pointed pumps. Meghan always wears the best shoes and knows what to pair them with. This dress looks quite stunning with the orange pumps. This is yet again another outfit where Markle has paired bright-colored shoes with a dress that's in a completely different color. This proves that Meghan knows how to style the best outfits. You can wear this dress around the house, to run some errands or just for a day out with friends.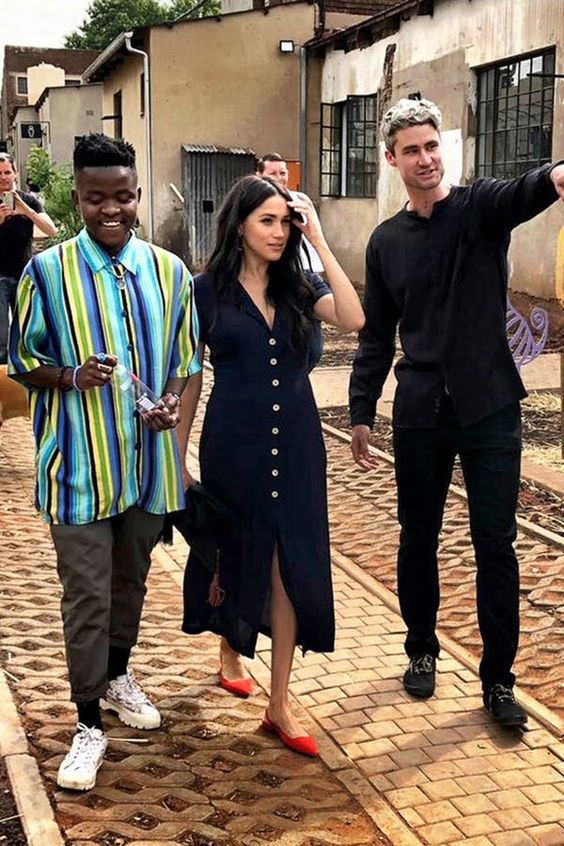 ↓ 7 – Green
We believe the dutchess loves dresses because that's what she chose to wear as most of her outfits for the royal tour. This is another camouflage green-colored dress that Meghan wore. This dress is cute and casual but Meghan paired it with black pointed heels and made it look formal. You can do the same and pair it with whatever you like. You can also pair it with sneakers and see what works for you.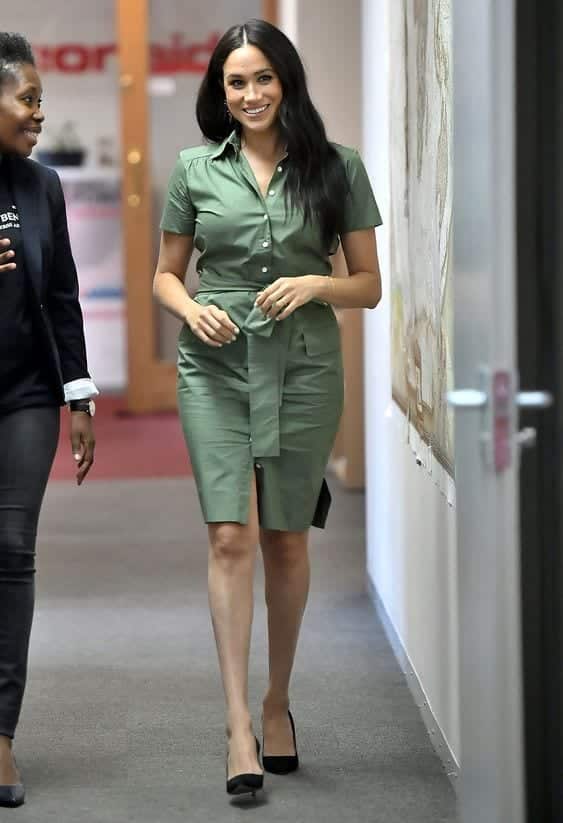 ↓ 6 – Brown And White Striped Dress
This dress looks perfect on the dutchess herself! It's more like zebra print but in a brown color. We think Meghan wore this dress perfectly with matching brown heels. The sleek back pony look is super formal and chic. The dress itself looks amazing and could be worn to any formal event or birthday party. Meghan wore cute pearl earrings to match the outfit. Don't forget to carry a matching clutch with it!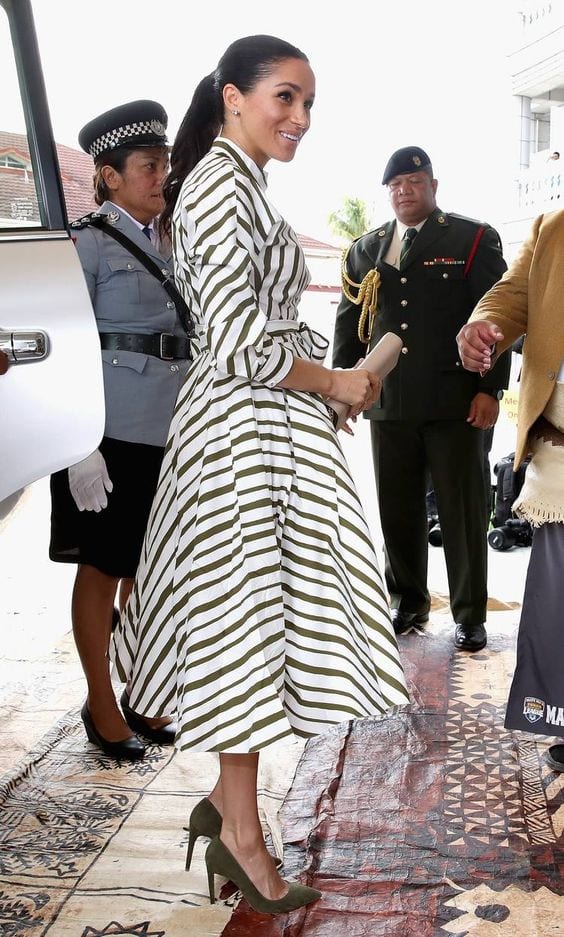 ↓ 5 – Butterfly Dress
This dress is something we wouldn't expect the duchess of Sussex to be wearing, right? But they did. Meghan wore this dress and proved everybody wrong. The detailing on this dress is quite stunning, the butterflies in white and black merge into each other and it is lovely. The dutchess paired the dress with black pointed pumps. This dress would be perfect as a birthday dress because it seems too much to be worn anywhere except for a themed party or your own birthday.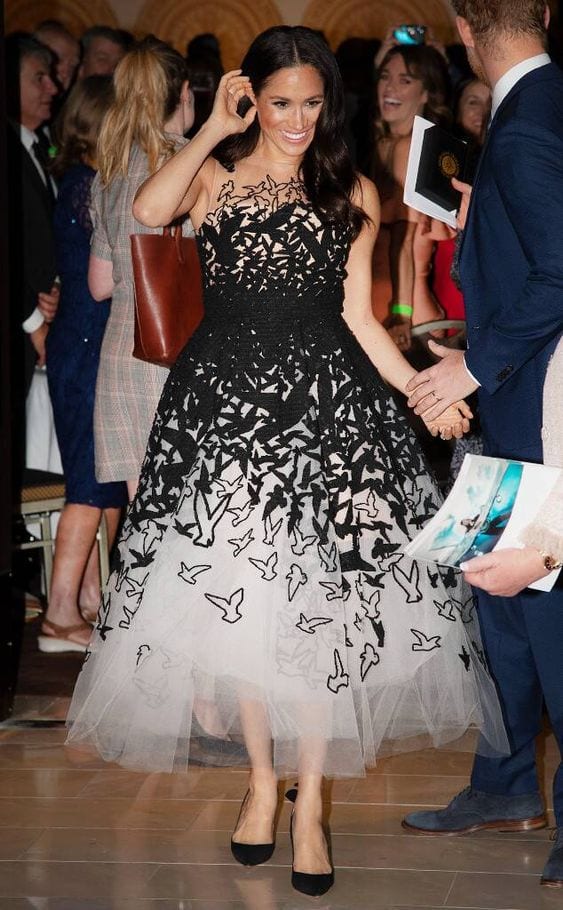 ↓ 4 – How The Dutchess Wore A Shirt Dress
Shirt dresses are quite the trend and of course, the dutchess had to stay on top! Meghan paired the gorgeous plain white shirt dress with beige heels. They did not forget to wear some cute jewelry and wore red earrings with a white dress! This shirt dress can be worn anywhere because it can serve as a casual outfit as well as a formal outfit. You can dress it up or down it's your choice, sneakers would look cute this shirt dress and heels would make it sexy. Wear it on your day out with friends or family or on a trip to the superstore.
↓ 3 – Airport Look
Meghan put together a comfortable look to catch their flights. A grey sweater with blue denim ripped jeans and white sneakers. An overcoat is a must when traveling because you never know when you could need it. Meghan also carried a bright blue handbag which looks super dope. This outfit looks extremely comfortable which is probably why Markle chose to wear it to the airport and it is also very easy to put together so try it next time you're going to the airport and you won't regret it! I would highly recommend that you go through these Women's Outfits for the Airport.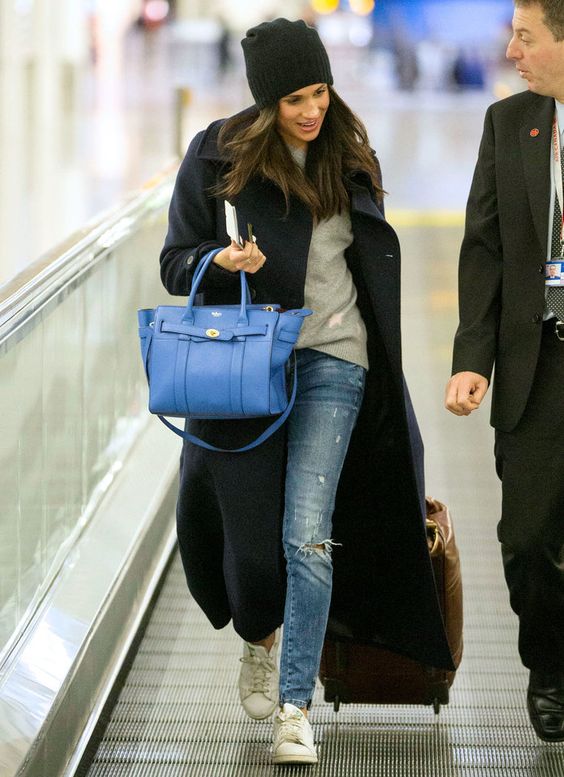 ↓ 2 – White Shirt With Jeans
The dutchess opted for a simpler outfit and paired a plain white oxford shirt and ripped denim jeans. Meghan also did not forget to keep a white hat, you never know when you could need one. A black bag is a must when you're traveling. Try this outfit next time you're traveling. Meghan wore gladiator sandals but you can wear sneakers if that's what you wear when traveling. This outfit can also serve as a casual outfit for when you need to go pick up some groceries, run errands or catch up with some friends. If you decide to wear heels with this outfit then it could be worn to dinner or any other event where you can wear semi-formal.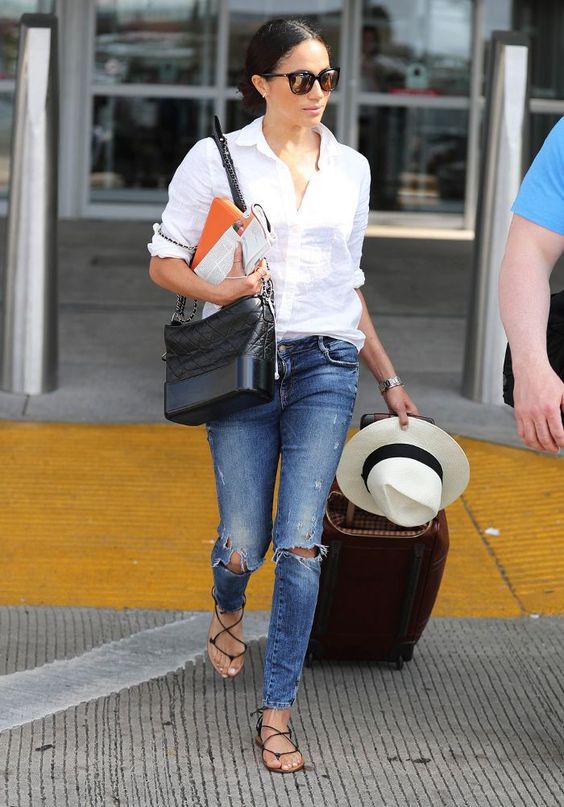 ↓ 1 – Black Leggings With Camel Overcoat
The dutchess loves overcoats and knows how to style one with everything! This outfit has to be one of the comfiest as we all know how comfy leggings are. They are the most suitable for travel. Meghan paired a camel overcoat with this black outfit and also a black cap. Black leggings with a black jacket can also be used as a workout outfit if you like and even if you don't wear this outfit when traveling, you can wear it when you go out to run some errands or just around the house because it's just that comfortable!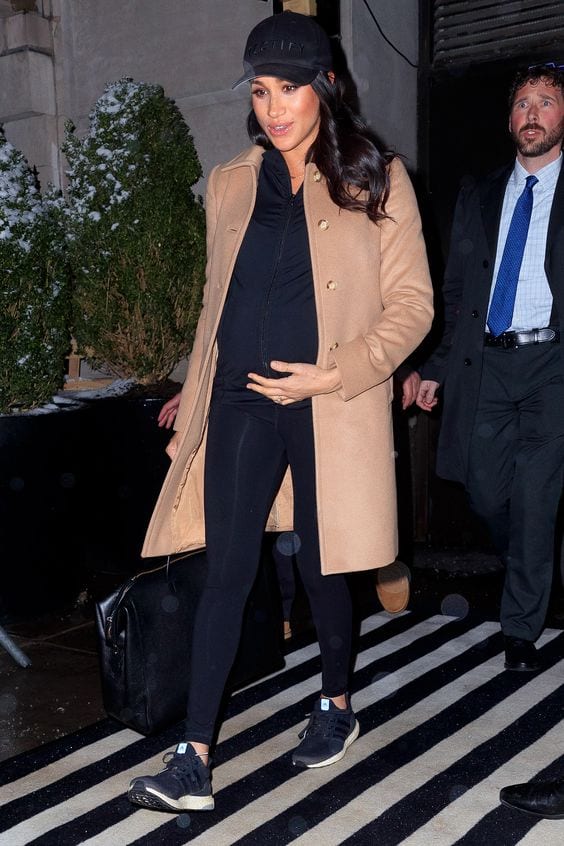 Frequently Asked Questions
Q. Who designed Meghan Markle's Wedding Dress?
A. The dutchess' dress that they wore on 19 May 2018 in marriage to Prince Harry, was designed by Claire Waight Keller for Givenchy.
Q. What brands does Meghan Markle usually wear?
A. Meghan Markle is often seen wearing the following brands:
J. Crew

Staud

Veja

Mother Denim

Barbour

Finlay & Co