How to Wear Dhoti Shalwar. Dhoti shalwar is now at the peak of trending and consumers are now going for it more, than back when it first came into fashion. It is not only because they can be so stunning and unique, and give you an outlook that stands out among the crowd, but also because the cultural meaning attached to it.
Merely classified as a clothing for men, the fashion experts broke a stigma and made it one of the preferable clothing items for women. And we can see that women love it, and constantly seek new ways to wear it.For that, we are here, to show you several unique and classy ways in which you can wear dhoti shalwar/outfit and nail every single look. Below are some new and trending styles that emerged lately and some tutorial videos to help you as go through this. Have a look, and happy cultural wearing!
Recommended : Patiala Shalwar Outfits-18 Best Ways to Wear Patiala Shalwar
Check out the videos tutorial for wearing Dhoti Salwar below to get some novice guidance!
Here's a small video tutorial teaching you howto cut and sew your dhoti shalwars based on a simple cutting pattern.
Some Stylish Ways to Wear Dhoti Shalwar
RECOMMENDED: How to wear Saree Tutorial in 10 Different Styles
#10 – In The Epic Designer Style
This latest designer style gives all signs of being created by a luxurious designer brand, because of the nice clothing material, the wondrous embroidery, and fewer plates. Fewer plates are created in order to imply a very light touch of dhoti and also enough to tell that it's one of its types. It's one of the most trending styles in the market right now and you should get your hands on it too, soon!
#9 – One With A Patiala Touch
Now so much diversity and uniqueness in found in the dhoti fashion, that consumers can't resist trying every single one. So this one is surely the coolest of all types. What sets it apart is the Patiala touch given to the shalwar by the designers/creators. Or we can say, that it has both. Usually comes in bright colors and nice patterns with a lot of plates that gives it a very catchy look. Prep yourselves for this one.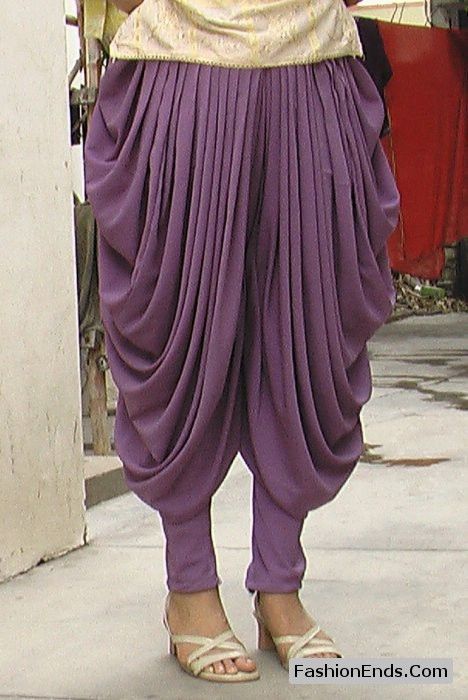 Also have a look at How to Wear Eyeliner for Beginners-Tutorial (Pictorial and with Videos)#8 – Tulip Trouser and Shalwar Trend – Here comes a very cool way to nail a dhoti outfit look, because these trouser types have made their way to the market, and ladies are simply loving it! The images given below will show how nice, cultural and classic it looks once it's worn and gives a modernized trouser look to such an ancient clothing accessory, and we know you cannot simply resist its uniqueness, so why not try away right now!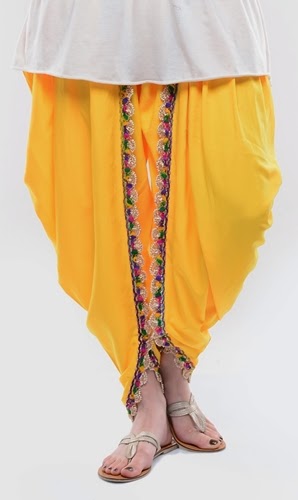 #7 – In The Form of a Suit
If you want to go for a look that does not drive down to much of a cultural look and retain today's modernity, then this style is for you! Wear it with platform heels like the model in the example, pick up nice sophisticated colors and a long coat to go along. We are sure that you will nail it to bits. Plus, if you really wish to bring out the class and formality to new extents, then you must pick up silk material for your outfit. That way, silk will add some fanciness while also giving you the class you already are made of!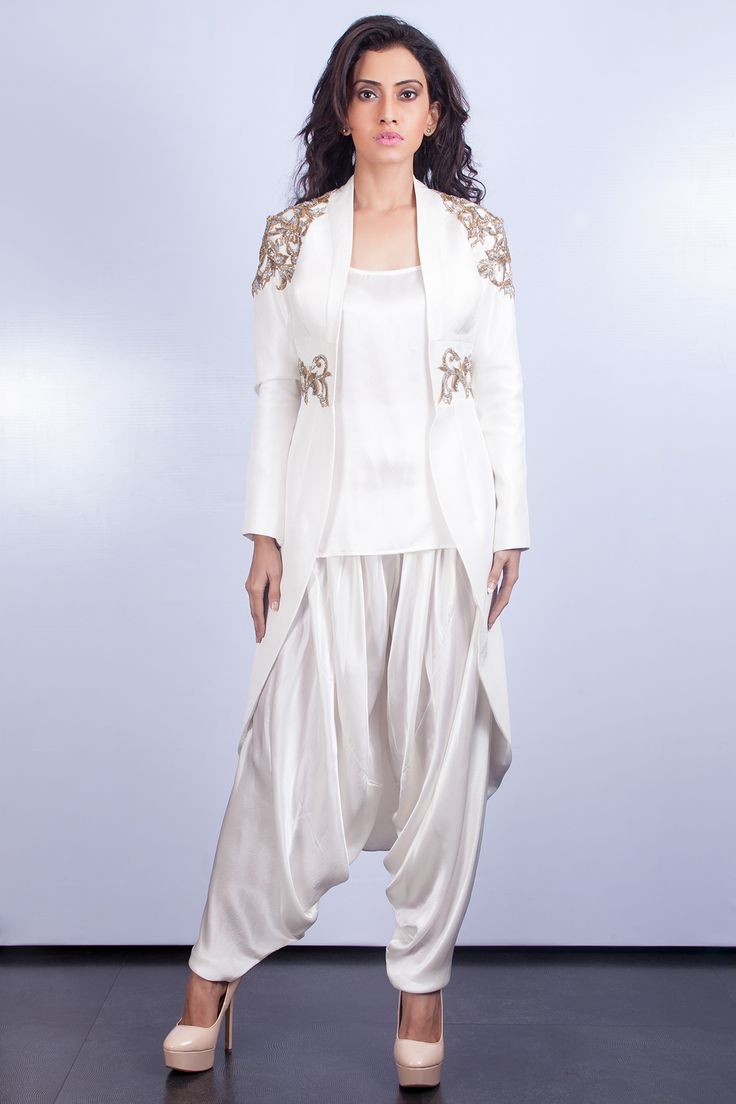 Also Read : Churidar Shalwar Outfits – 18 Ways to Wear Chori Dar Shalwar
#6 – The Dhoti Pants Style
The dhoti pants are one way to nail a cultural and beautiful look. This style comes in a lot of variety and trends of its own. The one shown below is the most common one and looks a little bloated but all the very comfortable. Comes in bright colors and modernized designing because of the western aspect of it, but you can wear it in any manner you want to, let it be with heels, for an advanced look, or casual sandals to ensure it retains its culture. Short shirts are a plus point!
#5 – Wear It With Nehru Jacket
Now, we know how top-notch short shirts with dhoti outfits can be, but we simply cannot deny the beauty of wearing it with a Nehru jacket. As we can see how ravishing of a look it gives, it definitely has to be on your list of top fancy styles this year. Although it came out as something of an indoor fashion and casual look, with this Nehru jacket style, you can make your way to being fancy and stunning.Check these indian celebrities in dhoti salwar.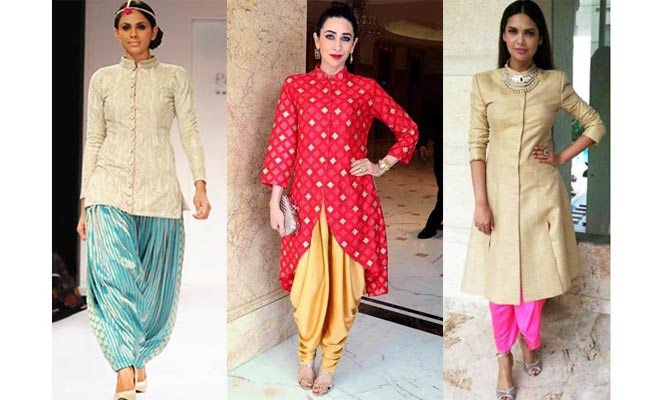 #4 – With A Jacket Top – If you are looking for something that equals a walk on the ramp look, then this might be it! Wondering why? Have a look at these classy ladies on the ramp walking with a stunning and sophisticated dhoti outfit with a structured jacket top. Wearing it with a jacket top gives it a stunning appearance of bossiness and downright gorgeousness, while a nice pair of flats or heels is a cherry on the cake. We hope you will try this and make the best out of this unique fashion!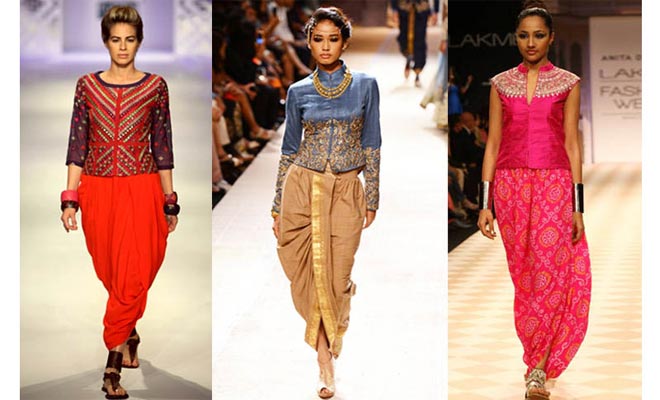 #3 – Dhoti Style in Summers
Now there is another way to wear a this in summers, a style that is nothing like the rest and gives a calm and comfortable look for a hot weather. You can wear light colors and thin material and just come up with an amazingly new look.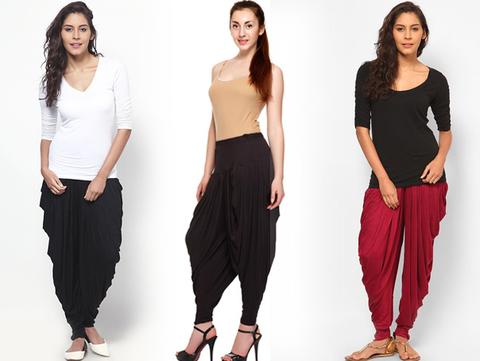 #2 – A Proper Shalwar Kameez Style
If you simply adore your culture and its native outfit trends, then wearing dhoti-inspired fashion in a proper shalwar kameez style would be your thing. Although it's rare, it still manages to give you stunner looks and that too seems offsetting and catchy. Heels will do a good job with this one, and we can assure that you will love this one too.
#1 – Wear it in your Anarkali Style
If you don't know as why is it called the Anarkali styled fashion, then it could be because of the delicacy and beauty of the overall outfit that looks mesmerizing with that hot pink color. Make sure you pick up light and happy colors for this style, as in yellow, red or pink, rather than dark shades, or else its native beauty won't be so apparent. Try wearing the dupatta similar to that in the image and you are great to go!
Have a look at these celebrities rocking their dhoti shalwars: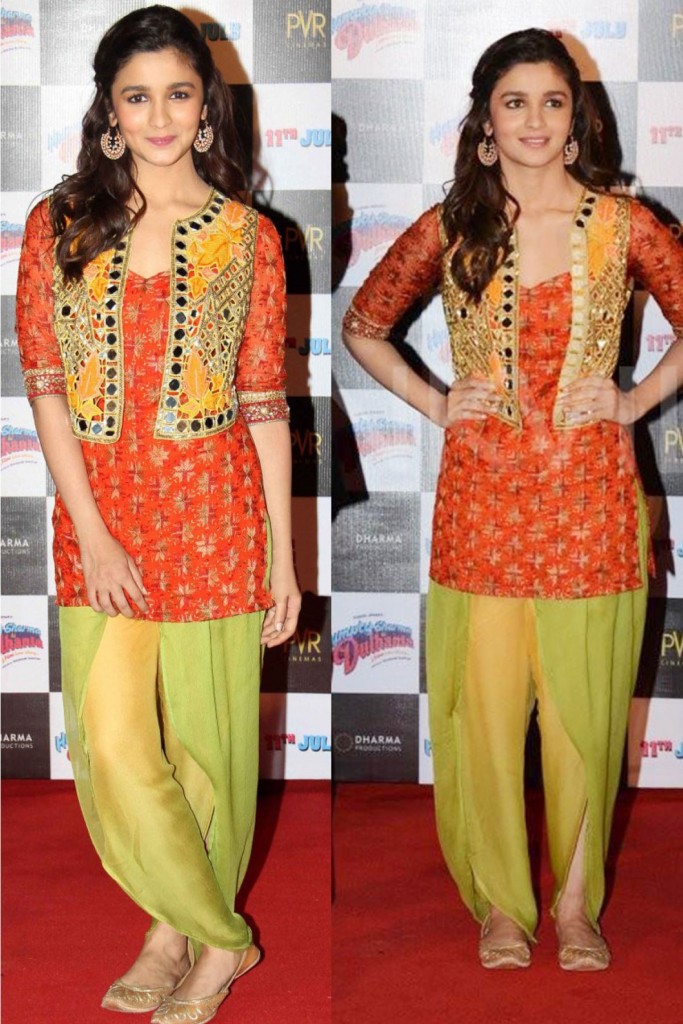 Via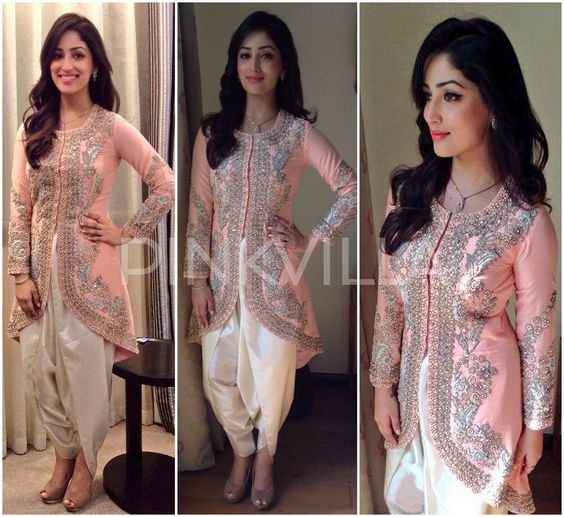 Via