Ideas to Rock a Grunge Style: Grunge fashion is inspired by grunge music… bet you didn't know that! While most of us like our looks to be neat and tidy, just as many of us really dig some casual styles. Enter grunge.
This '90s favorite has stuck around with few changes. Some of the markers of a grunge look are flannel, comfort, and casualness! But don't take our word for it. In this article, we'll give you some simple tips on how to rock your own grunge look as well as 26 outfits to inspire your own ensemble creations. Let's get started!
How To Dress Grunge
Whether you spotted a celebrity rocking some casual grunge that filled you with style envy (hey, we get it, too!) or you just aren't the kind of girl who likes to keep things square, there are so many ways to implement a bit of that grungey vibe into your wardrobe. The good news about this clothing style is the fact that it is an affordable, easily created look. You can hit up your local thrift store, explore the racks of your town's Salvation Army, or even dive deep into your own closet to pull together some pieces that you can alter and/or work with to create the perfect grunge look.
What kind of tops to wear if you want a grunge look:
Crop tops
Plaid shirts
Flannel shirts
Band tees
Graphic tees
Layered tops with a leather jacket
Dresses in neutral or earthy tones.
What kind of bottoms to wear for a grunge look:
Ripped jeans
Cut-off denim shorts
Shorts with sheer tights
Skirts
Leather pants
What kind of shoes to wear for a grunge look:
Combat boots
Ballet slippers
Converse
Sneakers
Doc Martens
Boots
Keds
How to style hair and makeup for a grunge look:
Super styled or coiffed hair is not really a marker of a grunge look. In fact, this is one of those fashion statements that veer more towards the messy bedhead than anything else. That isn't to say that you can't rock a super sleek hairdo while also rocking some flannel and combat boots because you totally can. But if you hate styling your hair or just prefer a messier, tousled look, this is the time to indulge that.
If you are a hardcore grunge fan, then dyeing your hair a fun color might be up your alley! Whether you go platinum blonde, gray, red, or even a pastel color, getting outside your comfort zone with your hair is a really fun way to play up your love of grunge styles.
Go for smokey eye looks, bold lips, eyeliner, and mascara for makeup looks. Or go bare-faced and dewy for a little bit more of a grownup feel.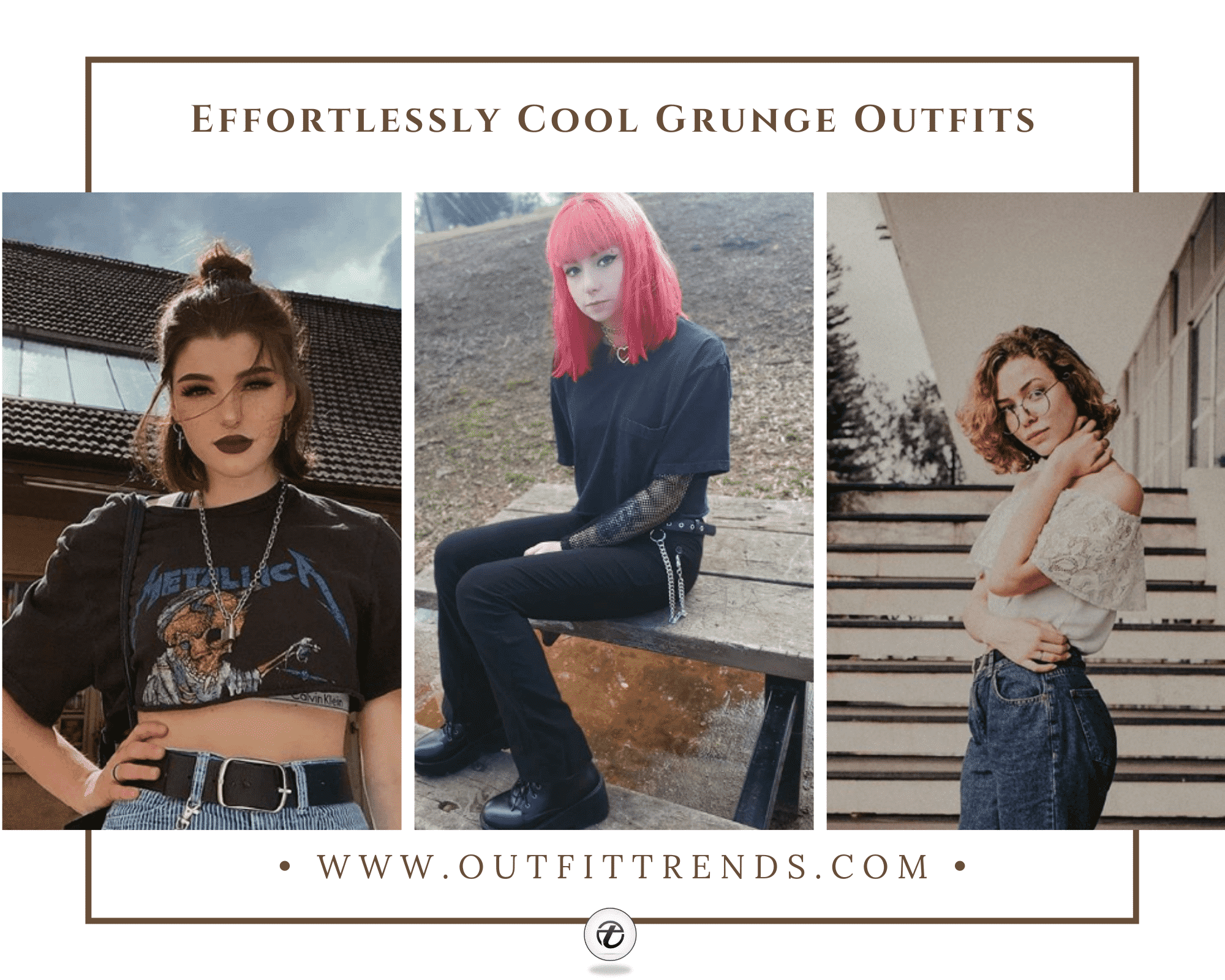 Now let's look at our roundup of outfits!
↓ 26. Chic Blazer & Studded Boots
We love a street-style look that brings some edgy high-end fashion to the scene as well. If you do too, then this is the outfit for you. Pair a Rolling Stones tee with a checked blazer and high-waist black skinnies. Add a thick tassel scarf and a pair of leather studded booties to tie the look together. Last but not least, add a boxy crossbody purse and style your hair in loose waves. This is a gorgeous look for fall and works great for a date, a travel outfit, or even a casual lunch event. Here are some amazing Summer Blazer Outfits that you should have your eyes on.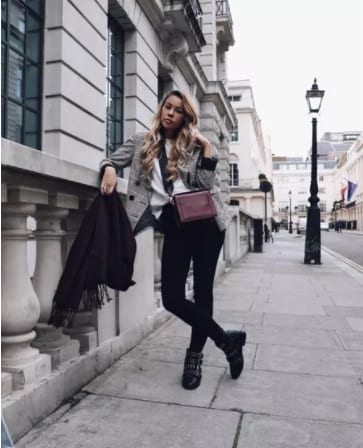 ↓ 25. Cute Style for Moms
Most moms would appreciate any excuse to pass off their tee-shirts and flannel shirts as a bonafide style… and with grunge, all your wishes come true. Ditch the sundresses and espadrilles for a comfy graphic tee paired up with your favorite jeans. Pop on some sneakers, a cute baseball cap, and tie a flannel shirt around the waist. Voila! All you need then is some stacked necklaces (because #fashion) and a tote bag or purse.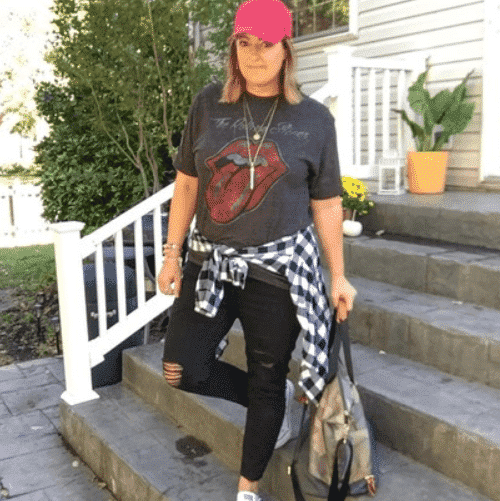 ↓ 24. Chic '90s Grunge Look
Throw it back a little with this '90s inspired grunge look you can pop on for your next coffee date or Target run. Pair up a polka dot tee with an animal print wrap skirt and combat boots. The accessories are what really sell this ensemble so get yourself a little black crossbody bag, some round sunglasses, and a cute pendant necklace. You can leave your hair down or tie it up in a messy top-knot.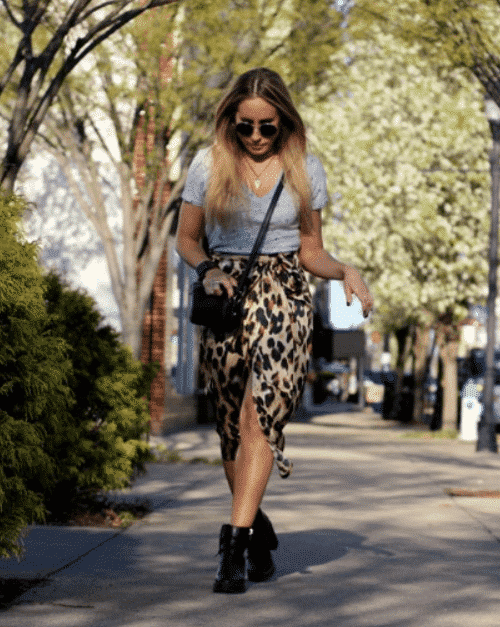 ↓ 23. Grunge Style for Fall
Two for the price of one! Take some inspiration from these gorgeous ladies and style a grunge fall outfit around a super cute designer purse… With both looks, you can see how well a flannel shirt pairs with a graphic tee, ripped light-wash jeans, and combat boots. Accessorize with a coordinating beanie and sunglasses. Style your hair in loose waves and you are good to go!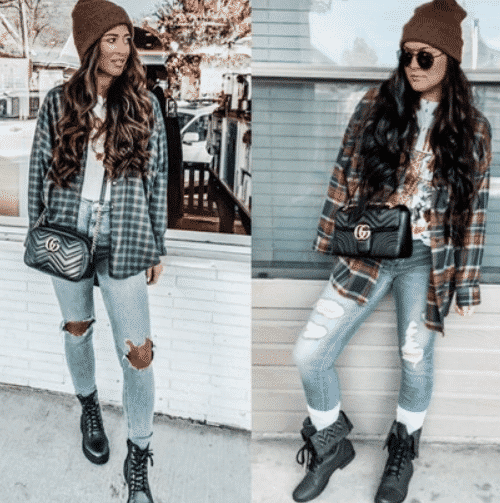 ↓ 22. Leggings & Graphic Tee
Keep it sassy while rocking some leopard print jeggings or leggings and pair them up with a cute graphic tee and some lace-up combat boots. This is a subtle grunge look you can wear to concerts, movie dates, or house parties. Here are some more ideas on How to Wear a Graphic Tee.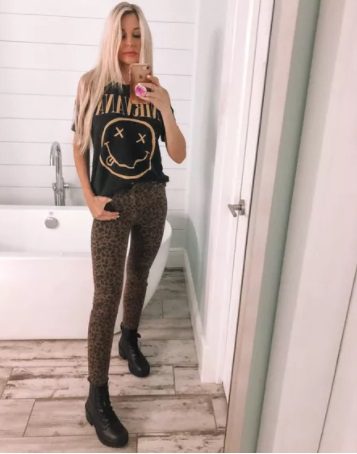 ↓ 21. Levi's and Moto Jacket
If you prefer to keep your grunge look lowkey, try rocking some high-waist Levi's and Doc Marten dupes. Pair it up with a crewneck crop tee and layer a moto jacket on top. Opt for tousled hair and even go bare-faced if that's your thing! You can dress this look up or down according to the occasion so don't be afraid to throw on lipstick or style your hair in loose waves if you want to keep it a little fancier.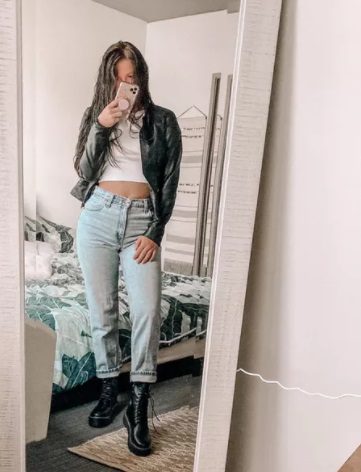 ↓ 20. Soft Grunge Look
This all-black outfit makes a red felt hat stand out even more. When you swipe on some dark red lipstick and get yourself some funky hair color, you can show off your love of soft grunge even more.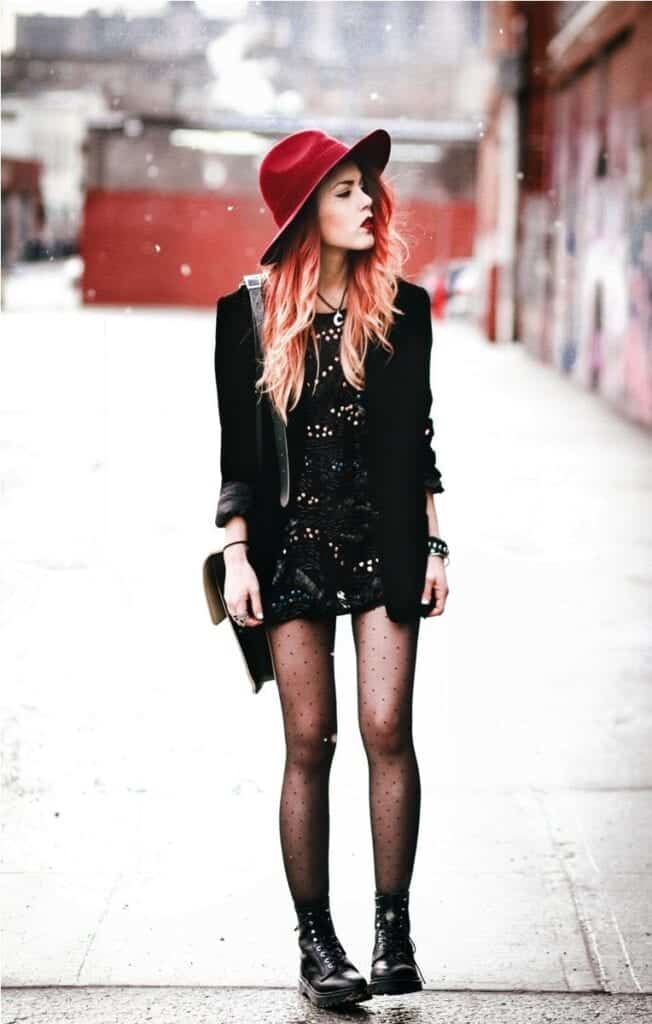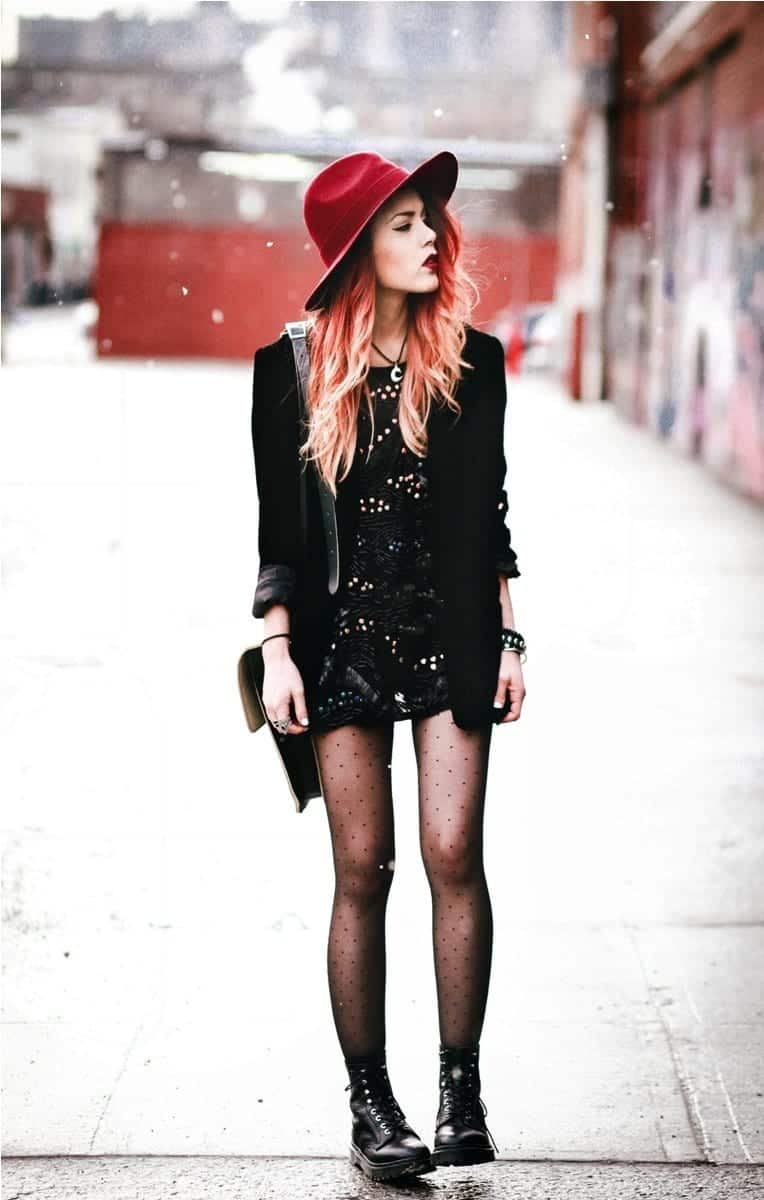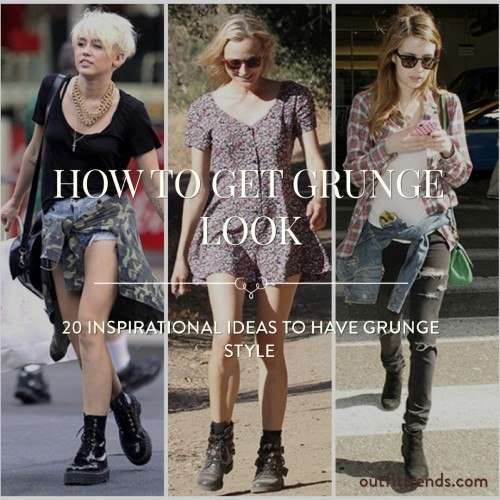 ↓ 19. Vintage Rock Lover Look
We love the intermingling of different styles. This outfit has a bit of everything. Whether you like a bit of a goth look, vintage rock, or preppy-casual, you can wrap it all up with a look slotted in the grunge category. Chunky shoes are also a good alternative to combat boots if you aren't a fan.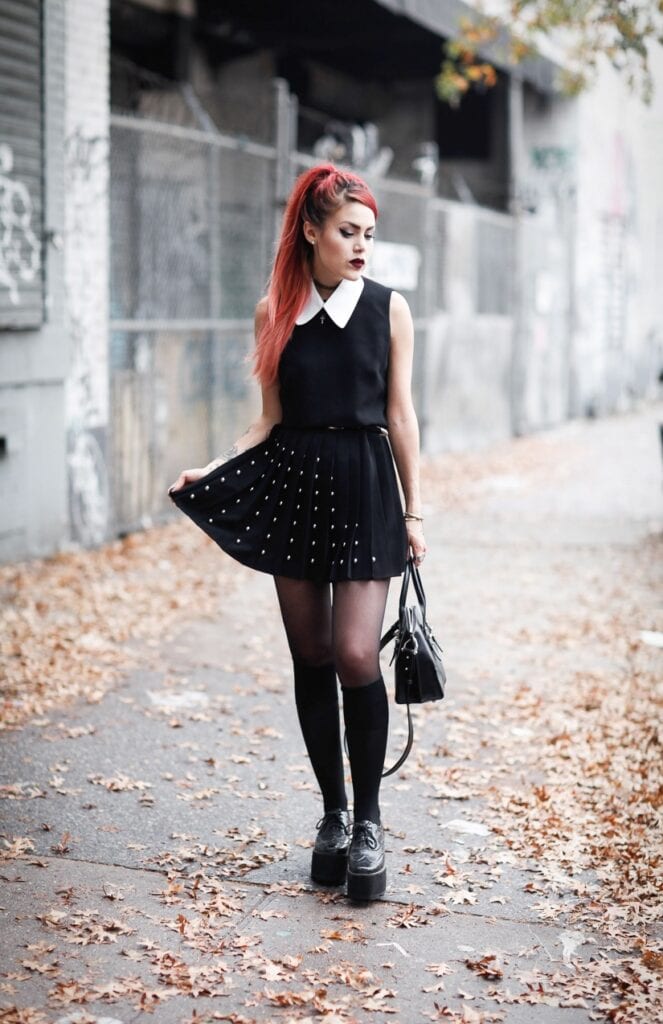 ↓ 18. Teen's Fashion Outfit from the '90s
A floral dress (or romper) worn over a white collared blouse is such a cute look. Note the choice of footwear and the accompanying black leather backpack purse. Plus, who could miss those gorgeous red lips!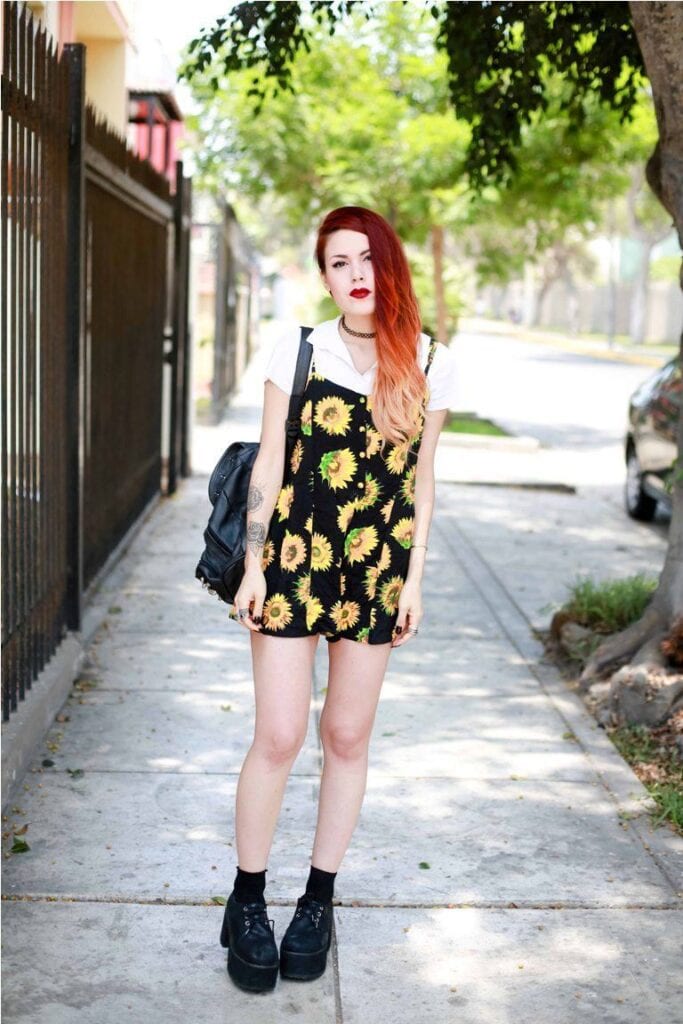 ↓ 17. Summer Outfit
As you have probably started to notice, a lot of what makes an outfit "grunge" is the choice of footwear. So, take note and see how you can plan outfits around a single pair of shoes. Here is a great summer outfit that makes use of a dark tank, denim shorts, and a denim jacket tied around the hips.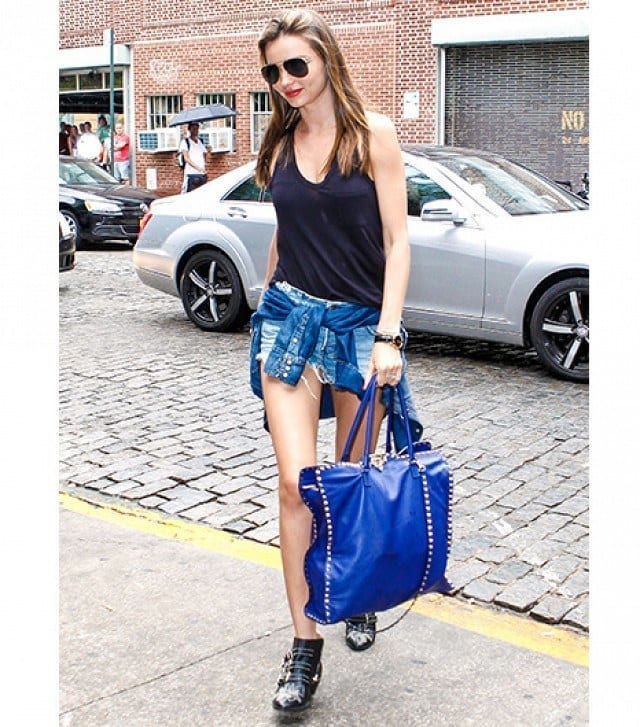 ↓ 16. Simple Outfit for Fall
Once again, the celebs show us how to do grunge best. This look, unlike most, is rather light, with pretty spring colors paired with some scuffed black clog-style shoes. We love the unlikely pairing. Add a bright-colored beanie to keep it fresh! This outfit is perfect for spring.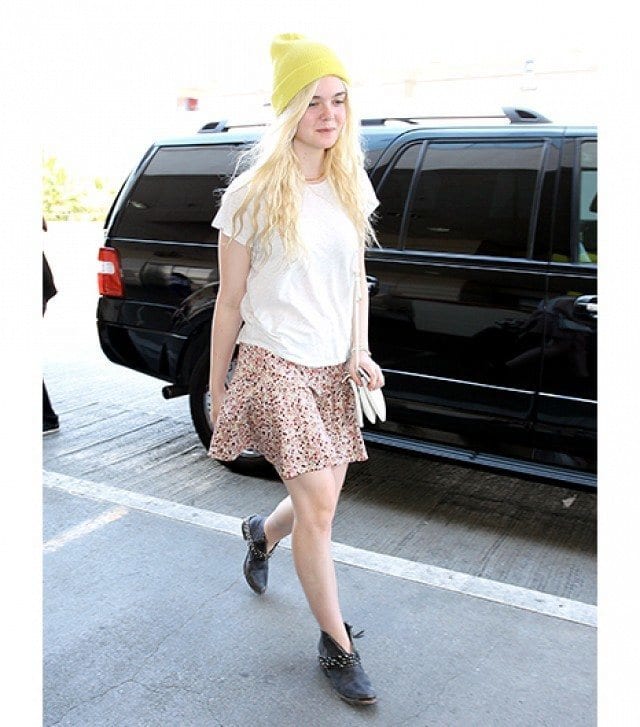 ↓ 15. Floral Dolly Dress
Love grunge but love girly styles, too? Here is how you get the best of both worlds. Here are more ideas on Different Ways To Style a Floral Blouse.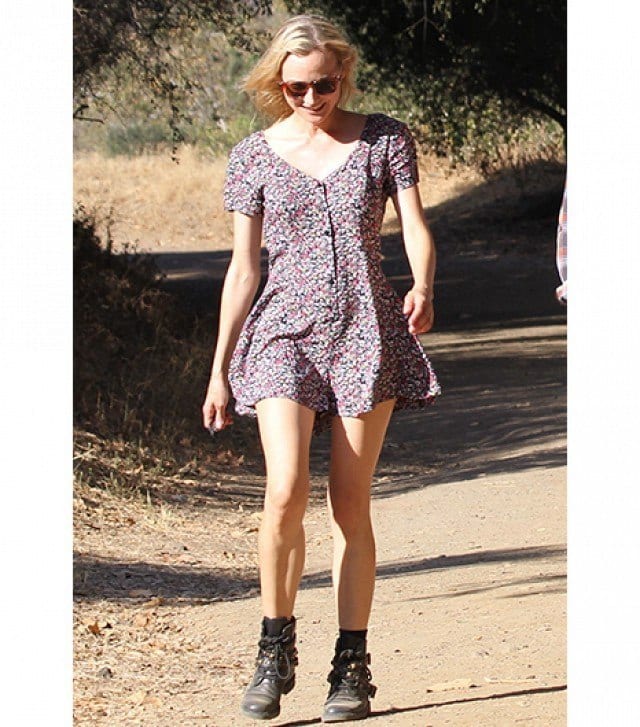 ↓ 14. Celeb's Favourite Grunge Outfit
Here is a classic grunge look as worn by Miley Cyrus. This was in her platinum blonde phase, which worked well for the grunge look she was going for. To copy this look, you need a black tee tucked into a pair of super-short denim shorts with a camo-print jacket tied around the waist. Some things we love about this look? The stacked necklaces are a fun use of costume jewelry. Plus, those Doc Martens are pretty great.

↓ 13. Airport Attire With Flannel Shirt
Ripped jeans with an oversized plaid flannel shirt and denim jacket tied at the waist make for the perfect airport outfit, as proved by Emma Roberts.

↓ 12. Cheeky College Girl Look
A plaid shirt can be worn either as an overshirt or tied around the waist. We love this white tee and plaid combo paired with ballet flats.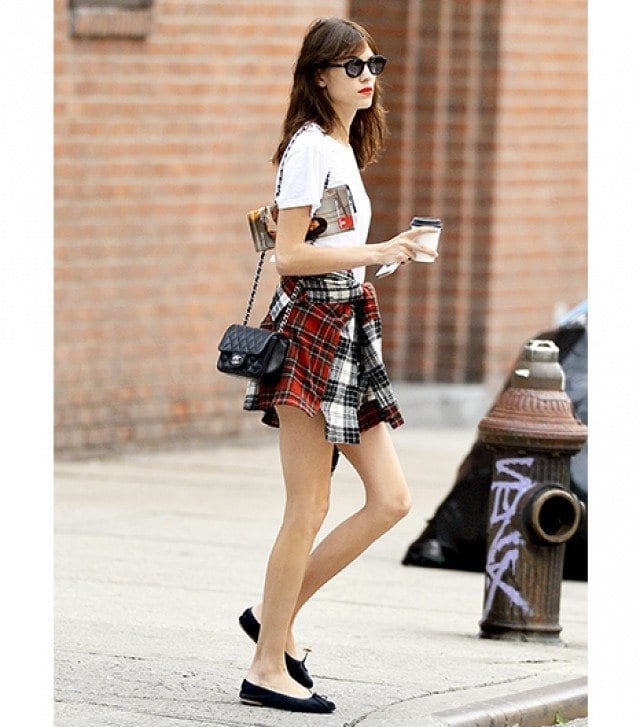 ↓ 11. Modern Grunge Outfit
To rock the grunge look, plaids and leather jackets are the best pairings. Take a page from Rita Ora's book and pop on a cute plaid dress with some strappy heels. Keep it modern with some big waves, orange-red lipstick, and a moto jacket.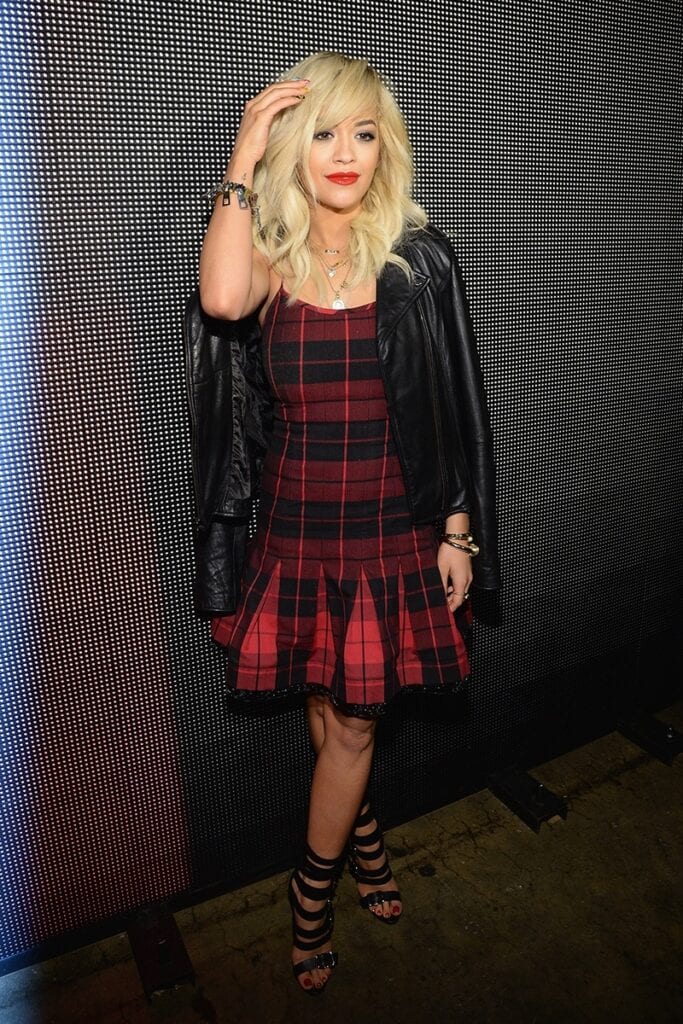 ↓ 10. Casual Travel Look
Make like a celebrity undercover, and go for a casual grunge look, perfect for traveling! All your need is a long-sleeved top with a plaid shirt over it, black skinnies, boots, and, of course, the statement sunglasses.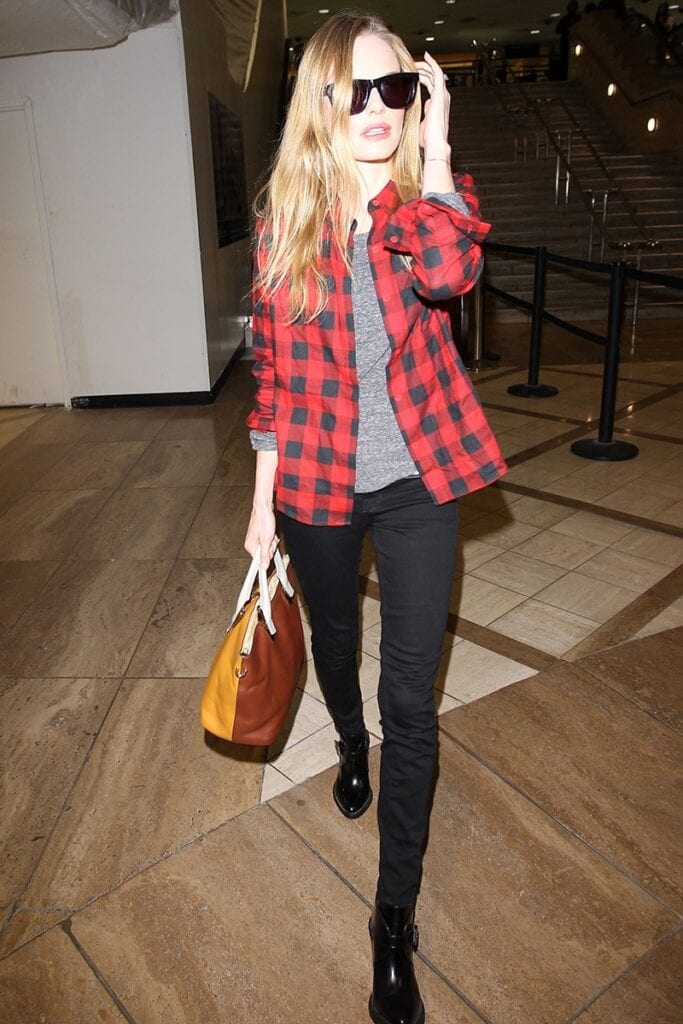 ↓ 9. Black and White Combo with Flannel Skirt
As grunge style is derived from a musical genre, band tees are a must in this case. Shirts from the '90s and '80s popular bands are perfect for this fashion. Try finding them in used clothing stores rather than having custom-made shirts. Don't forget to check out these ideas on How to Style a Flannel Shirt.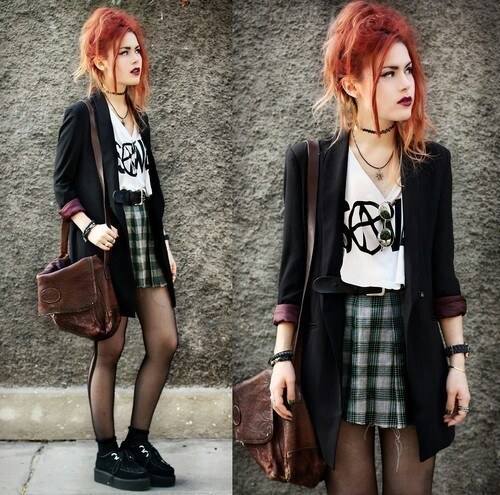 ↓ 8. 90's Style Maxi Dress
For this look, you can wear a graphic tee over a long maxi dress with a tartan print (pro tip: knot the tee at the small of your back to accentuate your waist) and wear a thick cardigan over top with a deep red infinity scarf.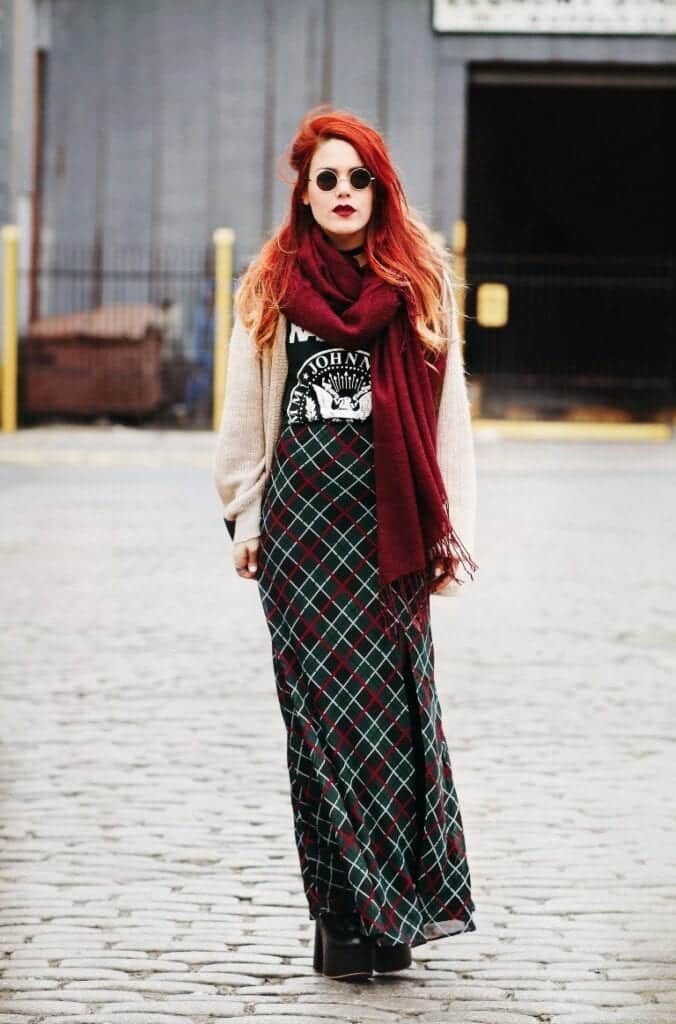 ↓ 7. Winter's Grunge Outfit with Leather Pants
All form of leather is important in the grunge trend. Either a biker leather jacket or leather shorts look amazing. For a comfortable outfit, even a leather skirt or leather boots are a perfect choice.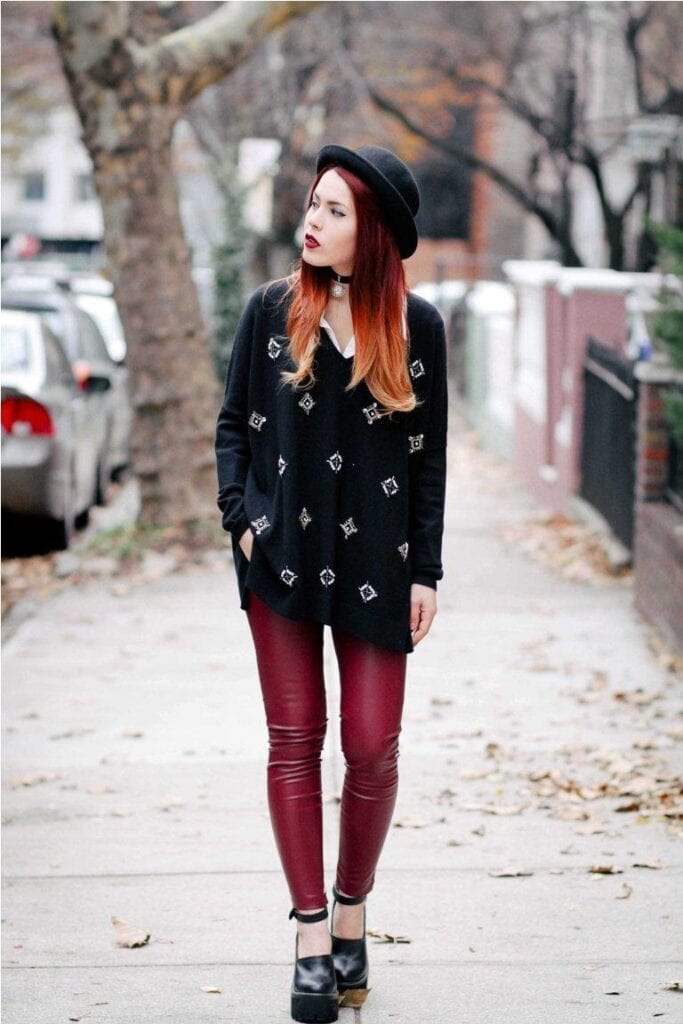 ↓ 6. Comfortable Day Look for Working Women
If you are a working woman and still want to carry the '90s rock fashion trend then this is a simple example of how to do that.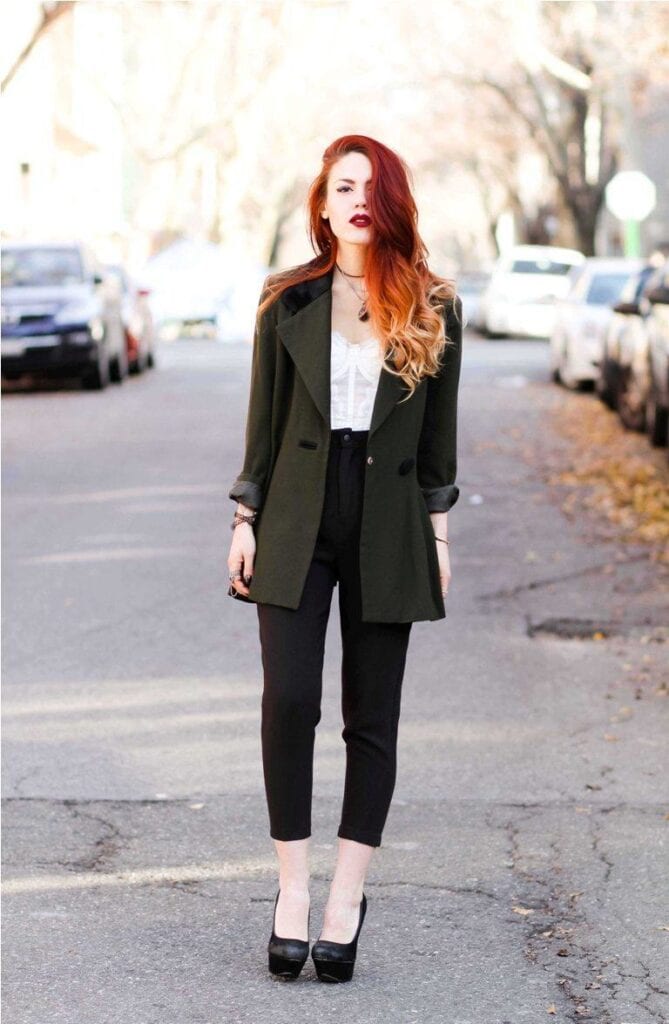 ↓ 5. Stylish Grunge Outfit for Hangouts
Though grunge fashion can look quite masculine, a crop top proves to be a game-changer. Take a page from Gwen Stefani's style and pair a cropped sweater with a floral miniskirt, tights, and platform boots. This look also shows off some crazy pink hair. Accessorize with a felt hat, purse, and bottle-cap sunglasses.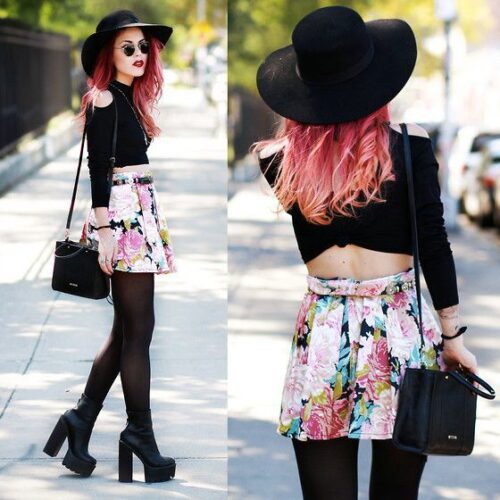 ↓ 4. Leather Skirt Outfit
Here is a Gossip Girl meets Grunge meets Vintage Model look that, frankly, we can't get enough of. The magic is in the makeup, which makes this grunge outfit a cut above the crowd. Pop on an oversized flannel coat with a black crewneck sweater, leather skirt, tights, and combat boots.
↓ 3. Grunge Outfit for Plus Size Girls
Did you know a velvet dress could be grunge? Well, check it out! This outfit works for gals of all shapes and sizes and is perfect for the colder seasons… plus, it has an almost goth/spooky vibe to it that would be perfect for October! Great for parties and dates, this black velvet dress is paired with ripped tights, a felt hat, and combat boots. Last but definitely not least, swipe on some dark lipstick and stack some silver necklaces to accessorize.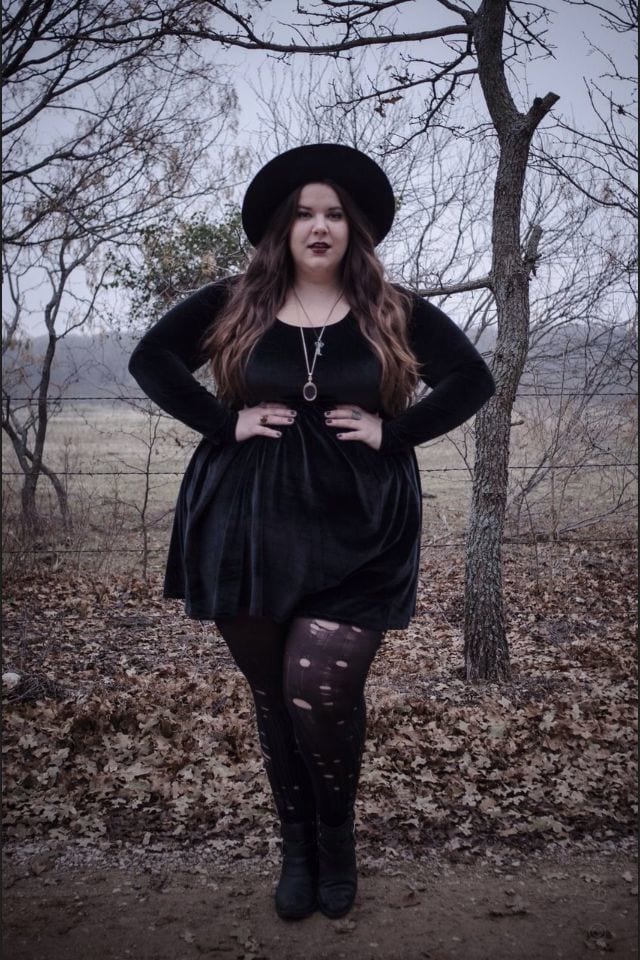 ↓ 2. Oversize Sweater for 80's Rock Fashion Look
Now here is a look we LOVE. This throwback style outfit is so distinctive and such a fashion statement. Plus, it looks super comfortable! You can raid a thrift store or even your Mom's closet to get your hairs on an oversized furry sweater. Wear it over a lacy skirt and sheer tights. Want to make it really fun? Get yourself some coordinating leg warmers and pop on some old-school tie shoes. Last but not least, swipe on some bold red lipstick. And voila! You can rock this ensemble during the winter or fall months.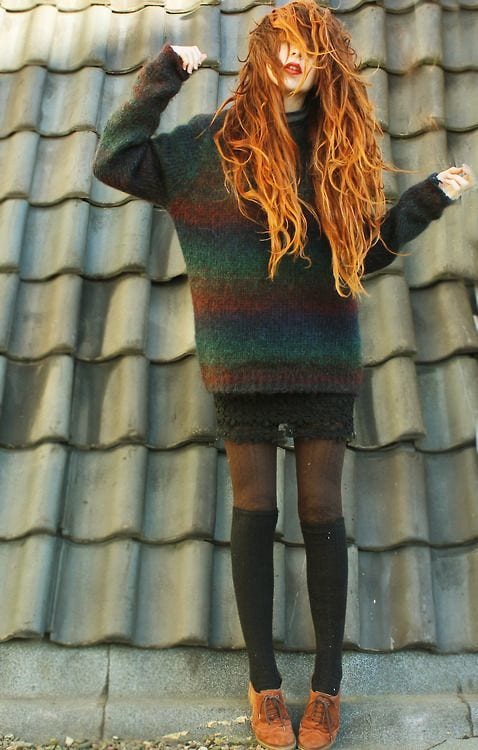 ↓ 1. Trendy Grunge Style for Girls
Take your school outfits to a new level with some plaid style pants, a furry sweater, and a cute top hat. This modern, trendy look has got all the fun grunge feels. Accessorize with a long pendant necklace and slouchy purse.