Ideas to Carry Grunge Style: Grunge fashion is inspired by Grunge Music, most of us like to be neat and tidy but few of us want to stay as much casual as they can be. Grunge look is dirty, way too casual, excessive use of flannel and very comfortable too. This 90's fashion is quite popular in celebs, teenagers and people who are opposite to be formal.
Easy Ways to get Grunge Look
This 90's fashion is widely popular in people who want to live a comfortable life without paying much on their clothing and this never goes out of fashion. Here are some easy ways to get this complete look and you do not need to do much effort.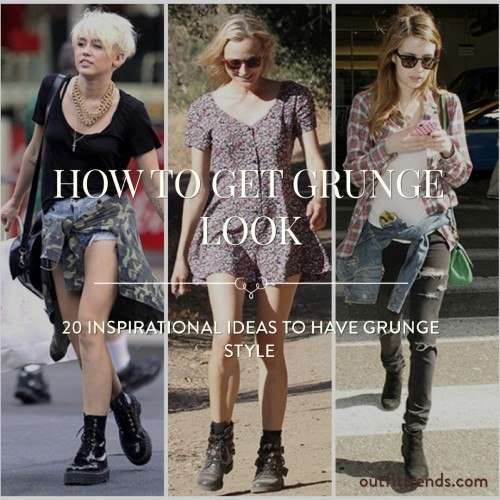 RECOMMENDED: [highlight]25 Cute Grunge Fashion Outfit Ideas to Try This Season[/highlight]
How to wear Grunge fashion on Top:
From crop tops to grunge dress, layer up the plaids or flannel shirts, wear some band shirts underneath, or leather jackets. Shredded shirts, tank top with oversized shirts are also a favourite choice.
Also, baby doll dresses in neutral or earth color palettes can give you the perfect look in grunge fashion.
Dressing up lowers:
Baggy pants, ripped or patched jeans are top of the list. Buy jeans bigger than size or two which normally you buy. Save money on jeans and ripping them by yourself. Such jeans are cheaper and you can make holes in them where ever you like. Denim shorts, sheer leggings, A-line printed skirts, and leather pants or skirts are also part of the grunge fashion. Ripped Tights are also in fashion and neutral colors are a safe option to match with anything.
Makeup and Hair:
For having a low maintenance and comfortable look is the main theme of grunge fashion. Dark shade eyeshadows and lipsticks with thick mascara and eyeliner are enough makeup used for this fashion trend. Even smokey eyes with a messy look are good to go. Dark color lipstick does not need many layers of makeup so it becomes easy to carry the look.
Red dyed hair locks give life to Grunge girls'look. Either dye all of them red or just towards bottom, dark red, maroon, ash blonde, brown, or caramel colors give you a very quick fashionable look. To be some funky even pastel pink, purple, or blue hair color will also rock the look. ut color should not be too vibrant. Always make it sure that the look must be messy and natural. Never straight hair and don't try them to fix much.
#20- Soft Grunge Look
It's all about cheap clothing, and worn clothes carelessly. Thrift stores are a good option to shop for Grunge look.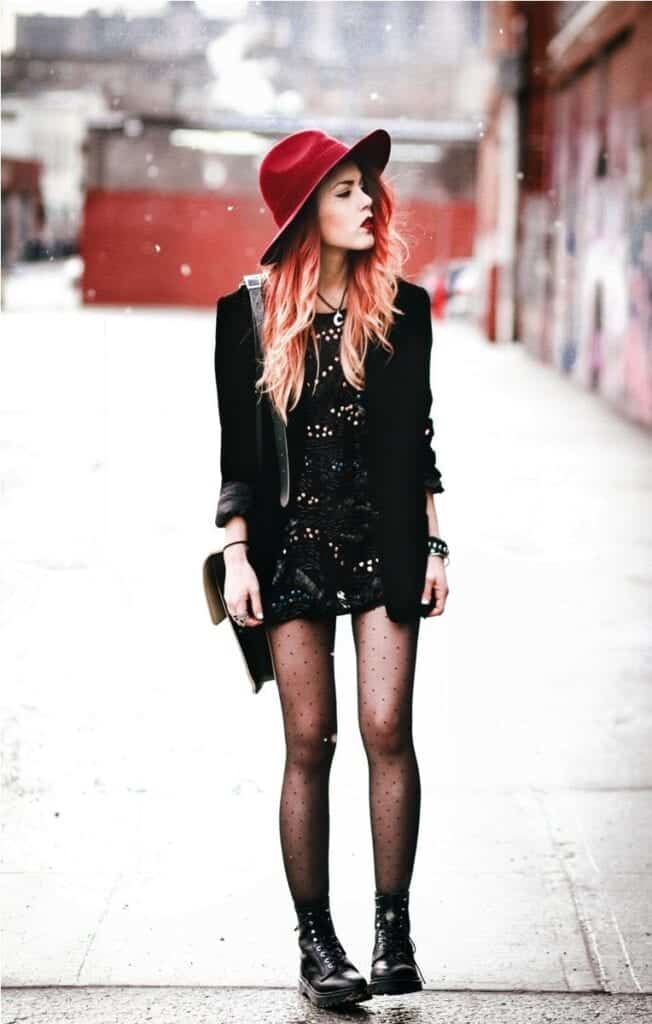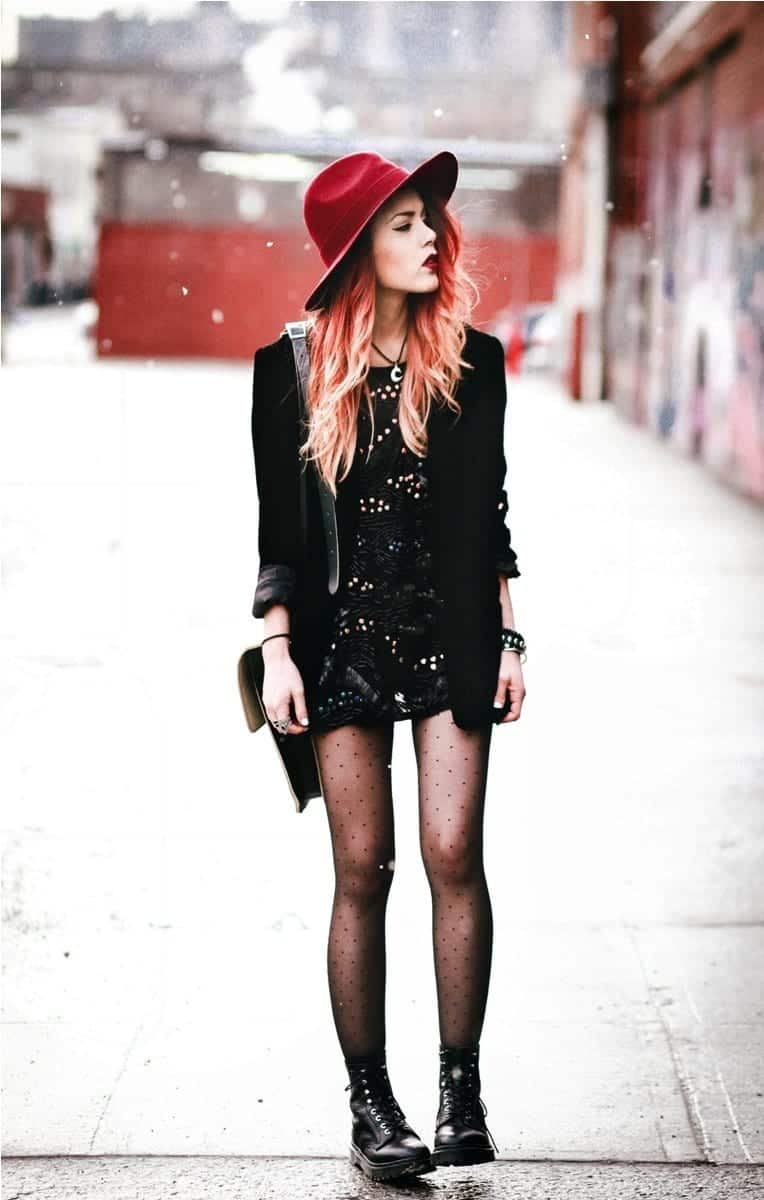 Source
#19- Vintage Rock Lover Look
From combat boots to long boots, no grunge outfit this accessory. From black, maroon, even grey or brown shoes are the perfect option for this look. These shoes are comfortable and easy to wear when you go to college or hang out with friends. Chunky shoes are also a good alternative to combat boots.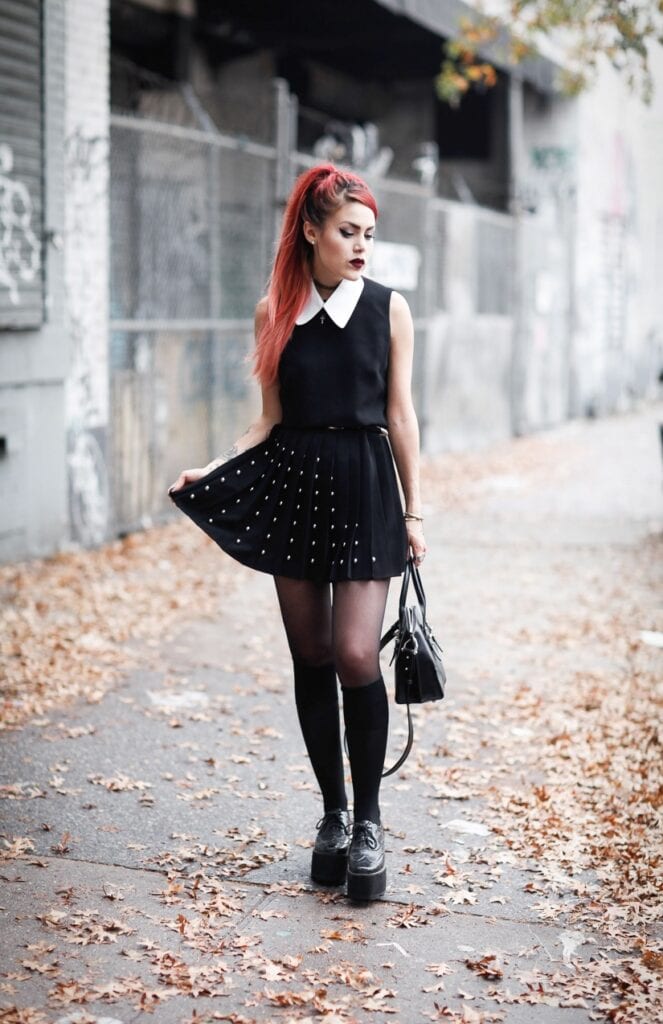 Source
Also check out [highlight]Outfits with Black Jeans-23 Ways to Style Black Denim Pants[/highlight]
#18- Teen's Fashion Outfit from 90's
Overall dress is a huge trend in grunge fashion. From florals to denim, these look perfect on girls of all ages.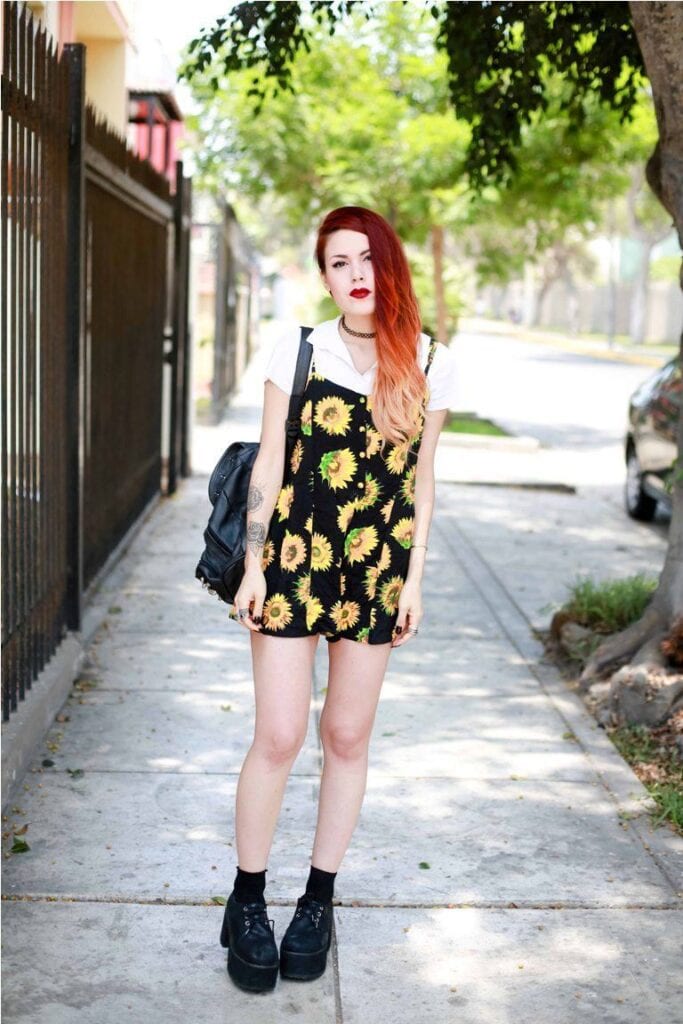 #17- Summer's Refreshing Look
The messier you are the look will be more grunge, so having rough attire is the best choice when trying to carry the look.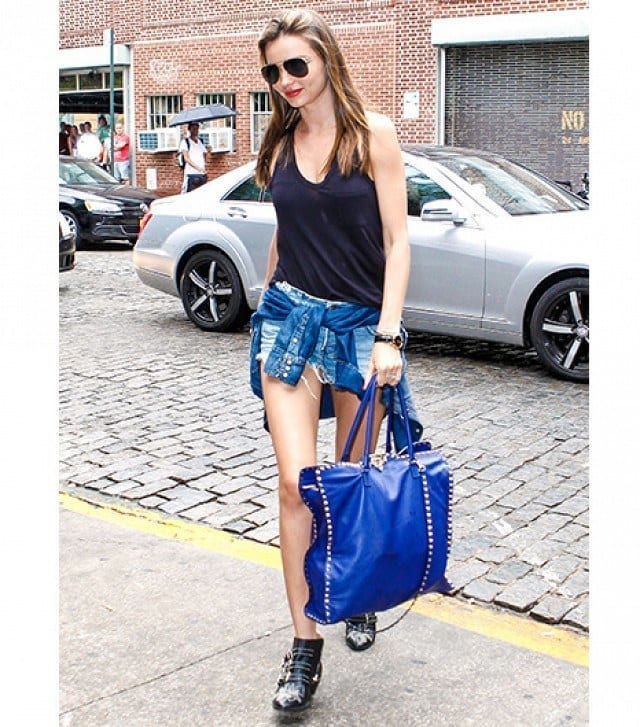 Source
#16- Simple Grunge Outfit for Fall-Beanies are a great accessory for this look. For fall or winter outfits use beanie caps as much you like. Even a bandanna is a good option if you are not into beanies.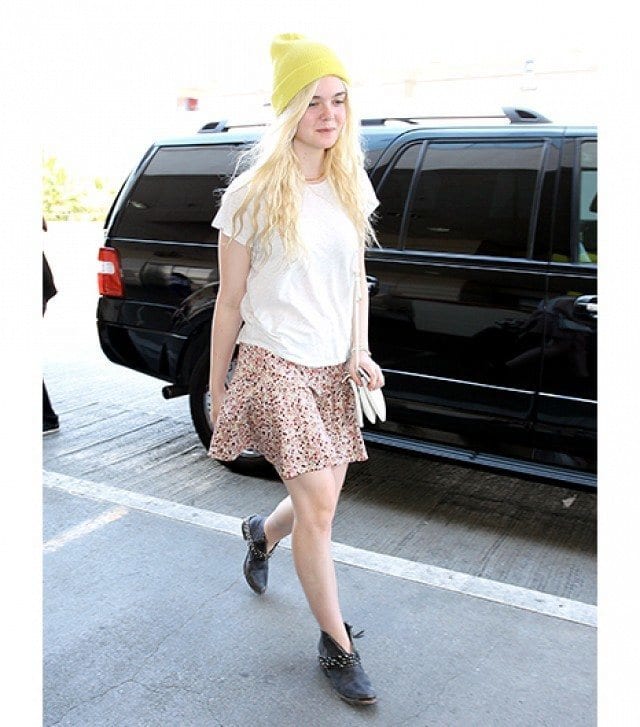 Source
Don't miss out [highlight]Outfits With Chokers–20 Ideas How To Wear A Choker Necklace[/highlight]
#15- Simple Floral Dolly Dress Outfit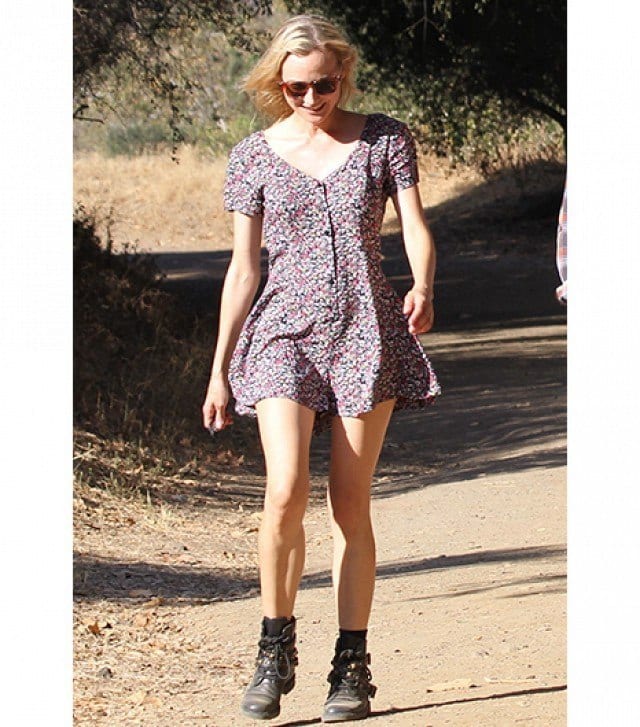 Source
#14- Celeb's Favourite Grunge Outfit
Accessories and attitude are also very important for this look and you cannot avoid it at all for finishing up the look.

Source
#13- Airport Attire With Flannel Piece
Having unique and comfortable style is what most people desire. Ripped jeans with an oversize plaid flannel shirt and wrapping denim jacket around is a perfect attire if you are travelling or just want to roam around casually.

Source
#12- Cheeky College Girl Look
A plaid shirt can be worn either as an over shirt or tie around your waist. Wear something else underneath for fall season and do not wear buttoned up.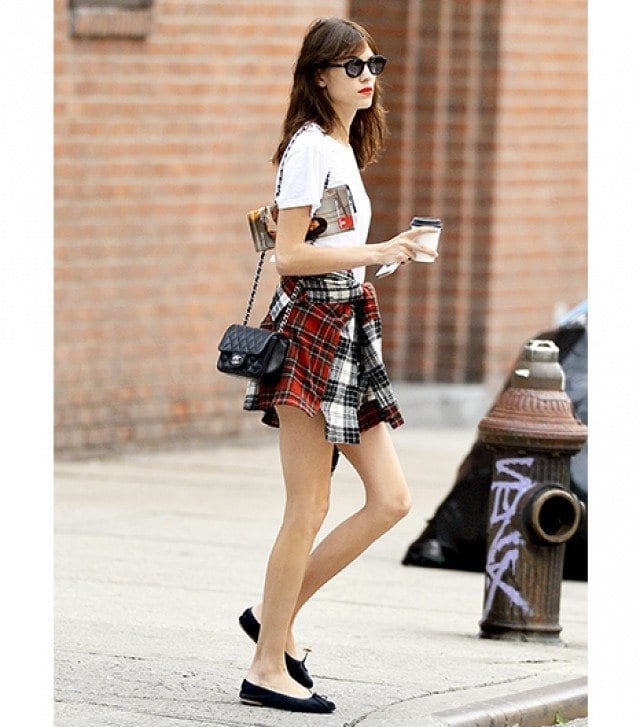 Source
#11- Modern Grunge Outfit
To rock the grunge look Plaids and leather jacket are the best partner to each other. From a Doll dress in plaids and strappy heels, you can get this simple yet stylish look without any effort.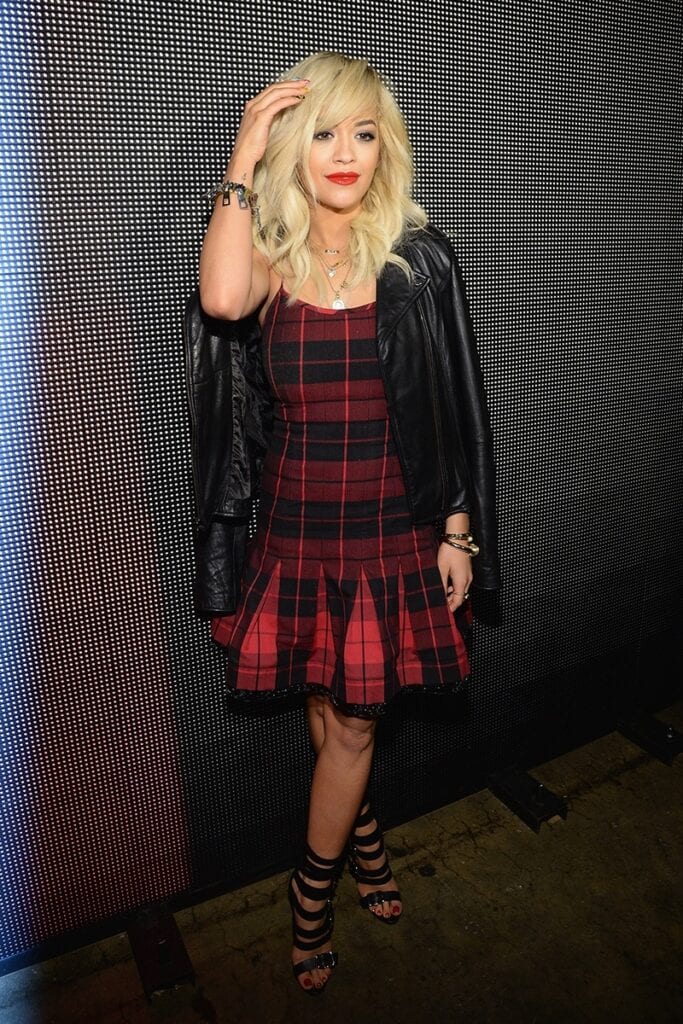 Source
#10-Diva's Grunge Casual Look
Take a pinch from 90's fashion and most important element is a Plaid outfit. Focus on darker colors like red and black, blue and black, grays, and dark green is necessary. A plaid shirt with ripped jeans can give you the 90's look.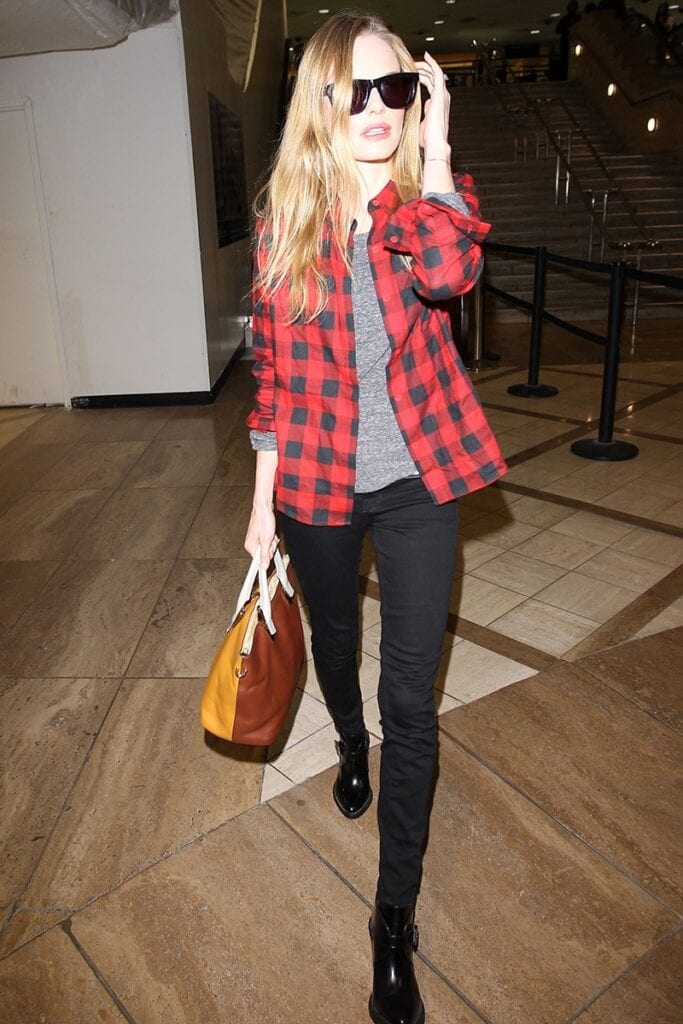 Source
#9- Black and White Combo with Flannel Skirt
As grunge style is derived from a musical genre, so Band T-shirts are a must in this case. Shirts from 90's and 80's popular bands are perfect for this fashion. Try finding them in used clothing stores rather than having custom made shirts.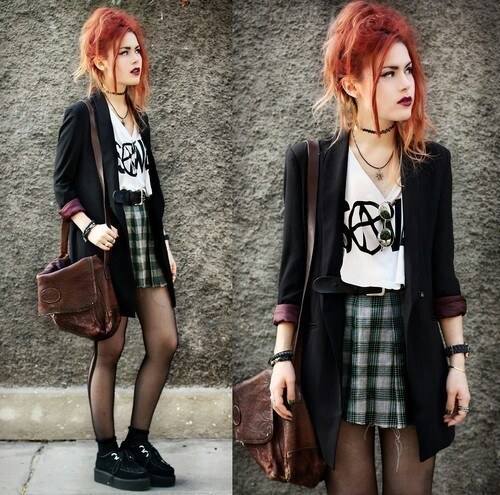 Source
#8- 90's Style Maxi Dress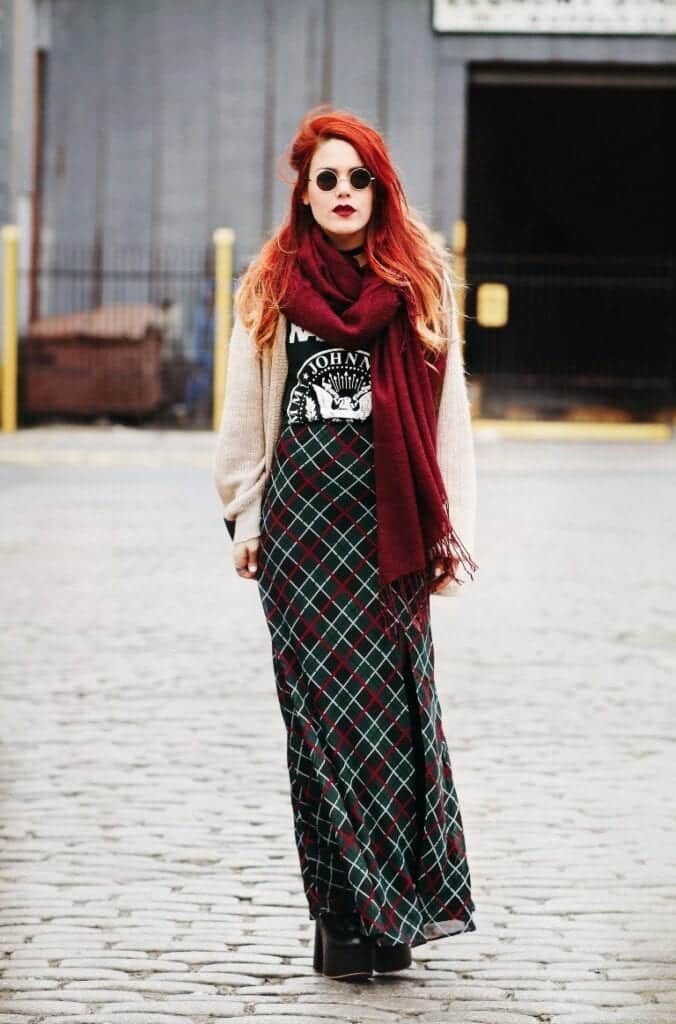 Source
#7- Winter's Grunge Outfit with Leather Pants
All form of leather is important in the grunge trend. Either a biker leather jacket or leather shorts look amazing. For a comfortable outfit, even a leather skirt or leather boots are a perfect choice.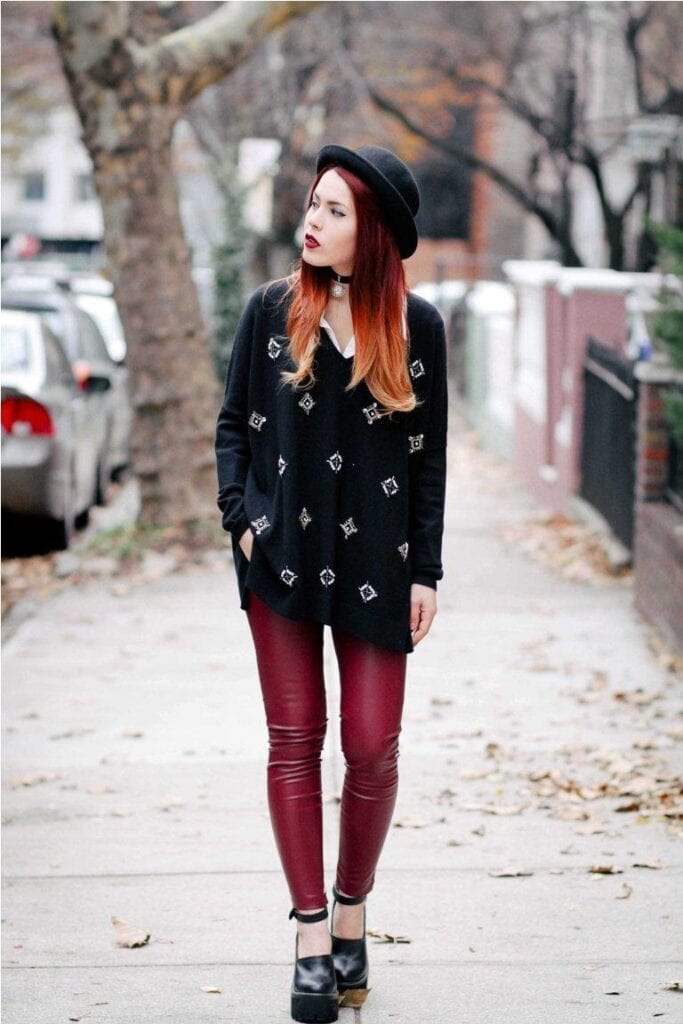 Source
#6- Comfortable Day Look for Working Women
If you are a working woman and still want to carry the 90's rock fashion trend then this is a simple example to that.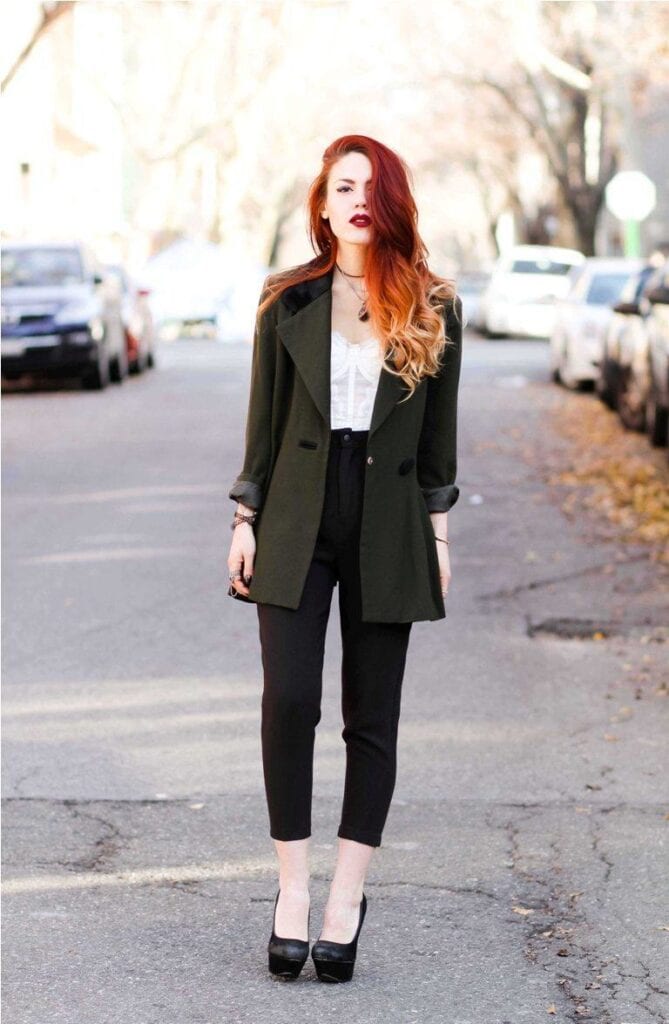 Source
#5- Stylish Grunge Outfit for Hangouts
Though Grunge fashion looks very masculine but a crop top can be the game changer. Gwen Stefani ruled in this style and following her footsteps in wearing grunge will never fail you. You can cut off the lower portion of an oversized shirt to show your stomach.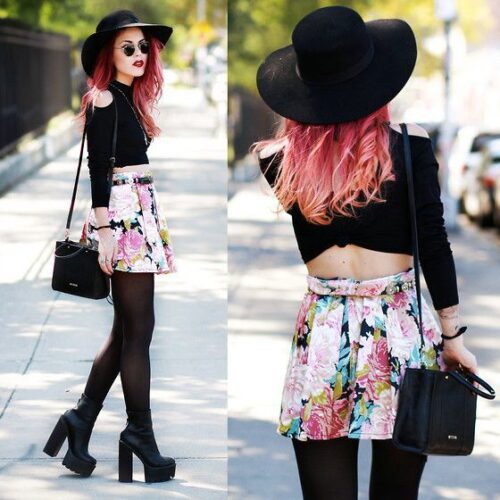 Source
#4- Leather Skirt Outfit
For an instant grunge look, a tight black leather dress worn with sheer, ripped or patterned tights are a must pick.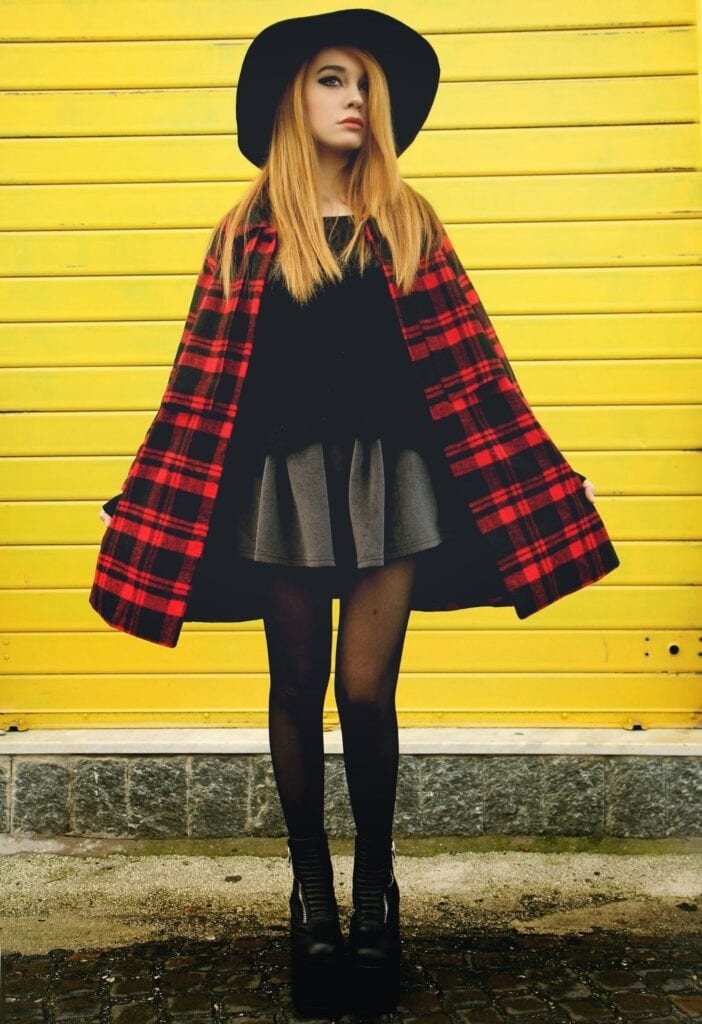 Source
#3- Grunge Outfit for Plus Size Girls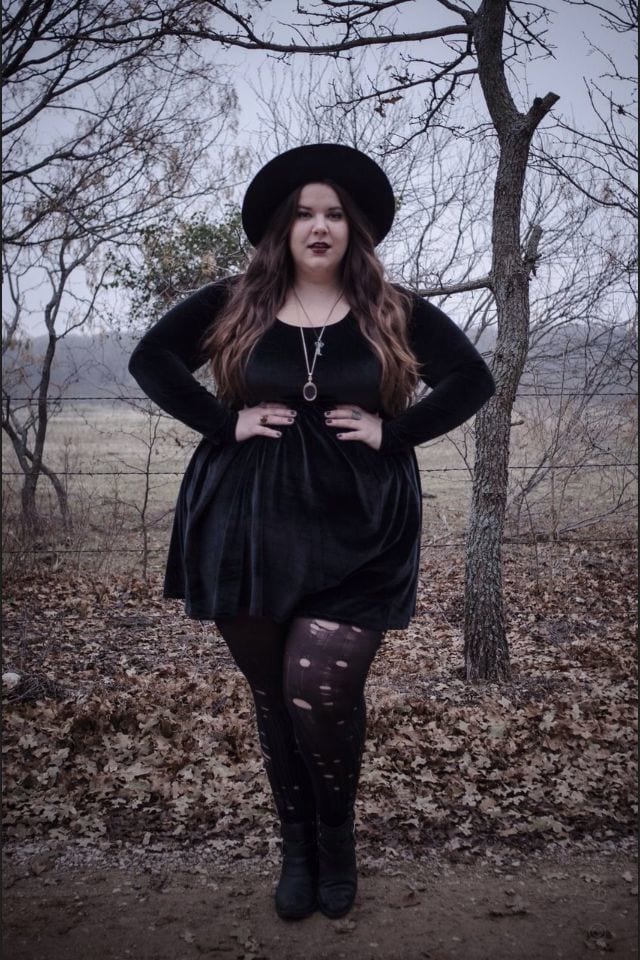 Source
#2- Oversize Sweater for 80's Rock Fashion Look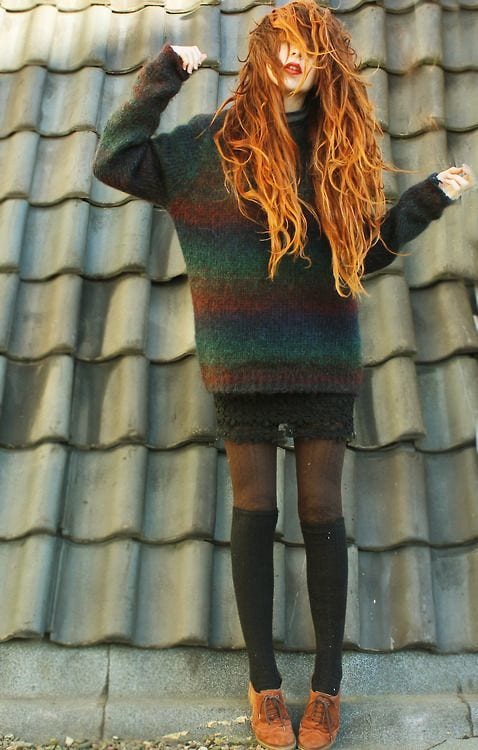 Source
#1- Trendy Grunge Style Patterns for Girls
Source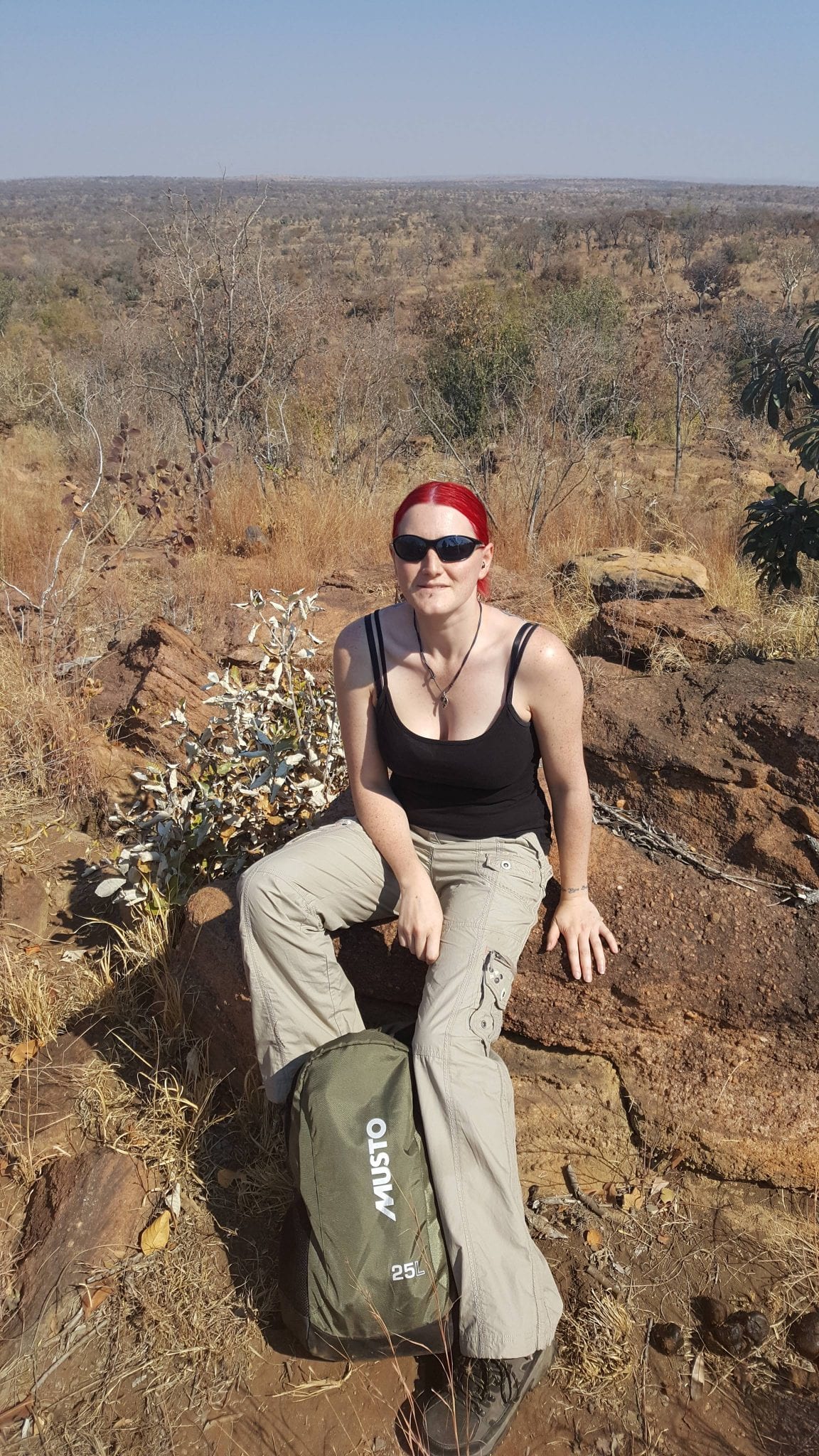 Caz, aka Vixen, has been freelance creative writing for several years. She has a lot of experience in different fields including high street fashion, tattooing art, and even the gothic and historical costumes. Caz has a Diploma in Fashion and Textiles and also a Bachelors Degree in Historical Costume and Corsetry. Her passion lies with gothic design, corsetry and any other styles considered to be taboo or unusual. Style-wise Caz has a love for Vivienne Westwood and her take on the punk era. Although Caz loves the weird and wonderful, she has a deep love for all fashion and allows this to show through her work.