Funky Jeans For Boys – All the boys looking for really cool funky jeans, you have come to right place. We bring you a collection of 25 stylish and trendy funky jeans that are having a moment this year. So, whether you are looking for a rough biker look, smart outfit, or a relaxed but stylish look we have covered everything for you.
Best Jeans For Teenage Boys
Most guys are passionate about getting biker boys look. So how to get a biker look? One of the tip to get a look like that is to style these jeans with leather jackets, some cool leather bracelets and ankle high boots and you are good to go. The best thing about these jeans is you can always change its look after some time. You can DIY funky jeans by cutting them more or take out the threads from different sides and make a new style.
Where to buy cool Funky Jeans? Well, the following jeans are incredibly stylish but they also come in a very affordable price range. We have listed down the products. Hence, you can buy these affordable funky jeans online by clicking on the link under each image.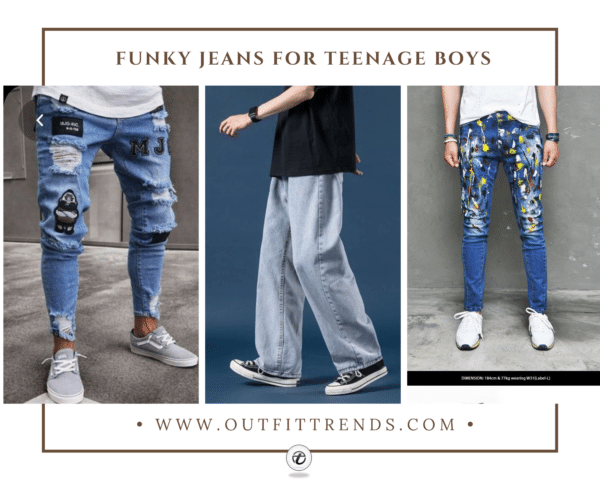 Tips For Styling Jeans
Make sure to buy jeans with the right fitting. Ill-fitted jeans don't look great and you would be uncomfortable all the time. If you are unsure about size, take your body measurement and figure out your clothing size.
Skinny jeans are popular among boys so you might want to buy them in a few different styles. For instance, painted skinny jeans, skinny ripped jeans. Scroll down for more ideas.
Wear skinny ripped jeans with a T-shirt, zip sweater, or with anything and you would look great.
Make sure to get some classy belts; they can elevate your basic outfit.
Experiment with different kinds of jeans – skinny, straight leg, straight loose, wide jeans, and pick the best one for yourself.
Get yourself some beaded bracelets and wear two to three of them in one hand; it gives a very nice and informal look.
Add different boots with funky jeans – ankle length boots, high ankle boots, classic boots, combat high-top boots, or sneakers.
25 – Heavy Ripped Jeans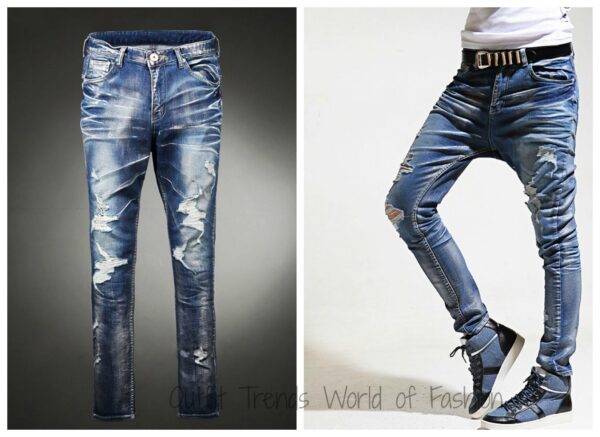 24 – Designer Dark Blue Ripped Jeans With High Ankle Boots

23 – Wear Painted Jeans With A Basic T-Shirt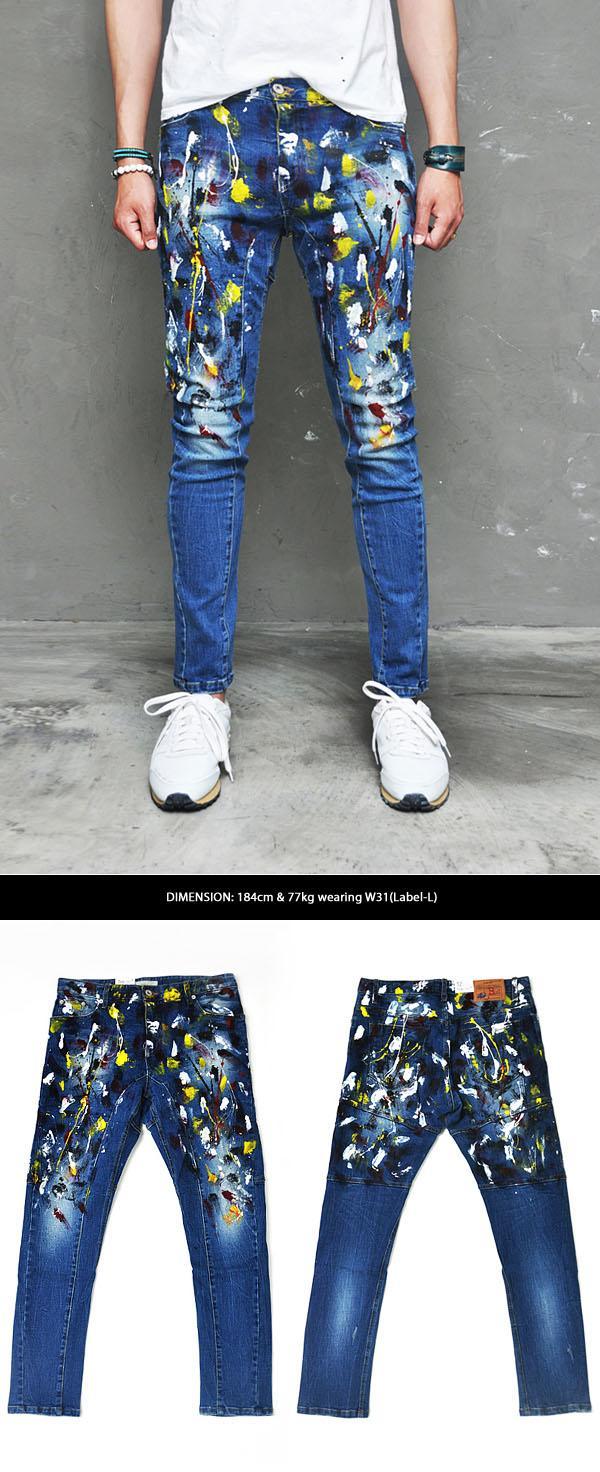 22 – Distressed Jeans With Full Zip Sweater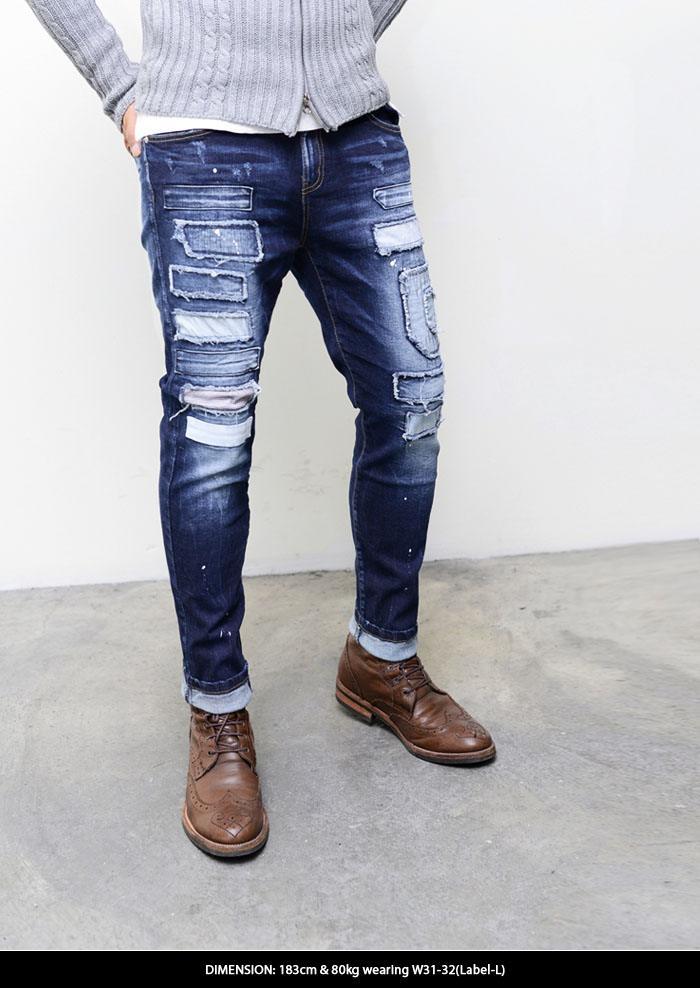 21 – Faded Black Jeans With Wallet Zip And Chain
This outfit is for boys who wish to have a biker look. Create an all-black outfit with a black T-shirt, jeans, and black combat boots. Get yourself black jeans with a wallet zip and chain – you can also get a zip and chain separately and add them in your jeans.
Add your black T-shirt and beanie. Wear some beaded bracelets and a ring for an ultra-cool look. Lastly, add black combat boots and you will have a perfect biker look. Plus, you can also add a leather jacket but it's completely upto you. 


20 – Ripped And Repaired Black Jeans 

Ripped And Repaired Jeans $33.99
19 – Slim Fit Zipper Detail 
18 – Biker Ruched Tapered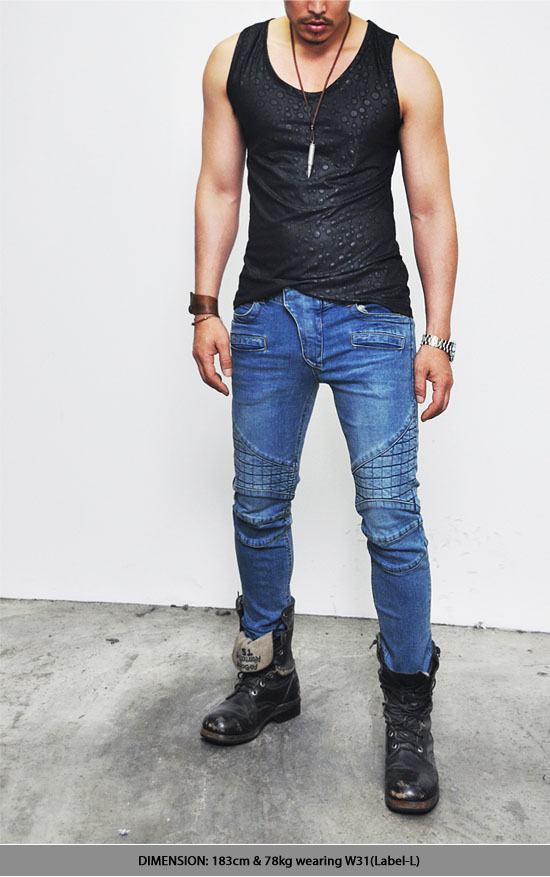 17 – Try A Turtleneck Sweater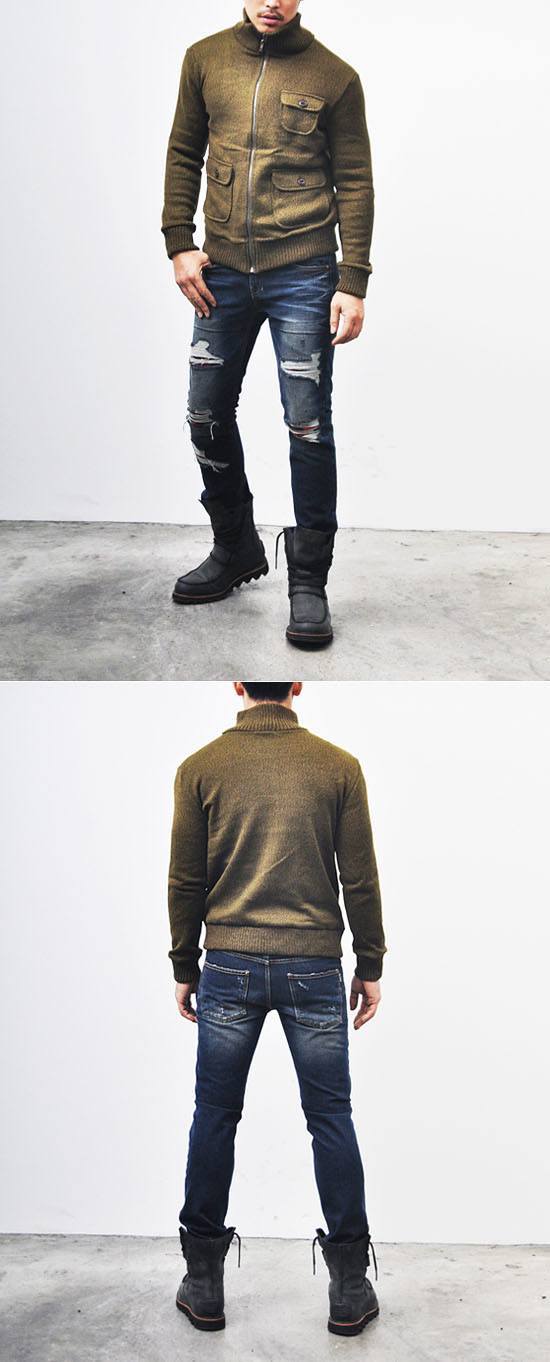 16 – Heavy Dye Biker Denim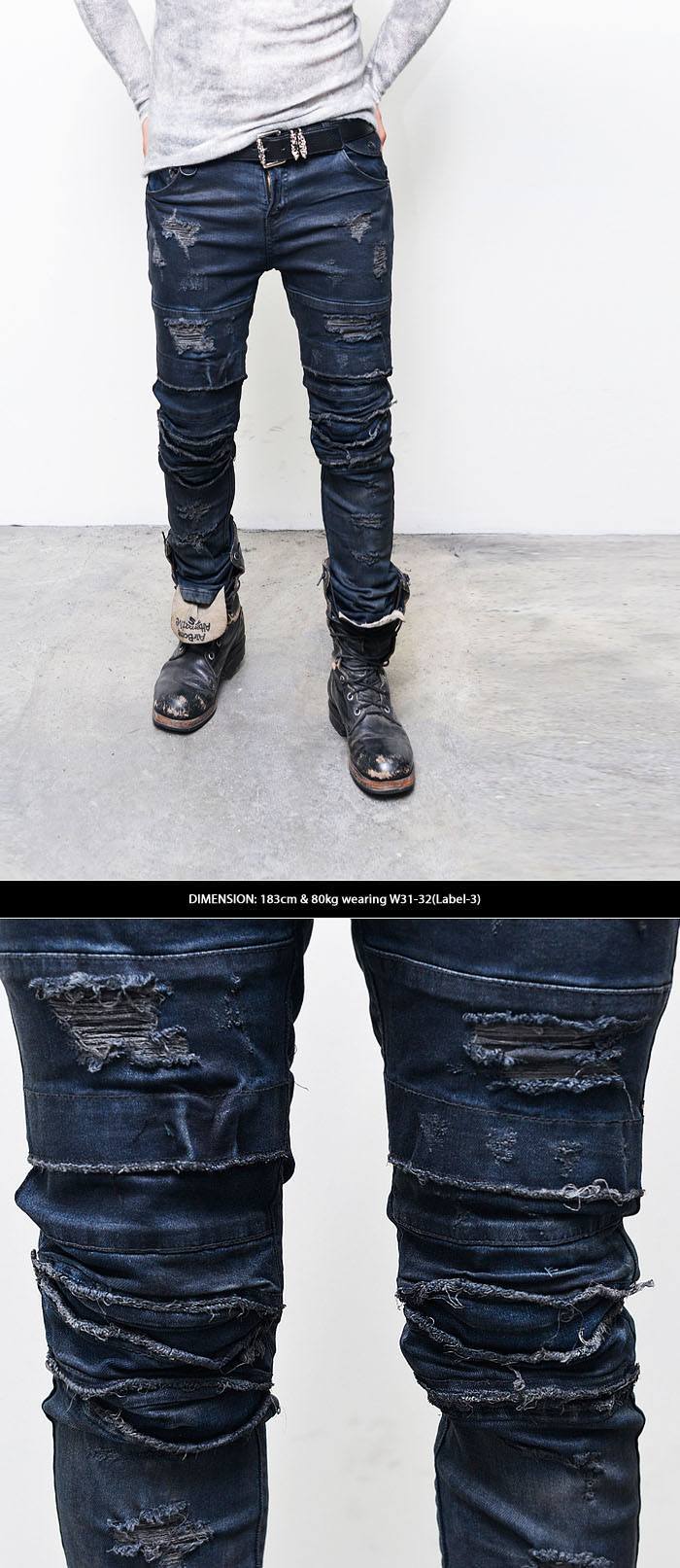 Heavy Biker Jeans in Dark Blue (similar) $28.99
15 – Deep V-Neck Long Sleeved T-shirt With Cool Denim

14 – Pair Leather Jacket With Smoke Rise Haze Denim
13 – Trendy Knee Ripped Jeans

Knee Ripped Jeans in Light Blue 
12 – Jeans With Keychain Detailing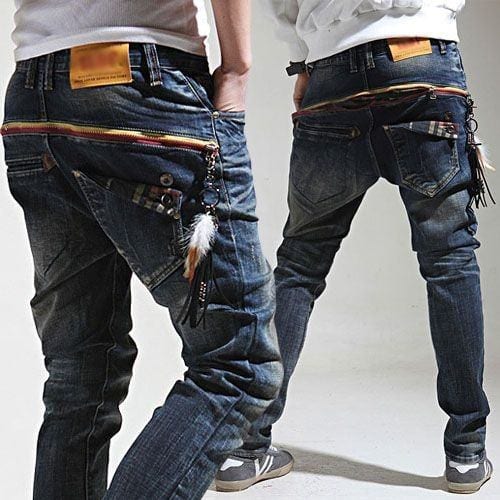 11 – Motto Inspired Jeans in Blue

10 – Sticker Jeans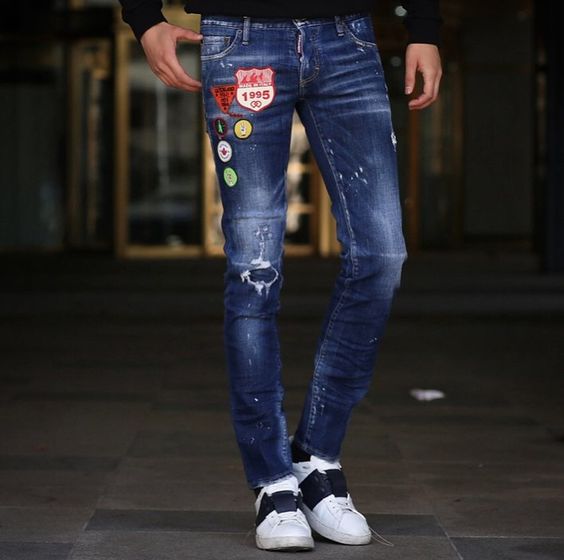 9 – Cut Out Jeans With Studded Shoes

8 – With A Cardigan Hoodie
Wear your funky black jeans with a long white sando vest. Add a cool cardigan hoodie on top of it for a cool look. Finish off the look with above ankle black boots and you are ready. 
6 – Flare Stack Denim With Casual Shoes
5 – Add Tie Dye With Wide Jeans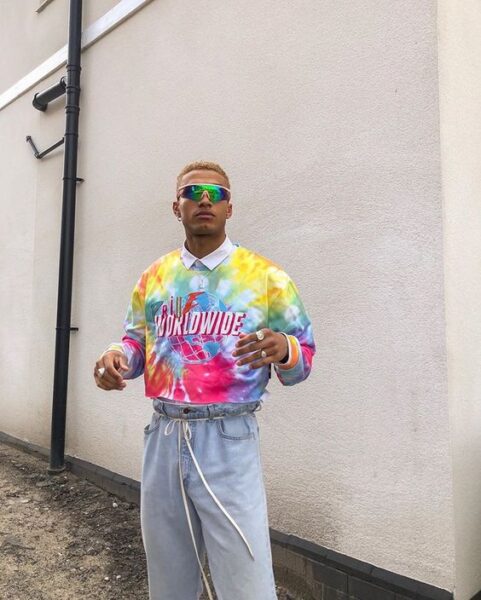 4 – Sand Color Ripped Jeans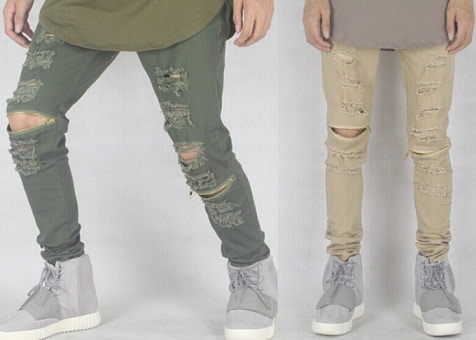 3 – Straight Leg Korean Style Jeans
Wide straight leg jeans are quite popular these days. It's yet another korean clothing style that everyone adores. They are comfortable, relaxing, and stylish. Perfect for any day – be it for a walk around the town or going out with your friends. Moreover, you can pair them in many ways. For instance, wear an oversized T-shirt or a fitted one. Complete the look with your favorite sneakers, wear your shades, and you are good to go.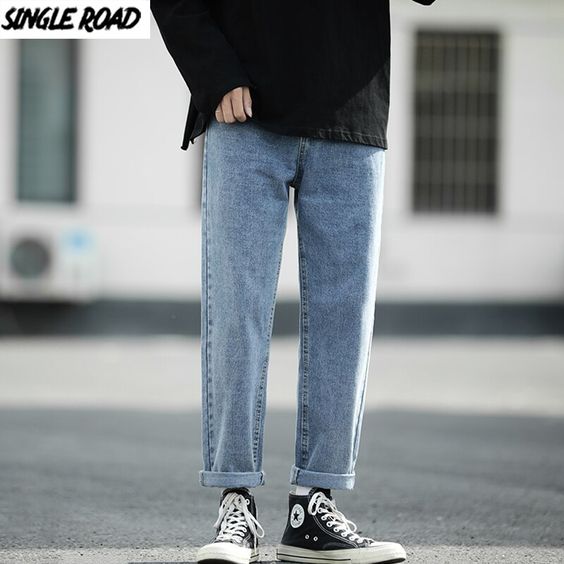 Straight Leg Denim Jeans For Boys $25.50
2 – Straight Loose Jeans For Teenage Boys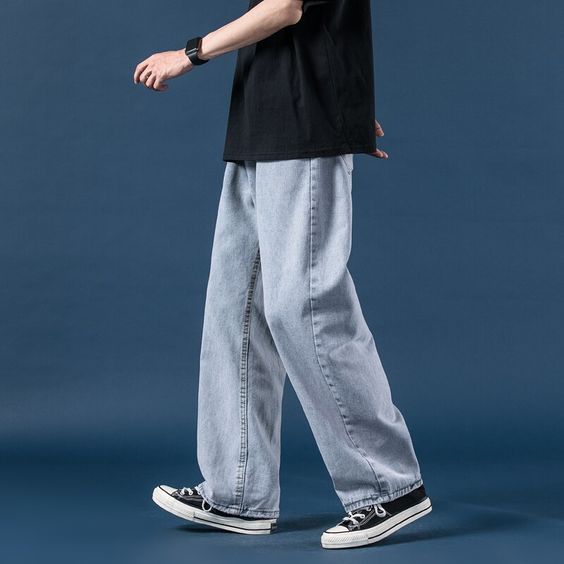 1 – Ripped And Sticker Fitted Jeans
Fitted ripped jeans with cool stickers and designs can never go wrong. Besides, you will not have to do much. Just pair your basic T-shirt with them, and add cool sneakers.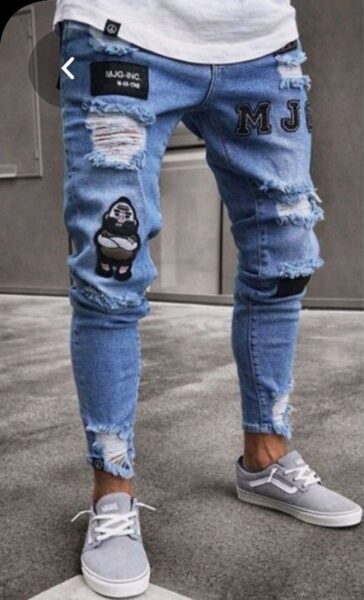 You might have noticed in above images that most of these boys have styled their jeans with ankle high boots. Without a doubt, it is the best choice and popular styling tip for funky looks. However, you must try on different shoes such as sneakers, sports shoes, or classy men's shoe.  
Q. Should you in your shirt, or let it hang?
Ans. You would mostly have a casual and relaxed look with funky. Hence, letting your shirt hang would look good. However, a half-tuck is a popular trend. Tuck in the front of your shirt and leave another half to hang.
Q. Are funky ripped jeans uncomfortable?
Ans. If you are wearing them for the first time, you might feel uncomfortable. But, it's normal whenever you try something new. Wear them two to three times and you will love funky ripped jeans. You should try on different types of jeans to find the best pick for yourself. There are many types of funky jeans – painted ripped jeans, ripped sticker jeans, high-rise ripped jeans, wide and straight ripped jeans.
Q. Where to shop funky jeans?
Ans. Here are some of the places to shop for funky jeans.
Carhartt, Levis, Next, Gap, Polo Ralph Lauren, Todd Snyder, Frame, Glenn's Denim.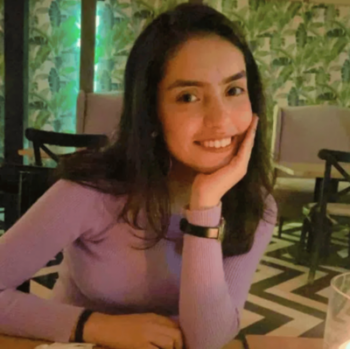 Lover of books and mountains, Monishka is a freelance writer working in various genres like fashion, beauty, and travel. She enjoys her own company and likes to keep herself busy.