Black and white hairstyles. If you are just like us and cannot stay away from a bold hair look, this article is for you. It is dedicated solely to the new hair trend lately. Some call it the salt and pepper look, some call it the contrasting colored hairstyle. We know it simply as the Black and White Hairstyle.
This hair trend has recently emerged, and we are here for it! It is youthful yet mature, very eye-catching, and is just the perfect option for when you want to switch things up.
As with other drastic hairstyle trends, one must seriously prepare themselves for the transformation.
Firstly, it is imperative to know what exact dyeing techniques there are for this style.
Secondly, you should prepare yourself for several special hairstyles that will help you accentuate your new hair color.
Continue on reading to find out both.
Black & White Hair Dye Ideas
Often times after a new haircut and dye, when the blowout washes out, we feel unequipped to deal with the new look. We have all been there.
This is especially frightening if you have dyed your hair with this contrasting combo of colors. Therefore, before you commit to this transformation, we recommend that you look over certain hairstyles that could accentuate this hairstyle.
This way you will understand if you are capable of styling your hair this way, and are ready for the change.
Five Hairstyles To Accentuate Your Black and White Hair Color
Braid twists: If you have an ombre look ranging from black to white, you might want to accentuate that graduate color change through an updo. Try creating a twist/braid at exactly where the two colors meet. Start the twist/braid next to your ears, carry on to the center of your head and secure with a hair tie. For detailed tutorials you can check out these easy braid tutorials.
Braids for ombre: An ombre haircolor can look so intricate and wonderful if you choose to style your hair with a lot of small braids. Since the combination of the gradual color change and the twists of the braids create a visually appealing effect.
Split Dye styling: Prior to committing to a split hair style do your research. One way to style this haircolor is by using a straightening iron to get perfectly silky straight hair. Inversely, you can also always opt in for a wavy and curly look. This hairstyle is relatively simple to maintain, as it requires no additional clips or pins.
Hairstyle for Streaks: If not styled appropriately, streaks of such high color contrast can look messy. However, braids are always a way to accentuate the streaks, which makes them seem more purposeful.
Styling for layered colors: Later in the article you will find several options of dyeing your hair with accordance to layers rather than length. This styling method is aimed at that look. We suggest to wear it casually. Flip your hair from side to side to really let all the layers show and mix.
Revealing your layered colors: If you don't like to have your hair flying around all day, but you still want to reveal your layered hairstyle ignore the previous tip. If you style your in a poised clean manner, chances are that one layer of color will be hidden.
A good solution is using certain hair accessories, like hair clips. You can either use a large claw clip ($7.99) in the back to pull back the top section of your hair. Or use small clips ($9.99) to pull your hair back from behind your ears.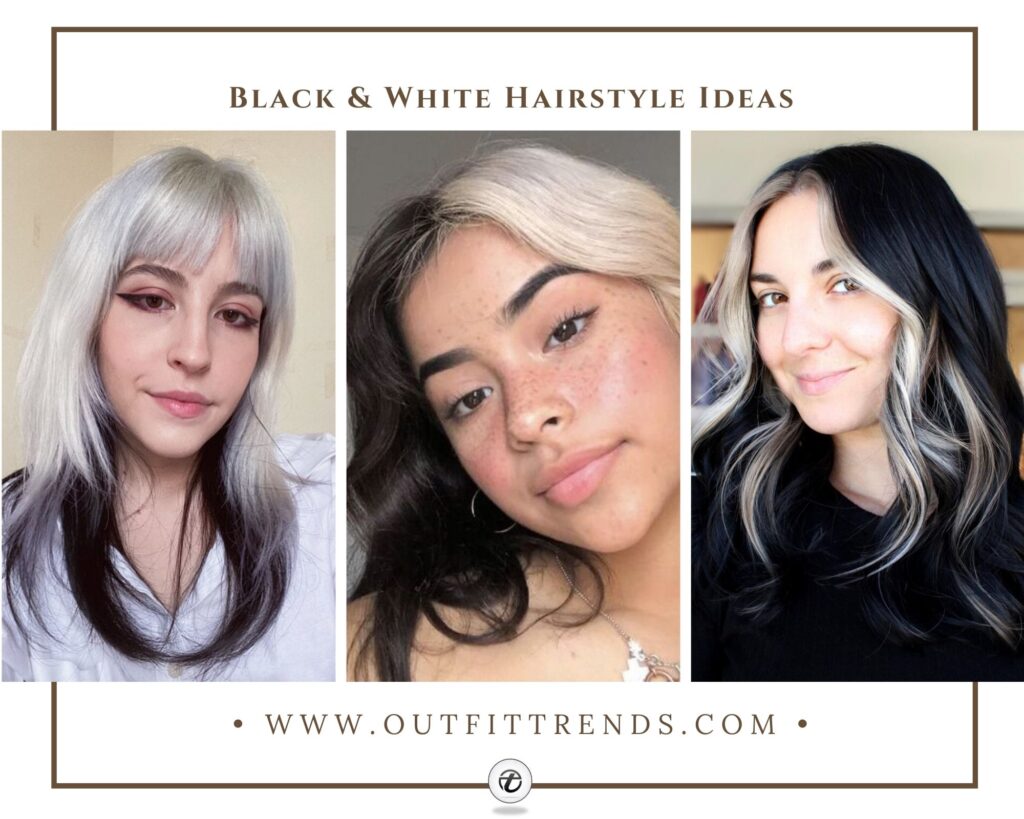 For more ways to style your hair with accessories check out these must-have hair accessories!
15 – Black to White Ombre Hair
Starting things off with an easy to achieve, tame look. Perhaps you are interested in the black and white color trend but don't know where to begin. The ombre is certainly one way to ease yourself into this style. You have two options on the ombre – the black at the roots or vice versa. It is completely your choice!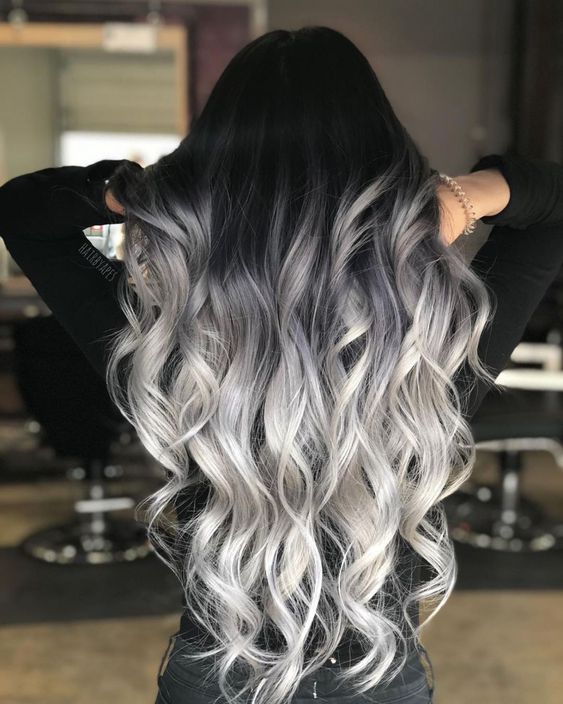 14 – A Dash Of Contrast
Our second option is similar, one which will make less of a difficult and drastic transition into this colorway. We suggest you dye your hair almost entirely into black, or white. With the exception of one or two select strands. These can be the tips on either side of your hair or the edges of your hair. Dye these strands ever so slightly, even with a light color the effect will be noticeable.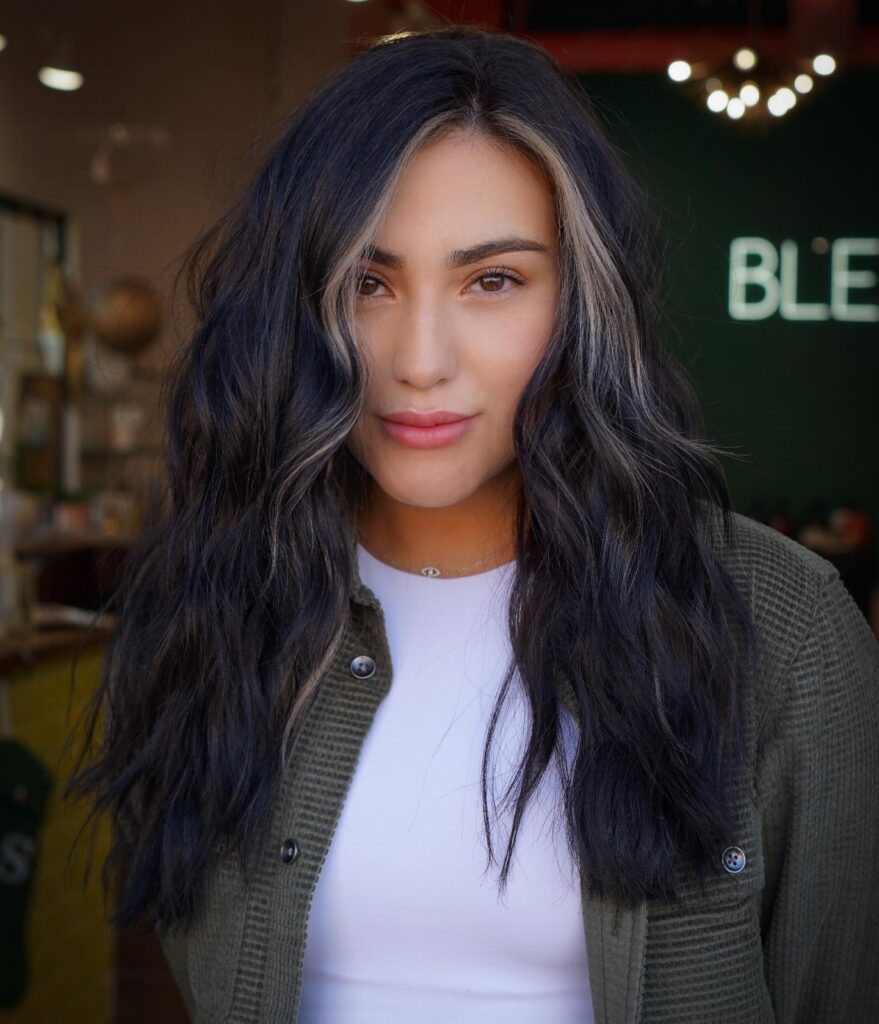 13 – White Streaks on Black Hair
This option perhaps could take place of the very first style, as it too is quite simple and easy to commit to. The streaks technique requires select strands of your hair to be dyed a contrasting color. In the case that the majority of your hair is black, those stipes would be white, and vice versa.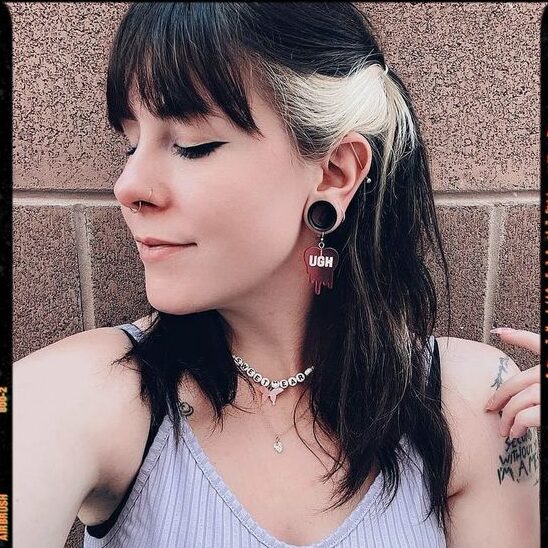 12 – White Bangs with Black Hair
This trend began with the infamous Tik Tok hairstyle, one in which you would bleach the front stips of your hair whilst leaving the rest your natural color. Although, this salt and pepper version is way edgier and has a larger commitment.
Since you probably want to do this hairstyle justice, make sure you not only dye your bangs white but the pieces around them too. Since it will help you blend these colors well when sectioning your hair in different hairstyles.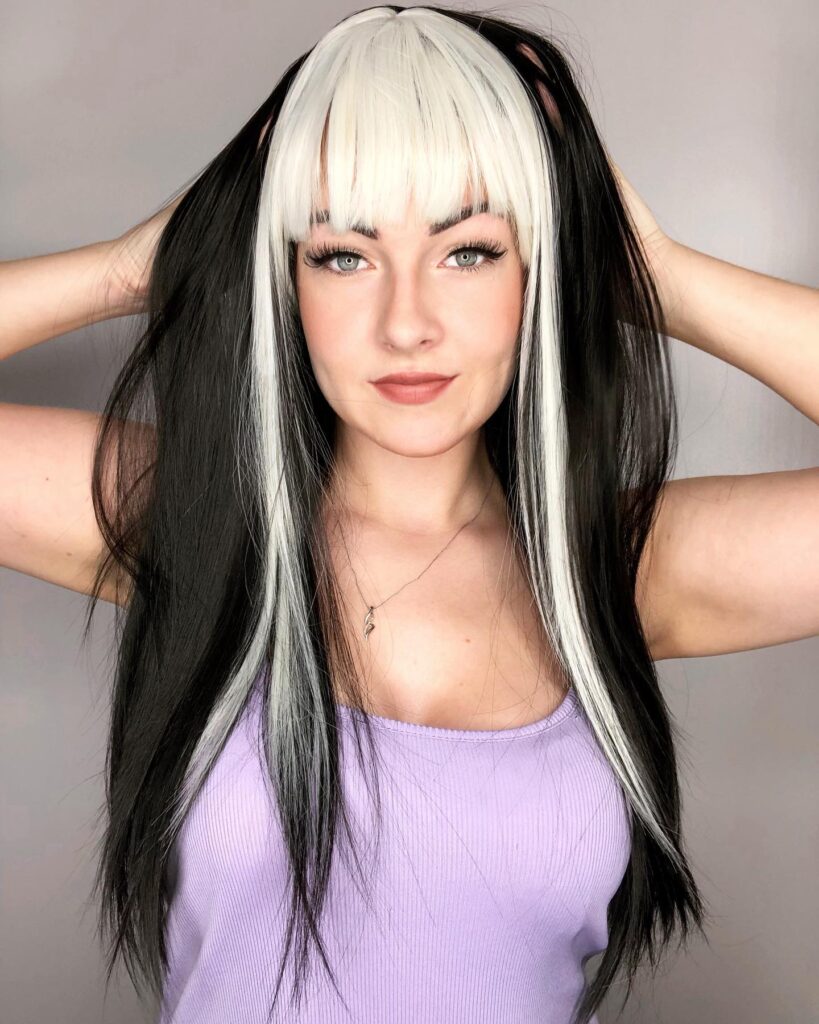 11 – White Front Streaks with Wavy Hair
As mentioned in the previous style, the hair trend that was started on TikTok is also possible for this hairstyle. Walk the line between mild and extravagant hairstyles.
For example, try out a jet black hair color, with some striking white highlights on the pieces outlining your face. The two front pieces can be shorter to create a staircase cut.
Similarly, they can remain the length of your hair, there is no wrong option.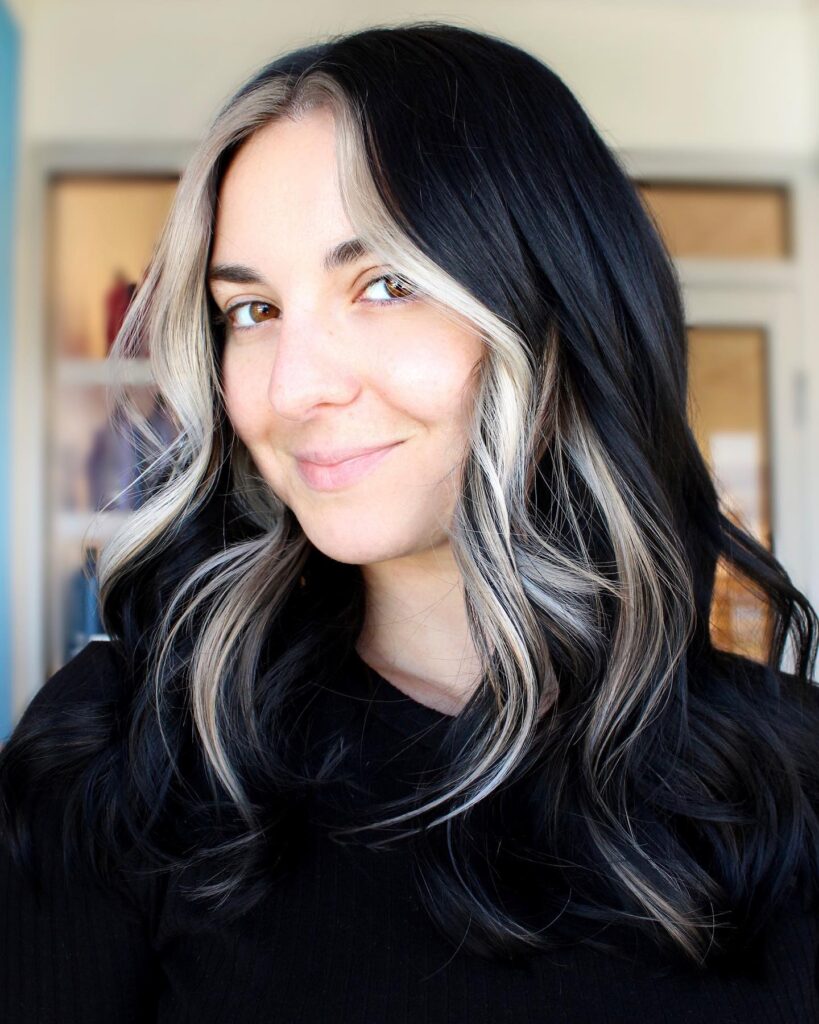 10 – Cruella Hairstyle
Split dyeing is the next elevation to the intensity of this contrasting hairstyle. This hair look entails parting your hair down the middle and dyeing the two sides in contrast to one another.
For more inspiration, you can check out these best-ever celebrity hairstyle ideas.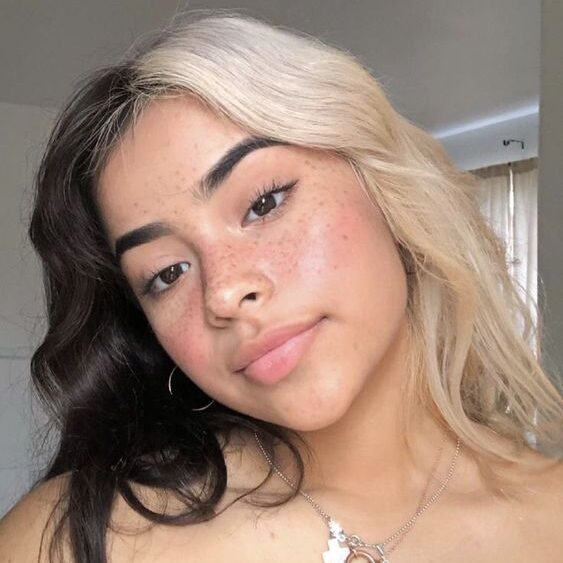 9 – Advanced and Alternating Split Dyeing
With a slight development on the previous hairstyle option, this advanced dyeing method will definitely look very unique. This hairstyle works best for long textured hair. It entails dyeing your hair in altering patches of black or white. The sections can be large and only part your hair into two parts, or three.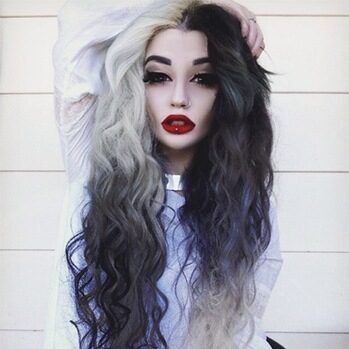 8 – Black Under Layer with White Hair
With these contrasting color options, the choice to separate your hair not in length but rather in layers is always an option. You can choose to dye the lower layer of your hair black and the top white. This would also look good as a shag haircut.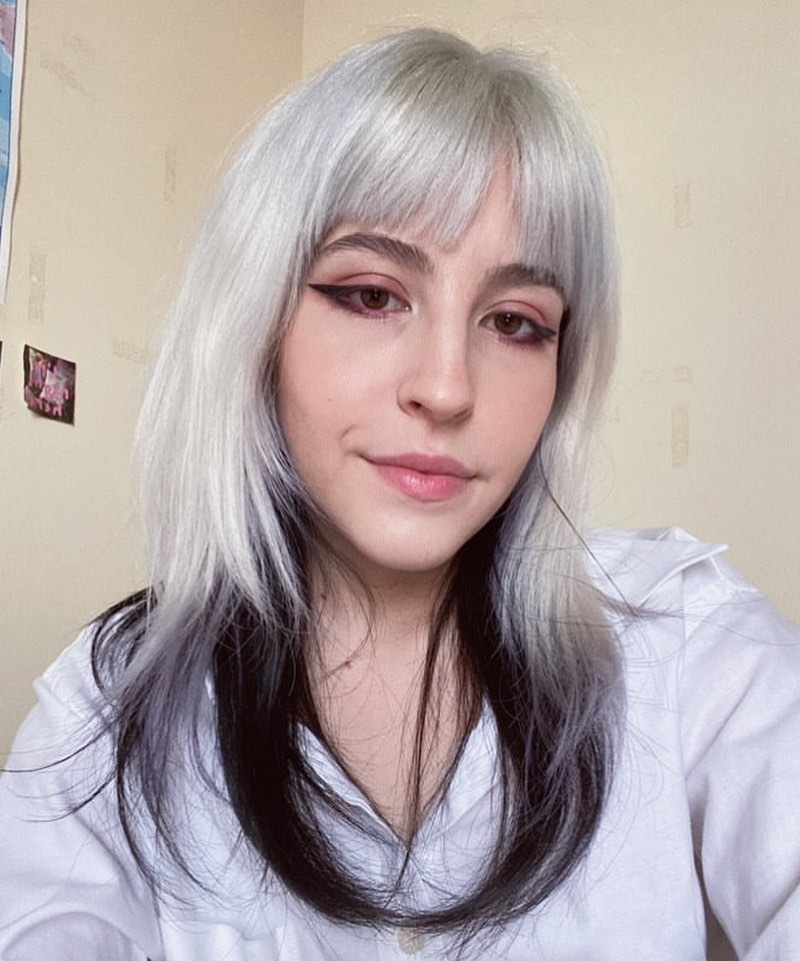 7 – Black and White Highlights
Highlights are a beautiful way to give your hair a balanced look.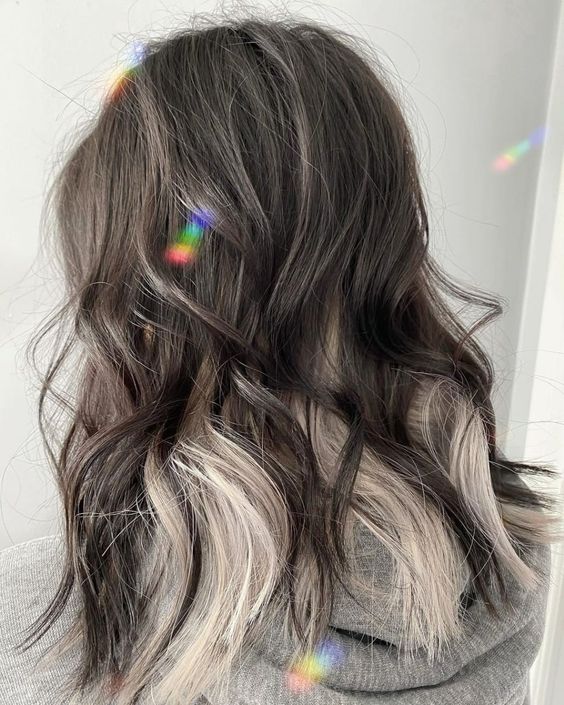 6 – Dip Dyed Black & White Hair
This style is similar to the idea of outlining your hair in the previous style. Dye only a few centimeters at the bottom of your hair into a contrasting color. This works best for shoulder-length hair cuts, although can be done for long straight hair as well.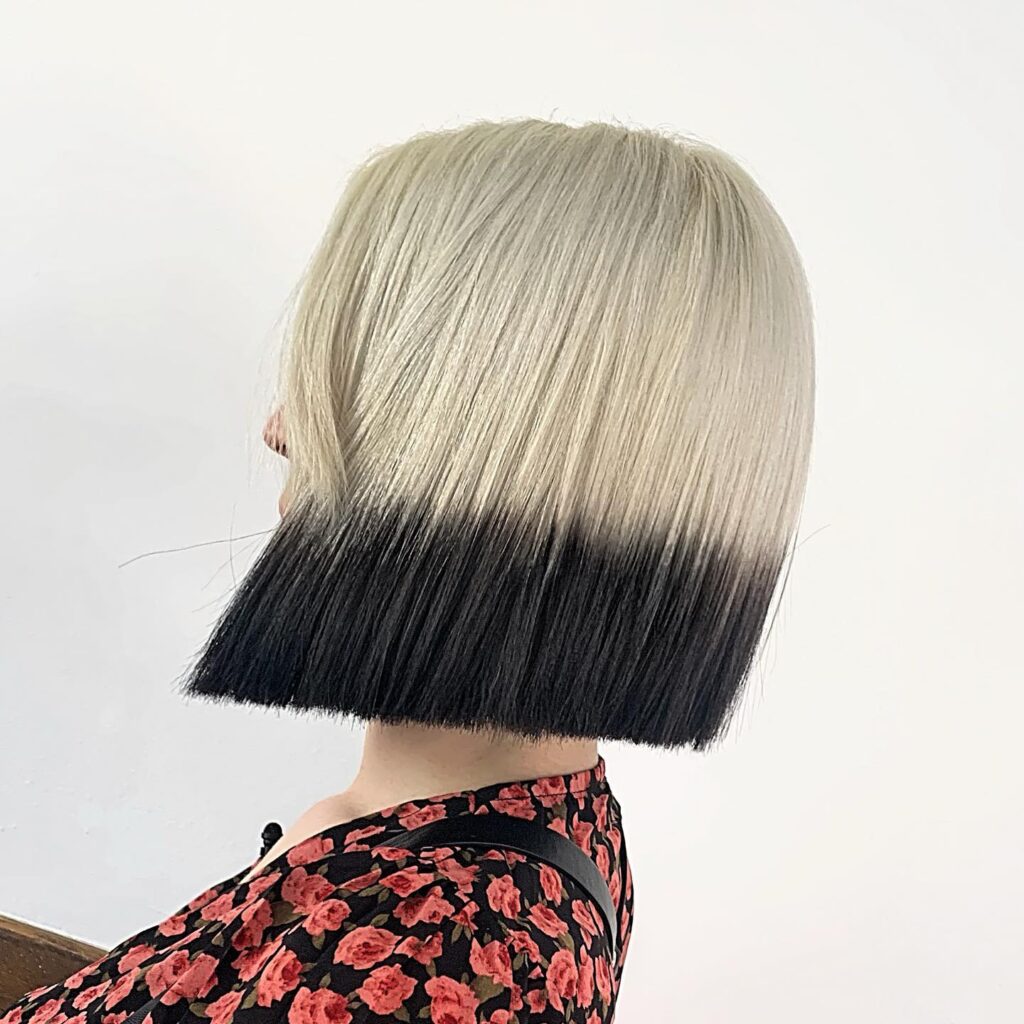 5 – Edgy Sunray Look
This hairstyle is certainly on the very fashionable edgy youthful side. The reason for the name is the effect that this dye job creates resembles sun rays hitting your hair through blinds on a sunny day. This dyeing technique certainly requires a skilled hairstylist. If you are not opposed to having your hair jet black and have small additions of white blocks bleached out, you are ready to rock this look.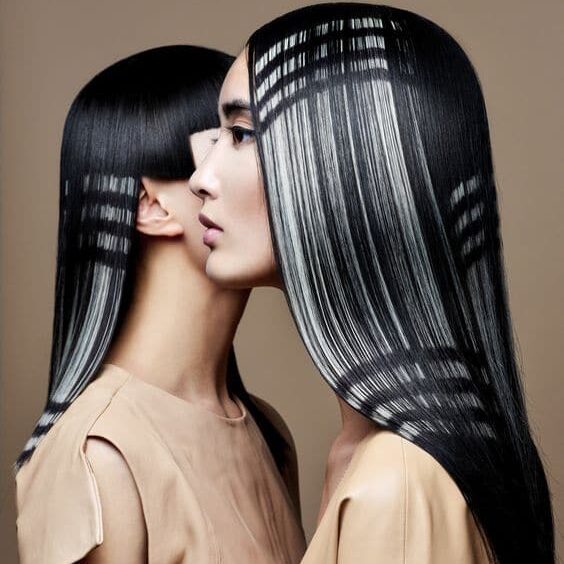 4 – Patchwork Design
A patchwork is a slight elevation or continuation to the edgy sunray style. It is more noticeable as the highlighted stripes become prolonged across the entire hair width. Similarly, these horizontal stripes are repeated throughout the entire length of the hair. Conversely, this hairstyle has evenly sized large stripes of each color. Although, it is most definitely your taste and preference.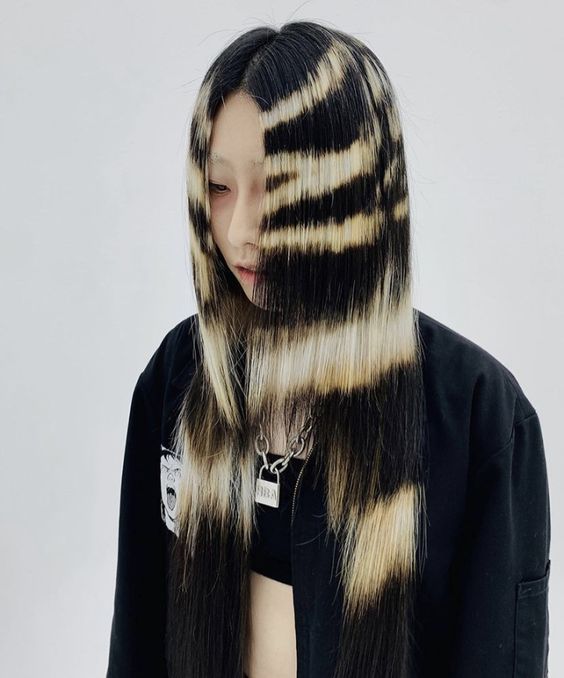 3 – Spiral Pattern Design
To achieve the spirals look on your hair a very meticulous dyeing session is in order. Make sure you and your hairstylist are ready to spend a hefty amount of time completing the necessary steps to achieve this head-spinning look. It is certainly one hairstyle that will make people remember you well. I would also recommend that you check out these stunning goth hairstyles for short hair.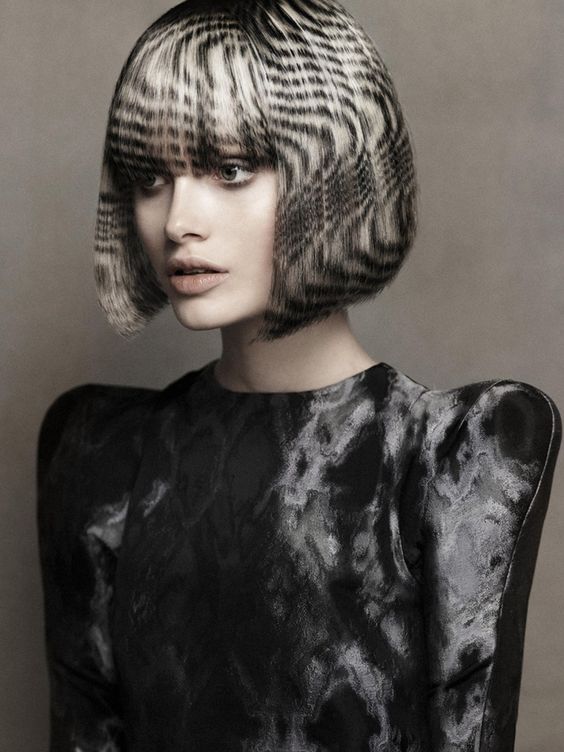 2 – Line Pattern Design
Similar to the patchwork design we have mentioned several options before, this entails horizontal lines throughout the entirety of your hair. Although, this style is made out of much more detailed, thin, and precise stripes. The work is also highly difficult because all the small stripes must line up perfectly. The end result is absolutely stunning, it moves like an optical illusion.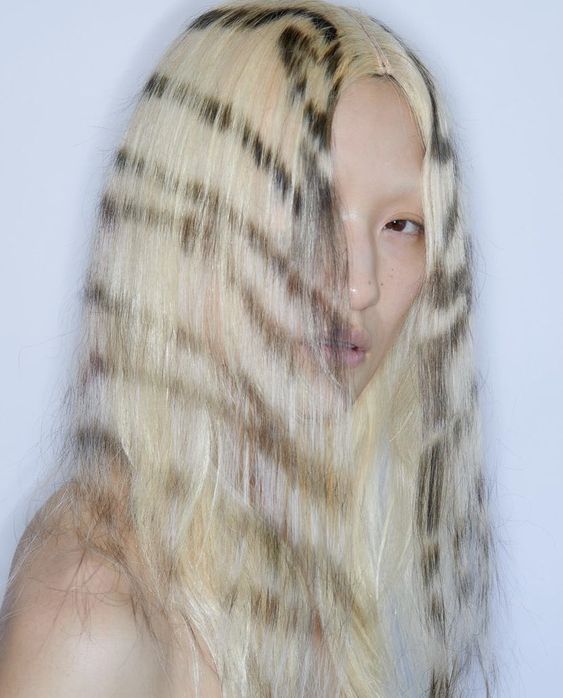 1 – Shaven head black and white design
The last option on the list is for those women who are totally fearless. We are talking about the women who feel brave enough to shave off all of their beautiful locks and rock an edgy-shaven head.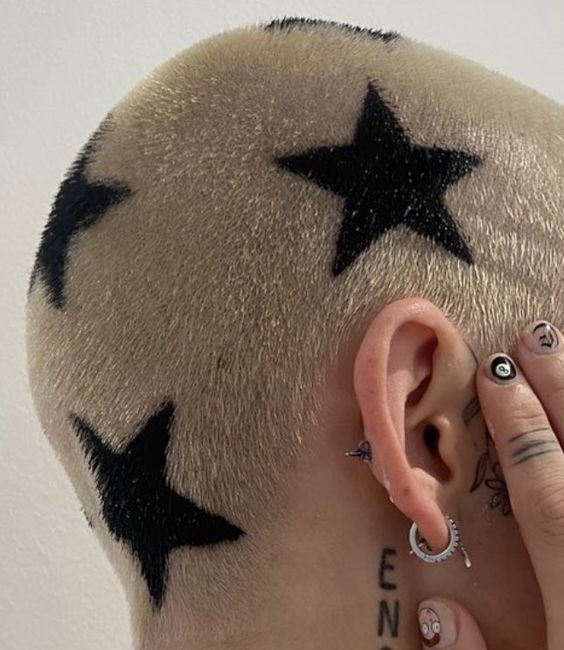 Frequently Asked Questions
How can I make my hair black naturally?
We understand the desire to change up your look, and yet maintain the health of your hair. Thankfully natural dye options exist. One example is Henna and Basma, these are hair dyes made exclusively from plants. However, this might sound misleading rest assured that Basma is highly potent in color substance. It can turn your hair from dark blue to black in just a matter of hours. Although one thing to mention is that this hair dye once applied to hair, will take a very long time to wash out. So make sure you want to go for this color before you commit to it.
What color of highlights suits black hair best?
If you have black hair and you wish to spice it up with some highlights the choice really is yours. However, some trendy highlight pairings are white, and caramel. However, if you want something more exceptional, you can try a teal blue color, as it also pairs very well with black. Here are the most trending hair dye ideas for this year.
What are the different shades of black hair?
Although it can sound surprising, when it comes to hair there isn't just one universal shade of black. There are three main types of black hair color shades. It is important to choose the right one, predominantly because the right one can act in complement to your skin tone.
The first and most recognizable is Jet Black. This shade is very concentrated, and has minimal undertones – try to avoid this color if you are very pale.

Blue Black is the second in the range. This color is on the cool side of the spectrum as its main undertone is blue. This color works well with pale skin as it is similarly cool-toned, and doe not make it stand out more.

Lastly, Plum Black or Raven has a strong warm undertone. It is most complementary to warm, and deep skin tones.