4th of July Outfits for Kids:  4th of July festivities are about to start and soon we will be wildly investing in food and decoration with enthusiasm. Everyone is ready to leave a style statement and planning in advance but what about the kids? Dressing up kids in unique outfits is always fun for the parents and they plan in advance for it, searching for ideas everywhere. If you still haven't sorted out how to dress your little bundle of joy up for the independence day, worry not as we do have some great suggestions for you.
An important point to remember is to dress them patriotically but also to go for an outfit that they can play around and be comfortable in. Your little ones will be excited about the celebrations but the dressing up ball is pretty much in your court. There are quite a few interesting and creative ideas about dressing up kids for the 4th of July by not going over your budget. Here we have some super duper cute 4th of July outfits for kids that you will love and can get inspiration from.
How To Dress Children On 4th July?
Here are the important items you need to have before the 4th of July comes by:
Always have a comfortable change over for Kids at hand in case they are not feeling comfy in the current clothing.
Girls and boys need their cute accessories so keep all the headbands, clips, jewelry, flags, gallace, belts, ties and bow ties near you.
Make sure in advance that the clothes aren't too tight or uncomfortable that the kids won't be able to run around, climb or play freely without damaging the clothes or hurting themselves.
Keep the weather in mind and dress the kids accordingly in items that won't make them hot and uncomfortable.
There are many shoe option available for the little ones but the most comfortable ones are boat shoes, flats, sandals, and sneakers. This will make sure that your child is free to run around gleefully.
You or your kid might love the idea of dressing up as grown up but avoid going down that route by giving them makeup and strange hairdos for 4th of July. Let them be young and adorable before they finally step into the adult world.
Lastly, don't forget to put on cute nail colors or art on your doll's nails.
Adorable Kid's Outfit Ideas for Independence Day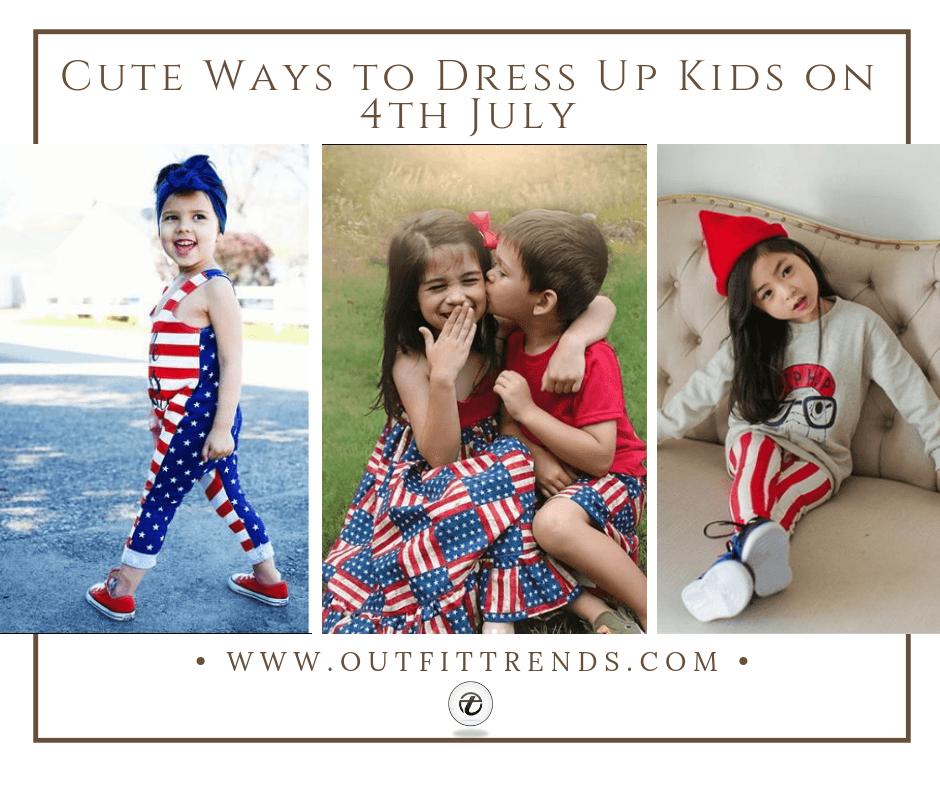 ↓19. Matching Siblings Outfits
Siblings love can easily be termed one of the best thing in the world with all the fights and tantrums, they still have the most closer bond. Depict this bond on the 4th of July by dressing up your siblings in a similar fashion. Irrespective of whether they are girls or boys, there are ways to opt for similar outfits available with different stores and designers. If you're a fan of matching outfits, you wouldn't want to miss up on these 100 Cutest Matching Mother Daughter Outfits on the Internet So Far.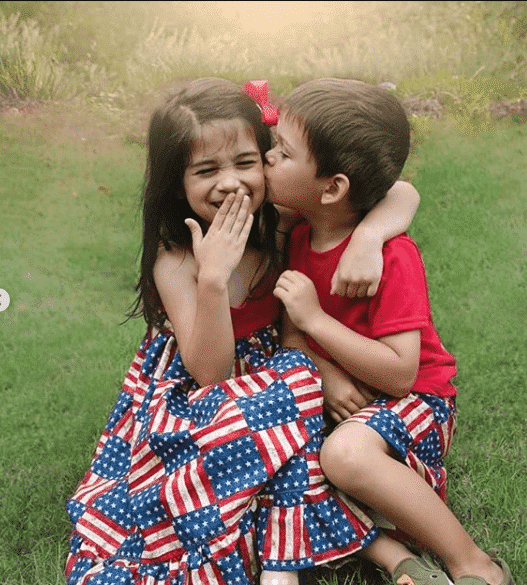 ↓18- Patriotic Outfit For Your Daughter
Tulle is a very popular mesh net fabric that is pretty much been worn by everyone young and old because of its playful look and breathable fabric. Moreover, it is also quite convenient to even make a skirt yourself by folding and then cutting up tulle fabric and then tying up the strips to a ribbon that you can tie around the waist of your child. Dress up your little princess in a blue, red and white tutu outfit and pair that up with a white, red and blue floral headband. You can also add up a pair of simple booties, or floral flats, whatever your daughter feels comfortable in.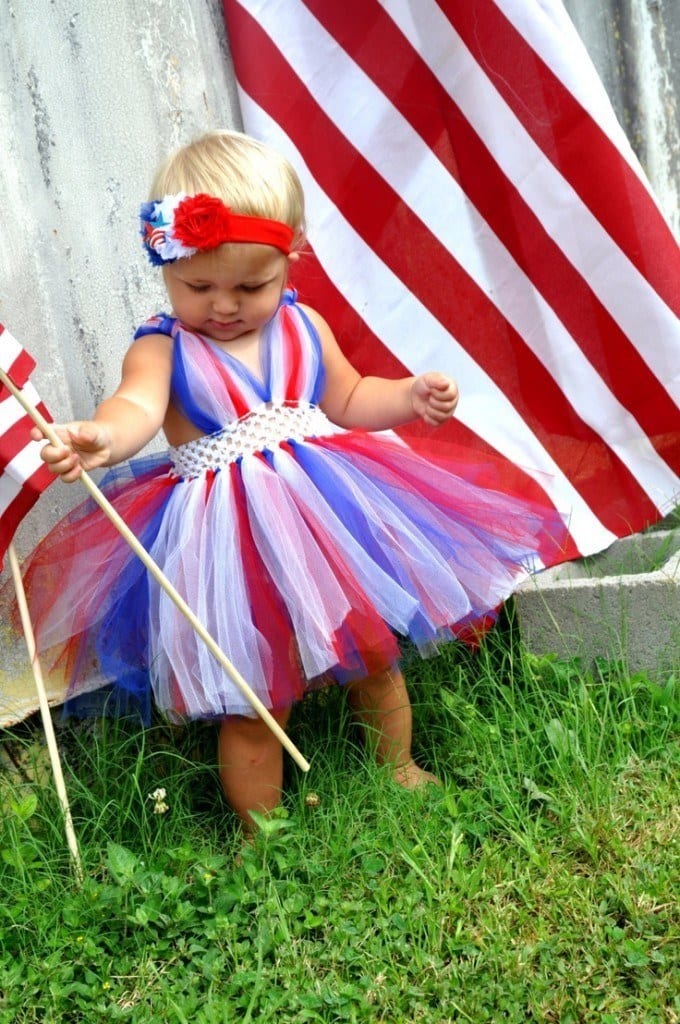 If I were to dress up my little girl in this though, I would definitely go for those cute barefoot shoes or sandals that you can easily find in the colors of an American flag. Check out this beautiful pair for example.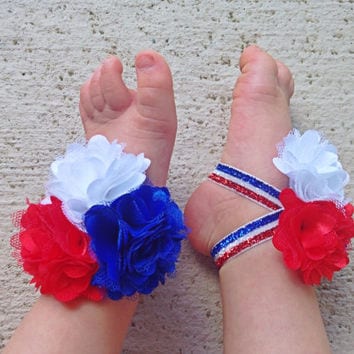 ↓17- Little Mr. Patriotic Summer day Outfit
For your little prince, we suggest you go the traditional way by opting for tees with vibrant red and blue colors or flag printed on it. You can put on a grey flag printed shirt with blue comfy shorts which will look so dapper. Add on a comfy pair of white sneakers so he is able to enjoy the festivities to the fullest. Put on a red or blue cap on his head because kids love it.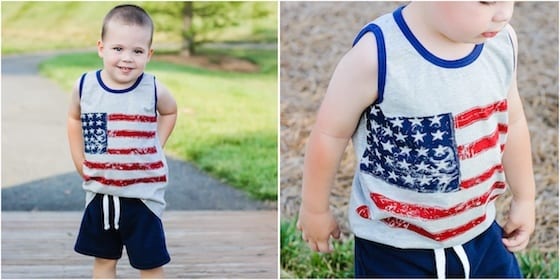 ↓16- USA Themed Clothing
This look is perfect for those adorable little fashionistas who love dressing up for different events. There are a million different styles of pants that you can choose for your little diva ranging from slim-fit denim to cute baggy chevron pants. Stripped or chevron pants with a navy blue tank top accessorized with a silver chain necklace and silver sandals will be totally on point. SO CUTE! There are quite a few stores where you can get some awesome USA themed clothing for your little one like target, American Flag Apparel, Old Navy, etc.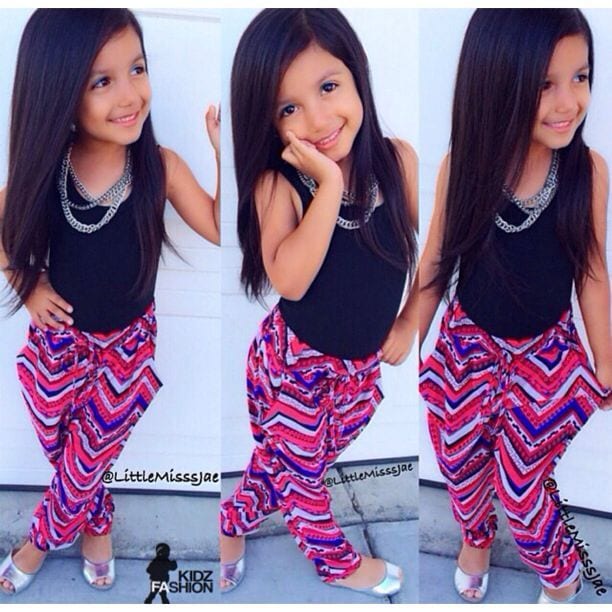 Via
↓15- Checks For Gentleman
The real struggle begins when you are trying to find casual outfits from among the current wardrobe for the kids. It is not always necessary to buy new items to come up with a nice outfit for the 4th of July for your little one. We suggest that for your little dude, a red or blue check button-down shirt with blue or black denim jeans will look perfect for the 4th of July if paired with brown or black boots. Here are some cute Father & Son Twinning/Matching Outfits.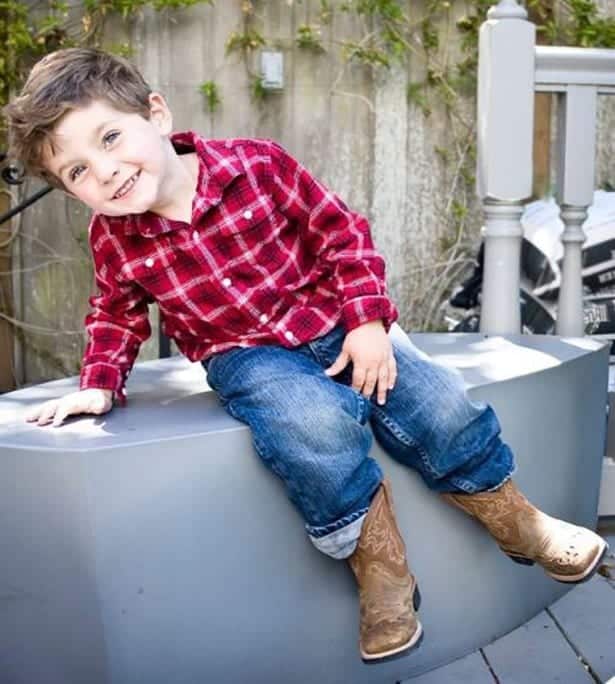 ↓14- Red Muffin
Sometimes it is best to stick to one color to make a high fashion statement for your little one. Make your little muffin dress up in a red coat with a knitted undershirt and partner that up with red legging and red booties.
↓13- That Handsome Dude
If summer is beating you down and you are searching for light and breathable clothes for your boy, we suggest opting for a chambray shirt. Super lightweight linen or chambray button down will look perfect with red shorts. What can be done to make the whole look amazing? we recommend you get some comfy boat shoes for him and see how he loves running around in them while you enjoy the fireworks.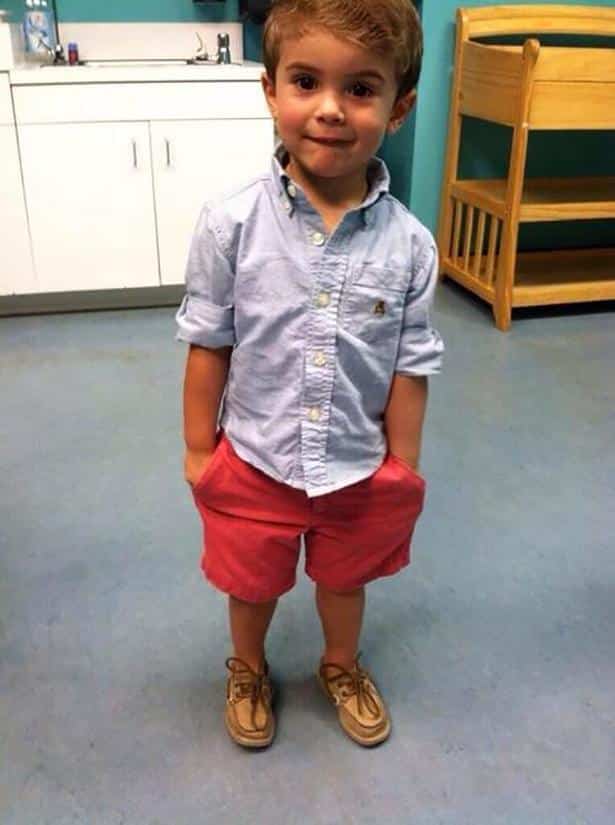 ↓12- Casual Outfit For 4th Of July
Most of us can't help but feel that kids look extra adorable with an individualistic hip look. If you have been swooning over these cute pictures of kids and want something for your own little one, we suggest you visit this site. So wondering what you can do for your little one? We suggest you go for a grey t-Shirt with red and white stripped legging pants paired up with blue sneakers. Make your little hip girl stand out by adding a pointed beanie to her outfit.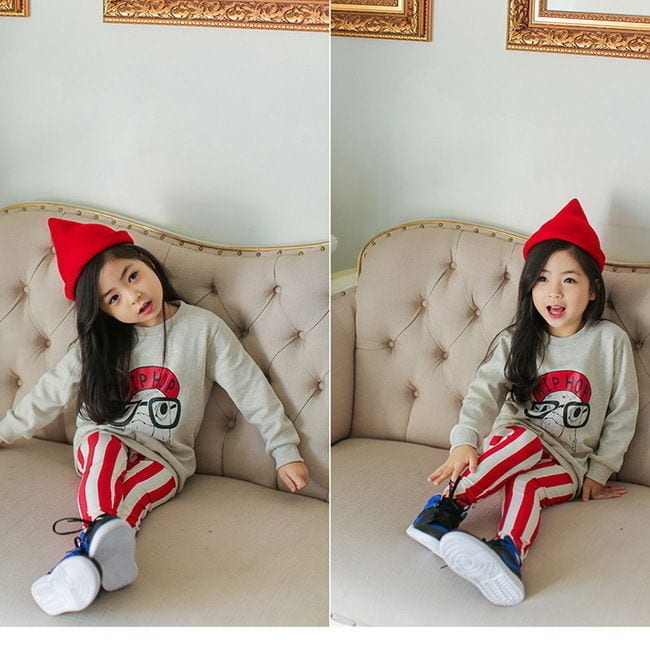 ↓11- Adorable Hottie
This independence day makes your little one look like a TOTAL HOTTIE. Honor the independence day by dressing up your kid this 4th of July in a blue and white check shirt with red pants and a polka dotted Velcro bow-tie and brown Oxfords. Trust me this one is gonna get your child noticed. Have a look at 17 Cute 1st Birthday Outfits for Baby Girl All Seasons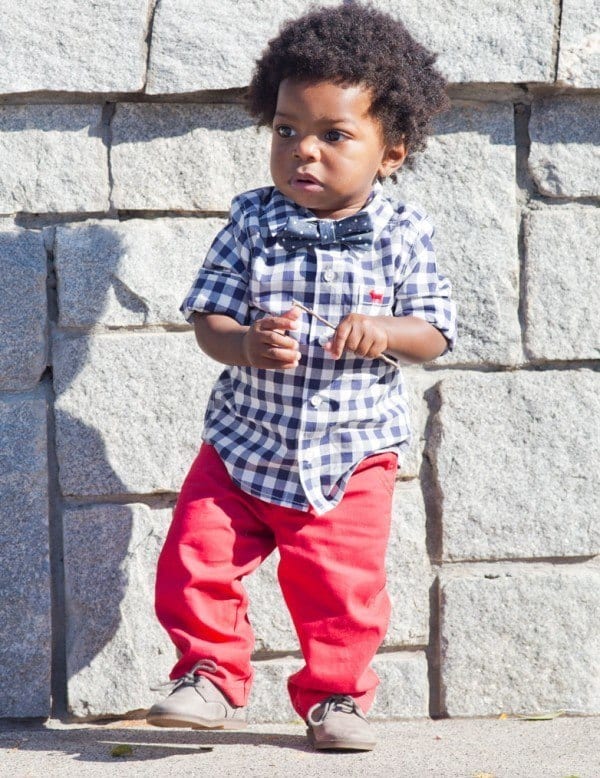 ↓10- Cute Onesie
Make your little look the most adorable American toddler this 4th of July. Make her wear a red, white & blue chevron bubble romper halter outfit and add a matching bow head piece.  SO CUTE I COULD LITERALLY EAT THE CHILD UP. OK WELL NOT REALLY.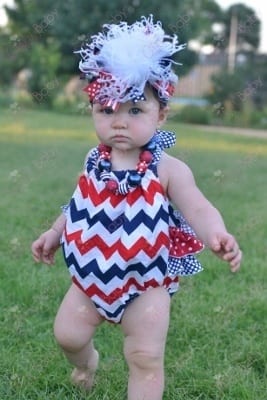 ↓9- The COOL Kid
Are you into the latest trends and the cool looks for kids? Make your son look like the coolest kid in town with this outfit. Star and striped pants with a black graphic tee and check cap. For footwear, a pair of sneakers will look good. Add a chain necklace for that rockstar look or it's perfect otherwise too.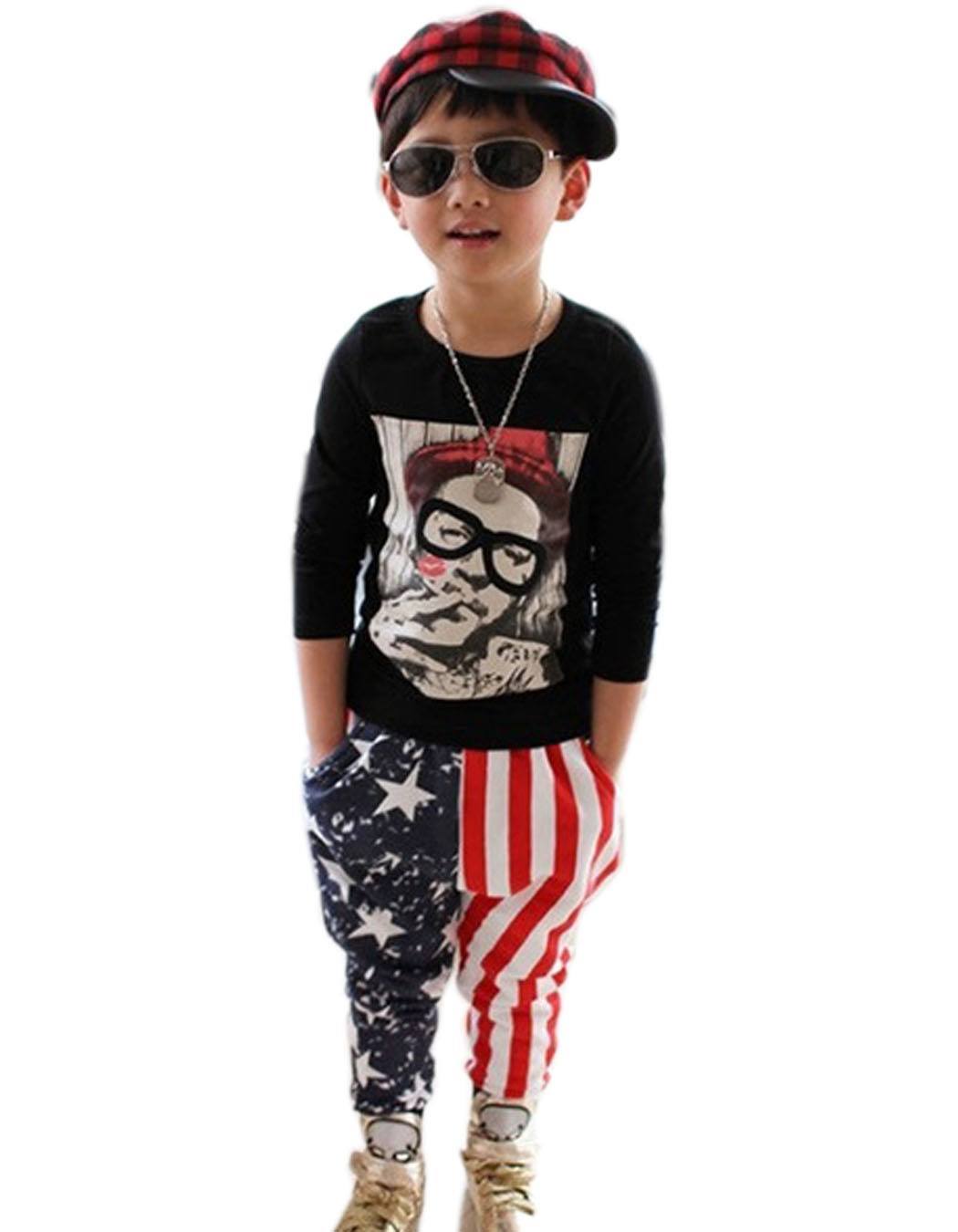 ↓8- Go White
If there will be a lot of family activities this holiday, this outfit is perfect for your child. Being quite comfortable and patriotic, it is easy for the kid to wear too. A white dress/frock with blue and red stars on it. Add up a pair of simple red boots. Alsoooo, if you make two top knots with a middle partition and a braid on one side. It'll look ADORABLE! Do check out these 23 Cool Dresses for Baby Casual Style.
↓7- Mixing up Patterns and Prints
This independence day, go for a striped and polka dot outfit for your little stud. With a playful approach in mind, go with a white shirt with red stripes and white shorts with blue stripes will look perfect if paired up with a multi-colored polka dot bow tie with red and blue polka dots. Blue sandals or boat shoes will appear nice with this outfit and will complete the overall look for the little one.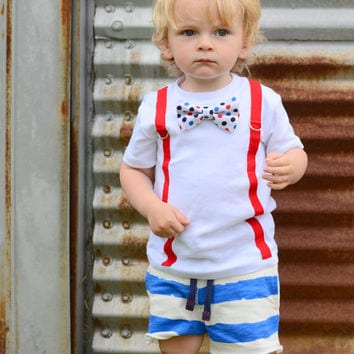 ↓6- Add Some Glitter to Your Kid's Independence Day Look
Little girls love sparkly outfits and why not give them just that for independence day! If you or your little one are not so keen on sparkles and glitter and want to keep it minimal, go with one stand out a piece like sparkly shorts or tee. Make your doll dress up in red glittery sequin shorts with a bow at the waist and a white tank tee. A shiny bow headpiece and red or white sandals will compliment the look perfectly.
↓5- Swag Baby Outfit
We can't get enough of the recent trend of kids being dresses up in style of adults for a dapper and very smart look. If you love the idea too, you need to get a fitted blazer for your little one beforehand in amazing shades of red, blue or white depending on the whole outfit. A white shirt with blue denim cut-out shorts and with a cute little red bow tie can be very classy for a young man. Add that bit of patriotism with American flag converse, some swaggy shades too maybe and HOW HOT does he look!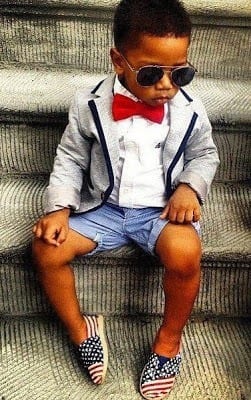 ↓4- American Romper
A cute vintage headband on independence day can be perfect. Reviving memories of old days is classic and to go with this cute bow headband, we suggest you dress up your little one a blue, red and white romper. For the perfect cheerful picture, an American flag tank romper is perfect for little miss America. Partner it up with a blue bow headpiece and a pair of red sneakers.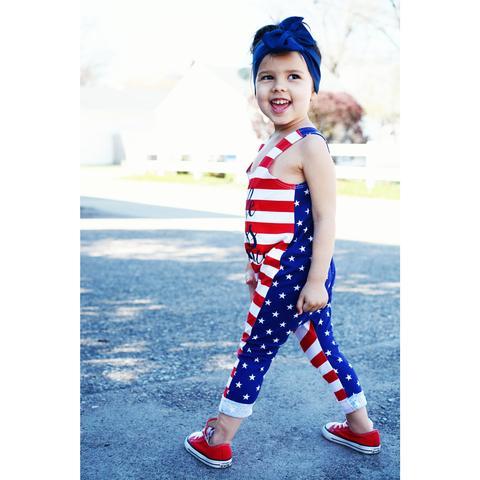 ↓3- Cute Look for Toddler Boy
You might love the idea of a toddler in gallace but it might not be the best idea since it can be tricky for toddlers to wear them and they might get finicky. The best of both the worlds will be to go for a shirt that has a gallace style strap on it. All little Mr. America needs this 4th of July is a white tee with red suspender gallace and blue shorts with a red star on it. Add a Velcro tie with blue, red and white stripes on it and Mr. America is good to go.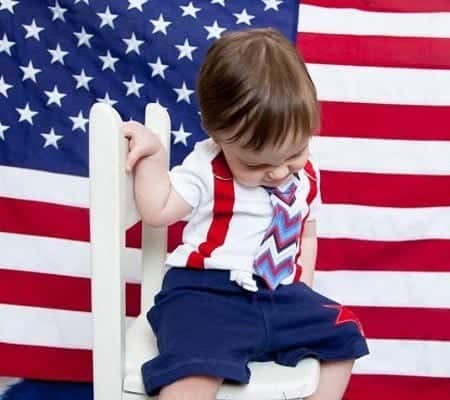 ↓2- A Shiny Star
Does your little one loves stars and is a fan of sequins? It would be a great idea to go for a big graphical star with sequins on it because who wouldn't like a touch of glam and glitter? A sleeveless blue and white stripped flair-y dress with a glittery star will look super patriotic. Finish off with a pair of sandals and make a cute star-spangled headband for her to wear to even school events.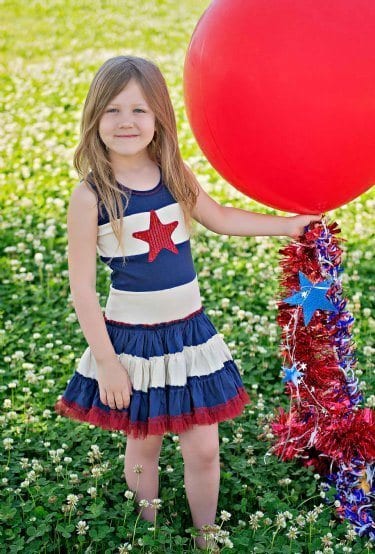 ↓1- Patriotic Toddler Girl Clothes
Cute outfits are a great way to celebrate the 4th of July with your little ones and in case you are looking, we suggest to opt for cute cupcake tees or frocks for girls. Go for a white Tee with a blue and white cupcake on it that has stars on it with a color-coordinated tutu skirt or even shorts according to weather. Finish little princess' look off with red long boots and some red, white and blue floral clips.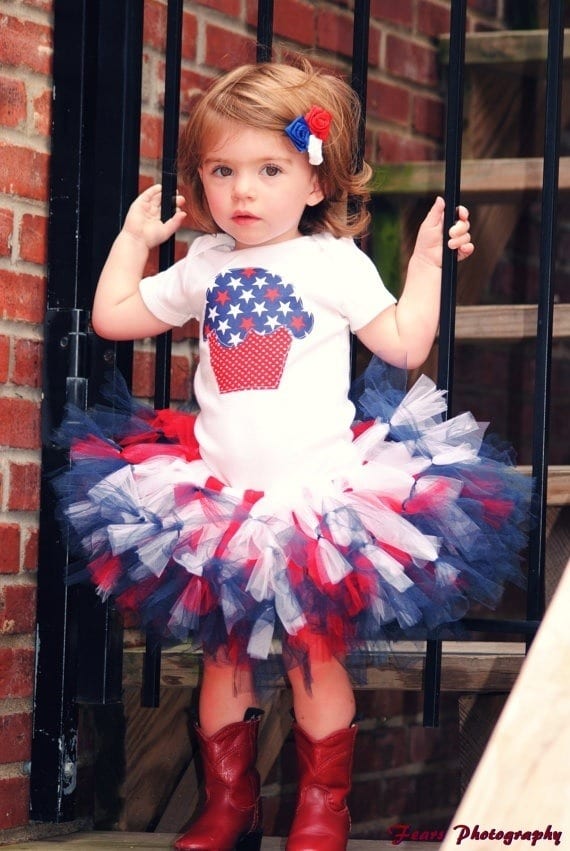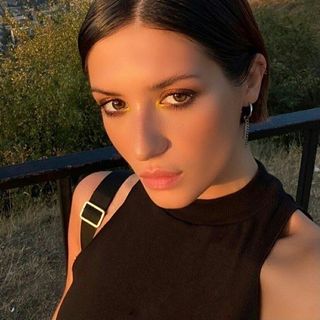 Avid reader and Fashionista. London Based freelance lifestyle editor