omar borkan pics – We get so worried about being pretty. Let's be pretty kind. Pretty funny. Pretty smart. Pretty strong" Brit Nicole. People have become too superficial and materialistic. Most of these common people are inspired by beauty so much that it is all that is given importance to these days.
Gone are the days when an intelligent person received instant fame and gifts and became a topic of discussion. Beauty itself is not bad as it is created by God but the standards that the human race has adopted with regards to a pretty face are ugly.
In 2013, such an event occurred that it shocked the whole world. Saudi Arabia is known for its strict rules with regards to the mingling of men and women and moral standards so men with good looks should beware when entering the country.
An actor, a photographer and a poet born in Iraq and raised in Dubai to follow a career in fashion modelling was attending an event in Saudi Arabia when the organizers thought that Omar Borkan is devilishly handsome and can become a problem for the women there so he was deported from the country in April 2013. It would not be wrong to say that Omar Borkan is one of the hottest man alive. For some people exile become the biggest defamation and for Omar Borkan it changed his life overnight. He became a topic for discussion all over the world. That incident changed his life forever,got million of fans in a very short amount of time. This incident also brought a brand new living style for him when he started receiving gifts from women; a brand new Mercedes G55 as a gift from a woman on his birthday.
Omar Borkan now a days is one of the top middle east model and official ambassador for Samsung NXMini & Galaxy Camera 2,Galaxy K zoom.He is a great inspiration for men's fashion specially the Arab men style.Lot of Arab men follow Omar Borknan fashion and his dressing style as can be seen in the following pictures. Masculine charm oozing from those mysterious eyes set under thick eyebrows and a beard common among Central Asian Men, no doubt about his pretty features.
This incident has two aspects; the other side is that the actor may have used this whole scenario to become famous and to highlight his public profile as he is seen wearing eyeliner and kohl in many of his pictures. It took Omar Borkan three months before admitting in July 2013, in an exclusive interview to a private magazine he admitted that the story was fake, he was never deported. He was dancing inappropriately in a family event and he was questioned by the national guard but never asked to leave the country. Well whatever was the motive he got the best out of this whole scenario.
Recommended : 10 Most Handsome Arab Men in the World
To celebrate his devilish good looks and dreamy eyes, here are top 50 photos of  omar borkan who is said to be too hot to stay in Saudi Arabia :P.You will also get to know about omar borkan style and fashion sense from these pictures.
Photos Collection of Omar Borkan Al Gala
Omar Borkan being a model is seen here posing in the traditional Arab attire with a thobe of black color combined with a kaffiyeh in red. He keeps his beard most of the time as it adds to his handsomeness.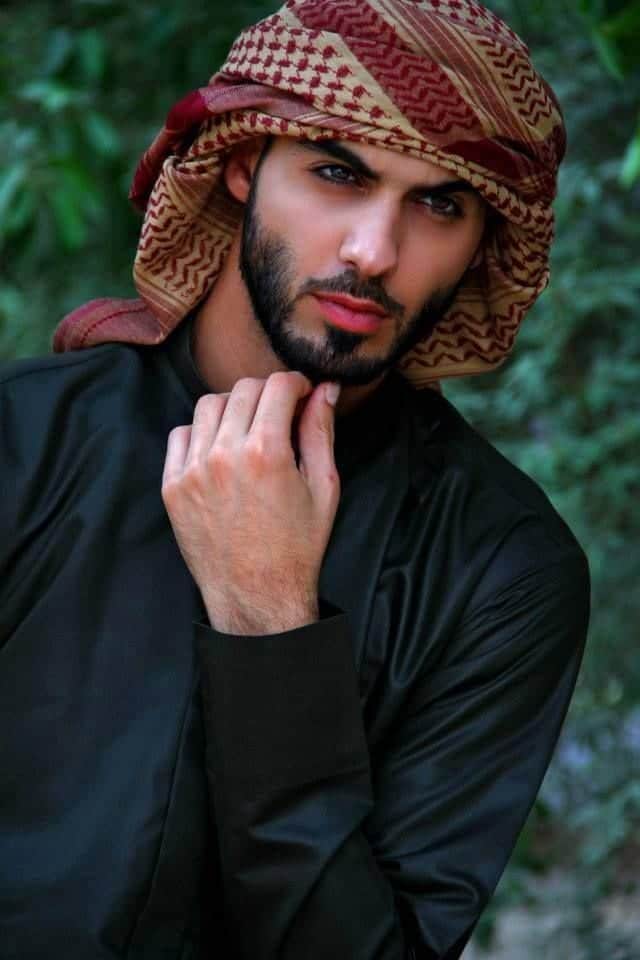 HD Wallpaper
Brown embroided thobe can be worn to festive occasions as is worn by the model. The kaffiyeh here is tied around with the igal.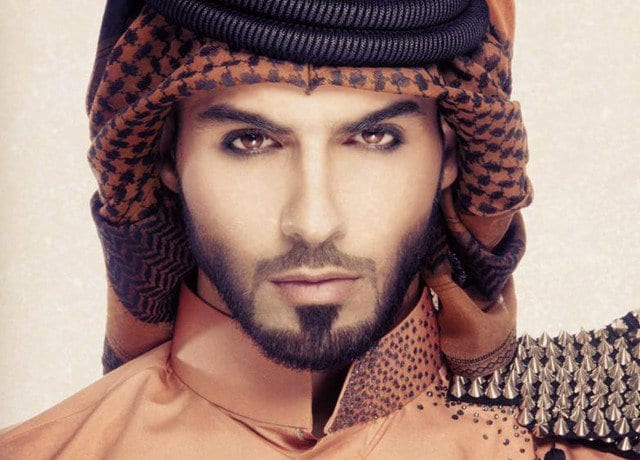 Normally the model is not seen in western clothes but you can see that he is enjoying wearing these as well. Rn B cap with a classic white t-shirt is looking great on the guy.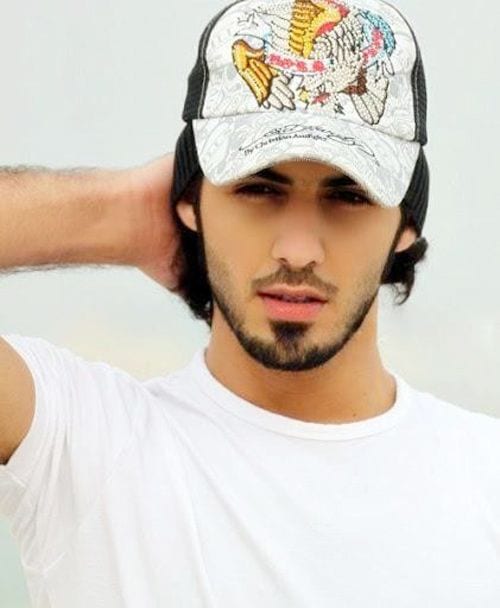 For women across the globe, he is looking like a vision in white. His looks enhanced by this all white outfit.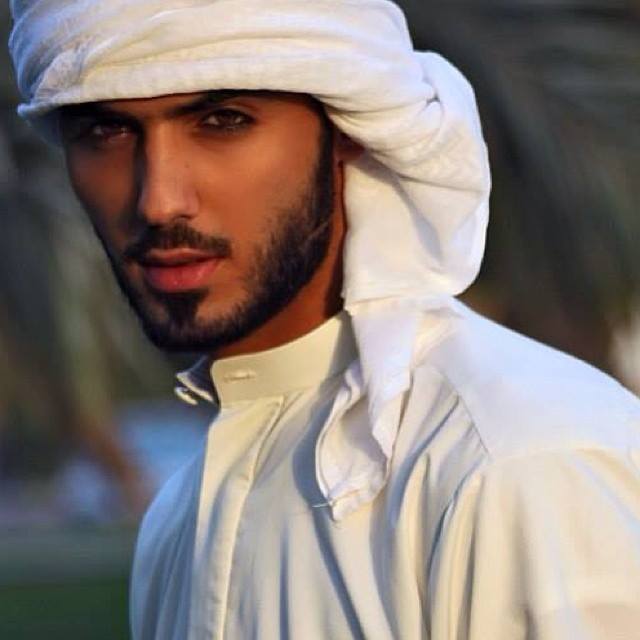 Top 10 Arab Countires with Most Beautiful Women
Gray Thobe worn with a a p-cap and a chin strap beard french style.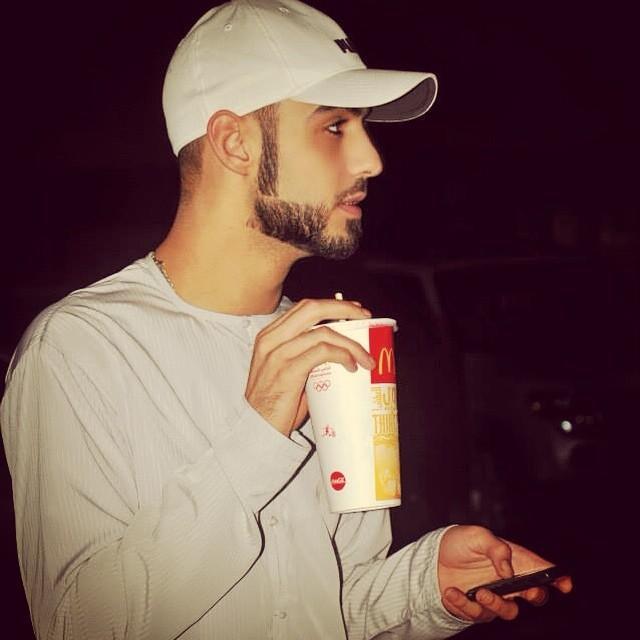 Again you can see that he like to wear a kaffiyeh with western wear also. White Jacket and traditional Jeans look good.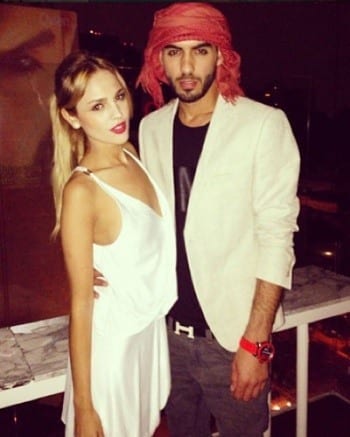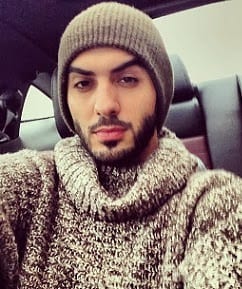 Omar Borkan Beard Style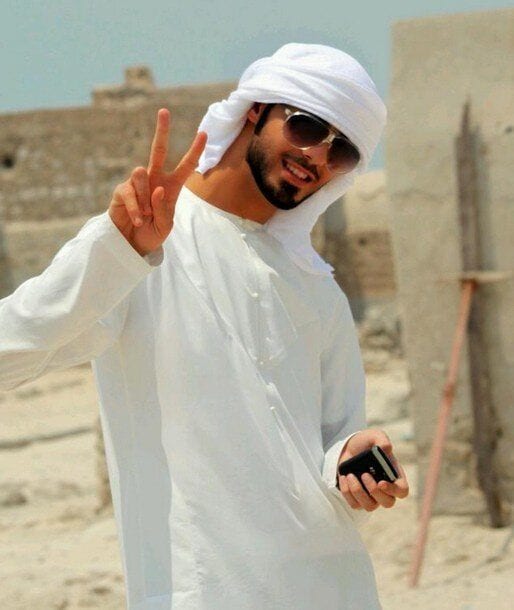 Also see :   25 Popular Beard styles for Arabic Men