Casual Outfits Ideas For Black Men – Black men are one of the most stylish, sophisticated and sexy men out there. This is why maintaining their look, even when dressing casual, is extremely important to them.
Whether they are going for a casual lunch, or a basketball match, they always need a perfect casual outfit. We have compiled a list of the sexy dressing style for dark skin guys, of all ages and tastes. This will help African men or African American guys in choosing the perfect style and attire for any casual event.You can also get much more ideas from this collection such as perfect shoes for black men, ideal hairstyles for black guys .Let's dig into these looks one by one and you can make your own perfect look using these ideas.
Dressing Style Ideas for Dark complexion Guys
1. Winter Style
Emphasis on the jacket, which can be studded or made of dark leather. Keep the focus on the jacket by wearing a plain white t-shirt underneath. The color of the jeans should match the color of the jacket so that the casual outfit looks stylish. An ideal outfit for African men. This outfit idea will beautify your dark color even more and will make you look the best one out there.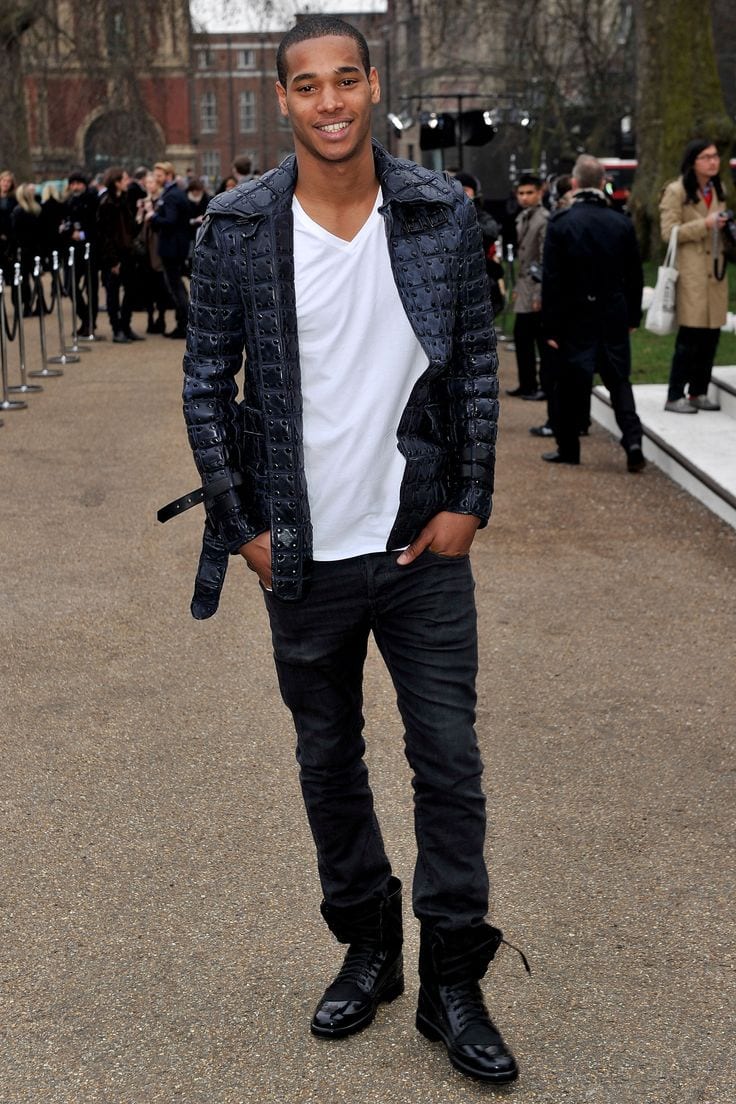 2. Style with Baseball Hat
Nelly is one of the most well-dressed black male out there. Take a cue from him and wear a large basketball cap, with a white T-shirt and glitzy watch.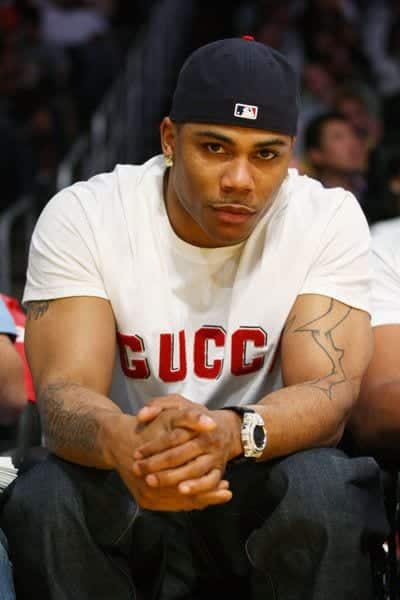 3. Decent Street Style Look
A bright red jacket, with black shirt and pants will look super stylish. You can wear dark shades with this look, for added glamor in the outfit. This bold look is loved by everyone, especially young girls. As much as this look is eye-catching, it is also very attractive and sexy at the same time. Just wear a black formal pant with a black formal shirt and add a striking red coat. Keep the top two buttons of the shirt open but at least one button of the coat should be closed. For shoes, you can wear jet black shiny ones from Prada. RECOMMENDED: 17 Most Popular Street Style Fashion Ideas for Men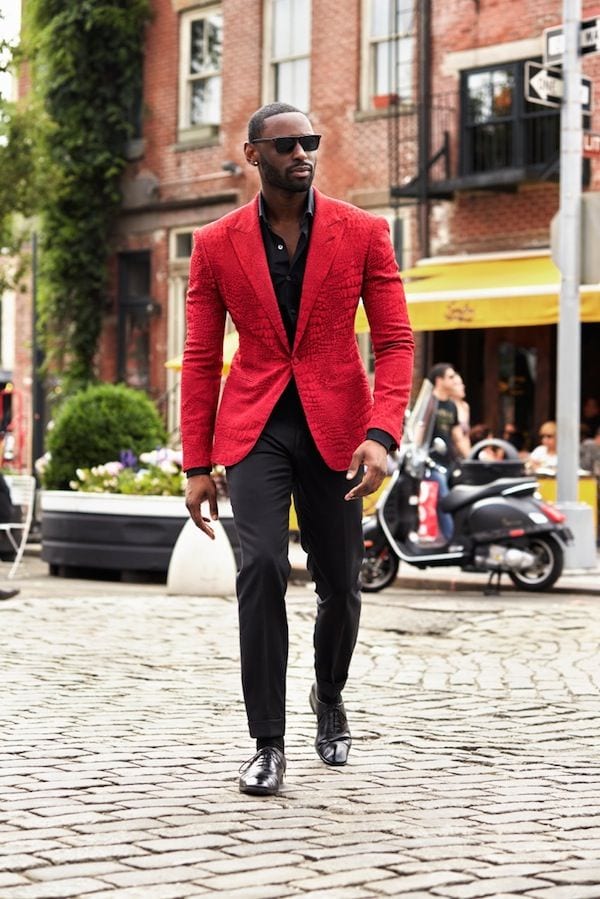 4. Suiting Combination
A casual outfit can be practical too, so you can wear a tie and leave the shirt button open. Keep it stylish with a well-stitched suit and round sunglasses. For added emphasis, choose brown loafers with a gray suit, as this color combination makes a great casual outfit for dark men. If you are a suit lover then you can add a matching or contrasting waistcoat inside your suit. These kind of waistcoats are trending these days and everyone including celebrities are wearing it with different contrasts. Here are some cool Men Waistcoat Styles -18 Ways to Wear Waistcoat for Classy Look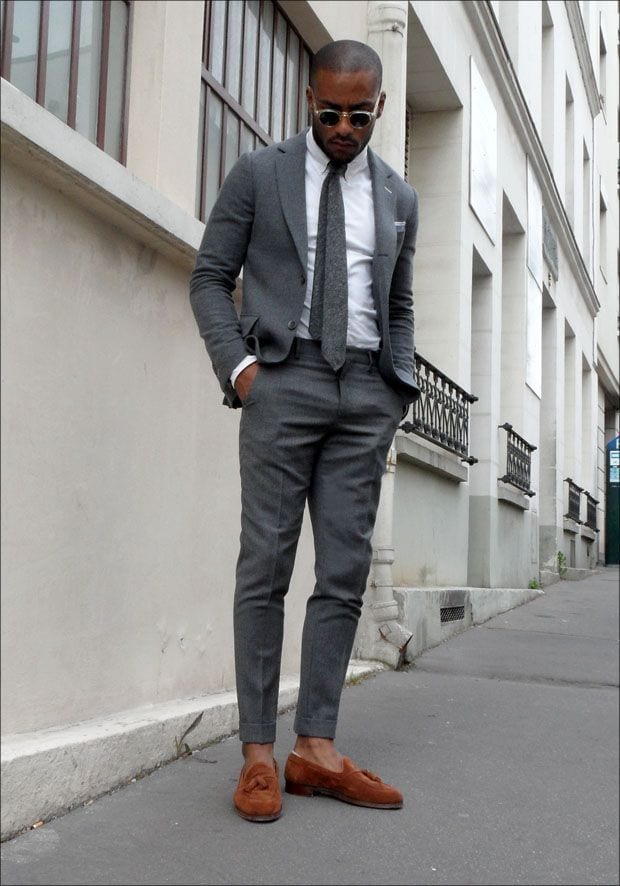 Outfit of the Day for Black Men
5. Spring Wear
What's more casual than a beanie cap? Here, you can wear a denim shirt, jazzy pants, and a gray beanie cap to look super stylish yet totally casual. Do not forget the red belt! This outfit idea is for those guys who love to look casual yet, dressed whenever they go out. This style is also perfect for lazy dudes out there who want to dress effortlessly. Wear baggy jeans with a different colored denim shirt and add a red belt for more emphasis and coolness. If you have a beanie available then wear that too.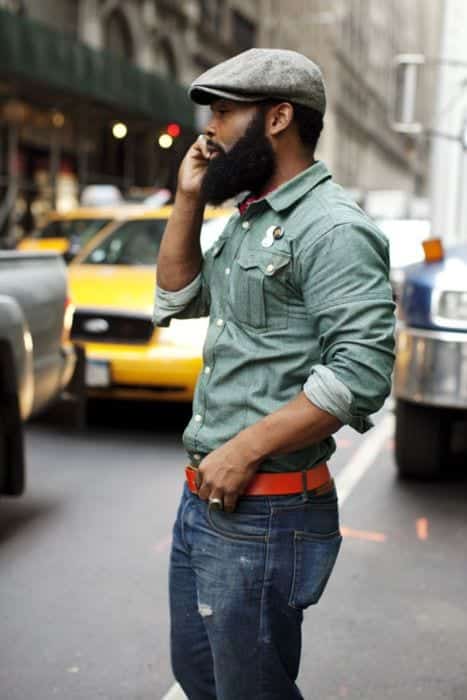 6. Go Simple and Show Your Genetics
Sometimes, the best casual outfits are the simplest one. Here, leave everything bare and just wear a blue hoodie. It looks super sporty on black men, and really sexy too. No doubt this look is very bold and not every guy is courageous enough to go outside all bare. But if you think you are bold and courageous enough and proud of your body then wear a zipper or a hoodie and keep the zip or the buttons of it totally open and hit the curb.