Women's Traditional Outfits Worldwide: The planet Earth homes 7.9 billion people. Due to those 7.9 billion, all kinds of races, cultures, and customs exist all over the globe. We, living in advanced times, have the privilege of exploring those rich cultures and learning about them physically while being thousands of miles away from the actual place! And one of the most appreciated and captivating features of the diverse heritage is clothing and dresses. But to be more specific, women's clothing!
Women have been expressing their creativity and traditions through the means of clothing for thousands of years. And over time, the expression through clothing has evolved in the best manner. Not only this but the clothing items are instilled with traditions and signify the importance of various occasions in a woman's life. Therefore, these outfits are crafted with a lot of love, made using the softest and most delicate fabric, multiple silhouettes, and colorful threads for beautiful embroidery to honor all these aspects.
What are the Cultural Dresses of Women Around the Globe?
We have searched and gathered for you the most beautiful traditional dresses worn in countries all over the world. While some are national dresses, others are born from the customs of the tribal people and passed on over generations. But all of them are equally exquisite in their uniqueness! Perhaps after scrolling through this article, these outfits will inspire you to wear your traditional dress and get ready to style them your way!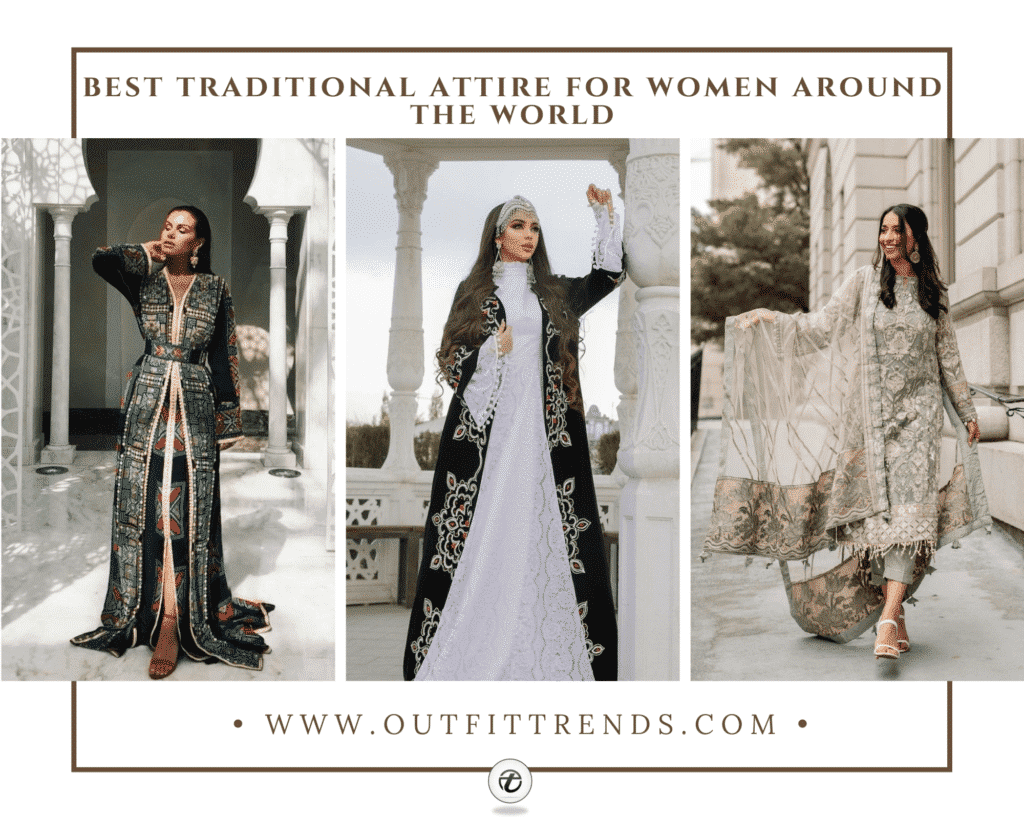 Tips on Dressing in Traditional Attire for Women?
Modify your traditional outfit according to the latest trends. Add in your personal touch and flair to make it stand out!
Accessorize your outfit with the appropriate traditional jewelry, bag, watch, and shoes.
Accentuate the waist of your traditional dress with a cute belt!
Don't be afraid of experimenting with bold colors and prints! Unless your traditions consist of light, somber colors. Even then, add a pop of color to your outfit through accessories tastefully.
Make sure to do your hair and makeup just right. I would suggest going soft with your look if your outfit is heavy and bold, and vice versa.
Clothes that fit nicely to complement your figure are an absolute must! Do not forget to them tailored correctly.
Add a little height with the help of a nice pair of heels.
↓ 32 – Flamin' Your Way in Spain's Flamenco!
The Spanish flamenco dress is a blend of bright colors and beautiful patterns. This dress is fitted from the top and flares out at the bottom in layers of ruffles to give it an extra oomph. Often, it is topped off with a flower headpiece and dance shawl to complete the traditional attire. You will find this gorgeous ensemble worn vastly during the festivals and flamenco dance performances!
↓ 31 – Pakistan's Shalwar Kameez Done Trendy!
Shalwar kameez is not only Pakistan's traditional outfit but also the national dress for women. The shalwar is a bottom pleated from the top and cuffed from the bottom. Similarly, kameez is the top consisting of the knee-length or longer shirt similar to the one in the image below. The outfit below is a modern spin on the traditional costume, and straight cigarette pants have replaced the shalwar. And to complete the look, we have this gorgeous embroidered dupatta draped on her arm!
↓ 30 – Kimono Dress all the way From Japan
The blush-toned kimono dress with whimsical and dainty patterns is a win on our hearts! And the intricate details of the obi belt bring out the beauty of the outfit all the more. Additionally, the bright lip, along with the detailed hairstyle, truly brings the entire look together! Here are some modern ways to Dress Up With Kimono Outfits.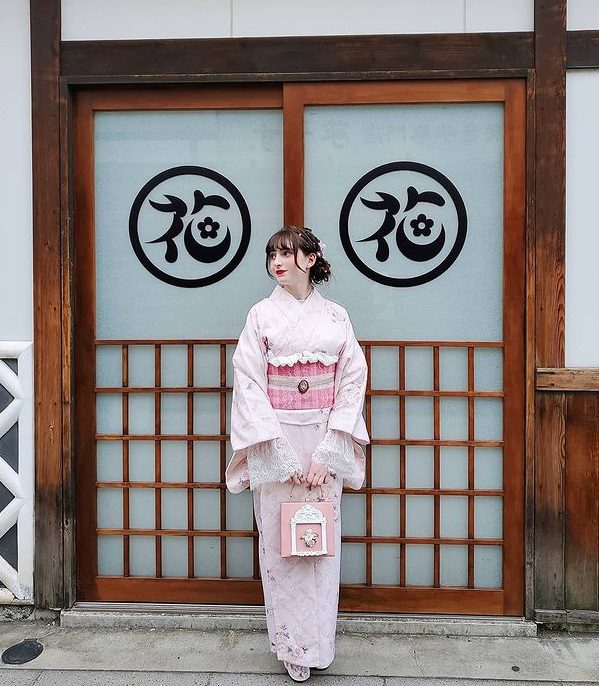 ↓ 29 – When to Wear Palestine's Thobe?
The Palestinian thobe dress is a representation of the country's rich heritage, cultures, and history. Most frequently worn at weddings and henna parties by the guests and the bride, this costume comprises intricate and detailed embroidery all over. While it is available in various colors, this dress is most frequently worn in white, red, green, and black, signifying their state of life: love and war; and reflecting their continuous fight for their rights.
↓ 28 – Gala Pollera From Around Panama!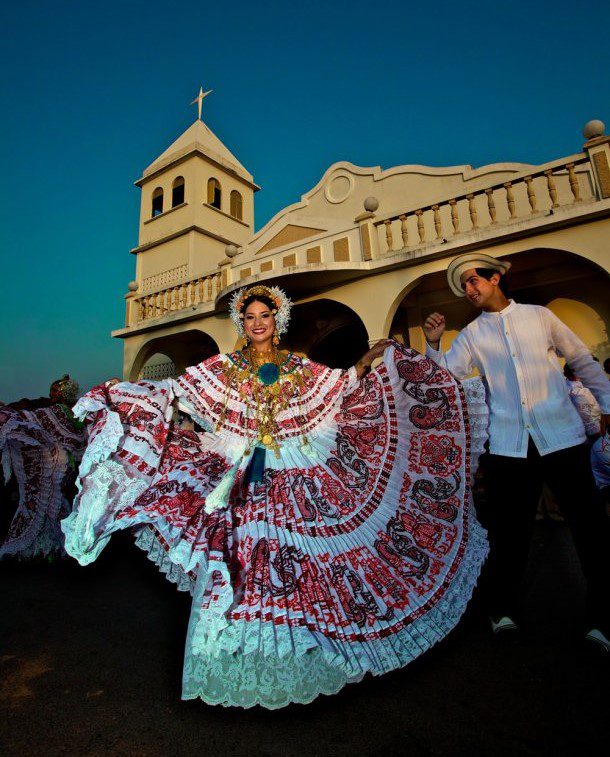 ↓ 27 – Philippines Traditional Dress
The traditional dress of the Philippines is called Terno or the Filipiniana dress. This outfit consists of a matching two-piece blouse and skirt or a single unit dress made using the most delicate fabric, prints, and embroideries. Making the dress what it is are those gorgeous butterfly sleeves that have evolved into many western outfits. What a magnificent way to exude grace, class, and elegance?!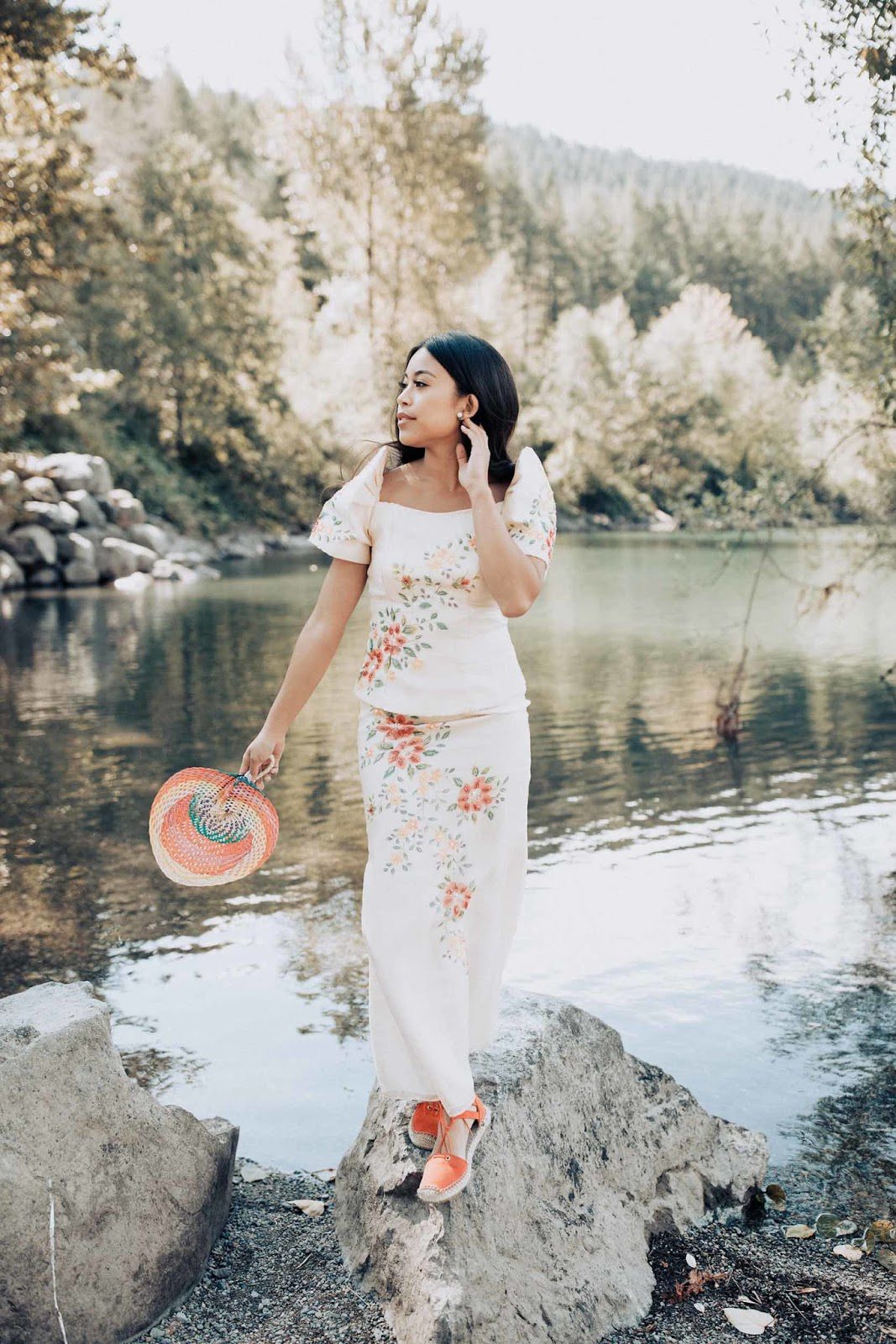 ↓ 26 – Modish Spin on Somalia's Dirac!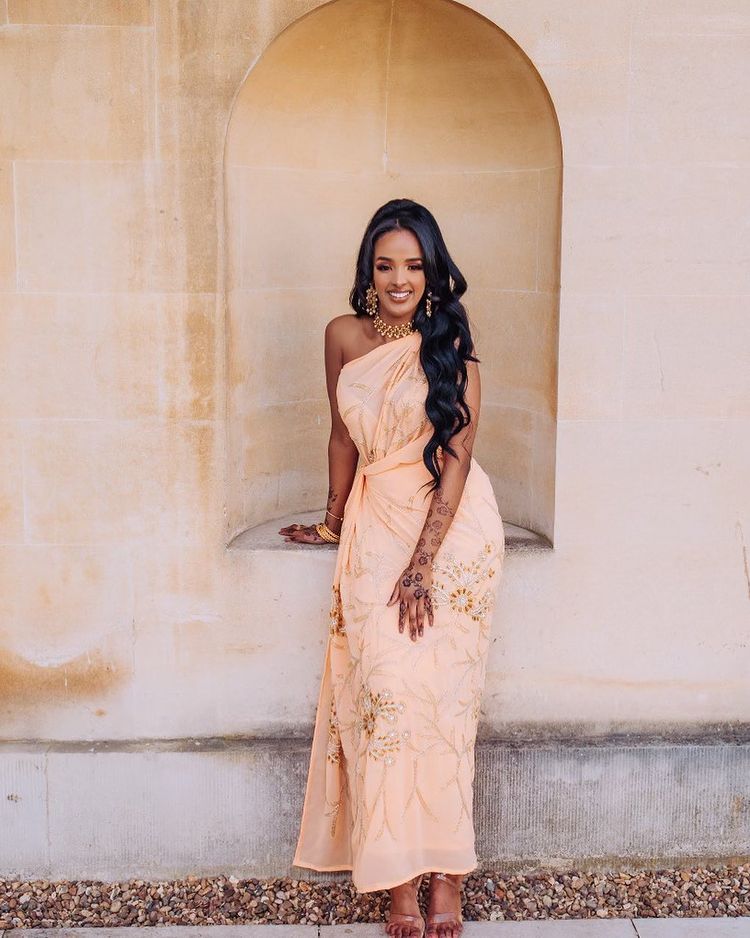 ↓ 25 – Italy's Palermo Dress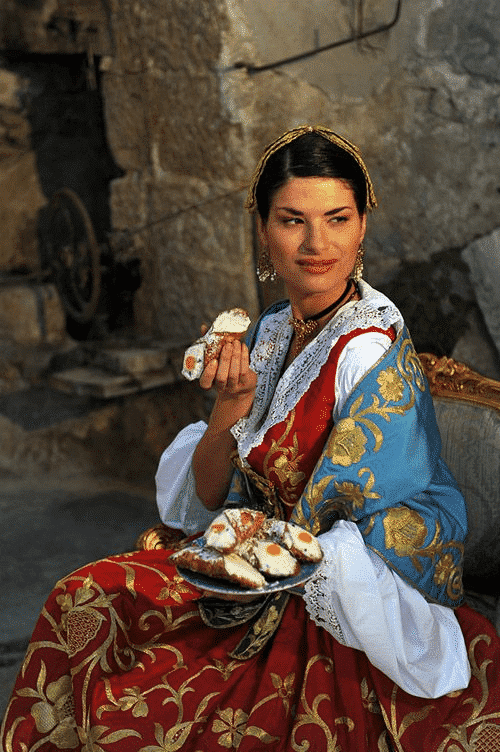 ↓ 24 – Bedhaya Dancers of Indonesia
Indonesia is a country full of rich and culture and history. And one of the sacred rituals of the country is to perform the Bedhaya dance, which refers to female palace dancers. In the olden times, the very best dancers of the royal palaces of Yogyakarta and Surakarta used to perform elegantly to symbolize the ruler's power. Recently, this ritual is reviving, and the dancers wear gorgeous outfits as they perform.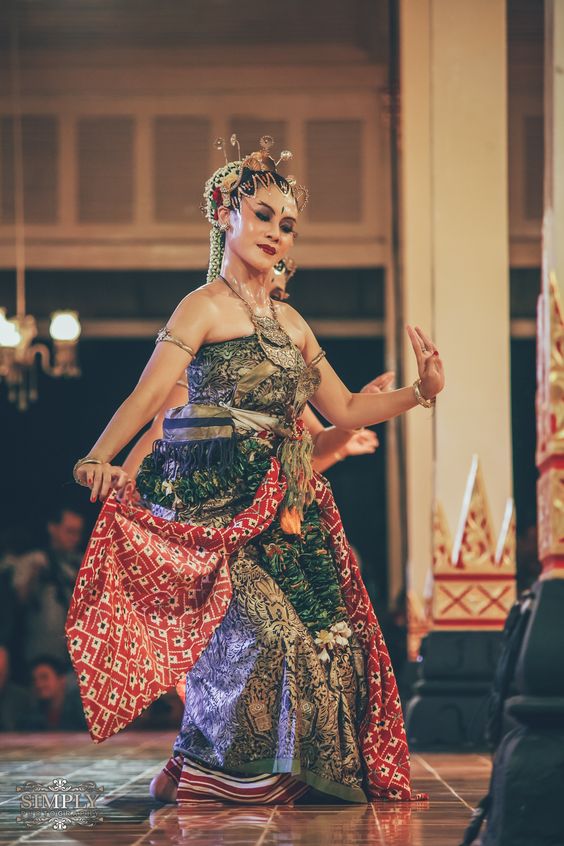 ↓ 23 – Traditional Attire of Namibia's Herero People!
Did the hats catch your attention as soon as you glanced at this outfit? They did mine for all the right reasons! I love how bright and colorful the outfits these ladies are wearing are. Named Ohorokova, the traditional dress of the Herero people is a vibrant, colorful A-line silhouette with beguiling patterns and build to it. On the top is a unique cow-horn hat produced from similar rich fabrics and colors to accompany and complete this dress. Overall, this outfit is an absolute hit in functionality, comfort, style, and uniqueness!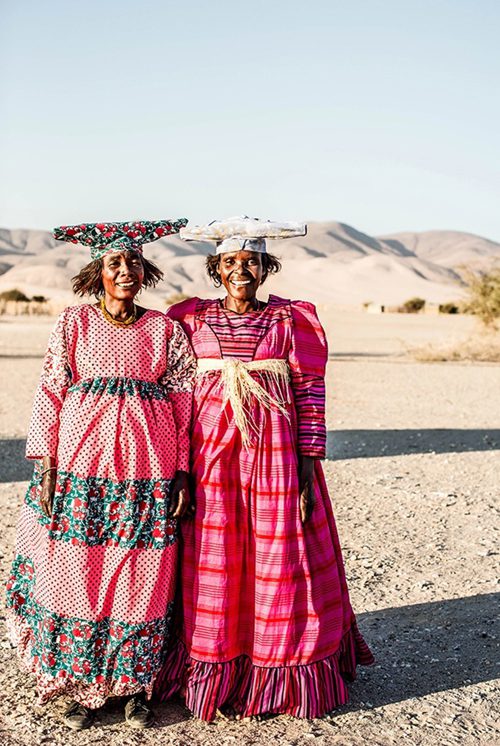 ↓ 22 – National Costume of India: The Saree
From the West to the East, the saree is a widely famous outfit worn by all. It is the perfect blend of sexy, sophisticated, and elegant. And the best part is that you can decide to get as bold with it as you would like! This gorgeous outfit comes in all sorts of colors, fabrics, and the blouse's length can be tailored to your liking as well. Recently, the dress is modifying, and new trendy spins on the traditional saree are coming in, which are widely famous amongst the new generation!
↓ 21 – Quadrille Queens of Jamaica!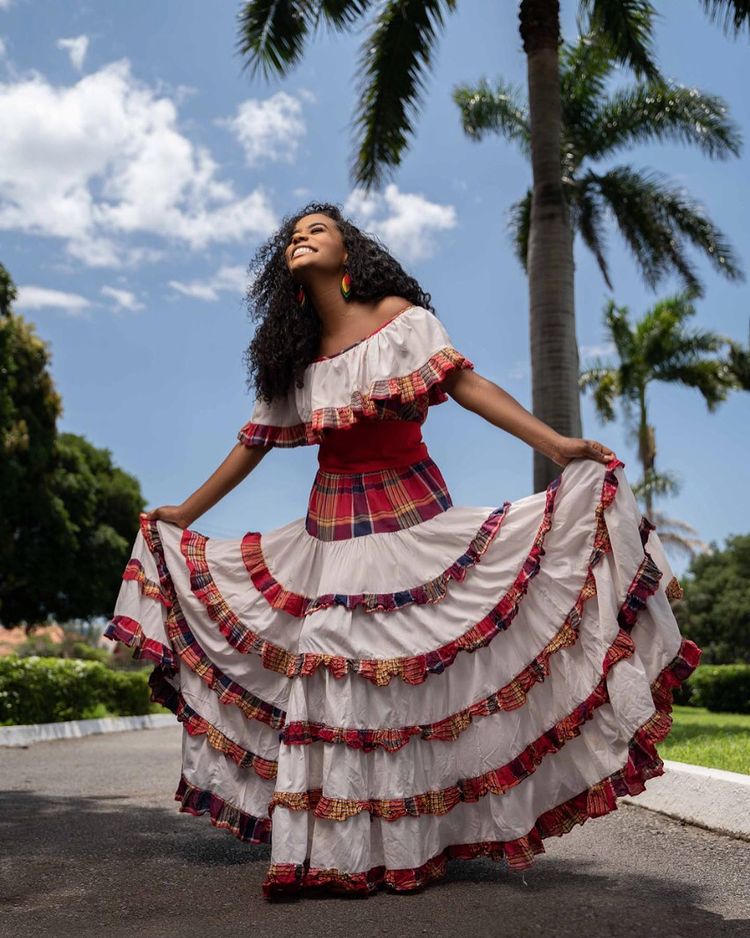 ↓ 20 – Scotland Outfit for Women Around the World!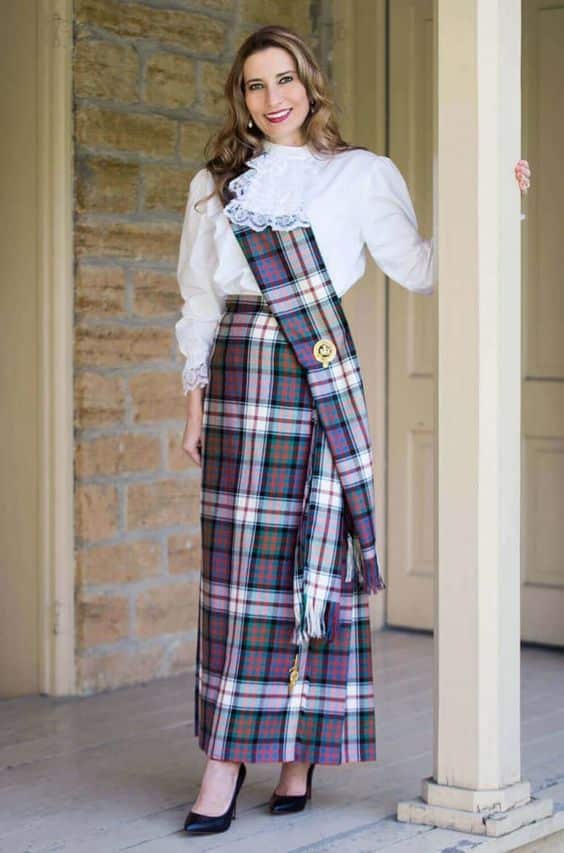 ↓ 19 – Comin' in Hot With Morocco's Kaftan Dress!
Beautiful embroidery, bold colors, the form-fitting silhouette, and the classiness of the luxurious outfit make it a personal favorite of mine. The belted waist shows off your figure, and the slit running in the middle gives it just a hint of charm, and of course, allows you to show off your fabulous shoes! Do your make-up and hair in a chic manner to complement your outfit.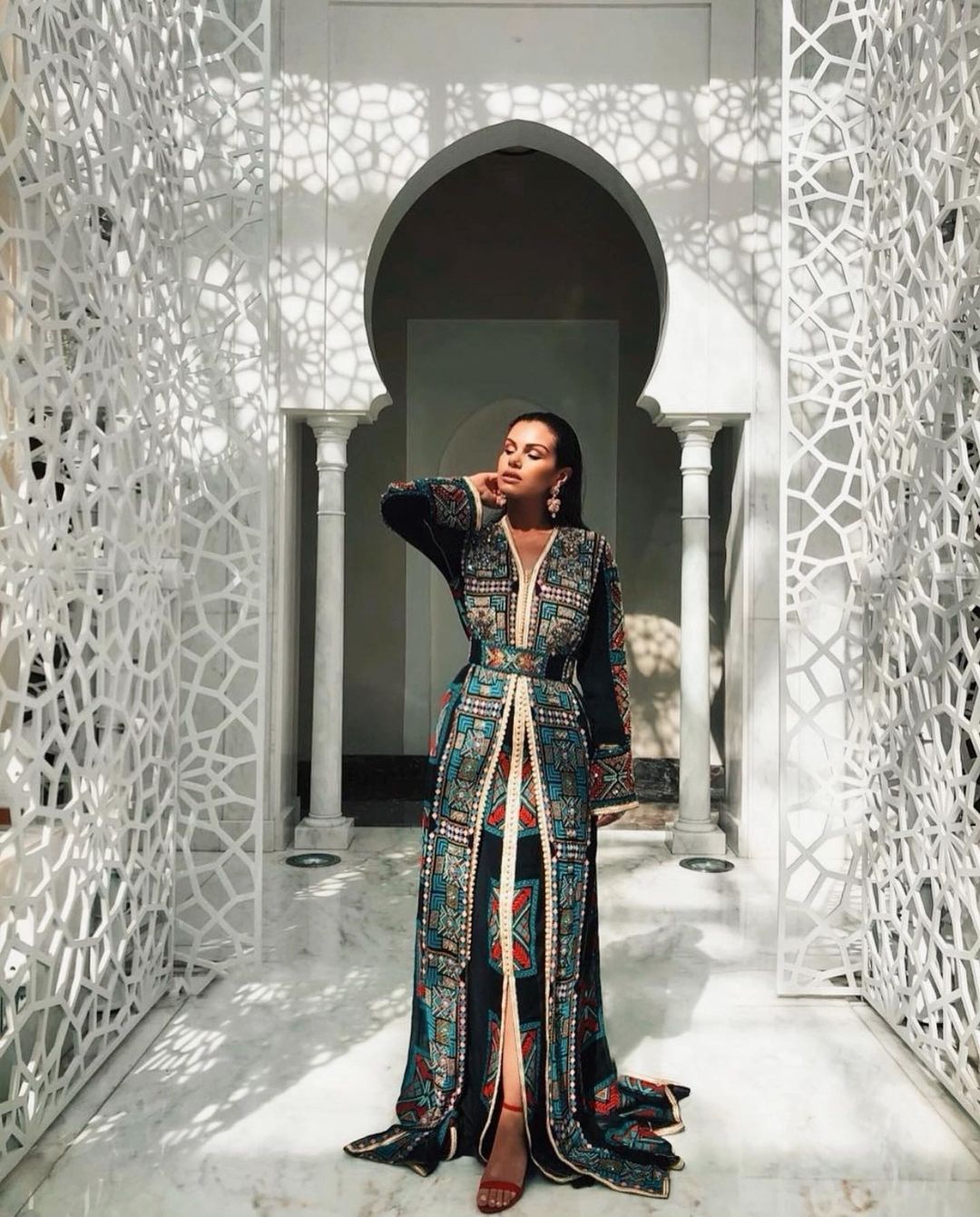 ↓ 18 – Bright & Bold Costumes From the Sepedi People Around the World!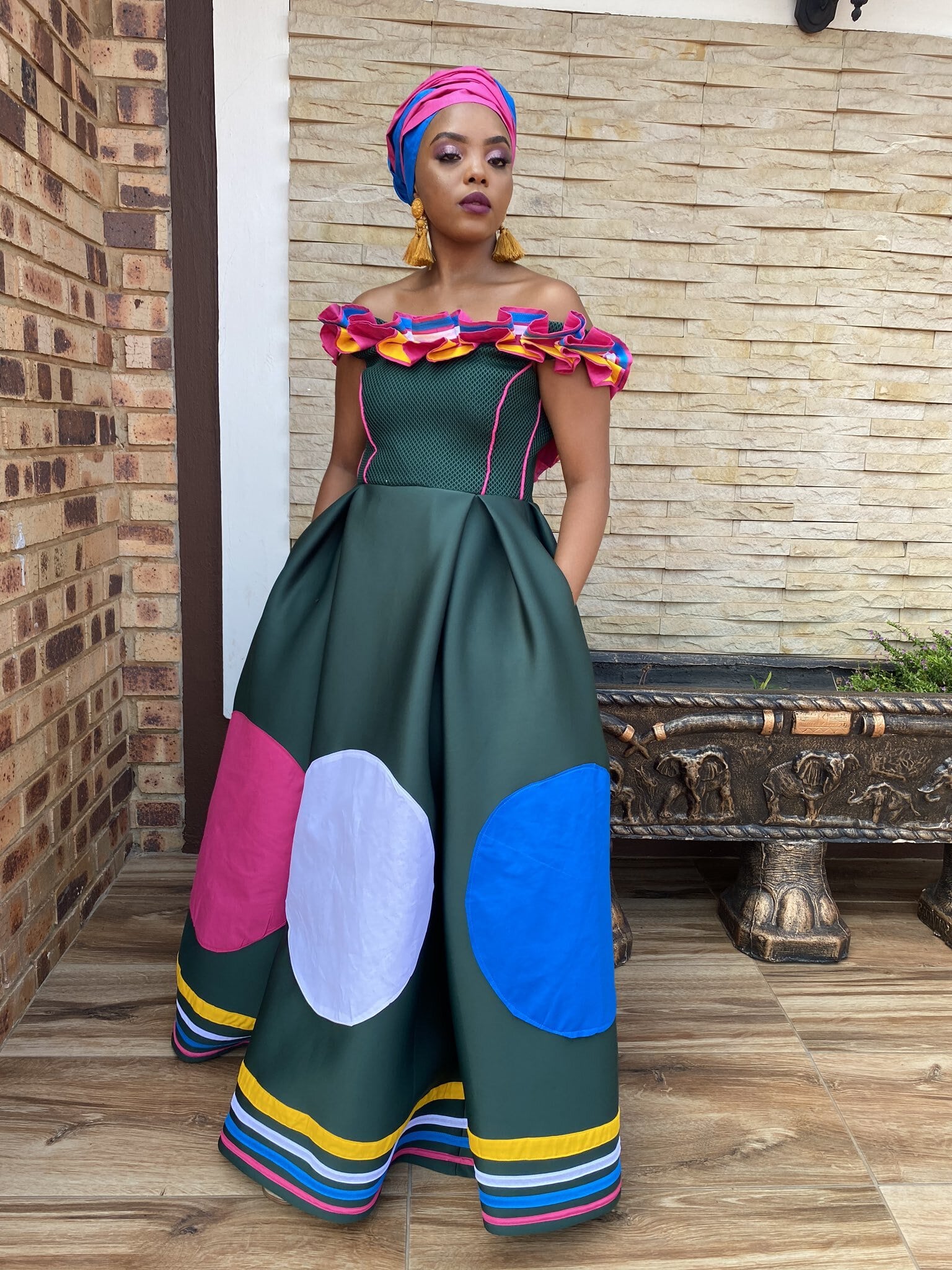 ↓ 17 – Double Layered Skirts are fro Netherlands!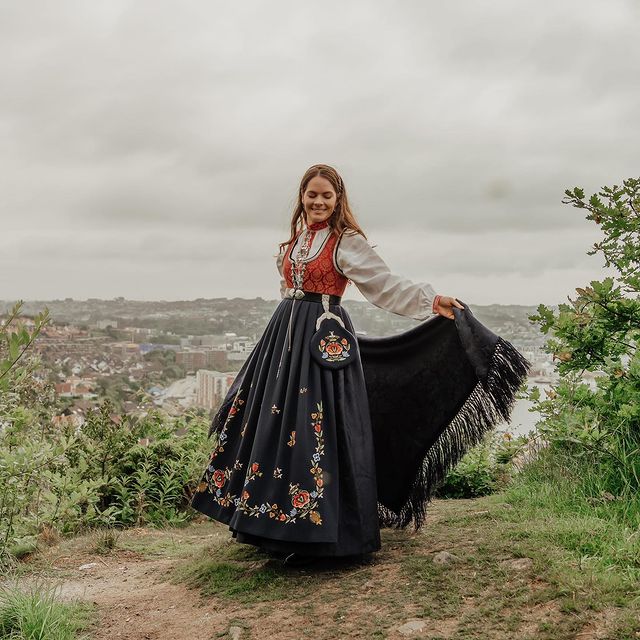 ↓ 16 – Mexico's Traditional Escaramuza Dress
The Escaramuza Charra is a women's horse-riding event widely famous in Mexico! It consists of a team of players dressed up in beautiful, eye-catching dresses and riding horses with synchronized maneuvers to music. And with this dress, you are riding in right with style! So putting on your best ensemble for the national sport is a must but make sure it is comfortable to give your best performance!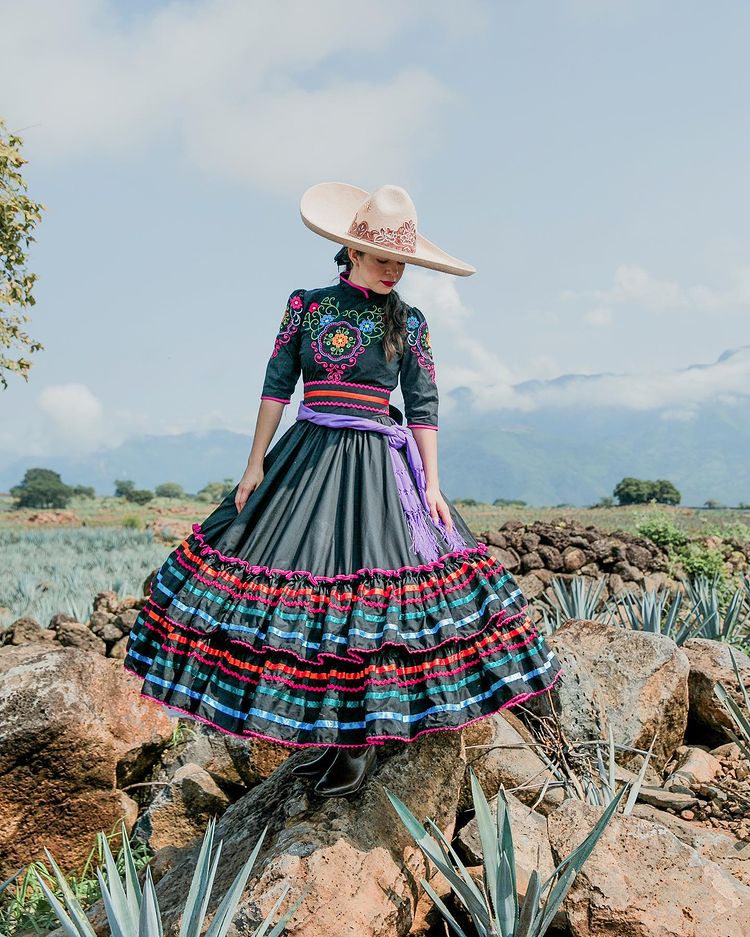 ↓ 15 – Iro and Buba with Gele Outfit From Nigeria!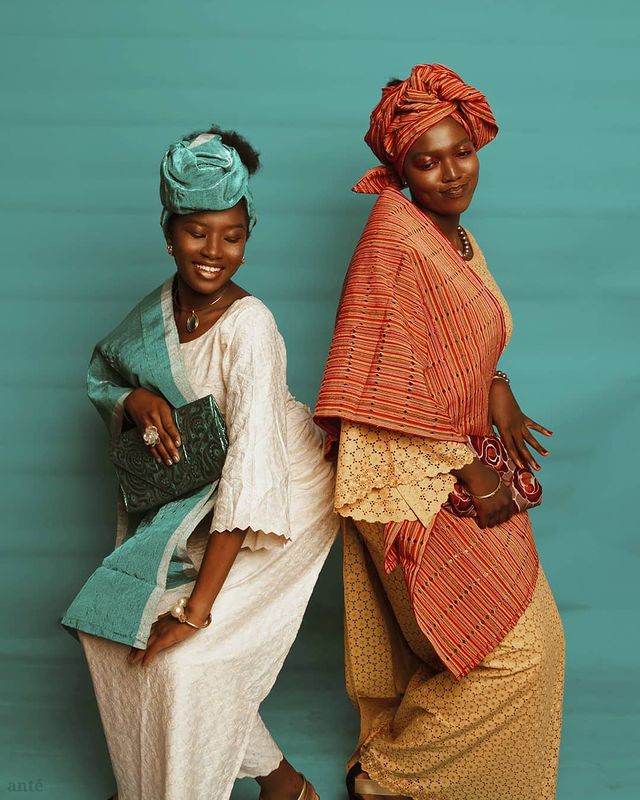 ↓ 14 – Bashkirs of Russia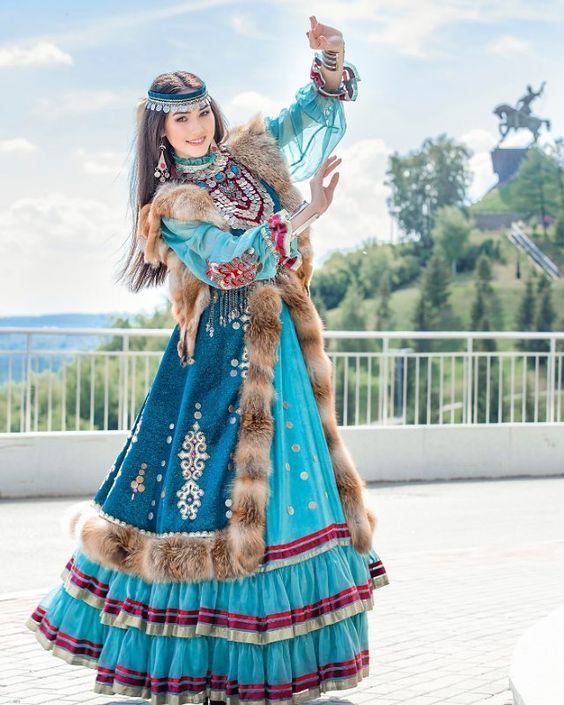 ↓ 13 – The Chinese Ruqun Dress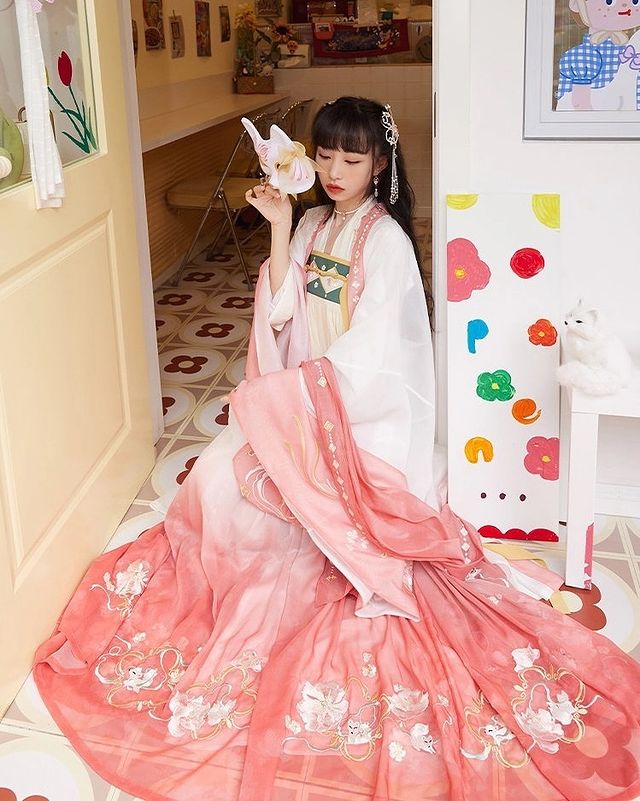 ↓ 12 – Beautiful Baiana Dresses From Brazil!
White lace details, full skirts, multiple layers, and vibrant additions of color are all associated with the Baiana dress of Brazil! The beautiful outfit is accompanied by tropical beaded necklaces paying homage to the area, and the intricate headdress connects back to the Afro-Islamic roots!
↓ 11 – Traditional National Costume of Haiti: The Karabela Dress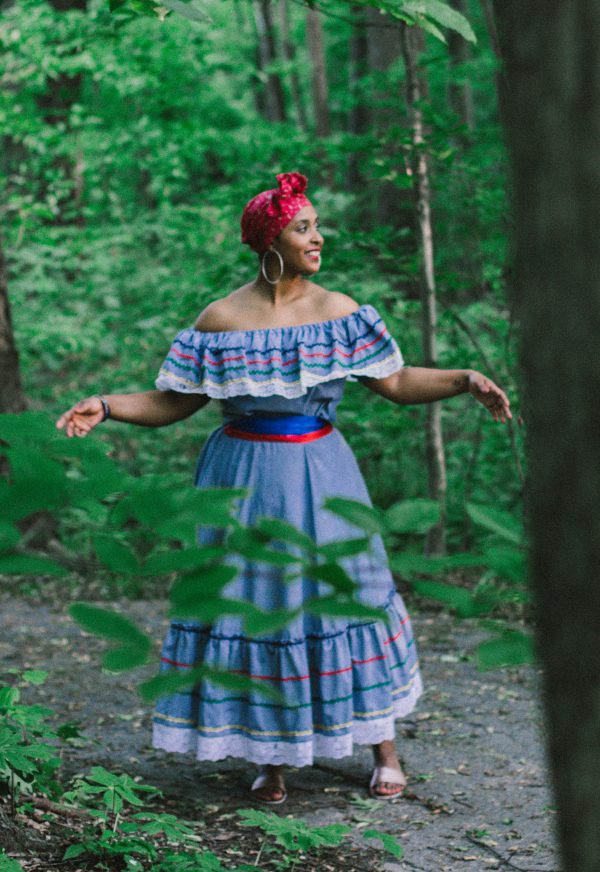 ↓ 10 – Outfits of Quencha Women of Peru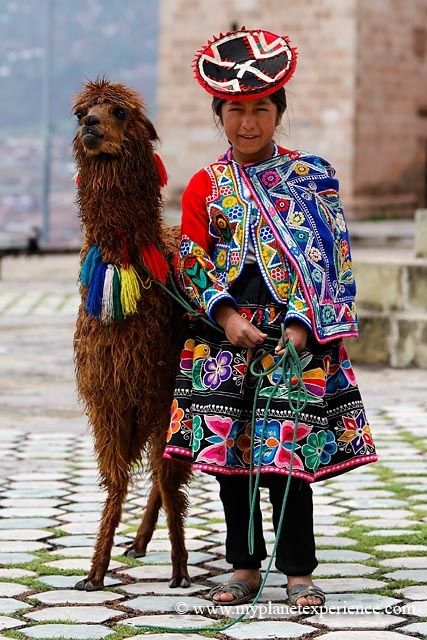 ↓ 09 – Fully Skirted it up in Argentina's Traditional Costume!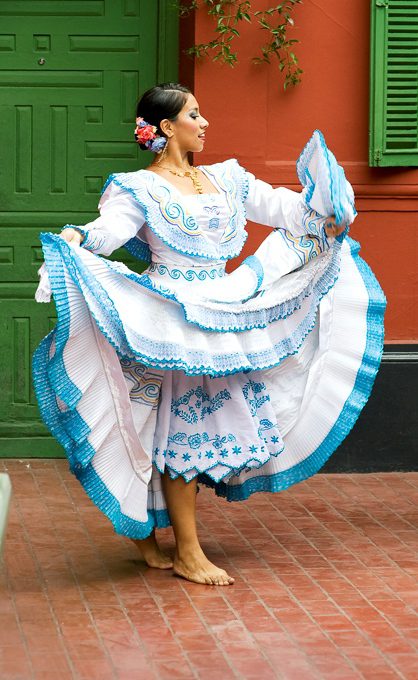 ↓ 08 – Ethereal Outfits of Xhosa Tribe From Around South Africa!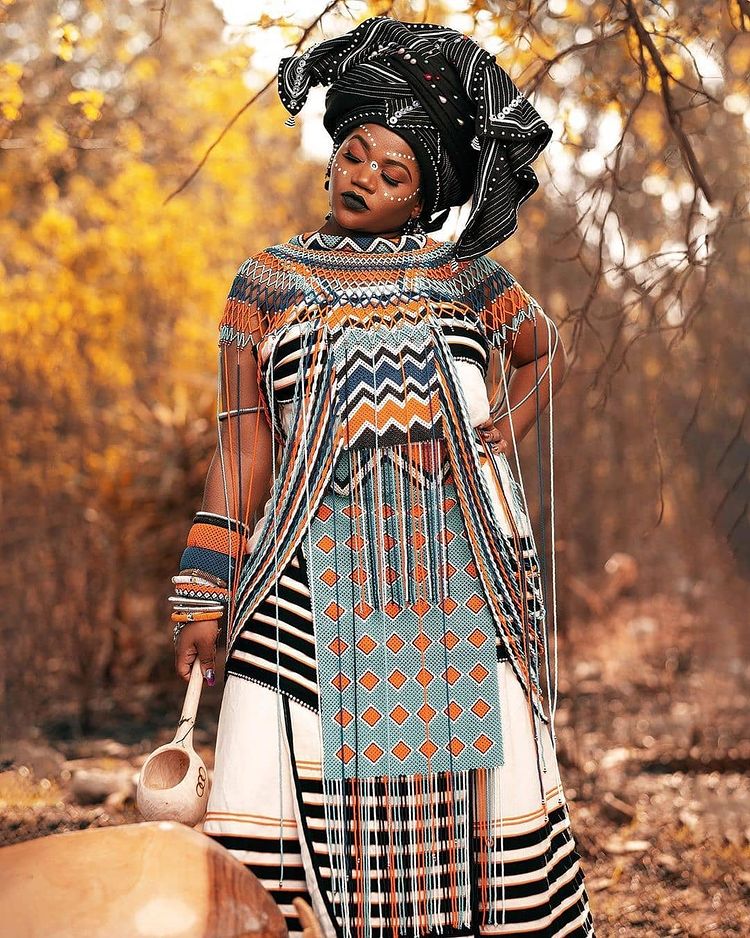 ↓ 07 – Thailand's Chut Thai Chakkri
The Chut Thai is the traditional dress of Thailand which comes in many variations and styles. The one below is called Chut Thai Chakkri, where a garment produced from the weaving technique called "yok" is draped over one side of the shoulder, leaving the other bare. Moreover, this elegant dress is complete with a double pleated skirt and a belted waist. Simply fascinating! It is one of the most visually pleasing and graceful dresses to exit out there.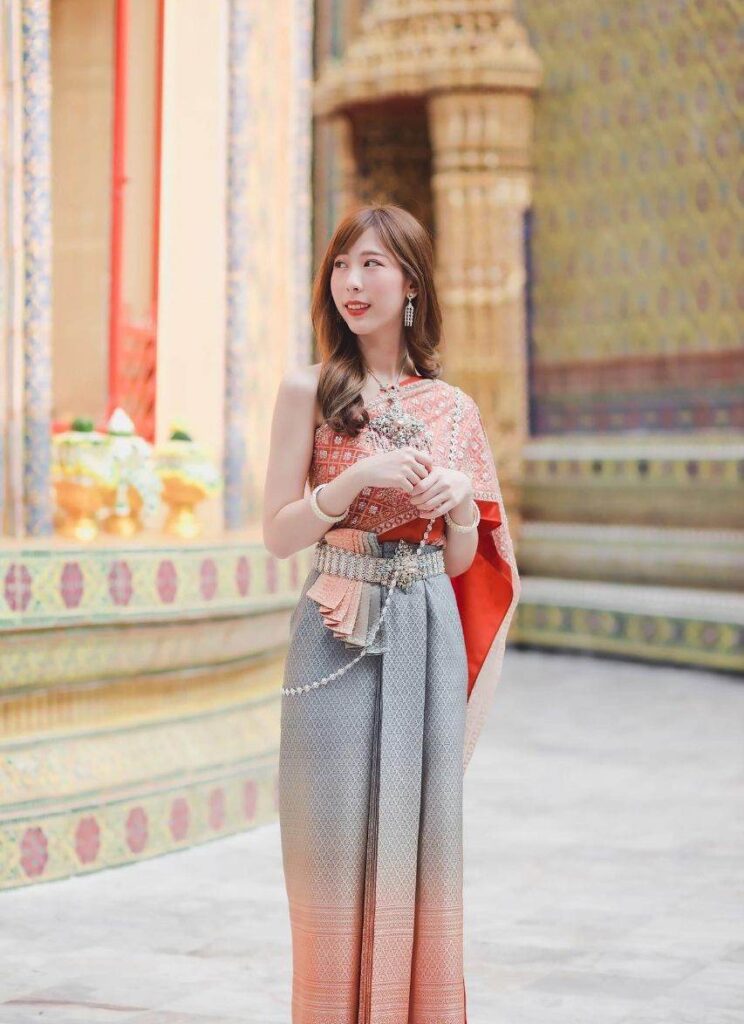 ↓ 06 – Traditional Wedding Outfit of Tajikistan!
There is so much going on with the traditional dress of Tajikistan, and we are all here for it! For starters, the fusion of a tiara and skull cap for a headpiece is an absolute win, along with the matching silver earrings! Next, the quilted and embroidered robe is an exquisite asset to the outfit giving us major regal vibes. And the underlying white lace dress exclaims bridal and makes this outfit perfect for a wedding look. You might want to add a headscarf according to your beliefs or leave your hair down in a similar blow-dried fashion!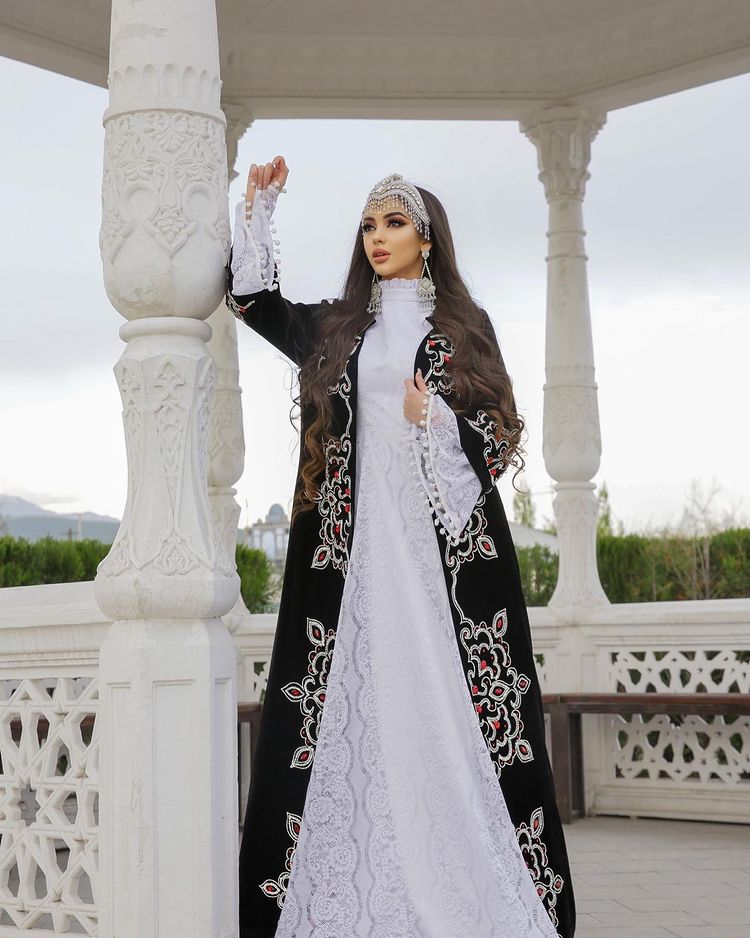 ↓ 05 – Bhutan's Kira to Match Your Little One!
I believe I say this for everyone: there is no way to look cuter than going traditional in a mummy-daughter-duo style! This gorgeous outfit called Kira is the national dress for women of Bhutan and comprises a rectangular cloth wrapping the body and going down to the ankles. And on the top, we have a long-sleeved blouse and a short jacket. Complete your traditional look with some customary jewelry, and you are all set! Do check out these 110 Cutest Matching Mother Daughter Outfits On The Internet.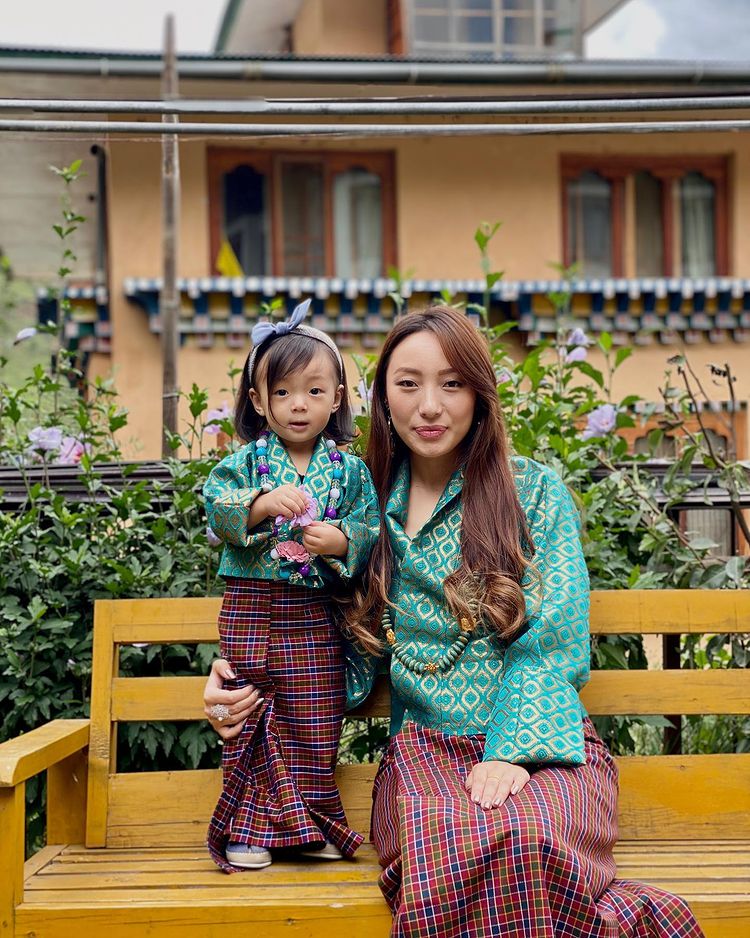 ↓ 04 – Habesha Kemis Dress of Ethiopia
How gorgeous is this simplistic yet modern traditional dress?! The Habesha Kemis is a cotton-made outfit worn by women holidays, formal gatherings, and important events. This beautiful dress is made in shades of white, beige, and grey and decorated with colorful details on the neckline, sleeves, front, and bottom of the skirt. Do your hair and make-up real nice to stun in this gorgeous attire!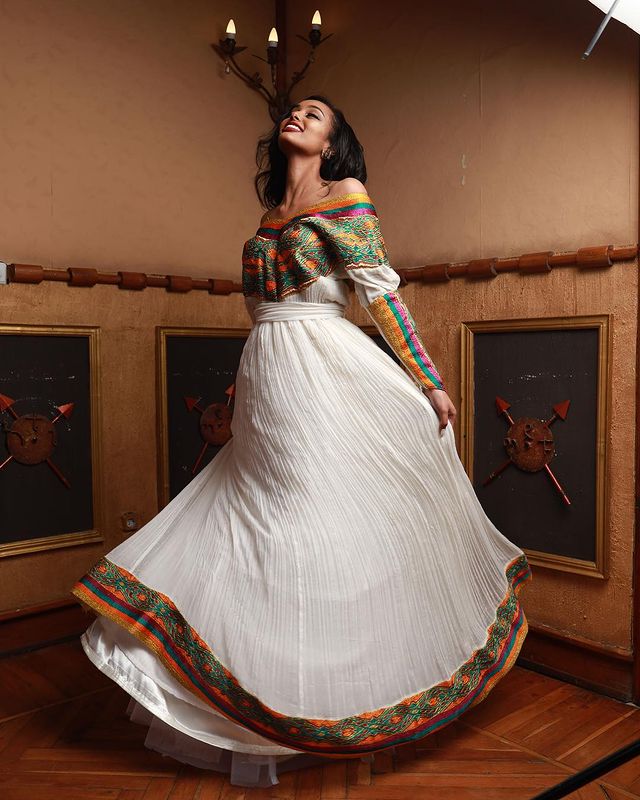 ↓ 03 – Beautiful Traditional Clothing From South Korea
The Hanbok, which means Korean clothing is the traditional clothing of the Korean people. This outfit consists of a garment covering the upper body called Jeogori and a Chima skirt for the bottom. Crafted in colorful varieties and most delicate fabrics, it provides freedom and flexibility to the wearer while looking ethereal! Today, people wear the Hanbok on birthdays, weddings, celebrations, and the significant milestones in a woman's life. Learn more about Korean traditions with these Beautiful Korean Outfits.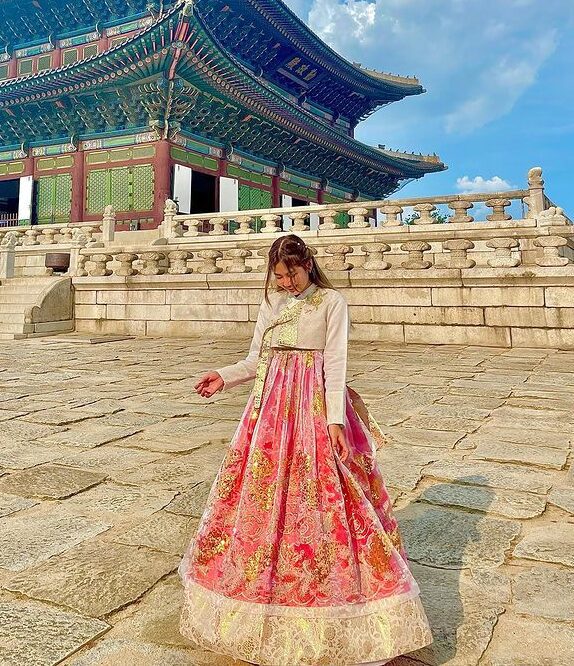 ↓ 02 – The Very Famous Ghana's Kente!
Originating from the ancestral tribes of Ghana, the Kente cloth holds great significance and value in the African culture. Furthermore, each color weaved to make this cloth has its importance and value, including, maturation peacefulness, wealth, health, spirituality, purification, and femininity. Thus, it only makes sense for it to be the top choice when dressing for special occasions, ranging from a wedding to graduation where scarves of kente are worn. So make sure to honor the customs of the people when you adorn this beautiful clothing!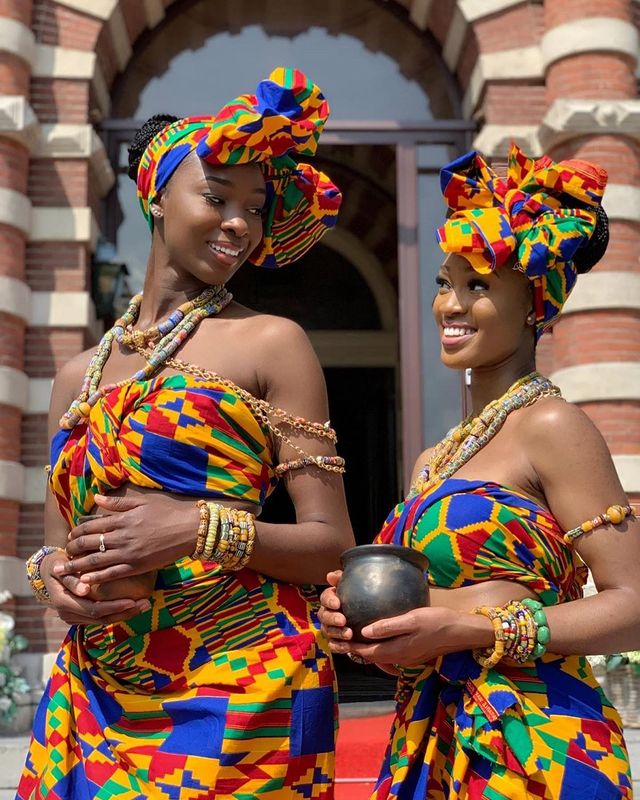 ↓ 01 – Hanouf Dress of Libya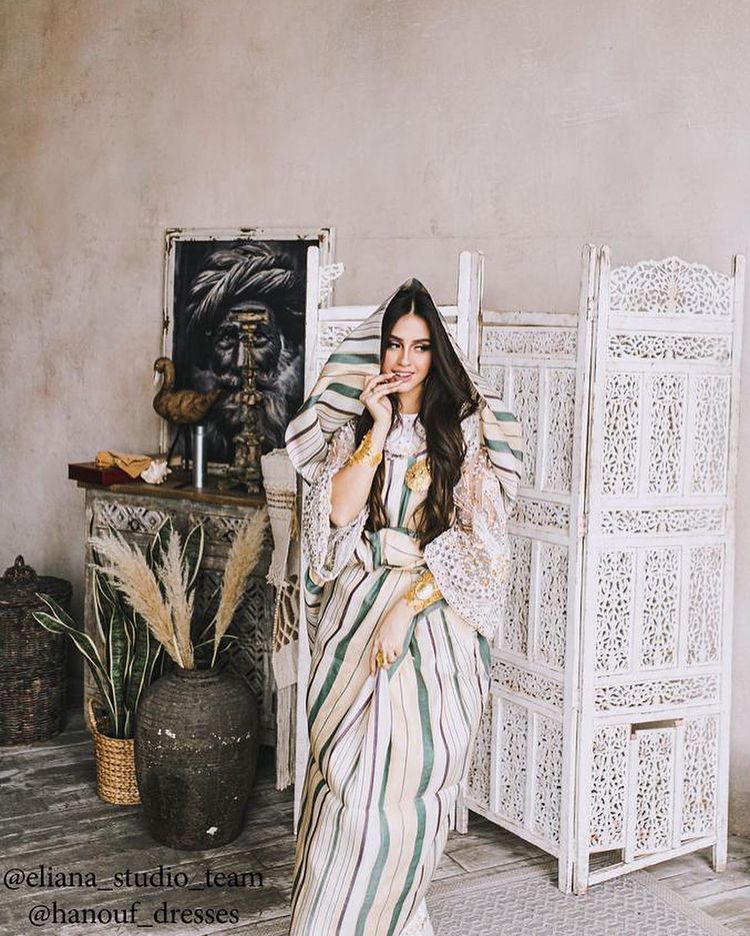 Frequently Asked Questions
Q. Which country has the best traditional dress?
A. For this question, I will go with the phrase "Beauty is in the eye of the beholder." It does not get any more valid than this. Every person reading this article will find their own or some other country's outfit to their liking. Similarly, for me, I am in love with Morocco's embroidered kaftan, Pakistan's shalwar kameez, and Spain's flamenco. The colors, vibrance, and intricate work on these are incredibly eye-catchy!
Q. What countries still wear traditional clothing?
A. Loads of countries still wear their traditional attire! Some countries go as far as to wear their traditions every day, such as India, Pakistan, Bhutan, and Herero people of Namibia. On the other hand, you will find some wearing it on special occasions only such as weddings or when reaching a milestone and are in the mood for celebration.
Q. Where to buy beautiful traditional dresses for women?
A. While most of the people in various countries get their traditional dresses tailored themselves, there are some places where you can buy them online.