Tulip Shalwar Styles: Traditional South Asian clothing is not only confined to shalwar kameez, sharara, gharara, or sarees but there is also so much more to the desi style than normal shalwar kameez.
Tulips came into fashion a while ago, but unfortunately, they were short-lived. To all of our surprise, and luckily, tulip toruser has made a swift comeback this Eid season across the Pakistani brands.
How To Wear Tulip Shalwars
Before we go into the mechanics of how to style tulip shalwars for different occasions, here are some quick tips your way first.
These have originated from the conventional shalwar itself.
They are available as printed, plain, or with embroidery as well.
Stitching a tulip at home is similar to stitching up a shalwar, so it won't be much of a hassle.
The fashion also suits ladies who are hesitant to move on from the conventional shalwar type.
Tulips are easily available at most local brands.
Considering how they've made a huge comeback this year, brides can also opt for tulips for their big days.
Tulip give out a touch of eastern wear as well as chic western wear. So, it can be paired with different boho, chic tops as well.
Invest in a good quality white shalwar, and you can wear it all year round with different tops.
Tips On Cutting A Tulip Salwar
First, you will have to fold the cloth into double.
Then, you will have to bring two opposite corners of the rectangle and overlap in the center, leaving 2 inches in between.
The tulip pant will be the broader area, upper, and the bottom will be the cone area, lower.
You will then have to carefully cut the crotch area with measurements, and then you can stitch the two sides together from this area.
Now, you unfold the fabric that has been stitched and use the extra fabric to give each leg that tulip shade and then stitch the legs separately.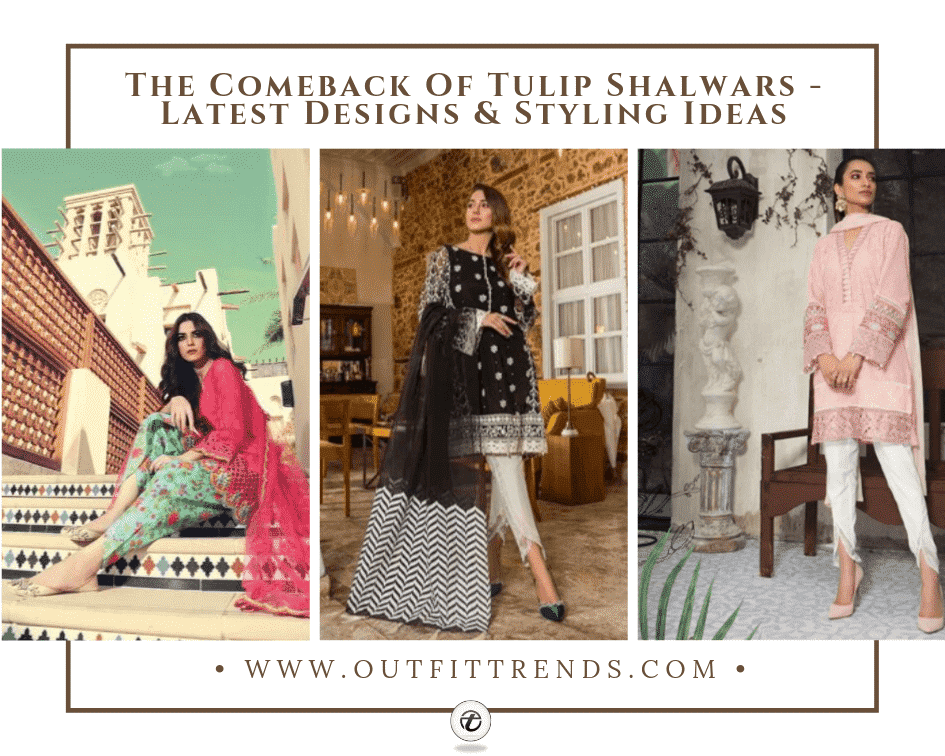 ↓ 14 – Trend Alert: With Frills
Since frills are being seen everywhere, from ramps to the Cannes festival, they make sense to be incorporated in shalwars, too, as long as they don't look ridiculous. And this tulip with frills is the trendiest one by far on our radar. For more desi style inspiration, check out these Best Ways to Wear Patiala Shalwar.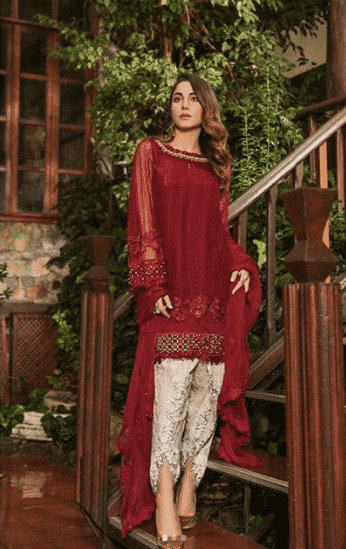 ↓ 13 – Girls Day Out Look
If you're going to have lunch, coffee, or just a fun day out with your girls, wear your tulip with a mid-length embroidered Kurti, a very simple but sleek look.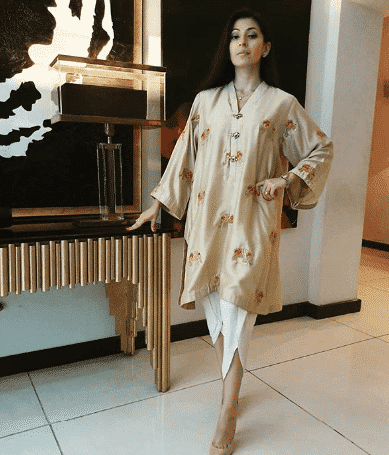 ↓ 12 – Work Outfit
Tulip are the best choice to create an ethnic yet modern work outfit. Pair it with any embroidered kurta, and you're good to go. This particular outfit is by Anousheh Malik, an incredibly talented upcoming designer.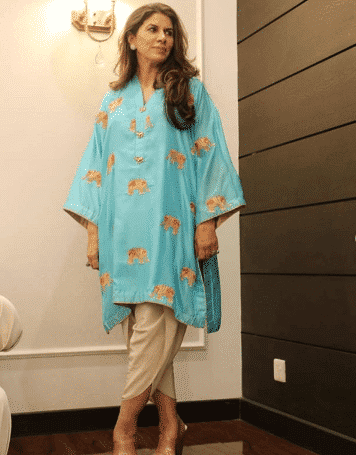 ↓ 11 – For Weddings
Here we see renowned Pakistani makeup artist Sobia and her daughter Zarpash, looking elegant in a velvet shirt and silk shalwars. The choice of silk fabric for the shalwar is commendable as silk has a shine of its own and the natural flow of the fabric helps make beautiful tulip with a nice fall.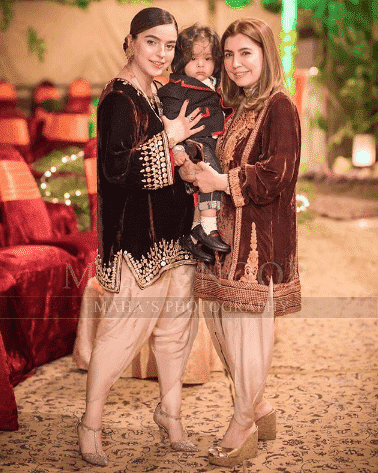 ↓ 10 – With Long Shirt
A beautiful Lincoln Green embroidered long Kurti with light peach, almost fawn-colored tulip pants, which have some embellishment at the bottom of the shalwar. This style will go perfectly in the summer season; the colour and the tulip style of the shalwar are most appropriate for the warm season. When going to work, university, an event, a get-together with family or friends, or even getting ready for a casual day, with light jewelry and makeup, this look will go just perfect. As Eid, as Eid in the past couple of years has been coming in the extremely hot season, the summer season, so this outfit will be a perfect fit.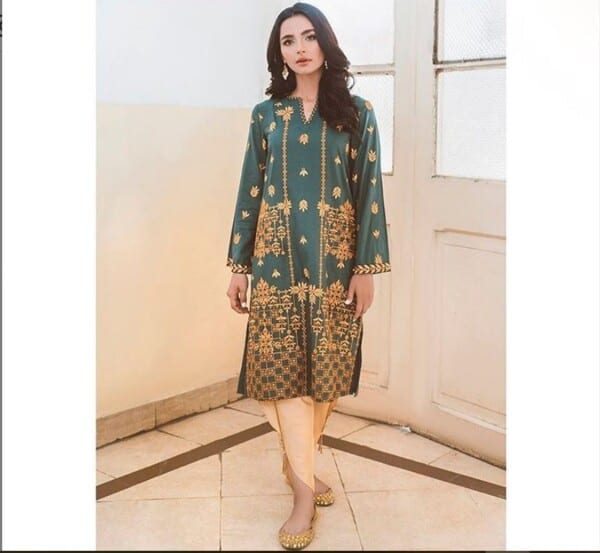 ↓ 9 – With Kurti
Another Cross Stitch tulip outfit you can get your hands on is this white beauty specially made for the bright summer days. A perfect summer delight. White short Kurti with gold print on it paired with plain white tulip pants.
You can get this full outfit from Cross Stitch itself, or you can take the inspiration and get a similar one or stitch a shalwar for yourself as well. For a perfect eid look, pair this light Kurti and tulip with some chic tassel earrings or gold jhumkas or chandaalis, and a beautiful pearl and gold neckpiece this beauty have been seen wearing. A pair of maroon or bronze khussas will complete the look for you.

↓ 8 – Casual Wear
Yes, what you all have been waiting for… probably… even if you weren't, it's still here, an everyday look with tulip. It can not get any summery, airy, comfortable, and easy to slide in and out of this look here, a full white Kurti and tulip pants attire.
If you are a Pakistani fashion and drama industry follower, I'm sure you must know about the famous Nomi Ansari iftar party which took place last year and this year and all the leading fashion models, makeup artists and drama actresses and actors are seen wearing white outfits. Something of this sort will definitely fit for a summer iftar party, everyday work, or school look. To add some colour, you can add a colored dupatta and footwear with it, and voila, it's a look! For more casual wear outfit inspiration, have a look at these Ideas to Wear Short Shirts with Palazzo Pants.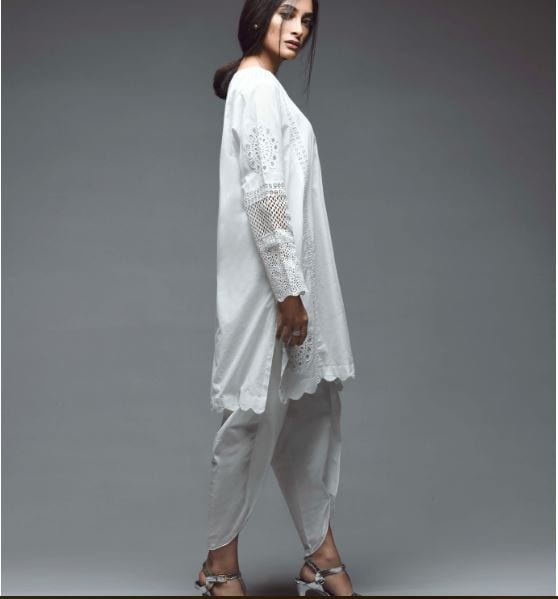 ↓ 7 – With Short Shirt
Among some frequently asked questions about tulip was how to style a short shirt with shalwar. So, we thought, let's give you a detailed answer once and for all. The key to styling a short peplum or frock with tulip is to keep the top short lengthed and keep the tulip bottoms more flared and pleated.
This way, the outfit will give out a chic expression of Punjabi and boho style, more like a Patiala shalwar, which has always been loved and adored by women across Punjab as well as around the world. If the pleats of the tulip are far apart, they will give out the look of flared Patiala shalwars. Actress Ayeza Khan here is giving us major chic fashion goals with her short blue A-line frock, a pleated shalwar with orange flowery embroidery on the borders of it, and a boho pouch-style clutch to go with it. To complete off the chic look, add some dainty silver earrings and a boho neckpiece like shown here by the beautiful Ayeza Khan, and it's a complete look.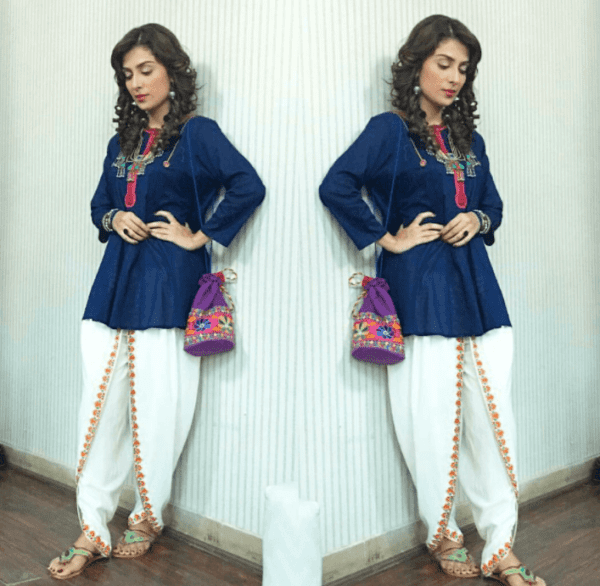 Here's another super cute outfit with a short shirt that has been further enhanced by the use of a belt around the waist.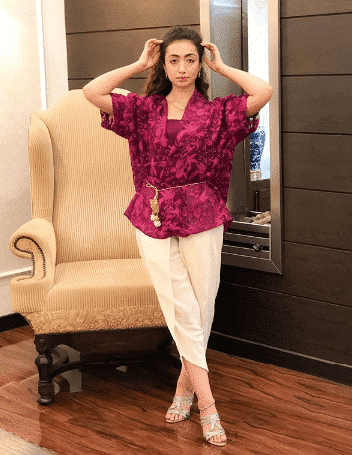 ↓ 6 – 3 Piece Suit
So here is another—a 3 piece suit which you can get stitched into a shalwar outfit. Summer in South Asia is all about the beautiful lawn collections from different brands, which women start looking for as soon as the temperature rises.
Summer is also the time to pick up the trendy style in your lawn wardrobe, tulip shalwars, frocks, Patiala shalwars, cigarette pants, and all that you can think of. So, what's better than purchasing a lawn suit of your choice and getting it stitched according to your liking and inch-to-inch measurements? You can grab your favourite from lawn 3 piece suit from Kayseria's '19 lawn collection and get it stitched to your liking – scroll up to see a tutorial on how to stitch a tulip. Just like this outfit, a beautiful summer-colored lawn shirt and tulip pants with a beautiful, embroidered net dupatta. With a wristwatch and some dangly earrings, it's a complete summer look for you girls.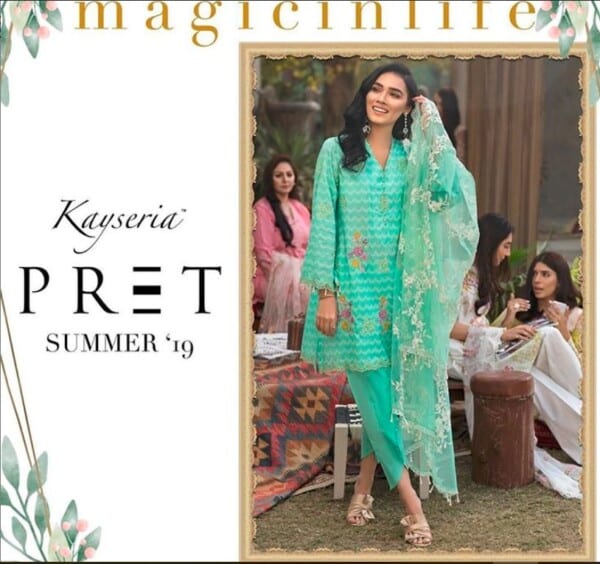 ↓ 5 – With Choli
If you love tulip pants and are not the person to wear them like the conventional shalwar kameez style, here is a substitute style. Pair your flared tulip pants with a choli like shown here by this gorgeous; I love how she is pulling off the entire look. You can add a chiffon or net blouse from your sarees or lehengas with tulip to achieve this look, which would be perfect as a guest outfit for any sangeet, dholki, cocktail party, or any festive occasion. To add more character and bling to the outfit, this fashion diva is seen wearing a thin, golden chain-like belt around her waist so that the shalwar does not look all plain and dull. Some traditional jewelry, throw on a pair of classy heels, and you are ready.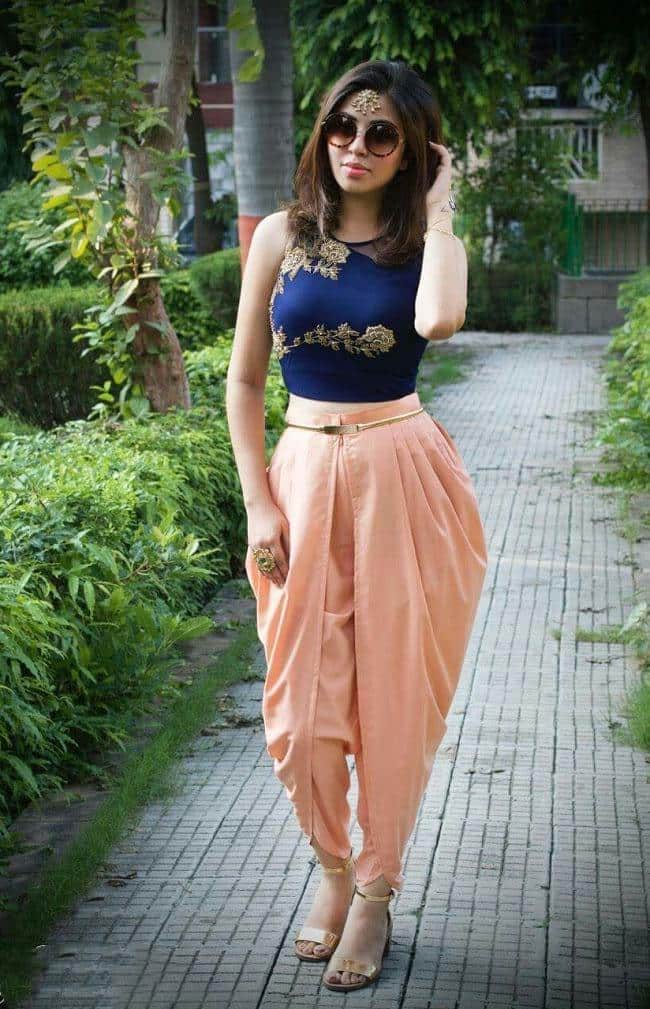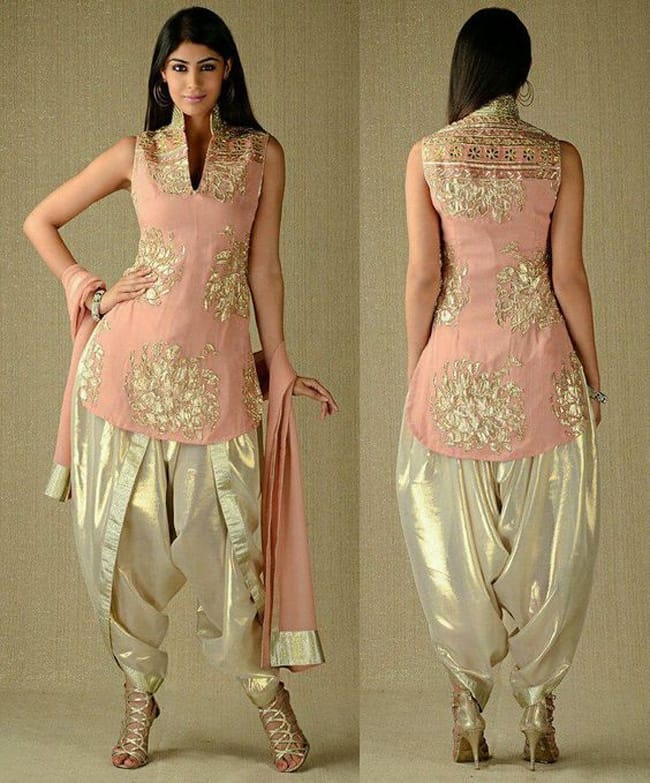 ↓ 4 – Indo-Western Wear
The tulip pants style can be worn with crop tops, silk tops, or T-shirts as well, just because it gives out a look similar to harem pants, flared, pleated pants, which are generally worn to work with T-shirts or tops. An outfit similar to the one shown in the picture here or something exactly like this would work perfectly fine for a get-together, party, outings with friends, or even for a model or celebrity, as this gorgeous over here is a Bollywood diva who might have worn this to a party or an event or a movie screening.
↓ 3 – With Pearl Detailing
For a rather fancy and wedding-appropriate look with tulips, we have something in store for you as well. This beautiful white chiffon or net-like fabric shirt paired with a beaded or even plain white tulip will look stunning if you wear it to a wedding or a festive get-together with family or friends.
The multicolored embroidery on the shirt gives it a pop of bling and character, with which you can match your footwear or jewelry as well. Some gold, silver, or the colour of the embroidery on the shirt earrings and footwear will go perfectly with this outfit for sure. As white is a perfect summer colour, light makeup with a little more emphasis on the blush and pink lipstick with complete this look from head to toe. For a heavy wedding look, you can add a red lip colour and golden or silver bangles with it as well.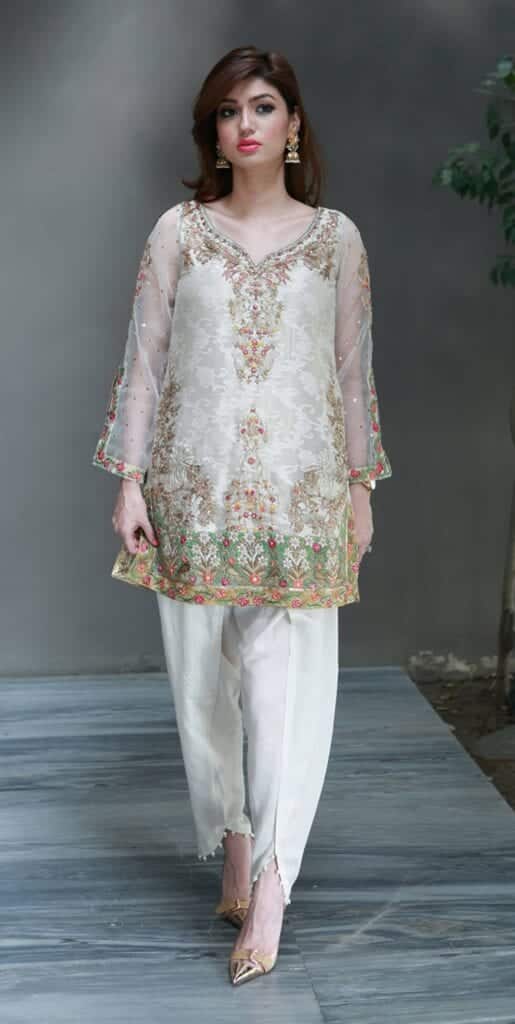 ↓ 2 – Bridal Look
Another more heavy and fancy look with tulip is this one, and it is so chic that it'll even work as bridal wear. If you are wondering how to style for a wedding with shalwar, this is your piece to go through. A fully embroidered shirt and pants with a fully embroidered dupatta as well. It will be slightly complicated to stitch an embroidered fabric for a shalwar, so it will be better to consult an expert tailor for it or get it made from a designer. Some sleek and classy stilettos, so they don't steal away the limelight from an already fully embroidered dress and some silver jewelry to complete the look.
Pro tip: If you are wearing a big tikka or a matha Patti, we will suggest you skip big jhumkas or neckpieces as it will look too crowded and mix-up attire. Let the embroidered, blingy dress and the big tikka do the talking.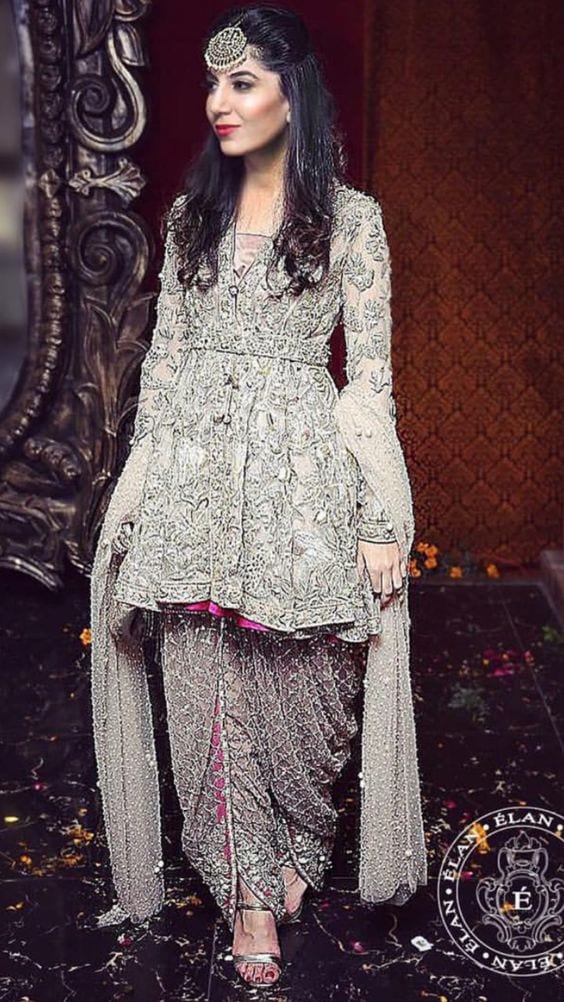 ↓ 1 – Trendy Summer Look
This one from Sania Maskatiya is a trendy outfit, which can be a perfect fit for any event, party, wedding festivity, or even a hangout with friends or family during Eid, Diwali, Ramzan, or Holi. The color makes this outfit perfect for Summers.