Tips on How to Wear Trench Coats -What's the best way to look absolutely fabulous on a cold or rainy day? Definitely by wearing a trench coat. But the difficult part is that not many of us know of ways to style up the trench coat and as a result it is often just considered a regular or boring old winter outfit. Well, this isn't happening any longer because here we present to you some of the prettiest possible outfits that you can easily recreate with your trench coat and few other things from our wardrobe.You can get variety of ideas about latest trench coat styles and trends around globe.
Best Outfits to Wear with Trench Coats
 #16 -Style it  With PJs
Try wearing your pyjamas with trench coat for a more casual and effortless look.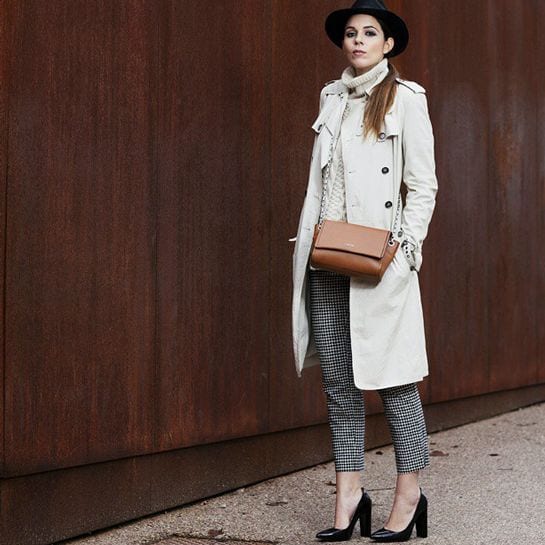 [highlight]You Should Also see : 30 chic ways to style PJs[/highlight]
#15 – Plus size Women Trench Coat Style
Wearing a striped shirt under a trench coat is a very casual way of dressing up that is often matched with heels and you can use printed accessories like a floral scarf of animal print bag with it. While this is a very simple look, it looks great on women of all sizes and body shapes.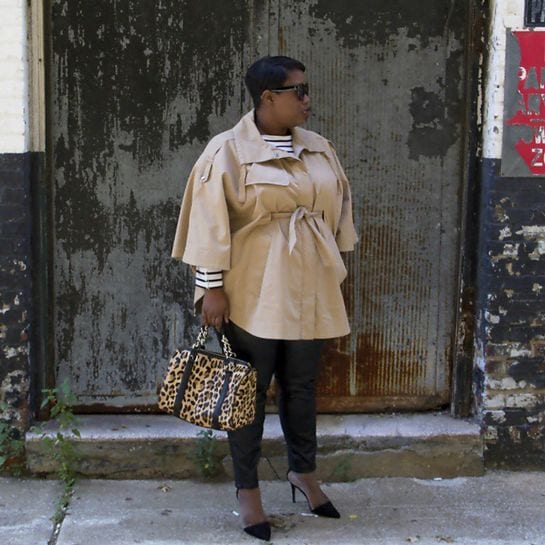 Source
 #14 With a Contrasting Belt and Boyfriend Jeans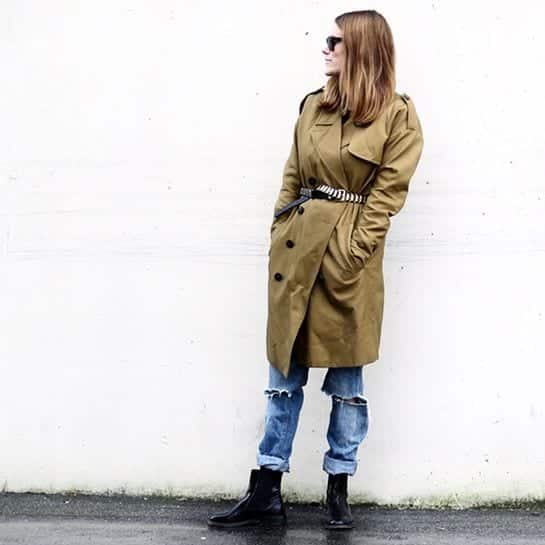 #13 Layering – With another Jacket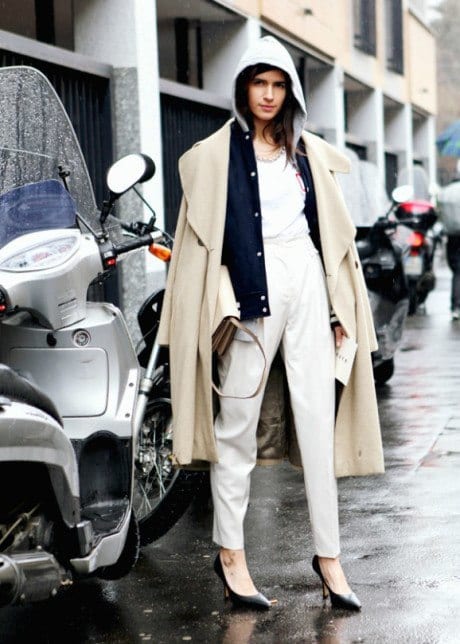 #12 – Party Wear with Trench Coat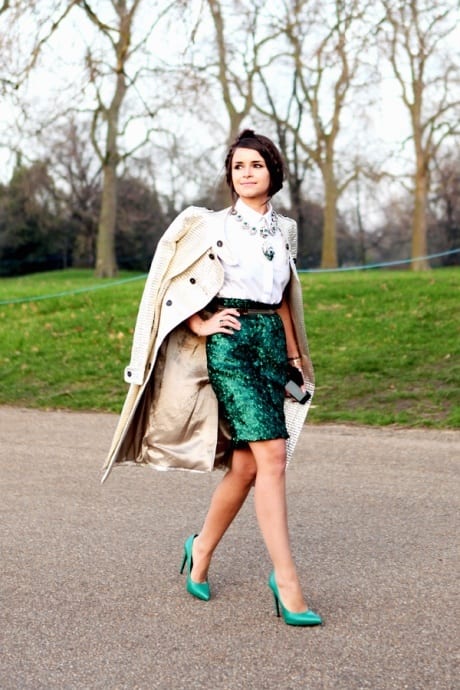 #11- Celebrities Trench Coat Style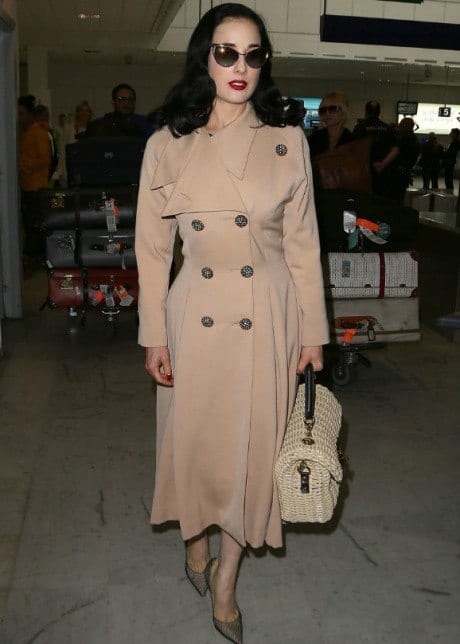 #10 -Women over 40 Style
Women often complain that winter outfits don't let them show off their figures. This outfit idea is surely the solution to that. Try a nicely fitted dress, under a coat that is only belted but not buttoned. This will help you stay warm while highlighting your dress and figure.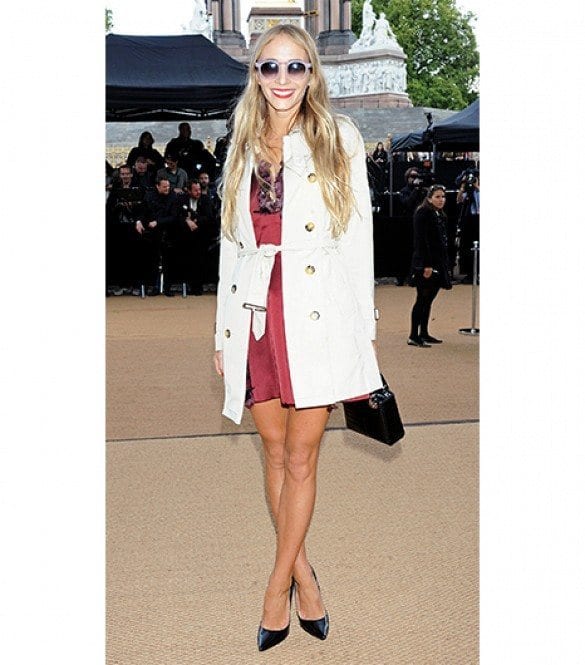 # 9 – Black Lady Style
Try wearing your dress with an open coat. It gives a really nice and flowy effect.
[highlight]Recommended : 17  Exquisite Fashion Trends for Dark complexion women[/highlight]
 #8 -With Denim Shirt Shorts
Especially recommended for tall girls. The denim shirt and shorts help highlight your legs beautifully. I also love the simple jewellery chosen to go with the outfit and I would recommend to wear this with heels.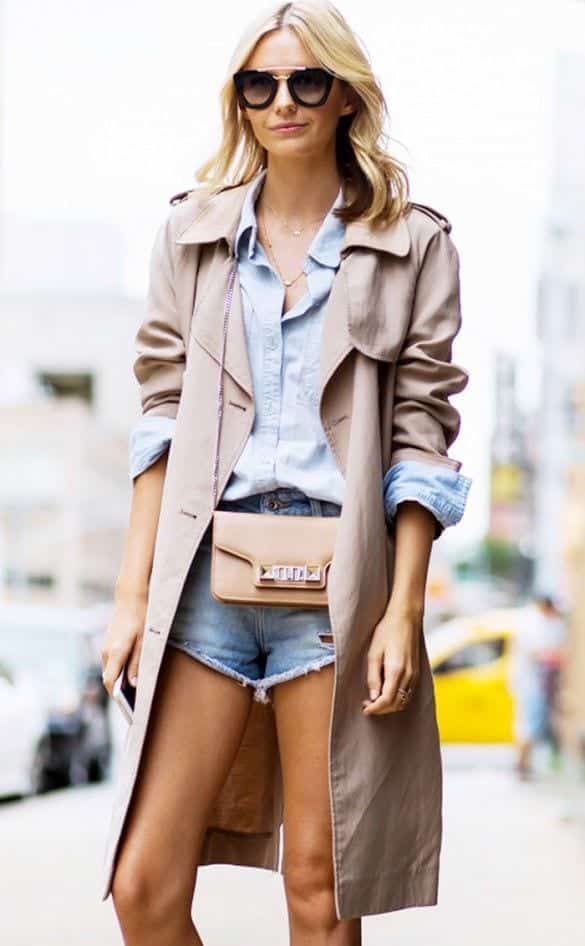 Source
 #7 – Trench Coat for Street Style
Another great classical look that you can even wear to work. I love the idea of wearing a bun and those matching black heels with it.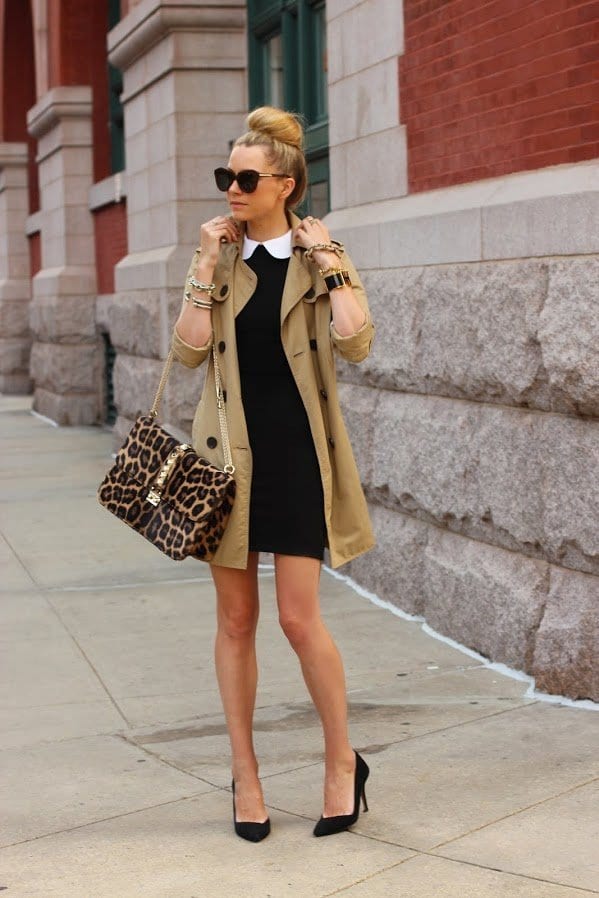 Source
 #6 – With Leather Pants
Leather pants always brighten up an outfit and this includes trench coats. If you find this look inspiring then do try it with sneakers, open hair and a beanie hat. The outfit is warm enough for winters, comfortable enough to keep you happy and stylish enough to make you look even more beautiful.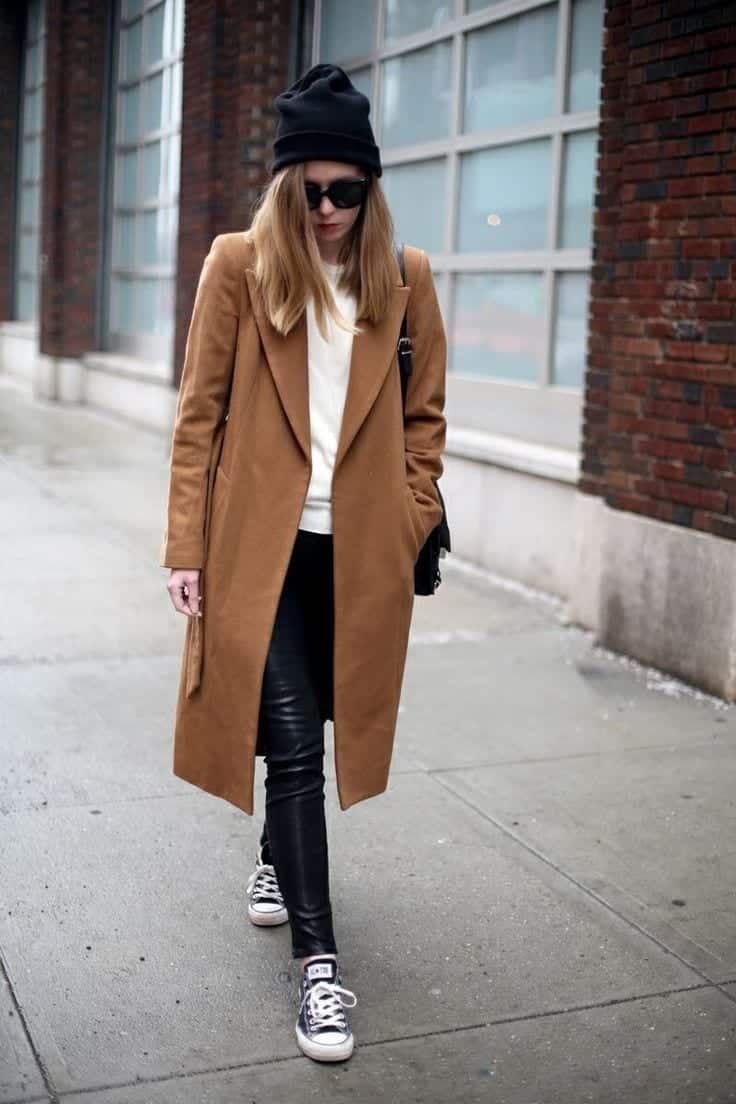 [highlight]Also see: 17 Ways to Rock your Leather Pants[/highlight]
 #5 Polka Dots

Source
 #4 A Turtle Neck and Pencil Skirt
A perfect outfit if you are in a good shape.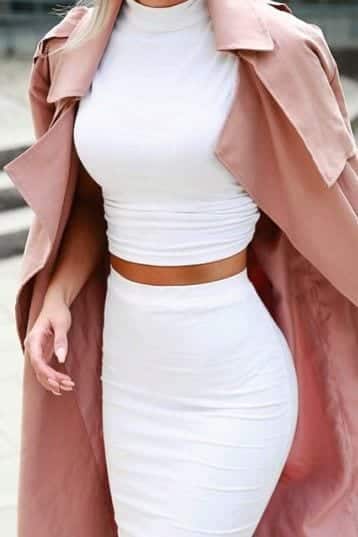 Source
 #3 Floral Cut Trench Coat
If you are thinking of buying a new trench coat then this is definitely the best option. I mean every one has a trench coat so what makes yours any different? A trench coat like this can make you stand out in the crowd and is simple enough for every day use while fancy enough for hanging out with your friends. It would look amazing with heels or even pumps but just keep the jewellery and make-up as simple as possible.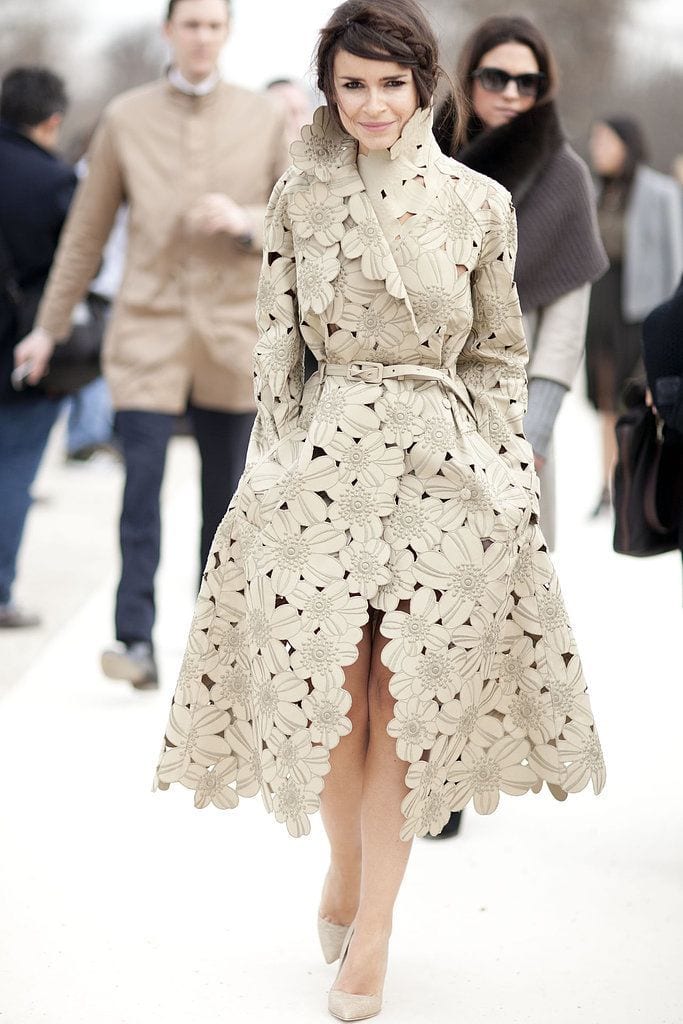 Source
 #2 With a Matching Dress
This idea of a matching dress with trench coat is perfect for curvy girls. Every thing has been nicely coordinated like the heels, the bag, sunglasses and those sunglasses. And yes this also means that if you are in shape then wearing a tailored maxi with a trench coat is a nice idea.In this pic kim kardashian is rocking her matching trench coat.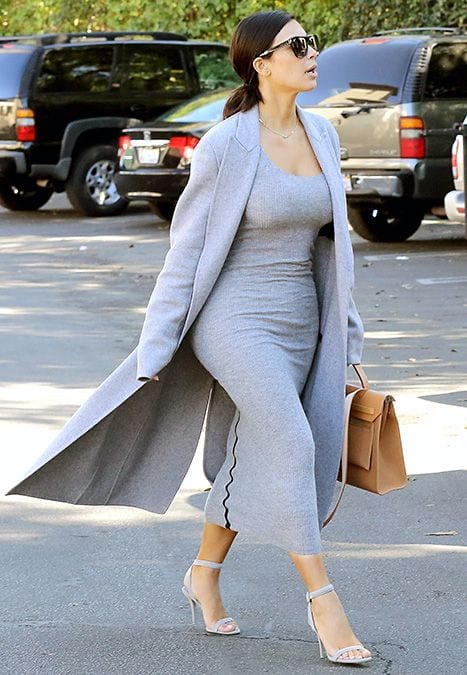 Source
 #1 – With a Scarf
I love the creativity of this look and that is why it is rated as number one in the list. She simply wore a scarf in the front and wore a belt over it. The basic accessories have been put in use to create an amazing and unique outfit.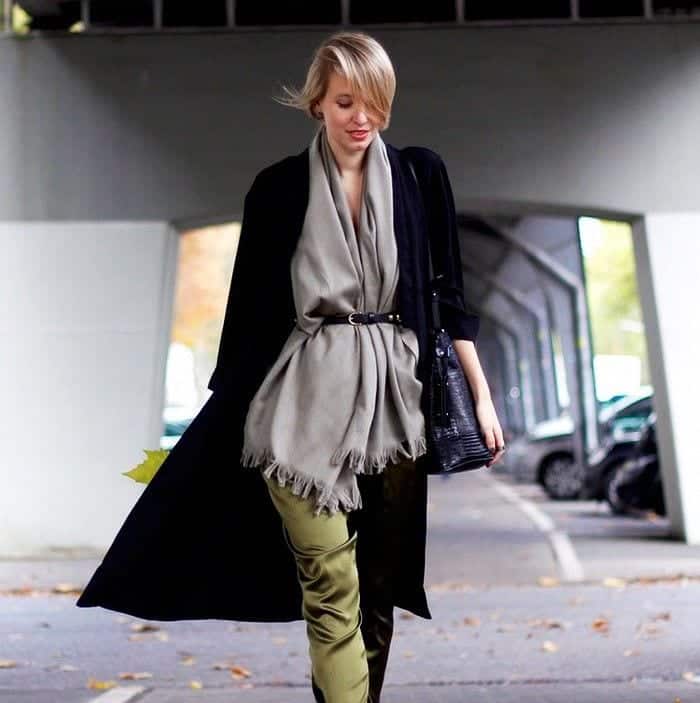 Source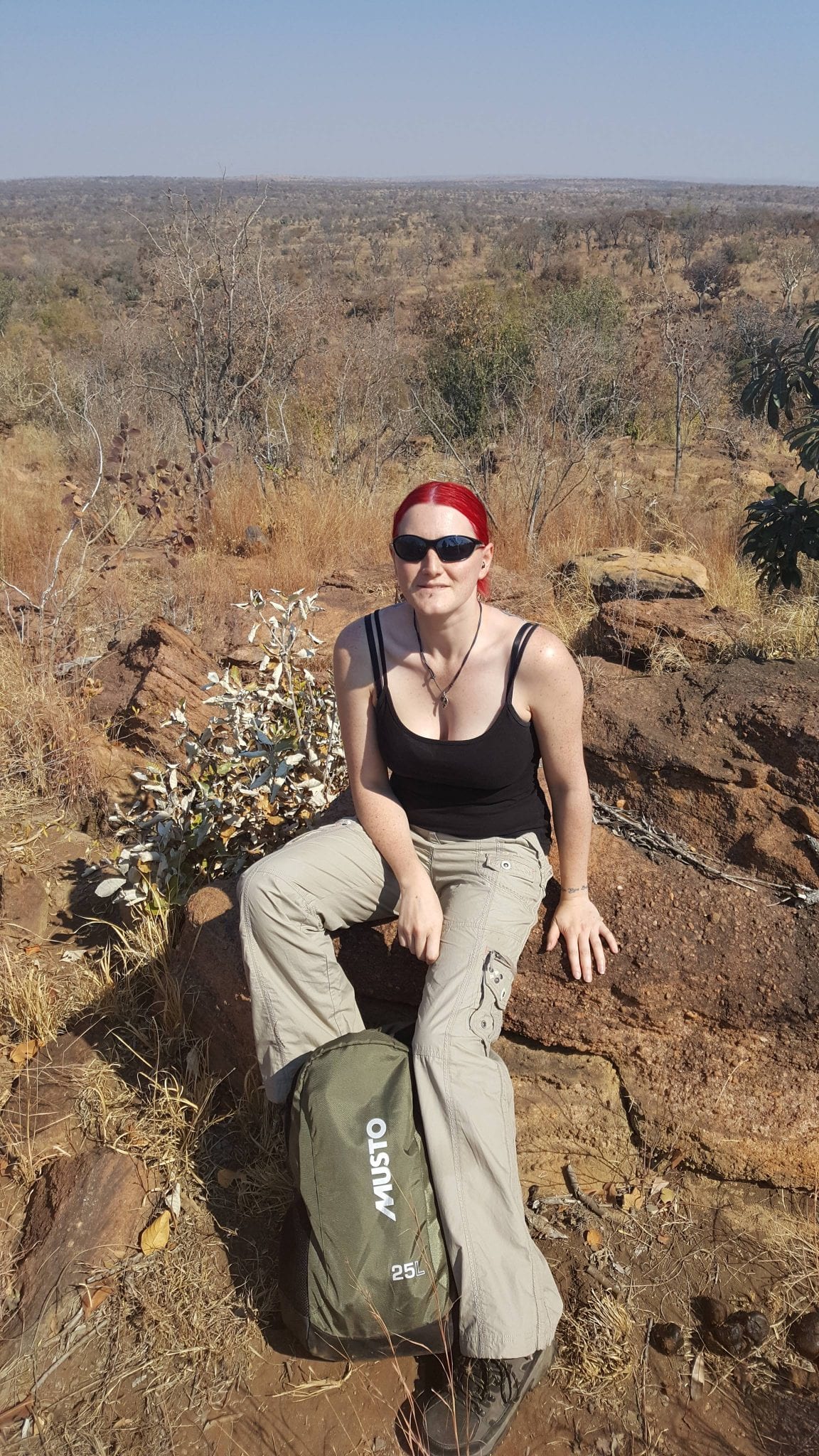 Caz, aka Vixen, has been freelance creative writing for several years. She has a lot of experience in different fields including high street fashion, tattooing art, and even the gothic and historical costumes. Caz has a Diploma in Fashion and Textiles and also a Bachelors Degree in Historical Costume and Corsetry. Her passion lies with gothic design, corsetry and any other styles considered to be taboo or unusual. Style-wise Caz has a love for Vivienne Westwood and her take on the punk era. Although Caz loves the weird and wonderful, she has a deep love for all fashion and allows this to show through her work.