Best Sporty Outfits For Pakistani Girls – Working out is a hot trend all over the world, and Pakistan is no different. Pakistani women love to workout and have a cool and fit body. To work out properly, you need to have proper workout clothes.
Suitable sporty outfits can motivate a person to work out more and boost his or her morale. Looking good in the gym will not just make you work harder, but it will also make you feel good about yourself, and this is undoubtedly the most important thing. So read on for some of the best sporty outfits that you've ever seen.
How To Dress Sporty For Pakistani Girls
Here are some points that you must consider before getting some workout clothes for yourself.
Buy comfortable gym clothing so that when you work out, there is nothing that might bother or disturb your exercise.
Always put the gym clothes in the dirty laundry once you have gone through a session. The clothes would have sweat, and wearing them again might cause infection or allergy.
Do not exchange or share gym clothes with anyone.
Buy gym shoes with special care. Never wear normal shoes while gyming. It can cause damage to your feet.
Buy colorful and lovely gym clothes that will boost up your motivation level to work out every day.
Buy gym wear that is easy to get in and get out of.
Some people like to wear tight-fitting clothes when working out and others prefer loose-fitting. Choose whichever option fits you and is comfortable for you. You do not need to look like a model while working out. The main thing is you are at ease.
Do buy some extra spare gym clothes so you never have the excuse that your gym outfit was dirty and you can't hit the gym. The same goes for gym shoes.
Most celebrities prefer bright and neon-colored gym clothes. Pink, orange, red, and yellow being the hot favorites.
Adidas, Nike, Puma, and Next are the people's popular choices for high-quality, sporty and stylish clothes. But there are also many local brands in Pakistan that make the most amazing workout clothes.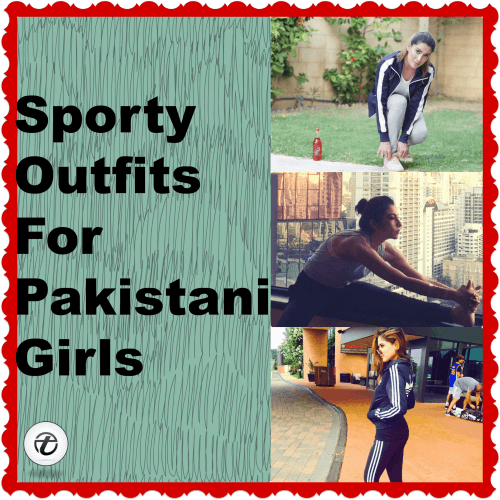 ↓ 30 – Sporty Outfit Inspirations From Mawra
If you are active on social media especially Instagram, then I guarantee you would drool over celebrities with a perfect body and even more on their classy sports outfits. Mawra Hocane seems to be the one who pretty much believes in a healthy lifestyle. Her workout outfits are simple yet very comfortable. Here she's seen wearing printed Capri tights and a loose tee in her Pilates class.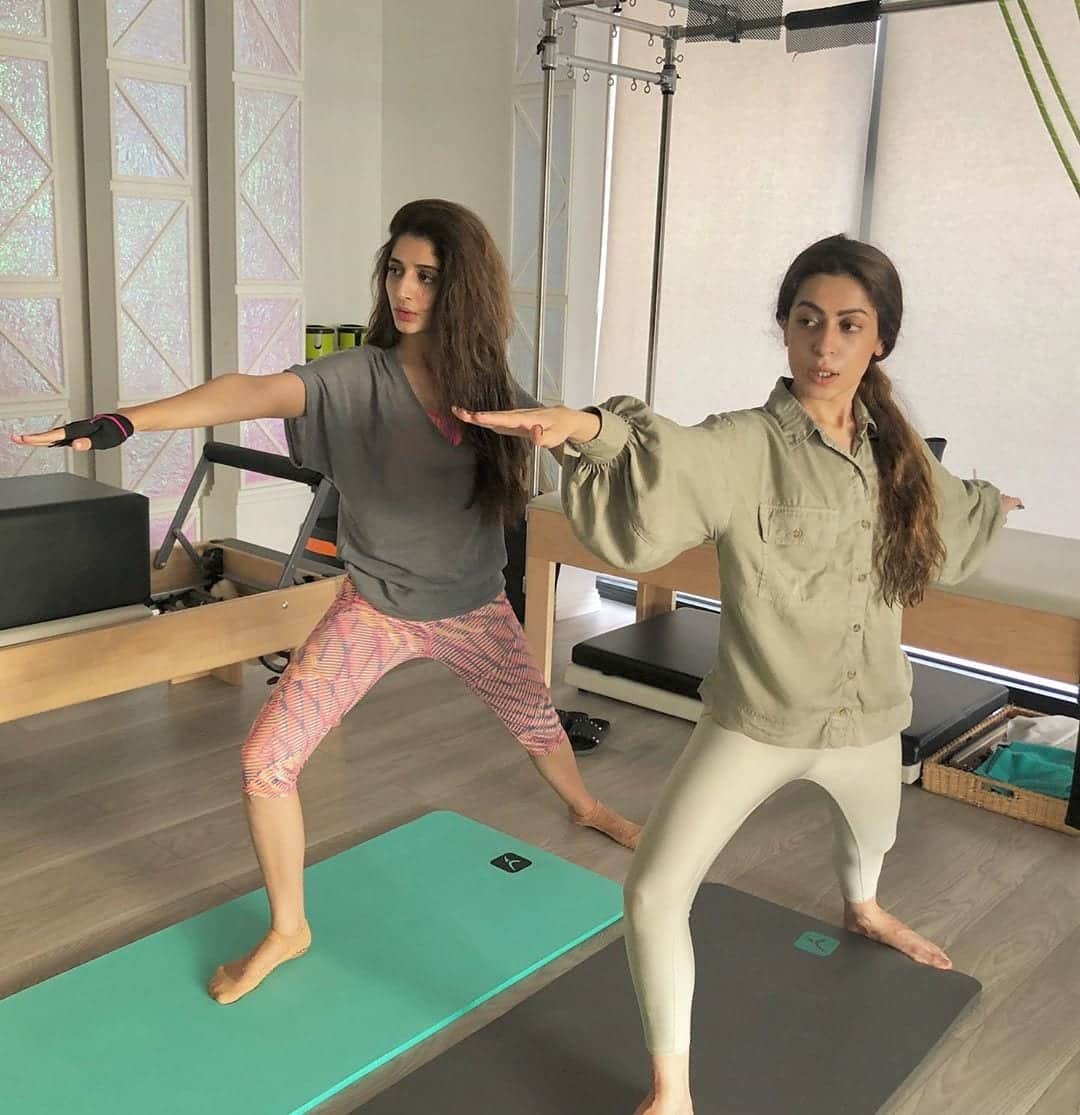 Here's another very hot sports outfit by Mawra in all-black.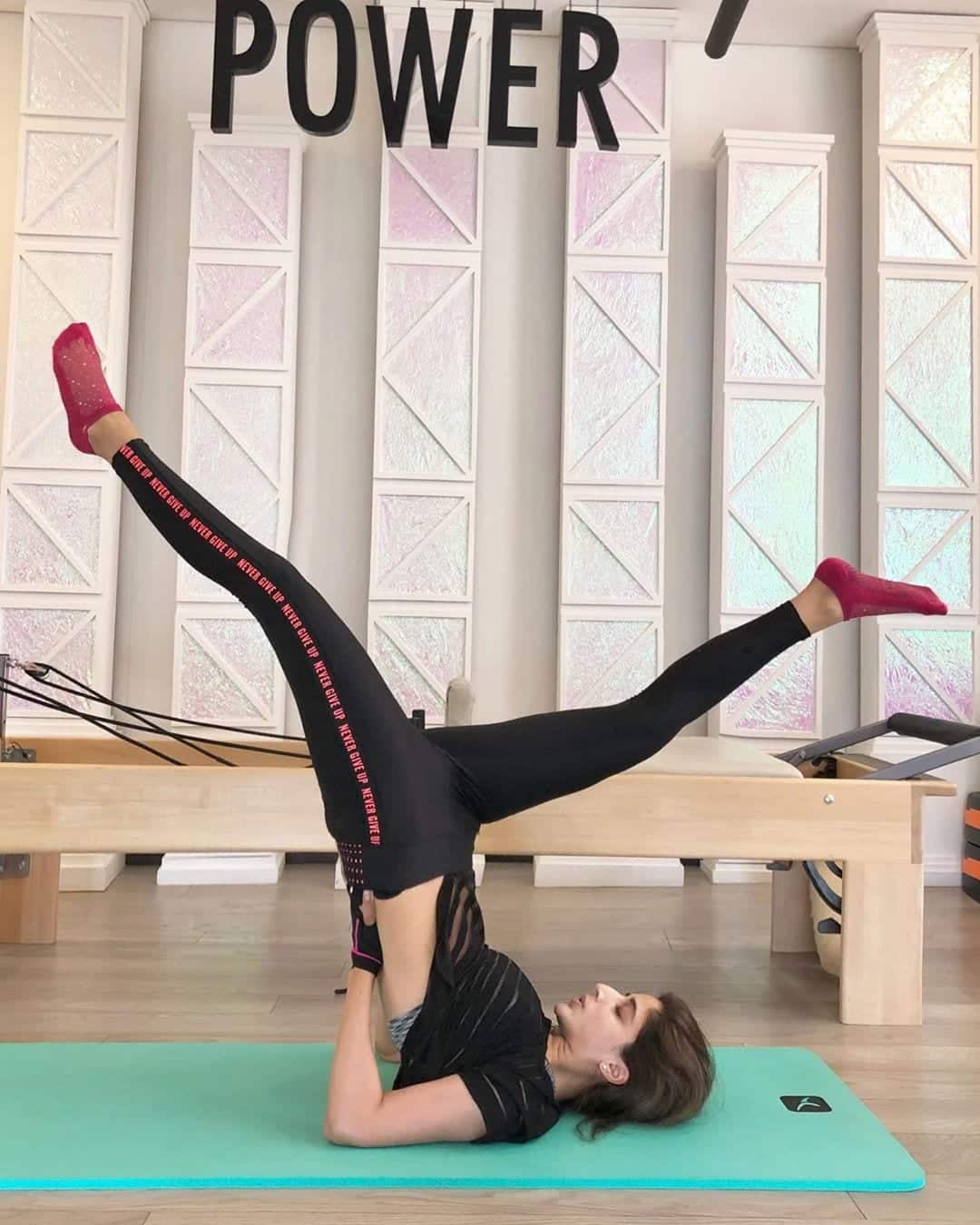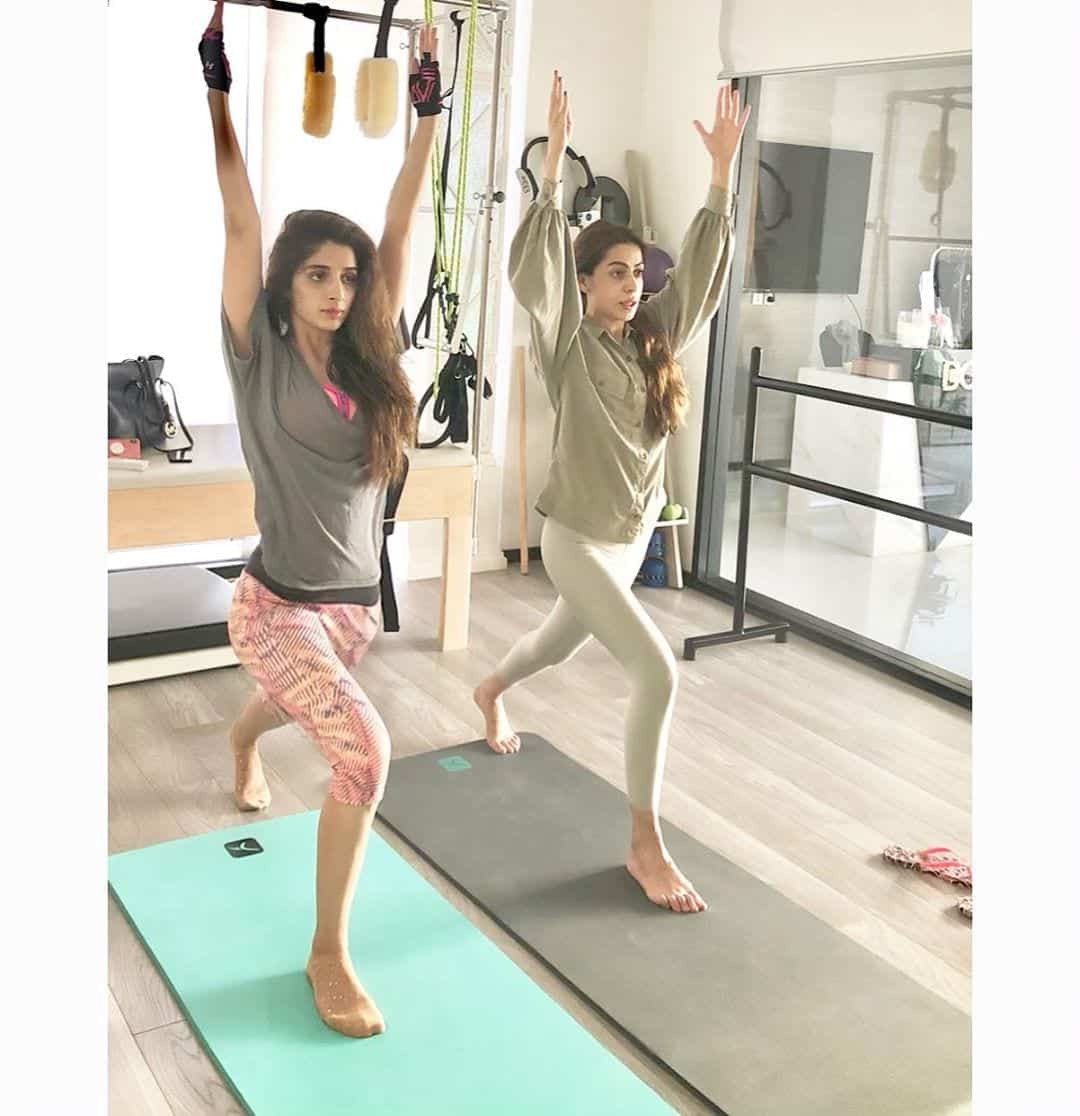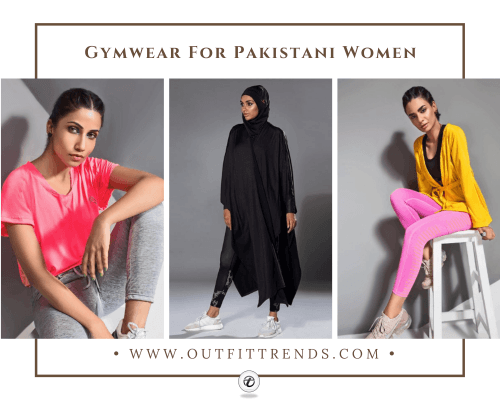 ↓ 29 – Neon And Grey For A Change
Deciding the color of your tracksuit or gym outfit looks like an easy job. It might be in case of guys but not for girls. Girls want to stand out even in the gym, Pilates, or even yoga. There's no option better than adding neon to primary gym colors like black and grey. The little glimpse of neon in sports bra, tights, and shoes makes the entire appearance so unique. We love the amazing color contrasts by Nomi Ansari's collection of Tuhura athletics. How about you?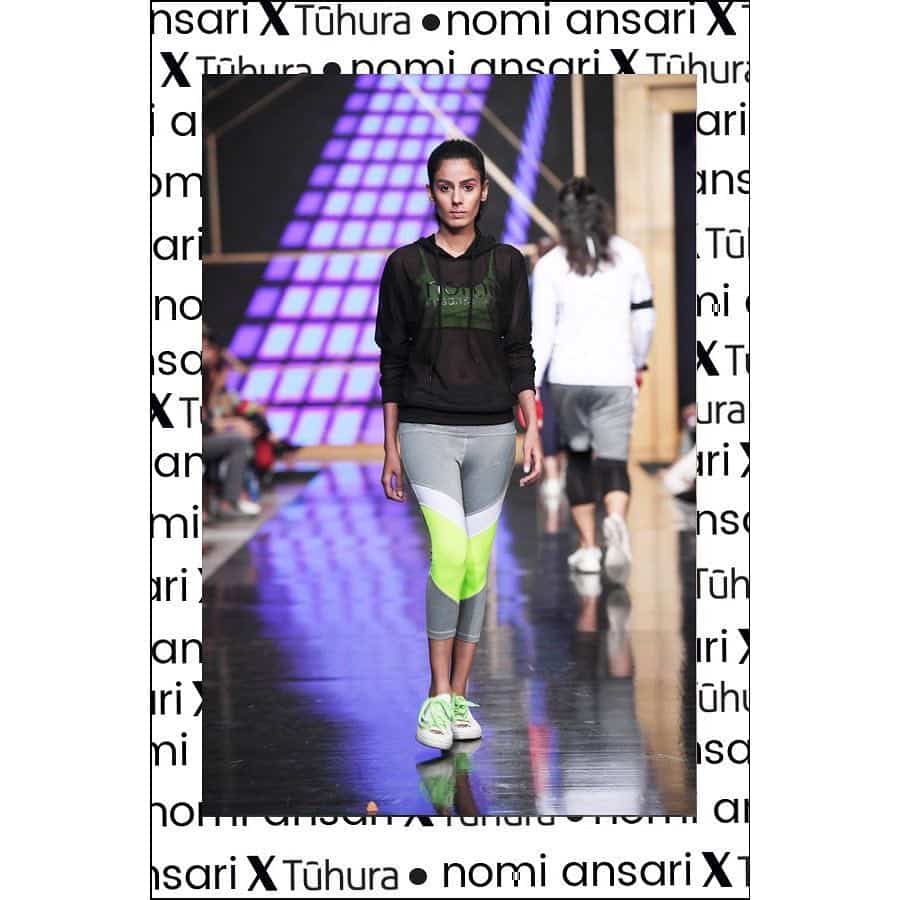 The physical fitness freak Hina Altaf is rocking neon top and sneakers by pairing them with a grey trouser. Wearing bold colors like neon requires you to have some guts. So, do you have them?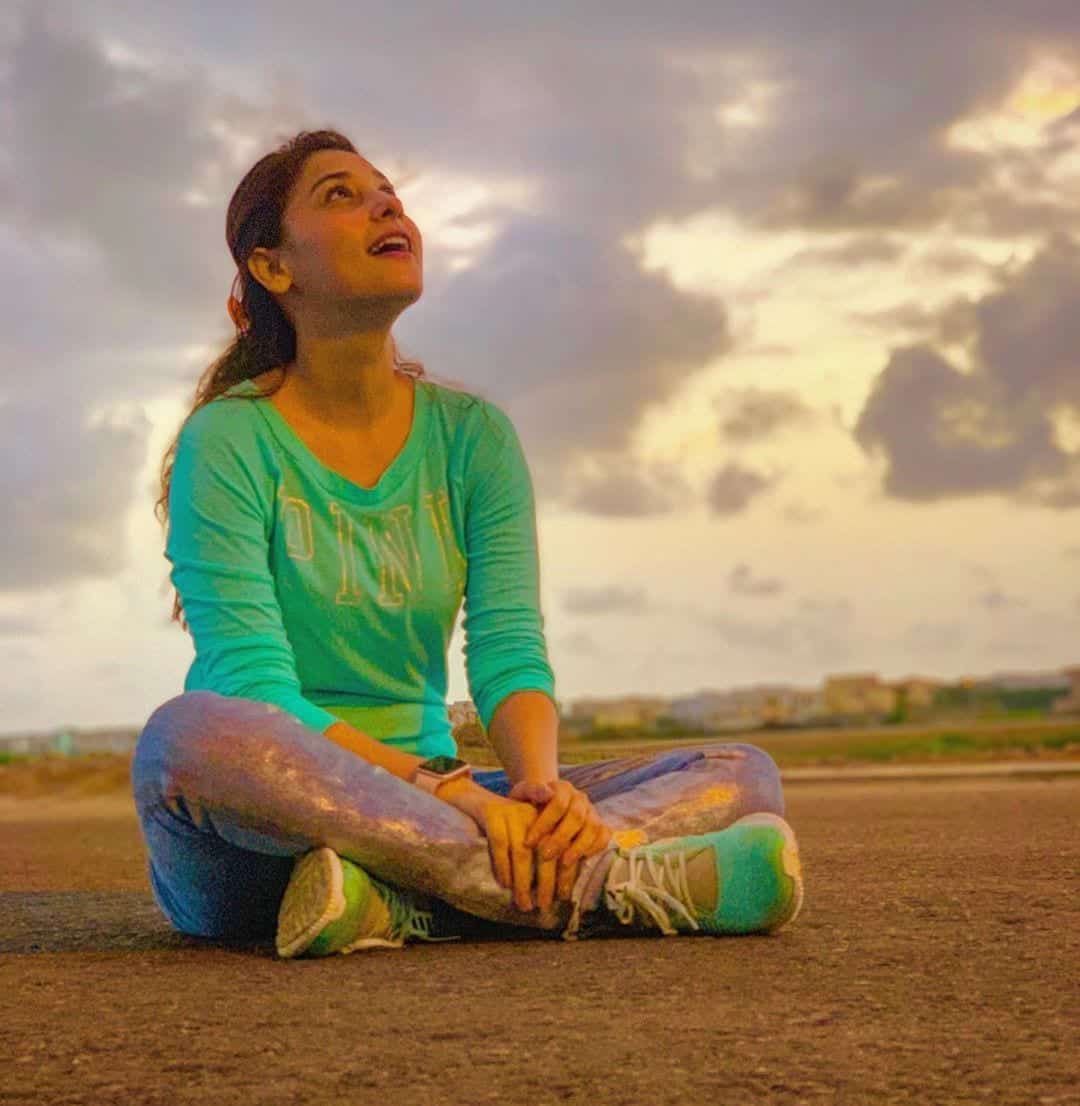 ↓ 28 – Sexy Gyming Outfit
An outfit that's too exposing is not a good idea to the gym especially in Pakistan if you have to drive a long way to your gym. If the gym is in your compound or you change your workout outfit after getting into a gym, then try this. Half transparent black tights and a black sleeveless top only if you are comfortable. Ushna Shah, the young Pakistani actress, is rocking her gym look whether you like it or not.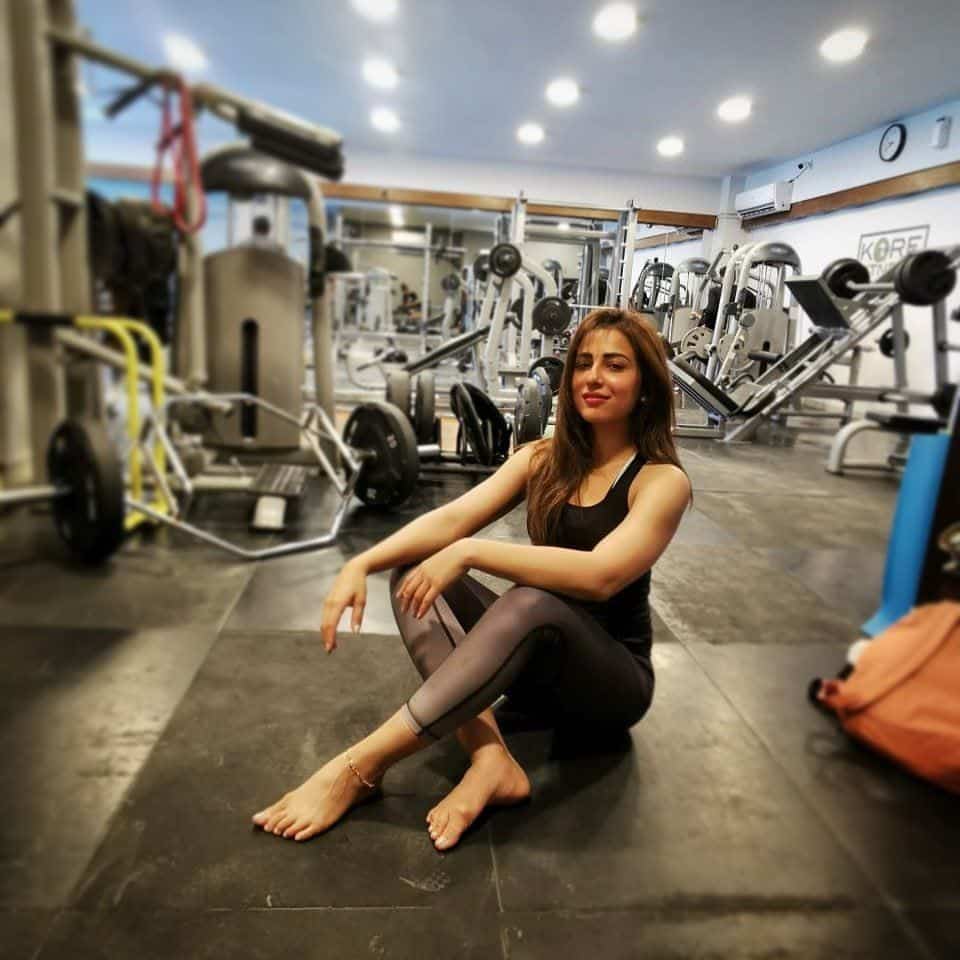 ↓ 27 – Nadia Hussain In Simple Sporty Outfit
Nadia Hussain is a mom of four yet so fit. What's her secret? A healthy diet and regular workout is the answer for sure. For her gym looks, she picks modest outfits because that's where her comfort zone lies. She looks younger than ever before in her recent sporty look where she's wearing a tea pink full sleeves shirt with black leggings and comfortable joggers. The sleek ponytail is a perfect idea for gyming.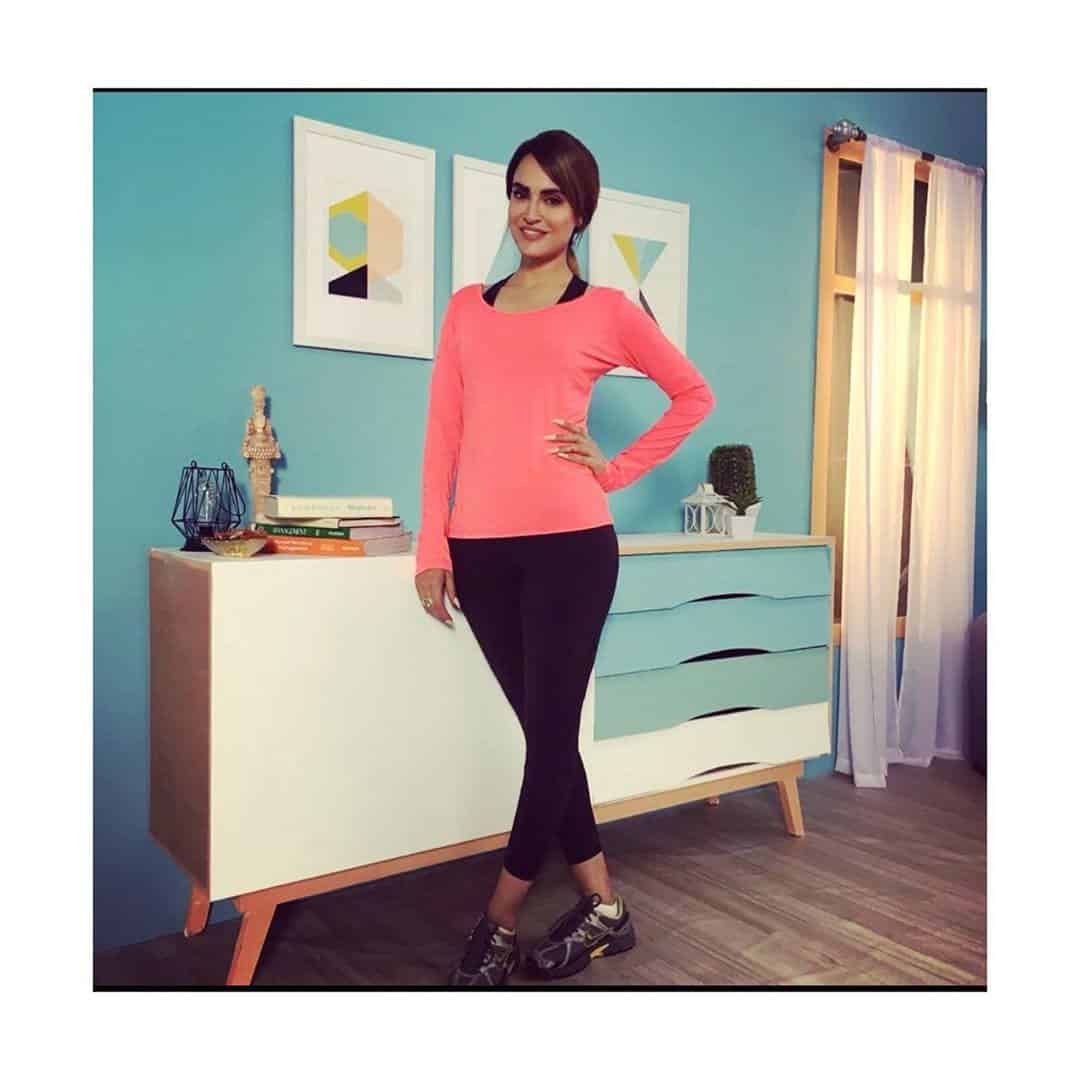 ↓ 26 – Tracksuits
Nomi Ansari recently launched his sports line in collaboration with Tuhura athletics, and his collection has the heart of almost every young girl who is into gyming and physical fitness. His tracksuits are the best of all. You can also shop them by simply placing an order on their Instagram page. Have a look at this tracksuit consisting of trousers, a sports bra, and a jacket. The color combination and fabric material are amazing. Moreover, you can always wear a tee-shirt under the jacket for casual wear.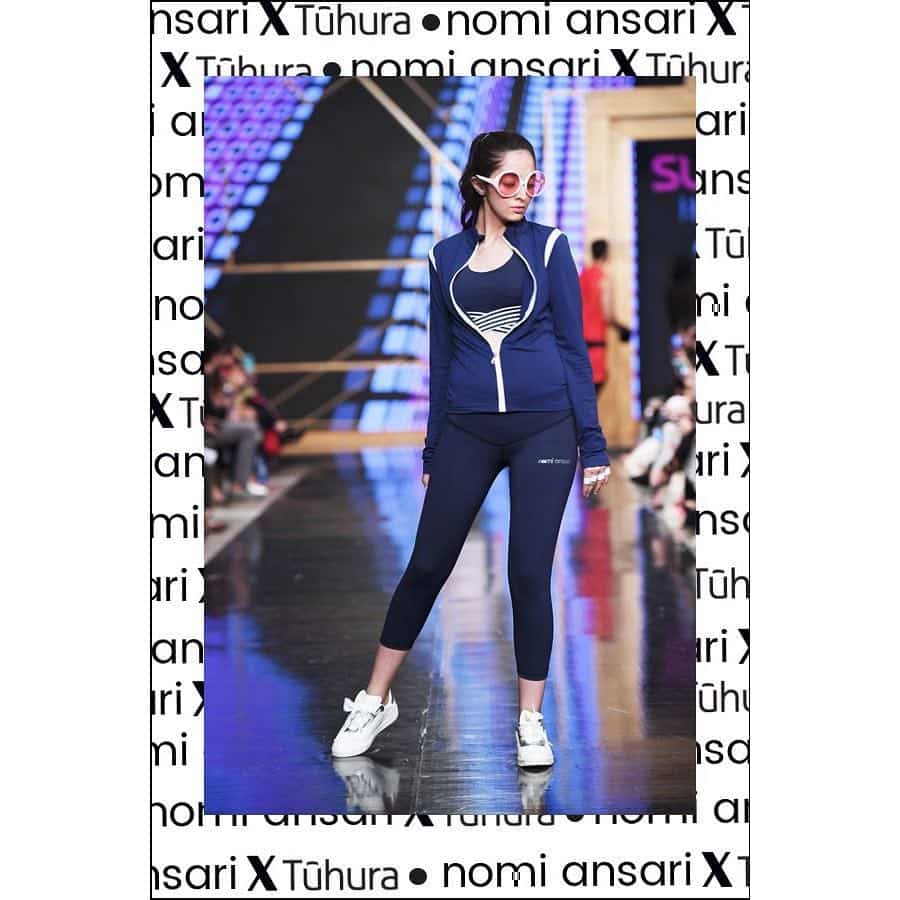 ↓ 25 – Hot Sporty Outfits For Pakistani Girls
Girls, it's never a bad idea to add something valuable to your wardrobe. Outfits that stay in fashion yearlong. If invested right, they can even work for years. Yes, girls! We are talking about sportswear like trousers, tops, and jackets. You can wear them to the gym or linger around in your lounge on Sundays. Sporty outfits are awesome picks for the winter season. Take notes.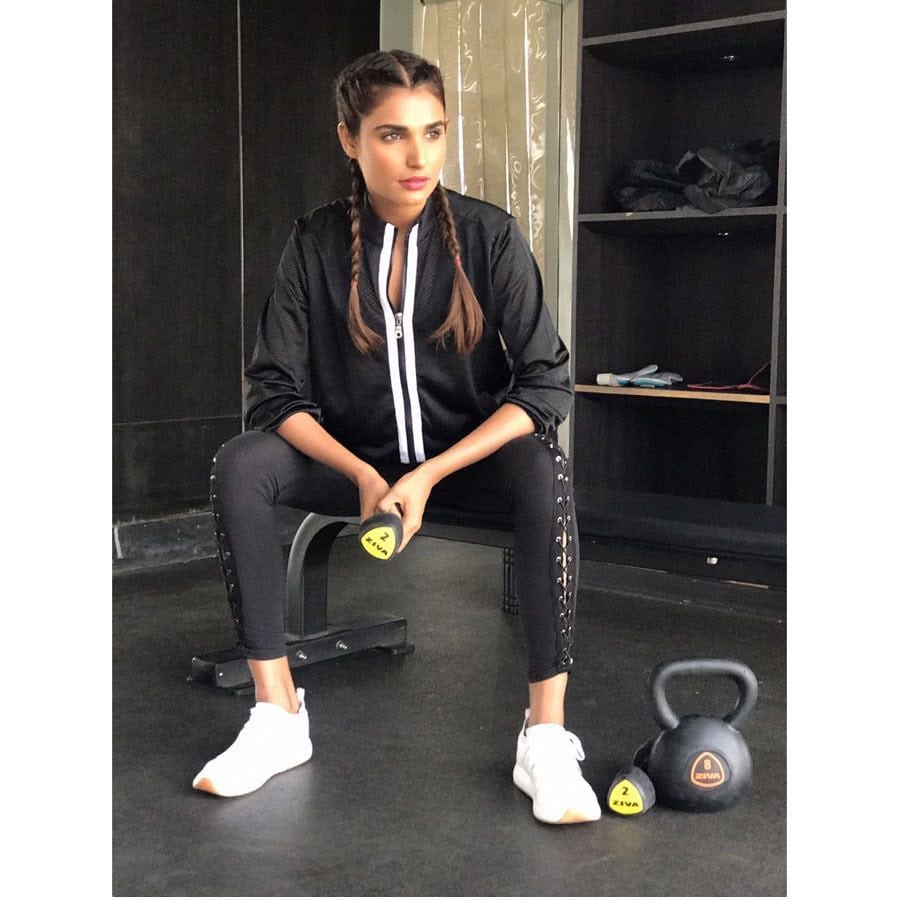 Meera, the superstar. She is into glitter and glamour and knows how to prepare for it. She works out to maintain a great figure, and her gym outfit is as cute as her.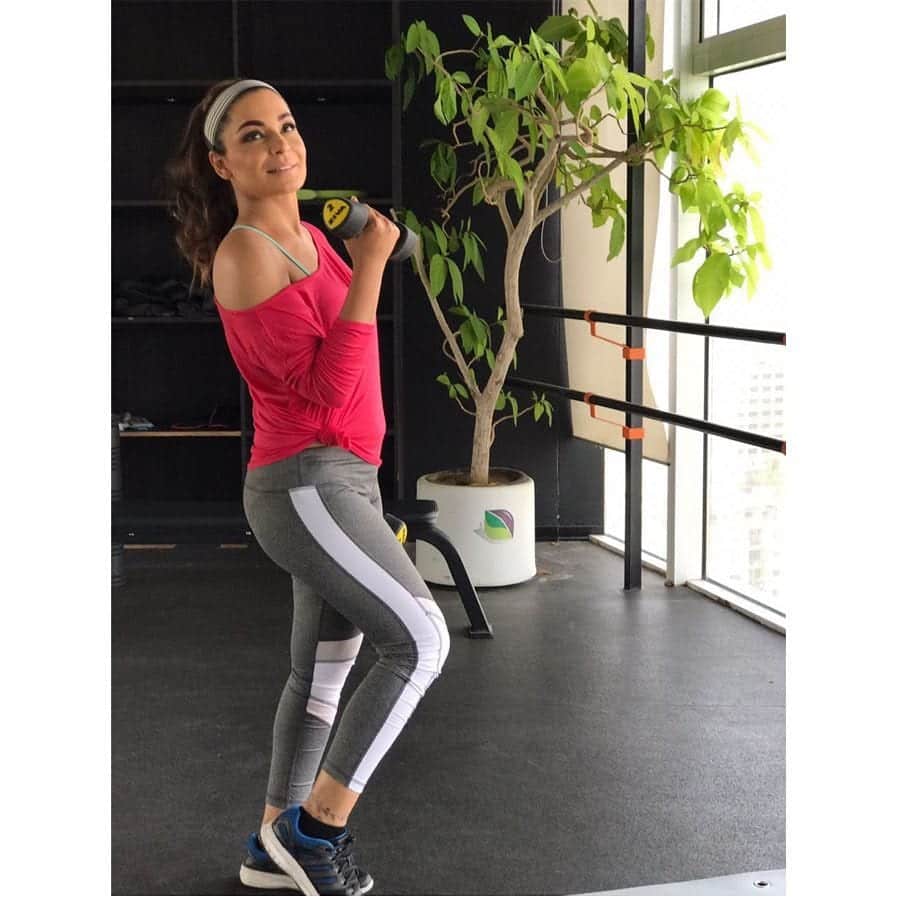 ↓ 24 – Hairstyles With Sporty Outfits
A healthy lifestyle is not just about going to the gym and working out. Grooming has a great impact as well, and looks matters. Don't ever neglect your hair after wearing a classy outfit. You can try putting your hair in a bun, a high ponytail, or different types of braids. If you have bangs or your hair are too silky and creates hindrance for you, then get yourself some nice hair bands.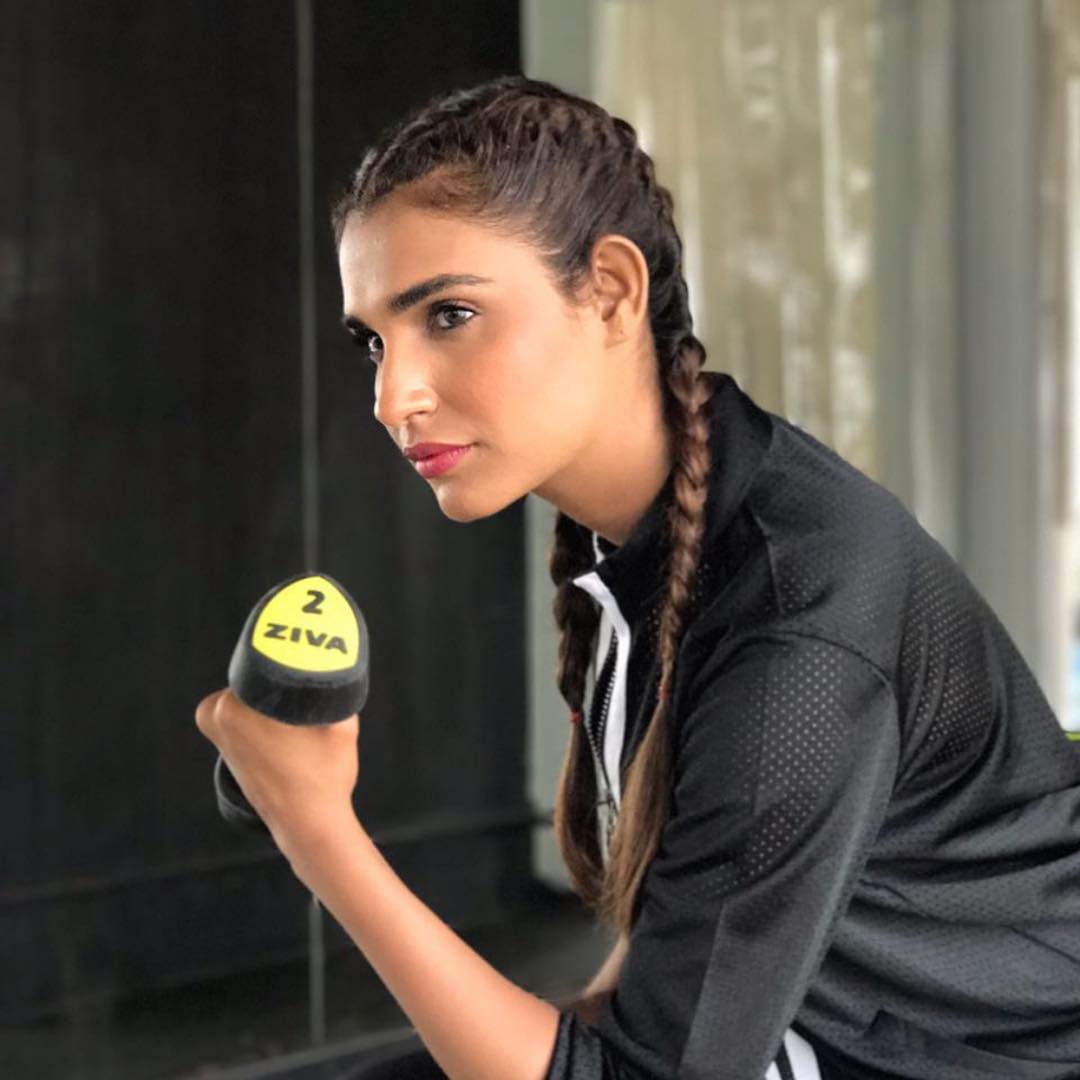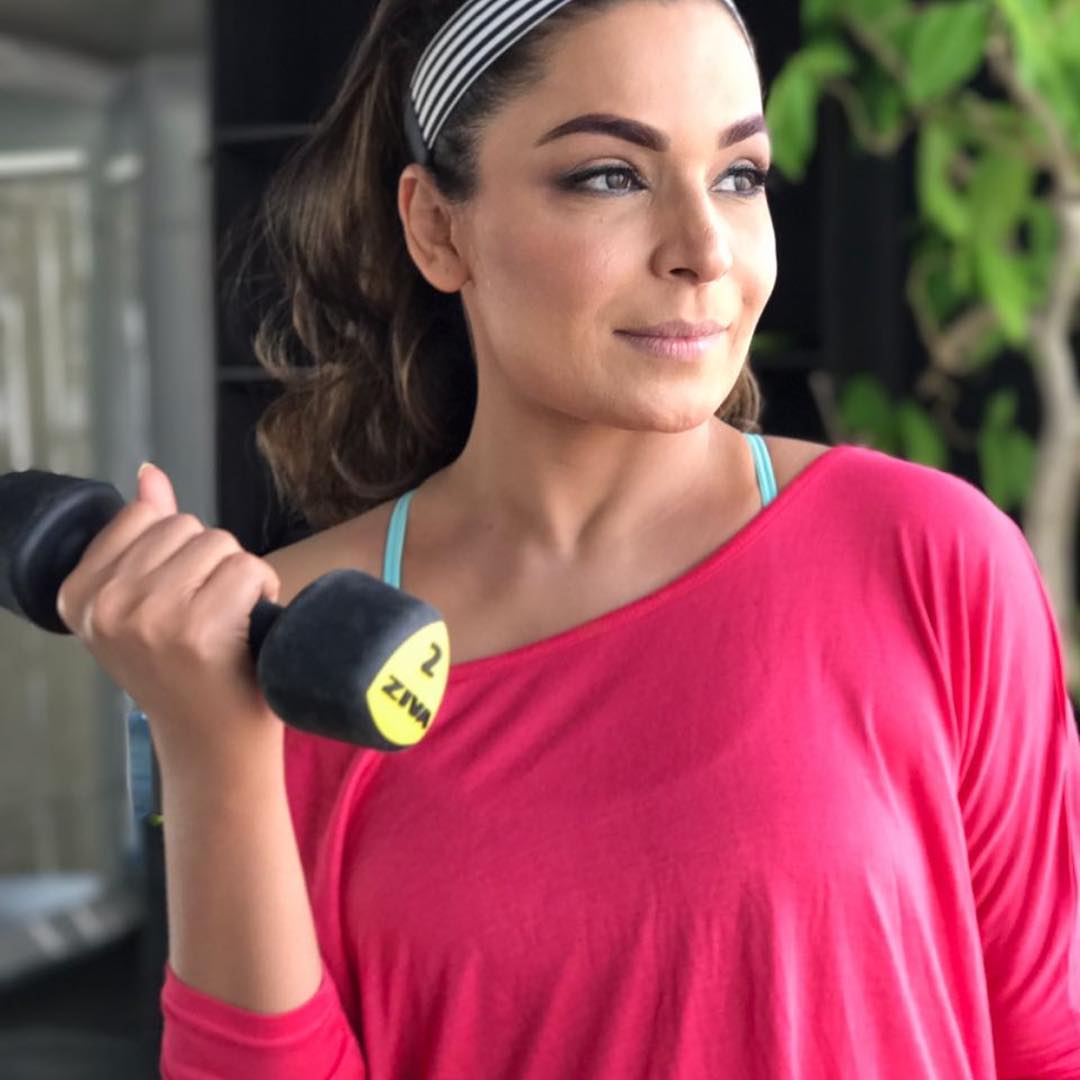 ↓ 23 – Plus Size Sporty Outfits For Pakistani Girls
We have always seen pretty outfits for slim girls, and zero sizes are trending the most. We think it's really an unhealthy culture. Girls if you are plus-sized, take pride in your shape and do not be belittled by people saying anything bad to you. Don't listen to people asking you not to wear typical gym wear. Think with your mind and get yourself some awesome tracksuits in your favorite colors. Have a look at these women embracing their figure and rocking their sporty outfits.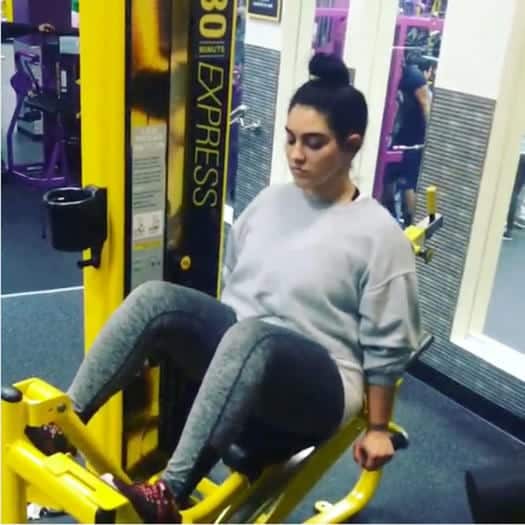 ↓ 22 – Sporty Outfit With Hijab
Mostly women in Pakistan prefer keeping their heads covered or wear a dupatta. If you are one of them then we recommend you to have hijabs in various colors like white, black, or neutral shades. It's important to keep in mind that you should pick the fabric that has a strong grip. Silk is definitely a no, chiffon is fifty-fifty and linen is a definite yes.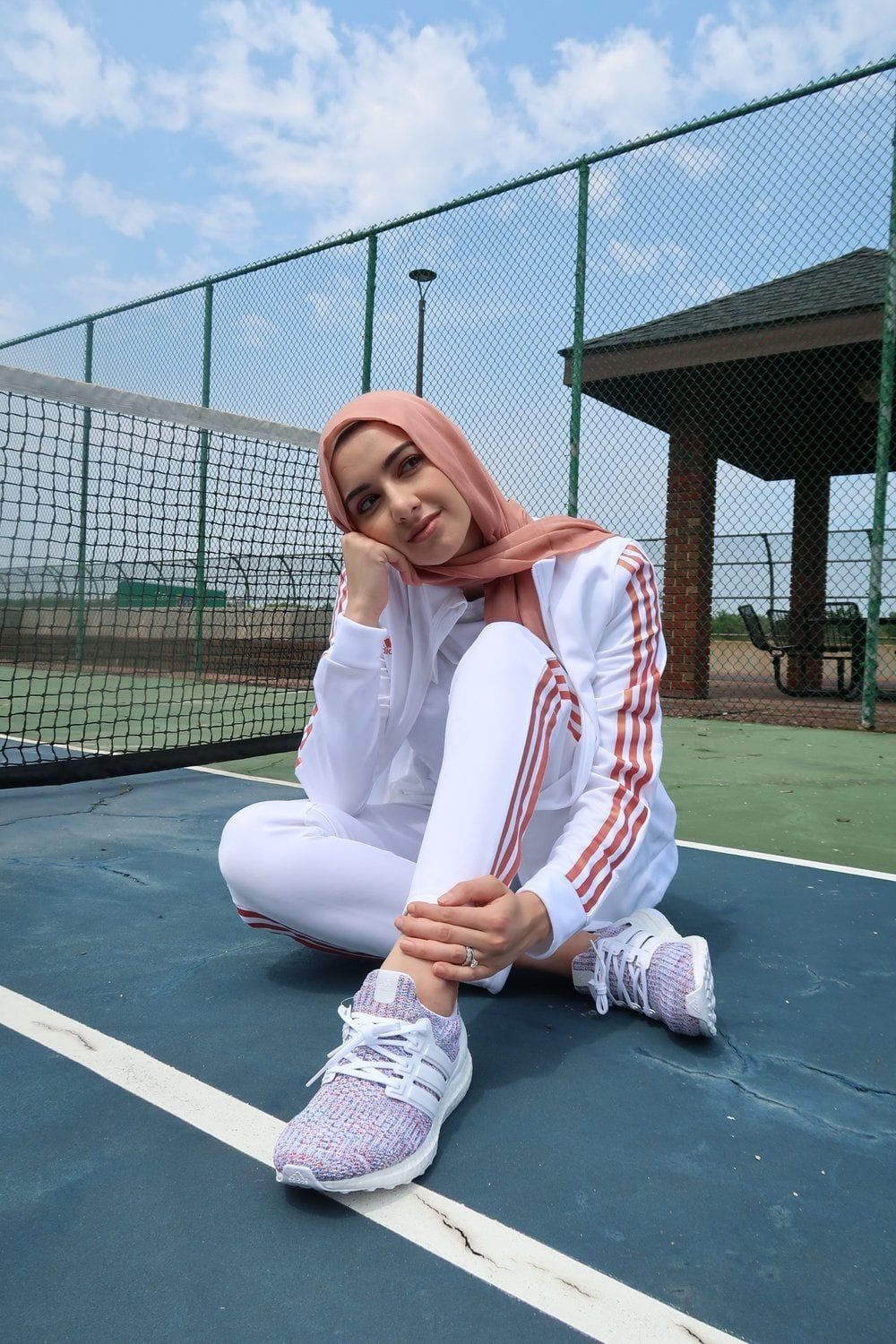 And while there are some international brands that have been making hijabs for sportswear, like Nike. We have our eyes on a newly launched Pakistani brand, Koyo by Lulusar. They've come forward with the most beautiful workout clothes ever but their hijab and modest gym outfits are the ones that we're drooling over right now.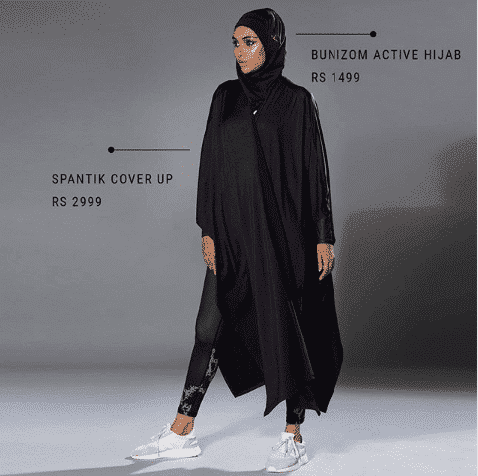 ↓ 21 – Printed Sporty Outfits
Let's get rid of boring and basic. Add prints and colors to your gyming outfits and feel more positive and energetic.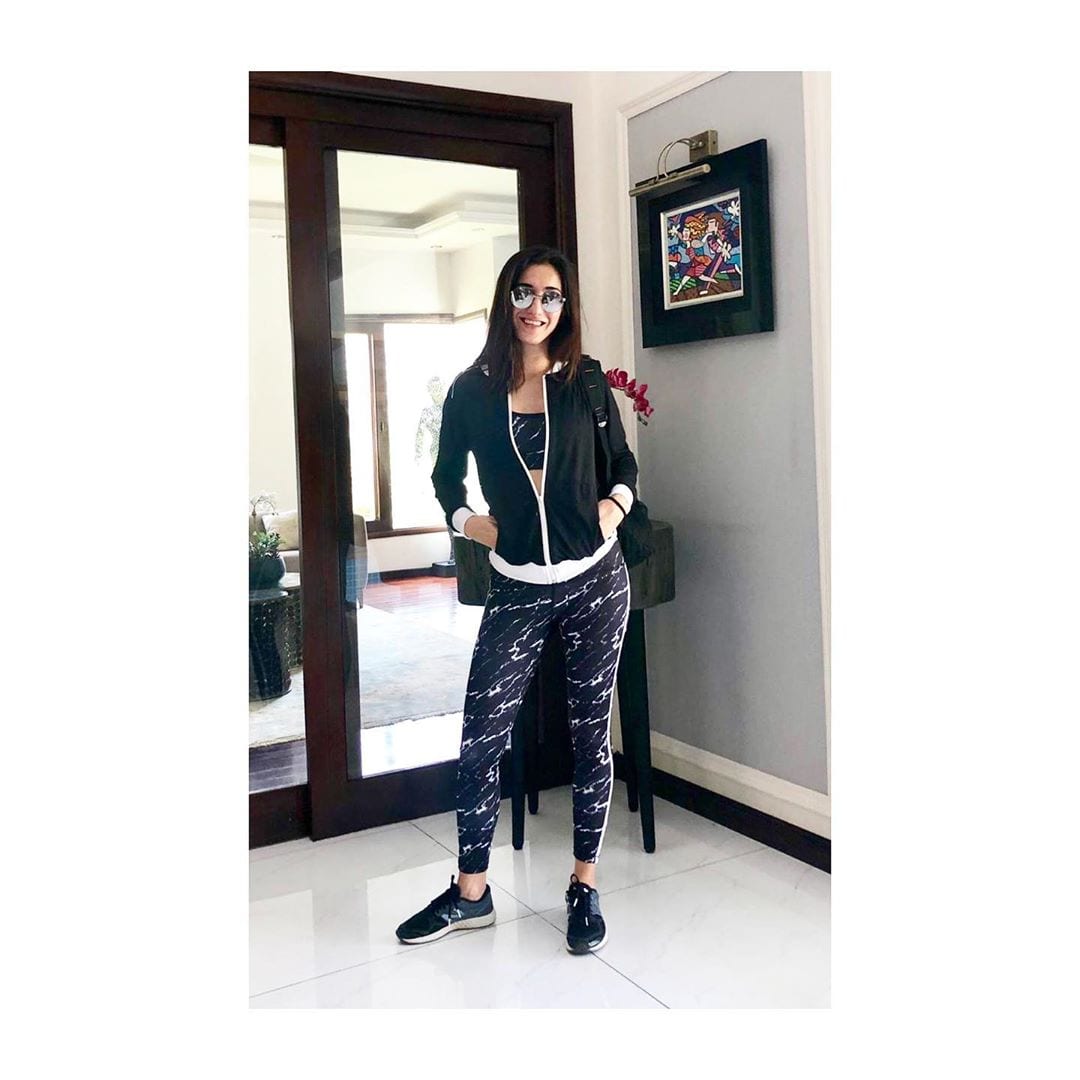 ↓ 20 – Sadaf Kanwal In Sporty But Girly Outfits
Sadaf Kanwal is a top Pakistani model. One look at her Instagram account and you can safely say that she is a fitness freak. There are so many of her photos showing off brilliant workout poses. She lifts weights and crunches with ease. Here are some of her cool workout clothing outfits. Do check out these 25 Best Outfits Of Pakistani Celebrities.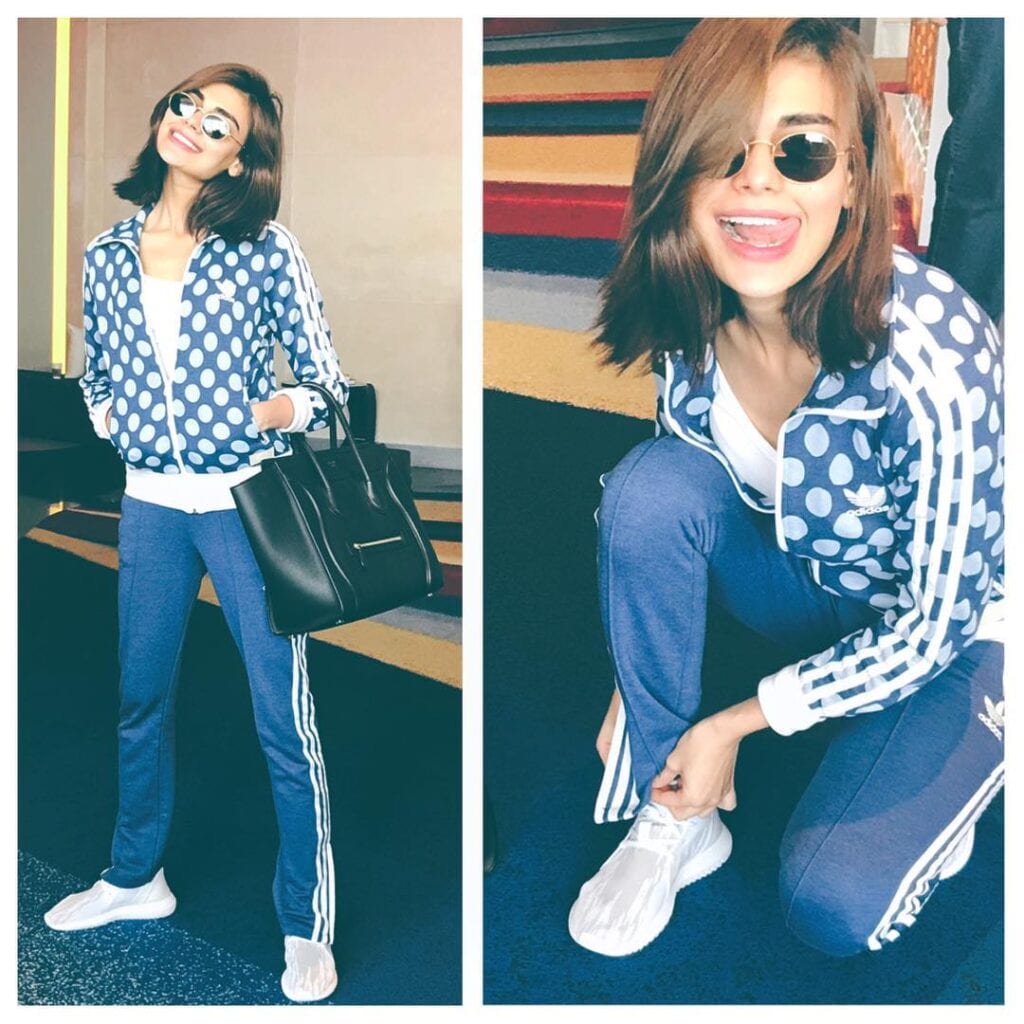 ↓ 19 – Modest Sporty Attire For The Gym
Sadaf Kanwal and Sohai Ali Abro look amazing in modest sports attire.
↓ 18 – Funky Workout Look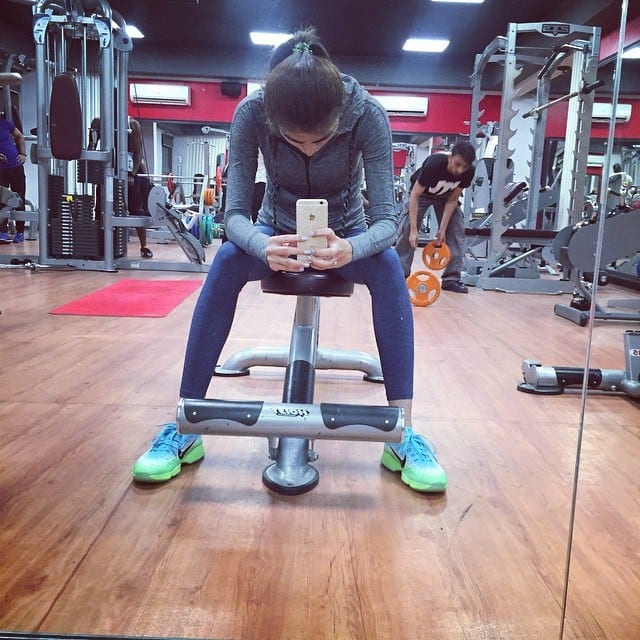 ↓ 17 – Pakistani Workout Footwear
Shoes are definitely of great importance when it comes to sportswear. If you want to invest one time, then we recommend you go for Nike or Adidas. Otherwise, local Pakistani brands like Bata, Servis, and Stylo are good options if you want them for a short period of time.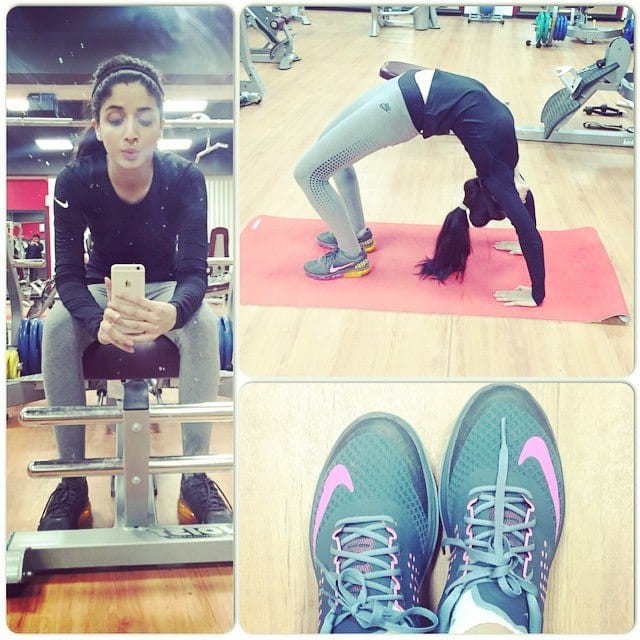 ↓ 16 – Sporty Casual For Pakistani Women Over 30
Mehwish Hayat, one of the most sought after Pakistani star, is also a lover of working out. Her workout outfits are really cool and inspiring. She really knows how to workout in style. Here are 20 Elegant Outfits for Pakistani Women Over 30.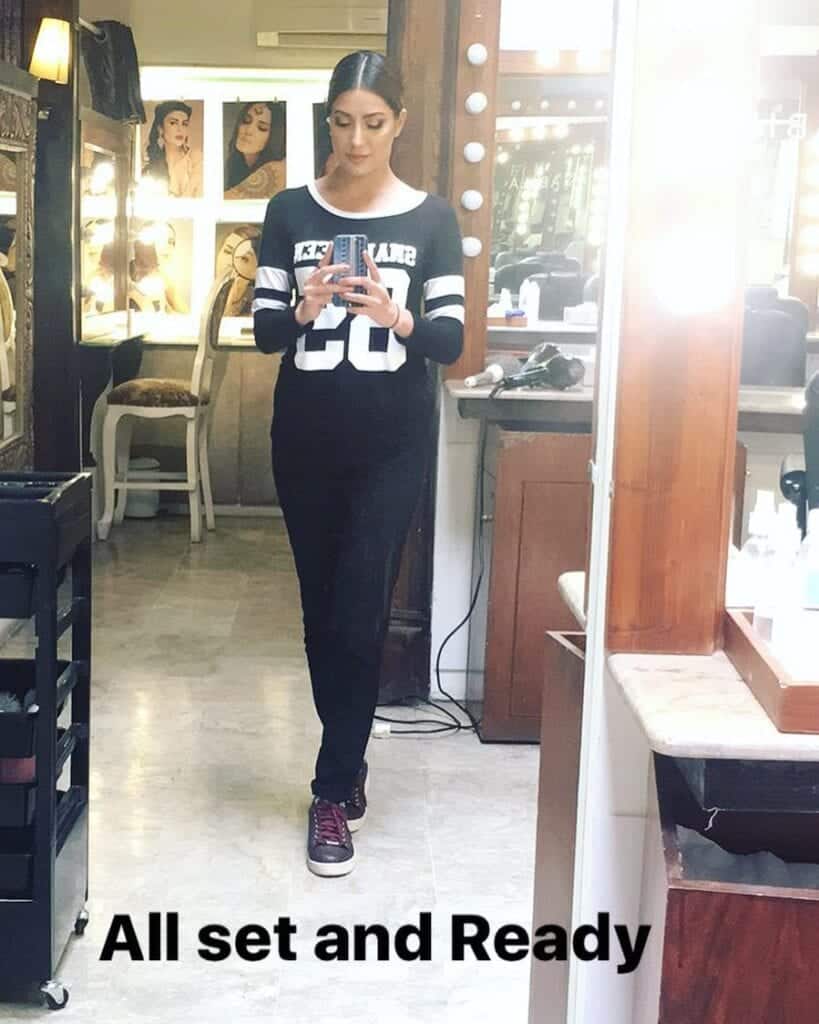 ↓ 15 – Anoushey Ashraf Working Out
The famous Pakistani VJ looks really charming in the white tee, black Capri lights, and cute pink joggers.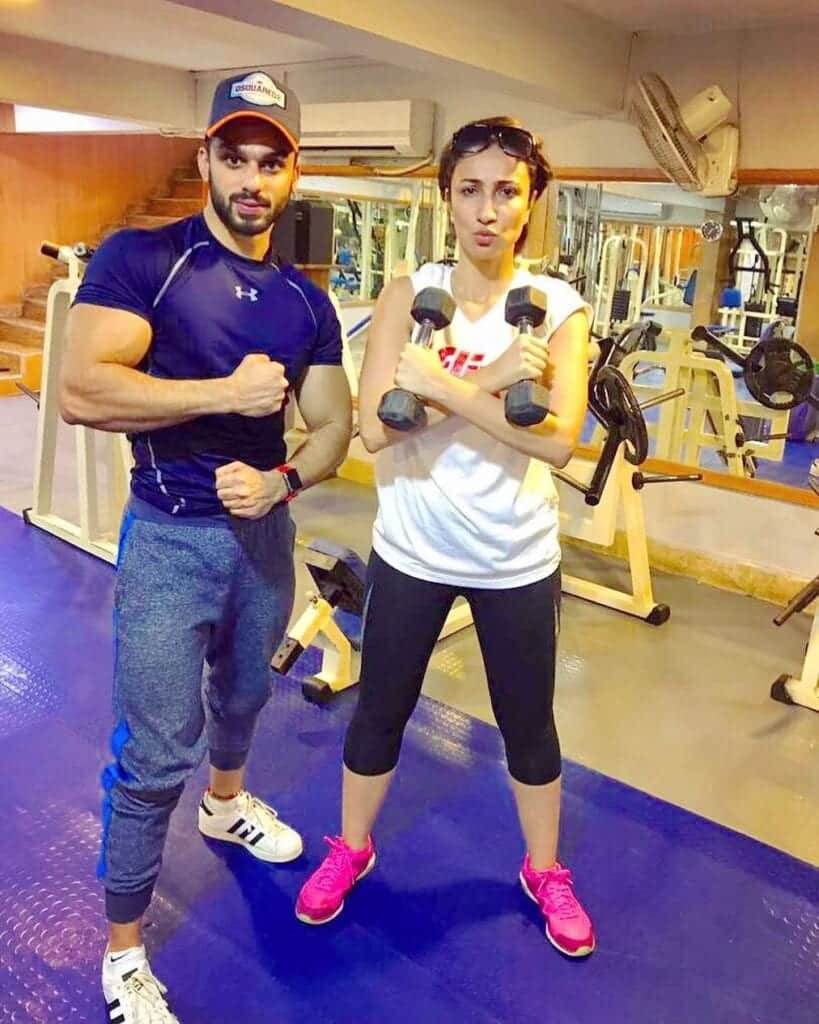 ↓ 14 – Hira Mani Cool Work Out Outfit
Hira Mani got completely transformed before venturing into the acting world. We all remember how chubby she was a few years ago. However, to start acting and land roles as a lead actress, she set herself with the challenge of losing weight. She successfully did that. We do not precisely know the secret behind her weight loss, but we sure do know she has started to hit the gym in some really cool workout outfits. Here are 10 Super Cool Gym Outfits for Women.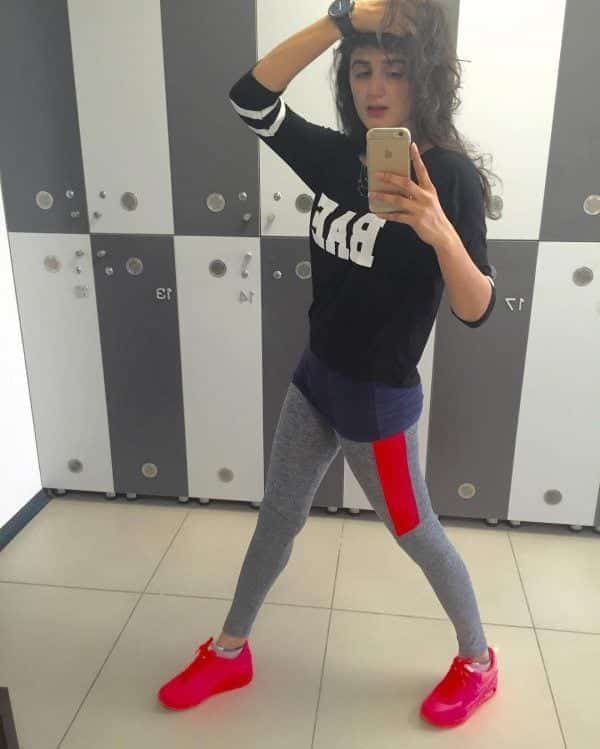 ↓ 13 – Sporty Chic Look For Yoga
Mehwish Hayat is not just a humanitarian but also into gyming. She is so fit and lean. Well, she is not shy about sharing the secret behind her fitness with the world. Her Instagram account is full of pictures of her doing complicated yoga positions with ease. Her yoga outfits are really nice and inspiring too, just like her energy and spirit.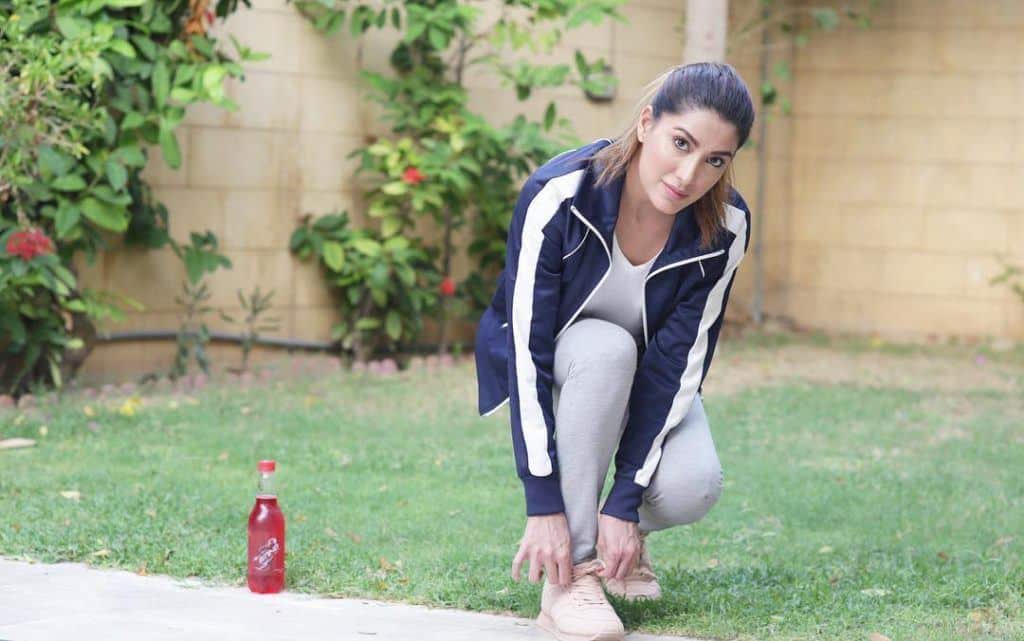 ↓ 12 – Momina Mustehsan With Her Trainer While Working Out
Momina Mustehsan gives credit of her fitness to her favorite trainer Rozina, while she trains out at the Executive Club in Islamabad. She really has a rockstar physique and enjoys to work out and cycle. Have a look at 20 Classy Outfits for Pakistani Girls with Short Height.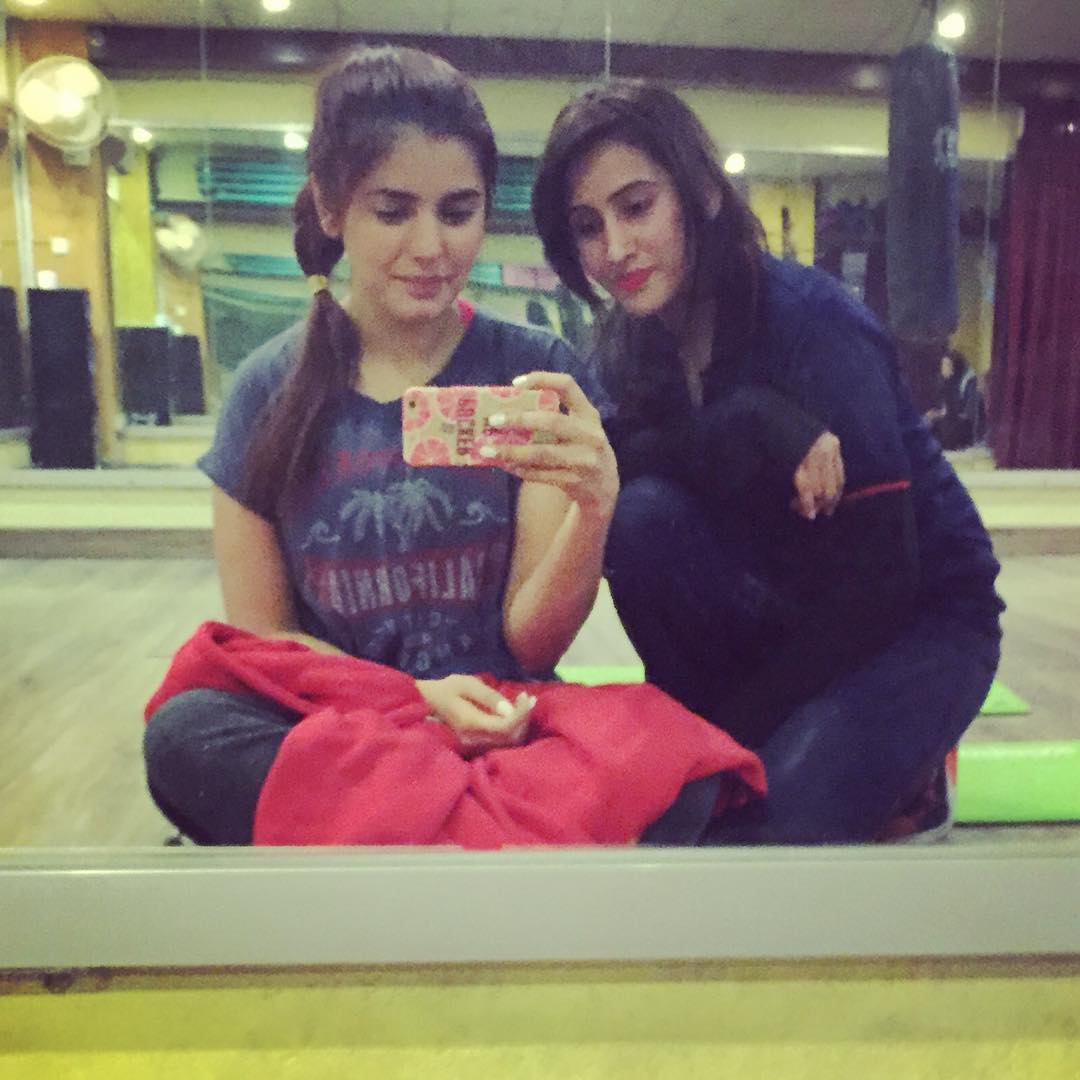 ↓ 11 – Aima Baig In Her Cool Work Out Outfit
Aima Baig has a beautiful physique too. She is fit and smart and seems to love Adidas. We can see her many times working out but always wearing Adidas clothes and shoes. That is an excellent choice for a workout.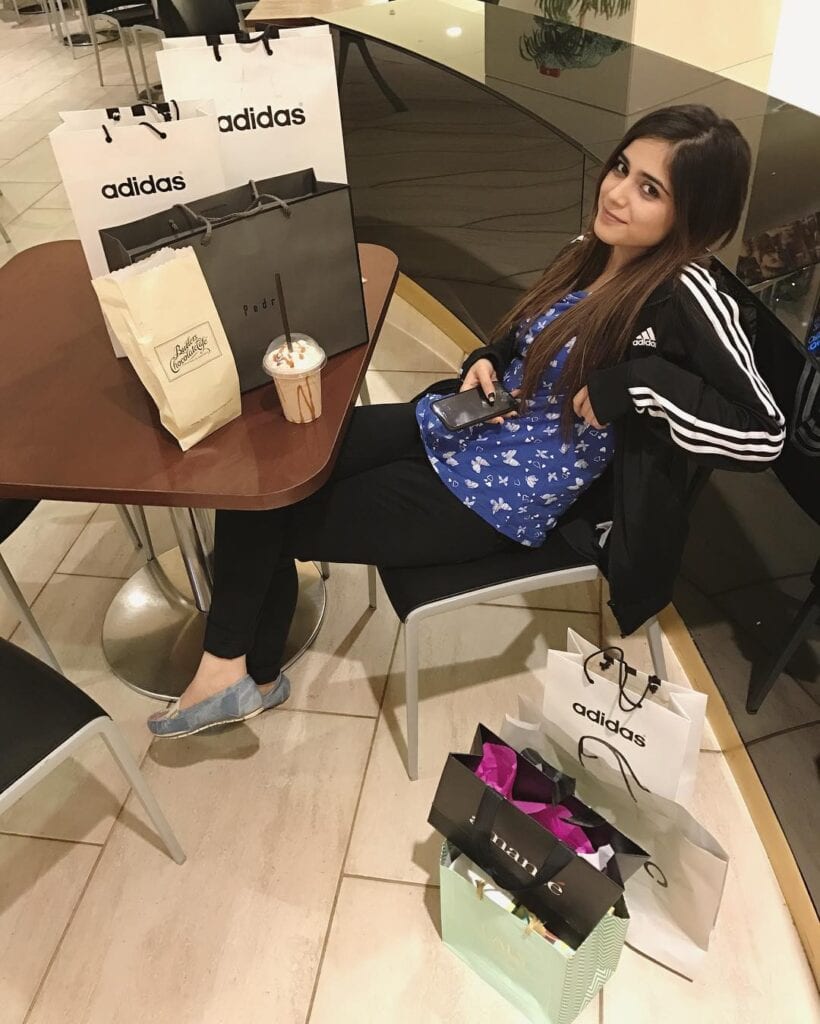 ↓ 10 – Hareem Farooq Gym Outfits
Hareem Farooq's transformation is also a success story that is quite inspiring. She is now a petite lady, but once she was quite overweight. Here she shares her after workout photos on her Instagram account. Here are 30 Trending Party Outfits for Pakistani Girls.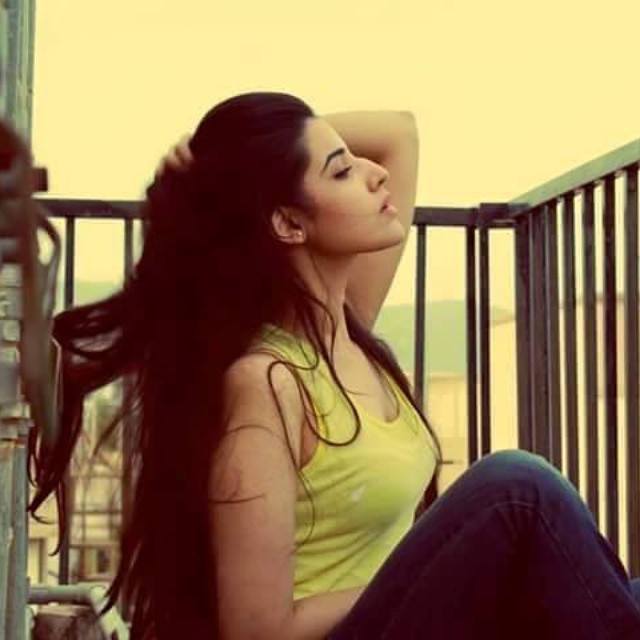 ↓ 9 – Black And White Sporty Outfit
Neelam Munir knows how to rock Black and White. If she can do it then so can you.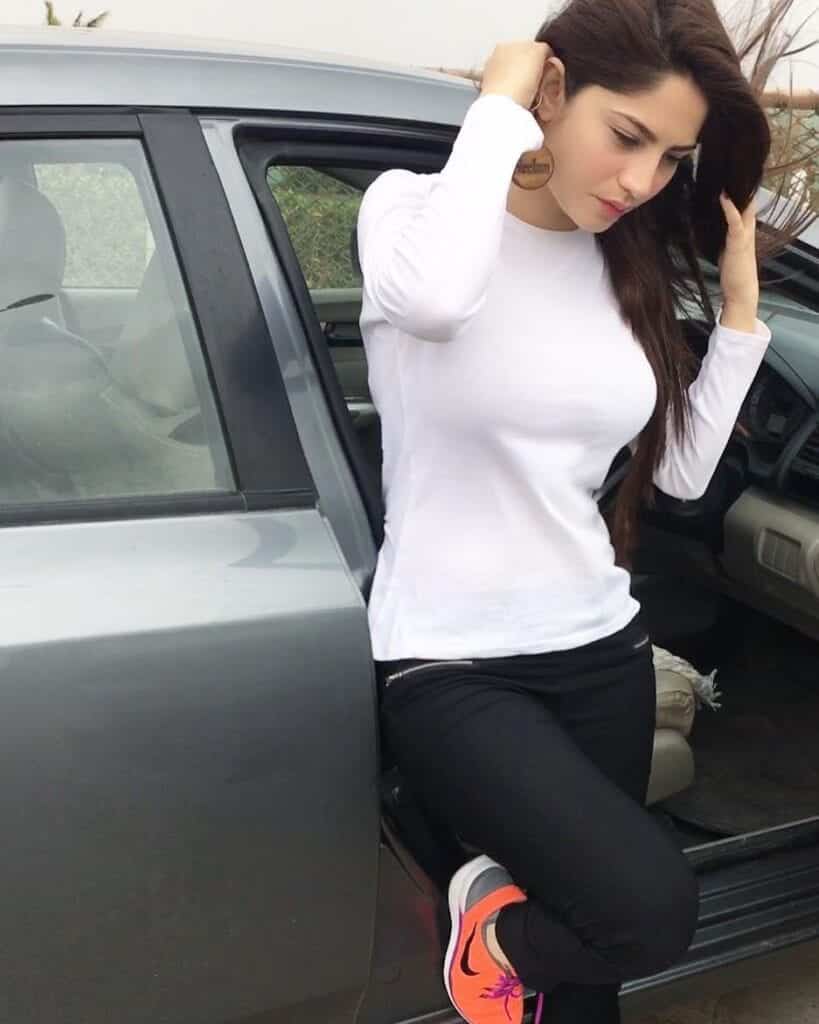 ↓ 8 – How To Dress Up For Extreme Workout?
Amal Sarwar is a well-known fitness trainer. She has been training a number of people for many years now. A number of celebrities are also her regular clients.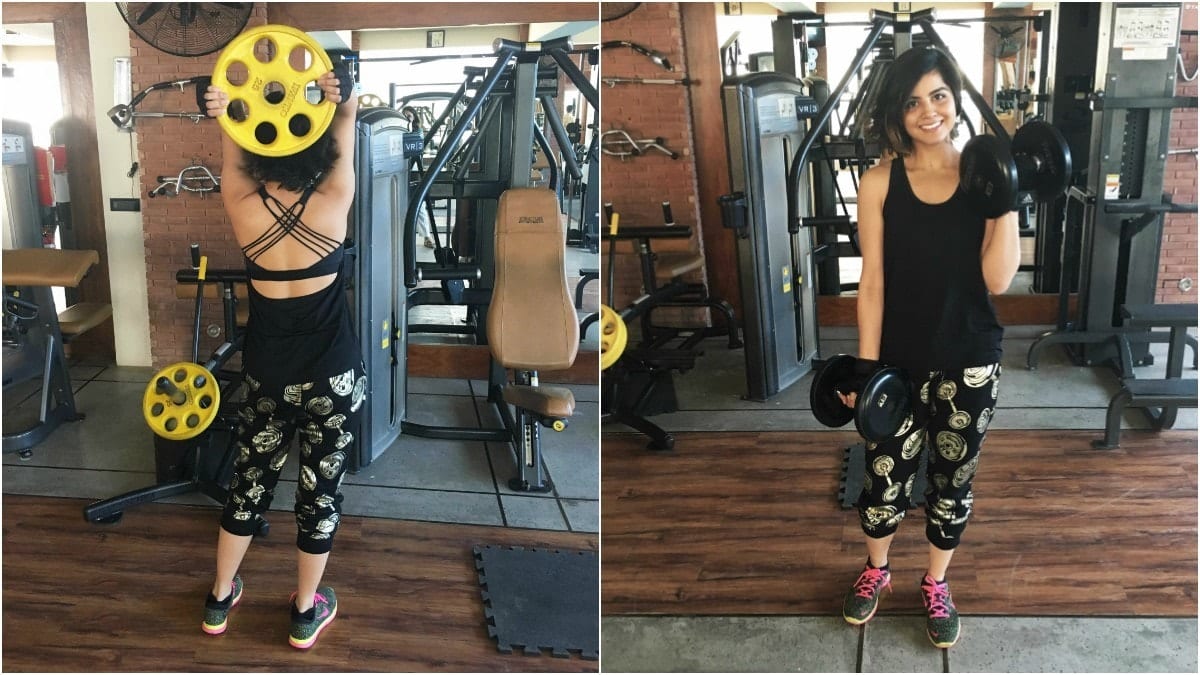 ↓ 7 – Pakistani Girls Gym Outfits With Tank Tops
Women prefer tank tops while working out because they are airy, and you don't have to bother much about sweat. Printed tops with plain trousers make a good combination. Here are 16 Cute Outfits with Tank tops.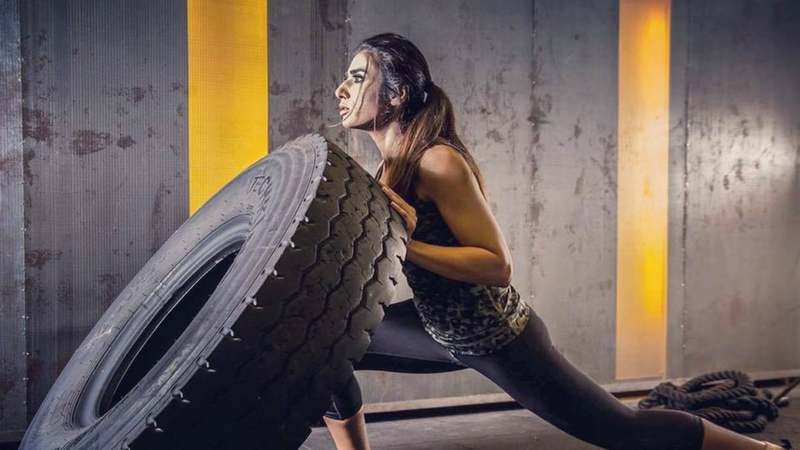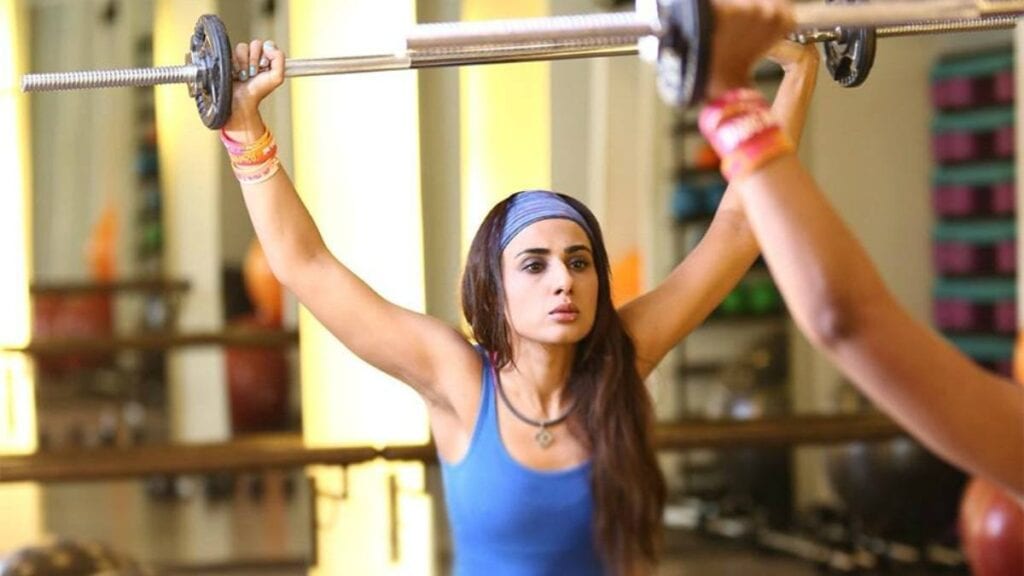 ↓ 6 – Outfits For Group Workout Sessions
Mashal Khan plays hard in group sessions and this is what she wears to her sessions.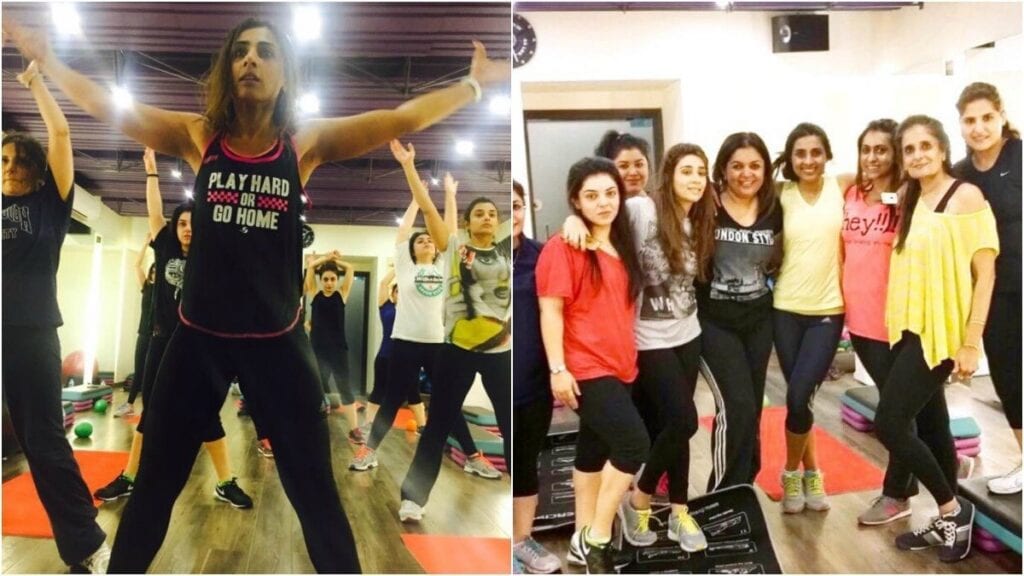 ↓ 5 – Gym Outfits For Zumba Class
Zumba can be tough for some people but if you know what you should wear, Zumba can get pretty interesting.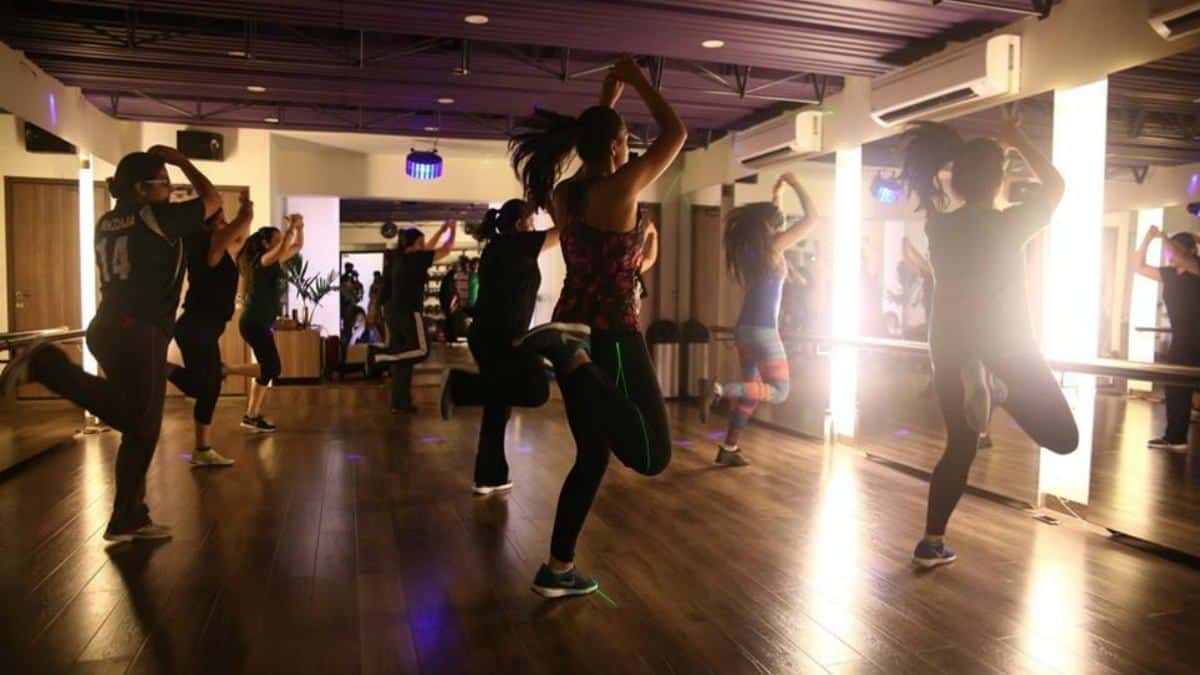 ↓ 4 – Pink Colored Gym Outfits For Girls
Pink is the hot color for gym outfits for both clothes and shoes. It pairs up well with black, white, and brown colors. Here you can see Mawra Hocane looking cute in pink gym clothes. If you love pink, don't miss out on these 18 Ways to Wear Pink Sweaters.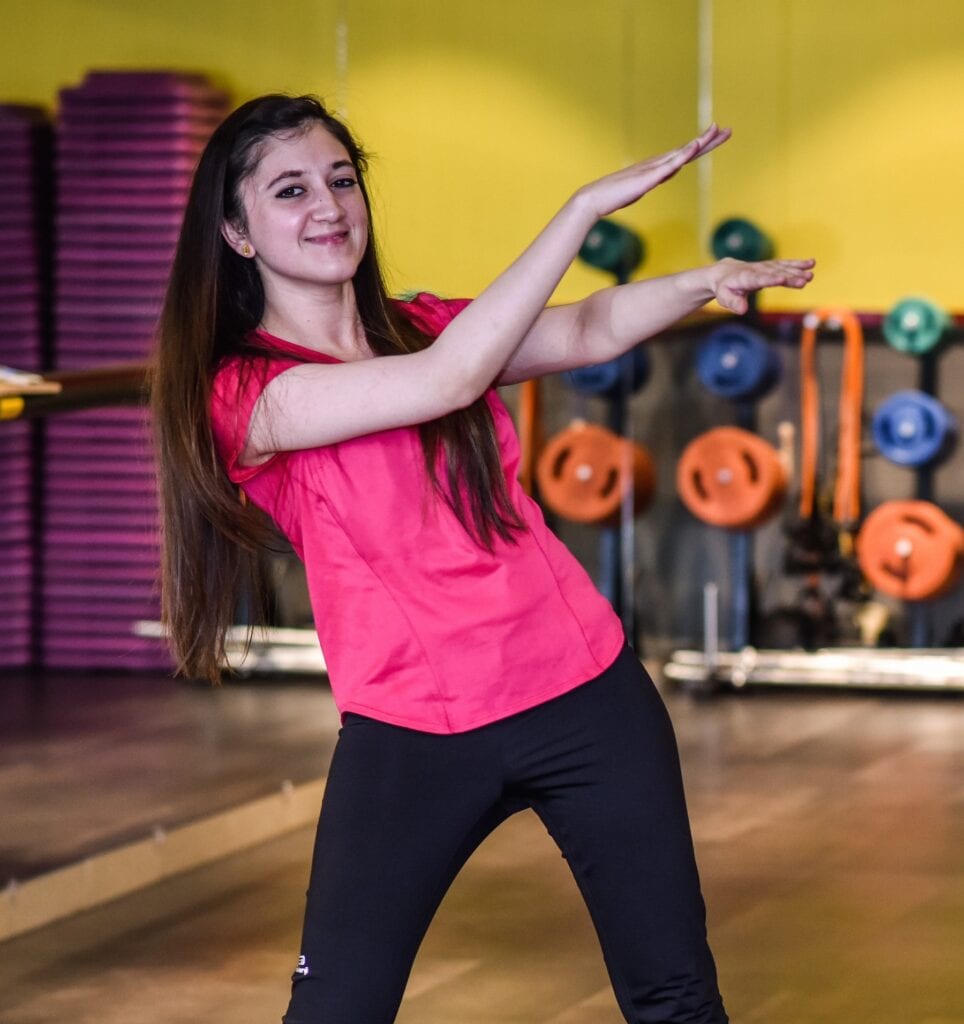 via
↓ 3 – Yoga Outfits For Young Girls
Yoga trends are updating and this is what we have got for you in trend today.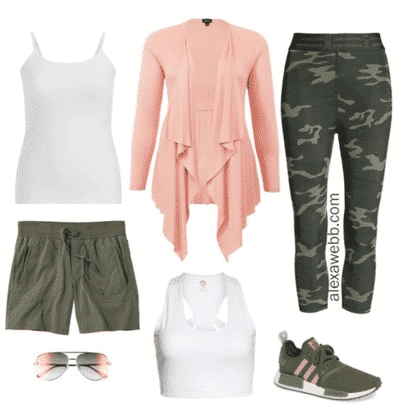 ↓ 2 – Black Workout Outfits For Girls
Black is the all-time hot for gym wear and if you want to drop in gym in style, black is what you go for.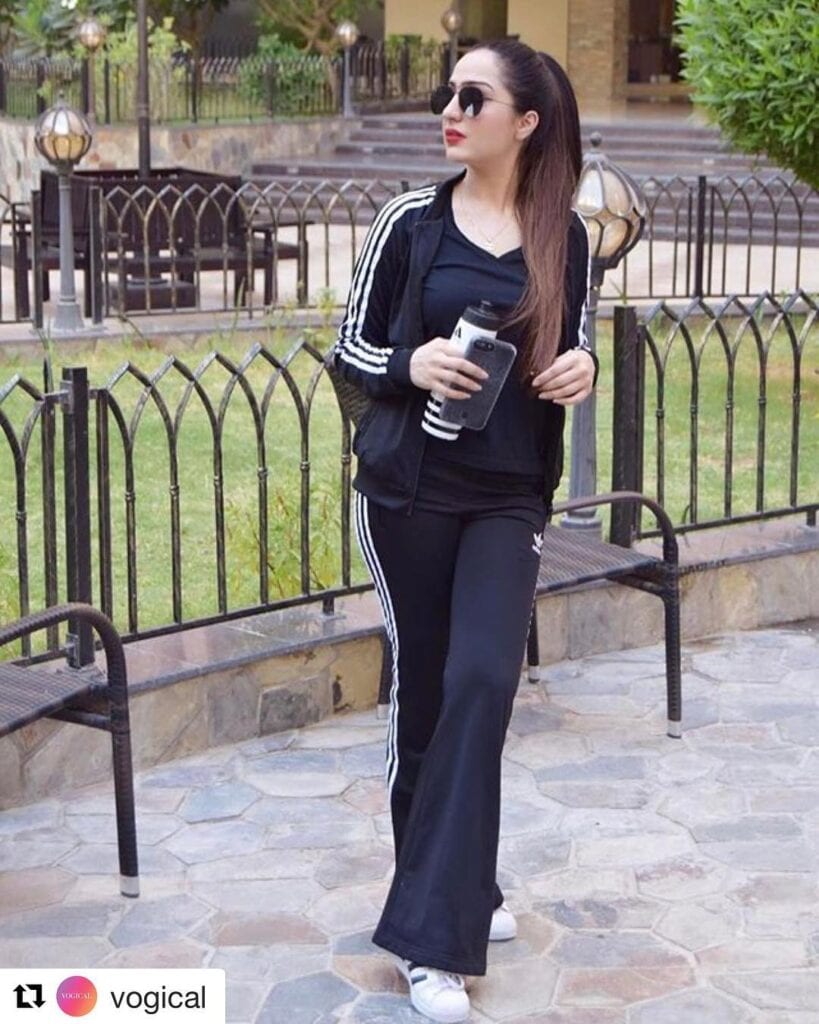 ↓ 1 – Mahirah Khan Workout Outfit
Mahirah Khan, like many other Pakistani celebrity girls, is a fitness freak. That is probably why, although she is in her thirties but she looks not more mid-twenties. Her style and dressing are iconic, and even for yoga, she chooses the best and most comfortable clothes. The Nike sneakers go well with her sporty outfit.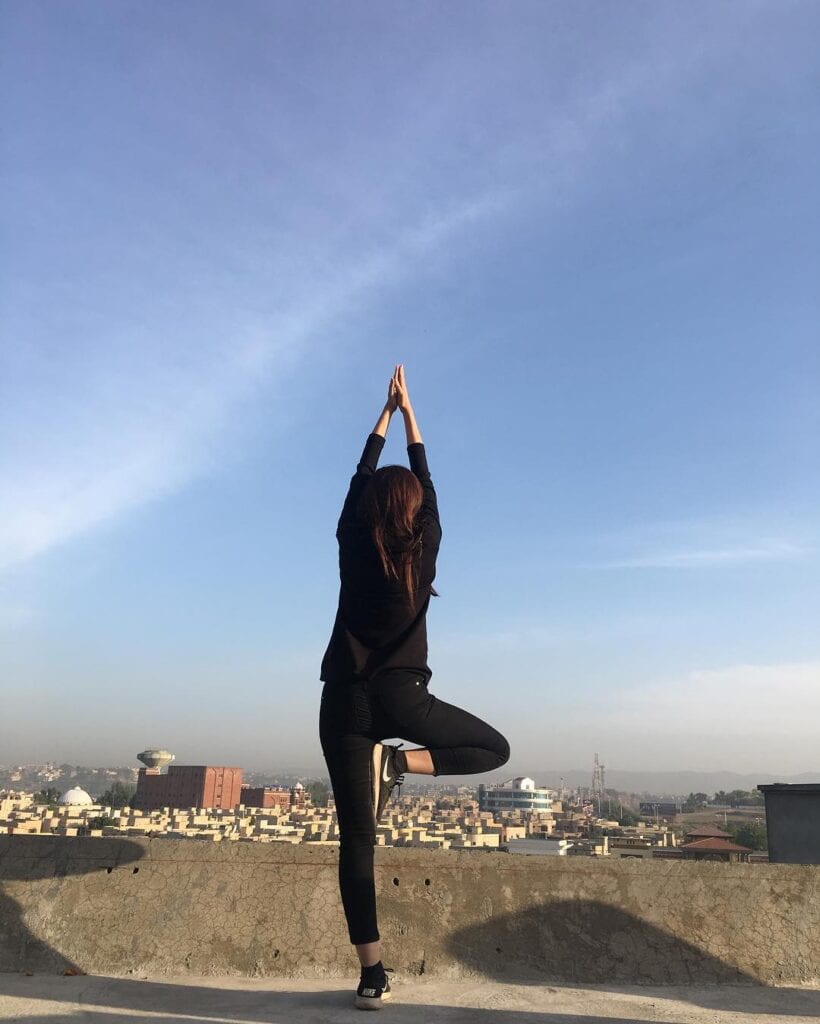 ↓ Best Brands To Shop From
It is a brand that has the versatility and brings you comfortable styles that you will obsess over forever for gym looks. They have some fantastic sportswear, and their top products are Nina Leggings, Seamless Strappy bra, Strappy Sports bra. Their price per product usually lies in the range of $60-100.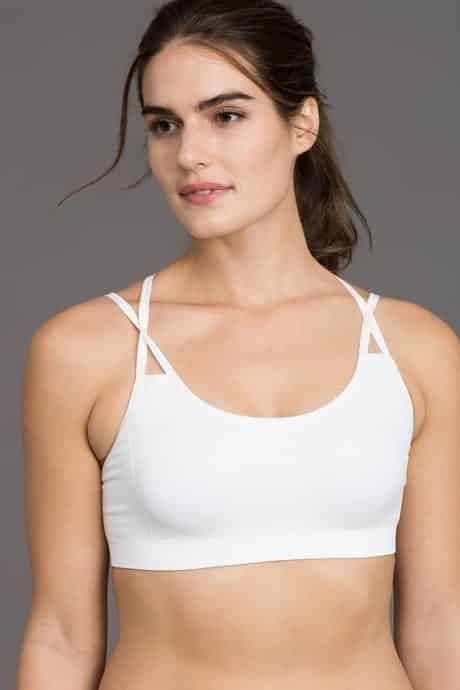 Tuhura Athletics is another very famous Pakistani emerging sportswear brand. Their best products are sports bras and Nomi Ansari's tracksuits. The best thing about them is that they are very reasonable. The prices start from as low as 1000, and you can find a great product in under Rs 3000.
Visit and Shop from their website
Dabs is a renowned Pakistani store that makes sure it provides you with the best active-wear and meets your athleisure needs. The fabric they use is really lightweight, perfect for Pakistan's weather. Their best products include Tank tops and tee shirts. Their price lies in the range of Rs 2000-5000.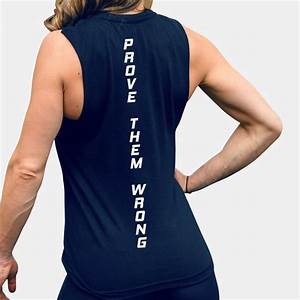 The best and all-time trusted international brand is Nike. You can buy yourself an ideal gym outfit and footwear from them if you have a higher budget.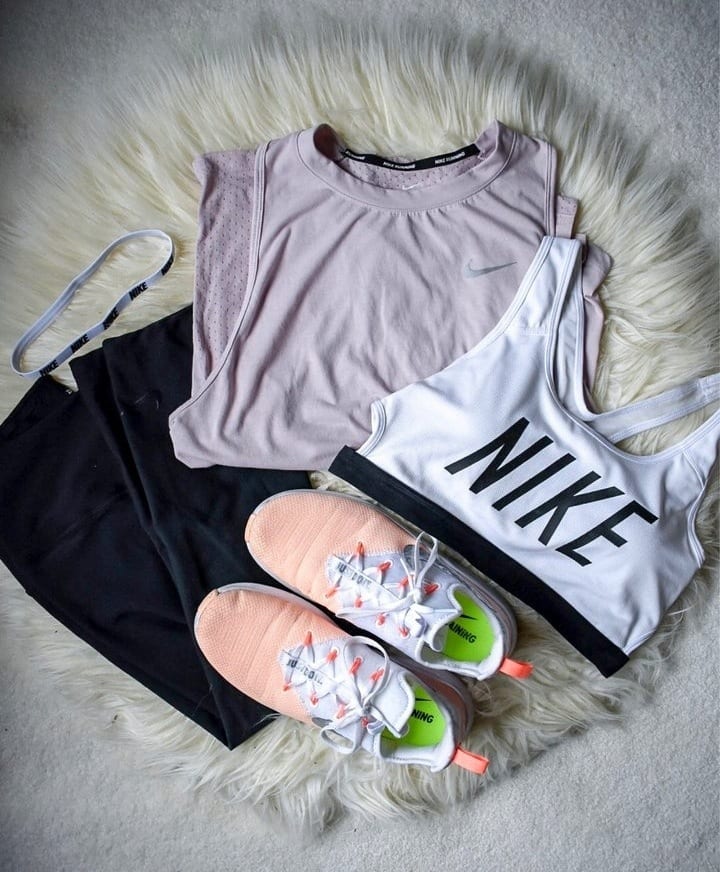 The newly launched brand offers a huge range of modest and trendy workout clothes in a price range of 1700 to 7000PKR.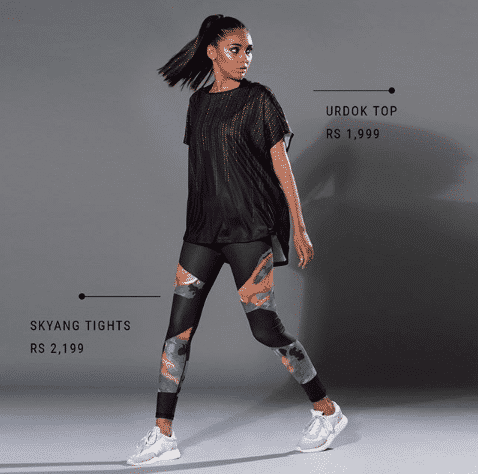 Incredibly affordable and funky workout outfits. They're priced between 1000 to 3000 PKR.