Latest Designs Jodhpuri Suit For Men: The Mandarin Collared or Nehru Inspired Jodhpuri Jackets are back in fashion. These Jodhpuris come as Elegant Suit Jackets, Waist Coats and Sherwanis. While some designers go for an Indo-Western fusion, others keep the look classic and traditional. The numerous ways to do them helps keep the look fresh and up-to-date.
Floral Prints, Zardozi Embroideries, and different fabrics are now being used to upgrade the old Bandhgala suits. From Formal Dinners, Appearances to weddings, men seem to be largely inspired by the trend. The Ethnic Piece of Apparel has become a go-to for many grooms, and rightly so. The Modern Take on the Jodhpuri Jackets includes turning them into Western Suits which have been donned by many Indian Celebrities.
Best Jodhpuri Outfit Ideas for Guys
Here are some tips to styling your Bandhgala Suits to Perfection:
Add a bit of grace with a silk pocket square to your Basic Suit.
Opt for a Western Bandhgala Suit for a Night Event and Pair it matching Dress Pants.
Lift your Jodhpuri up a notch by accessorizing it with brooches, cufflinks or chains.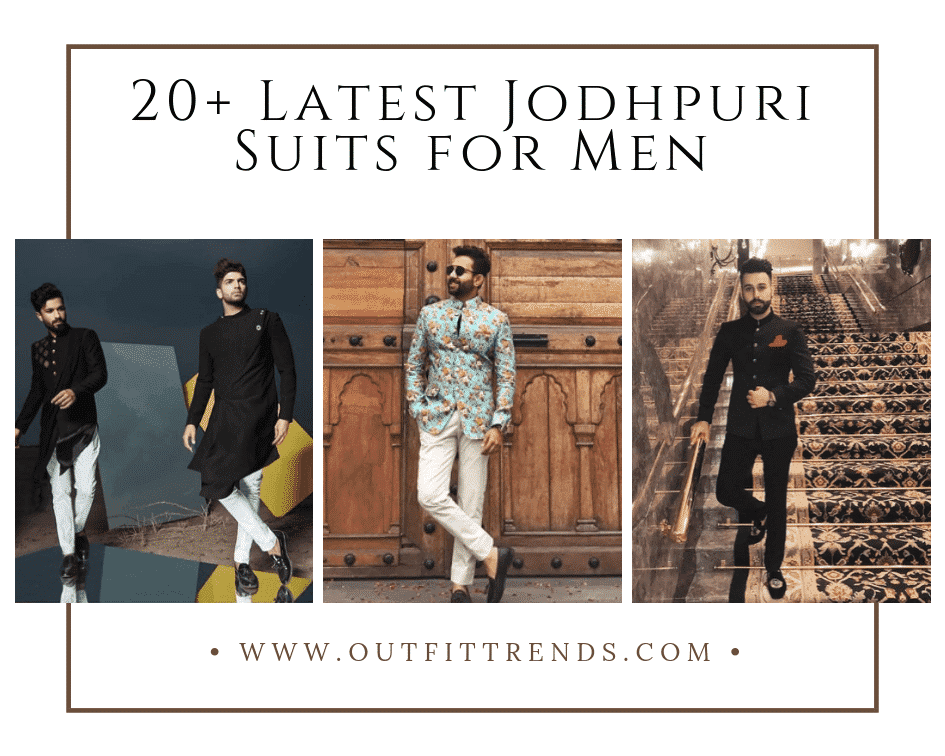 Try out new and unique Kurta Styles to pair with your Jodhpuri Jackets.
A Jodhpuri Jacket can be styled with Trousers, Dhoti, and even a Shalwar.
The right way to do a Bandhgala is to go for a well-fitted one.
Do not fear to choose Prints, Embroideries or Unique Cuts.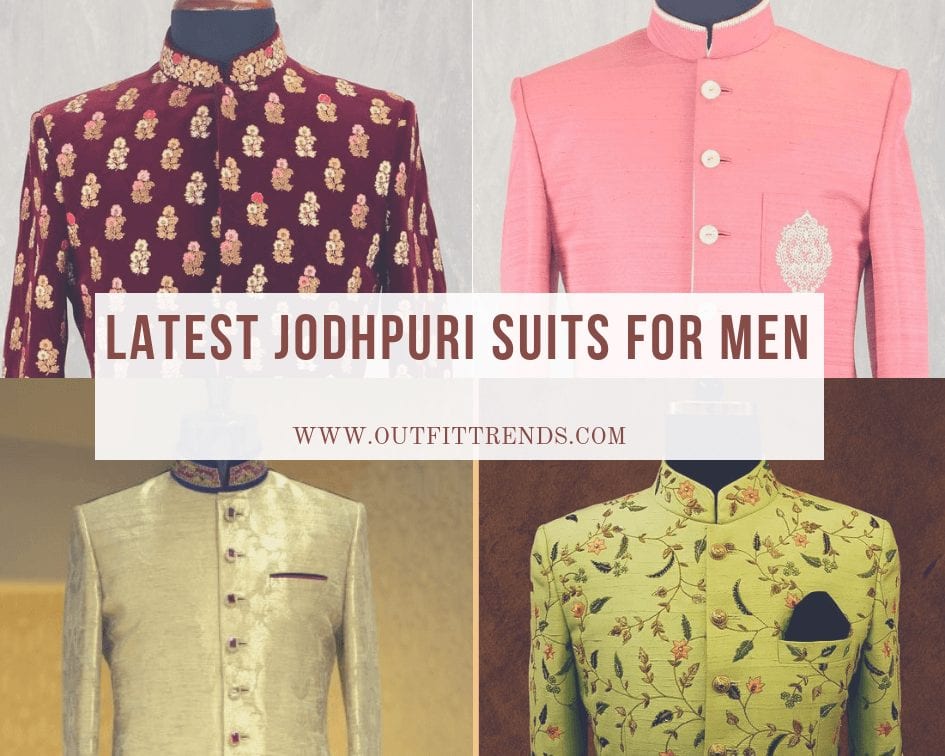 ↓ Celebrity Style
Let's start with how renowned celebrities style their Jodhpuri outfits:
Ranbir Kapoor wearing Jodhpuri pants with brown oxford shoes.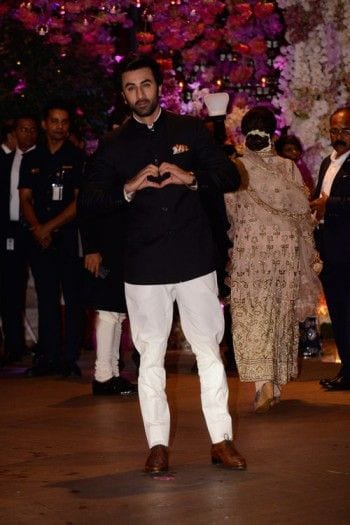 Shahid Kapoor wearing a kurta with jodhpuri pants.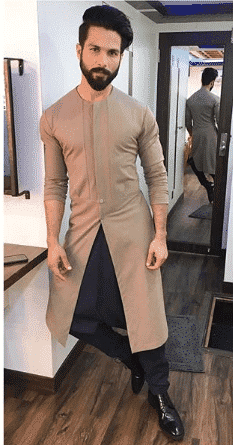 Sonam Kapoor's husband, Anand Ahuja wearing a regal jodhpuri suit.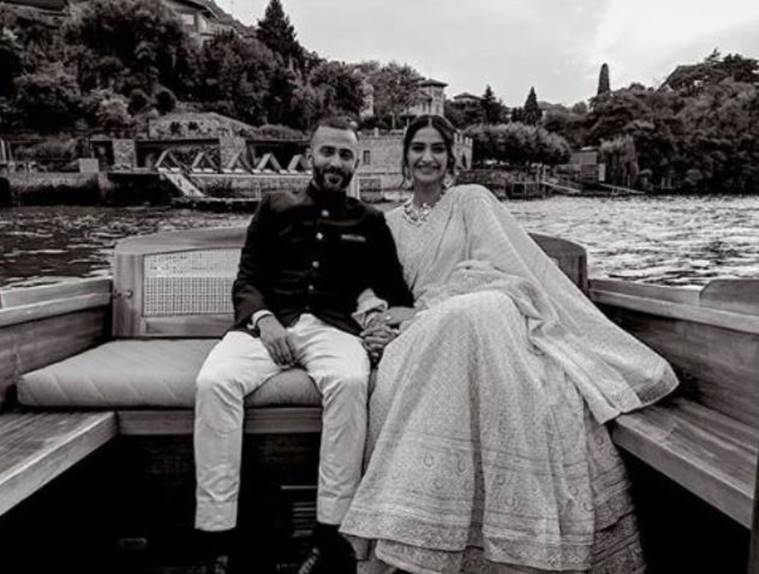 Ranveer Singh in a classy all-black jodhpuri suit.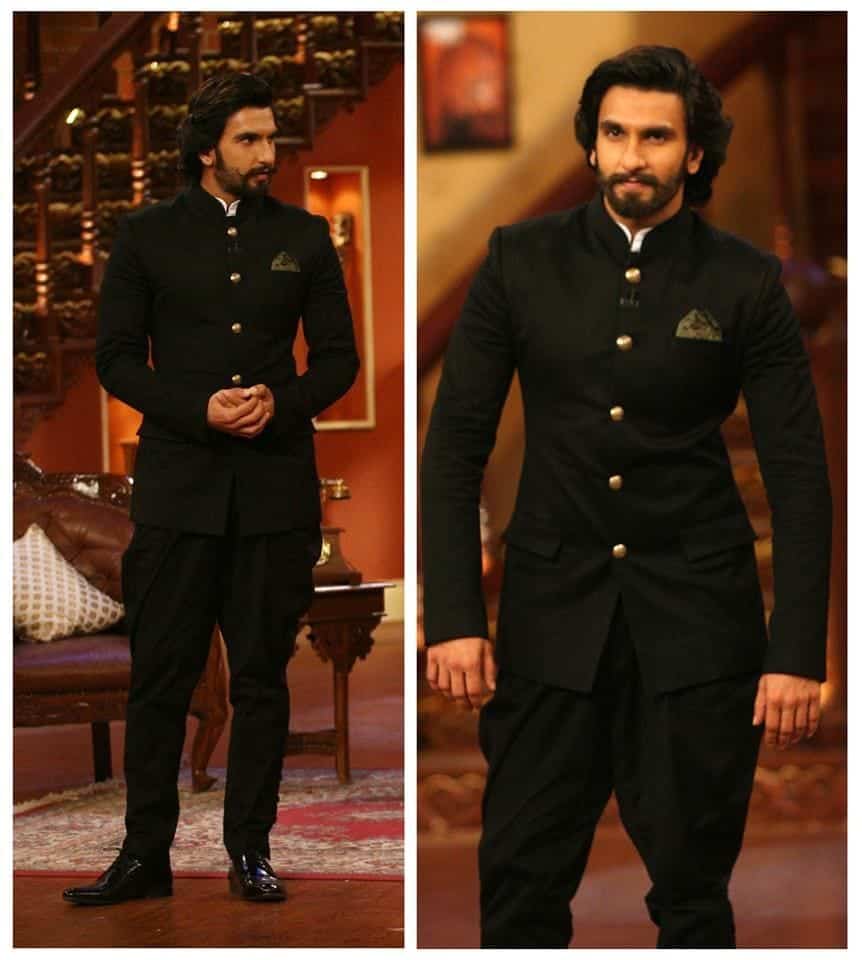 ↓ 20. Royal Jodhpuri Suit
The Indian City Jodhpur is known for it Rajputana Royalty, where most of its fashion is inspired from. The Jodhpuri Suits exhibit royalty through their elegant styles and Cuts. Jodhpuri Suits embodying royalty reminds us of Fawad Khan his tasteful looks from the Bollywood Movie Khoobsurat. An all-black Bandhgala or a Regal Blue Suit is perfect to retain class as well as grace. Do check out these 12 Latest Men's Stylish shalwar Kammez Waistcoats Combinations.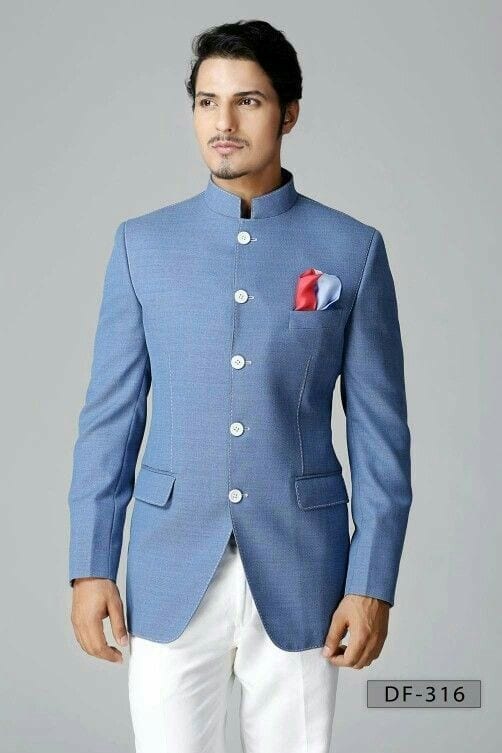 ↓ 19. Jodhpuri Suit to Wear on a Wedding
Indian Weddings are known for their Customs, Festivities and most importantly Fashion. The Big-Fat-Indian-Weddings are the only times where individuals get together and proudly flaunt their ethnic outfits. The recent shift in trends has majorly shed the light on Jodhpuris and Bandhgalas which have been done in a number of innovative ways. The basic Indian Kurtas and Shalwar Suits have taken the backseat for now. The Indo-Western Fusion, Waistcoats, and Stylish Designs are all the newest additions to the Men's Fashion Options recently. This Red Silk Jodhpuri is a great pick to wear to a wedding.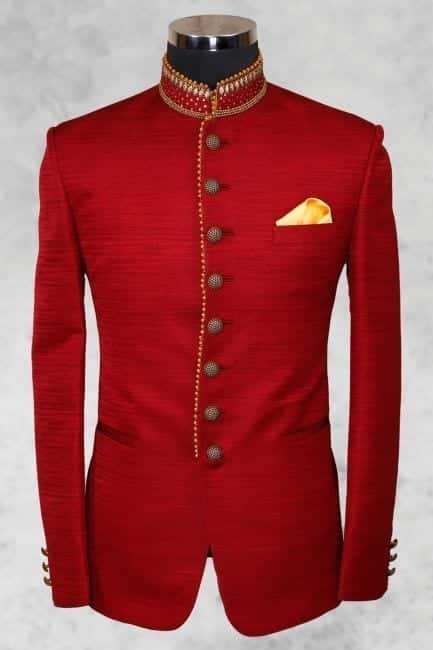 Via
A red or maroon jodhpuri suit is always guaranteed to steal the show!
↓ 18. Floral Bandhgala
For the longest, Men have preferred staying away from flashy colors and floral prints. However, the recent change in trend has included prints in all styles of fashion for men. From Formal Shirts to Suit Jackets, floral prints have been the rage. The modern take on Jodhpuri Jackets includes the splendid range of colors and prints to choose from. One particular design that grabbed our attention was this formal Jodhpuri Jacket that was done by Samyakk. The floral print reminds us of Fresh Spring Blooms that has brightened the overall look. It is perfect for a Festive Day with the close ones and can be worn with a dress pant or a trouser.
Via
↓ 17. Jodhpuri Waistcoat
The South Asian Fashion for Men includes Shalwar Kameez, Dhotis, and Trousers. One element that remains common among a number of South Asian countries is the Waistcoat. The Bandhgala vests are now a go-to for most youngsters when it comes to picking Ethnic Wear for Festivals, Weddings, and Formal Events. The graceful piece of clothing is timeless and can be worn in many different ways. One particular way is the printed floral waistcoats that are perfect for Wedding Events.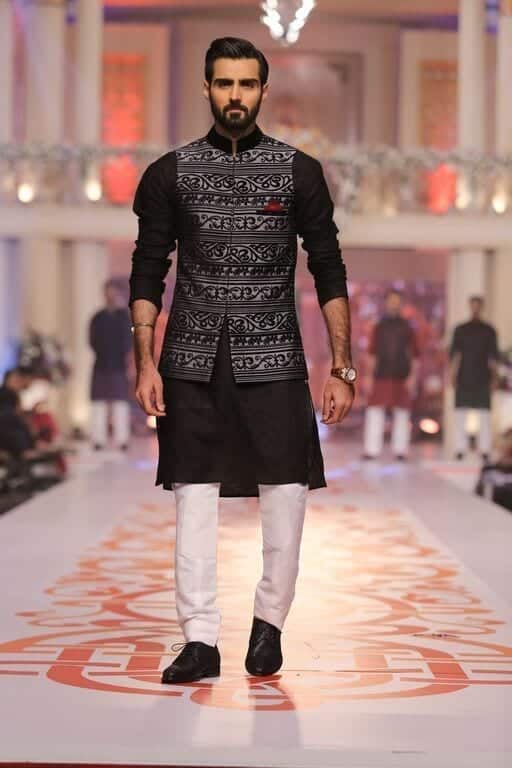 ↓ 16. Velvet Blue
The major highlight of any Bandhgala is the choice of fabric. As the Summer Season bids adieu, markets start stocking up on Velvet available as Shawls, Waist Coats and Bandhgalas for the Winter Season to kick start. The versatility and unique ways of styling the Jodhpuri suits is what helps it stay in fashion. Together, the two make for a regal combination. The pale pants perfectly compliment the royal blue color.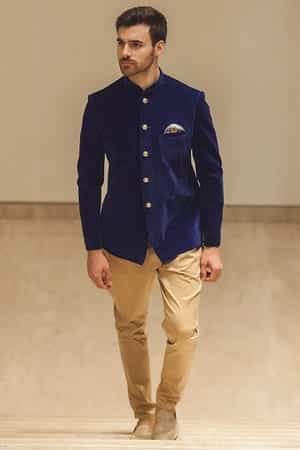 Via
↓ 15. Bandhgala Suit For Groom
Grooms have a number of options to choose from for their Big Day. The ethnic outfits for Grooms include Embroidered Sherwanis, Bandhgala Waist Coats, and western Suits. However, none equals the royalty of an intricately worked Jodhpuri Jacket. This Deep Maroon Bandhgala suit is beautifully done with Resham Embroidery and is perfect for Grooms. The outfit can be paired with an ethnic turban in gold color for the ultimate traditional look.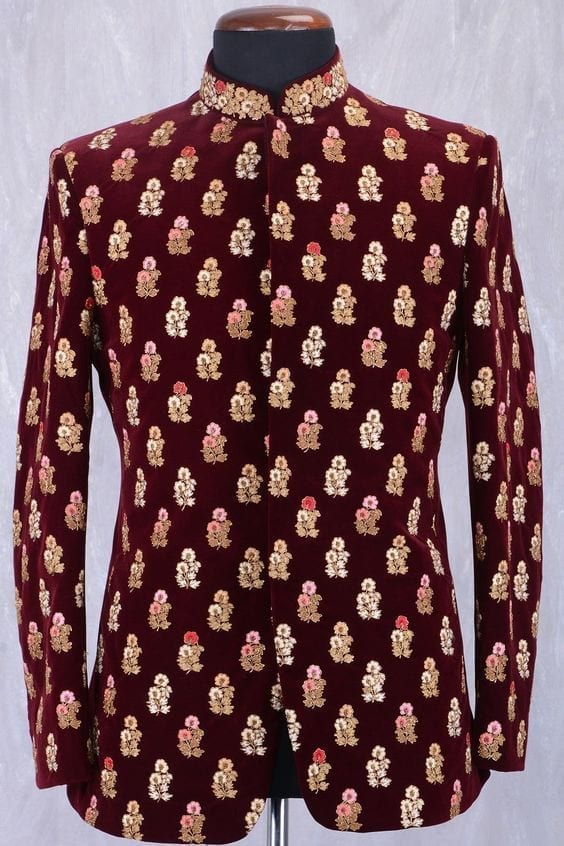 Via
Here is another great option for grooms to be. This Banarasi Silk Jodhpuri Sherwani is a very classic wedding day outfit. The Maroon trimmings are perfect to color coordinate with the bride. The Zari Embellishments add the perfect shine to it. The look can be completed by adding in a woven silk Pocket Square. The Sherwani can easily be worn with a Turban for a complete ethnic look.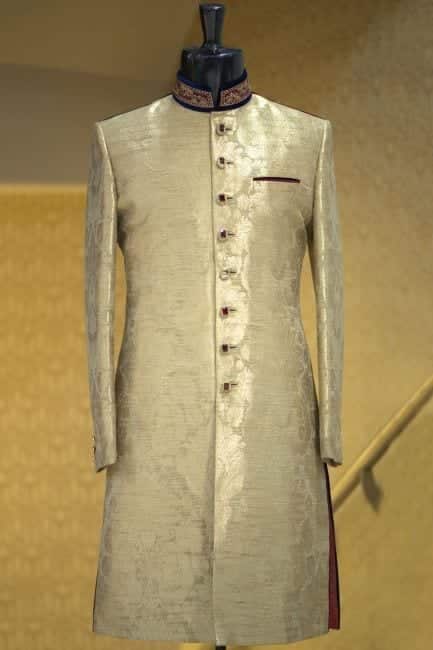 ↓ 14. Regal Ethnic Look
The Royal Rajputana inspired fashion is now widely popular in India and is widely done by a number of designers. Bollywood Celebrities like Shahid Kapoor, Varun Dhawan, Sushant Singh Rajput have all donned different styles of the basic Bandhgala. This beautiful blue Bandhgala is the right kind of ethnic wear to choose for the forthcoming Wedding Season.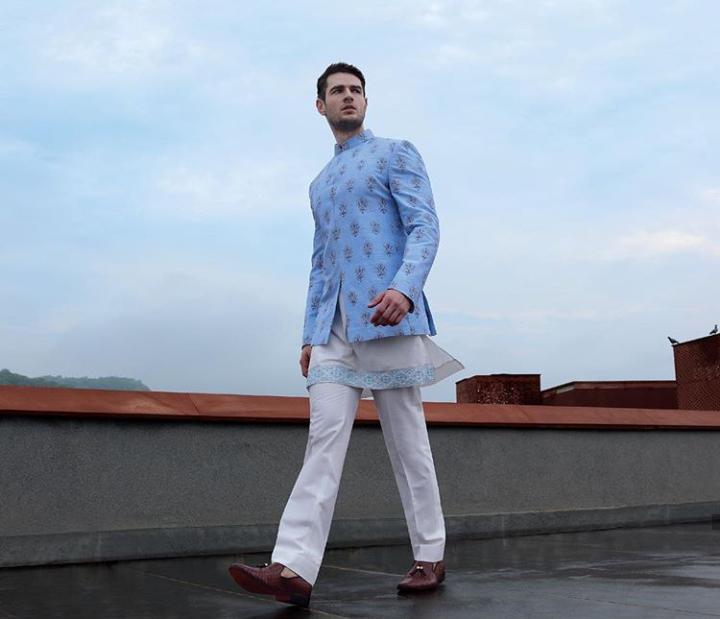 ↓ 13. Indo-Western Fusion
The Western Fashion influences have created a contemporary Jodhpuri style fashion which is just as good as the original if not more. The style is easy to carry and can be paired with dress pants for a formal look. The styles, designs, fabrics, and cuts all vary depending on preferences. We find this particular Burgundy Jacket as supremely elegant and perfect for Formal events. The frog buttons have been trending and the incorporation on this Jodhpuri Jacket is a great one.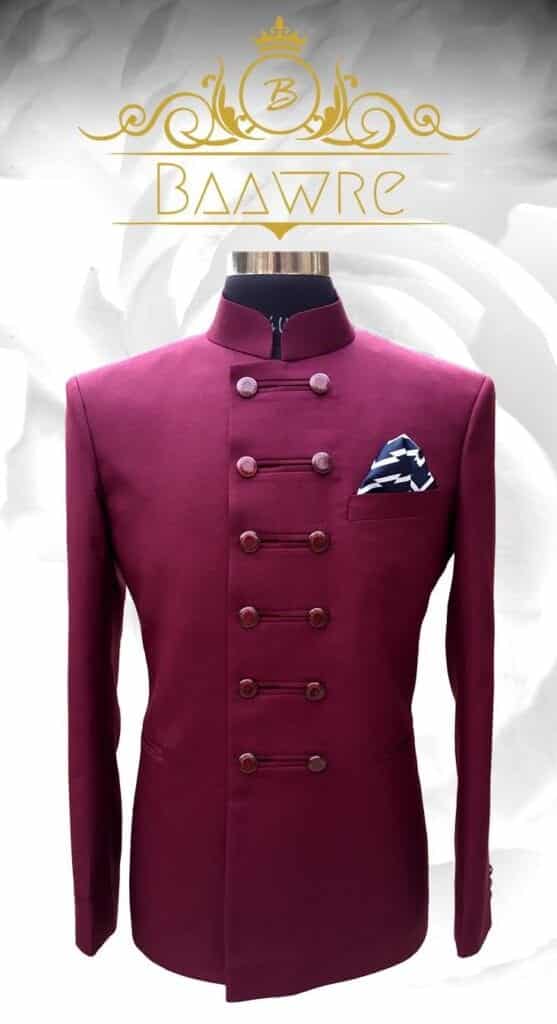 ↓ 12. Angrakha Jodhpuri
Another creative style of the Bandhgala is the Angrakha style neck which was popularized by the Mughals and then later in the early 1980's when the Bollywood movie Umrao Jaan came out. The slanted neckline is embellished with buttons that go all the way down. This style is perfect for when you want to wear your Jodhpuri Jacket differently.
↓ 11. Coil Kurta and Jodhpuri Jacket
Jodhpuri Jackets are often worn in a manner to give a slight hint of the Kurta worn underneath. The latest style, however, adds the perfect statement by doing different takes on the Kurta that is worn underneath as well as with the choice of bottoms to pair it with. A recent trend includes fabric gathered at the hem creating a coil-like look. The Coil Kurta adds its own charm to the overall look when paired with a timeless Jodhpuri Jacket.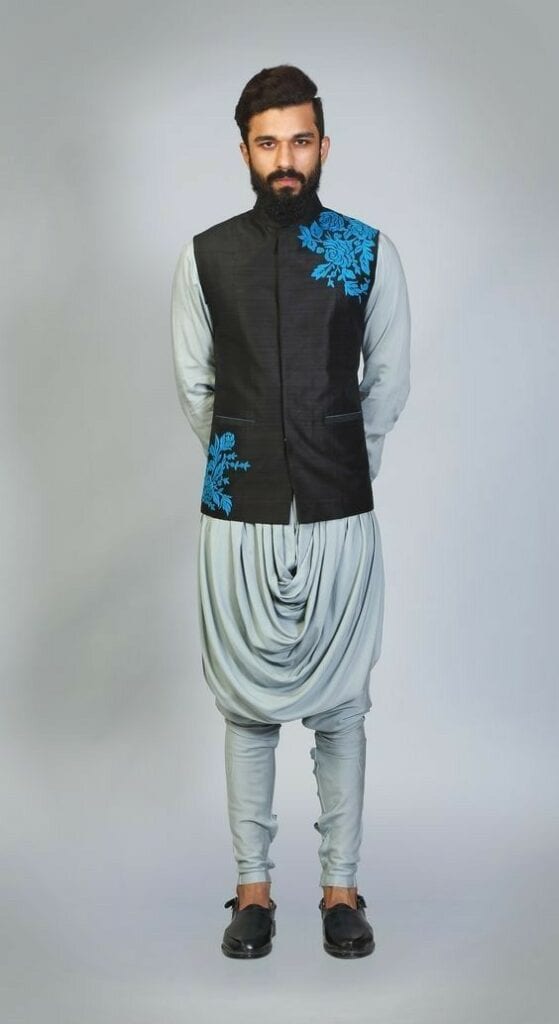 ↓ 10. Accessorized Look
This take on the traditional Bandhgala is a different yet sophisticated one. The Chinese style Neck Line and the trendy cuts make it both modern and refined. Worn with white cotton pants, this look is great for both formal dinners and wedding appearances. The High-Class buttons polish the overall look to perfection. While the overall Suit is a smart one, the accessories do a great job at lifting it up a notch. Jodhpuris are finely done by adding in minimal accessories for the Indo-Western Look. The silk pocket squares add the right bit of charm and the suit chains help create a Princely look. These accessories can not only be donned by Grooms on their wedding day but also other individuals wishing to create a tasteful style statement. Here are Latest Shalwar Kameez with Coat Style Combinations For Men.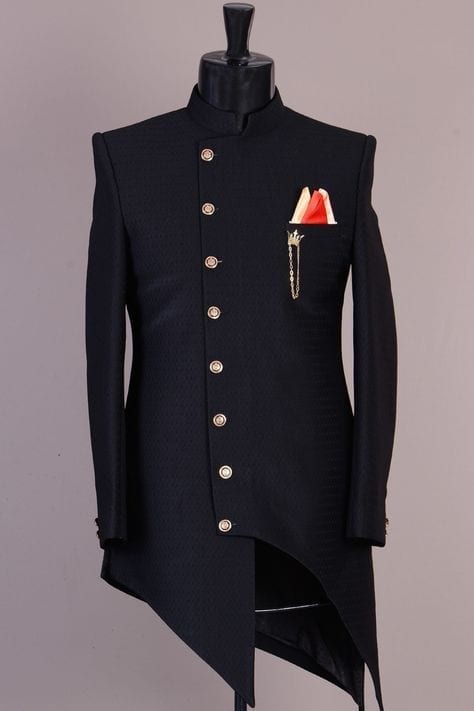 ↓ 9. Jodhpuri Jacket with Shalwar
While the old-classic way of doing Bandhgala is pairing it with Pajama or Trousers, the current take on it involves changing the lookup with the additions of Shalwars and Dhotis. The ruffles and folds create a different look and add in a fun element to the otherwise formal and poised look. The Shalwars can be worn to Festivities and Wedding Celebrations.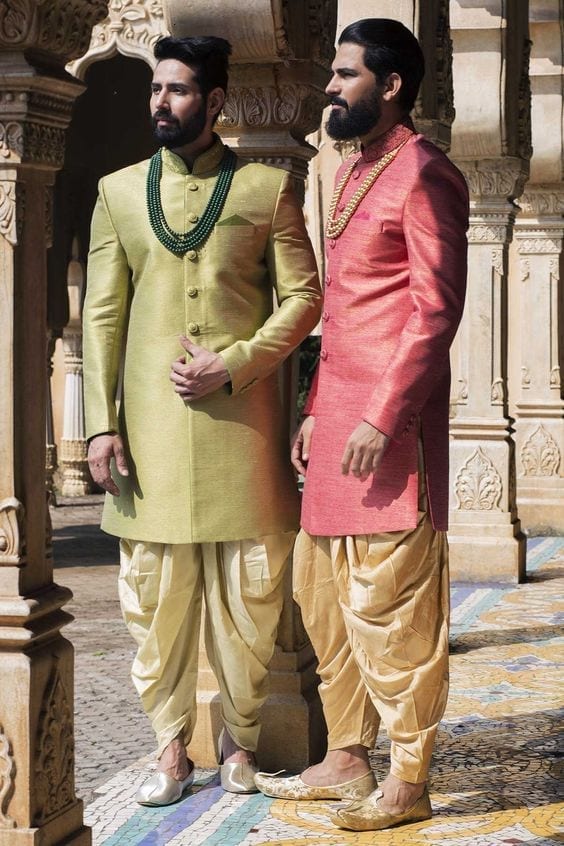 ↓ 8. Printed Jackets
Printed Jackets should not only be limited to floral prints, digital prints or self-prints. Rather, the unexplored tab of fashion when it comes to men is the Block-Printed Pattern which is yet to gain popularity. 2018 has seen a huge shift towards Block Prints that highlight and bring back old fashion trends. This particularly high-class Jodhpuri Jacket caught our eye and we have not stopped thinking about it. The subtle pink and hints of gold seem to be going well together. The style statement has been created by adding in a vibrant pocket square. With a light color like that, the jacket is perfect for Daytime.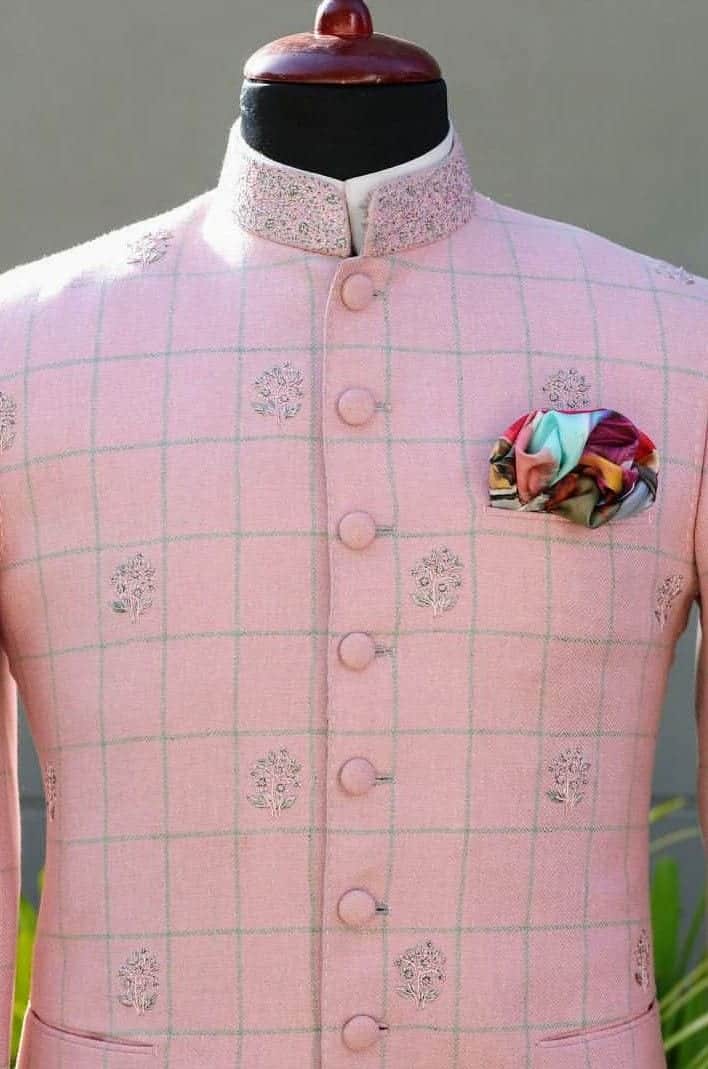 ↓ 7. Embroidered Bandhgala
Embroidered Jodhpuris have been the latest addition to the fashion market where a formal jacket is embellished with Resham and Zari threads while others are kept minimal with simple embroidered motifs. The Pink Jacket is simple for Day Events and the white trimmings seem to be complimenting it well. The white embroidered motif is the perfect addition which helps keep the look modest.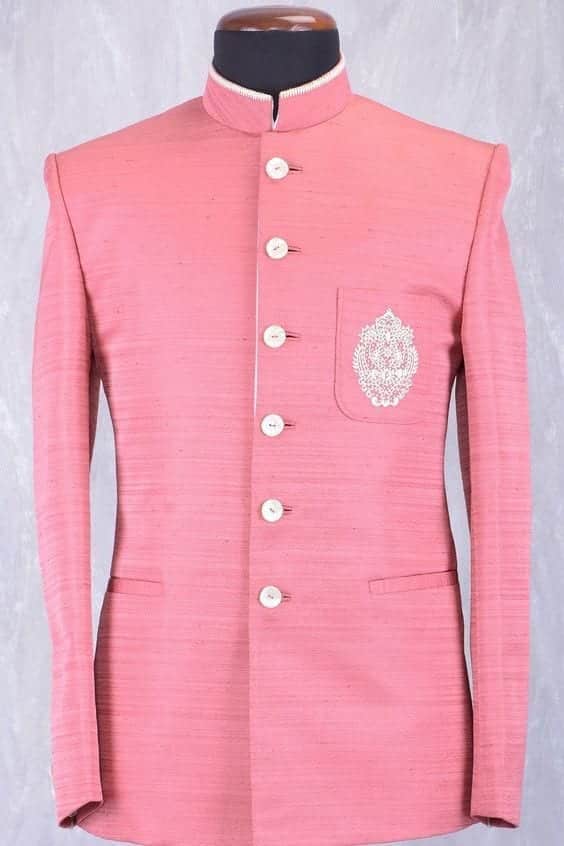 Via
A more formal look can be created with a full embellished Jacket. This Pistachio Green Suit makes for a great pick for the upcoming Festive Season. The light color is beautifully coordinated with simple floral embroideries a dark-colored pocket square. The Sherwani style jacket can also be worn by grooms.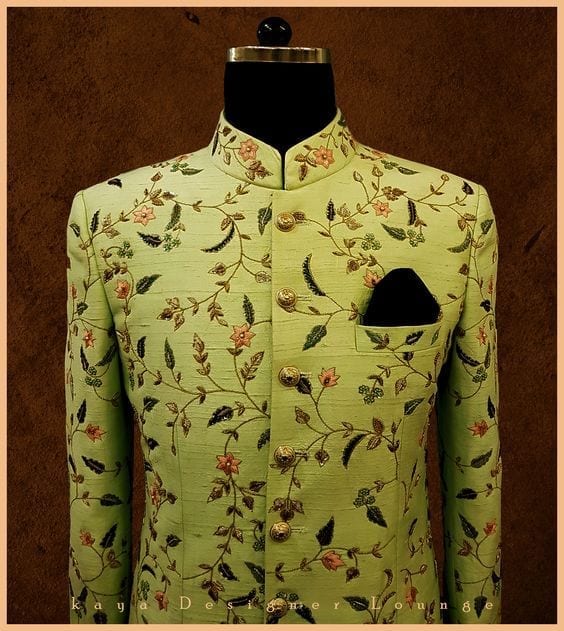 ↓ 6. Jute Jacket
Jute is a vegetable fiber that is later spun into a coarse thread. The Nehru Jackets were formerly done with jute fabrics that were widely popular in India. However, with time, the choice of fabric shifted to light-weight wool, polyester, Velvet and other such options. Yet, the ultimate fabric for a Jodhpuri jacket remains jute for it's timeless finesse. This Black Jute Jacket has a more traditional look to it. While sourcing an old-style Jute Jacket may be difficult, it may still be worth the trouble. The gold finishing and statement buttons add a military look to it.
Via
↓ 5. Classic Gold
The Classic Gold look is reminiscent of the 70's and 80's period where Waistcoats were considered the way to dress and impress. Gold Jackets, Vests and Waistcoats can easily be paired with plain white Kurta and Shalwar Suits. The look is great for Daytime events and has been sported by grooms preferring a minimalistic yet elegant look. You should also check out these 15 Latest Kurta Shalwar Designs For Men.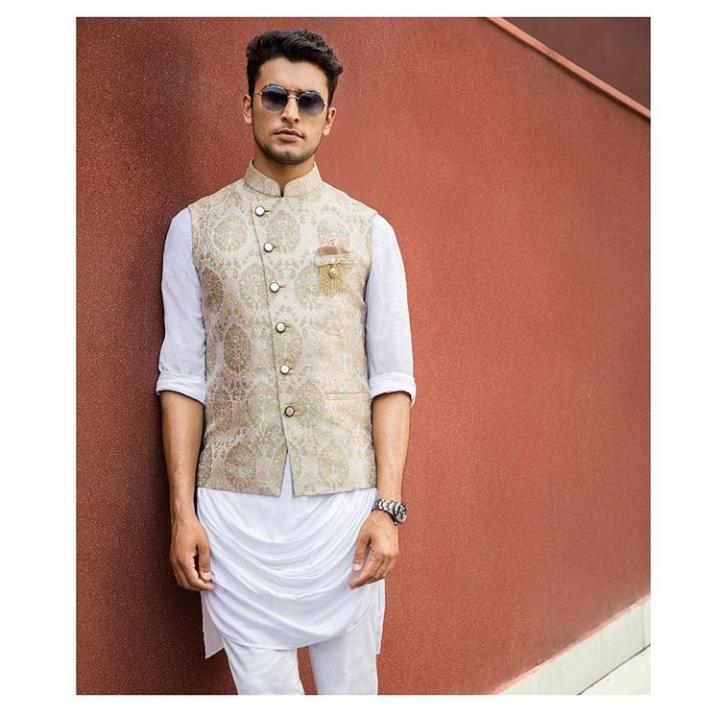 ↓ 4. The Nehru Look
The Indian Prime Minister Jawaharlal Nehru was widely known for his Fashion Sense that involved the traditional Jodhpuri Outfits and his usual Cap. His appearances widely popularized the look and a number of Indian Designers have tried to bring back the trend. Shantanu Nikhil's Spring Summer Collection from 2016 seemed much like an ode to the former Prime Minister. The stand-up collar suits are being done in jute, polyester fabric, and other lightweight wools. The Old-Classic Nehru Look provides just what is needed to make a powerful style statement.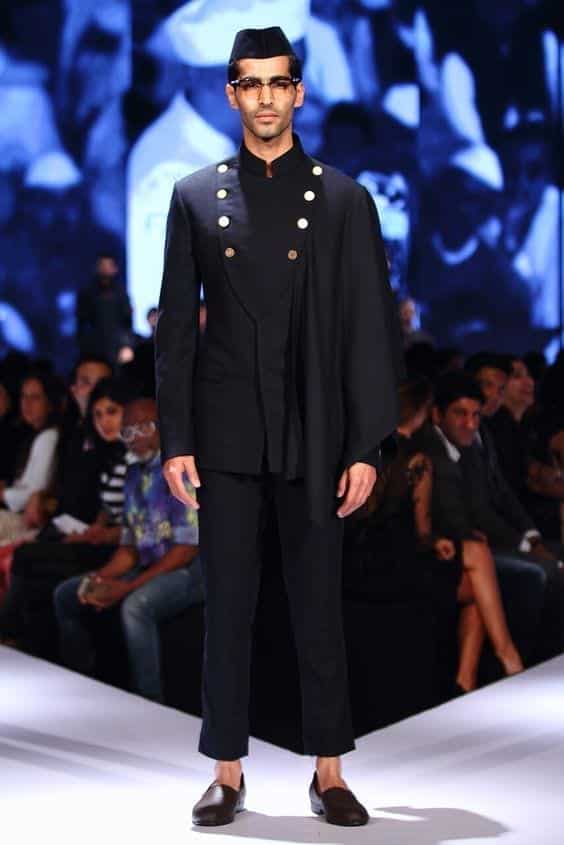 Via
↓ 3. Designer Bandhgala
A lot of people prefer designer-made outfits for their extra attention to finishing, fitting and fanciness – the three Fs. Only one man comes to mind, the fashion Maestro, Sabyasachi Mukherji who goes the extra mile to ensure that the highest quality product is put forward by the brand. Only he could pull off creating a floral Kurta Shalwar to go with a Nehru Jacket. Sabyasachi's pieces embody his mind and soul that he expresses through his creations. The colors are perfectly picked for South Asian men.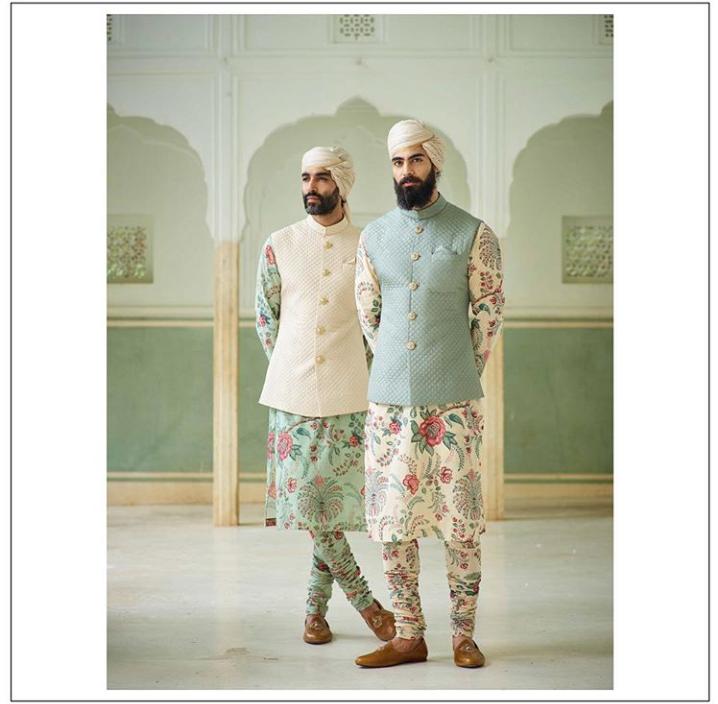 ↓ 2. Two-Toned Jodhpuri
This Blue Jodhpuri Jacket gives an ombre-like effect by blending out the two similar colors. This amalgamation of the Indian and Western style is a great one. The outfit can easily be worn to Formal Dinners over a dress pant and can be accessorized with chains and pocket squares.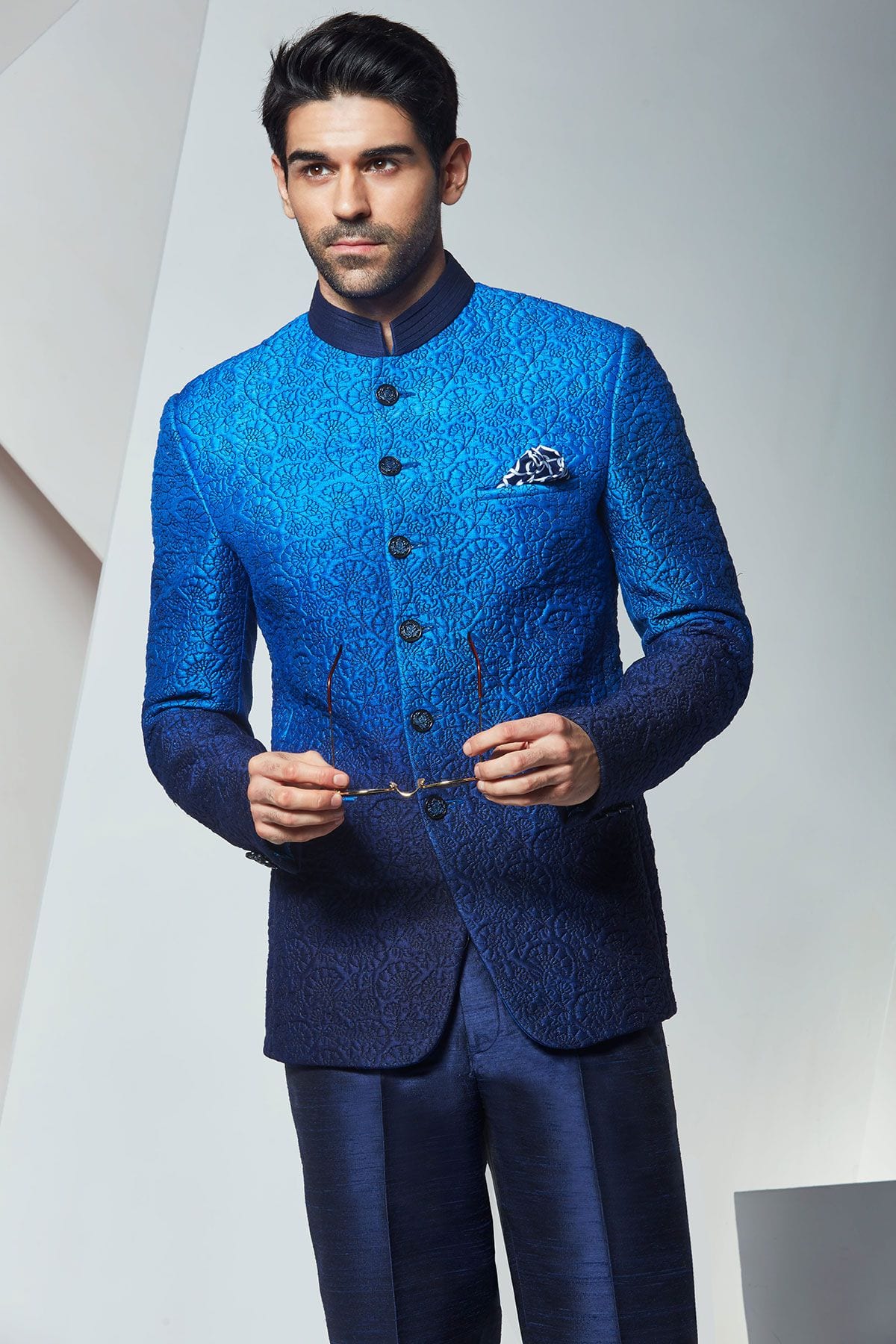 ↓ 1. Jodhpuri on Jeans
How convenient would it be if everything could be paired with a basic pair of jeans? Well, why worry since fashion is all about exploring personal taste and comfort. The more casual take on the Graceful Jodhpuri Jacket is pairing it with denim. The look is great for boys that are constantly on-the-go and prefer creating their own style statement instead of borrowing it from others. We find this look to be comfortable yet up-to-date with fashion trends. The look can also be styled by adding in pocket squares or by opting for different colors and styles.