The latest eye-catcher for travelers around the world is the Weekender bag. These bags are perfect to fit all your essentials for a short trip.
Whether it is a business trip or a small overnight trip with family, these bags are efficient for all of it. They are convenient and look amazing, allowing you to travel in style and catering to the needs of mature women.
While these bags are super easy to carry, managing their space can be tricky, especially at our age when we have quite a lot of stuff to pack, even for a weekend.
So let me try helping you out a bit with some of the best bags I have found lately. Here's everything we'll discuss:
What To Look For When Buying A Weekender Bag?
Weekender bags, duffle bags, or overnight bags, whatever you name it, are available in various colors, shapes, and prints.
You can choose one that suits your needs; there will be bags in every color and style, from plain black to striking cheetah print.
The material, durability, and capacity are the most crucial factors for your bag. All these features are essential for traveling. Hence you must opt for the finest quality.
For elderly women, traveling is all about comfort, so your first priority should be to consider a bag with high-quality material.
Ensure features in your bag like adjustable straps, weather resistance, and lightweight.
Moreover, other functional features include security, pockets, and compartments that increase the efficiency of bags. Don't forget to consider appearance and aesthetics to level up your fashion game.
Tips on Choosing The Right Bag
Neutral designs: I highly recommend neutral colored bags as they'll complement most outfits for women over 60.
Extra Pockets: Extra pockets will always be helpful for you. They assist you in safely storing a lot of your smaller items. Hence, you should always look for a bag with a lot of front pockets.
Durability: A bag is of no use if it is not durable. So make sure to buy one with durable material. Leather bags with water-resistant material are most suitable for periodic traveling.
Small Compartments: Compartments in the bag can help you in dividing things. Different things including your clothes, footwear, documents, snacks, and others can be stored efficiently if your bag has different sections.
Adjustable Straps: Adjustable straps or handles are the most helpful thing in the bags. It enables you to carry the bag anywhere comfortably.
Multi-purpose: It is mostly a one-time investment, so buy one that goes with almost all of your outfits. You can also purchase the bag based on your travel destination. A black leather bag is ideal for this purpose.
Best Weekender Bags for Mature Women
20 – Classic Black Leather Bag
You can never beat a classic; the same is the case with this black leather bag. It is durable and spacious, and the best part is that it looks cool with every outfit.
19 – Best Weekender Bag For Work Trip
Get rid of the hassle of carrying a suitcase and efficiently pack all your work essentials in this duffle bag with compartments.
18 – 3-Piece Bag
The more, the merrier! Get this set of 3-piece bags and pack anything you want for vacations.
17 – Best Convertible Garment Bag
16 – Most Affordable
This cute weekend bag offers a package of durability and multiple features at an affordable price.
15 – Vintage
14 – Floral Printed
13 – Boho Patterned
12 – Best Printed Duffle Bag
11 – Hand Wooven
10 – Most Durable
Some of us carry taking these bags to gym and in such cases, you want the most durable bag. Here are some workout clothes for mature women to go with your look.
9 – Everyday Duffle Bag
8 – Travel Cabin Bag
7 – Travel Tote
6 – Best for Long Holdiays
5 – With Shoe Compartment
4 – With Trolley Sleeve
3 -With Wheels
2 – With Adjustable Strap
1 – Best Backpack Style Weekender Bag
FAQs
What is a weekender bag good for?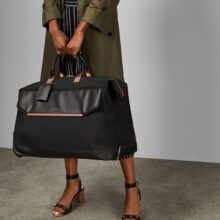 These bags are perfect for when you are traveling for a few days.
Whether you are traveling for a personal or professional short trip, a weekend bag would be perfect to avoid the hassle of carrying luggage.
Packing and managing a suitcase can be hectic and time-consuming. In this case, a weekend bag is good for a short trip. And make sure to go through this list of comfortable travel outfits for women over sixty.
What can fit in a weekender bag?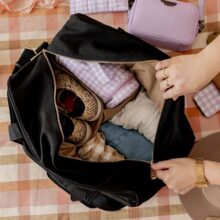 A weekend bag is spacious enough to carry your stuff for two to three days. As they are ideal for short trips over a weekend, a weekend bag can fit all the essential things for a trip.
It can include clothes, shoes, gadgets, toiletries, and others.
It has different compartments to keep your clothes and footwear separate. The small pockets in front enable you to store a lot o things, including your documents, snacks, and much more.
What is the best material for a weekend bag?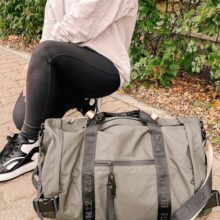 Good fabric is one of the most important factors for choosing a weekender bag.
The bags should be made of durable and weather-resistant material. Leather, polyester, and canvas are the best fabric materials for bags in terms of durability.
Moreover, nylon and neoprene are best, if you are looking for water-resistant bags.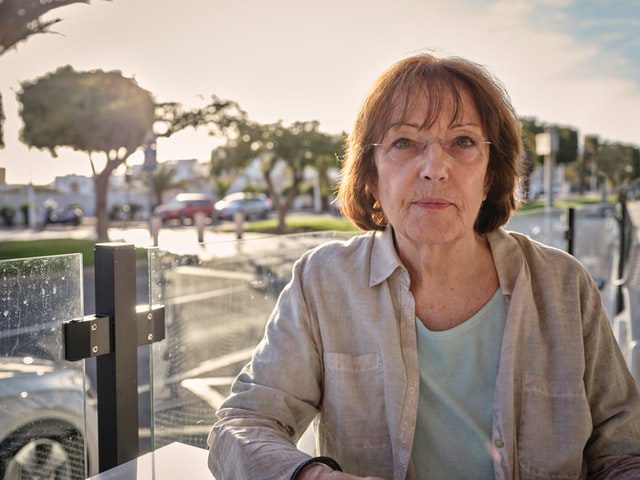 Living my 50s in style doing what I love the most!