Summer Colors For Men. Color can shift your mood in an instant. And everywhere you look, you can see colors. In fashion, colors and fit have something in common – they can either make or break your outfit.
Colors play a major role in your choice of outfits. Getting it right will give you a stylish look, but things can sometimes go sideways, and you'll look like a color wheel threw up! So watch out.
Imagine wearing expensive clothes made of quality fabric, but the color combo is a sight for an eyesore – not good! That's why it is essential to know how to properly coordinate your outfits for a neat and fashion-forward appearance.
What Colors To Wear This Summer?
The Color Wheel
In summer, choosing the perfect colors is what sets you apart from the rest. Aside from rocking the best shades for the warm weather, it's essential to consider which ones would make it "a summer to remember." For one, bright colors in lighter fabrics are your best bet.
Sir Isaac Newton invented the color wheel in the 18th century when he tries to show the relationship between the color spectrum. The wheel has 12 basic colors called "hues."
Red, yellow, and blue make up the primary colors that the other colors are derived from. The secondary colors are all possible combos of primary colors. And tertiary colors (e.g., red-orange, red-violet, blue-green) are the combos of primary and secondary colors.
Tints refer to colors that are lightened by adding white. Shades, on the other hand, are darkened colors that are formed by adding black. And neutral colors, black and white, will form various shades of grey (tones) when combined.
Types Of Color Combos
Monochrome. This is more of a monotonous combo, and it can both be stylish and boring at the same time. Try blending similar shades to achieve this look.
Analogous. This refers to combining two or three to five adjacent shades that work in harmony.
Triadic. This refers to combining three colors that are parallel to each other.
Complementary. This refers to a secondary color being opposite to a primary color on the wheel.
Split Complementary. This means combining colors with the adjacent colors of its opposite complementary colors.
Tetradic

. This comprises four colors with two sets of complementary colors.
Tips
Psychology of colors. Fashion is an art, and there's a science behind it, especially when it comes to colors. For starters, be aware that there's a psychology in every color, but not all men take this too seriously, and it's okay. Just focus on being stylish if it satisfies you.
Planning. The rule of thumb here is to combine colors that work in harmony. More often than not, it always comes down to how you pair your outfits. That said, plan ahead to understand better which one looks excellent with which. It's also a good idea to do a wardrobe overhaul.
Warm colors. They have a slimming feature, even just for an illusion. And they will benefit the plus-size men the most.
Accessories. Colors aren't limited to clothes as they are also seen in accessories. And you might want to apply the same rules to this. And even adding a small accent (e.g., pocketsquare or tie) into your ensemble can make a big difference.
Skin Undertone. Match your complexion to your outfit colors. Pale and yellow-toned guys look good in colder shades, while deep-toned guys should opt for warmer hues.
When In Doubt. I understand that colors are a complicated thing in fashion. So if you are uncertain, stick to neutral colors in the meantime. And then experiment with other shades once you got comfortable.


What To Avoid

Don't get carried away. Too much is bad, so don't try to incorporate many colors into a single outfit. You don't want to look like festival decor. In any event, "menswear neutrals" will always have your back as they never get out of style for their versatility.
Avoid clashing. As with any aspect of life, clashing is terrible in fashion. Try your best to avoid it. You can start with having some "contrast." For instance, darker tops should be paired with light bottoms or vice-versa.
Avoid tops with colors close to your skin undertone. They make you look pale. And remember that it's more about complementing than matching.
Where To Buy Summer Outfits
There are really no stores exclusive for men's summer outfits. My point is you can get these garments from your regular outfit shops. According to Primer Magazine, men can get some of the best summer clothes from these stores and brands: Nordstrom Rack, H&M, ASOS, J. Crew Factory, and American Eagle. And remember that you can always try local shops in your area, and thrift/vintage stores are also top of the list. You don't know what "for keeps" you'll find there.
Now that we are under a major crisis, the wisest thing to do is buy off the internet to be safe from being infected by COVID-19. Also, it's more convenient to do online shopping as you will save more money, time, and effort. With just a few clicks, expect the products to arrive at your doorstep in a few days. Nordstrom and Amazon are two of the best online shops out there.
↓20 – Shades Of White
Try combining different shades of white. For instance, pair a pearl white polo shirt with porcelain white chinos. And then break the dullness through your shoes – opt for brown or black. Here are some of my favorite Men's White Shirt Outfits.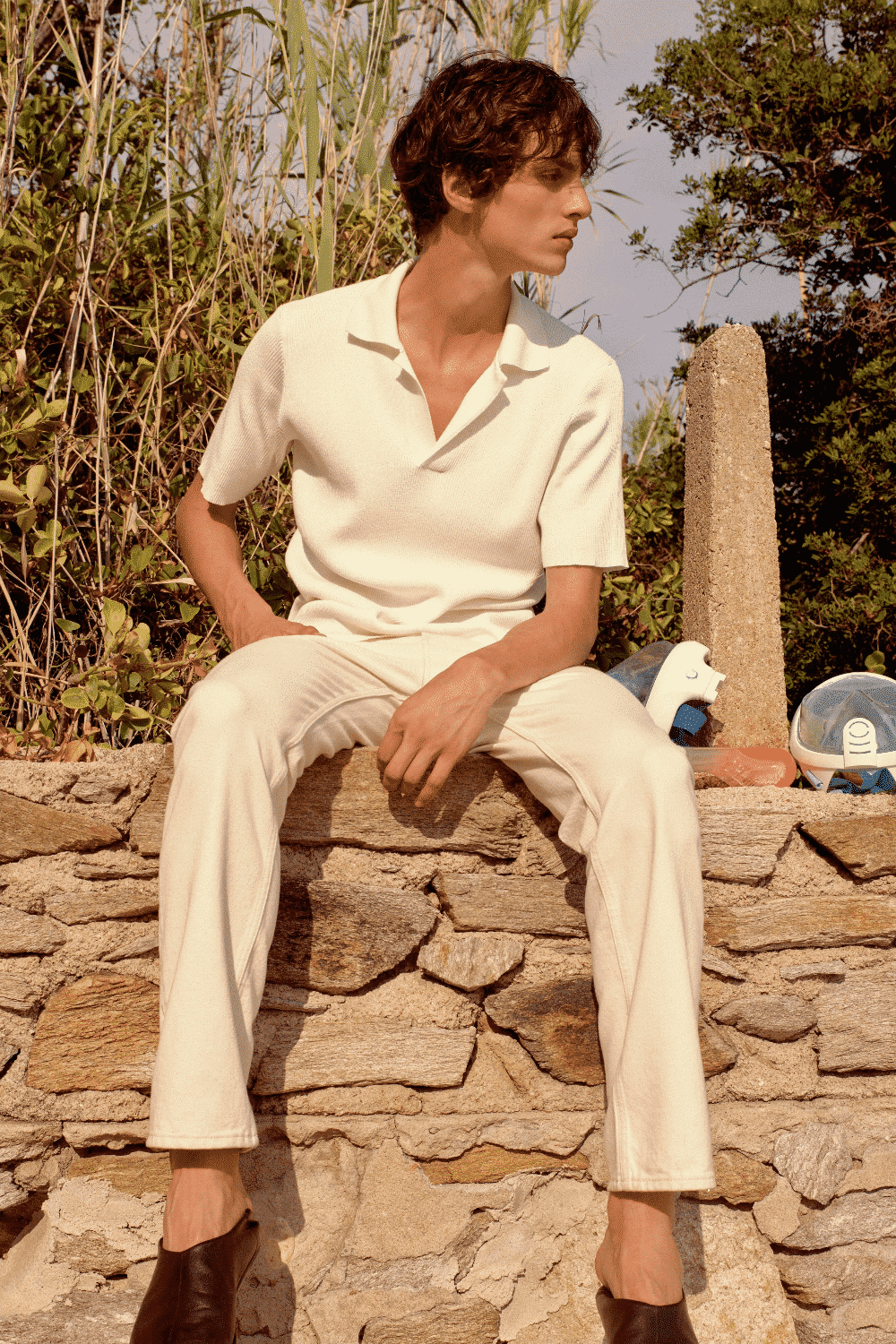 ↓19 – Earthy Tones
Shades of brown would never go out of style, no matter the season. This summer, wear a peanut brown shirt with tortilla brown trousers. The top must be darker than the bottom. Also, you can tuck in your shirt to spice things up.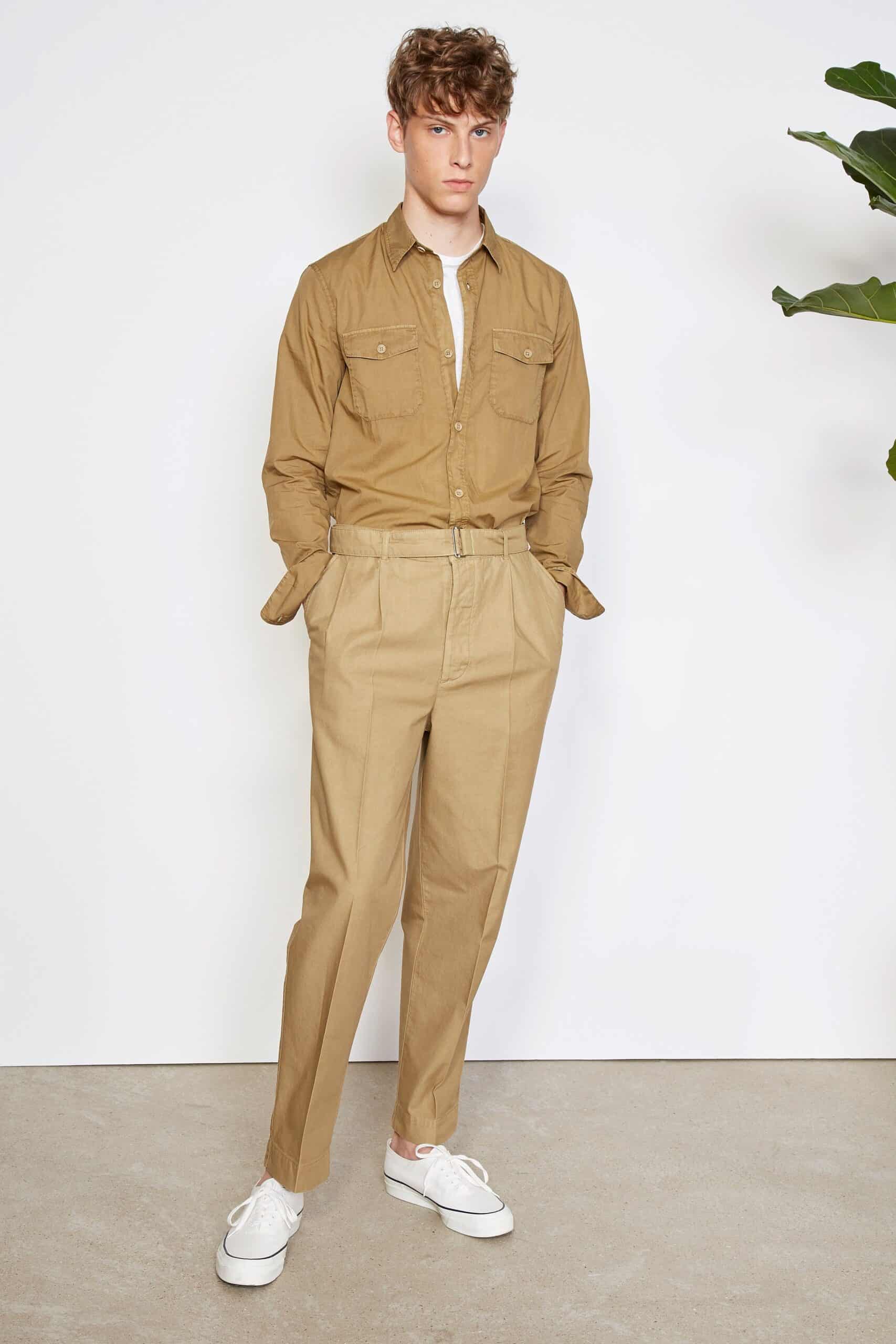 ↓18 – Blue And White Combo
This is what we usually see in events where cruise and champagne are involved. Nautical vibes are interesting to put into outfits, especially if you get it right. So try pairing a navy blue polo shirt with off-white chinos. Just make sure to get the right fit of both garments to nail the look.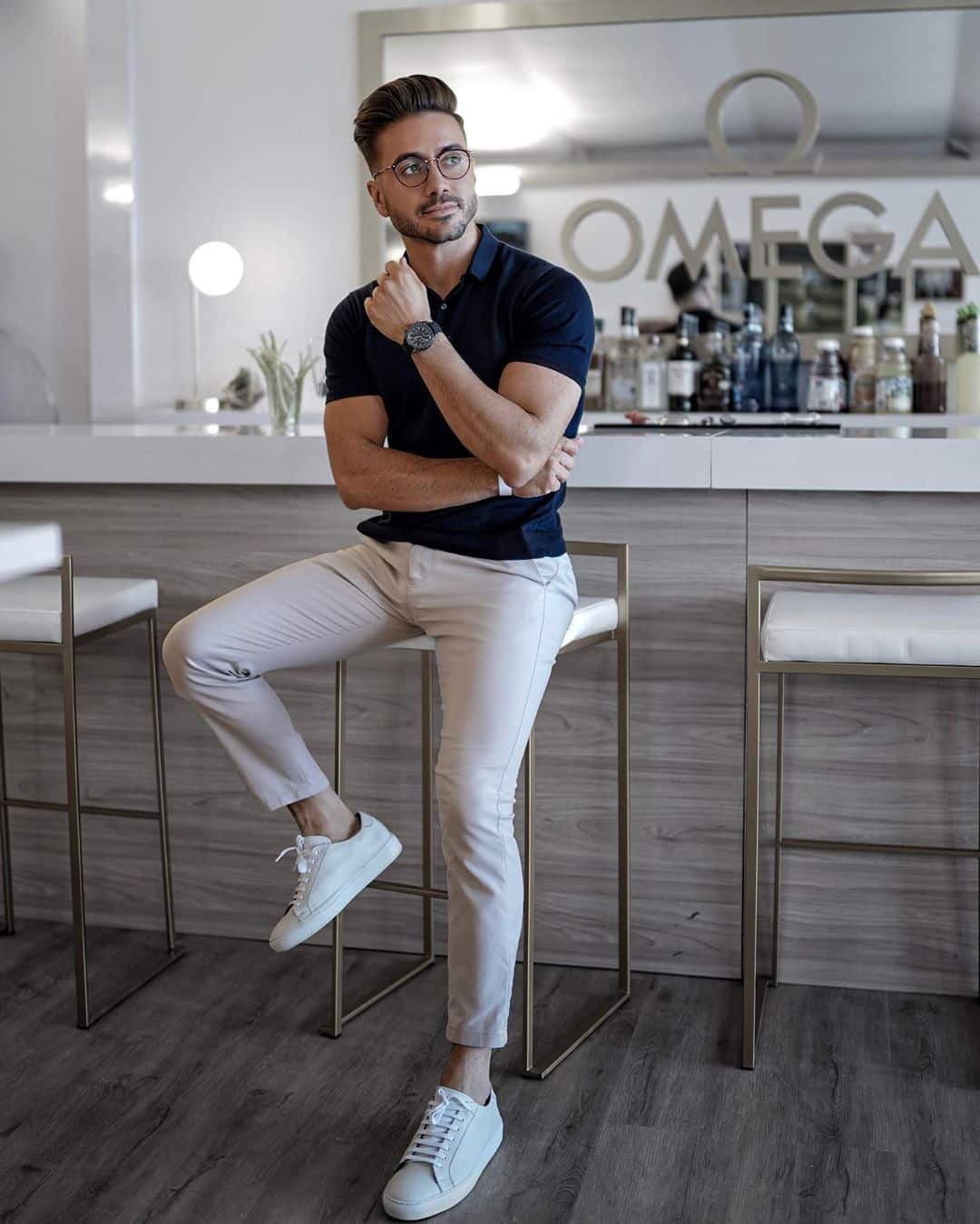 ↓17 – Grey Stripes On White
For short men, always look for vertical stripes as they can make you appear taller, even just for an illusion. But this is just a fashion tip. So don't even think for a second that being short makes you less stylish. In fact, it's better to embrace your flaws and insecurities as they will make you appear more natural. Don't try hard to be a "wannabe."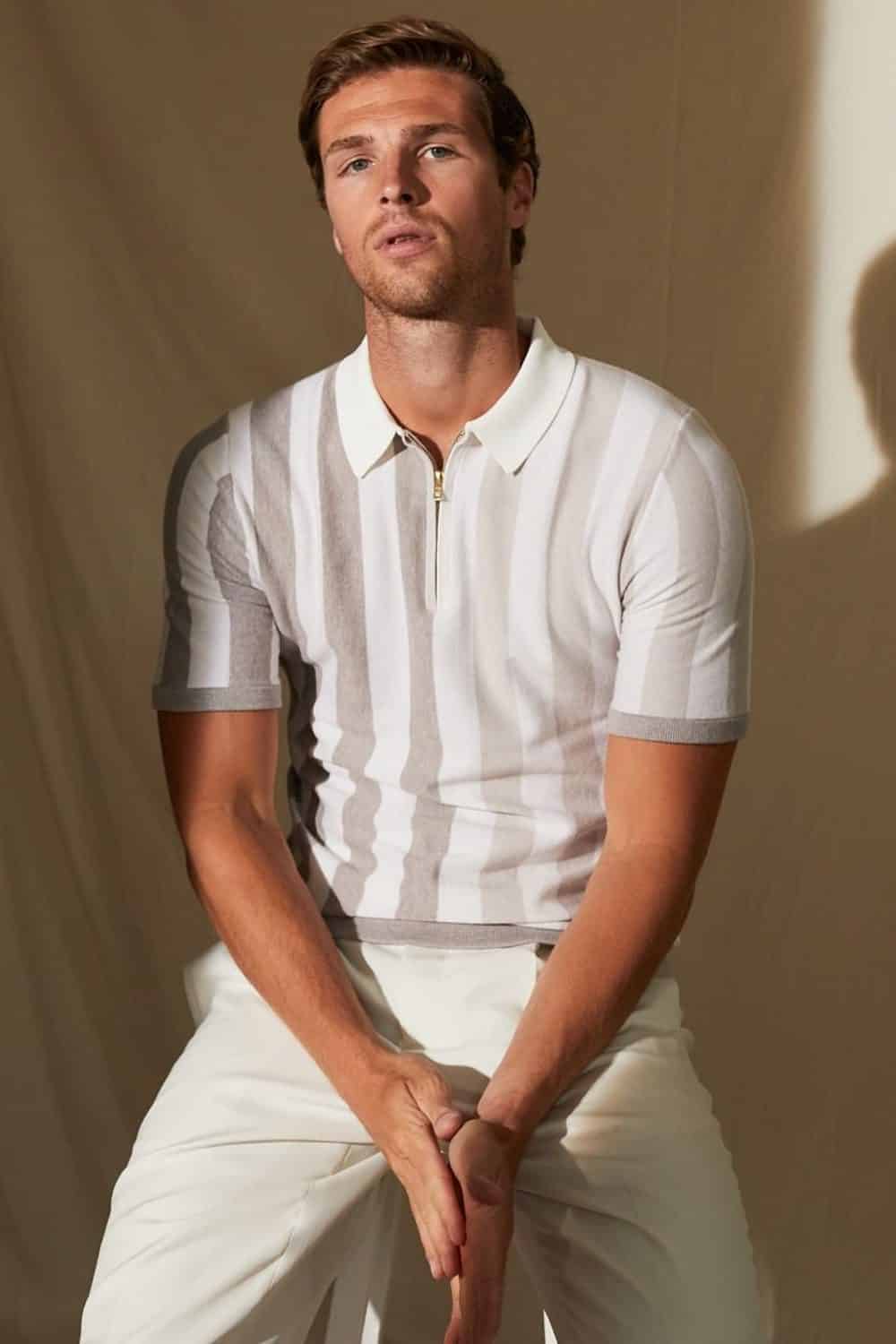 ↓16 – Blues With Touches Of White
Base the color on the occasion or context. For instance, blue and white are both solid colors, so why not team them up? Plus, adding a contrasting color like white through your shirt is an excellent move. Again, opt for the right fit for your body type so you won't ruin your style.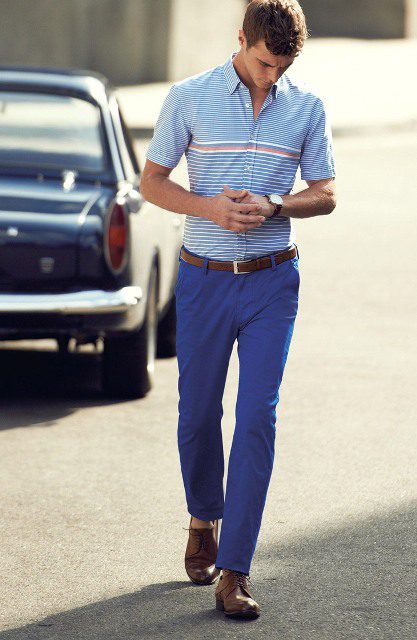 ↓15 – Blue And White
Adapt the colors to your personal style. Wear denim or a cerulean blue shirt, and pair it with some white or cream chino pants. You can add texture through your shoes, so grab those brown Chelsea suedes.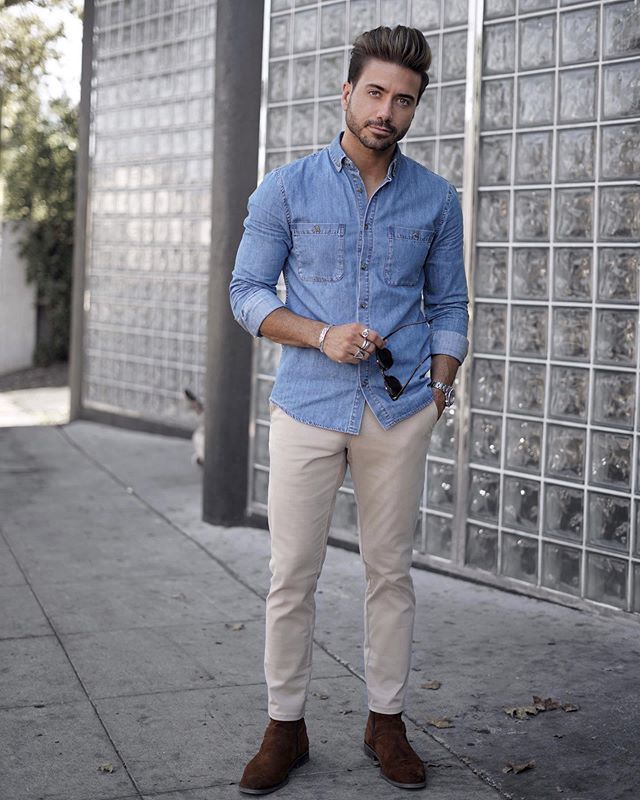 ↓14 – Summer Colors For Men's Suits
Stick to neutral colors and solid hues. Blues and whites are your best bet here. Do not stay in one shade, and mix and match various tones instead. And it's a must that the undershirt should be lighter than the coat and trousers. Try navy blue, azure, admiral, and cobalt.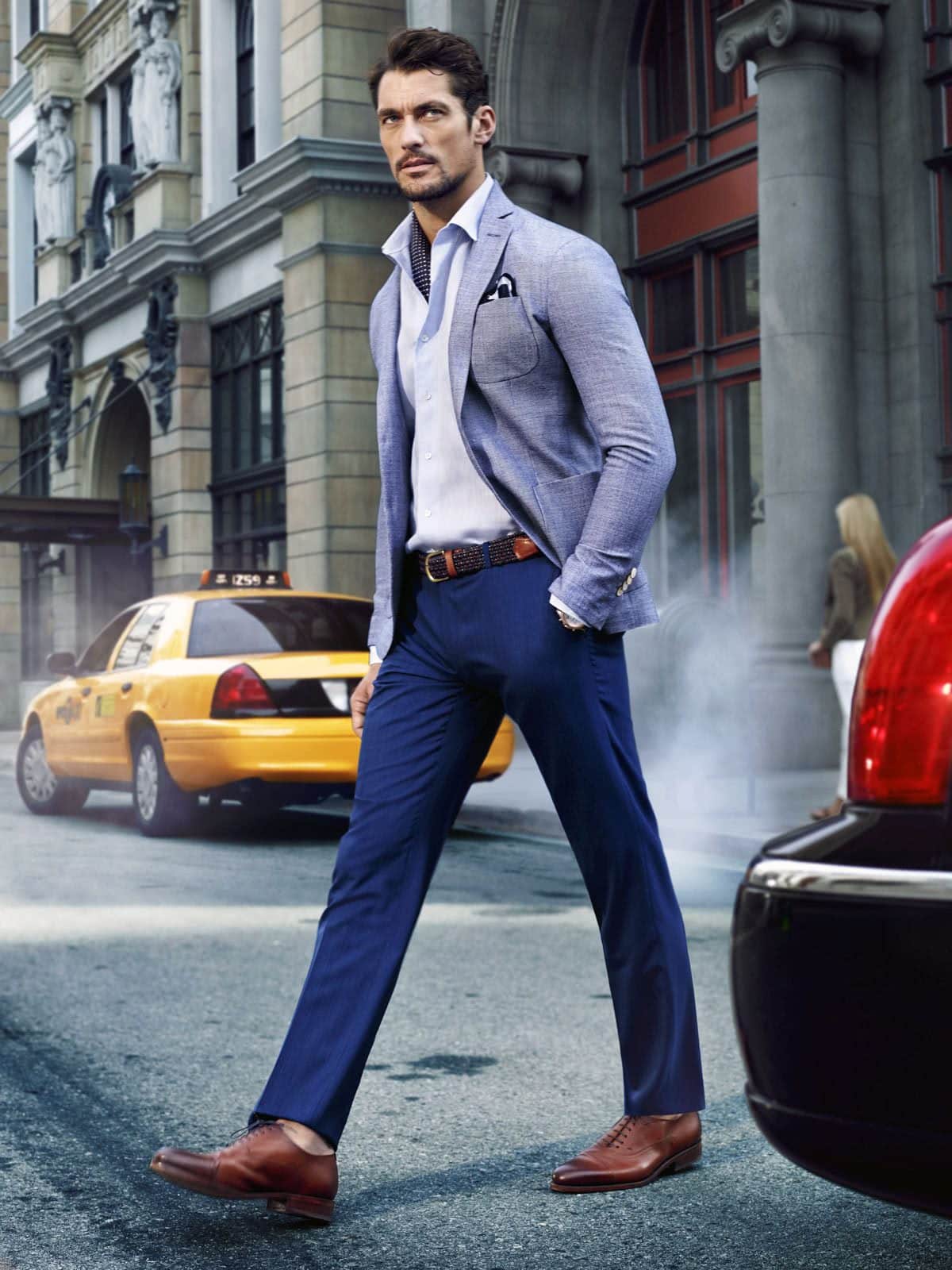 ↓13 – Stripes And Black
It's great to incorporate some patterns and prints into your ensemble. For one, you can wear stripes with black pants. And then amp up your summer fashion game with sunglasses and a hat. Here are some more tips on the different ways to Wear & Style Stripes.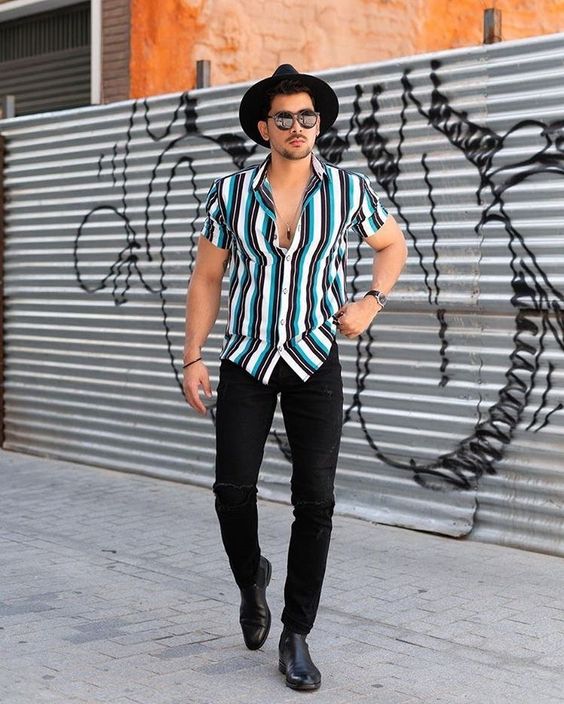 ↓12 – Orange And Blue
Try pairing a color block shirt with your chino pants. Cider orange and peacock blue would make a great combo. What's nice about these outfits is the presence of whites on the shirt and footwear, creating a balance for all the pieces.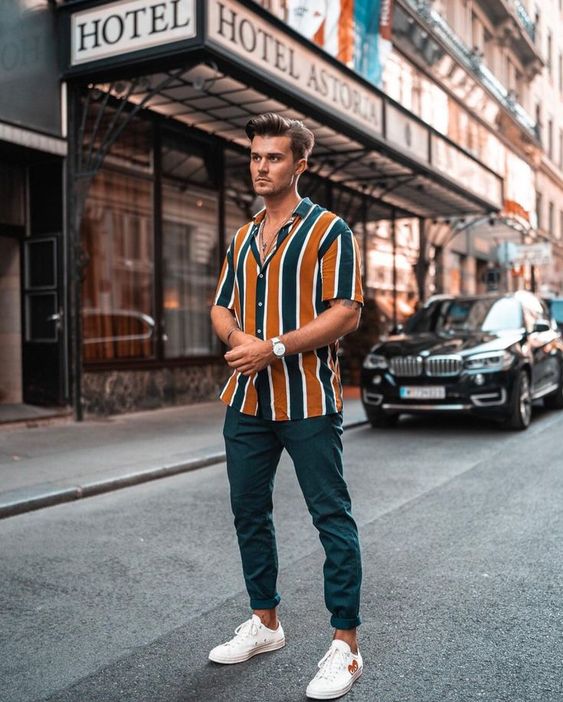 ↓11 – Nautical Blue With White
Nautical style has never been a cliche in menswear. Not only does it look pleasing to the eye, but it can also create a cooling effect. As we know it, blue (regardless of the shade) is an excellent color, making it ideal for warm weather.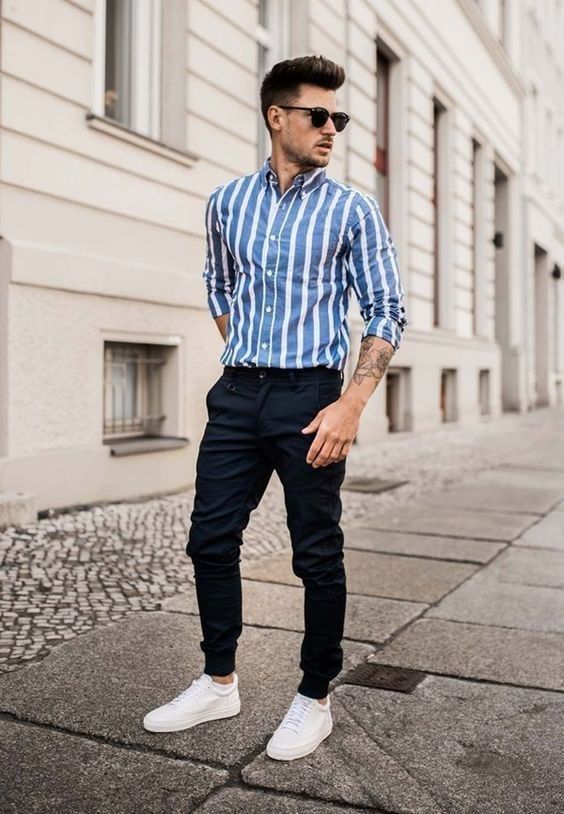 ↓10 – Beige And Black
A simple combo of a black tee and beige shorts can be your go-to outfit this summer. You can also opt for khaki or any shade near beige. Whichever you have in your wardrobe would be fine, just the same.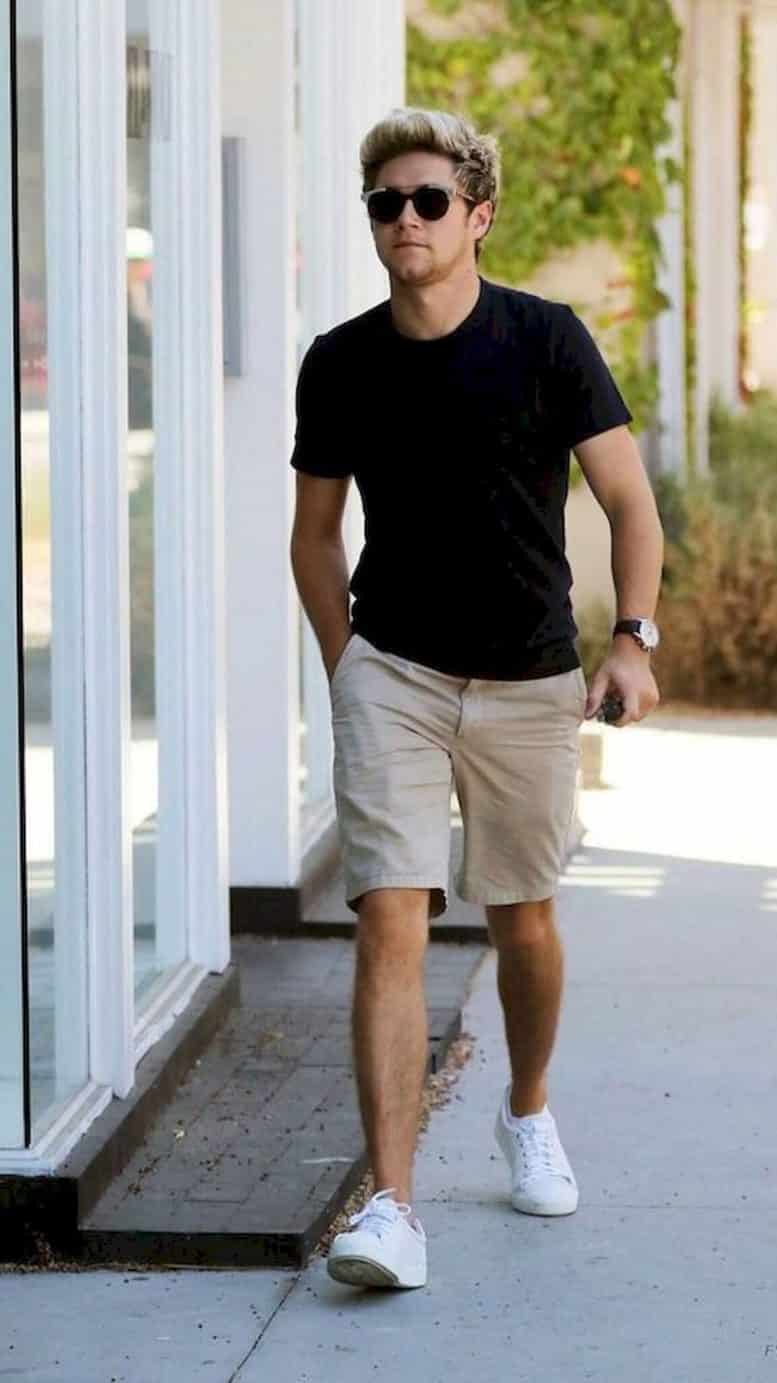 ↓9 – Denim On Denim
First off, it's essential to know that the same denim shades shouldn't go together. If you will opt for this style, make sure the other one is darker than the other. For instance, a faded blue denim shirt looks great with dark blue denim jeans. You can also strike a balance through your undershirt.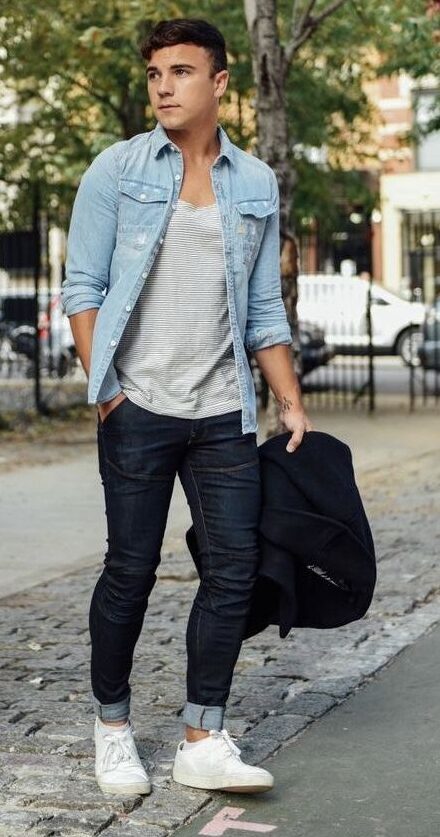 ↓8 – Black And Grey
Both contrast colors, black, and grey looks great when teamed up. For instance, wear a grey polo shirt with black pants. Here are some of the best Black Jeans Outfits for Men.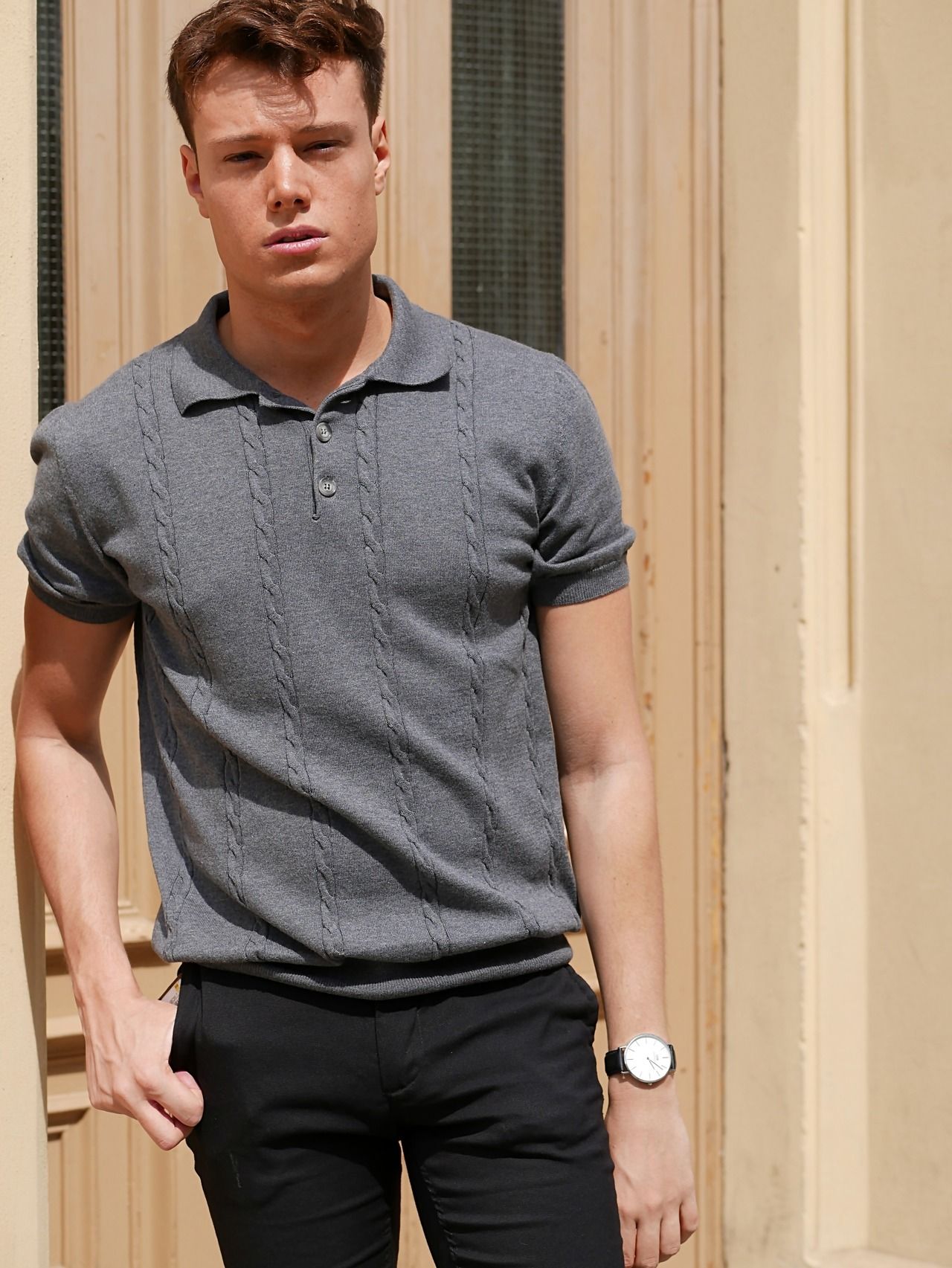 ↓7 – Blue And Grey
Wear faded blue jeans with a grey shirt. And then create a difference through your shoes. In this case, choose brown to avoid being monotonous without going overboard.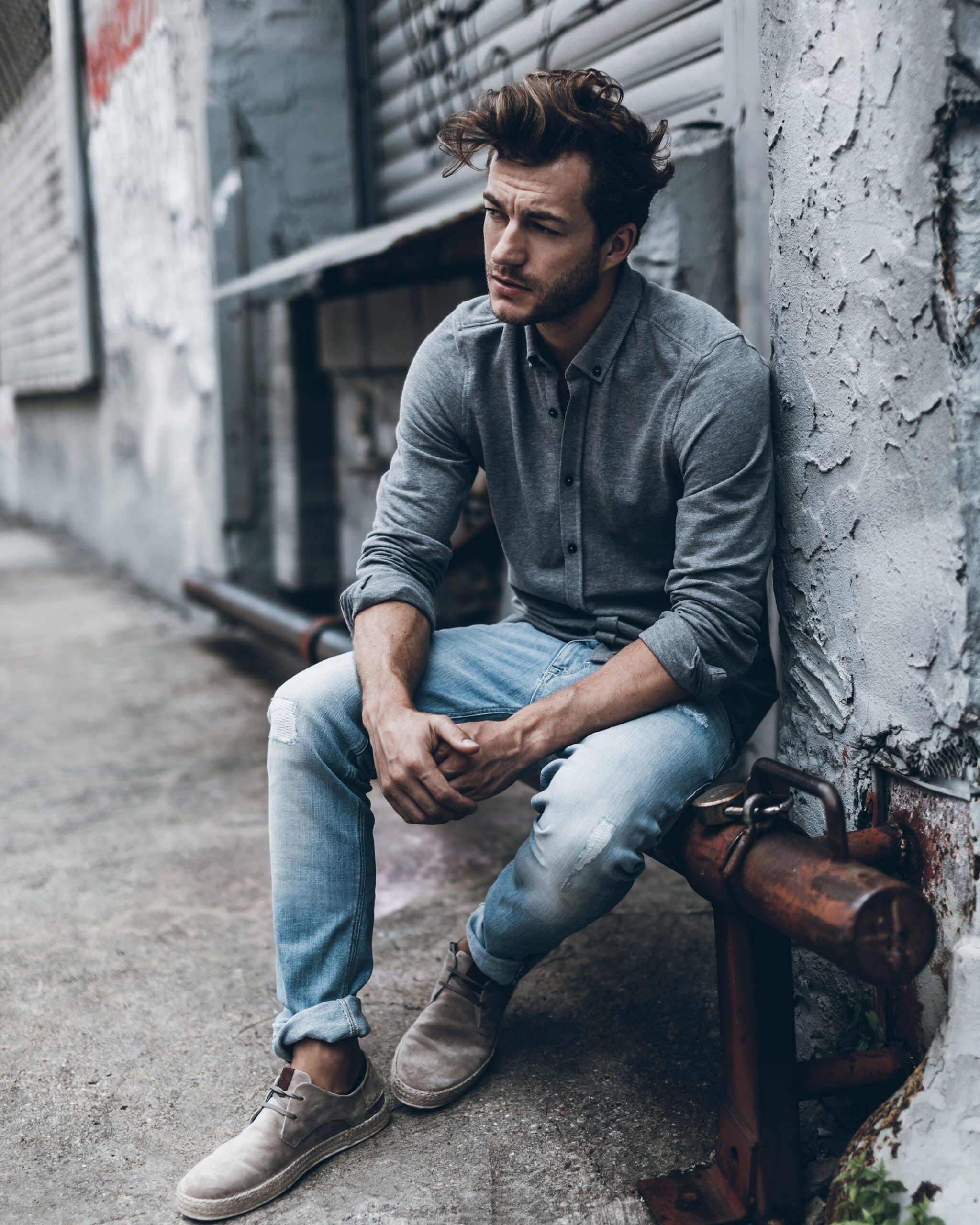 ↓6 – Summer Fashion Mens Streetwear
Pullover shirts aren't only for the cold weather. You can also wear them in the summer as their long sleeves can shield your skin from direct sunlight, which by the way, are harmful to your skin. Black is a practical and timeless option, so go for it. Then pair your sweatshirt with faded blue denim jeans.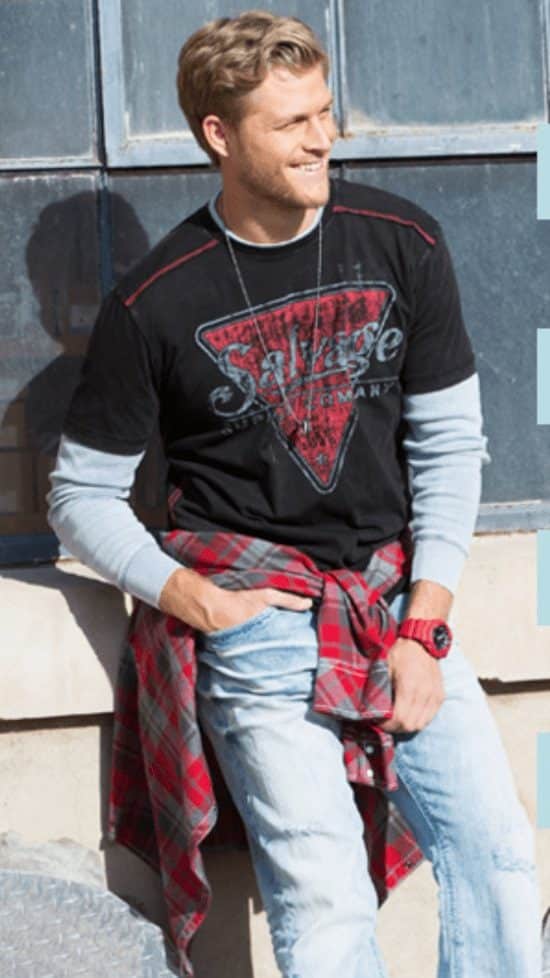 ↓5 – Monochrome Outfit
This is no longer considered weird. In fact, you can rock this style in winter, spring, summer, and fall. Important reminder: It's not necessary to go full-on; try combining similar shades. You can also combine neutral colors, and you can still call it "monochrome."
↓4 – Prints and Patterns
These are a combo of one or more colors. The key is to let the print have its moment. Embrace the summer feels and pair a Hawaiian shirt with denim or chino shorts, whichever makes you feel more comfortable. Here are some more awesome Floral Shirt Outfits for Men.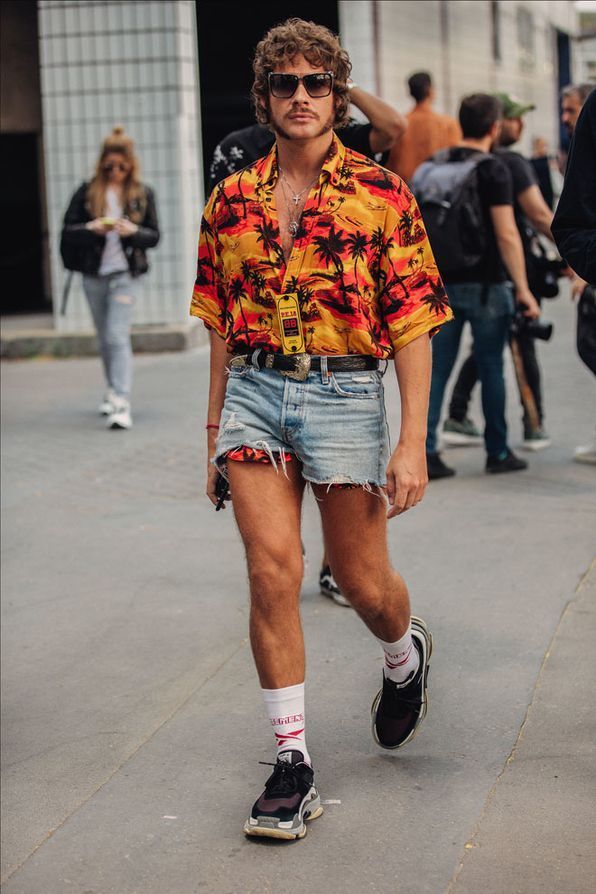 ↓3 – Summer Fashion Mens Shoes
As for the footwear, flip-flops are the star of the season. Bit if you feel like it, opt for sneakers that are made of light materials like Converse and Vans. And I believe it's a no-brainer that boots are a no-no! And streetwear calls for casual shoes, not formal ones like Oxfords, leather wingtips, and brogues.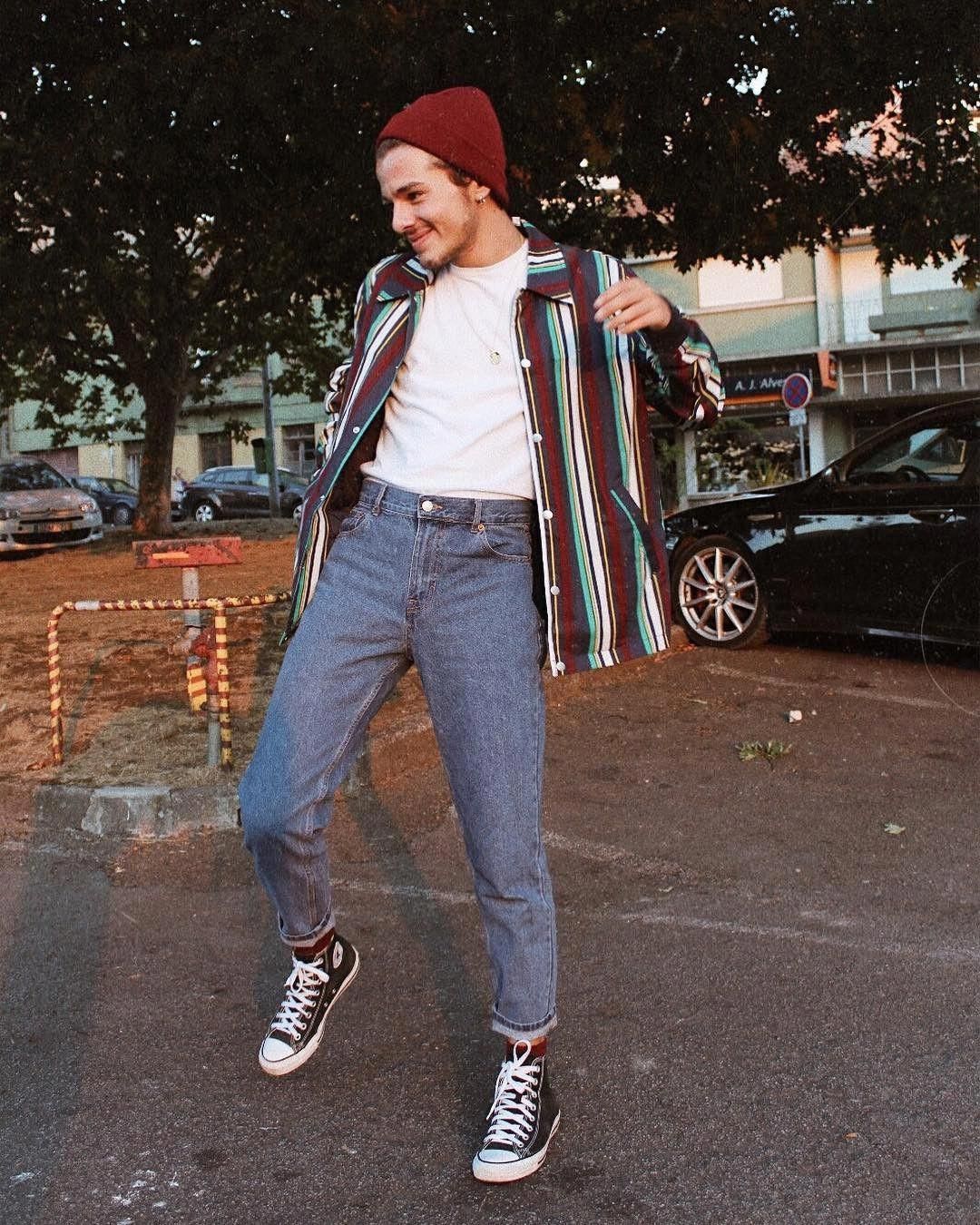 ↓2 – 80's Summer Fashion For Men
The '80s played a significant role in men's fashion. This was when the most prominent style trends boomed and impacted public figures, movie icons, and musicians. Most men started to adapt to the style of the era, and we can still see the evidence today. Channel the candor of the past through your summer outfit. You can do it by playing with flashy color combos and accessories like these aviator sunglasses.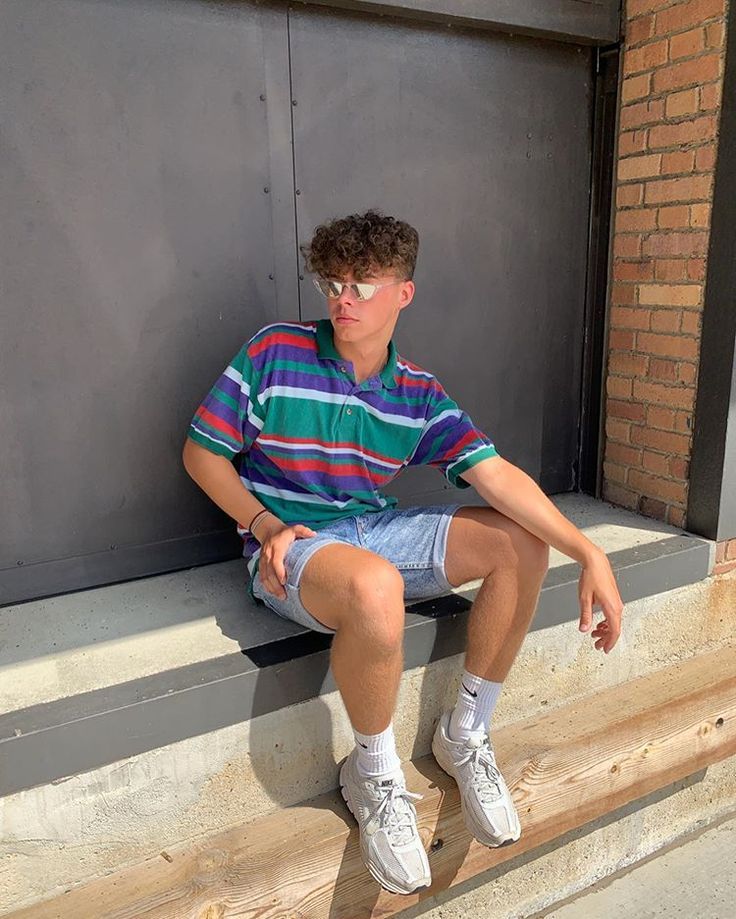 ↓ 1 – Stripes And Brown
For skinny guys, opt for horizontal stripes as they can create an illusion to make you appear bigger. It would also help if you stayed away from baggy and loose fits as they make you look smaller. Not that there's something wrong with being thin. These are popular fashion tips for scrawny guys, and you may or may not apply them to yourself.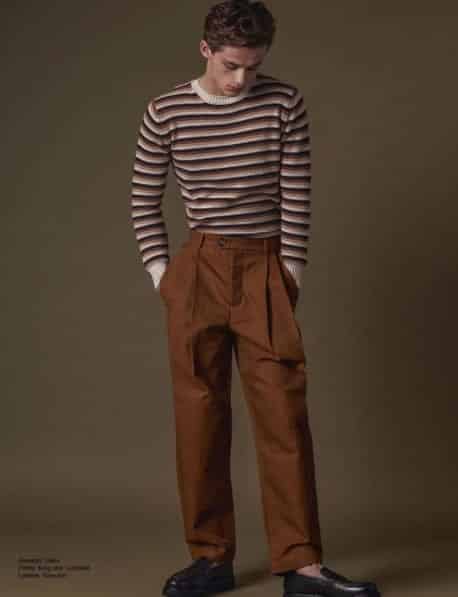 Frequently Asked Questions
Q. What colors are best for summer formal?
A. Stick to neutral and muted tones like blues and whites. Contrast colors like black, brown, and grey are also appropriate for this setting.
Q. What colors look great in casual outfits?
A. If the event doesn't call for a formal getup, you have the leeway to opt for pastels like yellows and other brighter hues whenever you want.
Q. What colors should men wear in summer?
A. Aside from bright colors, men should opt for timeless and versatile shades of white, grey, blue, and black. Earthy tones are also a nice option. And it always comes down to how you combine two or more hues. The rule of thumb is to always anticipate the outcome. Make sure the result's not going to be a sight for an eyesore.
Q. How should I plan my summer outfits?
A. It has never been easy to plan your outfits, regardless of the weather or occasion. For starters, having a well-organized wardrobe is beneficial for any man. That's why it is essential to have a minimalist closet. From there, you can experiment and come up with a lot of combos.