How to Dress Like Jess From New Girl. It's been almost three years since New Girl wrapped up its seventh season, but with Netflix picking up the show, our long-running obsession with everyone's favorite loft buddies has continued without interruption.
And so has our adoration of Jessica Day. Jess's style is as much a part of what made the show iconic as its hilarious and lovable characters. From her tights to her ballet flats, her bangs to her glasses, and her vintage dresses to her polka dot mini skirts, Jess's overall look matched her bubbly, singsong personality and gave us a style icon to forever obsess over. And in today's post, we decided to take a nostalgic trip down memory lane, revisiting some of our favorite outfits of hers as well as a thorough guide on achieving her look for yourself.
How to Dress like Jess from New Girl
Before we give you the round-up of favorite looks we've chosen from the show, here are 10 quick and simple tips for recreating New Girl's Jess's best outfits. Check them out!
Wear lots of colors. We're talking about every color of the rainbow.
Add ballet flats to your wardrobe.
Wear retro-inspired dresses.
Get yourself a vintage purse or two. (Jess loves her vintage purses.)
Wear polka dots, stripes, and bows. Sometimes all in the same outfit!
Pair black tights with high-waisted shorts and miniskirts.
Highlight your waist with belts or high-waisted bottoms.
Add a glittery hairband to your loose hair.
Opt for a bright-colored coat in red, pink, or blue.
Wear small, fitted cardigans.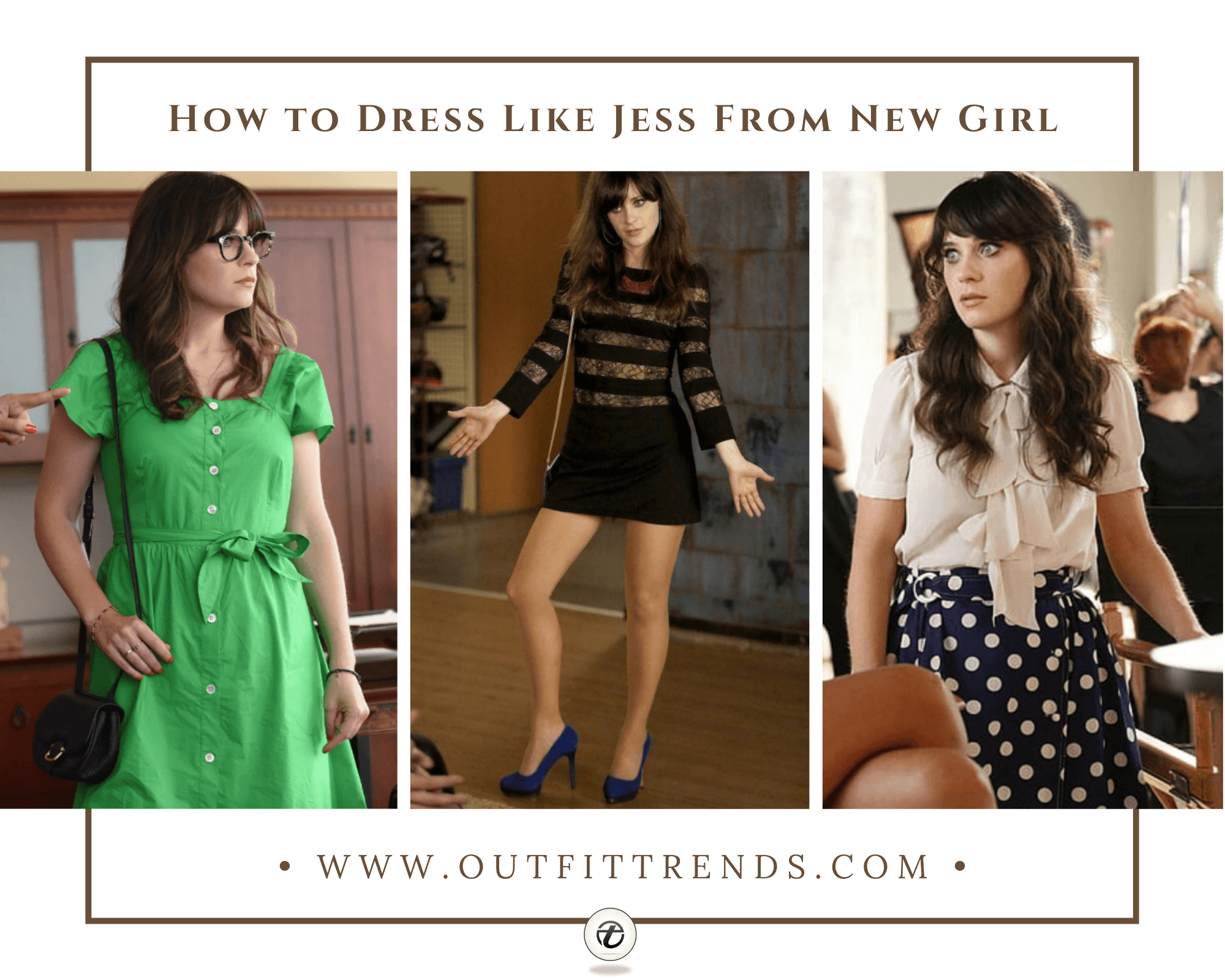 As you might remember that Jess is a teacher by profession, you'll definitely enjoy these Classroom Appropriate Outfit Ideas for Teachers. Here's our roundup of 12 of Jess's most iconic outfits. We include tips on how to achieve a similar look yourself and also share some of our favorite moments in her wardrobe lineup. Let's get started!
↓ 12. Pair a cardigan with a v-neck wrap top
Here we see a classic Jess look. Jess is a teacher so she often wears cardigans and cute wool skirts. In all her looks, she manages to cinch her waist and we see that here with a v-neck wrap top knotted at the waist and paired with a high-waisted skirt. Something to remember about her cardigan usage is that she rarely wears big, baggy cardigans: hers fit closely and are either short or end just below her waist or at her hips. Here are the Best Styles of Sweaters for Women.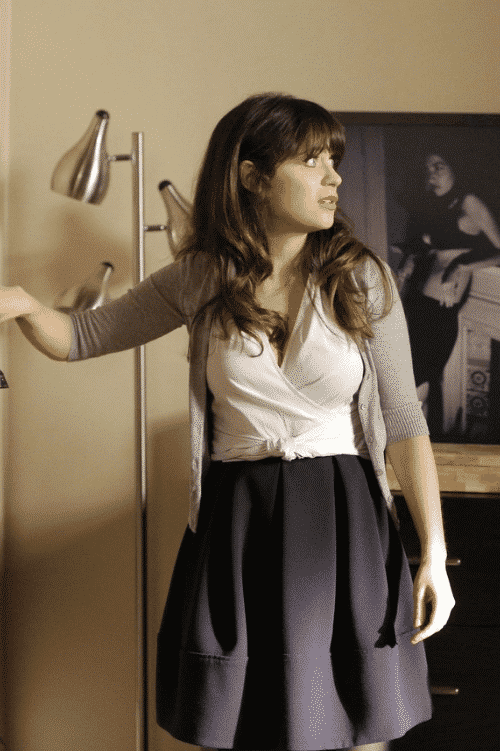 ↓ 11. A sweater is rarely just a sweater
Because it's Jess, you don't often see her in a plain black sweater. If she doesn't have a pop-of-color bow detailing then she's got a structured shape or a white collared shirt coming through the top and at her cuffs. One thing these two sweaters have in common is that neither is baggy: both fit her figure closely. No excess material! To copy the look, layer your slim-fit black sweater with a white top. Extra points if it has a cute collar. Look for extra detailing like a pop-of-color, a bow, or a ruffle.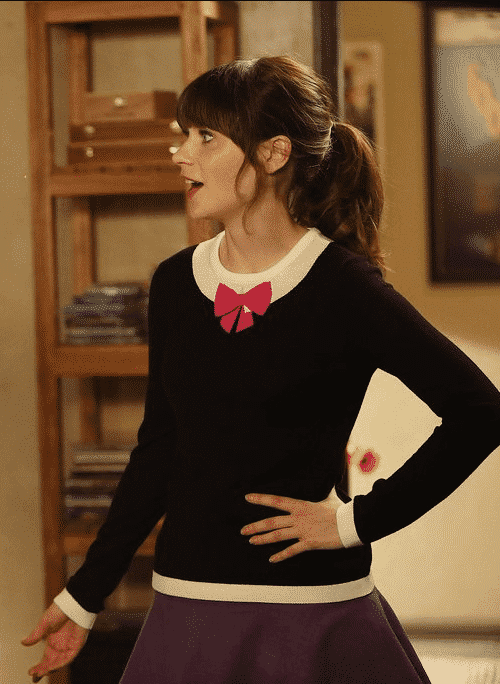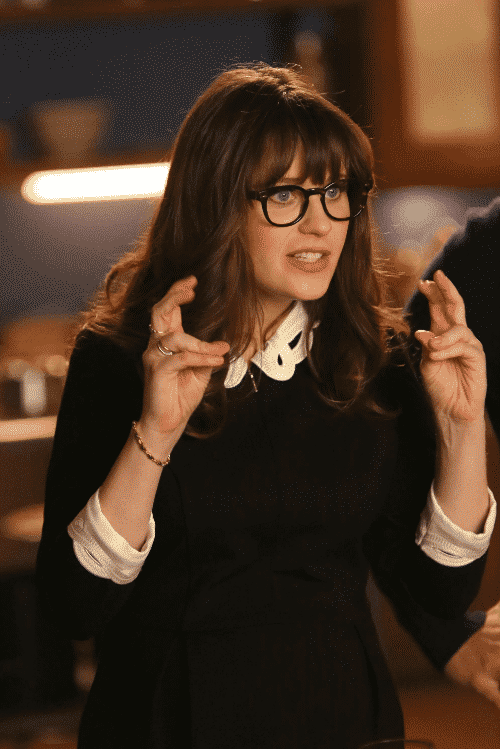 ↓ 10. Wear retro, vintage-style dresses
If there's one thing we seriously envy Jess about, it's her collection of fantastic dresses. New Girl style dresses for Jess are usually cute and retro or vintage. They are cinched at the waist and usually feature a cap sleeve or ruched sleeves. Sometimes we see a pleated skirt, a row of buttons, or some other detailing. Here are three examples of dresses she wore that really encapsulates her style.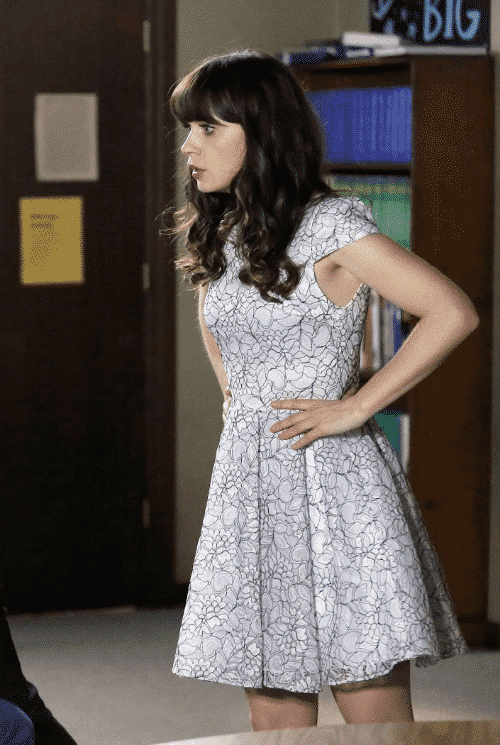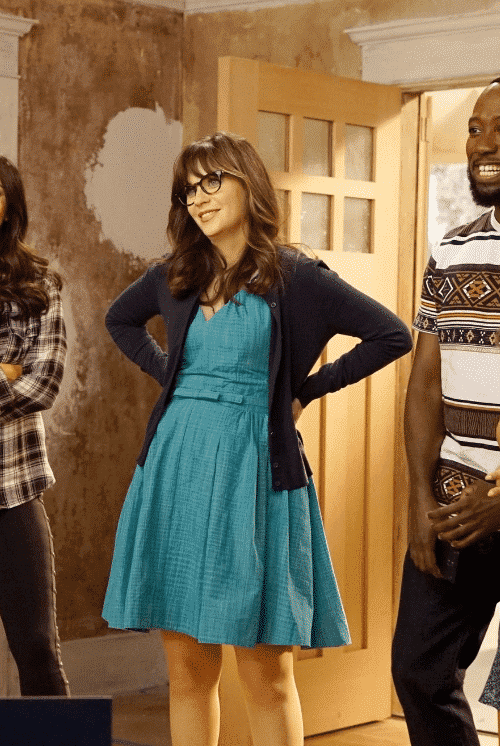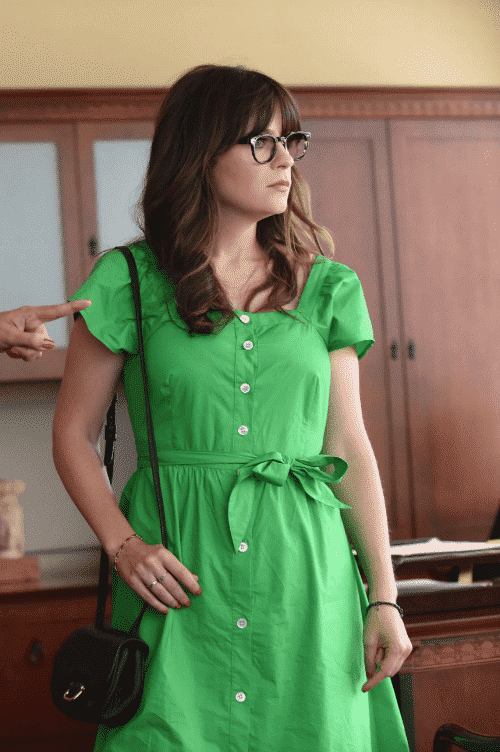 If you liked these looks, do check out these Cutest Dresses for Casual Look.
↓ 9. Don't shy away from bright, shiny colors
Have you ever tried wearing red with fuchsia and magenta? Now is your chance! When it comes to scoring a look like Jess's, don't be afraid of pairing up bright, eye-catching colors. Even ones you wouldn't normally think of pairing. We love this fun party look with metallic colors that are sure to make your eyes and complexion pop.
↓ 8. Bow belt, stripes, and buttons!
A simple dress isn't complete without a few marked features. In this case, we see three of Jess's favorite picks: bows, stripes, and buttons. Once again, her outfit cinches the waist and sports a collar. Add an orange shade of lipstick to complete the look.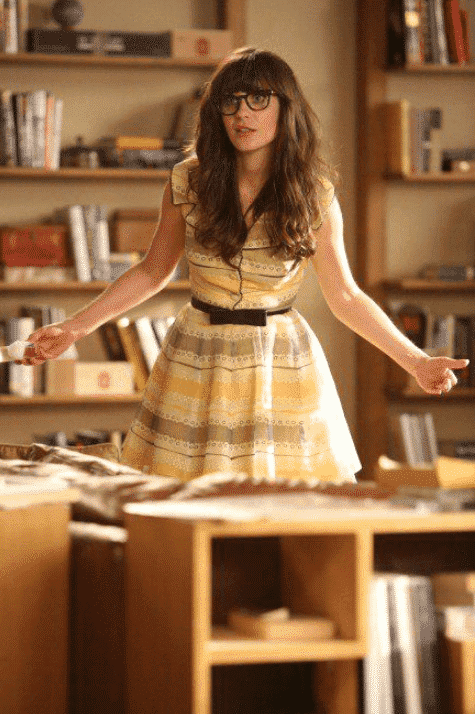 ↓ 7. That ruffled blouse and polka-dot skirt
In the iconic "feelings stick" scene, Jess wears an adorable ruffled blouse tucked into a high-waisted, navy blue, polka-dot skirt. We love how Jess rarely sports a basic tee. Even her simplest outfits are unforgettable. When looking to get your own similar look, keep an eye out for a blouse with ruffles, slightly puffed sleeves, and a rounded collar. For the skirt, you want it high-waisted and cinched – of course! Here are some more ideas on How to Wear Polka Dots Dresses.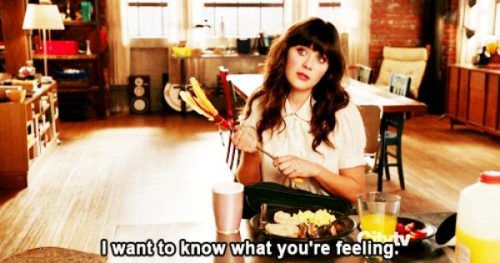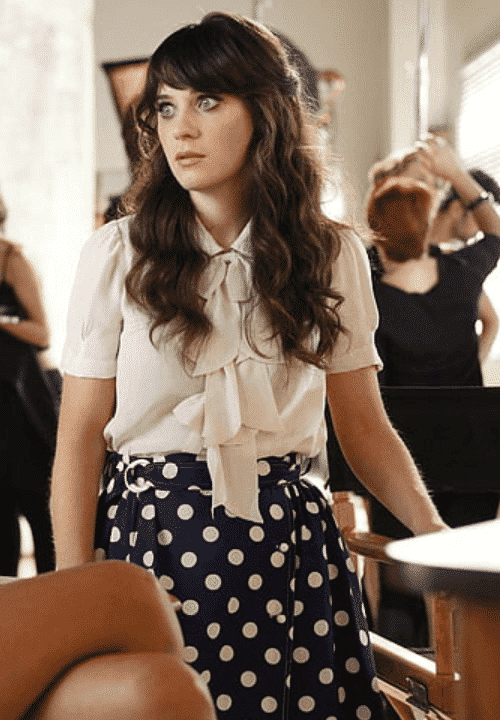 ↓ 6. Dress up with royal tones
Ugh, who could forget this iconic frock from season one?! It was the first time we really got an idea of how Jess dresses up and we LOVED it. In this episode, Jess wore a beautiful mini dress in a deep purple tone that made her eyes pop. It's an off-shoulder dress with ruffles running from the shoulder across the bust and to the top of the waist. She paired it with black pumps and a stunning makeup look. We adore!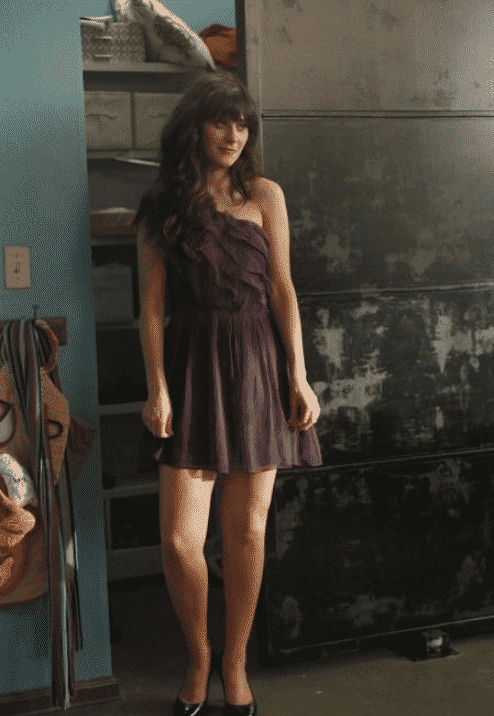 ↓ 5. Opt for a fuchsia, magenta, or pink coat
During the winter season, we so often see a sea of black, gray, and other somber tones filling a scape of leafless trees and snow-covered ground. (It never really got to that point in New Girl as it mostly takes place in LA's Arts District but you get the idea.) No matter your surroundings, when those colder months come rolling along, it really does one's mood good to dress in bright, uplifting colors. And it totally suits Jess's personality that she would sport it herself in the form of a bright pink coat with three-quarter-length sleeves. Match with some dark tights and knee-high boots! Here are some fab ways to wear pink blazers.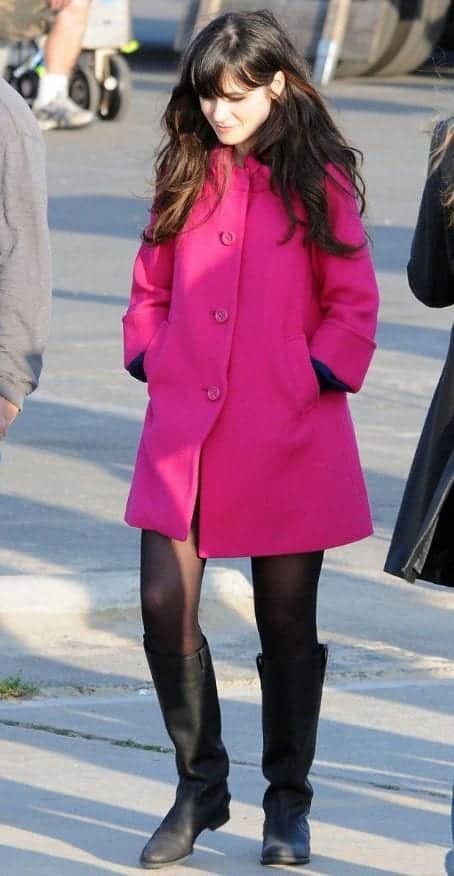 ↓ 4. Classic black tights and shorts outfit
One of our favorite looks that Jess wears is her classic black tights paired with either shorts or a miniskirt. We never really see an excess of fabric with Jess's outfits. She styles her clothes to create a slim and trim silhouette. But no matter your size or shape, you can get the same look yourself by pairing a cute striped top with high-waisted shorts, tights, and ballet flats.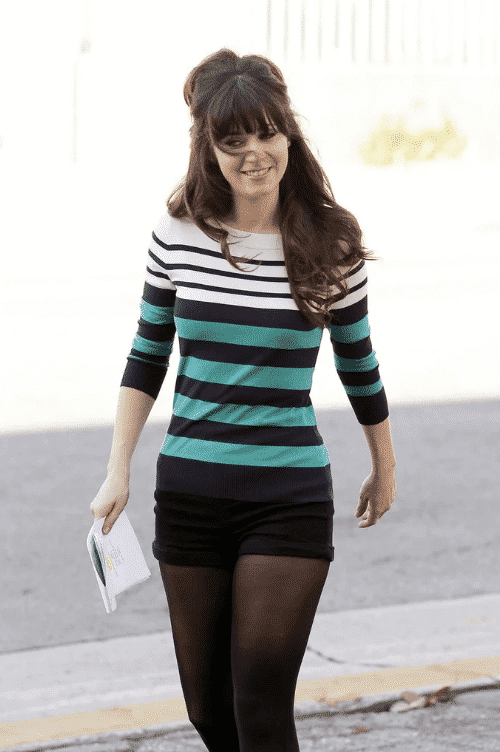 ↓ 3. High-waisted shorts and ballet flats
Almost identical to the outfit above, here's another example of the classic pairing. Something to note is that Jess often wore long sleeves with her shorts and skirts. Even though she is wearing tights, she's still showing a lot of leg and so she visually balances that out by covering up a little more on top. Keep this in mind when styling your own look.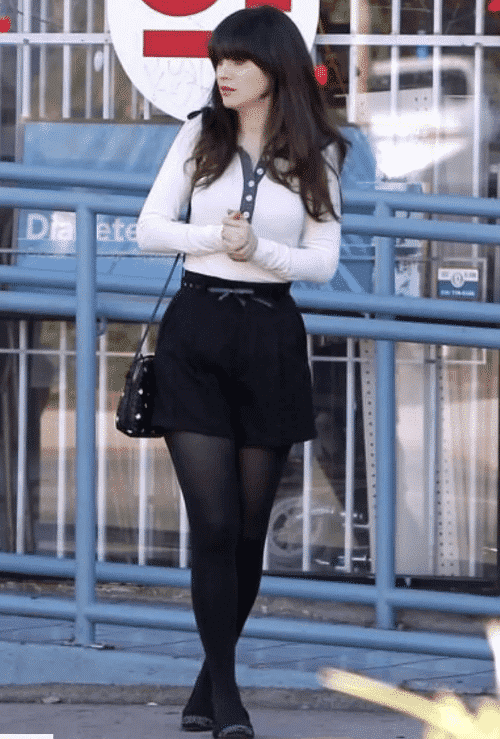 Here's a blogger that effortlessly nailed Jess's look! From the polka dot skirt, the collared sweater, to the black tights and bangs, this gal shows us an everyday way to rock the adorable Day style.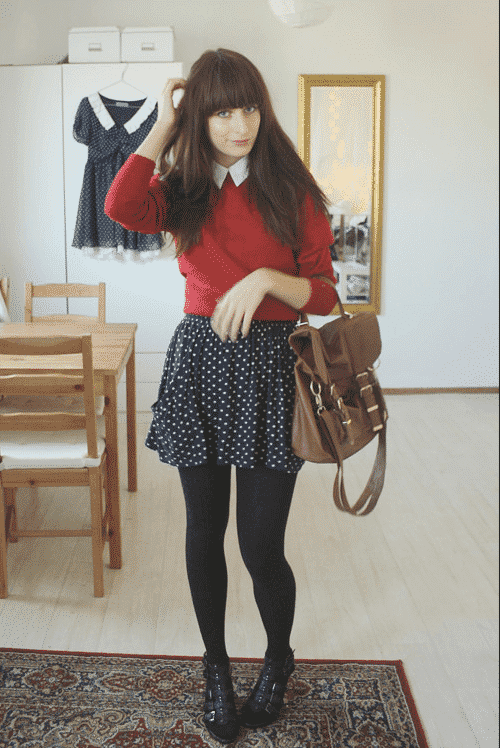 ↓ 2. Pastel print mini skirt
Jess doesn't always wear bright colors though she often just wears color, period. Here's a super cute ensemble featuring a forest-green top tucked into a skirt with a pastel print. Once again we see long sleeves, though she pushed them up to her elbows here. You can wear heels or ballet flats with this look.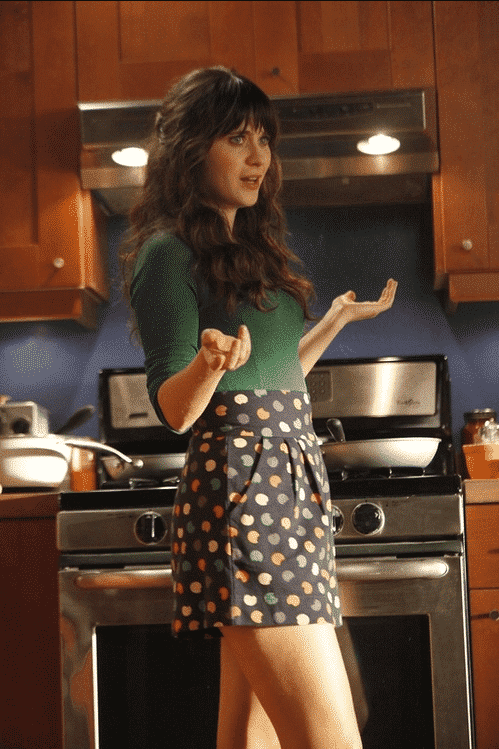 ↓ 1. The cutout cocktail dress
Our final Jess outfit (and most favorite) is this stunning cutout cocktail dress. The cutout has a lace paneling that almost gives the look a gold-and-black effect and Jess added a red statement necklace, thin hoop earrings, a cute velvet blue purse, and some matching pumps. Her makeup makes her eyes pop and she went for more of a blowout than a curl with her hair. We. Love. It.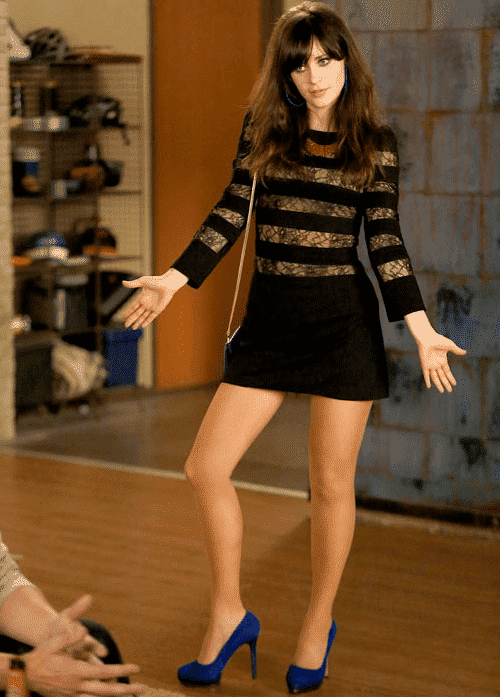 Hair & Makeup
Now, a guide to achieving Jess's style for yourself wouldn't be complete without some tips on hair and makeup. Because let's face it, her curly lashes and amazing fringe are as much a part of her look as her colorful dresses and ballet flats. So here are some pointers on both.
First, let's talk hair.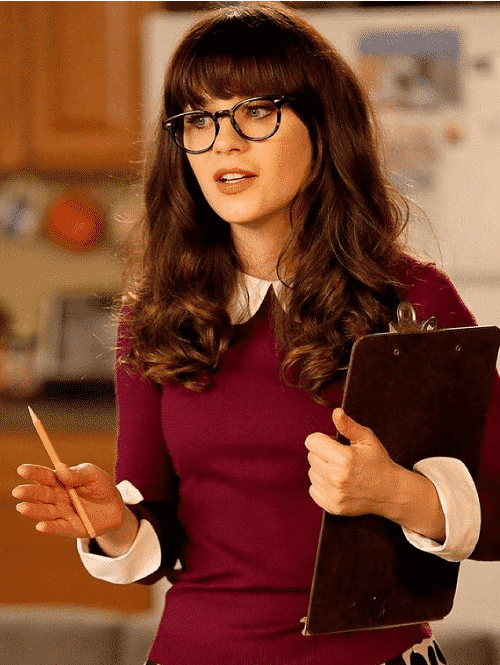 Jess sports medium-length hair with bangs (aka a thick fringe) and she almost always styles her hair in long, loose curls. You can achieve the same look by using a 1.5-2 inch curling wand and wrapping small chunks of your hair around the wand before spritzing it with hairspray. Straighten your bangs with a flat iron and you are halfway to achieving your own Jess-like look.
Next, we have makeup. Jess opts for a semi-natural look. No crazy contouring or bronzing to be seen here. She definitely draws attention to her blue eyes and makes them pop with some false lashes and some deft eyeliner tricks to create a more rounded effect. Since Jess usually wears glasses, the emphasis on her eye makeup is crucial. (And this is a good tip for all our lens-wearing readers: emphasize your eyes with makeup to make them pop behind your glasses!) She also wears peach, pink, and rosy shades of blush and lipstick. Here's a great in-depth tutorial that will even include some tips on hair, glasses, and clothing. Check it out.
Frequently Asked Questions
Let's finish things off with some frequently asked questions to make sure you are totally prepared to emulate the style icon that is Jessica Day!
Q. 

How does Jess dress up on New Girl?
A. When Jess dresses up on New Girl, she somehow looks even more striking than usual. There was the gorgeous purple dress look in the third episode of season one when she pretends to be Nick's girlfriend. Off came the glasses and there was that dress! Of course, it wouldn't have been complete without the addition of some fake, wonky teeth. (Can't remember which dress we mean? Scroll back up to outfit #6 for reference.) Then there's that cocktail dress (as seen in outfit #1 of our guide) which she managed to add her own touch to by pairing it with indigo-colored heels, hoop earrings, and a pop-of-color statement necklace.
To dress up like Jess, tuck the glasses away and go for volume with your hairdo. Add false lashes to make your eyes really stand out. And no matter how sultry the dress, include those little touches that make Jess's style her own: some fun-colored heels, a bow here or there, and maybe some ruffles. You can't go wrong with a cinched waist and dark tights, that's for sure!
Q.

How do you dress like Jessica Day on New Girl?
A. Jess's fun and adorable style is the whole reason behind this post. To emulate her style, hit up your local thrift stores and keep an eye out for vintage or retro pieces. Add tights to your wardrobe. Wear high-waisted shorts as well as A-line dresses and skirts. Don't shy away from stripes or polka dots. Try sporting a bow detail on a sweater. Take screenshots of the pictures in this guide and keep your eyes peeled for similar pieces. Never underestimate a cute little cardigan! Jess also rocked the ballet flats like nobody's business, so keeping a few of those on hand is crucial.
Q.

What glasses does Jess wear on New Girl?
A. Jess's glasses are on the same level as her iconic bangs: a character in their own right. Here's what to look for:
Tortoise-shell or black frames
Round or rectangle
Plastic frames
You can look on glassesshop.com or selectspecs.com for different options!
Q.

How do you do your makeup like Zooey Deschanel?
A. We covered this in our hair and makeup section but here are a few more pointers: when applying eyeliner, Jess rarely did a cat-eye or flicked out the liner to elongate her eye shape. She only brought her top liner out to the edge of her eye and she used a black or dark-brown shadow underneath her eyes (not in the waterline) to emphasize her eye shape. She often kept the line from touching the outer and inner edges. This really created a rounded effect. Use a white liner for your waterline to make your eyes appear larger. Add peach or pink blush to the apples of your cheeks and experiment with pink, red, and peach lipstick tones.
Are you ready to rock some ballet flats and black tights? We hope so! Let us know in the comments below what outfit of Jess's is your favorite… while you're at it, feel free to share your favorite New Girl episode so that we can all revisit the iconic sitcom that the show is and was!