These days, Dubai style abayas are very popular amongst Muslim women from all countries. Because of their elegant and fancy embroidery, these abayas stand out as being unique from others. This is one reason that many women prefer to buy these stylish abayas online from Dubai. Or they ask their friends or relatives to get them a few on their visit.
Women wear colorful scarves with these abayas, and many also choose to wear various ornaments and accessories. Good news for women who prefer the best quality high-end abays is that now many designer abayas have been introduced that come in a variety of style to give you a modest and glamorous look. That is why we bring this collection of the latest style embroidered abayas for you. And we recommend you to always go for the best quality abayas even if they cost more because they are long-lasting and their embroidery is truly beautiful and elegant. Fancy trying some stylish combination of abaya and hijab? Then you must see our collection of  30 modern ways to wear hijab. You can get a lot of ideas on how to do a combination of hijab and abaya for a stunning look. For winters, you can wear silk abayas with embroidery, and go for embroidered chiffon abayas with panels and stripes in Summers. Arabic lawn abayas with crochet or various embroidery or printed designs are also trendy these days. Depending on seasons, choose the best designs and wear them on various events. For example, abayas of thick stuff can be worn in winters such as denim abayas, leather abayas, corduroy abayas and so on.
Latest Dubai Abaya Styles
We all know that it is one of the compulsory dress for Muslim women, especially when going for Hajj. All over the world Muslims wear it but Dubai style abayas are most popular. The trims and cuts have changed over time, according to the needs and taste of people, so there isn't any particular definition of a Dubai abaya. But in general, Dubai style abayas are expected to have glittery stones, thread work, embellishments, sequin work etc. The Dubai abayas also include several different cuts and styles such as frock style abaya, fancy abaya, gown style abaya and many more. These abaya's give a modern and feminine touch to any lady's wardrobe. Abaya's can be found in different colours such as pink, blue, black, white etc. with embellishments. Lacework is also famous, and many ladies in Dubai are seen wearing lacework abayas. You can easily find these abayas at stores and shopping malls. Several shops have occasional abaya's that can be worn on events along with the modern style abaya's that can be worn casually. You can also place an order for a custom-made abaya. A lot of shops offer unstitched material too that can be custom made by stitching according to your design and preference. We hope you all will love wearing these trendy Dubai style abayas.
Since black abayas have always been the most popular amongst Muslim women, we'll start by showcasing some of our favourite black abayas, and then we'll move towards some of the more recent trends and colourful abayas. In the end, we even have a list of the best places to buy abayas in Dubai so let's move on so you can stop reading and start shopping!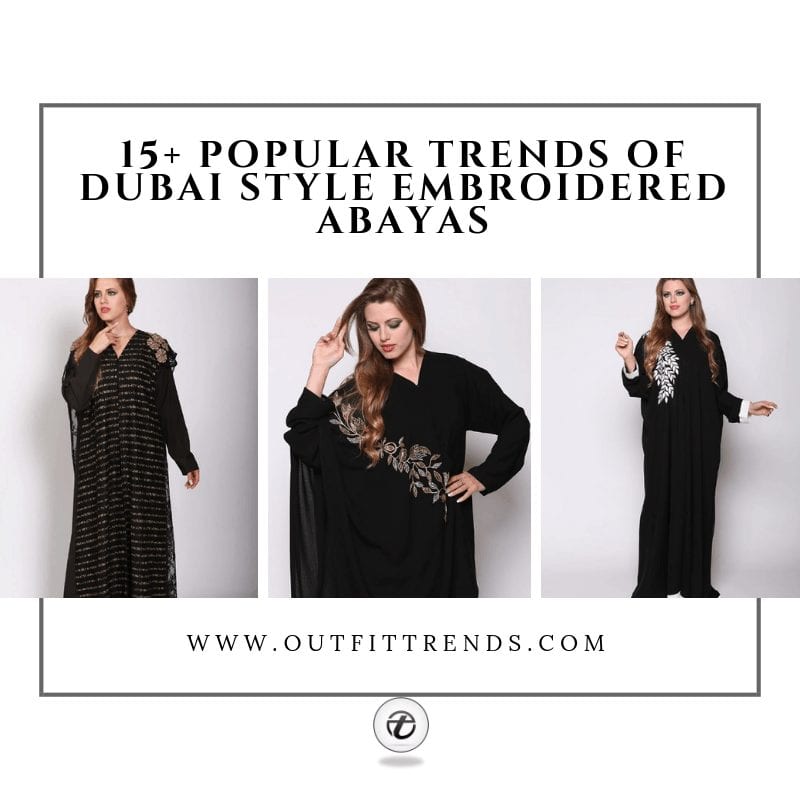 ↓ 15 – Abaya For Summers
Open shirt Abayas which are light in stuff are perfect for summer seasons. Abayas in a more shine or shimmery finish will work perfectly for formal functions. Slim and smart designs give you proper body shape, and a decent scarf adds beauty to your appearance. If you are going for a party, go for a glamorous shiny black abaya with frills of shocking pink colour on base and arms since frills and ruffles are trending this year. You can wear a matching shiny scarf and a silver, pinkish pin. Wear stylish sandals of silver, black and pinkish contrasts and walk in style. To further beautify yourself, go for light party makeup as well. You should also check out these 18 Fancy Abaya Designs & Ideas on How to Wear Abaya Fashionably.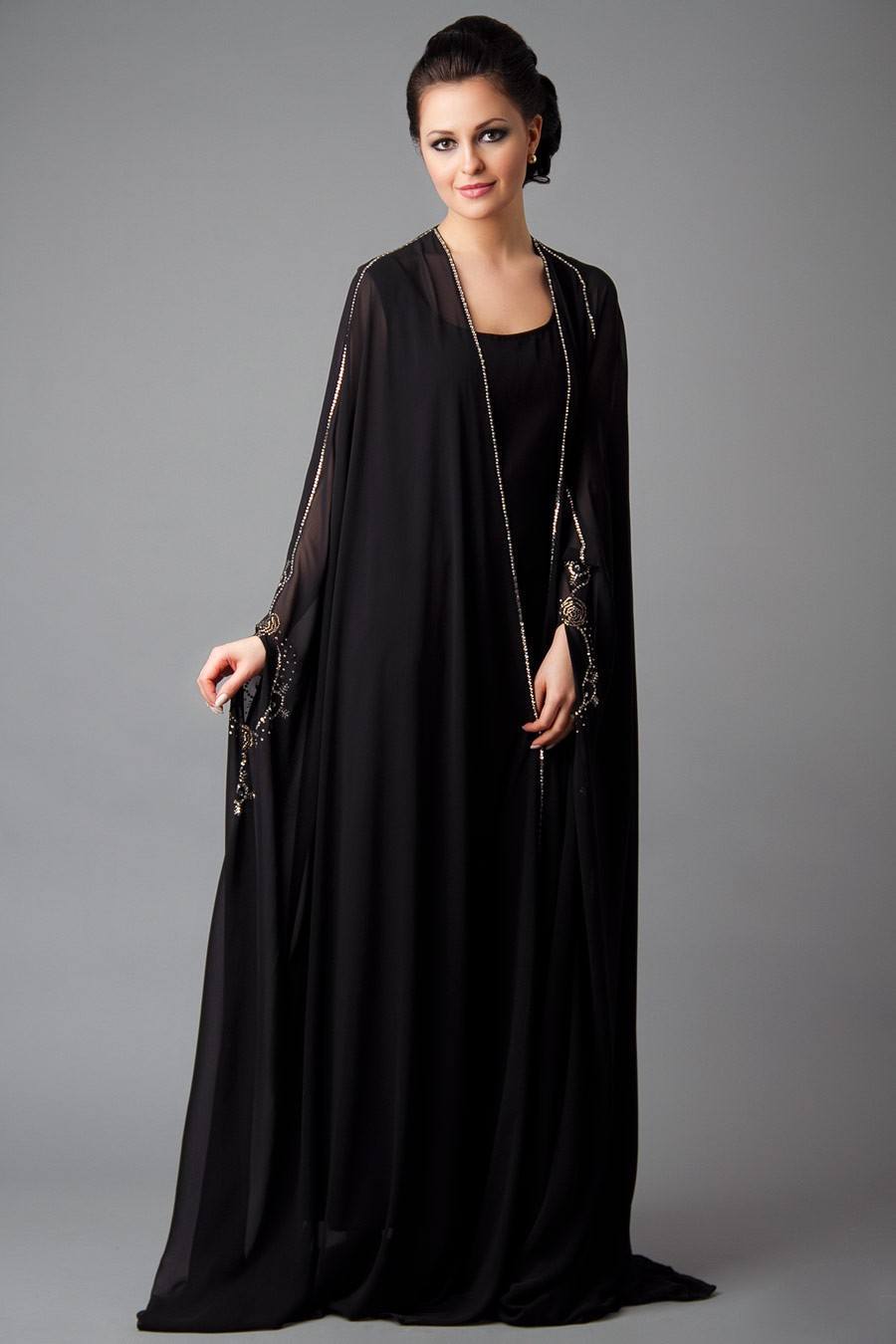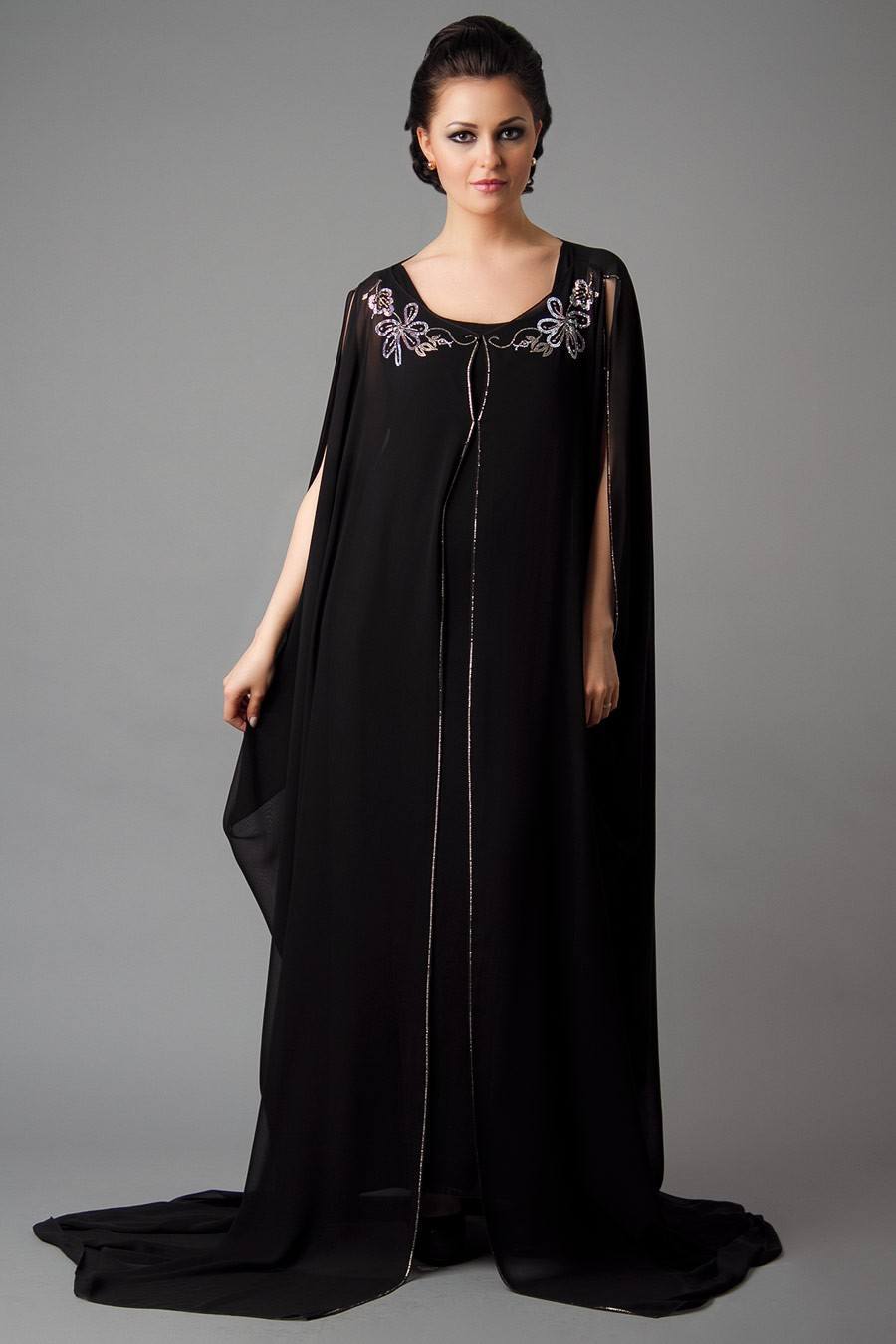 ↓ 14 – Red and Black Abaya for Semi-Formal Look
↓ 13 – Khaleej Style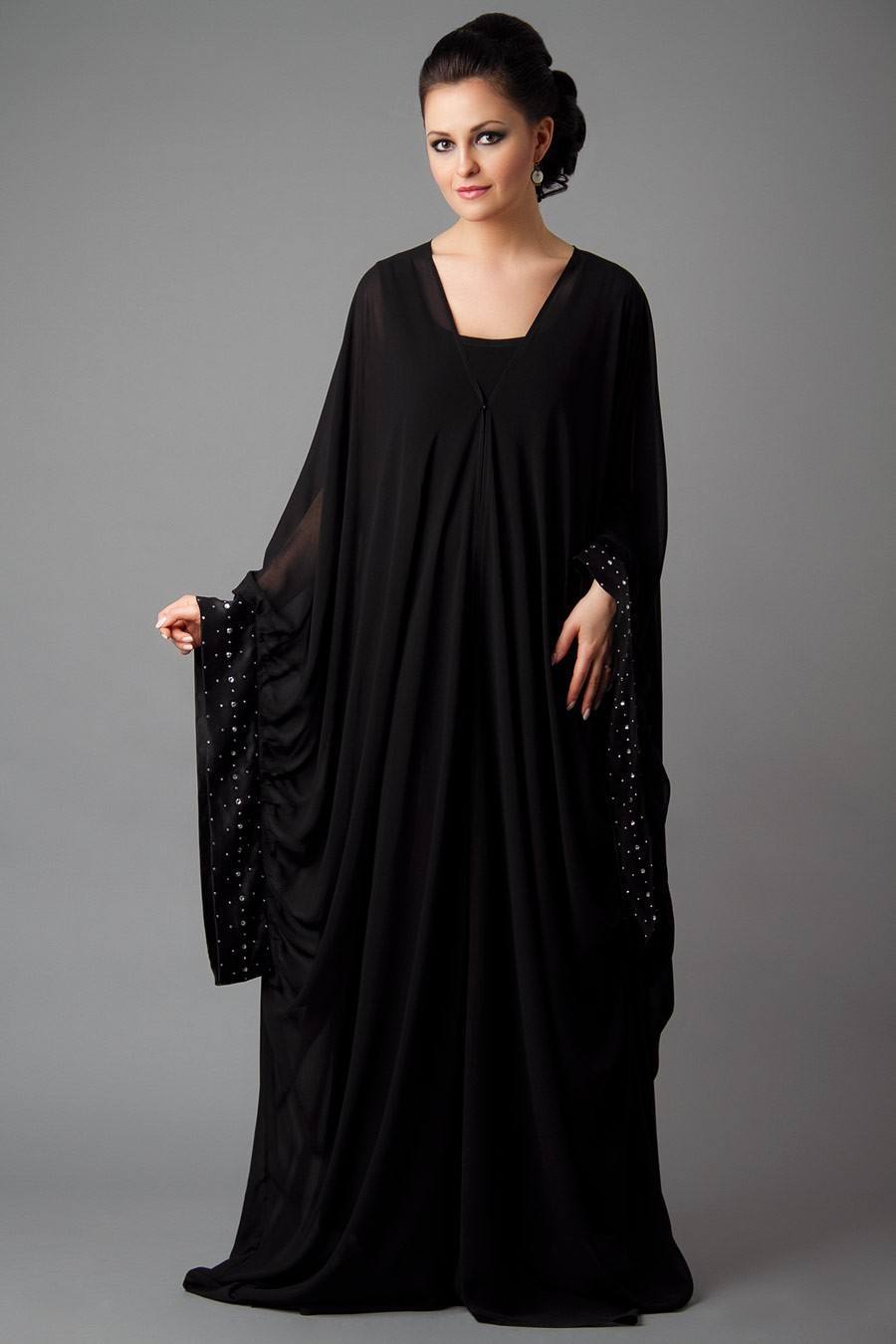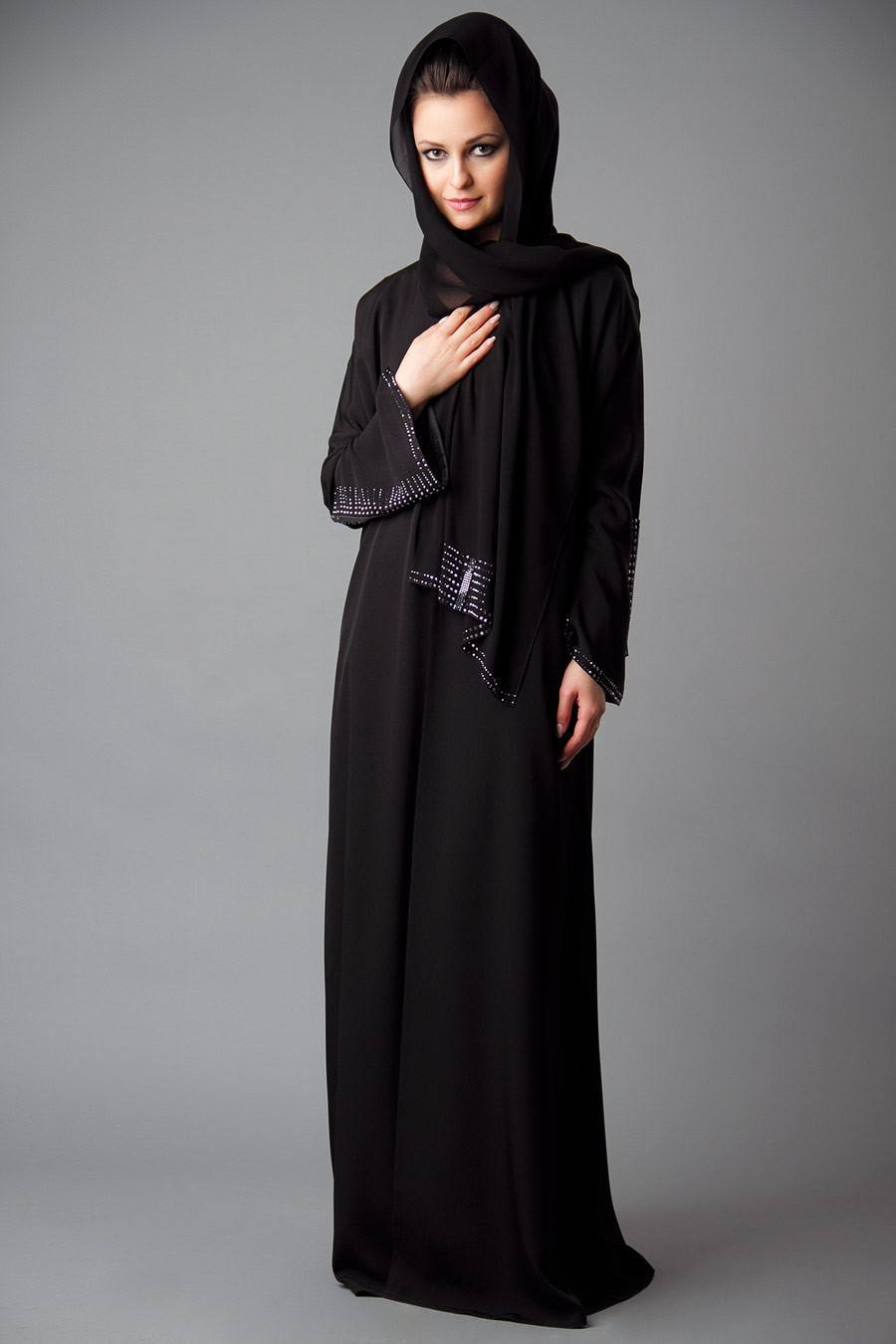 ↓ 12 – Fancy Embroidered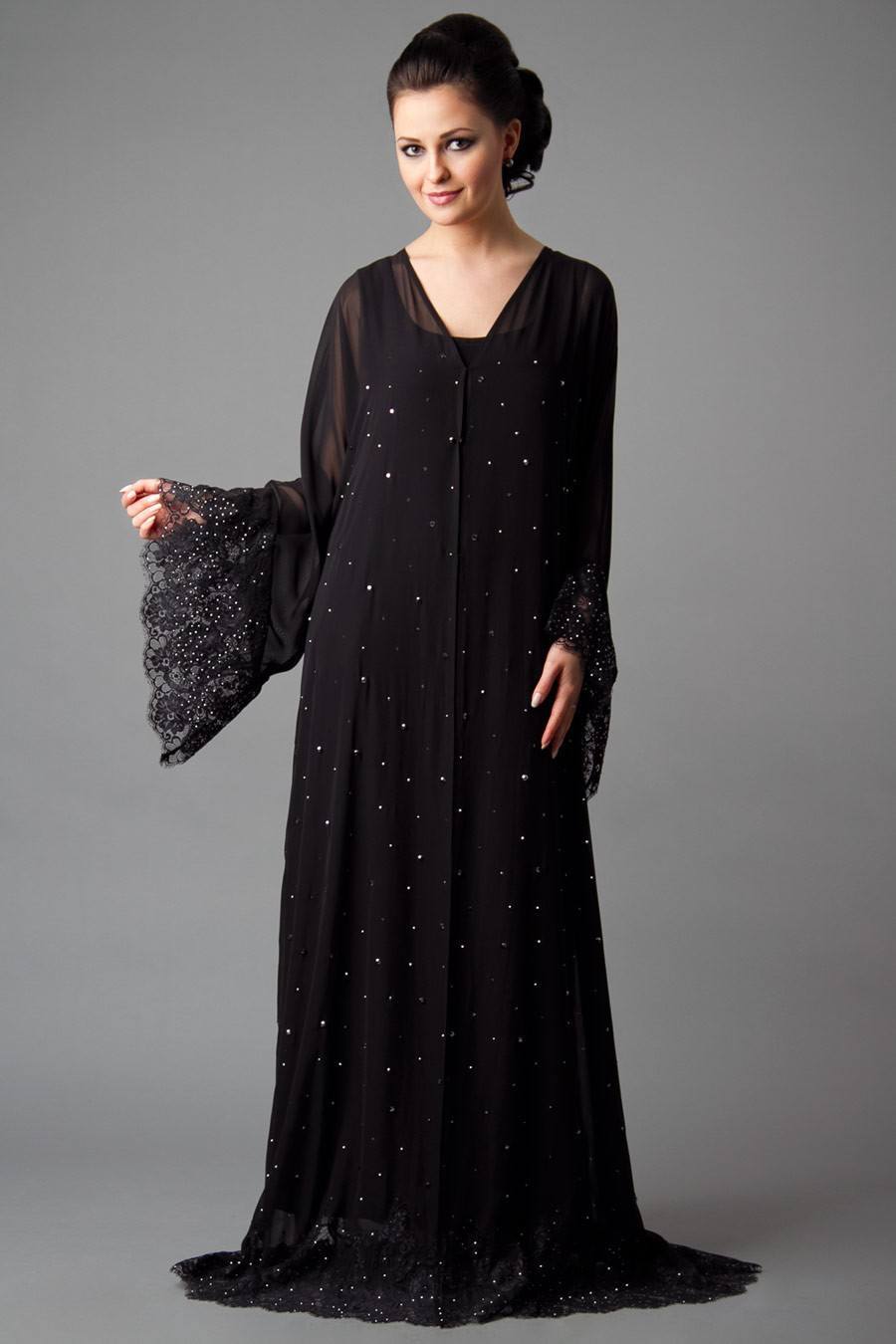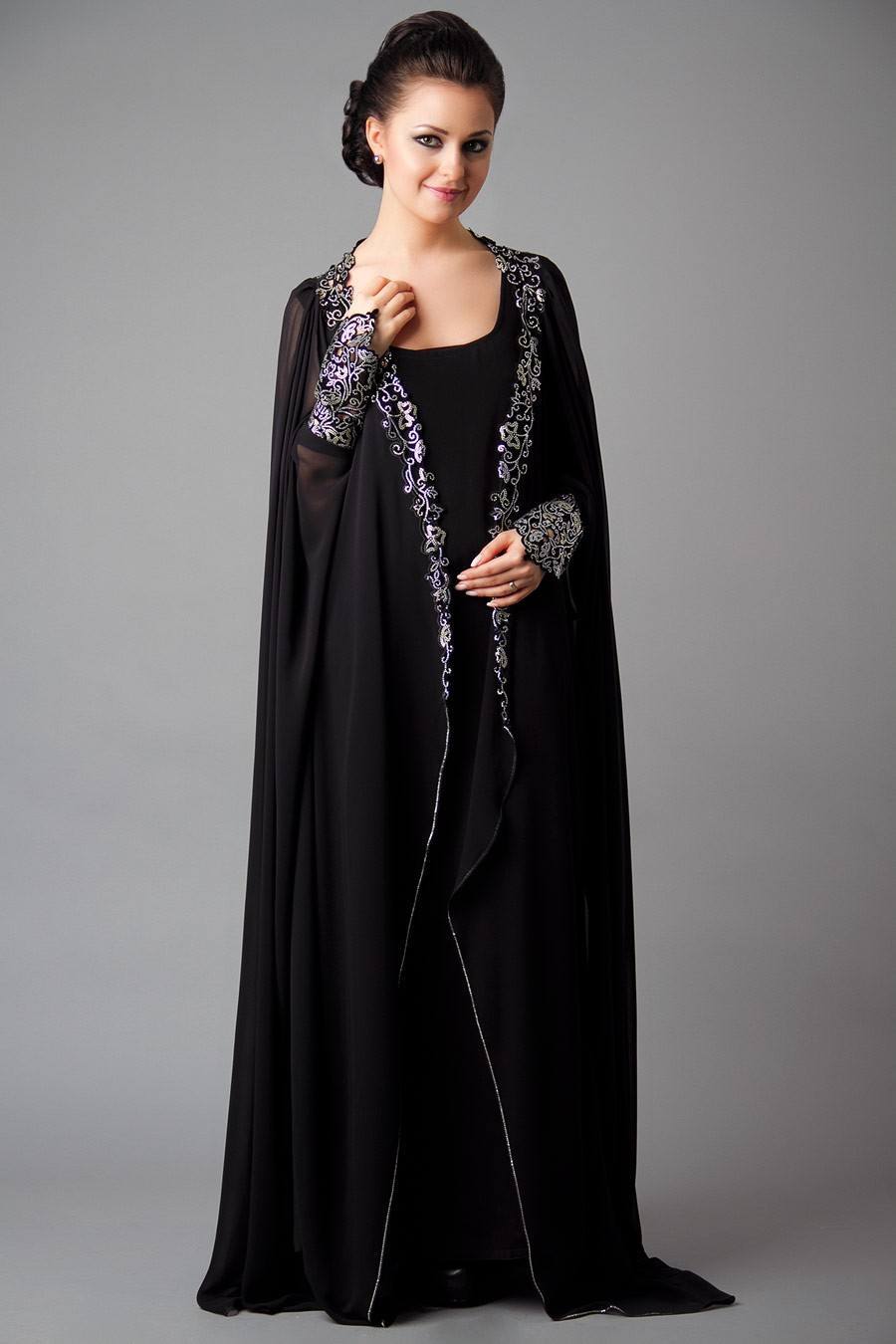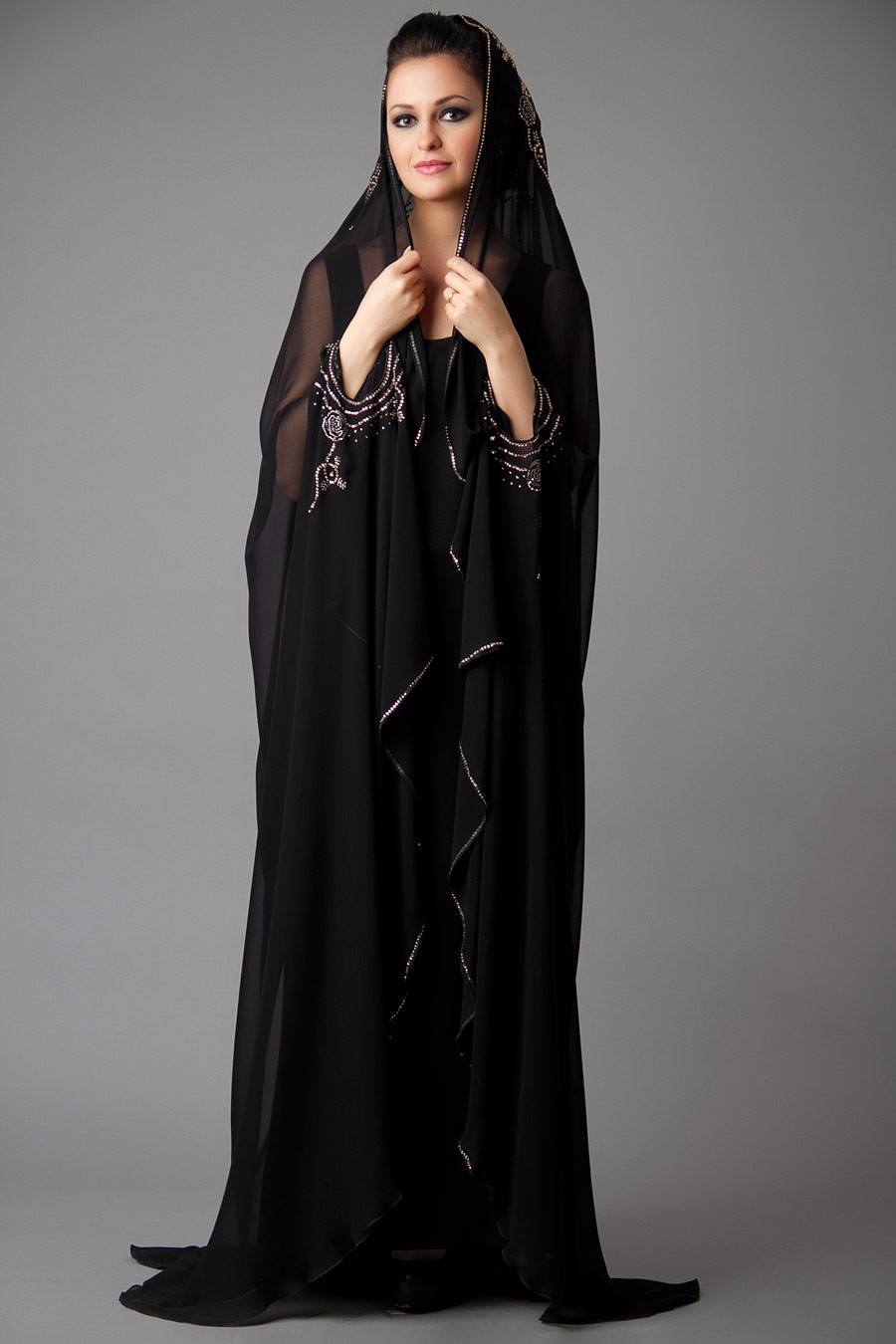 ↓ 11 – Tiger Print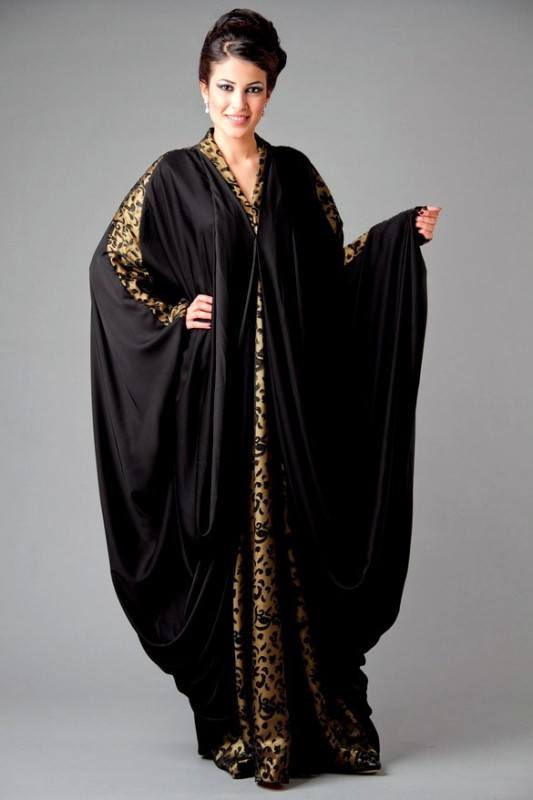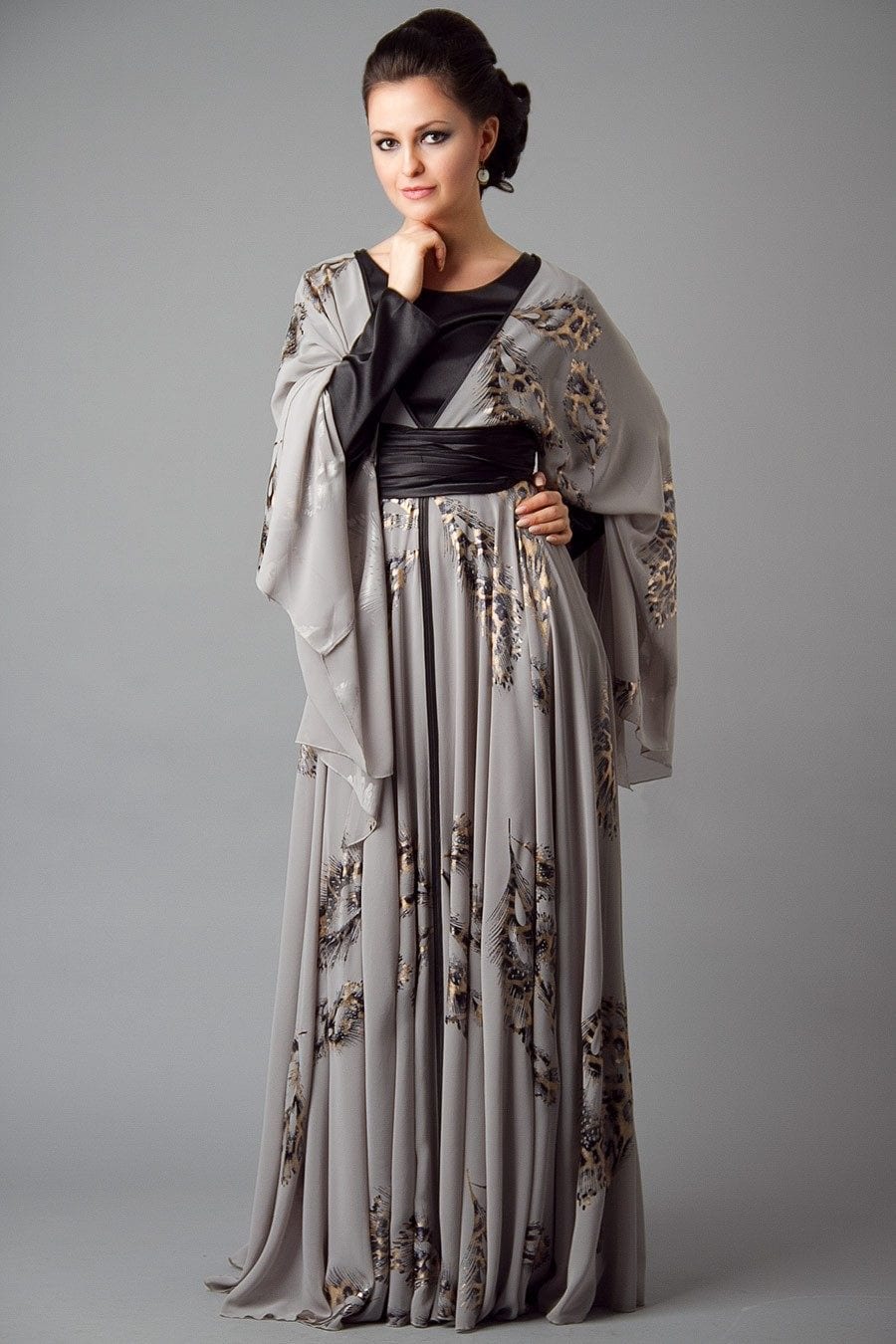 ↓ 10 – Embellished Abayas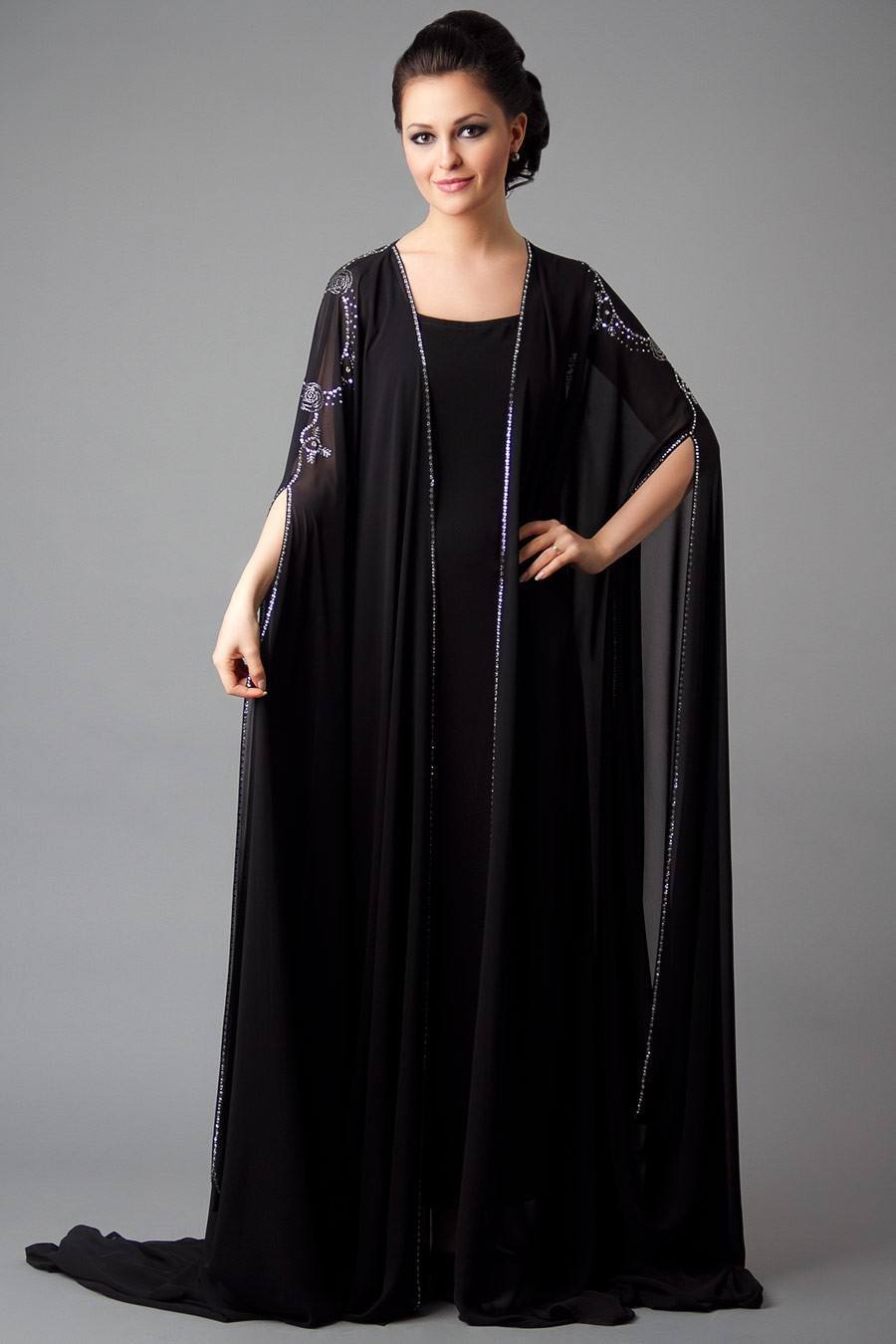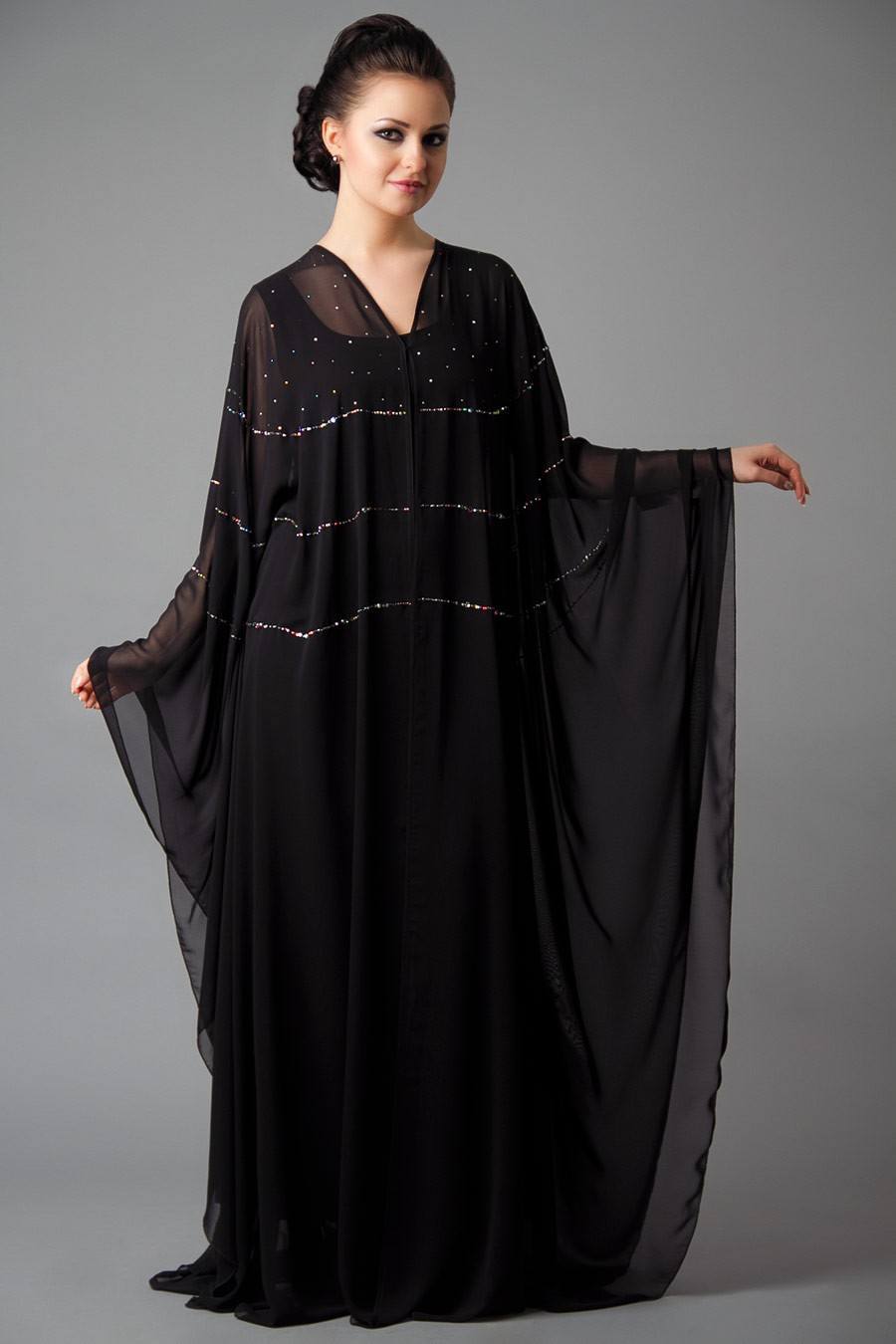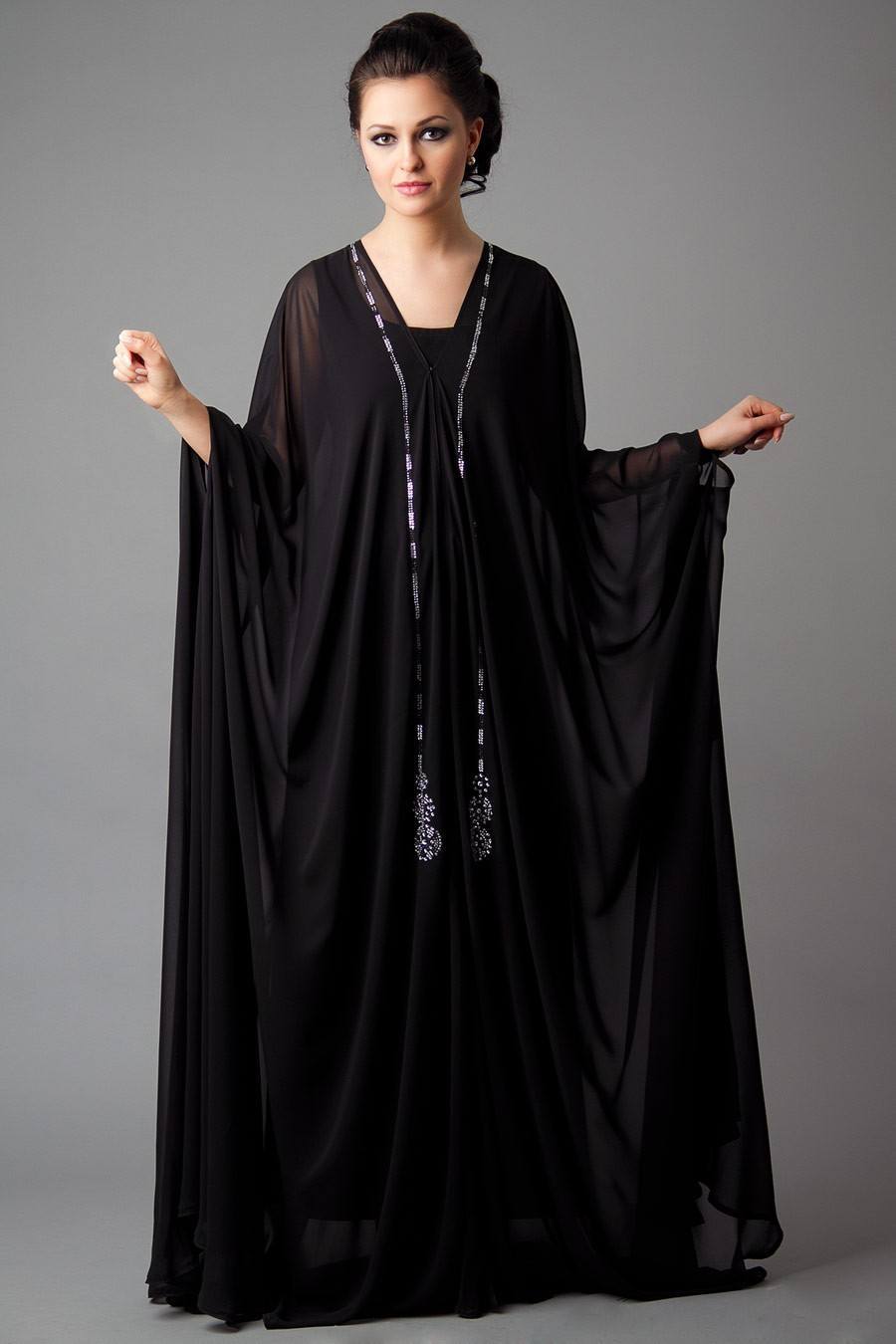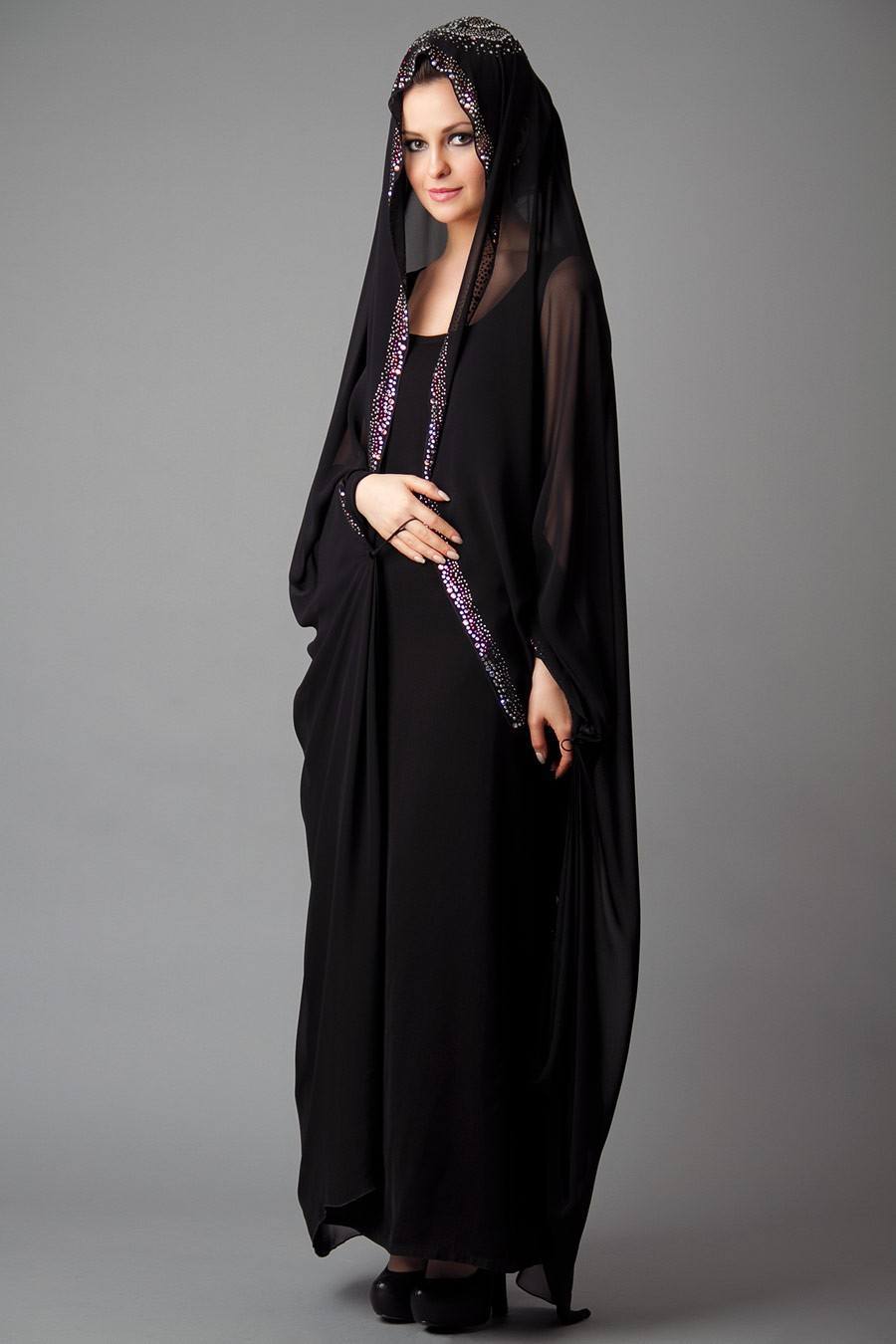 ↓ 9 – Abayas with Statement Sleeves

↓ 8 – Dubai Blogger Style Abayas
The next few abayas are from Dubai based blogger, Saufeeya Goodson. She's a fabulously stylish lady who proves that modest outfits can be as gorgeous as any other kind. Her abaya collections are simply a treat for the eyes. You'll see that her abayas are both modest, modern and fashionable. She also glams up her outfits by using different accessories with a special love for sunglasses (which obviously are a basic necessity in Dubai). She's also the greatest inspiration for women who wear abayas to work as she teaches you how to have a new look for work every day. So if you want to stay updated about the latest hijab and abaya trends in Dubai then you must follow her. Also, have a look at these 30 Latest Wedding Abaya Designs Trending Now.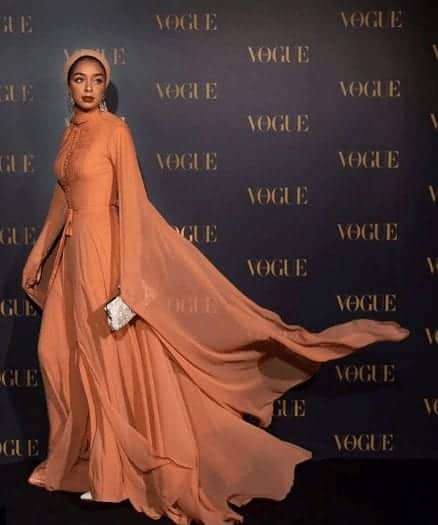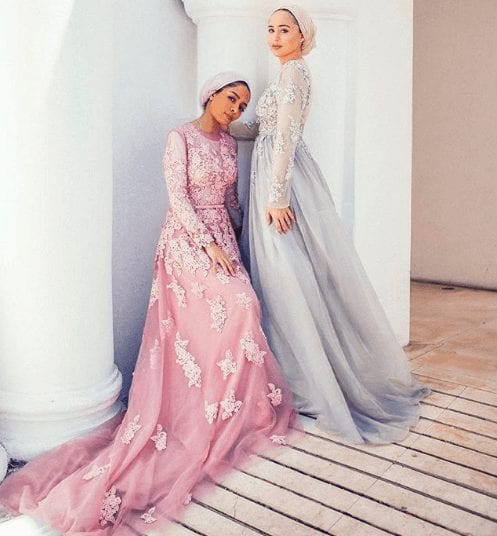 ↓ 7 – Minimalist Embroidered Abayas
This year's or perhaps this decade's fashion is going to be dominated by minimalism and this should apply to your abayas as well. Blingy, fully embroidered and over the top abayas are a thing of the past, now you need to go for minimalist embroideries when it comes to abayas. For instance, here we see a pastel blue abayas with gorgeous bell sleeves that have been embroidered with simple sequin embroidery patterns.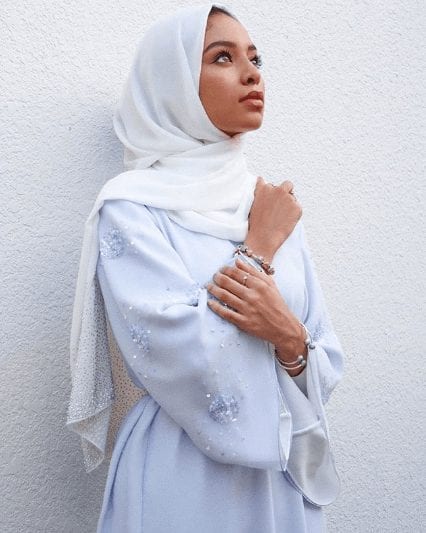 ↓ 6 – Designer Dubai Abayas
For the designer Dubai abayas, we'll be featuring some of the best work of Moroccan-French designer Nora Sahraoui. Sahraoui creates abayas with the sole purpose of making Muslim women feel special, while they look modest. Both the quality and the designs of her abayas are of an incredible level as she chooses top rated materials and never compromises on their quality. She even imports fabrics from around the world including France and Morocco to create fabulous and fun abayas.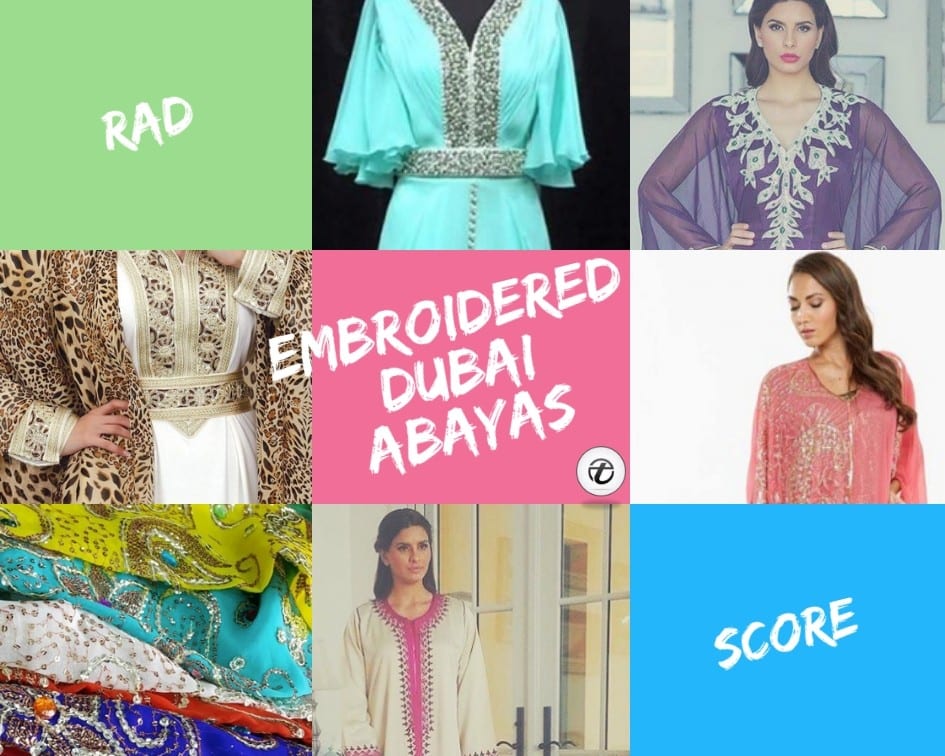 Where to Shop for Abayas in Dubai?
And now we'll be sharing our top 5 places to buy abayas in Dubai. We're sure that all these brands can really help you upgrade your wardrobe so do give them a try.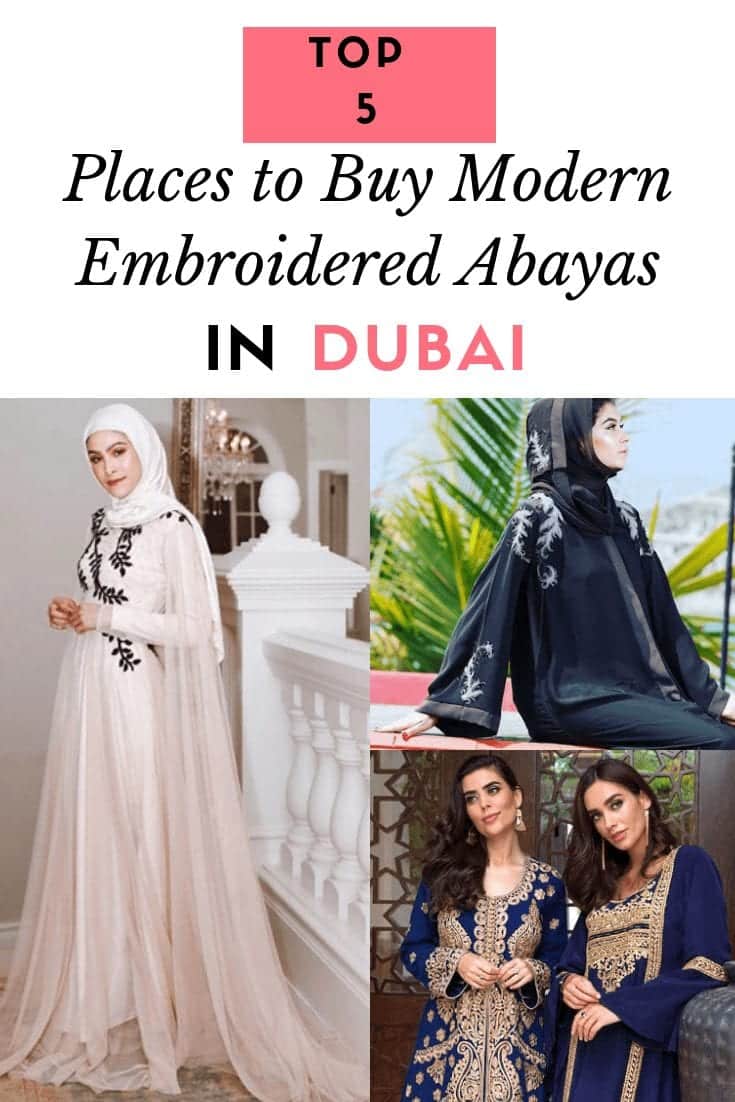 ↓ 5 – Geelato Abayas
One of the oldest Abaya shops in Dubai with outlets in many prominent locations including the Dubai Mall. Geelato's abayas stand out because of their amazing finish and stylish cuts. Whether you're a teenager or an adult woman, you can find an abaya here that meets your style and taste. Another great thing is that they have designed their mobile apps for both ios and android which can be used to shop for their abayas. The prices of their abayas are between AED 1200 and AED 2200, but the best part is that no matter what abaya you choose, you can specify a custom size, so you get the kind of fitting that you want.
Our favourite pick from their store is their black abayas with white floral embroideries as they are ideal for both formal and casual wear. Here are 14 Stylish Abayas for Curvy & Plus Size Women.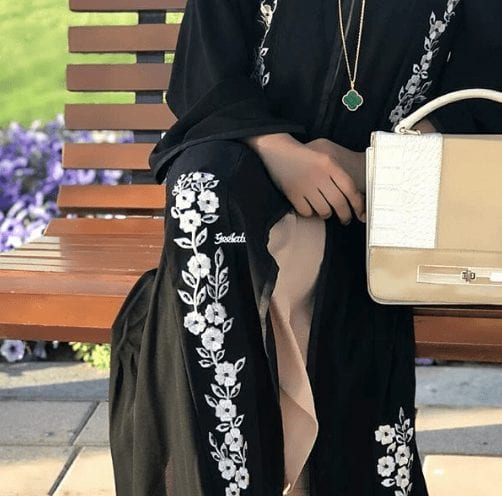 ↓ 4 – Almotahajiba
This is undoubtedly one of the most prominent names when it comes to luxurious Dubai abayas. Their abayas are simply a class apart. They have also diversified their collection by introducing 'Almotahajiba signature' which fulfils the needs of women who want one of a kind abayas. And their products are not just limited to abayas, but they also make some great scarves, jalabia, and even perfumes. What we love the most from their collection is their set of mother-daughter matching sets that look simply adorable. So if you love twinning with your little one, you know where to shop for your abayas and her dresses! If you're not living in Dubai, you can buy their abayas online as they ship to most countries for free. Their abayas are categorized as evening wear, wedding wear, classic and occasion abayas which makes their website easy to navigate. For classic abayas, the price ranges between USD 527 and USD 174 making them incredibly affordable. For the more formal wedding abayas, the price range is USD 516 to USD 715.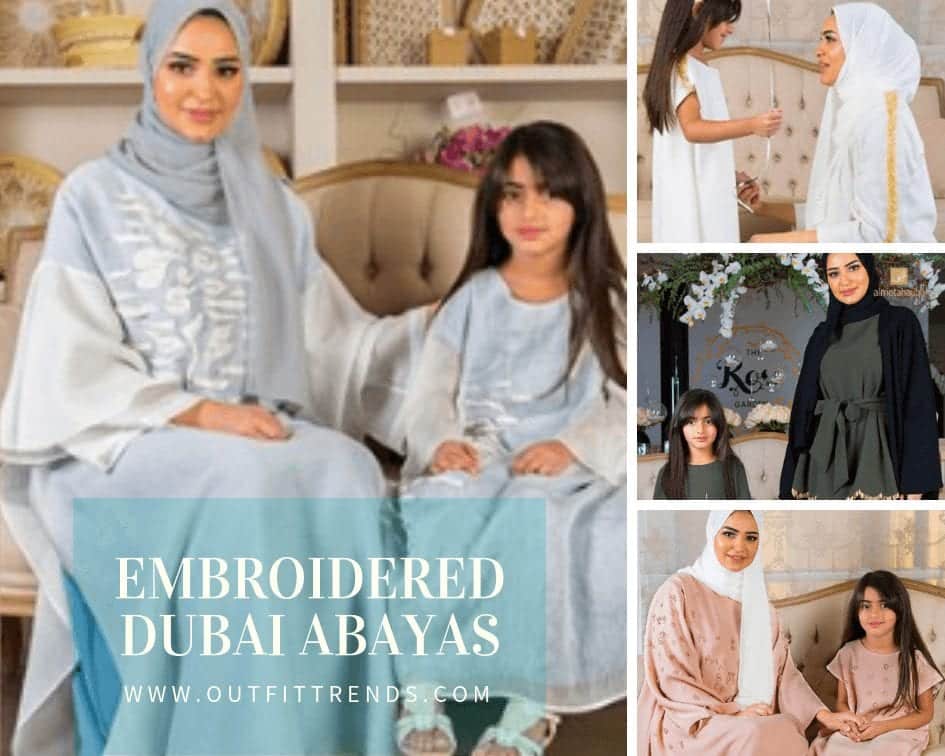 Here's a look at one of their beautiful pastel abayas from Almotahajiba signature collection: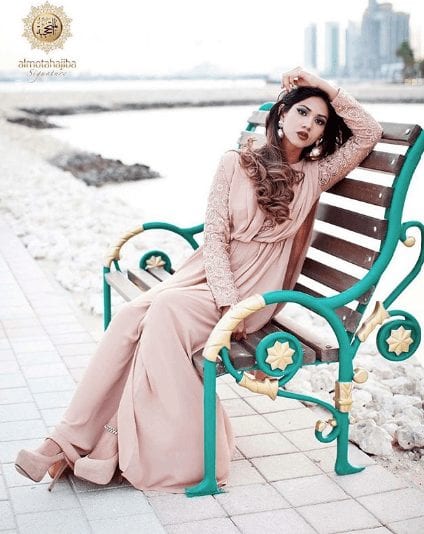 ↓ 3 – Hanayen
Hanayen has more than five stores in Dubai, including Dubai Mall, Emirates Mall, and Deira City Center. If you want abayas within a budget that look and feel great, then Hanayen is the brand to go for. Their abayas currently start from USD 110 and many items are also on sale. Here we feature two of our favourite abayas from their latest collection.
The first one is a black abaya with golden embroidery in paisley motifs, and it even comes with a matching Sheila. An abaya like this would be ideal for late night parties and even wedding functions. You can buy this one from their website at a discounted price of AED 2100.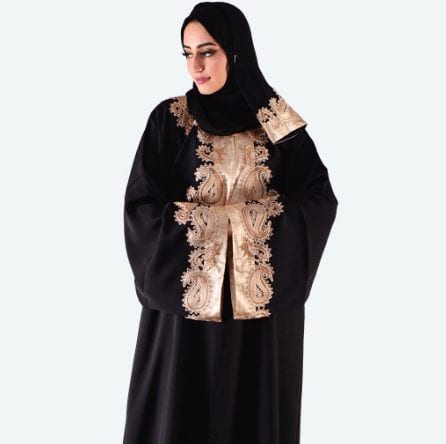 The second abayas is a chic and cute one for daily wear. This one comes with floral machine embroidery at the front and sleeves, and it is ideal for the hot summer days of UAE. This abaya is currently priced at AED 1300.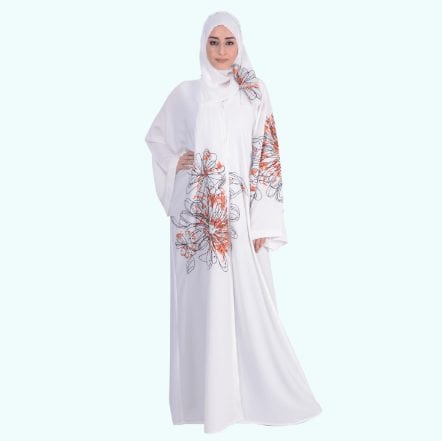 ↓ 2 –  Bougessa
We've already discussed above that this year the trend is all about minimalist embroideries when it comes to abayas. And this brand is a true depiction of minimalism. Their abayas and embroideries or embellishments are so simple, and yet they immediately catch your eye. The abayas are designed by Faiza Bouguessa, and every piece of clothing from her collection proves what a talented designer she is. The prices for her abayas start at around $1100, but we believe that considering the quality and style, these abayas are worth the price. You can find an amazing range of abayas in her collection that you might have never imagined for instance the trench and cardigan abayas are must-haves for your winter travels. Other unique pieces include the kimono and wrap abayas.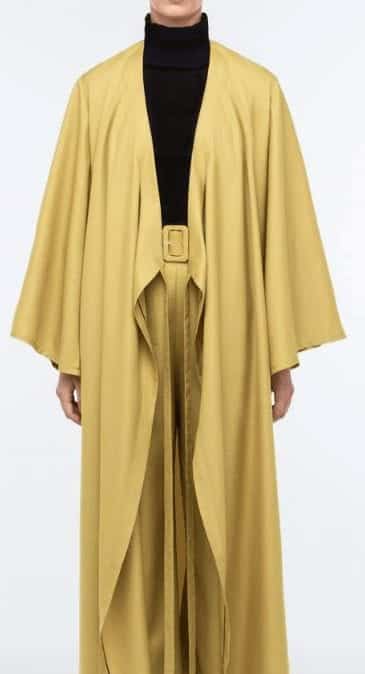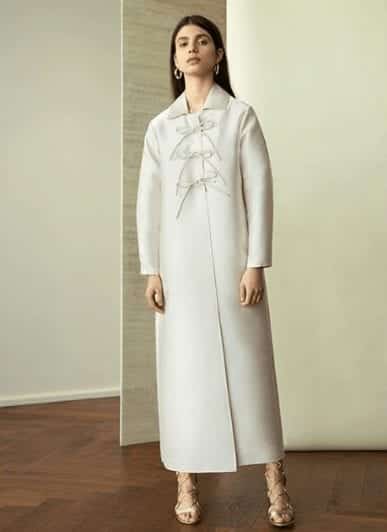 ↓ 1 – Ghudfah
While this Jeddah based brand doesn't have its shop in Dubai, you can always buy them online, or you could even find a good range of their abayas at Les Foulards which is their main stockist in Dubai Mall. Coming towards their abayas, they are statement-making pieces with detailed beadwork and embroideries on the most amazing fabrics. Even the colours of their abayas are enchanting as they don't just make the usual black or pastel coloured abayas, but you can even find some vibrant colours and designs. We love how they have classified their abays into work abayas, off-duty abayas and evening abayas so you can easily find what you're looking for.