What to wear to a pool party – So, the summers are here and you're confused about what to wear. Wanting to impress your friends by looking stylish? But strapped for cash and want to wear something loose, comfy yet stylish? You have come to the right place! We have made a list of the MOST stylish summer/spring wardrobe to wear by the swimming pool. From cool pastel hues to bright, eye-catching pieces – you'll be the talk of the town! So what are you waiting for? Scroll down and be prepared to wear the most stunning pool party outfit at your next function!
17 Dressing Ideas for a Pool Side Party
#1. Country Chic Style
An easy and quick outfit to wear to a summer function is a striped blue and white kaftan or short top. Leave your legs bare for a tan style, with a hat and matching straw bag. Perfect for those sunny days and perfect footwear for a pool party. Pool side parties are all aobut wearing hats and straw bags so take them with you next timw when you are gonig out to any pool party.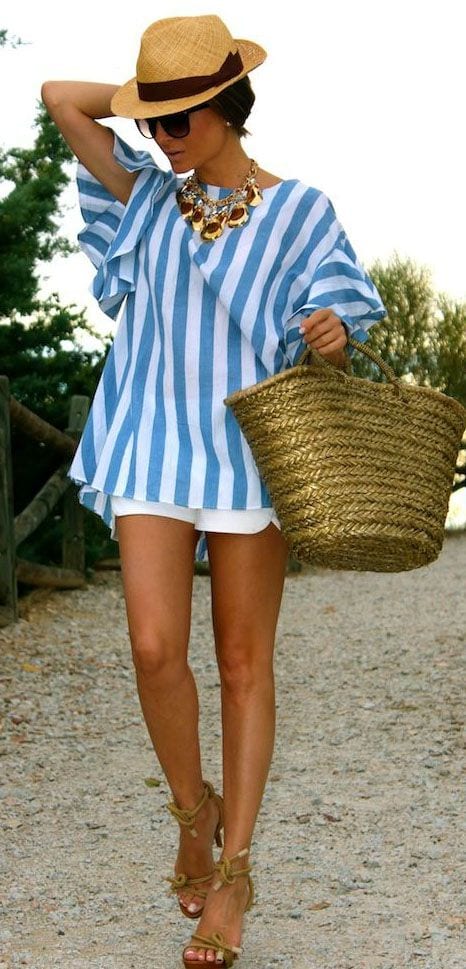 #2. Plus size Swim Wear Pool Party
If you're a black woman seeking a summer outfit, then wear a cheetah print swimsuit. Make it stylish with hooped gold earrings and a matching bracelet. It is time to embrace your natural skin color by wearing this outfit look and rocking who you are. Gold jewelry will take you cheetah print outfit to a whole new level.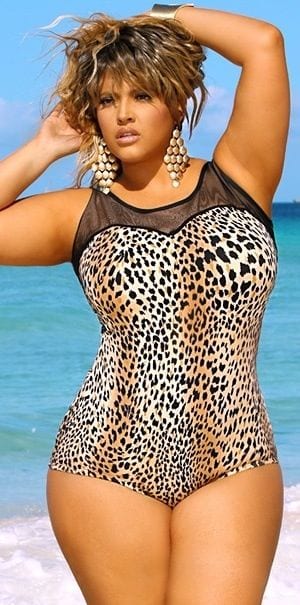 [highlight]Recommended : 18 Bonfire Party Outfit Ideas.[/highlight]
#3. Knotted T-shirt Style
A quick way to transform a boring t-shirt is by making a knot out of it. This changes your plain t-shirt into a funky top for a spring event. Pair it with mini shorts and a large hat and you're complete!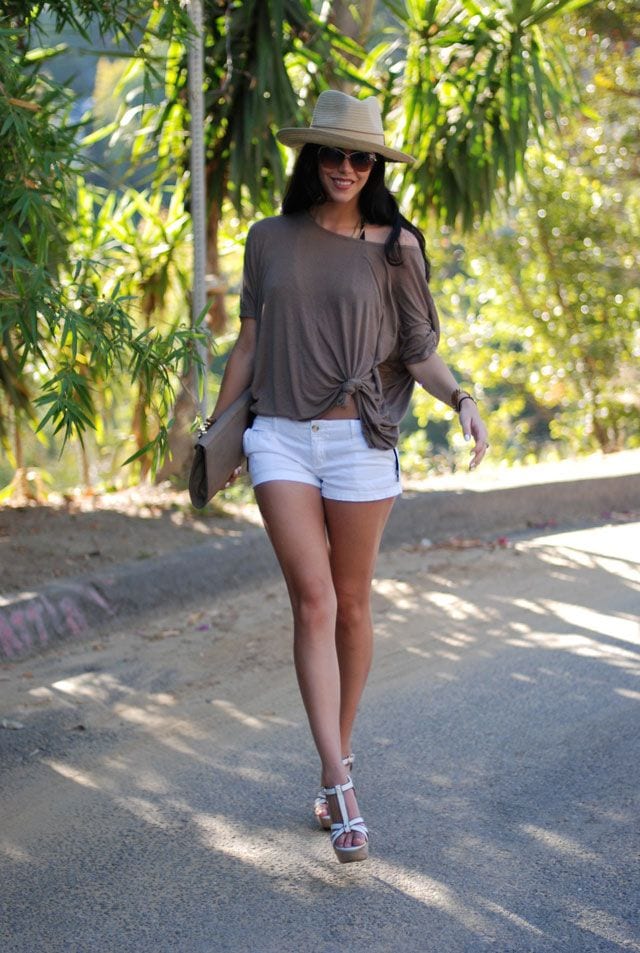 #4. Floral Fashion
Floral prints are making their way in every aspect of fashion. A great look by the pool side is to wear floral outfits. These can be paired with a plain black bikini and mini shorts. Looks great for a gypsy style outfit. If you don't want to wear plain black colored two piece then go for any other dull color to match your floral short gown.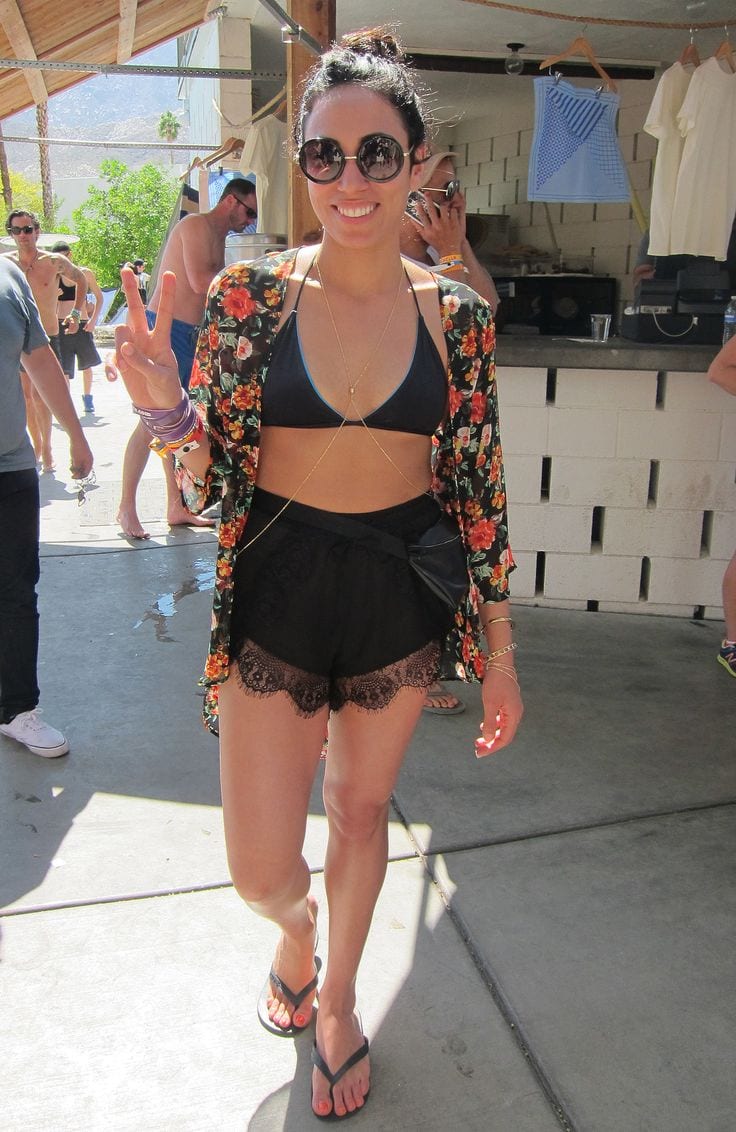 #5. Plain White Dress
Nothing stands out during the summer season like a plain white dress, paired with rimmed sunglasses. Young girls can wear a bright red lipstick to complete this summer look. Since you are wearing a plain white summer dress, you will for sure need something bright to bring everything together and make it look cool.
#6. Cross-Stitched Top with Skinny Jeans
Nothing looks great by a water function than a sleeveless cross-stitched top. This can be paired with tights, skinny or flared jeans and wedges. This outfit look will make you look classy and also let others think that you are wearing that outfit effortlessly.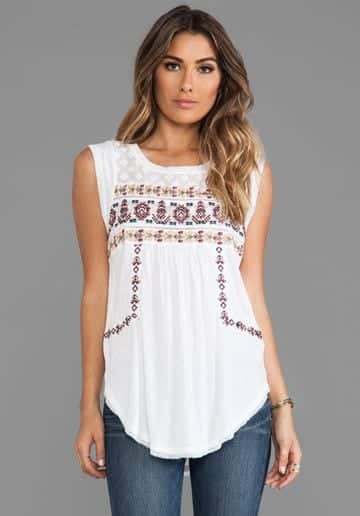 #7. Smart and Sophisticated Style
For classy moms or older women, you can wear a deep-cut, full-length plain dress. This will look great for office functions or formal events. This look is perfect for pool side parties but this look is not good for teenagers. One thing for sure that this outfit look will definitely keep modesty intact.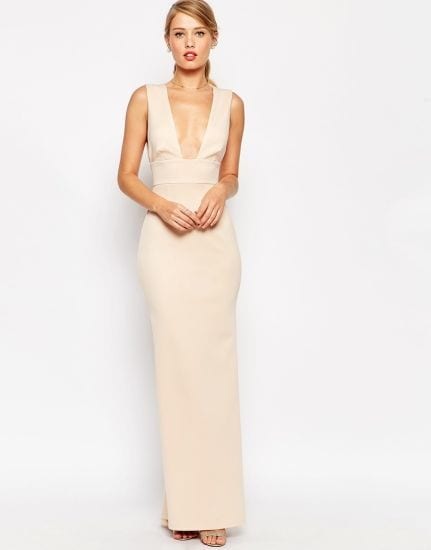 #8. Celebrities Pool Party Style
If you are a teenage girl, who has to attend a pool party or highschool function – wear a see-through net dress. Underneath, wear brightly colored bikini in order to make your outfit truly funky and trendy. This pool party outfit trend is followed by celebrities too because it is that trendy and awesome. Bright colored bikini truly popped out under white see-through net dress.