Corduroy Pants Outfit Ideas for Men. If you are looking for different outfits styles to go with corduroy pants, you've come to the right place. We have listed top 15 stylish outfit ideas for corduroy pants. Corduroy pants are really comfortable and are good for both casual and formal wear. Brown, red and yellow corduroy pants are especially in trend, and look great with a variety of shirts, tee's and jackets. So go through our list and pick the ideas which you thing would suit you best.
Outfit Ideas with Corduroy Pants for Men
#15 Winter Look with Corduroy Pants
This Khaki corduroy pant looks amazing with red coat and black boots. A great preppy winter look.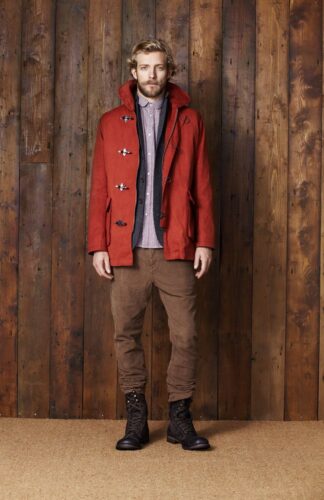 #14 Red Sweater and Brown Scarf
The red sweater pops out in this look with a brown scarf, khaki corduroy pants and jacket. Look your best in fall with this attire. It would look even better with brown shoes, so have a look at [highlight]How to wear brown shoes – 16 men outfits with brown dress shoes[/highlight].