Women over 40 outfits: It can often be hard to find the right outfits for yourself, no matter what your age. But it becomes slightly more obvious as we reach our forties as most stores, like Forever 21, Adidas, Marks, and Spencer, etc., focus on young female fashion trends.
How to Dress in Your 40s?
Let's start with some basic tips that will be super helpful if you're planning to refresh your wardrobe:
Choose your style icons: At every age, it's good to have some style icons of your age group that you can look up to for inspiration. This has become even easier these days as there are hundreds of over 40 bloggers who share the best reviews and lifestyle tips that we can all benefit from.
You can still wear heels: So don't let anyone tell you you can't. If you feel comfortable in them and enjoy wearing them then, of course, you should go for them as they look great in every age.
Go off-shoulder: Instead of plunging necklines, it looks more graceful and age-appropriate if you go for off-shoulder or cold-shoulder tops.
Choose high-quality accessories: Accessories matter a lot at our age, especially when it comes to uplifting a plain old outfit, so invest in them very wisely.
Choose outfits that flatter your body shape: By your forties, you should be well aware of what your body shape is and you should buy cuts and tailored outfits that complement your shape and your best body features.
You don't have to match everything: By nature, we tend to focus too much on matching our outfits, matching our shirts with our coats or matching our pants with our shoes. That is a pretty old-school approach, and these days it's nice to be more experimental for an effortlessly stylish look.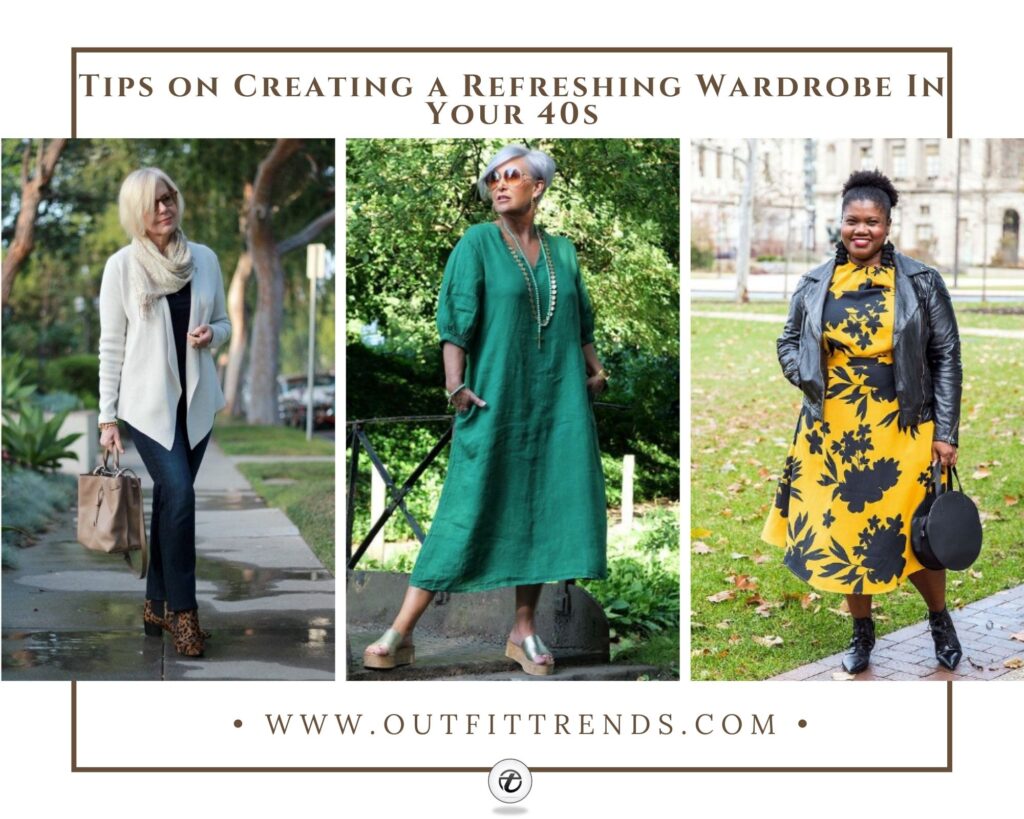 ↓ 1. Smart yet Sleek Winter Outfit
For winter fashion, stick to white and black clothes. Wrap a cotton scarf with tassels and pair it with cheetah boots for a dose of color and a pop of style.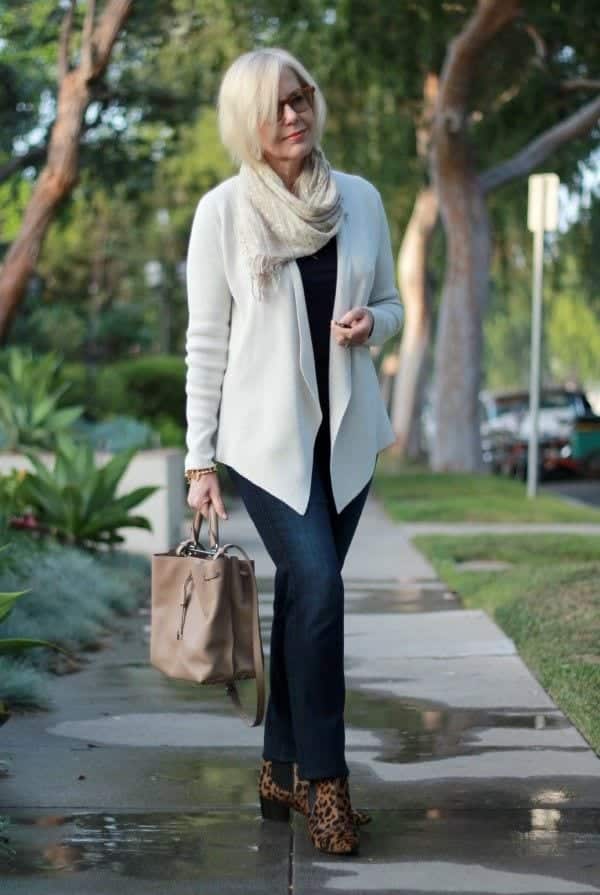 ↓ 2. Casual Outfit
Who says only younger girls can wear purple? Grab a comfy purple t-shirt for a trendy top and stylish wardrobe.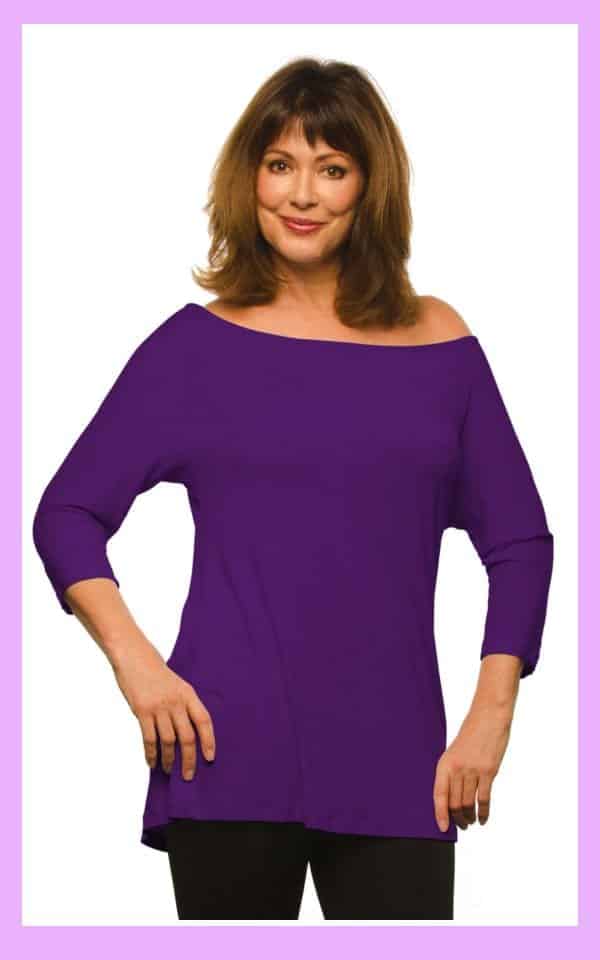 ↓ 3. Working Women Wear
The perfect wardrobe for working women is an elegant one. You can go for beige colors and add a colorful scarf and pearl earrings.

↓4. Funky Look
Those who love colorful clothes will love this black and red knee-length dress. Pair it with a chunky necklace and hoop earrings.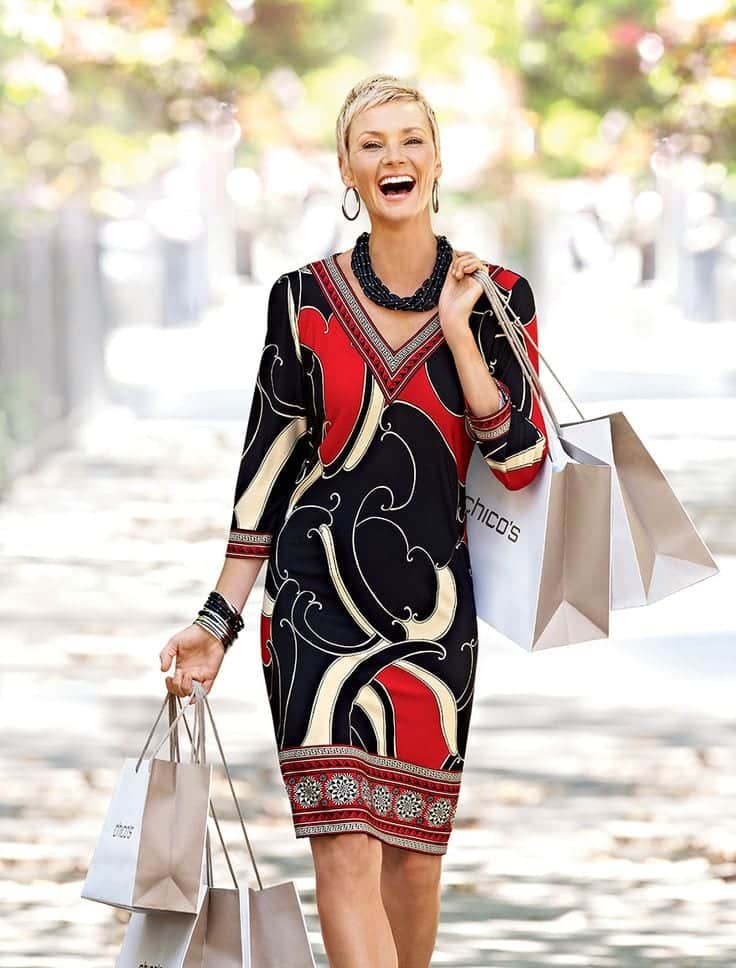 ↓ 5. Fun Mom Wardrobe
For mothers seeking fashion, grab a cotton shirt, and pair it with a beige sweater. Match this cute outfit with a designer handbag and patent leather boots.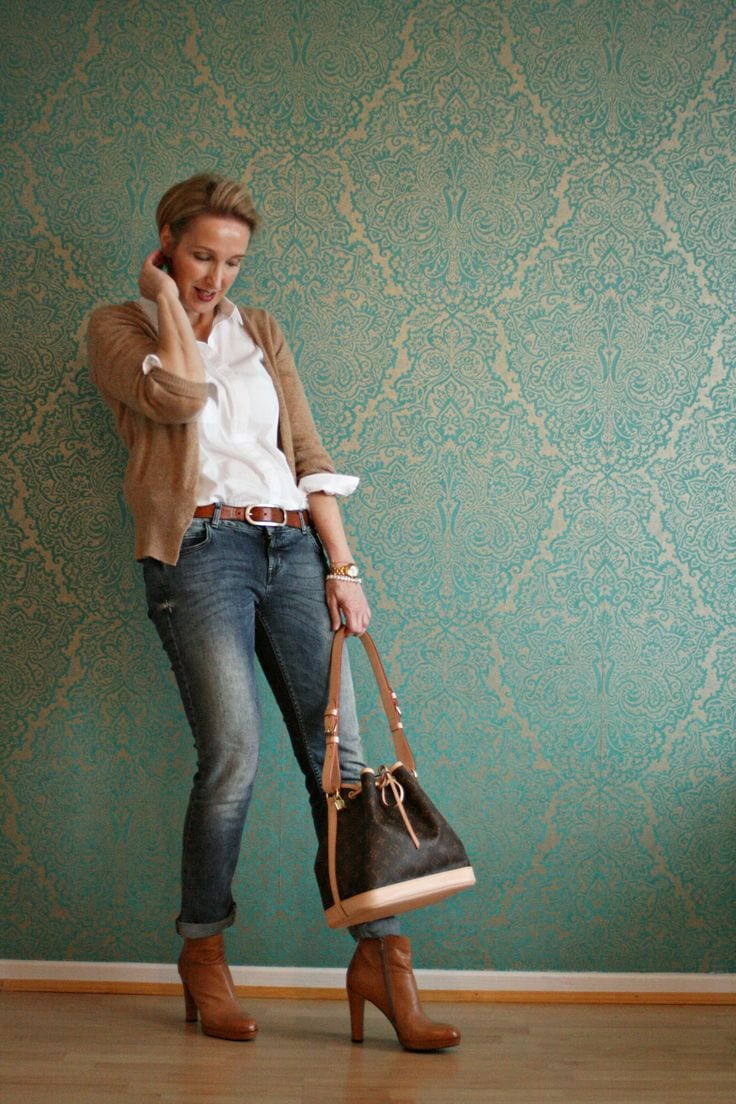 ↓ 6. Plus size
The perfect outfit for curvy women is a lacy red top with jeans. This will suit all trendy housewives and moms too.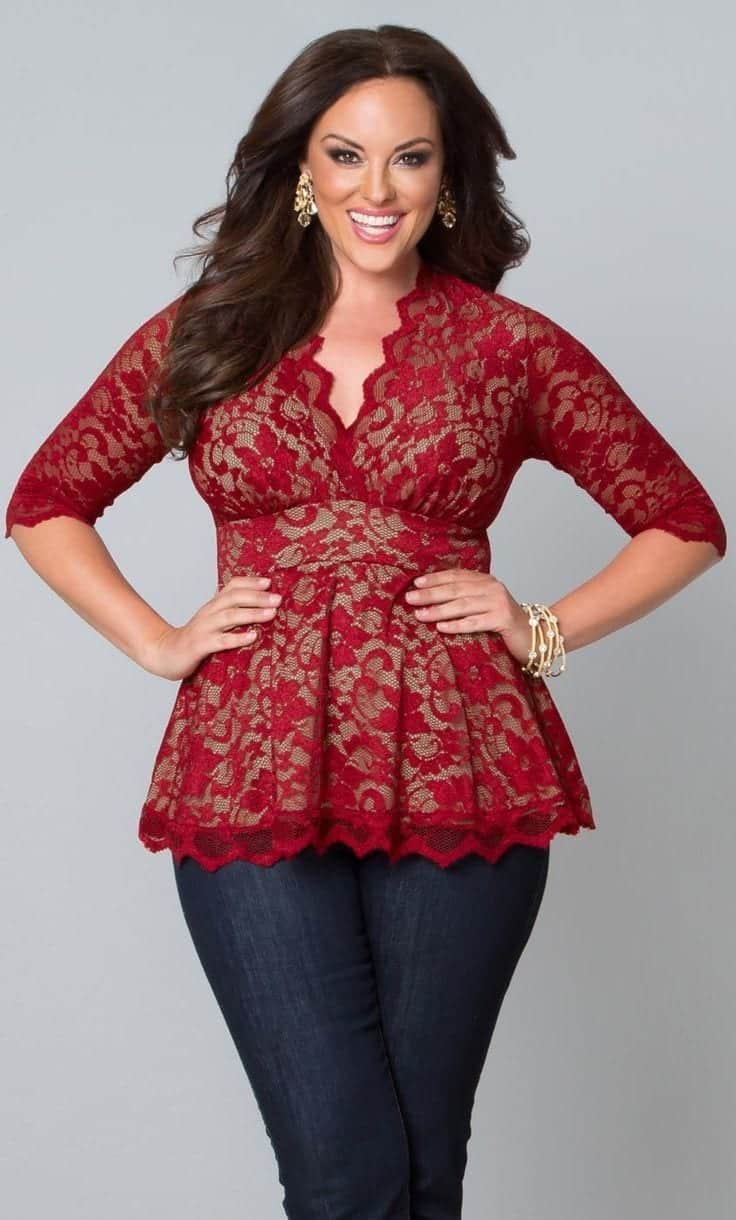 ↓ 7. Simple Casual Style with Jeans
If you are a grandmother, then this outfit is for you! Wear a loose chiffon top with fitted jeans and suede boots.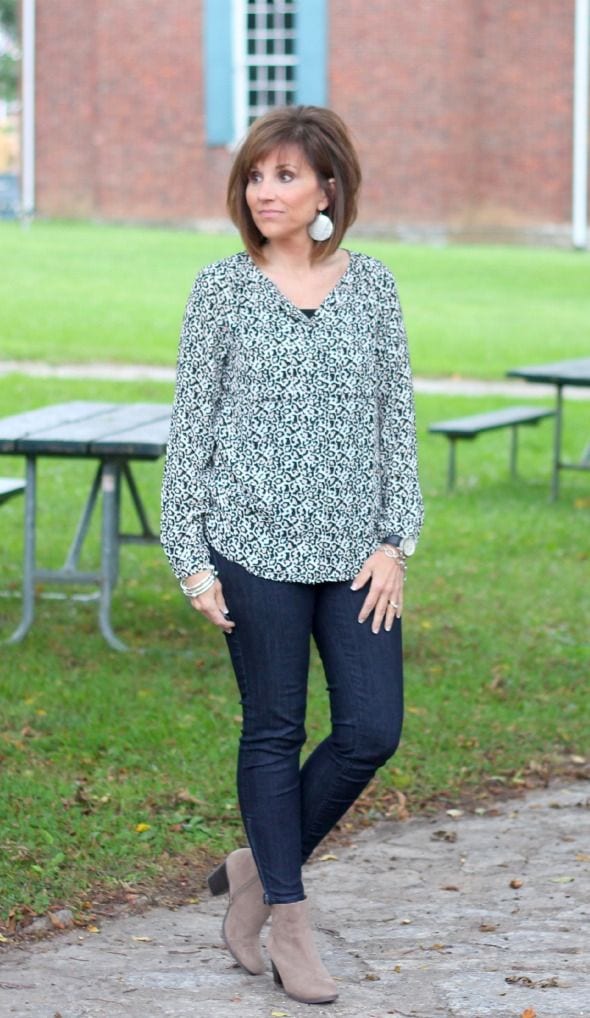 ↓ 8. Street Style
The perfect autumn wardrobe for mamas is a jean jacket with crop pants and a funky scarf.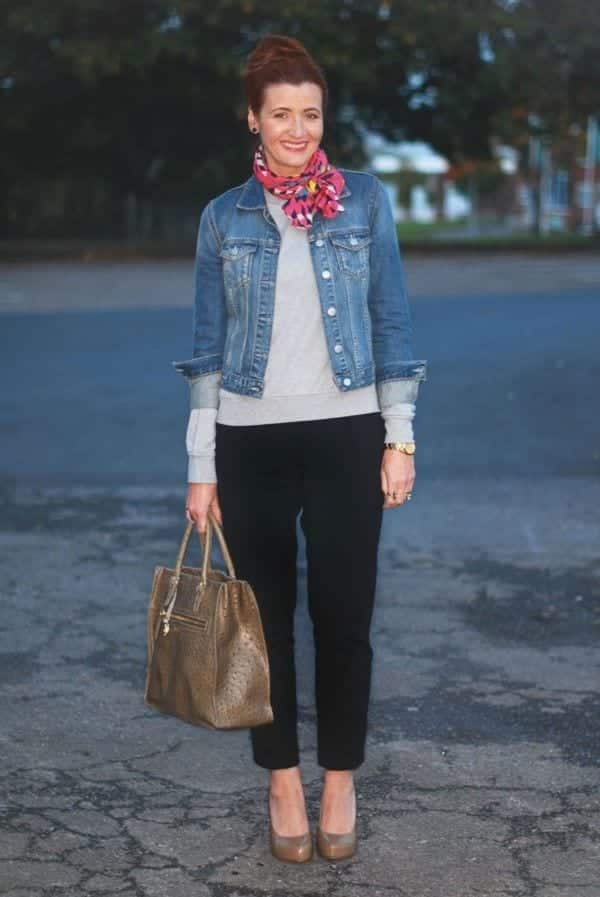 ↓ 9. Summer Brunch Outfit
Choosing an outfit for a Sunday brunch with friends can be tricky. Play it safe with stylish coral pants and a pale blue top. This makes the perfect summer wardrobe.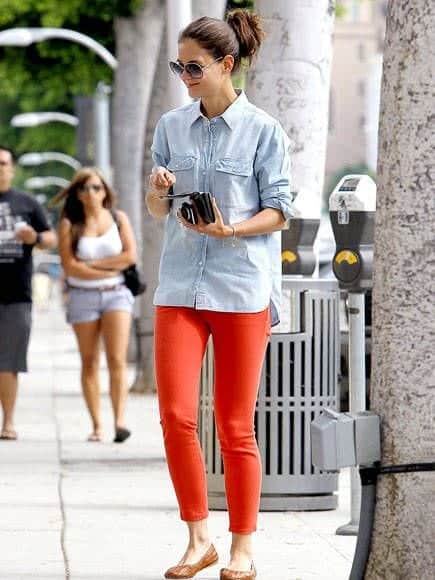 ↓ 10. Celebrities over 40 Style
Jennifer Aniston's wardrobe is super stylish. Copy her style by pairing a minimalistic black vest and cargo shorts.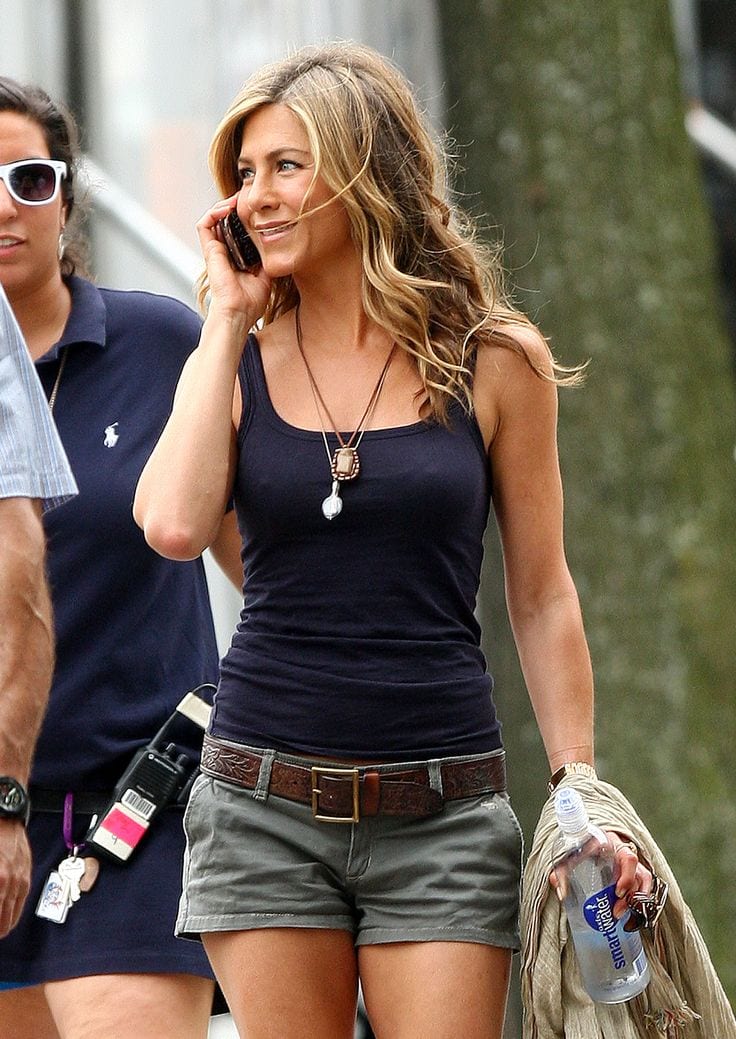 ↓ 11. Short Hairstyle and Cute Makeup Look
Winter fashion is all about bold colors. So stick to a stylish red coat from Macy's with black leggings and boots.

↓ 12. Minimalist Fashion
If you need clothes for the outdoors, then stick to summer fashion and wear bright colors. Red, black, and white are trendy options for a fresh and feminine wardrobe.

↓ 13. Accessories Styling Idea
Keep your accessories simple yet eye-catching. For instance, if you're going for a heavy necklace like the one shown below then you can keep your earrings simple like the hoop style earrings this beauty is wearing.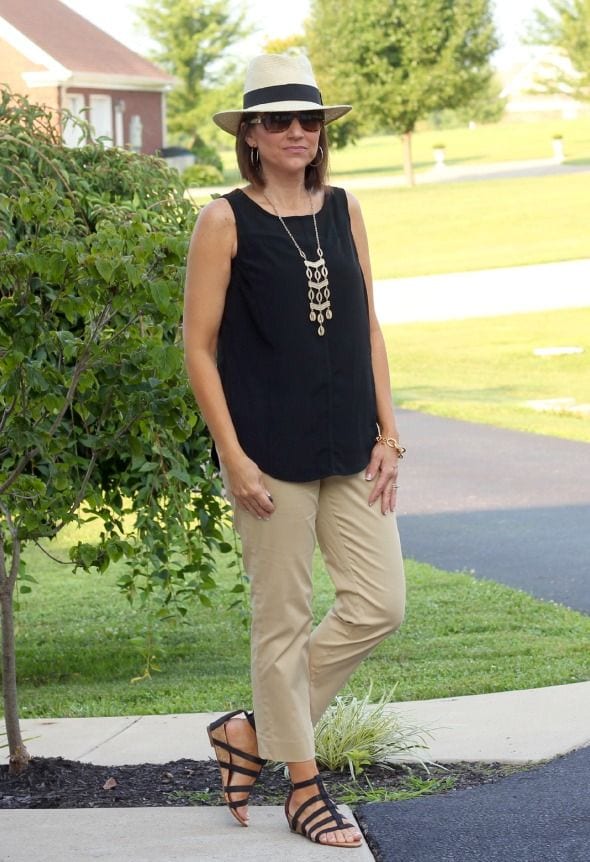 ↓ 14. Work Outfit
Here's a simple yet classy work outfit where instead of wearing your plain old trousers, you can show off your floral pants for a refreshing twist.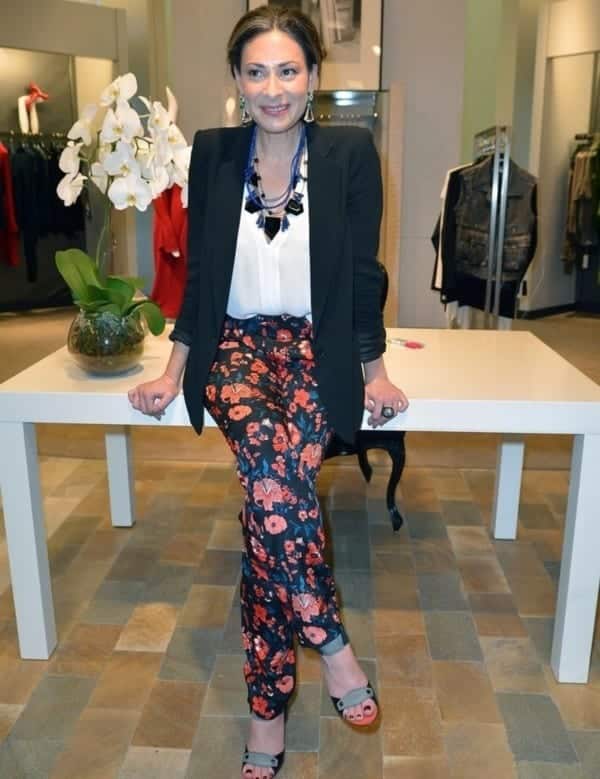 ↓ 15. Ugg Outfit
Uggs are not just super comfortable but also look great on women over 40. You can easily wear them with jeans and tops or jackets. I always prefer buying Uggs and similar shoes in neutral colors as they're easier to wear with multiple outfits.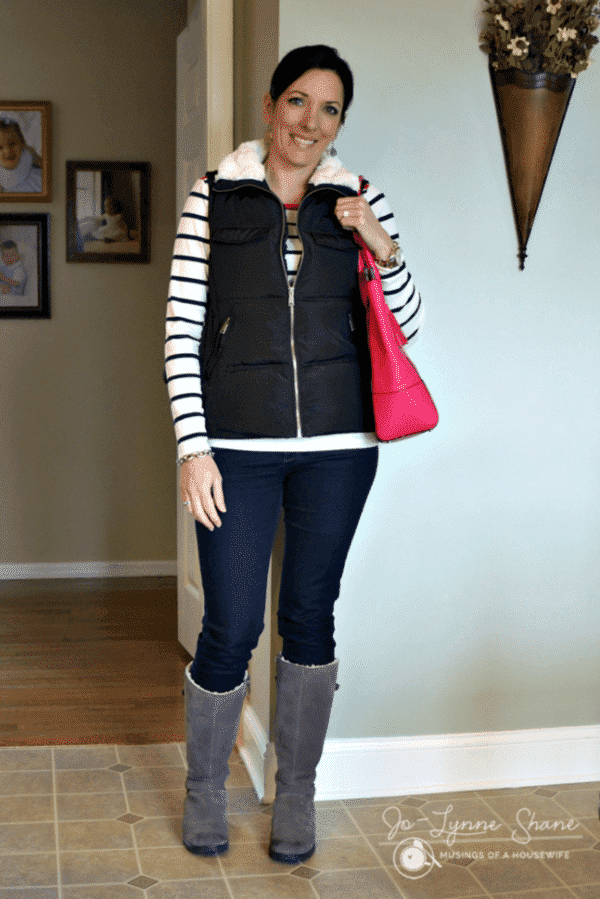 ↓ 16. BoyFriend Jeans
Boyfriend jeans are a must-have in your 40s as they scream comfort and yet look so good. And while most of us consider them appropriate for casual outfits only, the truth is that you can easily dress them up.
Like you see here, simple boyfriend jeans have been paired with a solid black top, lots of gold jewelry and animal print shoes. Animal prints are always a show-stopper and one of the best ways to glam up any outfit. For more ideas like these, I would recommend that you go through these Best Ways to Wear Boyfriend Jeans.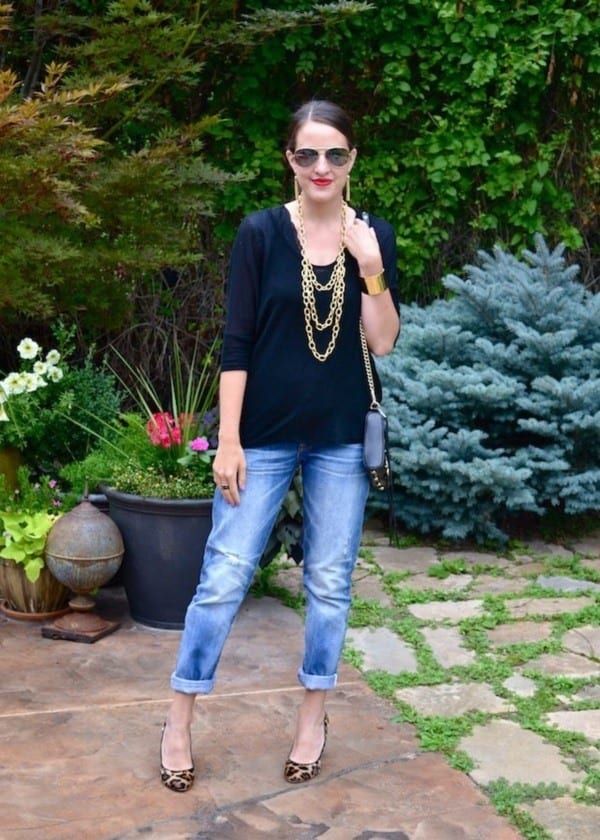 ↓ 17. Effortlessly Chic Winter Outfit
Sweaters are a winter essential of course and so are scarves. If you own a couple of both these items, you can easily mix and match them with different bottoms to create fun looks for Winter. You don't even have to wear them with jeans or pants all the time, for a fancier, party kindof look, you can always wear them with skirts.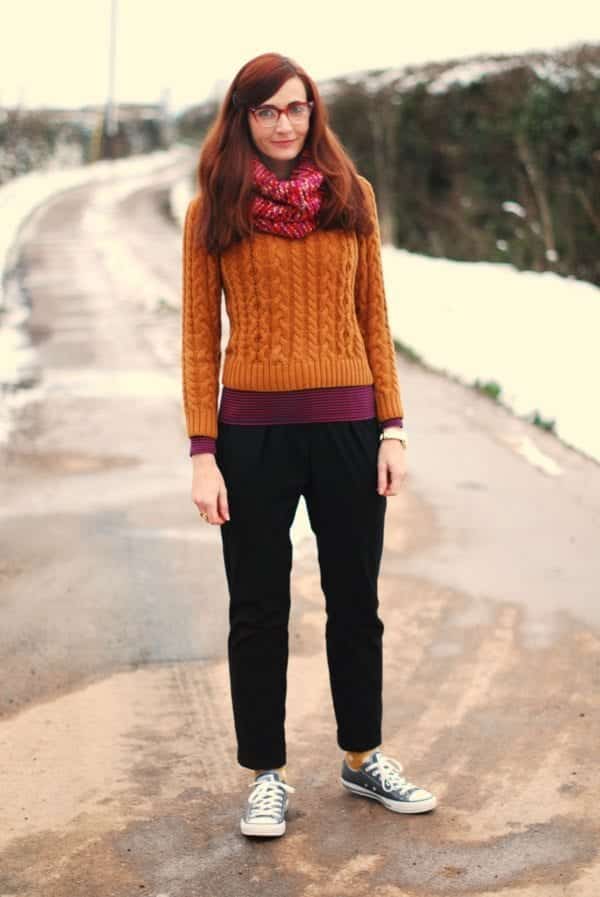 ↓ 18. Fall Outfit
I love this outfit because it literally screams Fall. You can find all the autumn-sy colors here like brown, and maroon with hints of red and yellow in the scarf. The scarf really uplifts this simple outfit by adding the pop of colour that we all need in the Fall season. The hat is definitely a risky choice as I know I won't be able to carry it well but if you can, do go for it!

↓ 19. Sleeveless Top with PJ and Sneakers
Who says you can't wear PJs outside. They're the best piece of clothing that we own and definitely the most comfortable one. I for one probably spend twice as much on my PJs than on my regular clothes so I never miss a chance to wear them outside.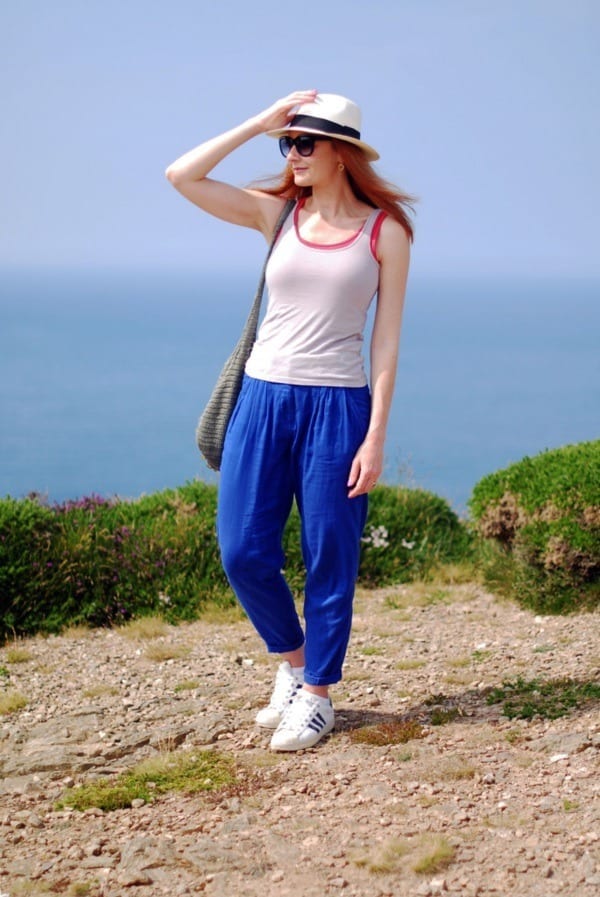 ↓ 20. Holidays Outfit
Your holiday outfits should ideally be simple and minimalistic as this allows your gorgeous face to shine through with that beautiful holiday glow.
If you're fond of taking pictures, then the best strategy is to search online about the place you're visiting, look at the colors of that place and choose complementing colors. For example, black, white and blue generally look great for sunny days on the beach or on a boat.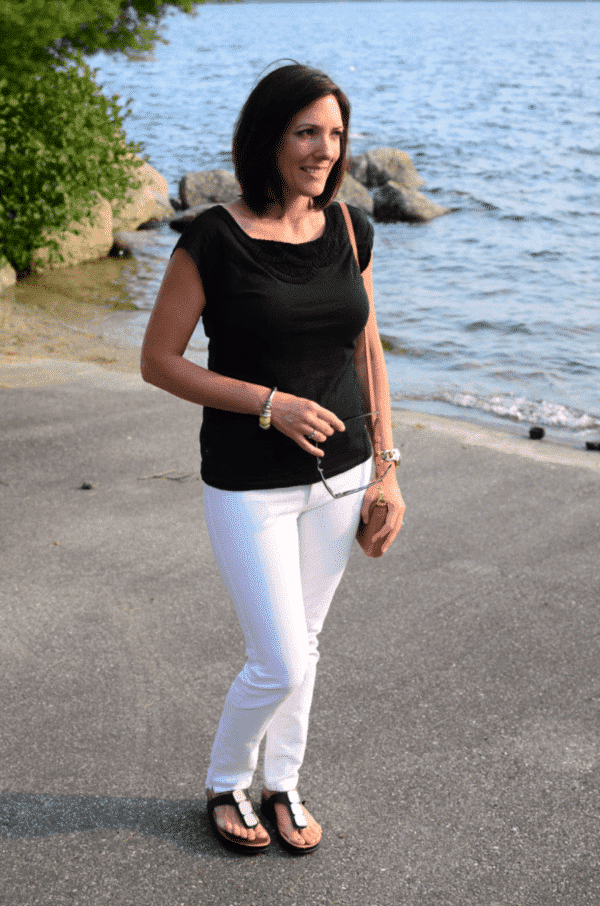 ↓ 21 – Flowy Tops Can Be a Breath of Fresh Air
Women over 40 are often afraid of trying loosely fitted clothes and prefer to go for tailored ones instead. But I feel that on certain occasions, wearing loose, flowy tops and dresses can make you feel refreshed.
I would suggest that you go for solid colored ones for a minimalist look and if need be, you can always dress it up with your accessories.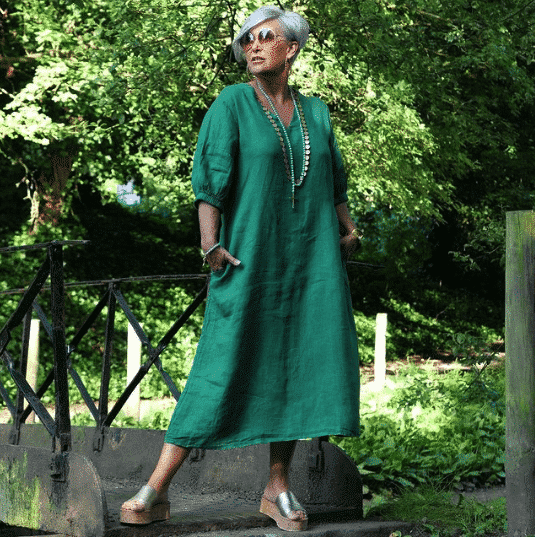 Dress and Jewelry from Maisek Boutique
↓ 22 – Beautiful Fall Outfit
It's always a good look when you camouflage the Fall colors in your Autumn outfits. This look is simple yet so elegant and I absolutely love the addition of an animal print scarf here.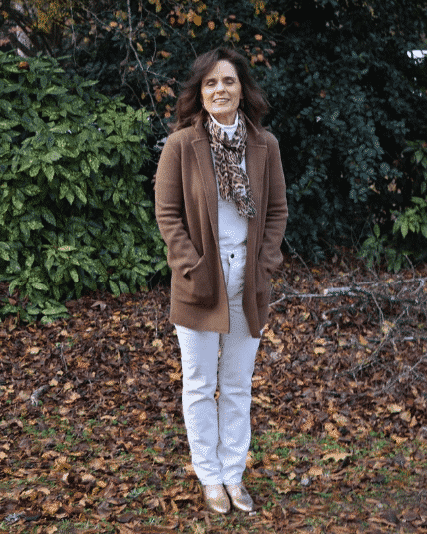 ↓ 23 – Shaped Maxi Dresses
If you want a flattering fit while staying comfortable then shaped maxi dresses are your best bet. I would recommend going for a stretchy material with some sort of belt or wrap support around the waist as it helps create the perfect shape.
Floral prints and dresses with pockets are of course always the cherry on top.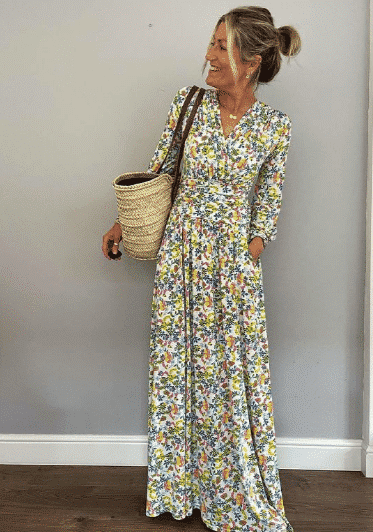 Sharon meadow print dress From White Coco
Chelsea basket tote from Henrietta Spencer
↓ 24 – A Pop of Color Never Hurts Anyone
Feel like your outfit is too simple? Or perhaps too boring? Just add a pop of color. It's the oldest trick in the book and yet it continues to work. This outfit also answers the popular question that we get, "can I still wear skirts in my 40s?" Of course!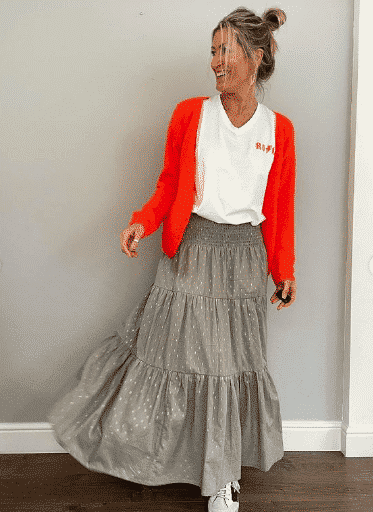 Rock tee, Rosa Lurex Grey Skirt and Neon Orange Summer Cardigan from Queen Bee Collective
↓ 25 – Weekend Outfit
We often spend the weekends in our regular jeans and tees, without bothering to put in any extra effort. But try breaking this habit and dress up a bit every weekend even if you're just going to get ice cream or for a stroll outside.
Even if you're just staying at home, it's never a bad idea to dress up a bit for yourself. Once you start getting in the routine of dressing up on weekends, you'll realize that you feel fresh and energetic and you'll look forward to the weekends with greater enthusiasm as it's your time to shine for yourself.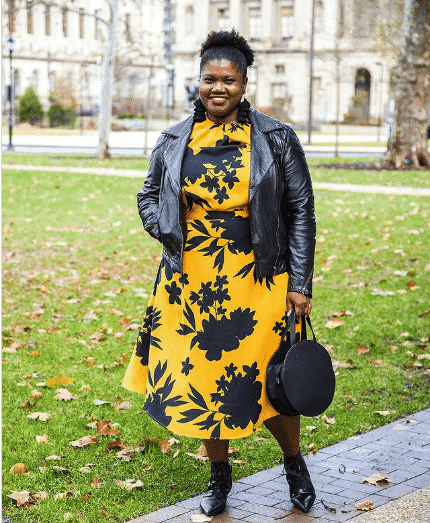 Black leather jacket from ASOS
Dress from Who What Wear X Target
↓ 26 – Get More Shirt Dresses
If you like this style and haven't tried this before, then I would recommend that you give it a go ASAP and also check out these Unique Ways to Wear a Shirt Dress. You can easily style these shirt dresses with jeans and leggings of your choice.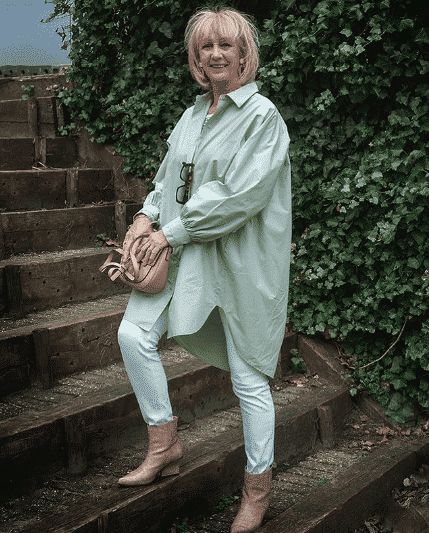 ↓ 27 – How to Cover Flabby Arms?
If like me, you too are struggling with flabby arms then know that there are many types of sleeves and outfits that can create the illusion of thinner arms. Puff sleeves for example don't just offer the old school, Victorian-era charm that we love but they also help by hiding fat arms.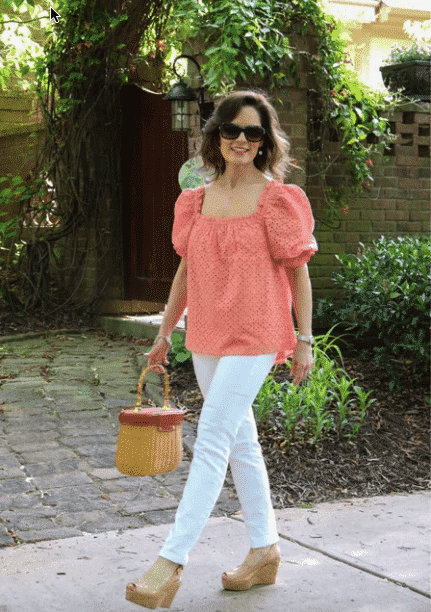 J.Crew Toothpick Jeans
Coral Eyelet Iris Blouse $68.00
↓ 28 – Best Pants for Big Thighs
If you have big thighs by your 40s and you're not comfortable with skinny jeans or tailored pants then the best option is to go for straight and wide-legged trousers. These are not just incredibly comfortable but they also bring out the best of your curves. If you're confused about what to pair them with then here are some ideas on How to Wear White Wide Legged Pants.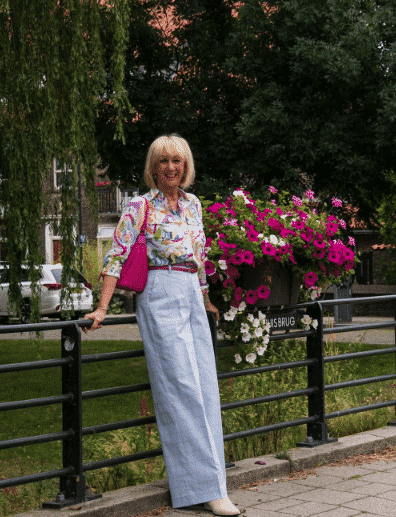 Trousers from Essentiel Antwerp
Cream colored perforated boots by Ejik Store
↓ 29 – Say Yes to Animal Prints
While animal prints look good at any age, I still feel like 40s are the best time to rock them. So don't think twice before getting a piece of clothing in any animal print that you like and if you need some pairing ideas, you can always ask us!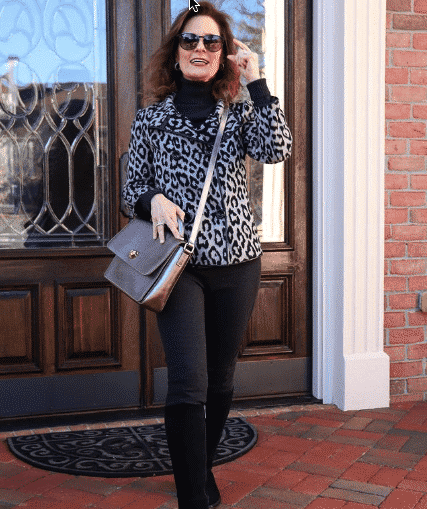 ↓ 30 – Take Your Casual Game to The Next Level
Your 40s are the best time to upgrade your casual looks as in our 20s and 30s, we don't really pay much attention to casual outfits and just roll with what we're comfortable with. But now you should experiment with different casual clothing items like jeans, sweatshirts, PJs, sweaters, etc, to create some fun looks.