Paris Street Style Outfits for Women: Paris is not only the city of love but also the capital of fashion. If you are in need of a style change – look at what they wear in Paris. Similarly, in case you need to catch up with the trends, the streets of Paris will guide you. And yes, unlike other cities which show fashion on runways, Paris is special through its streets. After all, street style has become one of the most expressive and personal forms of fashion in 2022.
The sheer oversaturation of models, influencers, stylists, and designers concentrated in this city is what drives its fashion forwardness. Similarly, the openness this culture has to the arts stimulates personal expression. Even people who are unrelated to fashion see clothing beyond utilitarianism. As a result, the majority of the population of this city uses clothes to explore themselves. To be understood. And most importantly to be seen.
What is Parisian Street Style Like?
In our last post we have already talked about French Fashion Trends but we felt like Paris street style outfits deserved a special post so let's start with some tips from the Parisian streets:
Don't be constrained to elegance: Although Paris is the city of love, and the most proclaimed depiction of Parisian fashion is elegant youthful looks, don't limit yourself by this notion. Streetstyle is a combination of both the external surroundings, such as culture. As well as the inner environment, therefore, is highly personal. You will see that this creates highly contrasting and at times brutal looks.
Keep it simple with accessories: You will see in this rundown various looks that look highly complicated. Although at times when people try to recreate them, they think it is achievable through high amounts of accessories. This is faulty thinking. Inversely when an outfit is complex, extensive use of accessories will make it look messy.
Prioritize texture and form: One of the most prominent attributes of Parisian street style, which you must keep your eye on – are texture and silhouettes. The excellency of an outfit can be determined by whether the jeans you have chosen have fringe on them or are plain. And this example is just one of many. No clothing item must be boring.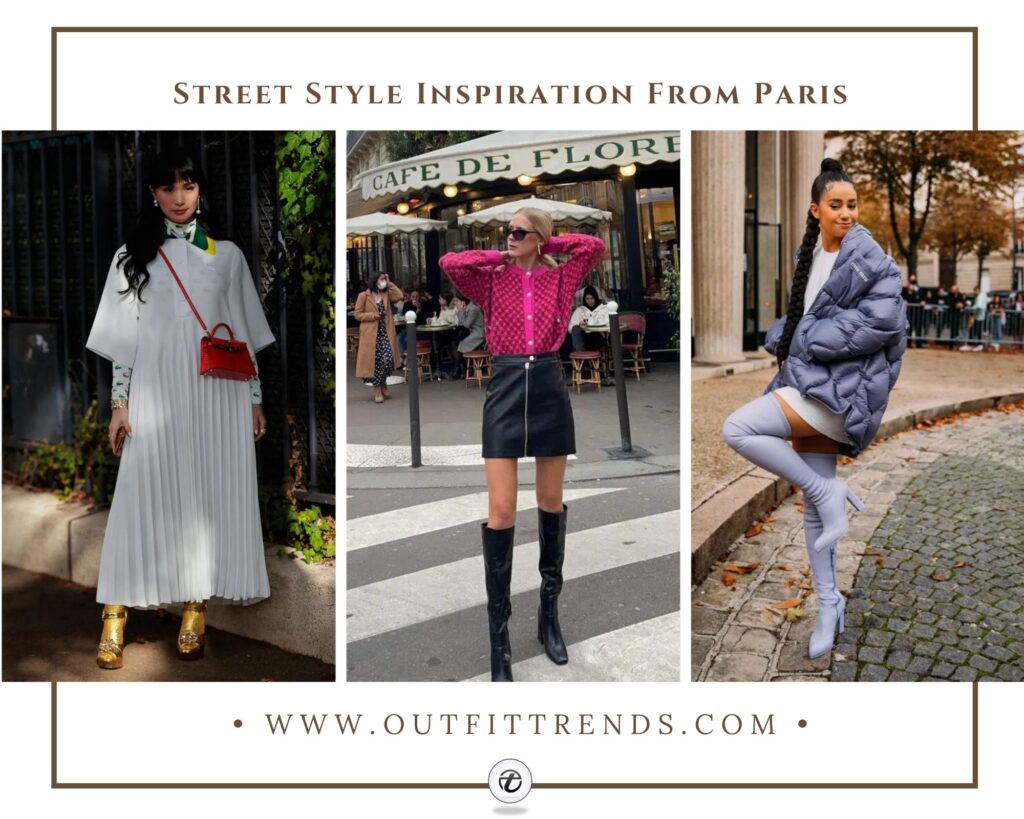 22 – If You're Wearing a White Dress, Layer It With a Printed Top
Starting off with a simple look that everyone can recreate. If you have a white short-sleeve dress, play it up with a printed long sleeve. Preferably the long sleeve is the same tone of white, however, has a colorful print.
21 – Go For a Classic Oversized Suit With a Twist
Next on the list is equally as simple and easy to get into. The key to this outfit is high-quality oversized matching pants and jacket. To further elevate the outfit keep it all in the same color scheme. For instance, find a deep chocolate suit, and match it with an identical turtleneck.
Although going for a light coffee-colored sweater to tie on top, and find shoes to match. These small pops of color will keep this outfit from looking too lazy.
20 – Make a Play On the Classic Elegant Parisian Look
It is true that if you fall into the trap of wearing the cliché Coco Chanel jacket and a mini skirt you will look like a try-hard tourist. However, it could be an entirely different look if you play on this stereotypical outfit. Parisian fashion is all about challenging the norms. Therefore, if you match this jacket or top with a grungy leather skirt, and matching leather boots, you will be all set.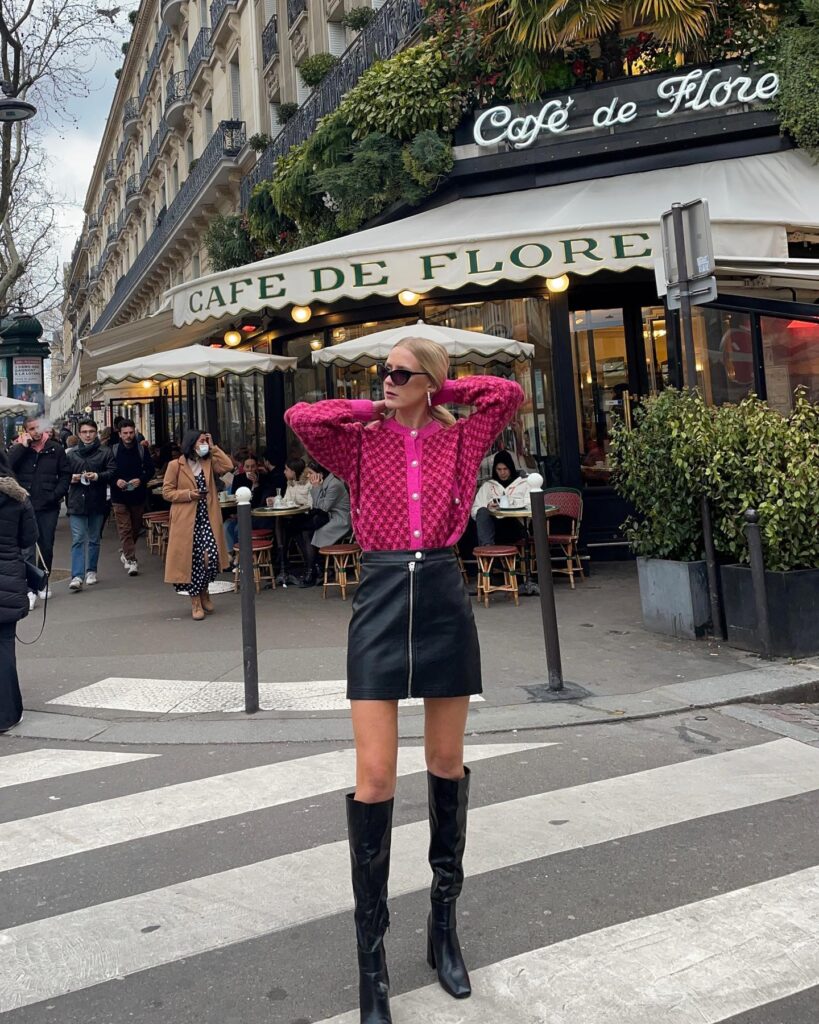 19 – When In Paris Mix a Total of Three Colors, Not Two
As a rule of thumb, we know that a total of two colors is a safe bet in an outfit. Although, in Paris to really pertain to the high fashion appeal, try out three. However, be careful you don't want to add too much and look like a clown. Instead, form your outfit from two main colors. Then add one article of clothing in a different color but same color family.
18 – Create The Appearance Of a Professional's Day Off
The office looks unhinged and is quite popular amongst Parisian street style and you will see several alternatives in this rundown. This particular outfit is special due to the abundance of light fabrics. Both the blouse and the pantsuit have a flowy nature.
17 – Create an Outfit Using Just One Pastel Color
One way to get noticed in Paris is a unique color. For example a pastel one, especially in an unusual hue. For instance a pastel violet. Combine this color with some soft voluminous shapes, like a puffer jacket. But remember to keep the outfit monochrome. If pastels are your thing then you'll definitely enjoy these Cute Pastel Outfit Combinations.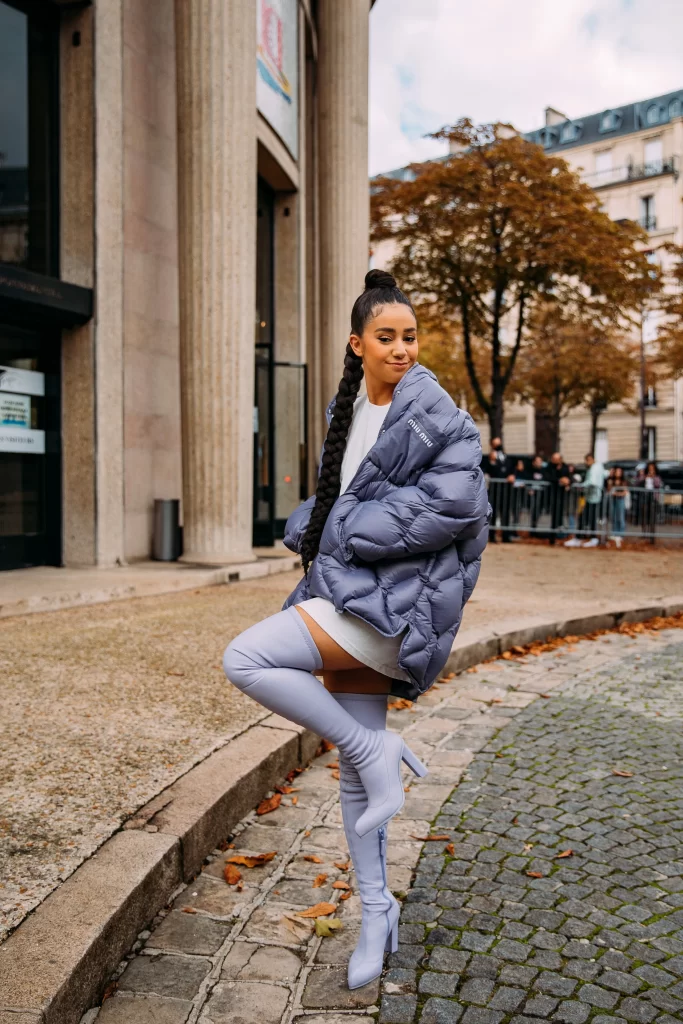 16 – When In Paris Try Out The Tomboy Aesthetic
Especially if this is not your usual style, try out dressing like a classic Tom Boy when in Paris. This is the city to have fun in and experiment. Although beware, there are two types of tomboy looks. The sporty and the classy. We recommend keeping the color palette in beige tones and achieving that classy look. However, just the color palette isn't enough. The types of clothes you choose are very important. Go for laid-back office wear, with vests, formal pants, and blazers.
15 – Create a Focus Of One Color For Accessories
A stylish tip for wearing accessories is to match all of your accessories to one color. Perhaps one color of metal, like silver. However, accessories colors can and should stem from what hardware you already have on your clothing. Only when all these elements work in unison the outfit will be stylish.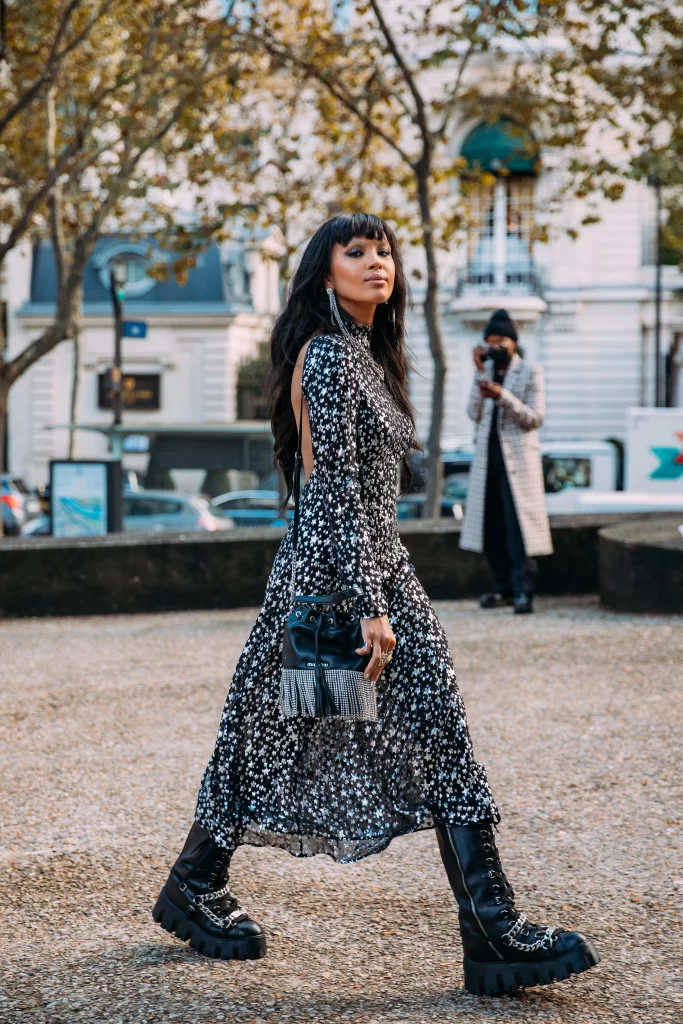 14 – Layer Lots Of Large-Knit Garments Atop One Another
As we said earlier layering textures is one of the defining features of Parisian street style. Therefore to fit right in you will want to recreate this feature. One great textile for layering is large knit fabrics. For example, pair a large knit sweater and a matching large knit scarf for a truly unique look. Similarly, you can try and mix this look with extra grunge shoes, to create contrast.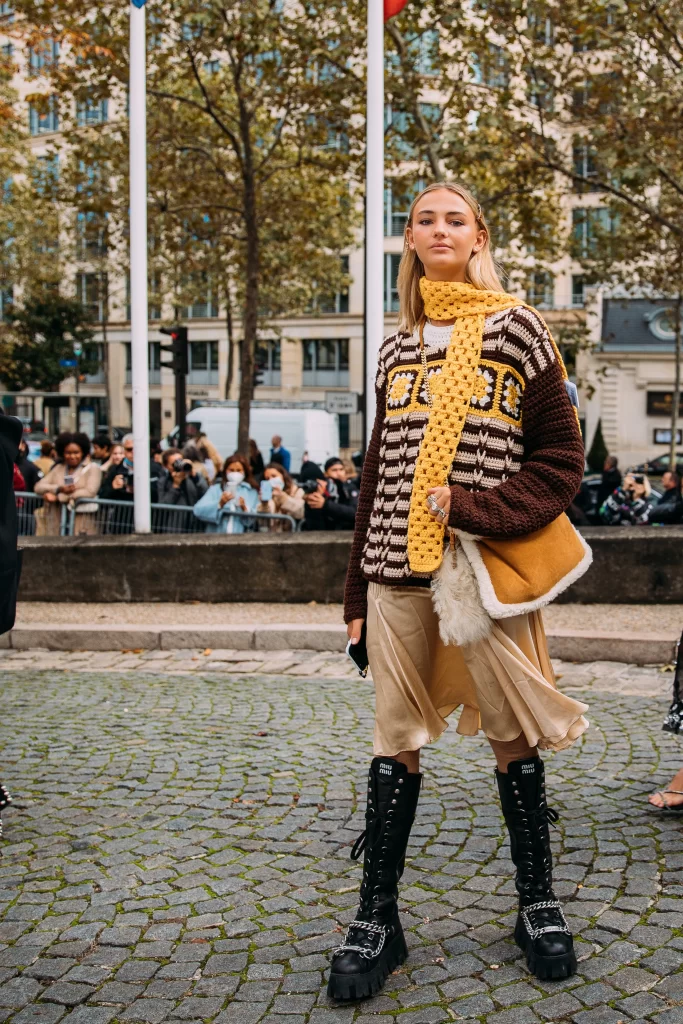 13 – Diffuse A Seemingly Simple Nude Look With Neon
One great tip to make your outfit stand out is the color neon. In this particular case, it is useful to use neon for a large part of the outfit because every other clothing item is relatively simple. Therefore yo are in need of a large accent. Here's an exclusive post on the Latest Neon Fashion Trends to Follow.
12 – Go For A Grunge Princess Outfit With A Mix Of Styles
Try and create a character, then pick out the outfit that they would wear. For example, a grunge princess would definitely pair a distressed motorcycle jacket with a layered, possibly second-hand skirt. Additionally, commit to the character with your hair and makeup too. Tie in the same colors from your outfit to your supporting decorative elements.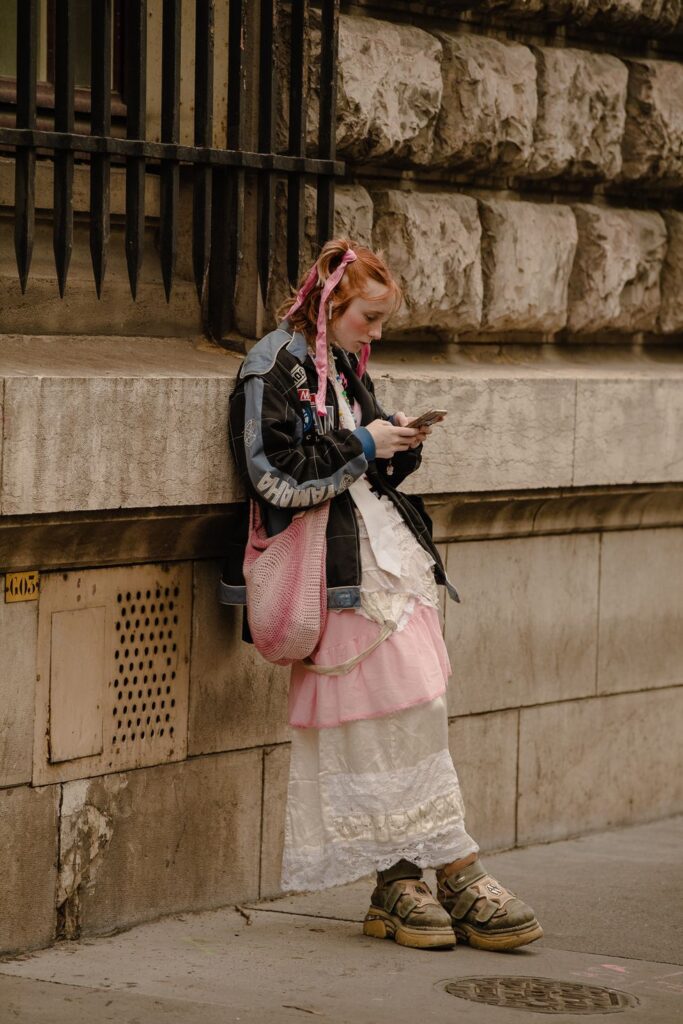 11 – Surprise People With Cirilium Blue
Sometimes all it takes is a unique color, that takes your outfit from 0 to 100. Cirilium blue is a bright, statement blue that you don't find very often. It is a sophisticated color that mixes well with black. So find a garment like a dress in this shade of blue, then pair it with black shoes and a jacket and you have yourself a simple yet showstopping look.
10 – Create a Stylish Lazy Look With Low-Rise Jeans
Parisian style isn't all about being dressed up all the time. Nor is it about being formal. Sometimes you can create the most promising outfit to wear in Parisian streets that is in fact very lazy. Pair low rise jeans with a simple white tank top. A jacket of your choosing. But one important element is a small fanny pack that accentuates the low rise of your pants. Here are some more Tips on How to Wear Low Rise Jeans.
9 – Match Your Neon Sweater To Your Neon Bag
Perhaps these aren't articles of clothing that everyone has at easy disposal in their closets. But you will be happy you have invested in them. Pair with simple jeans, and a jacket. This is important because with several neon pieces you need to maintain balance.
8 – Never Hesitate To Add a Scarf To Your Look
A silk scarf has never hurt anyone's outfit. If you think that your outfit is too simple, or needs a bit of color. This is the accessory that will save the day for you. There is a variety of ways to style a silk scarf, and each will create a different decorative element to your look.
7 – Diffuse Any Grey Toned Look With A Neon Bucket Hat
A majority of us most likely can easily put together an outfit with grey pants, and a grey blazer. However, we might also feel like it is not cutting it for Paris. Our suggestion is an eyecatching accessory. Perhaps a bucket hat. This headwear is already unique and innovative in its silhouette. And if supported with bright color makes an outfit more stylish.
6 – Go For Pieces With Extra Large Fastenings
If you want your outfit to make a statement you need to find clothes that have a freshness about them. One design element that many designers play around with to make their clothes stand out, is fastenings. Well find a raincoat with the largest belt buckle you can find, and it on its own will create a great oufit.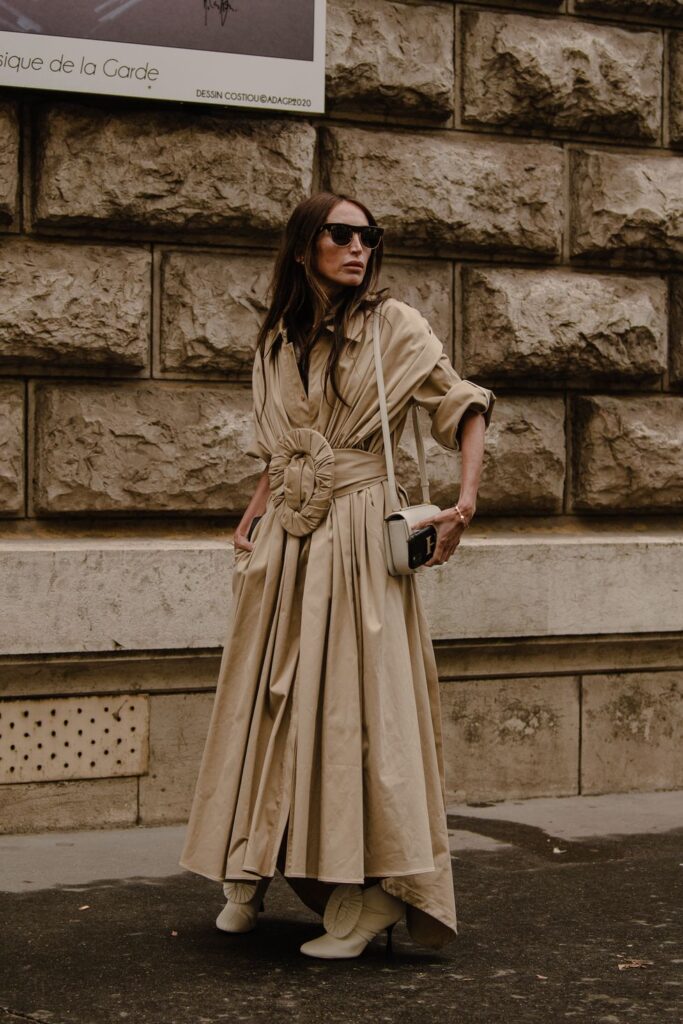 5 – Mix Cottage Core Style With An Athletic Aesthetic
Mixing through different styles can get you a very cool outfit, moreover, it is also a staple for Parisian street style. Sure, it is risky however if done right it has high rewards. Start off with a similar toned cottage core aesthetics. In the end, choose only the shoes and the hat in a sporty style. Keep them coordinated in color with one another. Yet purposefully contrasting to the core outfit.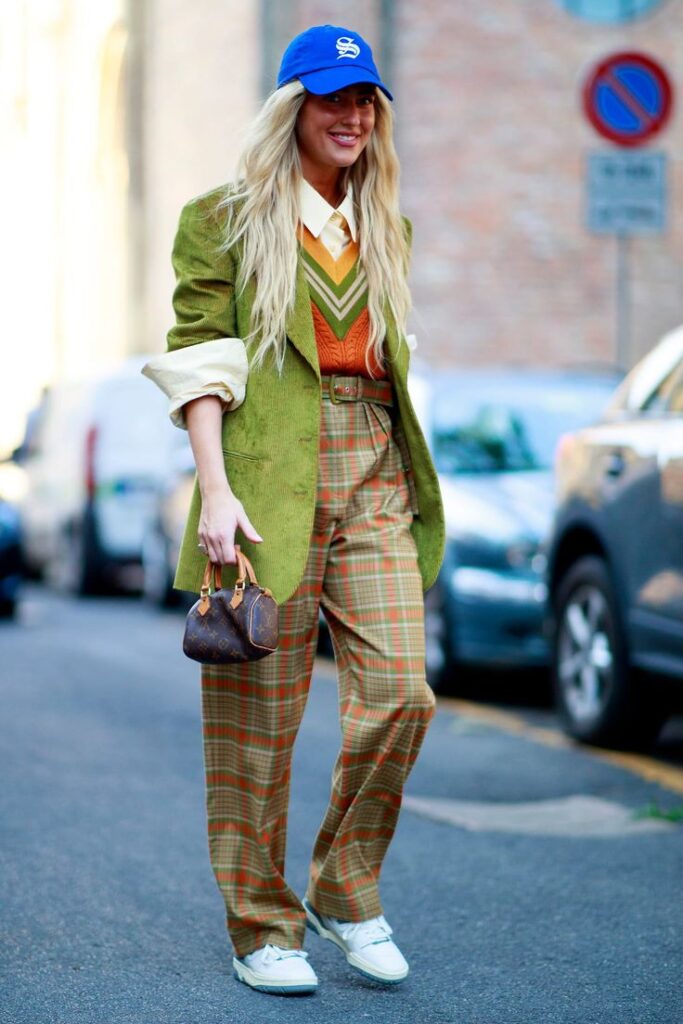 4 – Mix Between Soft and Slik Materials and Textures
Similar to the previous option, the ideology of mixing and matching is very much the basis of Parisian fashion. However, that is not limited to stylistic differences. You can also mix between textures of the fabrics you choose. One simple mixture is the obvious contrast between soft knits and slick faux leathers.
3 – Mix Prints All Throughout Your Outfit
When creating an outfit in all white or all nude for instance, try to play it up by using prints. But dont restrict yourself to just one, try and find pants and a top with different prints. Furthermore, diversify the outfit by including something from a drastically different color family. Like a bright orange scarf, and matching orange shoes.
2 – Match Your Pants To One Of The Colors On Your Sweater
How often do you see a rainbow-coloured sweater being worn out? Not often. Perhaps people find it too risky, as it is hard to pair into an outfit. Well, not in Paris. The key here is to not be afraid of building on color. Choose one color off the sweater, and find pants to match it.
1 – Style In An Oversize Woven/Knitted Top Handle Bag Into Every Look
Getting a top handle purse, that is extra large and woven is the key to outfits that scream 'french style'. Get on in a neutral beige to pair with any look. Here are more ideas on styling Oversized Outfits.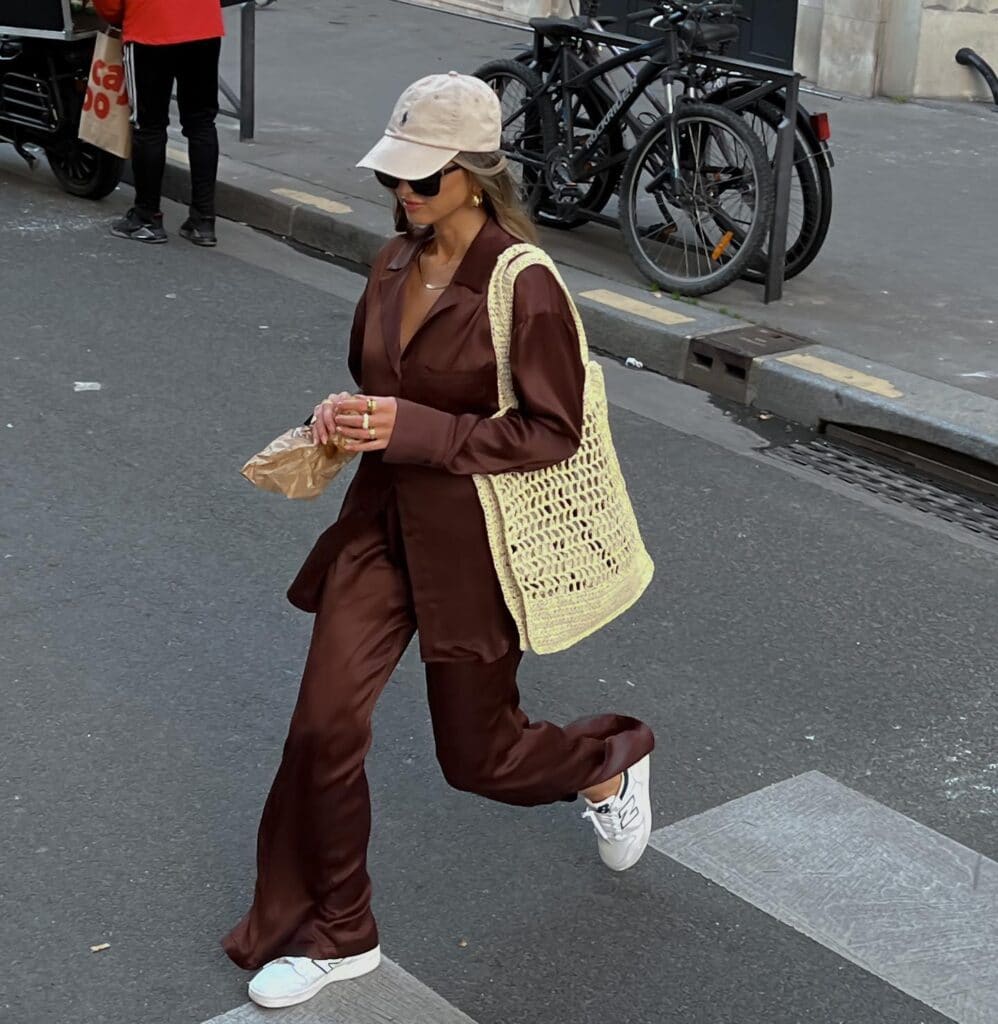 Frequently Asked Questions
Q. What does it mean to have Parisian style?
The perceived Parisian style is extra amounts of elegant and poised outfits. However, that is merely a stereotype. What is actually true about Parisian fashion is that it knows no bounds. The culture in Paris is highly diverse, therefore the locals have a lot of breathing room to experiment with their self-expression. This includes clothes. As a result, we witness the ambiguity of the fashion choices of the locals.
Q. What should I wear to not look like a tourist in Paris?
The first fashion choice that will make you seem like a tourist is cliché, clothing choices. These include Chanel-like blazers, berets, and flared blouses. Secondly, just don't forget about your core style. Your personal stylistic favorites. Paris street style is great because it is so unique, so don't leave the clothes that make you unique at home. Bring them along, and don't be shy to be different.