Tips to Use Clear Bags for Work: Making use of the new trend is not always very easy. With some effort and guidelines, one can rock the contemporary fashion like a star. Just like the celebs can carry the clear/transparent bags very beautifully, the common yet special women out there can follow the trend as well. Using clear bags for the office can be awesome with this guide.
From transparent handbags totes to transparent crossbody bag and transparent purse, these are basically the three items you need in your wardrobe when planning to carry the fashion to your workplace. We will give you full details on how to carry clear/plastic purses and handbags to the workplace and be the talk of the town with your amazing style sense.
How to use a Transparent Handbag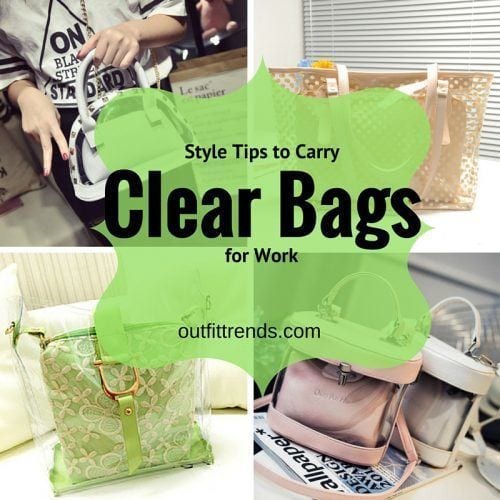 RECOMMENDED: Camping Outfits- 10 Tips On What To Wear For Camping
The way a handbag is carried, it says a lot about your personality. So be mindful and carry the handbag with style. Here are some examples on how can you manage to look effortlessly stunning with this latest fashion accessory, the transparent or clear handbags, which are now available in all sizes and types.
#14- Clear Shoulder Bag for Semi-Casual Look
This is as simple as it can be. If you love to flaunt your everyday essentials then a semi-formal transparent shoulder bag can help you a lot in that.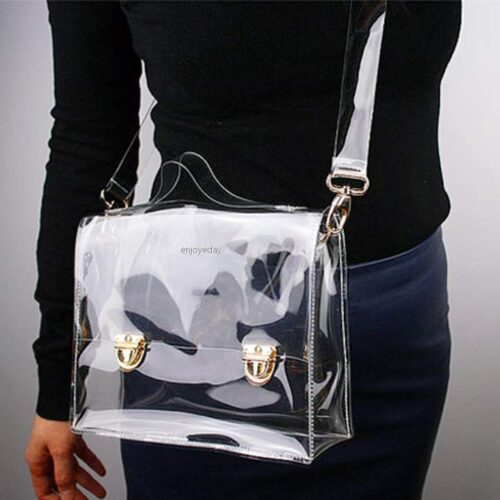 Source
#13- Fashionable Jelly Tote Bag for Girls
Jelly tote bags are the most comfortable fashion item for working women. You can customize them as per your need and such bags are also available in many candy colours. Another plus point is that the PVC handbags are usually of neutral color and can match with the everyday outfit.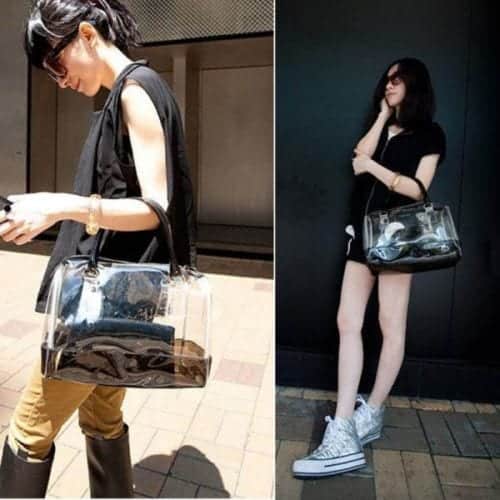 #12- Cute Transparent Handbag for Office
It is advised to keep your important things like identity card, passport, license, money and few more things in a pouch and put that pouch in the transparent/clear bag. Such clear shoulder bags are perfect for office use.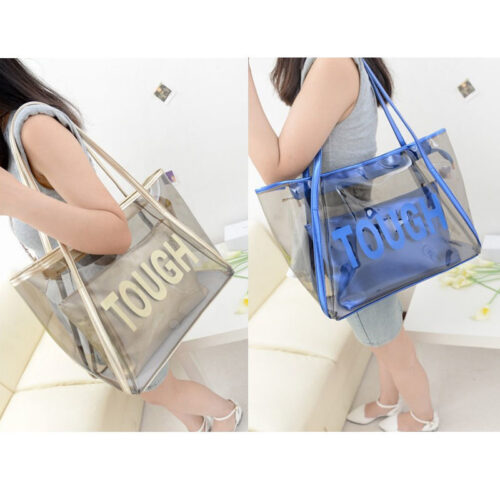 Source
Do have a look at Most Beautiful Clear and Transparent Handbags-See Through Accessories
#11- Clear Style Mosaic Shoulder Handbag
Mosaic pouch adds more glam to your everyday essential fashion item. Pastel colors merge easily with your outfit and looks decent as well.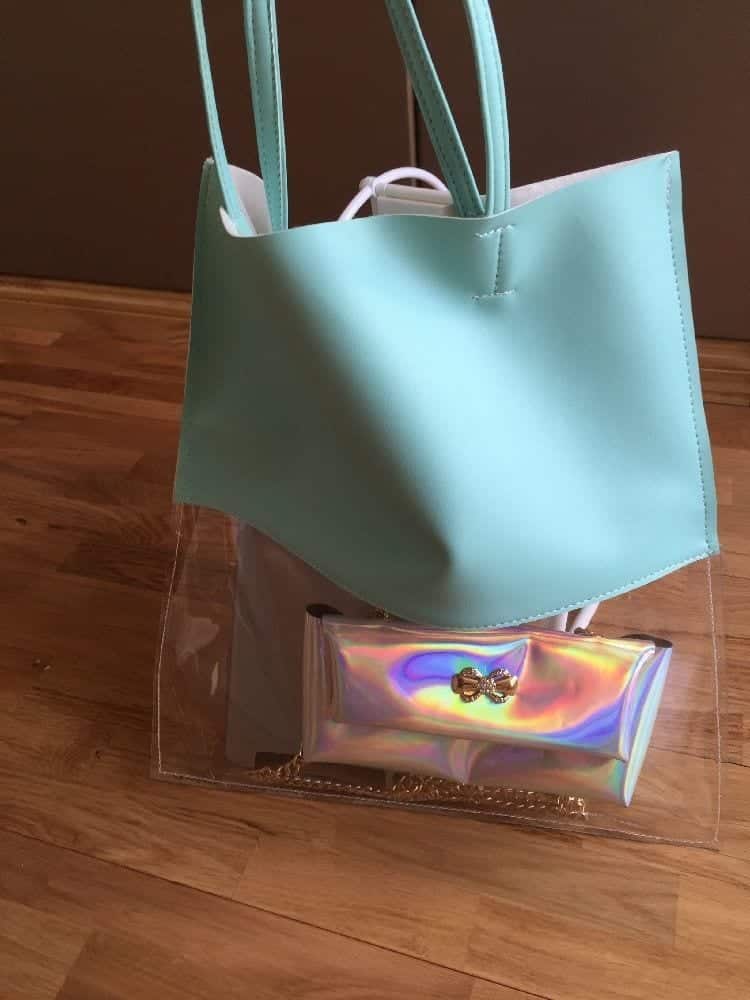 Source
#10- Cute Jelly Bucket Bag
Candy color PVC bucket bags are huge and give lots of space to carry your whole world in your handbag. They are less transparent but using a dark color pouch can add more style to your handbag.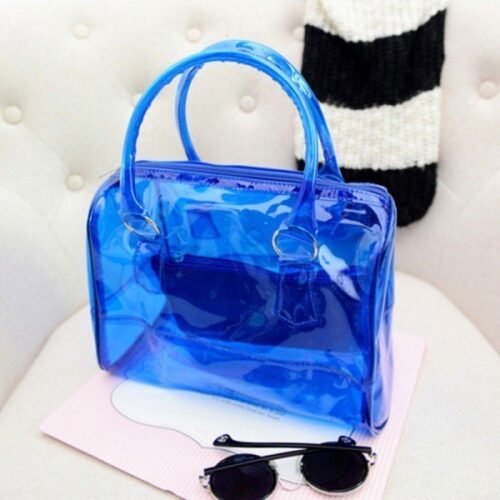 #9- Trendy Spacious Tote for Working Women
Working women cannot carry a different bag for office and another bag for evening functions if they have to attend the event rightly after the office. Trendy clear bags are a perfect solution to this problem. They work with your look from day to night and look very beautiful as well.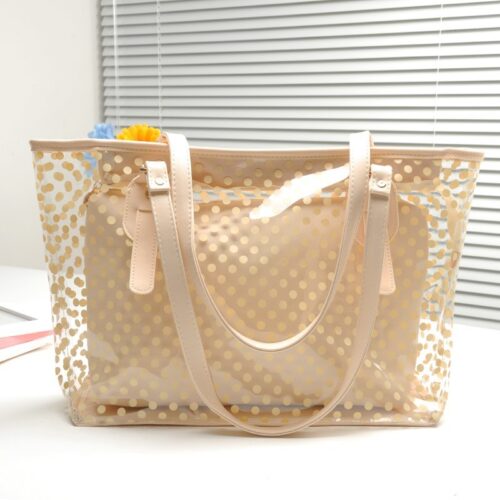 Source
#8- Stylish Animal Print Purse
The transparent handbags give a vast playground to show off your style. Designers have introduced smart designs in PVC bags and purses. Animal prints are one example of it. You can also make one such bag by yourself. Just put a small pouch of any design you like and here you go. Who needs a designer when they have good fashion sense.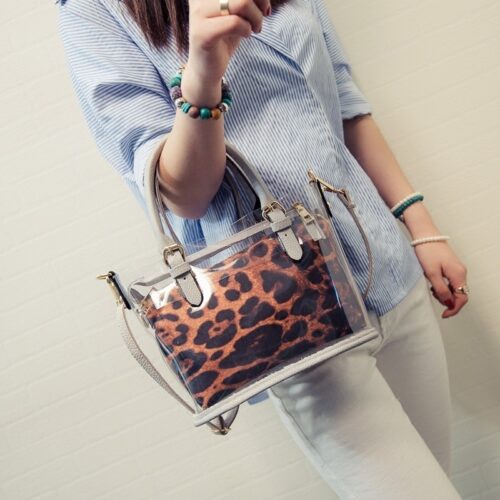 Source
Celebs and fashionista flaunt their most wonderful items or accessories through a clear bag. If you have some branded makeup or want to flash some of your beautiful jewellery, then carrying a transparent handbag is a good idea. But mostly working women are not into it and all what they want is comfort. Transparent handbags are a saviour in this sense as well and one might not be digging her handbag to look where the phone has lost.
#7- Crossbody Transparent Designer Purse
Crossbody bags are cute and useful as well. You don't need to carry lots of stuff and they won't even occupy lots of space on your desk. Make them more stylish by adding different yet sweet style pouches. You can make one by yourself as well, from leather, fabric or embroidered piece of cloth and it costs very less as compared to expensive designer bags as well.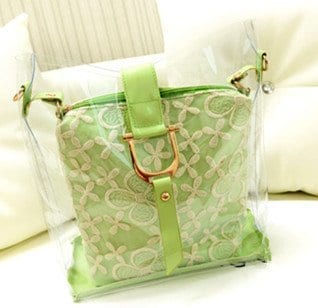 Source
Don't miss out Asymmetrical Skirt Outfits-24 Ideas to Wear Asymmetrical Skirts
#6- Office Bag for Ladies
Who says office handbags have to look simple when you can add glamorous and bold styles to it. Some people complaint about the melting handles of transparent handbags in summer season due to hot weather. The new styles contain bags with leather straps which are more long lasting.
Source
#5- Studded Candy Handbag with Chain
More stylish and glamorous handbags are best for women who use single handbag for both office and parties. Buying a bag with studs and chains make it suitable for both places and you will not need to spend more on buying purses. Choosing a small or medium size is advised in this case, as small size purses look good on formal events
Source
#4- Cute Small PVC and Textured Purse
The shiny metallic textured pouches make the small shoulder bags more attractive and cute. There is a huge variety available online and in the market of such bags whose price starts from $10. The metallic pouch can also be used separately on dinners or evening function if it's too beautiful.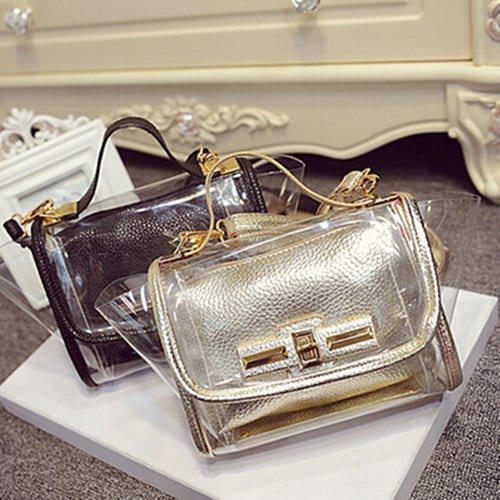 Source
#3- Designer Small Bag with Chain
The stylish and trendy clear bags come in different styles and designs too. Plus they have a hint of color as well with some leather handle and designs. Choosing the right bag can give you a fashionista look instantly. Be considerate towards style and size when you buy a jelly handbag next time.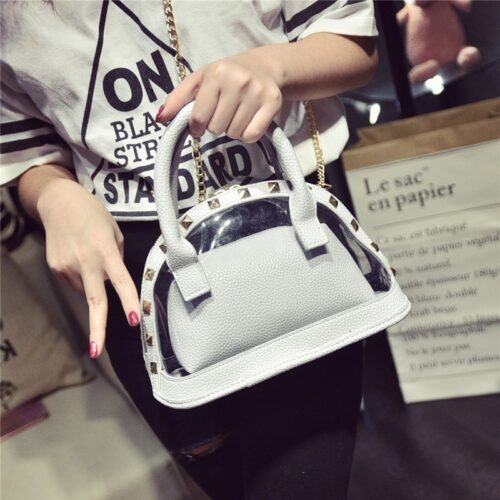 Source
#2- Leather and Jelly Bag for Diva Style
Handbags with leather finishing are more long lasting and beautiful as well. The new styles give a huge variety of handbags which use leather and PVC material to make it look beautiful and useable. Investing in a good handbag which has more leather finishing will save you from much hassle.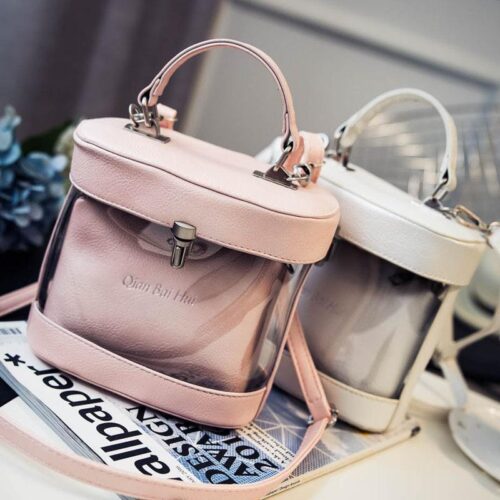 Source
#1- Evening Formal Clutch Purse
Many office going ladies suffer from the problem of finding a right evening purse. Some just carry cash, identity cards and their phone in handbags. For such women a medium size clutch purse is suitable, and they don't even need to bear the burden of heavy handbags.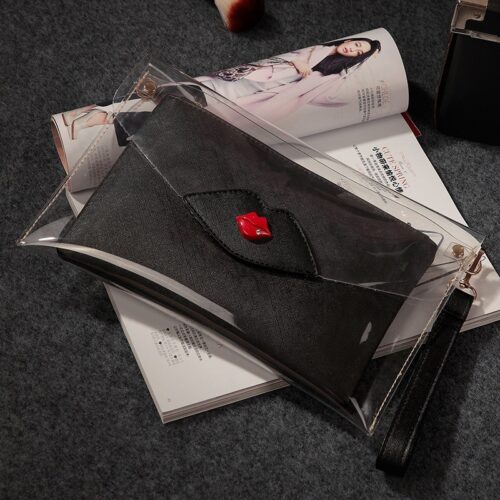 Source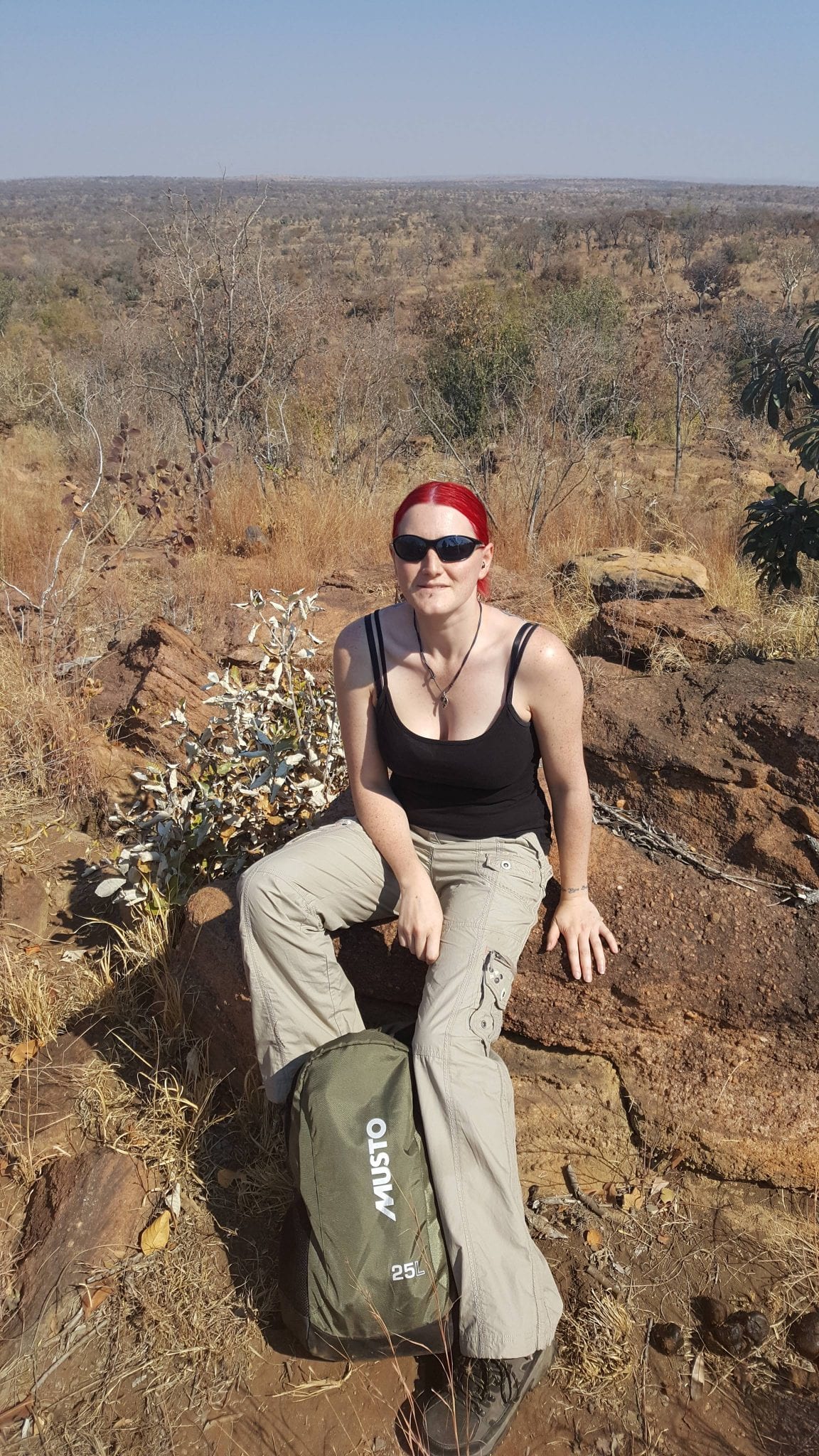 Caz, aka Vixen, has been freelance creative writing for several years. She has a lot of experience in different fields including high street fashion, tattooing art, and even the gothic and historical costumes. Caz has a Diploma in Fashion and Textiles and also a Bachelors Degree in Historical Costume and Corsetry. Her passion lies with gothic design, corsetry and any other styles considered to be taboo or unusual. Style-wise Caz has a love for Vivienne Westwood and her take on the punk era. Although Caz loves the weird and wonderful, she has a deep love for all fashion and allows this to show through her work.