Asian hairstyles for girls. Asian women are blessed with long luscious hair. Hair is one of the most essential parts of your personality, many people don't recognize it but it is highly essential to work on your body as well as hair.
Hair shall not be ignored, hair that is treated and styled well naturally enhance the personality. Contrary to popular belief, Asian hairstyles for women are not just a few – there are too many to mention every single one of them.
Asian women generally have fine-textured, silky, and smooth hair. If you are confused about which style to pick, we are happy to help! Besides, not every Asian girl has silky, fine hair. Some ladies are lucky enough to have naturally thick hair. It might be difficult to style, but definitely not impossible – you just need to find the perfect haircut and hairstyle for you.
The way your dressup reflects your aesthetic sense. Like clothing, the hairstyle is an integral part of the overall look. Most women look for trendy hairstyles to stand out. Some women prefer hair dyes for a flickering look and some prefer classic hairstyles over hair dyes. A good hairstyle makes you look different and brings out a beautiful overall look. When it comes to hairstyles, women are usually confused, especially in the Asian countries, where women tend to work on their natural hair, and how to style them is always a question for them. Whether you've been blessed with thin, glossy locks or thicker, full tresses, we're here to help you learn how to keep up your hair game. Check out our latest popular Asian hairstyles for women for both short and long hair.
Easy and Trending Hairstyle Ideas for Asian Girls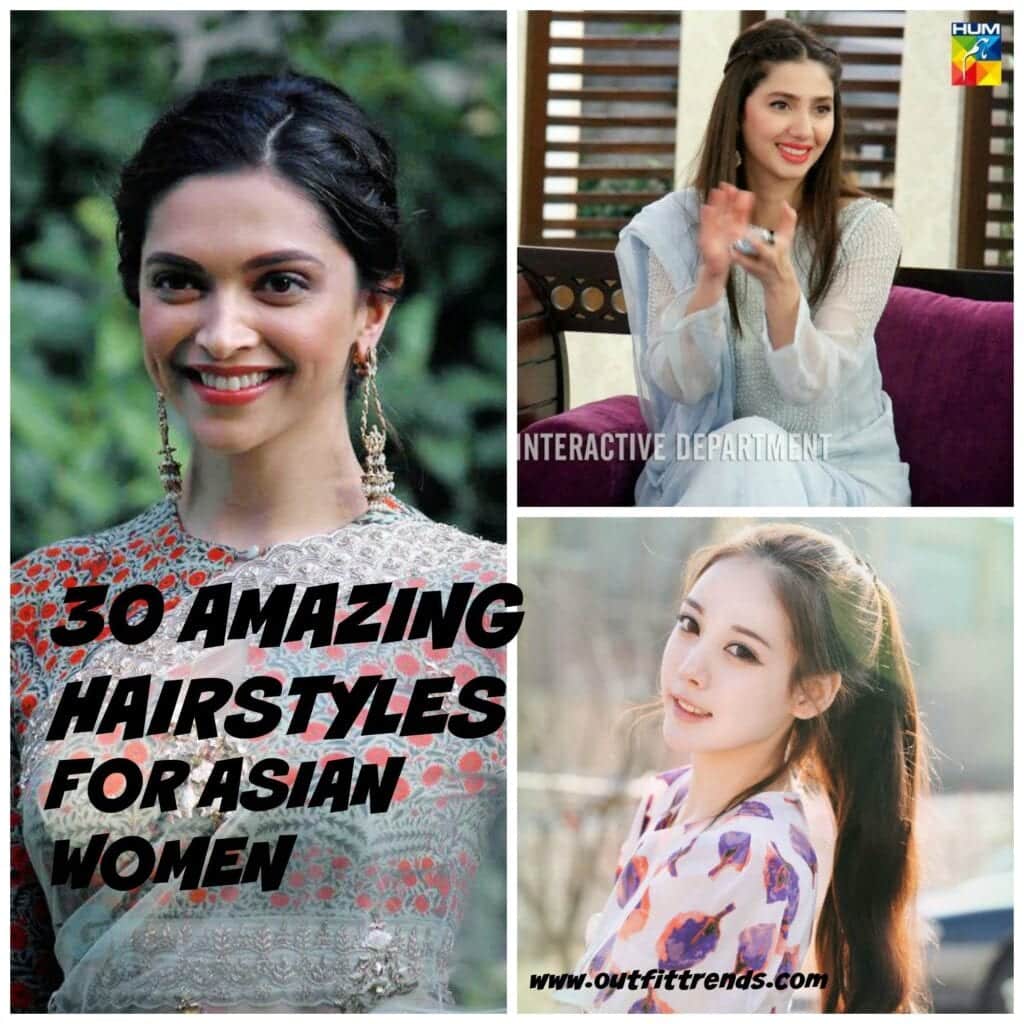 30 – The Red Head
Since Asians are usually pale or wheatish in skin tone they can carry off some colors really well. Red or burgundy hair is an amazing choice and it can enhance their overall look. So don't shy away to change your hair color. And if you have red hair, or are planning on going for it then here's a post that you can just not miss: 18 Cute outfit for Red Hair Girls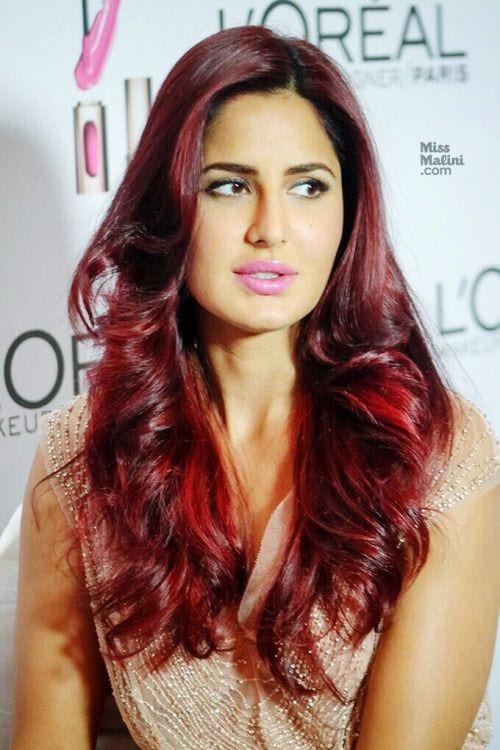 29 – The Mix of Braids and Waves
Girls can pull off a side hairdo, which includes half of the hair in a braid and the remaining in loose waves. This is a perfect hairstyle for parties or casual events, where you want to look cute and fun. A messy look like this one provides you with a distinctive look.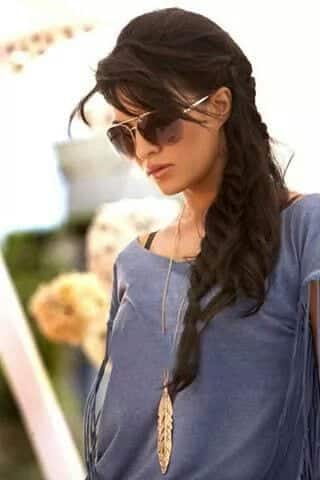 28 – The Fishtail Braid for Summers
This gorgeous hairstyle is ideal for numerous occasions, including weddings and fancy parties. A side fishtail braid is all you need as a perfect hairstyle, for hot summer days or even it is perfect to carry it to schools every day. This can be worn in Western as well as Eastern attire. Have a look at these 20 Cute and Easy Braided Hairstyle Tutorials -Latest Styles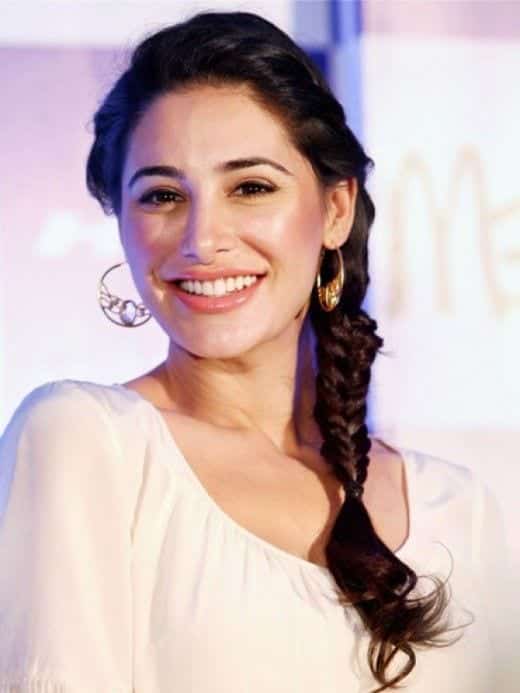 27 – The Voluminous Ponytail
A voluminous ponytail is all you need on a boring day at work, or maybe when hitting movies with friends. And what's not to love about a practical cute pony? Gather all the hair on top of the head and pin it with a hair elastic. Use a wand to create such beautiful waves. Tie a high ponytail and attain the volume by backcombing it.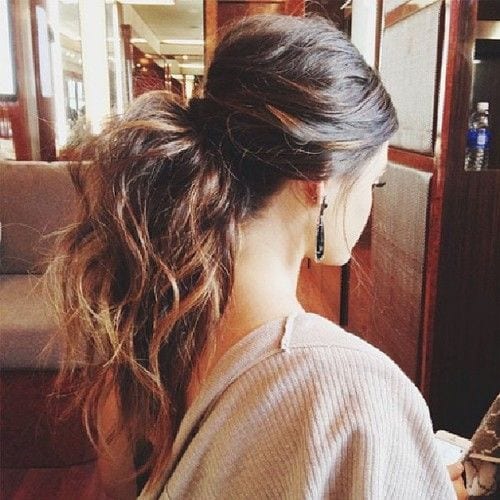 26 – Highlight'em Up
Yes, you can play around with your hair by adding highlights to them in a lighter or darker tone, whichever you're comfortable with. Asian women adore hairstyles that involve colors These blonde wavy hair are super flattering and feminine. Opt for red lips this will give you an additional bold look.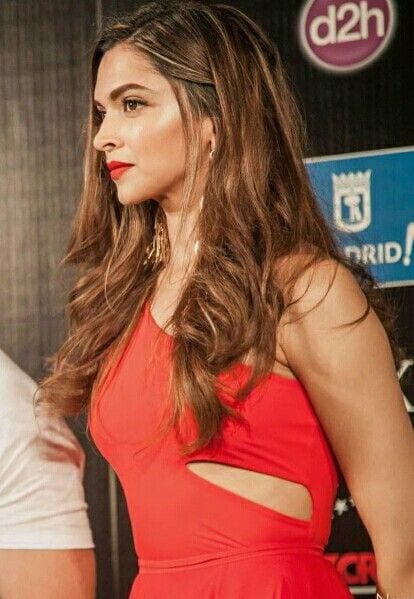 25 – The Wedding Day Look
The girls who have long hair feel challenged to manage their long hair. Women with long hair can opt for a lot of backcombing and curling the lower end of the hair. This is simple yet looks elegant and can be the perfect hairstyle for weddings or such fancy events.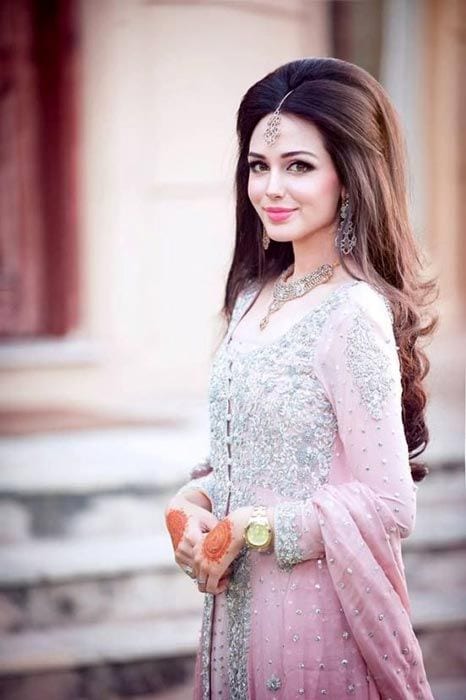 24 – The Angled Bob
Yes, ladies, you read that right! Go experiment with your hair, give it a bolder cut like the angled bob or even pixie cut. This gives a joyful look and such hairstyles are really easy to carry. Short haircuts are perfect hairstyles for women who want a low-maintenance cut. Go for a pixie, get loads of layers and wear the sideburns in front of the ears.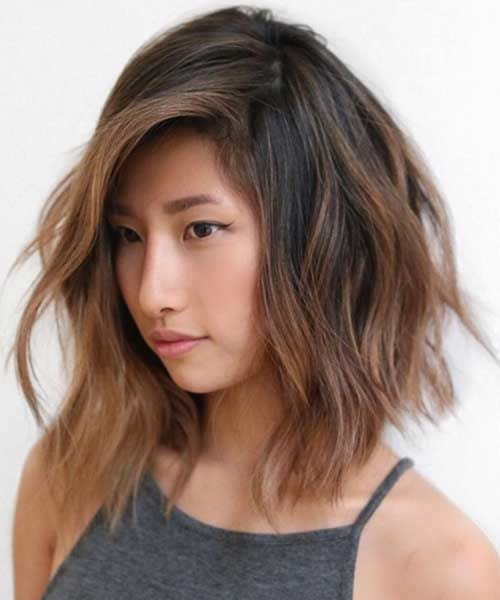 23 – Fringes and Ponytails
School-going girls need easy hairstyles which they can pull off with little or no worries, so how about getting some fringes, girls? Thicker bangs in the front add more texture to the Asian girl's hairstyle and give it a fuller effect. There is something about this look that portrays a wild and free feeling. These can be paired up in ponytails or even a single pony and you're all ready to go.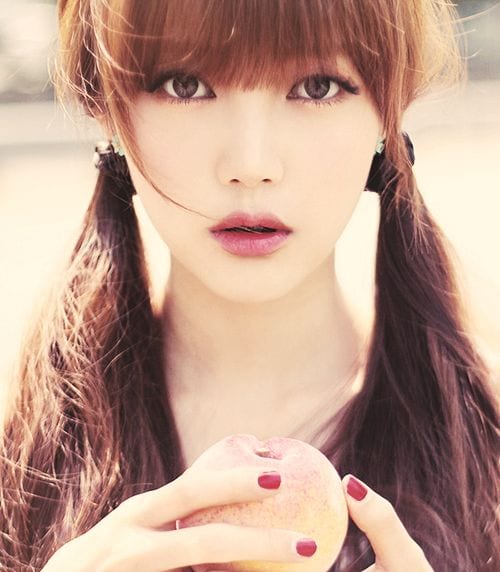 22 – In the Shade of Browns
Generally, brown tones go well with Asian skin tone, so women can opt for brown hair dyes to add an instant style to their look. Why not get more experimental with your hairstyles with waves and accessories? Brown hair looks best on girls with brown eyes, so here are Cool and Stylish Eye Makeup Ideas for Brown Eyes
21 – The Side Bun
Confused about how to wear hair at a formal event? Well ladies the side bun is your perfect partner. The side bun adds charm and is even easy to carry in contrast to open hair. This gorgeous hairstyle is ideal for numerous occasions, including weddings and fancy parties. You can also add a beautiful flower on the side of your bun for a more decorative look. Check out these 20 Cute Outfits with Top Bun Hairstyle to Compliment Style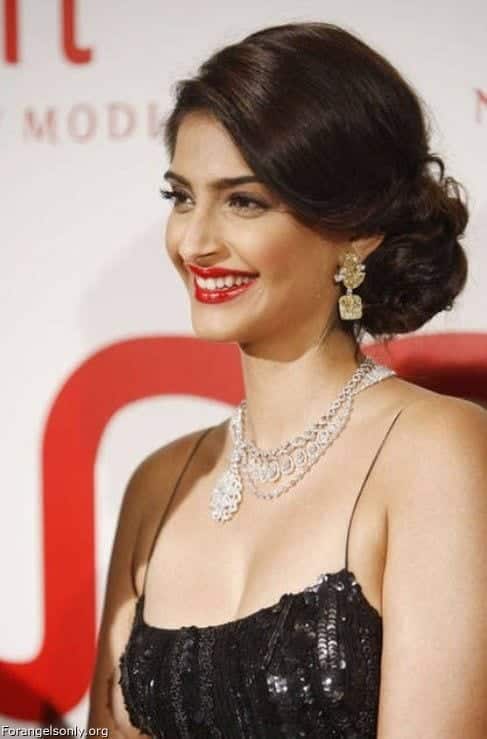 20 – The Center Parted Hair
Hair which is center-parted looks really very elegant and sophisticated. You can opt to tie them in a bun or a braid and wear some heavy earrings to complete the look. Sonam Kapoor is a vision in this gorgeous look.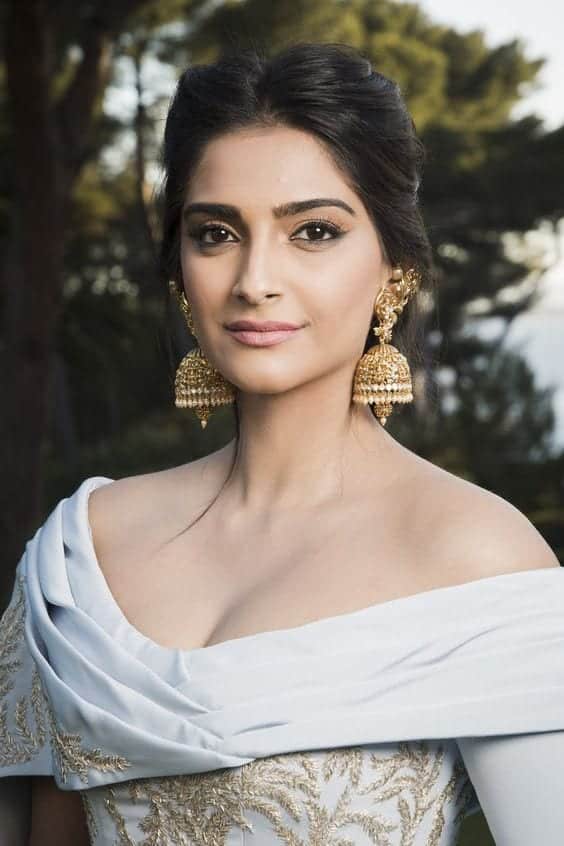 19 – Gorgeous Curls
Yes, you can totally go for a lot of everything, this includes greatly backcombed hair, with excessive curls. This adds a lot of drama and style to the whole look. You can accessorize yourself accordingly to make this look appear more enhanced. 100 percent recommended look to opt for a desi wedding.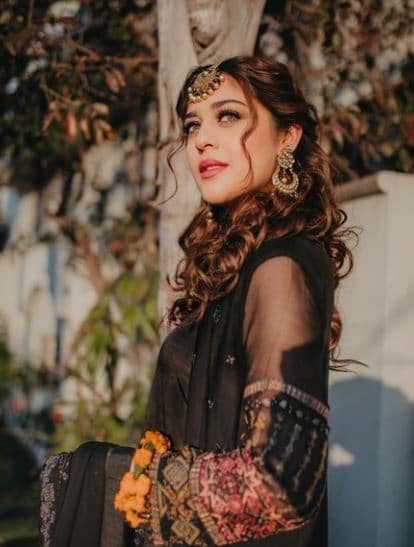 18 – The Milkmaid Braid
This Asian hair type can be difficult to style, as extremely silky, straight hair tends to hold curls and heated styles less easily. But if you've been blessed with long, glossy hair – embrace it! The milkmaid braid is a true work of art, this may look complicated but if you can pull it off well, you rock!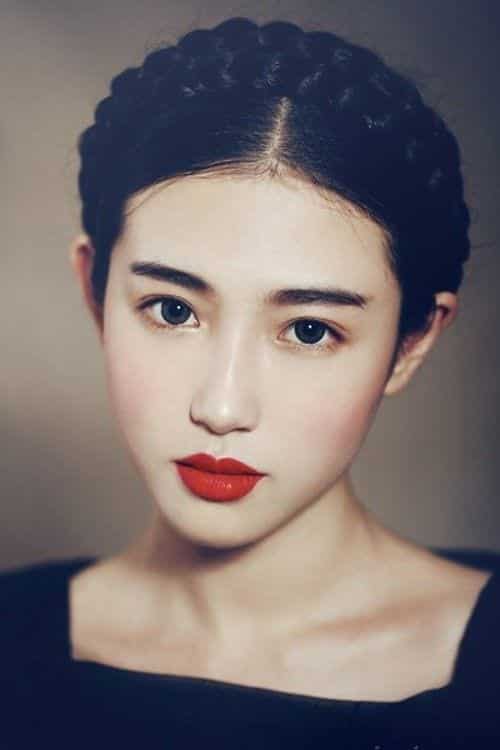 17 – The Natural Bounce
Sometimes you don't need to do a lot. Simply let down your hair in its natural texture. The simple waves or curls add volume and give a joyful look to your appearance.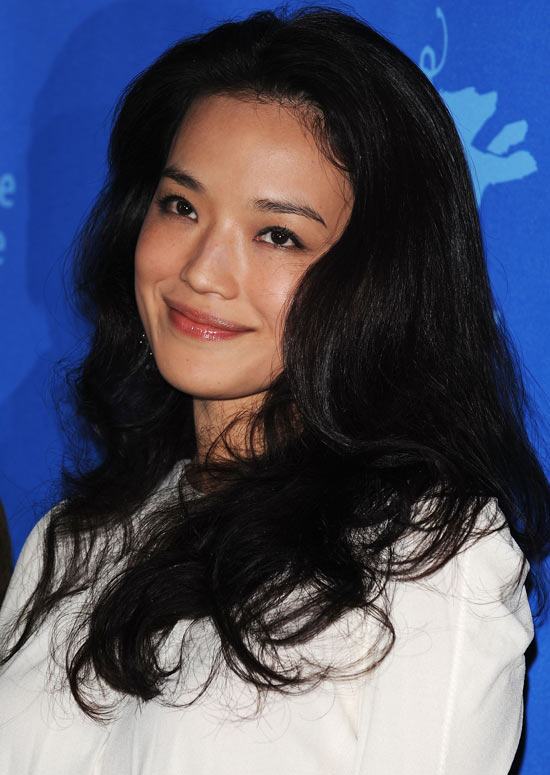 16 – Asian Hairstyle for Short Hair
You'll never learn what suits your face if you don't experiment. So why not go for a real short bob haircut. This is a great change and can suit most face shapes. Female Asian hair is beautiful and charming. This is one of the most popular hairstyles among Asian ladies, and it's easy to see why!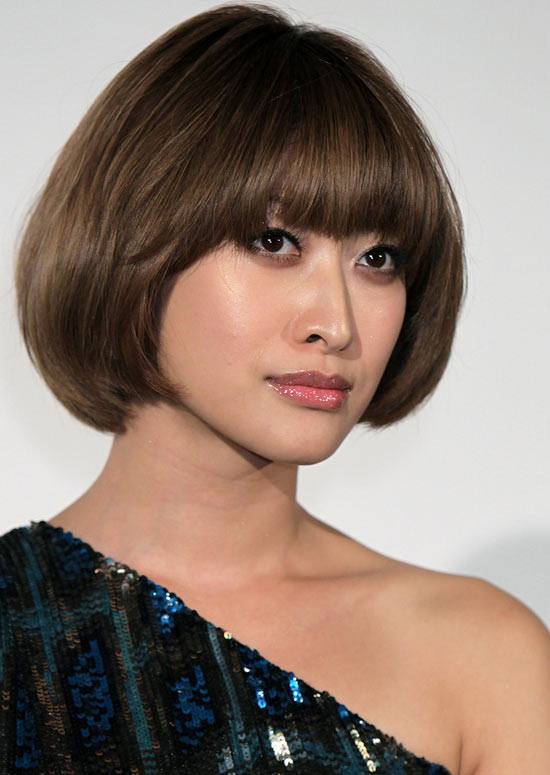 15 – Sleek Straight Hair
Some women have pin-straight hair, and they can totally get many hair cuts depending on their risk appetite, but if you don't want a drastic change simply opt for fringes and tadaa! Wild and carefree looks are super pretty and sassy. What do you like about the haircut in the picture? It is sassy, bold, wild, and cute.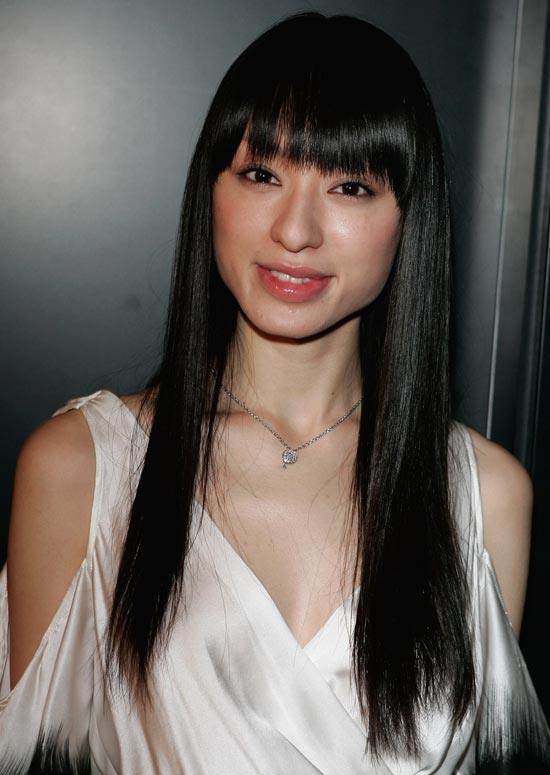 14 – Fringes and Curls
If you have fringes and you're confused about how to give a different look, simply curl the ends of the hair. This is easy and an instant uplift to the entire look. Fringes add the final touch to the look while the waves make it look voluminous and classy. This is one of the most youth-oriented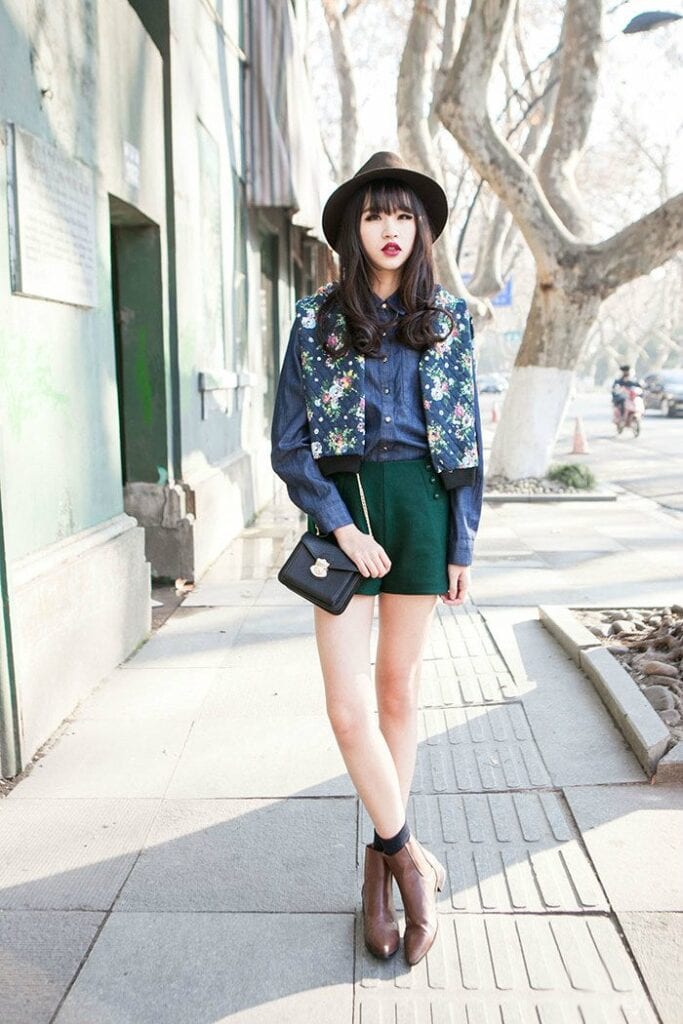 13 – The Front Braids
This hairdo has captured the hearts and minds of ladies all around the world. To give a simple yet chic look, opt for the front twists, the trick to make them is totally like that of french braids but these look cuter and can be worn with literally every look.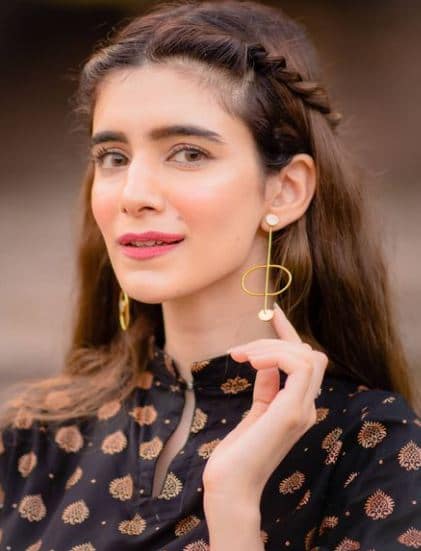 12 – The Side Hairdo
Not sure what to do with hair for a date night? Well, hair done sideways with beach waves is the easiest yet the most lovely look.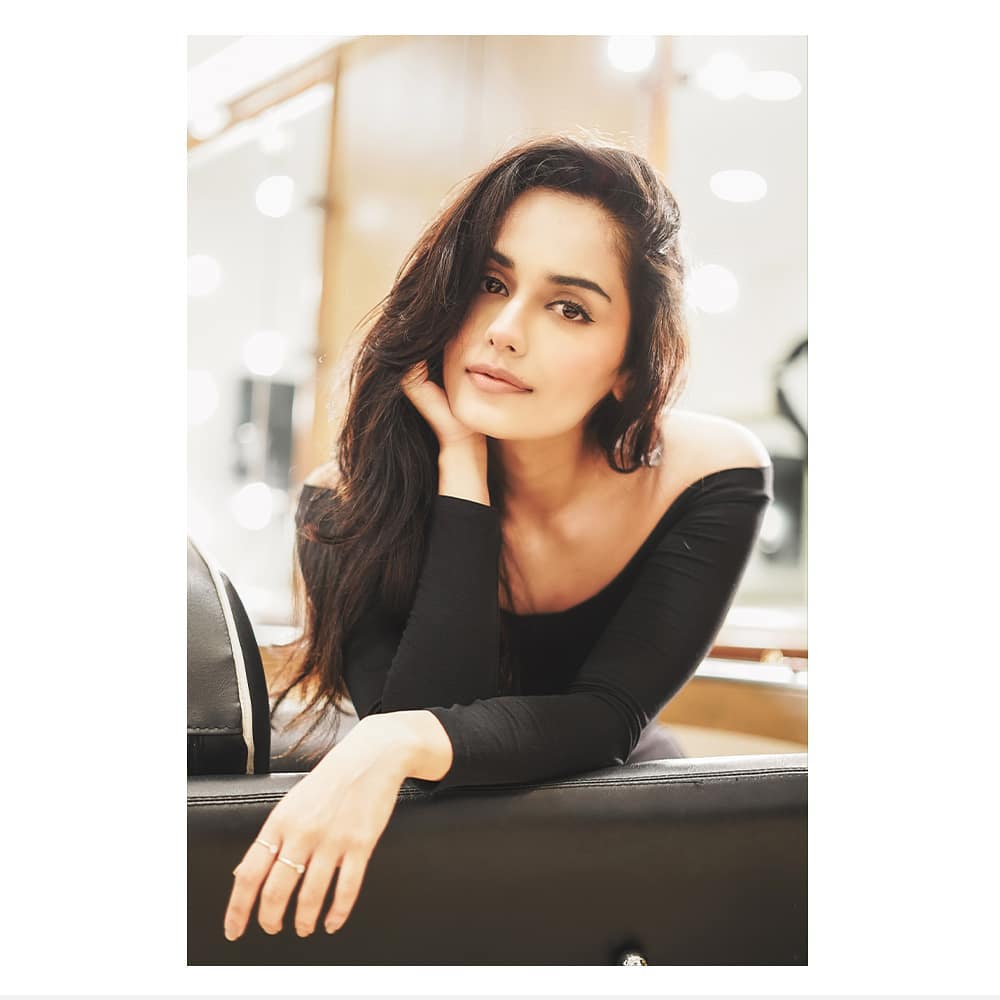 11 – The Simple High Pony
In a hurry and don't know what to do with hair? Well simply tie your hair in a high ponytail, this adds a little bounce to your hair and gives a lovely look.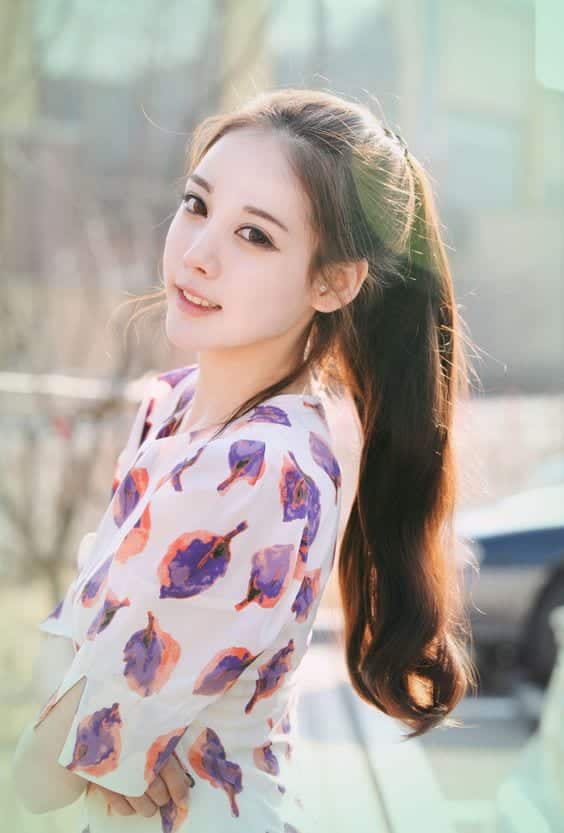 10 – A Simple Bun
A simply low bun is one of the favorite hairstyles of women all over the world. If made and maintained well it can add a lot of charm to your face and look absolutely romantic.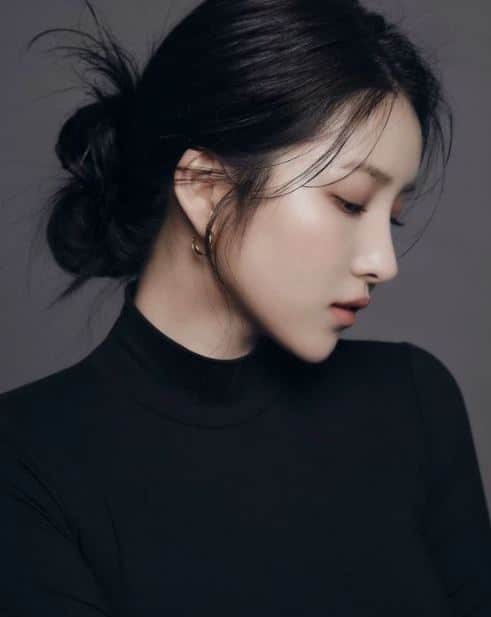 9 – The Long Locks
If you have straight Asian hair that's thin and fine then the best way to carry your hair is in the long locks, they are truly admired by all. Jisoo looked like a vision in this look.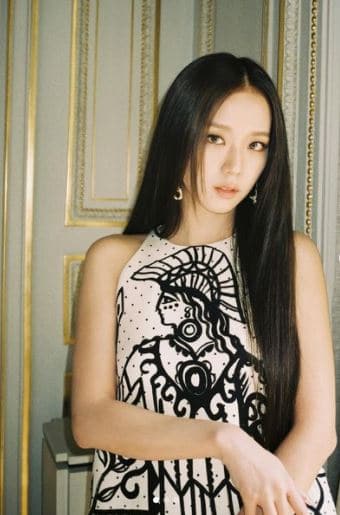 8 – The effortless braid
Messy or sleek, side braids have made a great way in fashion. Women of all ages can carry them and they look exceptionally well. A side part will make the look a little more formal and enhanced.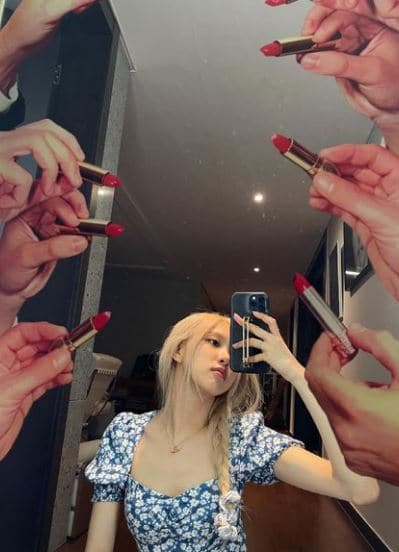 7 – The Simple Top Knot
Top knots are very popular Asian hairstyles for women. A simple top knot is the quickest way to style yourself up. This is easy to make and needs no specialized set of skills. create a half up half down hairdo. Use the top section, including bangs, to style a messy bun.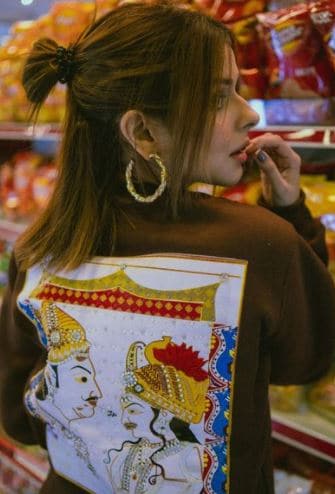 6 – Add Some Layers for Oval Face Shapes
If you're confused about how to do your hair every day and what is the safest style, then go for layers hair cut. This is the ultimate savior! This look is perfect for school and college girls, Here are 16 Cute Summer Hairstyles for College Girls to Stay Cool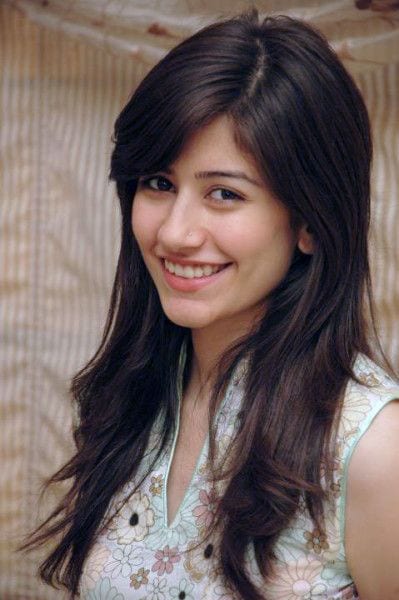 5 – The Fairy tale Look
Want to look like an ultimate princess with the least efforts, go for straight, center-parted hair pinned up on both the sides. This is super cute.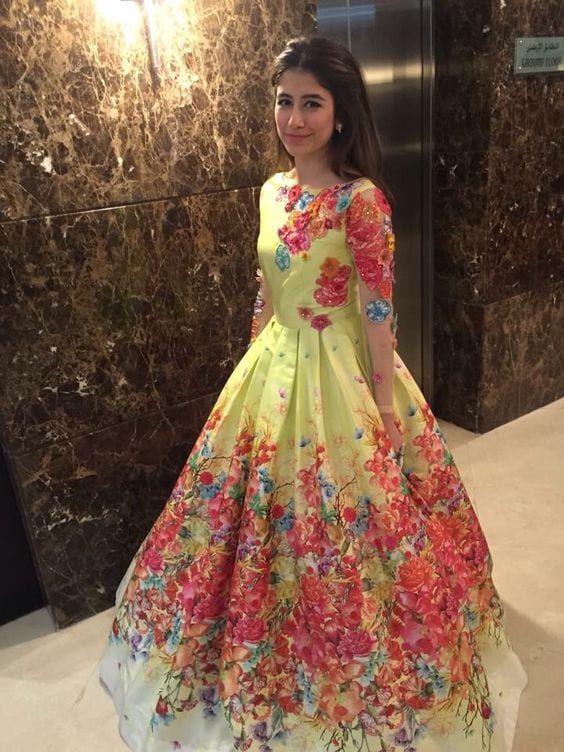 4 – Chic Look
Create two loose braids and use a small elastic to secure the braids and let them loose. As for the bun, you can make a messy bun on top for a casual and chic look. Cute front braids coming along the face structure give the face a more defined look and make the cheekbones stand out prettily.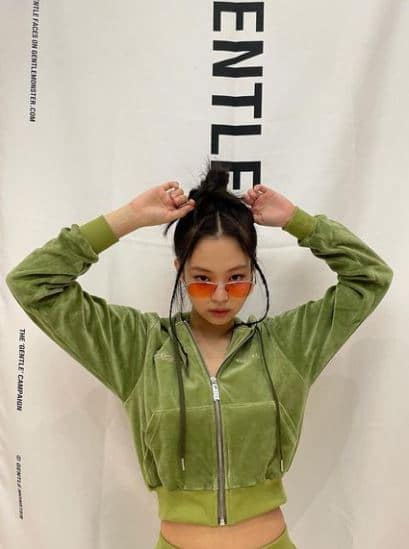 3 – Beachy Waves
Adding a lot of curls always works, for parties, social events, or a casual hangout!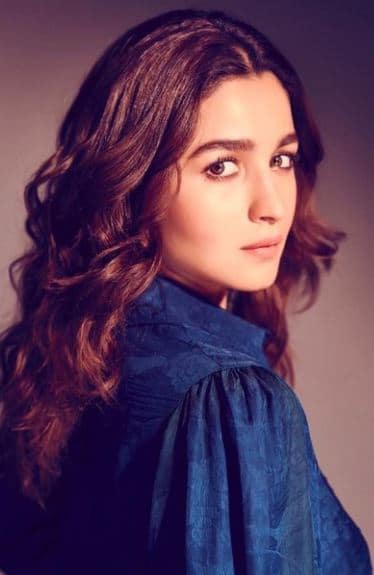 2 – Boho Style
This protective hairstyle is ideal for anyone who likes lengthy braids. It is also lightweight and you can style the curly ends however you want. Opt for Jumbo hair, blend them with your natural hair, extending your tresses. Add lots of bohemian jewelry and you're ready to rock!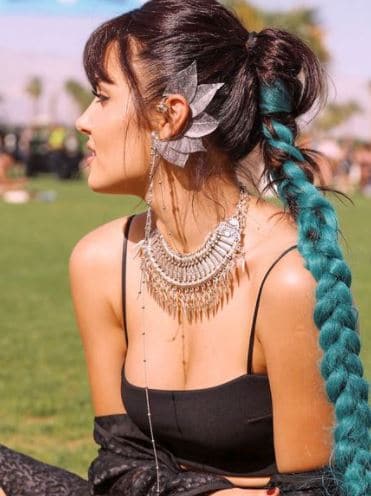 1 – The Romantic Bun for Heart Shaped Face
Like Deepika, combine your bun with front braids for a more classic look. You can use a sponge donut and wrap the hair around the donut. This technique will help you create a flawless bun that looks chic and elegant. this bun looks gorgeous and it's so easy to style.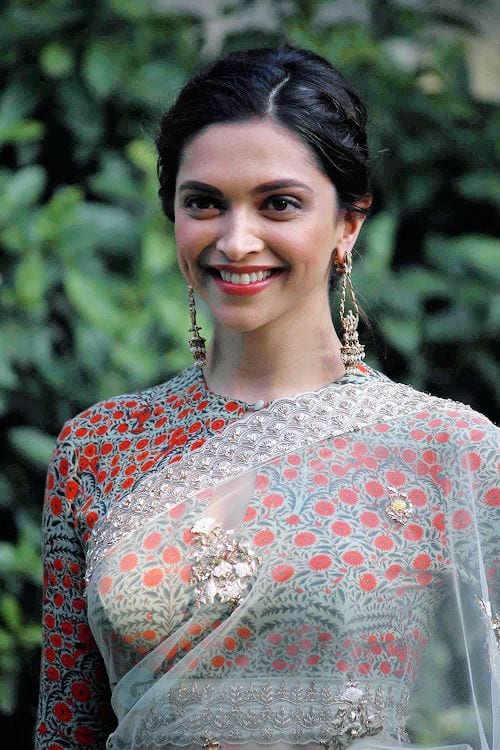 FREQUENTLY ASKED QUESTIONS
What is the secret of gorgeous Asian hair?
Their secret is something very sneaky and invisible, their genes. Asians naturally have thicker hair than caucasian, I heard they also use rice water, etc. But it depends on your genes.
What type of haircuts Asian should opt for?
Are you looking for Asian haircuts for women that are easy to carry and super stylish at the same time? Well, we have got some suggestions for you! Asian women generally have fine-textured, silky, and smooth hair. If you are confused about which style to pick, we are happy to help!
Asian Bob
Pixie cut with bangs
Long bob with bangs
Layered Bob
Asian Ombre
Long Choppy Asian Waves
Wavy Hair with Fringes
How do most Asian people have perfectly straight and healthy hair?
The texture and waviness/curliness of your hair is directly correlated to your hair follicle shape. Most East Asians have round hair follicles, which produce straight hair. While, Caucasians have semi oval and oval hair follicles shape, which produces wavy and curly hair. The Africans have a flat oval shape, which is why they have coiled hair.