White Jeans Outfits- White jeans are known as a closet staple. They're chic and can make your look ten time better than if you would have chosen normal blue jeans. It can be a little tricky styling white denim since there needs to be certain balance in the outfit.
Cute outfits to Wear with White Jeans
If you recently got your hands on white denim and you're not sure what to pair it with, following are 23 super classy and girly ways to wear white denim.
#23- Navy Blue Cardigan
The color combination of blue and white has always been a personal favorite. Once you pair this bold color with white denim the ensemble screams sophistication!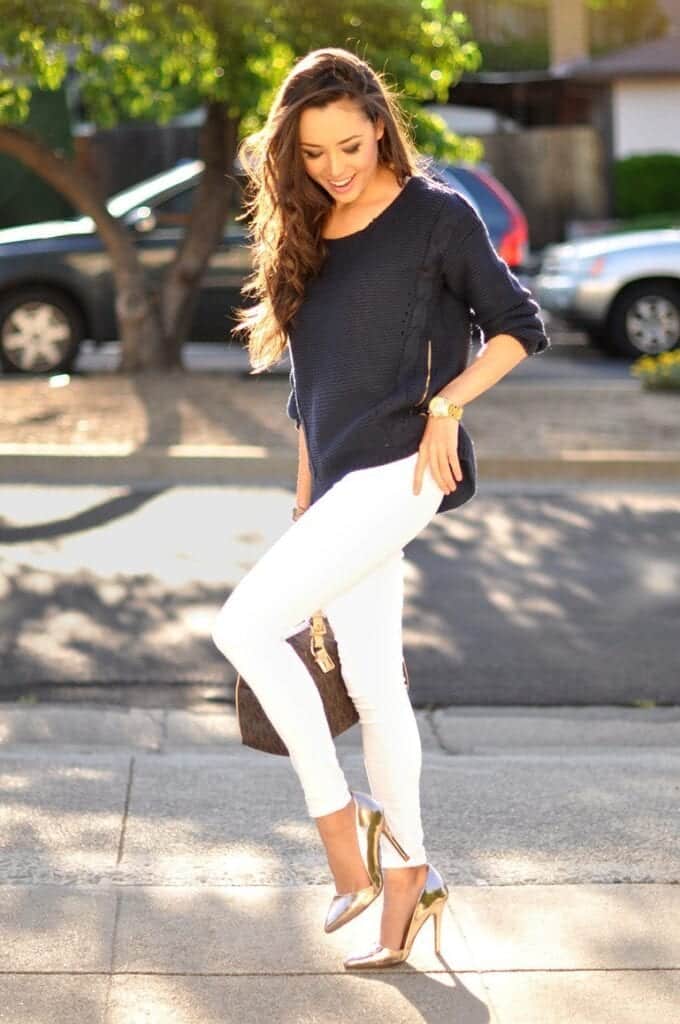 #22- Summer Wear
There's something about crop tops that just makes you look super feminine and flirty. When headed for a day out, pair your chambray crop top with white skinny jeans and tan accessories.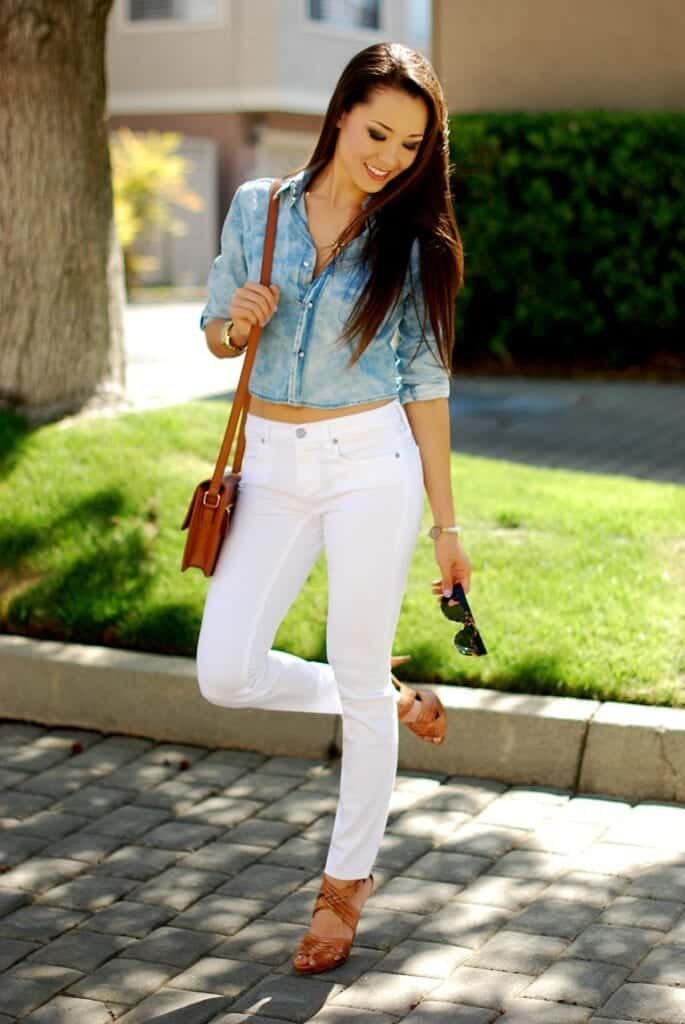 #21- Swag Look
Add a little variety to your look by getting patterned cut out white skinny jeans and pairing it with a shiny bomber jacket. We love how the outfit is complimented by the brown colored accessories.

#20- Beauty Lies In Simplicity
High Waisted White denim looks so great when you tuck in a plain tee shirt with it. The top slim fit coat creates an outfit you can even wear to a work event and look stunning.

Here are more ideas to wear [highlight]High Waisted Pants.[/highlight]
#19- Contrasting Denim
You can easily rock a denim on denim kind of look by simply keeping the choice of hues subtle. Notice how the distressed denim is white yet the denim jacket is light blue.

If you're looking for more tips and ideas on how to style denim jackets, check out [highlight]20 Great Ideas How To Wear Denim Jackets.[/highlight]
#18- Halter Neck Crop Top and Over-Sized Cardigan
There is something so comforting about over-sized sweaters that makes you want to wear them 24/7. Pair your dark colored sweater with a halter neck top and white denim and head towards town.

#17- Winter Style
Pair your white denim with a black flowy top and a jacket. The striped scarf addition ties the whole look together with its cuteness.

#16- Spring Outfit
Imagine this outfit without the leopard print scarf. When creating an outfit with white denim, look for accents that add color and vibrancy to the ensemble.