Same Outfit With Different Styles: Wearing the same dress every day is boring but keep changing the way it looks is something very fun to do. There are few tips which can give you a quick fix while choosing what to wear every day and without spending much on your wardrobe, you can get a different look every day.It is not difficult at all to wear same outfit everyday. There are few staples we all have in our wardrobes and no one can understand the comfort we get by using these.
How to Wear Same Dress in Many Ways
This is not necessary that one have to get lots of tees and bundles of pants to look trendy and chic every day. With an army of dresses, you can conquer the world of fashion, not really. All you need to be is creative and unique. If you have a pair of denim and pants and has few tee and button up shirts, or some dresses you can rock the look every day just by adding or subtracting the accessories you have.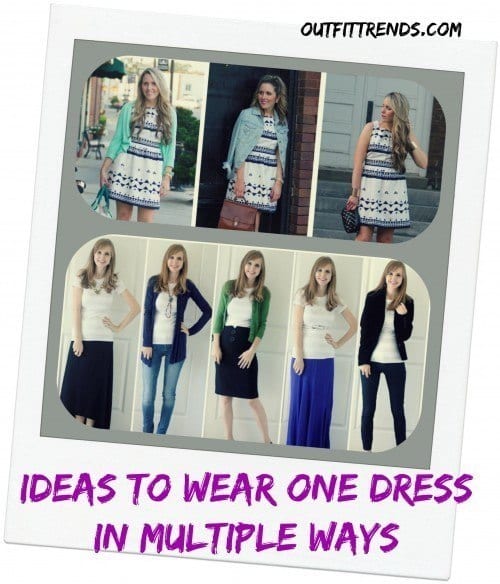 Also check out [highlight]Cocktail party outfits-27 dresses to wear to a cocktail party[/highlight]
Read on for some amazing dress transformation tips that you can easily follow in every day routine.
Tips to Follow for Dress Transformations
Accessorize your dress with color, shape and texture to make it look completely different.
When you are going for a business trip or going to stay out of town for some long time but do not want to carry all your wardrobe with you, then some outstanding fashion ideas can save your life indeed. Keeping the clothes' burden minimal and carrying maximum style is not difficult at all. If you are planning a long trip then keep these basic things packed.
Blazer
Cardigan
Pumps
Kitten Heels
Comfy sneaker or flats
Some funky and decent jewelry
A handbag and a clutch
The same dress can be worn to a less formal wedding with a completely different look by adding a contrasting or patterned short jacket, wrap or cardigan with a bold statement necklace instead of the scarf.
Adding accessories or a shirt can completely change your dress's look. Try this for a fall season with a skirt.
Remember investing in one classic dress is an investment as you could have it for years. So do not hesitate to buy one elegant and classy dress.
Do not discard your old stuff, your denim can be turned into shorts and it can be worn with any tee shirt or blouse.
Some colorful accessories and staples can be a saviour so do not stick to basic solid colors and buy some stuff which can be contrast or matched with most of your dresses.
Be fearless and choosing something which is not conventional can be unique. So keep experimenting.
If you fail once, do not get discouraged and try it next time and by following some basic fashion tips, you can wear one dress in multiple and fashionable ways.
If going for trip, rather than packing lots of clothes, keep the weather and nature of your trip in mind, and pack things which are easy to wear and can be paired up with different jackets or bottoms. This could save you from carrying lots of burden.
Do have a look at 20 cute outfits with top bun hairstyle to compliment style
4 Ways to Wear A Pretty Floral Dress – From teenagers to middle aged women, floral prints are love for all. But wearing the same dress every time makes it bit boring. Here is an example of wearing your one floral dress in four different ways. Obviously, you can wear it as it is, but in fall just putting on leggings and a jacket can work out or in spring with some cute hairstyle. To add more charm to your dress a waistcoat can make the look slightly different and sheer leggings can make the outfit a little bit formal for lunch or other formal gatherings. While putting on a skirt, either of black or some other popping color can enhance your look more. Add different colored accessories each time – a belt, a scarf, a wrap or a coat, a hat, a different bag and contrasting shoes is all it takes.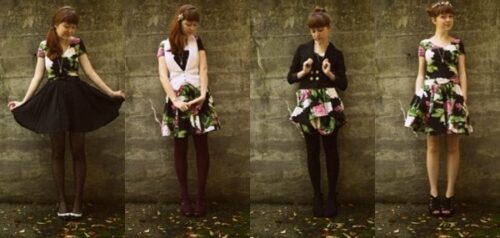 Source
5 Ways to Wear a Navy Blue Dress With Funky to Elegance
Investing in a branded dress is a very good idea and you do not need to wear the same dress with one style. Keep adding some charm into what you wear. In the picture below you can see a navy blue dress worn in the funky, casual, elegant and formal way. This is very easy to do and one can try it by using their style sense and look fashionable every time they wear the same dress. Single dress can be used for college, office meetings or for a hangout, just keep in mind that adding textures and jewelry can transform the dress into what you desire.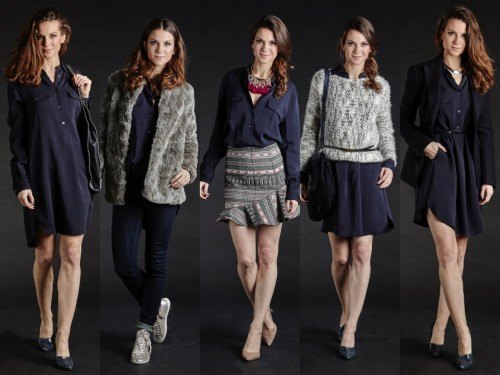 Simple Look: Feeling casual and not doing much effort? Then just put it on the way it is.  A stylish handbag and elegant pumps can flare up the simple and casual look. Do not need to wear lots of makeup or have nicely done hair, just be yourself and a same color bag can be replaced with different color bag if necessary.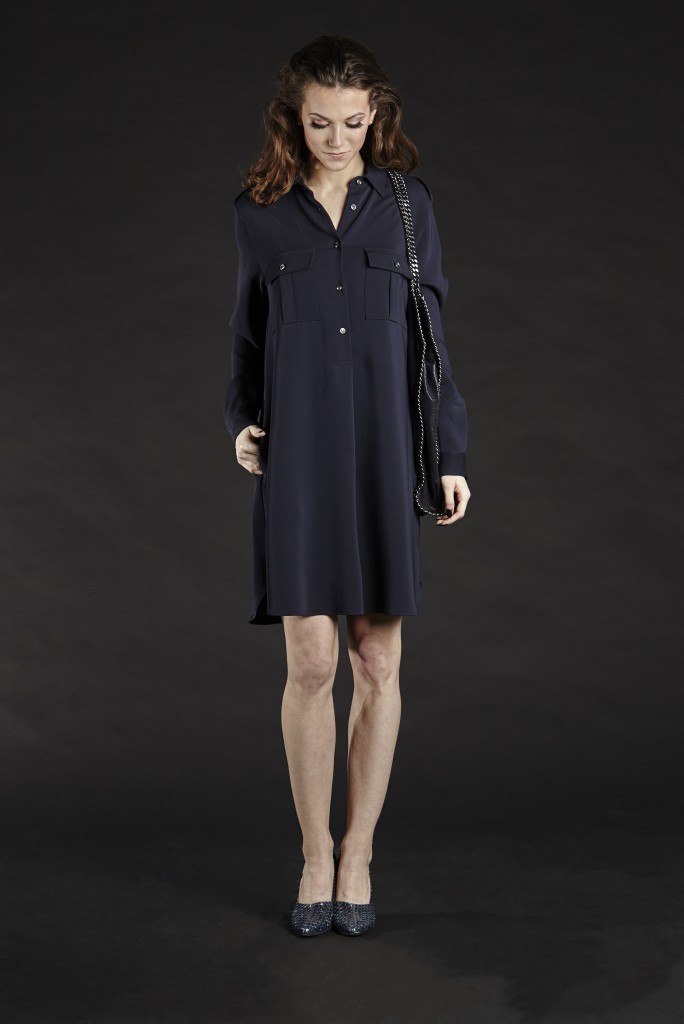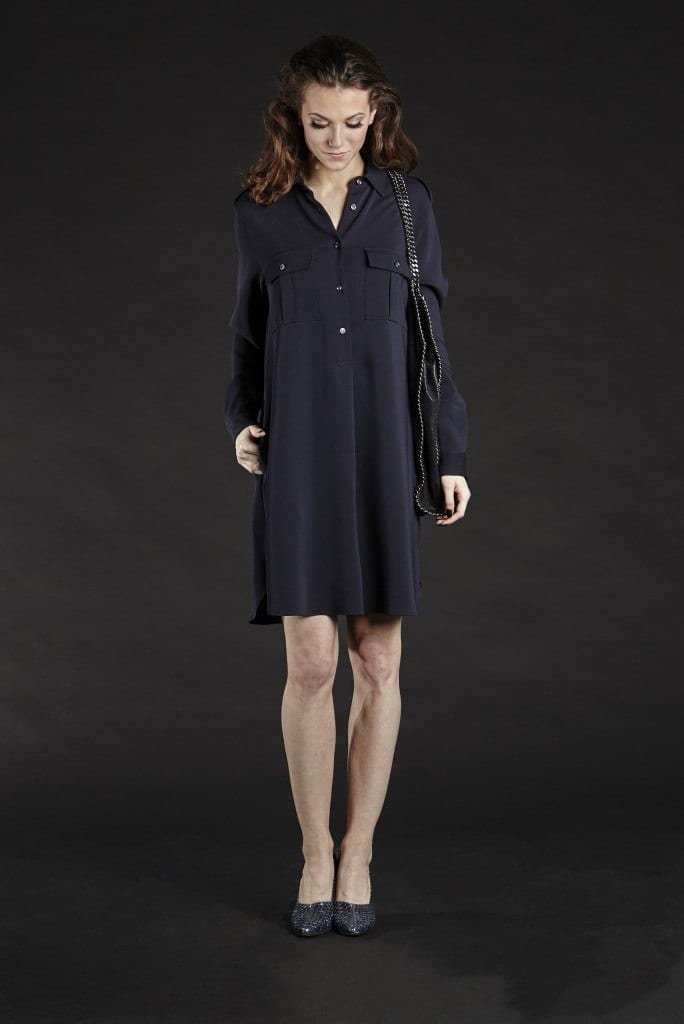 Elegance and Style: Going to the office or for a formal meeting? A classy dress is indeed a good investment and by adding on a Blazer and waist belt can turn your simple dress into a highly styled formal woman. This will keep the outfit elegant yet stylish. You do not need a suit to look formal just a blazer can suit up your dress. In a business meeting or a board meeting, this outfit will definitely look very elegant.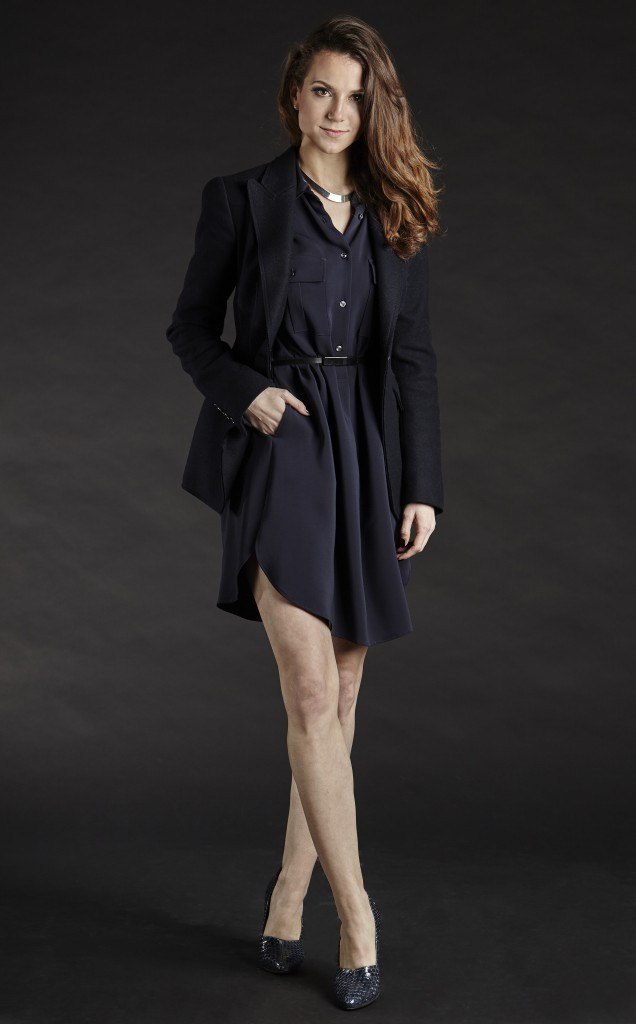 Funky Look: Mood to do something exciting? A skirt with a statement necklace and a side braid or some other funky hairstyle can give you the funky look which you wanted. Turning a dress into blouse is not much difficult.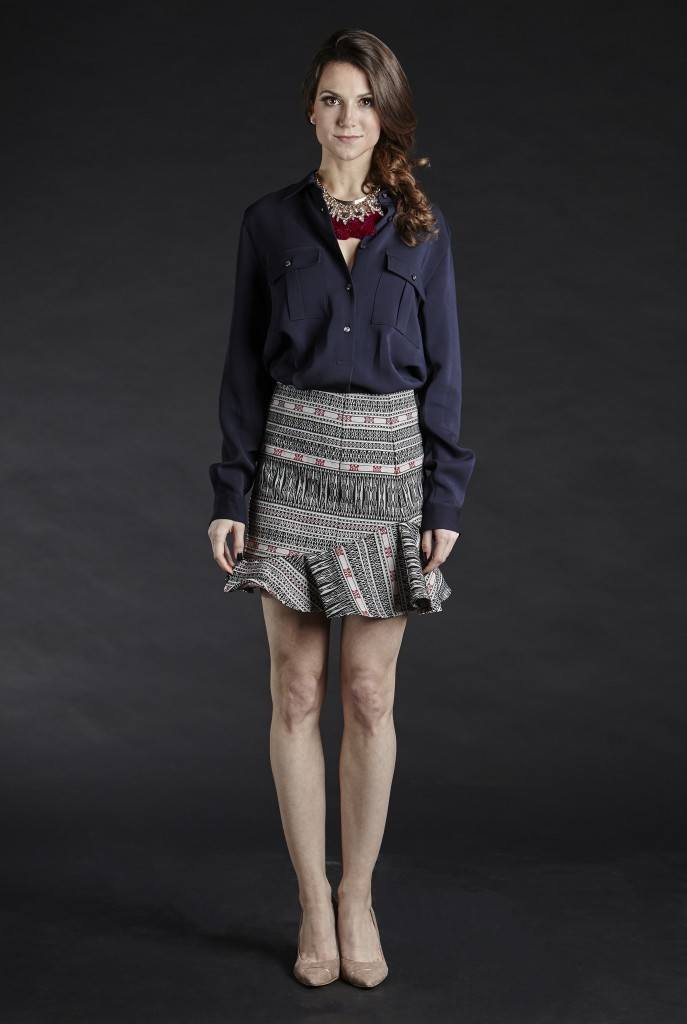 Street Style: Having winter's street style with the same dress is not difficult at all. Pair up the dress with a denim, sneakers and a furry coat or winter's jacket can give you the look you desire. A top hair bun will make the outfit more fun and stylish. 
Semi-Formal/ Office Look: Keeping the style and elegance in mind, just pair your that same dress with a sweater and then you are ready to outshine in the office or for a college presentation. This semi-formal look is easy to carry. See a single dress can be transformed into so many ways and every time you can wear it on different occasions.